Crostini is so easy to make using fresh or even stale bread! These easy Crostini make the perfect appetizer or accompaniment to cheese trays! They can be topped with fruits, veggies, thinly sliced meat and herbs. The options are endless!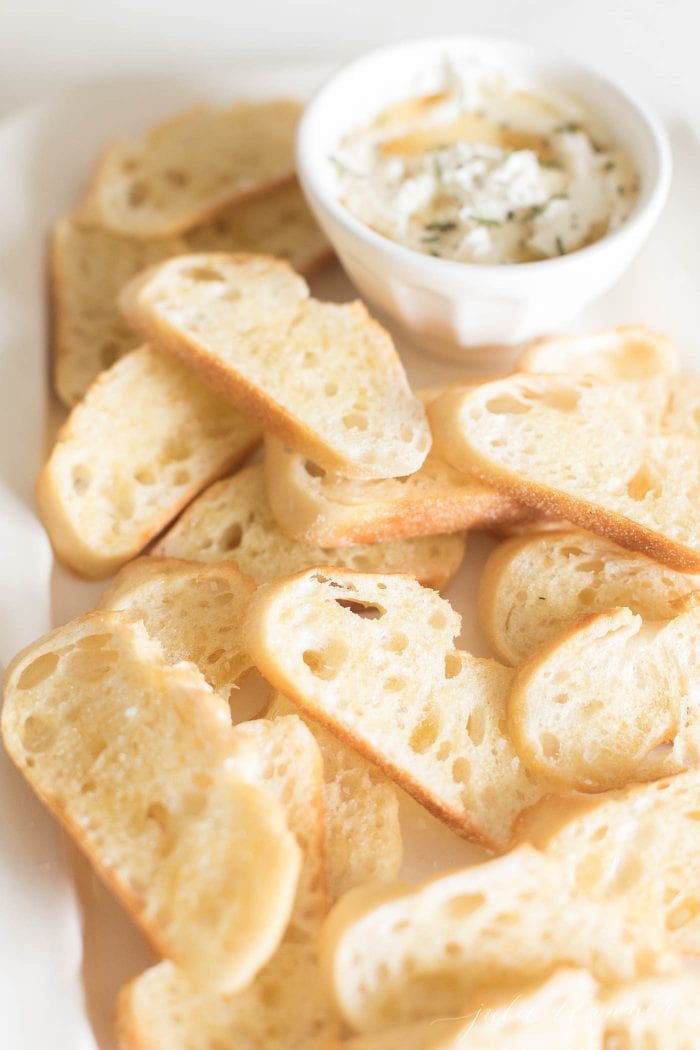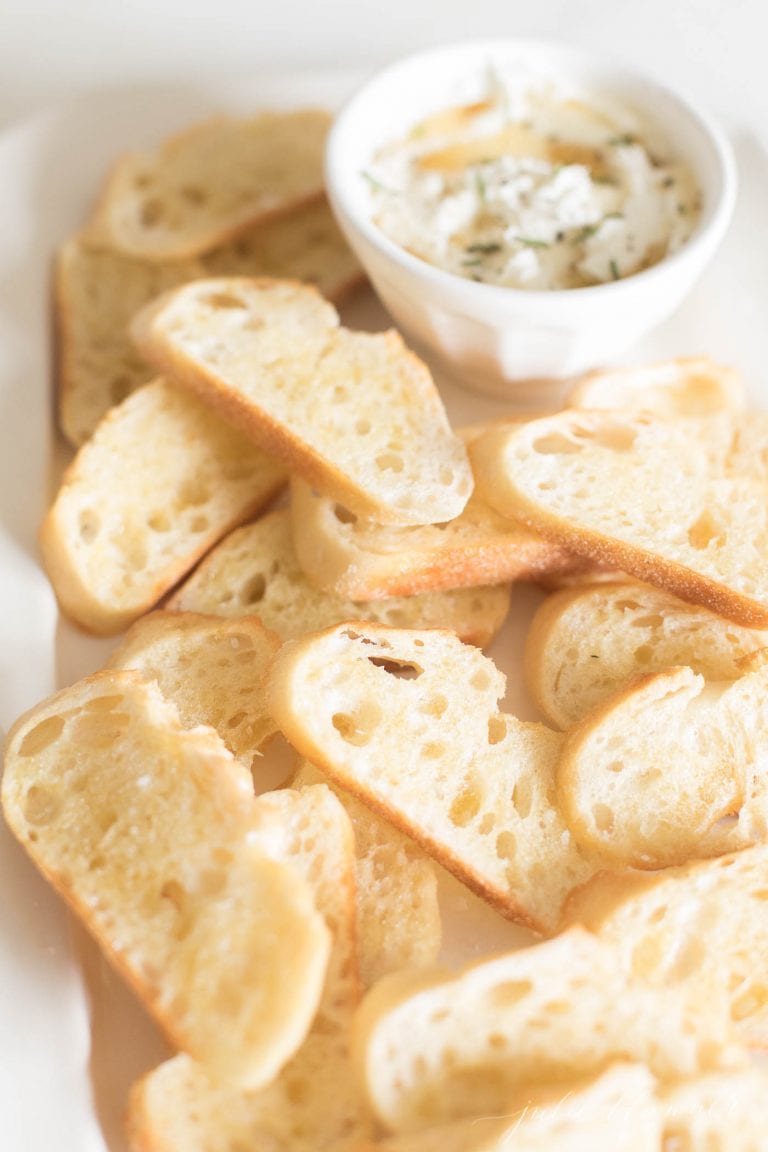 This crostini is my favorite way to use "old" bread that would otherwise go to waste. (And let's be honest, I don't like to let bread go to waste!) However, you can also make crostini using fresh bread as well!
I most frequently use take and bake bread – prepackaged bread you bake, then slice. However, whatever bread you choose, this recipe yields delicious, crunchy Crostini every time!
What is Crostini?
Crostini is Italian for "little toasts". They are thin slices of toasted bread (or grilled), usually cut from a baguette and topped with olive oil. It is also the equivalent of a crouton for soups and salads, just thinner.
They are generally served as an appetizer, atlhough there are some versions that are certainly sweet enough to be considered a dessert course. Is your mouth watering yet? Mine is!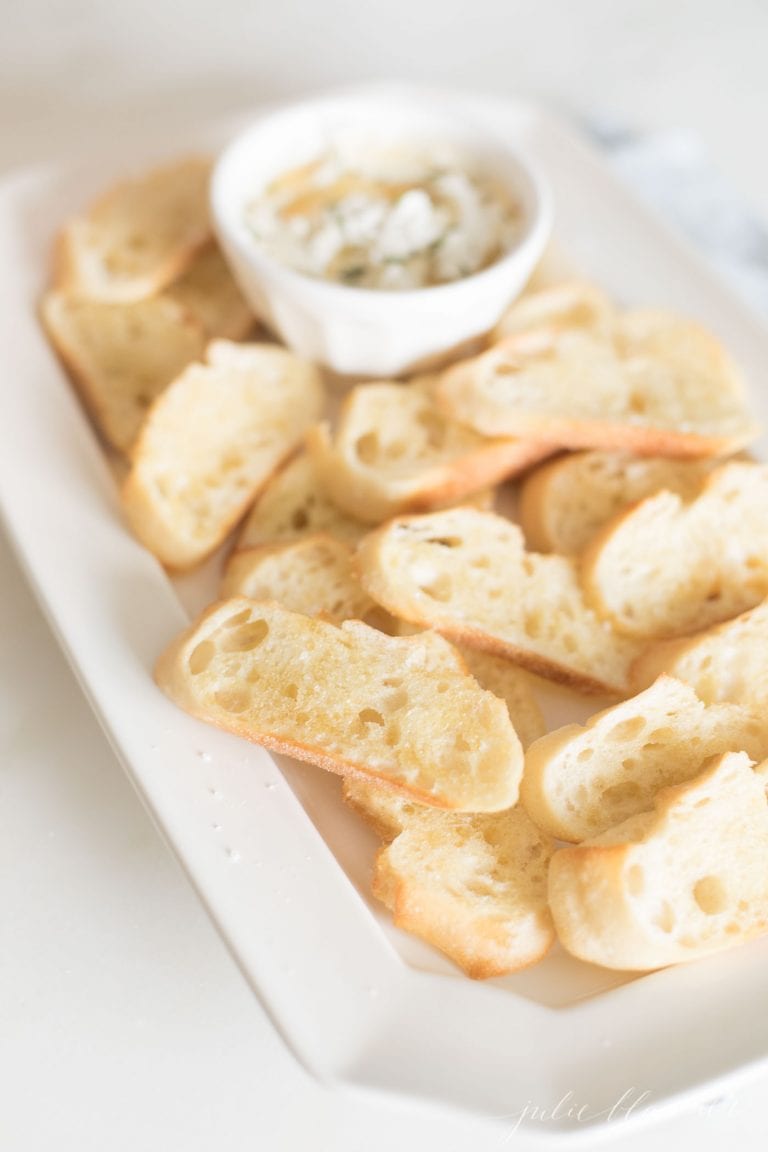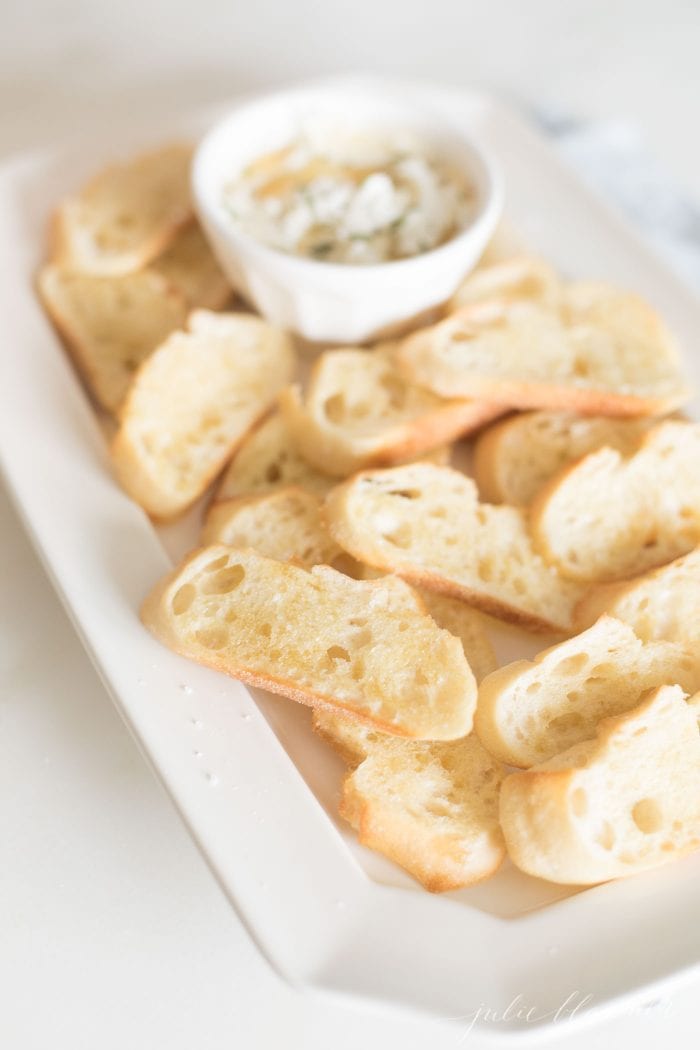 You don't have to be Martha Stewart to whip this easy crostini recipe up! However, you'll look and feel like Martha when you serve it! It's true, because these are perfect for entertaining.
I sure felt like Martha when these featured in a Better Homes and Gardens summer entertaining article a few years ago. In fact, in my 11 years as an event planner, these were one of my favorites to serve because they're universally loved, go with an array of items and were always gone at the end of the evening.
The make the prettiest accompaniment to any appetizer, and if you have any leftovers, there are a variety of ways you can use them throughout the week. They are the perfect addition to salads and soups!
In fact, you can make them in advance! Store them at room temperature in an airtight bag for up to one week. Top just before serving.
What's The Difference Between Bruschetta And Crostini?
First of all, both are delicious. They certainly have a lot of similarities and are used in a similar way. Bruschetta is generally made with thick slices of rustic Italian bread or even sourdough. On the other hand, crostini is made from a smaller bread (often, baguettes) in thin slices with a finer crumb. Consequently, this makes them perfect for spreads and dips of all kinds.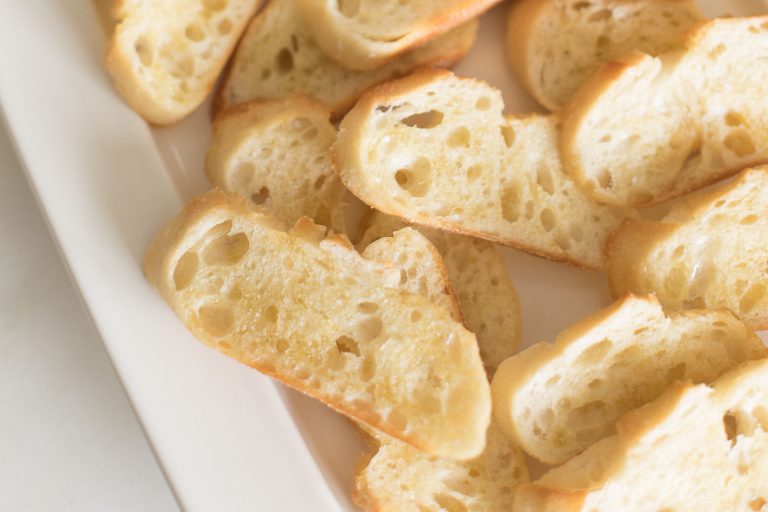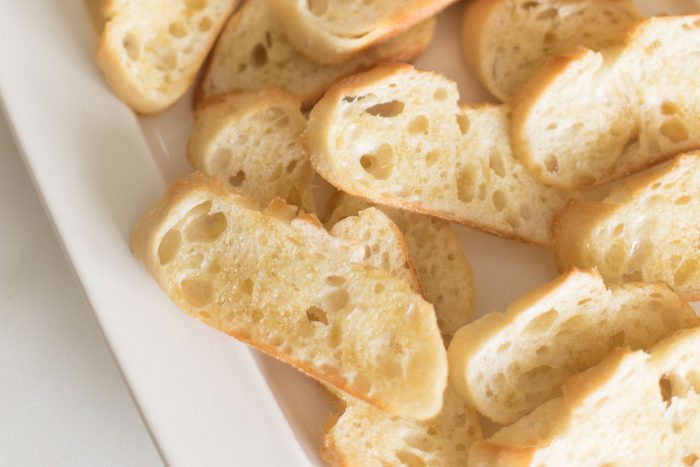 PLEASE TAKE ME TO THE BEST EASY CROSTINI RECIPE…
Just to clarify, you can always head straight to the recipe! I receive a lot of questions about my recipes so I always prefer to give a lot of detail in my posts. If you'd rather skip my tips and tricks, essential cooking information and recipe ideas and get straight to this easy recipe, you certainly can! Simply scroll to the bottom of the page where you can find the printable recipe card.
What Readers Are Saying About This Crostini
Anna says "I had NO idea you could make this at home and it was so easy. YUM!!"
From Steph: "I could eat crostini with every meal! It is so delicious!" Steph, I SO agree.
Tori says: "I loved these!! And I love how easy it is to make!"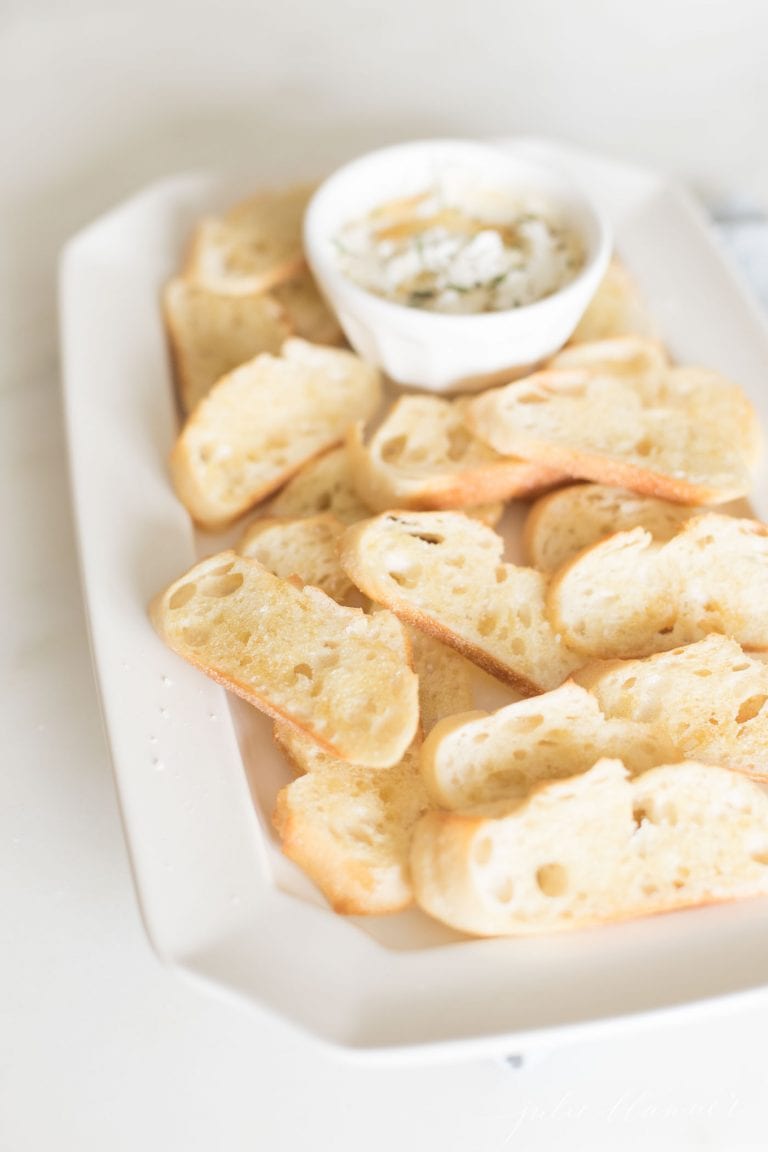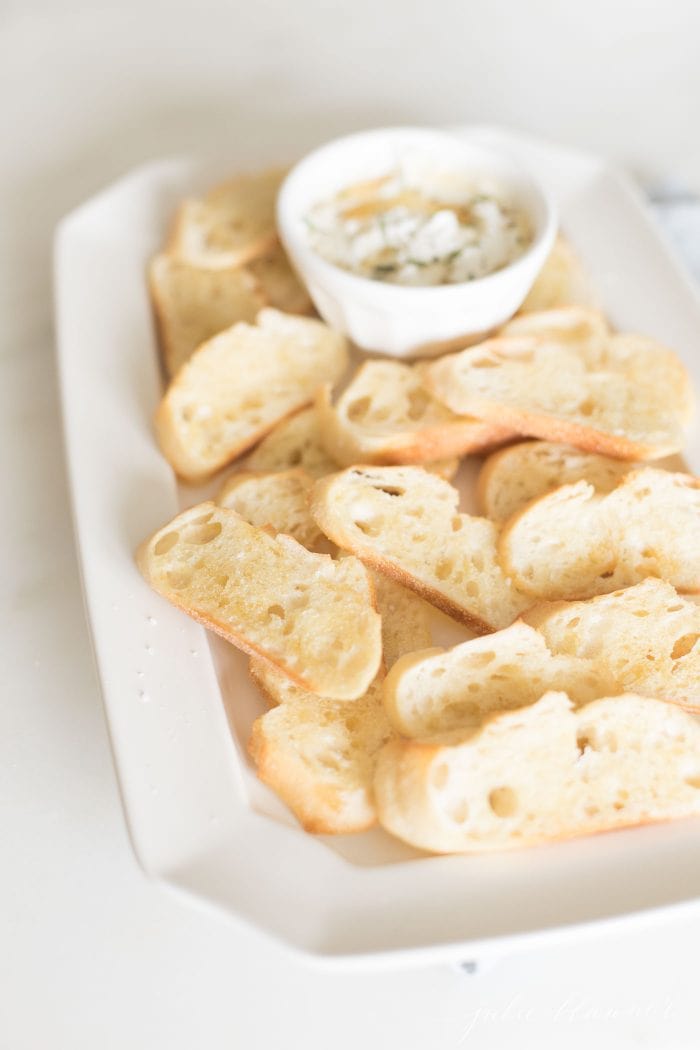 Tools to Use to Make Crostini
It's so quick and easy to make and requires just a few kitchen basics including a: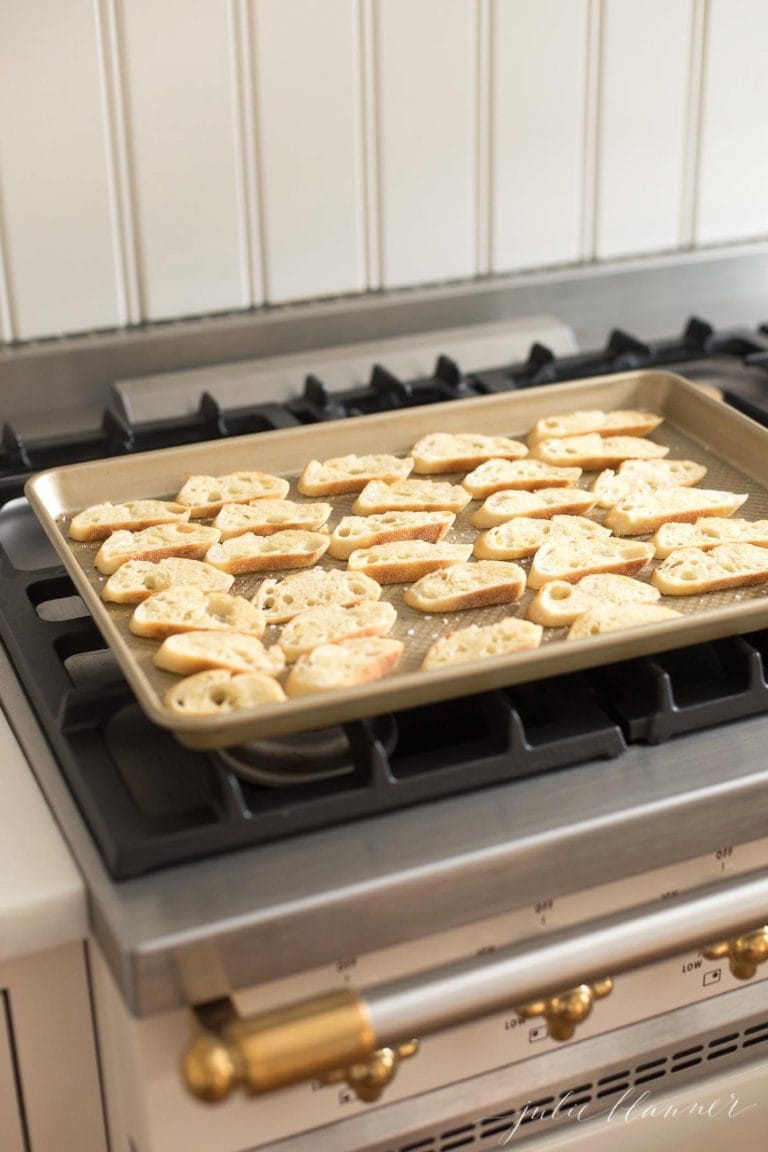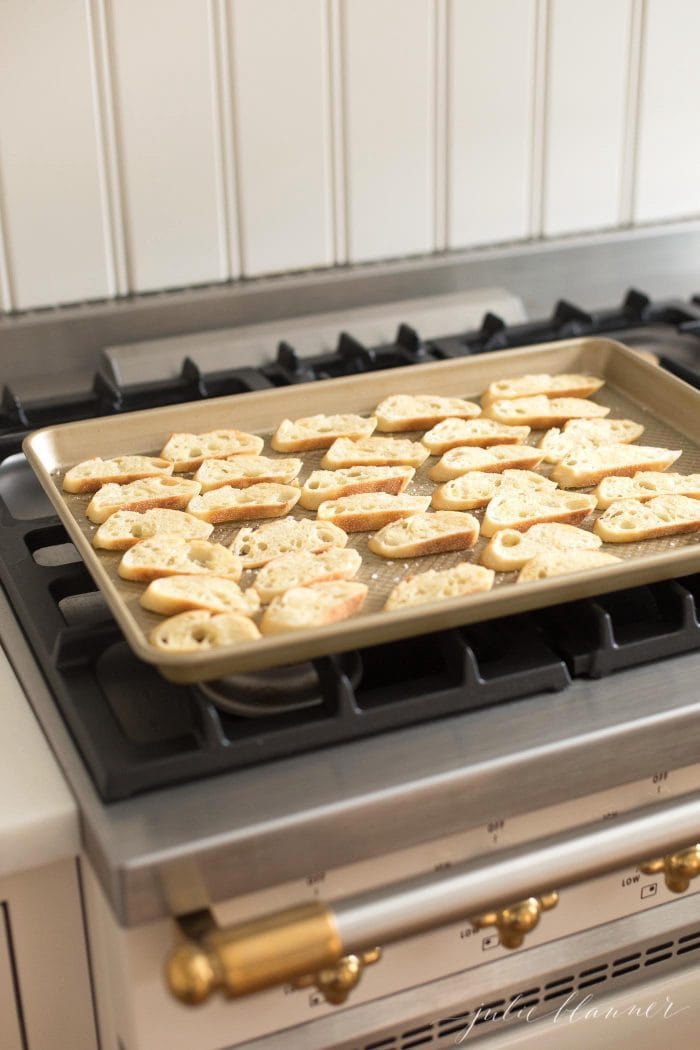 What Type of Bread do I need to Make Crostini?
Truly any bread aside from sandwich bread will work! Use whatever you have on hand!
baguette
ciabatta
french bread
artisan bread
bagels (also sliced)
take and bake bread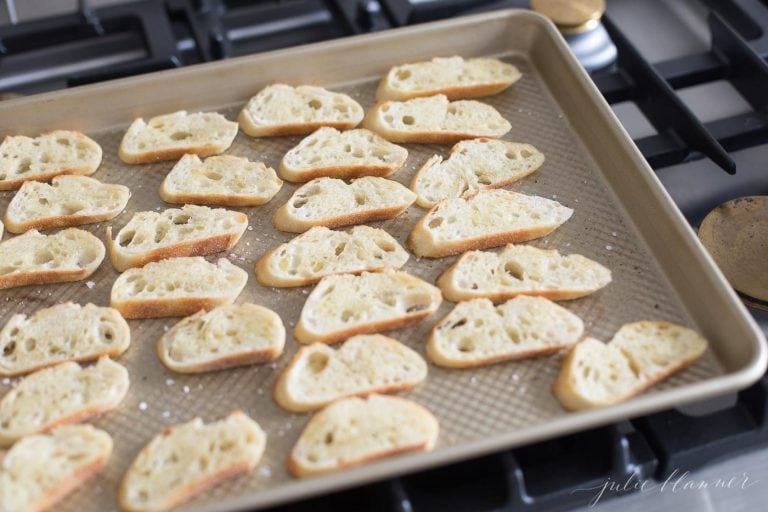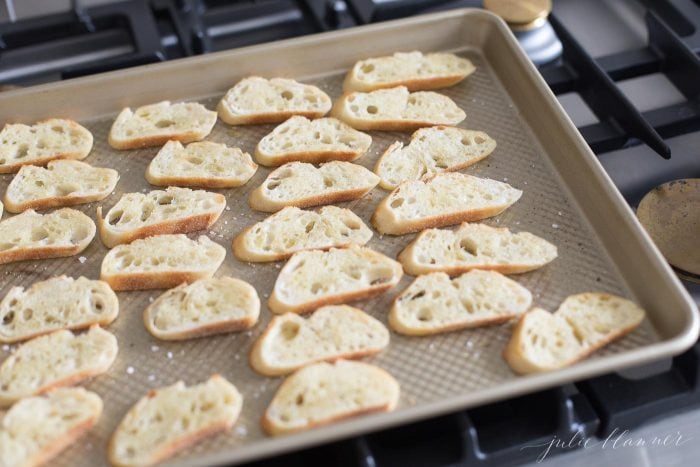 How to Make Crostini
Preheat oven.
Slice a baguette (or bread slices of your choosing) into thin slices at an angle.
Line crostini on baking sheets.
Using a pastry brush, coat with good quality olive oil.
Optional: season with salt and pepper or herbs. I like to use thick flakes of sea salt.
Broil 1 – 1 1/2 minutes until just toasted and crunchy.
Variations:
Use a flavored olive oil for a fun twist.

Serving Suggestions:
hummus and olive oil
as an accompaniment to a cheese platter
crushed on a salad
top with a little sun dried tomato and cream cheese
How to Store Crostini
They always taste best straight from the oven! However, you can store crostini in an airtight container or plastic bag for up to five days at room temperature. If the air is humid, you can recrisp by broiling for just one minute. This makes your party prep so easy! In fact, I often make crostini ahead of time and give it an extra little crisp under the broiler so it's a touch warm when guests arrive. In short, what could be easier?
I hope you enjoy this easy Crostini recipe as much as we do! If you try this recipe, I'd love to know what you think and what you served it with! I'm always up for new ideas. Leave a five star review in comments below!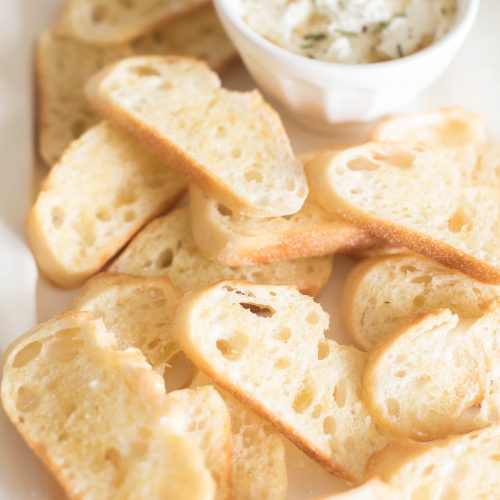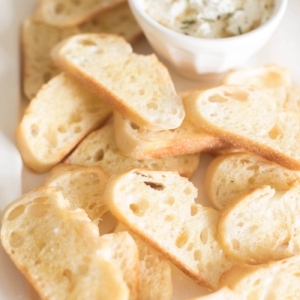 Crostini
Sure, you can purchase Crostini, but they're so easy to make, why not? Crostini are the perfect accompaniment to cheese trays and appetizers, can be enjoyed alone or topped with fruits and herbs.
Print
Pin
Rate
Servings (hover to scale):
16
Ingredients
1

baguette

2

Tbsp

olive oil

2

tsp

sea salt
Instructions
Slice a baguette into thin slices at an angle.

Line crostini on a baking sheet.

Using a pastry brush, coat with olive oil.

Optional: add a fresh crack of sea salt, black pepper or herbs.

Broil 1 - 1 1/2 minutes until just toasted and crunchy.
Video
Notes
use fresh cracked pepper, sea salt or herbs to customize your crostini
optional: rub with garlic clove for added flavor
They taste best straight from the oven, but you can store crostini in an airtight container or plastic bag for up to 5 days at room temperature. If air is humid, you can recrisp by broiling for just one minute.
Nutrition
Calories:
57
kcal
|
Carbohydrates:
7
g
|
Protein:
1
g
|
Fat:
2
g
|
Sodium:
386
mg
|
Potassium:
17
mg
|
Calcium:
12
mg
|
Iron:
0.5
mg
LET'S CONNECT!
Be sure to follow me on my social media and sign up to receive new recipes to your inbox!
instagram| newsletter| facebook| pinterest