Is it even a party until there's an incredible spread of everyone's favorite easy dip recipes? Whether you're looking for game day dip, cheese dip, or just a classic chip dip for parties… we've got it covered.
Get all the BEST dip recipes right here in this collection of 35 tried and true party favorites!
I love to dip! In fact, I think it's my favorite style of party food. Give me a good cheese ball or a fabulous easy dip recipe (fine, maybe a little of both) and I am a happy girl!
I've shared so many dip recipes with you, and I wanted to create a home base of sorts… a round-up of all the reader favorites. These recipes run the gamut- there are sweet dips, spicy dips, cheesy and everything in between. Truly, there's something for everyone here!
Dips are delicious all year long- I don't need any excuse or particular season for dipping, but it does seem like a holiday and game day tradition!
The Best Dip Recipes
I'm breaking my best dips into categories: Cheese Dips, Cream Cheese Dips, Cold Dips, Salsa + Guacamole, and then Dessert Dips.
Of course, many will overlap categories, but this keeps us organized for your searching purposes. Don't forget to use the handy Table of Contents drop-down menu to make your planning oh-so-easy.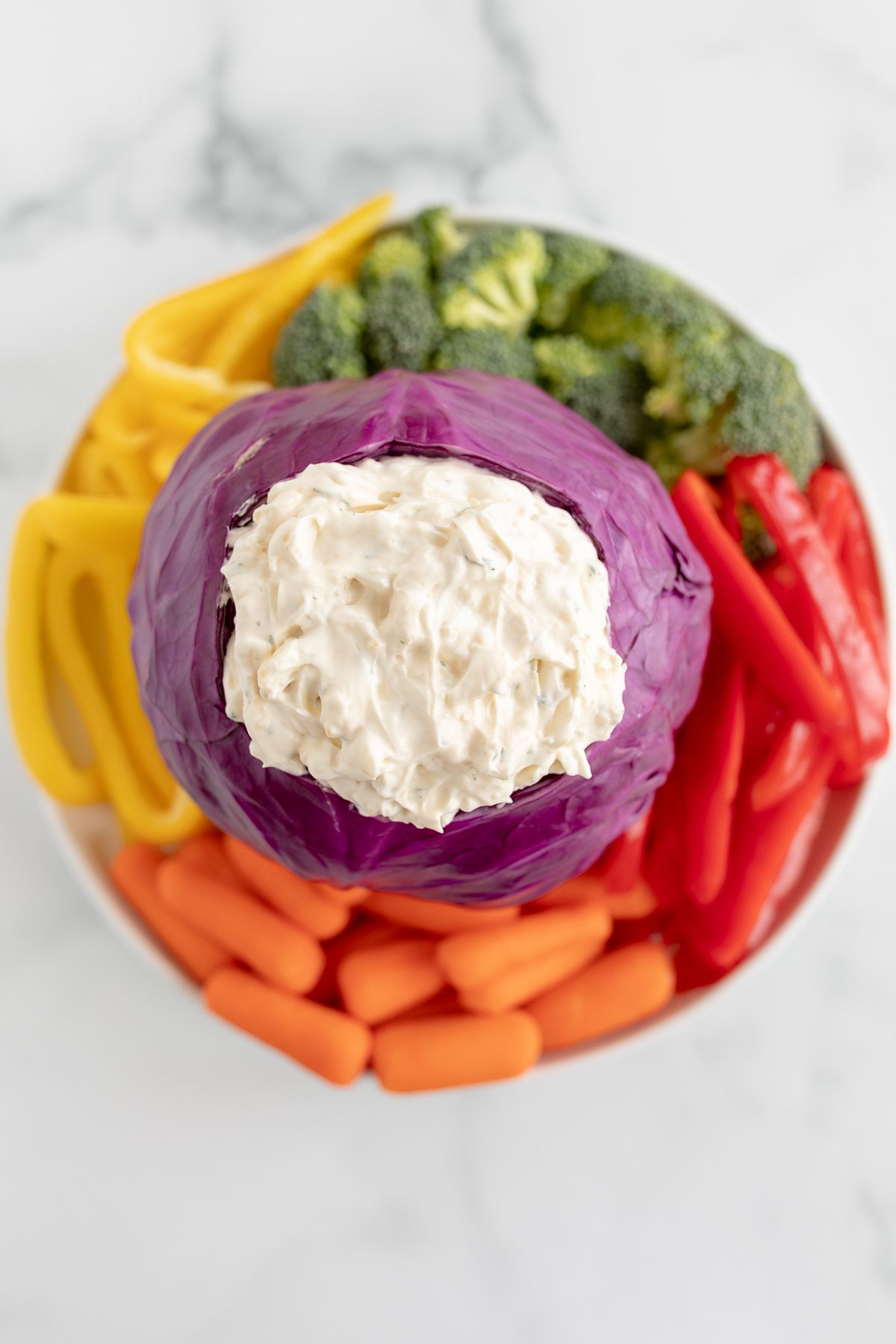 I hope you can enjoy them all! There's a little something for everyone here in this complete guide.
First, a few of my best tips and tricks for amazing dips, and the answers to your most frequently asked questions.
Tips
Looking for the perfect way to serve a variety of dips for your party? I've heard great reviews on this triple slow cooker!
To Keep Dip Warm for a Party: Use a small, dip-sized slow cooker to keep your dip at the appropriate temperature throughout your event.
The key to doing this well is to make sure it's cooked through and completely warmed prior to adding it to the crock pot. Then you'll set your slow cooker to warm to keep it at the perfect temperature! Works like a charm!
Shred your own cheese! Don't buy pre-shredded cheese for your dips. Bagged cheese is covered in a floury substance to keep it from clumping, and it prevents it from melting into the smooth, creamy goodness we all know and love.
Make Ahead
Many of your favorite warm and cold dips can be made ahead! Especially oven baked dips like spinach dip, bacon dip, etc.
Be sure to read the directions for each individual dip recipe to see if they can be made ahead, and for how long.
To reheat a dip you've made ahead, simply heat your oven to 300 degrees F. Reheat for approximately 30 minutes, or until dip is warmed through.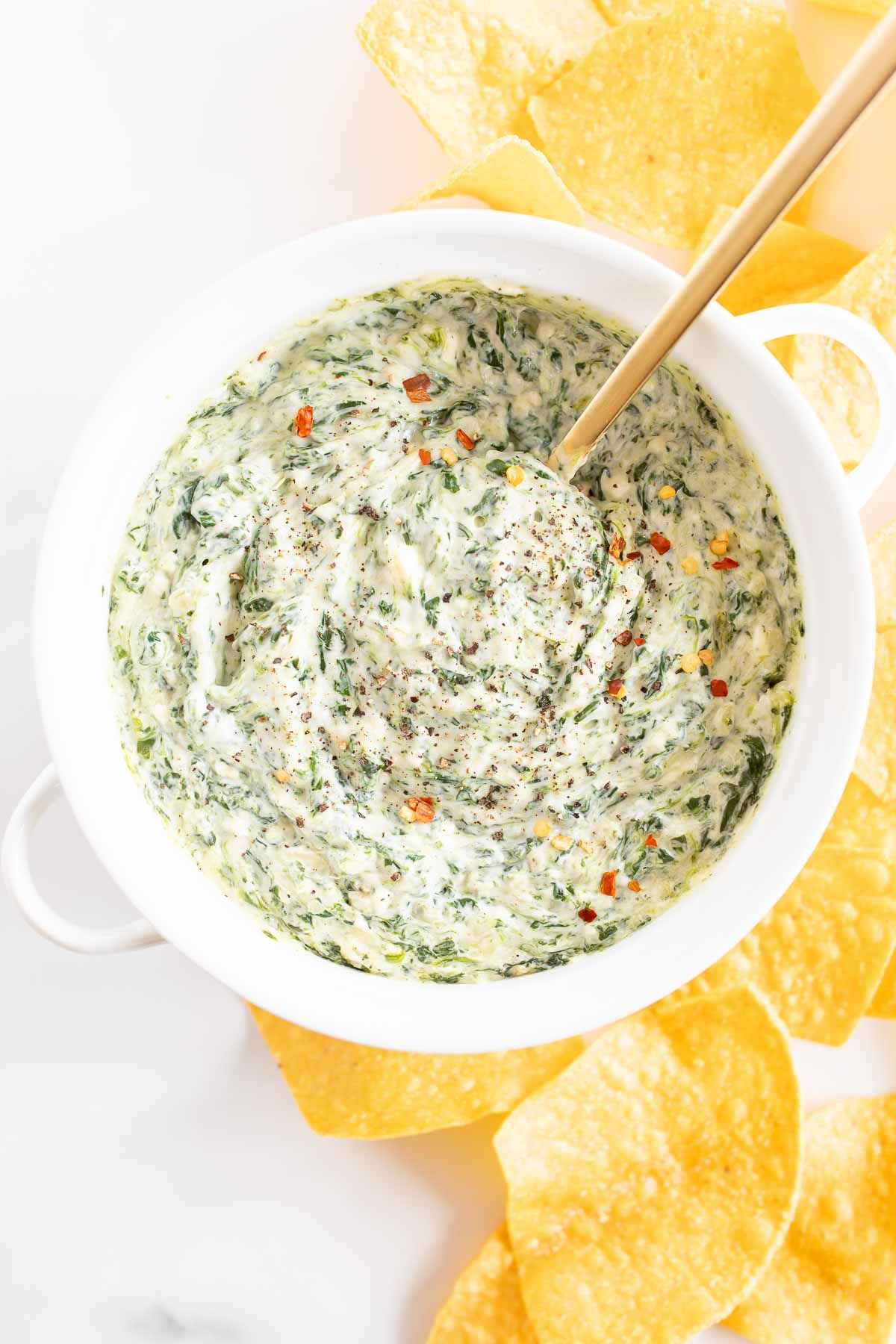 Frequently Asked Questions
What are the most common dips?
Veggie dip, salsa, and homemade French Onion Dip tend to be the most popular dip recipes around here!
What is the Healthiest Dip?
In this round-up of delicious recipes, there are quite a few that are low carb and low calorie. However, if I have to choose on that is the all-around healthiest, my vote would be for classic pico de gallo.
It's low carb, low calorie, and fits within a Keto or Whole 30 lifestyle plan- it's even a great Vegan option. It's fresh, vibrant, healthy and flavorful, but minimal on sodium. If you're looking for a fresh and healthy dip recipe to try, this one is a great start!
What are the Best Game Day Dips?
Game day dips often included the classics, like spinach dip, ranch, spinach artichoke or bean dip. Cheese dips (what's more classic than queso?) are so popular and there are plenty of those options here, too.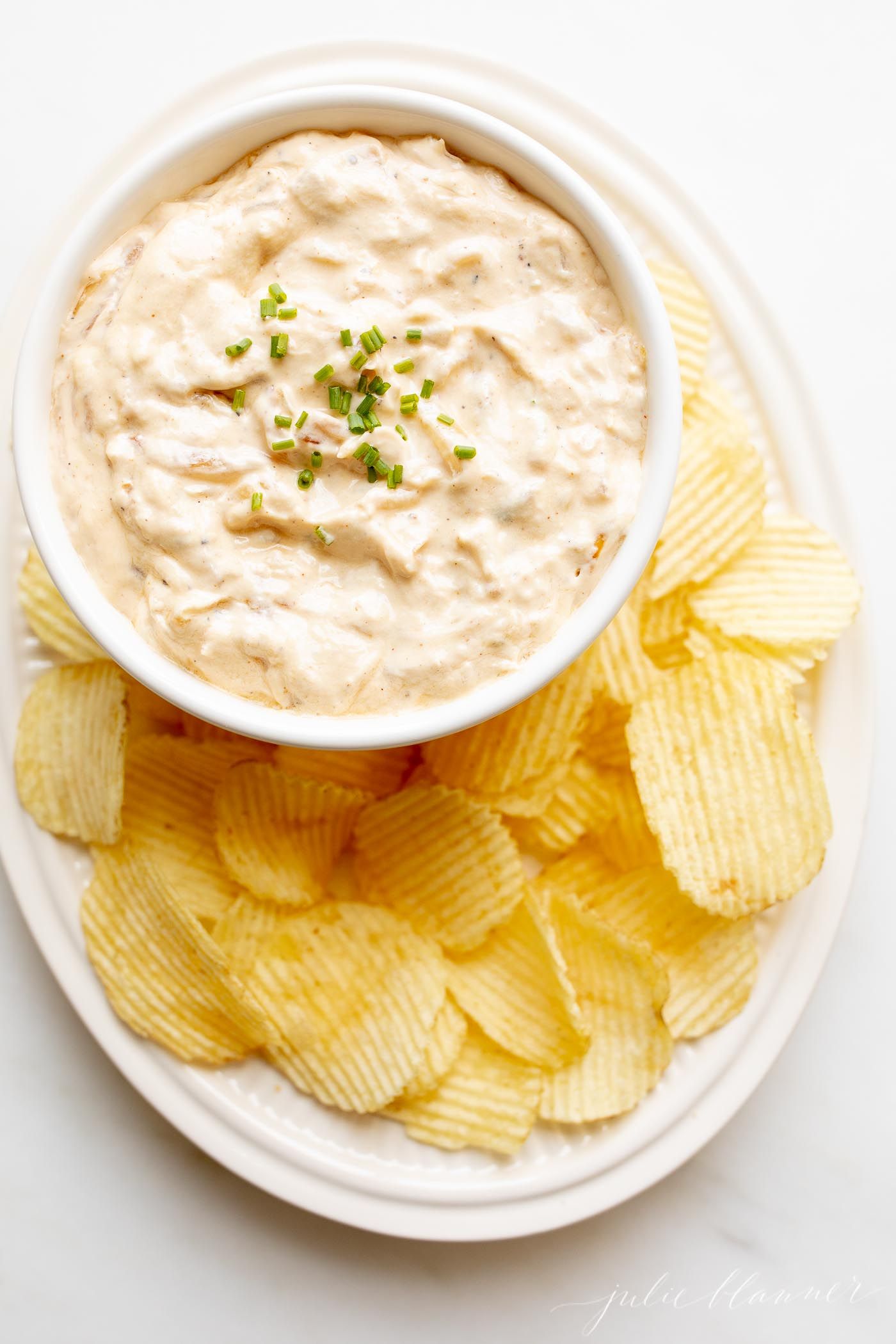 What Can You Eat with Dip Besides Chips?
Easy crostini
Pita slices
Crackers
French bread
Breadsticks
Bagel slices
Pretzels
Rice Cakes
Sweet Potato Chips
Veggie Straws
Lower Carb and Lower Cal Options
Cucumber slices
Sliced bell peppers
Baby or sliced carrots
Jicama slices
Celery sticks
Pork Rinds
Kale chips
Broccoli
Cauliflower
Zucchini slices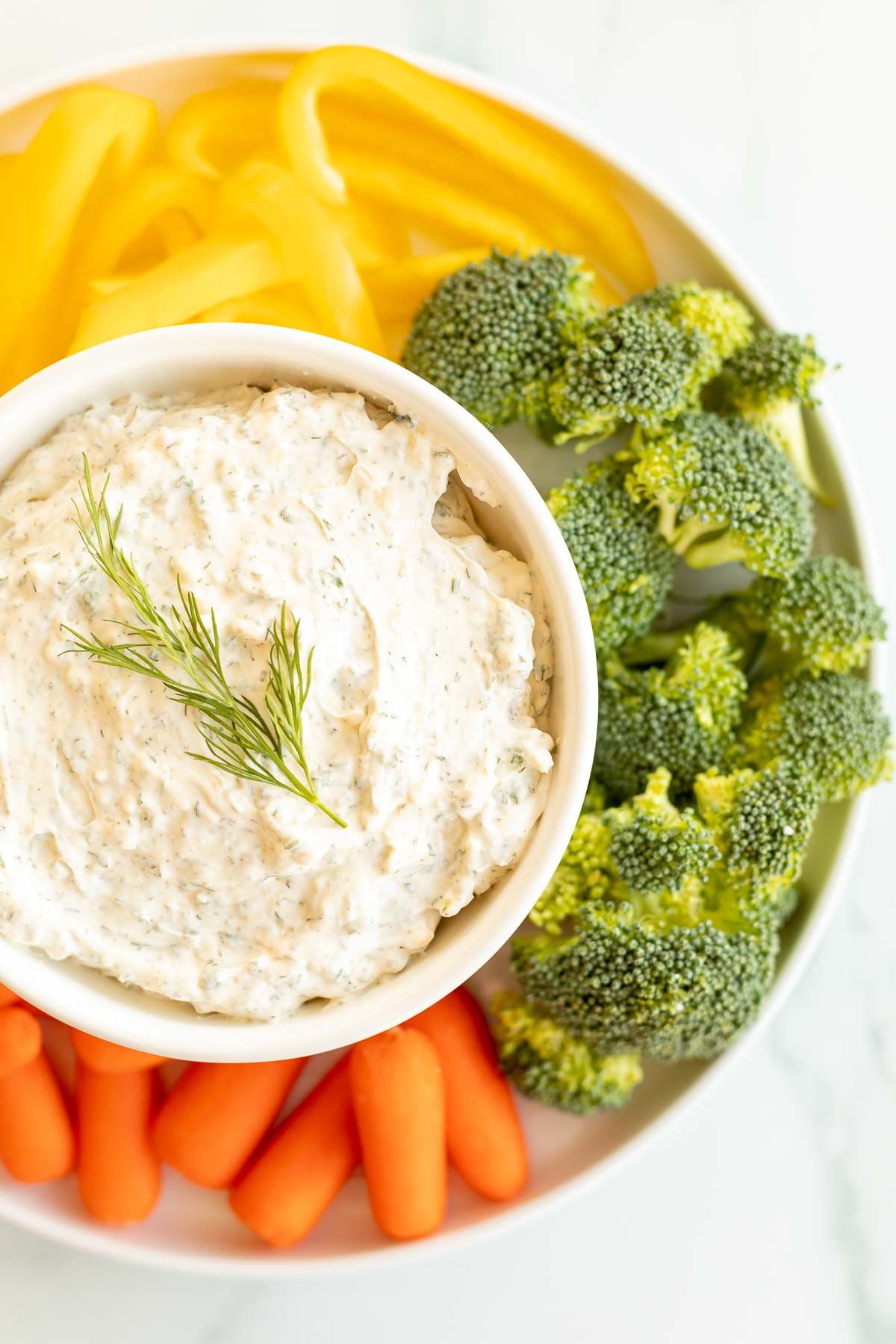 How to Store Dips
Room Temperature – Most dips can sit out at room temperature while serving for up to two hours safely.
Refrigerator – Refrigerate your party dips for up to two days in an air tight container. Many of the recipes in this round-up will keep for even longer – be sure to read the storage directions for each!
Freezer – Some of your favorite party dips can be frozen, but most are best served fresh or from the fridge. Read each recipe's storage directions for more details.
35 Easy Dip Recipes
Click through for the free printable recipe card for each one that interests you!
Cheese Dips
It's no wonder this classic recipe is among the most popular! This one is a timeless favorite. It's not a party without Velveeta Cheese Dip – especially for game day! Get the secrets that make it better than the rest!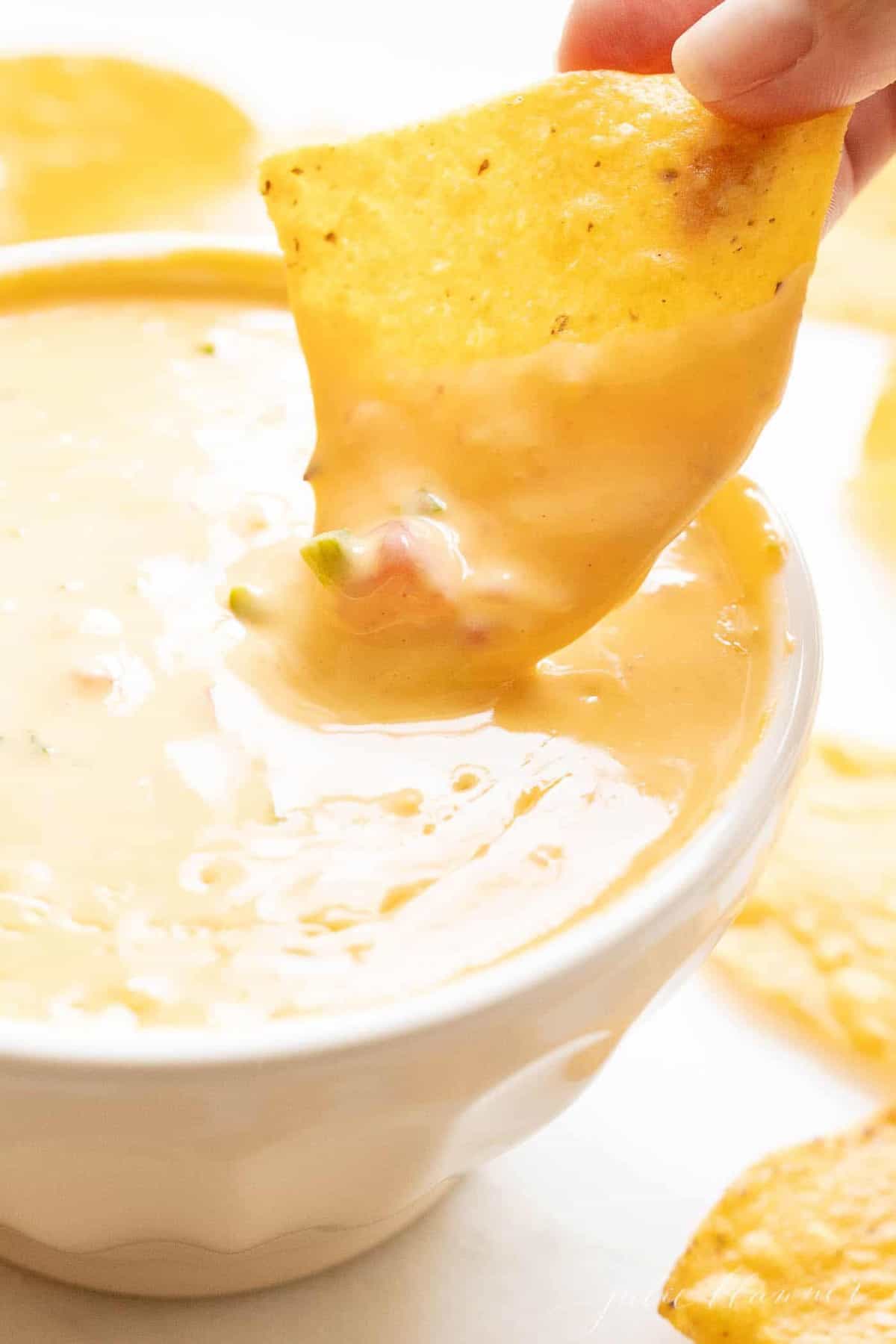 Love the classic Velveeta dip but want to try something different? Go for Queso Blanco, a recipe for a restaurant-style white queso dip without a lot of effort.
This creamy, cheesy Queso Blanco is made on the stovetop (or in a CrockPot) with just four ingredients; white cheese, heavy cream, jalapeño and tomato!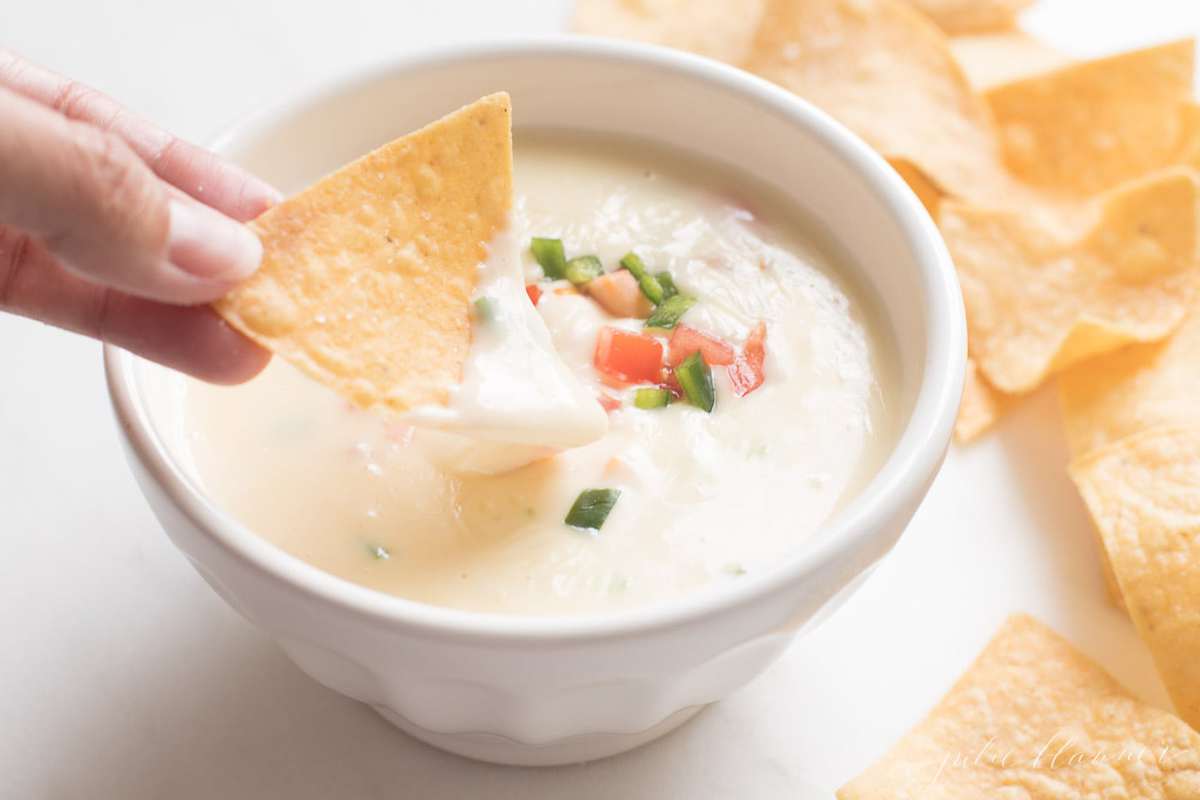 This Blue Cheese Dip Recipe is made with just 5 ingredients in less than 5 minutes. It's seasonless and the perfect addition to holiday get-togethers, tailgates, game day and more! It pairs well with chips, veggies and chicken wings.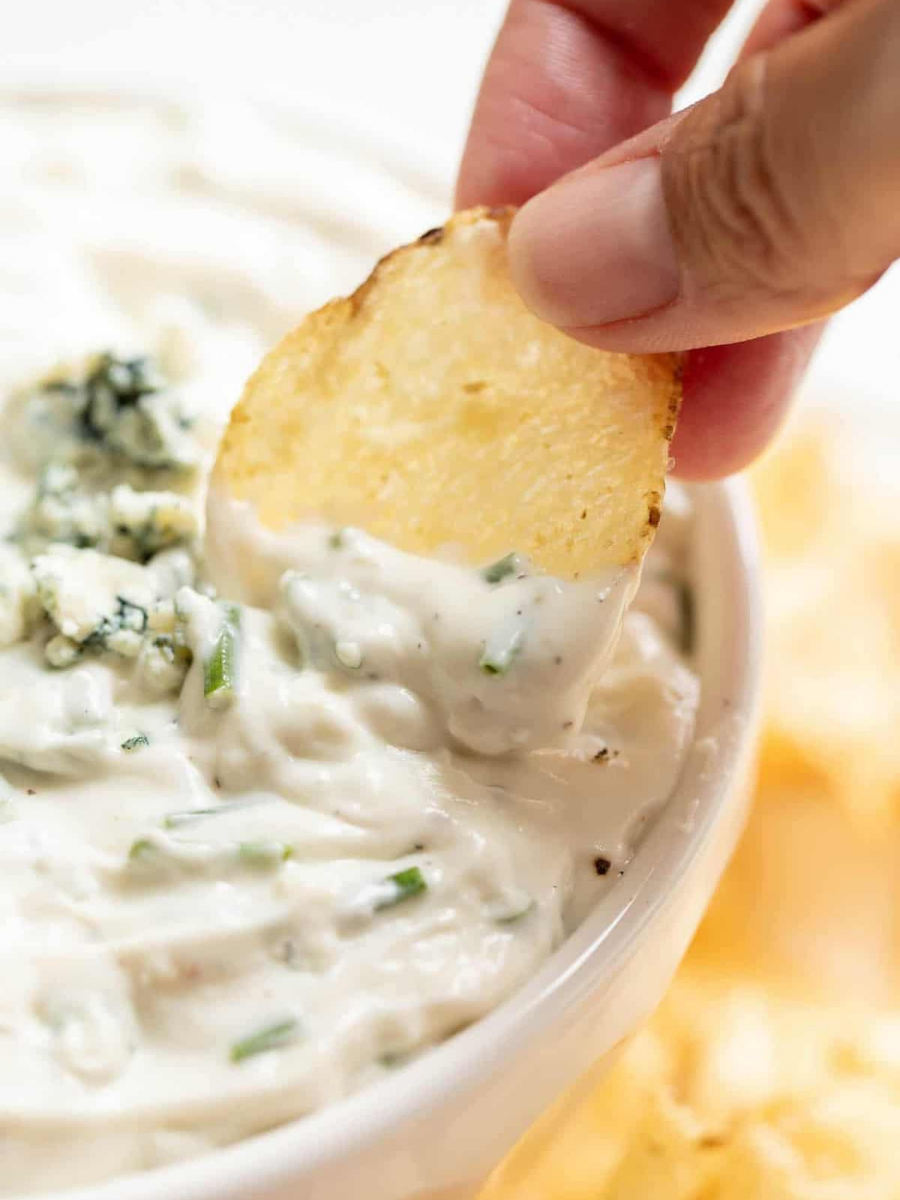 Marinara Goat Cheese Bake is an easy 3 ingredient, 5 minute appetizer that looks as great as it tastes! You'll find this delectable dish on menus at many traditional Spanish tapas restaurants, served as Queso de Cabra con Tomate.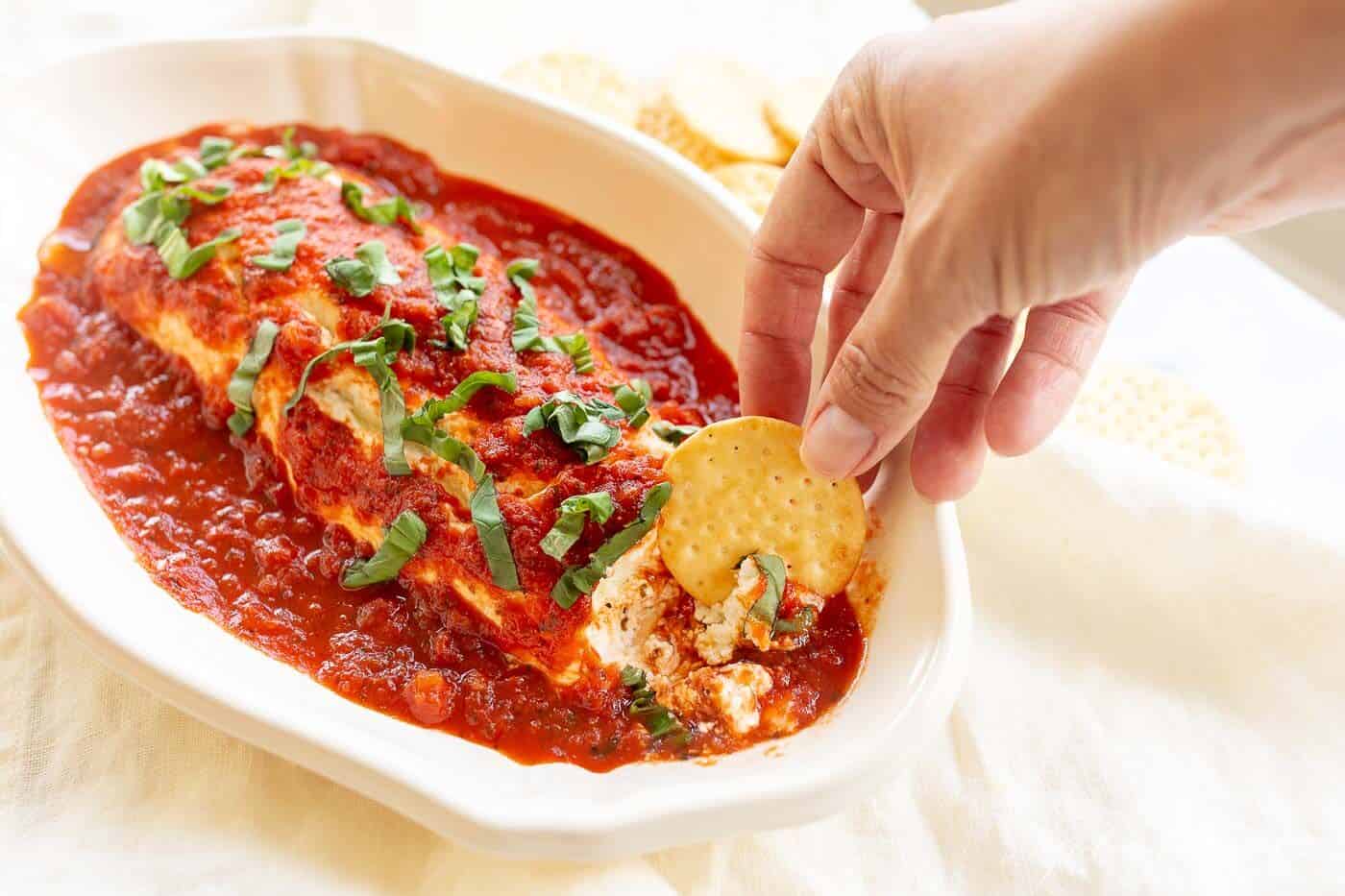 This easy hot cheese garlic dip recipe takes just 10 minute start to finish! This classic baked cheese dip is simple, flavorful and memorable with just a few minutes hands-on time. Cheesy and garlicky, it makes the most perfect appetizer for sharing.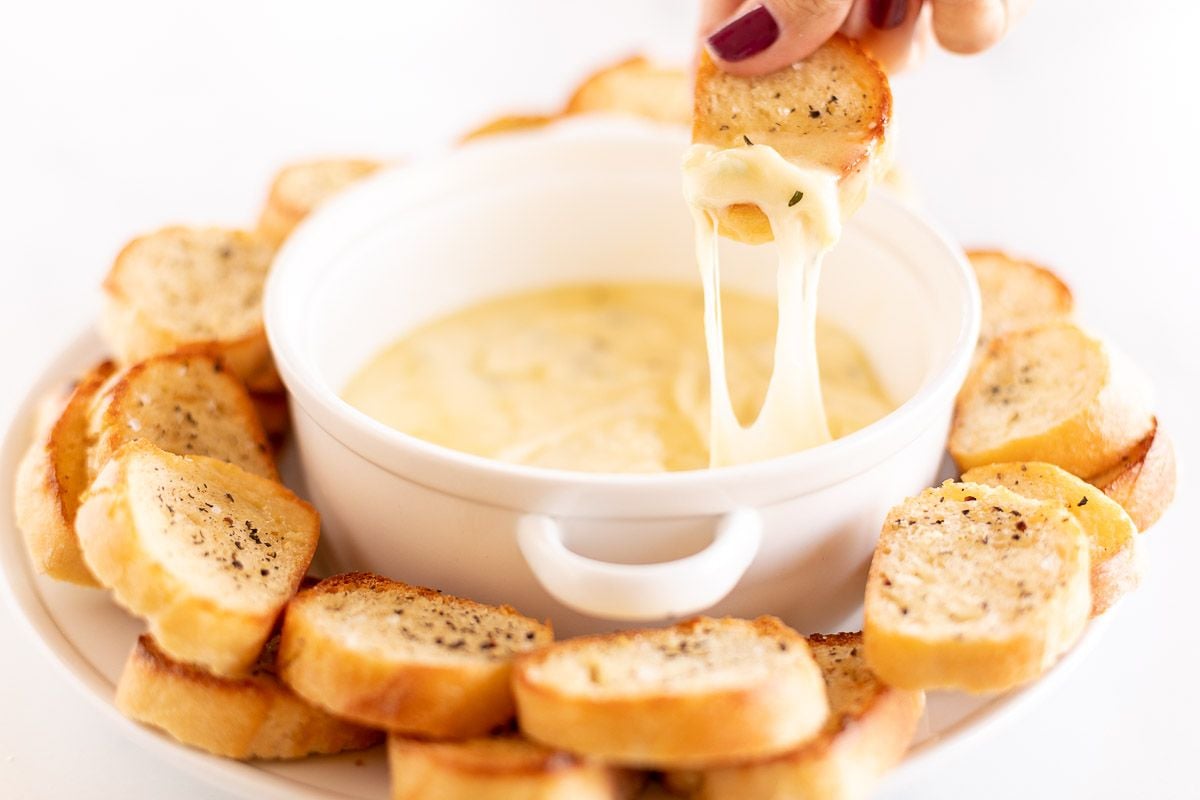 Incredibly easy Bacon Cheese Dip that's always a favorite for game day or get togethers! This creamy mix of bacon, cheddar, cream cheese and sour cream topped with green onion is irresistible!
This warm dip comes together quickly with simple ingredients and is low carb and keto friendly, when served with your favorite healthy dippers.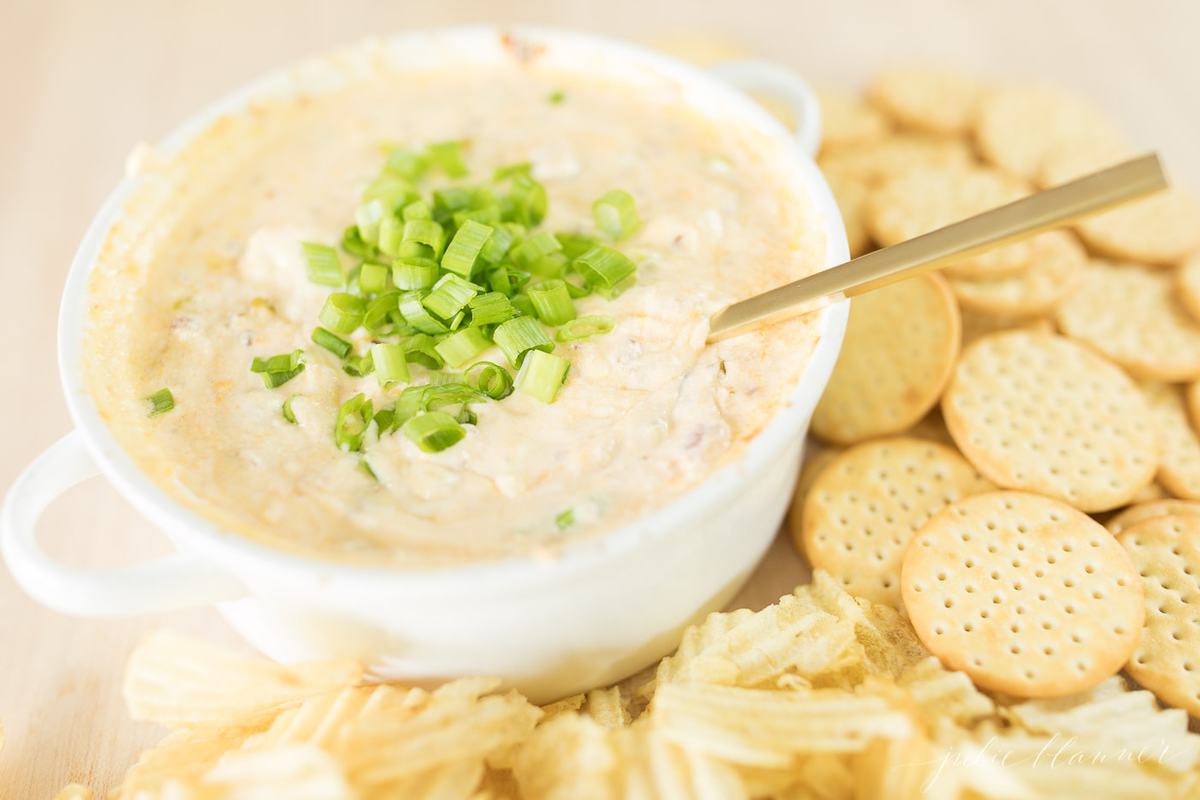 Creamy corn casserole made with cream cheese – this cheesy corn doubles as a dip! It's a classic side dish that is perfect for parties as a dip or a family-friendly side dish.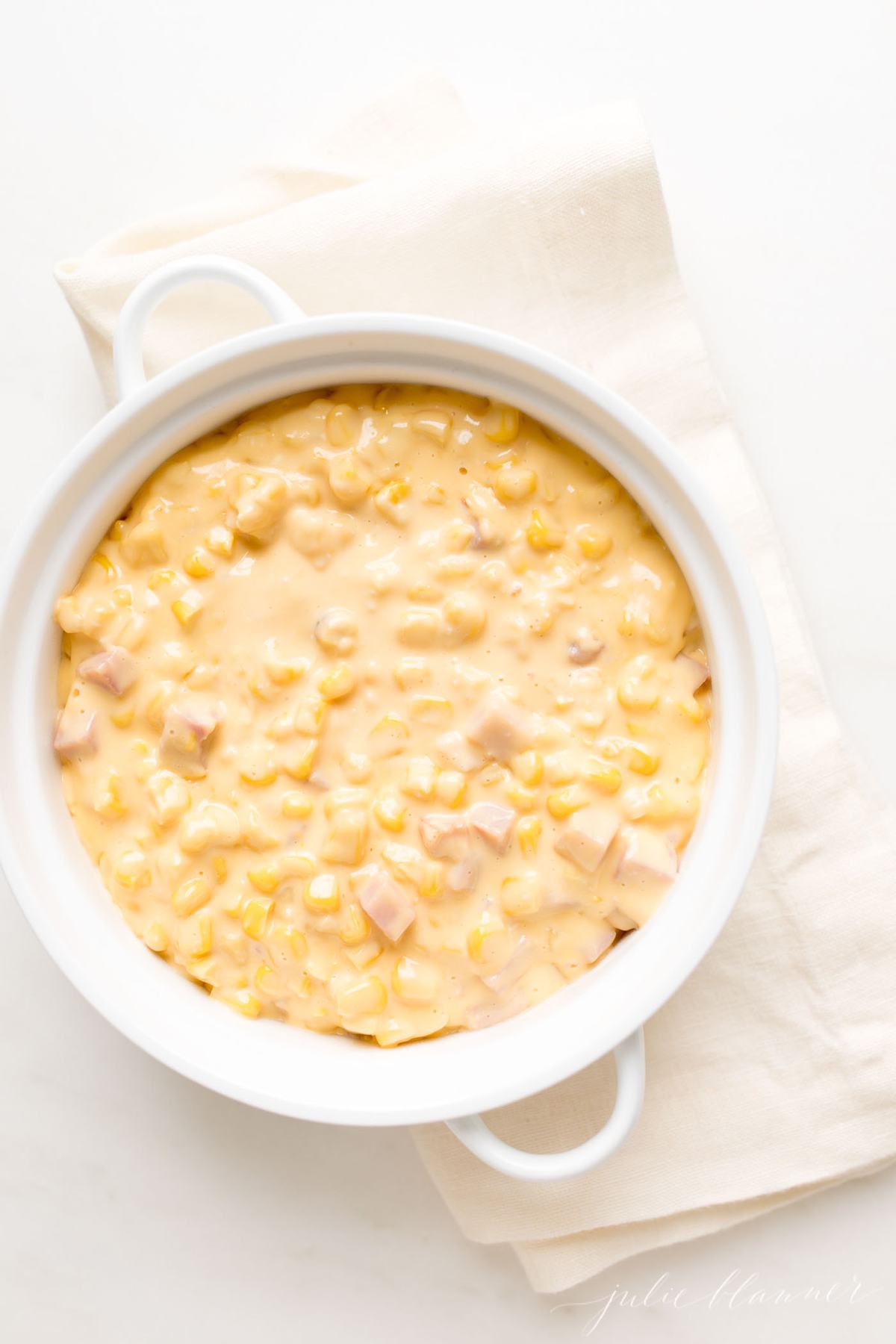 Cream Cheese Dips
Cream cheese is the cornerstone of many of my dips! It can be a little frustrating to work with, however, because when it's cold it's too difficult to manipulate!
Learn How to Soften Cream Cheese here, and answer the question of Can You Freeze Cream Cheese?
These dips are so popular because they create the creamiest, most filling ways to dip. Cream cheese is an excellent background for a variety of herbs and seasonings, creating a flavor profile anyone will love!
This easy Baked Artichoke Dip Recipe is a hot artichoke dip with cream cheese and mayo that pairs well with beer bread, sourdough, veggies and more. One bite and you'll know why this is a classic favorite!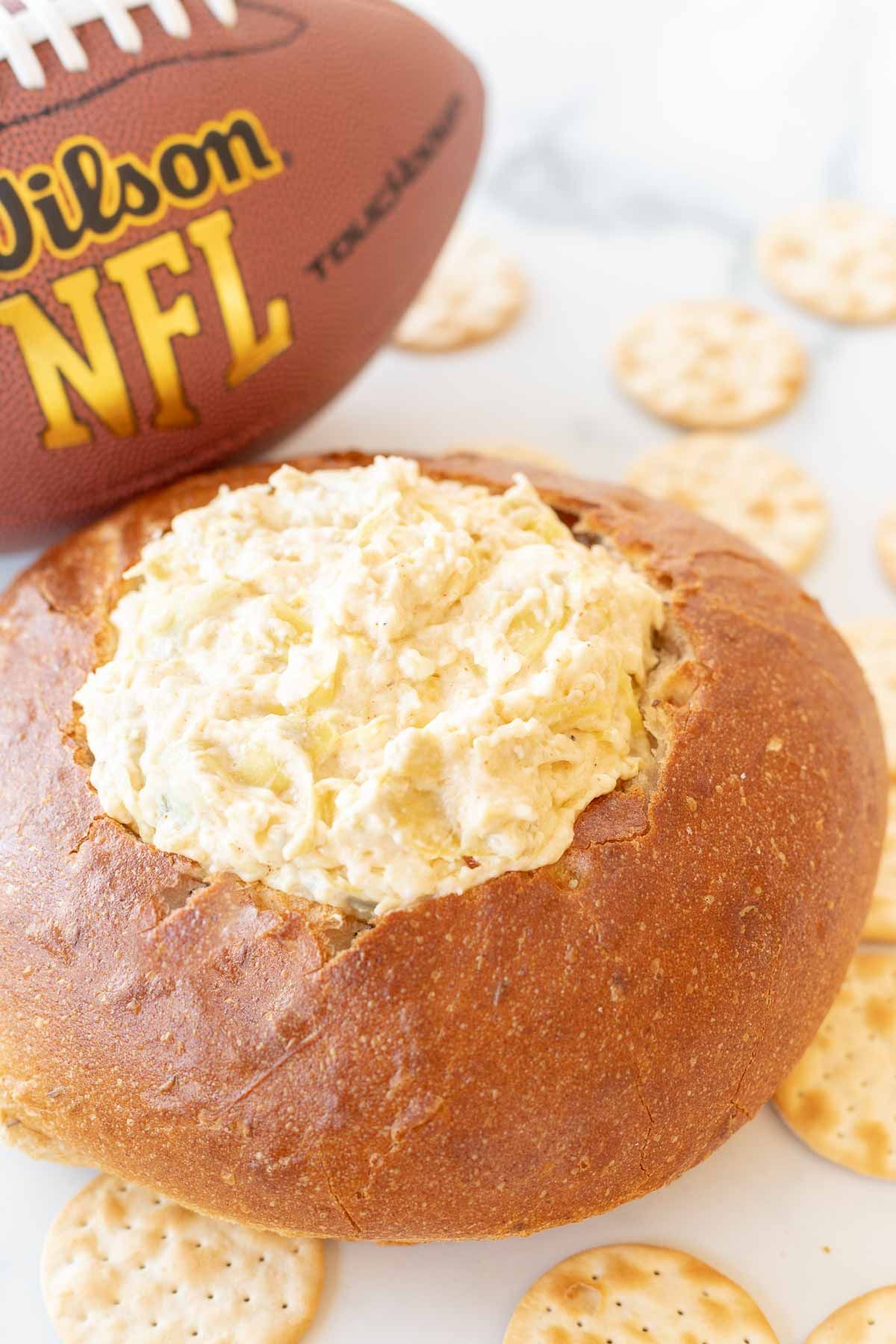 This pesto cheese dip is so easy and quick to make, it's the perfect appetizer for the holidays, game days or general entertaining. You need just three ingredients for this simple recipe that's perfect for a crowd.
Full of flavor, you can serve this as a hot dip or make it ahead of time.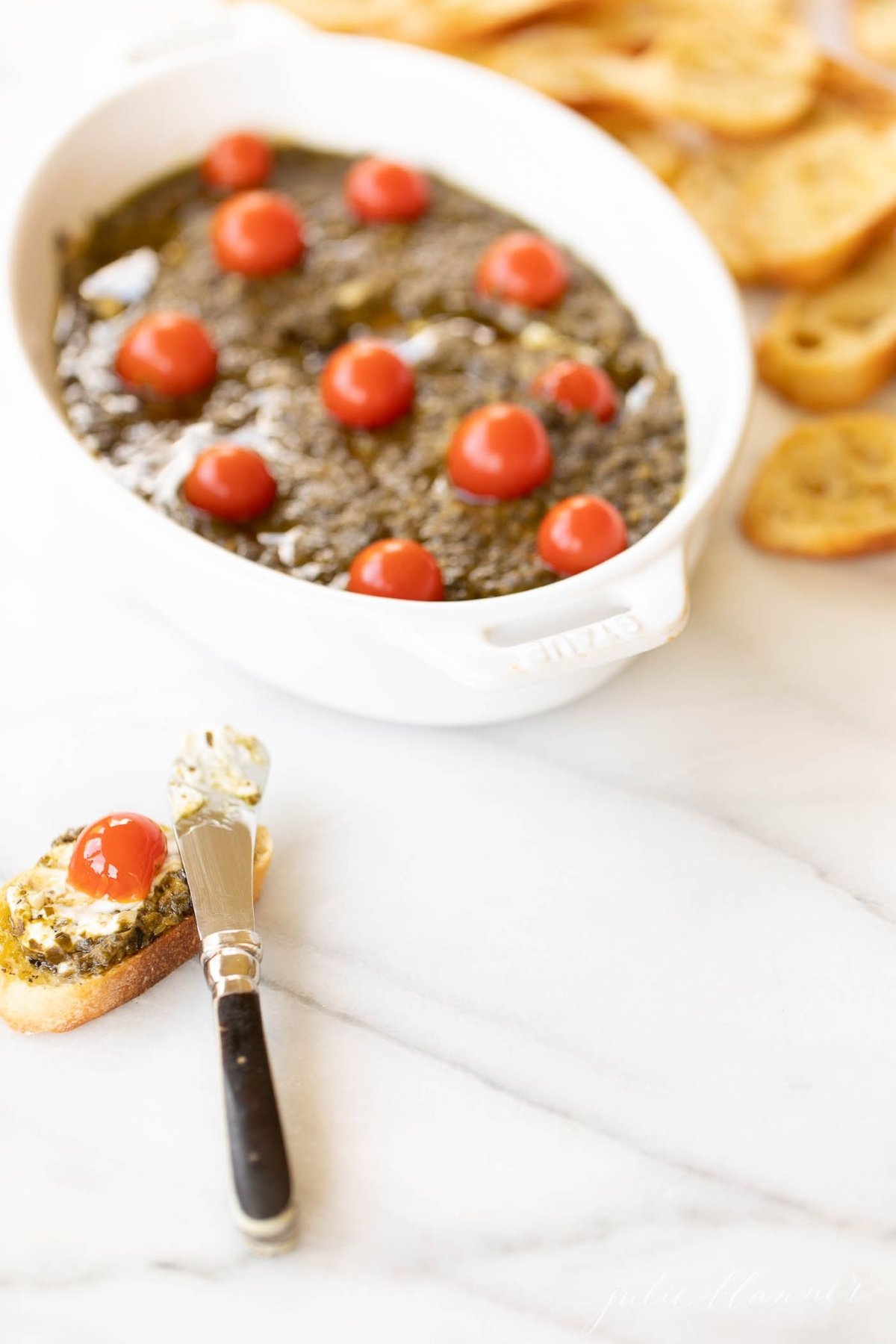 French Onion Dip is an easy crowd pleasing appetizer you can make in ahead in minutes! Caramelized onions are folded into a creamy dip for amazing flavor in every bite. This dip will make you want to ditch the mix forever.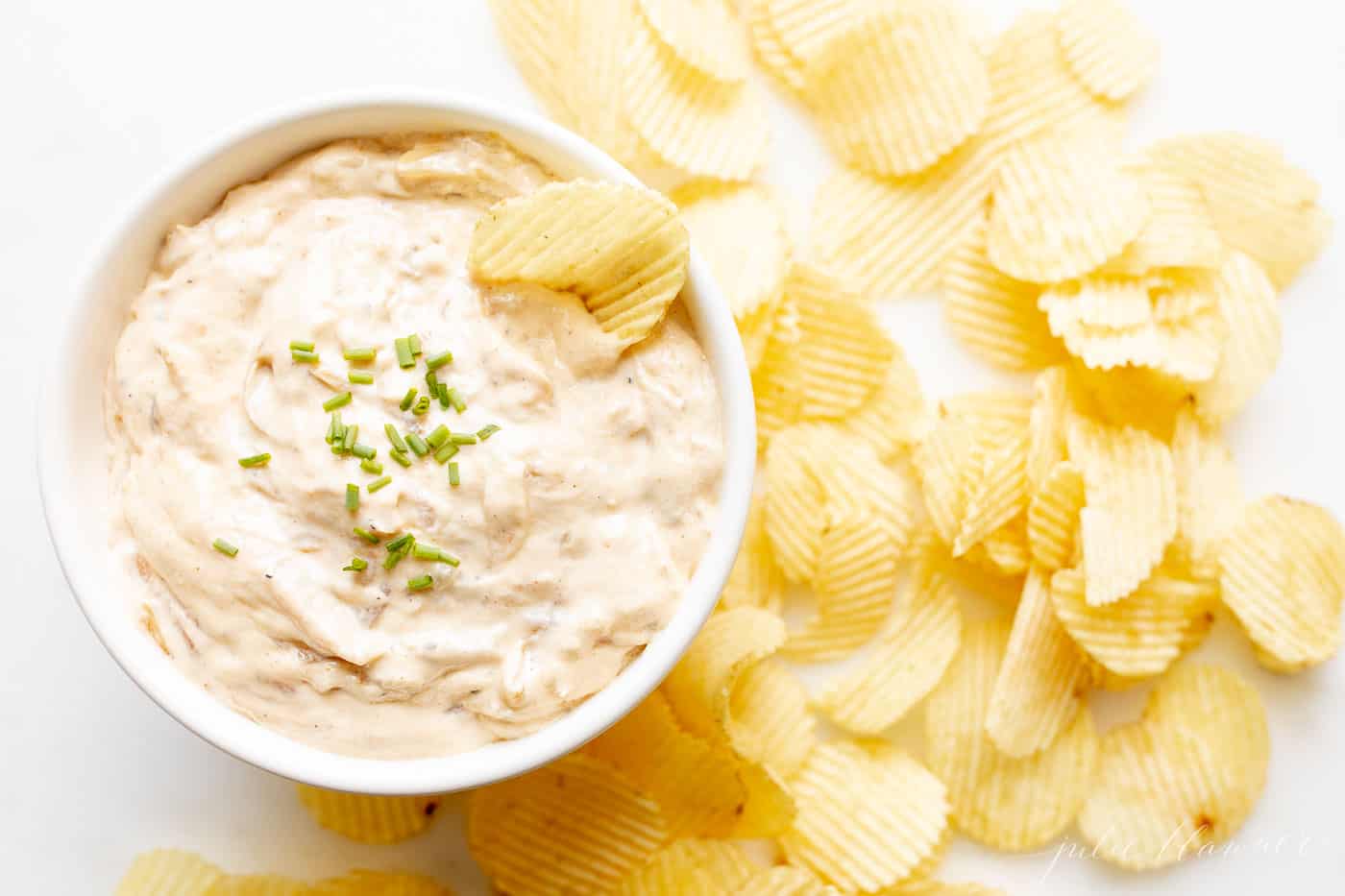 Easy 5 minute Cream Cheese Bean Dip recipe made with just 4 ingredients! Mexican bean dip is a perfect appetizer for game day and beyond.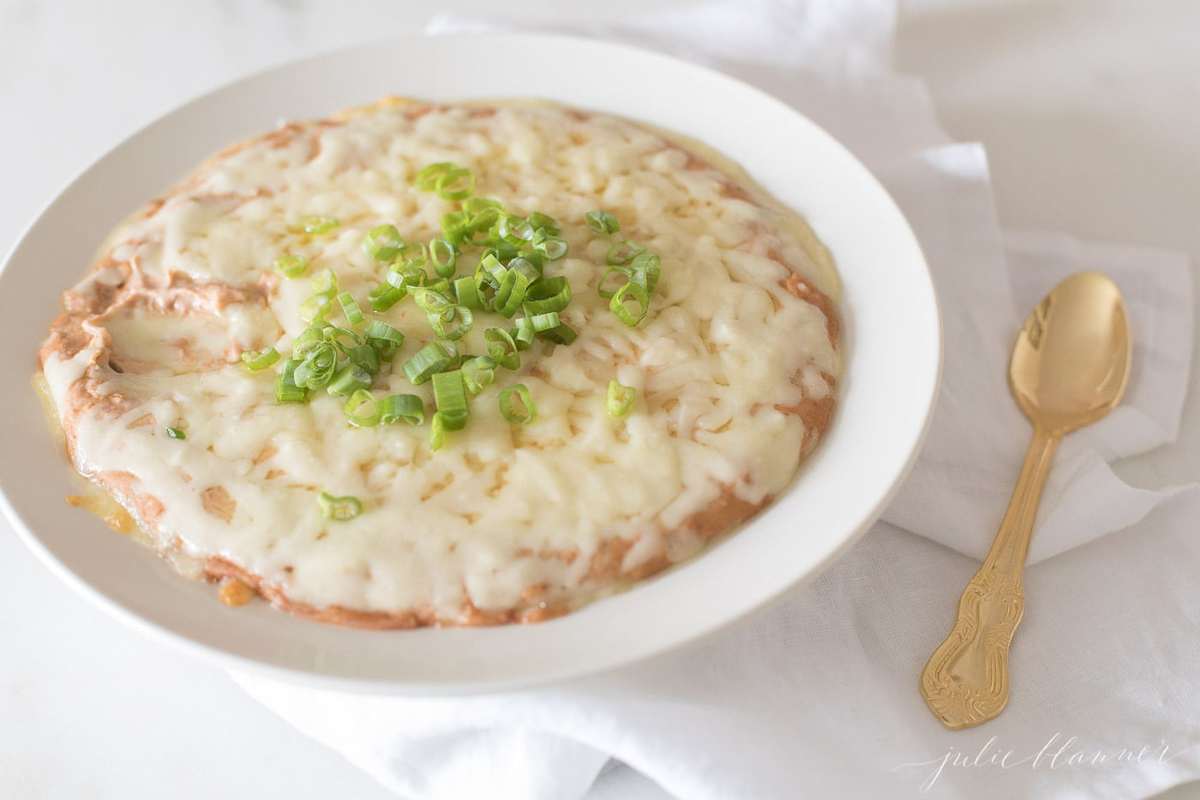 This is such an amazing cream cheese spinach dip that is full of flavor! Perfect for pairing with tortilla chips, flatbread, veggies or crostini.
I absolutely crave a creamy spinach dip! There's nothing better on game day, Christmas Eve, New Year's Eve or any other excuse to dip into spinach dip. I make spinach dip with cream cheese and Monterey Jack cheese to achieve the creamiest, cheesiest spinach dip!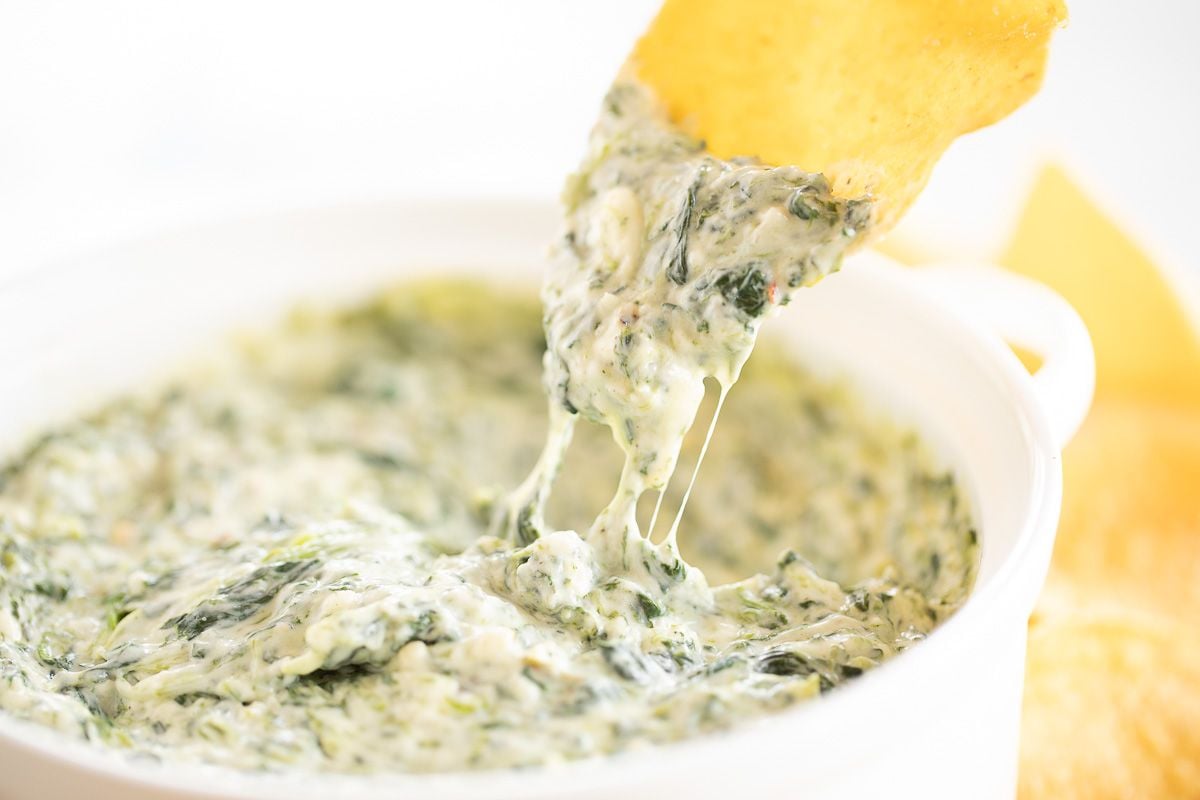 This Creamy Jalapeño Dip is a quick and easy dip recipe you can make in minutes! It's a stand out crowd pleasing dip that's perfect for parties, tailgates and more.
It's made with cream cheese, mayonnaise, jalapeños and monterey jack cheese for the creamiest, spiciest dip ever!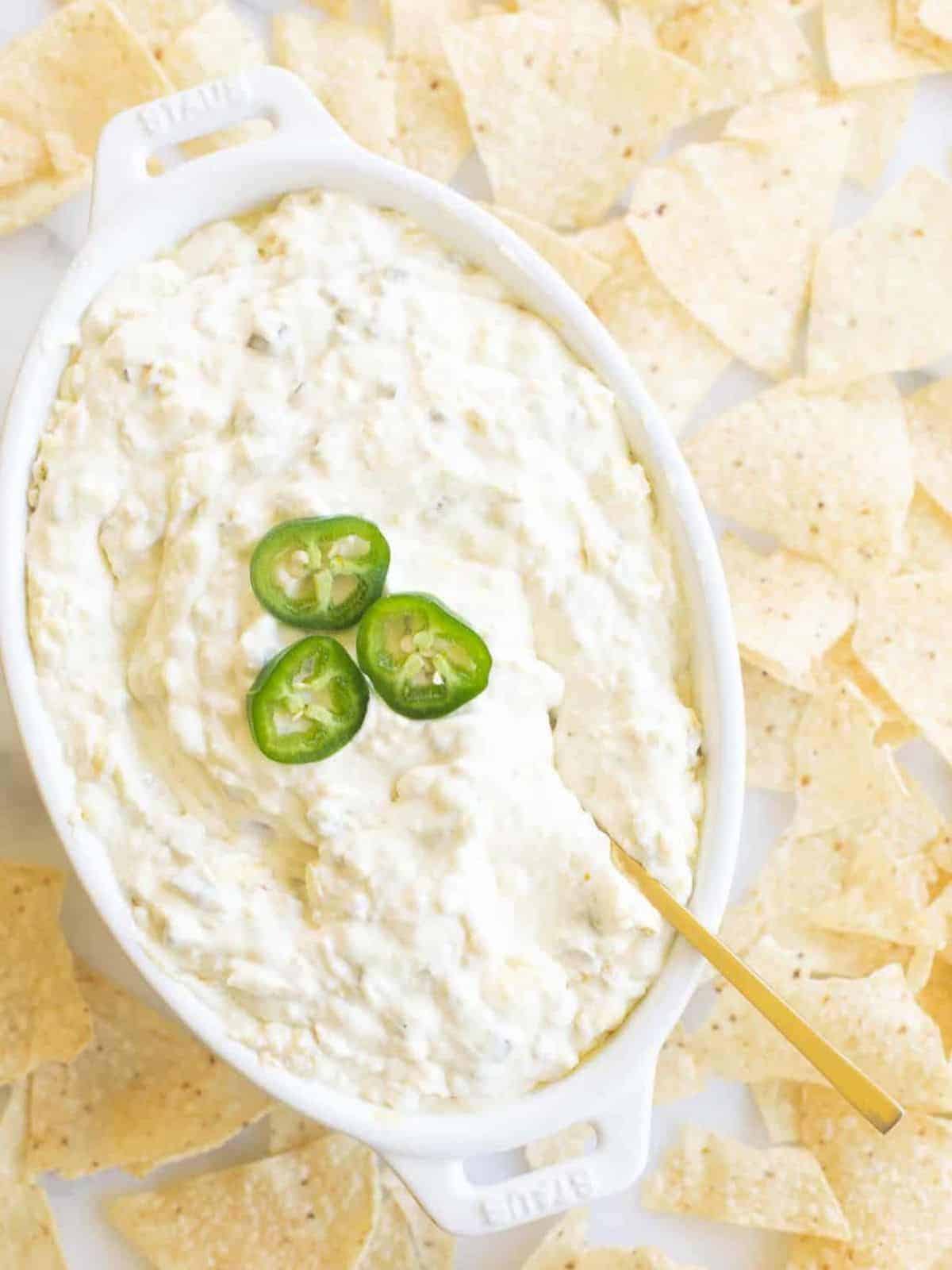 Cold Dips
Many of these dips are great to make ahead, and they are so easy to transport and serve, too!
This vegetable dip is most pinned, saved and shared dip recipe It's unique, delicious, and it's been made and shared countless times with incredible results!
I call it irresistible because that's what it truly is. If you're looking for a crowd-pleasing dip that feeds a large group, this is the one for you! Don't skip it- if you make any of my dips, this is the one you've got to try!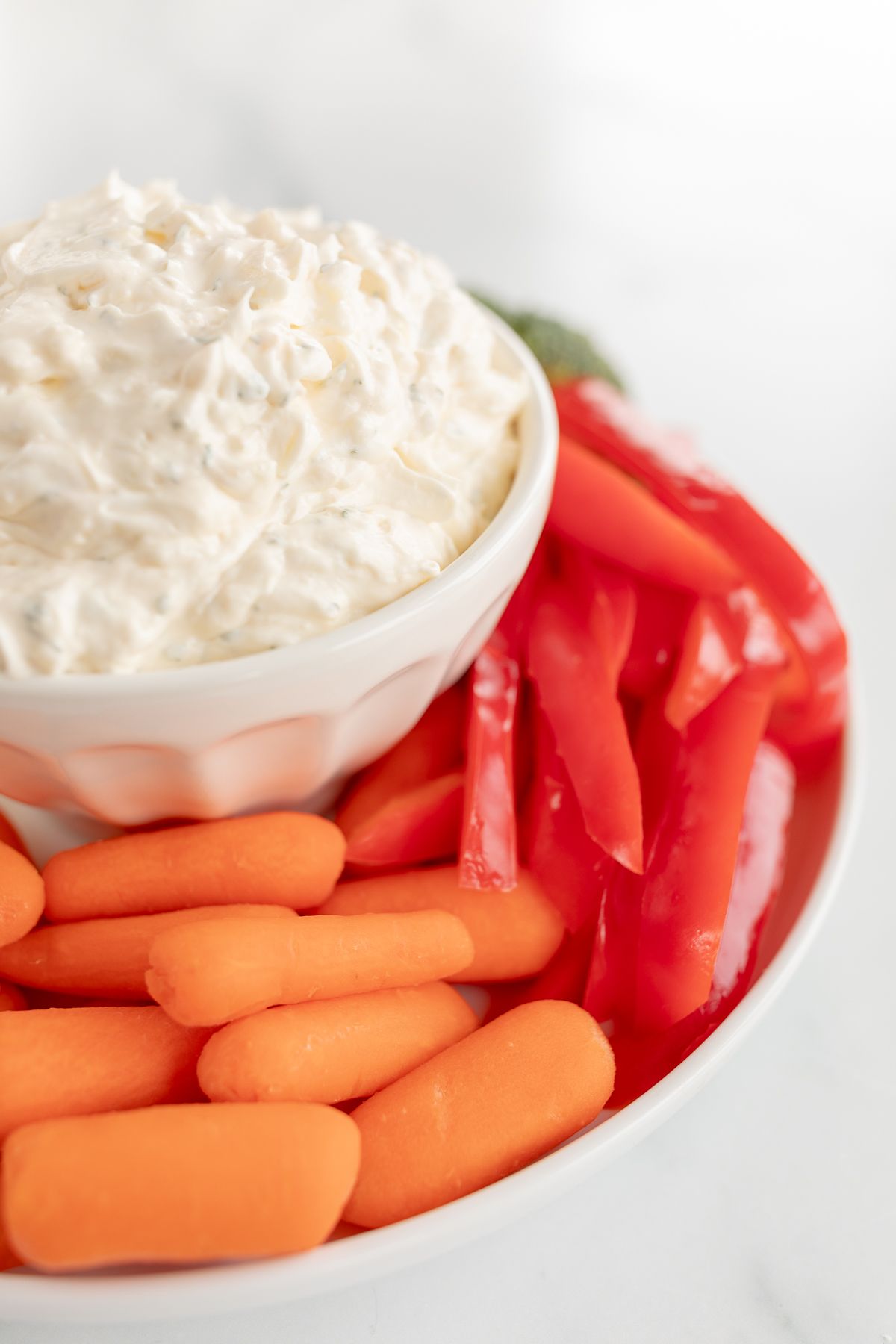 The best Sour Cream Dip that is delicious, mild in flavor and always a crowd pleaser. It's the ultimate sour cream dip recipe for game day, summer get togethers and beyond! It makes a great vegetable dip or a sour cream chip dip!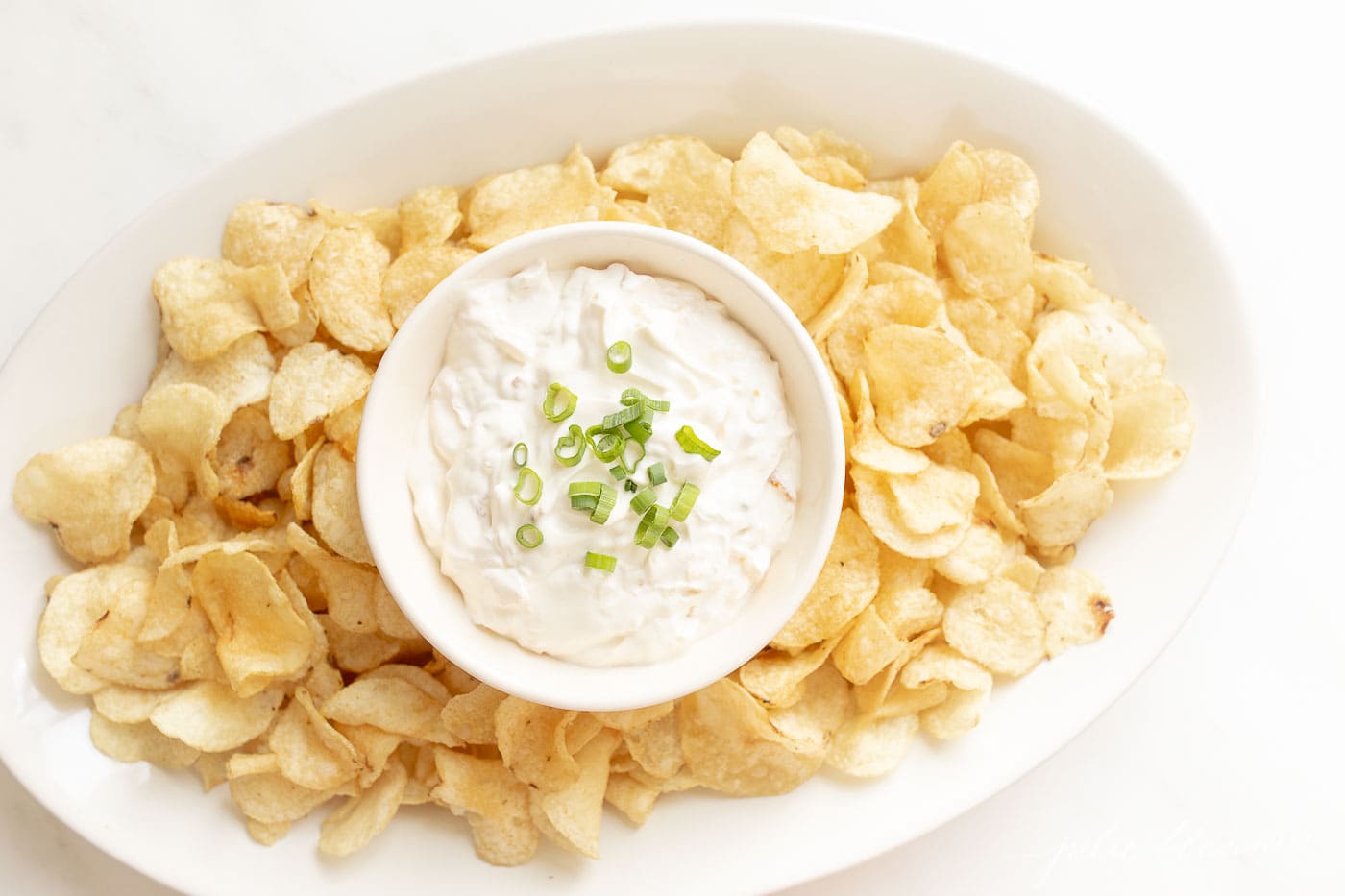 Goat Cheese Spread is an easy goat cheese appetizer made with whipped goat cheese, honey, herbs and fresh cracked pepper. It takes less than 5 minutes to make and is always a crowd pleaser!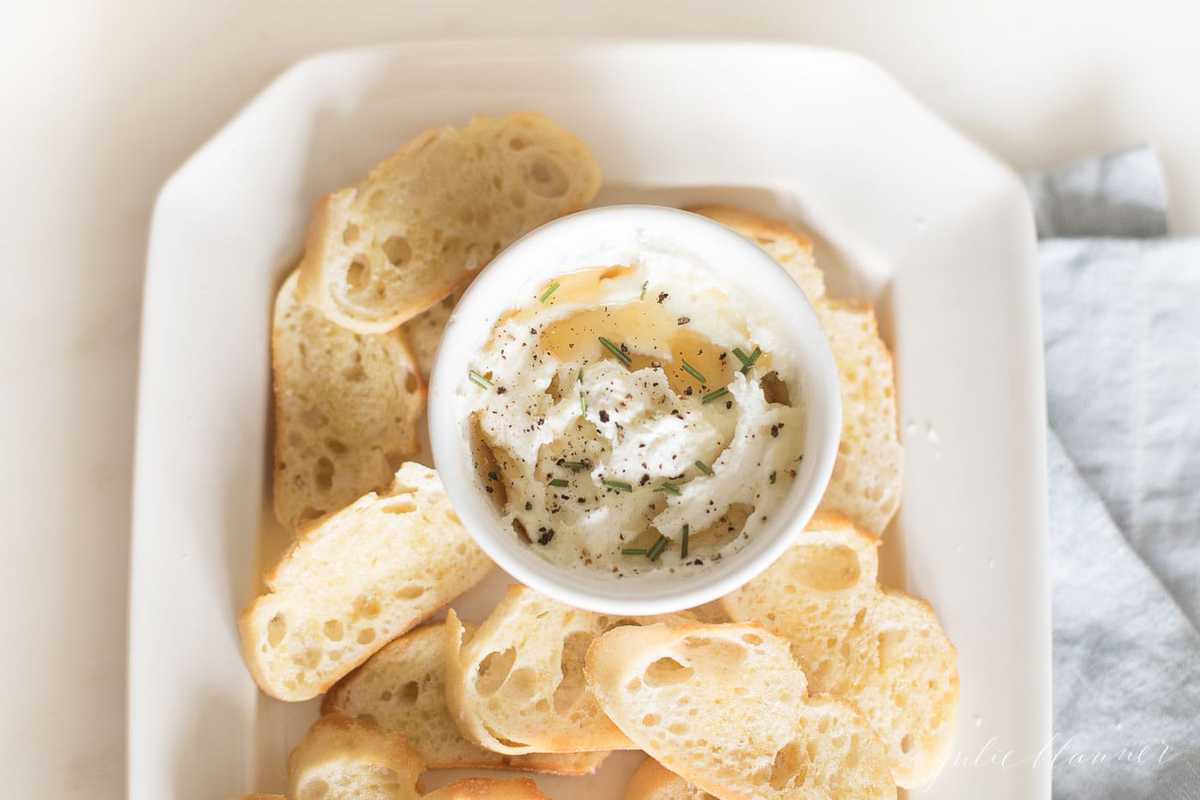 This heavenly corn dip is perfect for picnics, parties, game day, holidays and more. With just a few ingredients and easy steps, you can whip up this crack corn dip in minutes!
It's a cold corn dip with jalapeños, green onions, cheese and amazing flavor!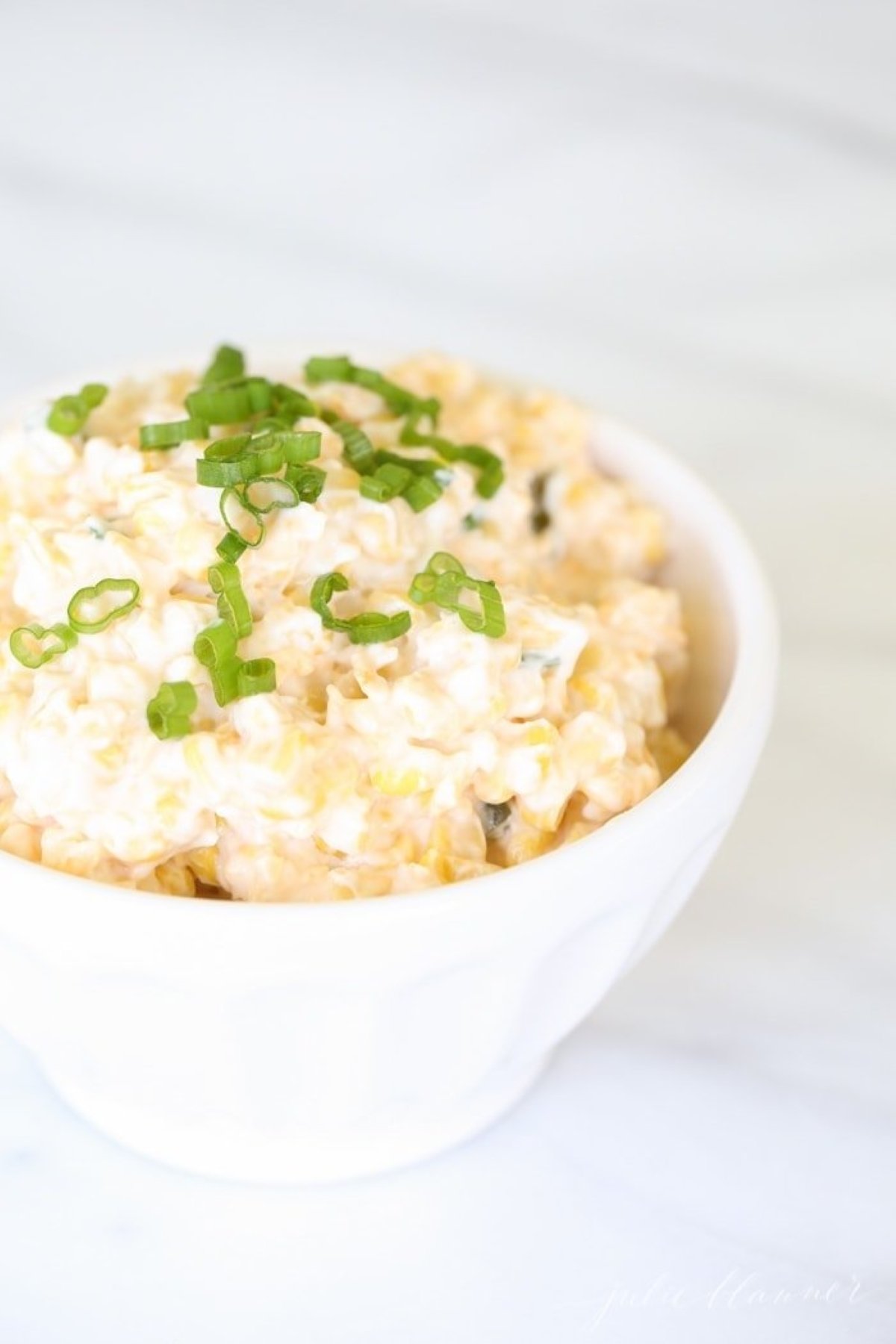 This is a classic Mexican Layer Dip that is seasoned to perfection! An updated and flavorful 7 Layer Taco Dip, your friends and family will be clamoring for more.
Perfect for Cinco de Mayo, game days and beyond, this layered taco dip is the ultimate party food!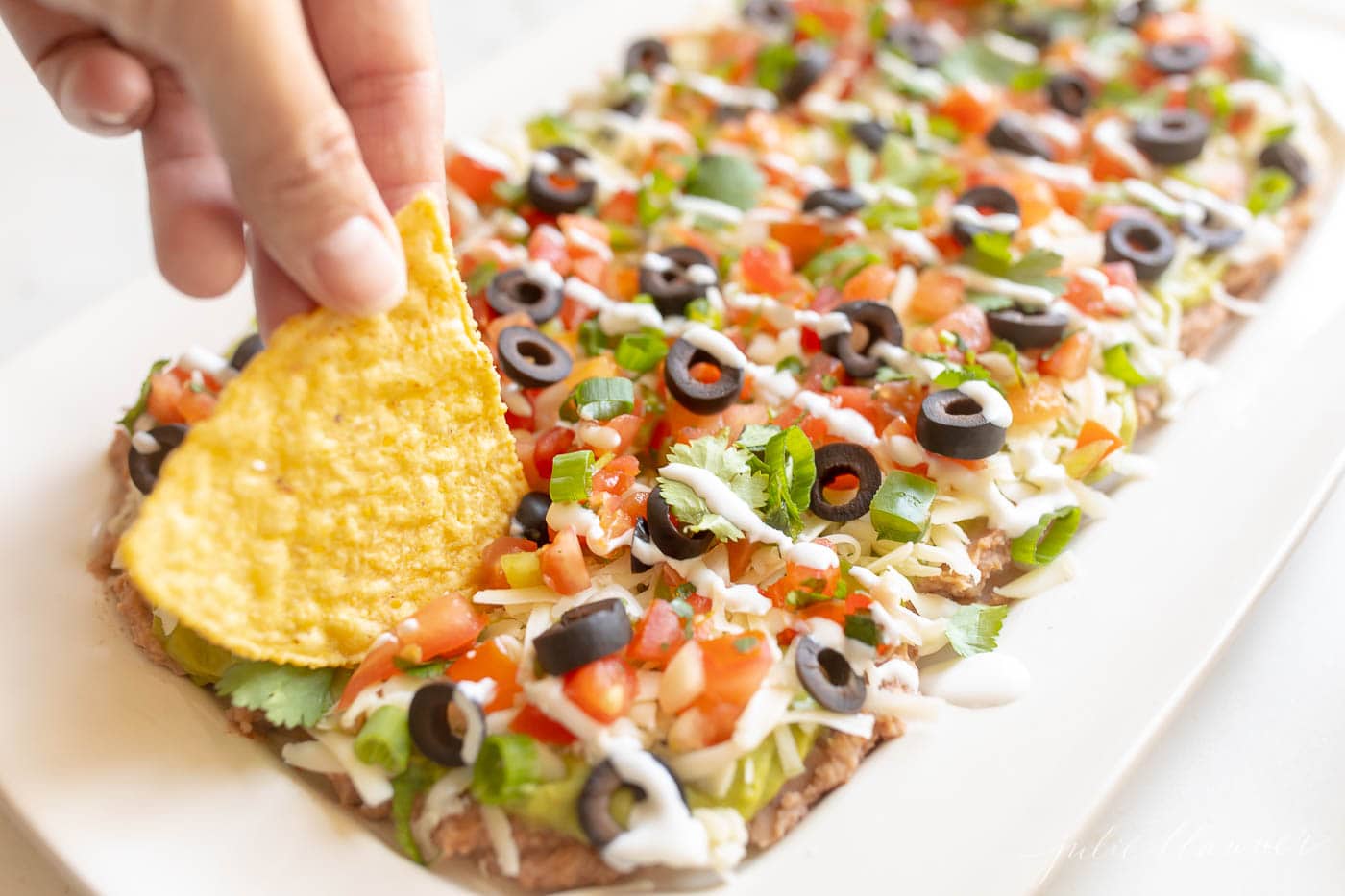 This easy caramelized sShallot dip is an easy appetizer that can be served with crackers or vegetables. The sweet shallot adds a delicious flavor to this dip that makes it memorable!
It's perfect for holiday entertaining, family get togethers and game day!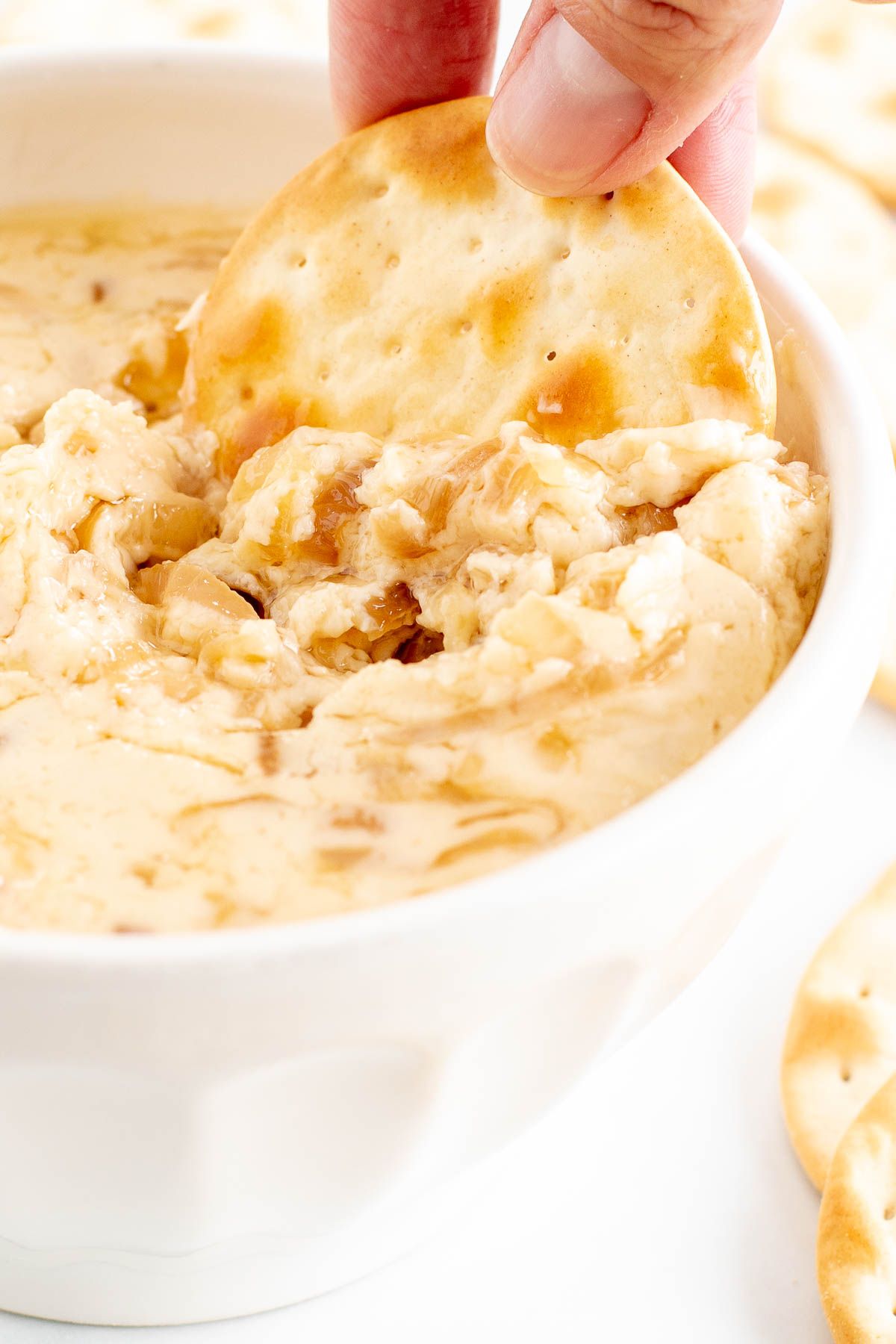 This easy black bean hummus is deliciously creamy and full of healthy flavor! With minimal ingredients and packed with only the good stuff, this black bean hummus recipe is such a deliciously clean way to dip.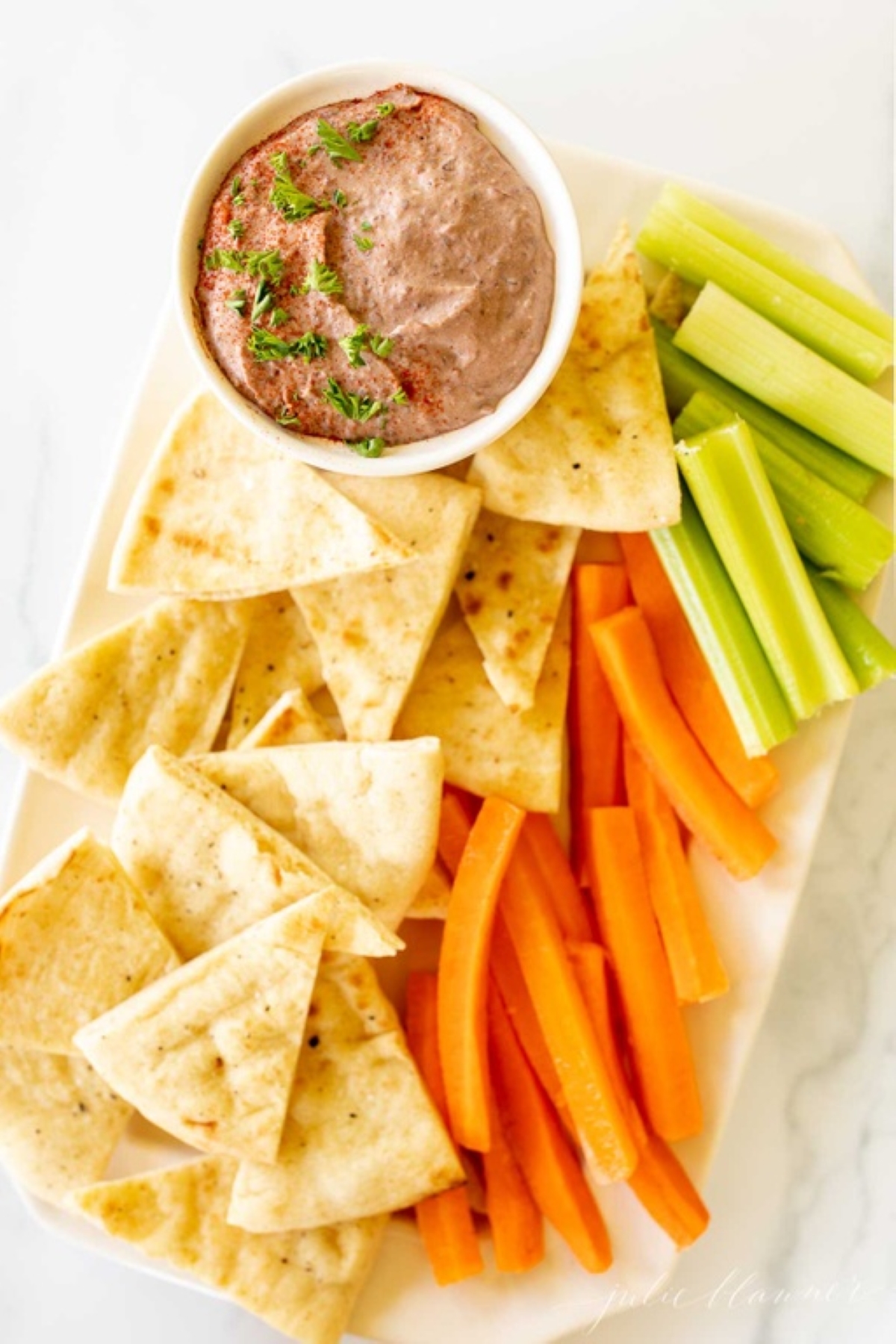 This white bean dip recipe is a simple, classic garlicky white bean hummus you're going to love. Full of nutrients and bursting with flavor, this cannellini bean dip is creamy, delicious and good for you, too!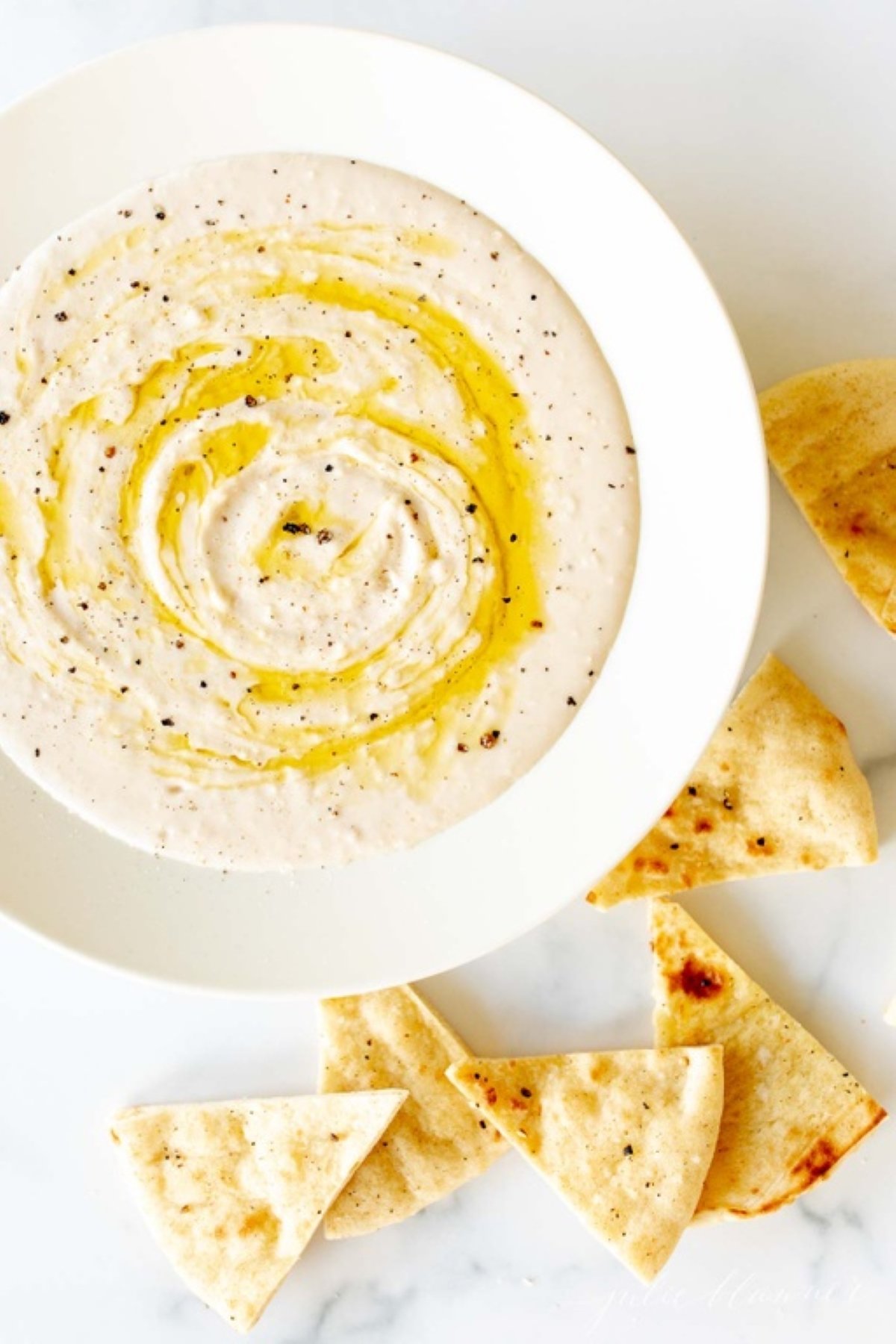 Basil pesto hummus is the best combination of all the flavors you love in pesto and the creamy texture of hummus. You'll love this fresh and flavorful basil hummus recipe!
The best bonus? It's low carb, too! Hummus is the best way to add a creamy, craveable dip into your diet, bursting with clean healthy flavor.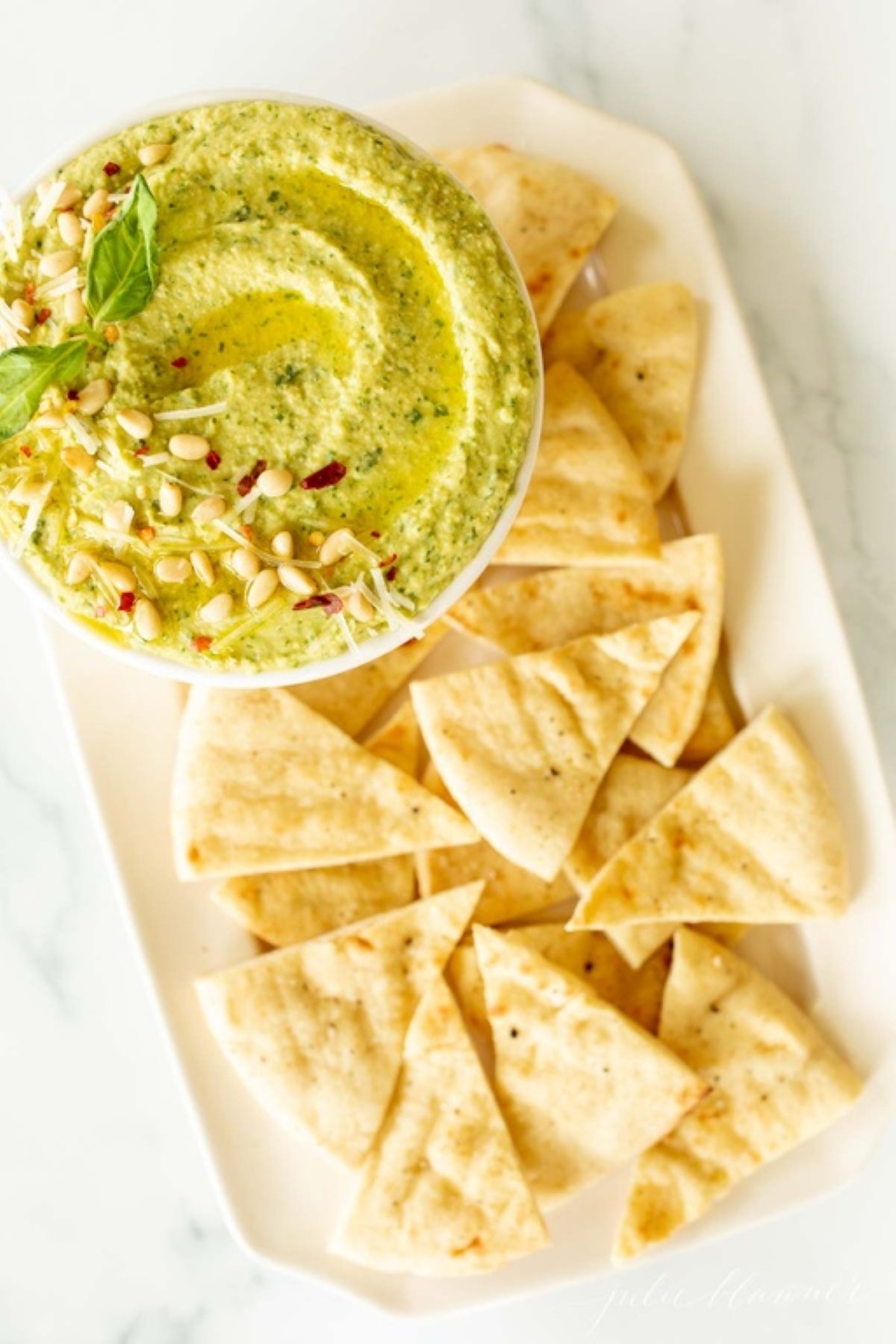 A classic hummus recipe made with a few simple ingredients in minutes! It's fresh, flavorful and easily adaptable!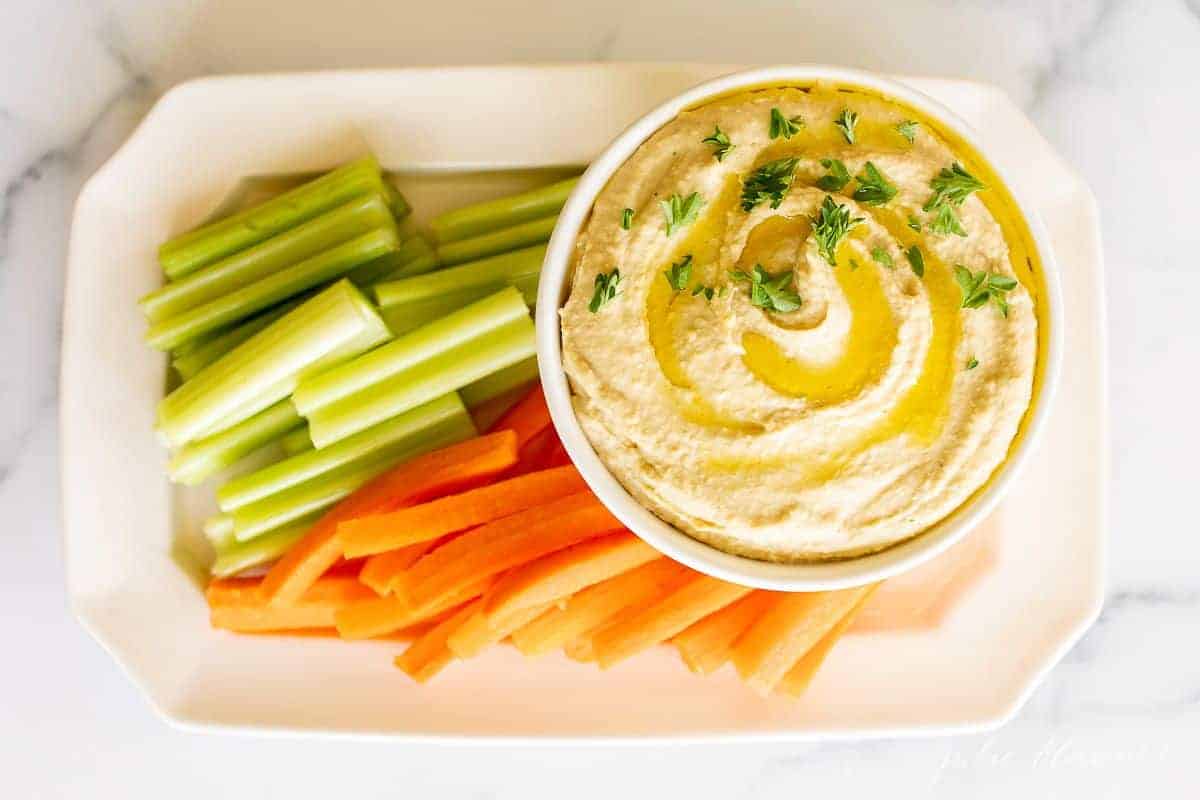 Salsa and Guacamole
You can't host a game day party without at least one classic salsa! I have so many fun salsa recipes to choose from!
Fresh and flavorful Guacamole made with just a few classic ingredients in minutes. Get all the tips, tricks and variations to make the BEST guac!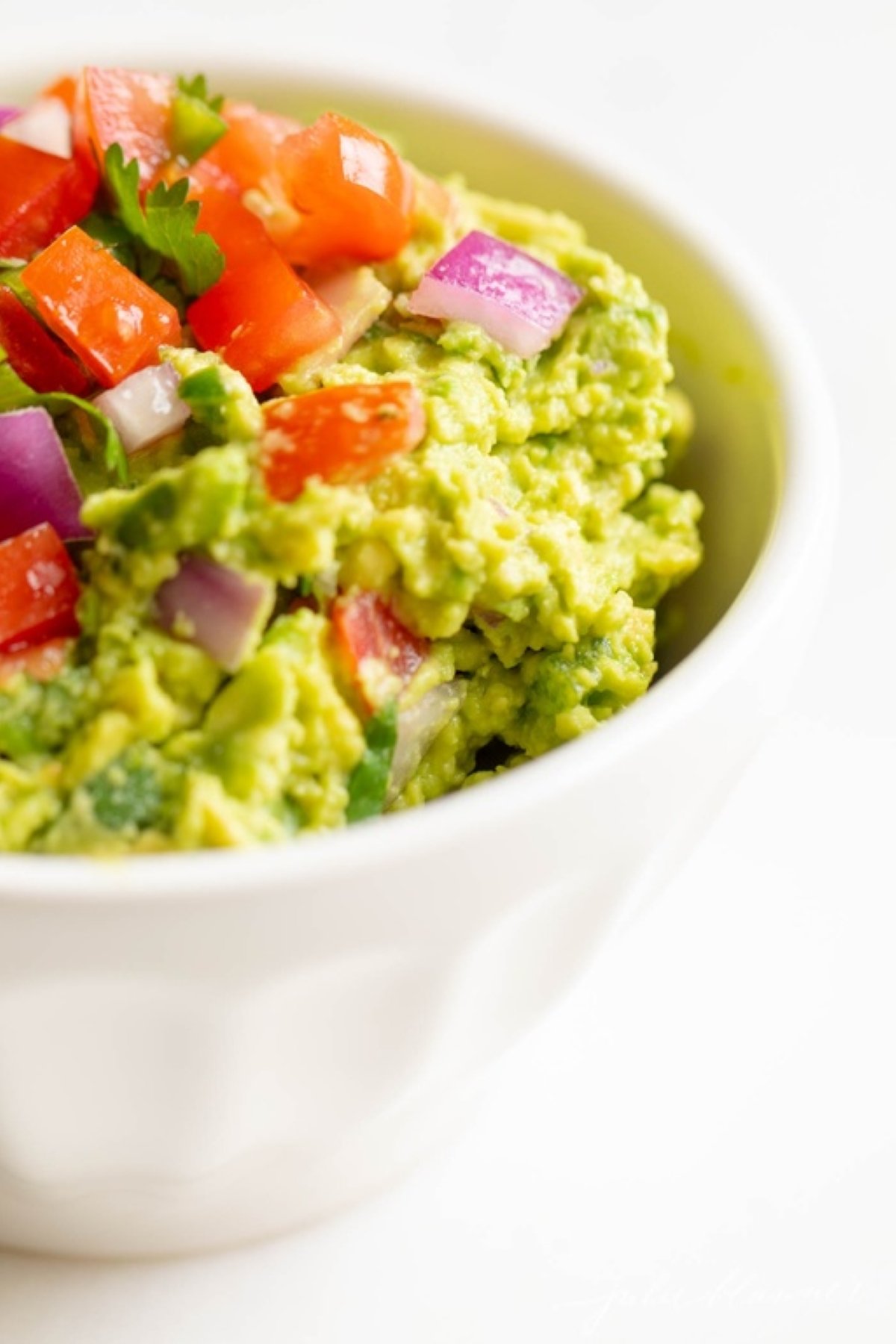 Salsa guacamole is a fresh, vibrant mix of salsa verde and traditional guacamole. It's a zesty avocado salsa recipe that you've got to taste to believe… if you love salsa, and you love guac, you've got to try this incredible avocado sauce!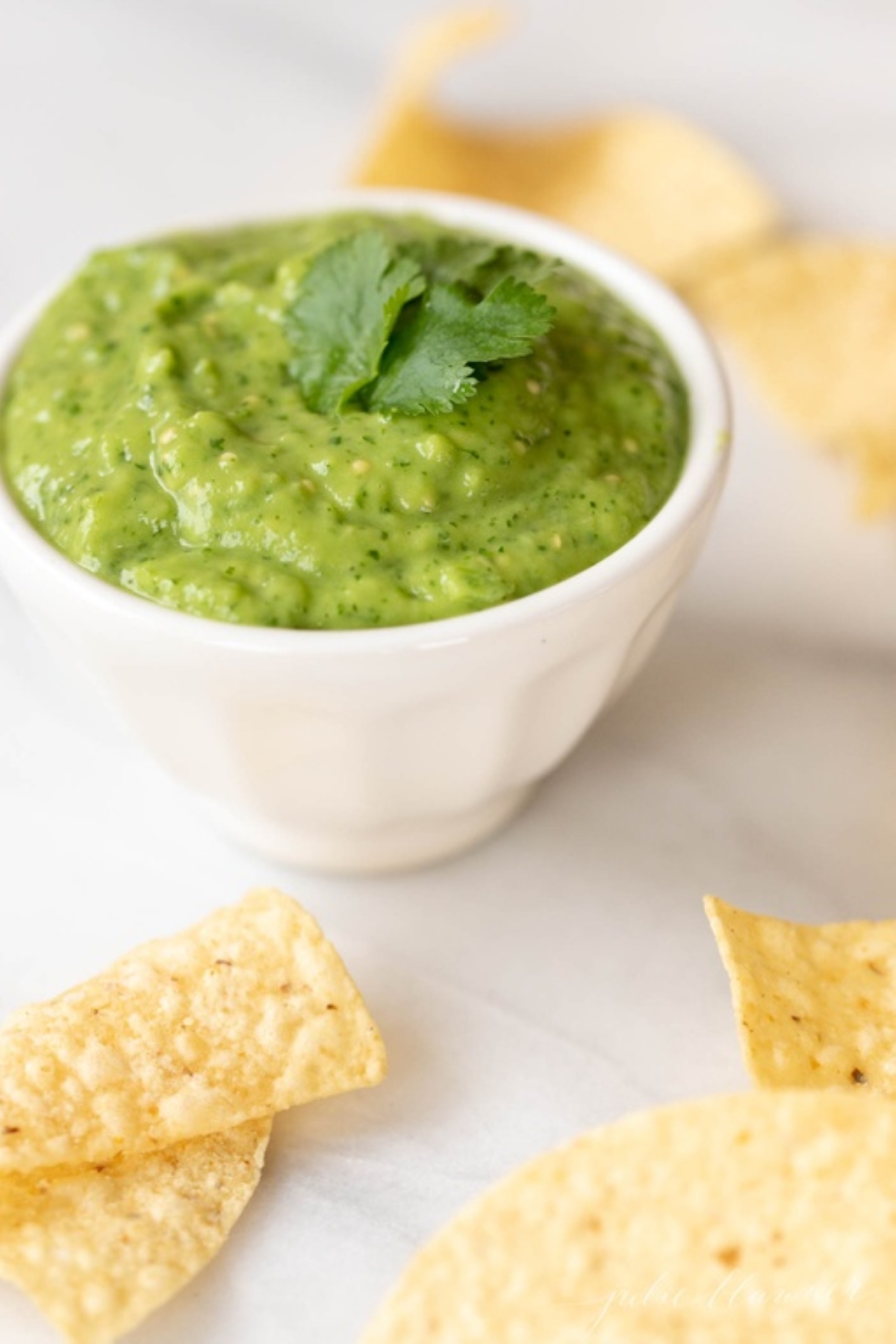 This easy mango guacamole is an incredible appetizer and a delicious topping for tacos, salads and more! It's fresh, vibrant, sweet and spicy and ready to serve in just 10 minutes.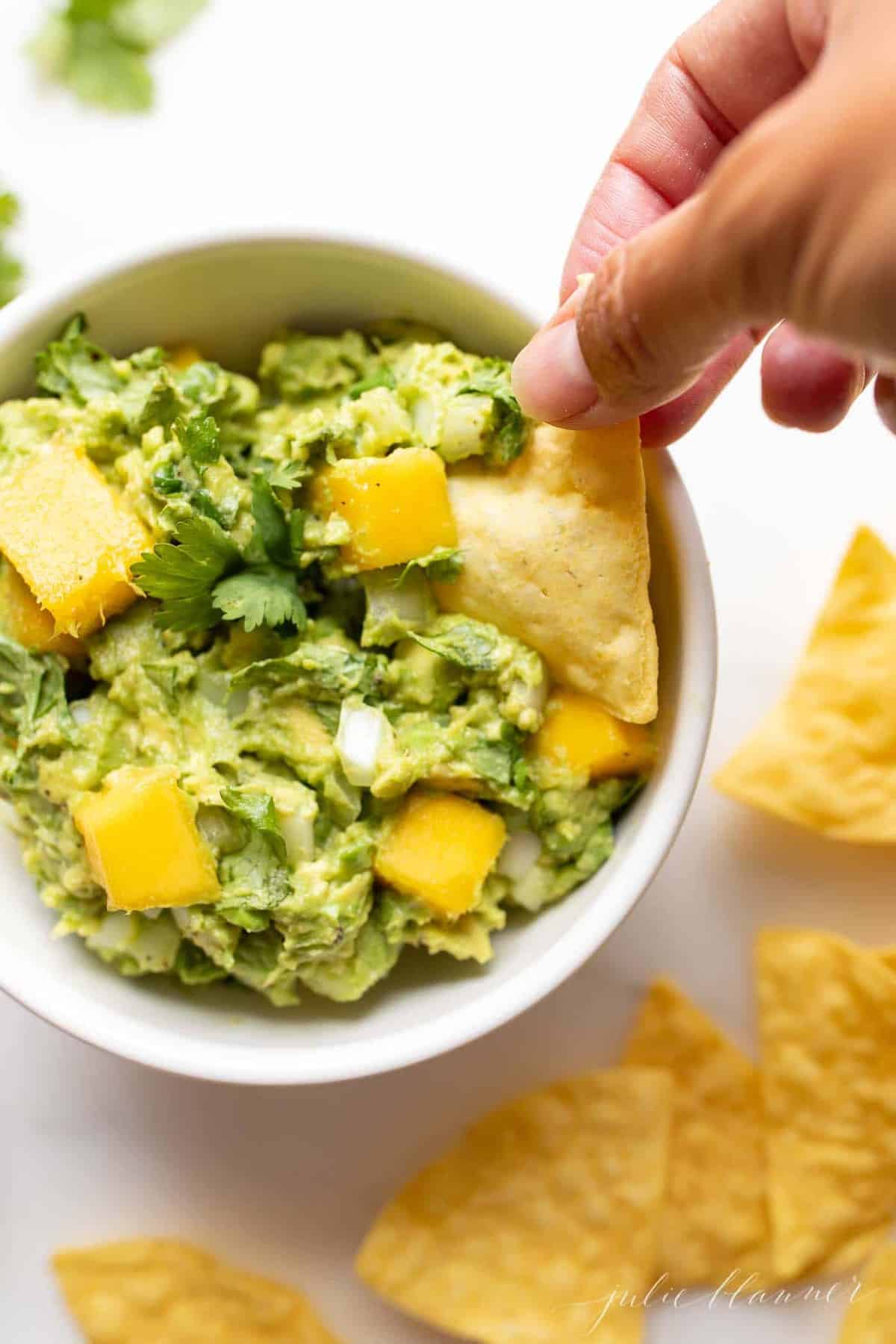 Pico de gallo is a classic, traditional Mexican dip (or topping, or sauce, or slather-it-everywhere zesty and fresh flavor explosion). Basically, it's an incredibly simple chunky, vibrant chopped salsa, and it's ready in just minutes.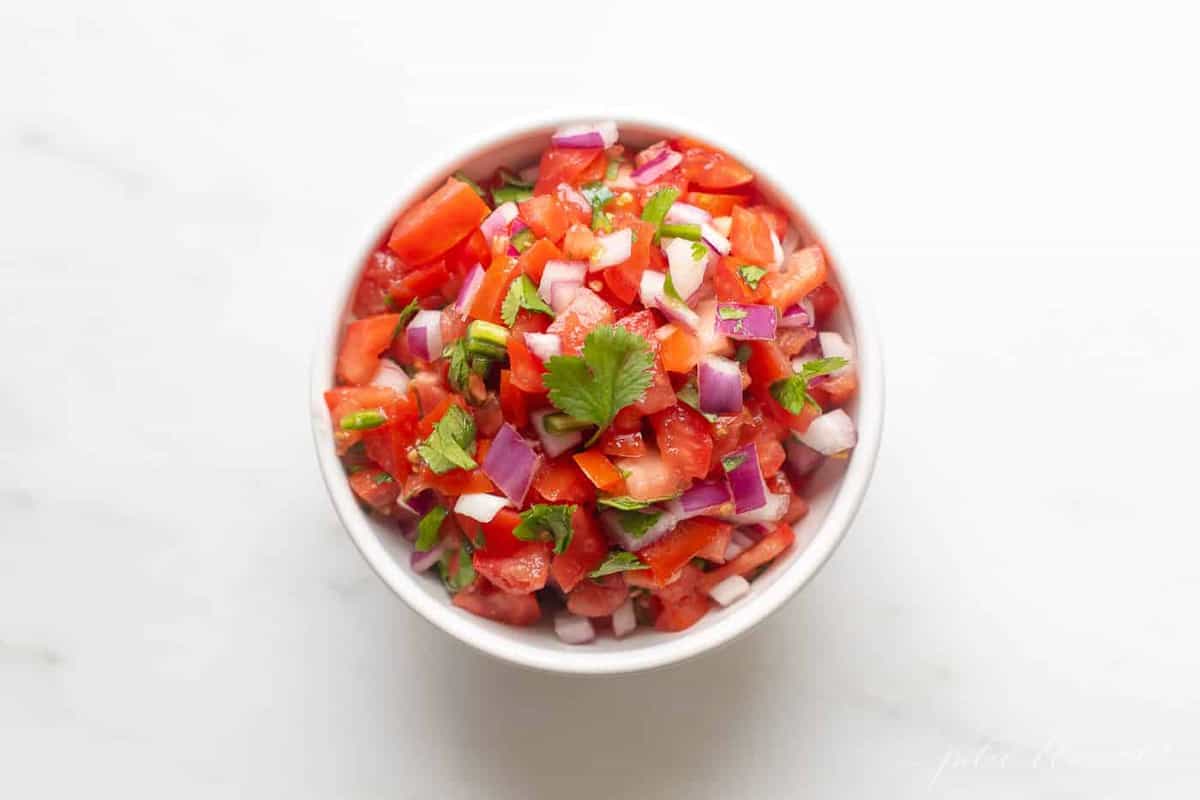 Mix it up with Watermelon Salsa! This fruit salsa recipe is bright and colorful. It embraces the fresh flavors of summer blending watermelon with bell peppers, jalapeño, cilantro and lime.
It's perfect for dipping or for topping tacos, salads and more!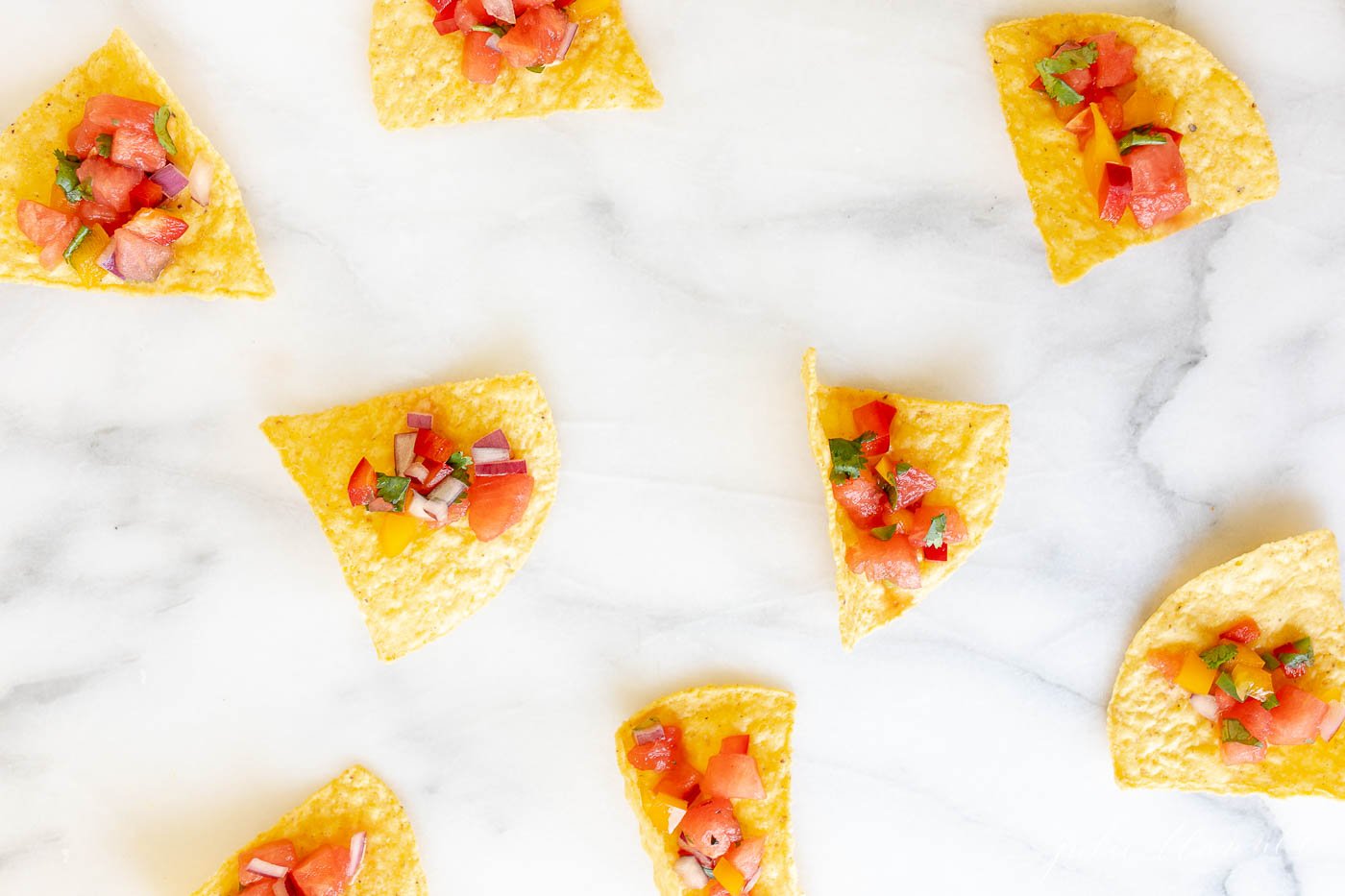 This easy pineapple salsa recipe is vibrant, festive and oh-so-delicious. The citrus flavor and juicy sweet pineapple plays perfectly against the spicy addition of jalapeño for a flavor explosion you won't be able to resist!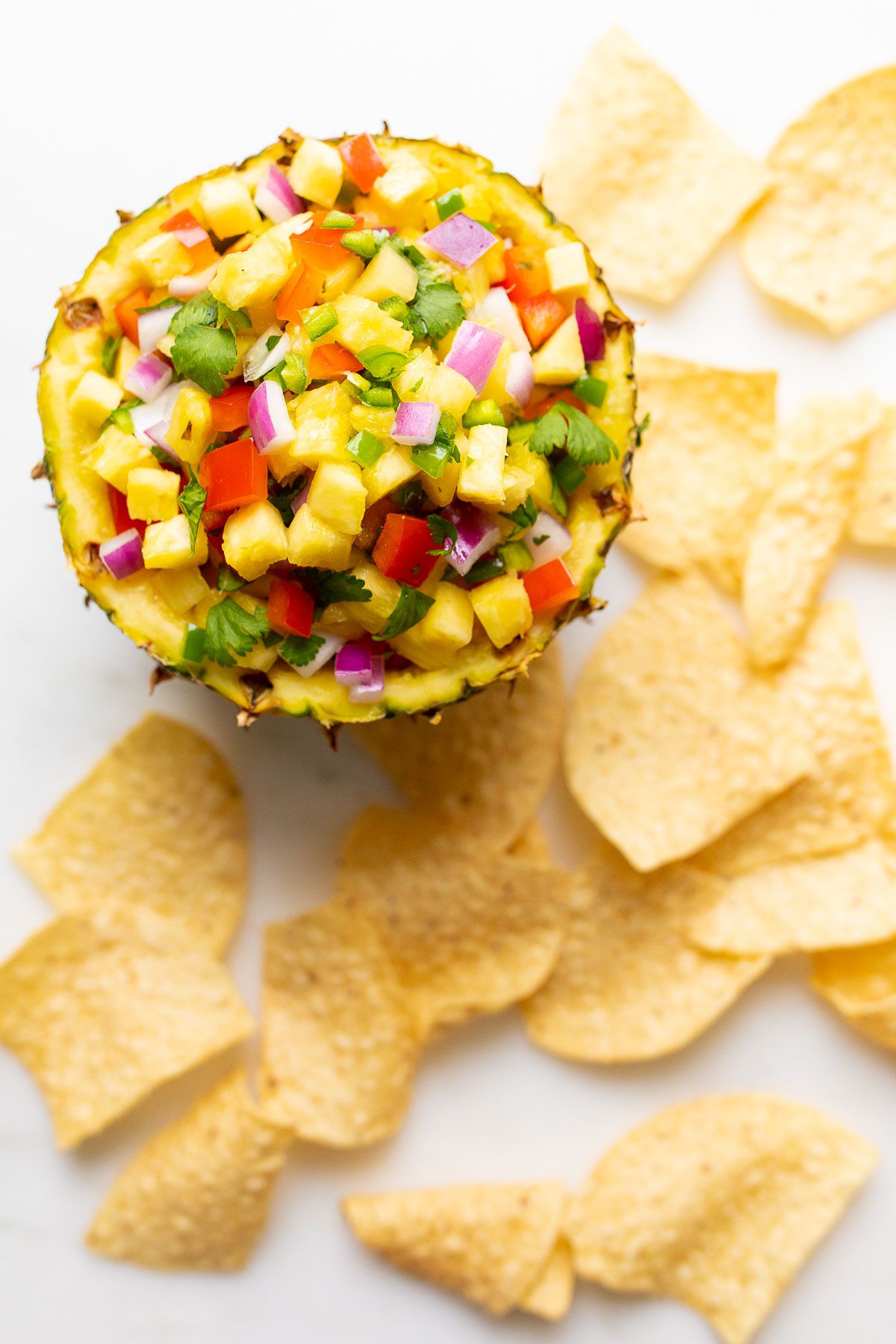 This Chipotle Corn Salsa Recipe is delightfully sweet with a little heat! This easy dip or topping for tacos, quesadillas, burritos and more is full of fresh flavor!
Add Chipotle Corn Salsa to your burrito bowls, nachos and salads for the ultimate Chipotle copycat.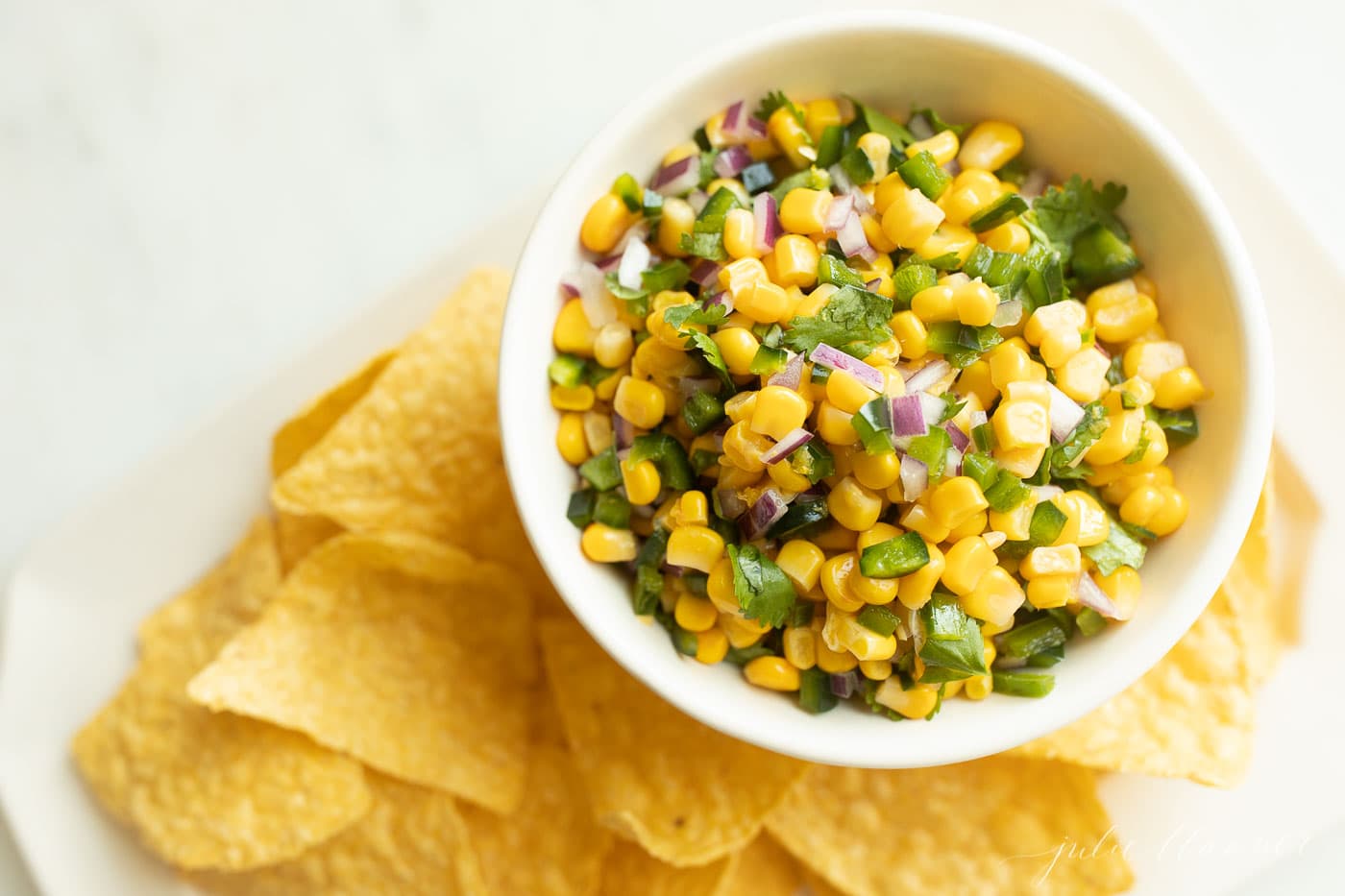 Dessert Dips
Don't forget the dessert and fruit dips! These make a great snack for school days, and they also serve beautifully for showers and all kinds of parties.
I love giving people a sweeter option that also doubles as a healthier dessert! Often, these dips are served with vibrant fresh fruits and they look beautiful on display.
This Cookies and Cream Cheese Spread is quick and easy requiring just three ingredients and five minutes to make! It's irresistibly delicious, and so pretty, too… a creamy and sweet spread with so many uses!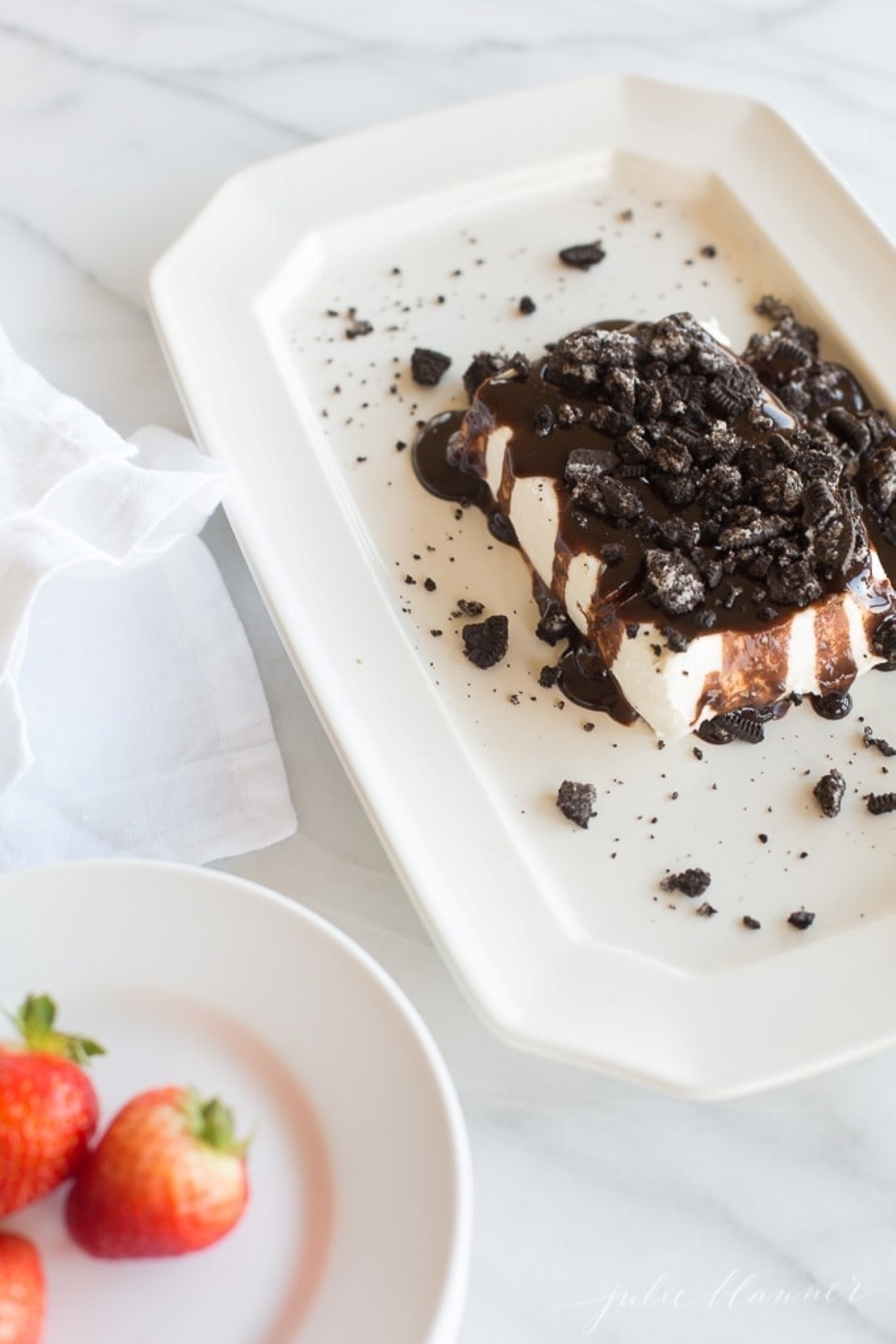 Cream Cheese Fruit Dip is the perfect accompaniment to a beautiful fruit platter. It's sweet, yet balanced and made with just three simple ingredients!
It's loved by adults and kids alike because it's secretly a Marshmallow Fruit Dip alongside the cream cheese! Those two fluffy ingredients make the most delicious combination.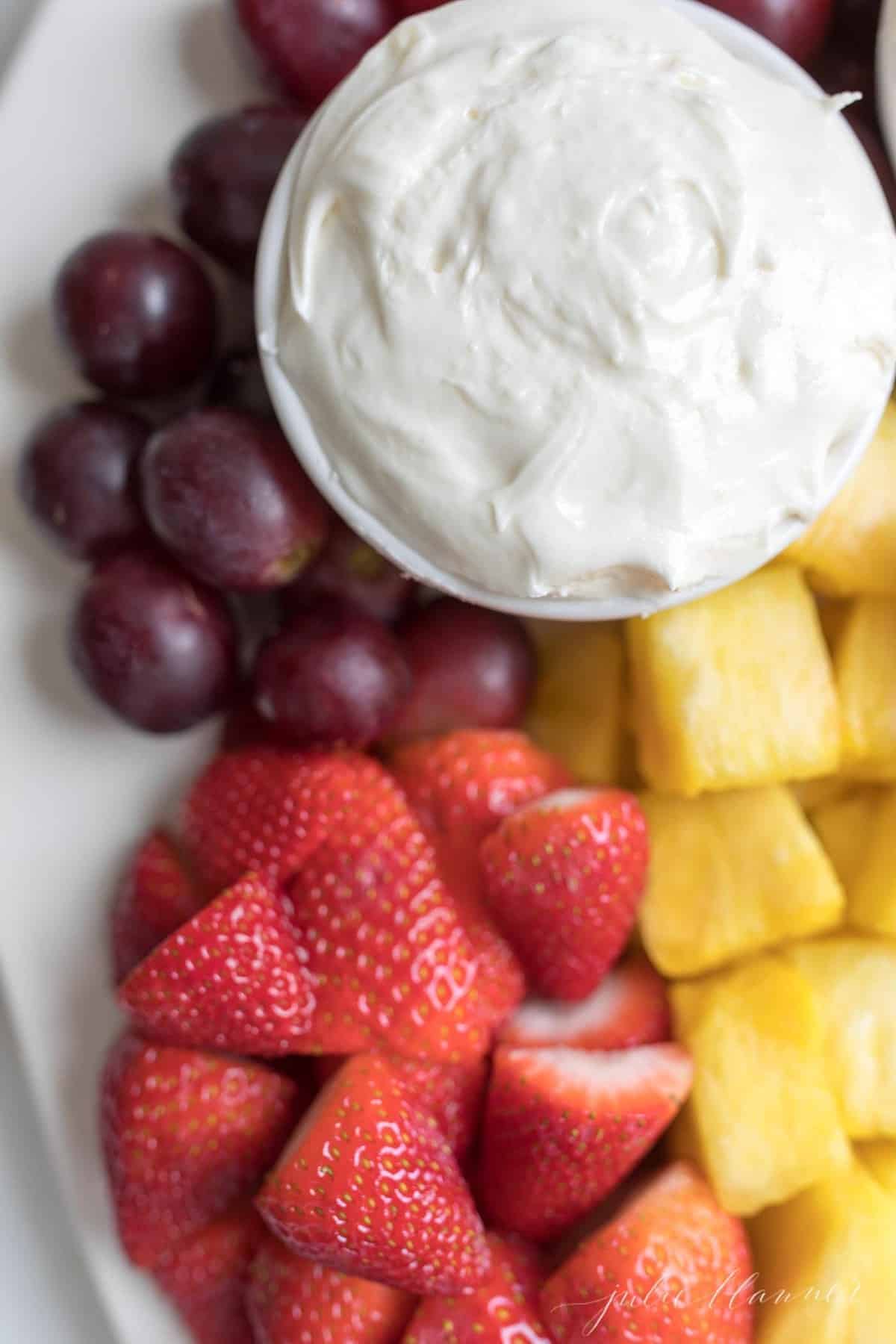 This is an easy three ingredient, five minute mascarpone dip recipe that can be whipped up in no time. Rich and creamy with decadent ingredients, this mascarpone dip is going to be a recipe family and friends beg you to share!
It's the perfect fruit dip for cakes and crepes, or simply serve with a fruit platter as an appetizer.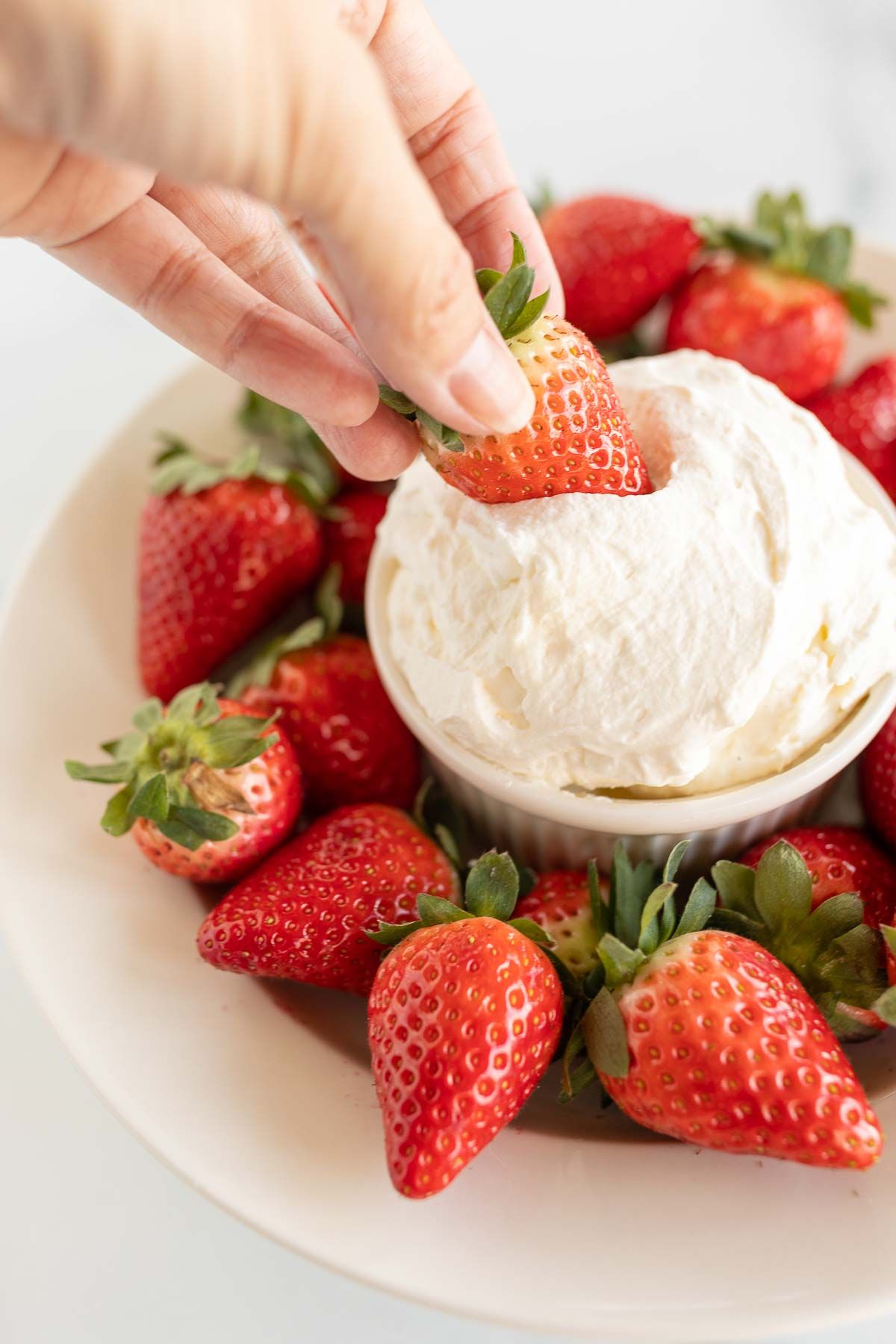 Easy and creamy peanut butter fruit dip recipe. Update your fruit tray with this fresh take on a traditional dip that will have everyone asking for the recipe.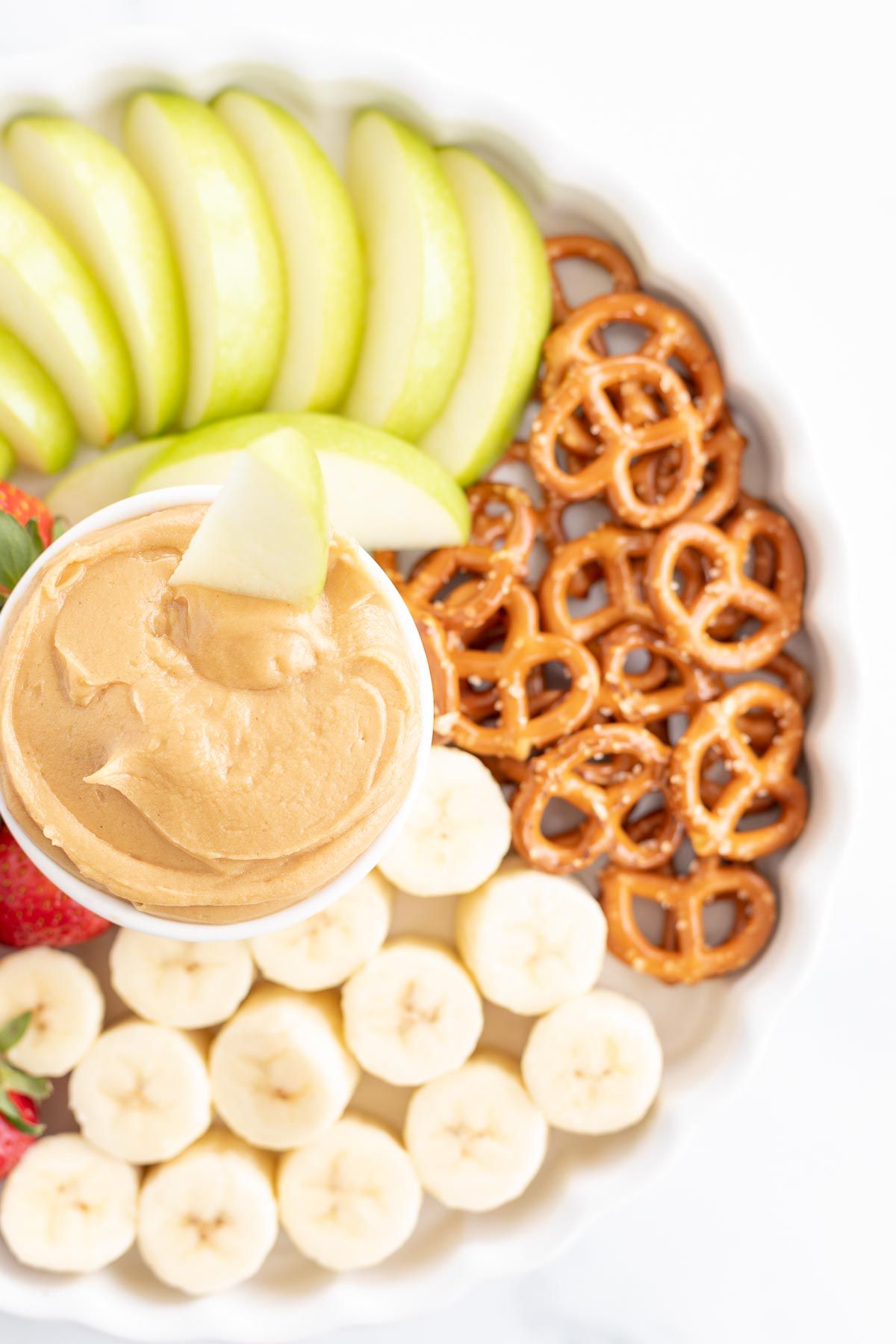 I've got so many more ideas for appetizers – see below! What's your favorite appetizer to serve? I'd love to hear from you!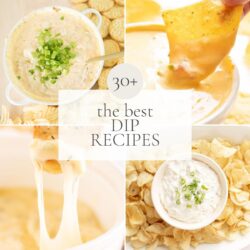 Dip Recipes
30 amazing crowd pleasing dips, many of which you can even make ahead! Find a recipe for everyone, with vegetarian and vegan options, hearty dips, cheese dips, and so much more!
Ingredients
1

See each recipe post for printable recipe card with ingredients and instructions.
Instructions
Prep all ingredients ahead of time for ease of preparation on the day of your event.

See tips below for tips to make your party dips ahead, how to store, and more!
Tips
Make Ahead
Many of your favorite warm and cold dips can be made ahead! Especially oven baked dips like spinach dip, bacon dip, etc.
Be sure to read the directions for each individual dip recipe to see if they can be made ahead, and for how long.
To reheat a dip you've made ahead, simply heat your oven to 300 degrees F. Reheat for approximately 30 minutes, or until dip is warmed through.
To Store
Most dips can sit out at room temperature while serving for up to two hours safely.
Refrigerate your party dips for up to two days in an air tight container. Many of the recipes in this round-up will keep for even longer – be sure to read the storage directions for each!
Explore More