Get all the best recipes to plan an incredible Thanksgiving feast! These are tried and true recipes that stand the test of time…classics, fresh ideas, and everything in between!
Find new family favorites and celebrate your favorite food traditions with an incredible array of recipes to enjoy for two or a crowd!
This recipe guide features a wide array of cocktails, Thanksgiving appetizers, side dishes and more! Plan your entire menu in one stop.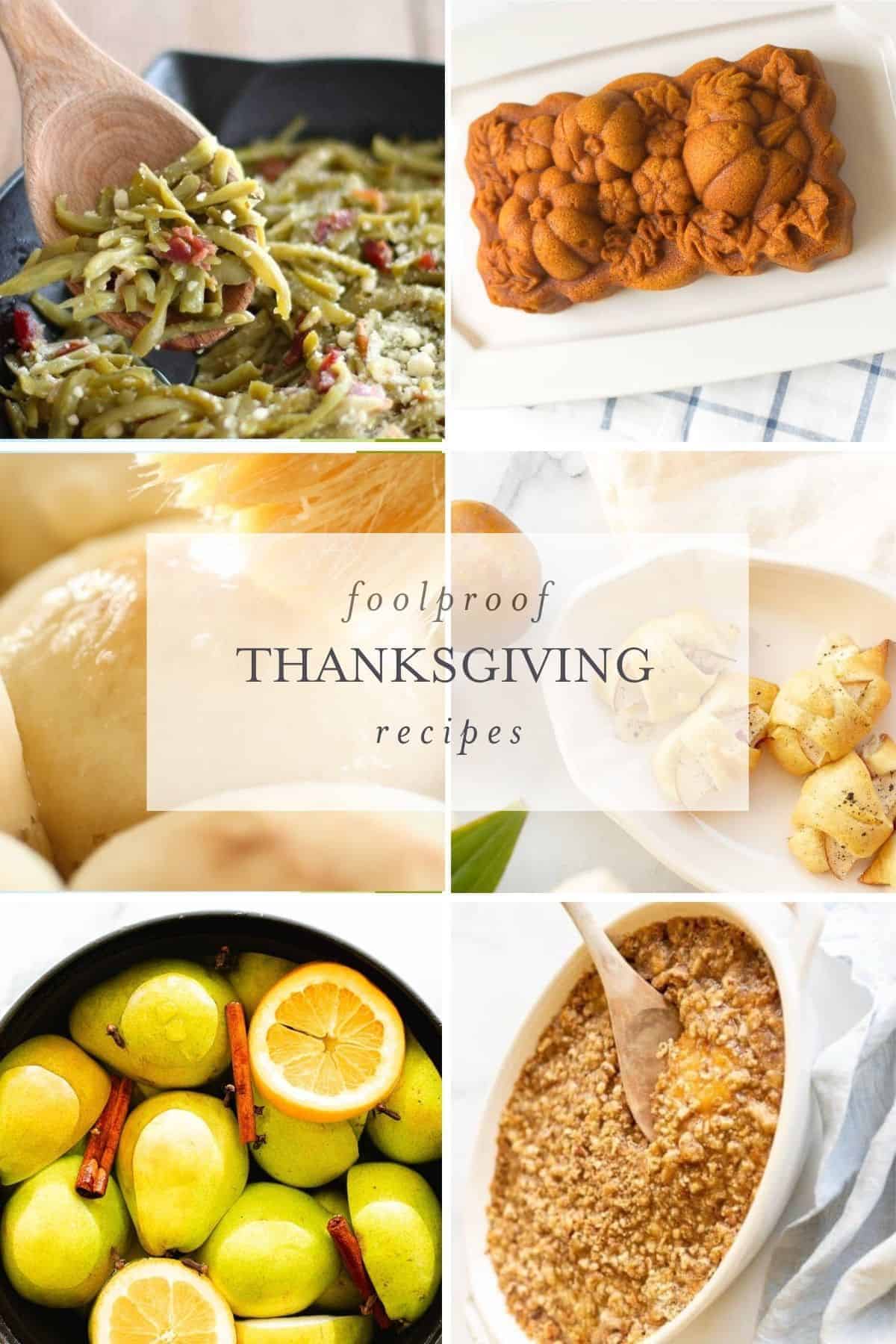 I love sharing my favorite ideas and recipes with you. There are so many fun ways to celebrate Thanksgiving with your family and friends!
Don't miss The Ultimate Guide to Hosting Thanksgiving… it's full of free printable planners, Thanksgiving Activities and more!
Today, we are rounding up the most incredible Thanksgiving menu plan. This is 50 of my very best Thanksgiving recipes, with categories for everything from drinks to desserts.
You're sure to hone in on the ultimate Thanksgiving menu!
While each of these recipe links opens directly to the post and printable recipe card, you'll also find a simplified selection of the most popular recipes in the printable card at the end of this post!
The Best Thanksgiving Recipes
These recipes include drinks, breads, appetizers and side dishes – there's a little something for everyone.
It's an instant menu of my most treasured recipes to create a Thanksgiving menu your guests will LOVE!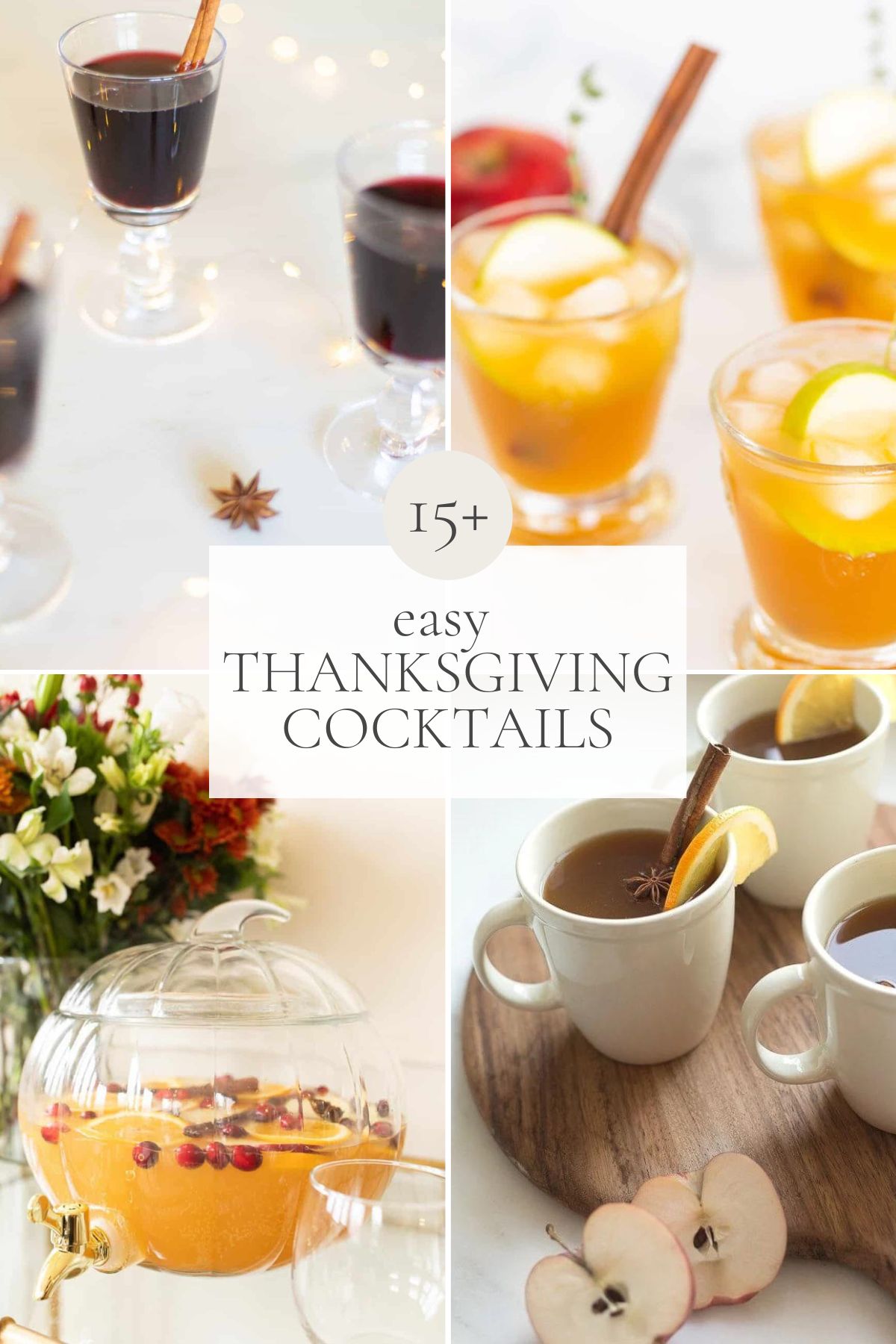 The best way to start any gathering! These easy Thanksgiving cocktails are fun and festive! For even more inspiration, click through to our complete Thanksgiving Cocktail guide.
This classic cocktail is always a hit and easy to make for one or 16 in less than 5 minutes!
All the flavors of fall in one easy to sip, easy to serve 5 minute drink for a few or a crowd!
This frozen concoction is easy to sip. It's an adult slushy you don't want to miss! Serve it with a cinnamon stick to stir.
Homemade apple cider is incredibly easy to make and adds the most wonderful aroma to your home! Serve it alone or with bourbon, rum, tequila or vodka. It's the perfect twist to your favorite cocktail!
Pear cider is deceivingly easy to make and so fragrant! A hint of spice, vanilla notes and pear make it irresistible. Serve it chilled or warm!
Red wine simmers with Mulling Spices to make this incredible sip! It's a great way to kick off dinner!
Cinnamon Schnapps adds an extra dose of fall spice to apple cider. The glass is rimmed with cinnamon sugar to add a hint of sweetness.
This is my go to Thanksgiving cocktail. It's a delicious twist on a classic old fashioned. Apple butter and cinnamon add the best fall flavor!
Breads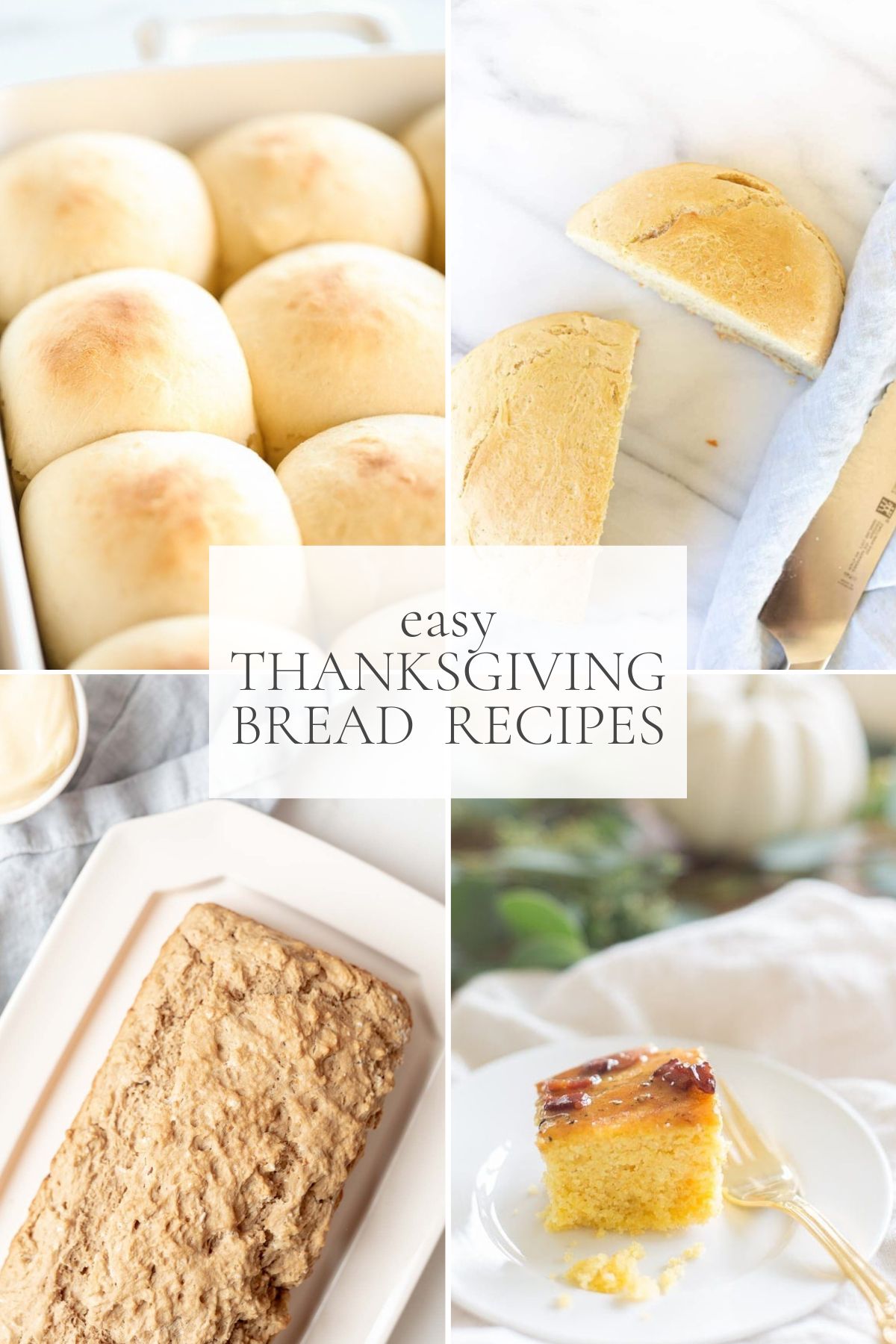 If you only get to make one dish, make it stand out! This homemade cornbread is topped with sweet maple, salty bacon, thick flakes of black ground pepper and all the butter!
Yeast makes these dinner rolls light and fluffy! You can make this effortless recipe start to finish in just 30 minutes!
Jalapeño and cheddar make these cornbread muffins memorable! They're perfectly portioned and easy to serve.
A quick and easy artisan homemade bread recipe that is adaptable. It's perfect for smothering in butter, dipping in oil, and so much more. This homemade bread is moist on the inside, crusty on the outside, and full of flavor!
This beer bread is made in just 5 minutes hands on time with staple ingredients and your favorite beer! It's foolproof! If you're celebrating virtually, you can deliver Beer Bread Mix and a bottle of beer so family and friends can all make it "together"!
A luxuriously creamy butter sweetened with honey is an easy way to elevate store-bought rolls or take homemade breads and rolls over-the-top!
Thanksgiving Dip Recipes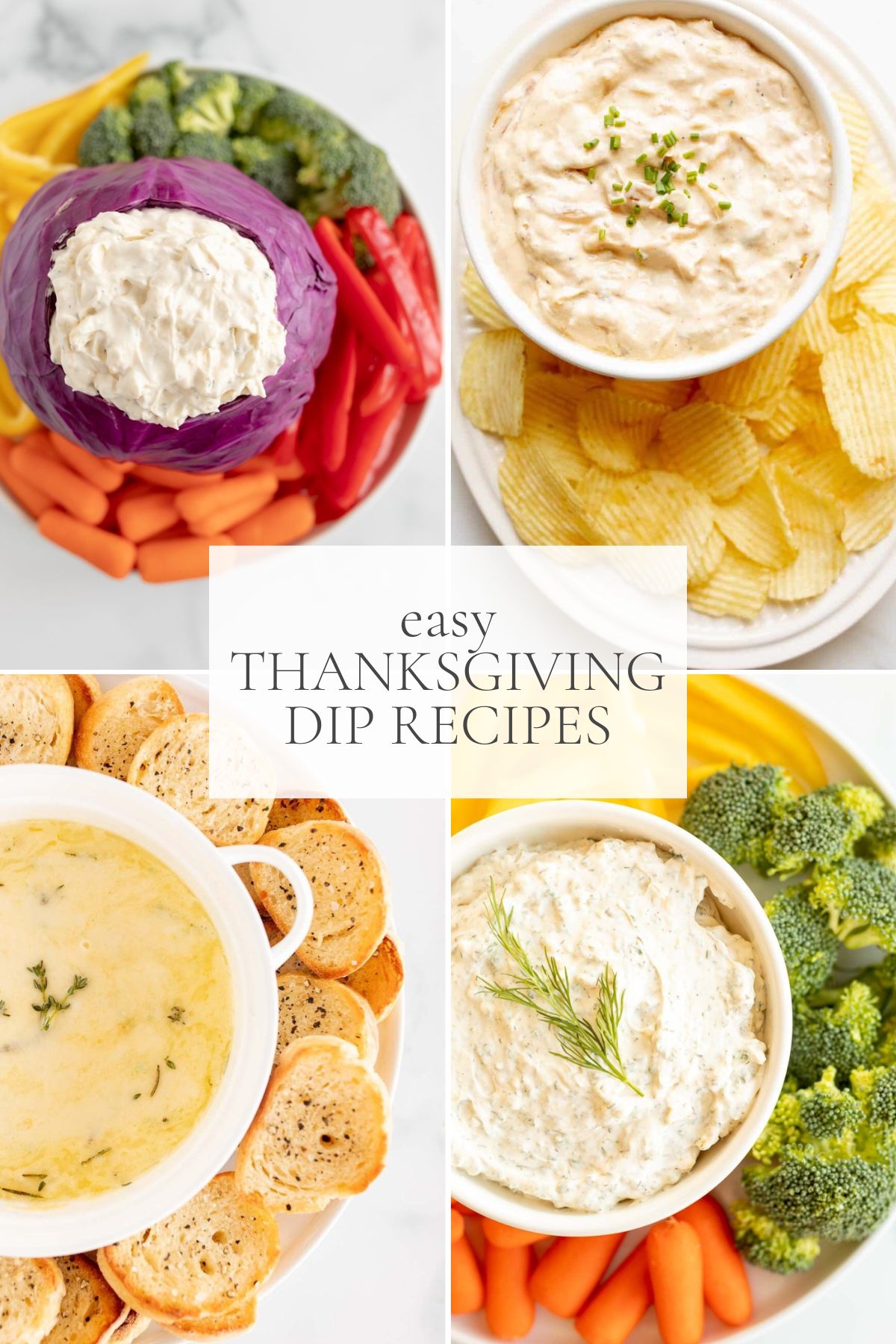 My mom's dill dip recipe is a Thanksgiving staple with savory herbs. Make ahead in just 5 minutes and let the magic happen as it marinates overnight! Serve with fresh cubes of rye bread and an array of veggies.
This easy hot cheese garlic dip recipe takes just 10 minute start to finish! This classic baked cheese dip is simple, flavorful and memorable with just a few minutes hands-on time. Cheesy and garlicky, it makes the most perfect appetizer for sharing.
Caramelized onions are folded into a creamy dip for amazing flavor in every bite. This dip will make you skip the mix forever.
The creamy spinach dip is made with cream cheese, monterey jack and freshly grated parmesan for a luxurious consistency. It's a one dish, no fuss easy recipe you'll make again and again!
This easy artichoke dip is mixed and baked in a casserole dish for easy cleanup. It's made with a blend of cream cheese, mayonnaise, artichokes, cream cheese and spices and served with beer bread and veggies.
Bacon Cheese Dip has been one of my most popular recipes for nearly 10 years! It's no wonder why! It's a savory dip that's so delish!
Sour Cream Dip is the perfect chip dip. It's simple, beautiful and full of flavor!
Get the secret that makes this vegetable dip stand above the rest! A blend of herbs is folded into the this creamy dip perfect for all of your favorite veggies.
This creamy fruit dip is always a hit with kids and adults alike! It's heavenly texture is hard to resist!
For even more incredible dips and appetizers, click through to our complete guide!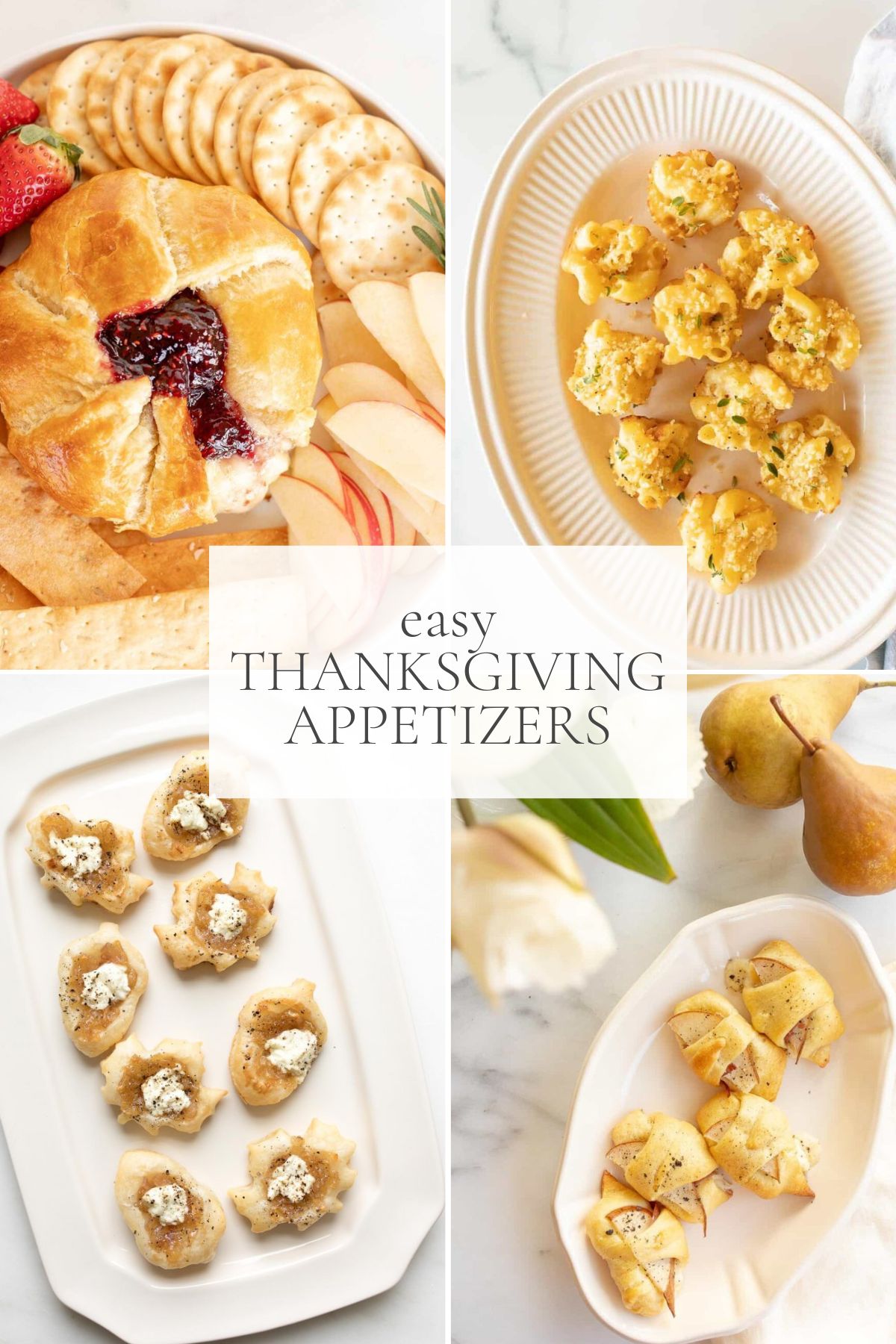 It's everyone's favorite comfort food in the perfect bite-sized portion! Easy to make and even easier to eat, I dare you to try and stop at just one mac and cheese cup!
Get tips and tricks to make a creative fruit plate that stands out!
A blend of herbs and cheese make this one-of-a-kind spread to serve with crackers or stuff mushrooms, top burgers and more!
This is one of my favorite easy recipes from when I catered parties – you can serve them warm or at room temperature. Thick pillows of puff pastry are topped with creamy goat cheese and caramelized onions.
It's an amazing flavor combination you can't get enough of! Use cookie cutters to make them into your favorite shapes for a memorable Thanksgiving appetizer.
Get the secrets to the best deviled eggs recipe. Once you try this fluffy, creamy, tangy recipe, you'll never go back. They are devilishly good, and perfect for parties, picnics, Easter and so much more.
Baked Brie in Puff Pastry is a classic appetizer that is effortless, yet elegant and oh-so-delicious. It's made with just three ingredients in five minutes hands on time.
This beautiful appetizer is deceivingly easy to make and looks so elegant! Smply wrap a goat cheese log in puff pastry, brush it with egg wash for golden brown color and drizzle with honey!
This healthy Thanksgiving appetizer is the perfect pairing of fruit, cheese and nuts in an easy-to-enjoy bite-sized format.
Cheese, prosciutto and pear are wrapped in crescent rolls for a beautiful, single serve hors d'oeuvres you can serve passed or on a platter.
White cheddar cheese and herbs fill a simple 3 ingredient savory cream cheese pie crust. They're beautiful, delicious and easy to reheat.
Soups and Salads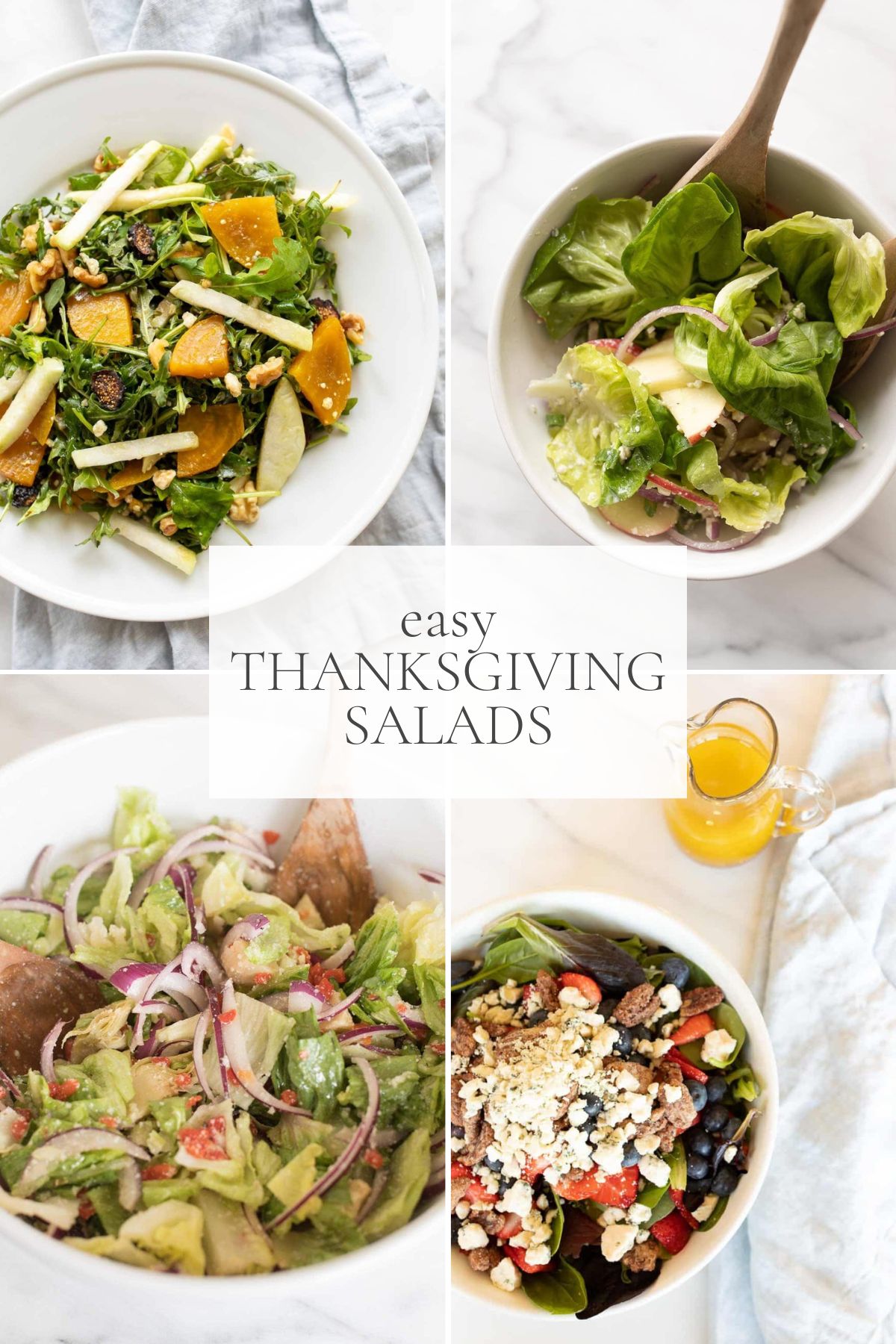 Add fall flavor to your pre-dinner game with this incredible, unique soup recipe! This delicious white cheddar cheese and apple soup is sure to warm your soul! Easy to make with simple ingredients, it all comes together in one pot and requires minimal prep time.
This Italian Salad is filled with crisp lettuce, red onion, artichokes, pimentos and grated parmesan to ensure each bite is perfectly covered in Italian Salad Dressing.
A delicious mix of butter lettuce, crisp apples, creamy blue cheese, red onion and candied nuts are tossed in Apple Cider Vinegar Salad Dressing.
A mix of tender root veggies, creamy goat cheese, crunchy walnuts, and dry fig are tossed with balsamic vinaigrette.
Arugula is topped with ripe pears, creamy gorgonzola, candied walnuts and tossed with a White Wine Vinaigrette.
Thanksgiving Side Dishes
For me, Thanksgiving is all about the side dishes! Whether you make one or five, make them the star of the show!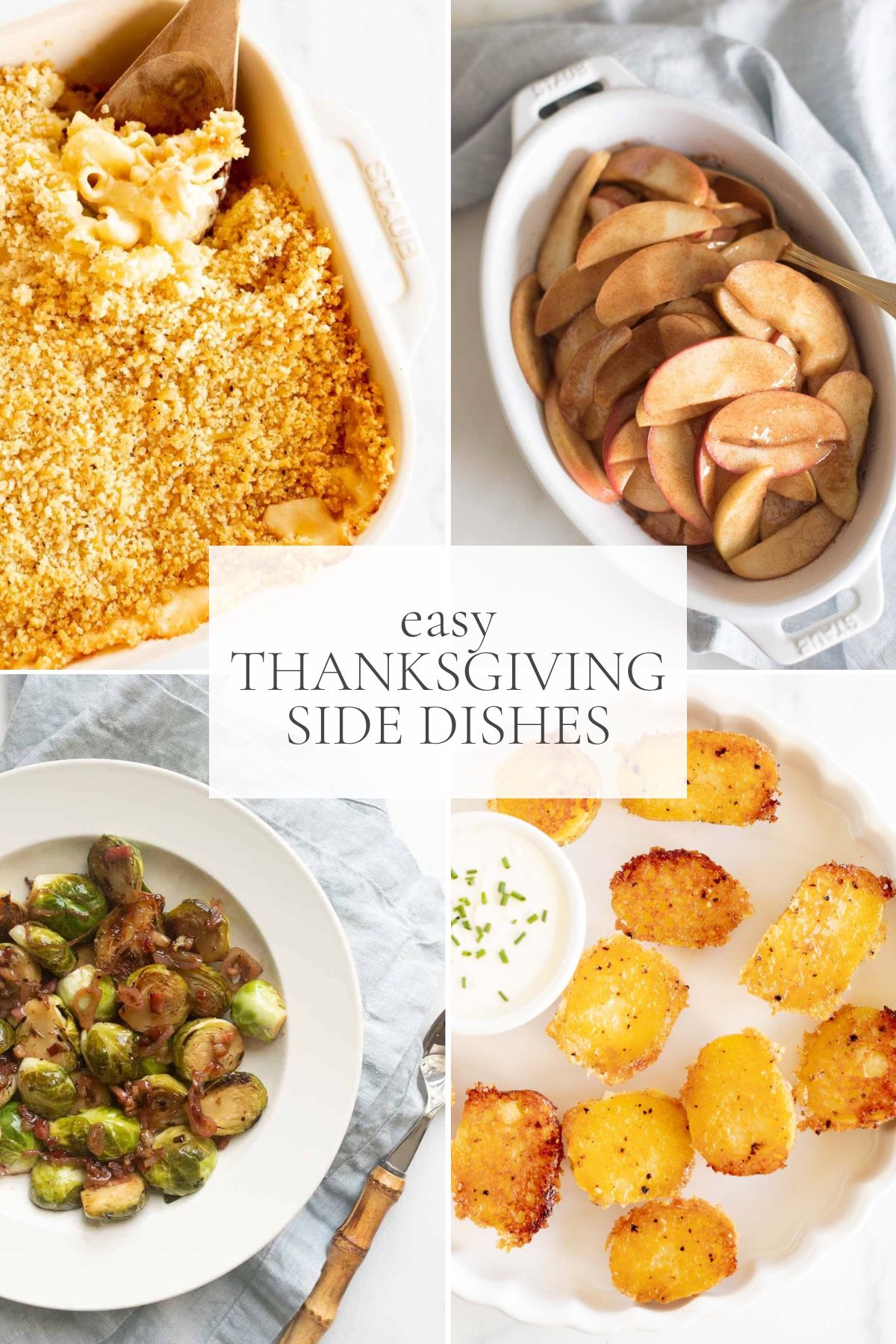 Baked Apple Slices are one of my most popular recipes – they're so quick, easy and delicious, it's no wonder why! Serve them up as a sweet and savory side dish or a la mode for dessert!
Sweet and salty Oven Roasted Sweet Potatoes is an easy crowd-pleasing side dish. You only need 4 simple ingredients and 10 minutes to prep.
This sweet and savory side dish is so good you could call it dessert! Buttery sweet potatoes are topped crunchy pecan streusel!
Garlic Smashed Potatoes are perfectly portioned crisp and flavorful potatoes seasoned with salt, pepper, garlic and herbs.
Mix up your mashed potatoes this holiday season! Caramelized shallots add immense fall flavor and texture into traditional mashed potatoes.
Double this recipe because this cheesy corn casserole is a creamy crowd pleaser that has everyone coming for seconds.
Individual servings of the creamiest, cheesiest potato gratin! It's the ultimate indulgent side dish!
Bacon Mac and Cheese is the ultimate comfort food: a grown up version of the classic childhood dish we all know and love. It's rich, hearty and full of creamy, craveable flavor!
Perfectly crispy and salty on the outside, with a creamy, tender interior, these parmesan potatoes are beyond delicious. Special enough for Thanksgiving, but you're going to want them every night of the week.
Get the tips and tricks to make crispy Brussel sprouts with pancetta and shallots. They are sautéed into a fragrant side dish that will leave your family begging for more.
This is my most popular Thanksgiving recipe year after year. It's simple, delicious and has become a staple in so many homes year after year since it went viral.
The one, the only, Firehouse Green Beans. Others have copied but you can get the original right here!
Candied carrots are a simple, sweet and savory side dish. These show stoppers are coated in a butter and brown sugar glaze and pair well with all of your Thanksgiving favorites!
This festive side dish is a fun twist to the traditional Thanksgivings recipe. Drunken cranberry sauce is made with just 3 ingredients in minutes!
Thanksgiving Desserts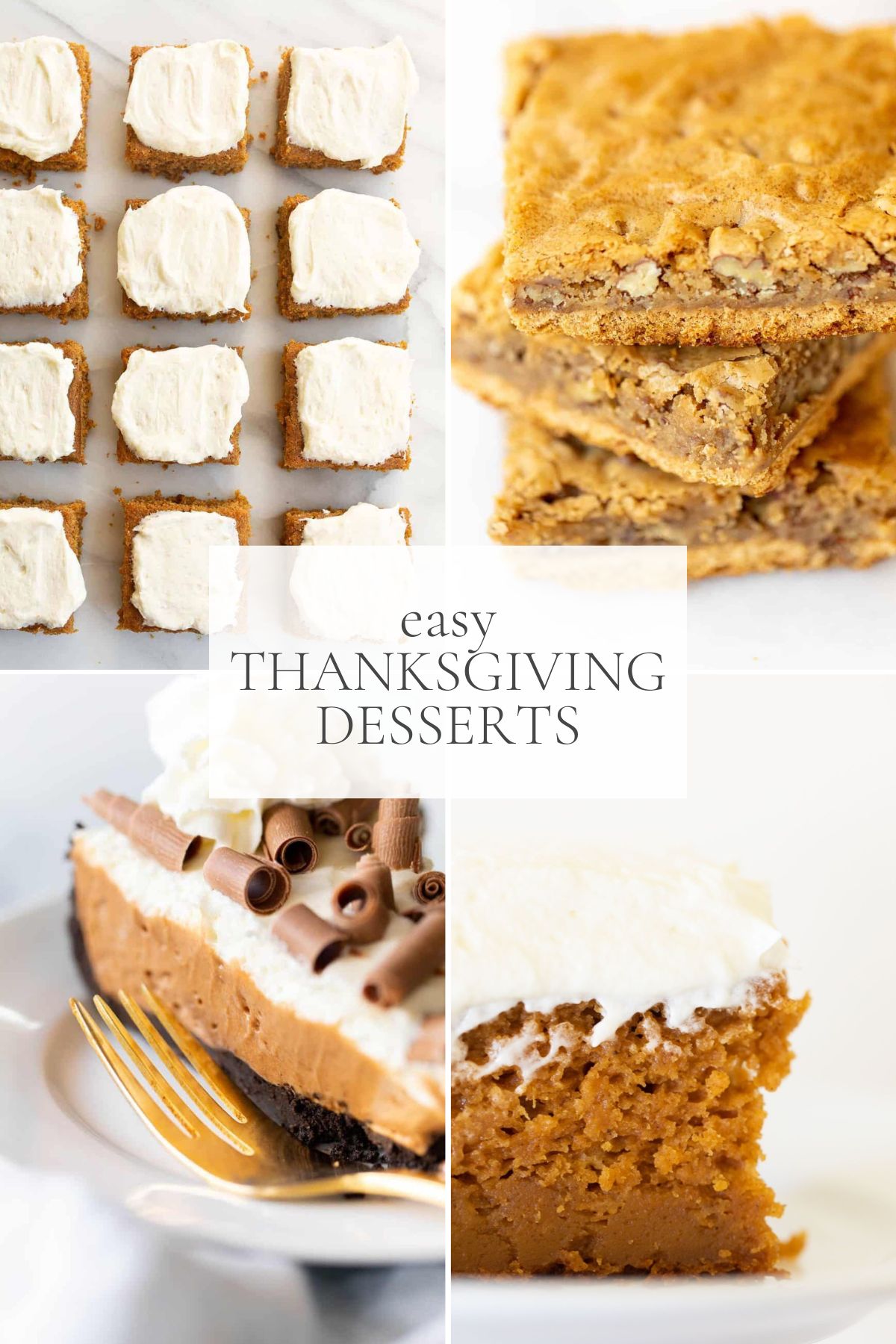 This easy Chocolate Pie Recipe with Pretzel Crust is the perfect duo! The simplicity of the chocolate pie filling with the salty pretzel crust is incredible!
Make it ahead and place it in the fridge or freezer to enjoy with family and friends at your next party or holiday gathering.
Next, we have these easy salted caramel pecan pie bars with a twist! It's a perfectly portioned square with a buttery graham cracker crust and homemade caramel sauce that is absolutely divine.
This delicious no bake French silk pie is so easy to make and I just know you are going to love it! It takes just 10 minutes to make and is so incredibly indulgent!
This is an incredibly moist Pumpkin Cake Recipe that is slathered in the most indulgent layer of creamy homemade frosting.
This Pumpkin Cake with Cream Cheese Frosting is baked in a standard 9×13 baking dish, and it's so easy to put together with no decorating skills required.
And finally, these easy pumpkin bars with cream cheese frosting that are effortless- simply bake, slice, and serve these cute pumpkin squares for an indulgent fall treat. These pumpkin spice bars are irresistibly moist and delicious!
If you're looking for more Thanksgiving desserts, I've got that covered too! Get my complete FREE recipe round-ups for Apple Recipes, Pumpkin Desserts, and the Best Fall Cookies!
More Thanksgiving Inspiration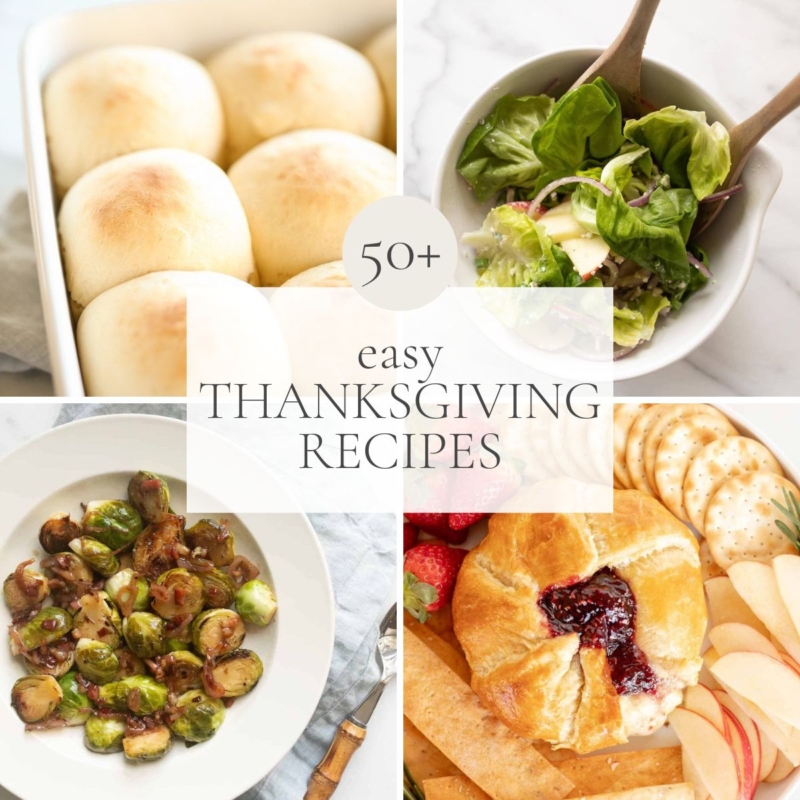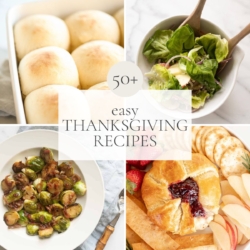 Easy Thanksgiving Menu
Create the easiest most incredible menu with these easy Thanksgiving recipes.
Ingredients
Instructions
STARTERS

Make your dip the day before and warm as guests are arriving. Crescent roll app will need to be made just before serving!

SALAD

Prep the day before, slicing apples and tossing with dressing and toppings just before serving.

MAIN DISH

Prep the day before, leaving the honey baked ham in the oven low and slow the day of.

BREAD

These dinner rolls can be made in advance. Make this dough as directed, allow rolls to rise, and instead of baking, simply refrigerate. You can hold them (covered) in the fridge for 10-12 hours. Simply remove from the refrigerator for two hours before you're ready to throw them in the oven.

SIDE DISHES

Each of these side dishes can be prepped ahead, with the exception of the green beans with bacon, which need to be sautéed at the last minute for the best crispy flavor. Everything else can stay in the oven for an hour or two prior to serving to keep them warm.

DRINK

Sangria can be prepped up to 48 hours in advance. If making ahead, combine and add fruit and ginger beer just before serving. This prevents the Apple Cider Sangria from losing its bubbly and the sangria fruit from becoming mealy. Allow flavors to marinate 15 minutes before serving, (up to six hours before).
Explore More