This delicious no bake French silk pie is so easy to make and I just know you are going to love it! It takes just 10 minutes to make and is so incredibly indulgent!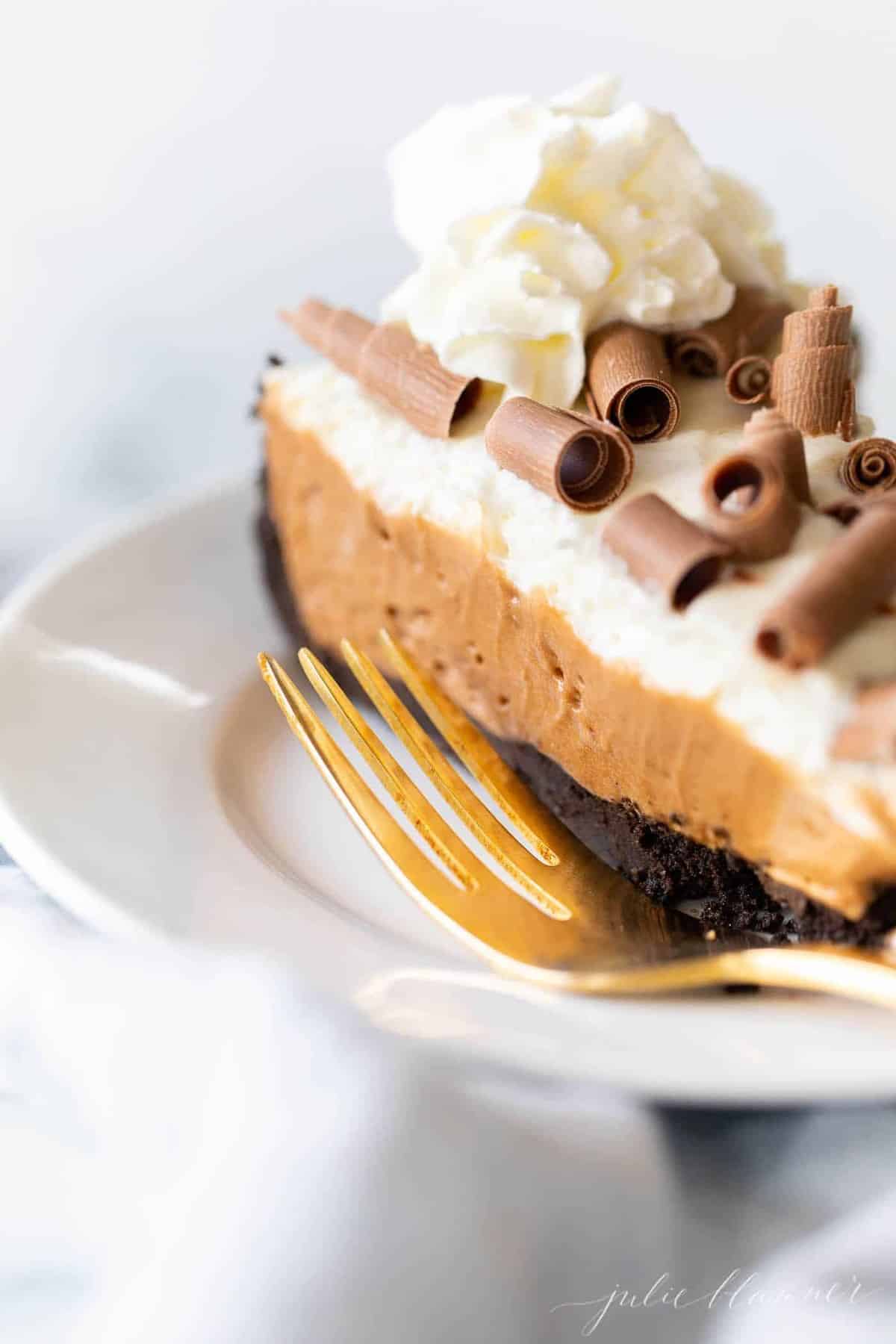 Recently, Chris challenged me to recreate his favorite store bought (restaurant) French Silk Pie. I knew I could do better than that and a couple of pies and tweaking later, I more than succeeded! Fortunately, it's also a really quick and simple recipe!
Why You'll Love this Pie Recipe
Each bite is so rich and creamy and I promise you, everyone will think you've spent hours in the kitchen making it. That will be our little secret!
It's luxuriously creamy with a smooth chocolate filling, Homemade Whipped Cream and Magic Shell to top it with a delicious, memorable crunch!
When it comes to make ahead desserts, I love anything no bake. Be sure to check out my Cookie Butter No Bake Cheesecake, Easy No Bake Pumpkin Cheesecake and No Bake Lemon Pie for recipes that are sure to impress!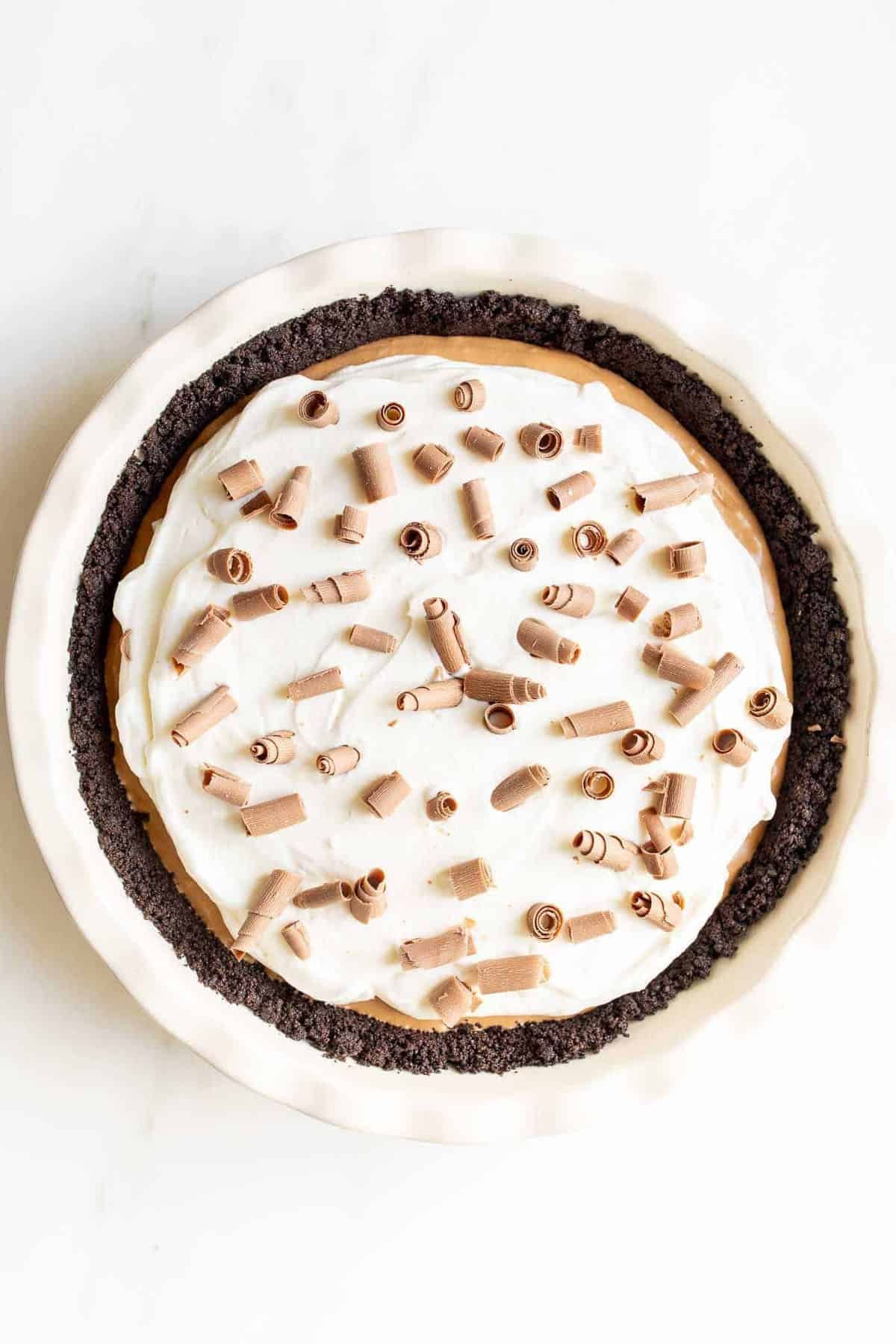 I like to give a lot of detail in my recipe posts to guide readers through any questions. If you're just here for the printable recipe, feel free to click "jump to recipe" right under the title of this post and you'll head straight there!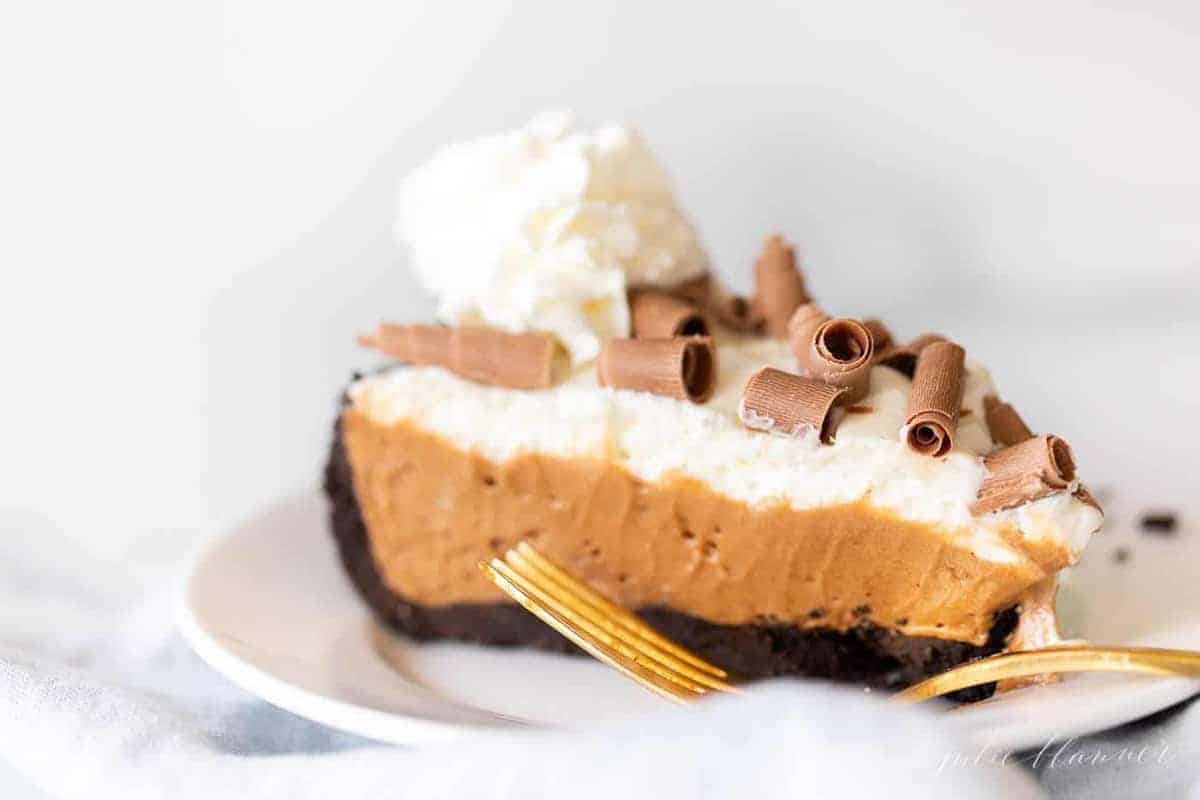 French Silk Pie Ingredients
Pie Crust – For ease I like to use a pre-baked crust. My Sugar Cookie Crust and No Bake Shortbread Crust work really well, or you can use your favorite store bought one. (More pie crust suggestions under the Variations heading below!)
Chocolate Chips – I like to use chocolate chips as they melt quickly and easily, but you can also use chocolate bars if that's what you have. I like to use semi-sweet chocolate, but you can use bittersweet or even unsweetened chocolate for a richer flavor.
Butter – I generally have salted butter on hand here, so that's what I use. (We like a little salty with our sweet!) You can also use unsalted butter in this recipe. Make sure you soften the butter so that it combines easily.
Sugar – Use white granulated sugar in this pie, I feel that it works much better than brown sugar.
Vanilla – Vanilla extract adds a wonderful flavor to the pie. You can make your own extract, it's super easy and so much cheaper!
Eggs – Use large eggs, and organic if you can. Eggs help to bind everything together.
Whipped Cream – For the topping you'll need heavy whipping cream and sugar.
Chocolate Shavings – Add chocolate shavings to the top of the pie or use my magic shell recipe.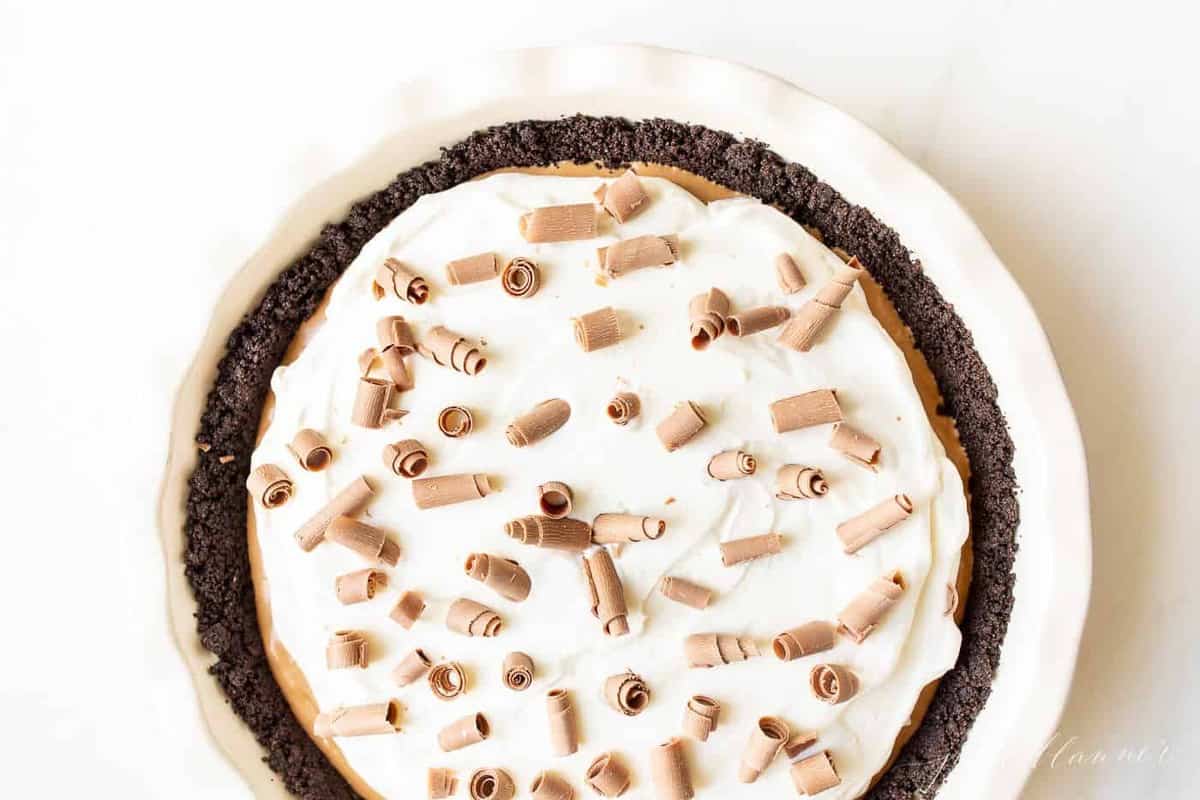 How To Make French Silk Pie
Prep – Melt chocolate in the microwave or double boiler.
Mix – Beat butter and sugar. Blend in cooled chocolate and vanilla. Add one egg at a time until it is smooth and fluffy.
Make – Pour filling into the crust, add whipped cream and chocolate.
Chill – Refrigerate until serving.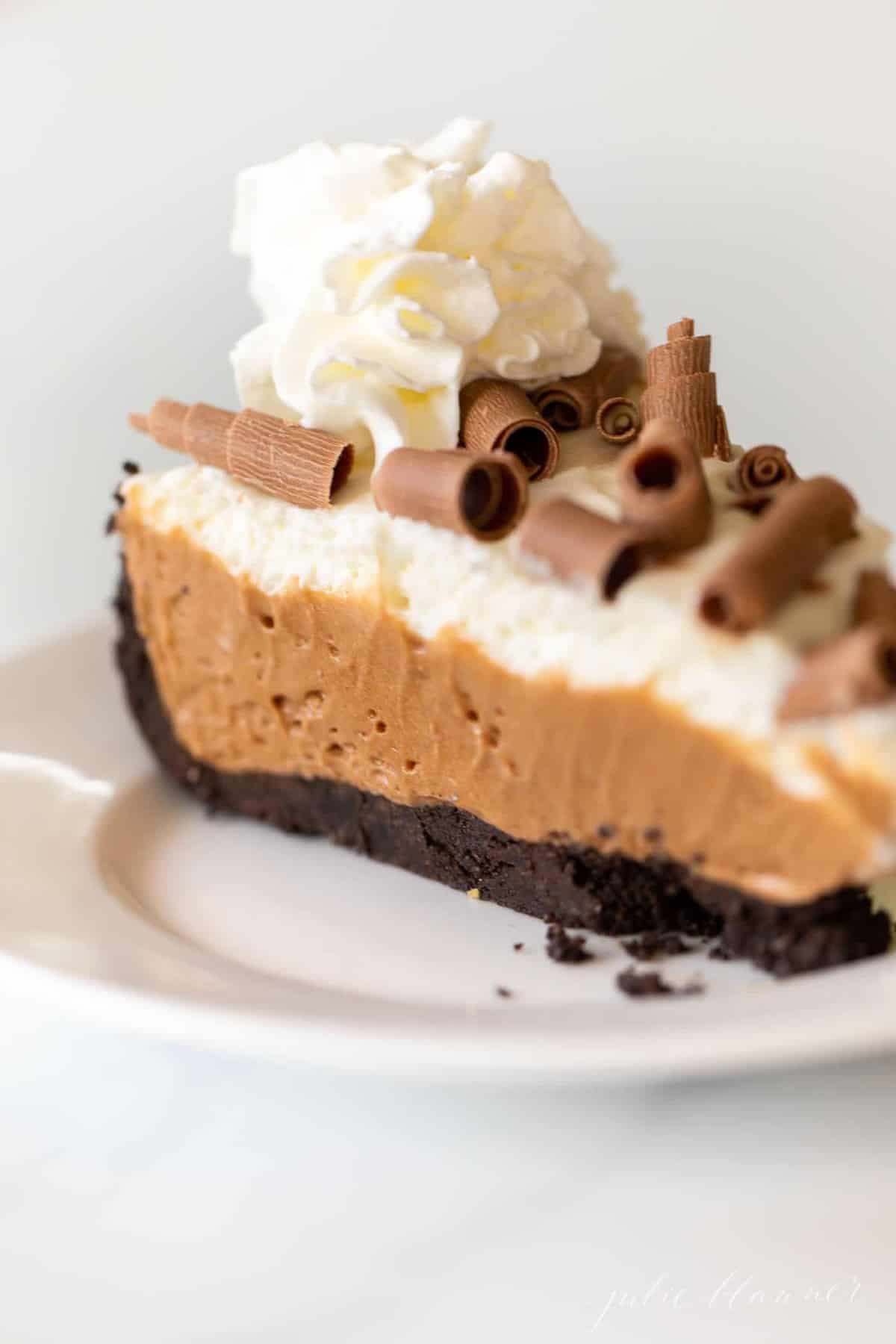 Variations
Use a different pie crust for an entirely different flavor profile! I've got so many great pie crust recipes.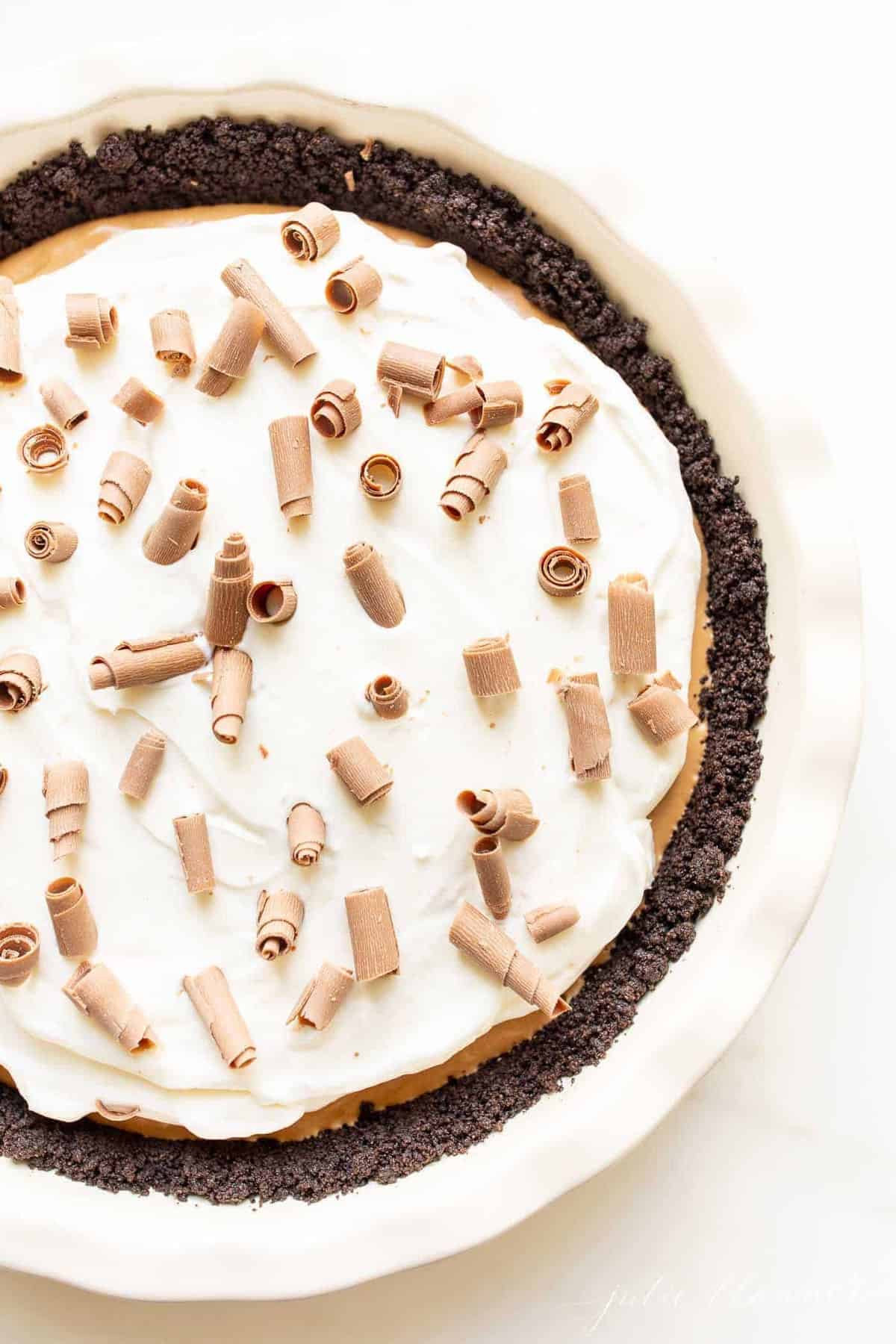 Tips
Cool the Chocolate!
Make sure that your chocolate is cooled before adding it to your mixer. If the chocolate is still hot it can curdle the eggs and your filling won't be silky smooth.
To Store
Refrigerate – Once the pie has chilled, cover it with plastic wrap and it will keep well for up to three days refrigerated.
Freeze – If you plan on freezing the pie, don't add the whipped cream. Add the filling to the pie crust and cover it with plastic wrap. It will keep well for up to 3 months this way. Thaw the pie in the fridge overnight and then top with the whipped cream and chocolate.
What size pan does it work for?
A 9-10″ pie dish, 10″ springform, 9×9 baking dish or tart pan. Depending on which you use your French Silk Pie may be a little thicker or thinner. You can easily increase using the feature in the recipe card.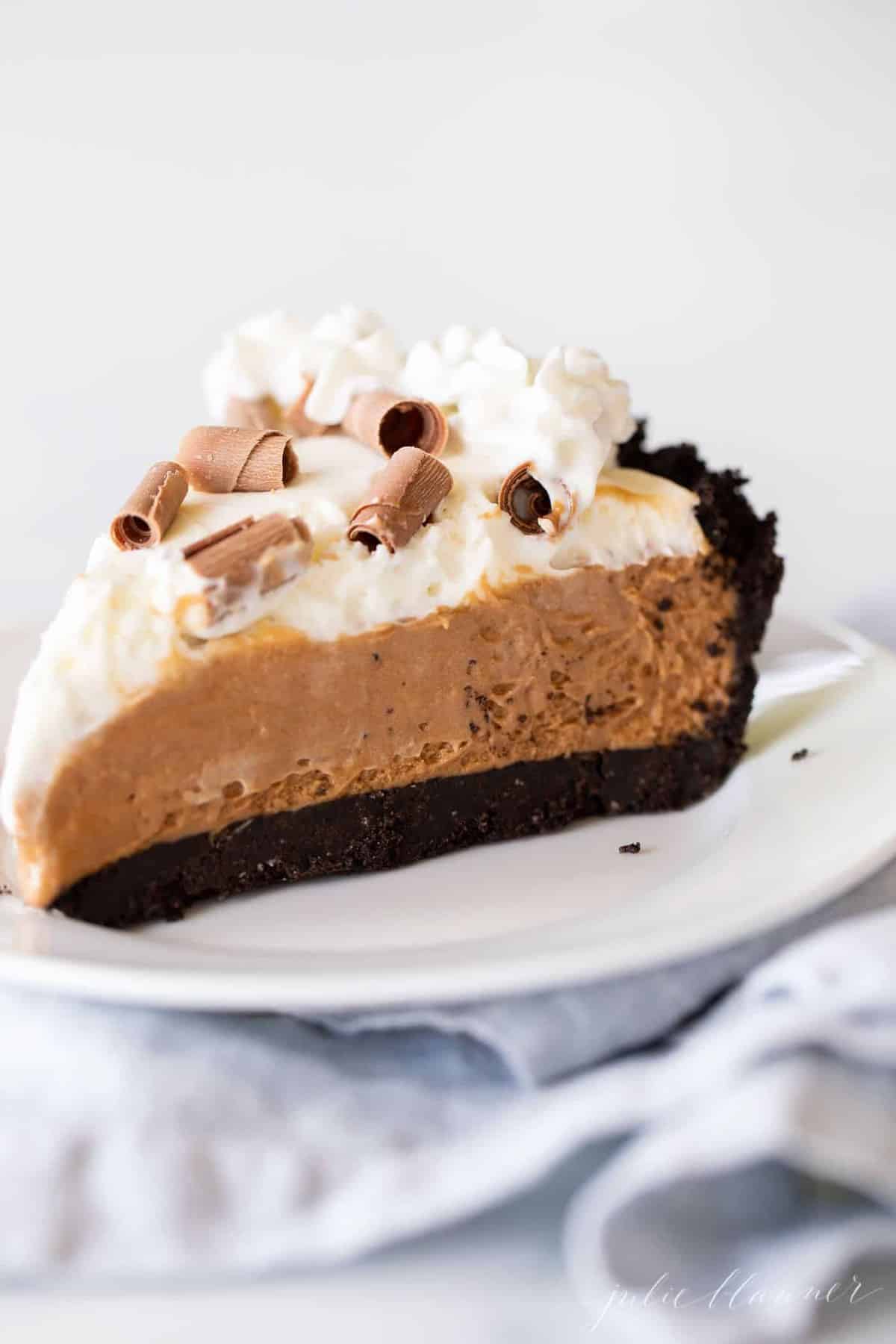 Want more? Receive the best ideas directly to your inbox and connect on Youtube, Instagram, Facebook, and Pinterest!
If you try this recipe, please come back to share using my 5 star rating in the comments below! Not only do I appreciate it, but I know readers do, too!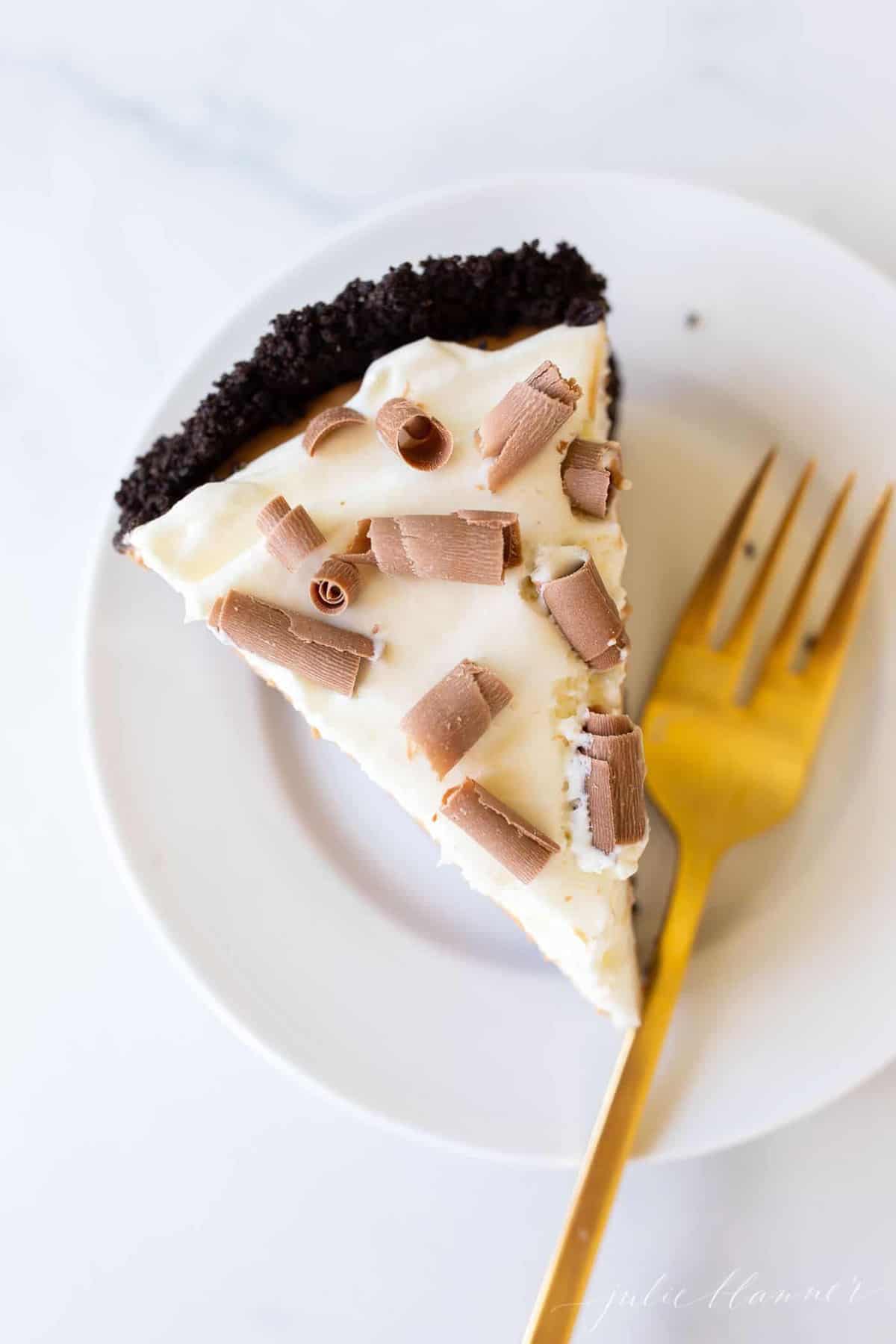 More Easy Dessert Recipes