Warm up this fall and winter with a cocktail you'll never forget! An Old Fashioned made with apple butter! It's full of apple cinnamon flavor you're going to love. It's easy to make and easy to sip!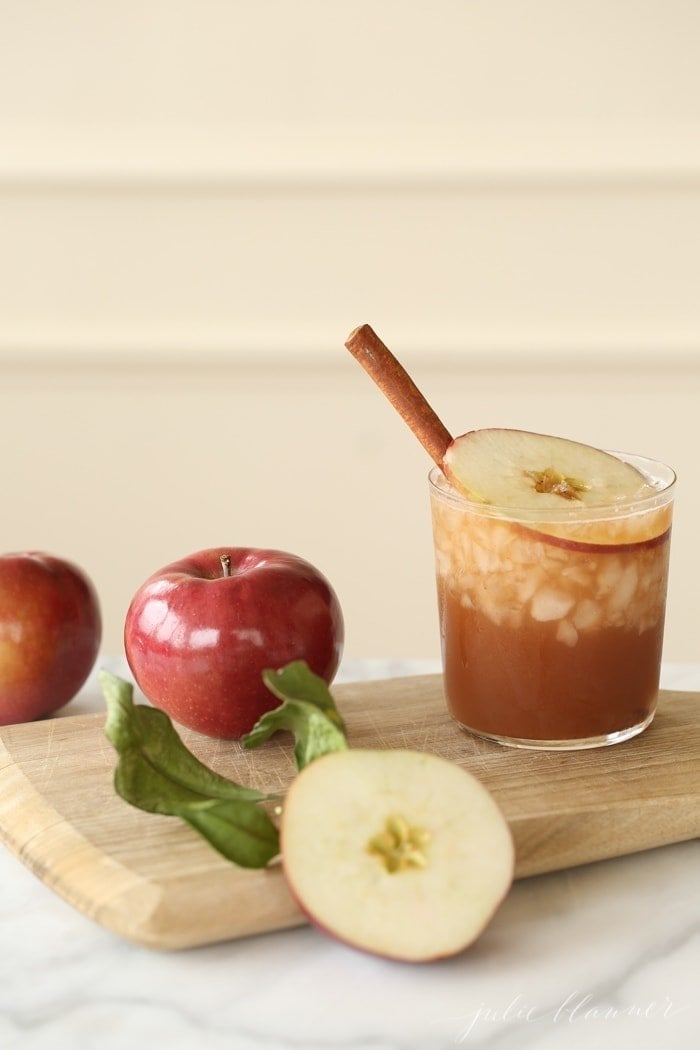 An Old Fashioned – a Classic Cocktail with a Twist!
For Thanksgiving, we went to one of our favorite destinations in Missouri, Top of the Rock. As I sat down, the server placed a cocktail menu in front of me. Normally I'd set it aside in favor of the wine menu, but this was a special occasion and something caught my eye.
The first listed ingredient was APPLE BUTTER. Apple butter in a cocktail? I wasn't sure about apple butter in a cocktail and had never been a big fan of bourbon, but in favor of trying something different, I tried and LOVED it!
Who knew an Old Fashioned made with apple butter would become my favorite fall and winter cocktail that's now a staple for trick or treating, Thanksgiving and Christmas? It's the perfect blend with bourbon and I know you'll love it, too!
I love creating winter cocktails! This Amaretto Snowball recipe is a great one, as well as my Merry mint cocktail and a cinnamon toast. You've also got to try my mulled wine!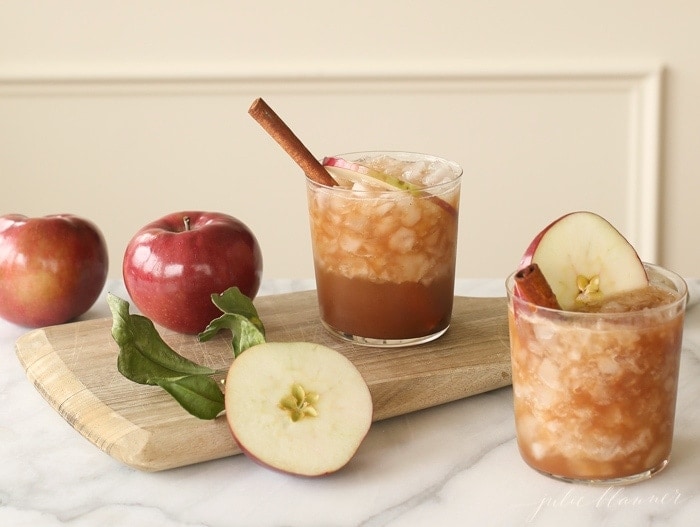 It's such a great cocktail that warm your heart and soul. It's easy to drink and goes down like – butter! Apple butter is a concentrated (and delicious) form of apple sauce that is made by slow cooking apples with cider until the sugars caramelize. It's such a delicious addition to this traditional cocktail.
A few days later our friends visited us at the lake and requested to go to Top of the Rock. I tried to order a Cinnamon Apple Old Fashioned, but to no avail. It was a limited offering. Fortunately, I had pressed the server days before for the recipe so we (and you) could enjoy it at home.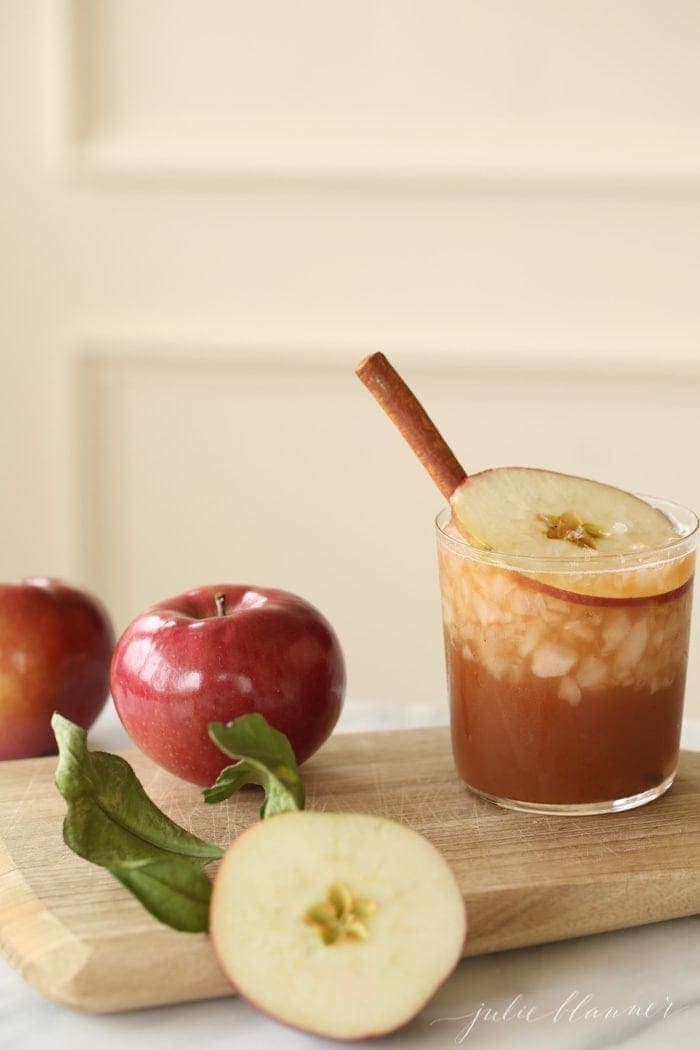 What's in an Old Fashioned?
If you're like me, you're probably wondering what's in an old fashioned drink. Until I had an Old Fashioned with apple butter, I didn't know either! An Old Fashioned is traditionally made with bourbon, bitters, simple syrup, club soda, orange and a maraschino cherry.
To update this classic cocktail for fall and winter, I've added apple butter and a cinnamon stick in lieu of an orange and cherry.
How To Make an Old Fashioned
Putting together this cocktail is as easy as pouring all your ingredients (apple butter, bourbon, bitters, ice, and cinnamon stick) into a shaker, and shaking until everything is well mixed together.
Once ready to serve, pour the mixture into an old-fashioned glass, add a splash of club soda, and garnish with an apple slice.
Old Fashioned Bitters
I know just told you to add bitters to this drink to make it, but what are Old Fashioned bitters?
Bitters have been described as the salt and pepper of a cocktail like an old-fashioned. It is an alcoholic preparation flavored with natural herbs and spices. Adding bitters to a cocktail helps round out the drink, enhancing the flavors and ingredients. Therefore, its an ingredient you don't want to skip or miss, just as you wouldn't want to forget the pepper on your entrée.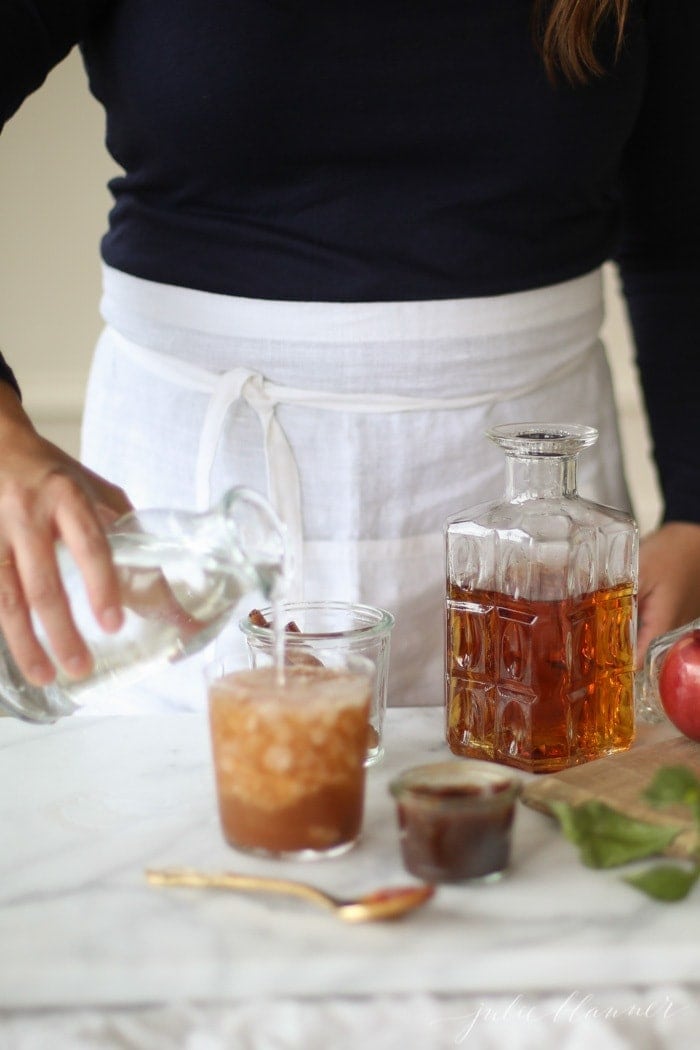 Cheers!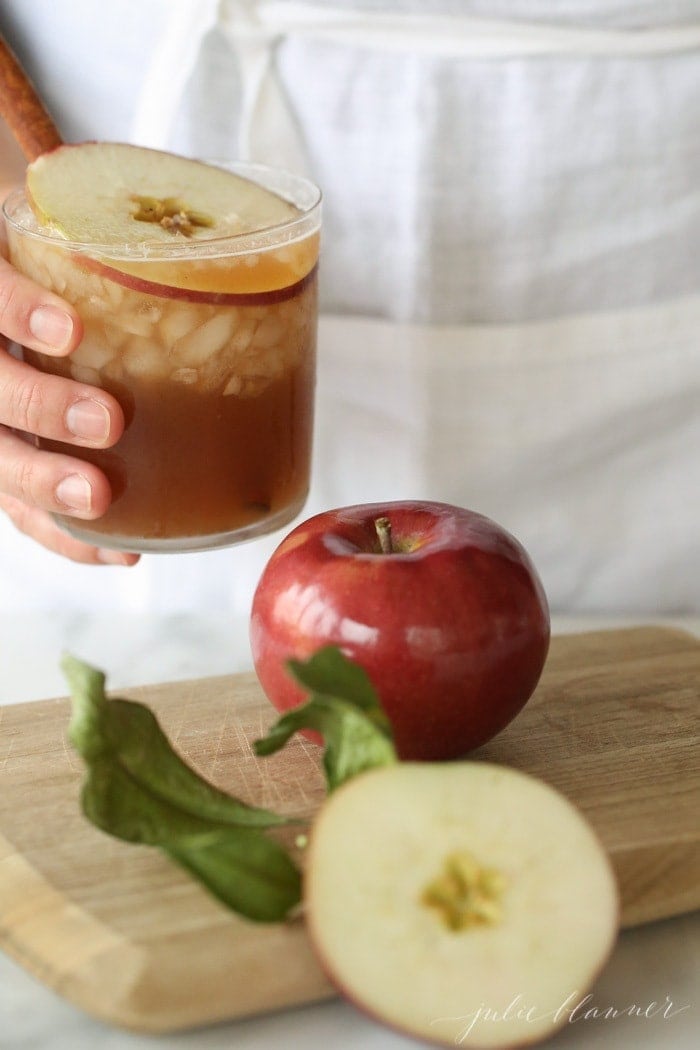 Are you loving the fall flavor of apple everything as much as we are? You need to check out my detailed apple baking guide– it's full of tips, tricks and the BEST apple treats!

Easy Cinnamon Old Fashioned Recipe
I still can't get over how easy it is to make a cocktail this good! The warm and cozy feeling it creates makes me crave it every year around the holidays. I hope this apple cinnamon flavored Old Fashioned warms your heart for the holidays, too.
Do you have a favorite cocktail? I'd love to know your favorite sips!
More Cozy Cocktails
Cold weather and the holidays make the perfect excuse to pull out all your favorite fall cocktail recipes. Here are some more to add to your list this season!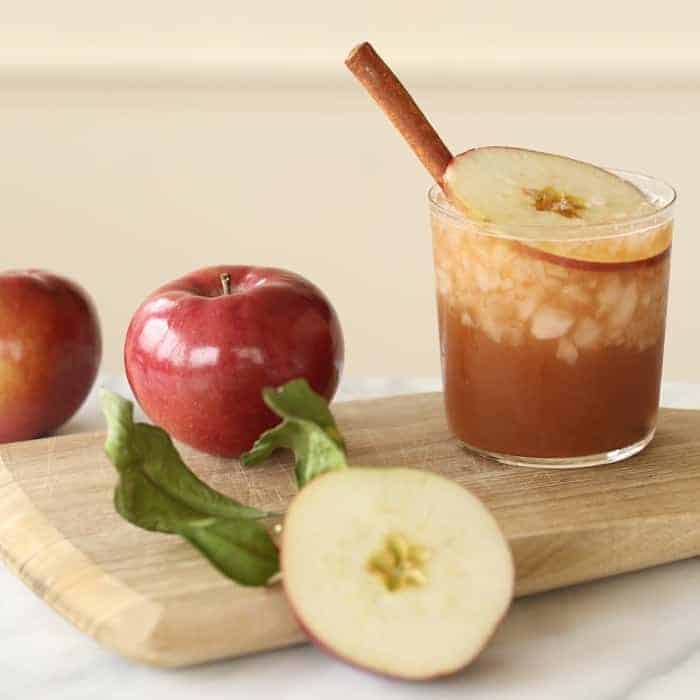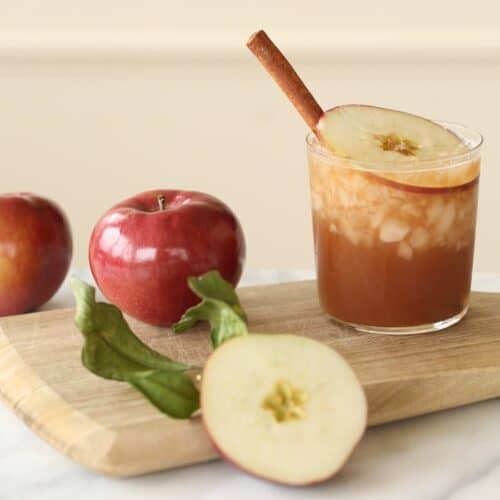 An Old Fashioned (with Apple Butter)
Warm up this fall with a drink that's always a crowd pleaser – an Old Fashioned with APPLE BUTTER! It's easy to make and easy to sip!
Ingredients
1

tablespoon

apple butter

2

ounces

Bourbon

6

drops bitters

1

cup

ice

1

cinnamon stick

club soda
Instructions
Combine apple butter, bourbon, bitters, ice, and cinnamon stick in a shaker. Shake well.

Pour into glass and add a splash of club soda. Garnish with an apple slice.
Nutrition
Calories:
198
kcal
Carbohydrates:
13
g
Protein:
1
g
Fat:
1
g
Saturated Fat:
1
g
Sodium:
15
mg
Fiber:
2
g
Sugar:
7
g
Calcium:
35
mg
Iron:
1
mg
Did you Make This Recipe?
Mention @JulieBlanner
LET'S CONNECT!
instagram | newsletter | facebook | pinterest
Originally posted December 16, 2016, updated October 29, 2018