Apples are the quintessential fall fruit– let's celebrate their sweet abundance with tips, tricks and easy apple recipes galore! This is a complete apple recipe guide.
Learn about choosing the best apples for baking, as well as an incredible round-up of all my favorite apple recipes in one convenient spot.
The best apple recipes are at your fingertips, with free printable recipe cards and all the details you need. Here's your inspiration to go apple picking this weekend!
I know that maybe it's a little bit of a cliche, but my family treasures our fall outings to the local apple orchards here in Missouri.
There's something so much sweeter about baking and cooking when you know exactly where things came from- we are so lucky to have these local farms!
Today, we've created a one-stop-shop where you can find all my favorite apple tips, tricks and recipes- so be sure to bookmark this post for future fall baking!
There's everything from apple cocktails, to indulgent baked apple recipes, and even healthy apple recipes.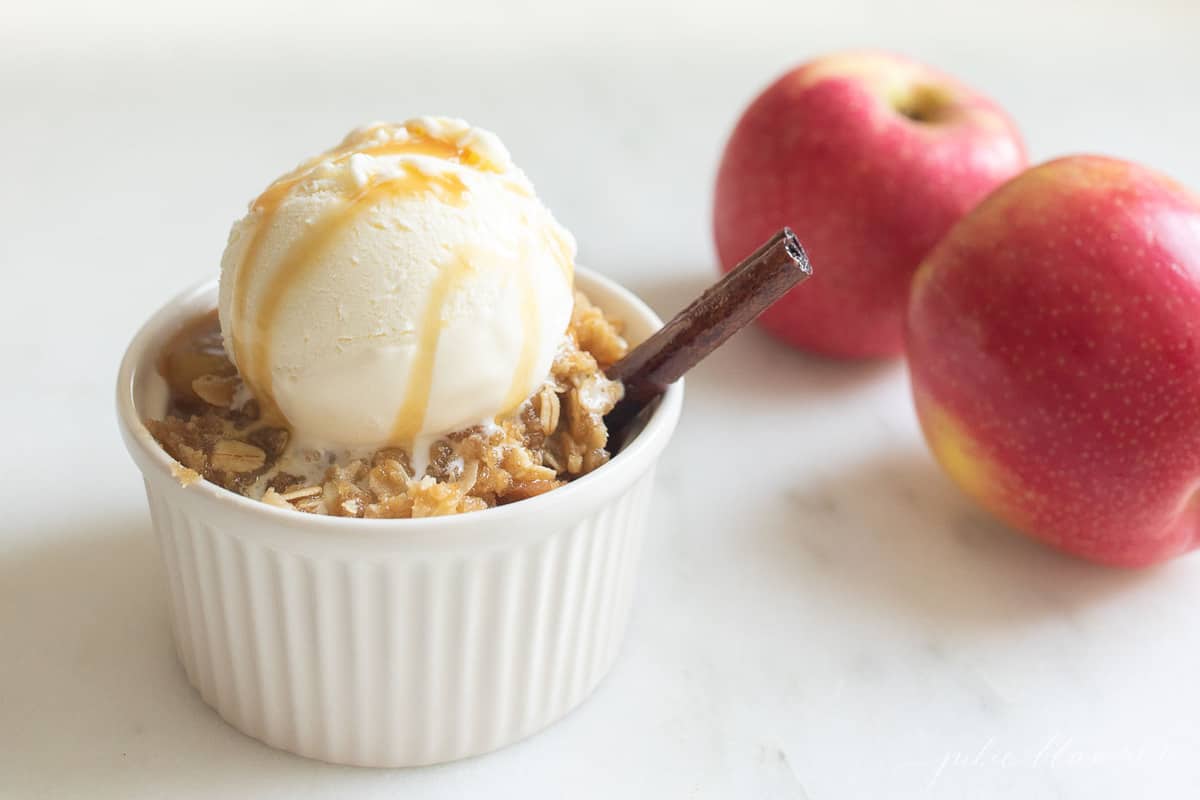 Easy Apple Recipes
I have created dozens of apple-inspired recipes over the years, and I am thrilled to share them all with you!
First, we're going to go over some of the most commonly asked questions about baking with apples.
You'll find each apple recipe linked to its own post with a printable recipe card towards the bottom of this post. There's a lot of apple love to go around, so I hope you find this helpful!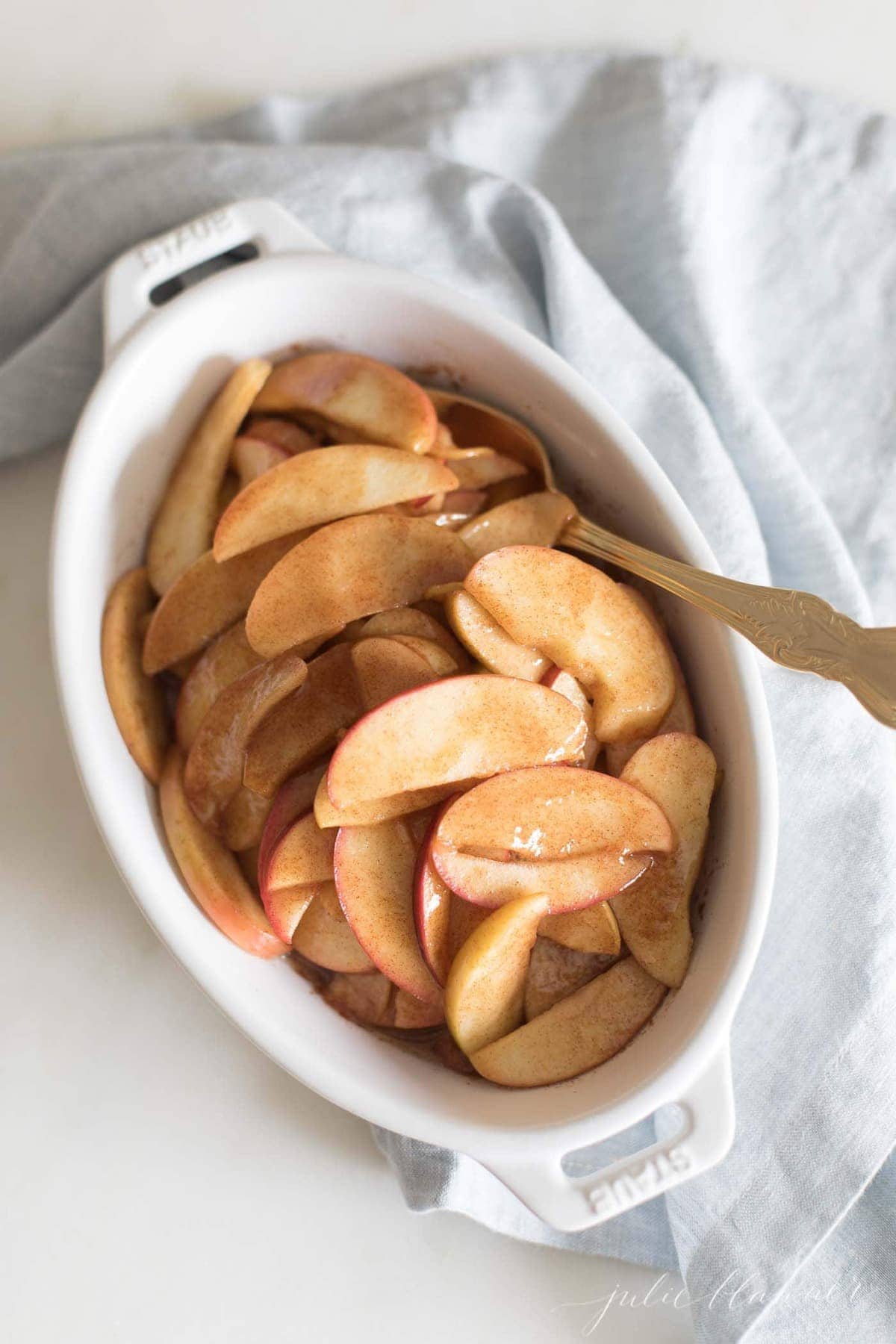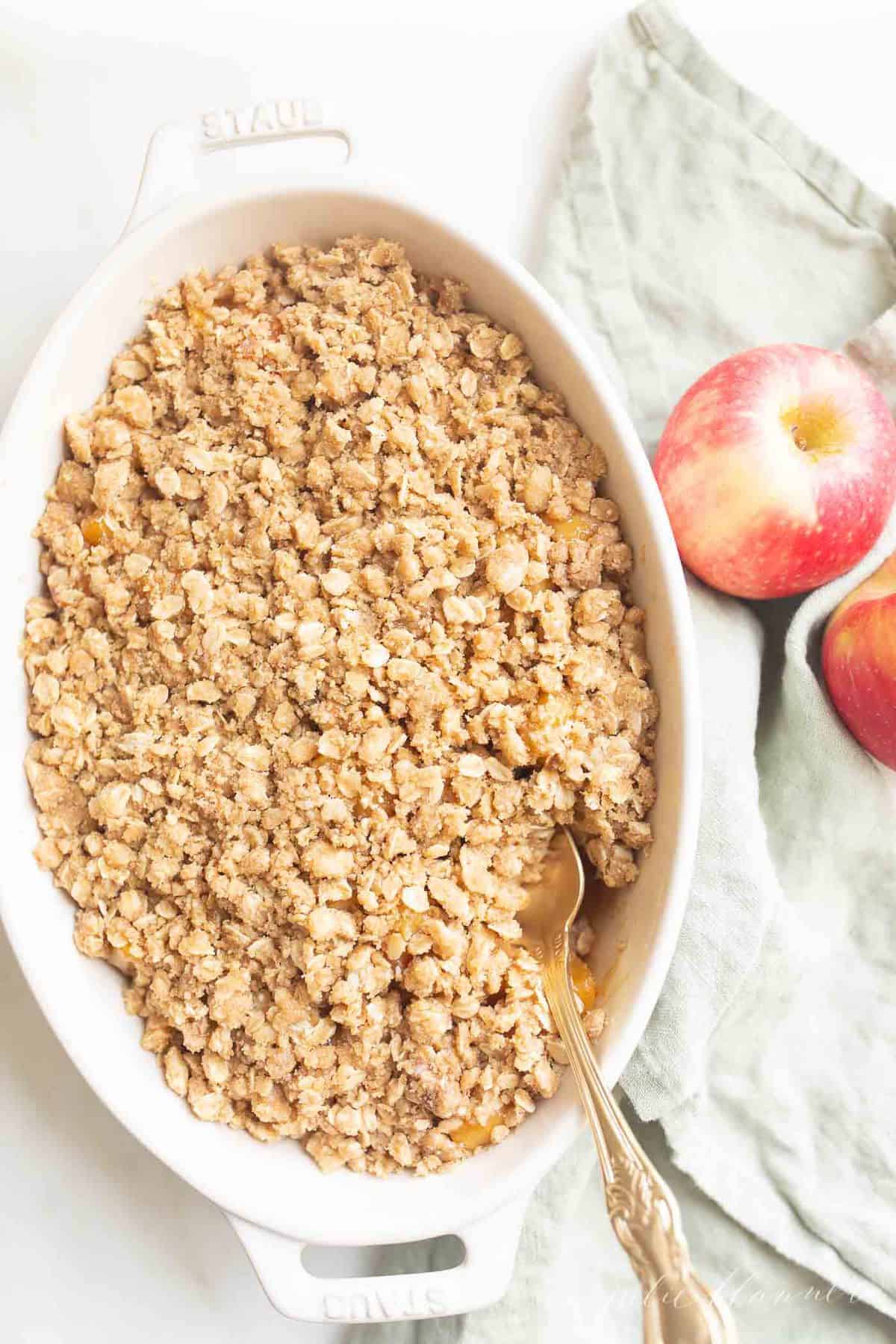 What are the Best Apples for Baking?
First, let's chat about the best apples to use in your recipes.
There are a wide variety of apples that are perfect for baking. However, some of the softer apples have a tendency to lose their shape, so it's best to avoid those when you are choosing an apple for baking purposes.
These are our favorites!
Jonathan
Honeycrisp
Granny Smith
Braeburn
Golden Delicious
Gala
Pink Lady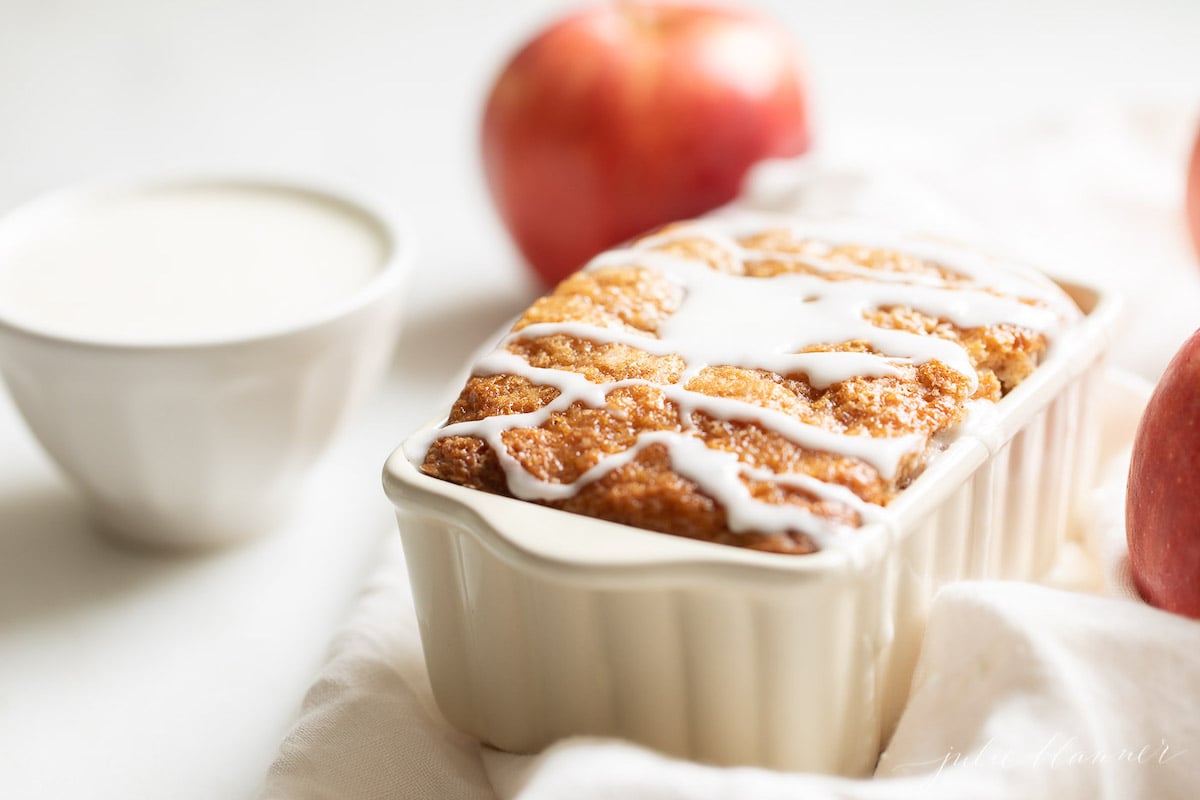 More Frequently Asked Questions
What can I do with lots of apples?
My suggestion? Apple cider! You can also make apple pie, or apple bread. The easiest apple recipe ever is these incredible baked apples.
How long do apples last in the fridge?
Store your apples whole, and unwashed, individually wrapped in your refrigerator. Fresh apples can keep up to eight weeks when stored appropriately.
Should apples be stored separately from other fruit?
Ideally, yes. That's because apples emit ethylene gas, which can cause other fruits and vegetables to go bad at a much quicker rate.
Can you freeze fresh apples?
Yes! Freeze them whole with the peel on, freeze them as slices, or make apple pie filling and freeze that.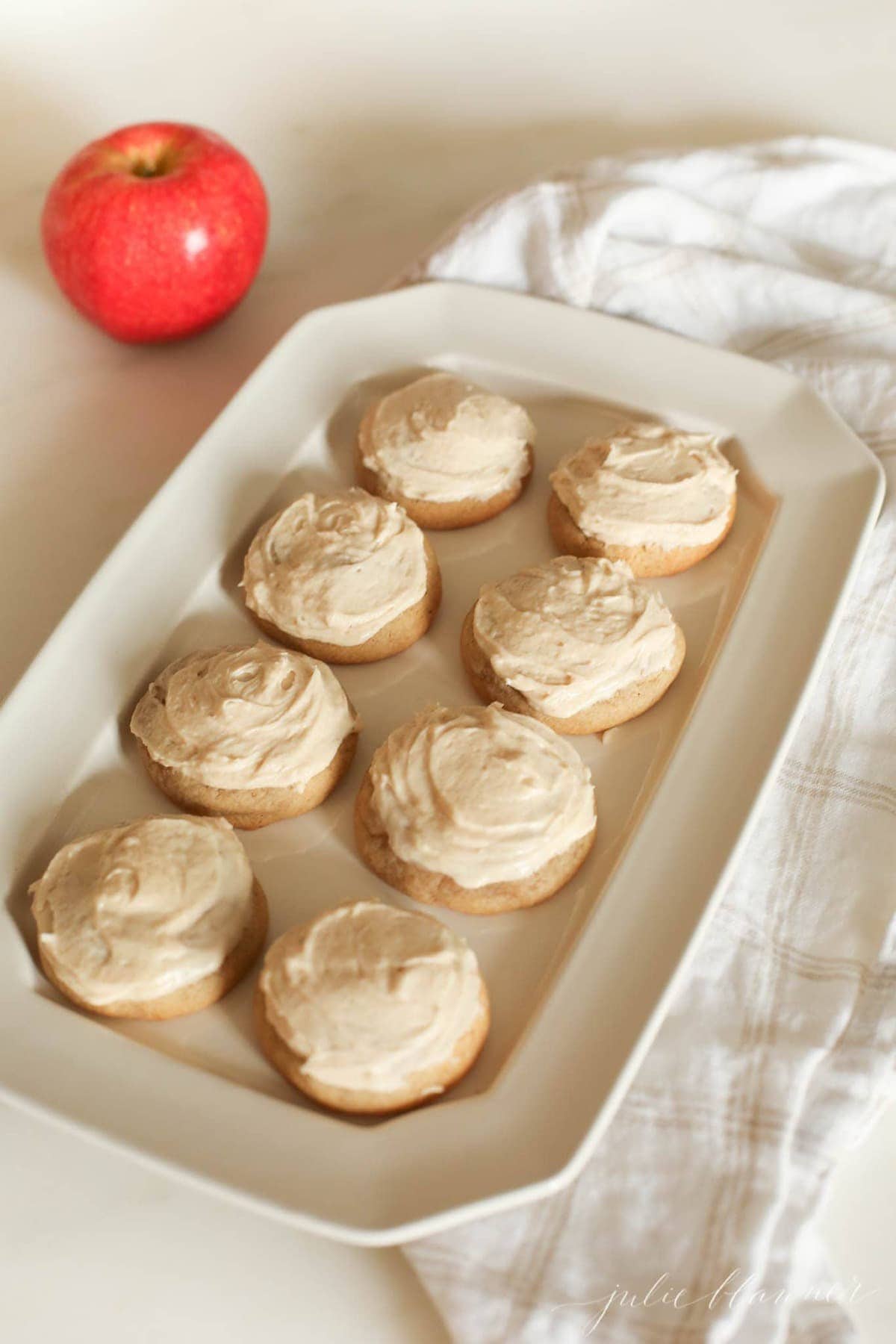 Sweet Apple Recipes
Baked into a variety of your favorite sweet recipes, apples are the ultimate fall treat!
First on this list, an incredible homemade apple cinnamon roll recipe.
Even though they are made from scratch, they are simple to make and perfectly light and fluffy. Homemade apple cinnamon rolls are better than the ones you buy at your bakery!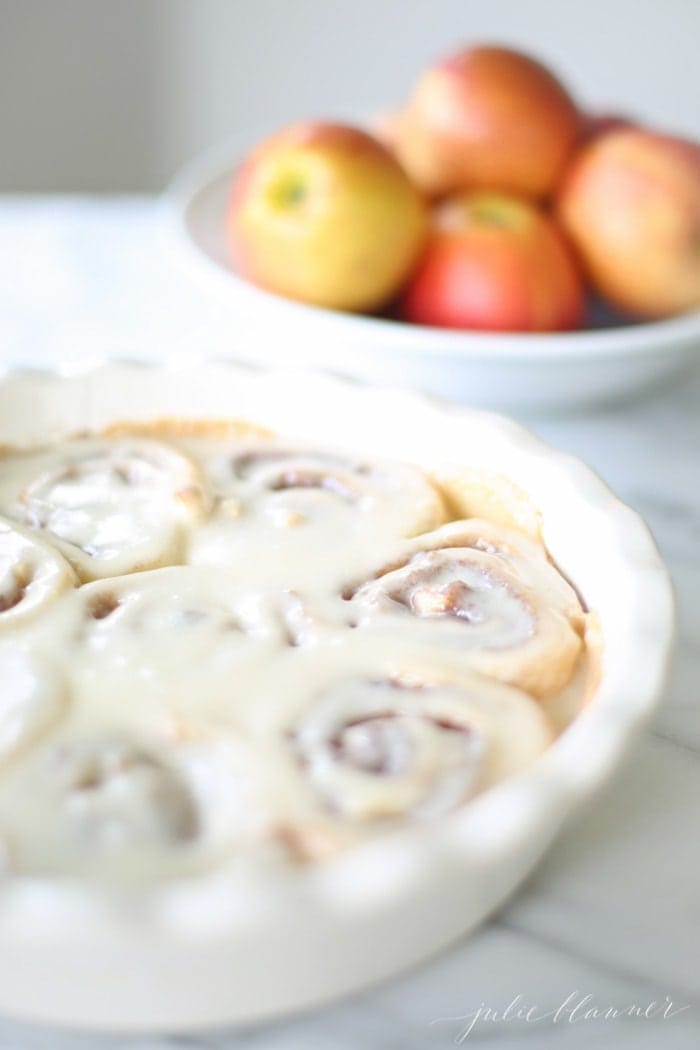 This is an easy apple cider donut holes recipe that will give you your fall fix without a donut pan! These little guys are a mix of a baked donut and a mini muffin, making it an apple cider recipe that simply melts-in-your-mouth.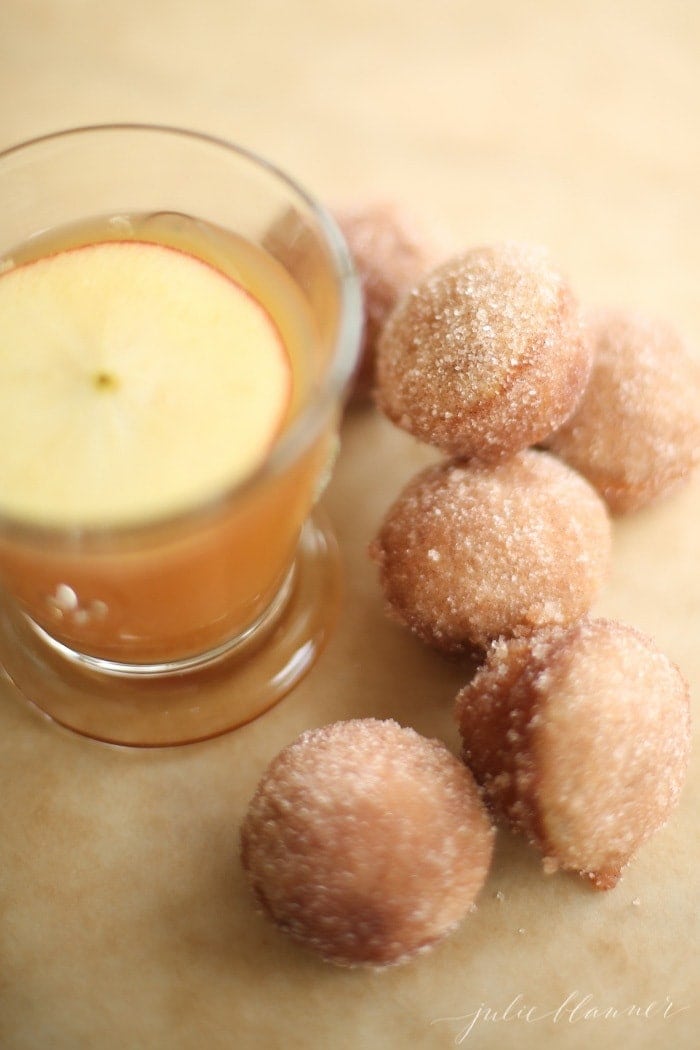 This amazing Apple Bread is the most delicious taste of fall. With the flavors and warmth of sweet baked apples and cinnamon, it will fill your home with fragrance as it bakes!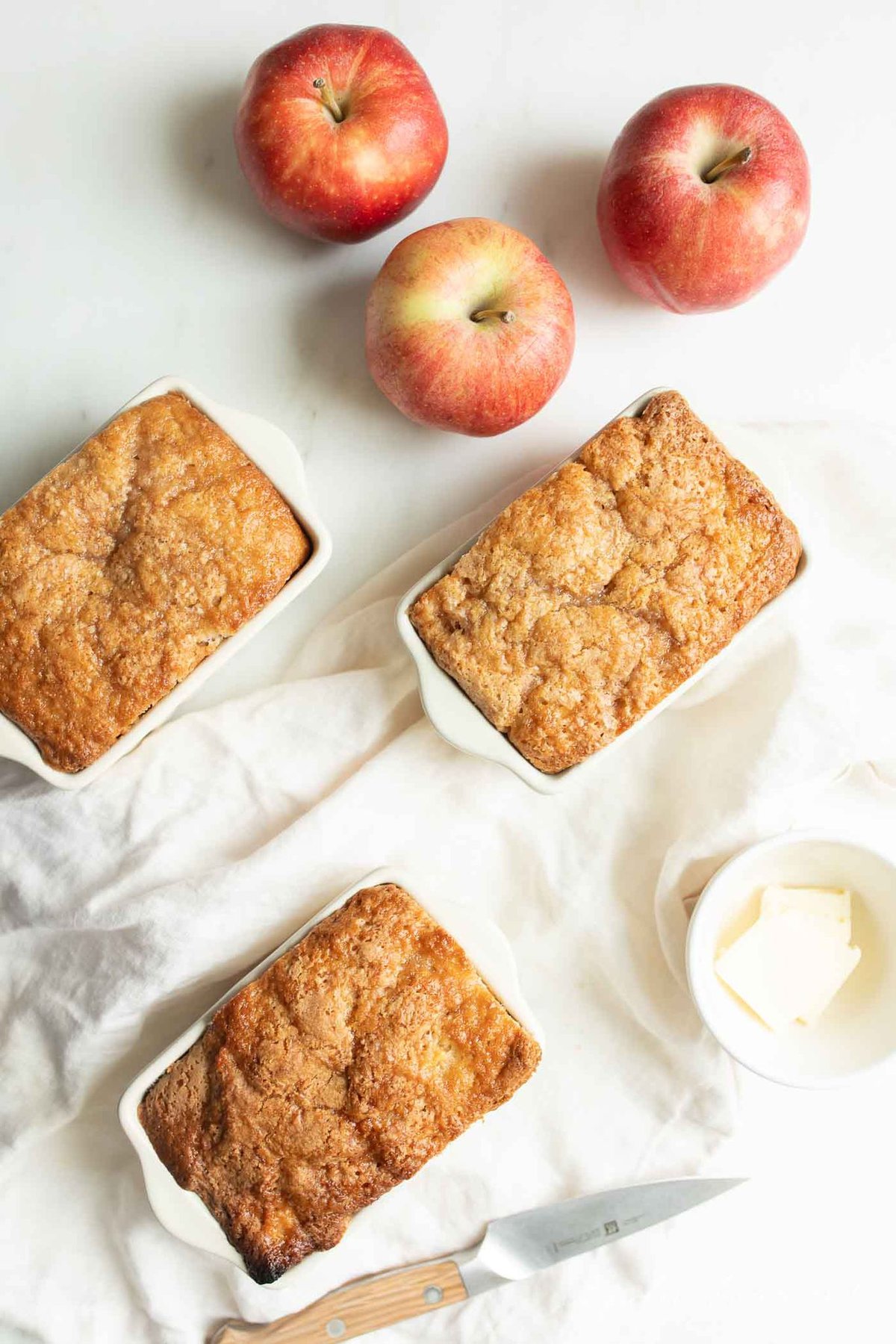 Apple cobbler muffins are the perfect fall dessert for breakfast baked treat. Easy to make, these fruit muffins are wonderfully soft and fluffy and topped with the most delicious sweet and crumbly topping.
This amazing Apple Fritter French Toast is made with thick slices of apple fritter bread soaked in a delicious custard, crisped to golden brown and topped with a sweet orange butter.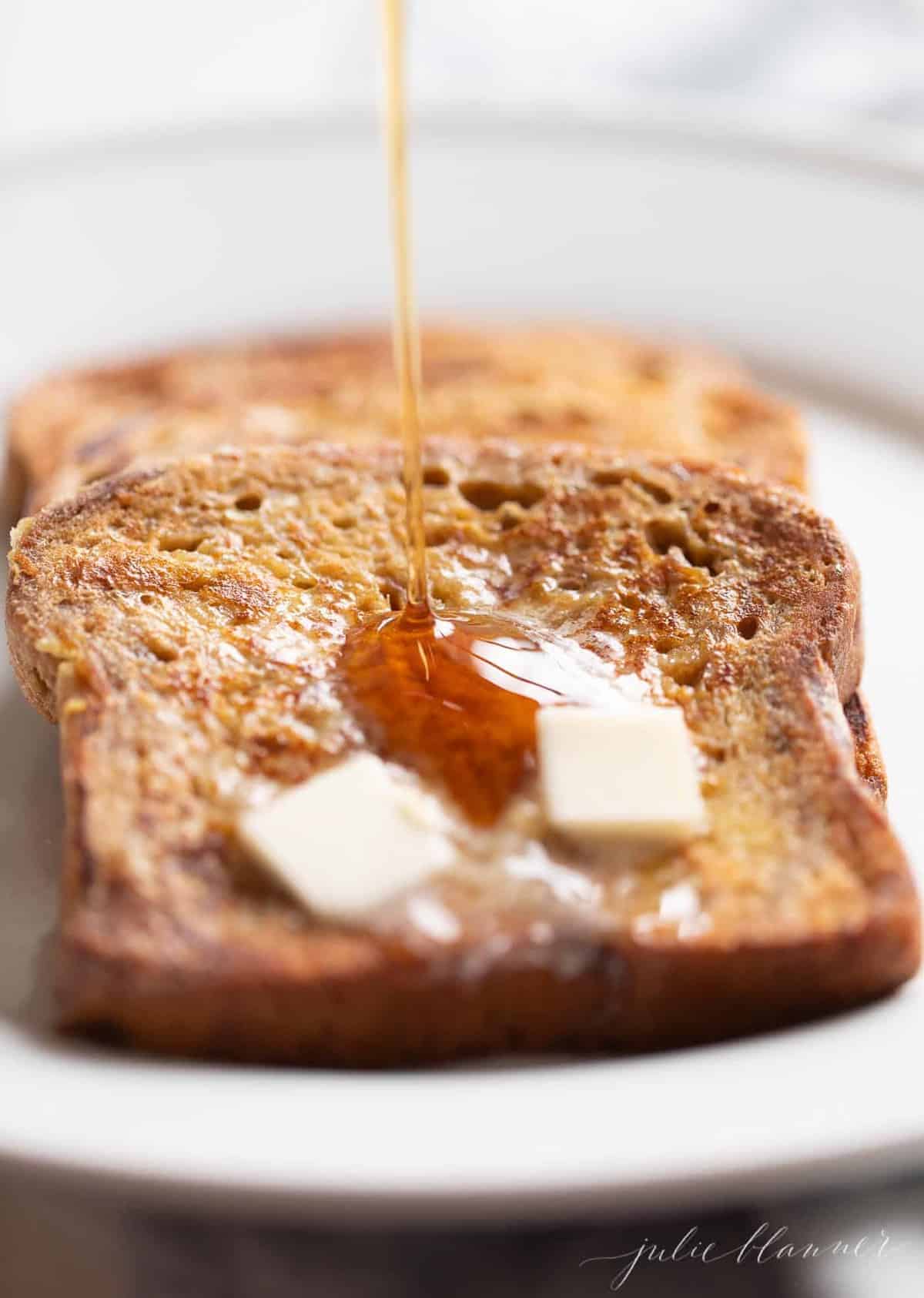 Apple Pie oatmeal is a delicious warm breakfast that takes just 10 minutes to make. High in protein and fiber, a bowl of this healthy breakfast will keep you feeling full until lunchtime. Easy to make and kid friendly!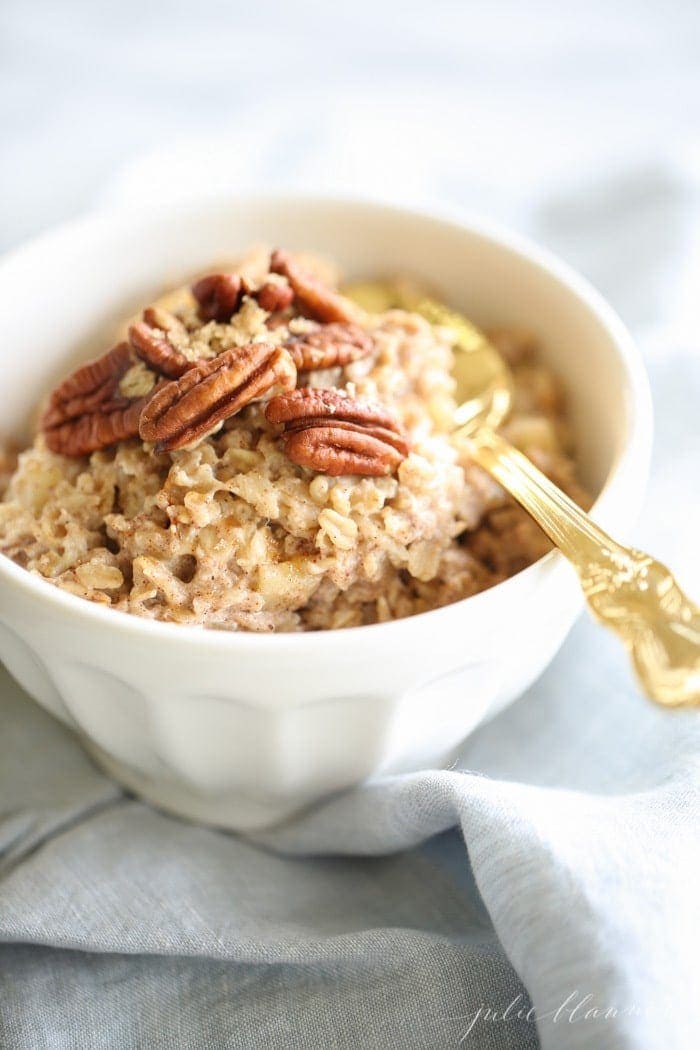 This simple apple pound cake is dense, making it full of that buttery flavor synonymous with pound cakes.
It's loaded with fresh apples that keep it moist, and covered in an incredible glaze that slices perfect, every time.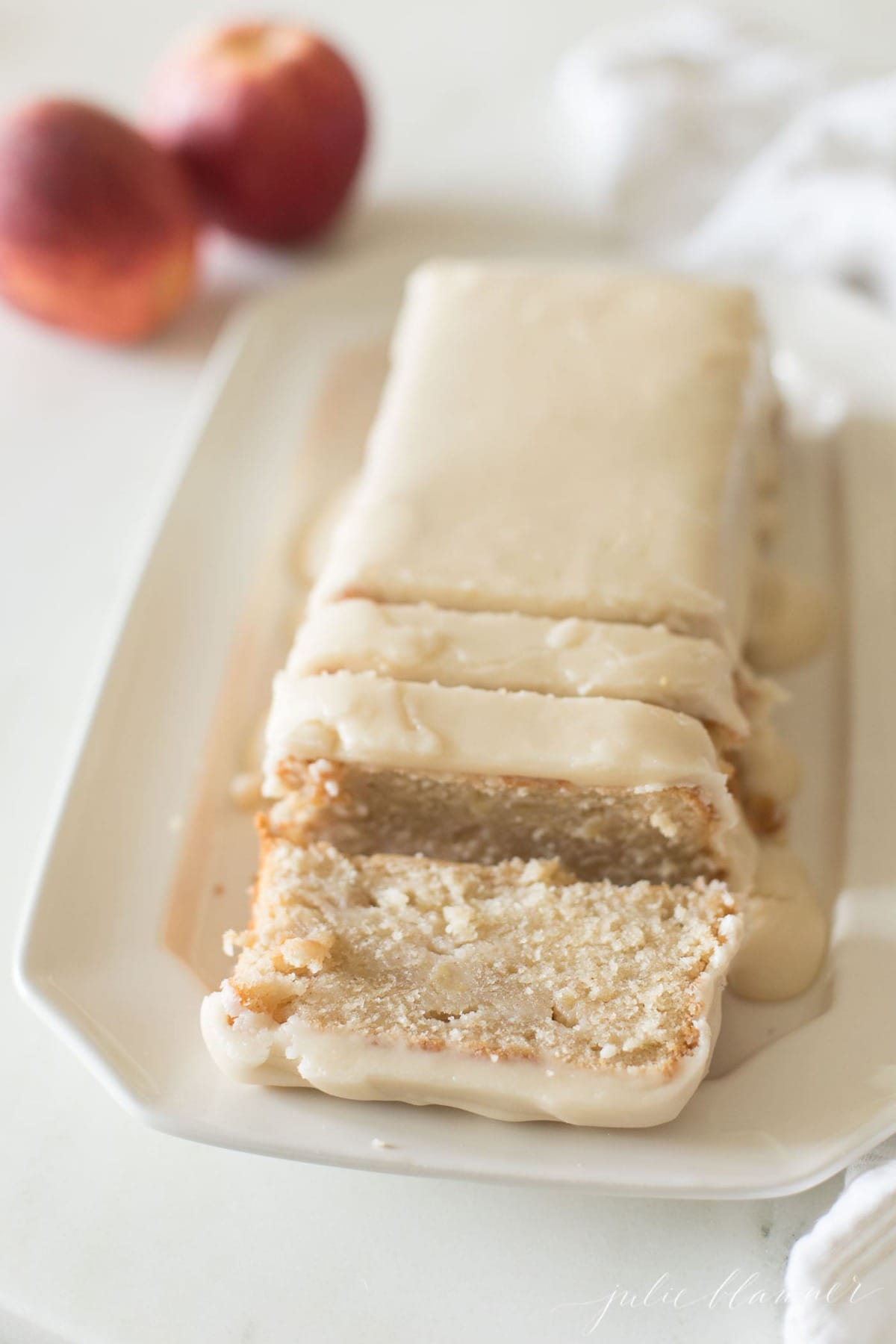 This 5 minute skinny apple tart recipe makes a great and beautiful dessert that will make your guests think you worked in the kitchen for hours.
At less than 160 calories a serving, this a perfect no guilt fall dessert!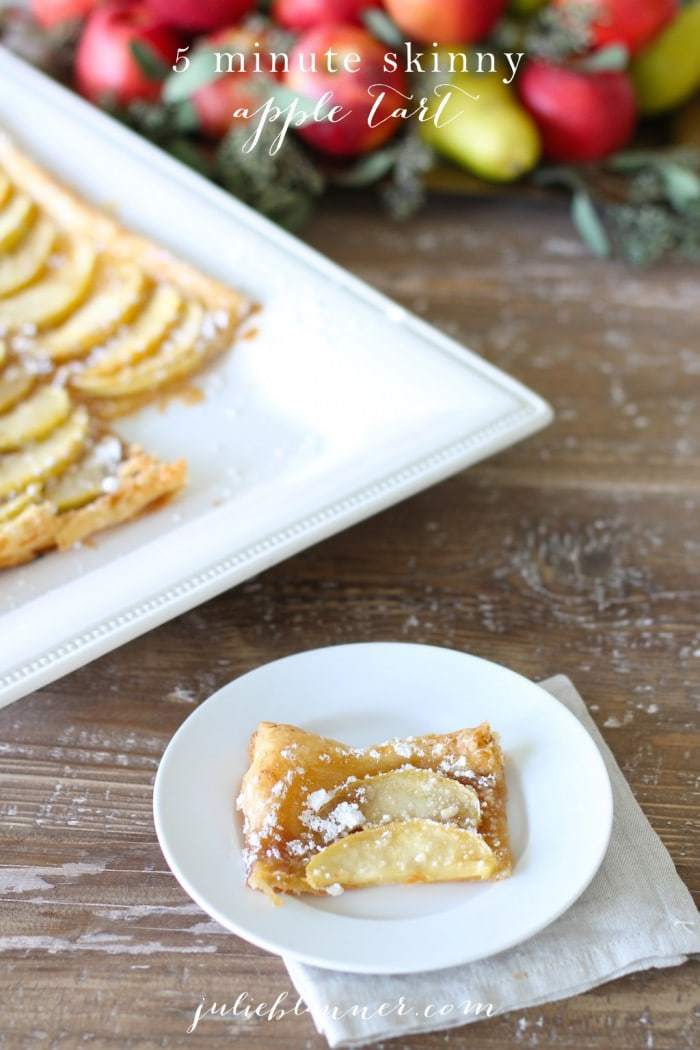 I adapted my ever popular easy apple tart recipe to incorporate another one of my favorite fall flavors – caramel. So easy to make!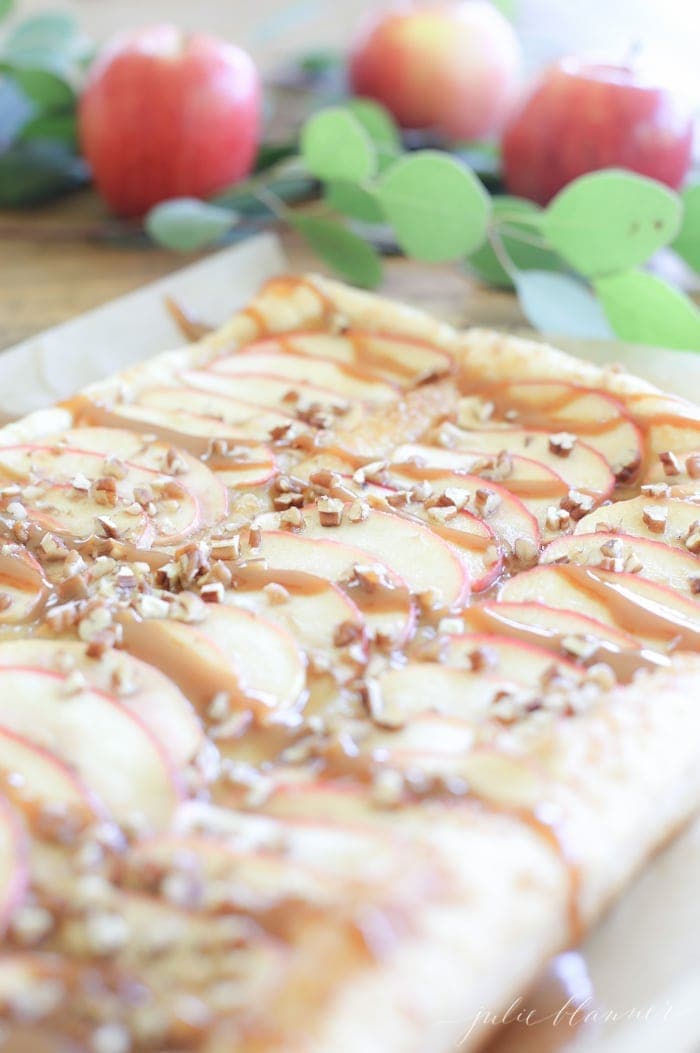 Easy glazed apple pie spice cookies are a fall infused cookie recipe that everyone will love. They are easily stackable and transportable, therefore they are perfect for gifting or a cookie exchange.
And yes, they are made with my homemade apple pie spice blend. So good!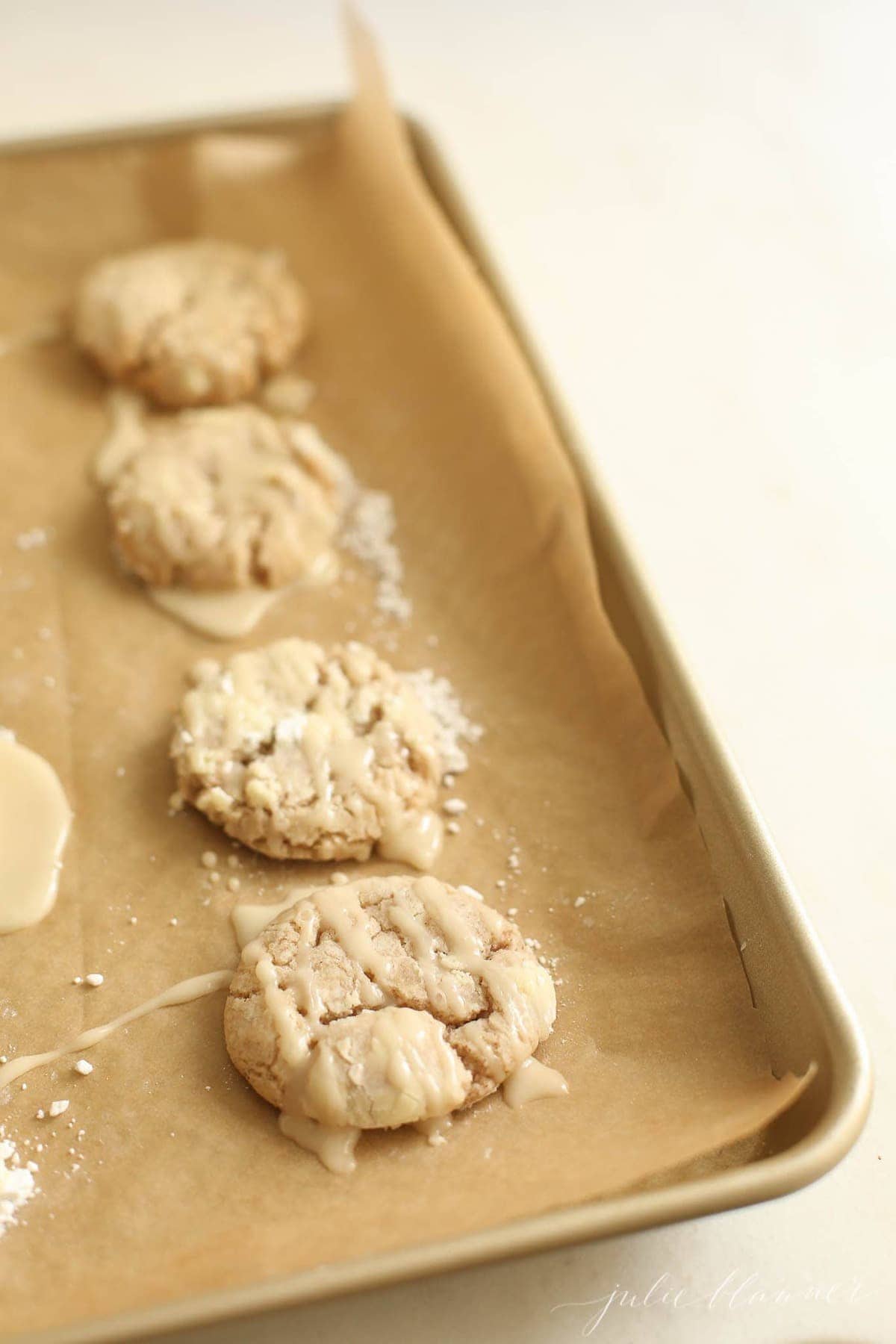 Add this two-ingredient apple glaze to everything for a taste of fall you can't resist! Apple Cider Glaze is the perfect topping for breads, cookies, pastries and so much more!
Add it to those apple pie spice cookies you just made, or at it to any of your favorite baked goodies this fall!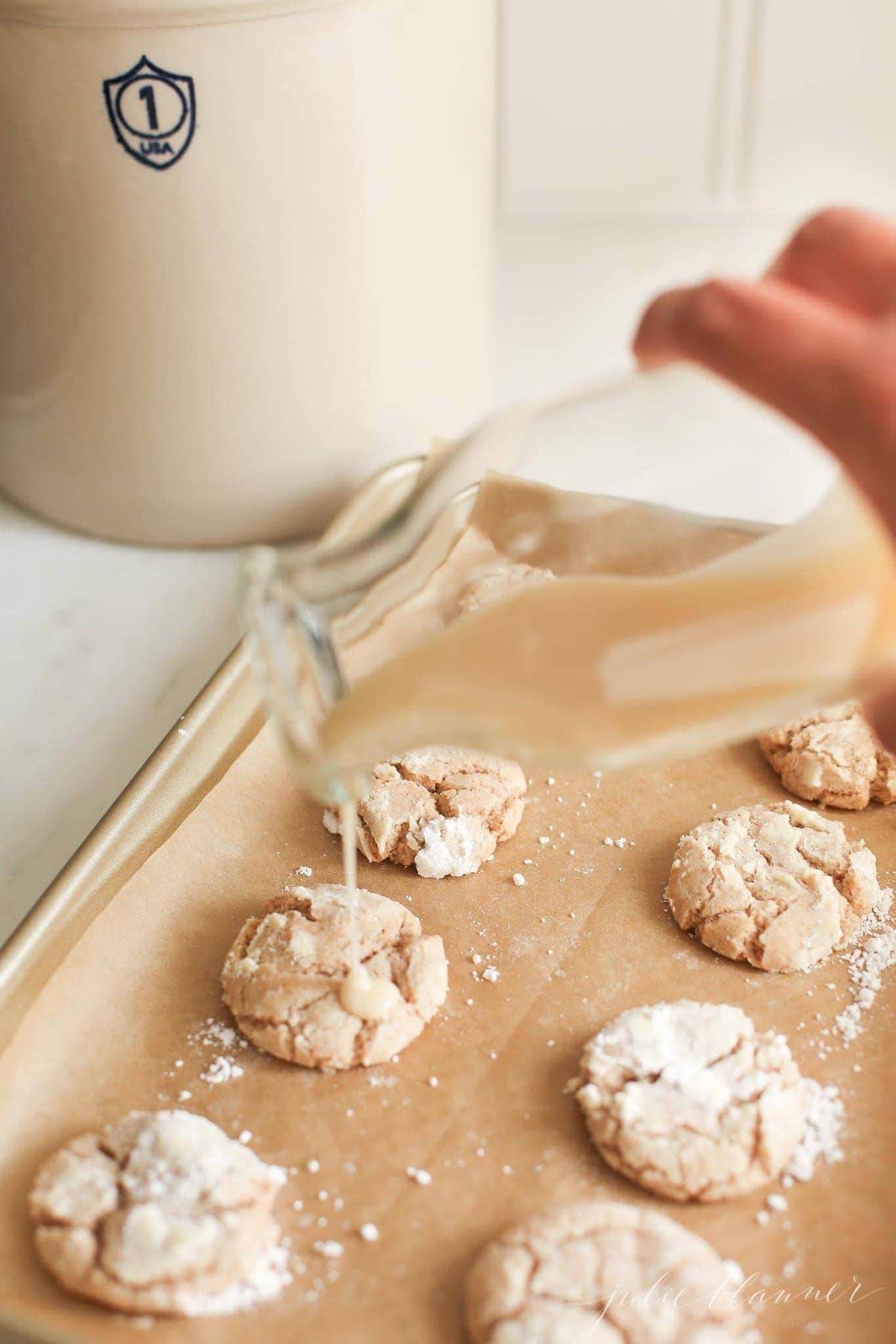 Melt-in-your-mouth sugar cookies infused with fall flavor using apple butter and apple cider. It's the subtle twist that captures the essence of fall and makes these Frosted Apple Butter Cookies irresistible! Easy to make and delicious to eat!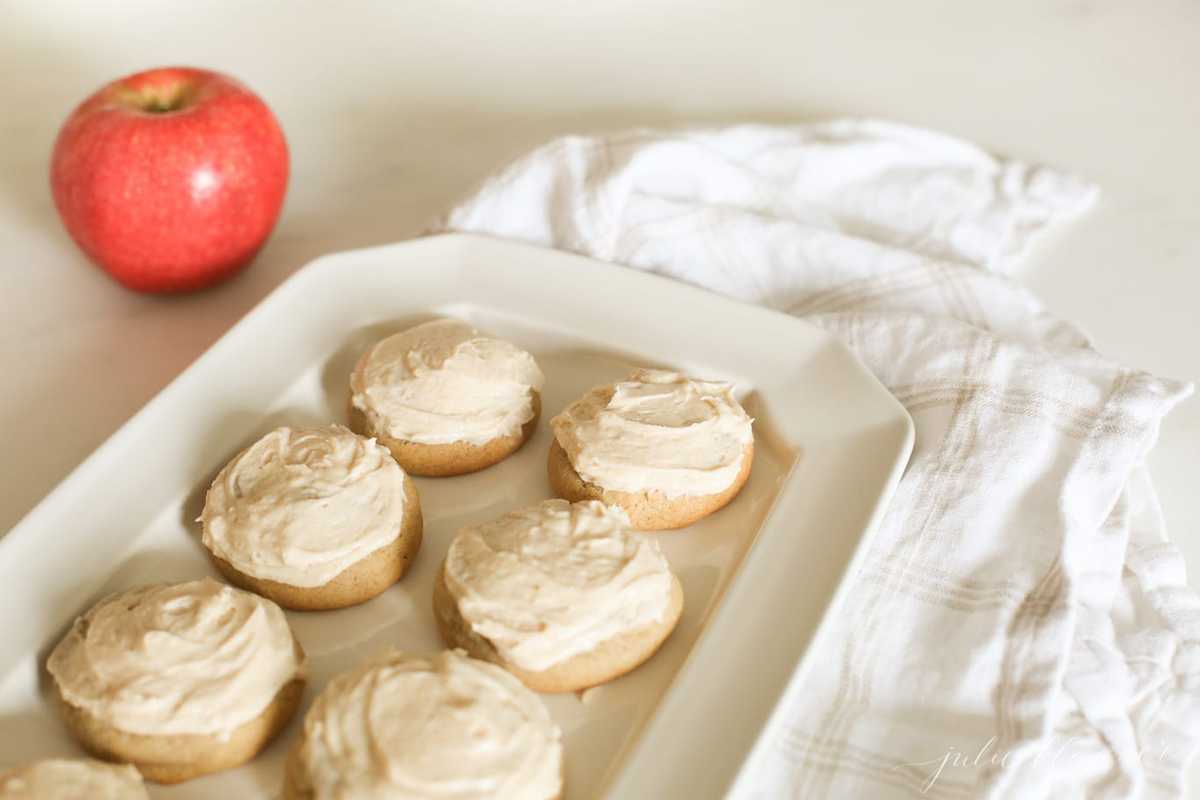 A fall infused Apple Butter Icing perfect for all of your baked goods!
I'm going to make this short and sweet – just like this apple butter icing recipe. It's made from scratch in less than 5 minutes.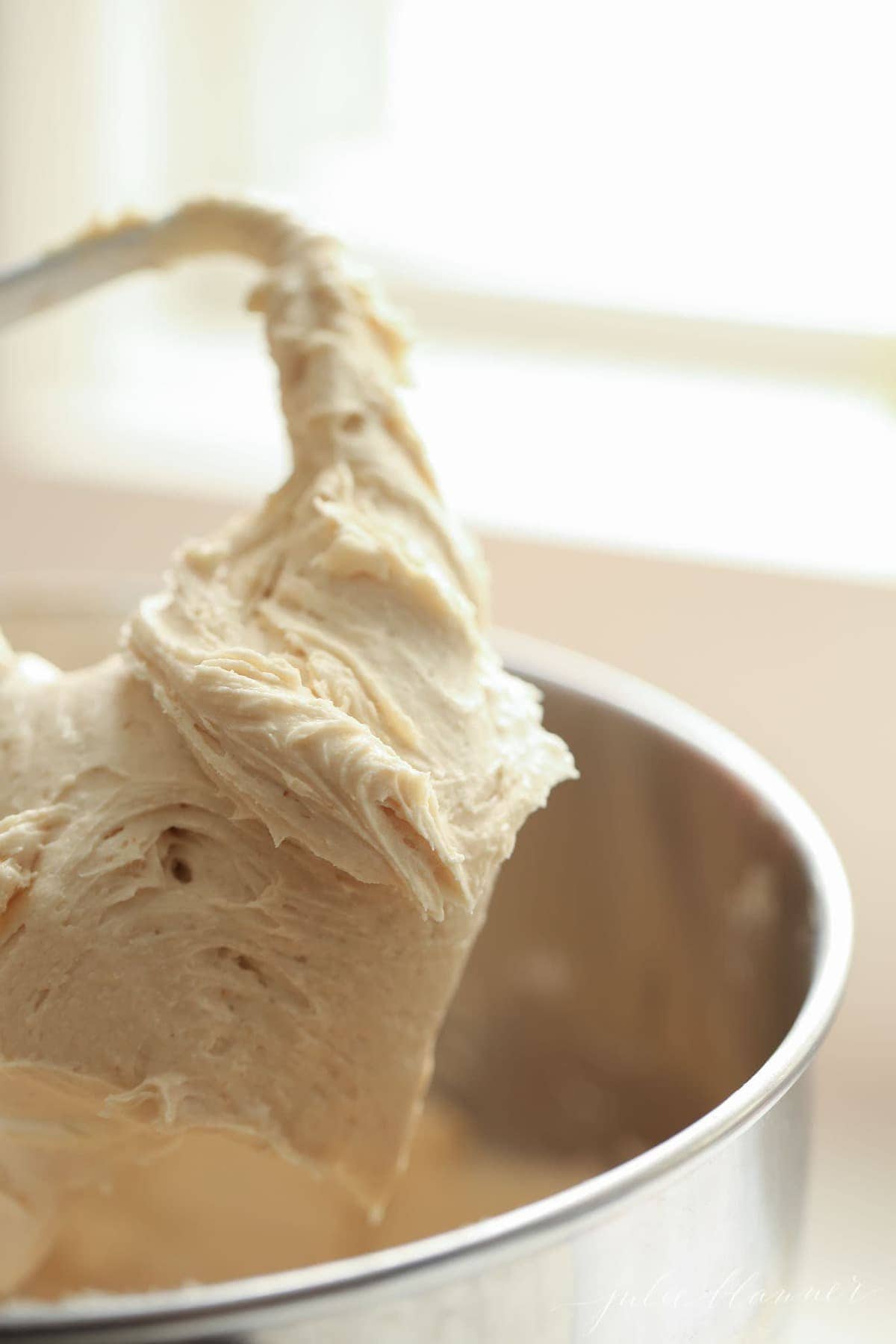 This Easy Apple Crisp is filled with the flavors of fall. Fragrant cinnamon, brown sugar and caramel combine with buttery oats for an old-fashioned Apple Crisp your family will love!
Easy Baked Apple Slices are an incredible four ingredient dessert, side dish, or breakfast.
Thrown together with fresh apples, butter, cinnamon and sugar, they couldn't be easier!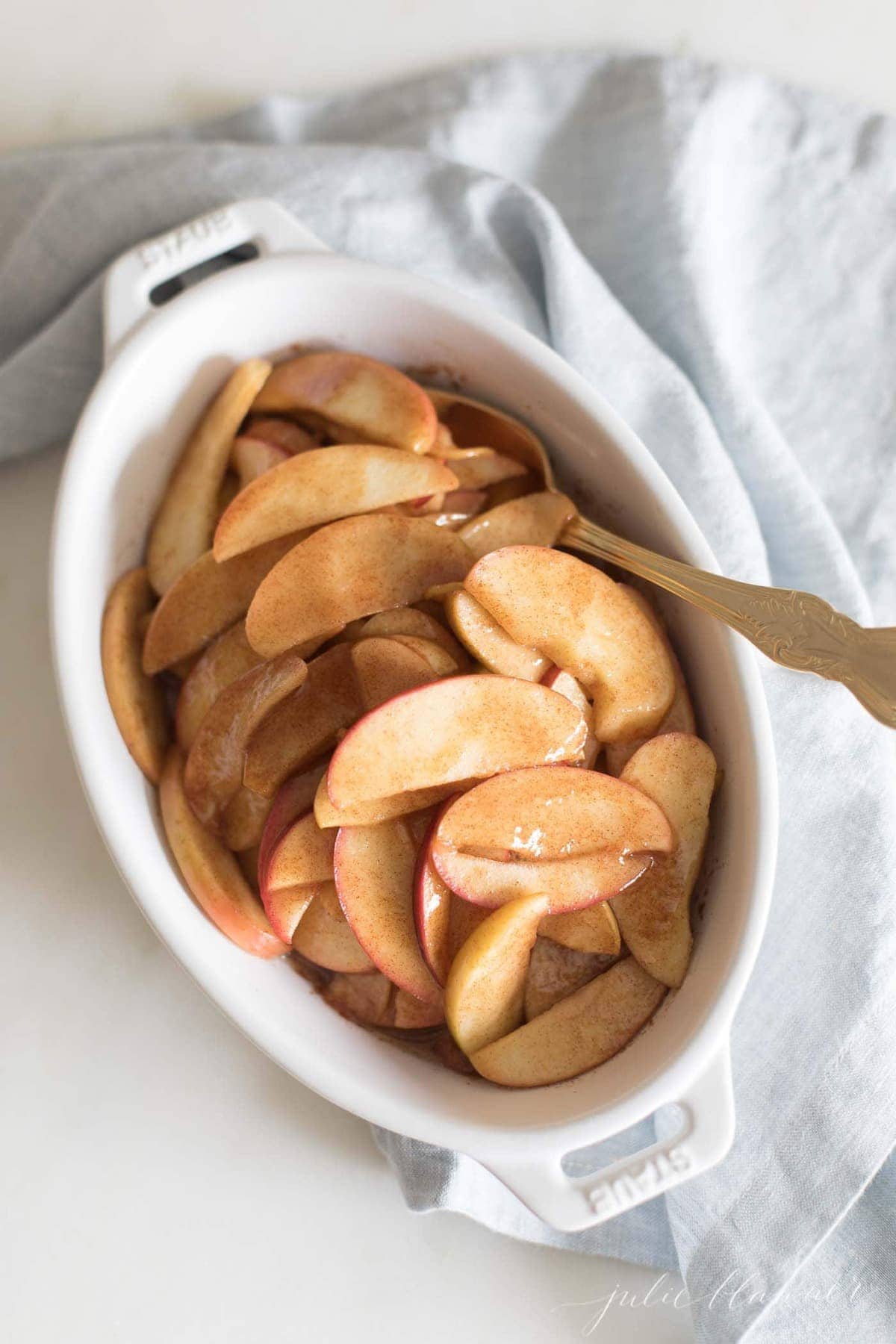 How about a three ingredient easy spiced apple ice cream recipe? The creamy, dreamy taste of fall makes this apple butter ice cream perfect alone or topped on any dessert!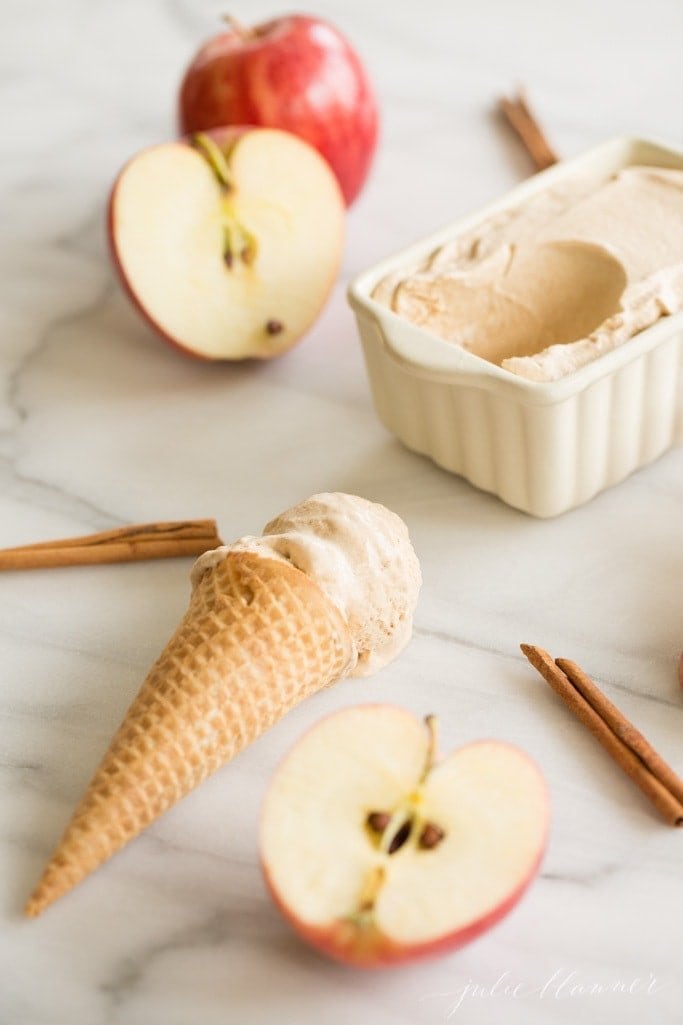 Savory Apple Recipes
Next, the savory side of apples! Apples (and apple cider) can add a seasonal and delicious flavor to savory recipes, too. They aren't just for baking!
This easy walnut and apple ravioli is full of flavor, and surprisingly light! It's packed with nutritious ingredients and just sweet enough that your whole family is sure to love it.
This ravioli is made with the easiest shortcut – wonton wrappers!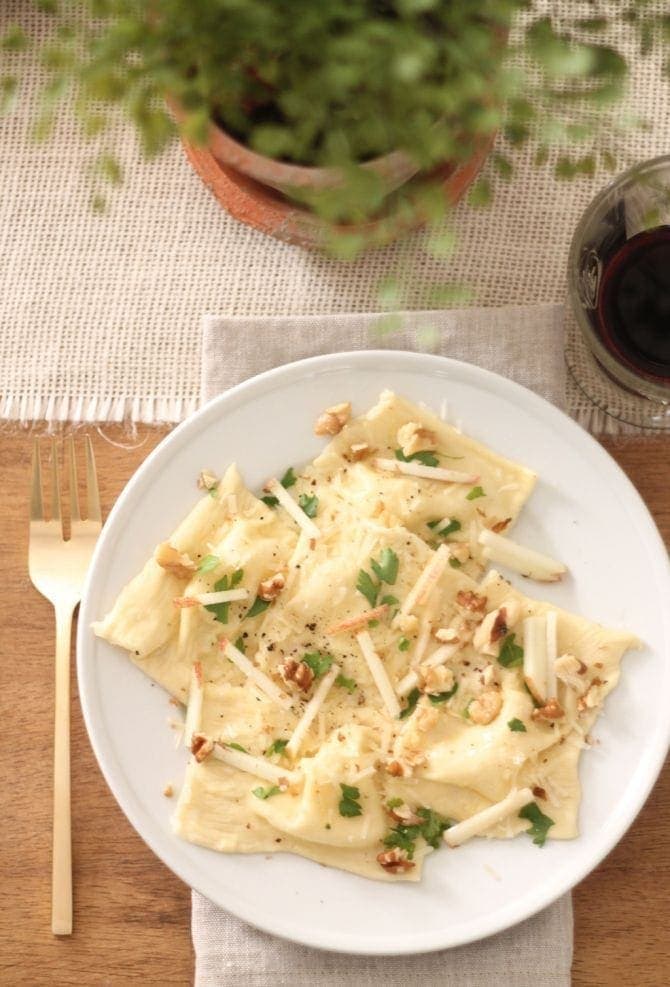 These Pork Medallions are pan-seared and deglazed in a delectable sweet and savory apple cider glaze. Therefore, it's perfect for fall and beyond, and ready in under 15 minutes!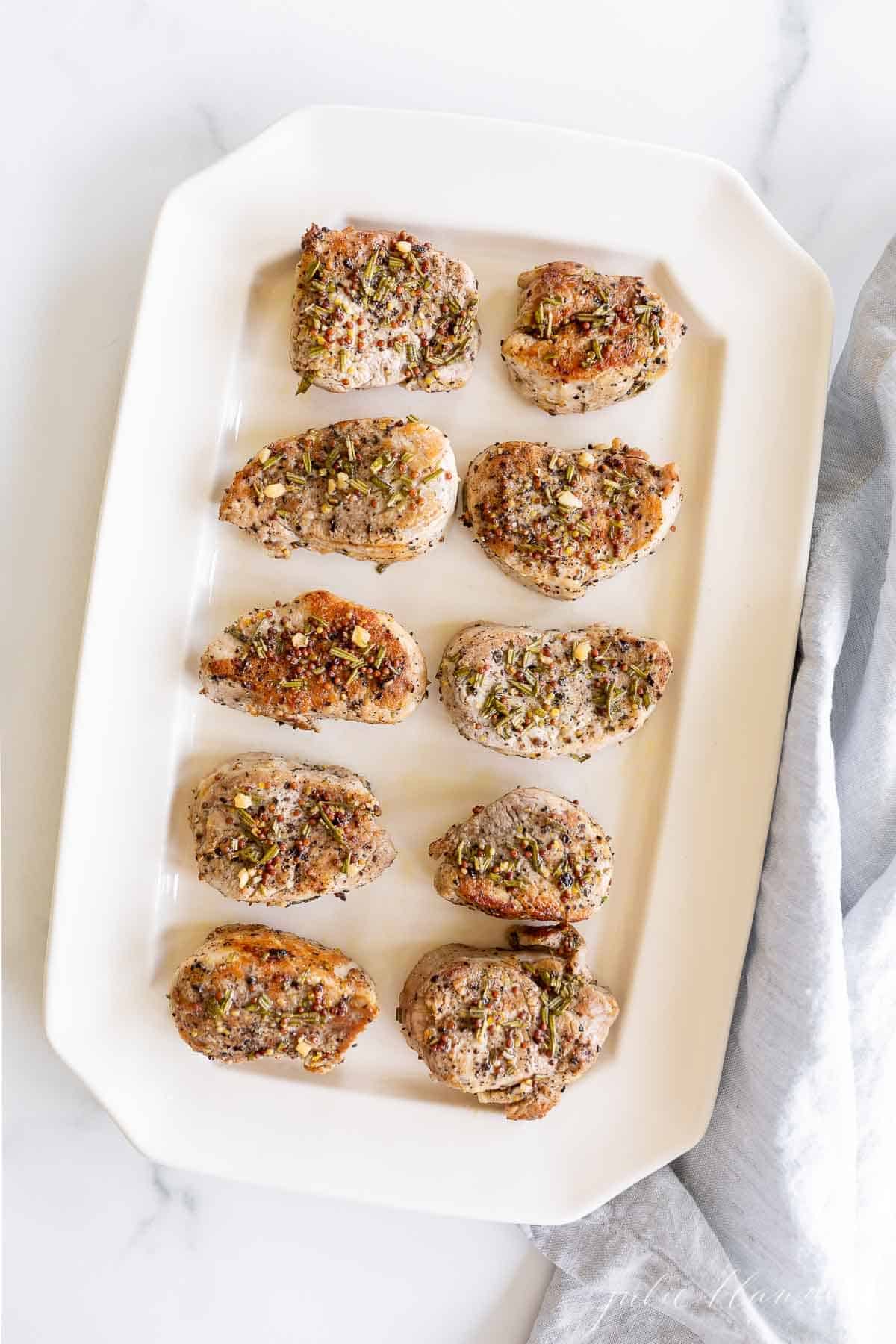 This is a fresh, crunchy Apple Salad that is full of flavor! It's a sweet and savory Apple Salad Recipe with butter lettuce and wholesome ingredients.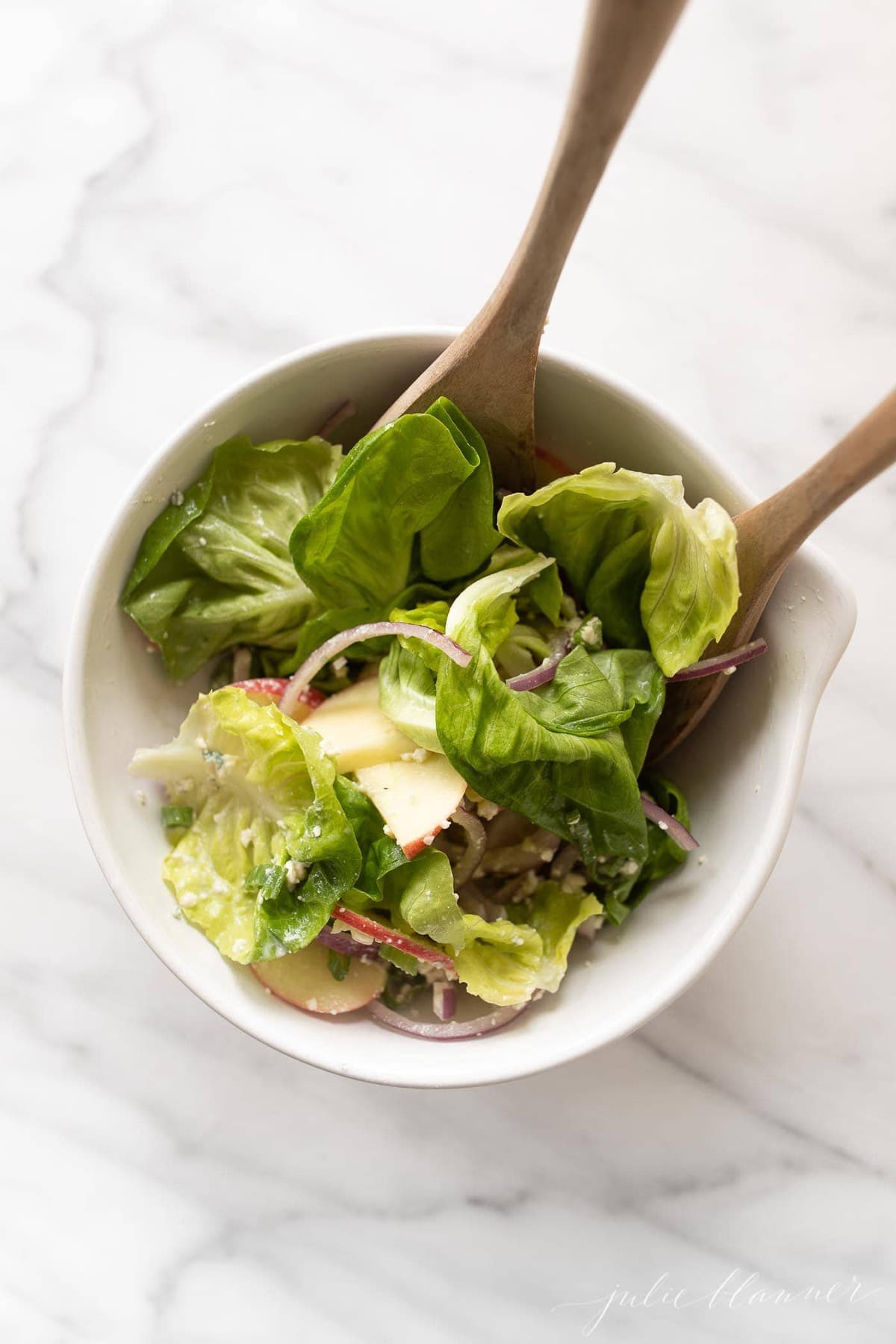 This apple cider vinegar salad dressing is sweet, tangy and oh so delicious! It's a quick and easy homemade salad dressing you can mix in a minute that is full of fresh fall flavor and light in calories!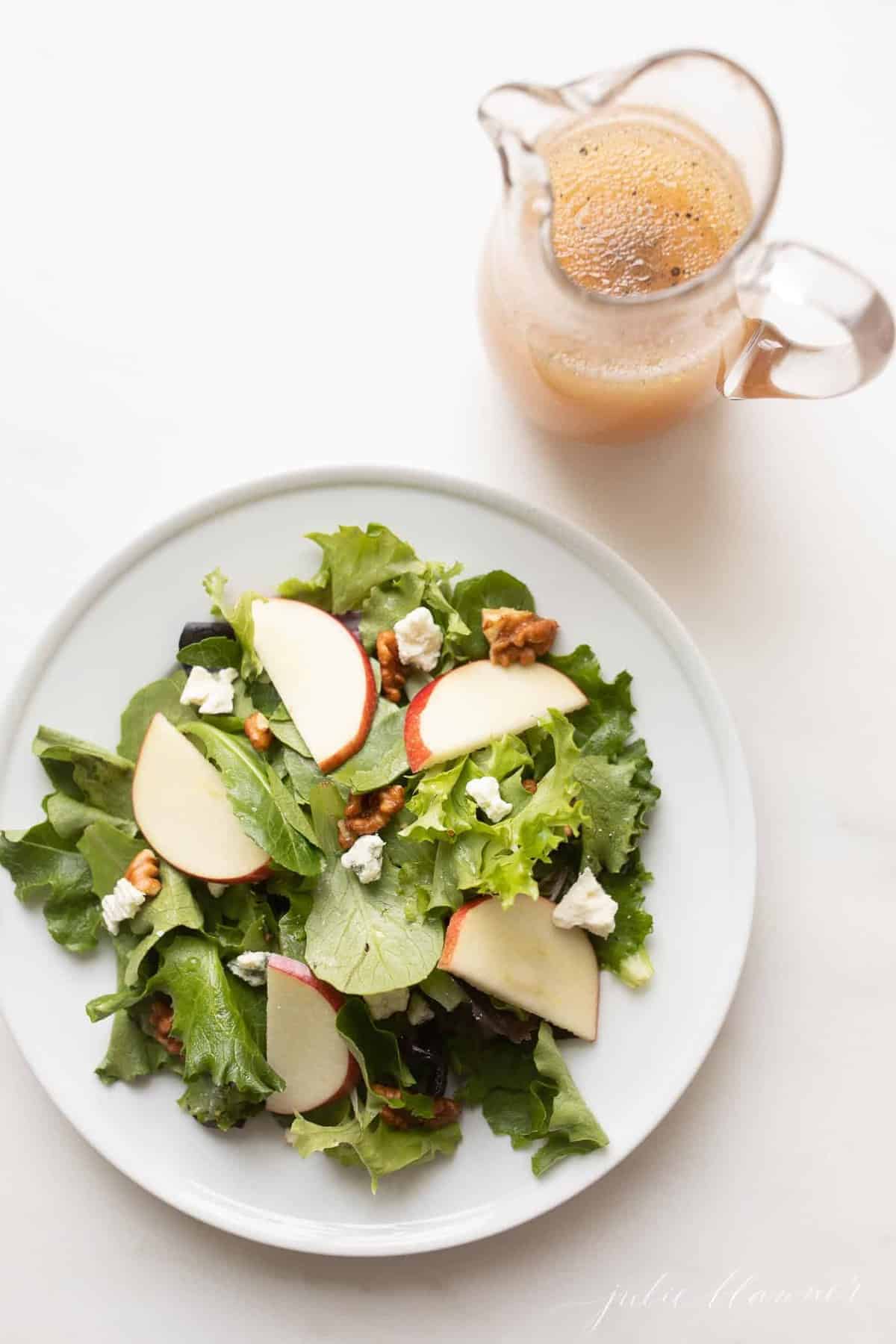 An incredible Apple Chipotle Vinaigrette that's loaded with flavor to spice up your salads, burrito bowls, wraps, chicken, salmon and more.
This easy Chipotle Vinaigrette recipe has a spicy apple twist you're going to crave again and again.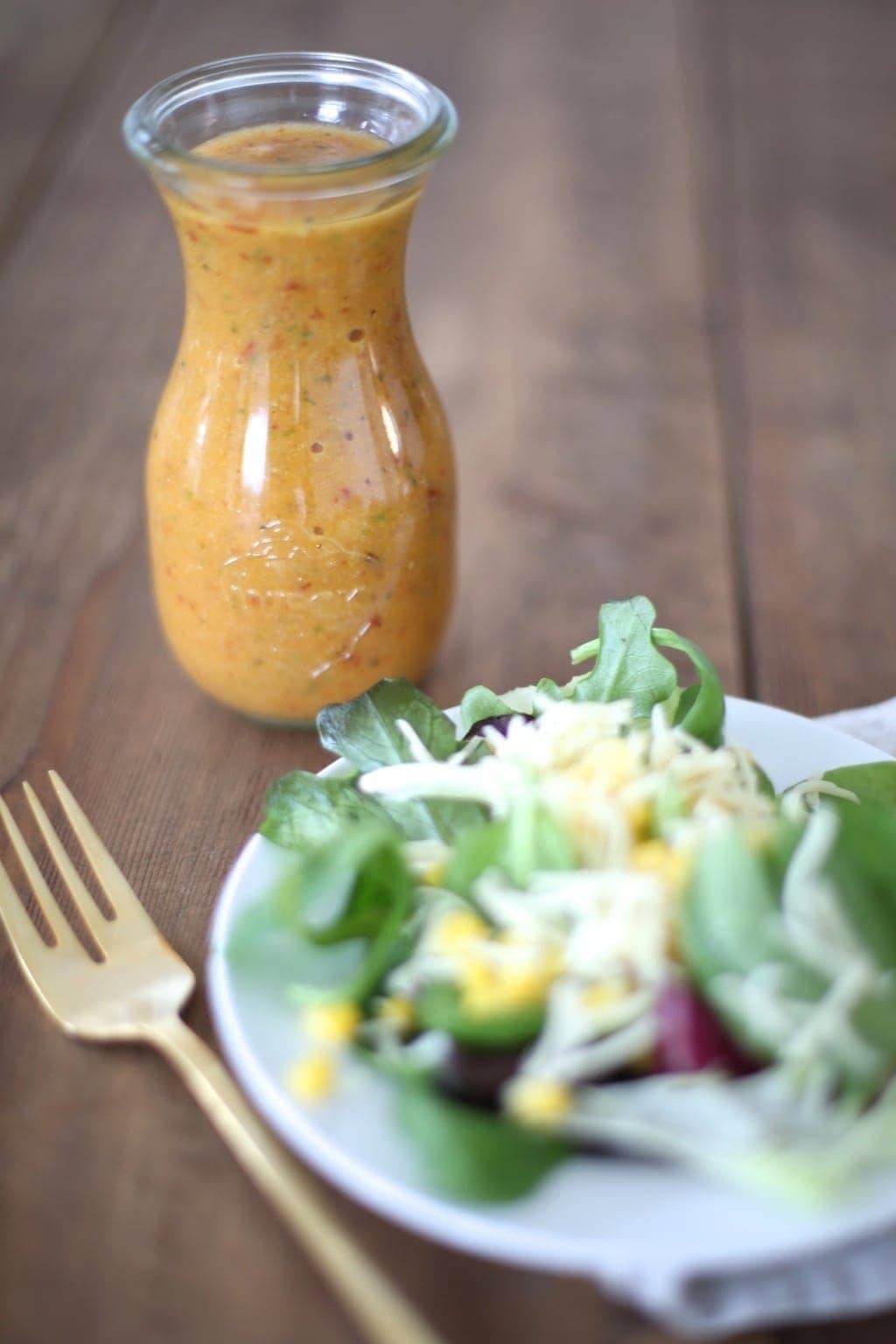 This delicious white cheddar cheese and apple soup is sure to warm your soul! Easy to make with simple ingredients, it all comes together in one pot and requires minimal prep time.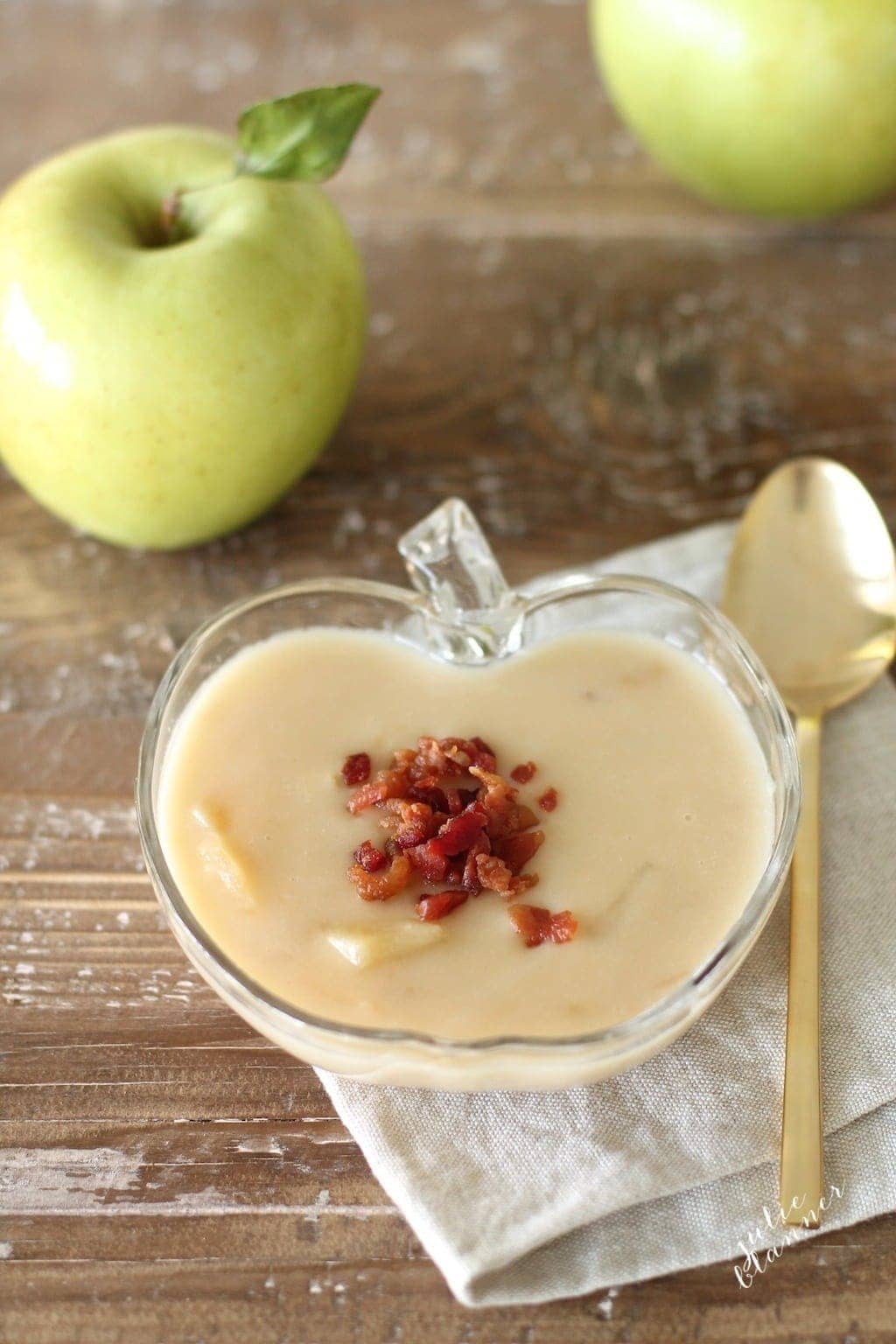 Apple Drink Recipes
More of my favorite apple recipes- these apple cocktails are a delicious way for adults to indulge in the essence of apple flavor.
An iconic taste of fall, homemade apple cider is the coziest gift of this brief season. Warm, perfectly spiced, fragrant and utterly delicious, making a batch of this apple cider recipe will be the best way to celebrate all things autumn!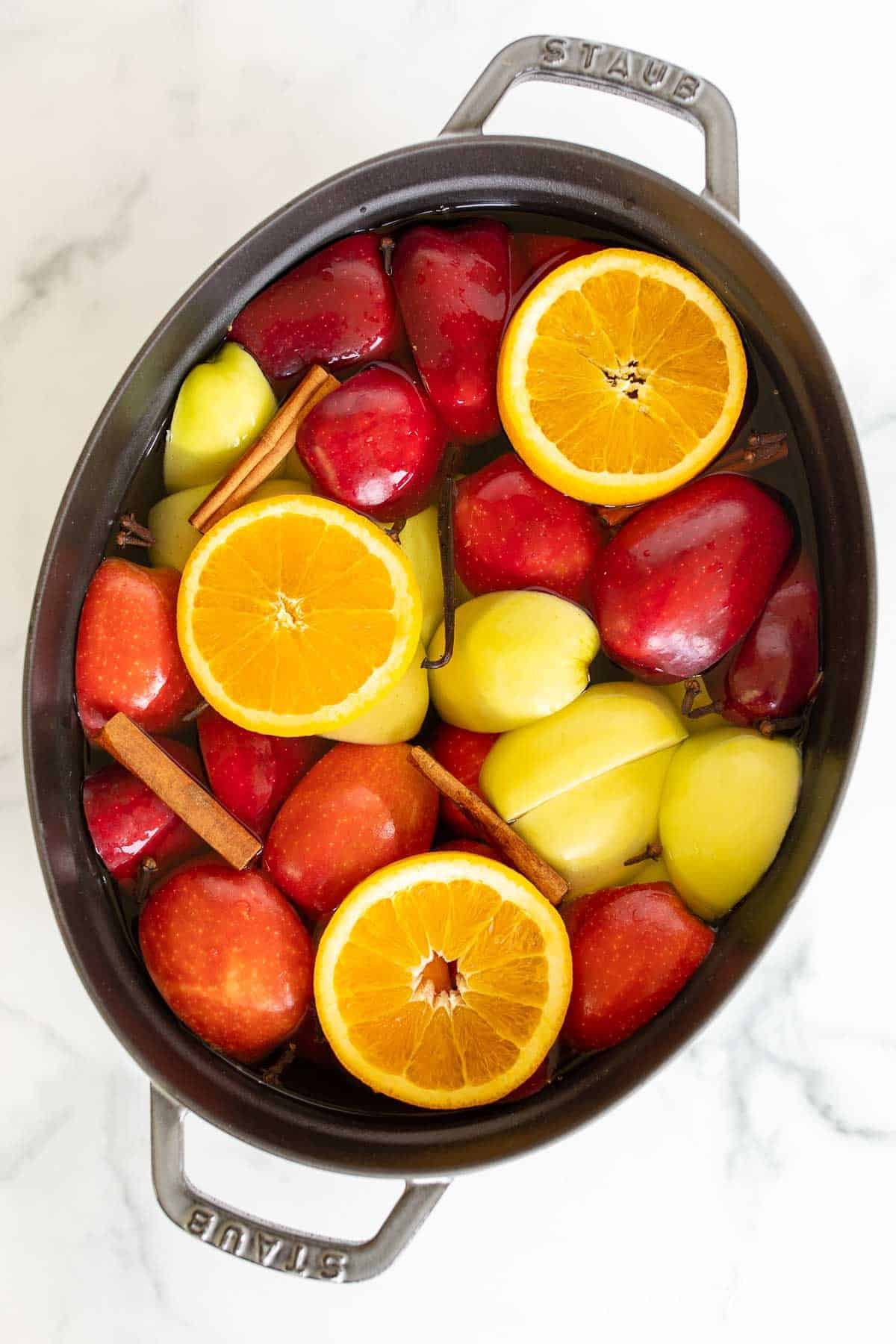 Next up, an apple cider sangria! This sangria recipe is the chilly weather cocktail you need in your life because it's the perfect combination of sweet cider, zesty ginger, and warm spices.
This is a fall and winter sangria everyone will love! Bursting with festive seasonal fruits and fragrances, it's so easy to make for a crowd.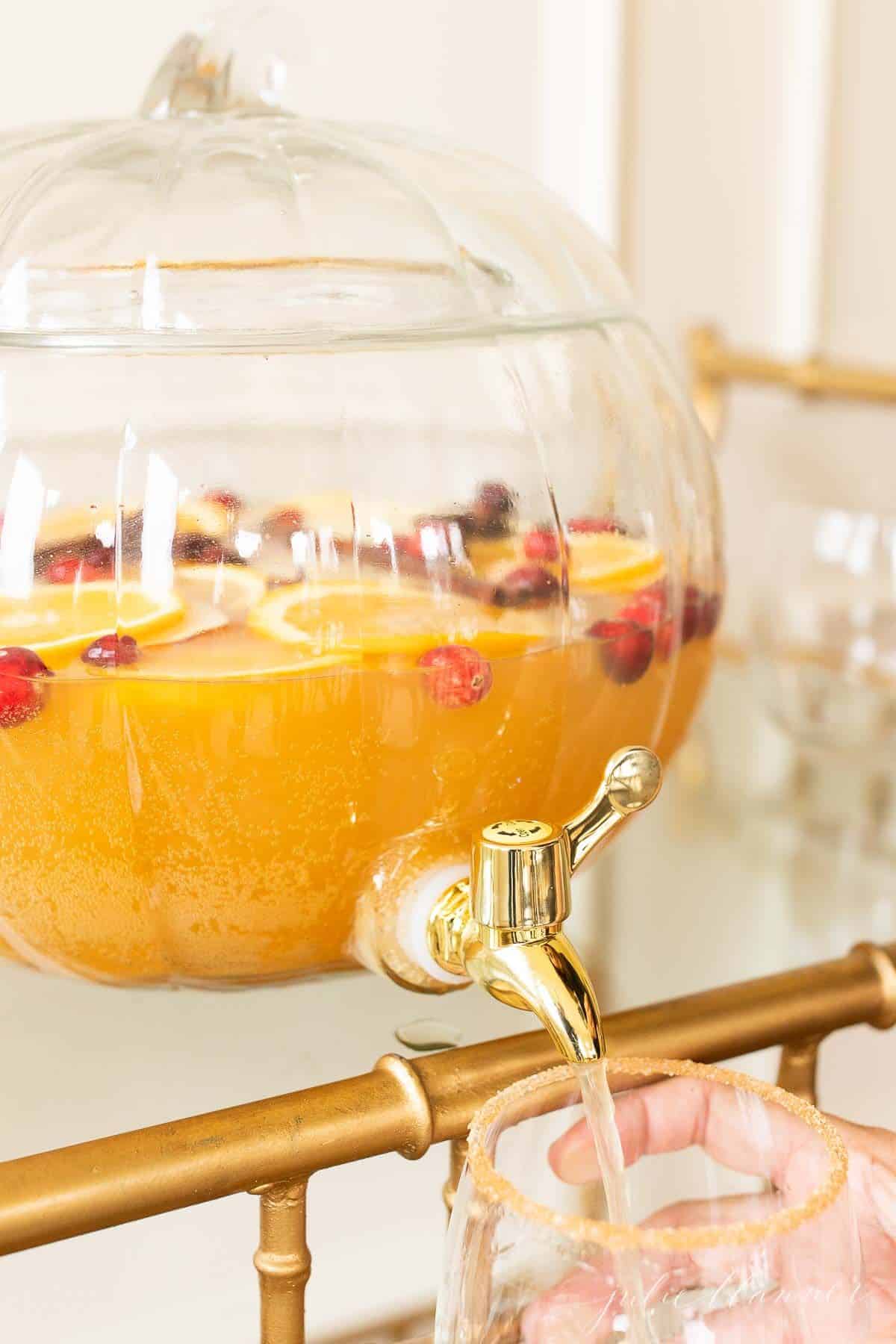 This is an easy two minute, two ingredient bourbon slush recipe that serves a crowd! This apple cider cocktail creates the perfect taste of fall!
Autumn weekends can only mean one thing: it's time for a seasonal cocktail! I have a fun one to share with you today – an incredibly simple Apple Cider Bourbon Slush!
This Spiked Apple Cider with bourbon is an easy holiday cocktail recipe that will warm your spirits. It is the perfect hot apple cider cocktail for chilly nights, fall and winter festivities, Thanksgiving and Christmas!
Learn how to make this easy-to-sip spiked cider recipe with a few simple tips and tricks along the way!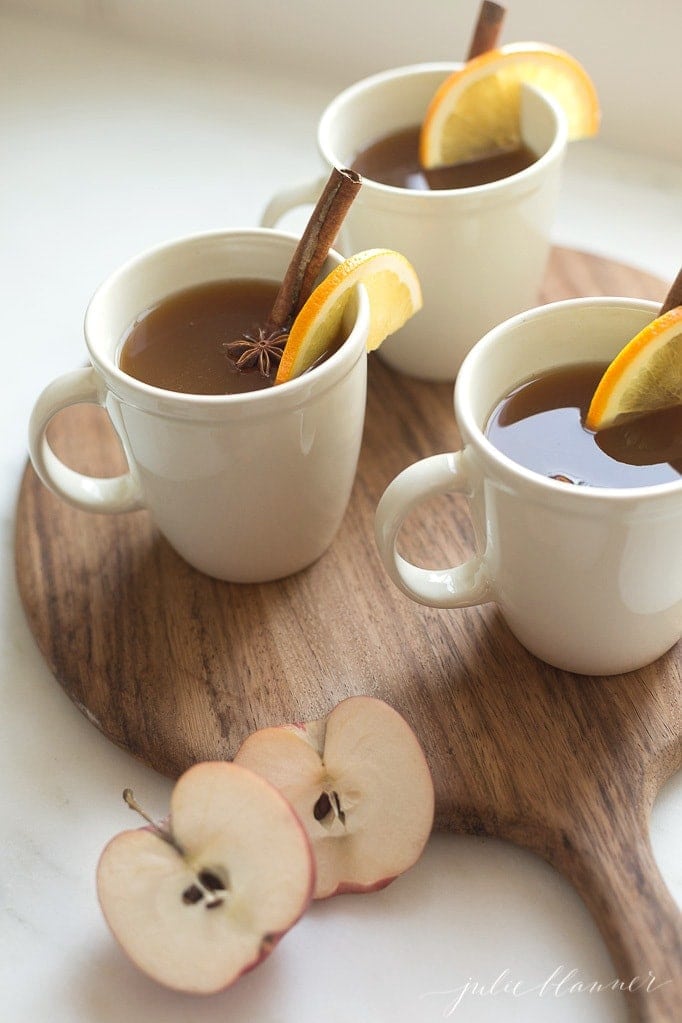 Add some fall flavor to your life with an Apple Cider Margarita! It's an easy four ingredient fall cocktail you can mix up in minutes for one or a pitcher for a crowd.
You'll get the deliciously fragrant warmth of apple cider, shaken with tequila, lime and simple syrup. This combination turns a classic margarita into your favorite fall sip!
Warm up this fall and winter with a cocktail you'll never forget – an old fashioned made with apple butter! It's so easy to make and sip, because it's full of apple cinnamon flavor you're going to love.
Finally, an apple and champagne combo you're going to love. This deliciously sweet apple pear Prosecco Cocktail is going to bring you all the holiday joy this season!
An incredible combo of apple cider, pear nectar and sparkling wine, it's a huge hit at any party.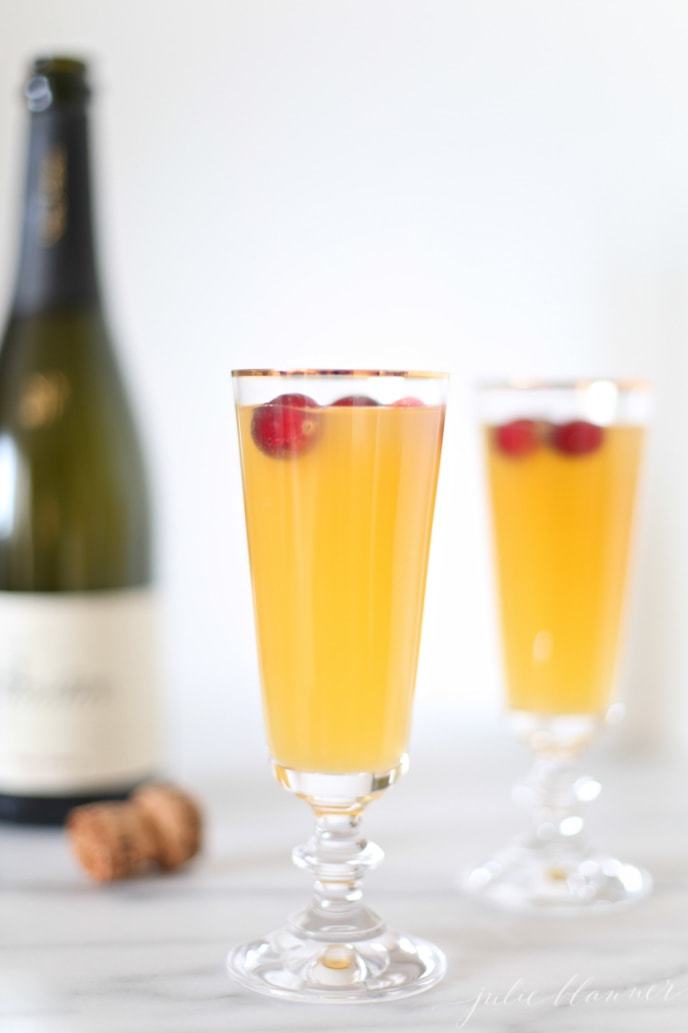 What do you think? Did I cover all the bases? I'd love to hear from you if you have any questions about apple recipes or just baking in general.
Hungry for more easy recipes? Sign up for my free recipe club and have amazing recipes delivered directly to your inbox each week!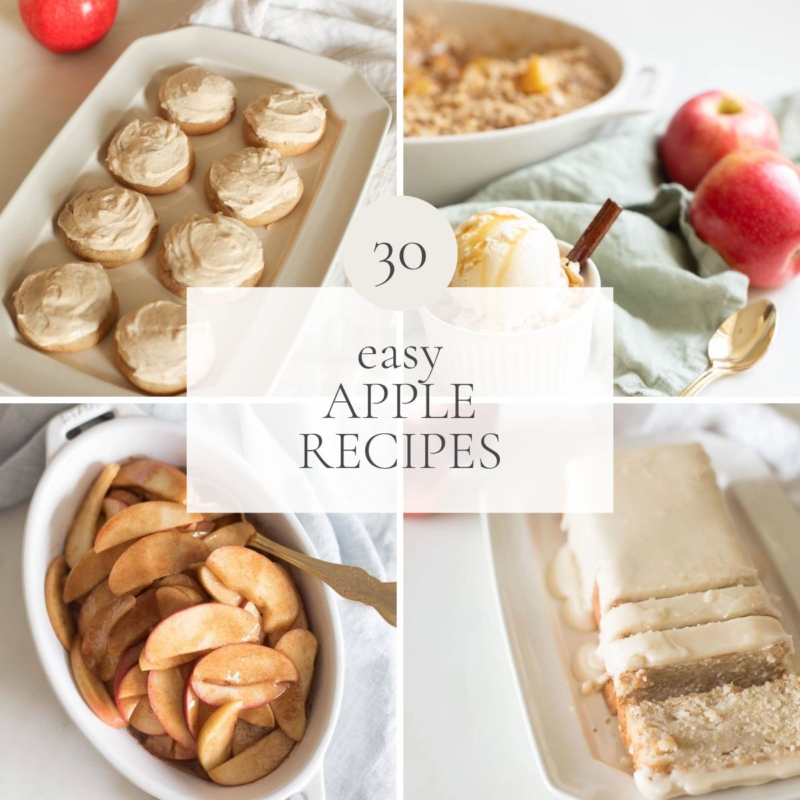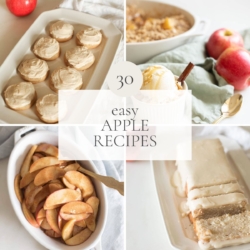 30 Amazing Apple Recipes
Apples are the quintessential fall fruit– let's celebrate their sweet abundance with tips, tricks and easy apple recipes galore!
Instructions
Choose your recipe and print the free printable recipe card.

Double check your ingredients for prep, and plan in advance based on the total time for chosen recipe.

Garnish any sweet or savory apple recipes with sliced apples for more color. Serve and enjoy!
Tips
Best Apples for Baking:
Jonathan
Honeycrisp
Granny Smith
Braeburn
Golden Delicious
Gala
Pink Lady
Calories:
231
kcal
|
Carbohydrates:
57
g
|
Protein:
1
g
|
Fat:
1
g
|
Saturated Fat:
0.1
g
|
Polyunsaturated Fat:
0.2
g
|
Monounsaturated Fat:
0.03
g
|
Sodium:
20
mg
|
Potassium:
303
mg
|
Fiber:
2
g
|
Sugar:
48
g
|
Vitamin A:
18
IU
|
Vitamin C:
3
mg
|
Calcium:
29
mg
|
Iron:
1
mg
Estimated nutrition information is provided as a courtesy and is not guaranteed.
Explore More