Thanksgiving Table Setting & Printables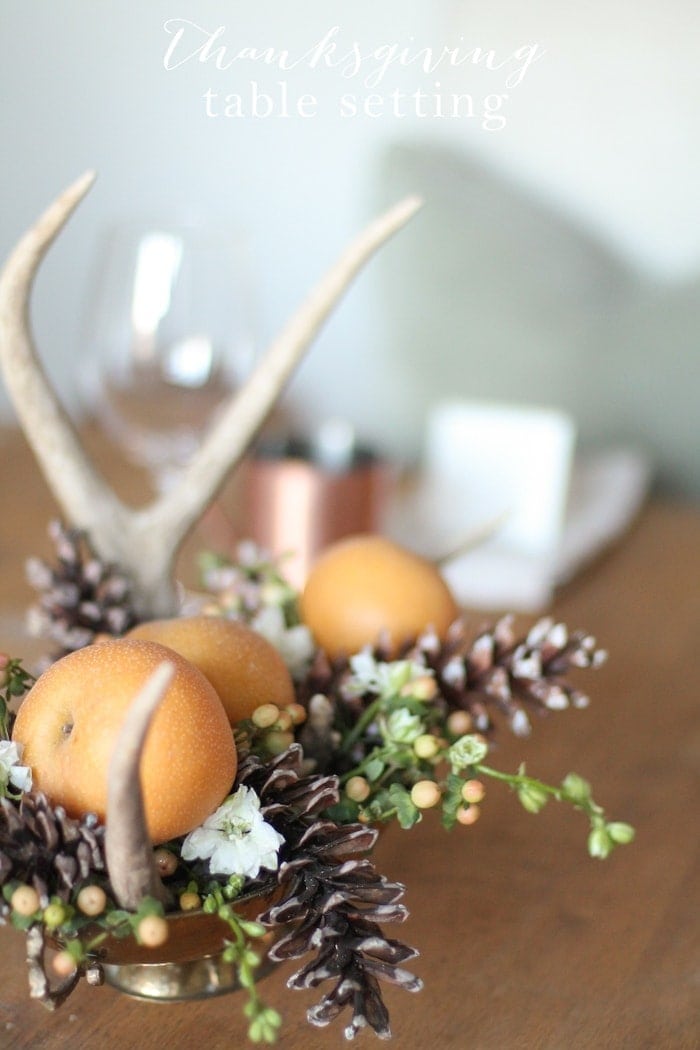 I'm excited to be included in the Blogger Stylin' Home Tours. Thanks to those of you joining me from Tatertots & Jello! I had the pleasure of spending a couple days with her in the lovely Carolina earlier this week & I always enjoy welcoming new friends to our home – even if just through photographs.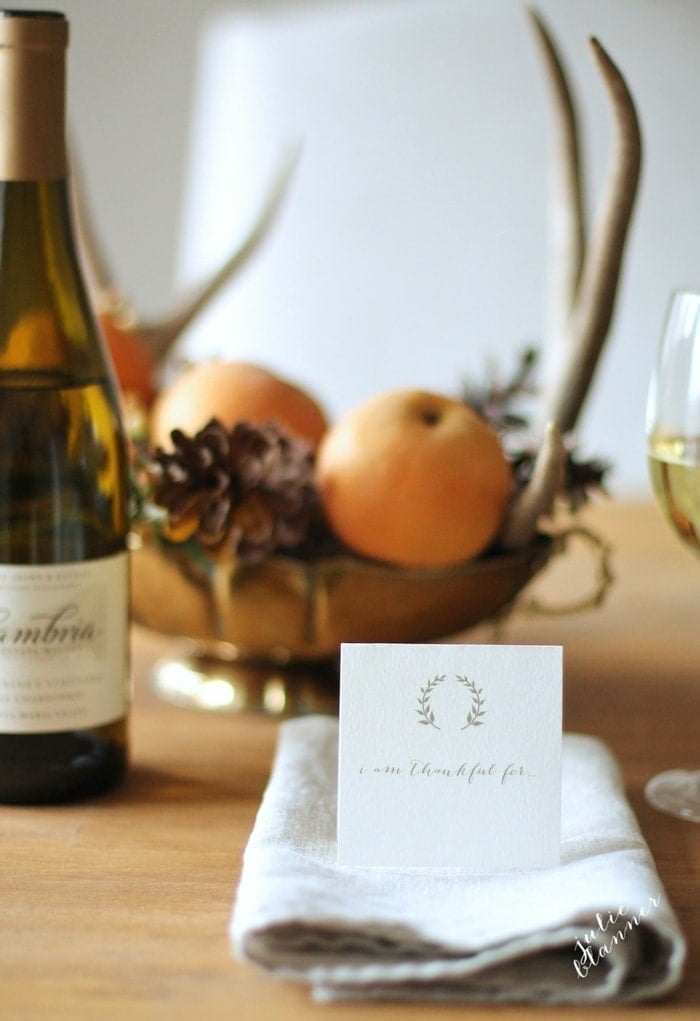 As I mentioned, earlier this week I had an opportunity to spend time with some unbelievably creative bloggers, many that I call friends. We discussed the polarizing subject – holiday in November or wait until December? Personally, I've always waited. One reason I prefer to wait is that I love fall. Why rush it? I love Thanksgiving & not only enjoy celebrating it, but hosting it. It's my holiday! The color palettes are endless & it's a holiday that's not limited to family – the more, the merrier. It's one day out of 365 that we take a moment to reflect on what we're thankful for. Sure, it's while we're playing games & enjoying a glass of wine, but that's what I find so beautiful about it. There are no children's activities to rush off to, errands to run, there's just the company of family & friends. That's why I take a relaxed approach to the holiday. You can see it from my Thanksgiving table setting!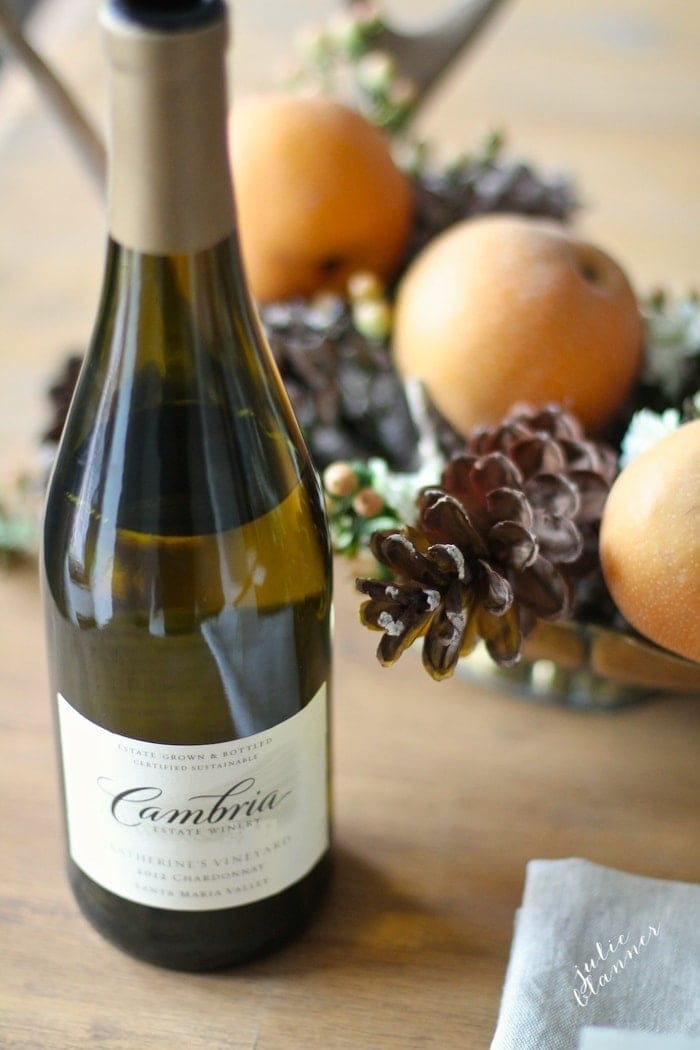 I usually spend Thanksgiving day cheering on Chris & the girls at their turkey trot fun run, taking a long walk, grazing on appetizers & making dinner. Some of my best Thanksgiving memories have been playing games over a bottle of wine. Last year I introduced a Thanksgiving word search & it seemed you, too loved the concept! Today I'm sharing a Thanksgiving word search, crossword & of course, my annual Thankful cards.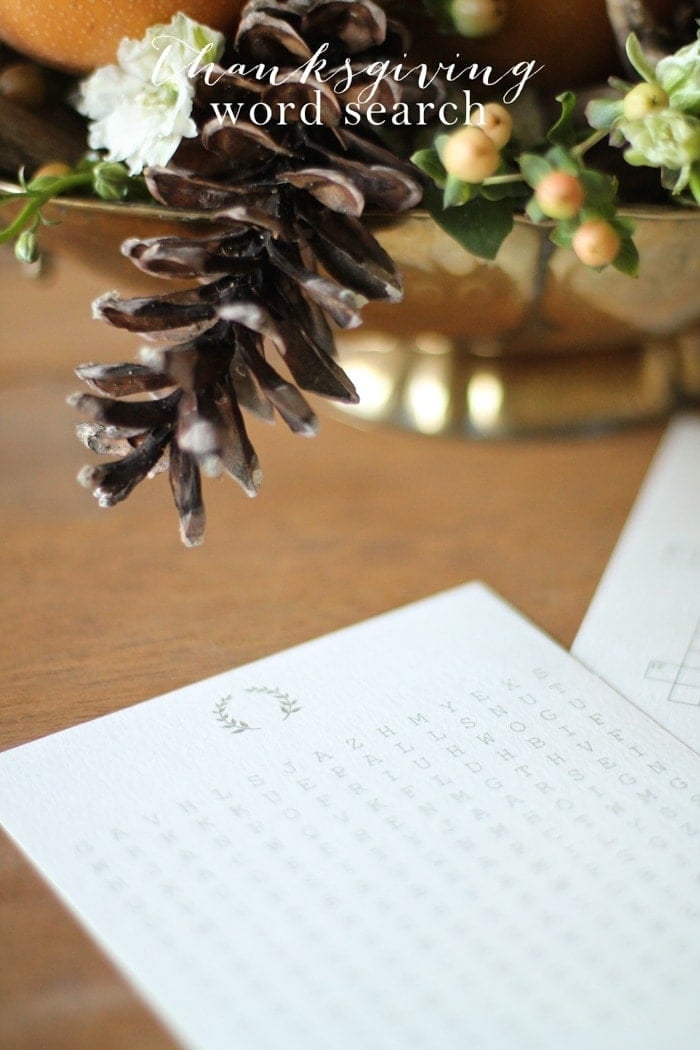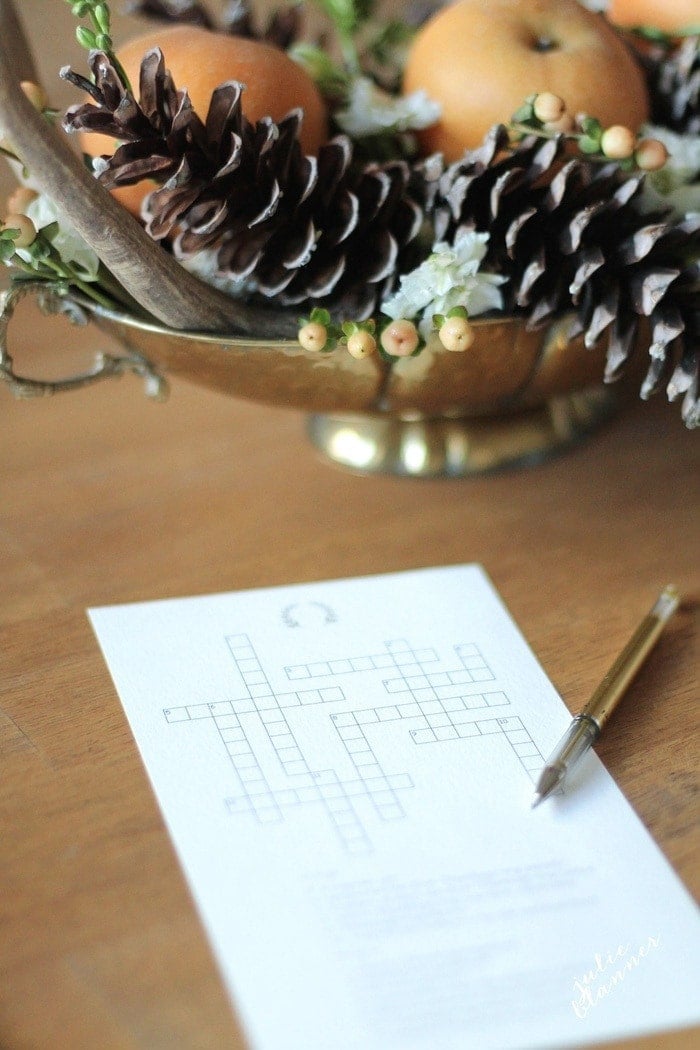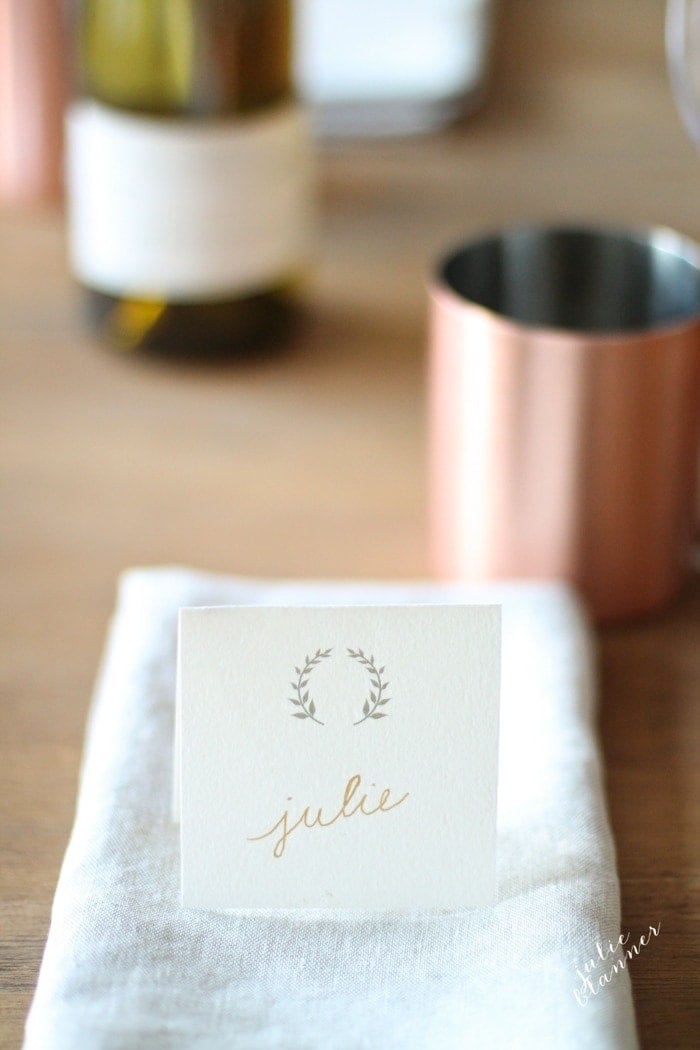 Thankful for cards have been a tradition in our family since 2005. We've shared a lot of laughs & tears over those tiny little cards. I hope you & your family enjoy them just as much! The last couple years I've incorporated wheat wreaths into the cards & decided to continue with that rustic feel – I've had a couple of really great years & I don't want to take any chances! In reality, it's because wheat is simple, beautiful & translates for any Thanksgiving table – rustic or modern. I'm offering a few options on Cambria's blog. Thank you for supporting the sponsors that make this blog possible!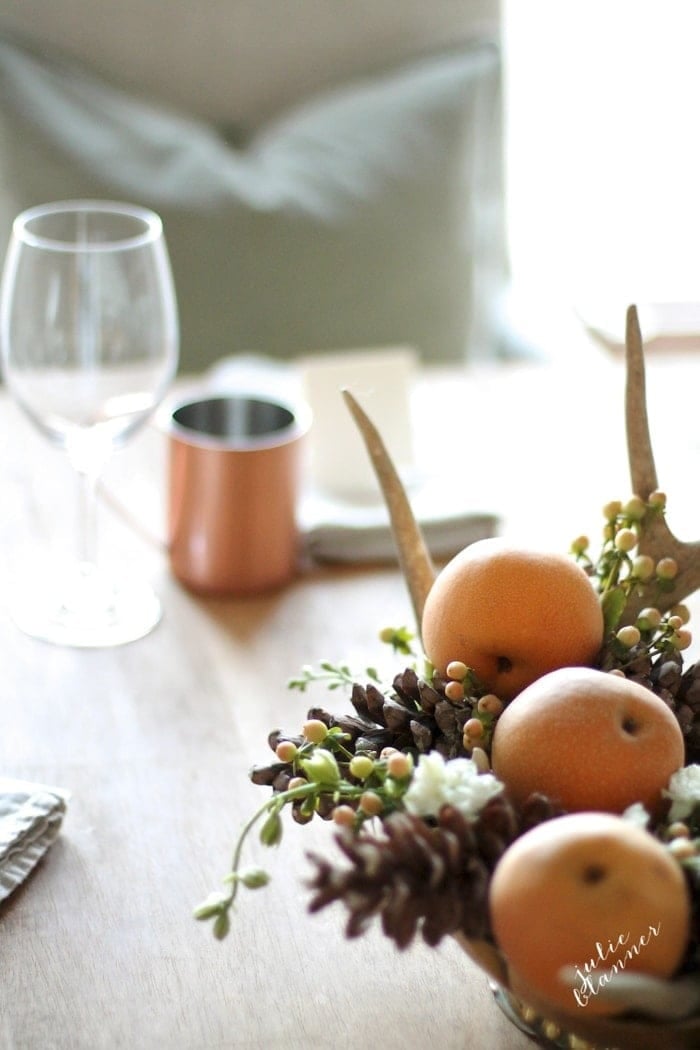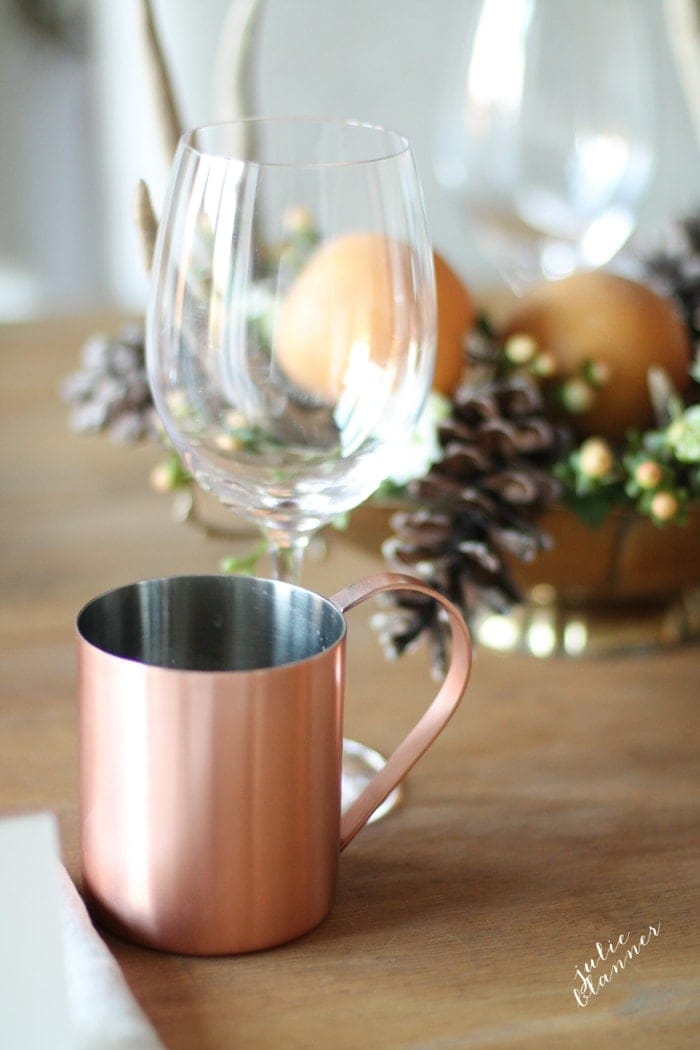 Next on the blog tour is Fieldstone Hill Design. I was delighted to meet Darlene in August at the Better Homes and Gardens Stylemaker event. As I'm writing this, I'm anxiously waiting to see what she created as we are all posting at the same time!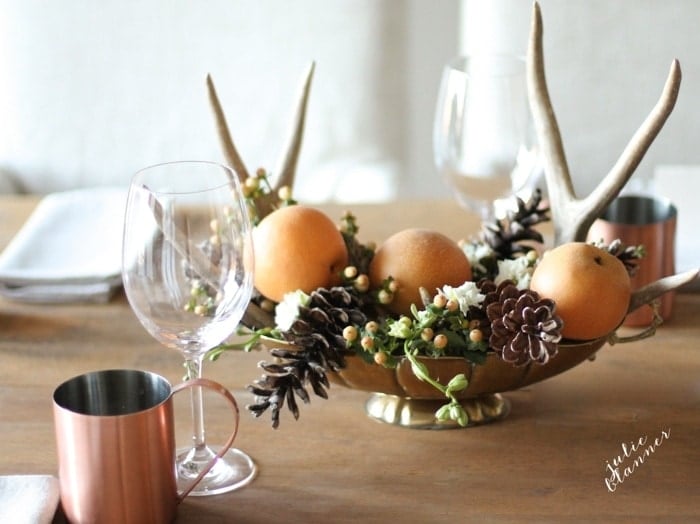 I also shared a do-it-yourself tutorial for the 5 minute Thanksgiving centerpiece I created for this table. This is just a sneak preview:

You may also like two fall favorites: 5 minute floral table runner, 5 minute centerpiece.
Thanks again for joining me!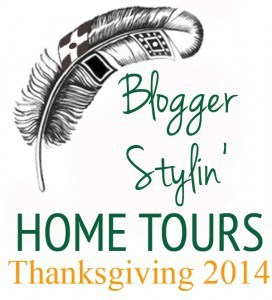 Julie