Apple Cider Vinegar Salad Dressing is sweet, tangy and oh so delicious! Apple Cider Vinaigrette is a homemade salad dressing you can mix in a minute that is full of fresh fall flavor and light in calories!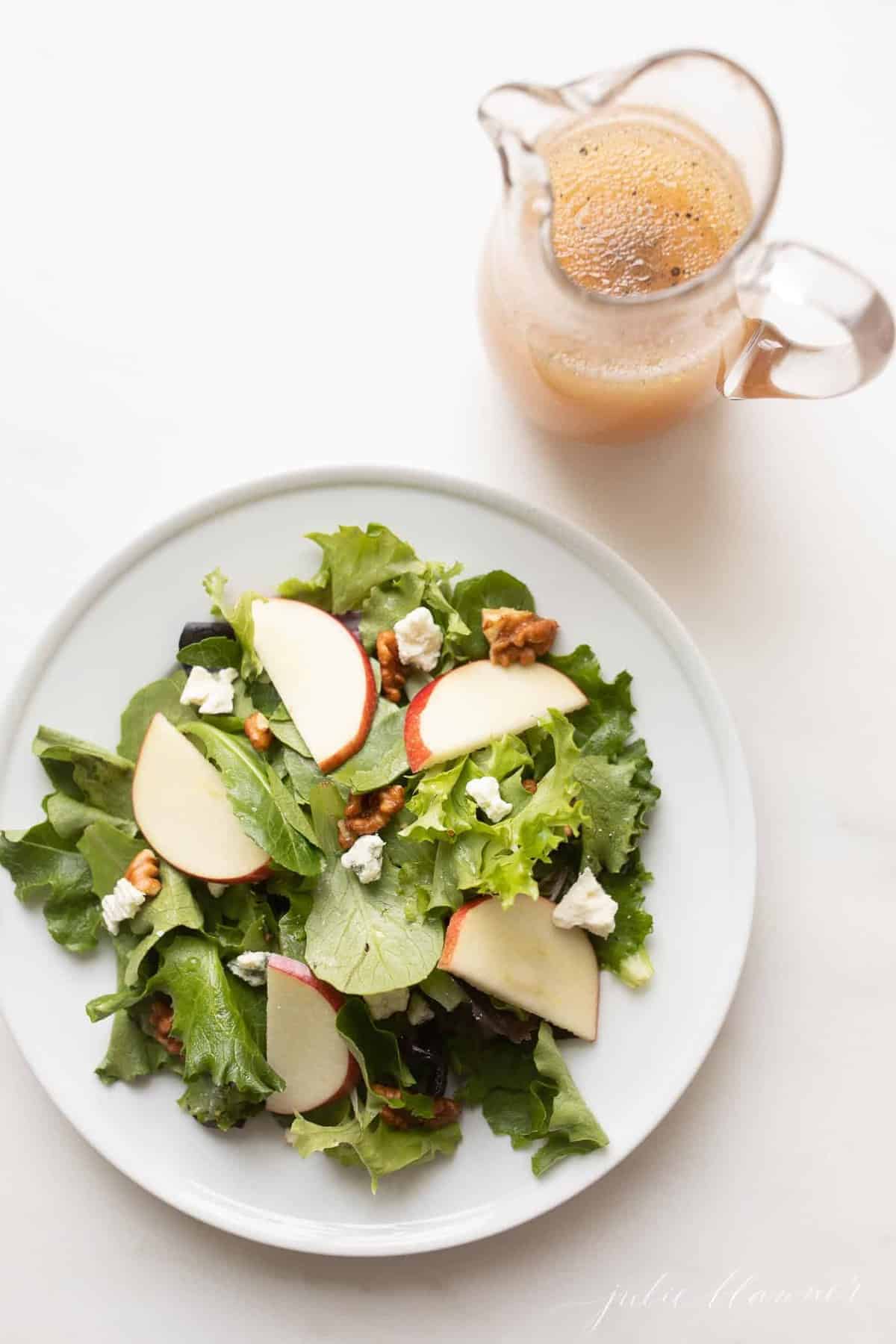 This Apple Cider Vinegar Salad Dressing has been one of my favorites for the last 10+ years. It's slightly sweet and pairs well with so many salads. It's full of fresh fall flavor that you can enjoy all year!
I love a delicious homemade cider! If you're a fan of apple cider everything, be sure to check out my Homemade Apple Cider Recipe. I've got a Pear Cider version, too! Don't skip this easy weeknight dinner: Pork Medallions in Apple Cider Glaze!
I don't know about you, but with the humidity we're experiencing in Missouri and school in session, I'm looking forward to fall. This time of year I start craving apple everything!
Baked Apple Slices, Apple Pound Cake, Spiced Apple Ice Cream, Easy Apple and Cheese Soup and so many more favorite apple recipes! I've even got a Bourbon Apple Cider Slush for an amazing fall cocktail option. It helps that apples grow in abundance in Missouri – even in our own backyard.
This Apple Cider Vinaigrette is a delicious dressing that is easy to mix up on a whim using staple ingredients. It takes just a minute or two to make. It's so good you'll ditch the store bought salad dressings! Real food just tastes better.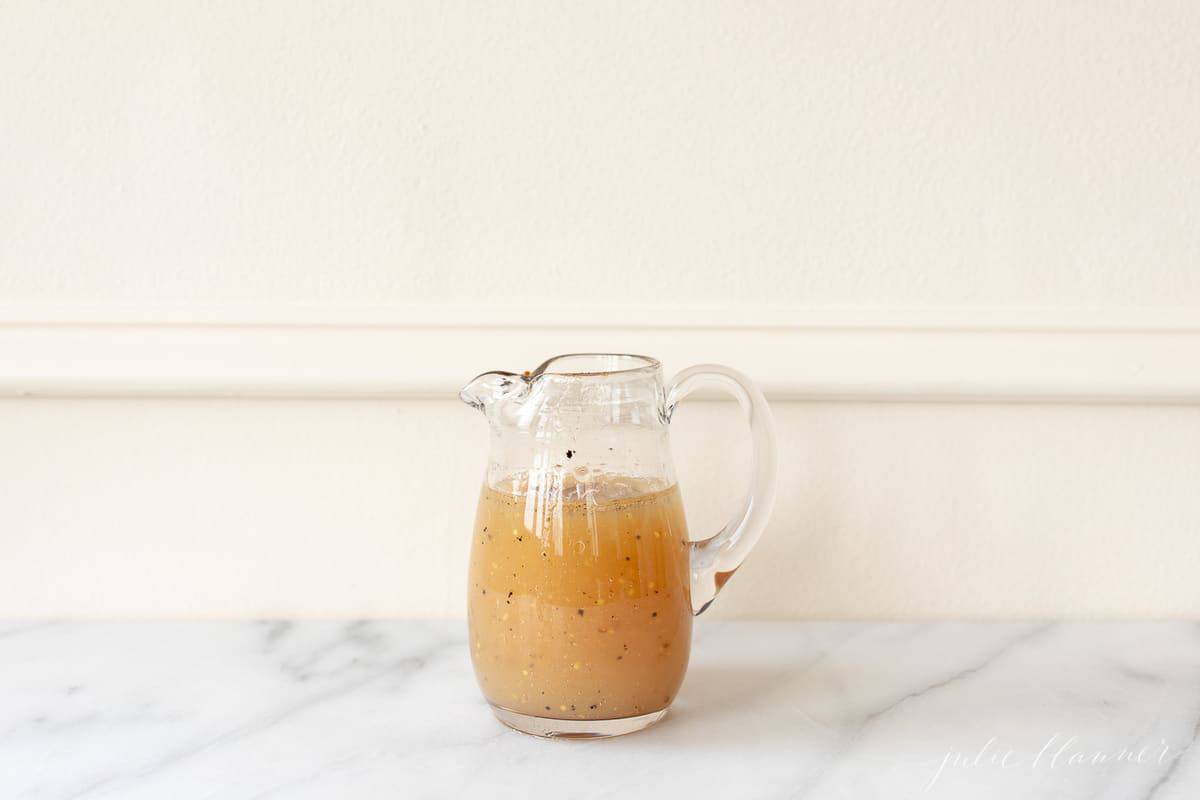 All you have to do to make homemade dressings is combine the ingredients in a mason jar and shake. Simple as that!
Apple cider is known for it's health benefits…but I'm in it because it's gooooood. It doesn't hurt that it comes in at just 26 calories per side salad serving and just 3 carbs. But who's counting? Certainly not me. If you've seen all my dessert recipes, you already know!
It's vegan, keto, and low carb.
It's rumored that there are a lot of health benefits to apple cider vinegar. It's a staple in our home for a number of recipes, but it can also be used as a natural cleaning product, as facial toner and more! So if it's not a staple in your home, it may be time to change that. 😉
Apple Cider Vinegar Salad Dressing Ingredients
To make a really great dressing, you just need a blend of acid, fat and emulsifier. In this recipe the apple cider vinegar serves as the acid, a hint of oil as the fat and dijon mustard as an emulsifier.
Apple Cider – this sweetens the recipe and creates a great consistency without adding fat (like using more oil would).
Apple Cider Vinegar – the main ingredient gives this dressing a slight tang.
Oil – vegetable oil is neutral, which makes it ideal for this recipe, but a good quality extra virgin olive oil also works well.
Dijon Mustard – a little dijon adds a lot of flavor. I like using one with the seeds for texture. You can make apple cider vinegar salad dressing without mustard if you'd like. I know few are allergic or don't particularly care for it. I'm not a mustard fan, but like the zest it adds to dressings. You'll never get a mustard taste, promise!
Pepper – to taste. I use thick flakes of black pepper (in a grinder) for texture and flavor.
Variations
Make it oil free by replacing the oil with lemon juice or orange juice.
Make it sugar free by eliminating the apple cider and doing 1/3 c apple cider vinegar with 1/4 c vegetable or olive oil.
Sweeten it up using maple syrup or honey.
Add a hint of citrus with lemon juice.
Minced garlic or fresh garlic clove.
How to Make Apple Cider Vinegar Salad Dressing
Seriously, it's so simple any novice can create an incredible homemade salad dressing. It's foolproof!
Combine ingredients in a mason jar.
Shake.
Don't have a jar? Use a food processor or whisk vigorously in a large measuring cup so that it's pourable.
Apple Cider Vinaigrette Serving Suggestions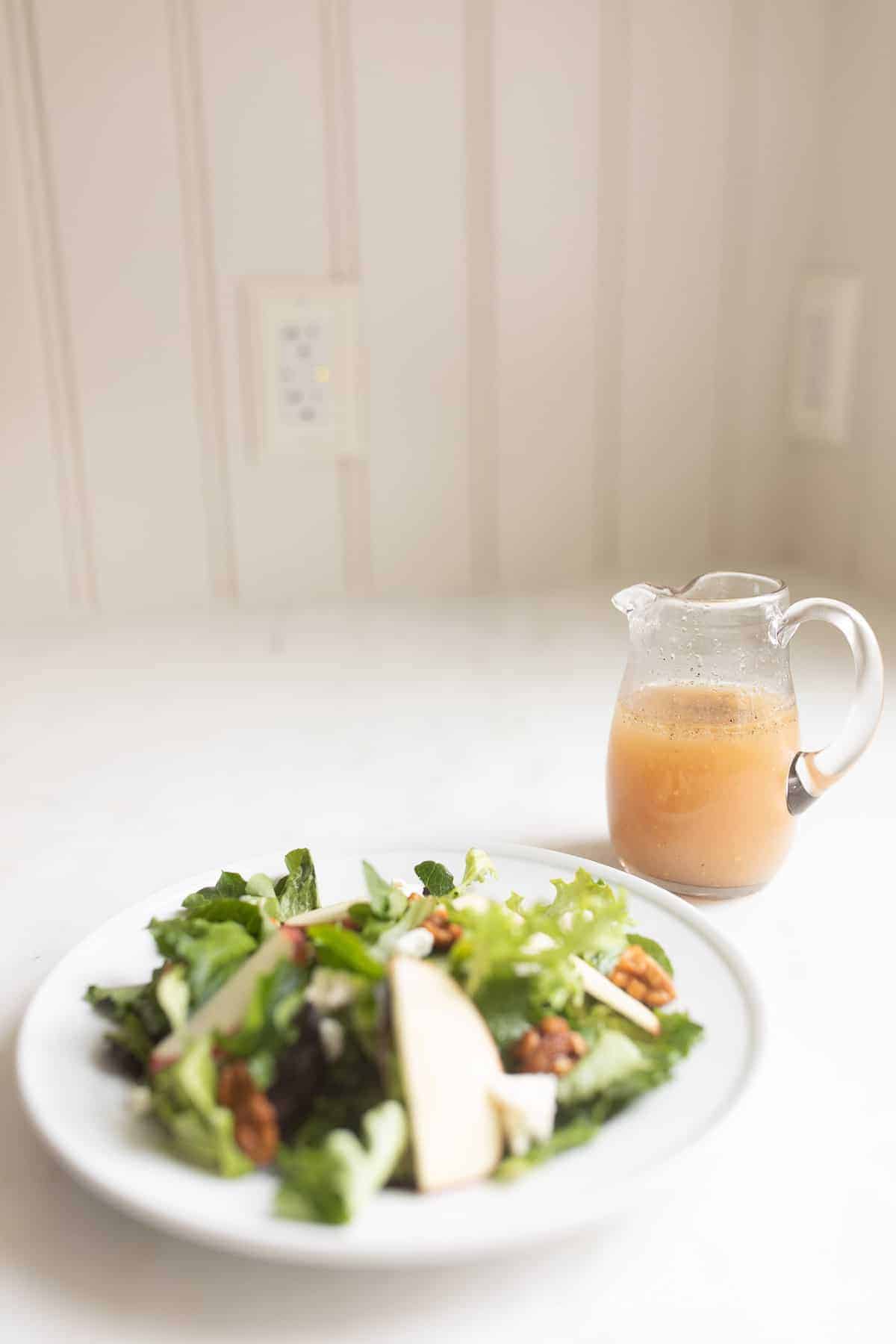 While we enjoy it all year, the flavors of apple cider vinaigrette dressing lend themselves to a variety of fall infused dishes. These are some of my favorite ways to enjoy it.
On Salad
On salads, of course!It works well on a spinach salad, kale salad, quinoa salad and even pasta salad.
Some favorite combinations include:
mixed greens, blue cheese, and candied walnuts
pears, gorgonzola and arugula
mixed greens, shallot, roasted sweet potato and quinoa
kale, wild rice, butternut squash, dried cherries or cranberries, pecans
Marinade
As a chicken marinade to make Apple Cider Chicken. Use my easy Baked Chicken Breast recipe and it will be ready in less 10 minutes hands on time!
Coleslaw
Simply substitute with any dressing to make a fall infused coleslaw or cabbage salad!
Substitute this dressing on your favorite Pasta Salad or Potato Salad.
Toss with vegetables to roast.
Chicken Wings
Toss fresh fried chicken wings for a one of a kind sauce!
To Store
Refrigerate – Apple Cider Vinegar Dressing keeps up to two weeks refrigerated in an airtight container. Allow to rest at room temperature 20 minutes, shake and serve! This will allow the oil to separate and blend with the vinegar.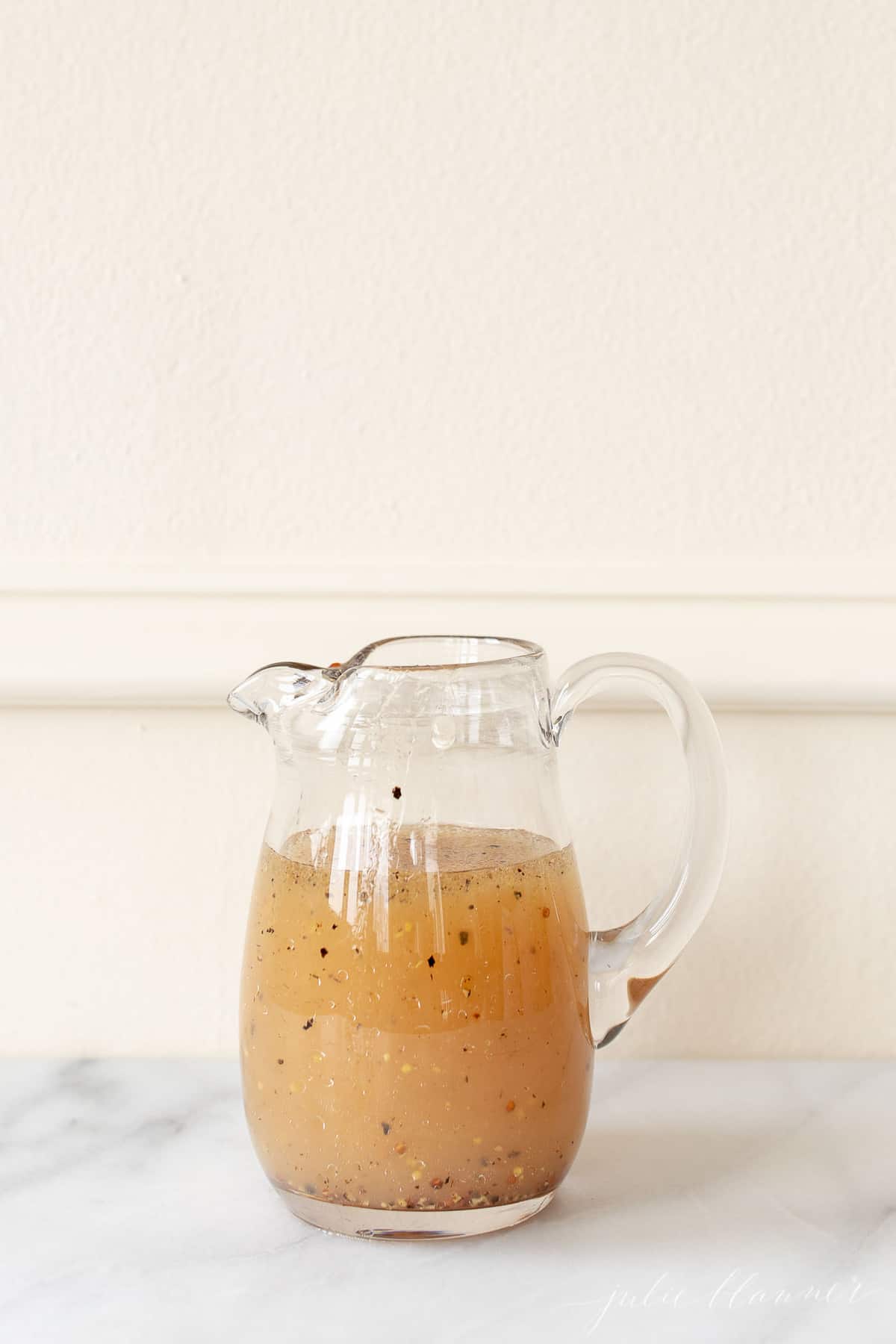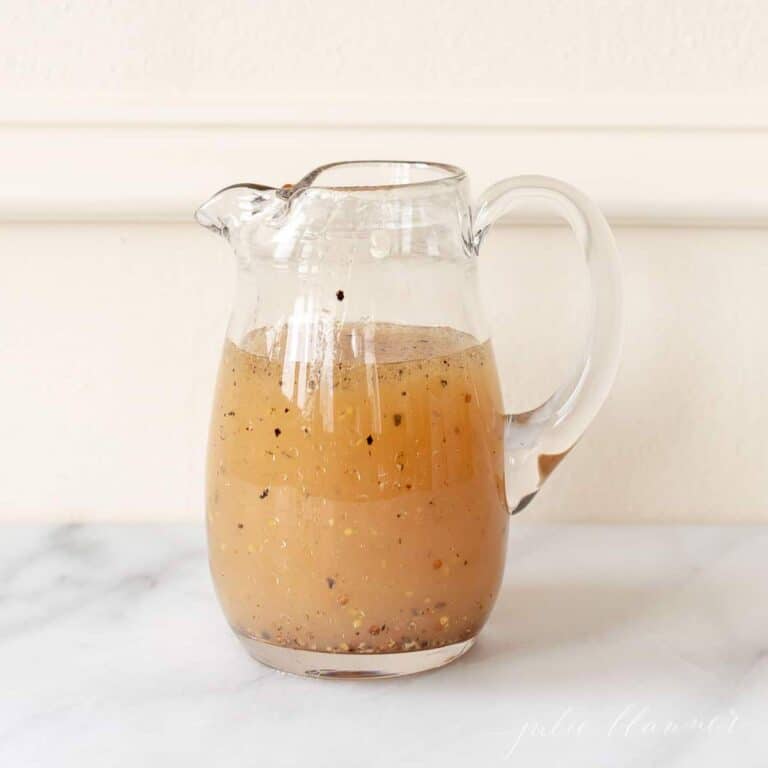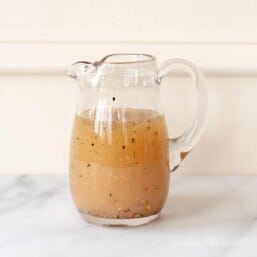 Apple Cider Vinegar Salad Dressing
Apple Cider Vinegar Salad Dressing is sweet, tangy and oh so delicious! Apple Cider Vinaigrette is a homemade salad dressing you can mix in a minute that is full of fresh fall flavor and light in calories!
Ingredients
3/4

cup

apple cider

1/8

cup

apple cider vinegar

1/2

teaspoon

dijon mustard

whole grain, if possible

1

tablespoon

vegetable oil

black pepper

to taste
Instructions
Combine ingredients in a jar with a lid.
Tips
Can substitute vegetable oil with olive oil.
Calories:
26
kcal
|
Carbohydrates:
3
g
|
Protein:
1
g
|
Fat:
2
g
|
Saturated Fat:
1
g
|
Sodium:
5
mg
|
Potassium:
22
mg
|
Fiber:
1
g
|
Sugar:
2
g
|
Vitamin C:
1
mg
|
Calcium:
2
mg
|
Iron:
1
mg
Estimated nutrition information is provided as a courtesy and is not guaranteed.
Explore More