A Cinnamon Toast is the ultimate fall cocktail (featuring Goldschlager or another cinnamon liqueur) that will warm you up on even the chilliest of evenings.
It's the perfect blend of Cinnamon Schnapps and apple cider, garnished with an apple slice and cinnamon sticks!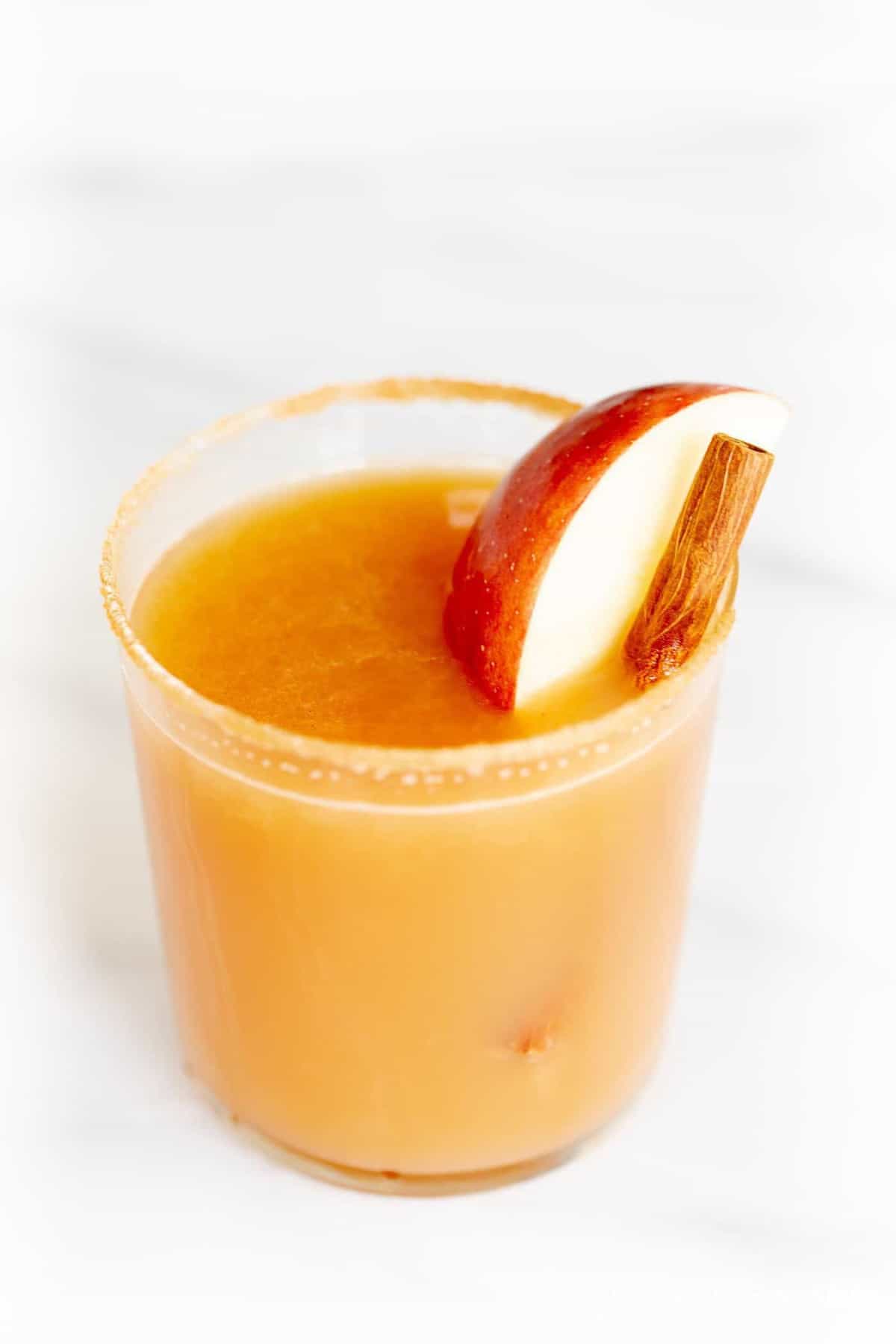 Cinnamon Toast Cocktail
This is one of my favorite fall cocktails – it's perfect for a chilly evening in, a bonfire, or to sip on while you're waiting for trick or treaters. If you are planning a get together this fall, this cinnamon liqueur cocktail is a must have!
It is simple to prepare, allowing you to enjoy the crisp fall air with your friends, just sit back and let them think you worked harder than you did.
I first tried this cocktail at one of our favorite places on Table Rock Lake – Big Cedar Lodge! Looking out over the lake and watching the leaves change color is so magical, and this cinnamon schnapps cocktail hit the spot perfectly.
If you love warm cocktails, you've got to try my spiked hot chocolate! And don't miss this delicious mulled wine recipe.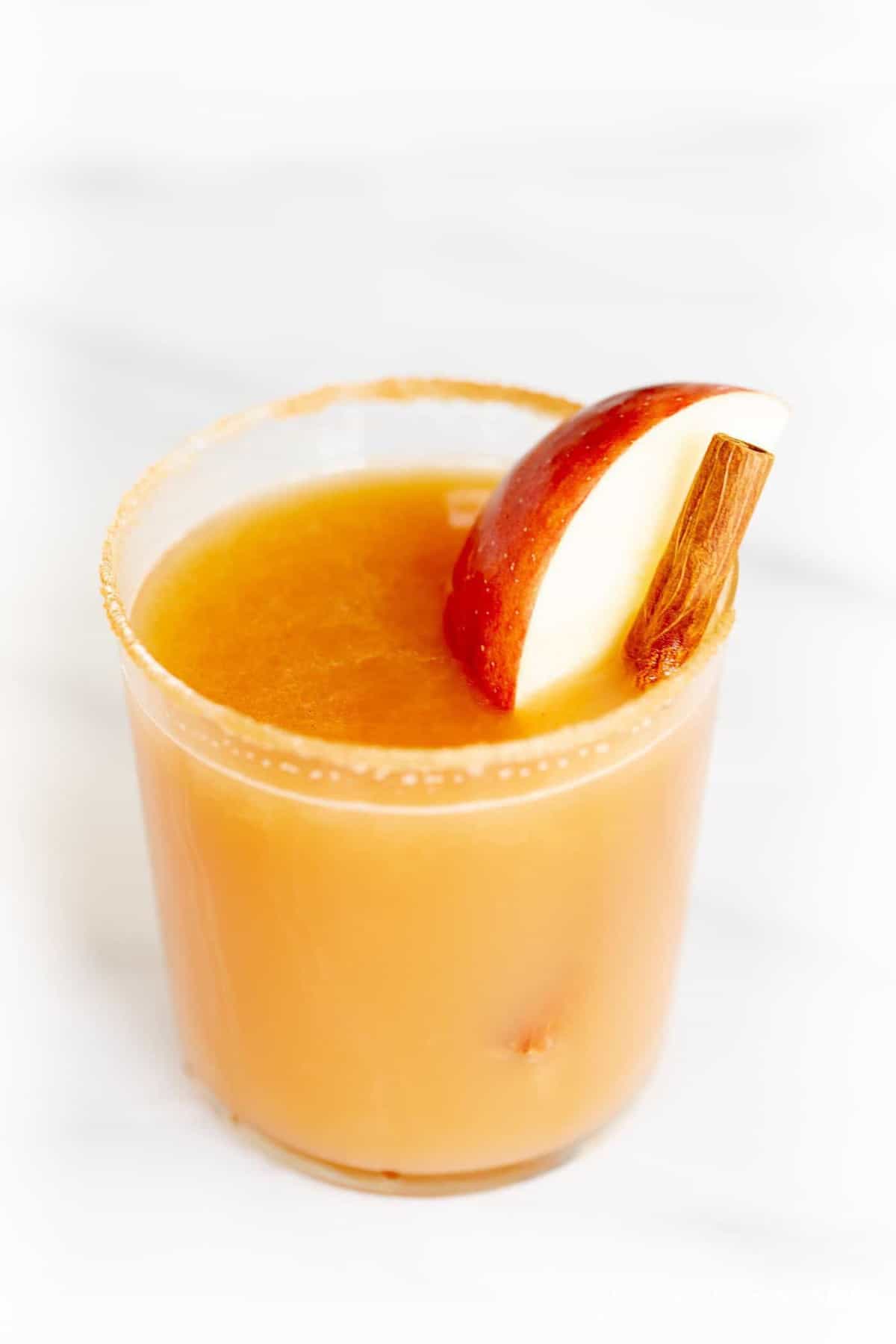 It's a blend of Cinnamon Schnapps and Apple Cider. Essentially, a taste of fall in a glass. You can enjoy this cinnamon liqueur cocktail at room temperature or as hot apple cider.
This cocktail is easy to multiply for larger quantities – simply use the 1x2x3x tab in the printable recipe card, or get my free printable measurement conversion chart!
What is Cinnamon Schnapps?
Cinnamon schnapps is a high proof cinnamon flavored alcohol that is often distilled with the same flavoring that is used to make red hot cinnamon candies. There are many brands to choose from when looking for cinnamon schnapps. A few of my favorites?
Goldschläger

Hiram Walker

DeKuyper

Mr. Stacks

Aftershock

Firewater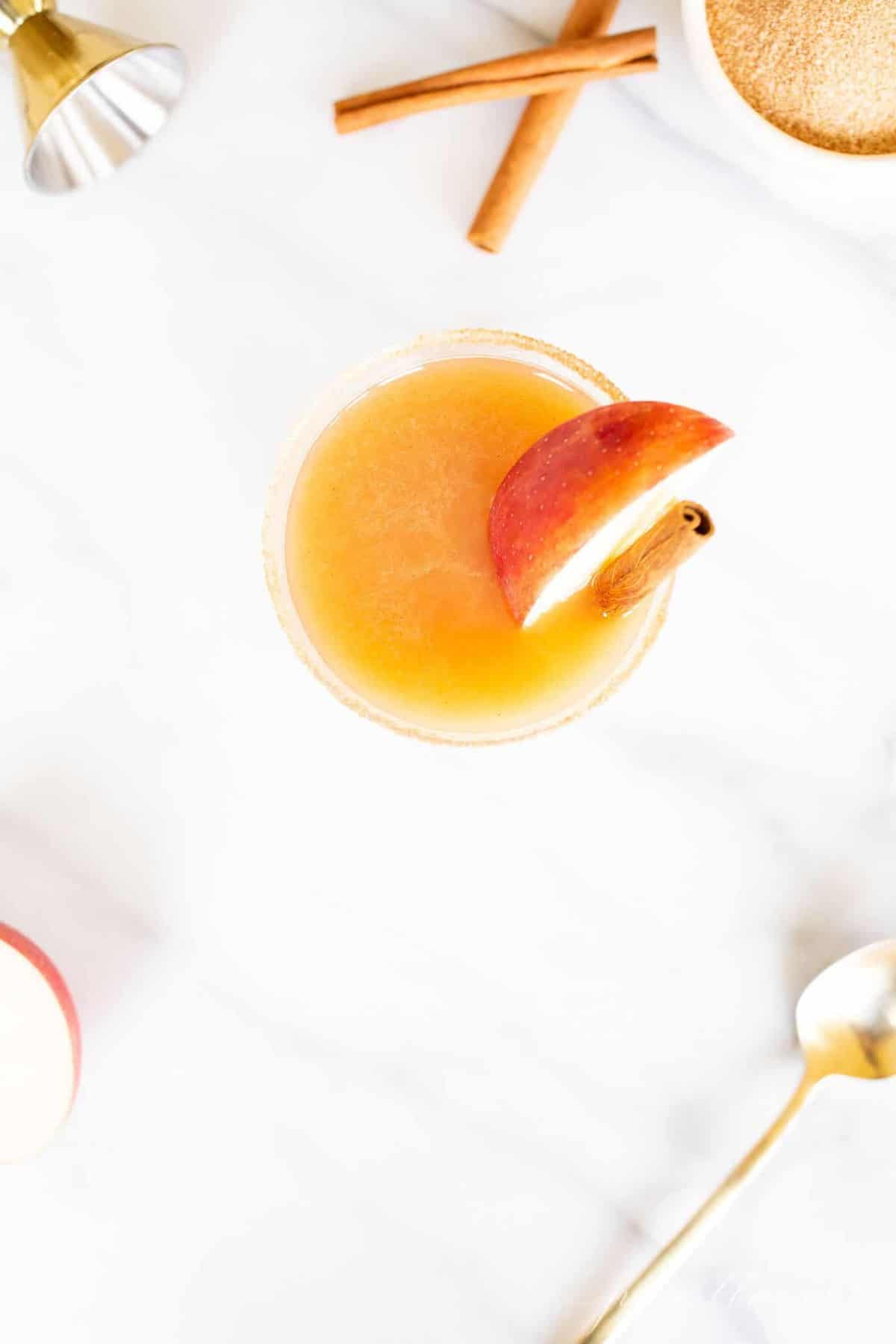 Cinnamon schnapps is the perfect way to spike a fall or winter drink to warm you up, it may not have the current fame of cinnamon whiskey, but it is a tried and true favorite that can dress up your drinks with ease.
Goldschläger is considered to be one of the higher end cinnamon schnapps brands, it is a clear schnapps that has 24 karat gold flakes floating in the bottle that add a glamorous touch to your glass without having to go out of your way.
Aftershock and DeKuyper's Hot Damn! add red coloring to add flair to the schnapps and these brands focus on the hot cinnamon look and taste. These varieties are perfect when you want to add some spice to your party!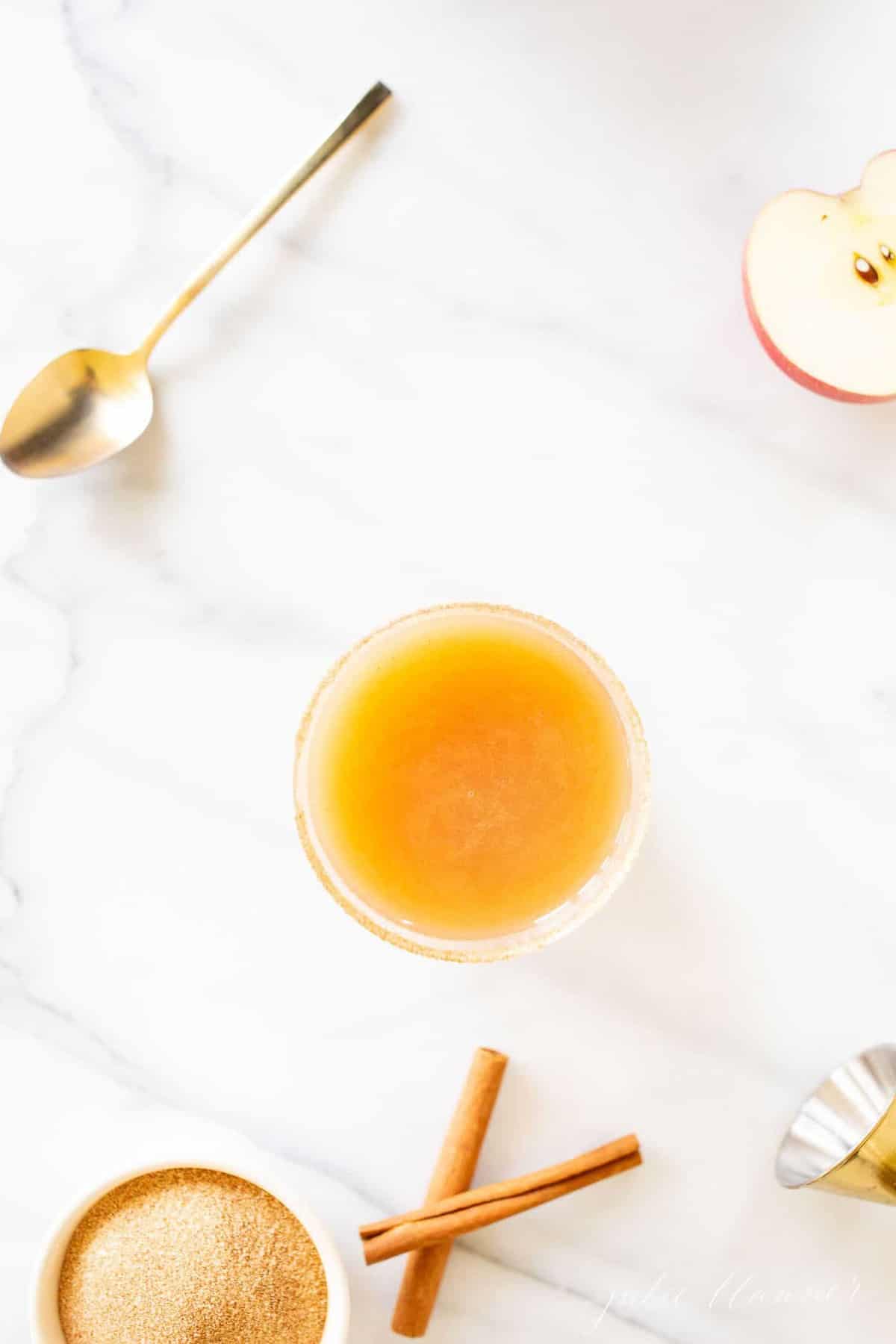 Cinnamon schnapps is a versatile addition to your liquor cabinet. It can simply be added to spike a mug of hot apple cider, dressed up with a beautiful garnish of a cinnamon stick and apple slice like we will be doing today, or made into a festive shot for a party crowd. You can even get creative and combine Bailey's Irish Cream with cinnamon schnapps can create a delicious cocktail that can be taken as a shot but is smooth enough to be sipped and savored.
Cinnamon Liquor
Cinnamon Liquor is steeped with spices, generally it is simply cinnamon sticks, then sweetened, leaving you with a flavor where the cinnamon infuses the liquor with a perfectly sweet and spicy flavor – perfect for a fall cocktail.
There are many different cinnamon liqueurs to choose from, this includes cinnamon whiskey as well. You can look for Tennessee Fire by Jack Daniels, Red Tag Spiced by Jim Beam, Fireball Cinnamon Whisky, and if you are a tequila drinker, there is a Peligroso Cinnamon Tequila liqueur for you!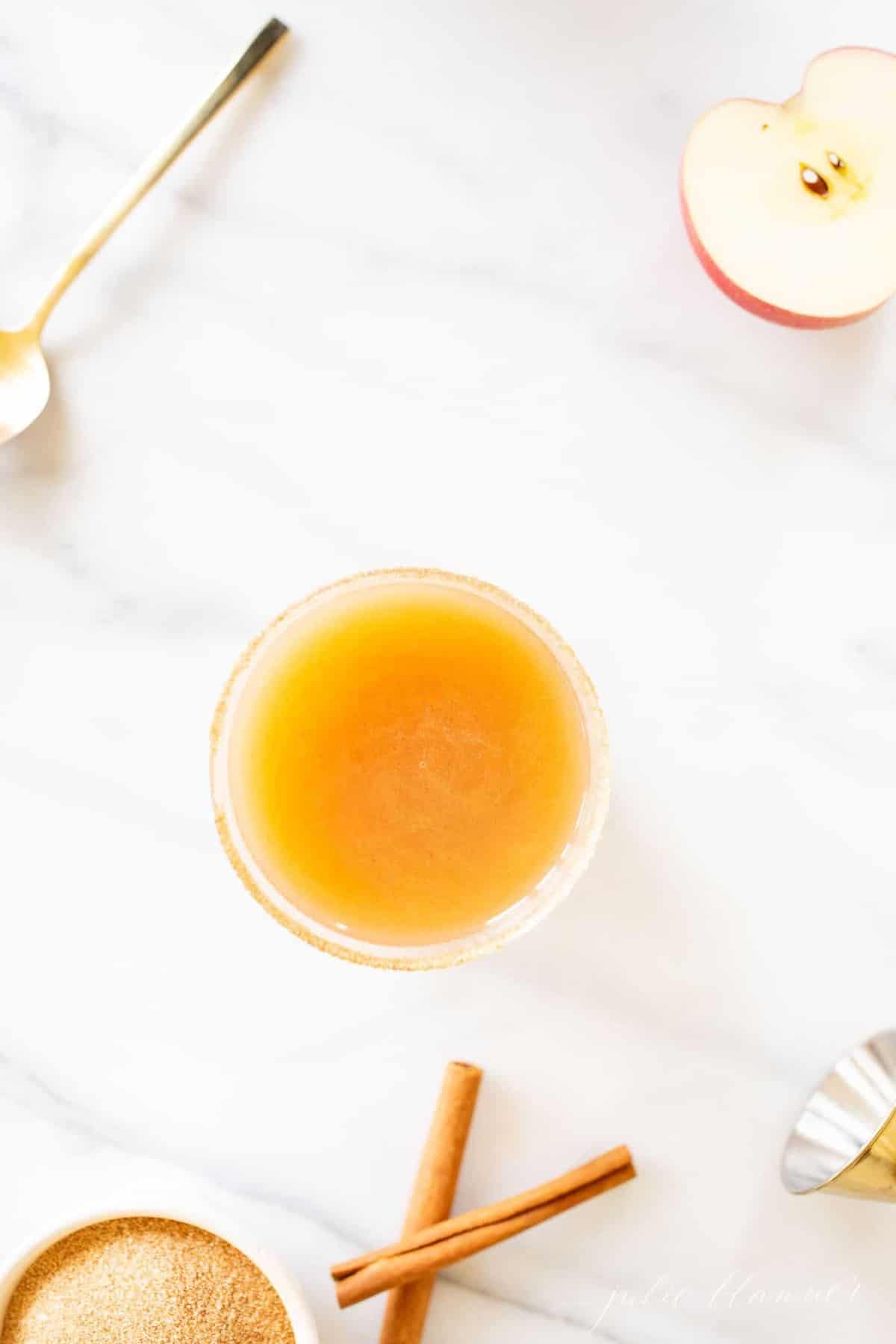 To personalize your liquor cabinet, it is simple to create your own infused liqueur, simply steep a few of your favorite ingredients with vodka or whiskey. You can choose from apple or pear slices, cinnamon sticks, whole cloves, star anise, add some sugar and allow the flavors to combine in an airtight container then enjoy!
Garnish with Cinnamon Sticks
Cinnamon sticks are the perfect garnish to a fall cocktail, they instantly add flair and flavor to a glass, the cinnamon infuses in the cocktail to add more flavor.
Natural cinnamon sticks can be found at your local grocery store or specialty food stores, Target, WIlliams Sonoma, Penzeys Spices and more. Please be sure to read the label and only use cinnamon sticks that are safe for human consumption.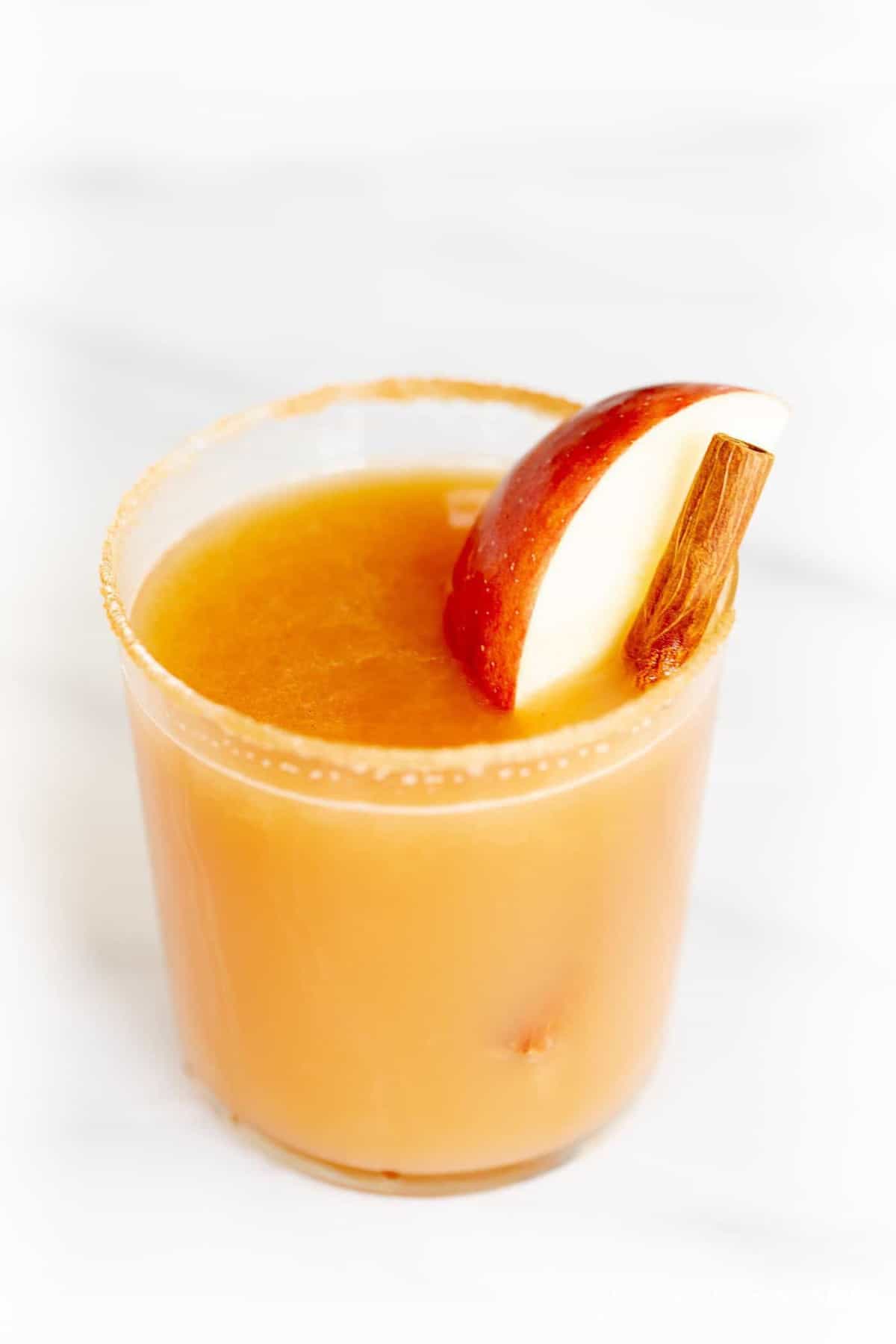 While you may find cinnamon sticks at a craft store that are taller, it is important to buy them from the grocery store or spice shop as they are not necessarily food safe. Craft store cinnamon sticks generally are labeled "not safe for human consumption".
These cinnamon sticks are also not as fragrant as the sticks you would find in the spice section of your grocery store, unless they have been sprayed with fragrance to enhance the holiday scent. Often cinnamon sticks found in a craft store are sprayed with chemicals to prevent mold, needless to say it would be best to leave those to your festive art projects and potpourri bowl.
Recently I learned that cinnamon sticks are the inner bark of a tropical evergreen tree. The outer bark is peeled away and once it has fully dried, the bark rolls up into the quills that we find in the store.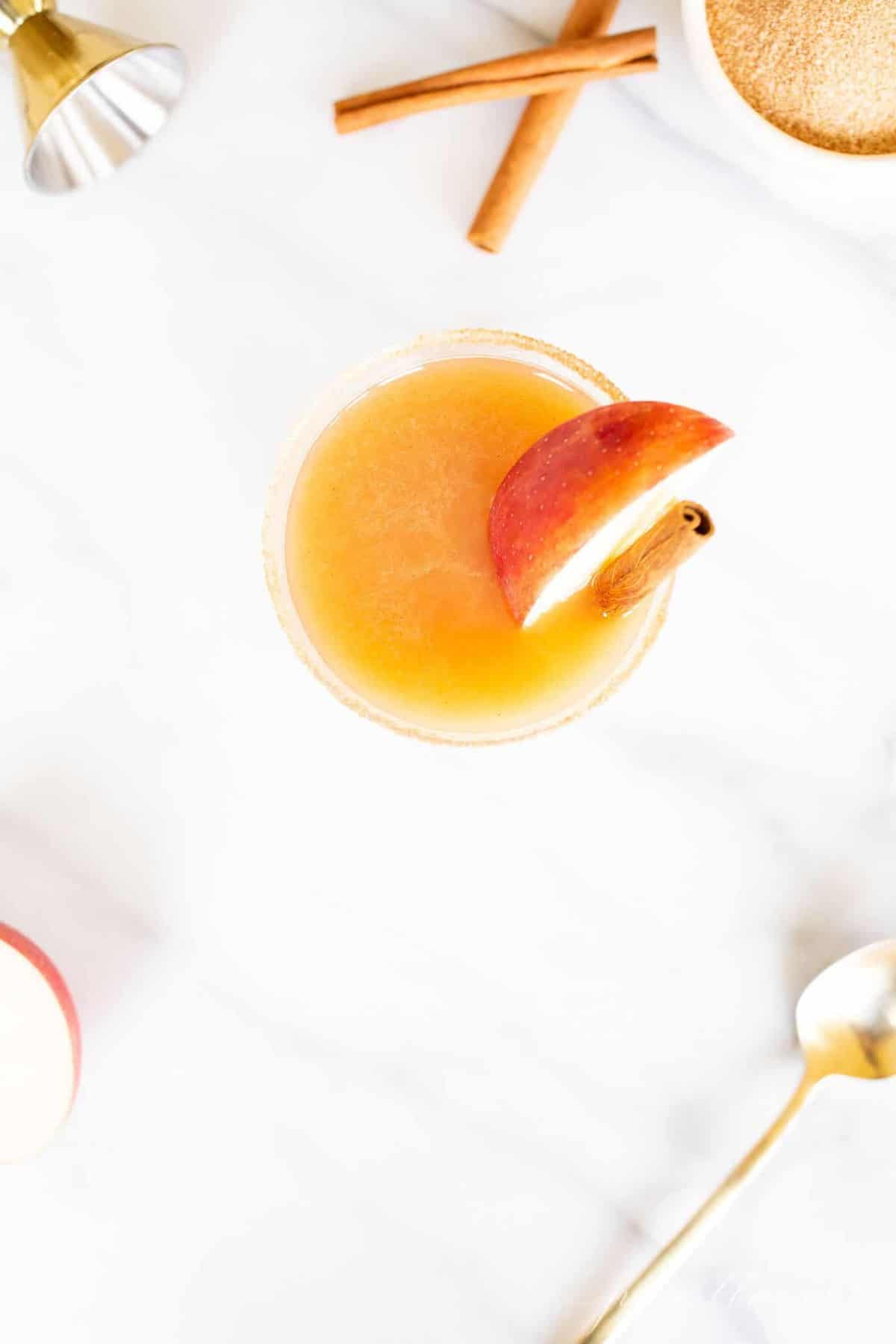 There are two varieties of trees that cinnamon sticks are harvested from, Cassia and Ceylon. Cassia is more commonly found, has a darker color, stronger flavor, and is more dense.
I would recommend the Cassia cinnamon sticks as a garnish. Ceylon cinnamon sticks are generally softer, have a more mild flavor and are prone to crumble, not ideal for a cocktail garnish or simmering in hot apple cider. To tell the difference, Ceylon cinnamon sticks will be labeled as such, Cassia doesn't always have a separate description on the label.
Speaking of cinnamon sticks, rimming the glass is half the fun and makes this cinnamon schnapps cocktail feel special!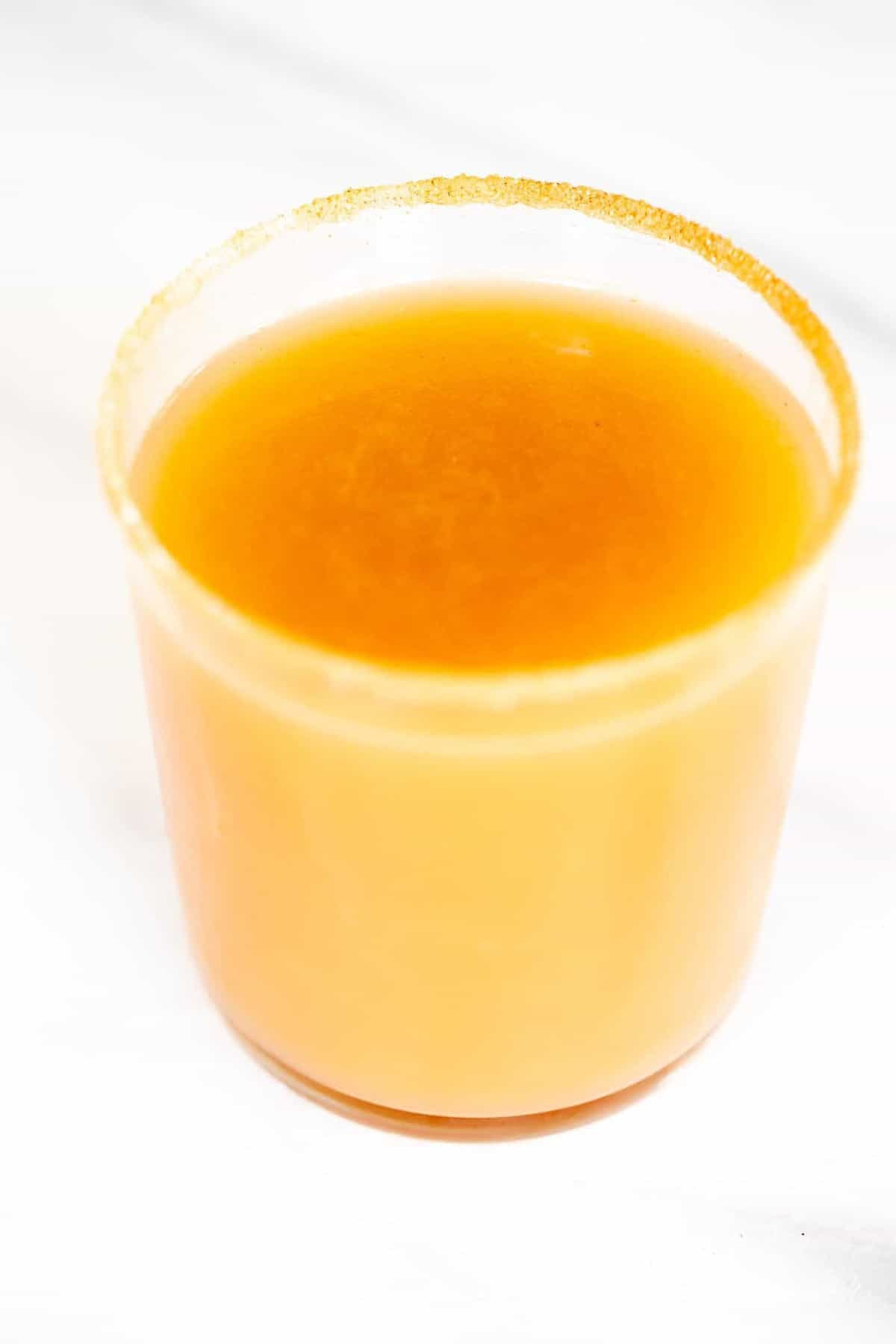 How to Rim a Glass
To rim the glass, you'll need two cocktail plates.
Fill one plate with simple syrup and another with ground cinnamon sugar.

Lightly dip the glass in simple syrup, followed by cinnamon sugar.
If you try this cinnamon toast cocktail recipe, please come back to share using my 5 star rating in the comments below! Not only do I appreciate it, but I know readers do, too! For more easy recipes and simple living ideas, subscribe to my newsletter!
Hungry for more easy recipes? Sign up for my free recipe club and have amazing recipes delivered directly to your inbox each week!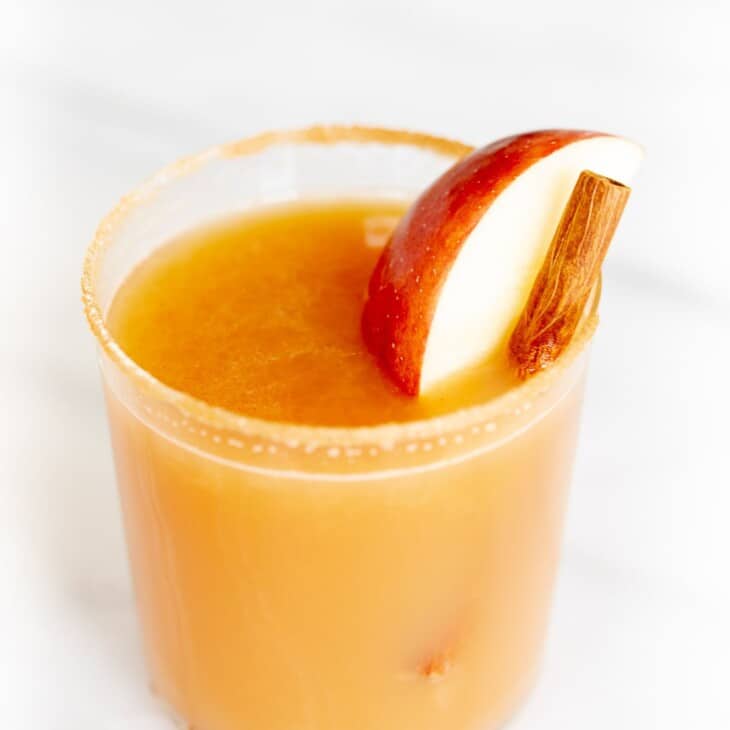 Cinnamon Toast Cocktail | A Cinnamon Schnapps Cocktail
A Cinnamon Toast is the ultimate fall cocktail that will warm you up on even the chilliest of evenings. It's the perfect blend of Cinnamon Schnapps (a Cinnamon Liquor) and apple cider garnished with an apple slice and cinnamon sticks!
Ingredients
¾

cup

apple cider

1½

ounces

cinnamon schnapps
Instructions
In a shaker or individual glass, combine cider and cinnamon schnapps.

Rim your glass with simple syrup and cinnamon sugar by filling one plate with simple syrup and another with ground cinnamon sugar. Lightly dip the glass in simple syrup, followed by cinnamon sugar.

Add apple slices and cinnamon sticks for garnish.
Nutrition Information
Calories:
237.48
kcal
(12%)
,
Carbohydrates:
36.7
g
(12%)
,
Protein:
0.18
g
,
Fat:
0.23
g
,
Saturated Fat:
0.04
g
,
Sodium:
7.08
mg
,
Potassium:
178.77
mg
(5%)
,
Fiber:
0.35
g
(1%)
,
Sugar:
33.58
g
(37%)
,
Vitamin C:
1.59
mg
(2%)
,
Calcium:
14.16
mg
(1%)
,
Iron:
0.21
mg
(1%)
Estimated nutrition information is provided as a courtesy and is not guaranteed.