Learn how to make a cinnamon sugar recipe mix using only 2 ingredients! Enjoy this sweet, fragrant addition to your favorite fall desserts, sweet bread, cinnamon toast, and even coffee with the perfect cinnamon sugar ratio.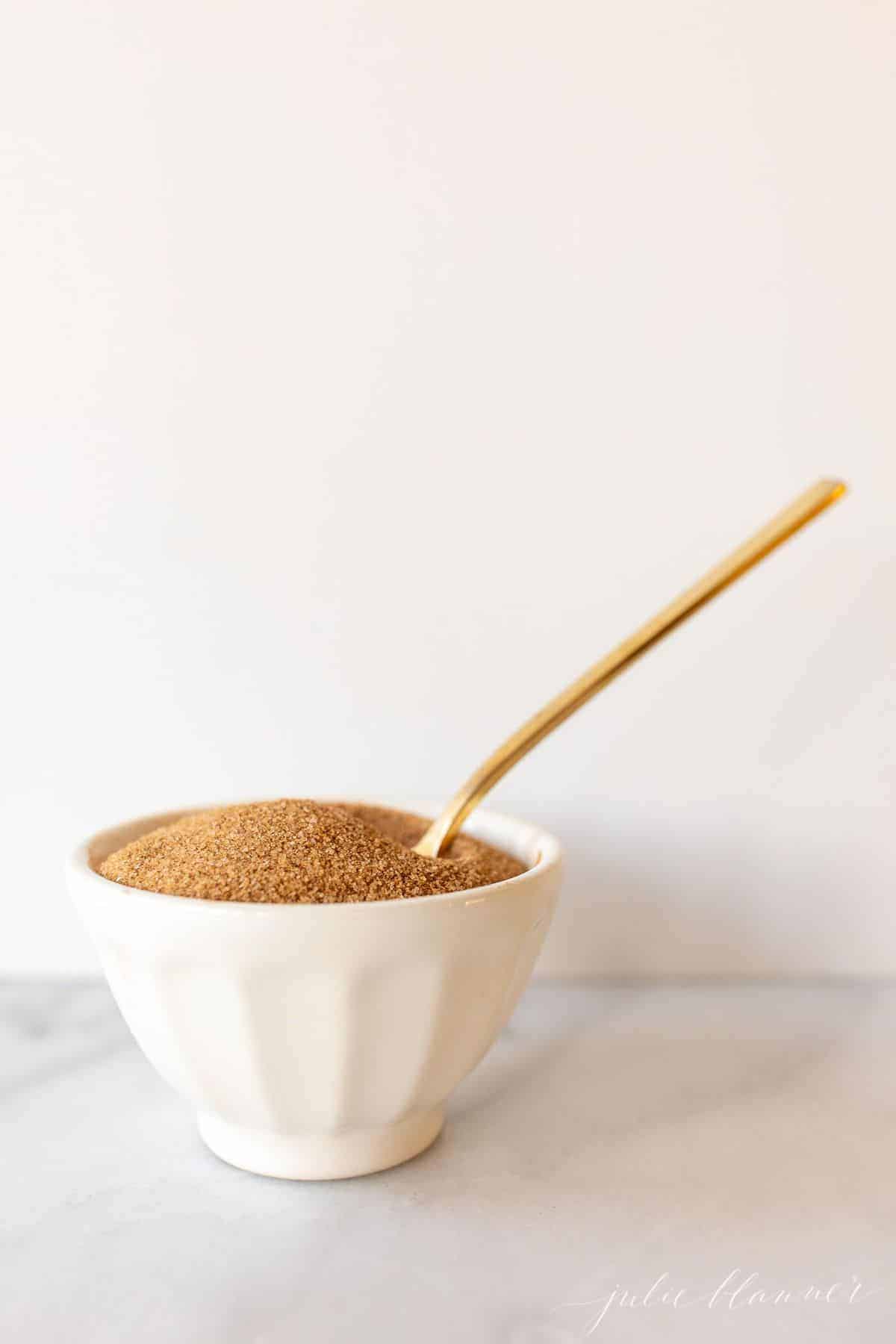 Lately, I've been sharing some of my favorite spice mix recipes. Fall spices have been on my mind.
I recently made several different spice blends including allspice, mulling spices, bread dipping spices, cajun seasoning, and a poultry seasoning blend. These are the perfect spice blends to keep in your pantry for sweet, and savory dishes.
I love having my spice mixes and baking mixes prepared ahead of time, ready for any last minute baking or surprise company.
On a whim, I can make a dessert or quickly prepare a breakfast of buttered toast with cinnamon and sugar using my homemade pre-mixed spice combinations. It might just be one of my favorite time-saving hacks.
If you love sweet little breakfast treats as much as we do, don't miss my incredible fried biscuit donuts! They could not be easier and they might be the BEST way to use this cinnamon sugar mixture!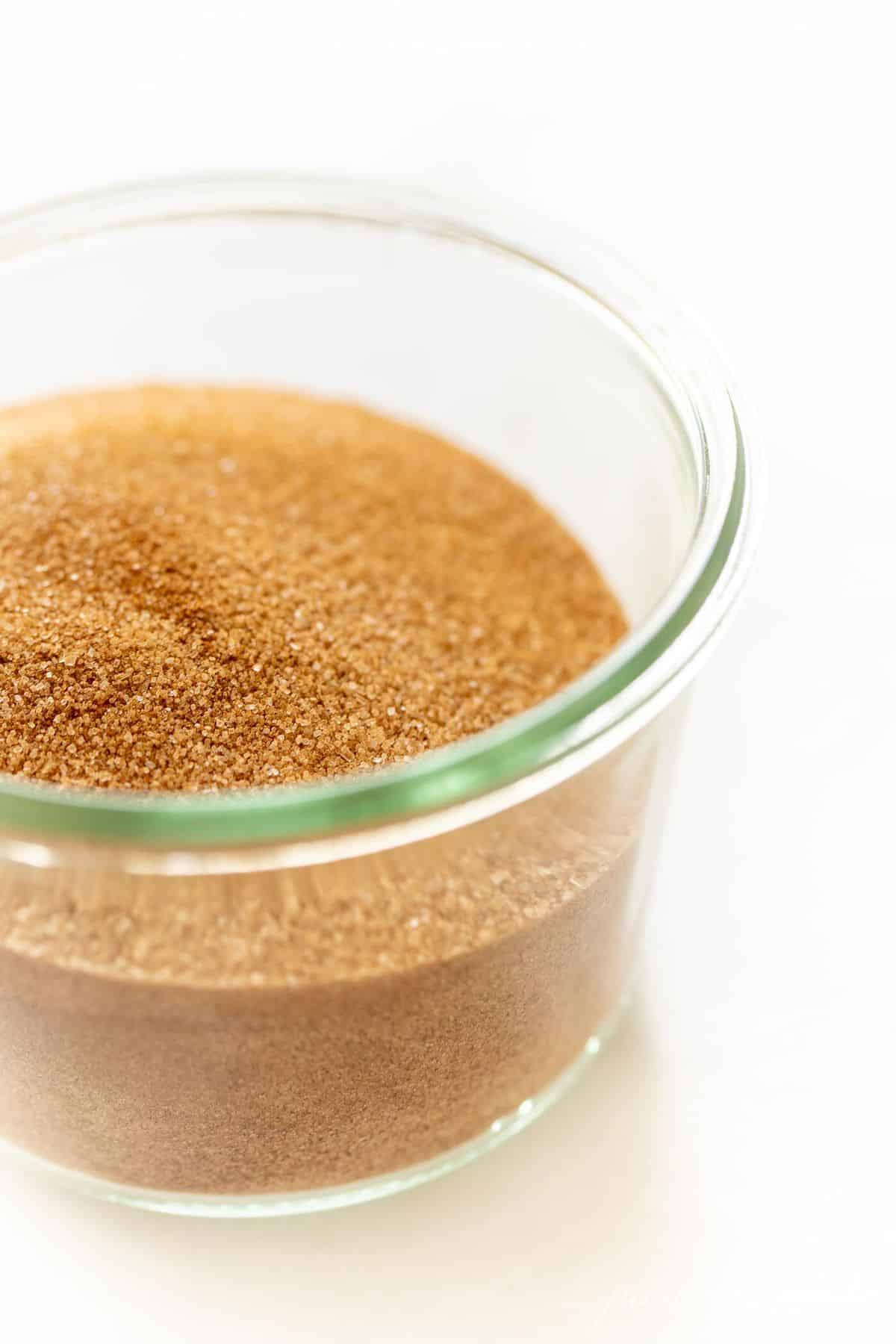 Cinnamon and Sugar Ratio
The best cinnamon and sugar ratio is 1:4. One part cinnamon to four parts sugar.
1 Tablespoon of Cinnamon + 4 Tablespoons of Sugar

¼ Cup of Cinnamon + 1 Cup of Sugar
I've found this to be the most agreeable cinnamon sugar ratio of sweetness to spice for our family and friends. It also lends itself well to every recipe!
Of course, the beauty of making your own mixes is that it is completely customizable. If you prefer a stronger cinnamon flavor then you are welcome to add more cinnamon. I recommend adding only one or two tablespoons of cinnamon at a time and testing your mixture. You can always add more later!
If you would like to make a larger batch than I have here, you can use my convenient kitchen measurement conversion chart to double the recipe as your needs dictate.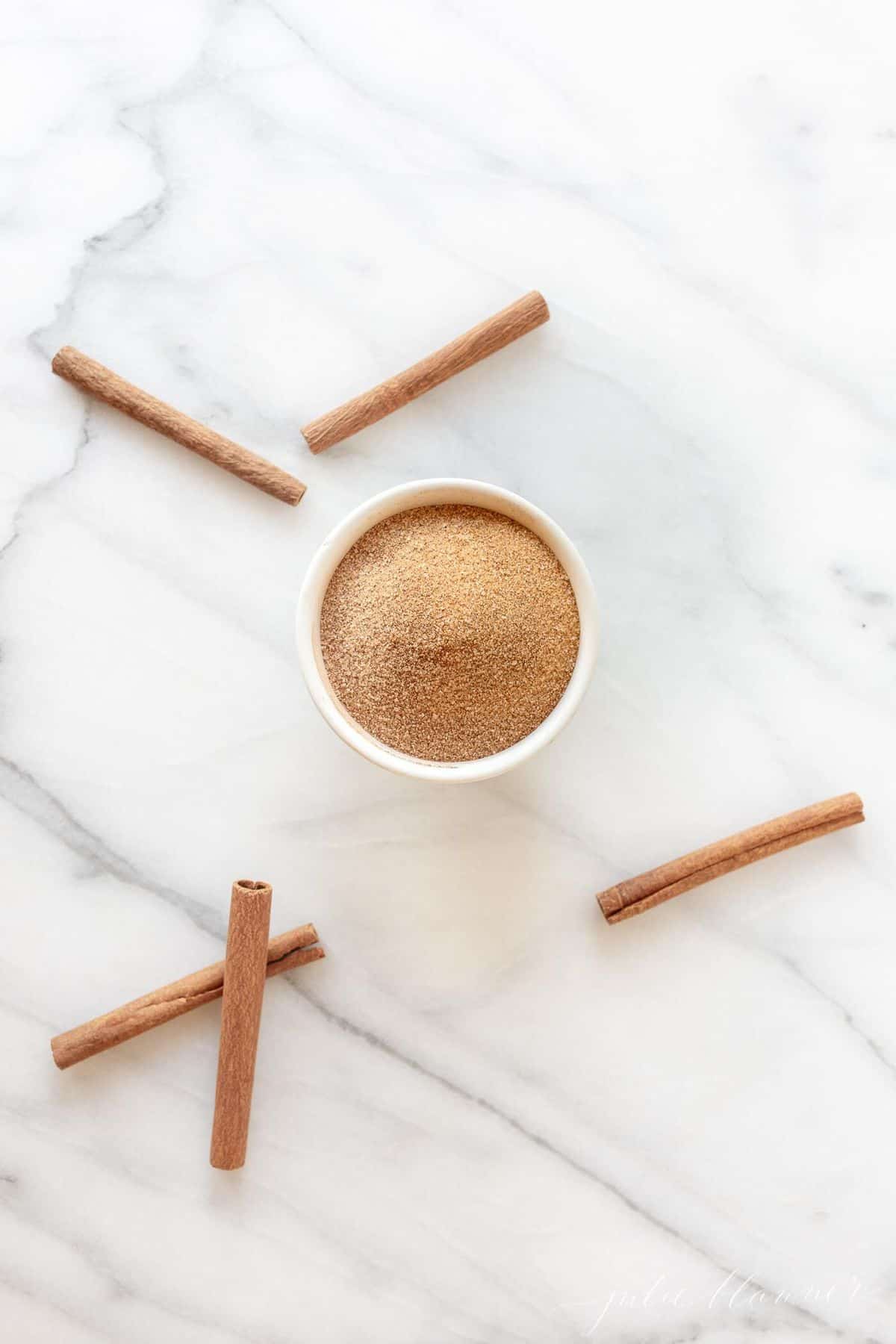 Cinnamon Sugar Ingredients
Ground Cinnamon
Cinnamon is one of the most common spices used in baked goods and breakfast items. It is also used in potpourri because of its wonderful aroma! Buying a quality cinnamon is important and not necessarily a more expensive option.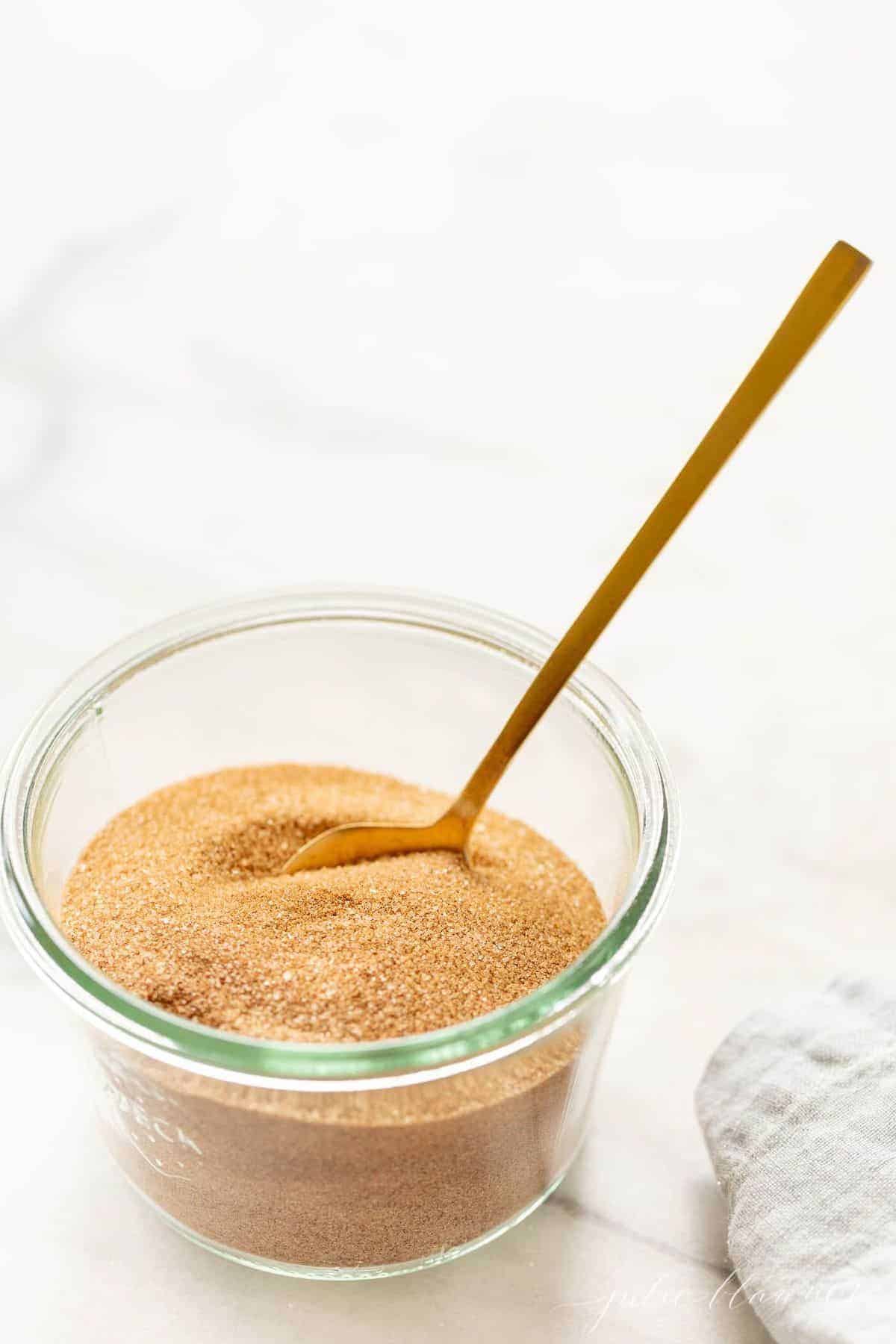 Granulated White Sugar
There are several types of baking sugar on the market. Any granulated sugar will work well in this recipe. However, I do keep some loose rules.
Regular granulated sugar or superfine sugar are wonderful for combining with cinnamon for being baked inside a recipe. They also work well for sprinkling on the outside of a cake.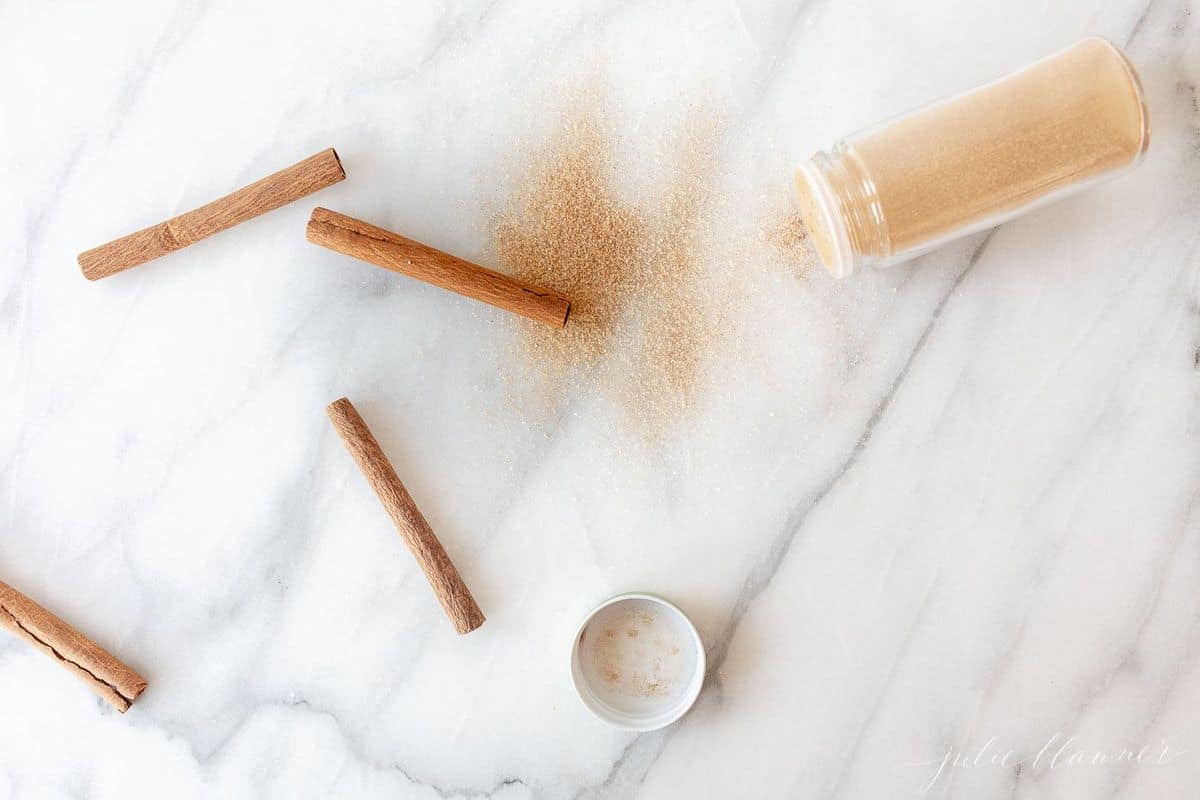 Coarse sugar is best for the outside of a cake only because it doesn't dissolve as quickly. It gives a wonderful texture on top of sweet breads, doughnuts, or toast. Coarse sugar also makes beautiful sprinkles for cupcakes.
Confectioners sugar (or powdered sugar as it is sometimes called) are best for when you want a smooth creamy texture- such as icing or frosting. I also use it in my fudge recipe. I would not recommend this for a sugar and cinnamon spice mixture.
Brown Sugar is sugar that contains molasses and has the most wonderful deep flavor! The texture is slightly sticky and moist. It is definitely doable to use brown sugar in your cinnamon and sugar spice mix, but it is important to note that it will harden and clump together when stored so this is best used fresh (and perfect for cinnamon rolls).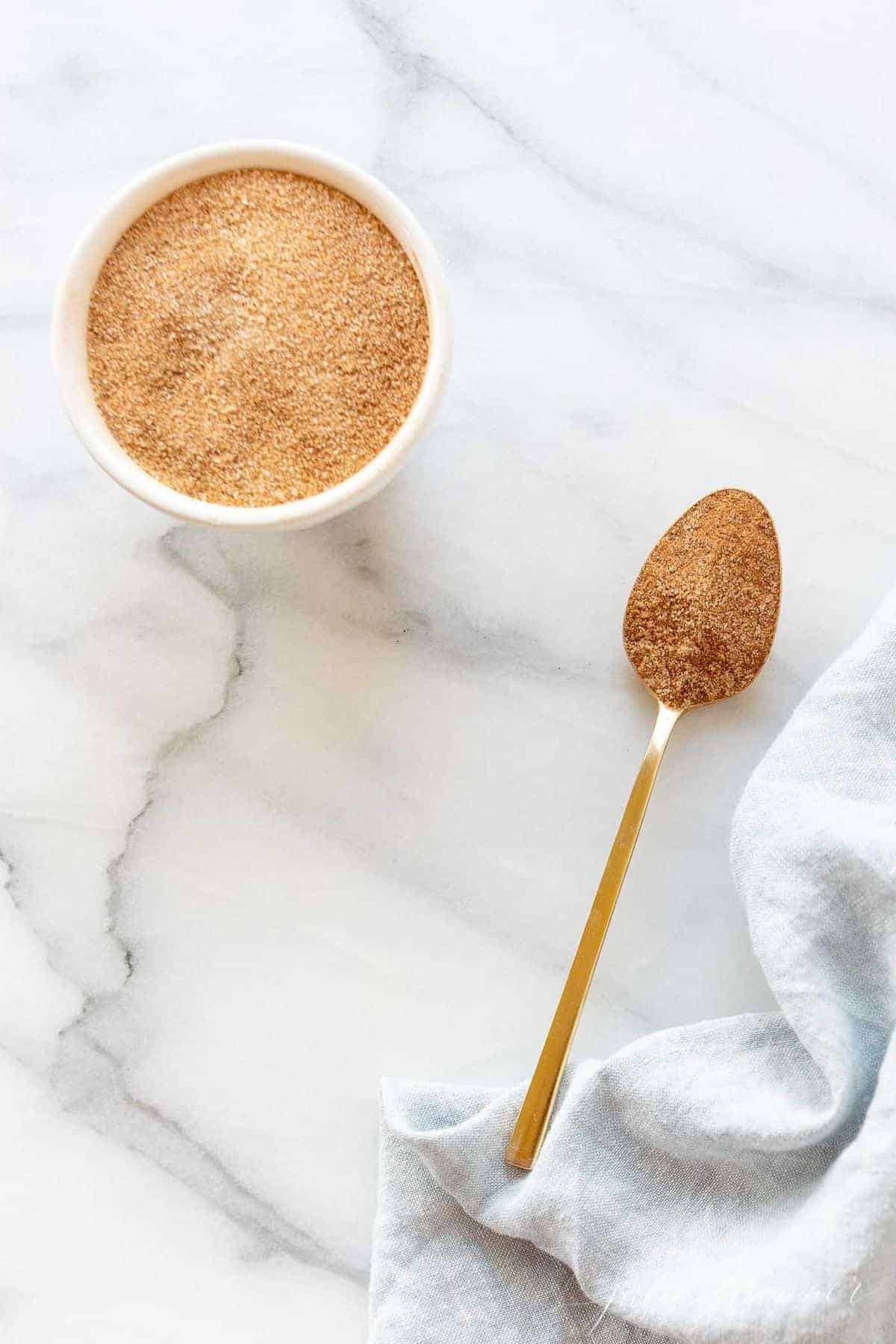 How to Make Cinnamon Sugar
Thoroughly combine sugar and ground cinnamon in a glass mixing bowl with a fork or small whisk.

Scoop or funnel into a spice jar.

Enjoy in your favorite recipes!
How to Use Cinnamon Sugar
The recipes are endless for this easy recipe. It can be as simple as sprinkling some over buttered toast (my childhood favorite), or french toast, to using it in your favorite homemade coffee cake recipe.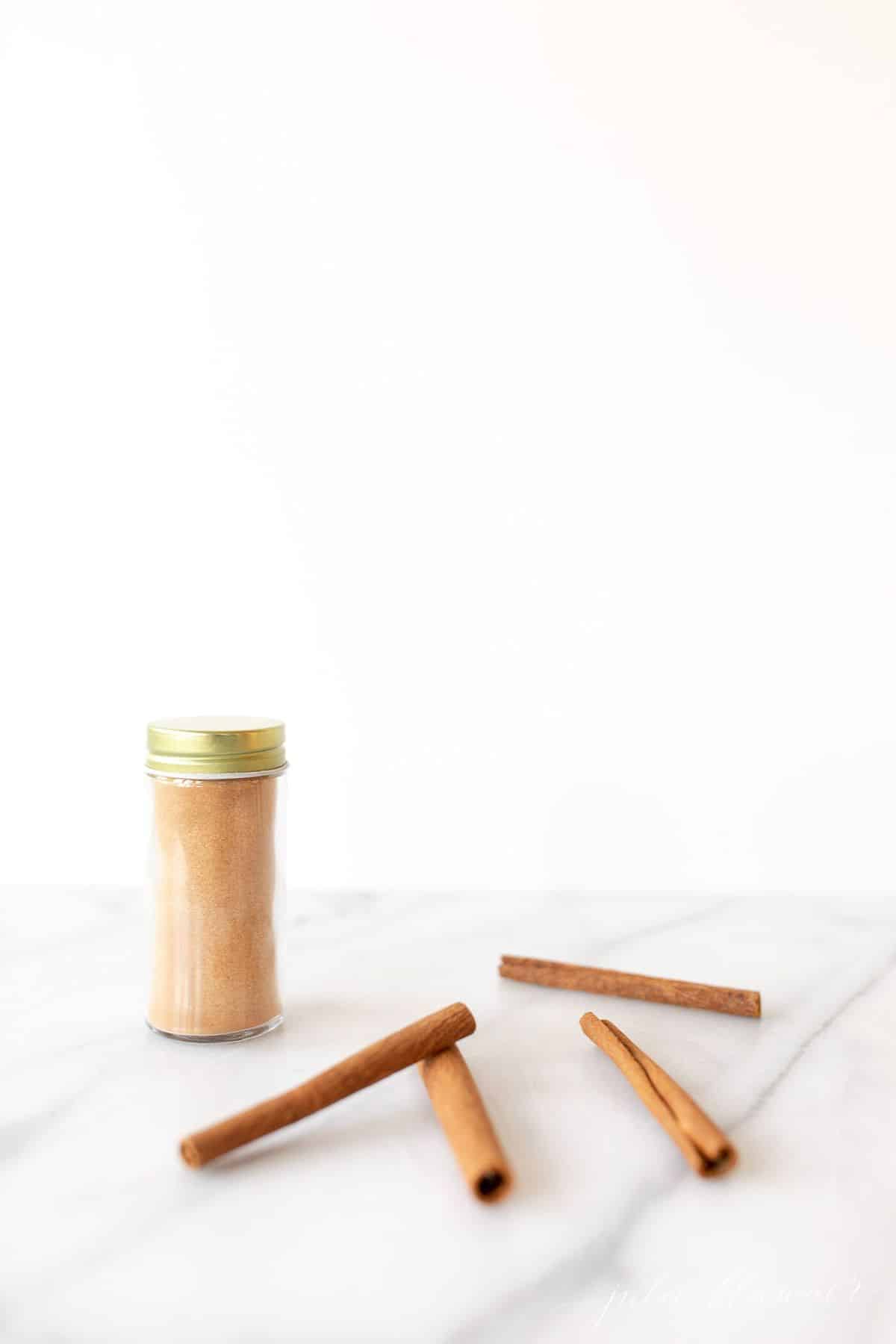 During the holidays, I love to make candied nuts and use my cinnamon and sugar spice to replace the plain sugar. The warm nuts taste of Christmas and are the perfect appetizer for holiday parties, or topped on salads to give them a festive feel. Even more ideas:
Blend it into softened butter to make incredible Cinnamon Sugar Butter
Make cinnamon sugar pretzels
Top soft pretzels with melted butter then sprinkle it on
Blend it into Vanilla Ice Cream
Brush butter on leftover pastry or pie crust, sprinkle and bake
Spritz a little olive oil onto chips, toss and bake 3 minutes for Cinnamon Chips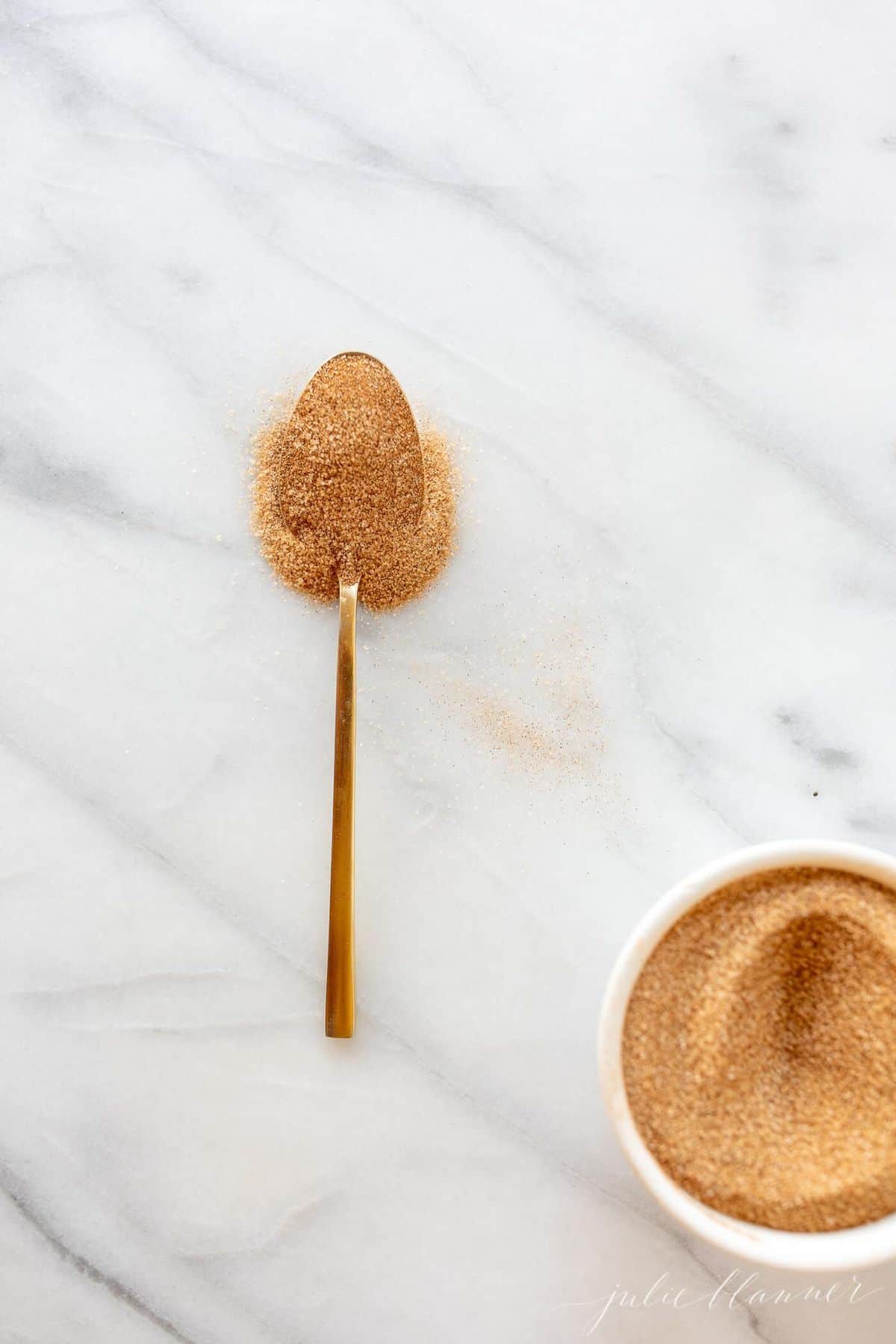 Favorite Cinnamon Sugar Recipes
Cinnamon Muffins are a delicious treat for brunch or dessert. Dipped in butter and rolled in cinnamon and sugar, these muffins are dreamy!

Pumpkin Muffins

are the perfect fall brunch recipe. Beautifully baked and rolled in cinnamon and sugar, I dare you to stop at just one!

Sprinkle cinnamon and sugar in these homemade

cinnamon rolls

. Breakfast has never been better.

Cinnamon Roll Bread

is so easy to make, and topped with cinnamon and sugar! No one will ever guess it only takes 10 minutes to mix up this recipe!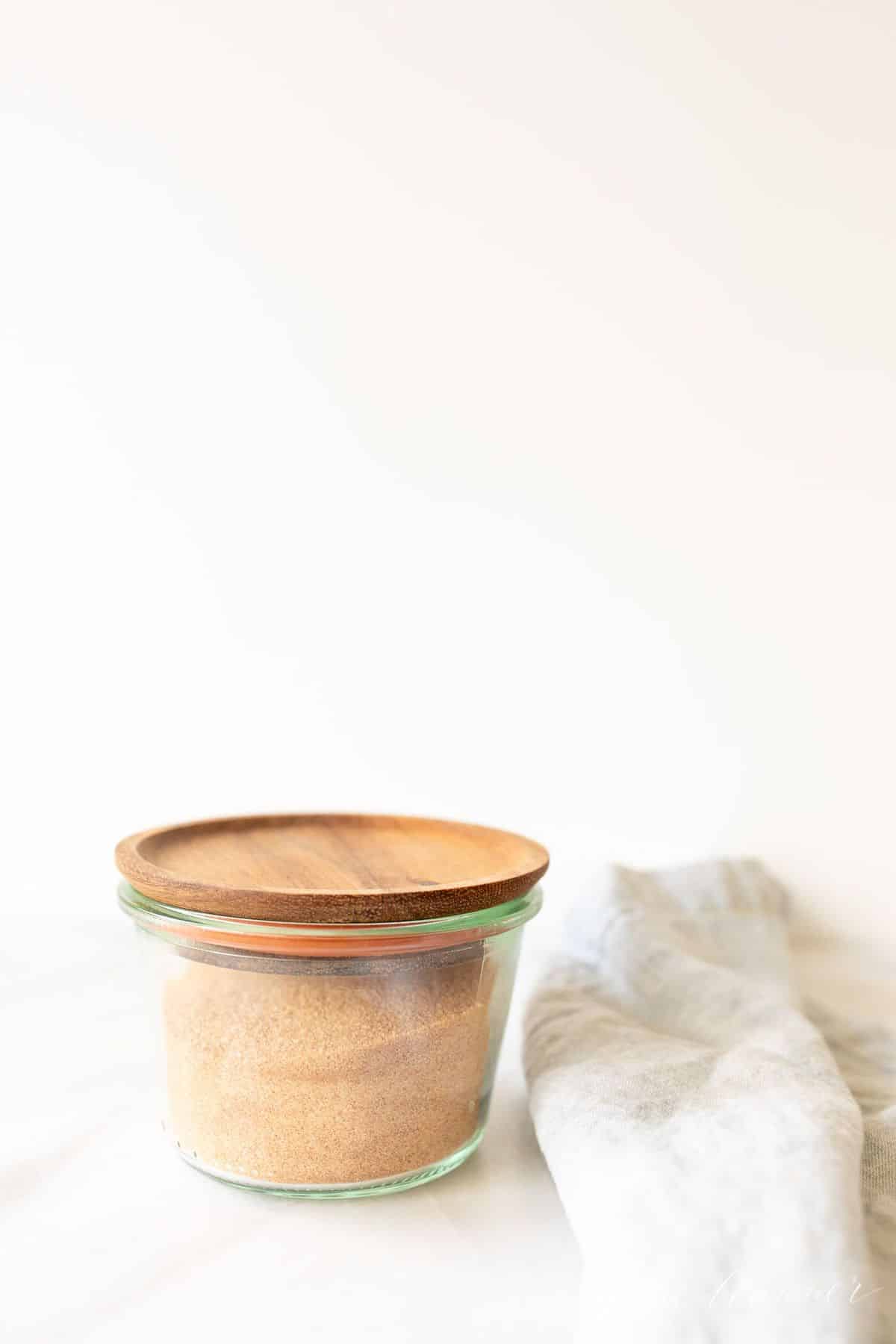 Storing Cinnamon and Sugar
I like to store my spice mixes in airtight glass jars. This spice mix will last several months in a cool dark place. Your pantry or cupboard are great storage places.
It will keep up to a year!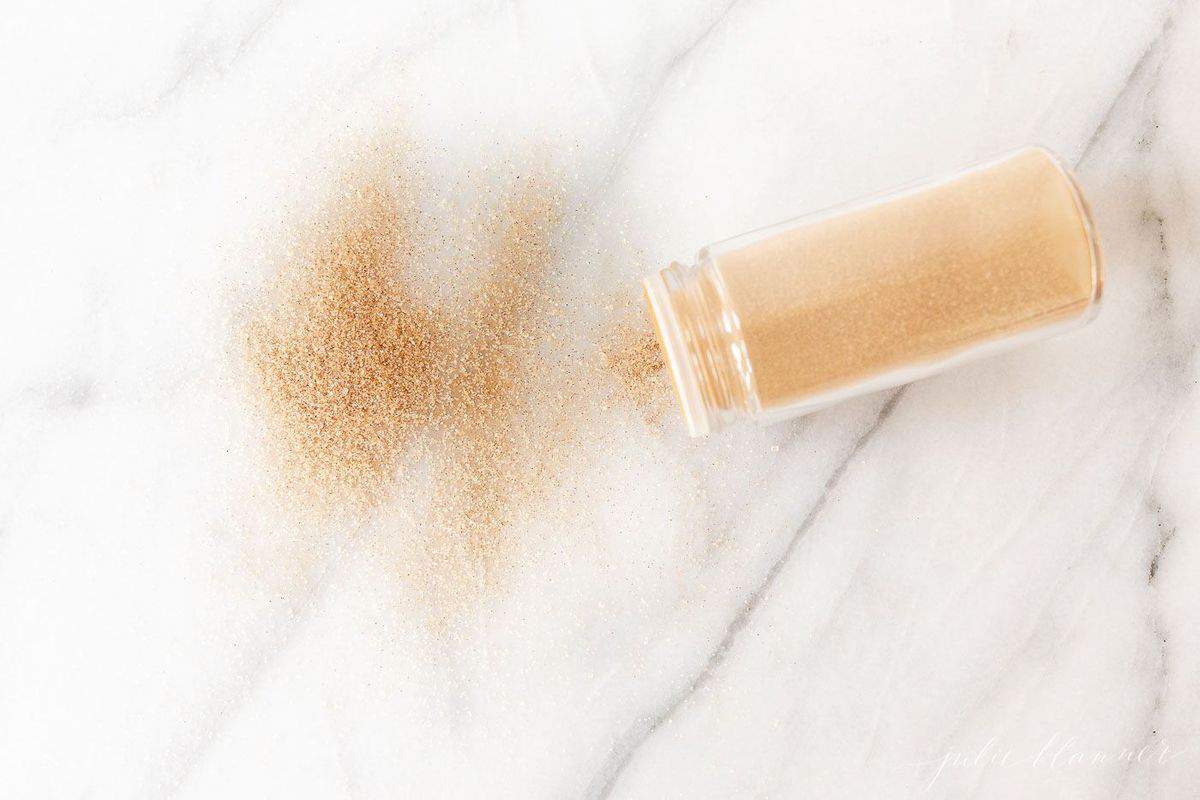 Measuring Tools
Here are some of my favorite measuring tools for the kitchen!
These are my favorite

measuring spoons

and have served me well, in all my baking needs. They come in ¼ teaspoon, ½ teaspoon, 1 teaspoon, and 1 tablespoon.

I have these

measuring cups

in copper. I love that they are modern, stylish, and functional. They come in 1/4 cup, 1/3 cup, 1/2 cup, and 1 cup.

These are my favorite

mixing bowls

. They come in three different sizes with plastic lids for stacking and storage. They also make transportation easier and spill free.
Get my free Measurement Conversion Chart here.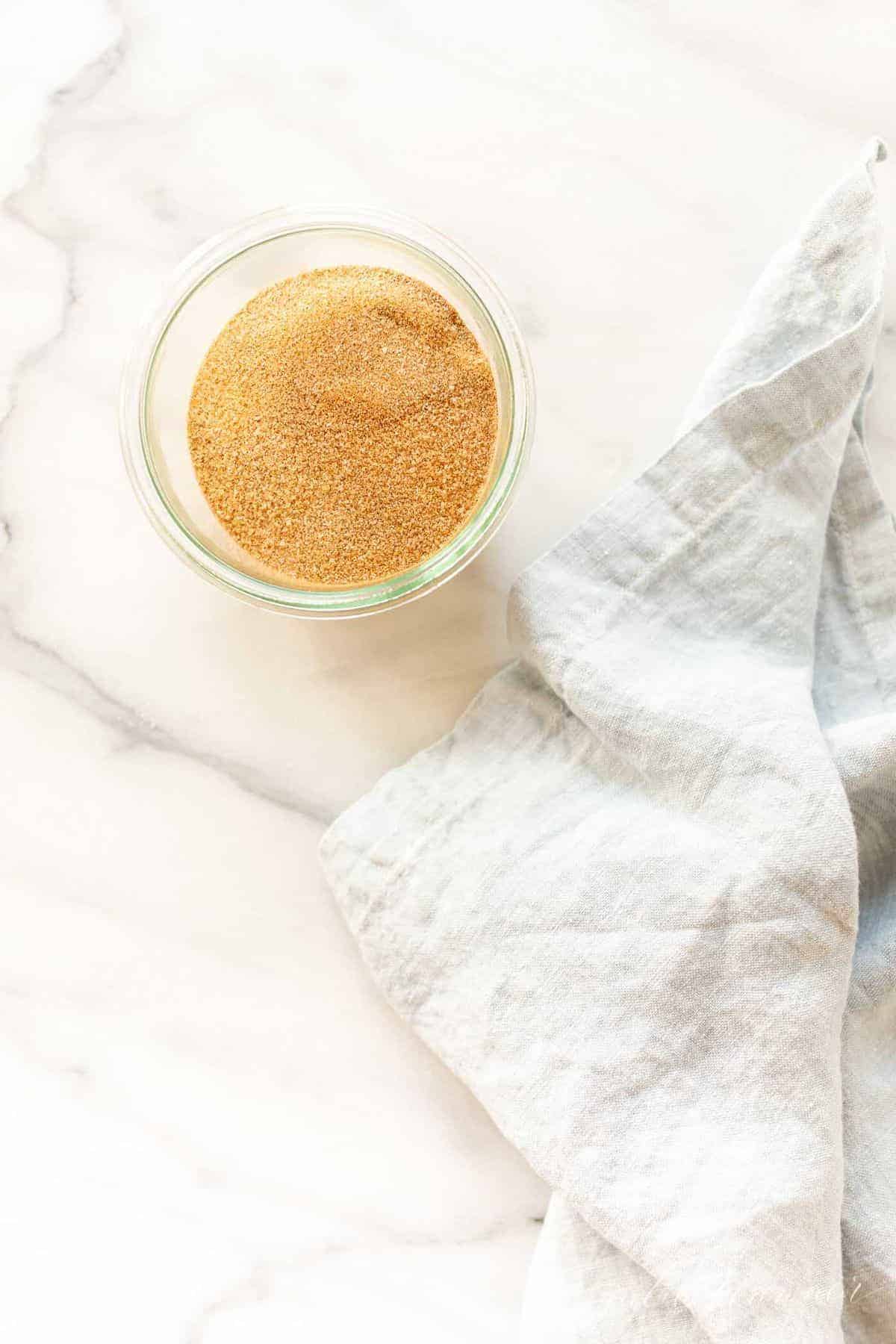 Please leave a comment below. I'd love to hear from you! If you make this cinnamon sugar recipe, come back and leave a review. You can also pin it to save for later.
More Spice Recipes
Homemade

Allspice

recipe is only 3 ingredients; Cinnamon, Nutmeg, Cloves. It has a wonderful aroma. You can add it to either sweet or savory dishes.

Pumpkin Spice blend is perfect for so many of your fall baking needs!

Mulling Spices

is the ultimate fall and holiday spice blend. Perfect for adding to coffee, wine, or baking.

Bread Dipping Spices

is the perfect blend of savory spices. I love to mix these spices with olive oil and serve with

artisan bread

for dipping.

Apple Pie Spice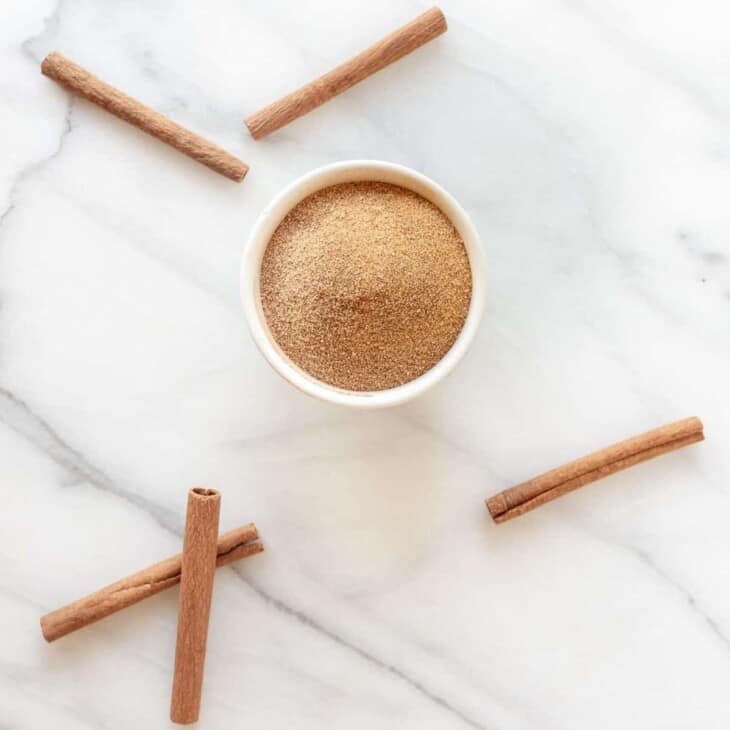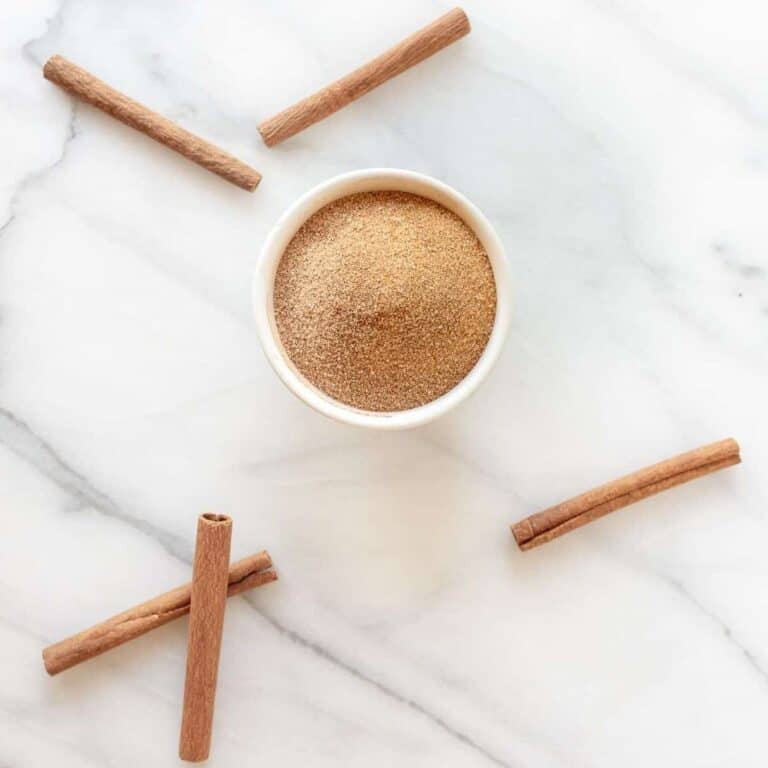 Classic Cinnamon Sugar Recipe
Learn how to make a cinnamon sugar recipe mix using only 2 ingredients! Enjoy this sweet, fragrant addition to your favorite fall desserts, sweet bread, cinnamon toast, and even coffee with the perfect cinnamon sugar ratio.
Ingredients
¼

cup

cinnamon

1

cup

white granulated sugar

granulated
Instructions
Thoroughly combine sugar and ground cinnamon in a glass mixing bowl.

Scoop or funnel into a spice jar.
Tips
Tips
Adjust the ratio to your preference
Store in an airtight container
Nutrition Information
Serving:
1
teaspoon
,
Calories:
12.94
kcal
(1%)
,
Carbohydrates:
3.34
g
(1%)
,
Protein:
0.01
g
,
Fat:
0.01
g
,
Sodium:
0.03
mg
,
Fiber:
0.01
g
,
Sugar:
3.33
g
(4%)
Estimated nutrition information is provided as a courtesy and is not guaranteed.