Check out these easy ideas for Thanksgiving Table Decor. Creating a Thanksgiving table setting is easier than you'd think – I've got so many ideas for Thanksgiving centerpieces!
Bonus? Most can be created in five minutes or less, with grocery store items.
Whether you're hosting a large crowd or it's an intimate family gathering, make it easy on yourself this year! There are so many ways to create a special but easy Thanksgiving centerpiece.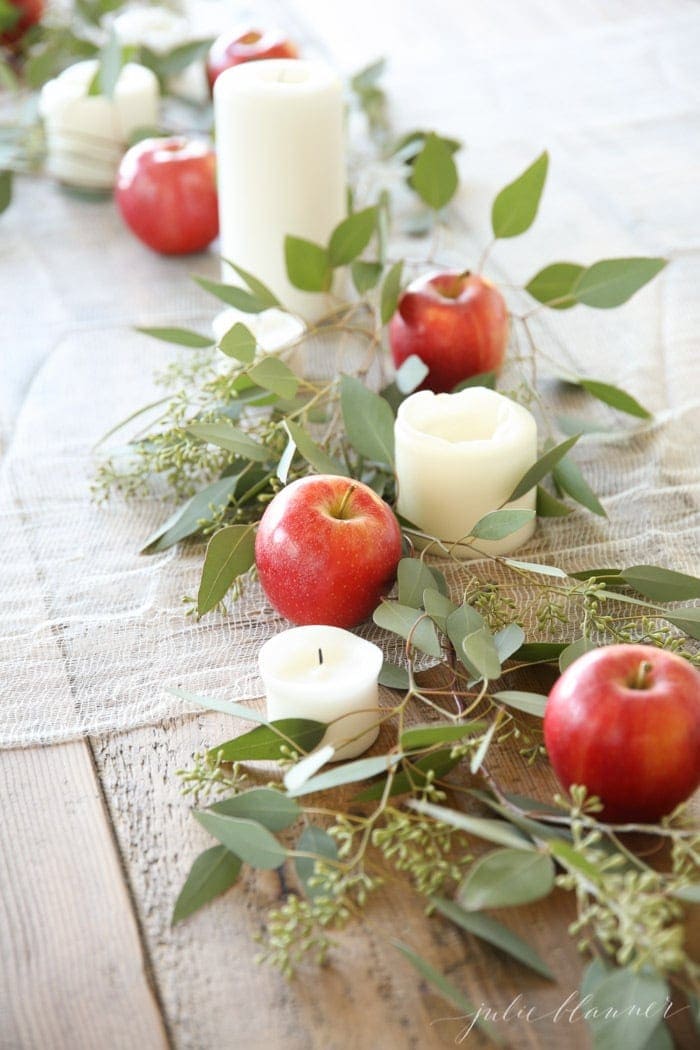 I have been feeling extremely grateful lately. Maybe it's that November is upon us and it's a great time to reflect on all of the blessings in our lives. Or maybe it's just that I've taken a few days to sit back and just "be."
Whatever it is, I've been feeling so thankful that you share the same passions and enjoy celebrating everyday life in many of the same ways. I recently wrote a complete Guide to Hosting Thanksgiving and even a guide for How to Host a Virtual Thanksgiving – you'll find everything you need and more!
Or, just start with this round-up of the Best Fall Cookies and Favorite Fall Recipes to make sure your celebrations are off to a good start- and don't forget 30 Thanksgiving appetizers when you start planning your menu.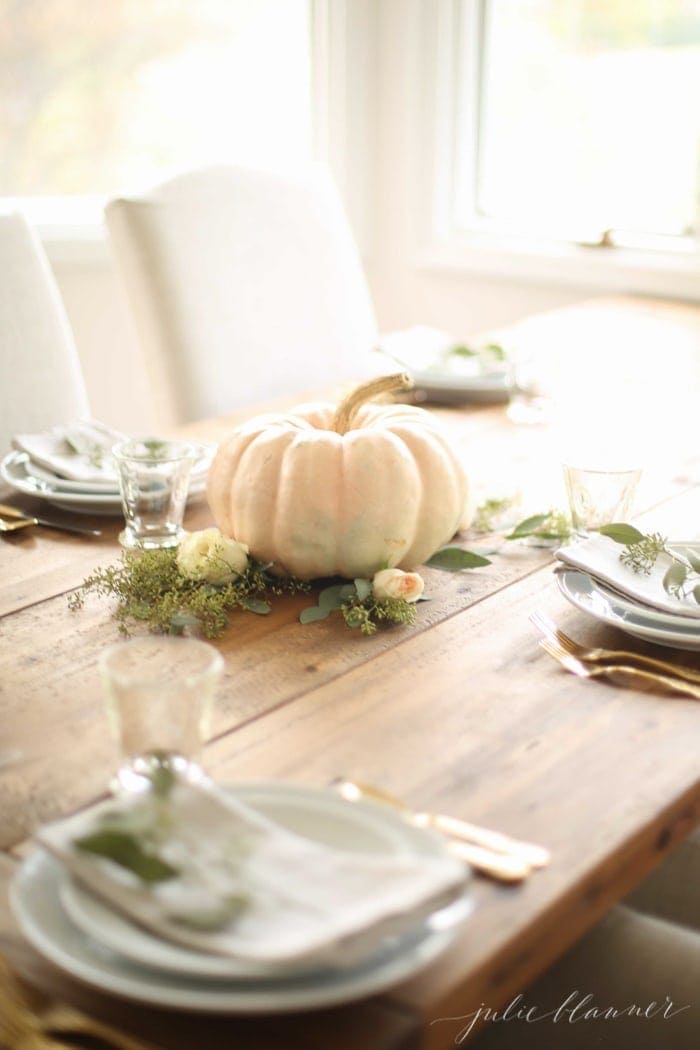 Over the years I have created so much inspiration for Thanksgiving table decor. I'm so glad you're joining me for a round-up of Thanksgiving centerpieces! Let's celebrate the abundance in our lives!
Simple Thanksgiving Table Decor
One of my best tips for creating a simple and elegant Thanksgiving centerpiece? Shop your own home!
The pumpkins in a few of these ideas came from my fall front porch and later became part of my Pumpkin Centerpiece with the addition of flowers and seeded eucalyptus.
Use trays, platters, plates and candles that you gather from a stash of family heirlooms, thrift stores or the back of a cabinet at grandma's.
I love a good wheat Sheaf and this DIY Wheat Sheaf can add fall feelings to any simple Thanksgiving table setting. I created this initially for my door, but brought it in for entertaining when the occasion called for a pretty centerpiece!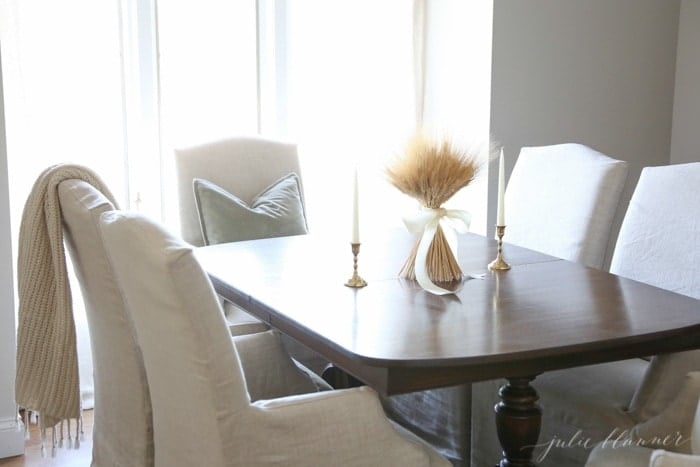 Creating a Timeless Thanksgiving Table Setting
I often talk about my favorite entertaining pieces – the versatile essentials that I use to create pretty and simple Thanksgiving table settings, bars and more, but I know that selecting entertaining essentials can feel cumbersome or expensive.
As a self-proclaimed minimalist, I try to only purchase pieces that I know will be used frequently. A few investment pieces will last you for years and can be used throughout the seasons when chosen carefully!
Easy Thanksgiving Centerpieces
20 Simple Thanksgiving Centerpieces
Get 20 of my very best ideas for creating a Thanksgiving centerpiece and Thanksgiving table settings your guests will love! Learn how to create simple, yet unforgettable Thanksgiving table decor.
You can see more of my minimalist favorites and subscribe on YouTube here!
I hope you enjoyed some of my favorite Simple Thanksgiving table settings I've created through the years. I'd love to see your Thanksgiving table arrangements, please come back and share with me if you create any of these!