Check out these Simple Thanksgiving Table Settings that can spruce up any Thanksgiving meal. 
I have been feeling extremely grateful lately. Maybe it's that November is upon us and it's a great time to reflect on all of the blessings in our lives, or maybe it's just that I've taken a few days to sit back and just "be." Whatever it is, I've been feeling so thankful that you share the same passions and enjoy celebrating everyday life in many of the same ways.
I often talk about my favorite entertaining pieces  – the versatile essentials that I use to create pretty and simple Thanksgiving table settings, bars and more, but I know that selecting entertaining essentials can feel cumbersome or expensive. I hope you enjoy some of my favorite Simple Thanksgiving table settings I've created through the years.
Simple Thanksgiving table settings: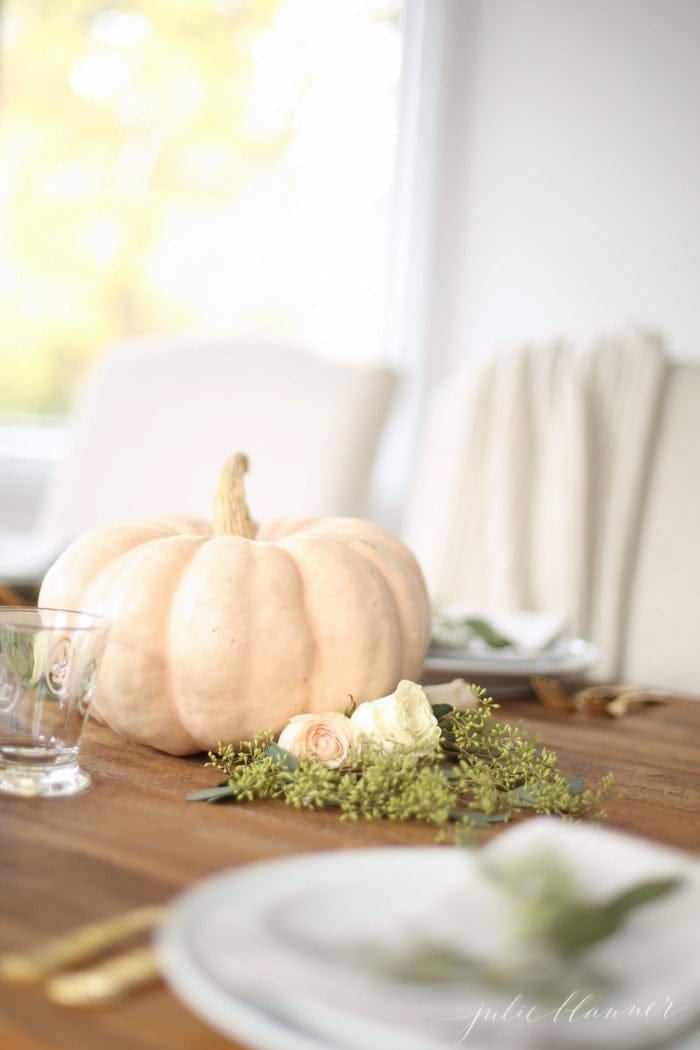 First off, Pumpkins are easy decorations to reuse throughout your house. These pumpkins came from my fall front porch and later became part of my Pumpkin Centerpiece with the addition of flowers and seeded eucalyptus.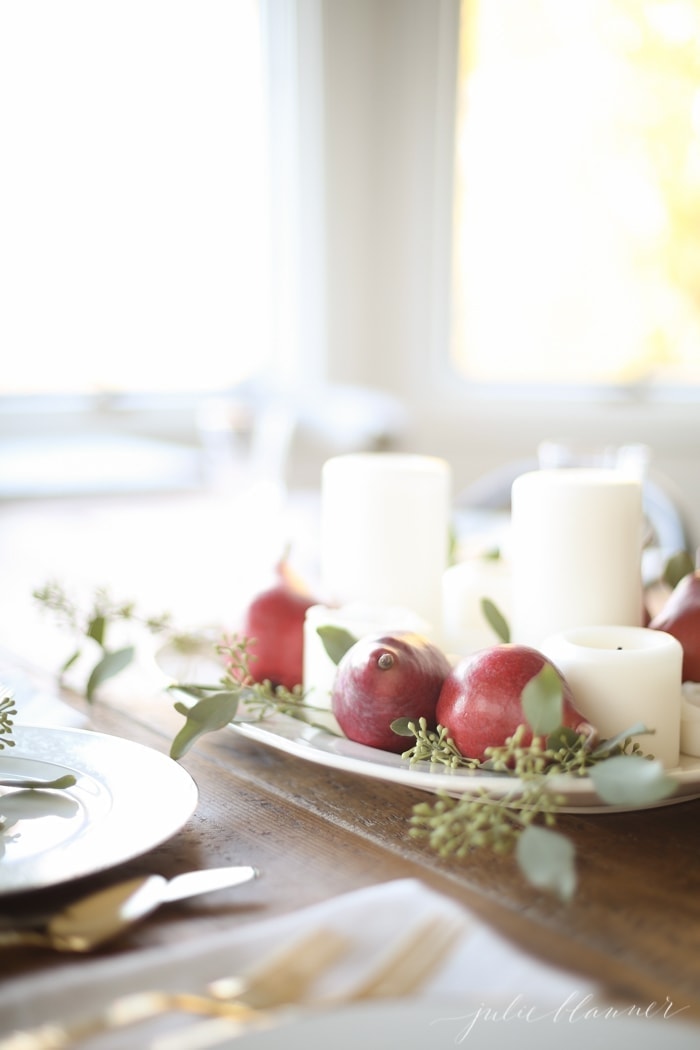 This Candles and Pears Thanksgiving table setting gives height dimensions while still allowing for a functional table.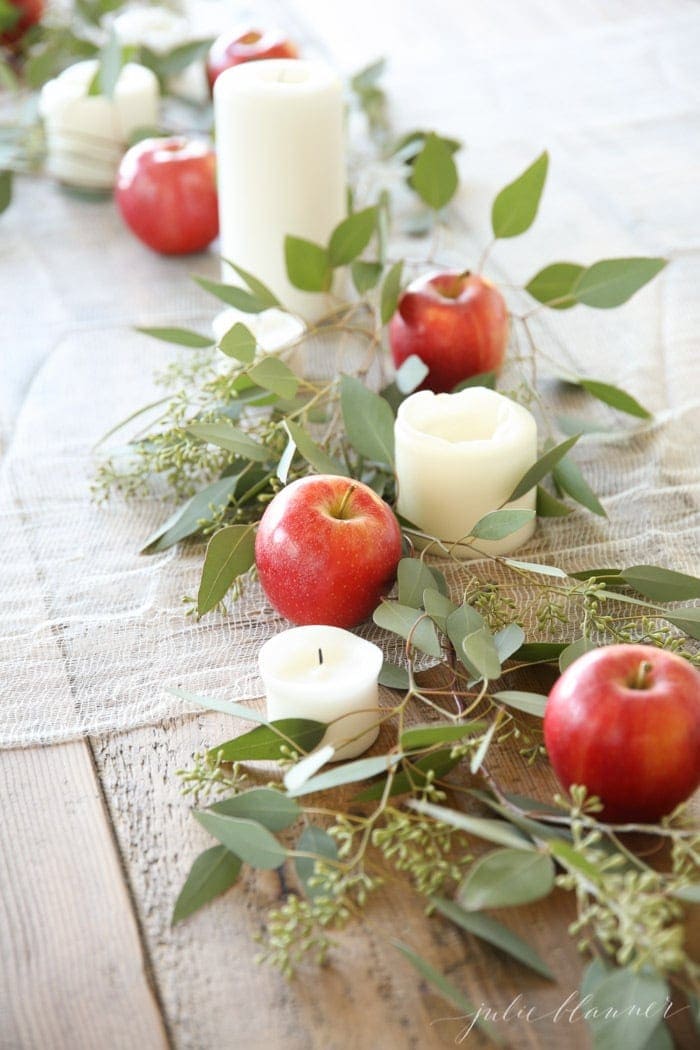 My Apple Table Runner gives any table arrangement a pop of bright red.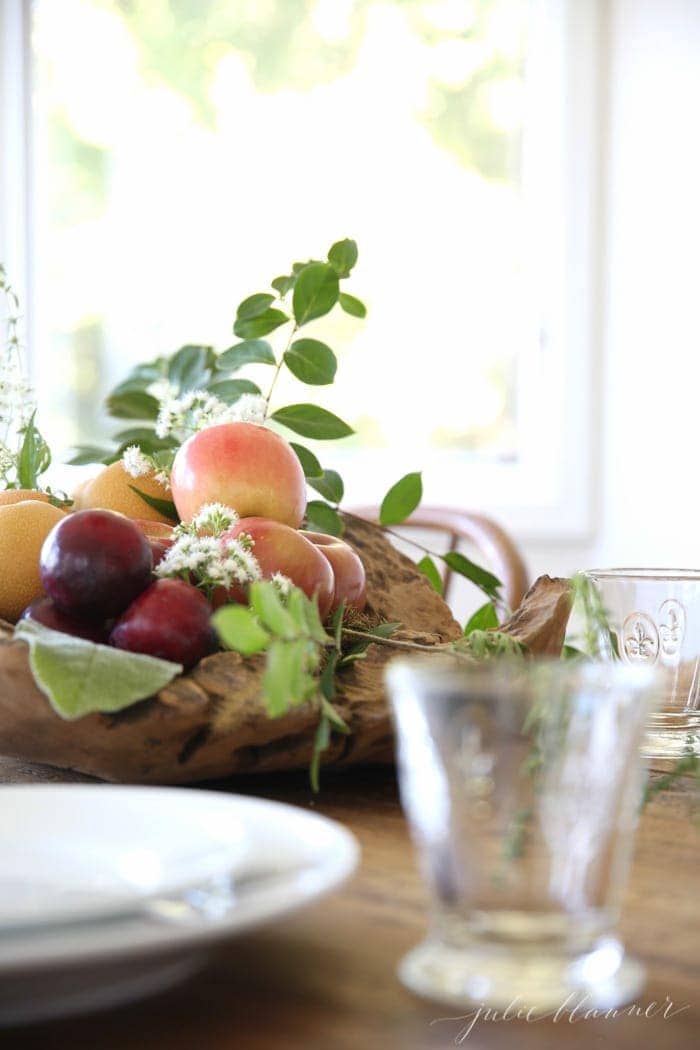 This simple Thanksgiving table setting uses lots of natural elements that show off its Bountiful Fruits.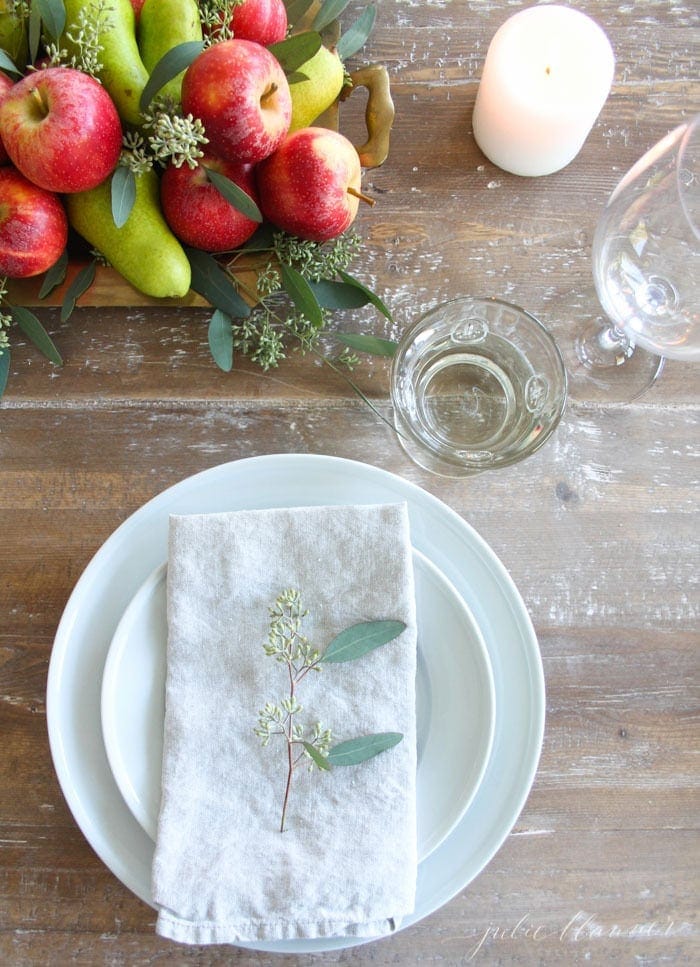 I love being able to use fruits to add color and variety, and this simple Apple and Pear Platter will make any Thanksgiving table arrangement shine.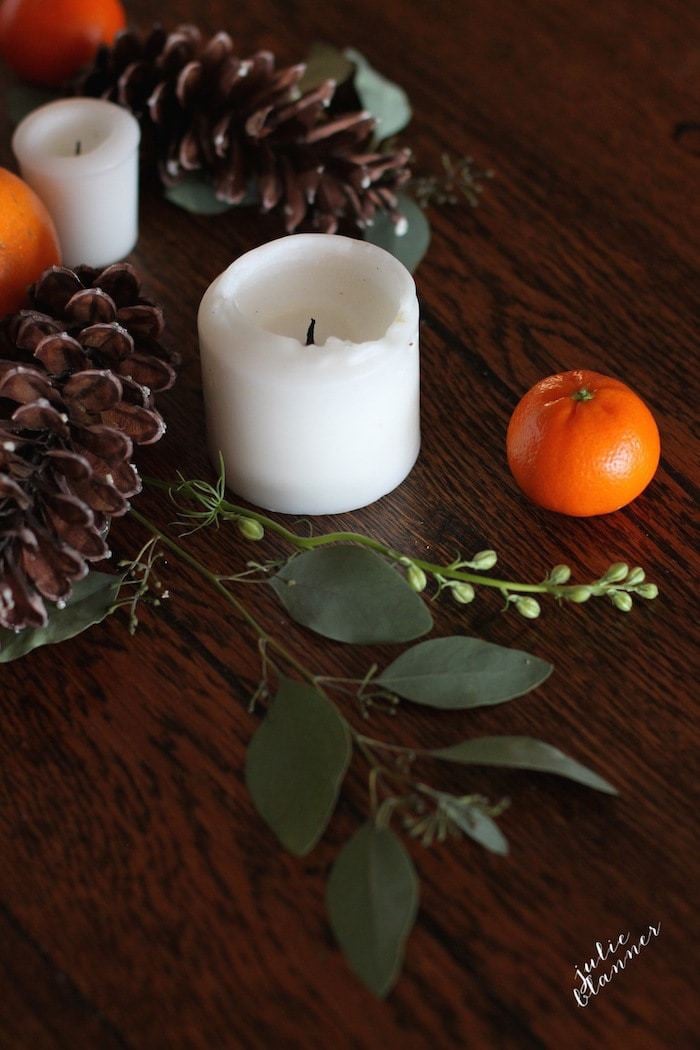 A Floral Table Runner gives the suggestion of potpourri and that unexpected pop of orange color.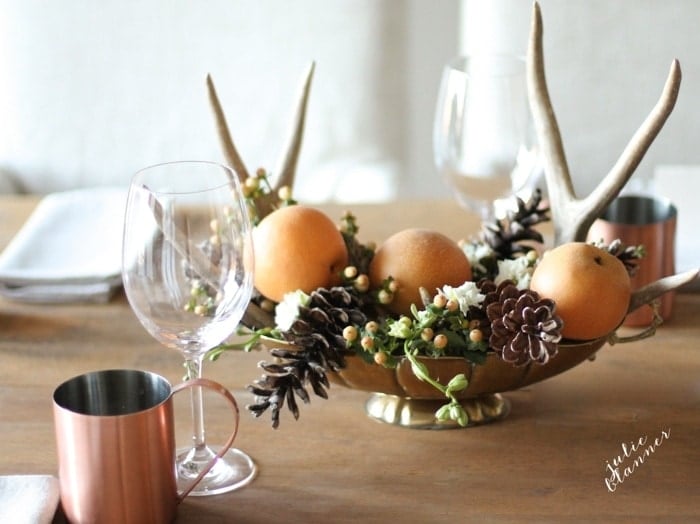 Next, my Thanksgiving table arrangement with Antlers and Apple Pears creates a height dimension to the table.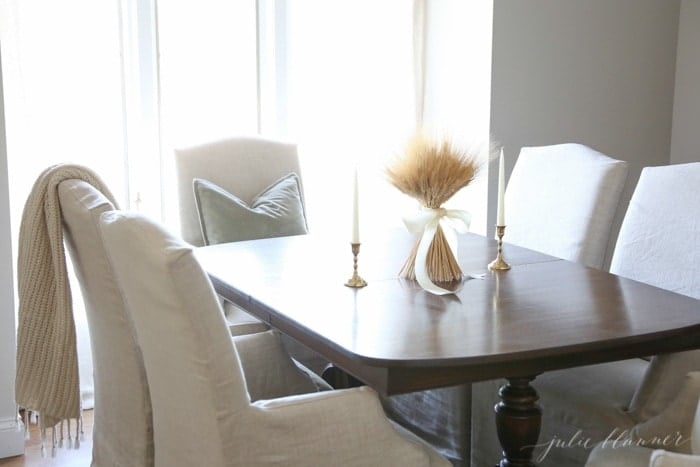 I love a good wheat Sheaf and this DIY Wheat Sheaf can add fall feelings to any simple Thanksgiving table setting.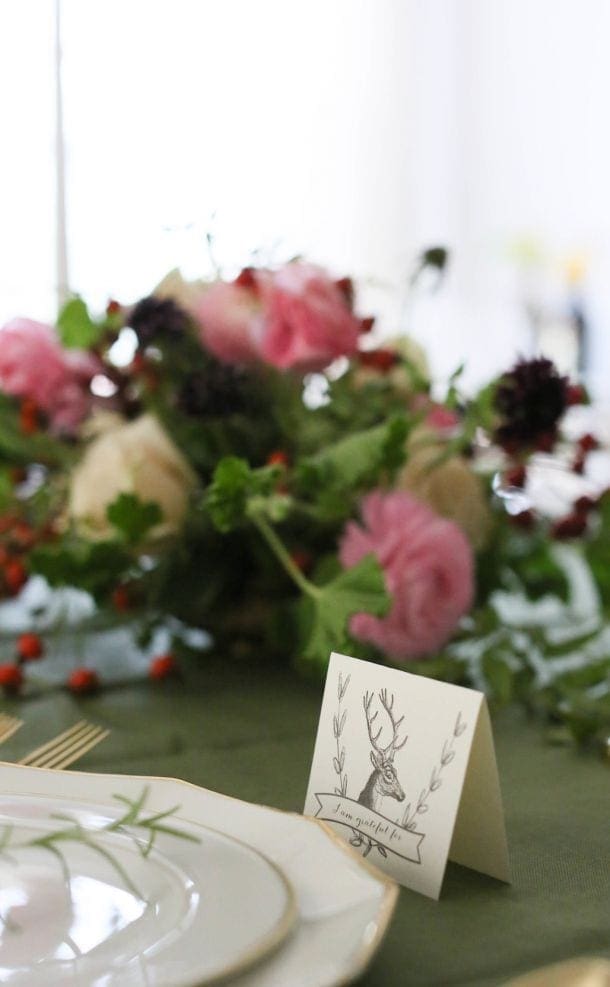 This Pink and Green Thanksgiving table arrangement made my table even more elegant.
These Pumpkins and Gourds are displayed upon some uncut onsaburg as a table runner to make simple Thanksgiving table setting.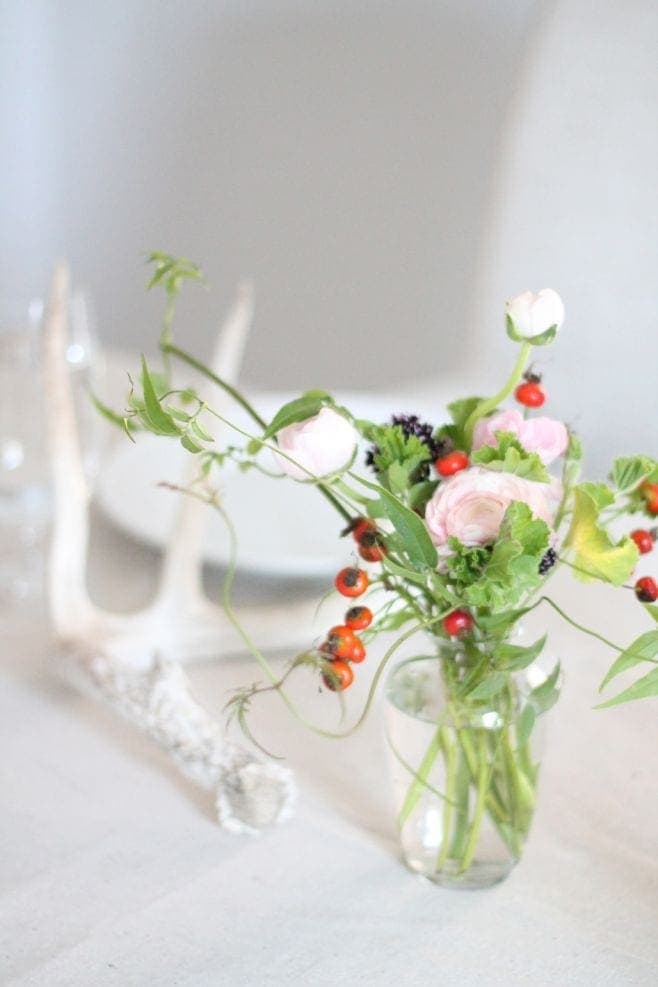 My friend Erin had made this wispy arrangement of ranunculus and berries that I paired with a Neutral and Light table setting to make the flowers really pop.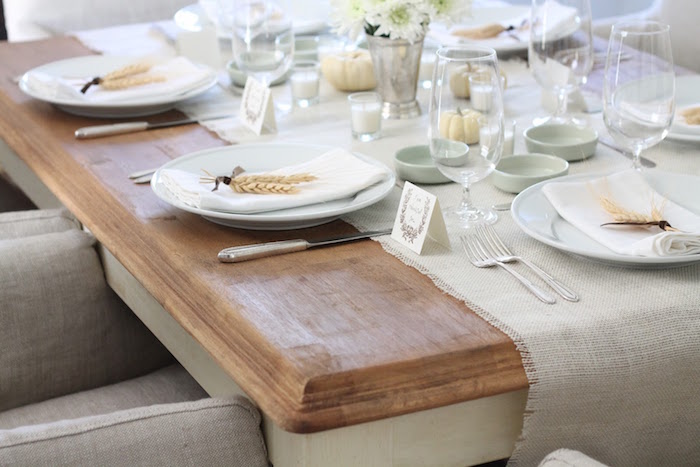 Finally, If you couldn't already tell, I really love how wheat is so versatile when it comes to decorations. This Neutral with Wheat Thanksgiving table arrangement gives feelings of fall while being simple and easy to create.
Click here to see all of my fall table settings. I'd love to see your Thanksgiving table arrangements, tag me on Instagram.
instagram | newsletter | facebook | pinterest