Balsamic Vinaigrette is a light, tangy vinaigrette that is perfect on salads and as a chicken marinade.
You can make this homemade vinaigrette in just a few minutes by whisking together or shaking a blend of herbs, spices, oil and vinegar.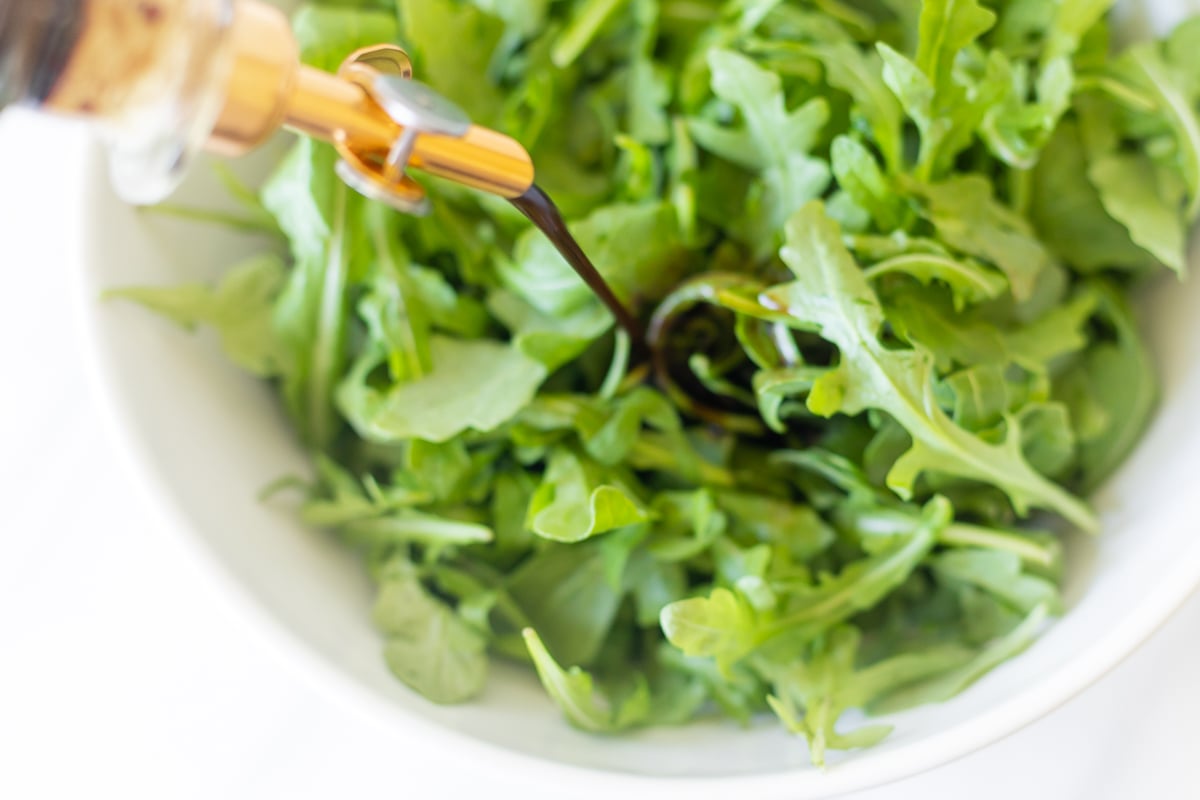 A delicious and easy homemade salad dressing recipe that is better than store-bought? Balsamic Vinaigrette is made with just a few simple ingredients.
Balsamic Vinaigrette
It's perfect for drizzling over fresh greens, pasta salads, and so much more!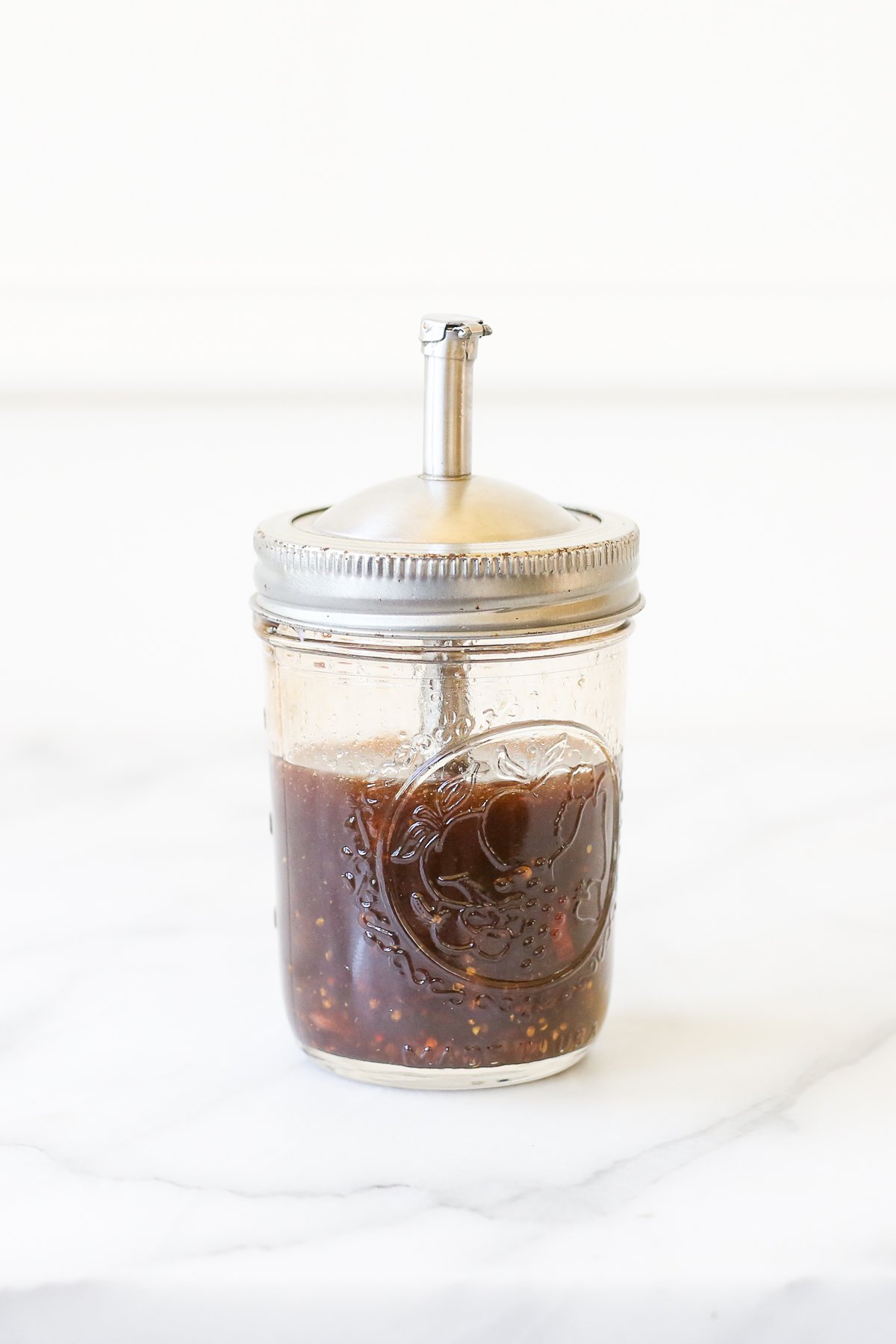 Olive Oil – Use a high quality olive oil like extra virgin olive oil for the best flavor.
Balsamic Vinegar – Authentic, traditional aged balsamic vinegar is made from grapes grown in Italy that have been fermenting for at least 12 years!
Dijon Mustard – A little Dijon adds a lot of flavor and helps bind the ingredients together. Mustard seeds give it a little added texture.
Shallot – Shallots are similar to onion but pack even more amazing flavor.
Garlic – Minced garlic or fresh whole cloves, minced. Learn How to Mince Garlic here.
Salt and Pepper – Fresh cracked salt and pepper, to taste.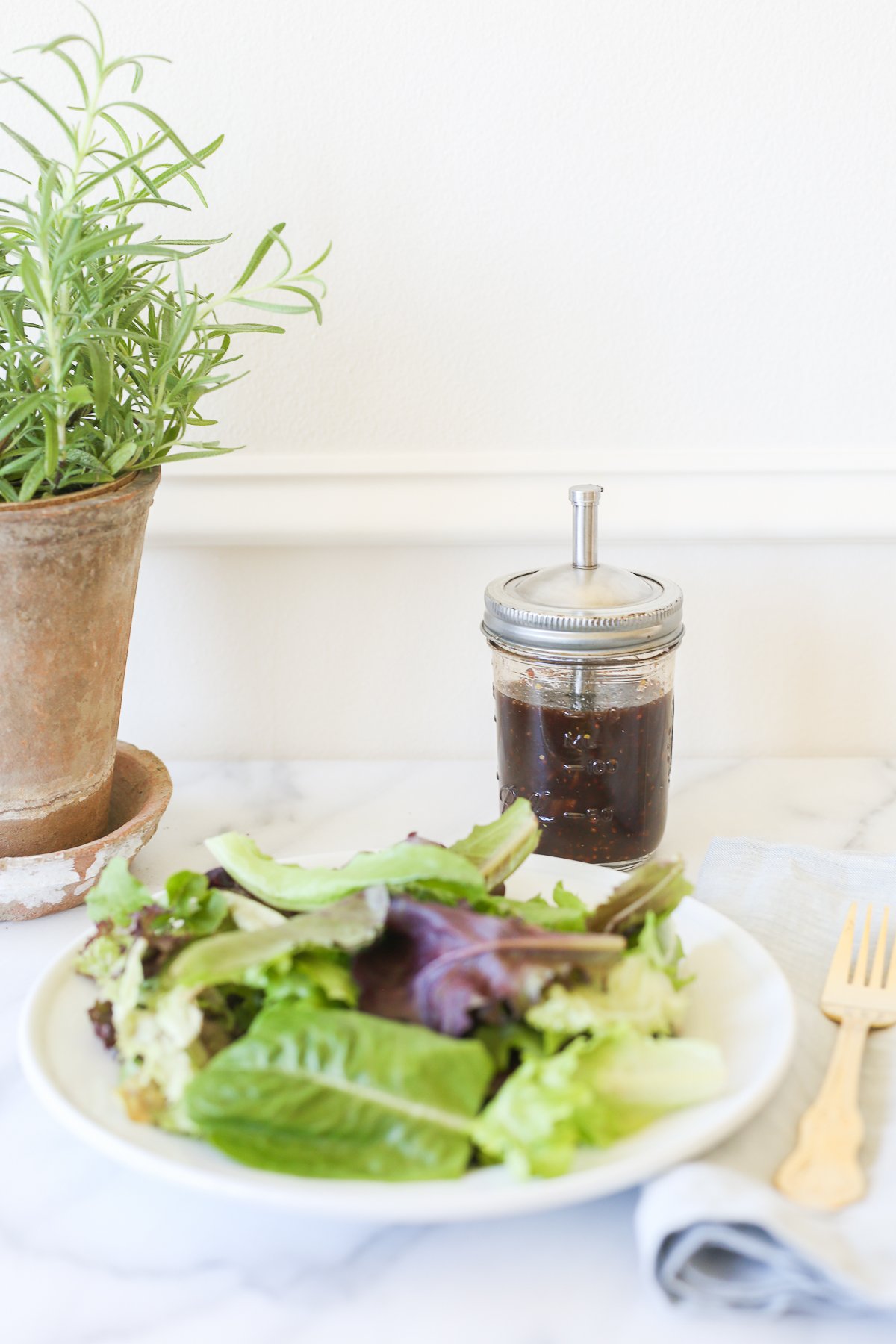 How To
Prep – Slice shallots. Combine ingredients in a shakeable jar or food processor.
Serve – Refrigerate for 30+ minutes to allow ingredients to marinate. Give it a good shake when you're ready to serve!
Cheeses – Pair with blue cheese, parmesan, and or sharp cheddar.
Fruits – Pair with apples, pears, peaches, and grapes as well.
Greens – Any leafy greens, including spinach, lettuce, and kale.
As a Marinade – This balsamic vinaigrette also makes an excellent marinade for grilled or baked chicken breast.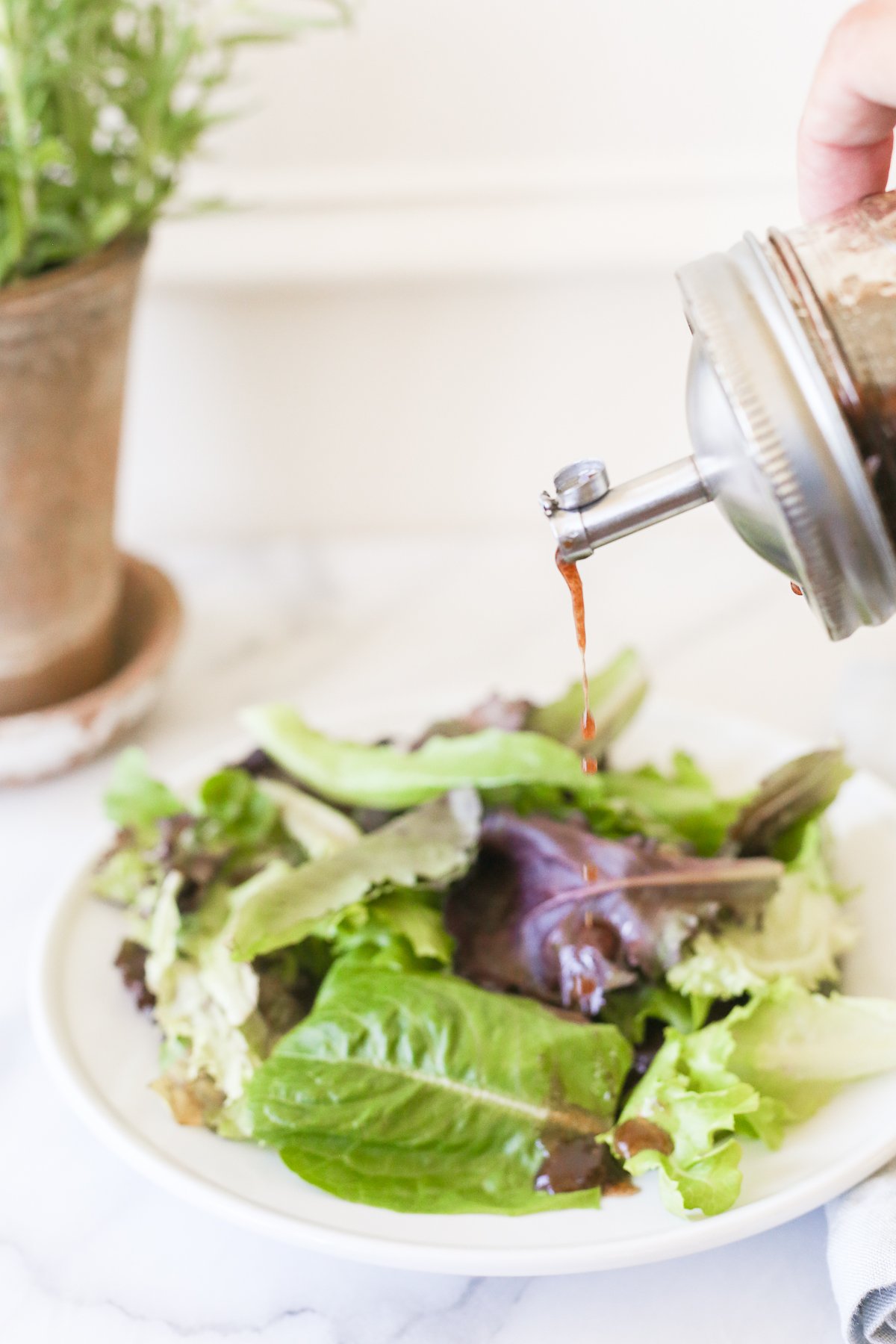 How to Store
Room Temperature – Keep at room temperature up to two hours.
Refrigerate – This healthy balsamic vinaigrette recipe lasts up to a week when stored in an airtight container in the refrigerator.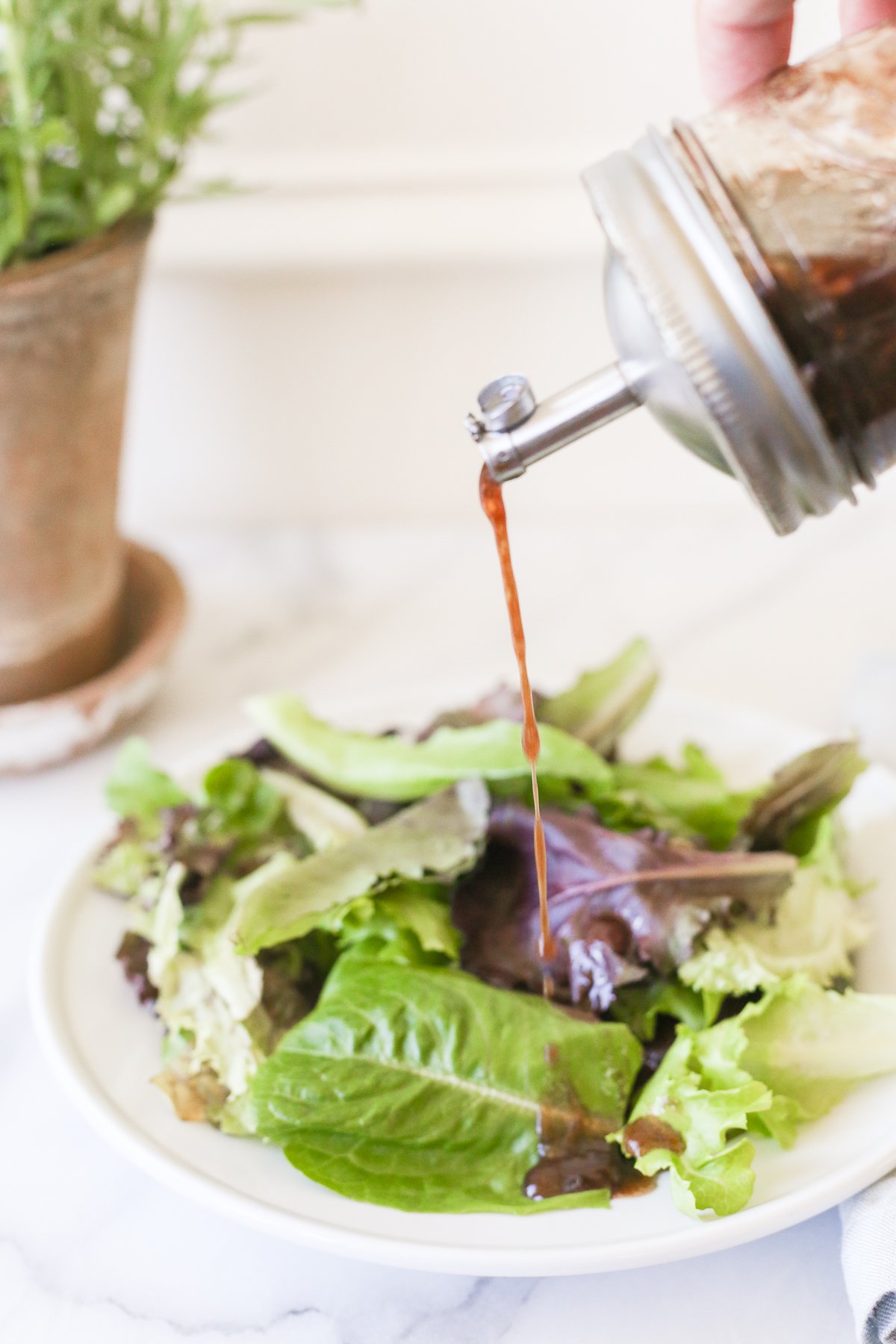 Can I make a large batch of the homemade balsamic vinaigrette recipe and save it for later use?
Yes! If you use a lot of dressing throughout the week or have a larger family, making a large batch is a great idea!
Does it matter if I use aged balsamic vinegar or regular balsamic vinegar?
Aged is preferred as it adds a depth of flavor, but just use whatever you have on hand!
Can I adjust the ratio of oil to vinegar in the recipe to make it more or less tangy?
Yes! If you prefer a more balanced flavor, you can add more oil. If you prefer more tang, add more vinegar. You can also add an extra touch of Dijon mustard for even more tang!
Is fresh garlic a key ingredient in homemade balsamic vinaigrette, or can I use garlic powder instead?
Fresh is always preferred, but you can use garlic powder if you don't have any fresh garlic. You can also use garlic that comes in a glass jar!
Can I add lemon juice or other fresh herbs to this balsamic salad dressing?
Absolutely! This homemade balsamic dressing recipe is completely customizable to your personal preference. Some examples of fresh herbs you can add are parsley, oregano, or rosemary!
What if I don't have Dijon mustard?
If you don't have Dijon mustard, you can use dry mustard powder, yellow mustard, or spicy brown mustard! The mustard acts as a binding agent to bring the oil and vinegar together and add a little kick, so just use whatever you have!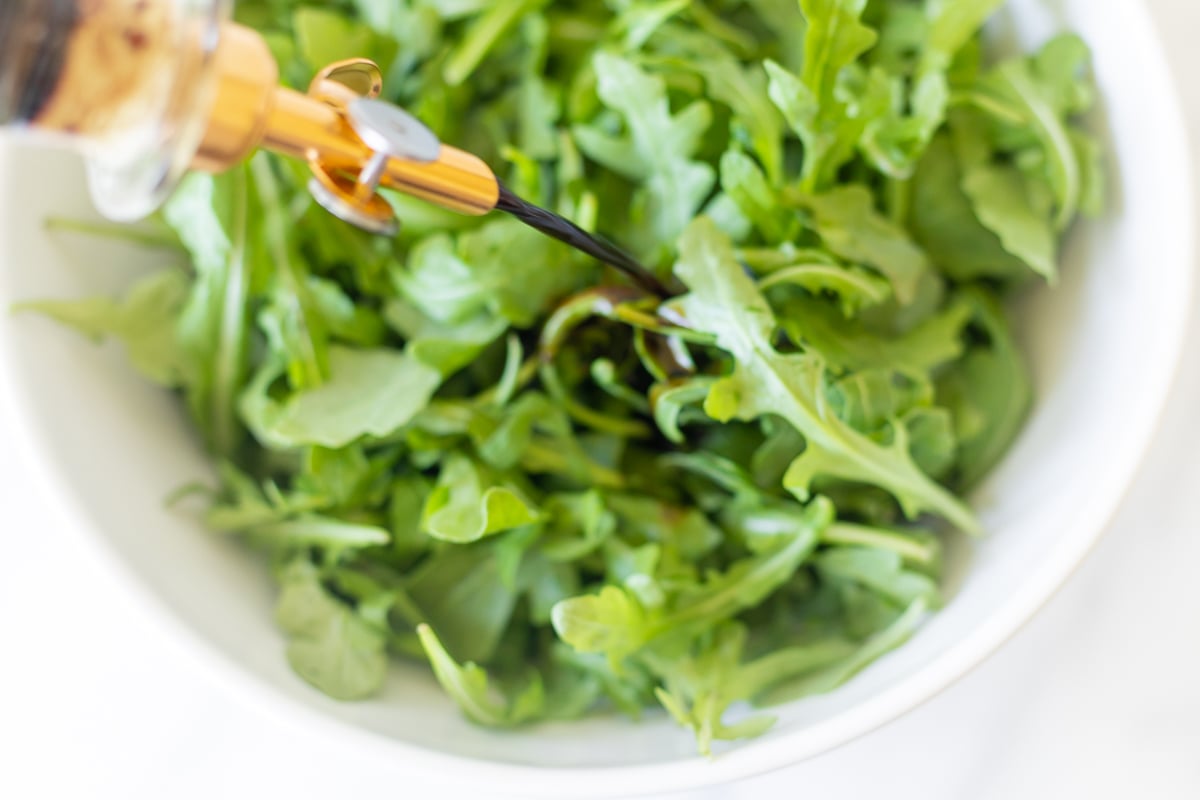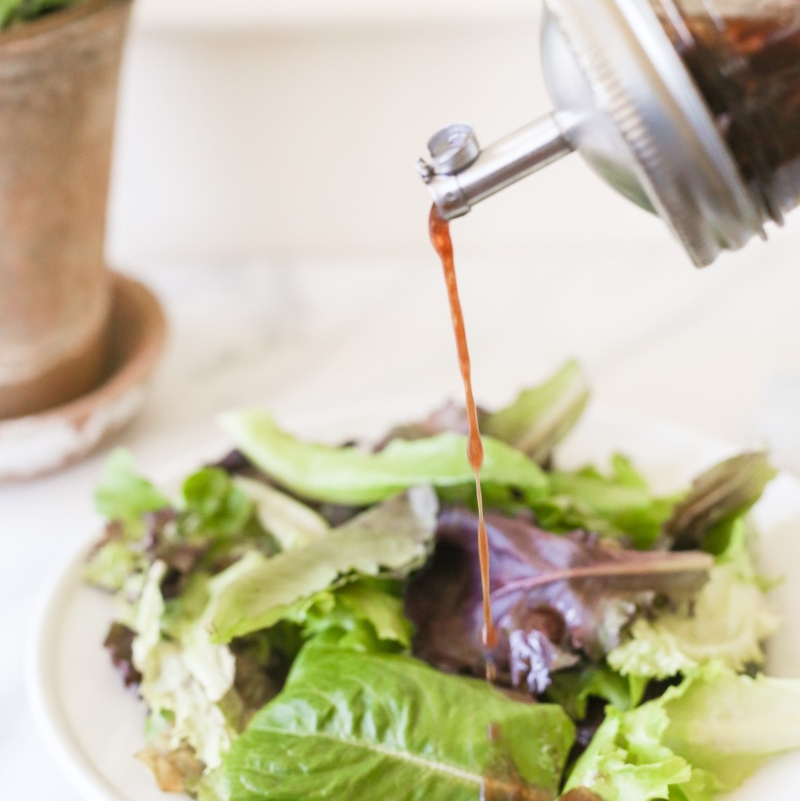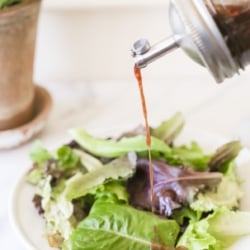 Balsamic Vinaigrette
Easy Balsamic Vinaigrette – a classic salad dressing, easy marinade for chicken and so much more!
Ingredients
⅓

cup

olive oil

¼

cup

balsamic vinegar

1

teaspoon

dijon mustard

with seeds

½

shallot

chopped

1

teaspoon

minced garlic

salt and pepper

to taste
Instructions
In a jar or food processor, combine olive oil, balsamic vinegar, dijon mustard, chopped shallot, minced garlic, salt and ppper.

Shake or process until well combined. Toss with fresh greens or use as a marinade.
Tips
To make this balsamic vinaigrette recipe creamy, blend mayonnaise or plain Greek yogurt into your dressing. You'll need to match the amounts of the oil or vinegar – so try starting with 1/4 cup of yogurt or mayonnaise and add more as needed.
Serving:
6
g
|
Calories:
118
kcal
|
Carbohydrates:
2
g
|
Protein:
1
g
|
Fat:
12
g
|
Saturated Fat:
2
g
|
Sodium:
3
mg
|
Potassium:
19
mg
|
Fiber:
1
g
|
Sugar:
2
g
|
Vitamin C:
1
mg
|
Calcium:
3
mg
|
Iron:
1
mg
Estimated nutrition information is provided as a courtesy and is not guaranteed.
Explore More