We have been working hard to
update our home
and maintain a budget over the past month.  It's time for another progress report!  
Below, you'll see the kitchen had light carpeting and dark cabinetry.  To freshen it up, we have painted the cabinetry white and replaced the carpet with
custom hardwood floors
.  As you'll see from my
previous post
, these are a little darker than what we ordered, but nevertheless, we adore them.  We also updated the cabinet pulls and knobs as well as removed the blue stain glass piece over the stove top.  The windows and refrigerator will be painted next week, making it a great space until our kitchen renovation next year where we will rework the right side of the kitchen, add Carrera marble countertops, white subway tile backsplash, remove the drywall above the cabinets, update appliances and add a farmhouse sink.  Baby steps.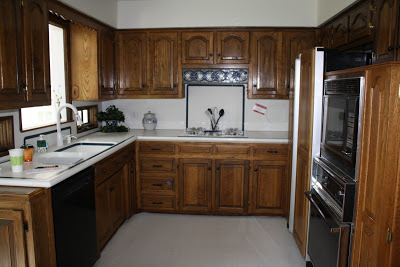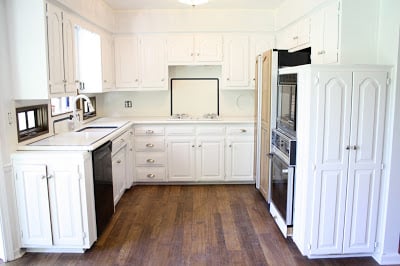 The home had dark wood moldings throughout.  While beautiful, we wanted to brighten the space.  As you'll see, they too have been painted white, providing a fresh feel.  The windows will be painted next week as well.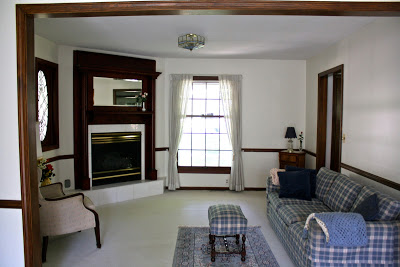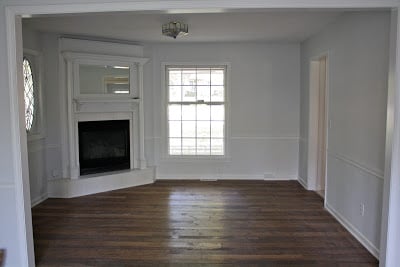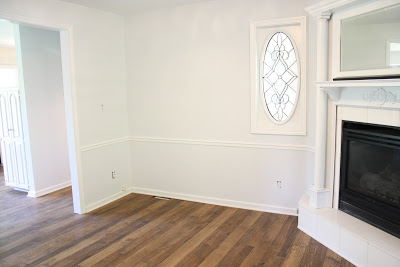 In just a few short weeks, we will call this home!  I look forward sharing more of our projects with you, including our half bath remodel for $700.