Limelight Hydrangea Trees live up to their name because they steal the show in your garden. Their lovely blooms and bright foliage elevate landscaping and add so much charm to your home.
I absolutely love beautiful blooms. They're so pretty to look at and really make a first impression, but also add beautiful indoors as well! These limelight hydrangea fill our lake house views with every changing blooms from spring to fall!
Unfortunately, the deer love them as well, so we opted to incorporate limelight hydrangea trees to protect the flowers! The added height elevates any landscaping plan and adds a little drama.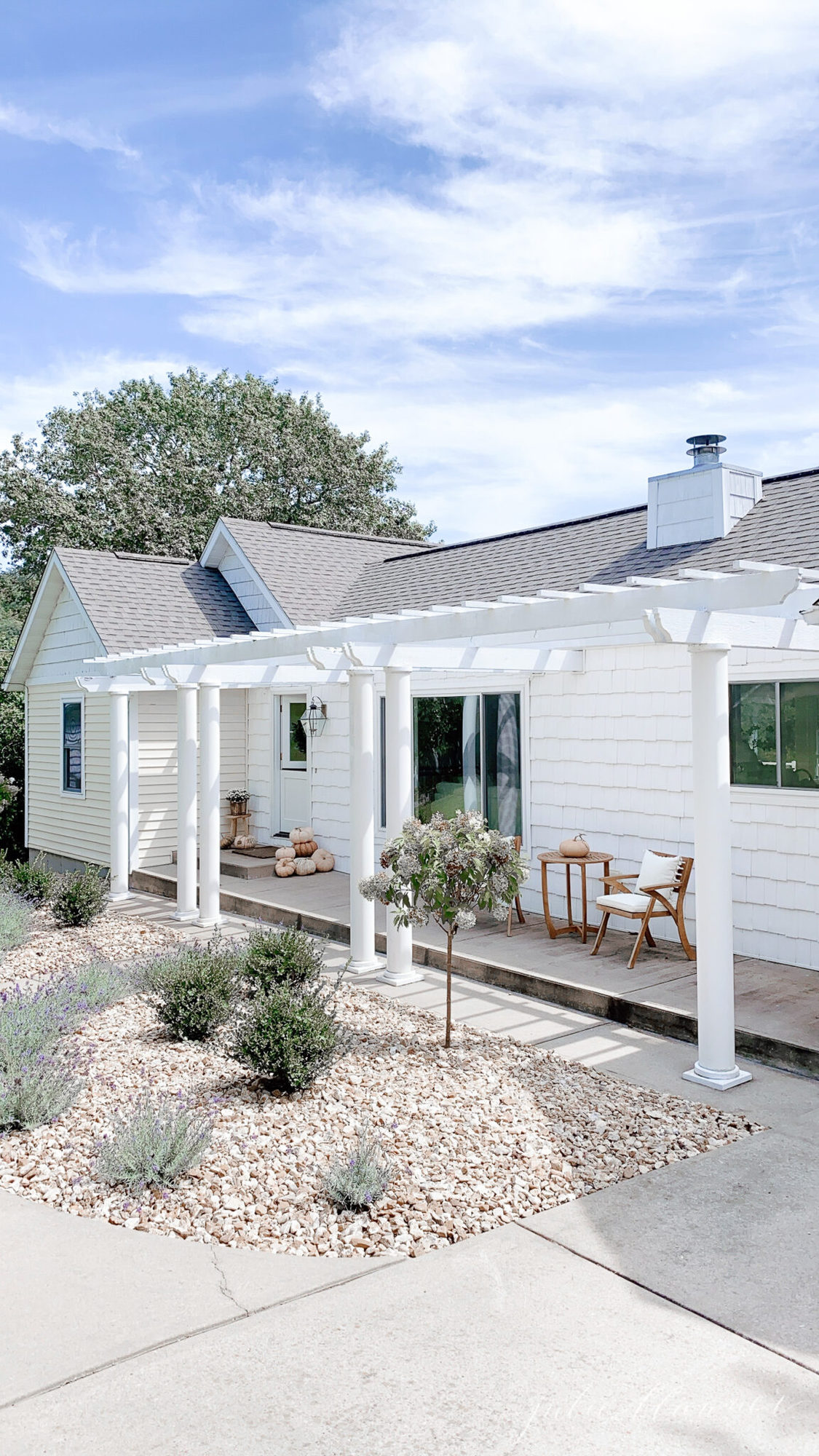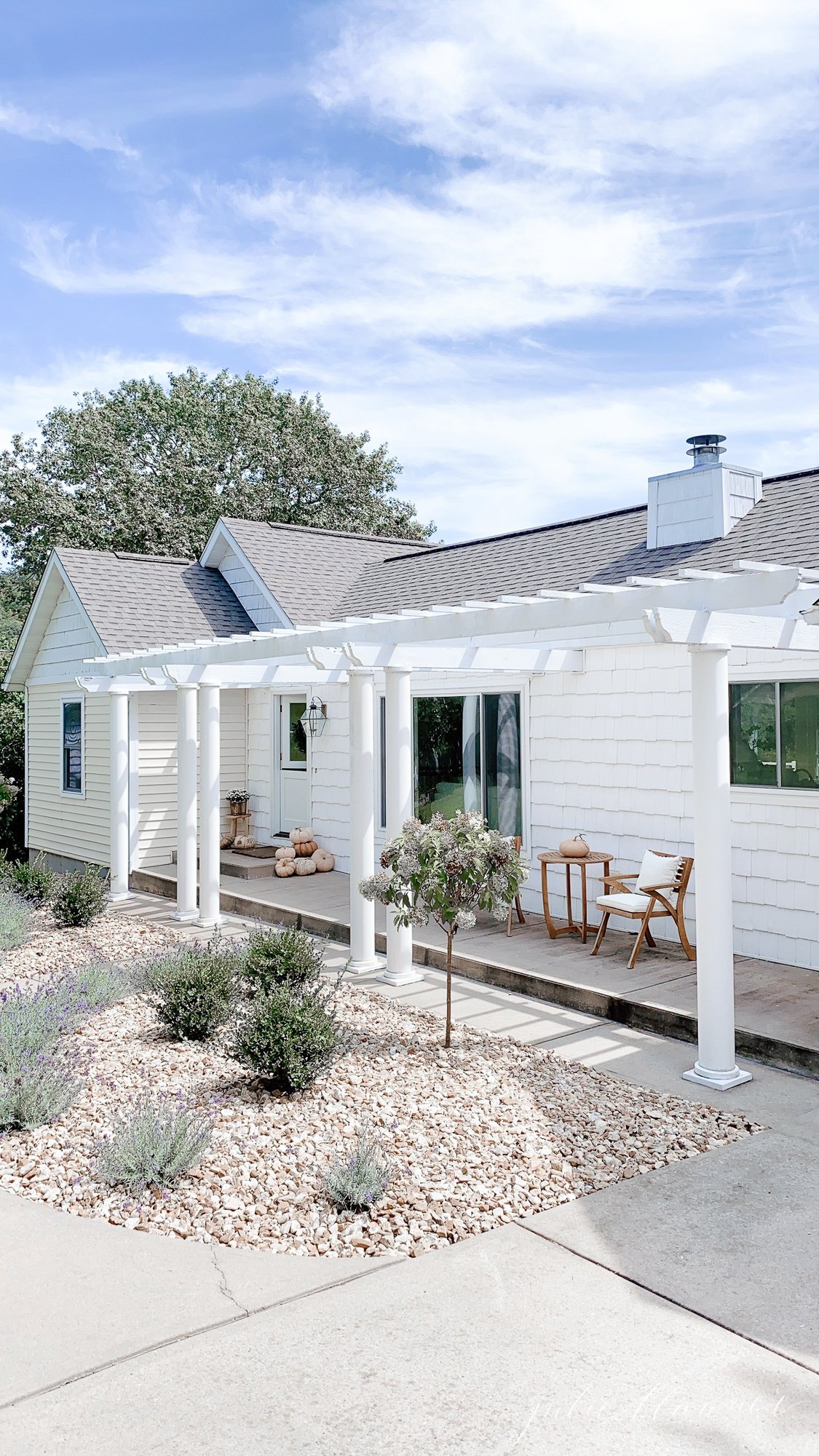 Given we are merely weekenders at the lake when time permits, we need hassle-free plants. These are a beautiful compliment to other low maintenance plants including French Lavender, English Lavender and a Lavender Tree which grow effortlessly and havea lovely fragrance and hint of color.
What is a Limelight Hydrangea Tree?
A limelight hydrangea tree is an ornamental tree that is round in shape with huge (10+") blossoms that mound at the end of branches. They are so sturdy that they do not weight the branches down or droop.
Oversized green leaves are the backdrop for light green and cream colored blooms the often turn into a beautiful pink hue in fall. And best of all – it is so easy grow.
They are low-maintenance, drought tolerant and perfect for cutting (and drying)!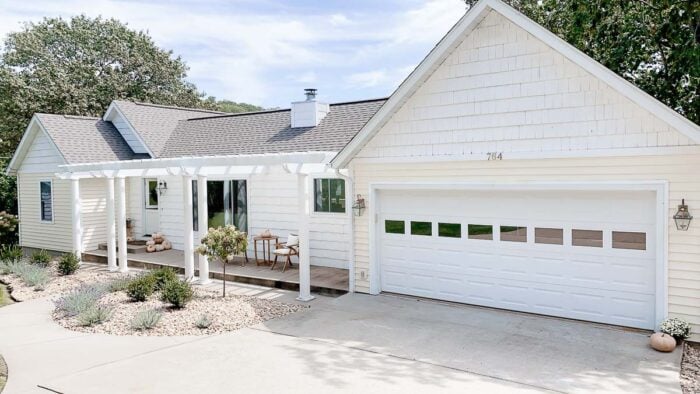 Why You'll Love Limelight Hydrangea Trees
They offer height and add interest to your landscaping
They bloom from spring to fall!
The colors changes with the seasons
Their height deters deer from enjoying the blooms
Drought tolerant
Low maintenance
Perfect for cutting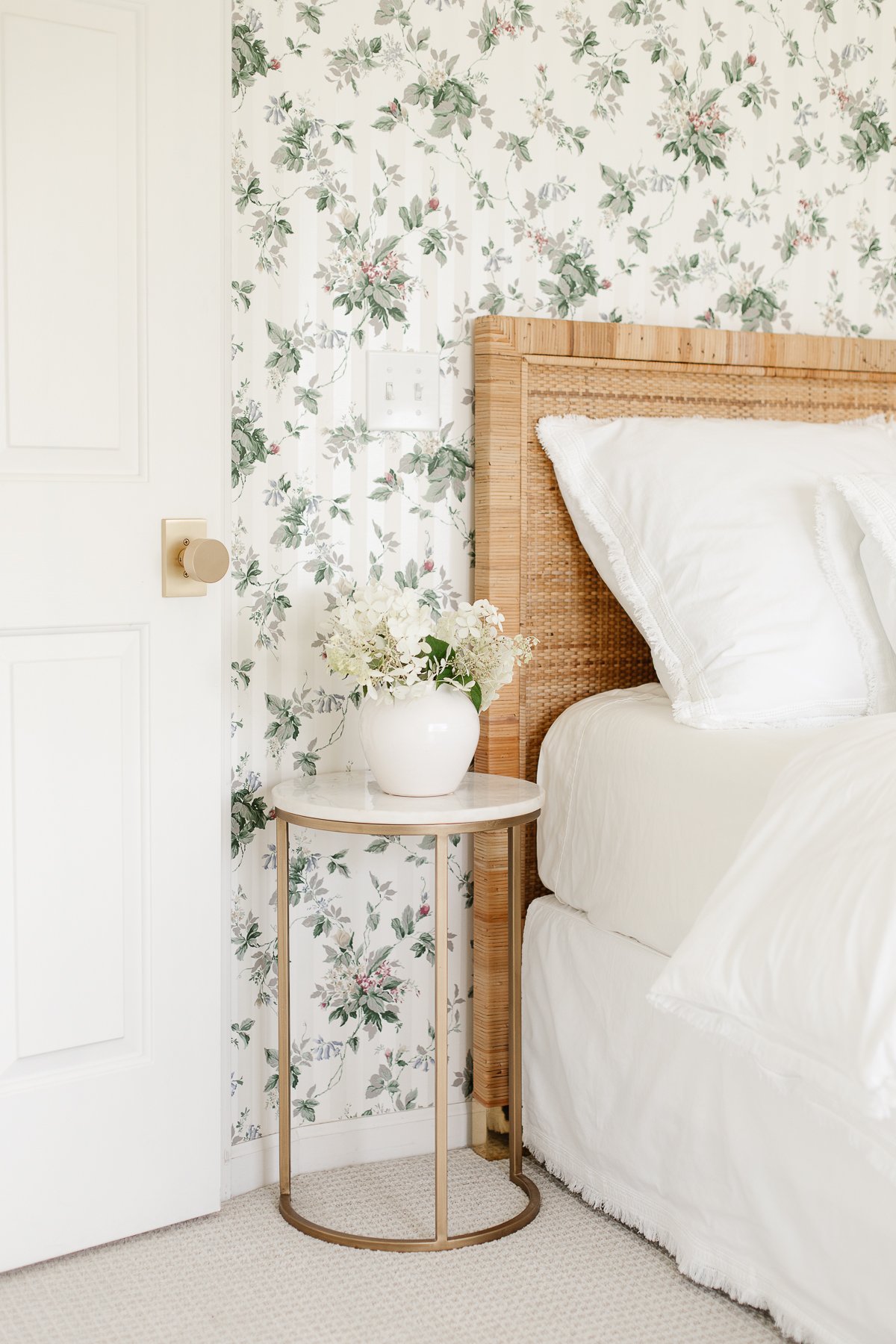 About
Limelight Hydrangea Trees are a popular choice for a hardy plant that provides blooms for months. They grow well in hardiness zones 3 through 8 even through hot summers and cold winters. The branches are strong enough to support all of the massive blossoms that are distributed around the tree.
This hydrangea tree looks amazing mixed in a garden with low shrubs and plants, standing tall as a topiary with its luscious and whimsical blooms. It also looks stunning as a solitary tree in a pot or in the corner of a walkway. With how simple it is to care for combined with its beauty, you owe it to yourself to grow it one your garden.
Limelight hydrangea also comes in a shrub. In fact, a hydrangea tree is made by pruning a shrub so that the trunk is exposed!
Hydrangea trees are deciduous so their leaves will drop in the fall and they will become dormant in the winter.
Cost
For a limelight hydrangea tree that is shaped just the way you want it, you can expect to be around $200 to order one online. It is a small investment for this show stopper that yields abundant blooms.
Bloom
You can expect your limelight hydrangea to bloom beginning in the late spring and lasting through the fall! Small delicate petals mound on top of each other to form huge cone-shaped blooms. The blooms begin with a striking light green color and transition to cream and pink later in the fall.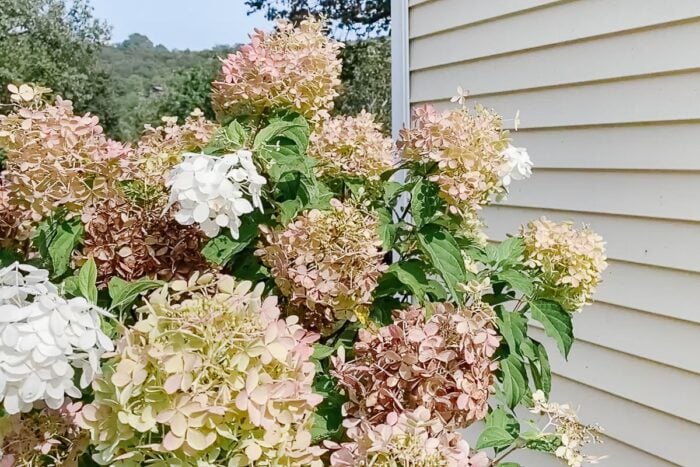 Height
Limelight hydrangea trees can grow 6 to 8 feet tall and about 7 feet wide. Because they can grow so large, make sure to plant them at least 8 feet apart from each other.
Planting Tips
As with most plants, dig a hole that is twice as large around as the root ball. The hole should be about as deep as the root ball. When you place your plant inside the hole, it should sit up slightly higher than the ground around it. Fill in the hole with soil and water thoroughly.
When choosing a place to plant, remember that the soil should drain well. Hydrangeas aren't picky about the soil, but they prefer a neutral or slightly acidic soil. The most important factor is that the soil drains so the roots aren't sitting in soggy ground.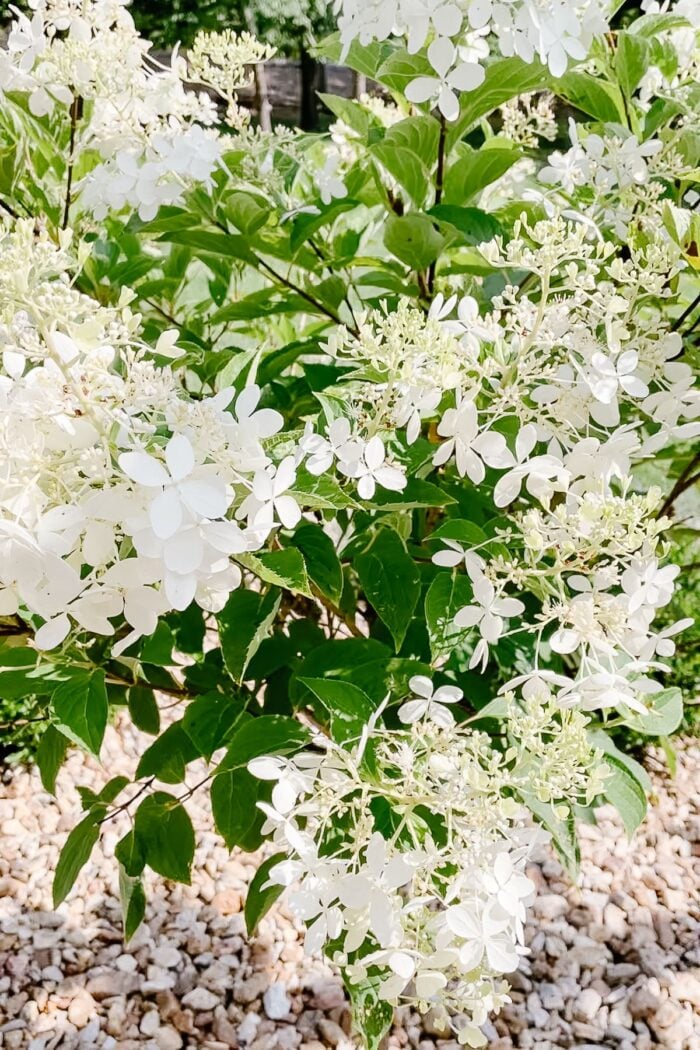 Care
Limelight Hydrangeas are such a beautiful plant that is hard to believe it is so hardy. However, proper care is recommended.
Watering
Fully water your plant when the top two inches of soil are dry. Make sure that the soil drains easily so roots are not sitting in stagnant water. Water once a week up to every 10 days.
Fertilizing
To give your plant a boost for the growing season, you can give it a dose of fertilizer every spring. An all-purpose 10-10-10 variety will work just fine to keep your hydrangeas healthy and beautiful.
Pruning
Every late winter or early spring you should prune your limelight hydrangea bush. Cut back 1/3 of the total height of the bush. This is done during the off season before new growth begins. Since the flowers grow at the end of new wood, you don't want to cut off new growth and the potential flowers that would've been on the end of it.
Throughout the growing season you can cut off any dead, damaged, or sick branches to keep your bush beautiful and tidy.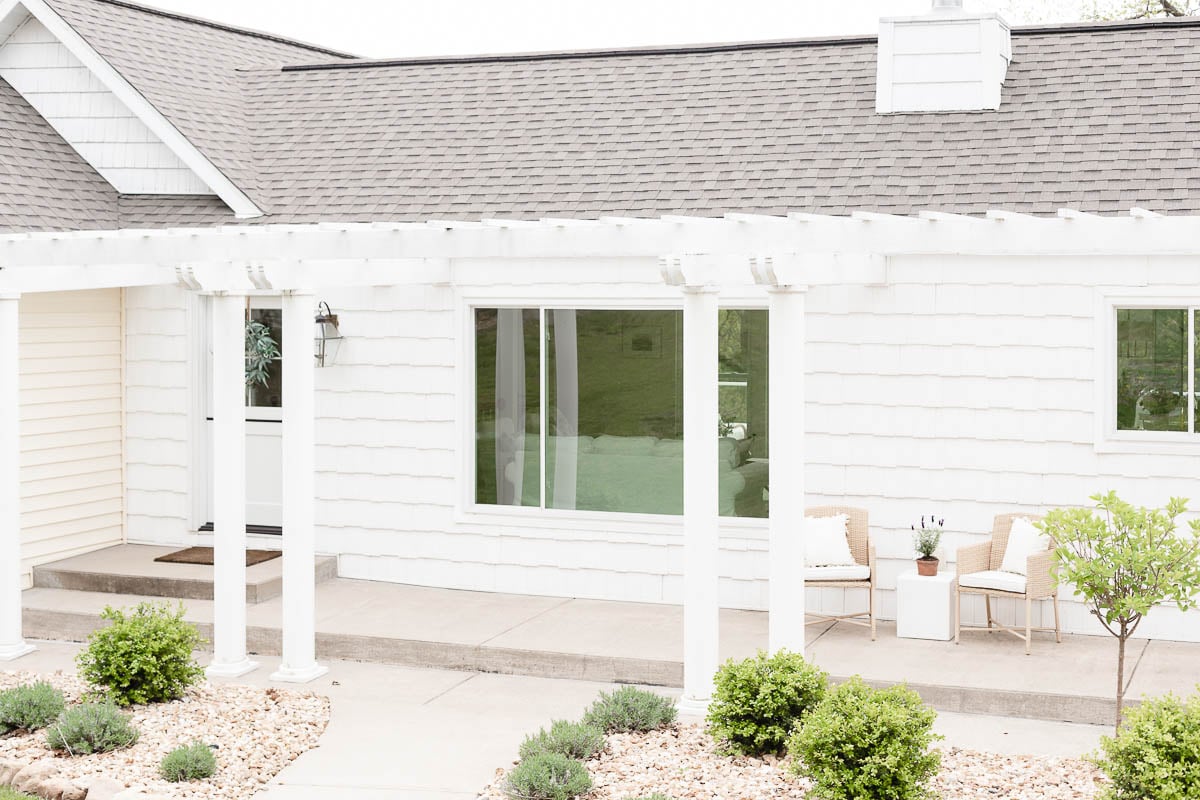 You can find all of my favorite gardening tools and accessories here!
Frequently Asked Questions
Do limelight hydrangea trees need full sun?
In the middle hardiness zones (4-6) your plant will love full sun – at least up to 6 hours each day. In the warmer zones (7-8) they need at about 4 hours of direct sun and can be in the shade the rest of the time.
How fast do limelight hydrangea trees grow?
These trees can grow 1 to 2 feet per year, up to a height of around 8 feet.
Should you cut back limelight hydrangea trees?
Yes. With a pair of sharp and clean shears, cut back your tree to 1/3 of its size in the late winter or early spring. You need to prune before new growth begins to grow in the spring.
Where is the best place to plant a hydrangea tree?
Your hydrangea tree can really grow anywhere. The number one thing to find a spot with soil that drains really well. Your hydrangea tree will grow well in full sun in hardiness zones 4-6 and in partial sun in zones 7-8.
Can they grow in a container?
Yes, they can grow in a container. They look lovely framing a porch and make even a basic front door feel stately. Follow all of the care protocol for a hydrangea planted in the ground to have a beautiful limelight hydrangea tree in a pot.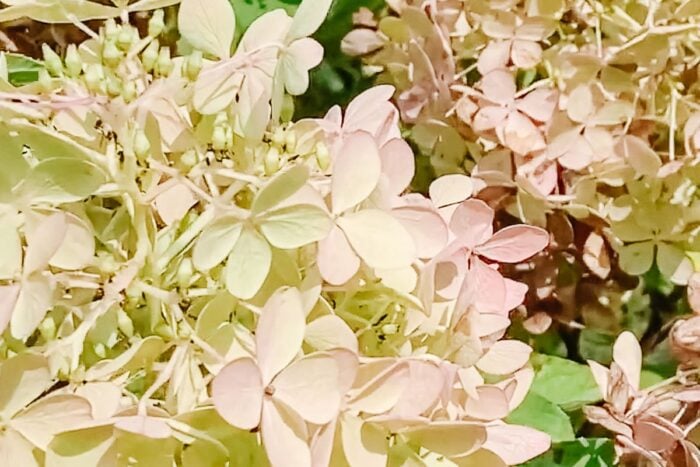 You can have a tree shipped to your doors in just a few days!
Let's stay in touch! Join our newsletter for access to exclusive content, never-before-seen photos, your questions answered, and our favorite projects. You'll receive the best design secrets delivered directly to your inbox! Sign up here!