Brass finishes are the perfect finishing touch in any space. Brass bathroom faucets add warmth and just a touch of elegant sparkle that you'll love.
If you're considering adding brass bathroom faucets in your next renovation project, you'll be glad you did.
We're bringing you a shopping guide that showcases all the styles, finishes and price points you need. These brass faucets will improve your bathroom in the blink of an eye!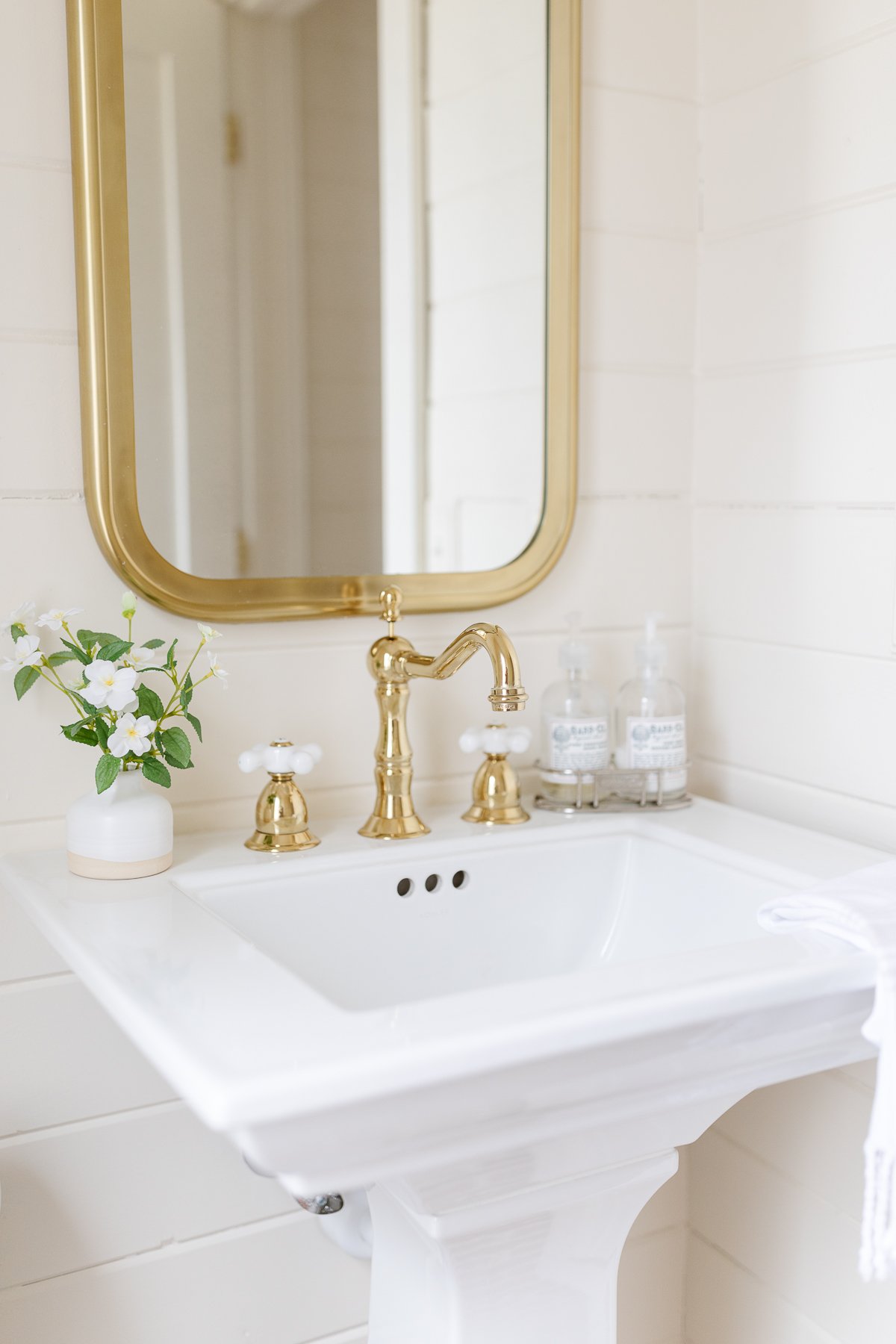 For years, cold metal finishes like chrome, stainless steel, and brushed nickel reined supreme. They are still here, of course, but it's no secret that warm metals are back in a big way.
Brass is a top choice for faucets, cabinet hardware, and accessories like wall sconces and towel bars. I love the trend, and I'm sure it's here to stay for a long time.
That's because brass is a stunning metal with a warm, gold tone. The best part, the gorgeous color of brass makes it feel like jewelry for your home. Brass fixtures can make even a small powder room feel grand.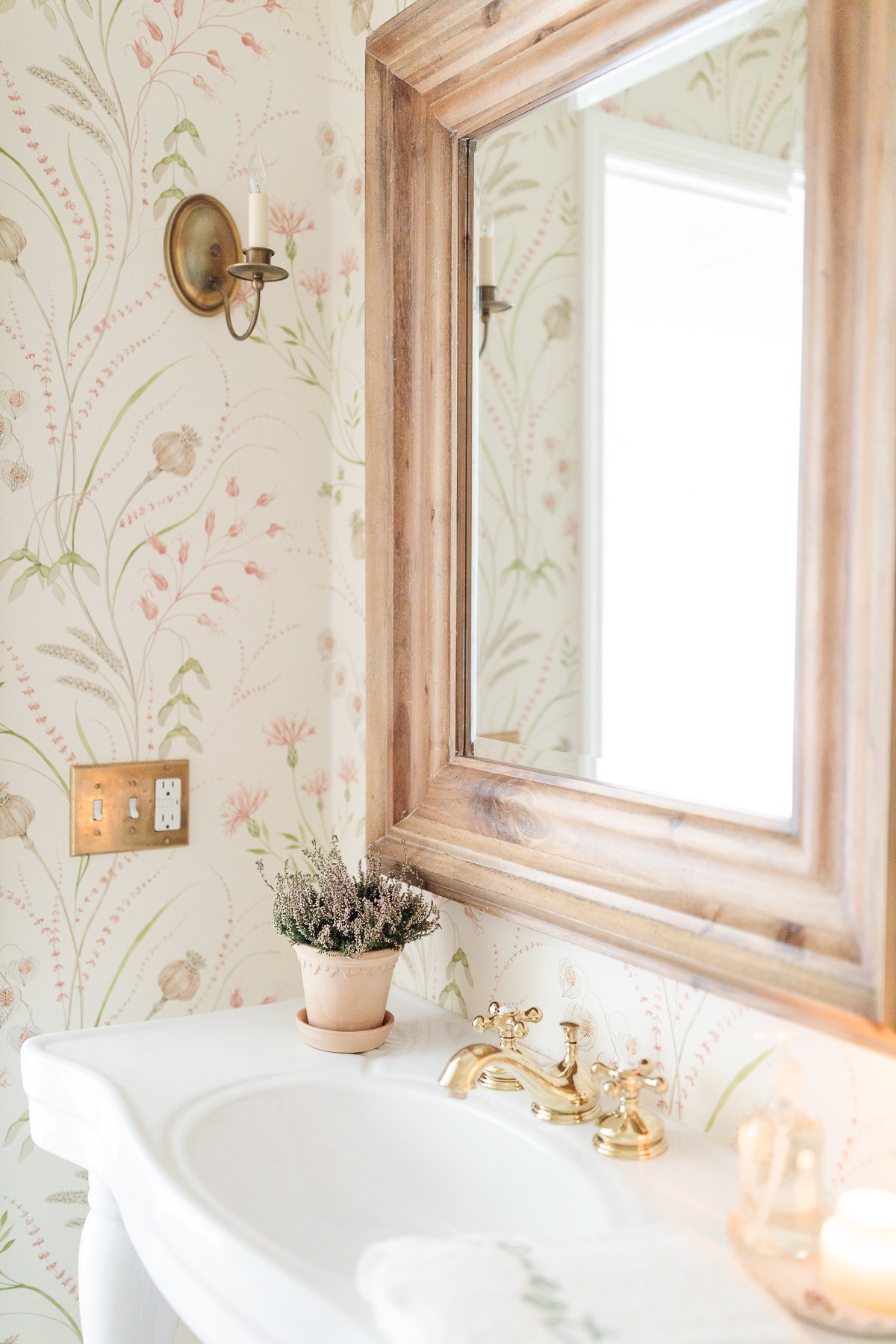 Brass Bathroom Faucets
It's my favorite metal finish for our homes. Brass looks right at home in any design aesthetic.
Of course, it is a timeless and classic finish that looks beautiful in traditional design. Modern design can sometimes feel stark and uninviting, so the warmth of brass is a welcome addition.
I've used brass all over my home, and I love how it elevates any space. You can see how I've used Brass Door Knobs, Brass Lighting, Brass Kitchen Faucets, and Unlacquered Brass Hardware throughout my home.
Brass Finishes
Deciding you want brass finishes in your space is only the first step. You still have to choose which finish to use, from bright polished brass to a subtle satin or a completely unlacquered finish.
All of the brass finishes are gorgeous, but they all look slightly different. Here's the lineup of brass finishes and a little about each one, so you can choose how to dress up your bathroom!
Polished Brass
When you think of brass, you're probably picturing polished brass. It's the brightest brass finish, shiny and even a bit reflective. Polished brass usually means it is a solid brass that has been polished and coated with a lacquer finish. The lacquer prevents tarnishing and patina as time goes on.
Polished brass is best suited to traditional styles, especially when it's combined with a classic shaped faucet and other timeless design elements.
For example, in our spa bath, I combined a polished brass faucet with a marble countertop, subway tile tub surround, and classic white hexagon tile floor. The effect is a luxurious, soothing retreat.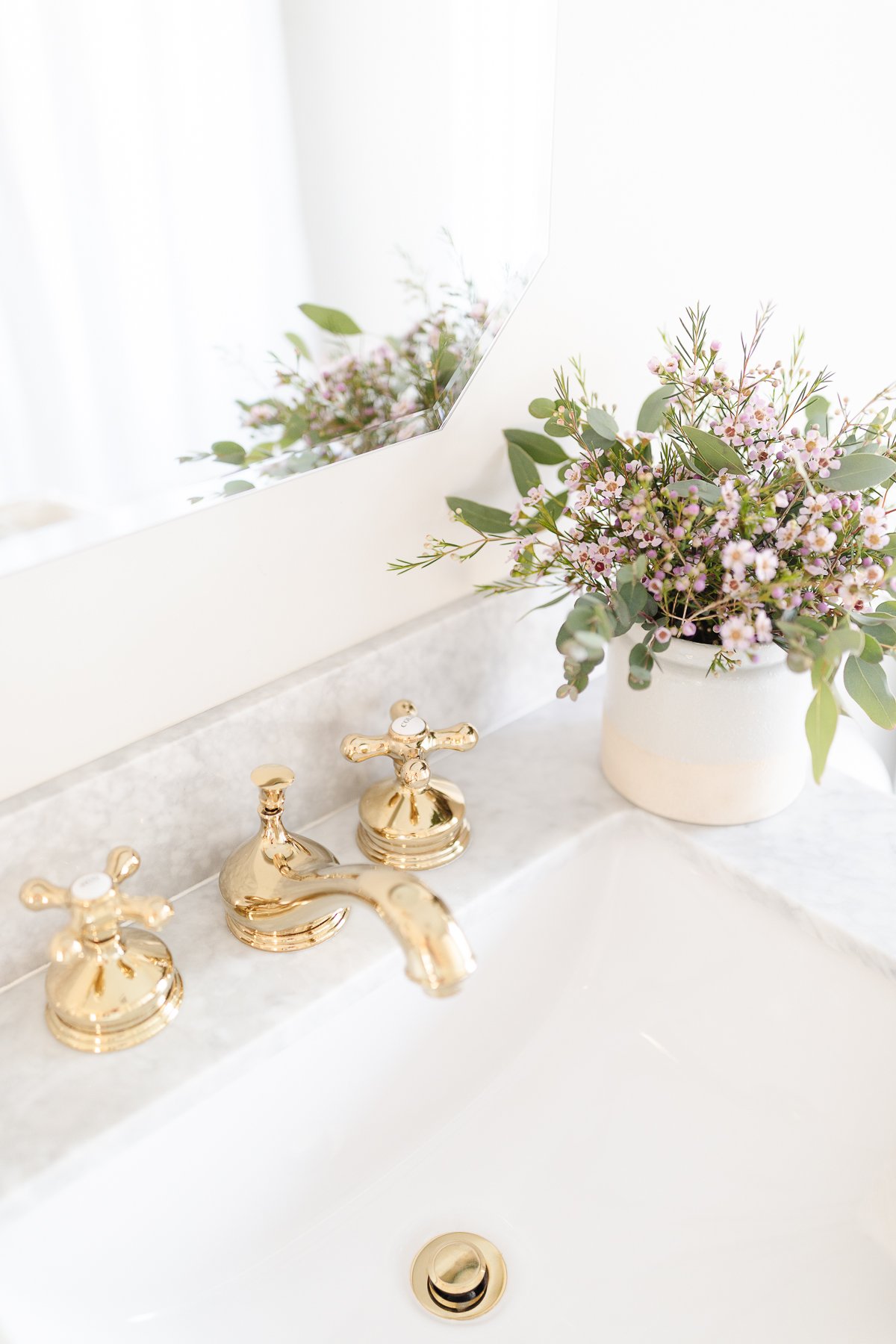 Antique Brass
On the opposite side of the brass spectrum you'll find antique brass. This is brass that has been chemically treated to appear dark and aged. It has a deep brown tone color with gold undertones.
Antique brass is a low luster finish that won't tarnish or patina over time. It has a lot of depth and dimension, and wherever it's used it adds a timeless charm to the space. It's also easy to keep clean because it doesn't show fingerprints – a plus in any bathroom!
Brushed Brass
One of the most popular brass finishes in recent years, brushed brass is warm and inviting without being too bold. When you look at the finish up close, you can see what look like tiny brush marks. It looks as though someone lightly buffed the brass with steel wool, taking away the shine but leaving the gorgeous warm tone.
Brushed brass makes quite a statement. It is warm and subtle and elevates any space. Also, brushed brass bathroom faucets are a practical choice, because they don't show water spots and fingerprints as much polished brass. They're easy to clean and keep looking amazing.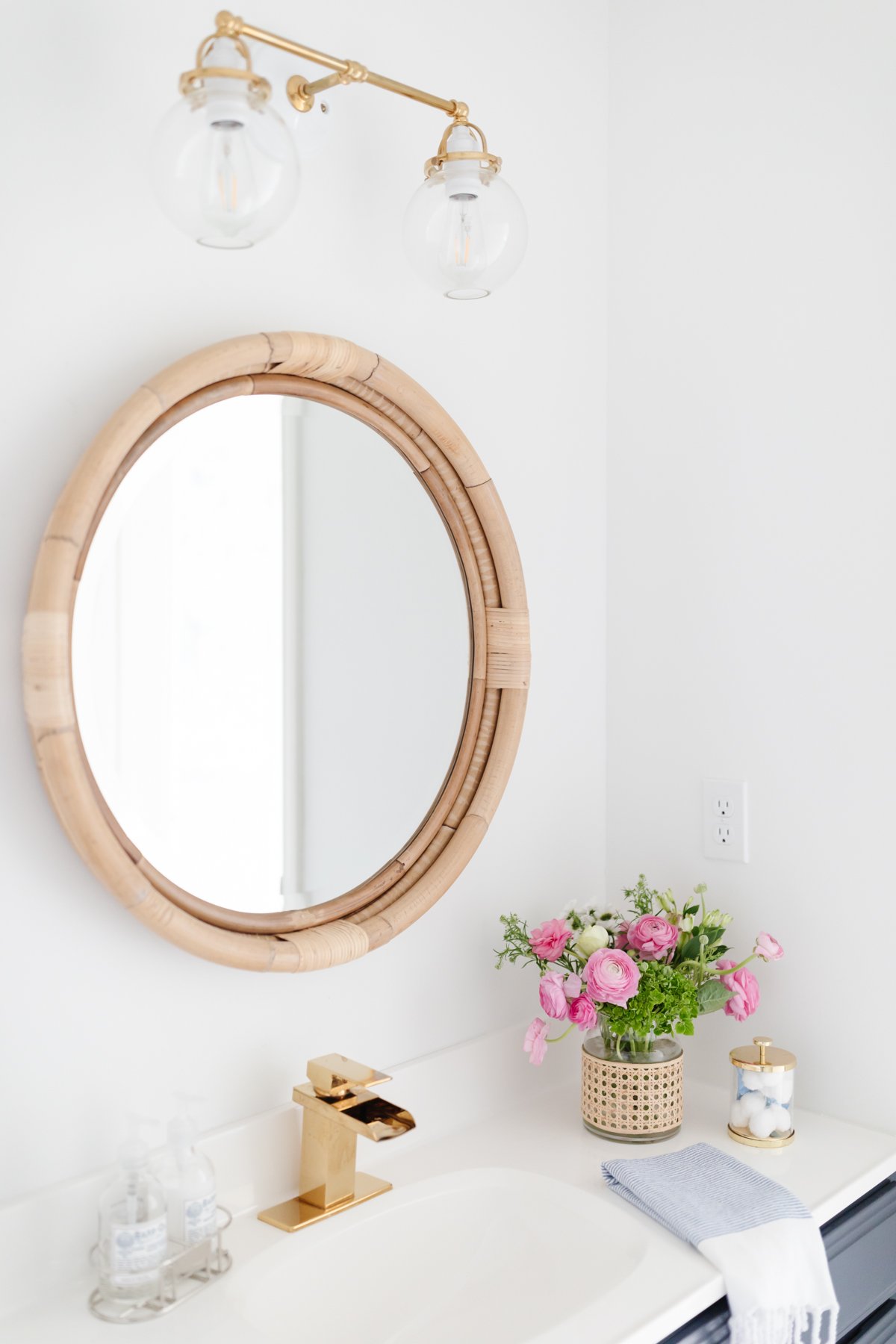 Satin Brass
The term "satin brass" is often used interchangeably with "brushed brass," because the two finishes are so similar.
Satin brass has the same color and warm tone as brushed brass, but it doesn't have the brush marks that characterize the brushed finish. You have to look closely to see the difference, but it is there. Satin brass has a smooth, uniform finish.
Satin brass looks stunning in any design aesthetic, including more modern spaces. It depends on the style you choose. If you choose fixtures and hardware that have a utilitarian or minimalist shape, the result will be a modern look that is still inviting and warm.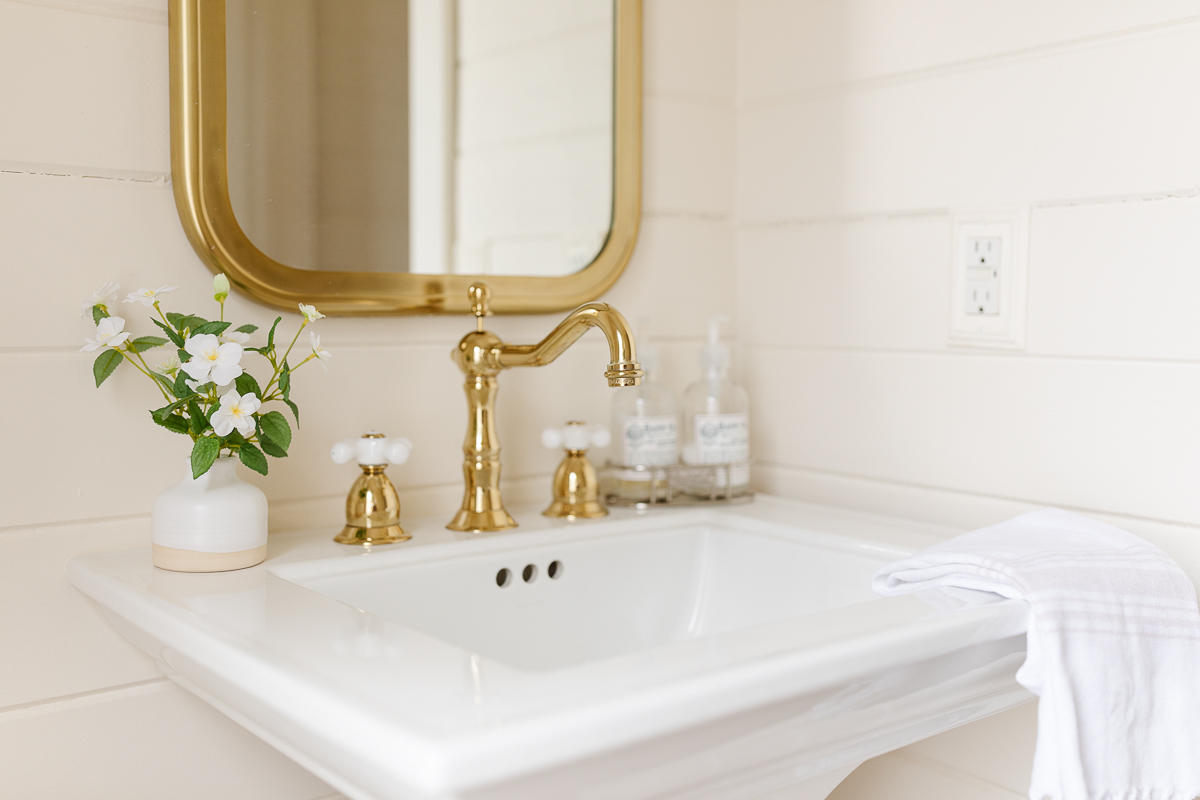 Unlacquered Brass
One of my favorites is unlacquered brass, although it doesn't really count as a finish – because it isn't finished at all! Unlacquered brass doesn't have a finish or a lacquer coating, so it will patina over time.
I personally love the look of patina on brass. Patina is the word for the green or blue finish that hardens over metals like copper, bronze, and brass over time. It creates an aged look that is so beautiful!
I have an unlacquered brass faucet in my new kitchen and unlacquered cabinet knobs in my modern laundry room. I love the warmth and depth the brass brings to any space!
Brass Bathroom Faucet Styles
There are so many different styles of bathroom faucets, so it's easy to find one that fits with your design aesthetic. From modern and minimal to curved and classic, brass bathroom faucets will add warmth and style to your space.
To help with your faucet search, here is a rundown on different types of faucets: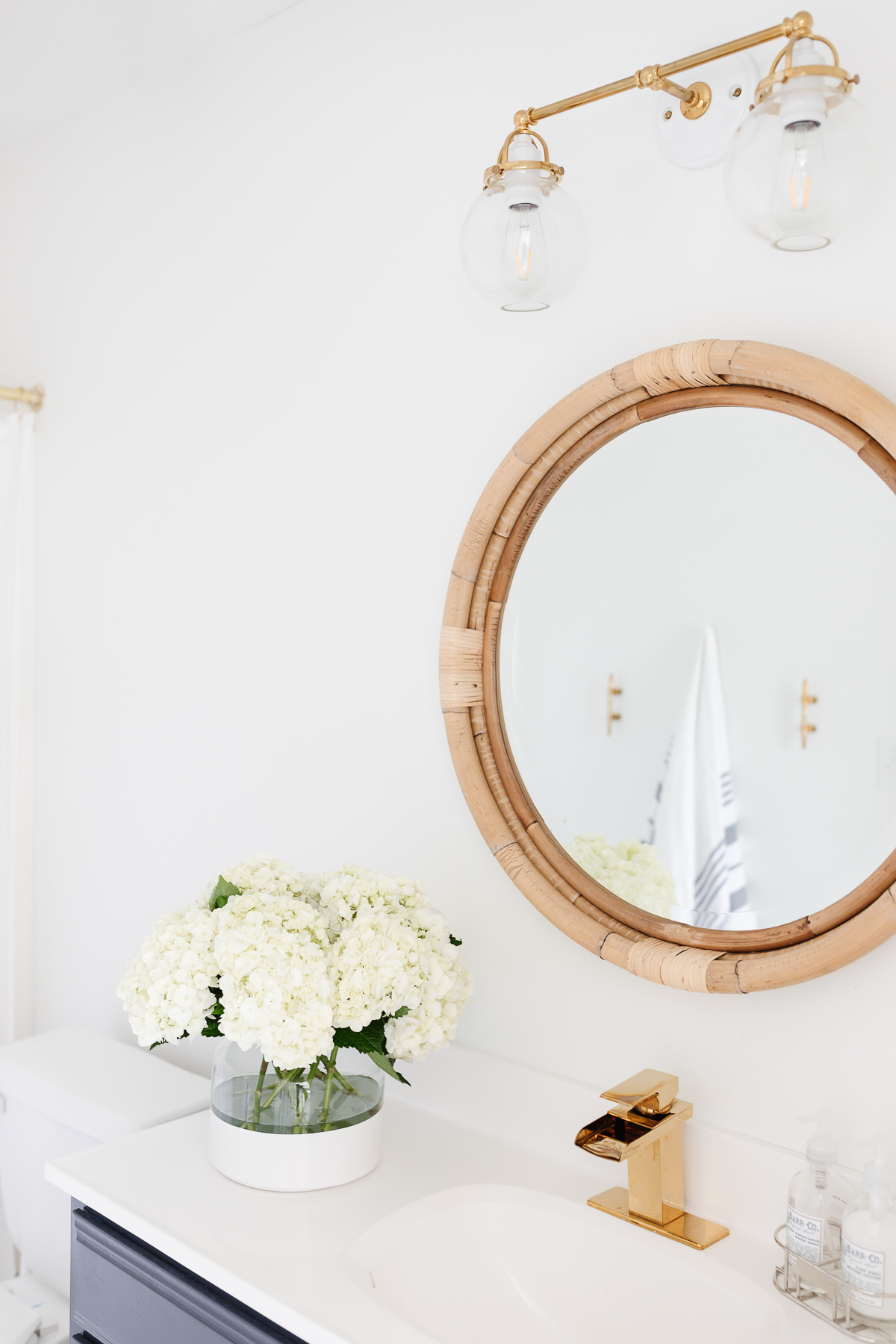 Widespread
This is the standard faucet type, featuring separate hot and cold handles that aren't attached to the spout. Widespread faucets require three hole cutouts, so make sure your have the right type of sink to accomodate them.
Single Hole
Just like it sounds, a single hole faucet only requires one hole cutout in your sink. That's because the spout and handle are connected as one piece. The hot and cold water shares a handle that you move forward or backward to reach your desired temperature.
Single hole faucets can be installed in sinks with more than one hole cutout. You just need to plug the hole with a coordinating cap. The caps usually come with your faucet, althought you may need to purchase them separately.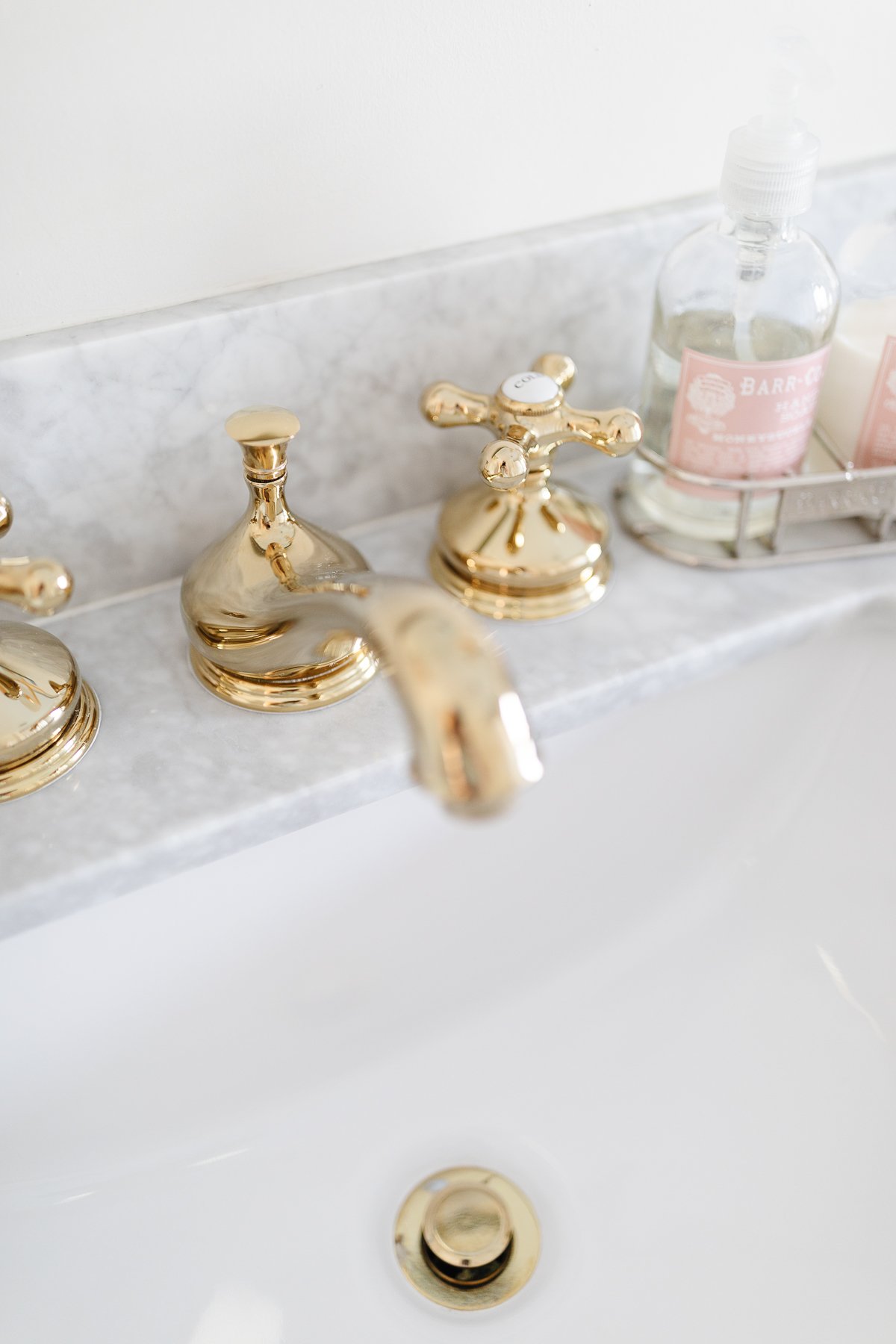 Types of Necks
There are three main types of faucet neck, each with its own features to consider:
Standard
The typical design of a faucet spout is fairly straight, with a low profile and long reach. This means it goes out over the sink opening, not up and over like with taller designs like the gooseneck.
Standard faucets are a good choice for small bathrooms or for spaces where you're concerned about height clearance. Using standard brass bathroom faucets is a great way to bring style to small spaces, especially if the faucet design isn't vying for attention.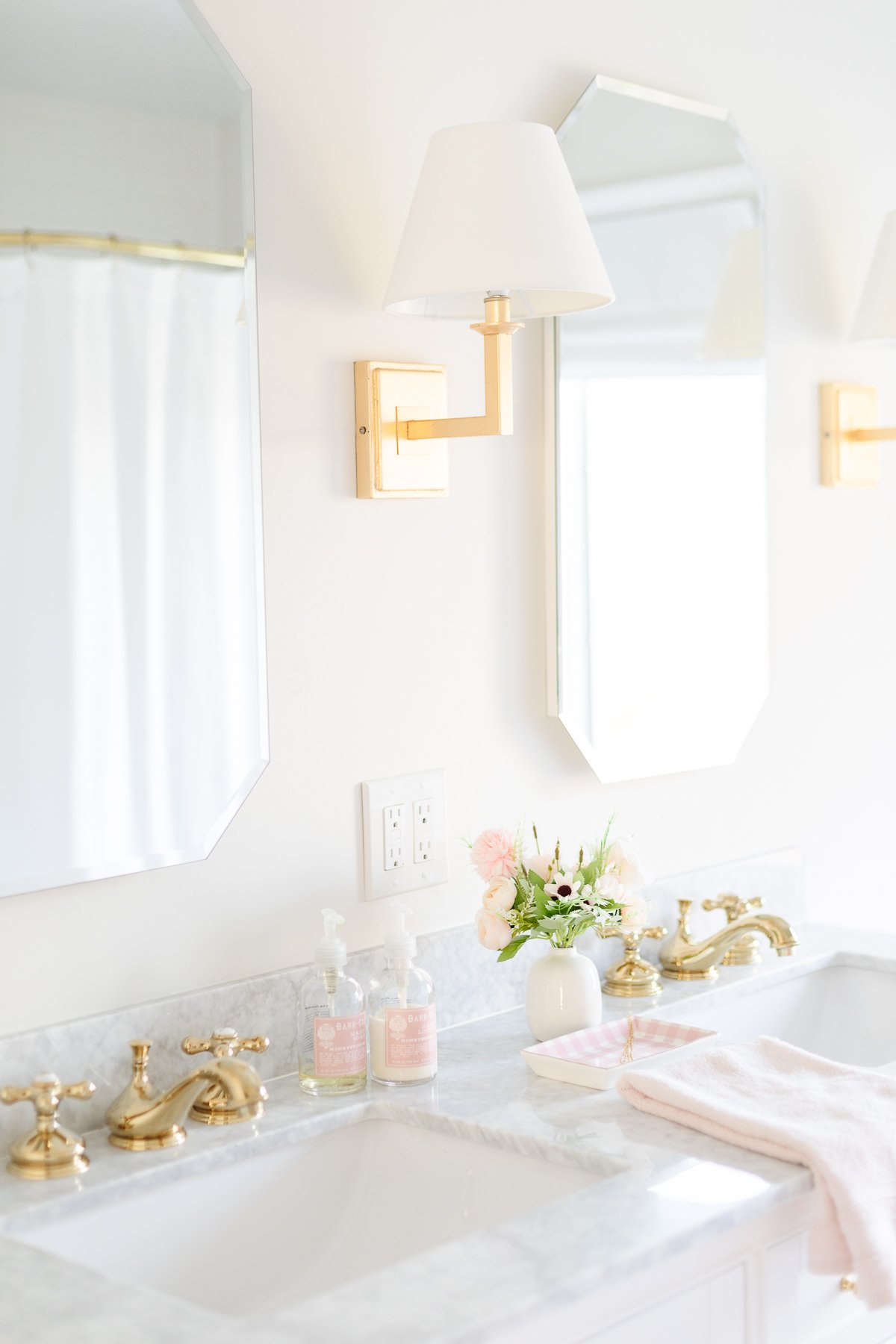 Gooseneck
Also called "high arc" faucets, gooseneck faucets are known for their elegant, elongated neck. They come in all shapes, sizes, and styles, but typically they are extra tall. That means they're perfect for filling pots in kitchens or scrubbing clothes in laundry rooms.
Gooseneck faucets can have a graceful curve for traditional styles or have a more angular look that is well suited to modern design. They are the epitome of form meeting function.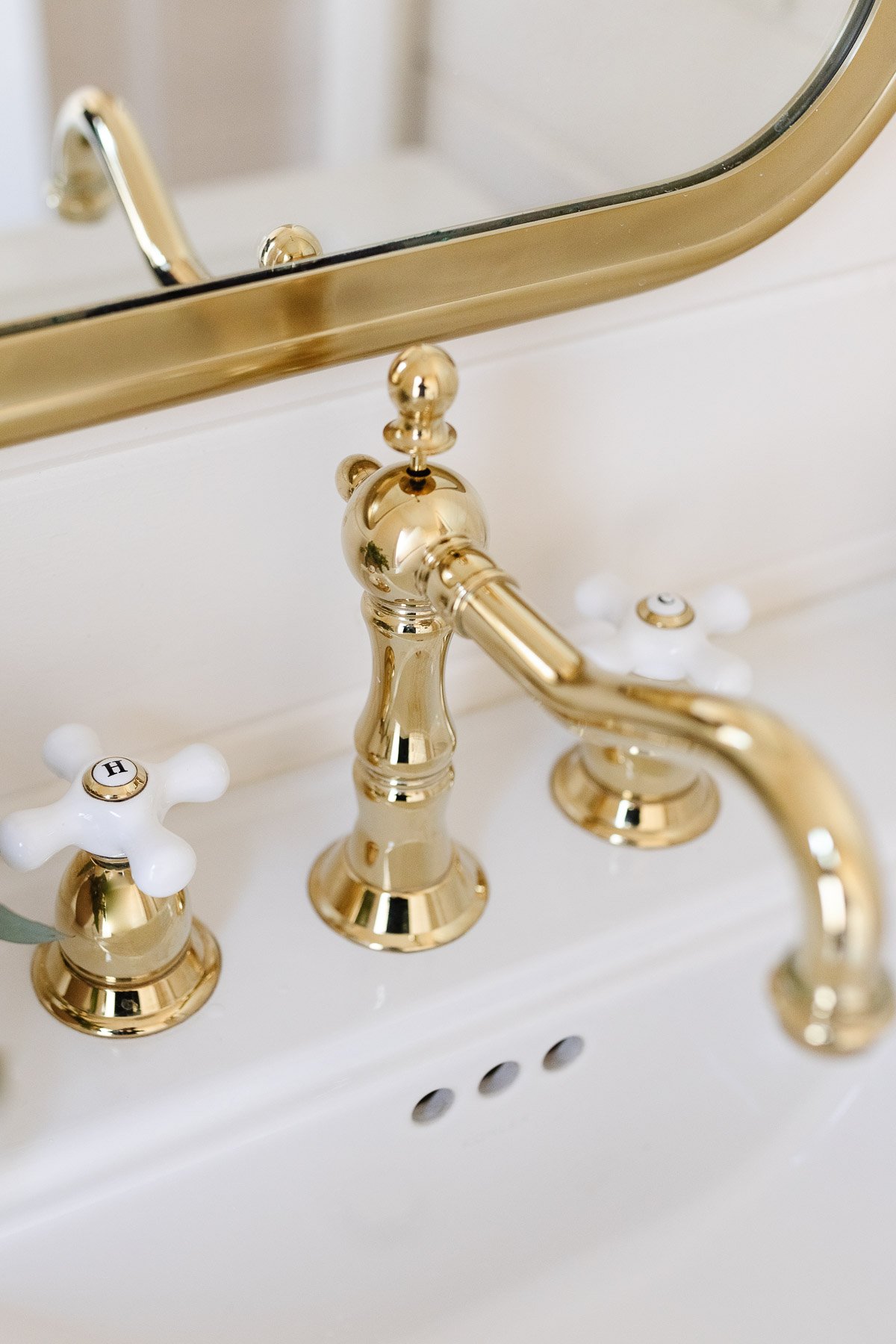 Bridge
A bridge faucet has two handles, one each for hot and cold water, that are joined by a horizontal connector pipe. The pipe is exposted above the countertop instead of hidden underneath it. Basically, it forms a "bridge" between the hot and cold water lines.
I absolutely love the bridge faucet in my kitchen. The warm unlacquered brass adds so much warmth and the bridge design is timeless in the best possible way.
Shepherd's Crook
This design is shaped just like it sounds, like the curved end of a shepherd's crook. Or think of it like the shape of a question mark turned on its side. This faucet design offers extra clearance underneath it while adding a high level of style.
My kitchen bridge faucet has a shepherd's crook neck. Combined with the brass finish, I think it creates a classic, luxe look.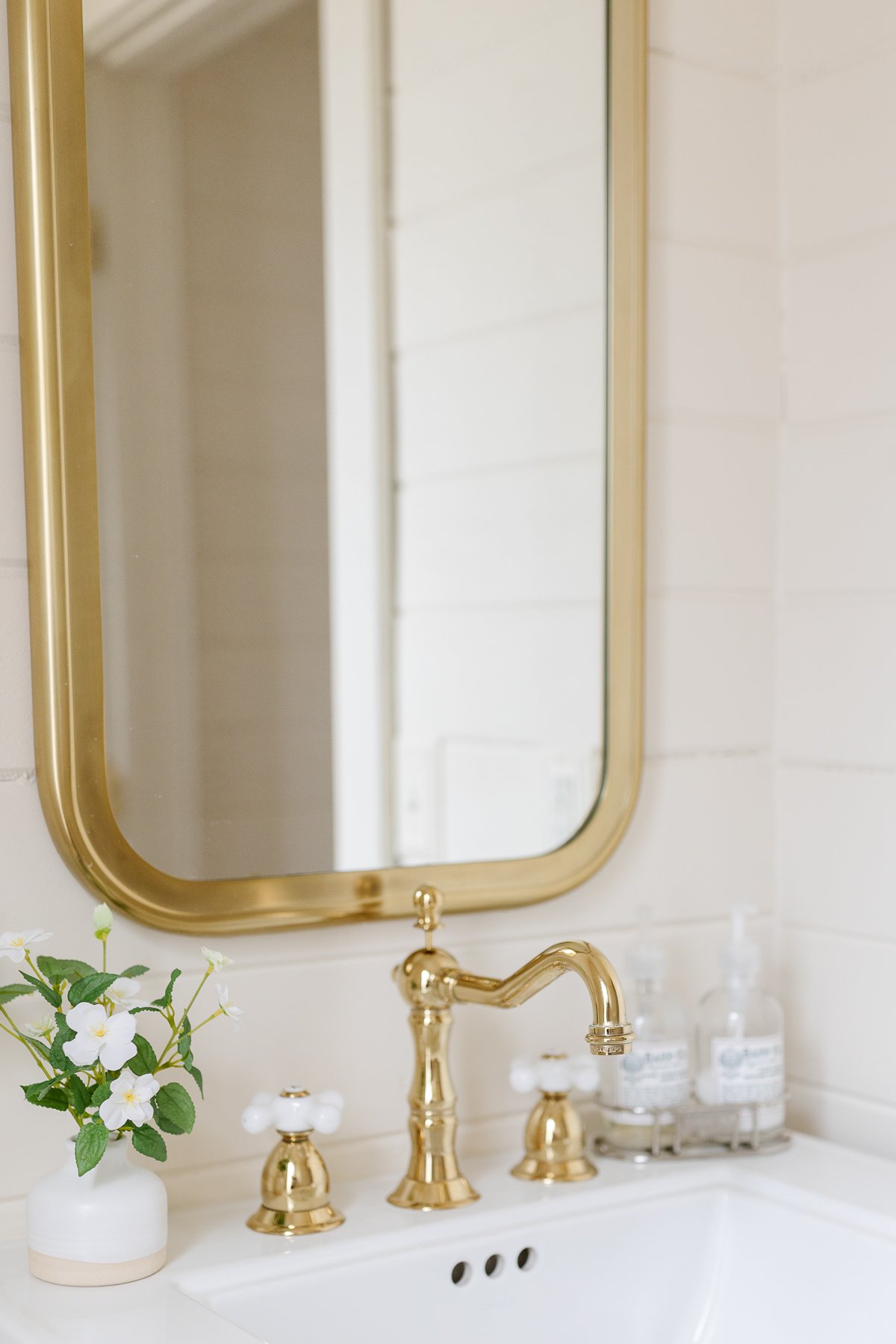 Tips
When you're setting your budget for a bathroom makeover, make sure to note materials. A brass finish is different from authentic brass! Both can be lovely and have their place, but the price points will reflect the materials.
Read more about Brass Shower Curtain Rods here!
Learn about my favorite Brass Polish here!
Frequently Asked Questions
Can brass be used for bathroom faucets?
Of course! Brass is a beautiful, durable finish that is perfect for bathroom faucets. It adds warmth to a space that can otherwise feel cold with all of its hard surfaces.
Choosing a brass with a lacquered finish (like polished, antique, brushed, or satin) will ensure that your faucet is easy to clean and maintain.
Do brass faucets tarnish?
It depends on the finish of the brass. If you choose an unlacquered (unfinished) brass, it will tarnish and patina over time. That is true for brass anywhere – not just in a bathroom.
However, if you choose a lacquered brass (polished, antique, brushed, or satin) it won't tarnish or patina. The lacquer coating protects the brass and keeps it from looking aged.
Shop This Post