Are you frustrated with the mess that enters your home each day? Between kids, pets, shopping trips and daily routines, a garage mudroom might be the perfect solution. Learn how to create a garage drop zone that will help you stay organized for good!
Depending on the decade and size of your home, a traditional mudroom might not an option in your layout. If you have a garage, though… the answer is right at your fingertips. (Or should I say doorstep?)
Add form and function with a garage mudroom that the whole family can use with ease. Find tips, tricks and ideas to add this incredibly useful space to your own home – with sources that are sure to inspire!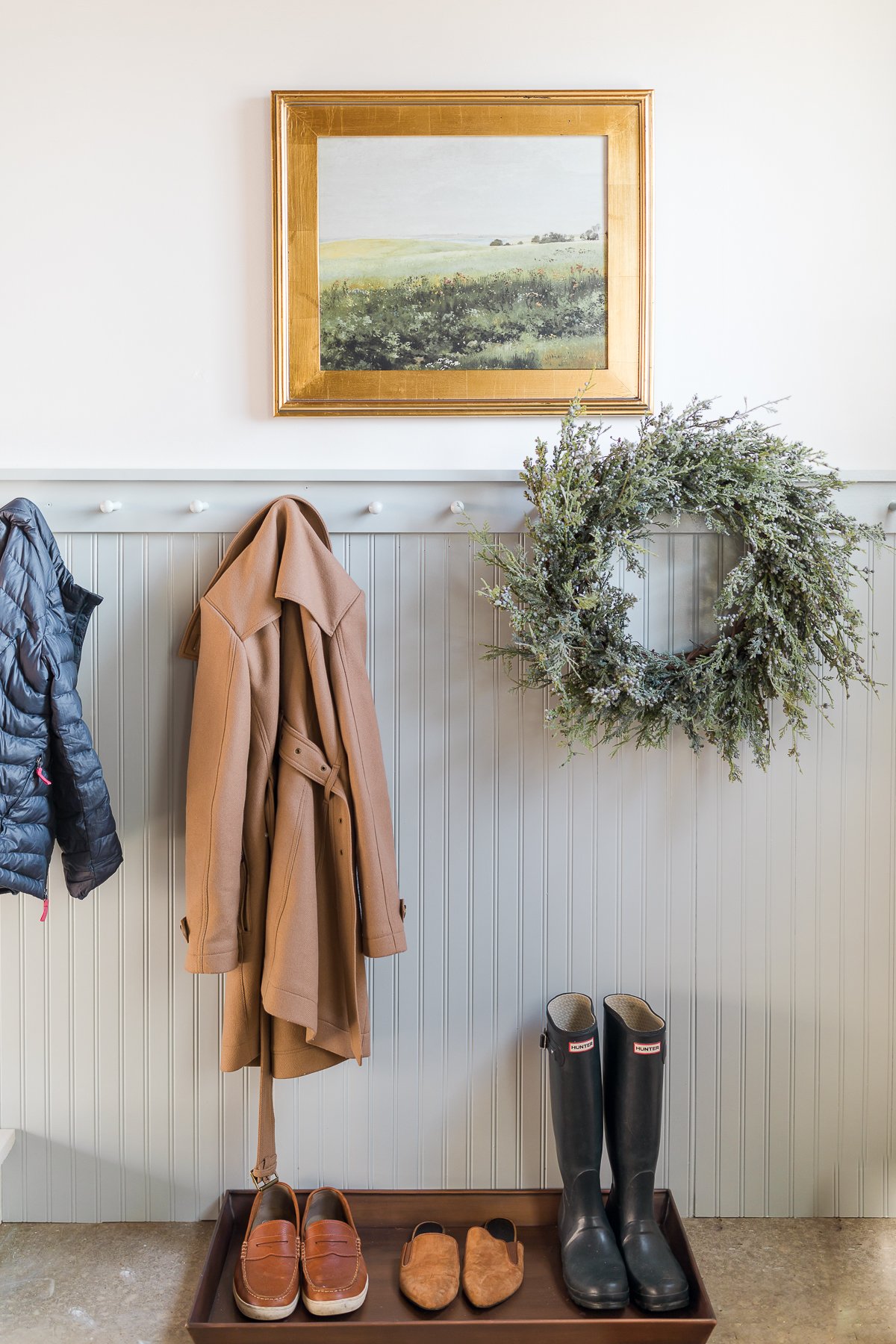 You know I'm such a fan of minimalism in our home designs and daily life. We struggle with stuff just like everyone else, but we try to take a calm, relaxing approach to our home because we crave simplicity.
In fact, you can read all my tips to focus on Simple Living. That was one of our guiding intentions when we purchased our lake cottage. We wanted a place to get away from the hustle and bustle of our city life, relax and recharge.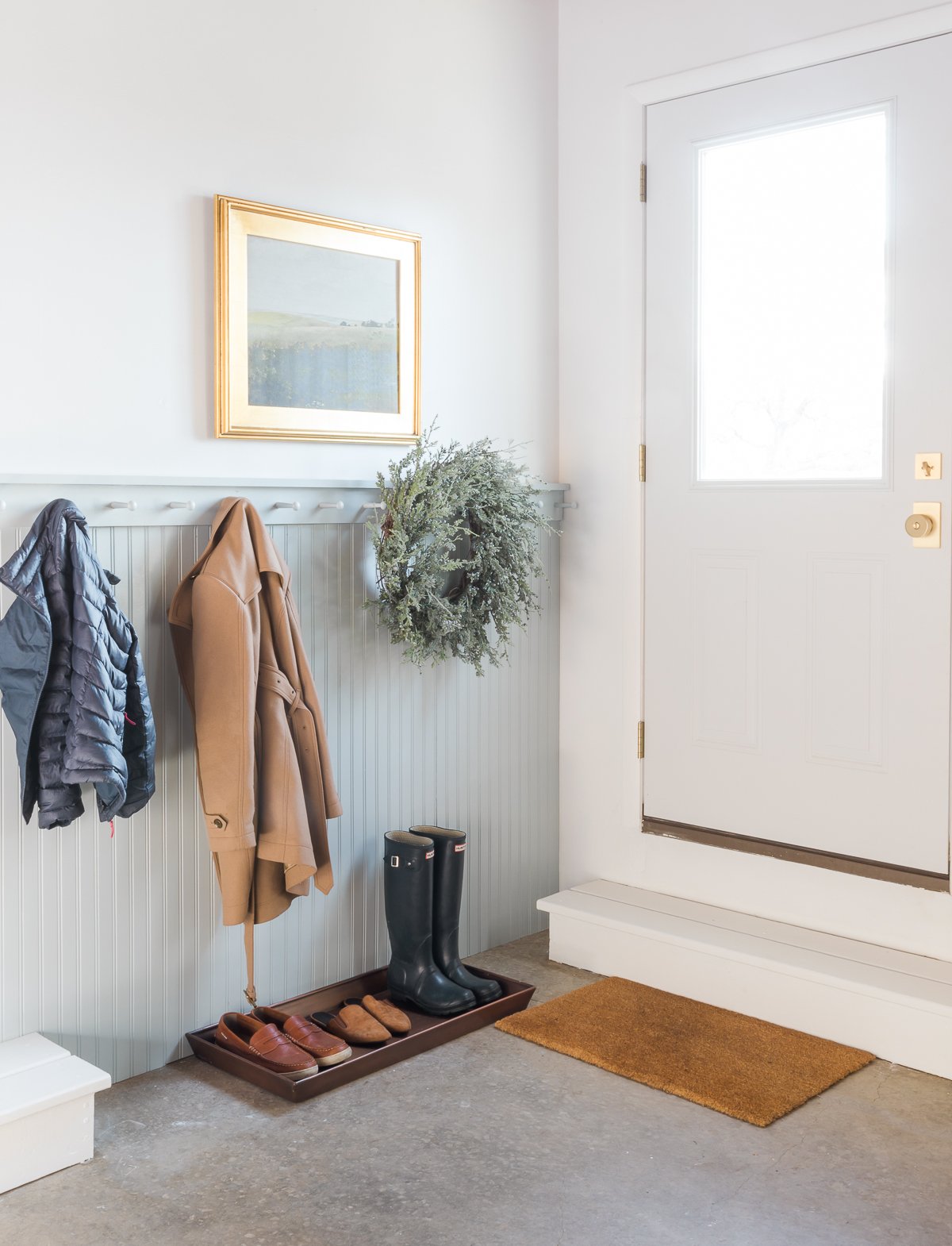 Garage Mud Room
We are so lucky to get to enjoy this home, and it's been the perfect size and layout for our family. It's large enough to entertain friends and family, but small enough for realistic upkeep.
One of the things we were missing, though, was a mudroom or drop zone. Because we tend to spend more time here in the summer, we were struggling with organizing things like towels as they dry, flip flops, life jackets, and more.
While we had created some wonderful organization systems with our laundry closet makeover (you've got to click through and see this cute little space), there was still a bigger need. Especially when it comes to damp/wet items when we come in from the lake!
That's where this simple garage mudroom comes in! We transformed a blank wall between the door to our kitchen and the door to the deck into a simple garage drop zone that really changed our lives for the better.
In fact, I've been surprised at how easily it's transitioning between seasons for our family. Because although we love Table Rock Lake in the summer, we also enjoy the area all year long – check out Silver Dollar City at Christmas for an incredible way to make family memories at the holidays.
Read on for all the details about how to create your own garage mudroom!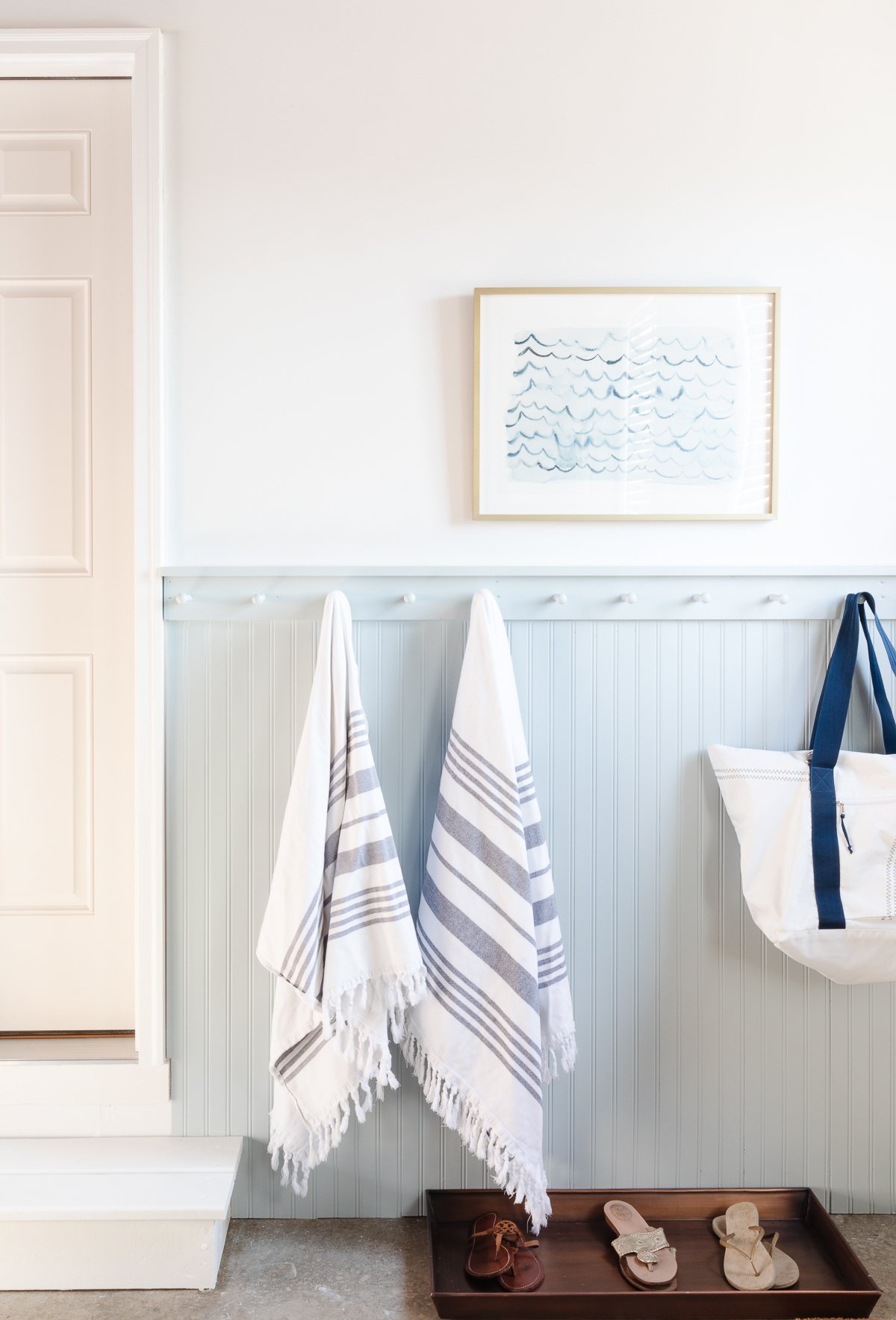 Getting Started
The first step in this process is to evaluate your needs. Where are you struggling? What are the kids (or spouses) bringing inside that you'd prefer they not?
In this home, we identified a few specific needs. We needed hooks for hanging wet towels and lifejackets during the summer, as well as somewhere to stash damp flip flops and water shoes.
However, in the colder months, we needed a space to hang coats and drop boots. While we don't live here full time, we need the space to be efficient all year! With that in mind, we focused on the following issues before we decided what to do.
Flip Flops
Life Jackets
Wet Towels
Boots
Jackets and Coats
Re-usable Totes
Once we saw the items laid out in a little list, we new that we mostly just needed hooks and some shoe organization. This wall was perfect! We went with a classic Peg Rail hook system over a Beadboard wall that adds both charm and function.
You can find all of my mudroom storage and organization ideas here, and read about our Board and Batten walls for another wall treatment option you'll love!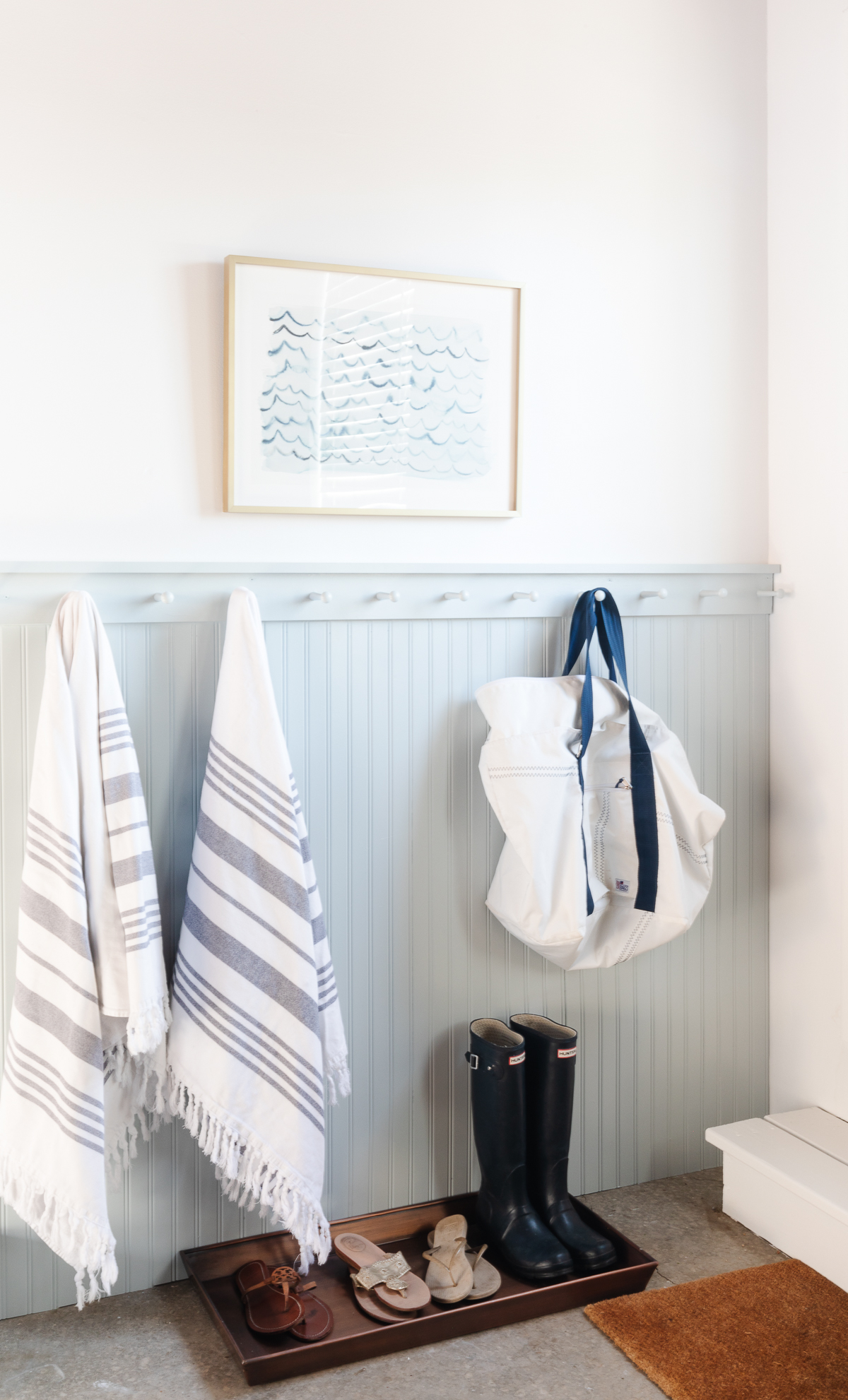 How to Create a Garage Mudroom
Consider any of the following built-in or freestanding ideas to create the organized, efficient garage mudroom of your dreams!
Bench – Build one or add an inexpensive storage bench (sources below)
Hooks – Consider a Peg Rail like we used, or even pretty Brass Hooks like the ones in our St. Louis Mudroom.
Shoe Storage – For the ultimate practicality!
Shelves – Because you can never have too many shelves.
Baskets – To stash all kinds of necessities, corral shoes, gloves, mittens or clean towels.
Lockers – Lockers can create the cutest, most efficient storage space that add charm, too!
Cabinets – If you have room, cabinets are wonderful in a garage mudroom space. Consider stock cabinetry, an affordable option that comes pre-painted – like what we used in our Second Level Laundry Room!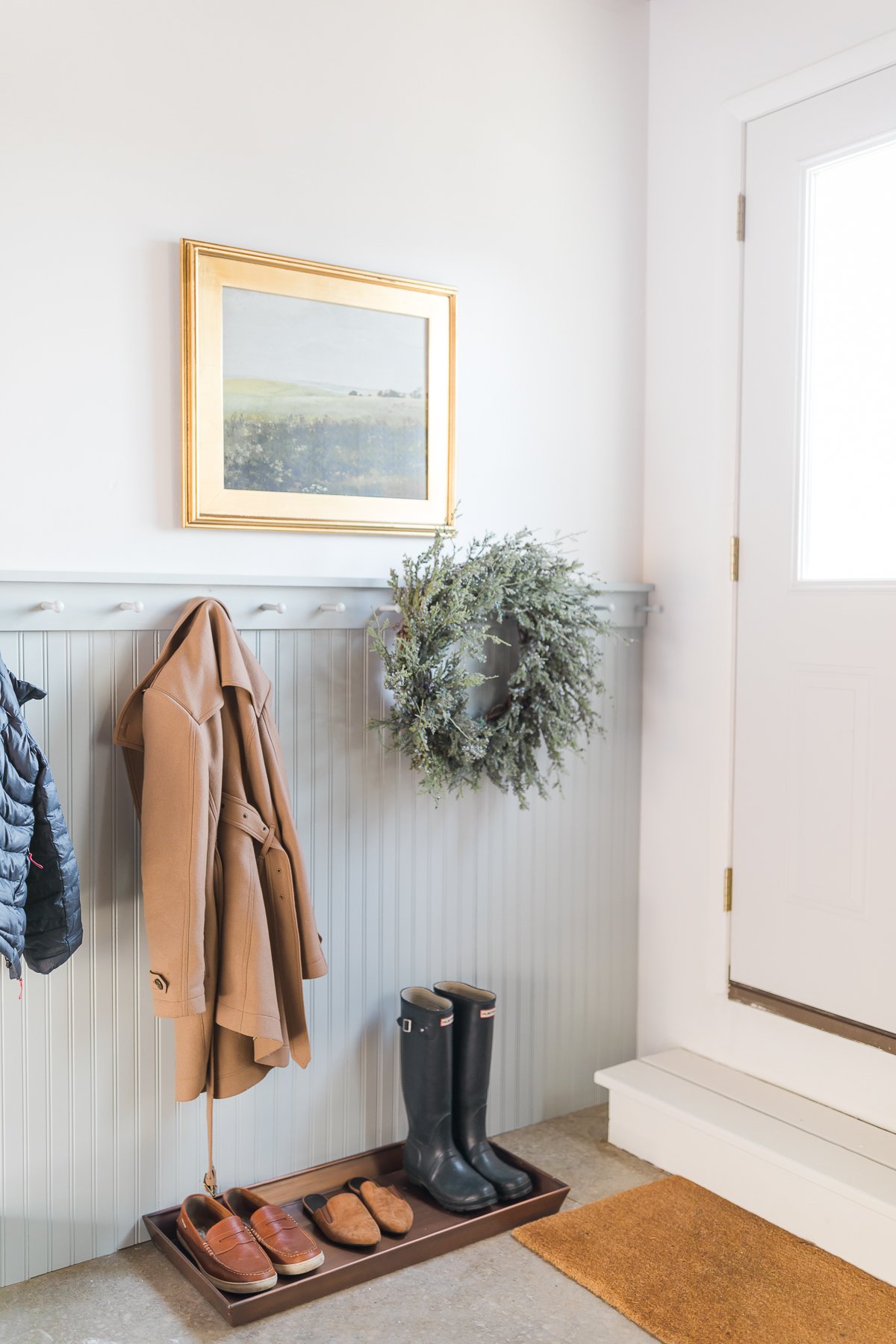 Garage Drop Zone Questions and Answers
What are mudrooms for?
Mudrooms are an area where folks can drop items like jackets, shoes, purses and more before they enter the home. They often serve as a catch-all for all types of items that you'd prefer not clutter the interior of your house.
Does a mudroom add value?
They add form, function, and value to your home. Mudrooms are a desirable addition to homes of any size, era or layout!
What to do when you don't have a mudroom?
Create one! Add shelves, cabinets, hooks or baskets to any area inside or outside the most frequently used entrance to your home. A garage mudroom, for example, can add functional storage when there is no room on the interior of the home!
Hop on over and read more about our Garage Floor Coating in this comprehensive guide!
Garage Mudroom Sources
The beadboard in this post is painted Benjamin Moore Smoke, and the wall above is Benjamin Moore Chantilly Lace.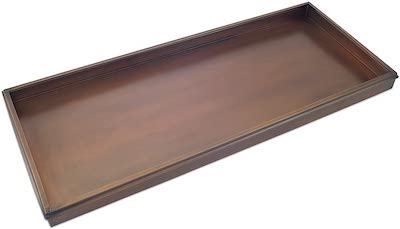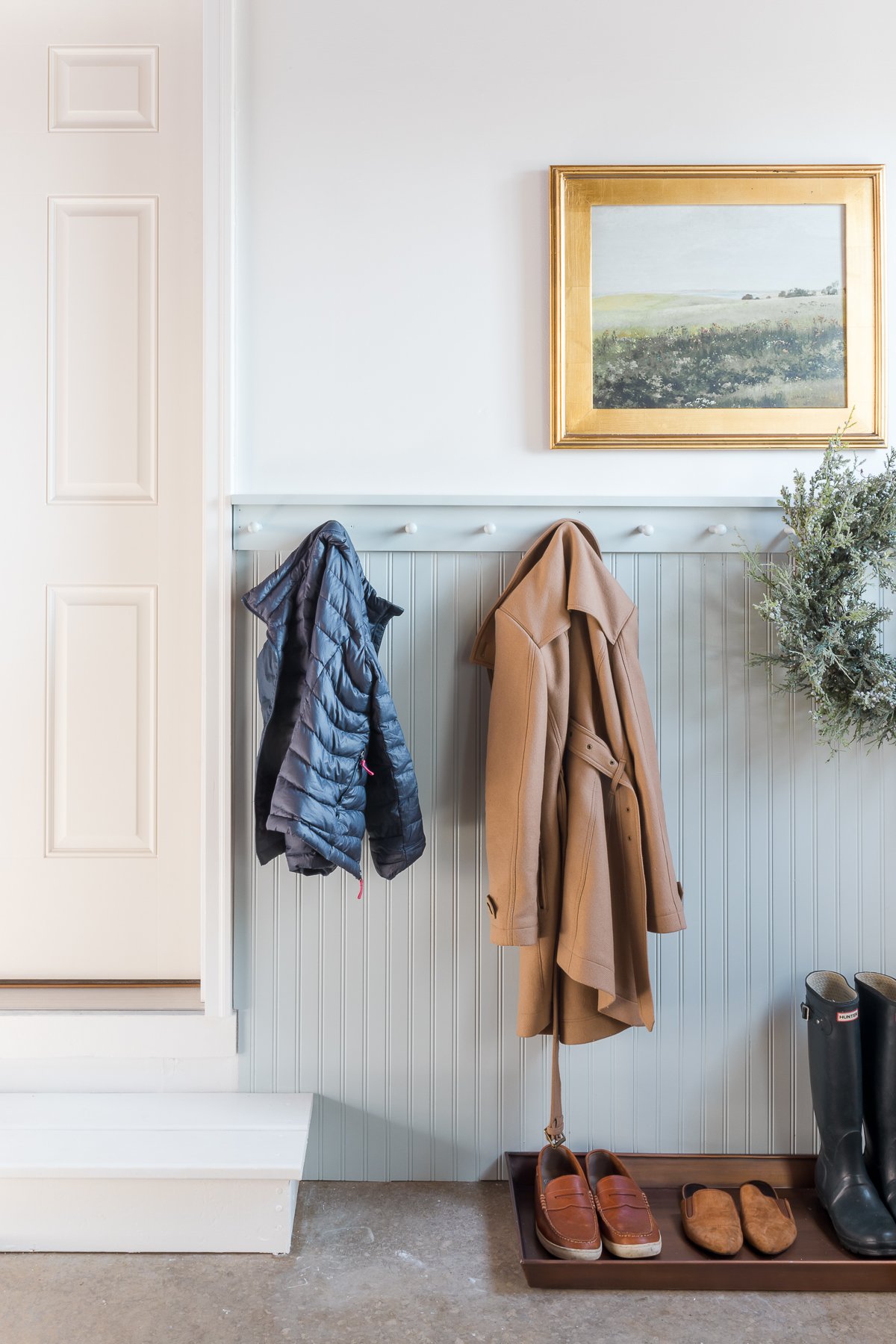 Let's keep in touch! Receive exclusive content, including never-seen-before photos, our favorite home decor DIYs and more!
More Organization Inspiration