Make the most use of space in your living room by incorporating built in bookshelves in your design. They're a great use of space and are the perfect way to showcase your favorite items.
A built in bookcase adds such a customized look and feel to any room!
Of course, built in bookshelves go far beyond book storage. They also add visual appeal and style to your home, giving you an opportunity for styling to your heart's content.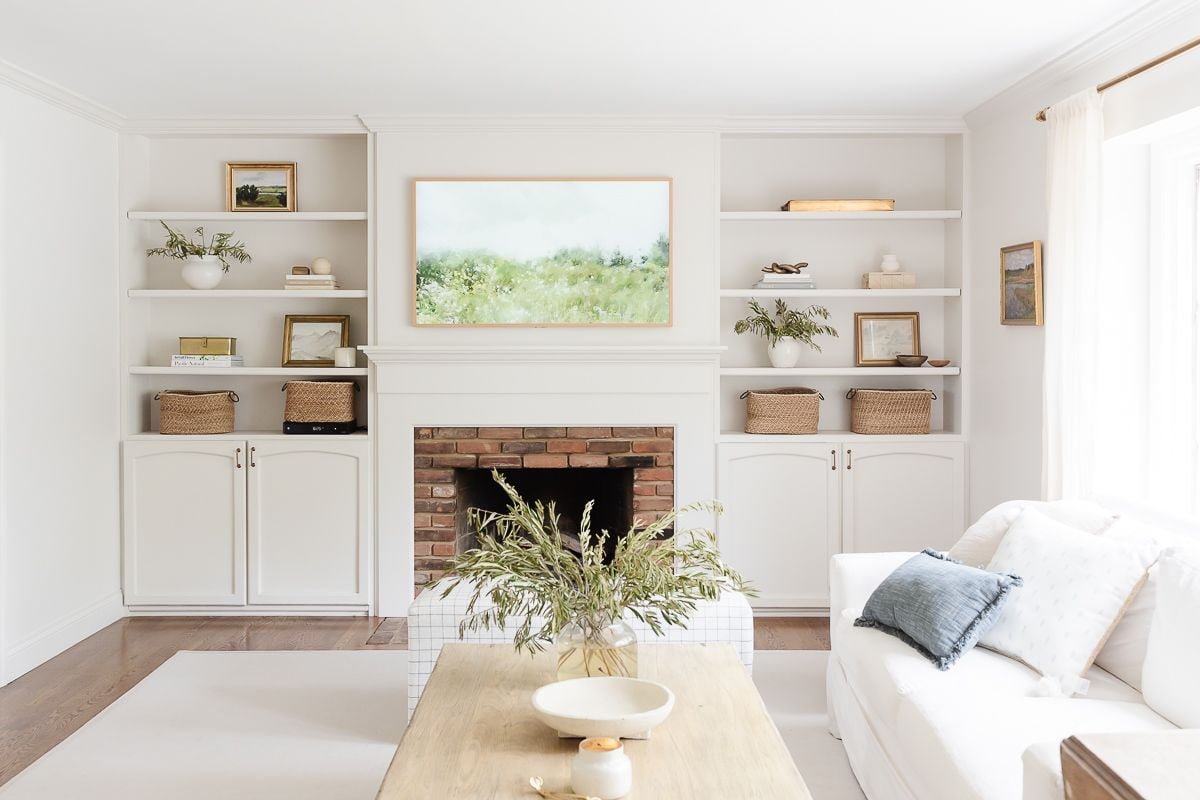 I need all of my spaces to be functional. I don't want to waste any square footage in my home, and I need our home decor to be as functional as it is beautiful.
That's why I made this open staircase with reading nook area for my girls and incorporated an at home bar in my bookcase. I even made my own linen cabinet using a furniture piece I already had.
Maximizing space, especially in small areas, is a necessity for me. I love living a simple and minimalist lifestyle, but with a family of five we still acquire essentials that need places to reside. That's where built in bookcases come in!
Built in bookshelves in the living room and other spaces maximize wall space without taking up much floor space. They can also be visually stunning when organized correctly – see my bookshelf decor ideas and my favorite coffee table books for more great options!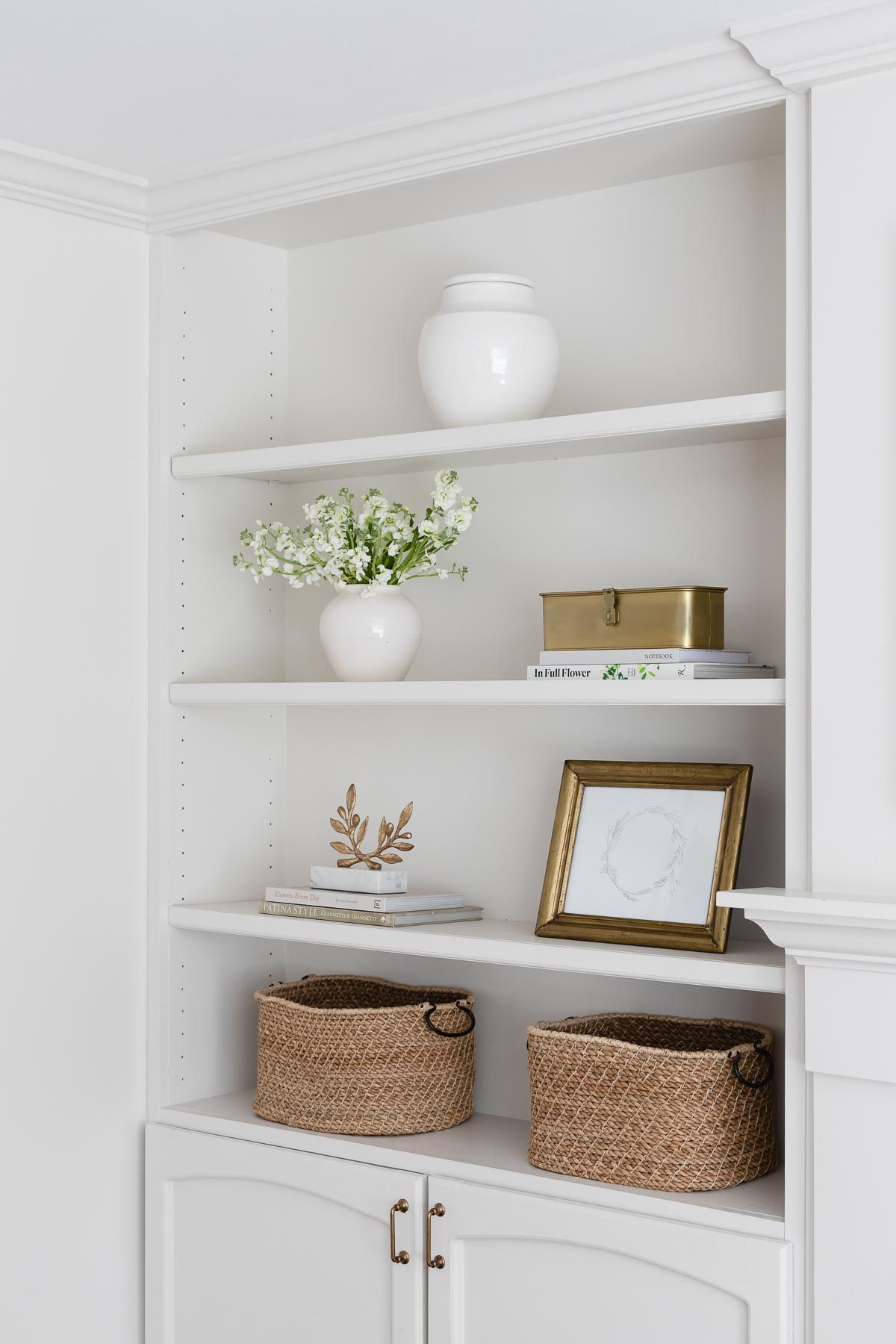 What Is A Built In Bookcase?
Built in bookcases are sets of shelves that are encased on three sides, leaving just the front exposed. They typically extend from the floor to the ceiling with end pieces on both sides of the shelves. The end pieces can be the wall or sides of the bookcase.
A built in bookcase should be sturdy and secured firmly to the wall.
They can have a built in cabinet at the base of the built-in with shelves over the cabinets. Or the bookcase can be shelves all the way from the top to the bottom.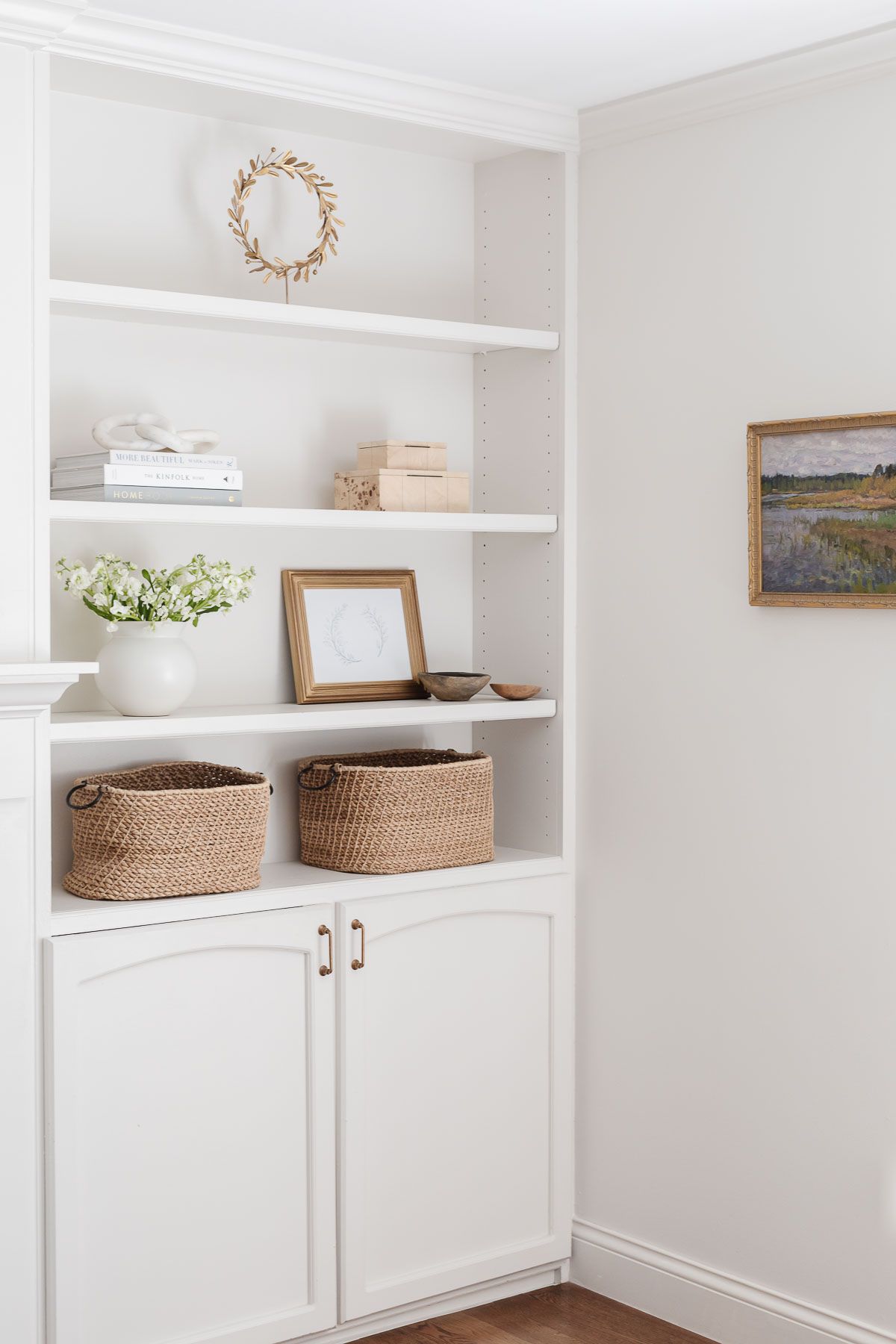 I love sharing ideas for improving your home!
We've renovated many homes during the last 20 years, and I am always thrilled to pass along the knowledge we've gained along the way. See the complete Before and After tour of our St. Louis home here, and our modern Table Rock Lake Cottage as well.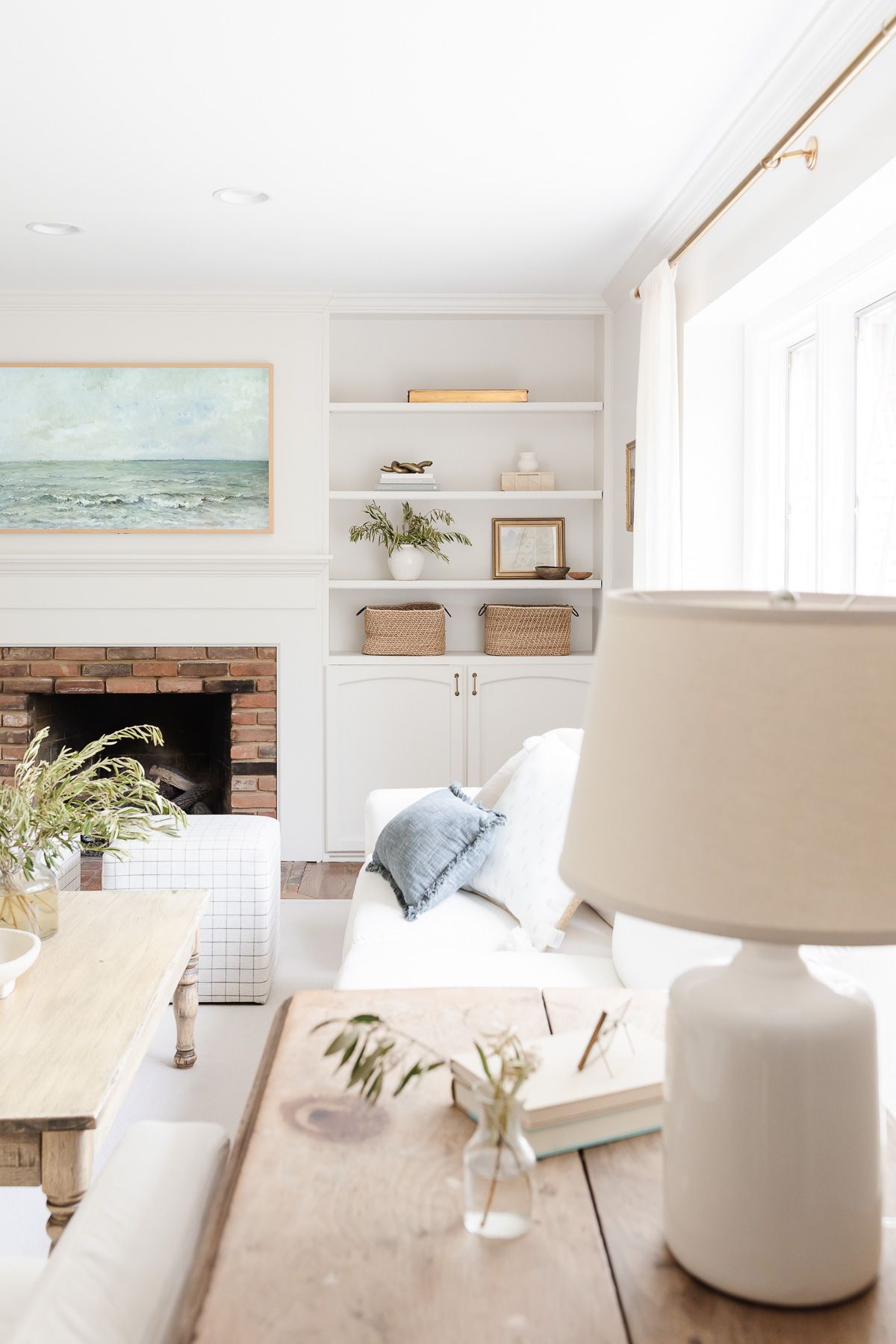 Where To Use Built In Bookshelves
Built ins are flush against a wall and will generally have a depth of a regular bookshelf, around 12 inches. However, keep in mind that custom built in bookcases can come in any depth.
They are often built on one or both sides of an already existing feature like a window seat or fireplace. These are ideal places because the other feature is already protruding from the wall. In these instances, the built in bookcase perfectly fits in the space from the existing feature to the wall.
A built in bookcase can also extend from one wall to the opposite wall, taking up the entire wall. It is quite a dramatic look and one that has been used in stately historic homes for centuries.
See the details about our traditional fireplace mantel for more inspiration if you're considering built in bookshelves of your own!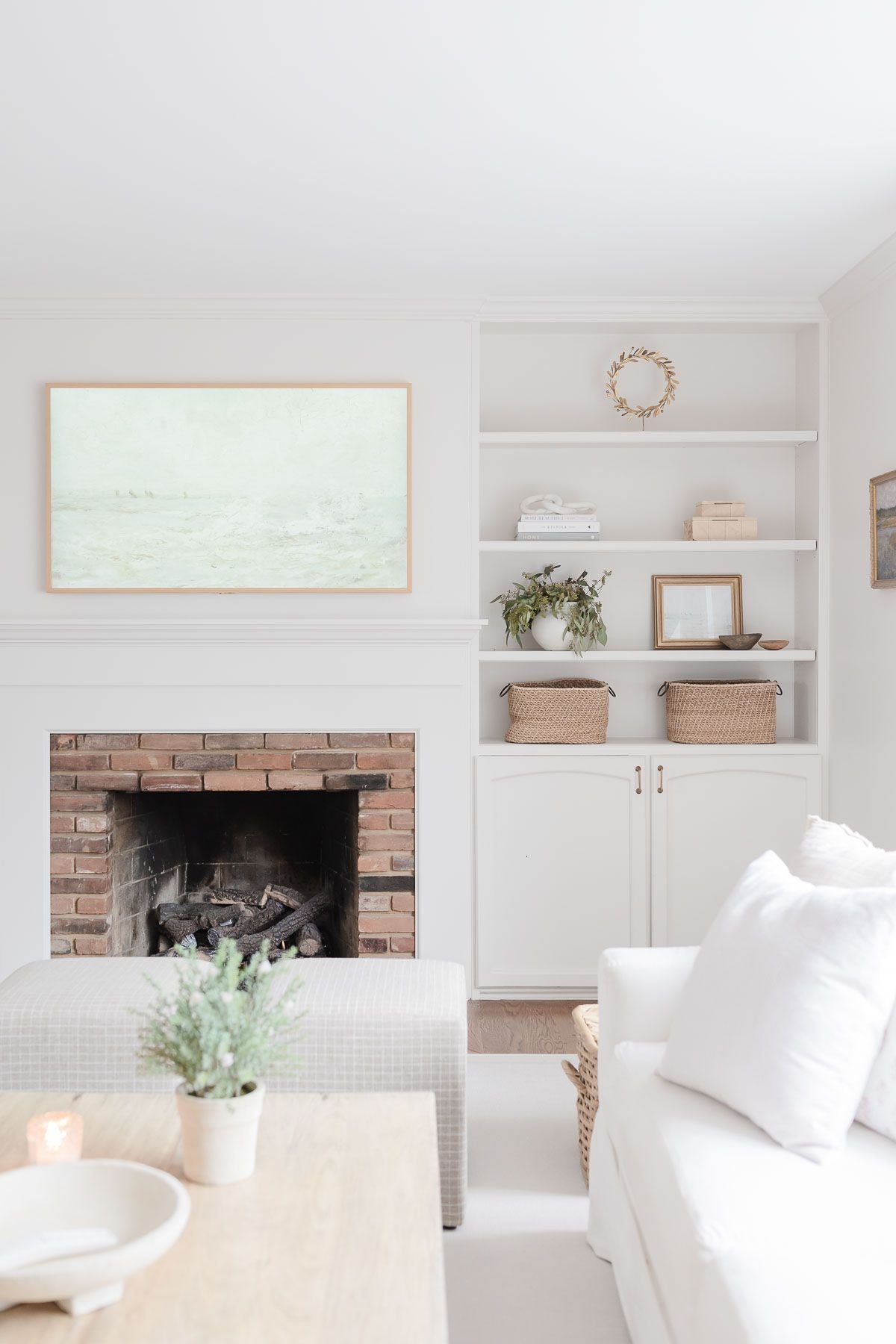 Benefits of Built Ins
Great Use of Space – The foot or so of space right in front of a wall isn't used much, especially not for foot traffic. So they basically create more space by using all of the vertical space above an otherwise unused area.
Decor – We've all got those knick-knacks, souvenirs, and charming finds that we love to showcase. I love incorporating 3-dimensional decor in my decorating, and a built in bookcase is a great place to show it off.
Storage – Who doesn't need more storage? Bookcases are great for displaying books, plants, vintage items, and more. And if you have things that you don't want seen, then put them in a stylish basket!
Safe and Secure – Built in cabinets are secured into studs in multiple places. You still don't want kids climbing up the shelves, but if a little monkey did climb up, the whole bookcase won't come off the wall.
Appearance and Style – They just look really nice! With finished ends and trim along the ceiling, they look complete and make the whole space look stunning.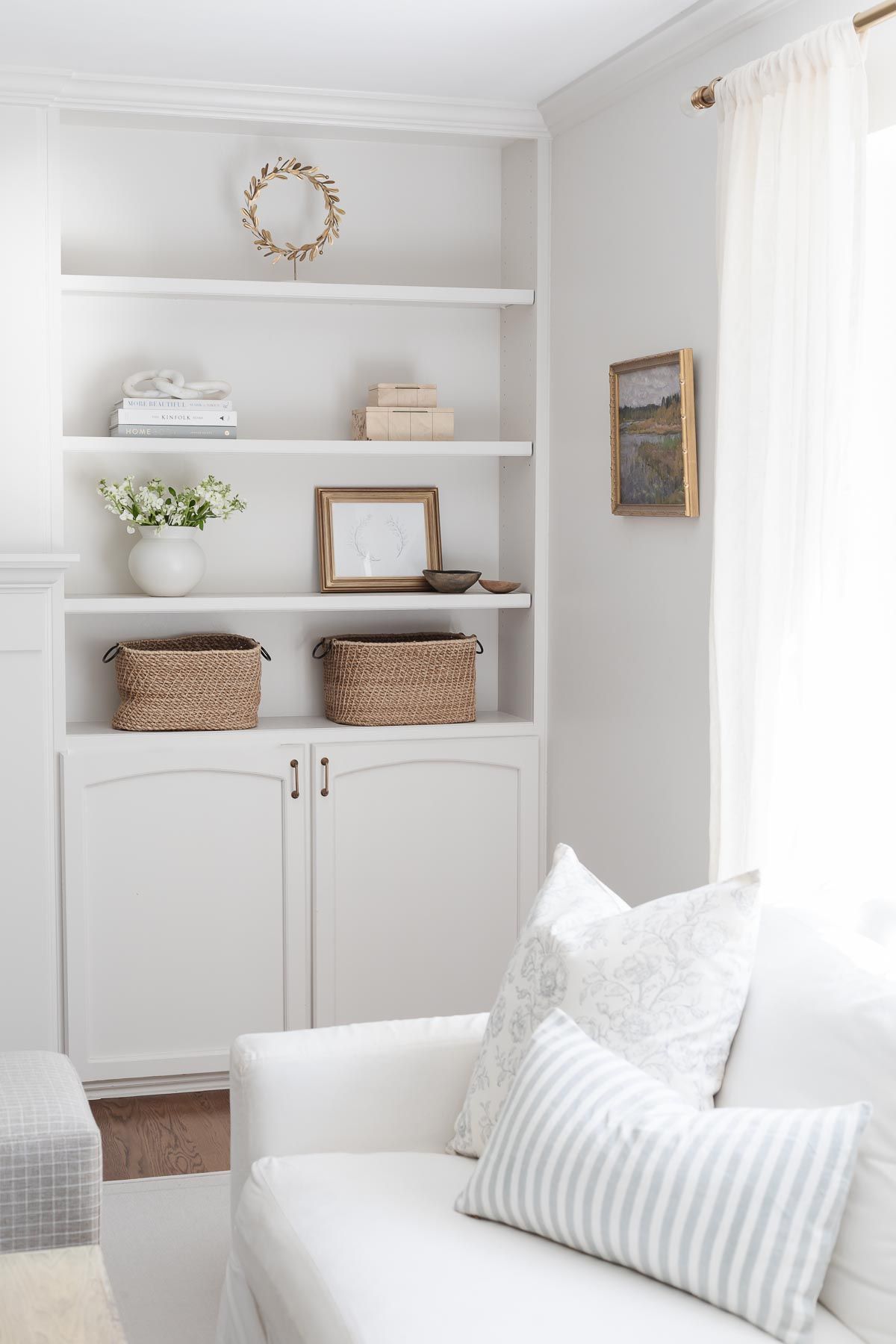 How to Install a Built In Bookcase
If your home doesn't already have these convenient space makers, you can install them or have them installed a couple of ways.
Hire a Professional – Sometimes you just need someone else to do the job. A professional can help with design and style. And then they can do all the measuring, installing, and finish work. This ensures that your final product is just what you envisioned.
Half-way Build Your Own – Start with freestanding bookcases that are the correct size. They can even be very basic. Attach them to the back wall and side walls. Then customize them with trim of your choice along all of the edges. You will probably need to extend the cabinet to the ceiling to have it look like a custom built in. Add molding to the top to finish the look.
Build Your Own – If you really want to, design and build and entire built in yourself. This way you can customize it to your exact style and measurement specifications.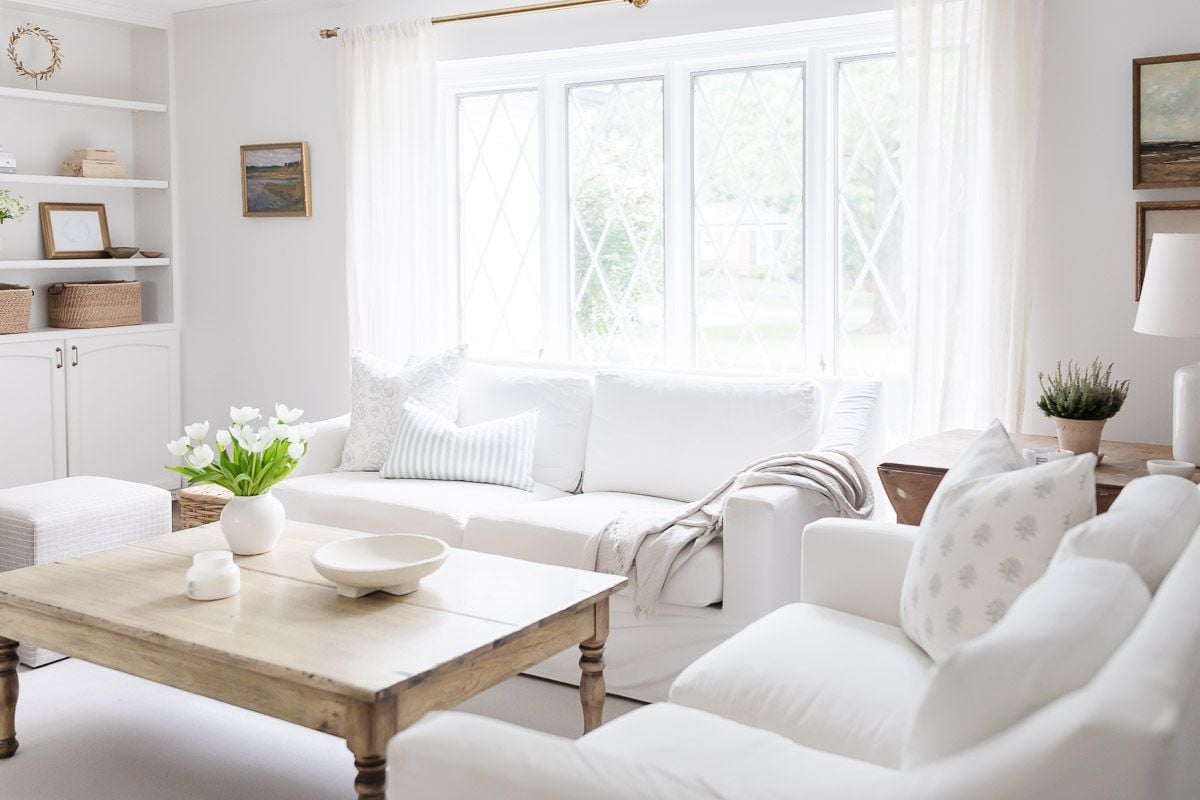 Our Built-in Bookcases: Specifics
8ft x 4 ft.
Top shelf is 15in, the rest are 13in.
Bottom cabinet is 35in.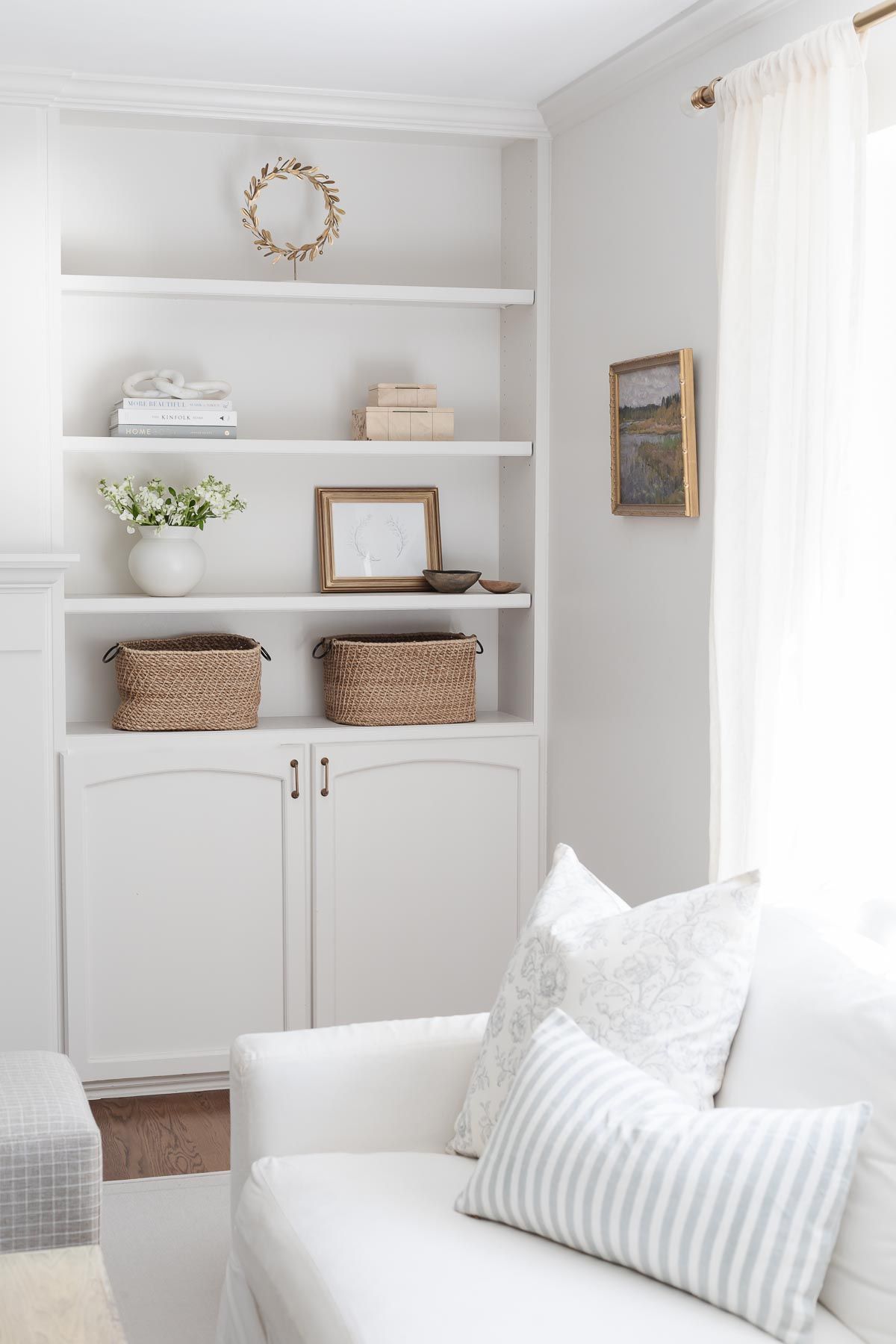 Frequently Asked Questions
Are built-ins a good investment?
Yes, buyers love quality and custom-looking built in bookcases. Whether you have a professional carpenter install or you do it yourself, the finish work is important in the value of your built-ins.
Is it cheaper to DIY or have them installed professionally?
DIY is usually cheaper, but that isn't the only point to consider. Time and quality also need to be considered when preparing to add built in bookcases. Hiring a carpenter will be more expensive, but the job will be professional quality.

If you decide to DIY your built in bookcase, you'll need to weigh the value of time with the cost savings. You'll also need to ensure that you can do a quality job that will look professional.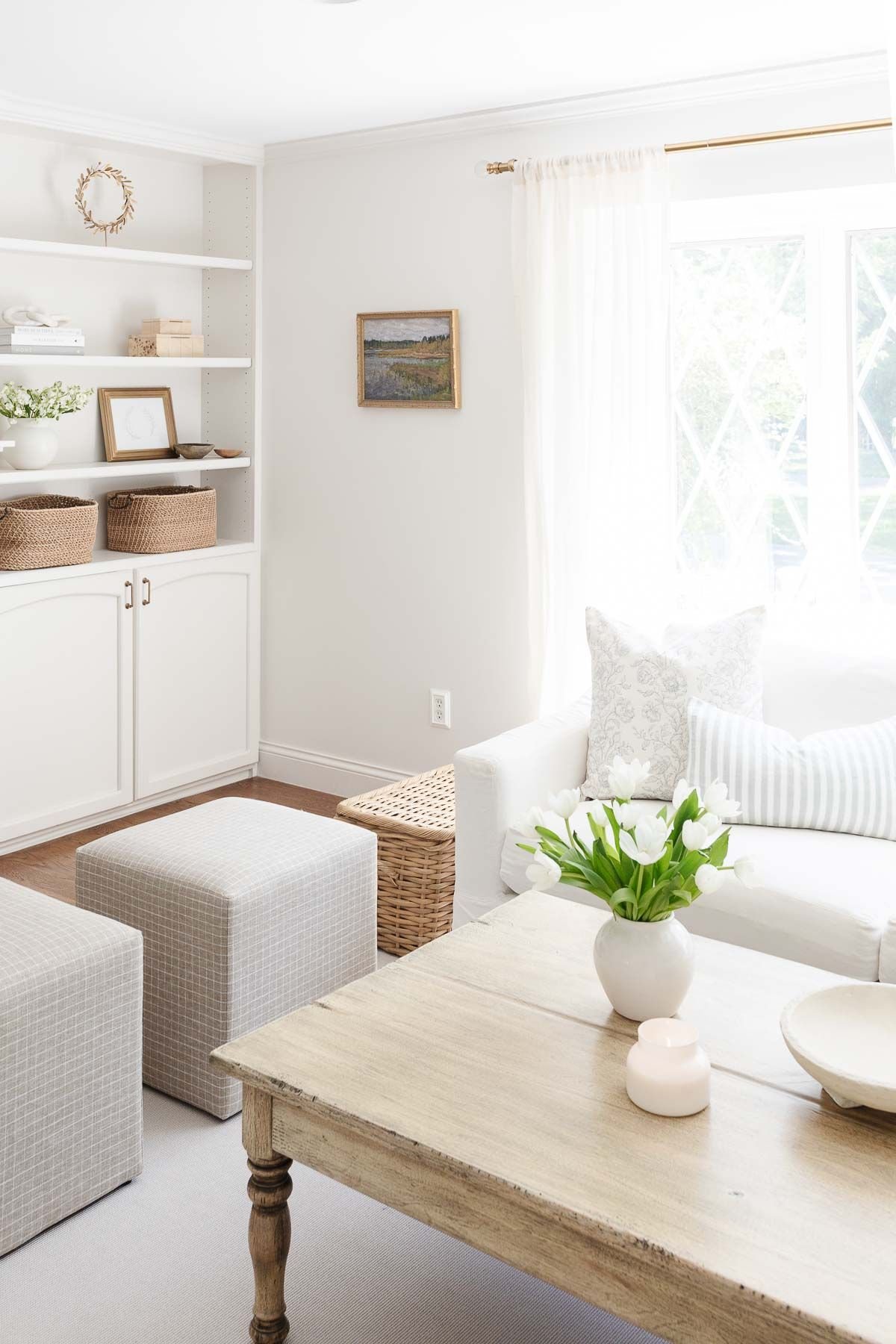 Learn all the secrets and techniques for how to measure furniture, and get it right the first time!
I'd love to hear from you! Do you have built in bookshelves in your home, or are you planning to add some in the future?