This is the ultimate, comprehensive guide to the best paint for trim. You'll find information about what products to use, tips for a successful painting project, and so much more!
Save this guide for the day you're ready to tackle this project and freshen up your trim!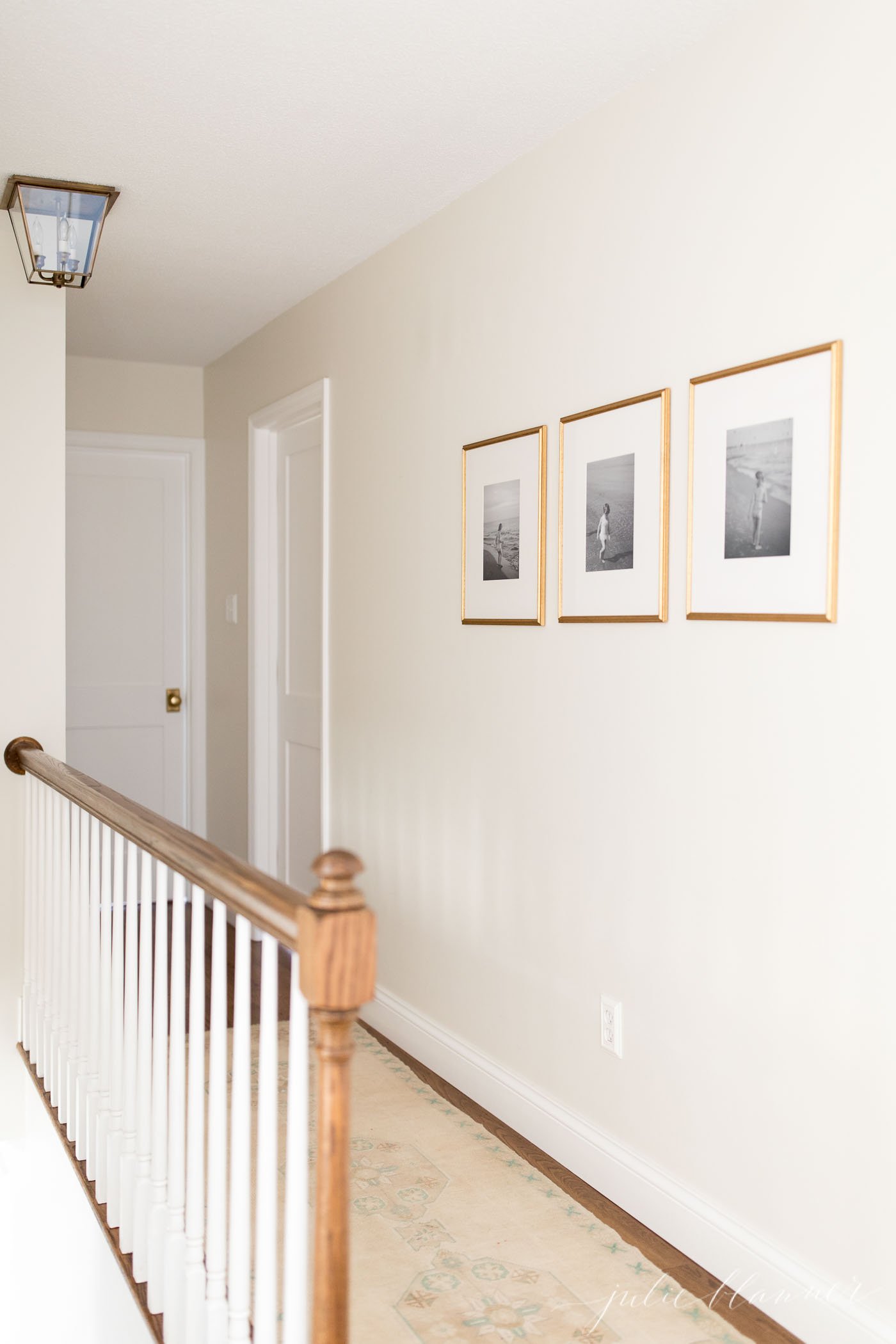 This post was originally published May 9, 2019 and updated with additional details March 29, 2021.
Let's face it. Paint can be complicated! I always love how design shows tout paint as the simplest, least expensive change you can make to your home.
Yes, it's a huge change. But is it completely effortless or an easy decision to make? Never! Choosing trim paint can be stressful, just like every paint job in our homes.
It's so much more complicated than just grabbing a can of white paint and Painting Trim White. But don't worry! I'm here to guide you through the process of choosing the best paint for trim.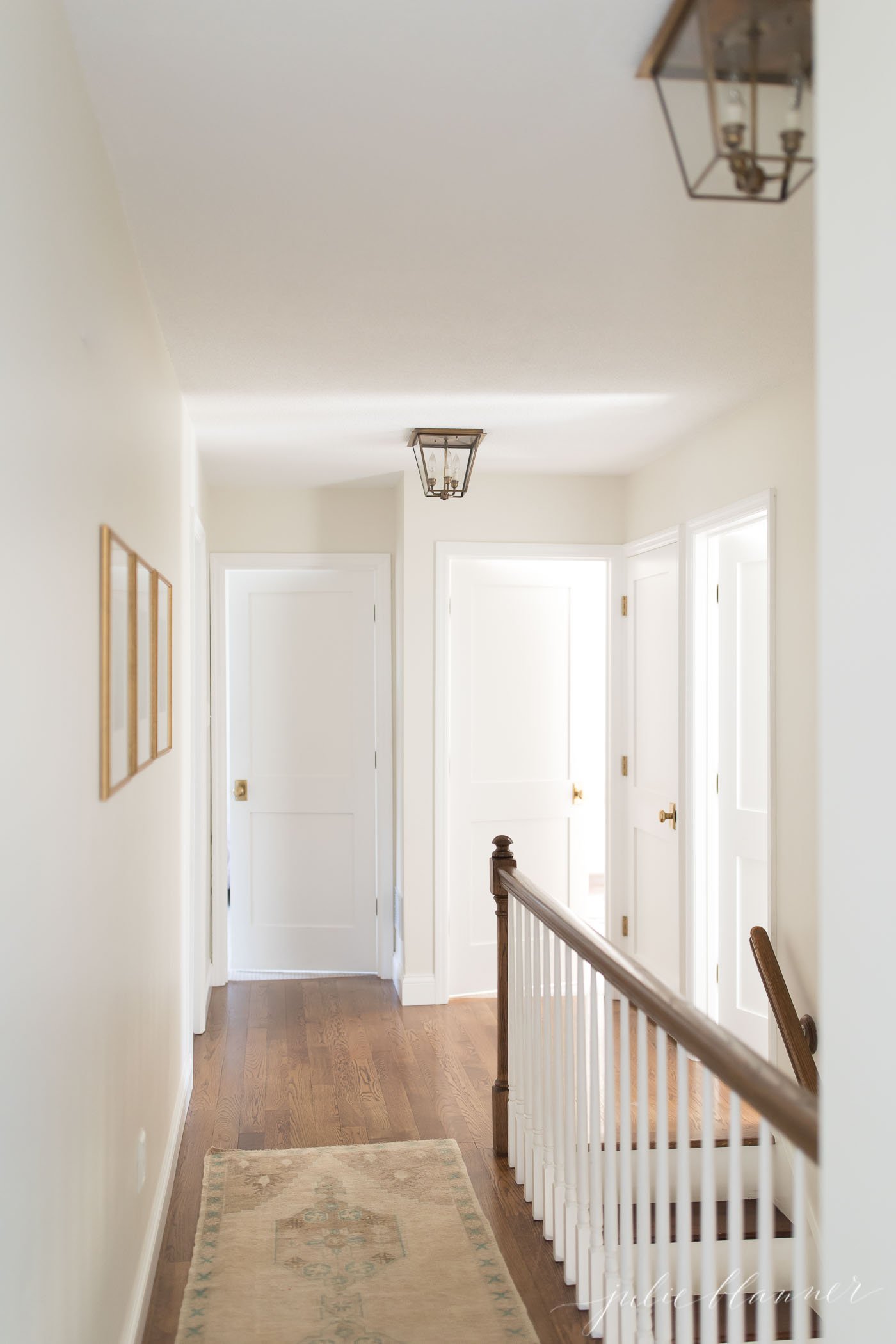 Learn from our past painting mistakes so you can easily make the right choice for your home! Painting your doors, interior trim and baseboards is not something you want to partake in frequently, I can promise you that.
I love a crisp, clean trim color and I've got so many tips to choose the best paint for trim! Here, you'll get my best tips for choosing paint colors and sheens, what type of brushes and tools are best, and more.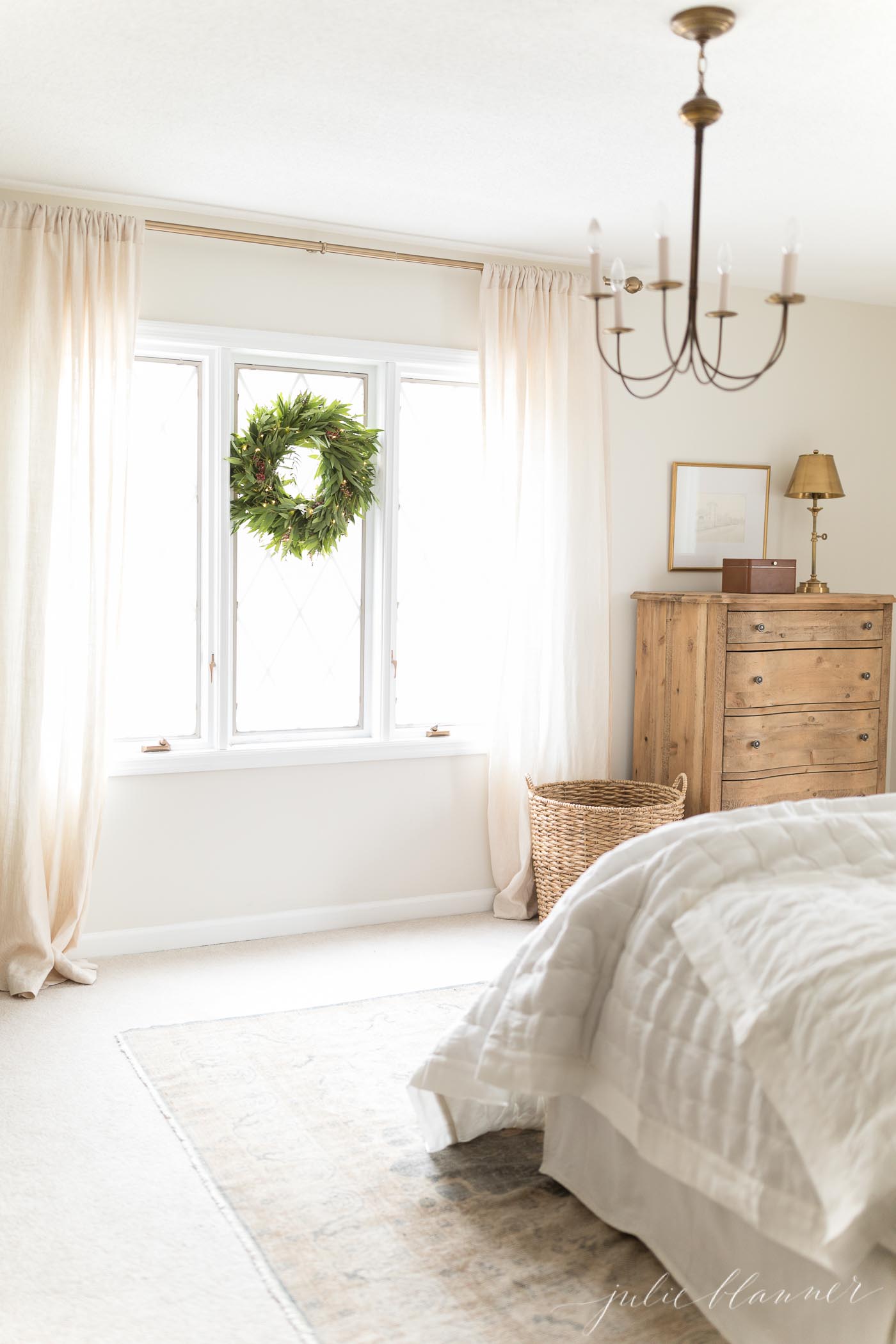 Choosing The Best Trim Paint
There's a standard answer to the question that I receive time and again. "What's the best paint for trim?" My answer is always the same: semi-gloss!
It's a builder standard, and with good reason. Semi-gloss paint is easy to wipe down, has a pretty sheen that catches the light and highlights your pretty trim, and it creates a pretty edge next to your less shiny walls!
One of my favorite tips? You can create a subtly beautiful effect by choosing the same color for your walls and trim, but simply altering the sheen. Read more about Painting Walls and Trim the Same Color here!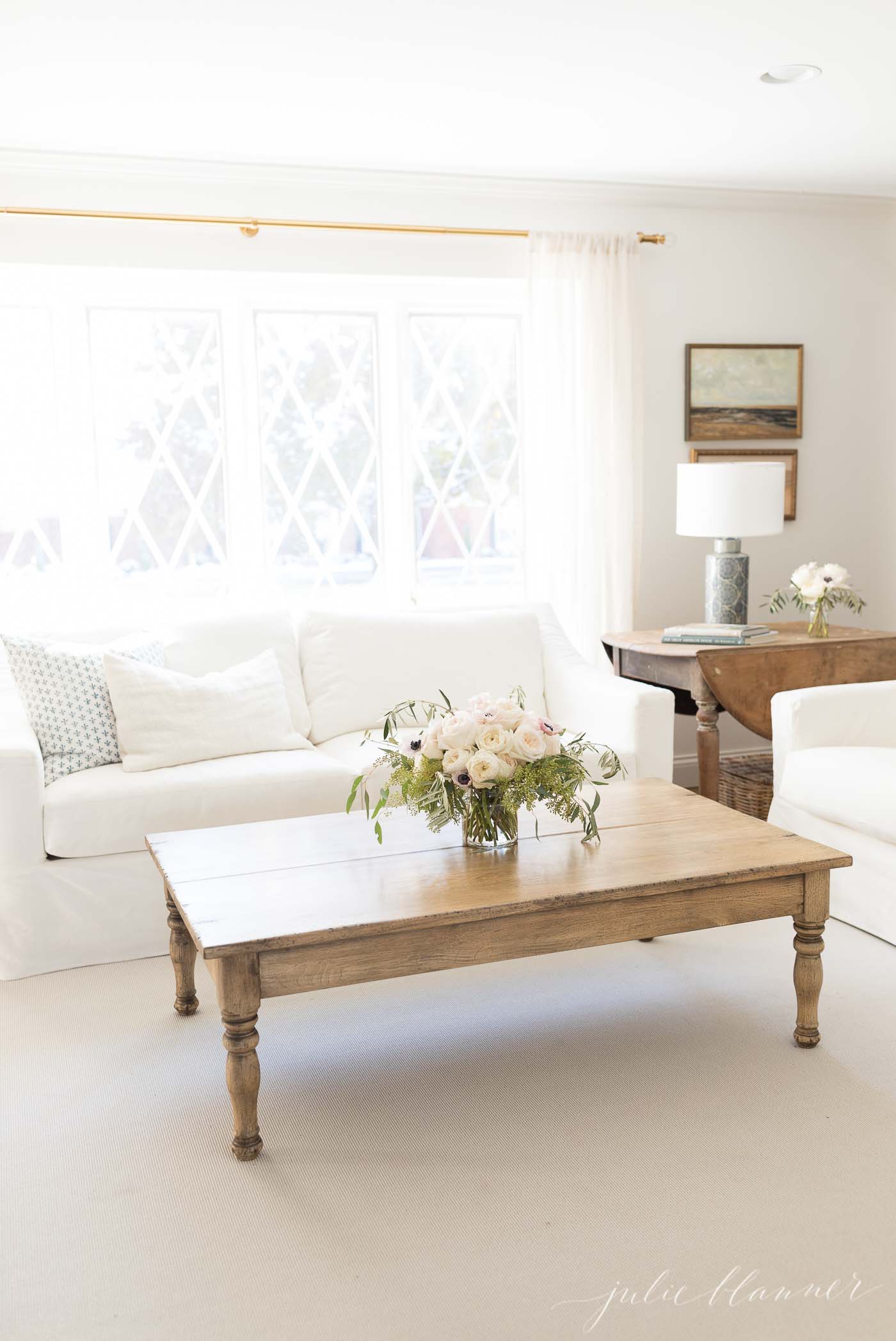 When you choose between gloss and semi-gloss for the trim and doors, but then use an eggshell or satin finish on the walls, the effect is beautiful, soft and warm.
It also allows the eye to continue to the ceiling (a contrasting color stops the eye), so it's perfect for rooms that have "low" ceilings. You can see an example of this style in our living room, where the room and trim are painted in Zurich White, in different sheens.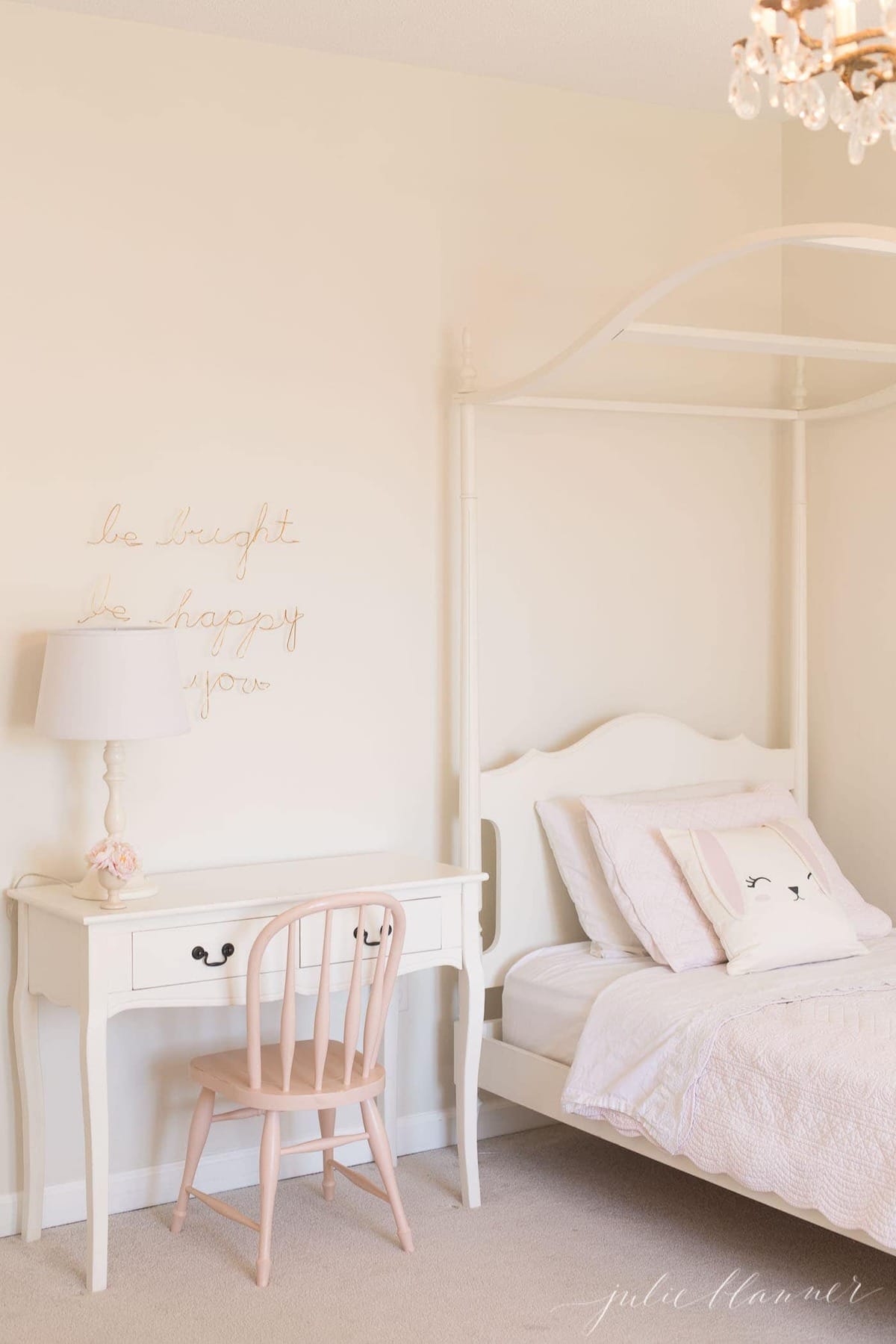 How To Choose Door and Trim Paint
I've tried a variety of paint brands over the years. Ideally, it's best to discuss your specific project with the paint professionals at your friendly neighborhood paint specialty store.
However, there are a few items you can ask about when you're choosing the best brand and type of paint.
Ask about the sagging/lagging potential with each paint option.
Ask if you'll need to prime first (this generally depends on whether you're starting with a stained or previously painted surface).
You can also ask about oil vs water-based paint for your project.
Oil paint offers a durable finish our trim and cabinet projects. Yes, it's messy and can be more difficult to clean up during your project.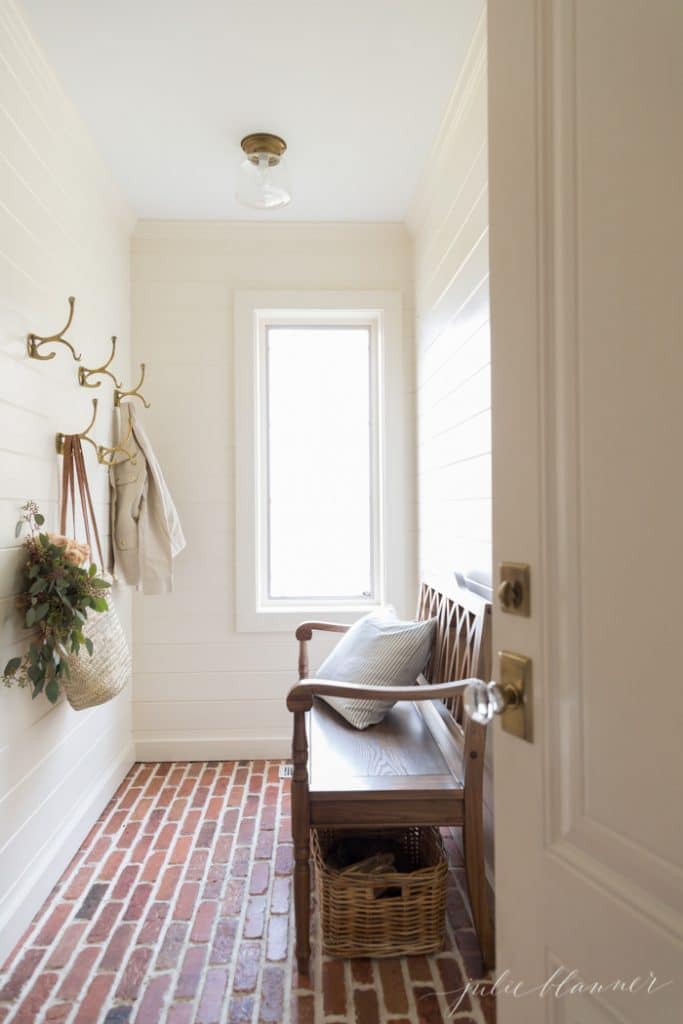 Which Trim Paint is Best?
Of course, it goes without saying that this is just one opinion! However, we've used many brands of trim paint over the years. While I really liked Valspar Signature Ultra White Base A, my very favorite is Sherwin Williams Pro Classic in un-tinted white.
We love to use Sherwin Williams Pro Classic. It's water-based, so it doesn't have an awful odor. It has a smooth finish and resists brush marks. It's durable and wipes clean with a wet cloth.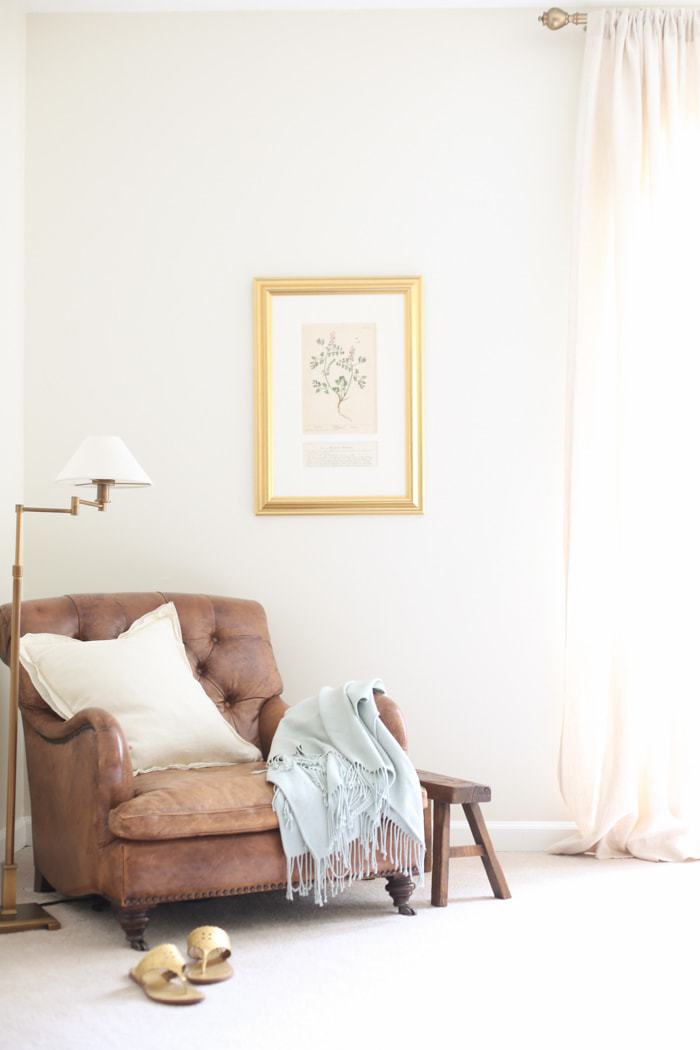 For our trim painting projects, we use ProClassic Waterborne Interior Acrylic Enamel in semi-gloss. It's an enamel finish in a water-based paint. Easy clean-up but holds up beautifully for us over time!
There are two other types of ProClassic paint. Alkyd Interior Enamel, which is oil based, and Interior Waterbased Acrylic-Alkyd are other options.
Oil based paint has a reputation for holding up better over time, but it's much messier to use. I'm sure the acrylic-alkyd is great too, but we haven't tried it.
Trim paints are typically branded as such. They are often more expensive than traditional wall paints, simply because they are formulated to hold up to higher traffic areas.
I love that there are so many options for paint and primer combinations now, as noted below. Anything to eliminate those extra steps, right?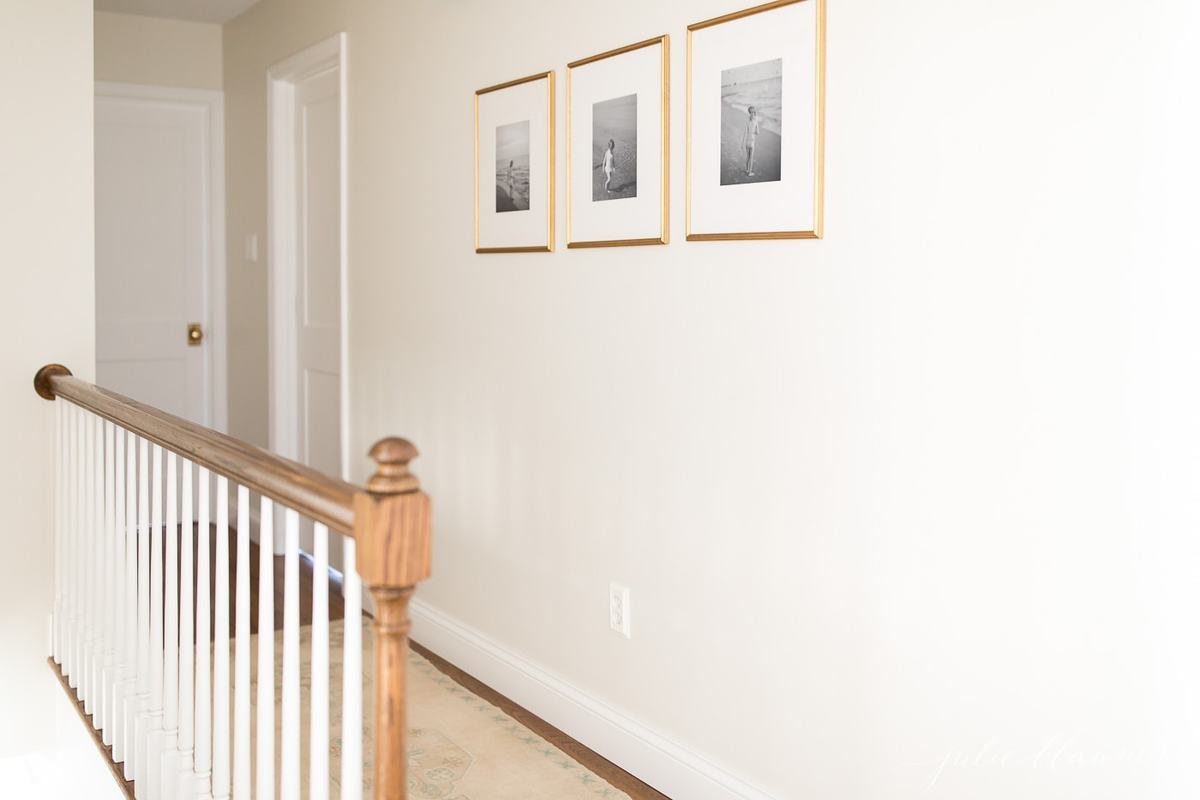 Best Trim Paint Brands
There are more options to consider in these highly ranked paint brands. There are water-based, oil-based and paint + primer combos! So many things to consider, so do your research to decide what might be best for your project.
Sherwin-Williams – ProClassic Waterborne Interior Acrylic Enamel
Behr – Ultra Interior Semi-Gloss Enamel
Clare Paints – Subtle Semi-Gloss
Glidden – Trim, Door & Furniture Paint
Benjamin Moore – Regal Classic Premium Interior Paint, Semi-Gloss Finish
Rust-oleum – Enamel Paint, oil-based
Olympic – ICON Paint + Primer
Valspar – Ultra Interior Paint + Primer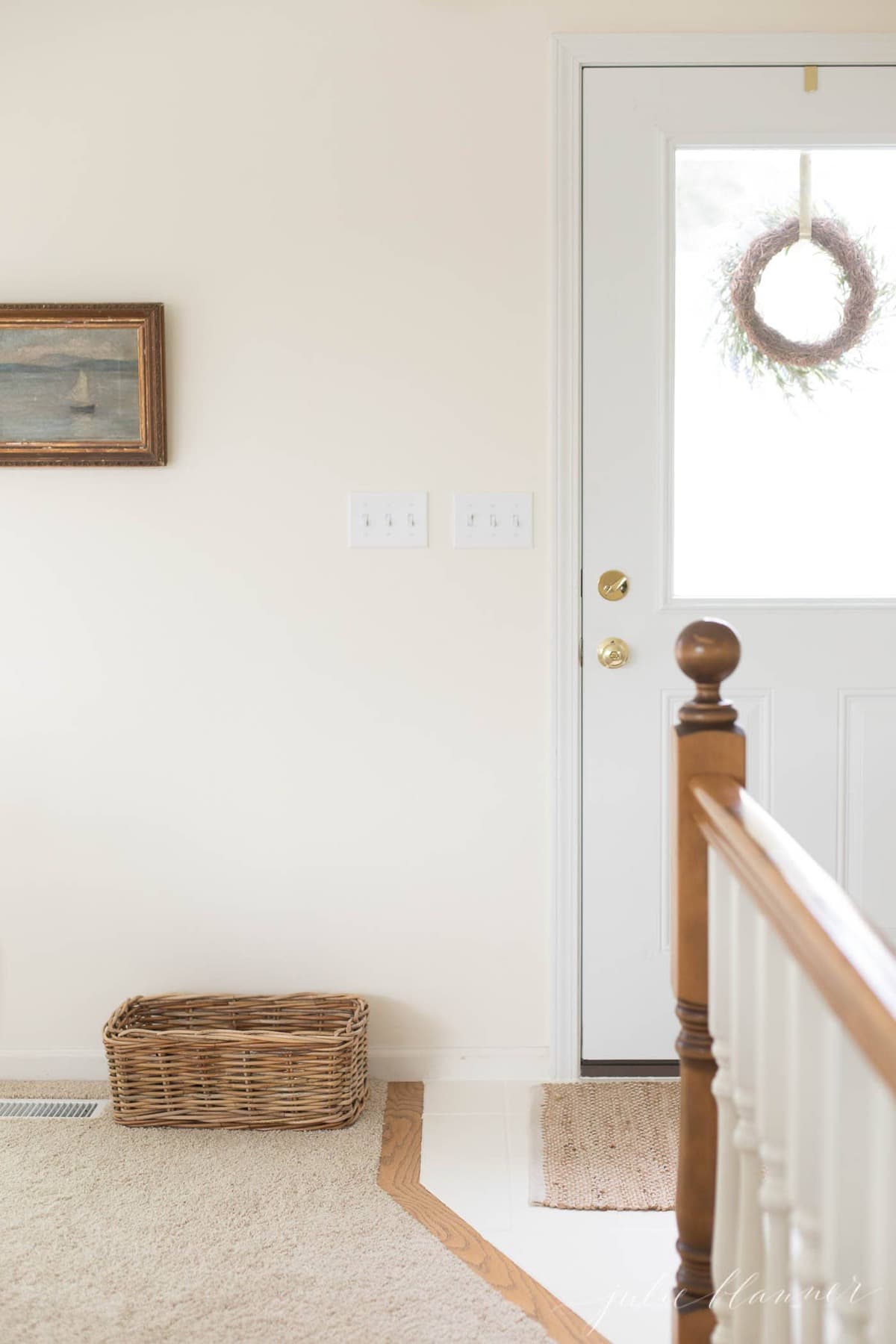 Can You Paint Trim Without Sanding?
While it's often advised that you'll need to sand your wooden trim before painting, there's another option! You can paint without sanding!
It's the ultimate painting shortcut. We've had so much success with this trick on trim, windows, furniture and more! You can paint your glossy wooden trim white using this method.
You can find all the details and technique tips in the link above. My favorite product is available here. It truly eliminates the need for sanding and I am a fan of shortcuts when they save me both time and mess!
What's the Best Paint Brush for Trim?
The best paint brush for trim will always have an angled edge, making it perfect for cutting in for clean lines! 1-2″ trim brushes are suitable for floor trim, door trim and windows. Find my very favorite trim brush here.
Here's a product that is loved by many when it comes to painting trim! Consider using these edging guides! You can simply use them as you move along, eliminating the need for taping and creating a clean line every time. It makes painting trim a breeze!
Another product you might love when you're painting trim is a caulk gun – it fills in the spaces between trim and drywall for a clean, pristine finish.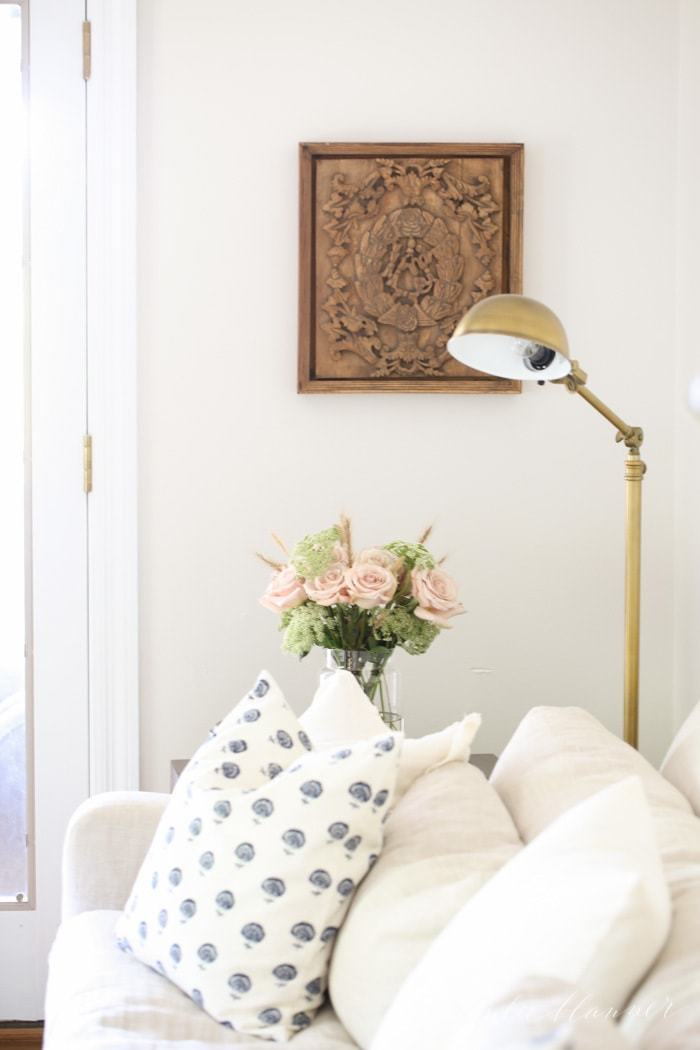 More Trim Paint Questions
What is the best paint finish for trim?
Semi-gloss paint is always best for trim, doors and cabinetry because it's so easy to wipe clean. You can also choose gloss paint because it's also so easy to clean, but it's significantly shinier.
Do I need to prime trim before painting?
If your trim is currently wood, you can sand first and then add a coat of primer. You can also skip this step by using a liquid paint de-glosser. If it is already painted, you can generally skip priming unless there are old stains or problem areas coming through.

You can typically skip using a primer when using good trim paint. I always recommend painting a small swatch and doing a scratch test 24 hours after the paint has cured to be cure.
Can you use wall paint on trim?
Generally speaking, no. Traditionally, walls are painted in more a satin, eggshell or flat finish, while trim is semi-gloss or gloss. You can certainly paint walls and trim in the same color, though, which is a stunning look!
Can I paint over paint without primer?
Yes, you can! However, if you're painting a light color over a dark color, you might find that a coat of primer will serve you well to block out the darker tone prior to paint.
Should you paint trim with brush or roller?
Using a good quality brush to apply the finishes is often best for reaching into the nooks and crannies that trim painting requires. However, a good foam roller can also help and provides an excellent, smooth finish.
Should you paint baseboards or walls first?
Generally, it's suggested that if every surface needs to be painted, you should first paint the trim, and next the ceiling, with the walls being last. Taping trim is often easier than walls, so that's the reasoning for this order.
What Color Should I Paint My Trim?
White is a classic, clean option that goes with everything. White trim is certainly the most common choice, but it's not as easy as it sounds. Many "whites" have a lot of blue or yellow in the background and can clash with wall colors. My favorite trim color is often simply an un-tinted white.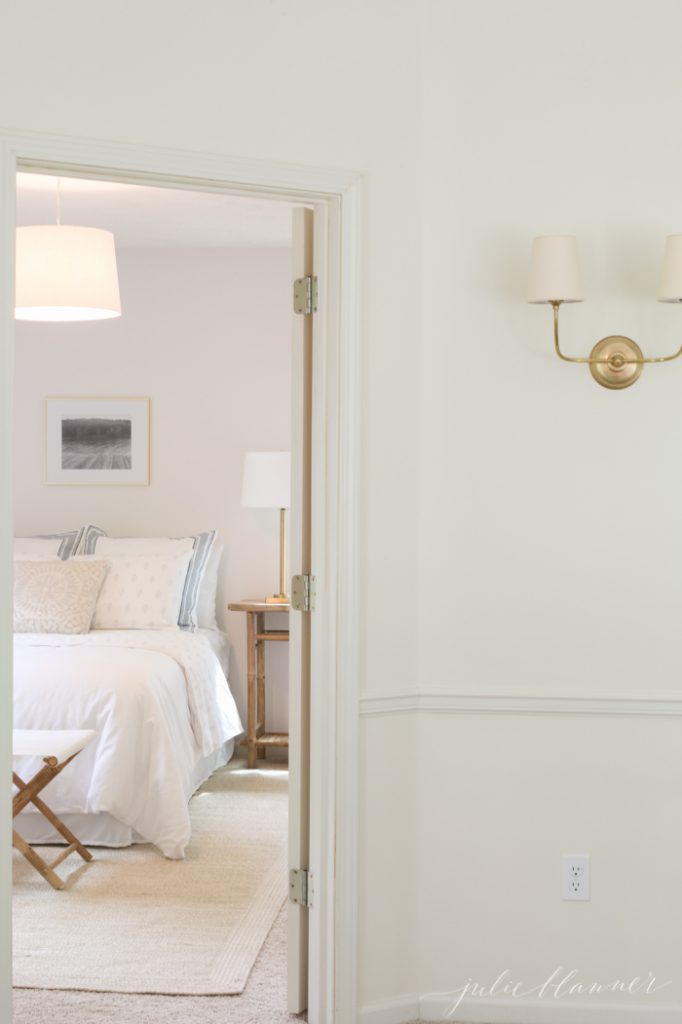 Get all my best tips for choosing a paint palette here. There are so many factors to consider when choosing interior paint, including lighting, flooring, and more!
You can also learn about choosing Ceiling Paint, Flat Paint, Painting Interior Doors, How to Paint Linoleum, Paint Sheens and Eggshell Paint here.