You can paint linoleum and vinyl floors in just a few simple steps! This quick and easy DIY project will completely transform your space without a lot of effort!
I love a quick fix! It's so rewarding to transform a space with little effort or investment. Our laundry room has a combination of carpeted and linoleum floors. While we intend to replace them in the future, it may not be for a few months or years.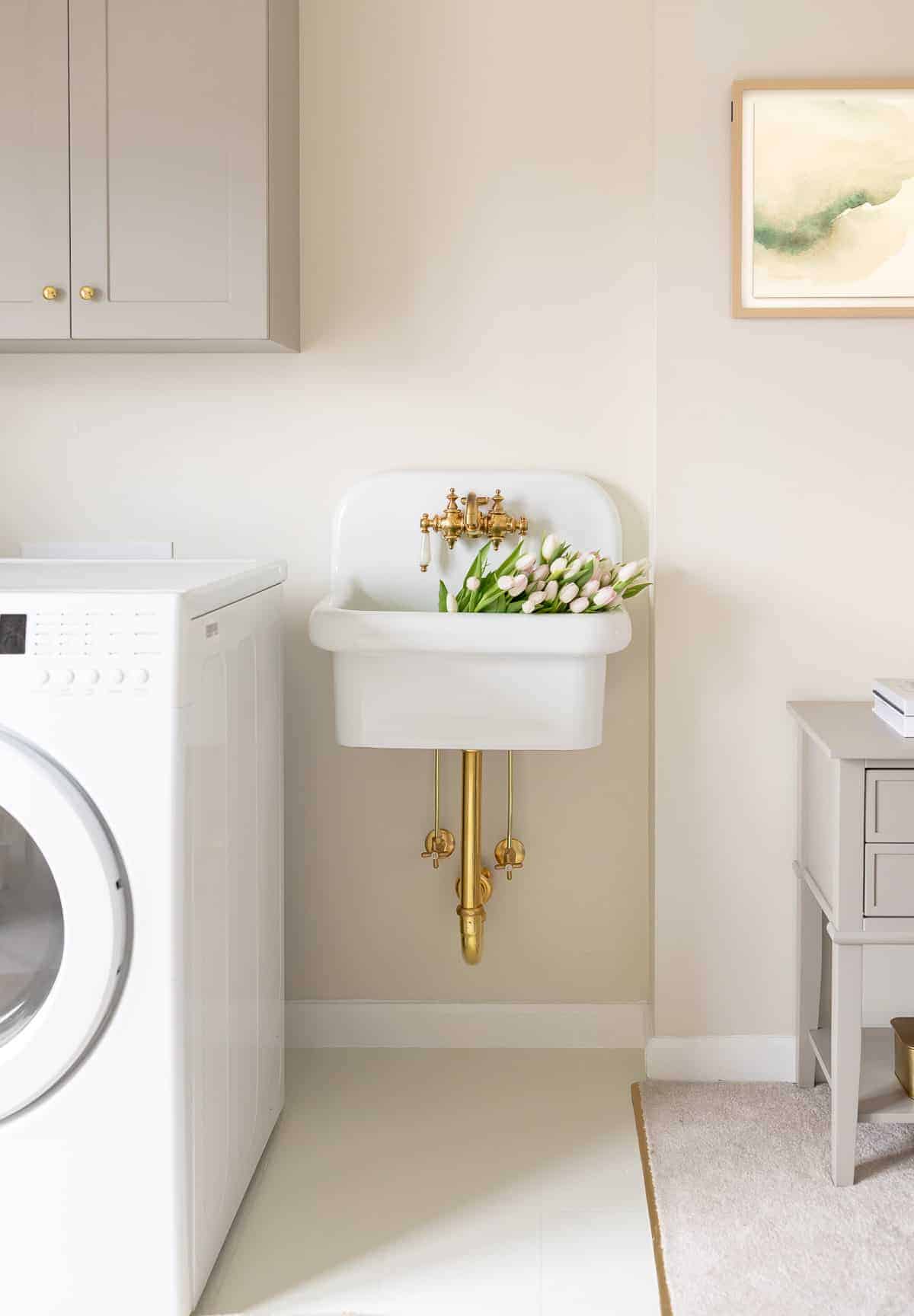 Whether you want to paint vinyl or linoleum floors as a temporary fix or for a long lasting, durable floor, this is the perfect way to update your space!
Painting floors is a quick and inexpensive fix! When done properly, it's a durable way to update your floors! You can full tutorials for how to paint concrete, how to paint tile and now how to paint linoleum! We've done it all – even grout stain!
This project is suitable for bathrooms, laundry rooms, sunrooms, kitchens and so much more! It can handle high traffic and water. It's extremely versatile! It can be tinted in an array of colors and you can even create a patterned cement tile look!
The Best Linoleum Paint
Porch and Floor Enamel is the best paint to withstand heavy traffic, wear and tear and water. Designed to use indoors and out, it resists dirt and household chemicals.
It is a water-based enamel fortified with epoxy. It is ultra smooth and dries to a hard, low lustre finish.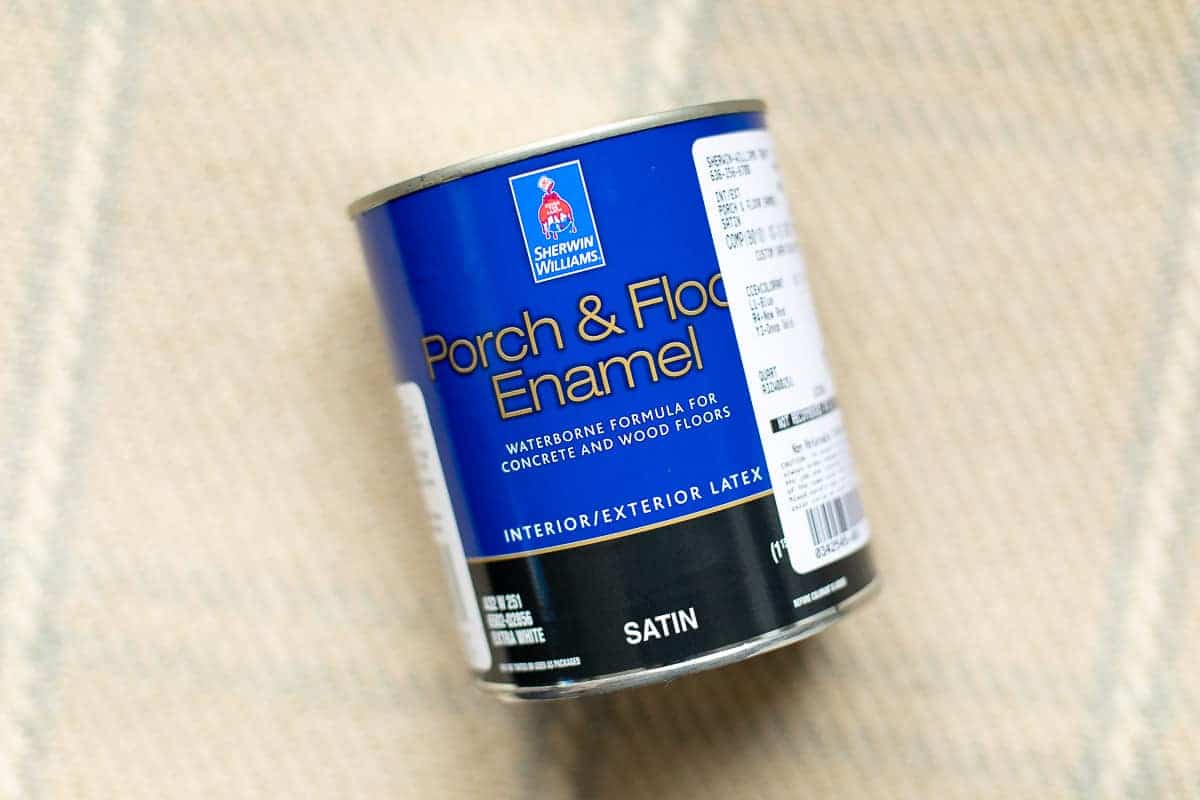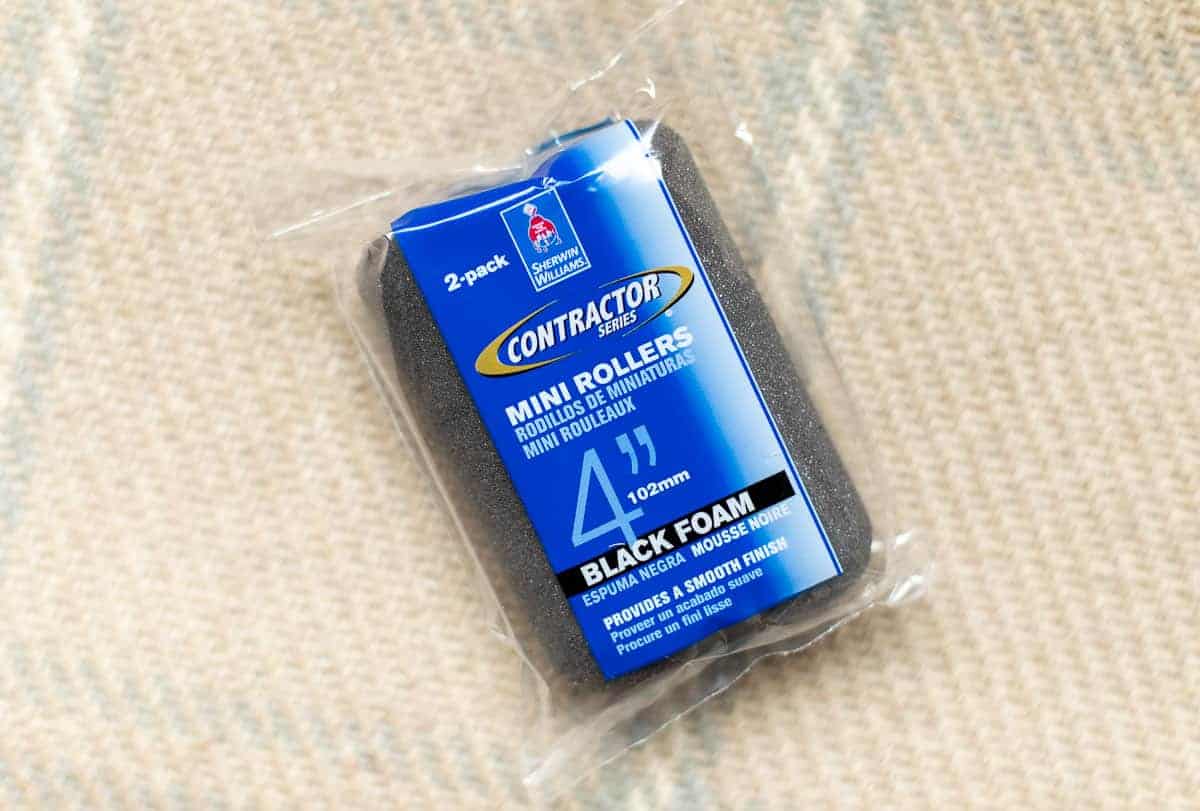 How to Paint Linoleum Floors
Sand
Linoleum typically has a shiny finish, which is difficult to adhere to. To help the paint adhere, the surface must be thoroughly sanded to rough it up. For small spaces you can just use sandpaper.
I like to use a sanding block. For larger spaces, I highly recommend an orbital sander. This process is quick and easy.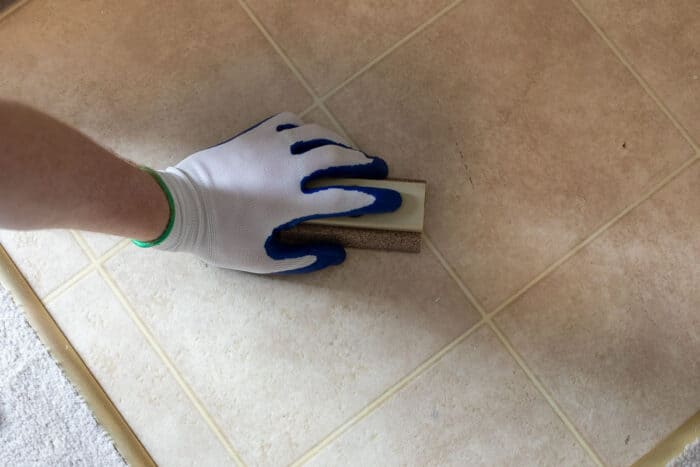 Degloss
This step is completely optional, but recommended for long-term use. Use liquid deglosser to eliminate any glossy finish. This will ensure the most durable finish. Using a cloth, apply in a circular motion. A hazy residue will remain. Allow it to dry.
Clean
Do not skip this important step. For paint to properly adhere the surface must be completely clean. I highly recommend using a degreaser to remove any residue to provide a smooth, durable finish. Mop, wipe or rinse until there is no residue remaining. Allow the floor to dry.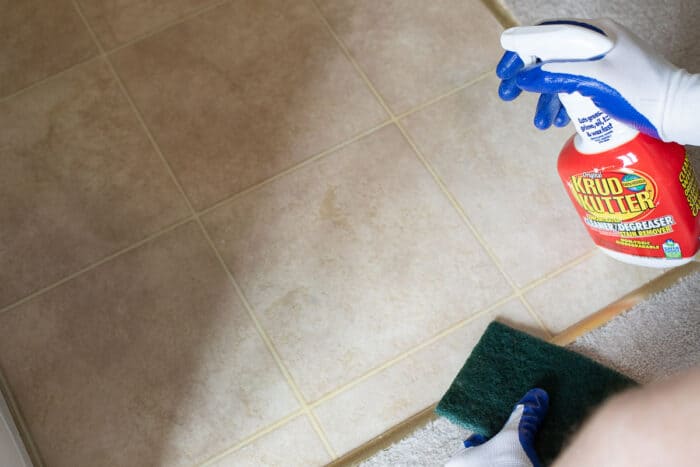 Prep
Tape surrounding areas to prevent bleeding or painting the surface.
Paint
Using a brush, cut in and paint the perimeter.
Pour paint directly on the floor or use a paint tray. Roll paint on floor working your way out of the room. Do not go over it more than once to achieve the smoothest finish. Allow the floor to dry completely (4 hours). Apply a second coat resisting the temptation to go over it more than once and allow to dry.
Floor cures in 30 days.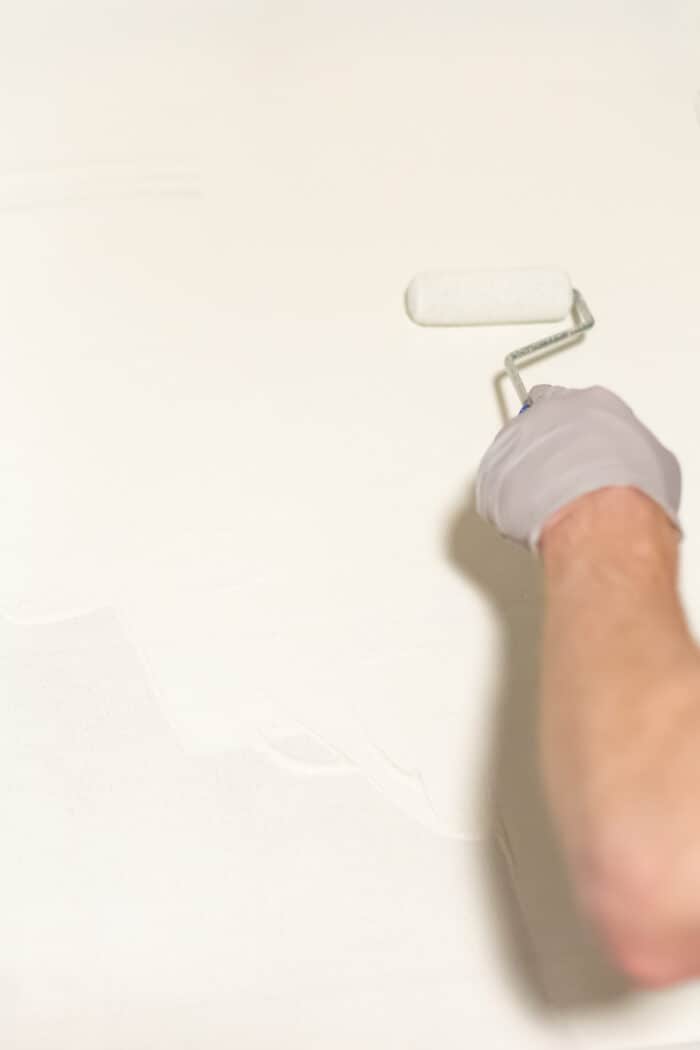 Stencil Linoleum
Of course you can have so much fun with it tinting to any color and creating patterns using stencils and a stencil brush. The options are endless! Create Spanish tile, a plaid floor or stripes!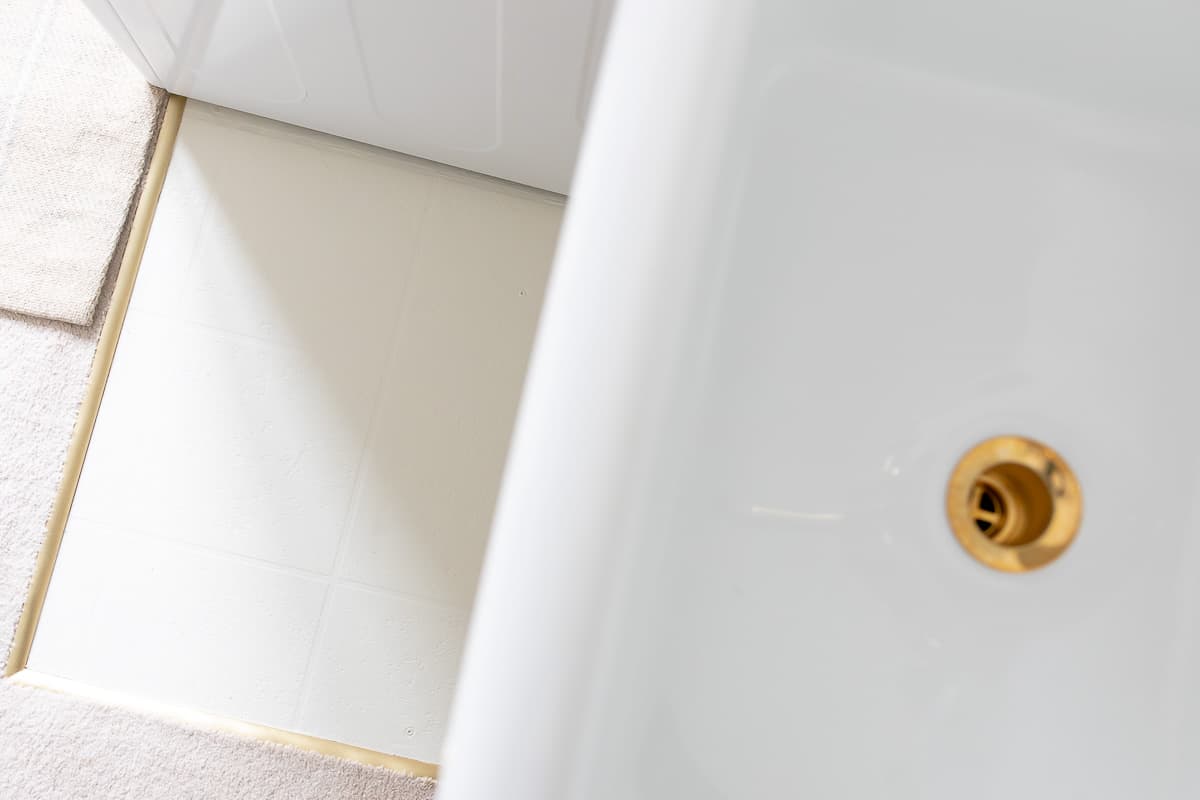 Love learning about flooring options? Don't skip these guides to White Oak Floors, Bedroom Rug Size and Placement Guidelines and Layering Rugs on Carpet!
Tips
If needed, use a flashlight to see where you still need to sand.
Use an orbital sander to make sanding the floor a breeze. No special skills required!
Read all about Paint Sheens, including Flat Paint and Eggshell Paint.
Let's stay in touch! Join our newsletter for access to exclusive content, never-before-seen photos, your questions answered, and our favorite projects. You'll receive the best design secrets delivered directly to your inbox! Sign up here!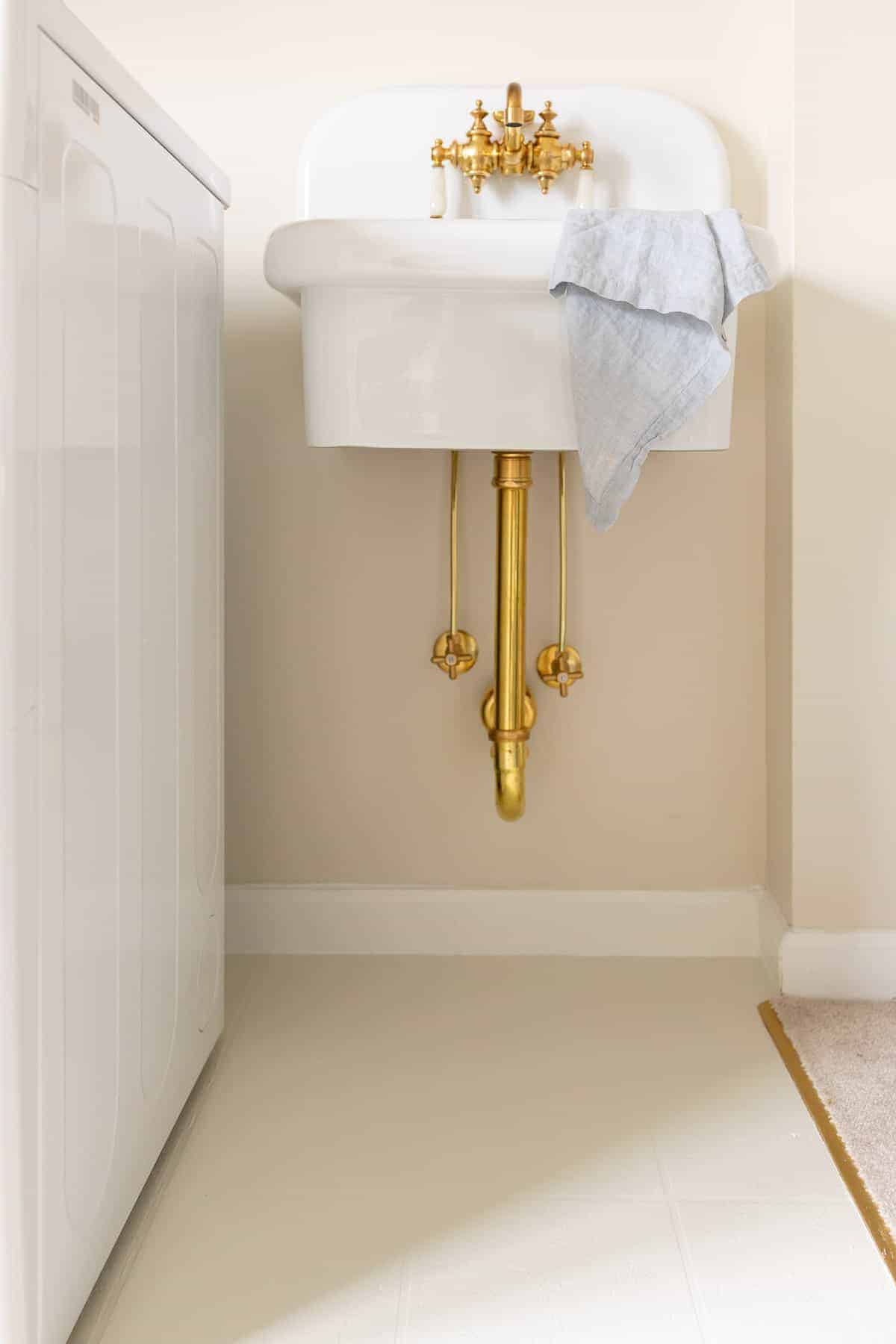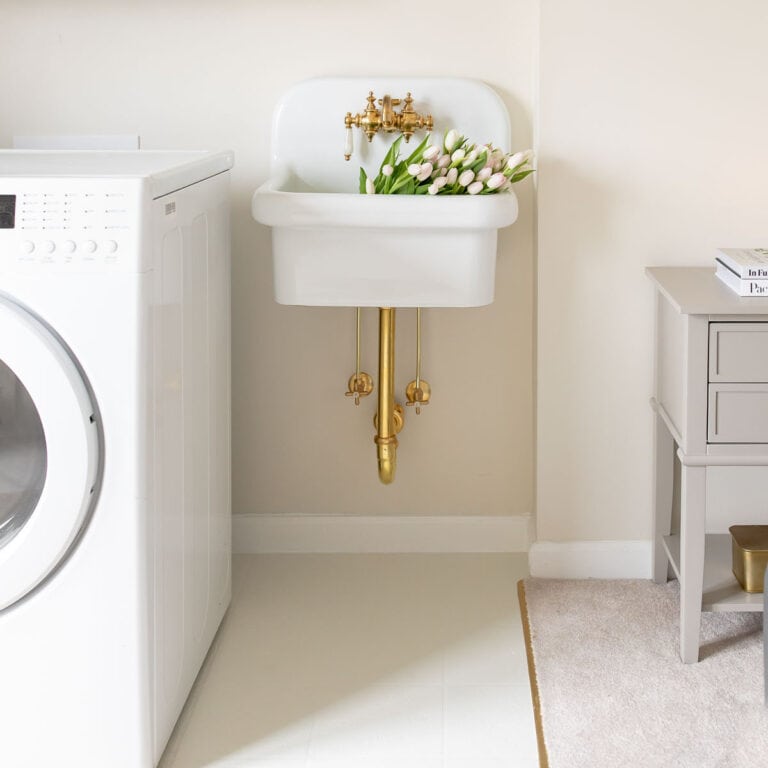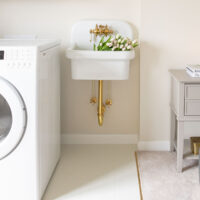 Paint Linoleum
Transform dated vinyl and linoleum with this easy tutorial to paint linoleum!
Ingredients
120

Grit Sand Paper

Liquid Deglosser

Cleaner / Degreaser

Painters Tape

Porch and Floor Paint

Foam Roller
Instructions
In a circular motion, sand the surface to rough up the finish.

Apply liquid deglosser to a cloth and apply to the floor in a circular motion. Allow to dry 15 minutes.

Thoroughly clean floor using a degreaser until all residue has been removed. Allow it to dry completely.

Tape surrounding area.

Cut in by painting around the perimeter.

Pour paint on floor or apply to roller using a paint tray. Roll paint on the floor working your way out of the room. Resist the temptation to go over it more than once.

Allow it to dry 4 hours.

Apply second coat of paint again, not going over an area more than once.

Allow to dry.
Tips
Tips
Choose high quality paint.
Thoroughly sand and clean surface.
Don't roll over the same spot twice for the smoothest finish.
Allow it to dry thoroughly in between coats.
Equipment
Orbital Sander (optional)