Let's get every room of the house in order, no matter how big or how small! Today we're tackling bathroom organization from the top down. Get inspiration for your under sink cabinet, bathroom drawer organization and more.
Not much can escape my efforts to streamline in the new year! Learn the easy method that I use to approach these spaces to help you stay organized for a long time to come.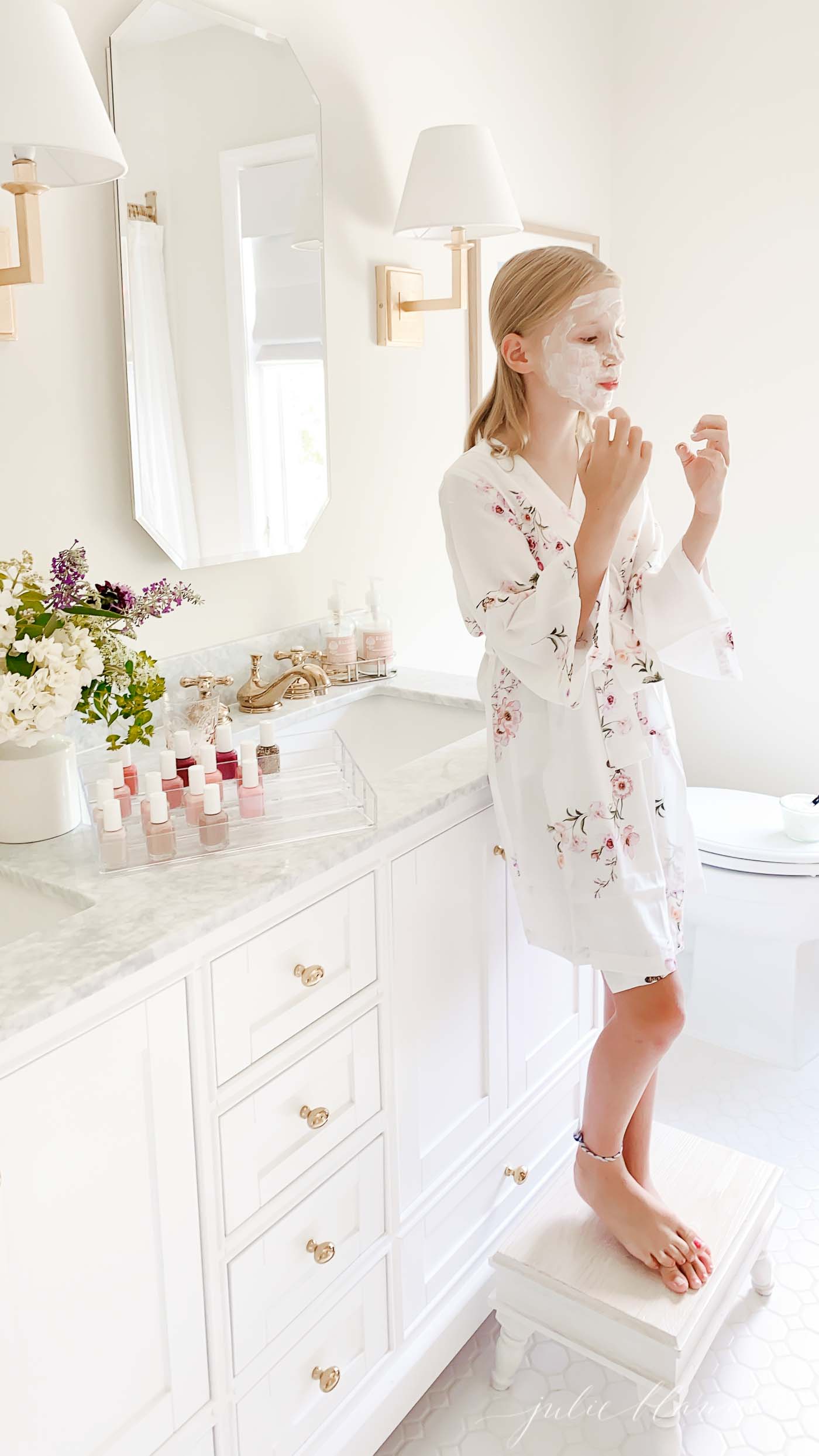 Mornings can be hectic no matter your age or stage of life. With young kids in our home, the hustle and bustle to make it to school on time can be a little stressful, no matter how hard we try!
Bathroom organization can streamline your morning routine. Knowing where every item is located, seeing it all laid out in an orderly fashion, can really help create a more calm and collected start to your day!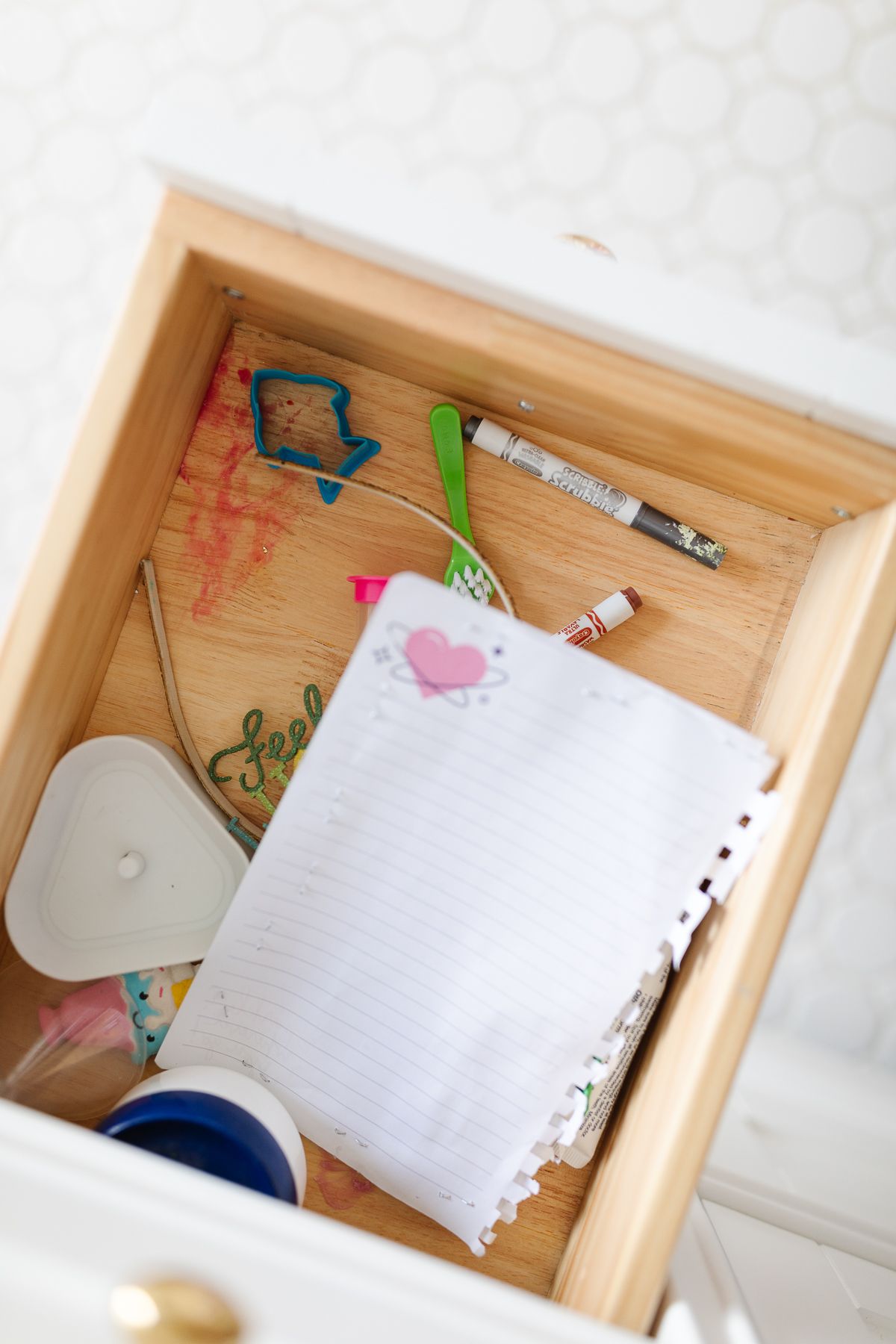 When I opened the girls' drawers in their Spa Bath during our holiday break (read more about it and my favorite brass faucets, too), it gave me immediate anxiety. How had we let things get so out of hand?
The truth was, we had redone this beautiful bathroom and then left them without any organization or processes to handle incoming bathroom storage. Of course it was a mess! Three young girls and all the lip gloss, toothpaste, and hair accessories that come with them meant those drawers were a disaster.
Don't believe me? See the before images, above and below! Just promise you won't look too closely.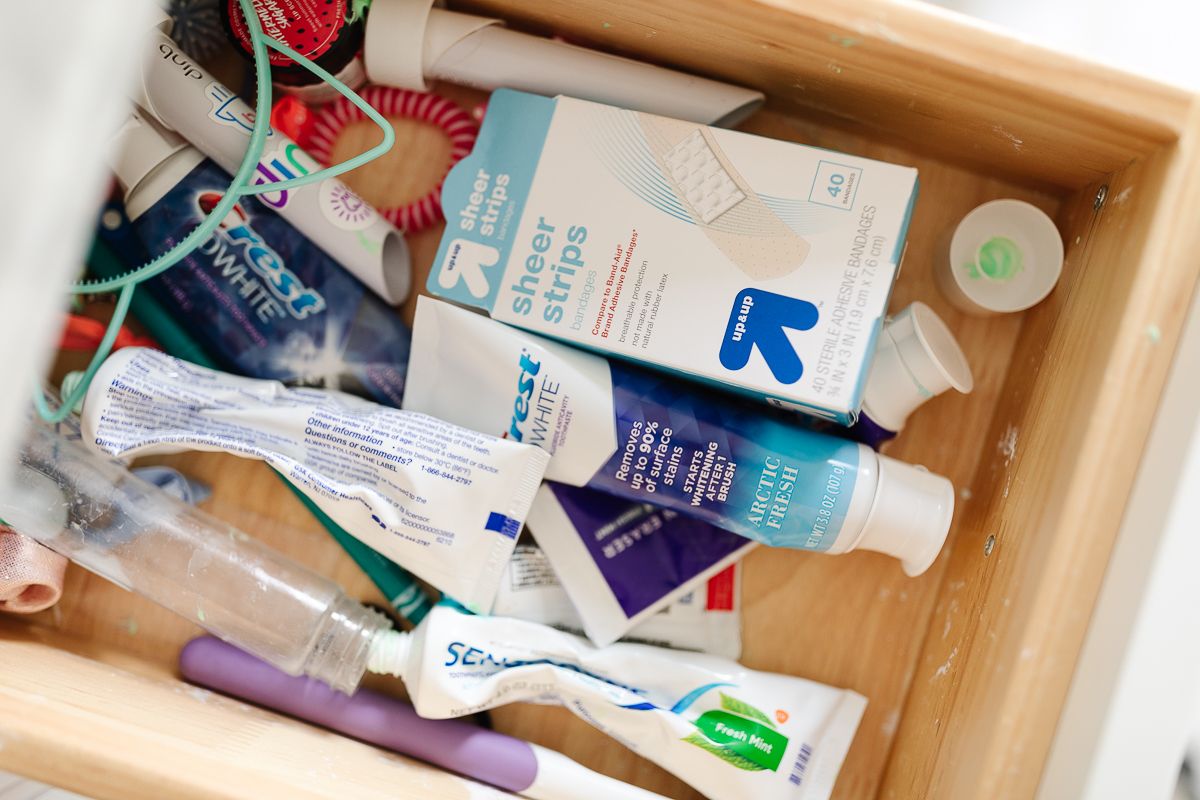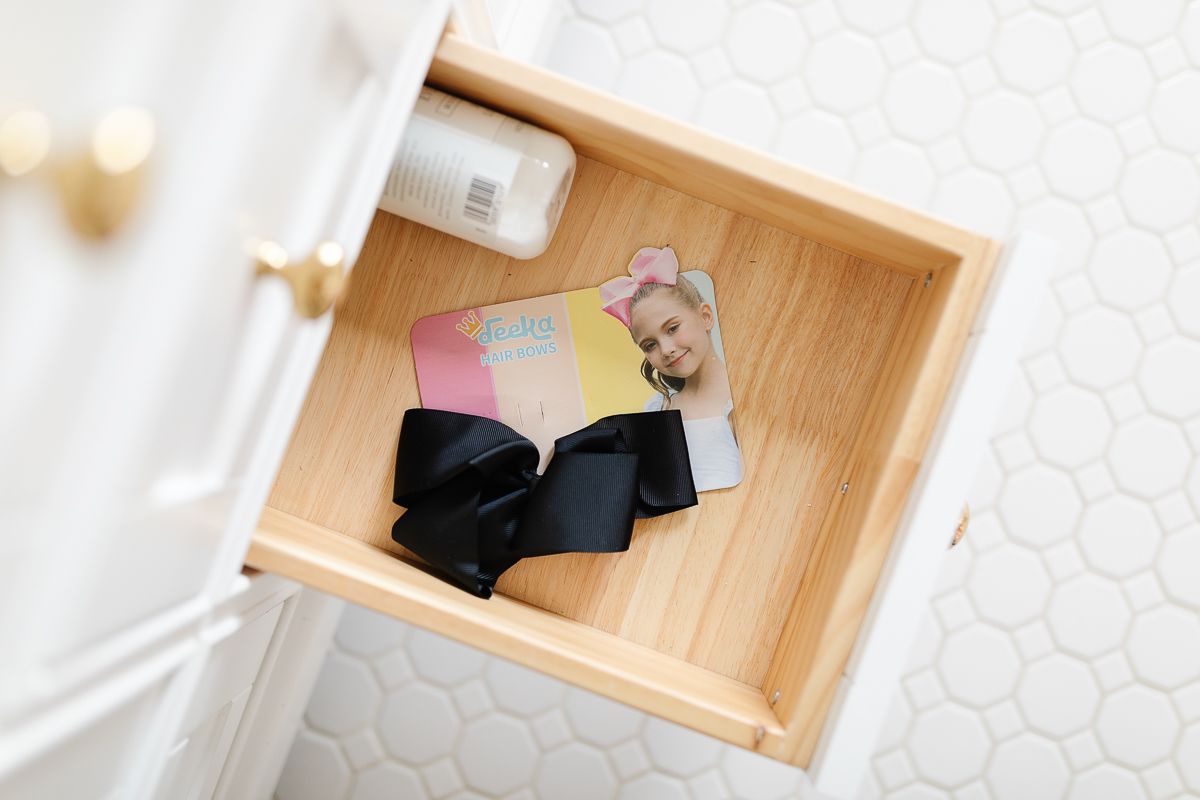 Bathroom Organization
While we adore the storage that this pretty marble-topped vanity has to offer, we knew we needed to start from scratch. We removed everything and got to work, following the steps below.
This was a surprisingly fast and efficient organization project, and one you could easily tackle in a couple hours.
I find that the key to getting an organization project started in our home, is to purchase pretty, practical storage components. In our case, it was an inexpensive set of bathroom drawer organizers and a new hair tool organizer, too!
Find the sources for these items below, place your order and have it delivered so you can take on this project whenever you have a spare hour or two! You'll never regret taking the steps to make organization happen.
Let's get started – take your bathroom vanity from that situation above, to one like this!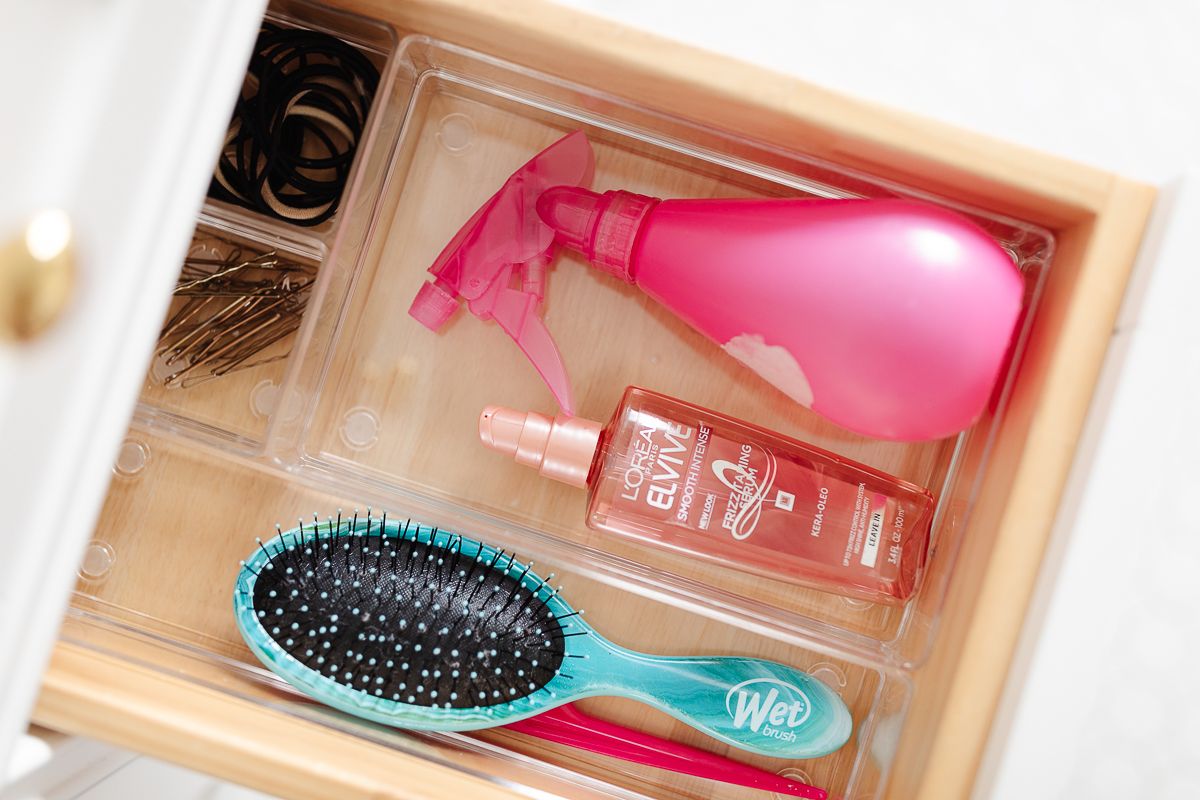 How to Organize Your Bathroom
Remove Everything – Removing it allows you to assess what you have so you can organize it in a way that adds function and streamlines your morning routine.
Eliminate / Combine Excess – One of the biggest perks of organization is preventing future waste. You can easily spot what you have/need, which eliminates excess. Combine, donate or group like items together so you can work through them (ie: When organizing the girls' bathroom, I found four bottles of lotion in various drawers and cabinets.) Now I know I don't need to purchase another bottle for them and stowing them together in a row allows them to use one until it's empty and move onto the next.
Group By Type – Group hair products and tools together, toothpaste, toothbrushes, floss and mouthwash together, etc.
Consider Your Needs – Frequently used items can be stored in a countertop organizer or top drawer while infrequently used items may be best in a closet in a cabinet under the sink.
Integrate Storage Solutions – Add your organizers and start filing everything away!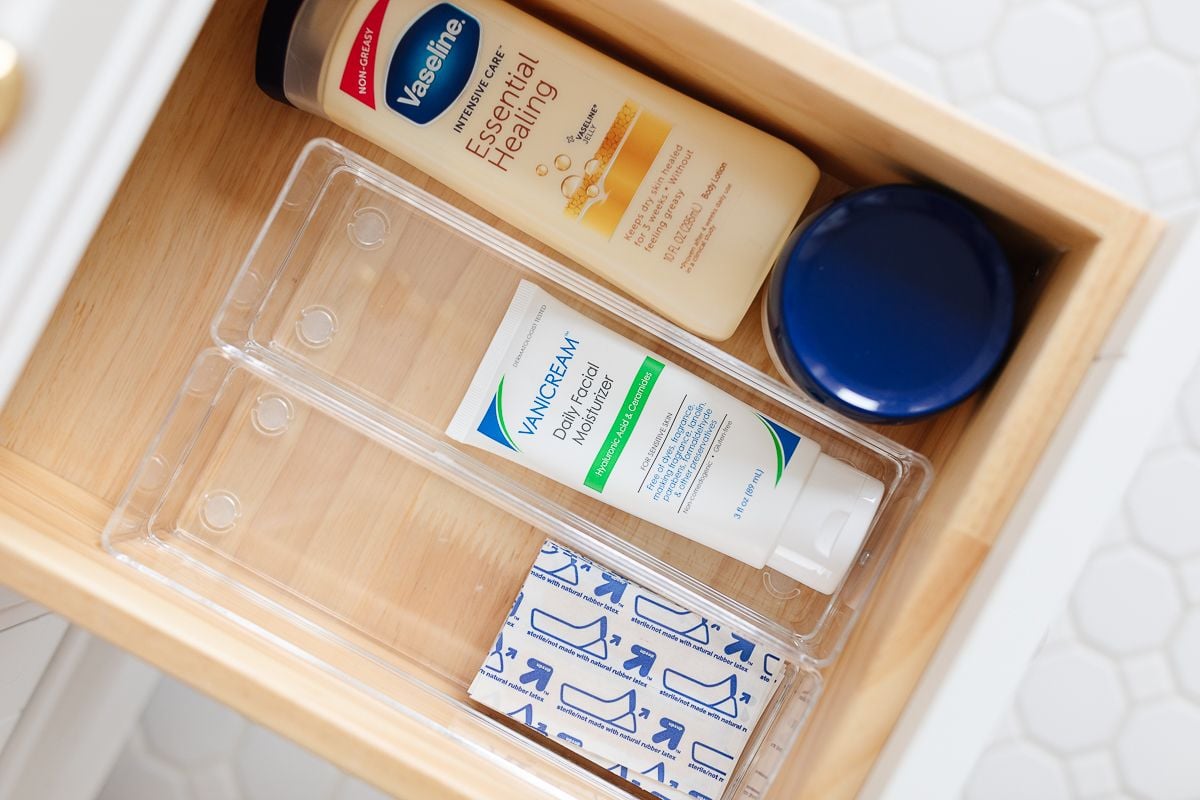 Don't organize what you don't need.

Julie Blanner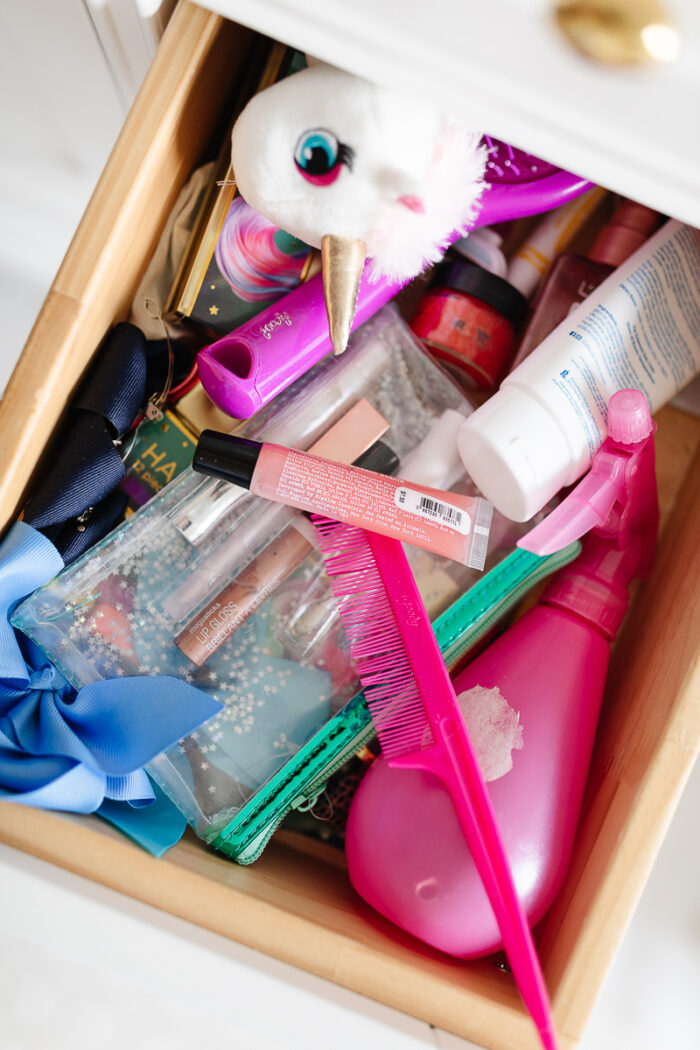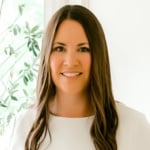 Tips
Eliminate excess.
Order organizers and storage essentials ahead! That way when the urge to tackle a project hits, you're truly prepared.
Measure the interior of your drawers to ensure the organizer bins will work.
Use expandable drawer organizers or assorted sizes for a custom fit.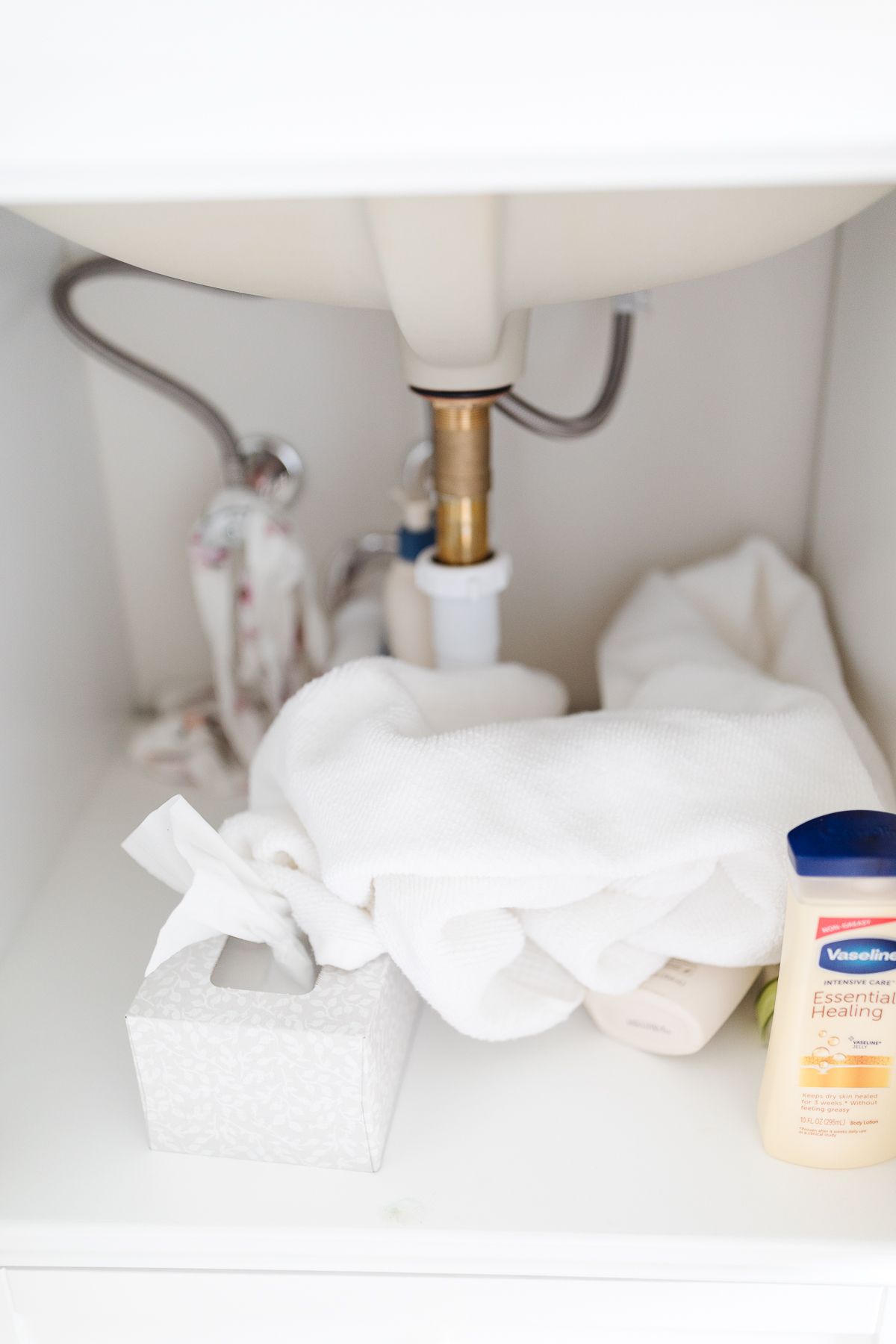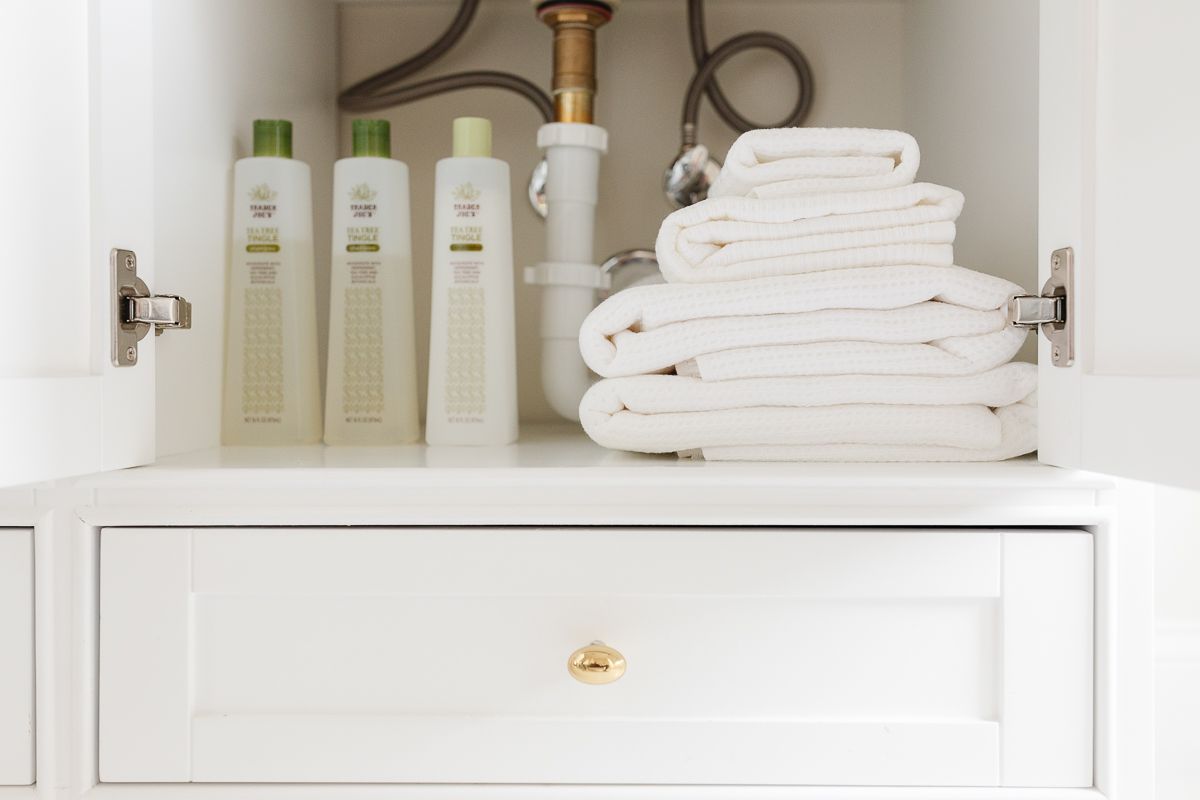 Frequently Asked Questions
Where do you put toothpaste in a bathroom?
Store your toothpaste as close to the sink as possible! Use a drawer organizer to keep the nearest drawer organized, and pair it with like items… tooth brushes, flossers, and more.
How can you organize a bathroom without drawers?
Consider free standing storage pieces or add shelves, medicine cabinets or traditional cabinetry on the walls. Add storage containers to the back of doors, too!
Should you store towels in a bathroom?
While bathrooms can sometimes be a breeding ground for moisture problems, it's fine to store a few towels for that week's use in your bathroom cabinetry. You can also add towels to shelves, baskets or hooks!
The Best Bathroom Organization Solutions
Sources
Bathroom Counter Organizer
It's not always possible to stow everything away, especially in a bathroom with limited storage. A bathroom counter organizer can hold toiletries including toothpaste, toothbrush, Q-tips, cotton balls and more!
One of the best options is a rotating bathroom counter organizer, which allows you to spin and see the items in seconds.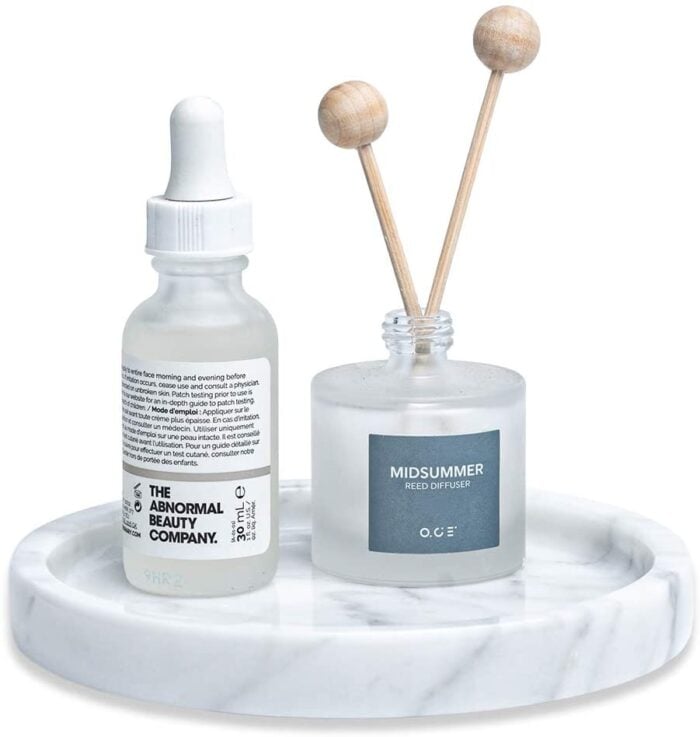 Marble Tray
This can hold soap, lotion, a candle, make-up, and more!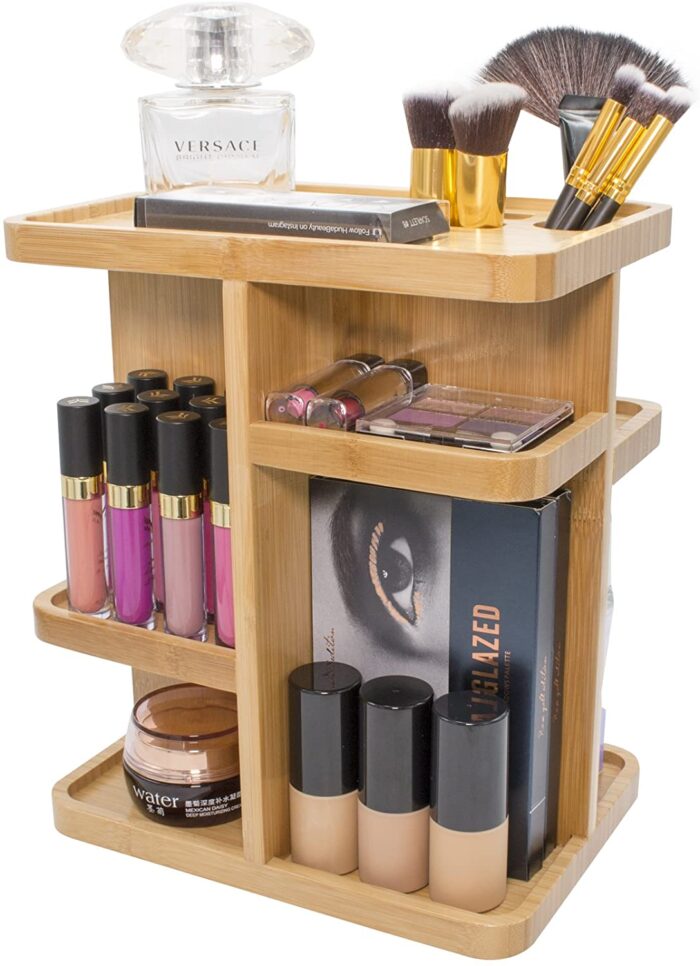 Bamboo Bathroom Organizer
The natural tone adds spa-inspired warmth to your countertops with plenty of storage for essentials.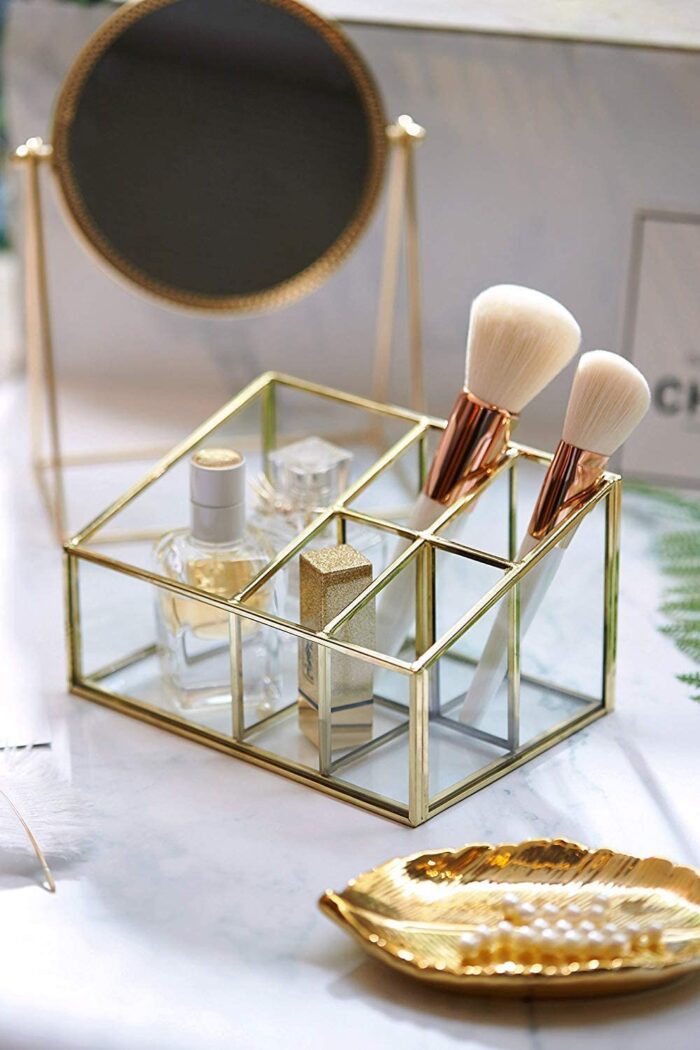 Glass and Metal Cosmetics Organizer
This pretty set adds a little sparkle to your countertop!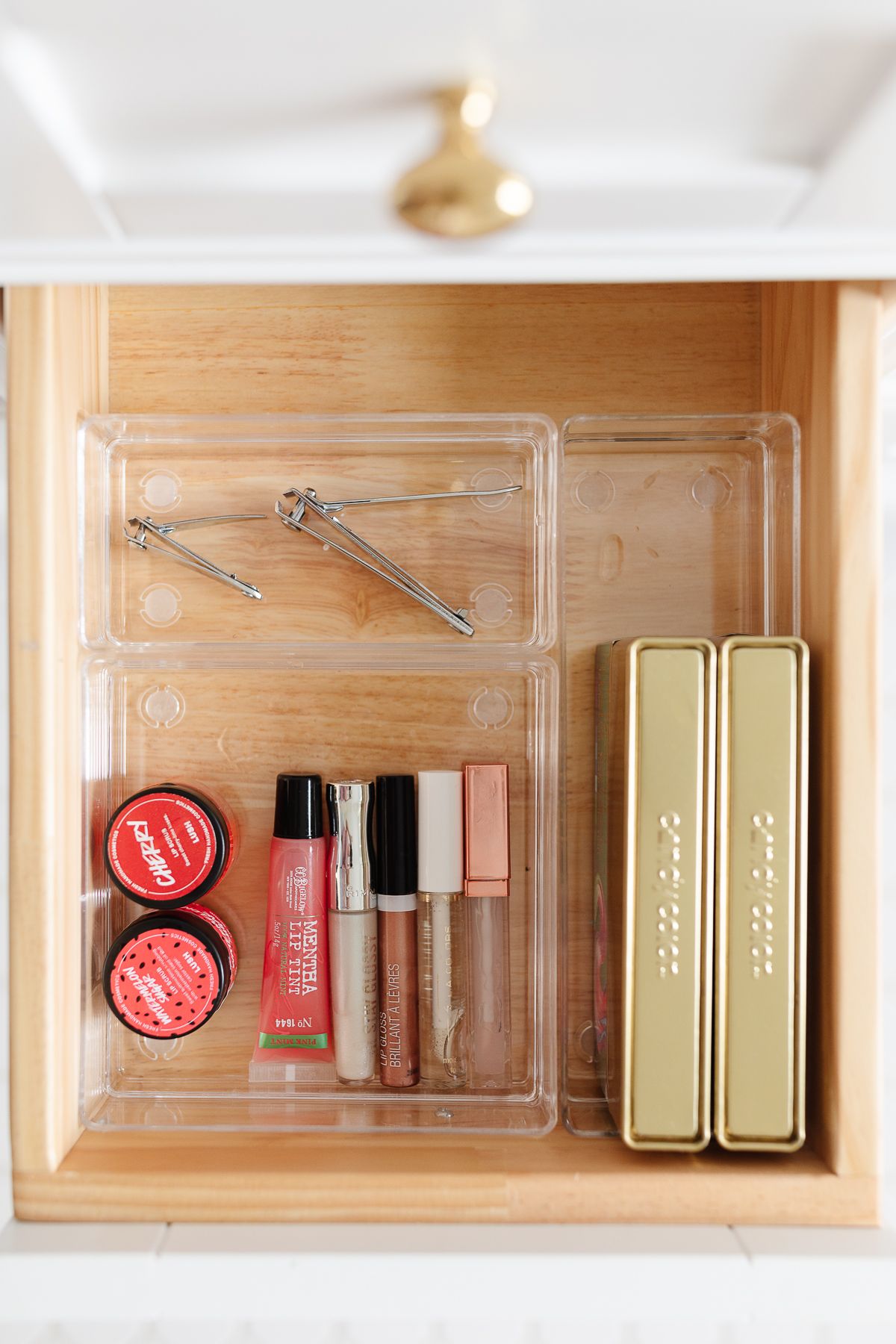 Bathroom Drawer Organization
The easiest way to organize your bathroom is by integrating bathroom drawer organizers! They keep things separate so you can effortlessly find exactly what you need. They also keep things from shifting.
Much like how I recently shared about our nightstand organization, these pieces are flexible and give you the space you need to get organized and stay that way.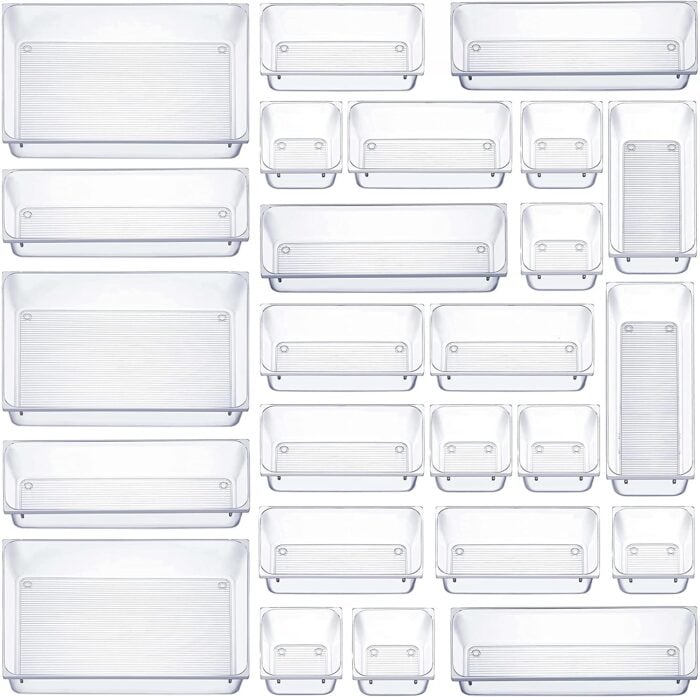 25 Pcs Drawer Organizer Set
This set is a total bargain with so many configuration options, currently listed at just $31!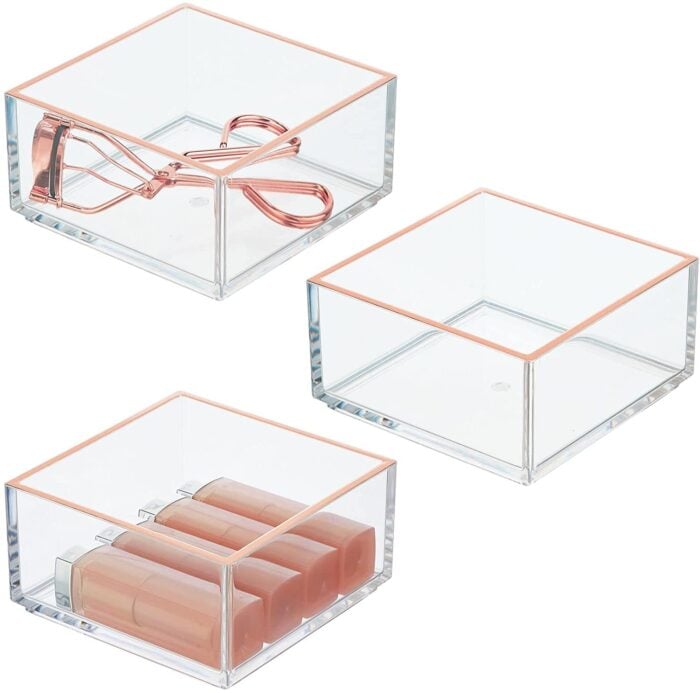 Cosmetics Drawer Organizers, 3 Pack
This set has the prettiest rose gold edge and comes in several different sizes.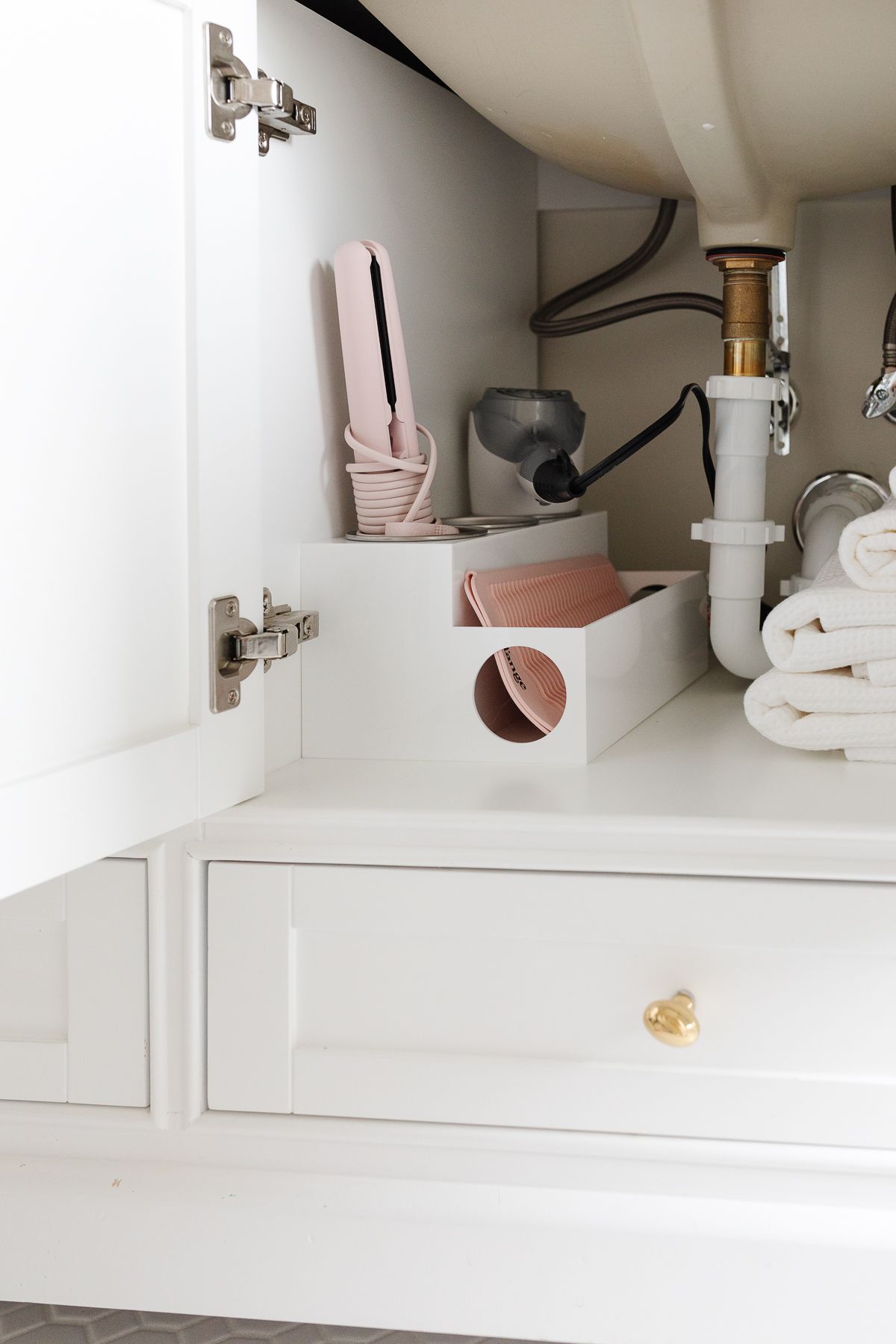 Hair Tool Organizer
Tired of cords and just tossing your hair tools under the cabinet only to become tangled?
A hair tool organizer is perfect for the countertop, large drawer or cabinet and keeps them all in line! There's even a space to hold a hair brush and product.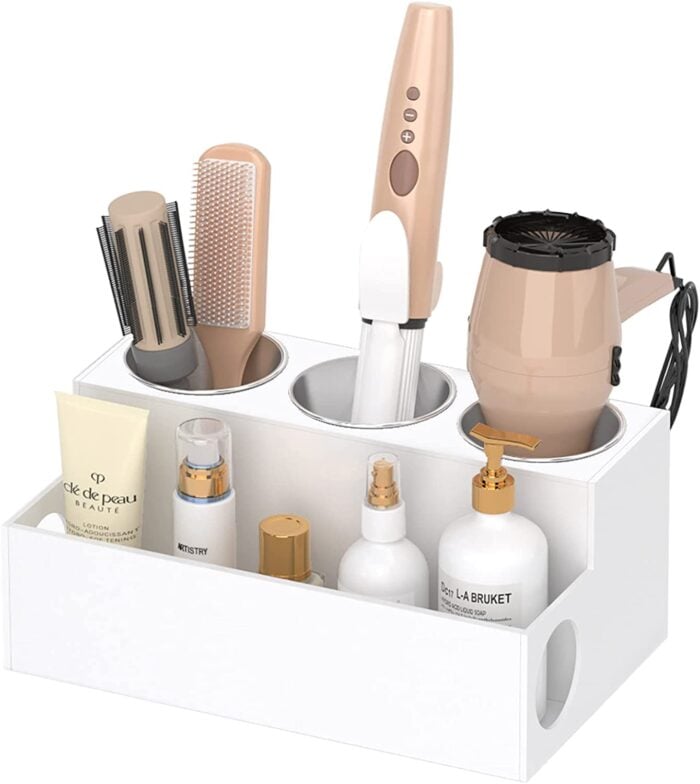 White Acrylic Hair Dryer and Styling Holder
We love this little organizer and it holds more than we expected!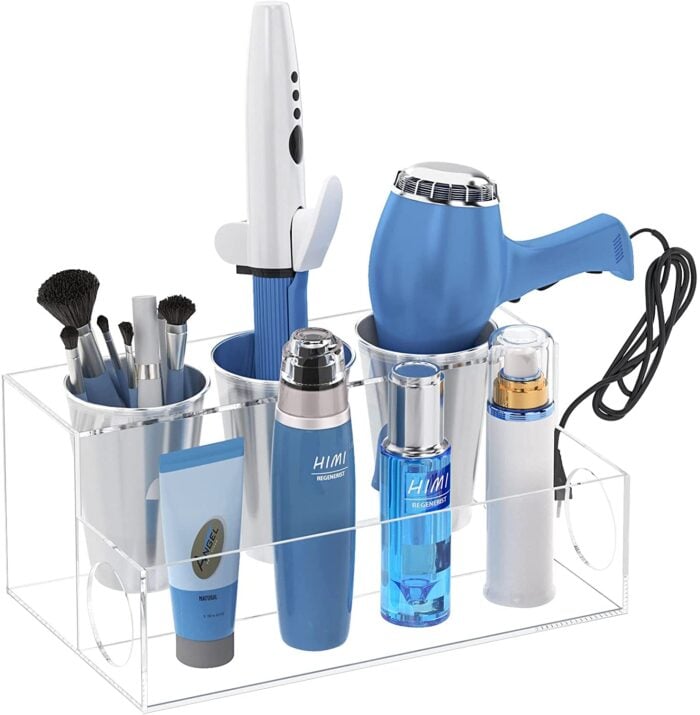 Acrylic Hair Tool Organizer
For a more modern look, this can work on your countertop or under your sink!
Nail Polish Organizer
With 3 girls, we have an abundance of nail polish. This organizer transfers easily from under a cabinet or in a closet.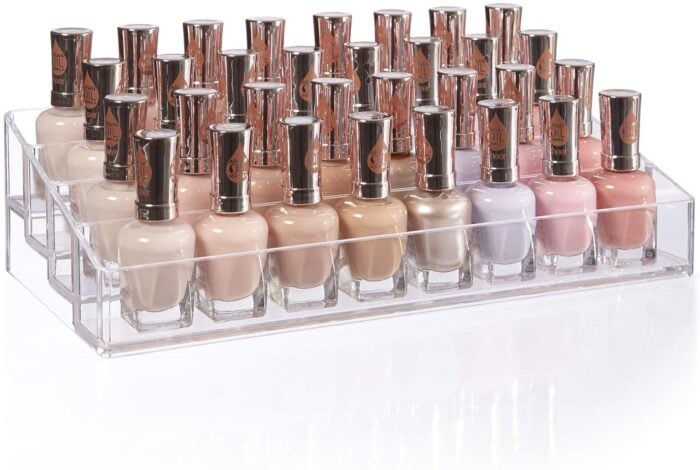 Nail Polish Organizer
This clean and modern piece holds up to 40 bottles of nail polish.
Let's keep in touch! Receive exclusive content, including never-seen-before photos, our favorite home decor DIYs and more!
More Organization Inspiration