Easy to grow and rich with soft blue-lavender blooms all summer long, catmint is a superstar of the perennial world! This drought tolerant plant (technical name nepeta faassenii) features beautiful lavender flowers and pretty gray-green foliage.
As an aromatic member of the mint family, catmint is incredibly fragrant, long-lasting and hardy, too! It's one of our favorite garden additions, reminiscent of beautiful lavender plantings… but even easier to grow!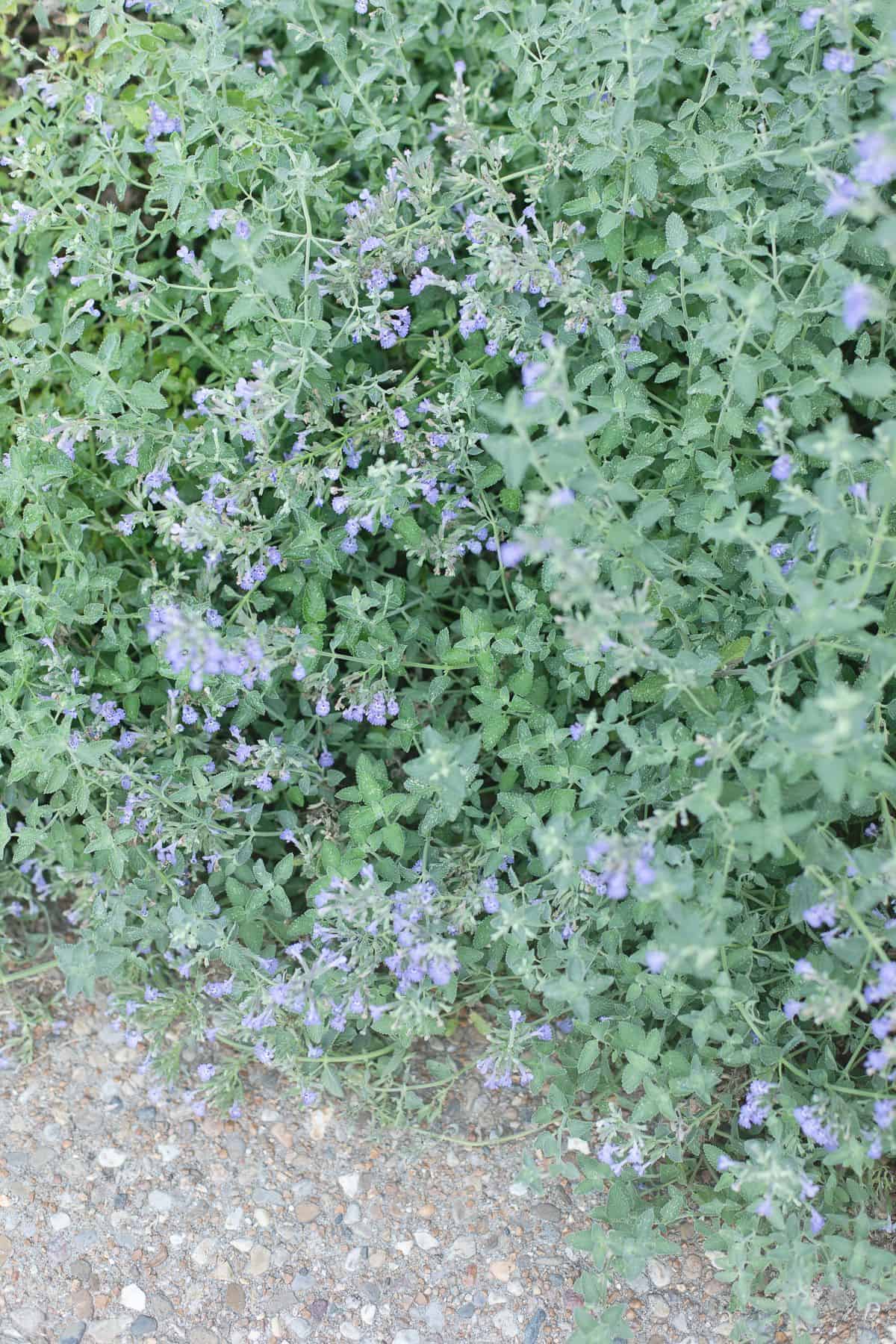 After all this chatter about lavender lately, (learn how to grow a Lavender Tree, English Lavender and French Lavender) I knew it was time to feature the unsung hero of the perennial world: catmint. It's an incredibly hardy plant that is actually an excellent substitute for lavender in your garden.
When we redid the landscaping surrounding our home several years back, we knew we wanted to include soft, pastel colors with a cottage-inspired look. Looking back, I'm so glad our designer suggested catmint to us, because at the time, it wasn't on my radar!
Considered an herbaceous perennial, one of the biggest bonuses of catmint is that it is considered deer resistant. And while we love our sweet beautiful deer both that visit our St. Louis home and at the lake cottage, they can certainly wreak havoc on our gardens.
Because it's most popular in our area, I will focus on the attributes of Walker's Low catmint here, a cultivar of Nepeta Faassenii. However, keep in mind that there are a wide variety of options for this lovely, hardy bloom, and your local nursery will be happy to help guide you!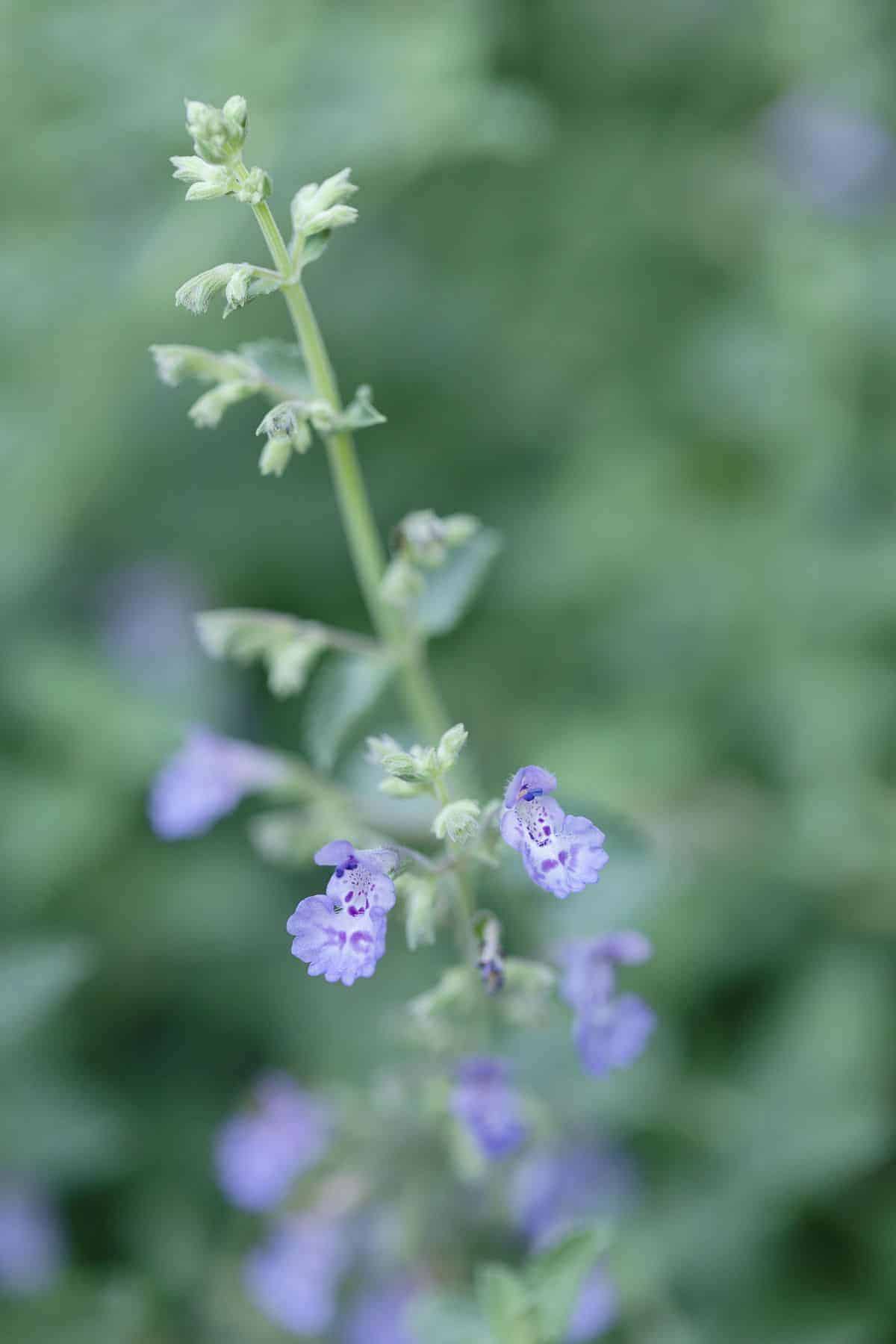 Why You'll Love it
With many varieties that are hardy in zones 3 – 8, catmint can happily grow in the worst soil in your yard, as long as you've got a little sunshine.
Deer tend to avoid
Blooms for long stretches of time, spring through fall
Easy to move and transplant
Loves rocky, clay or dry soil
Attracts butterflies, bees and more beneficial insects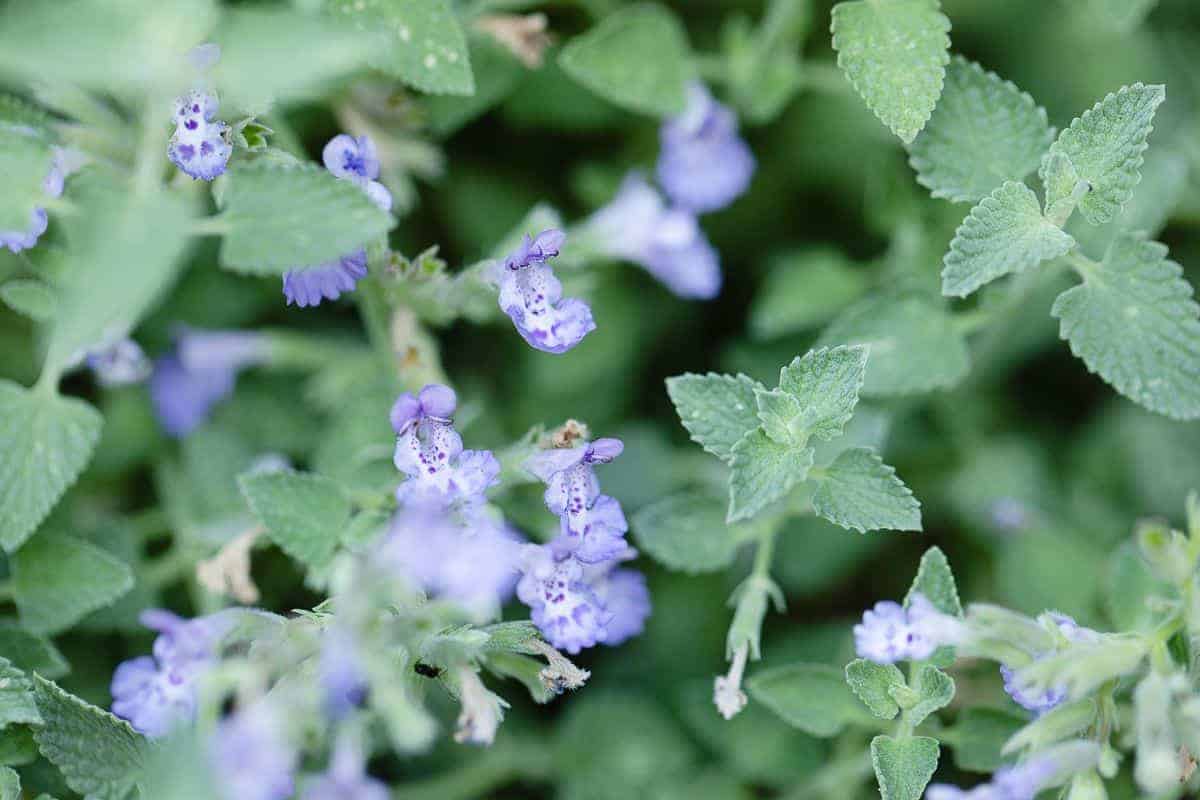 Walker's Low Catmint Characteristics
Plant type: Herbaceous perennial
Hardiness: Cold hardy to zone 4
Height: 2 to 2.5 ft tall and up to 3 ft wide
Bloom description: a soft lavender blue spike
Foliage: Fuzzy, aromatic gray green leaves with soft scalloped edges
Light preference: Full sun to part shade
Water preference: Tolerate dry to medium watering conditions
Bloom time: Typically, late spring to early summer into early fall, although some varieties bloom earlier and longer.
Maintenance: Very low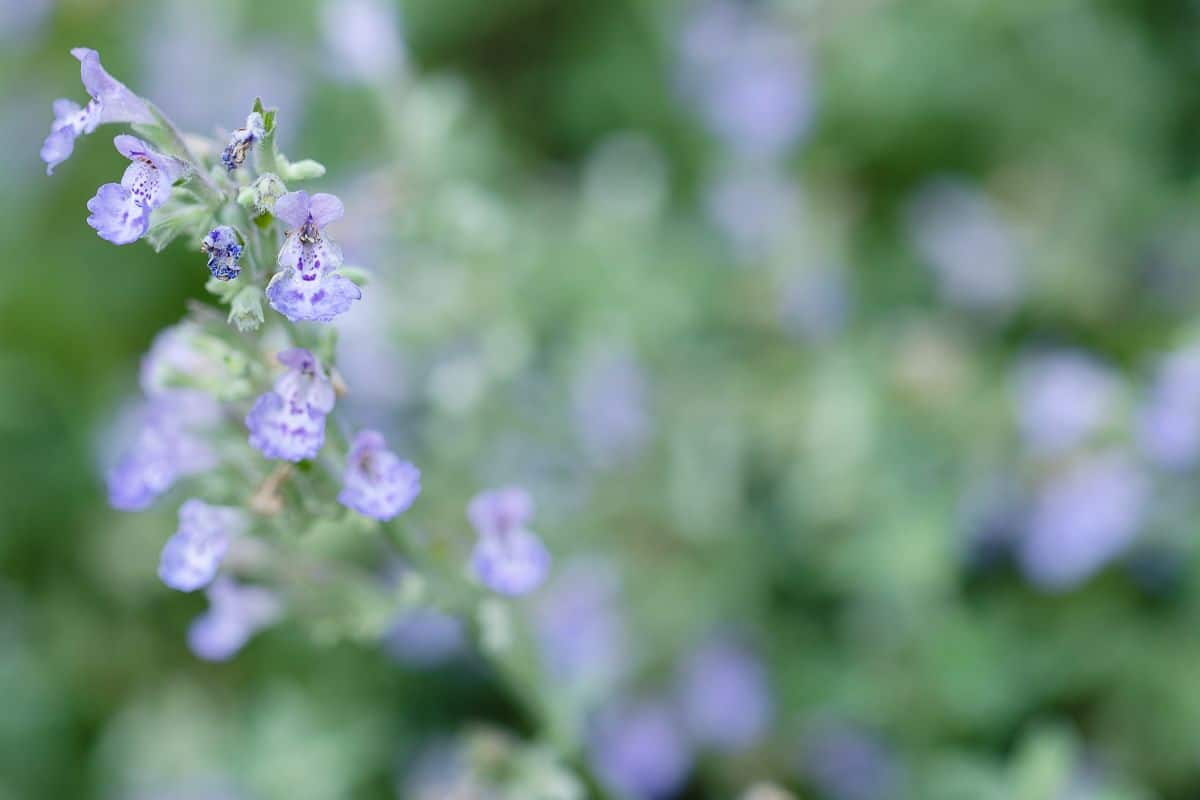 How to Grow Catmint
Catmint needs space for width, as it tends to grow wider than tall.
Full sun is best, but it can handle partial shade as well.
Established plantings are tolerant to both drought and heat, but new plantings will need frequent watering.
Fertilization is not necessary. Again, catmint thrives on neglect.
After the initial blooming, you'll want to shear them back to encourage a second round of color. Sheared or not, and with or without a secondary round of blooms, this plant will look great in your garden all summer long.
Spring is best for trimming your catmint back to the ground.
Divide in the spring or fall for best results and to prevent overgrowth. Dividing every 3-4 years is ideal.
Catmint (Nepeta Faassenii) Uses
Catmint can be used for both culinary and herbal purposes. It can be used when fresh, dried, or even frozen, just like most of your favorite herbs.
Harvest your catmint once it begins to bloom, leaving the woody stem at the base in tact. Allow it to dry by spreading it out in a well ventilated area. To preserve potency, store the dried herbs in a sealed bag or jar.
The leaves and blooms of catmint can even be added to sauces and soups and are occasionally used in French cuisine. It's also believed that tea made from the leaves and blooms can be used for relieving everything from congestion to menstrual cramps.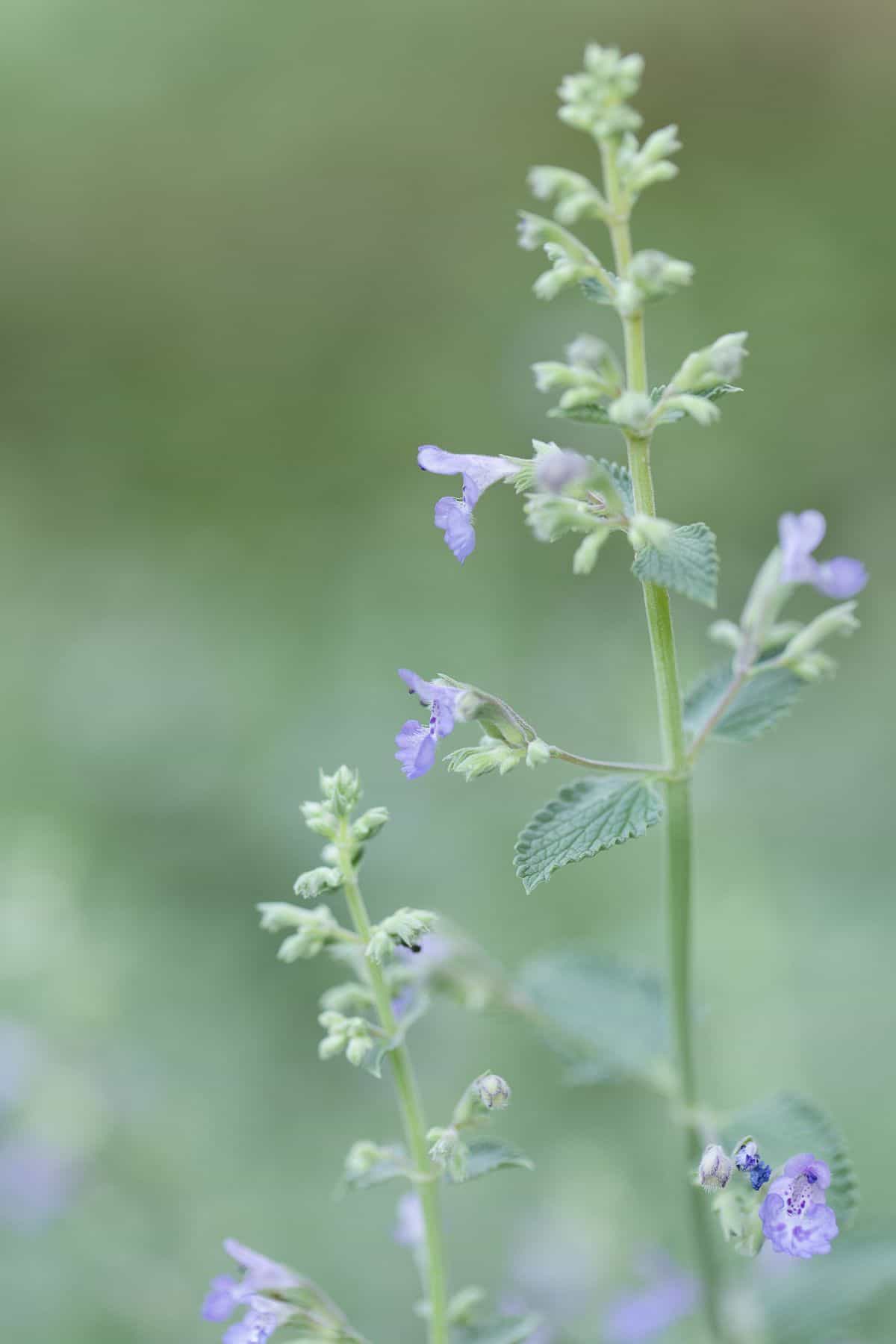 Frequently Asked Questions
Are Catmint and Catnip the same thing?
Catnip and catmint are often confused. Their growth pattern and foliage is very similar, but Nepeta faassenii is now classified as its own common name: catmint. It has more attractive blooms and is commonly used in gardens because of its vibrant color and easy to grow qualities.

Cats much prefer catnip, (Nepeta Cataria), which is a different classification, although also considered a perennial herb.
Does Catmint Spread Fast?
While it can spread and grow quite quickly, it actually thrives on neglect. It's easy to cut back, however, and if you care for it appropriately, it will slowly grow and spread over time.
Is Catmint the Same as Lavender?
Although they are wonderful garden substitutes for each other, there are some significant differences between the two. Lavender tends to have a more narrow, darker gray-green leaf shape.

Catmint has a lighter gray green leaf, with more of a wider, scalloped edge. Catmint has a longer blooming season and is generally hardier than lavender and less particular about soil.
Sources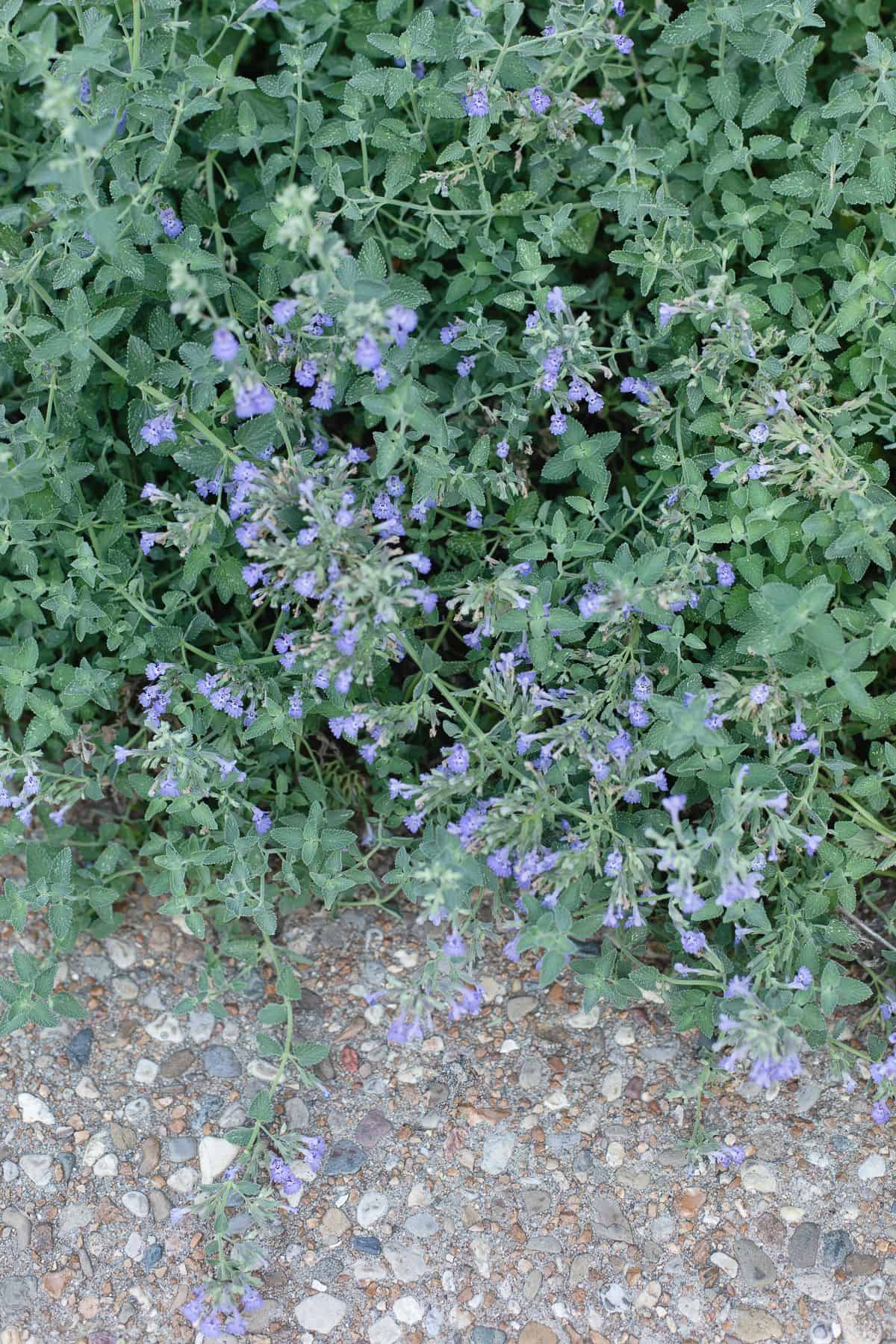 Let's keep in touch! Receive exclusive content, including never-seen-before photos, our favorite home decor DIYs and more!