See how we transformed a dark, dated bath with fresh new nautical bathroom decor in this bathroom refresh with a beautiful blue hue!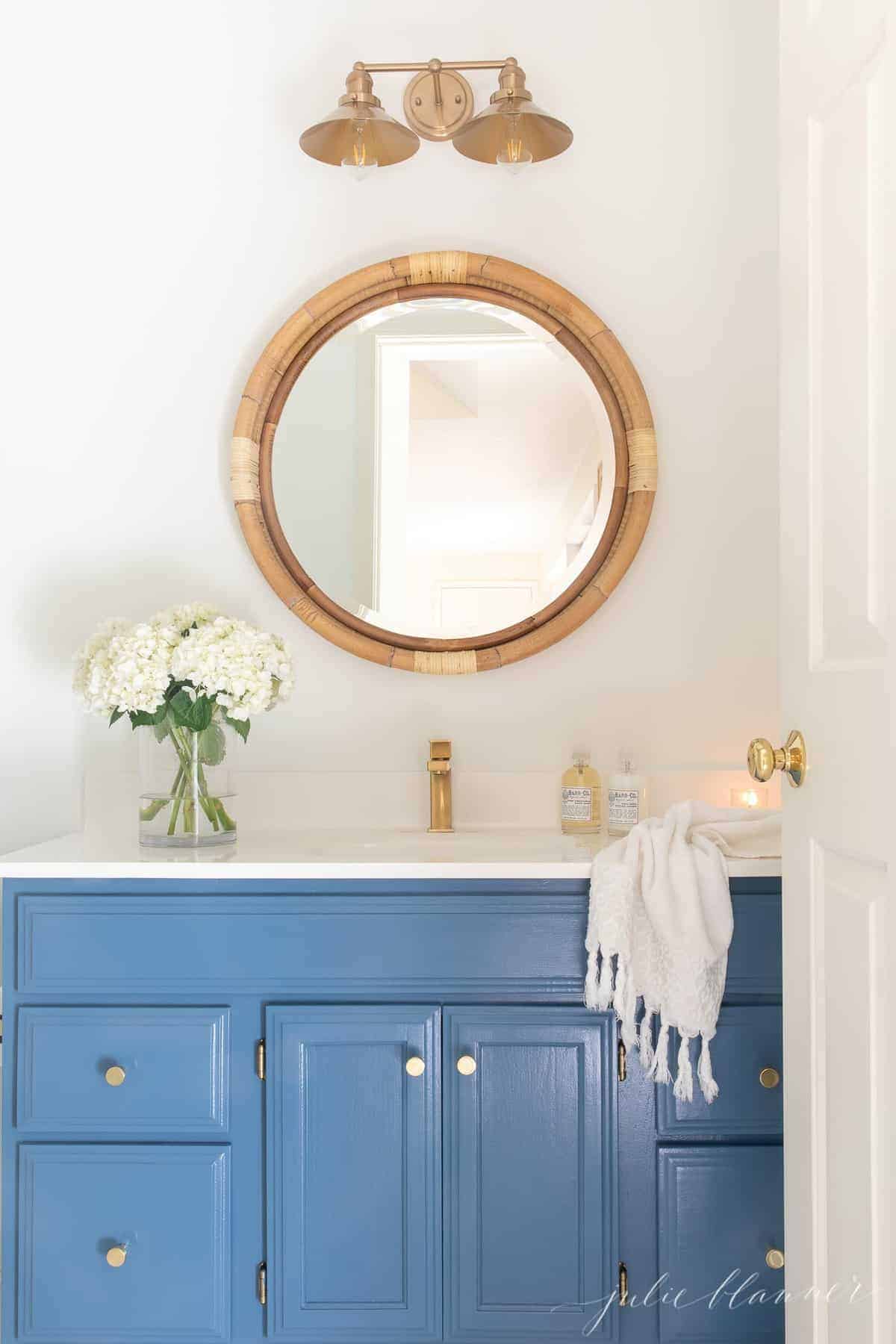 The guest bathroom at the lake house we dubbed Calm Water Cottage was charming and in good working condition. However, as we updated the spaces around it with new lighting, carpeting, paint and modern decor, I felt it too needed a little refresh.
I wanted it to be lighter, brighter and a bit more modern, which has become the theme for updating spaces at the lake house! When designing a space, I consider the spaces around it. The modern living room has pops of navy while the adjacent guest bedroom has pretty florals in periwinkle hues.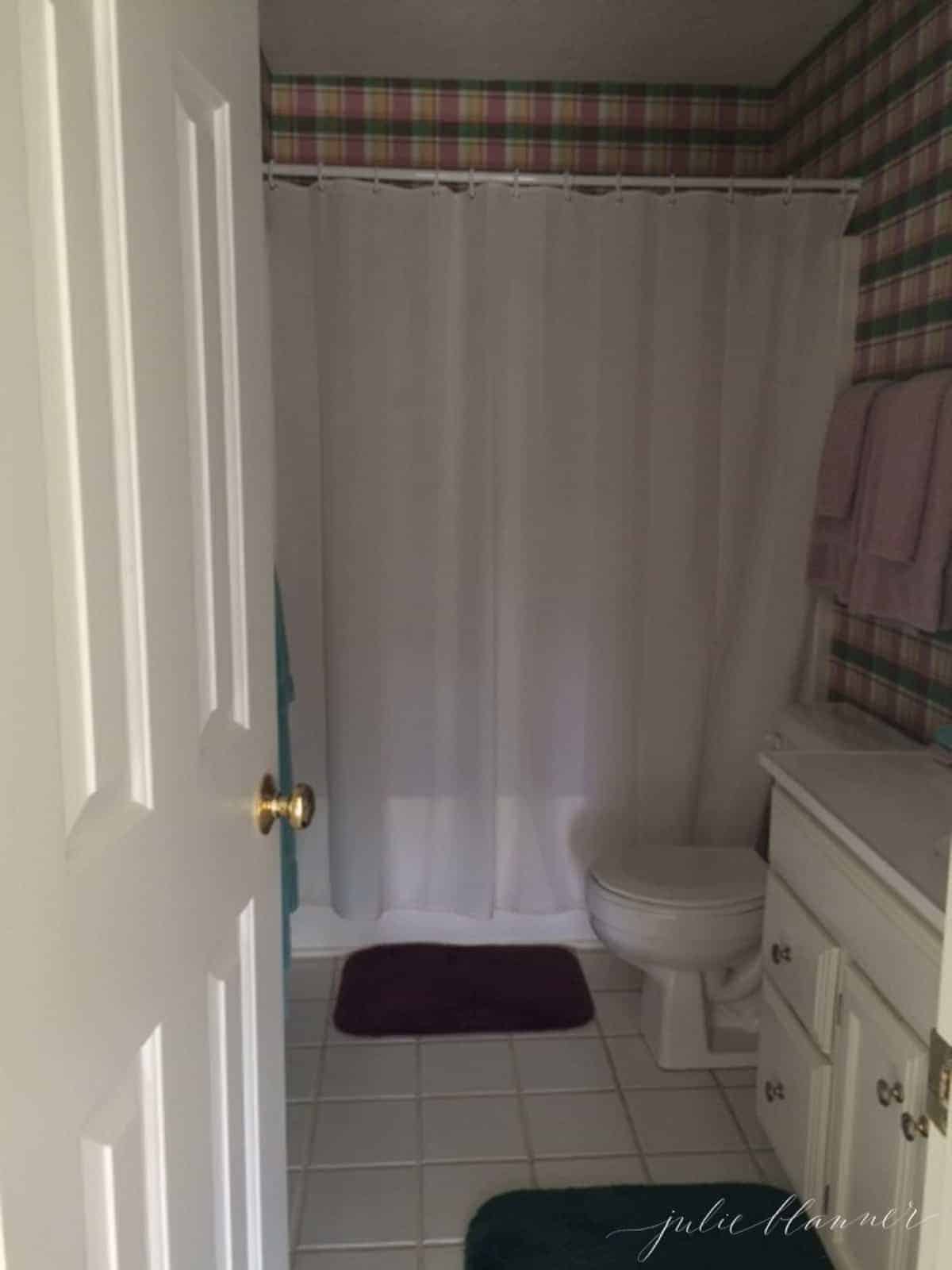 I love working with what we have when at all possible! We updated to create a nautical bathroom without reworking electrical or replacing the vanity. In fact, it was paint that offered the biggest transformation.
This nautical bathroom makes a great refresh for any builder grade bathroom. Painting the vanity is quick, easy and inexpensive and makes it pop!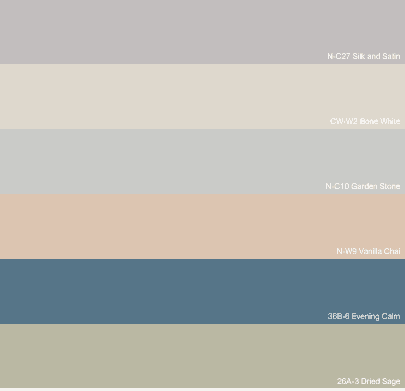 Nautical Bathroom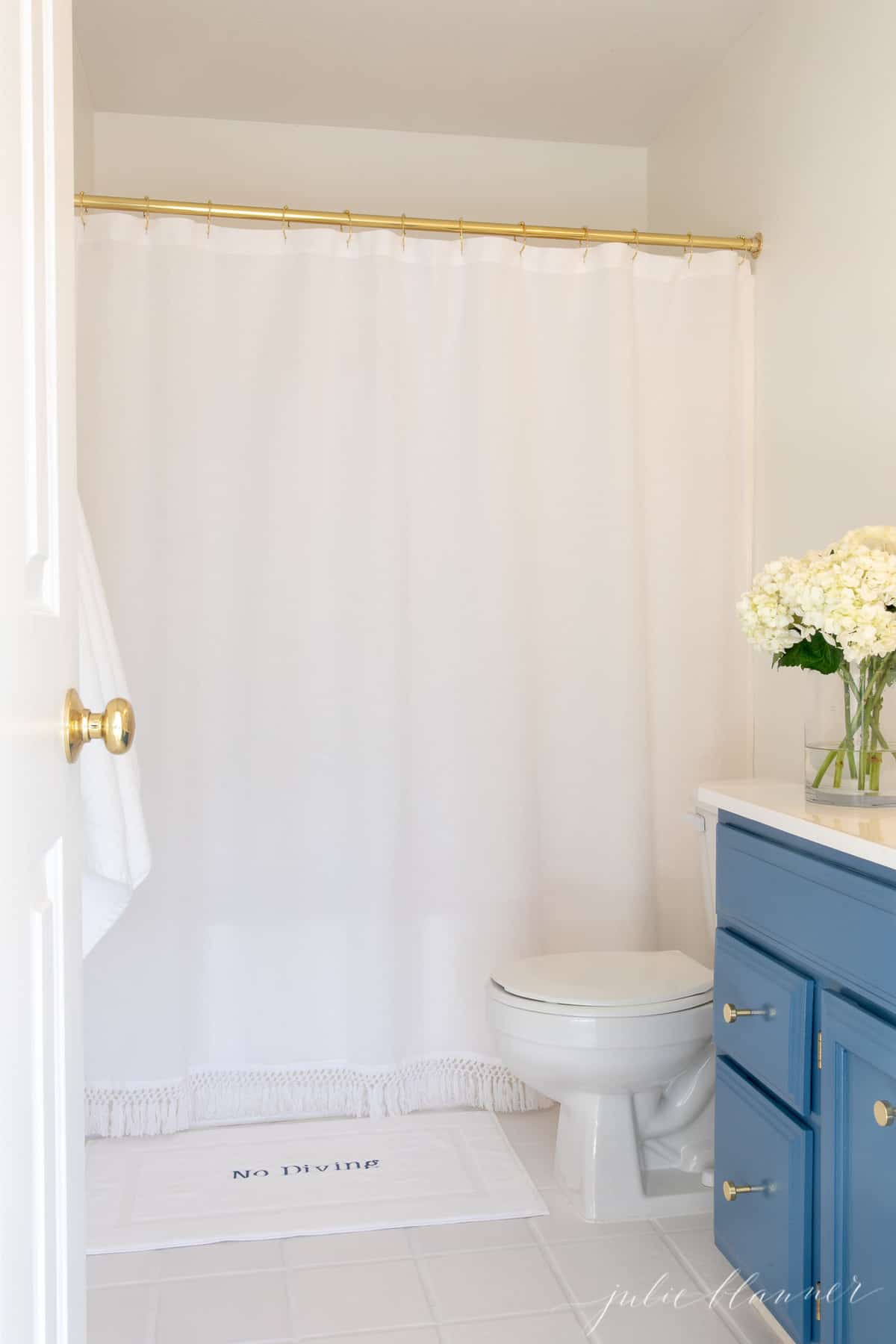 The first step to a nautical bathroom is finding the right blue hue! Blue is the quintessential color associated with all things nautical. Living lakeside, it's the perfect fit for our lake cottage bath. It's a timeless classic!
Each weekend we're at the lake the girls beg us to go to Ace. Sure, the staff is incredibly friendly and the girls love seeing the store's pup, but they know what lies ahead – suckers!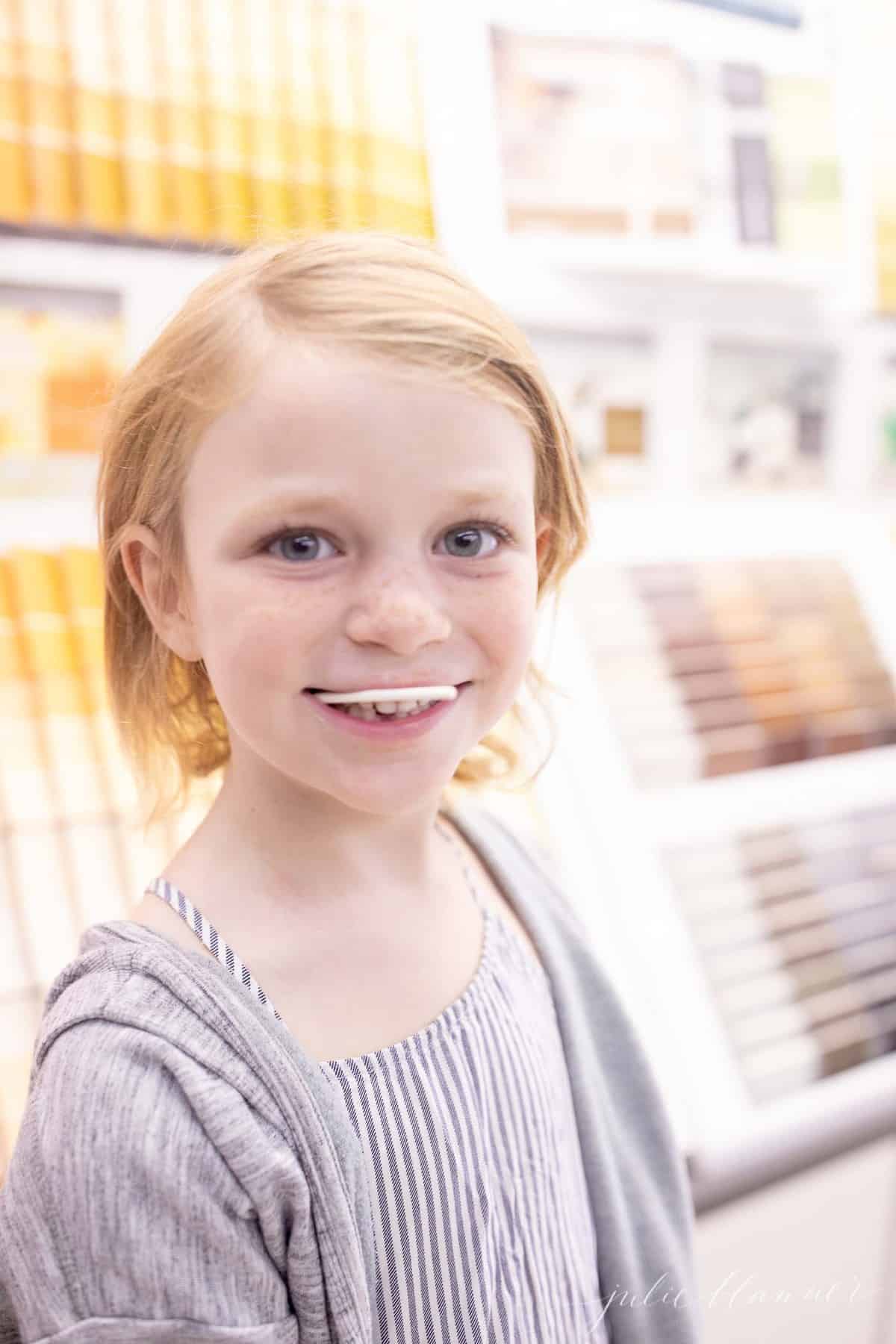 We spend a lot of time buzzing around there getting supplies for our latest project or quick fix. They offer everything we need and more importantly, are so helpful when I wander in alone and have no idea what I need.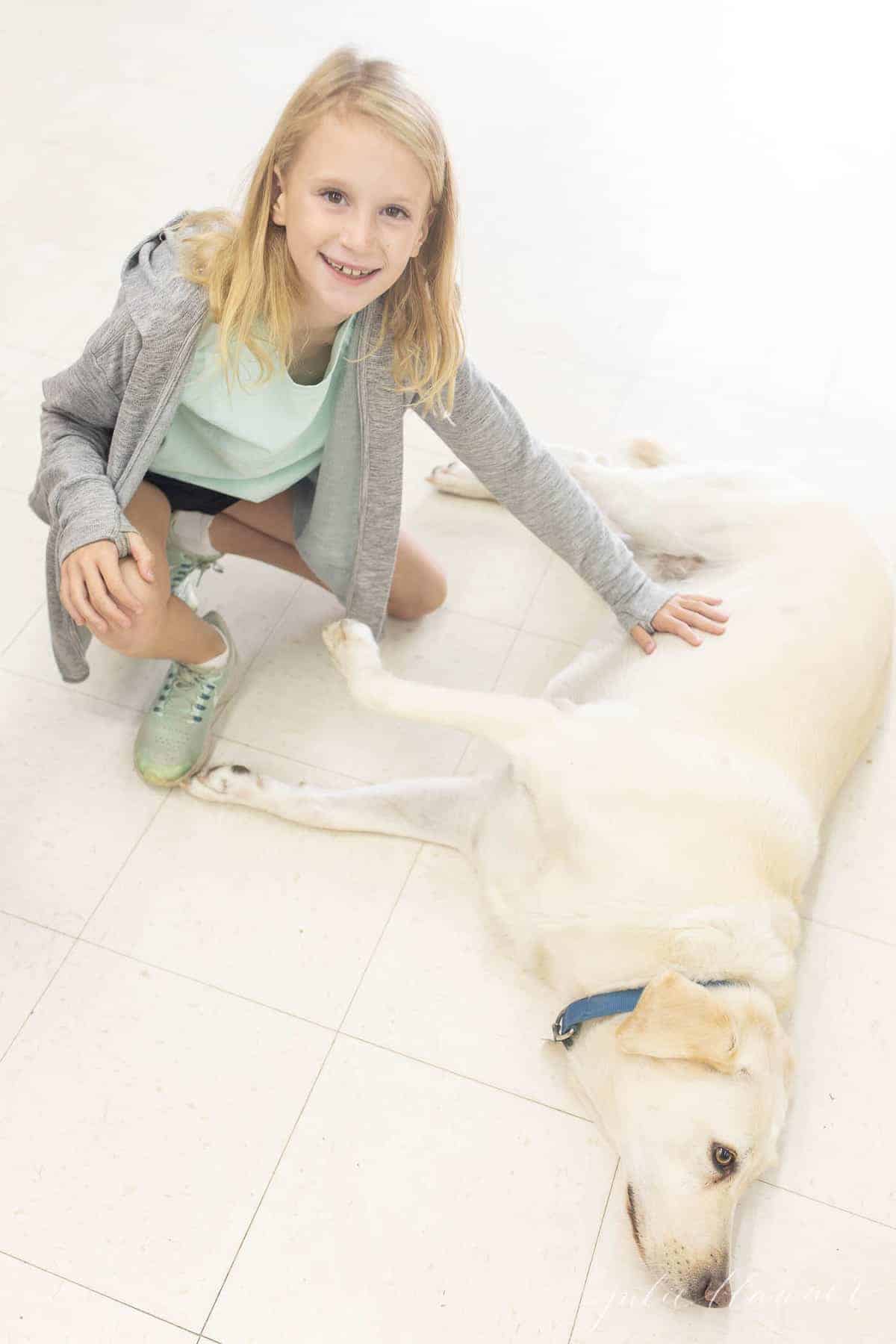 We often make it a family affair. While Chris figures out the logistics, I often peruse the pretty color palettes. I came across Clark+Kensington Evening Calm 36B-6 and knew it would be a perfect fit for the guest bath I have been dreaming of updating.
Painting a cabinet like this can make such an incredible impact with very little time and investment. Be sure to read my comprehensive posts on furniture paint and how to paint without sanding!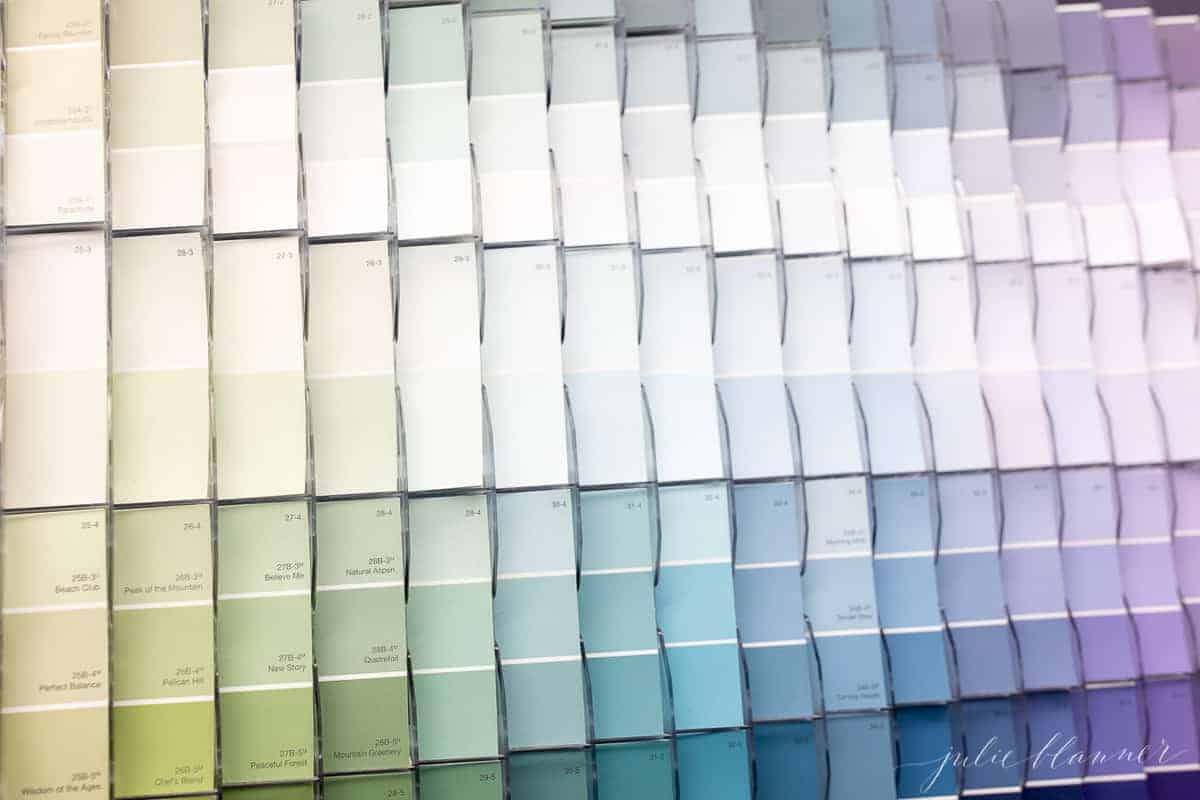 During the day, Evening Calm is bright and cheerful – a perfect pairing to the floral wallpaper just outside the doors. In the evening, it feels calm and welcoming, just as the name suggests.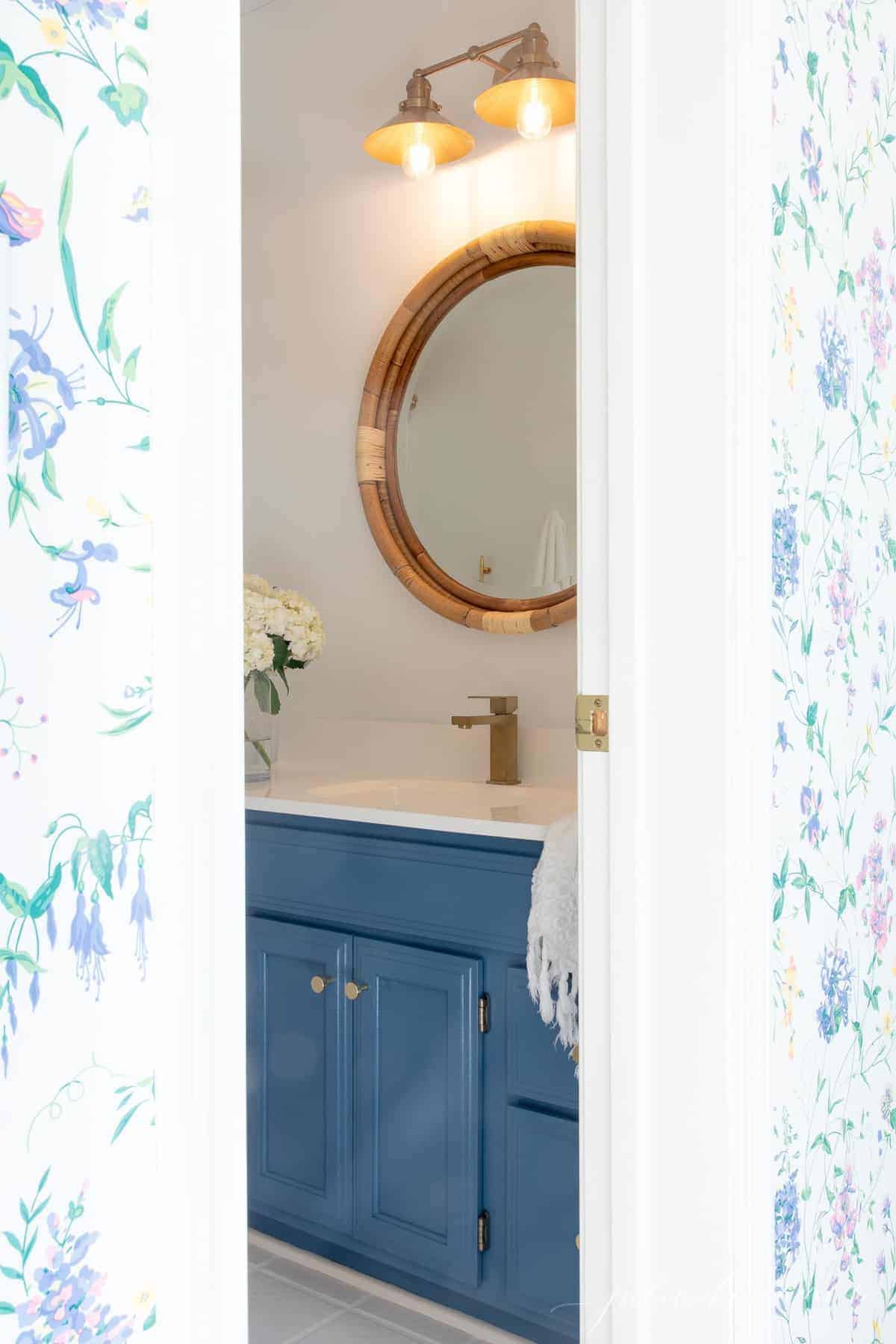 Evening Calm is warm, minimal and has dusty tones. It evokes the feeling of slowing down in today's modern world – which is exactly what the lake house is all about!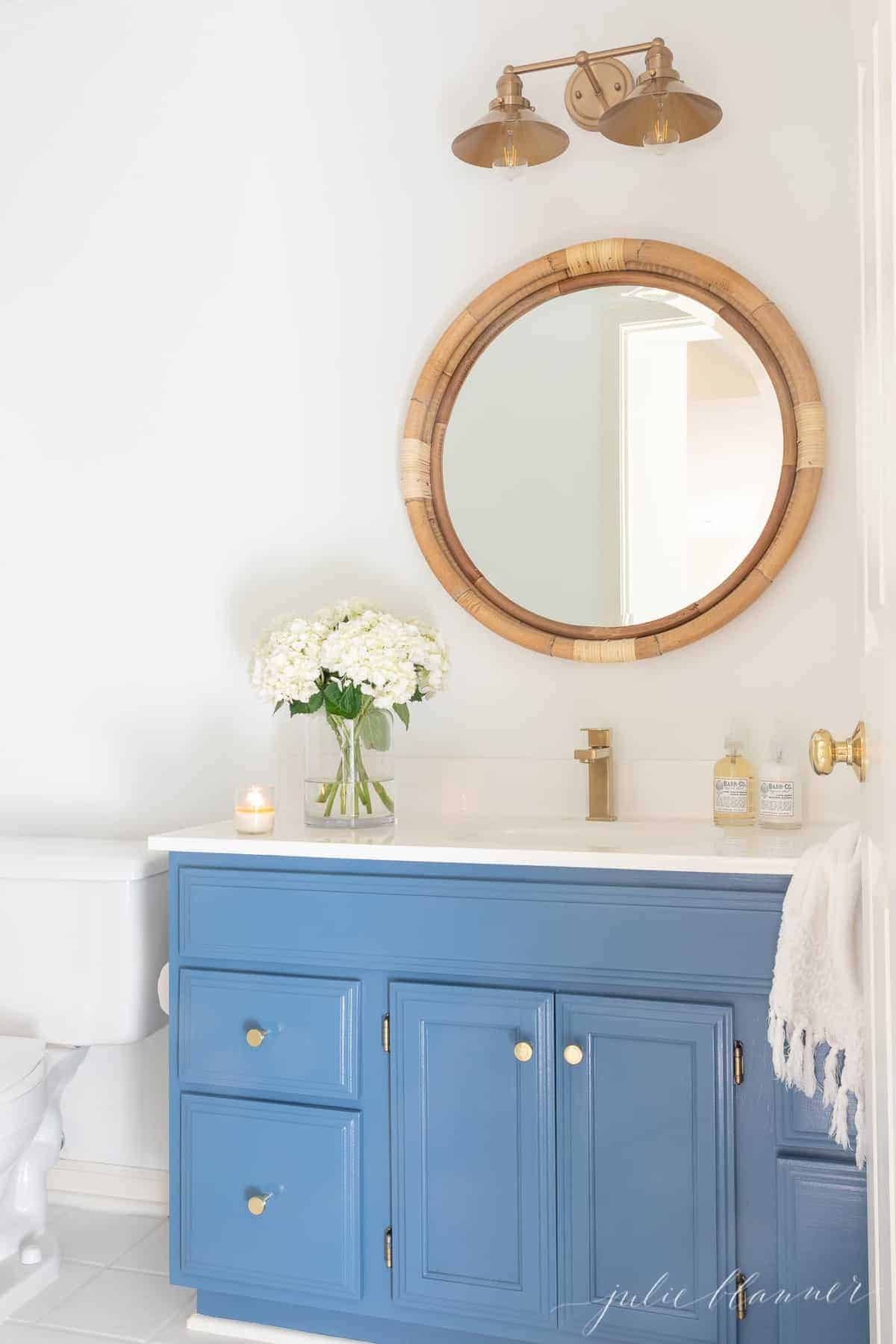 Painting a vanity makes a big impact without a lot of effort. It set the tone for this nautical bathroom refresh. You can easily paint a bathroom vanity using liquid sandpaper simply remove hardware first, apply, allow to dry and paint!
Nautical Bathroom Decor
I take a "less is more" approach. A few nautical nods go a long way – especially in a small space such as a bathroom. Here are a few nautical bathroom accessories to consider: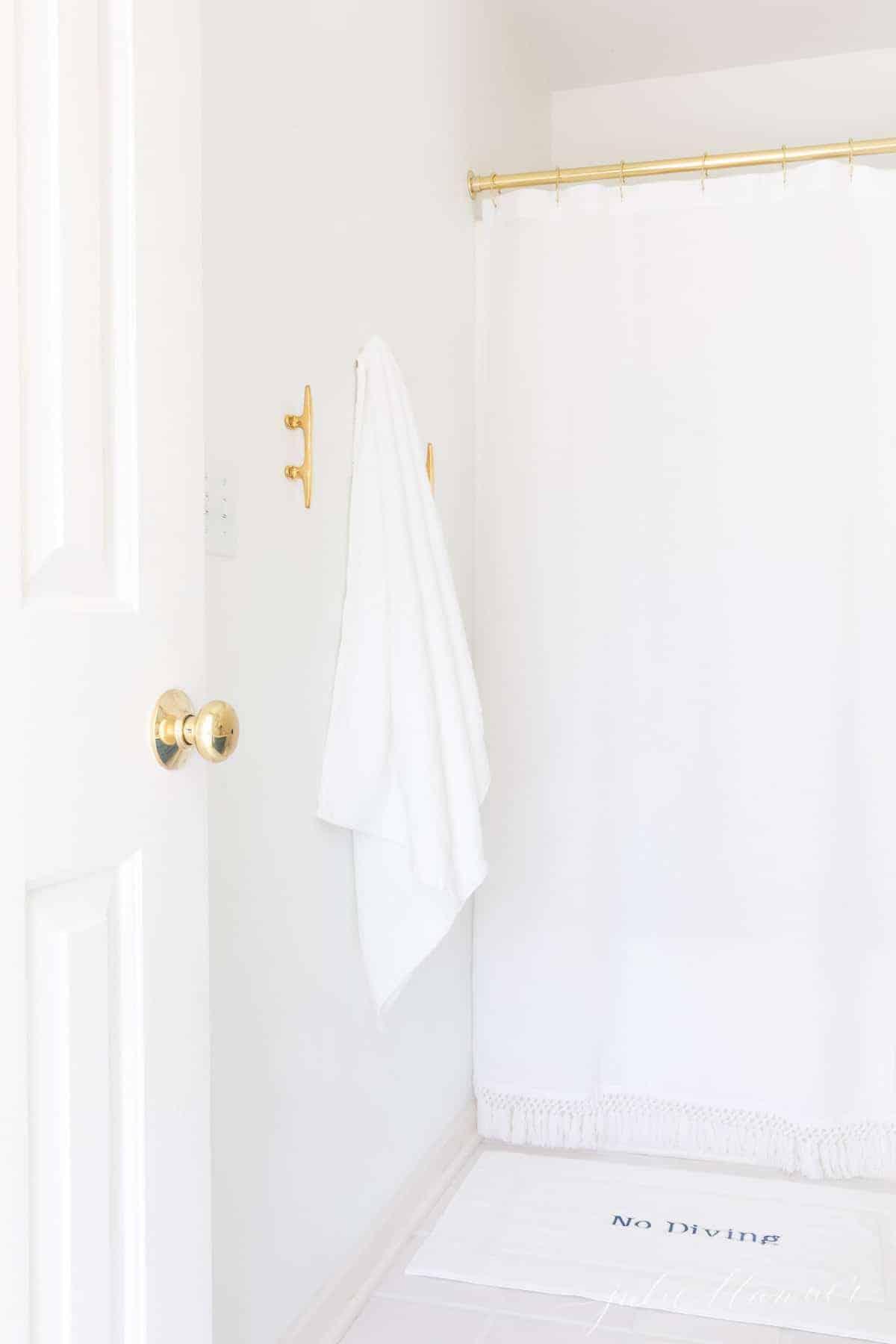 Boat Cleats – they make great towel hooks! They are available in both solid brass and stainless.
Anything with an anchor on it!
Nautical Rope – incorporate this easy DIY Nautical Rope Vase, a toilet paper holder made with rope or add a rope knot door stop.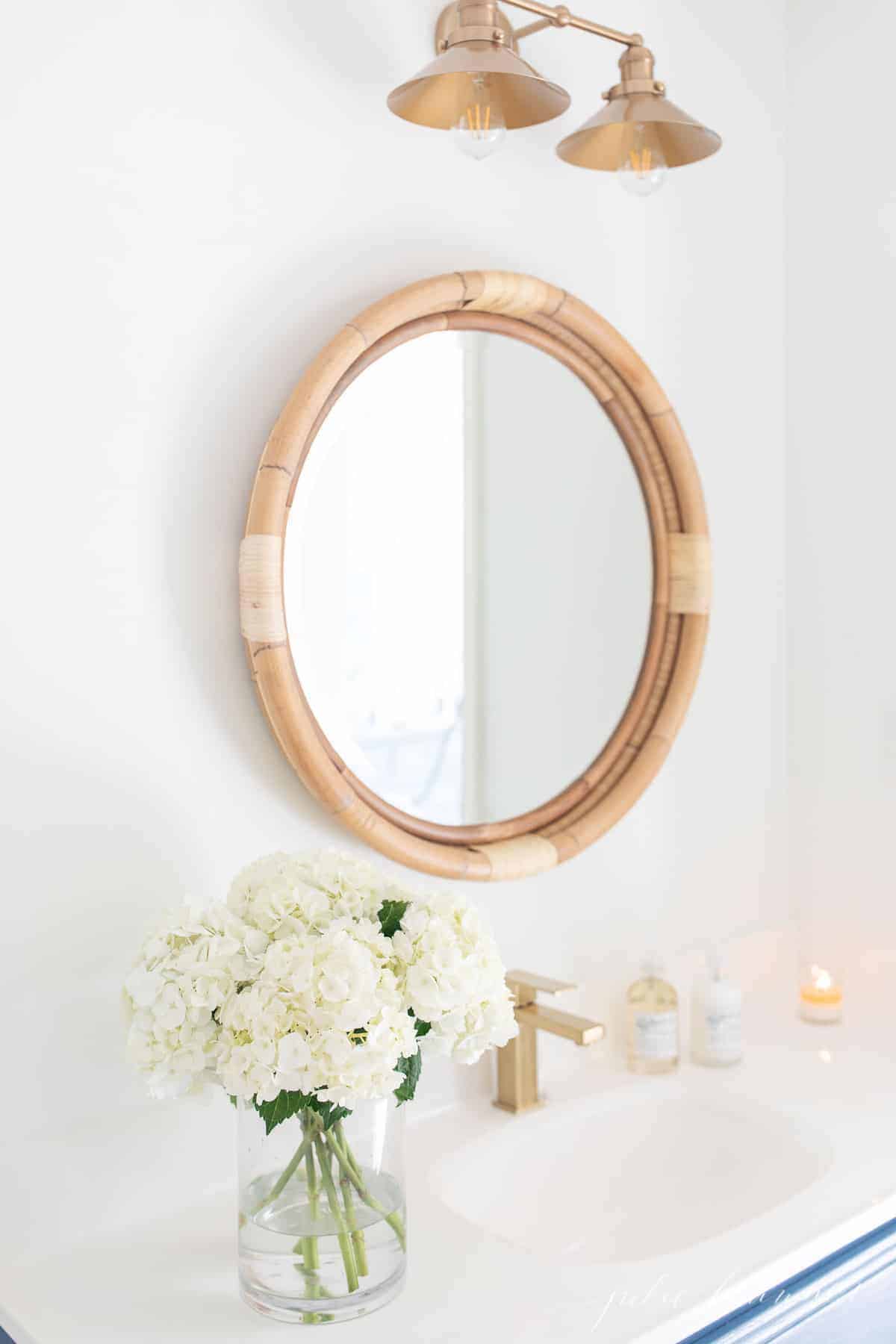 Nautical Bathroom Accessories
I've long dreamed of replacing the tile floor with a tile mat that said "no diving". However, to keep this refresh quick, easy and budget friendly, I had a bath mat monogrammed "no diving" instead! The color is a perfect match to Evening Calm and ties it all together.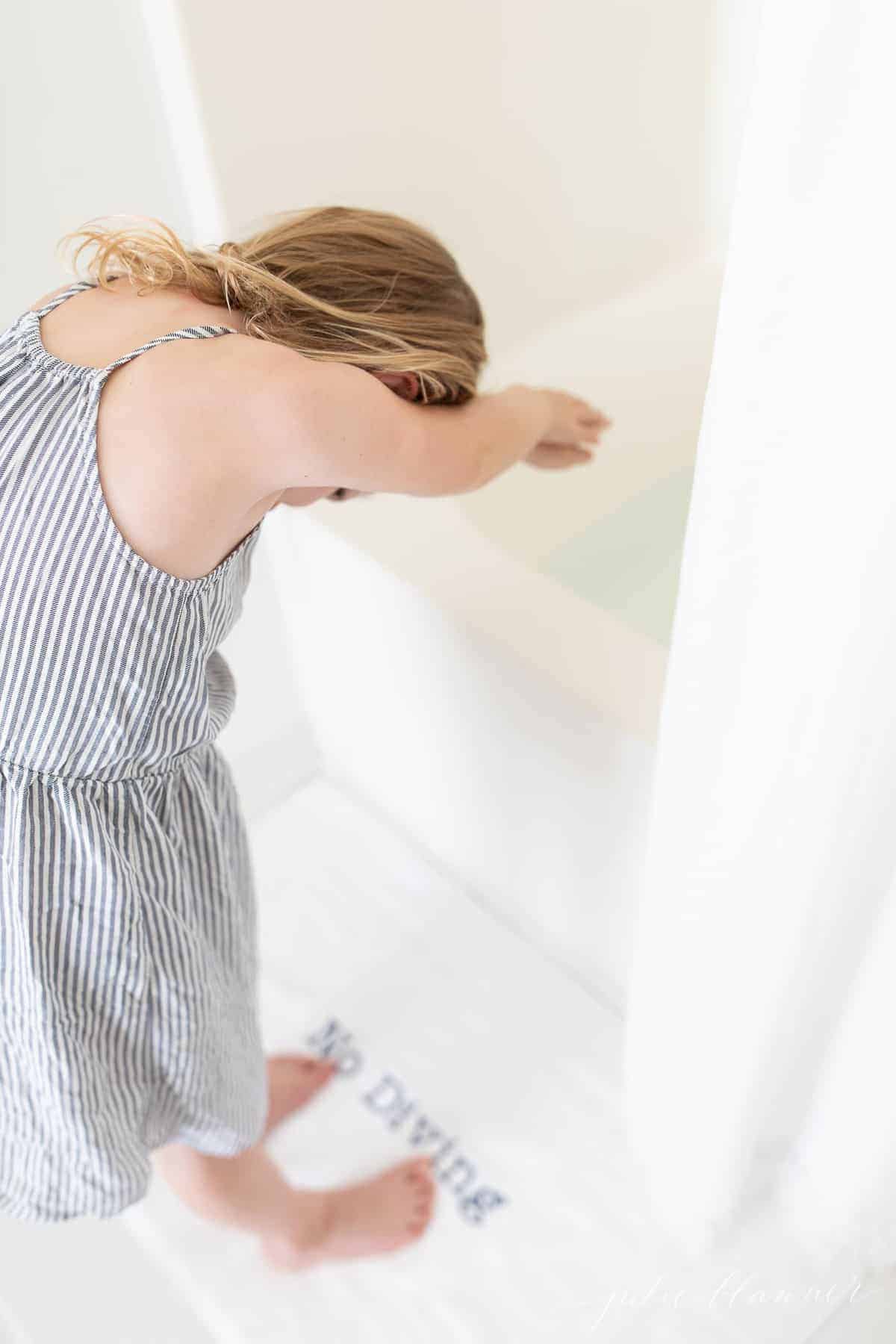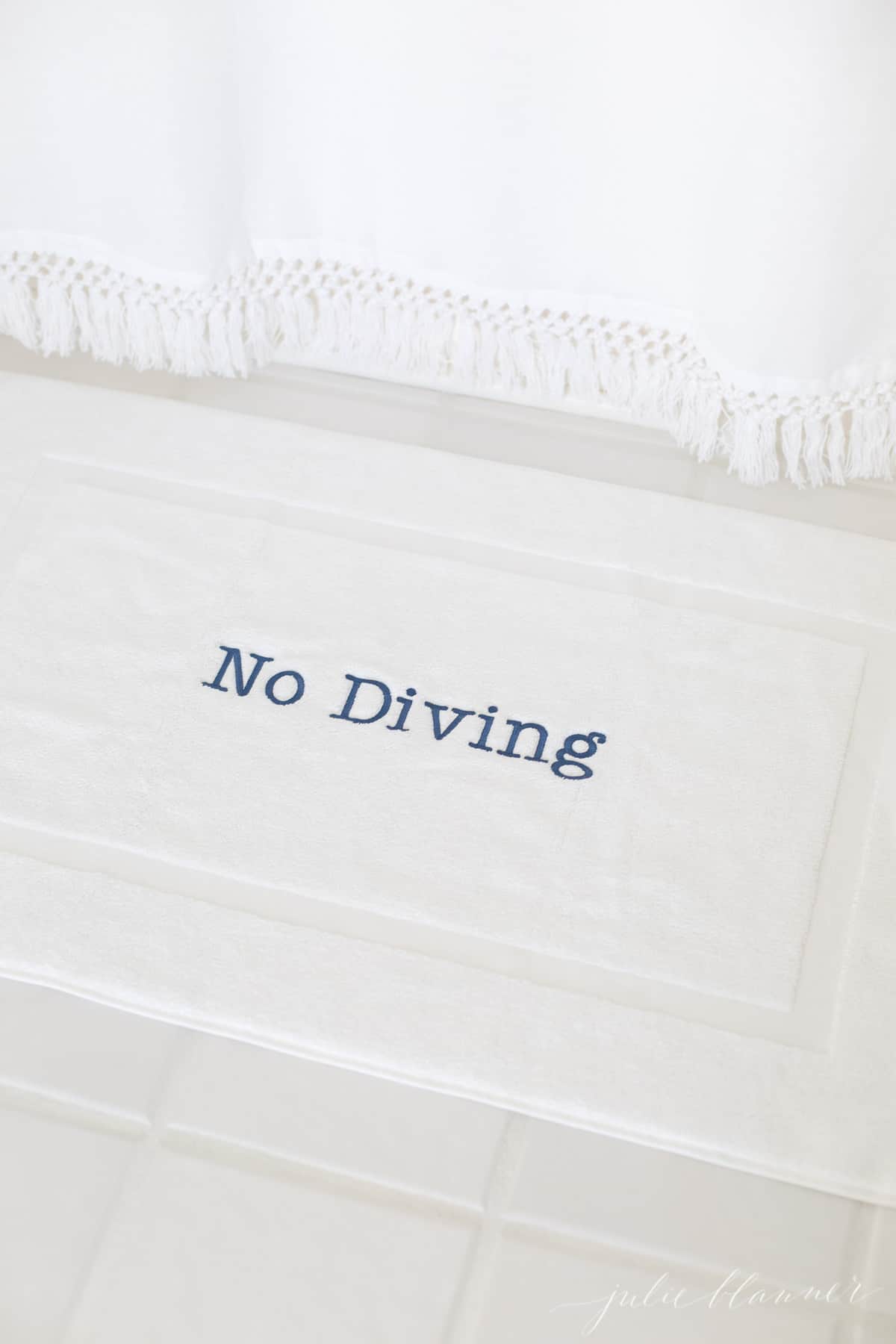 Classic white towels always work well in a nautical bath, but stripes are always right, too!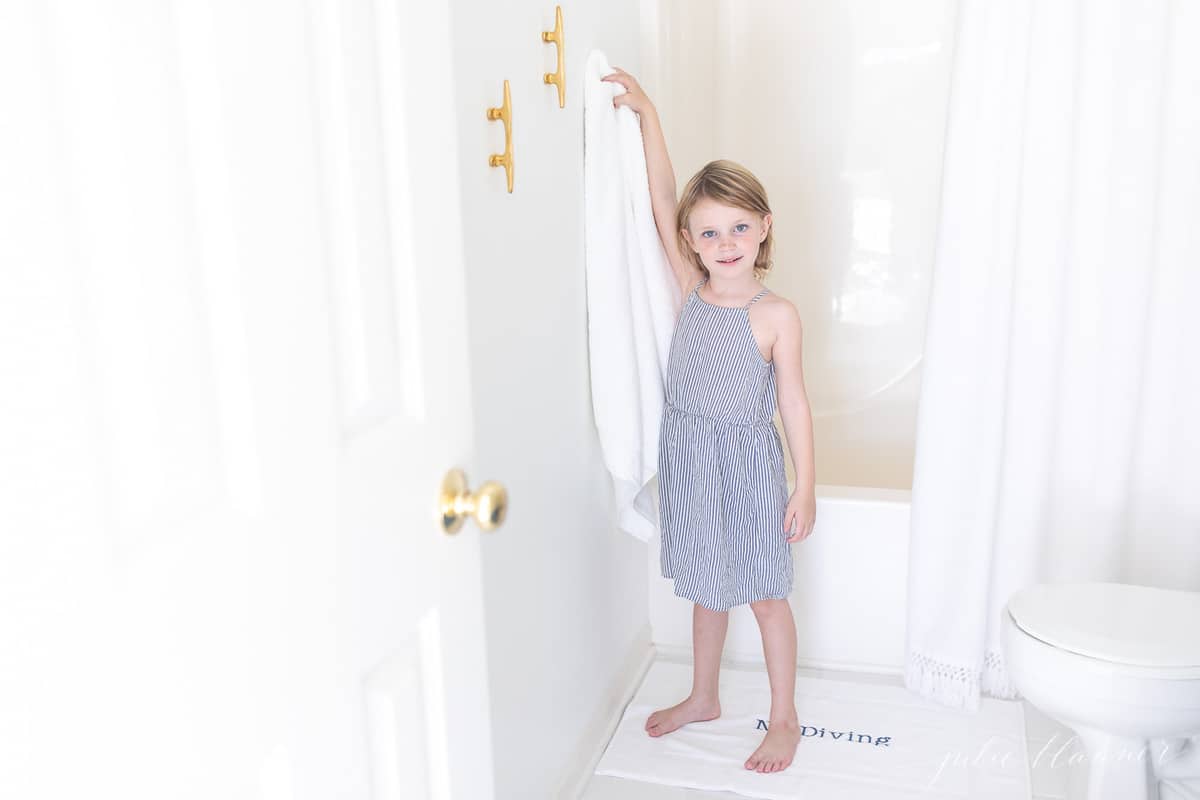 Anything in brass, chrome or basket weave tends to lend itself well to the style as well.
Find this simple, clean-lined modern brass faucet here. The pretty nautical-inspired light fixture is also surprisingly affordable!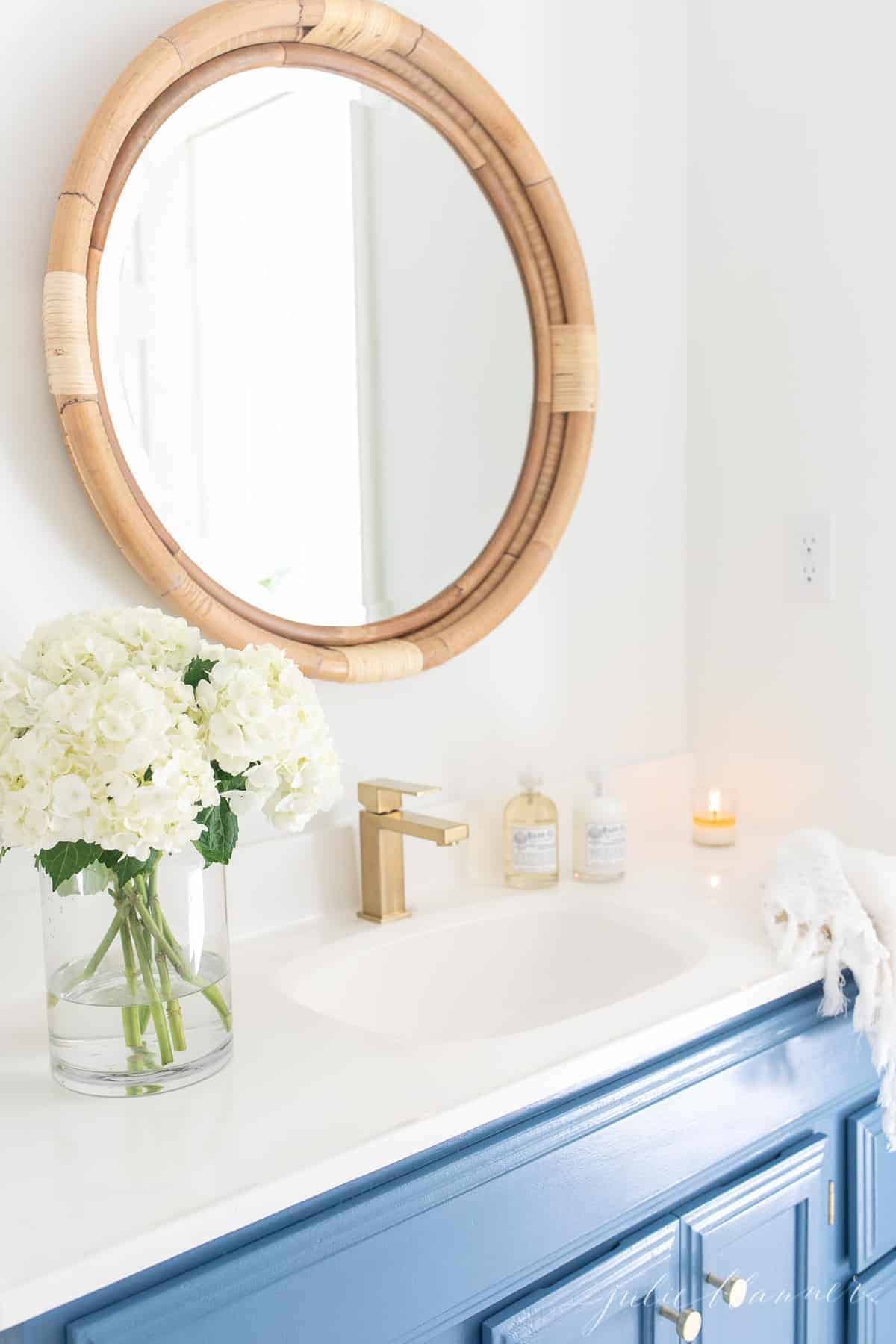 If you want to mix another color into your bathroom accessories, red makes a great accent. I wove it in with the hand soap and lotion labels.
Nautical Lighting
There are so many fun nautical lighting options – in fact, I struggled choosing just one!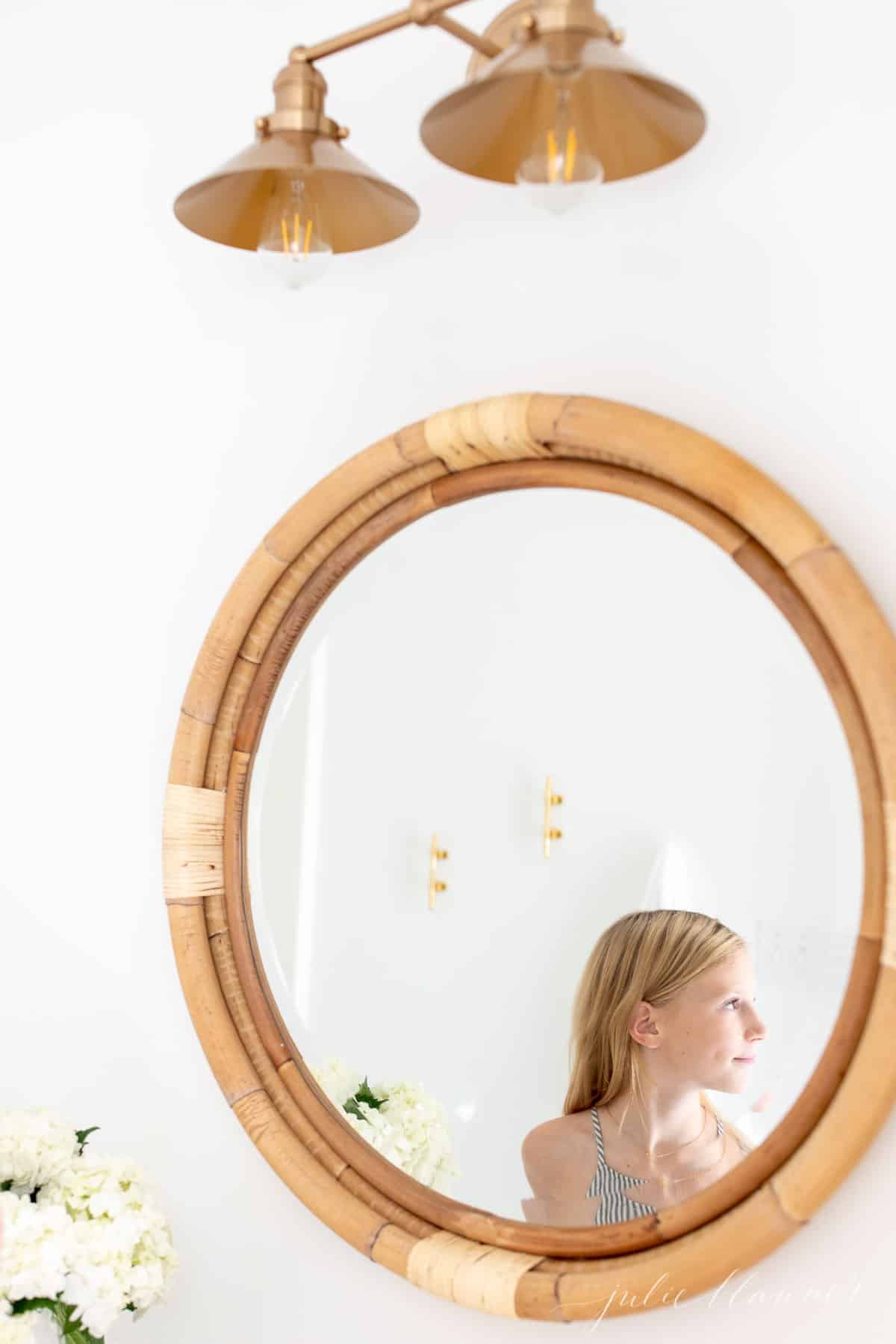 You can never go wrong with brass, chrome or copper for nautical lake or beach style.
Select anything that looks reminiscent of a ship or nearby ports. Some examples include a beacon sconce, passageway lighting, navigation lights, etc.
More Details About The Paint Color Evening Calm
Clark+Kensington Evening Calm 36B-6 has a light reflective value (LRV) of 15%, meaning it doesn't reflect a lot of light. It's a blend of blue, green and red. It's hex code is closest to 5978C.
Spaces Evening Calm is the Best Suited For
small spaces
rooms with minimal natural lighting
furniture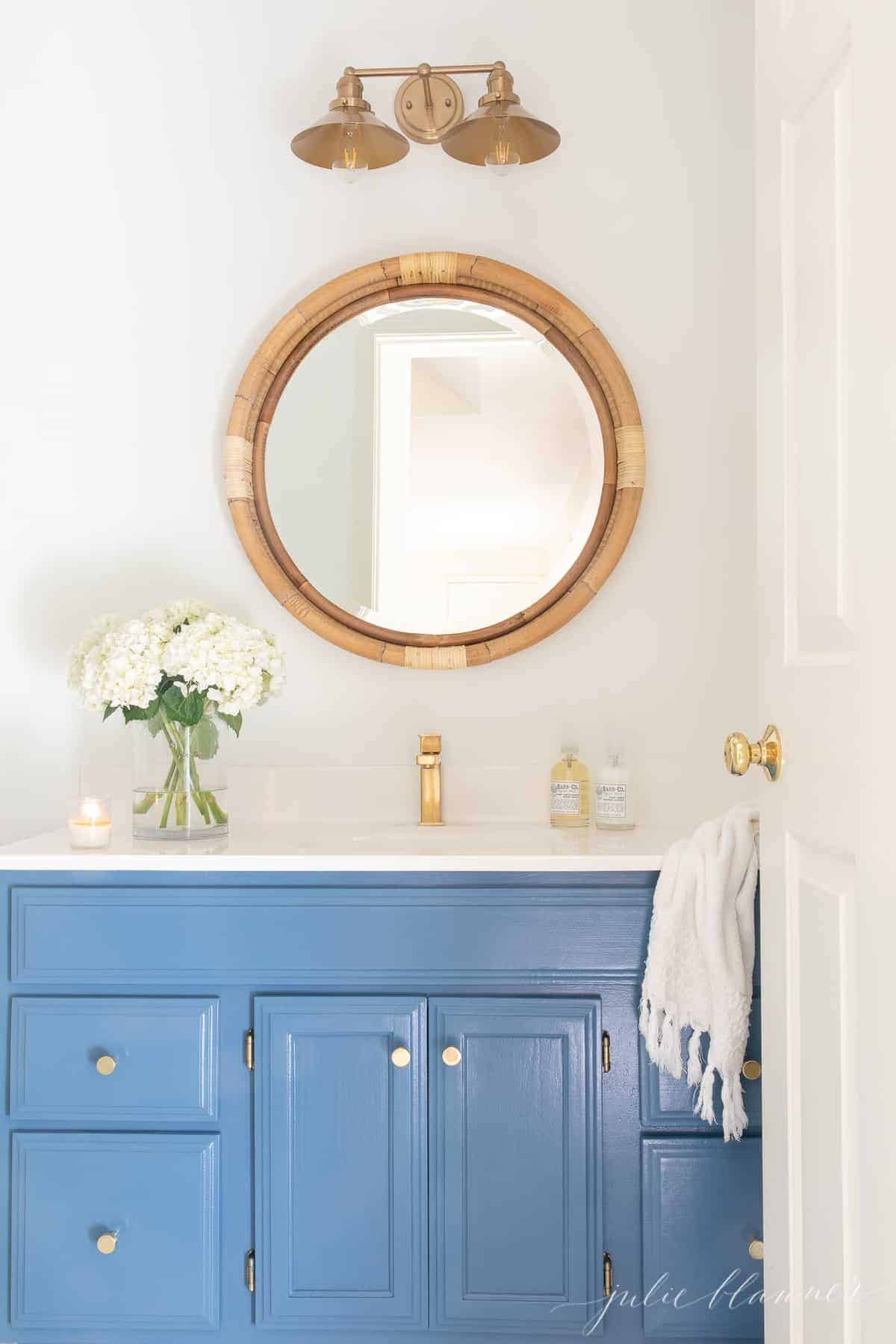 How Evening Calm Feels
Styles It Fits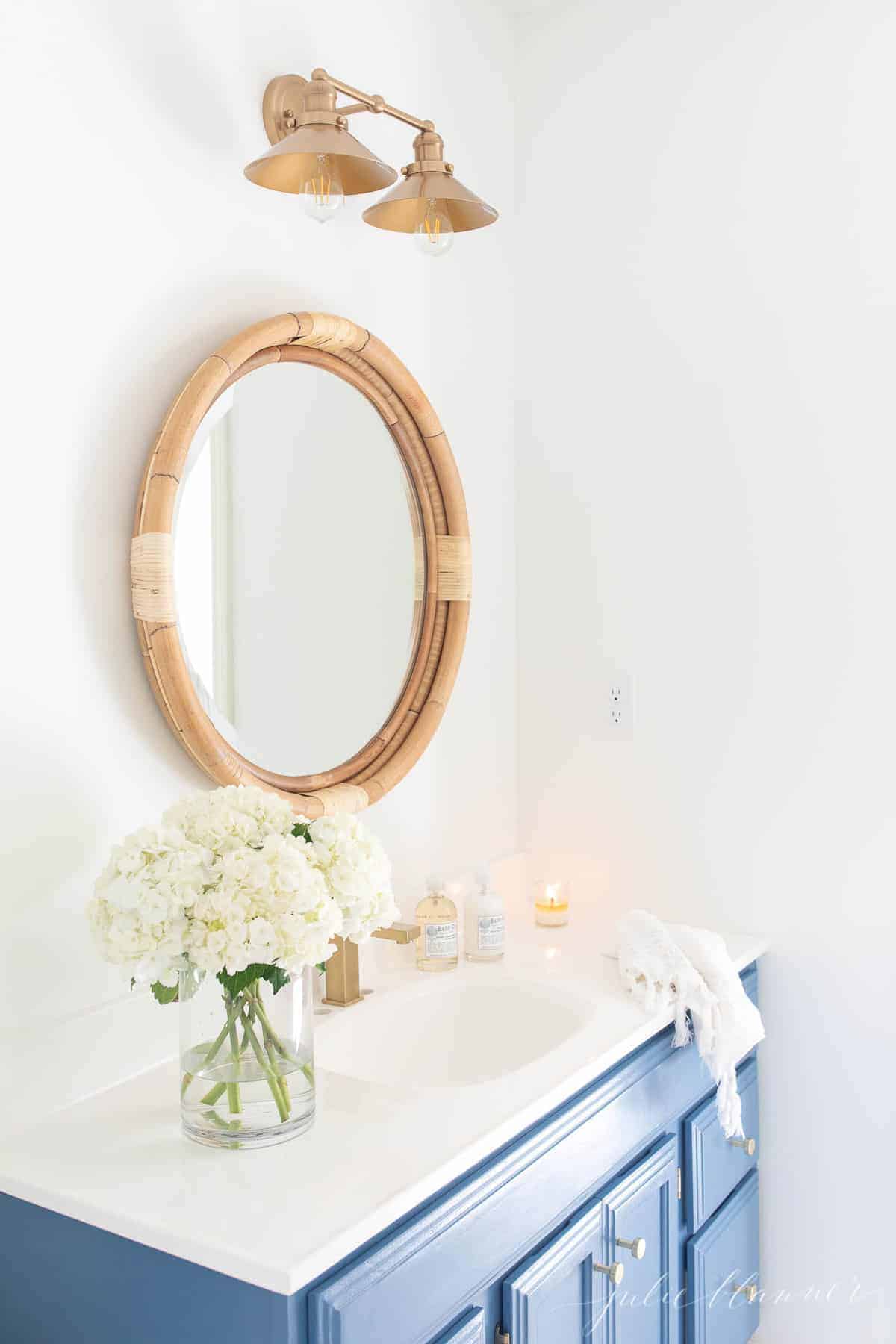 Let's do a little before and after, shall we?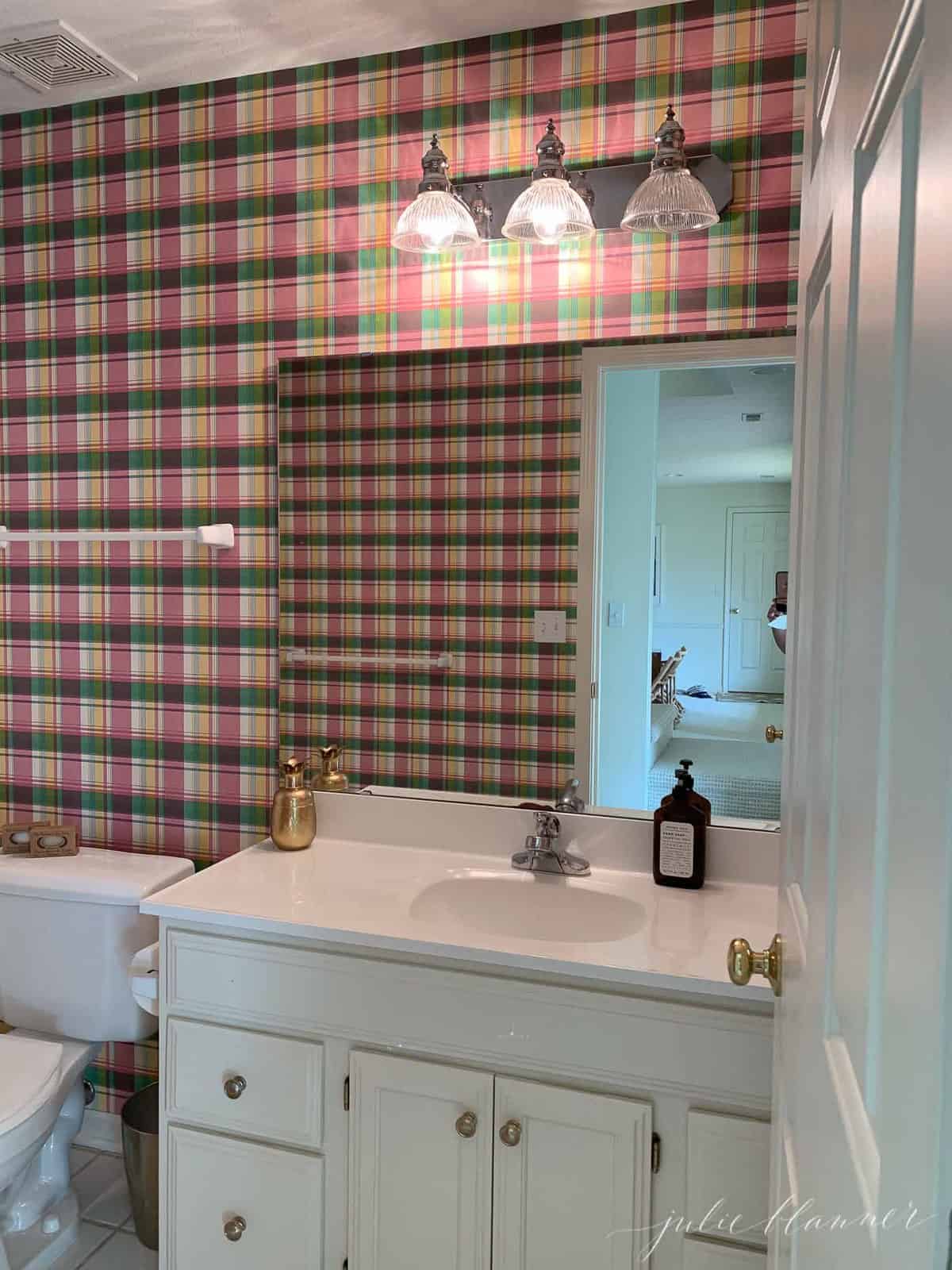 To give this space a complete makeover, we removed the light fixture, towel bar, shower curtain rod, faucet, and knobs. Then we stained the Tile Grout white. This made a huge impact with very little effort.
Don't want to paint/stain your grout? Try my natural grout cleaner instead.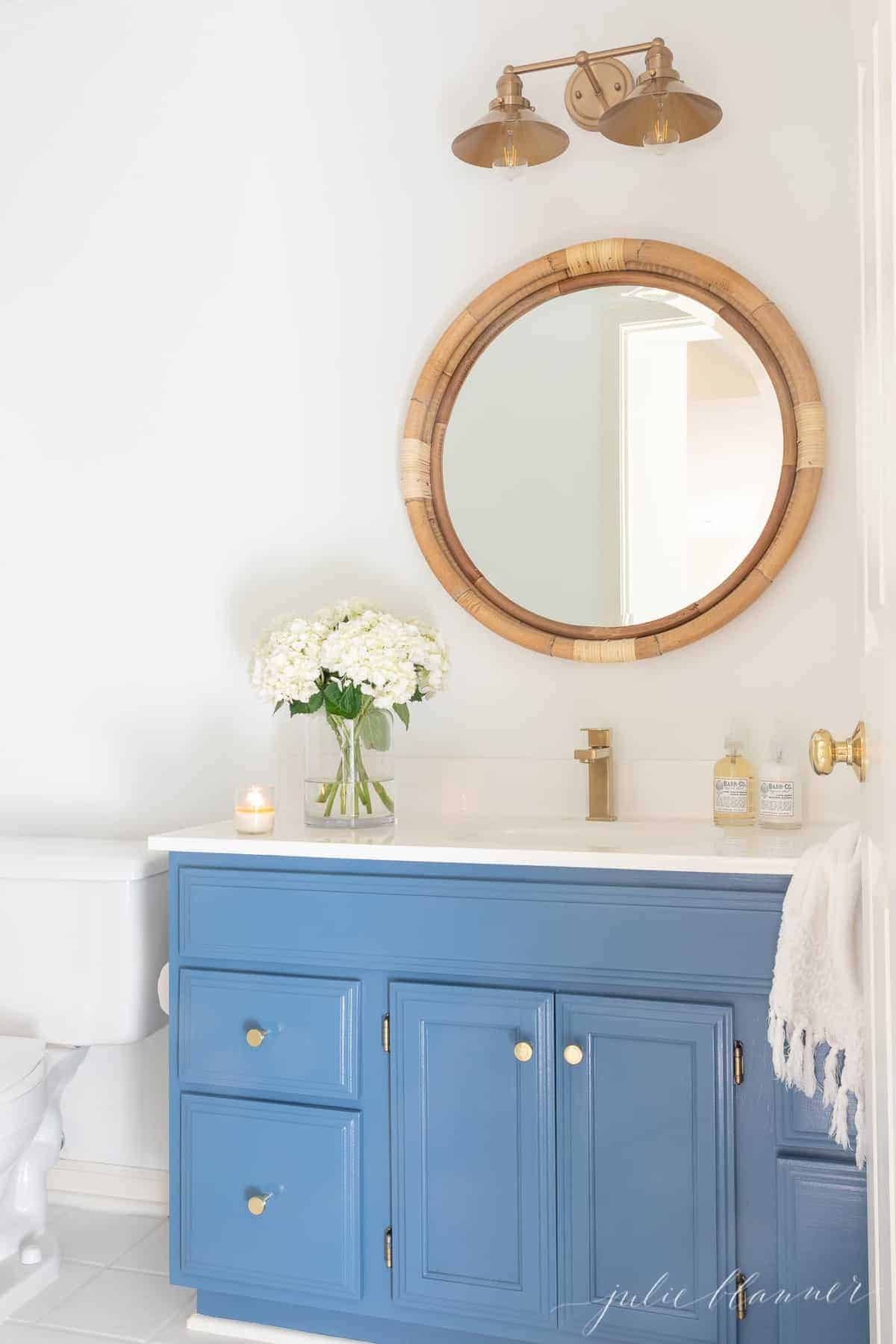 The wallpaper was removed and we painted the walls Clark+Kensington Designer White 1066. It has a high LRV to reflect the light and immediately made the space feel larger.
To make an impact, we painted the vanity with Clark+Kensington Evening Calm36B-6. Once it was dry and the paint had cured, we added new hardware.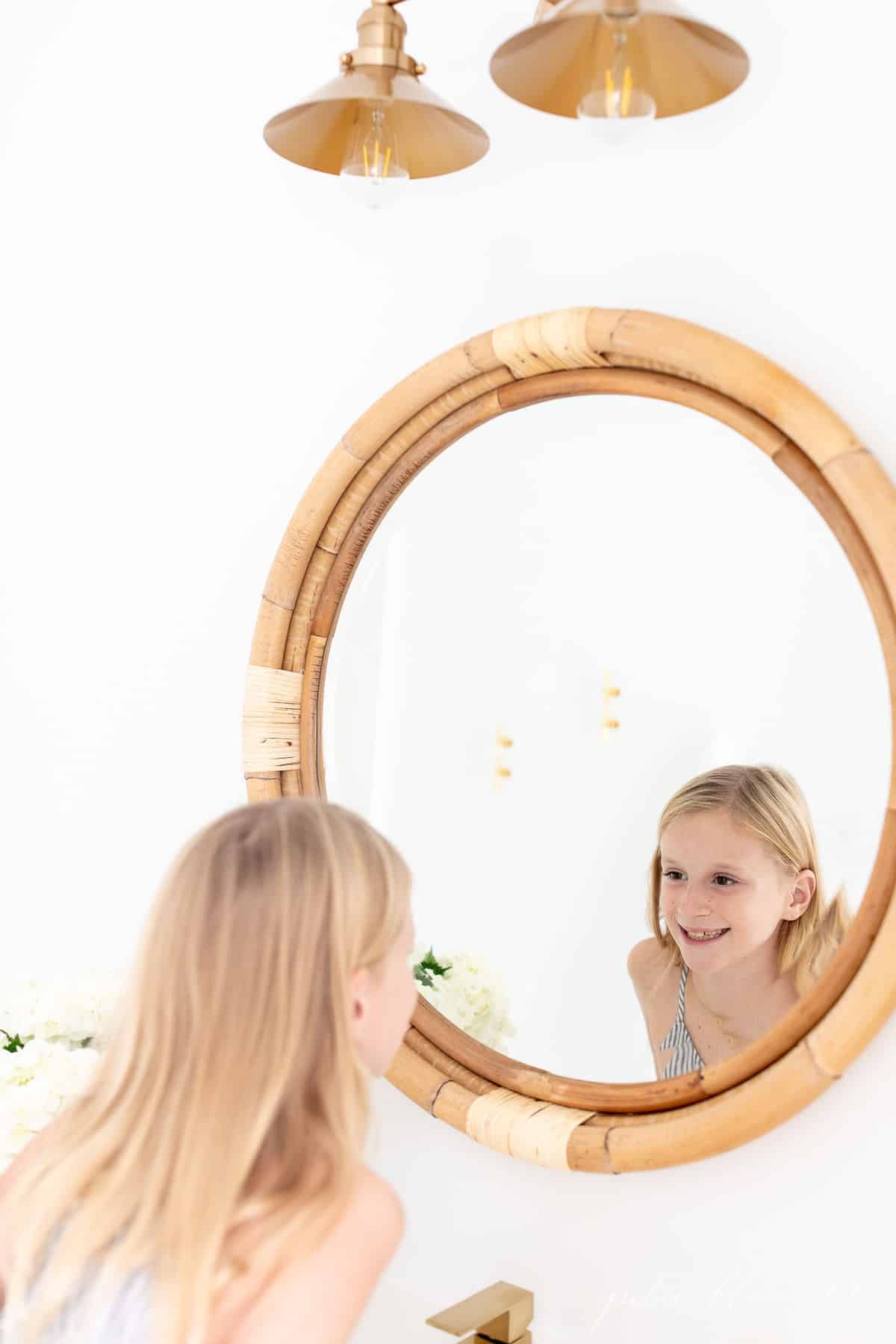 The round rattan mirror above added interest and texture and of course nautical lighting with warm bulbs makes the vanity pop. Easy peasy! In fact, this transformation took place in just two days!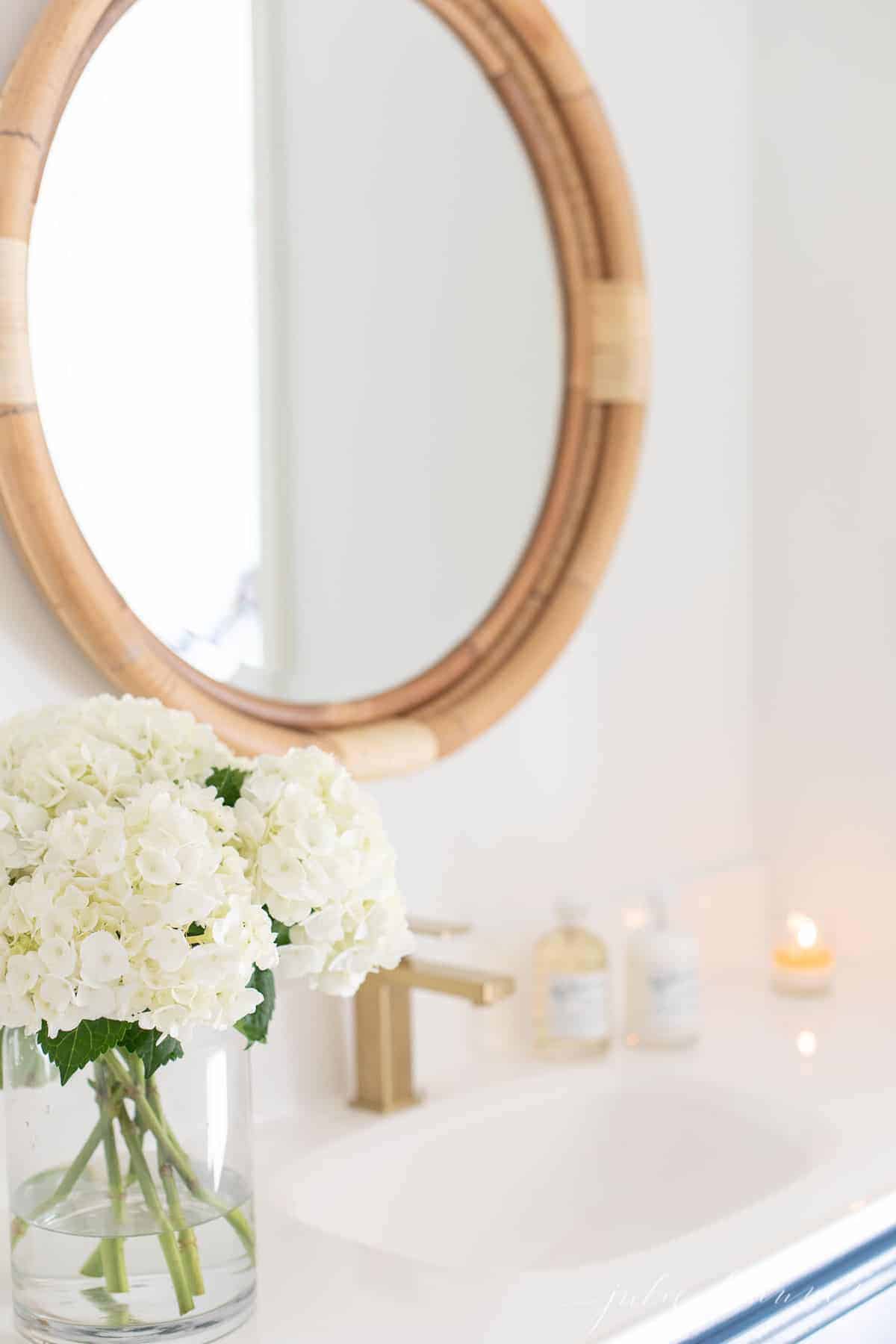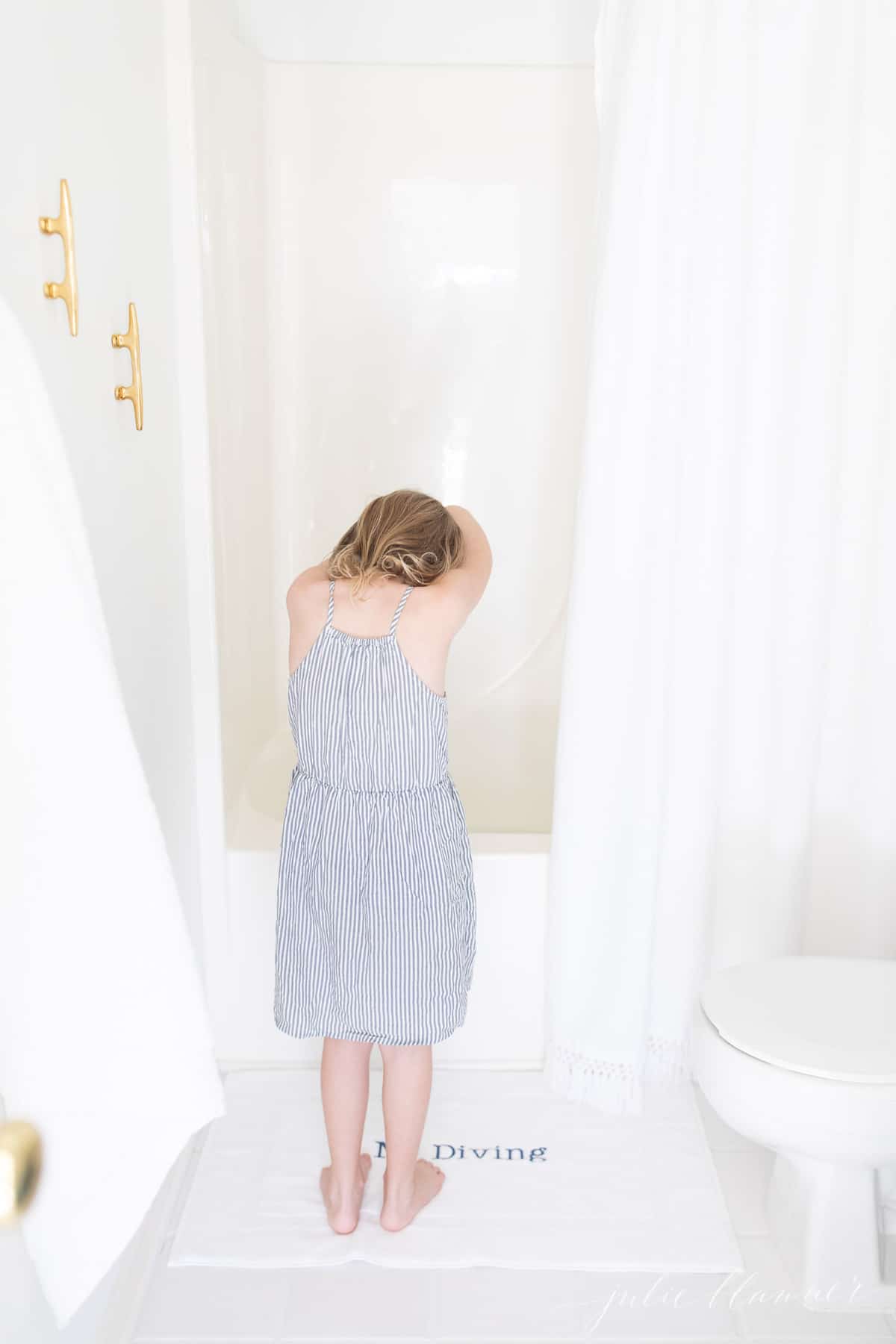 [adthrive-in-post-video-player video-id="vkT4fyCi" upload-date="2019-11-01T00:00:00.000Z" name="Lake Bathroom with Nautical Bathroom Decor" description="See how we transformed a dark, dated bath with fresh new nautical bathroom decor in this bathroom refresh with a beautiful blue hue! Transforming a builder's grade bath!" player-type="default" override-embed="default"]
Want more? Receive the best ideas directly to your inbox and connect on Youtube, Instagram, Facebook, and Pinterest!