See how we transformed a dark, dated bath with fresh new nautical bathroom decor. This is a fresh, modern nautcial bath refresh with a beautiful blue hue!
Get all the sources you need for a nautical bathroom refresh you're going to love. With fresh rattan and brass elements like charming boat cleats, this is the prettiest hint to nautical inspiration for bathrooms.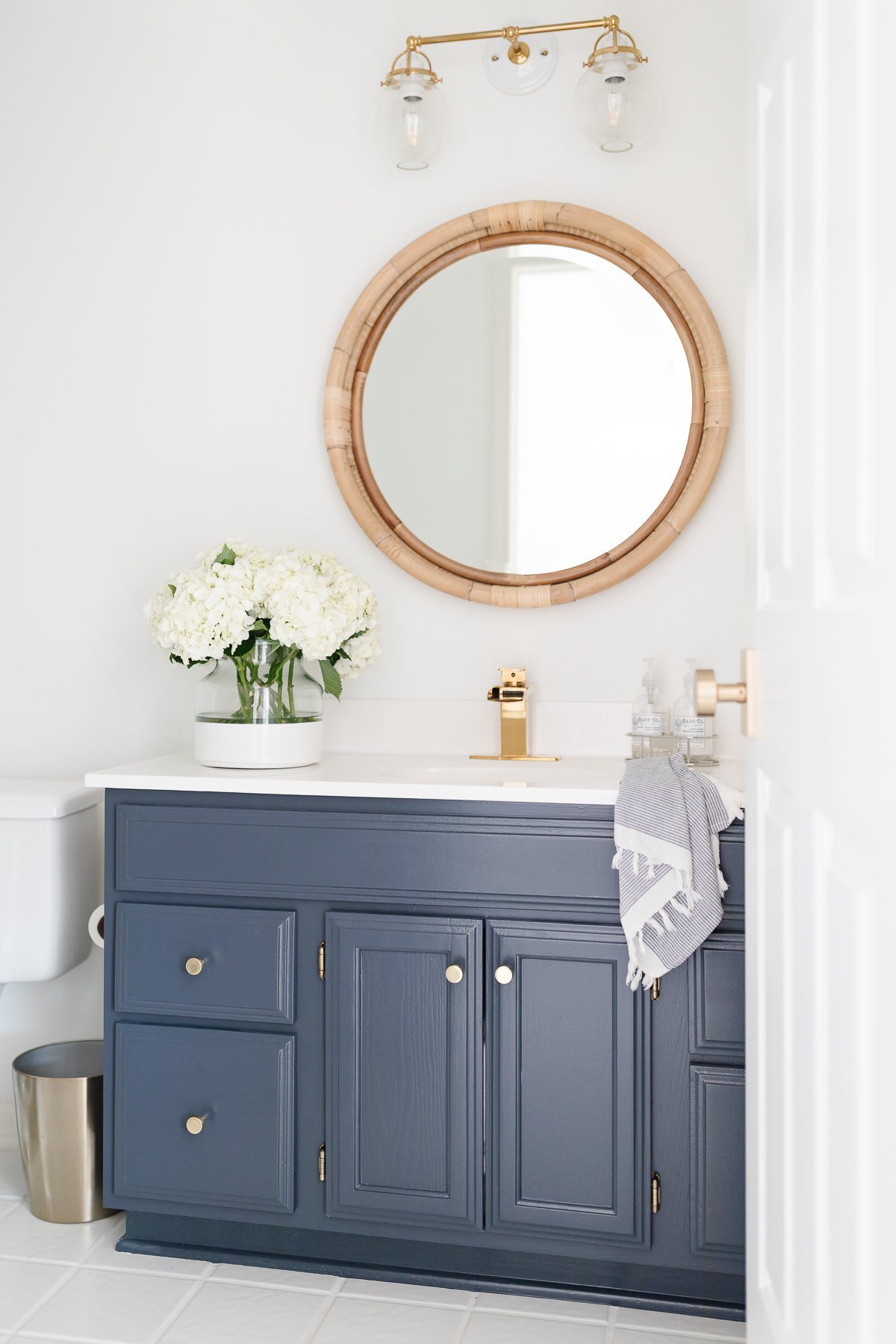 The guest bathroom at our modern lake house was charming and in good working condition (click through for the full before and after tour of this home).
However, as we updated the spaces around it with new lighting, carpeting, paint and modern decor, I felt it too needed a little refresh.
I wanted it to be lighter, brighter and a bit more modern, which has become the theme for updating spaces at the lake house! When designing a space, I consider the spaces around it.
The lower level modern living room and Coastal Modern Living Room upstairs both have pops of navy, while the adjacent guest bedroom has pretty florals in periwinkle hues.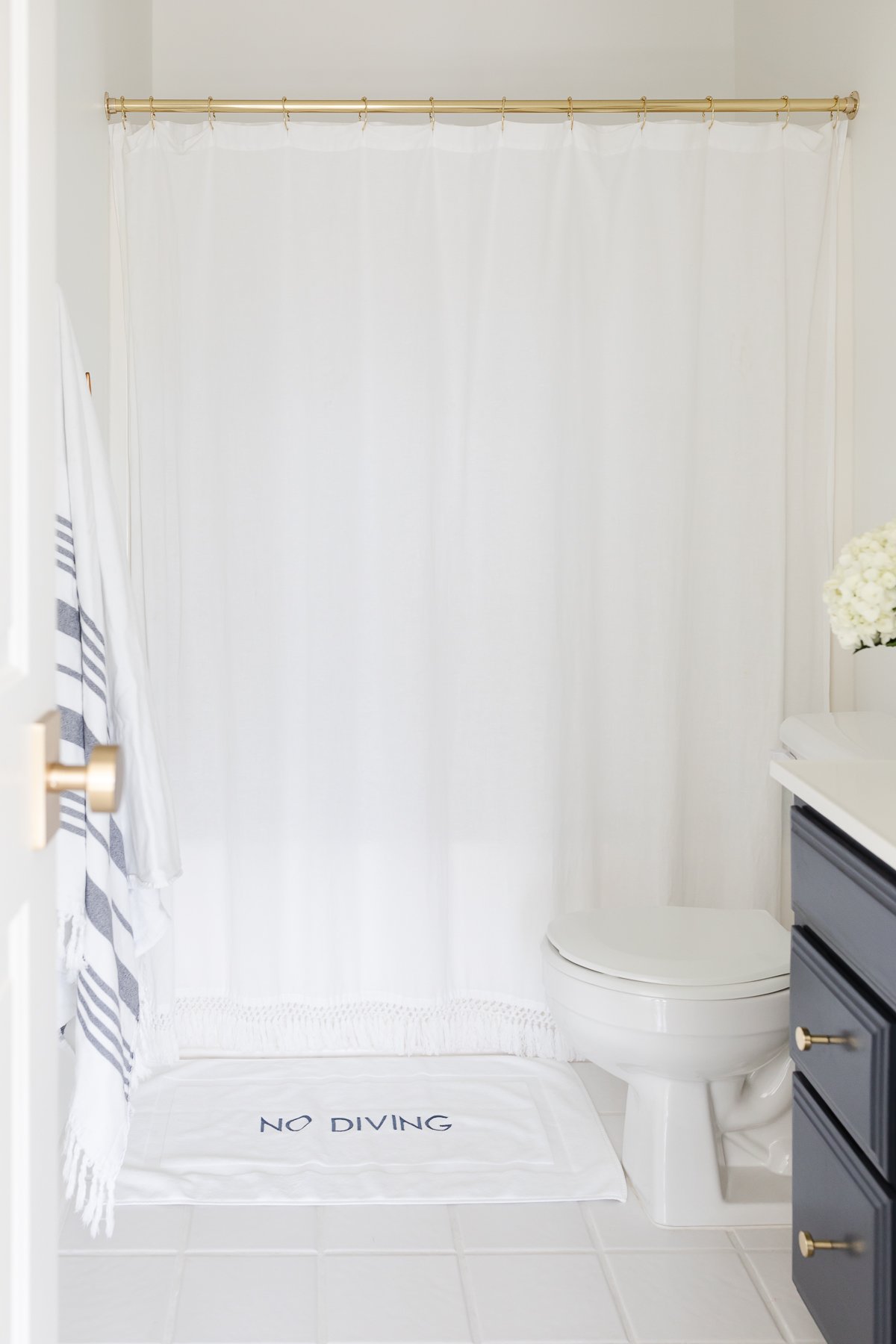 Nautical Bathroom Decor
The first step to a nautical bathroom is finding the right blue hue! Blue is the quintessential color associated with all things nautical. Living lakeside, it's the perfect fit for our lake cottage bath. It's a timeless classic!
Painting a cabinet like this can make such an incredible impact with very little time and investment. Be sure to read my comprehensive posts on furniture paint and how to paint without sanding!
Four our nautical bath, we chose a classic white for the walls – Benjamin Moore Simply White. For the vanity, we painted it in Benjamin Moore Hale Navy for a deep contrasting choice that speaks to our love of the water and classic lake style!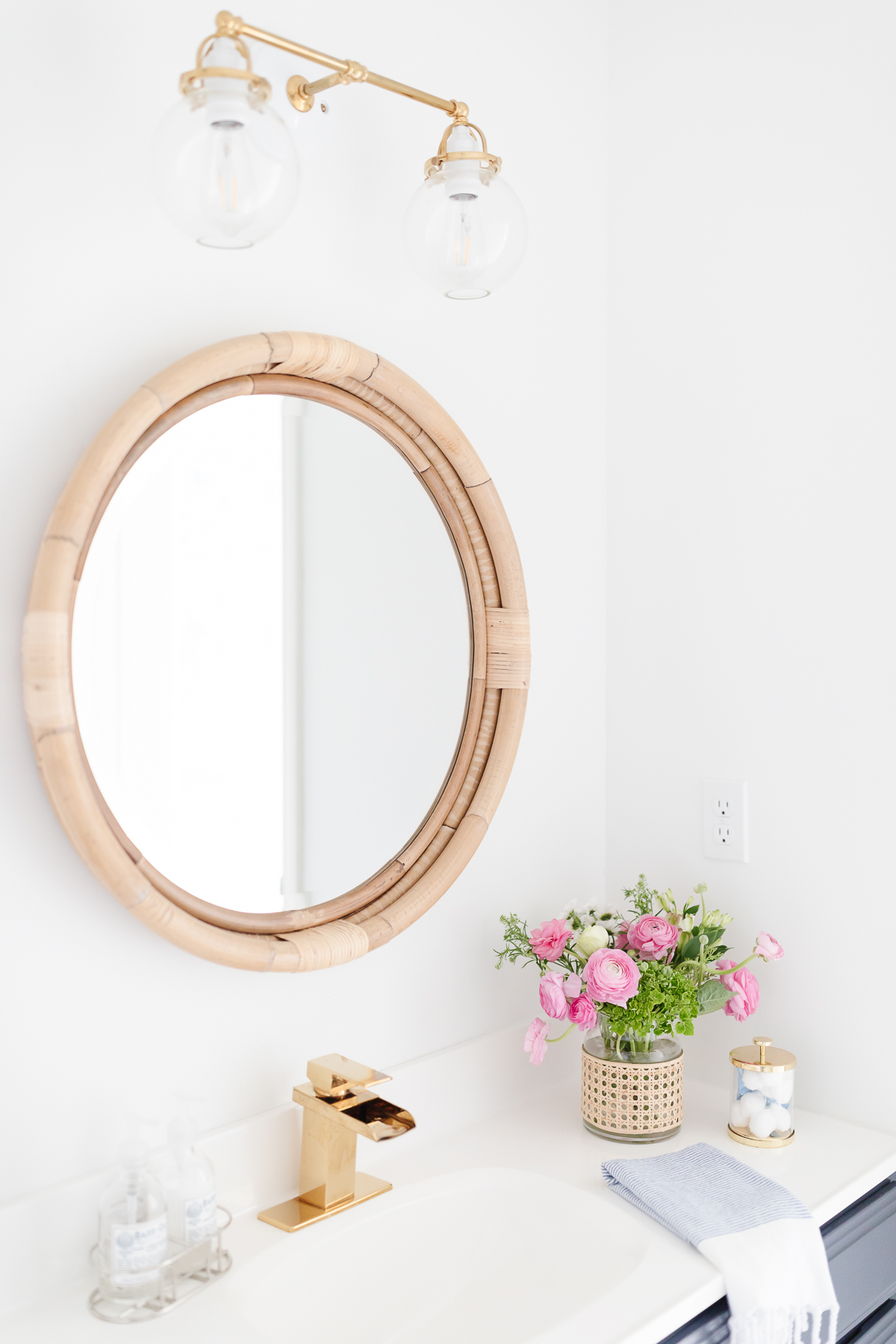 Our Guest Bath Before
I love working with what we have when at all possible! We updated to create a nautical bathroom without reworking electrical or replacing the vanity. In fact, it was paint that offered the biggest transformation.
This nautical bathroom makes a great refresh for any builder grade bathroom. Painting the overlay cabinet vanity is quick, easy and inexpensive and makes it pop!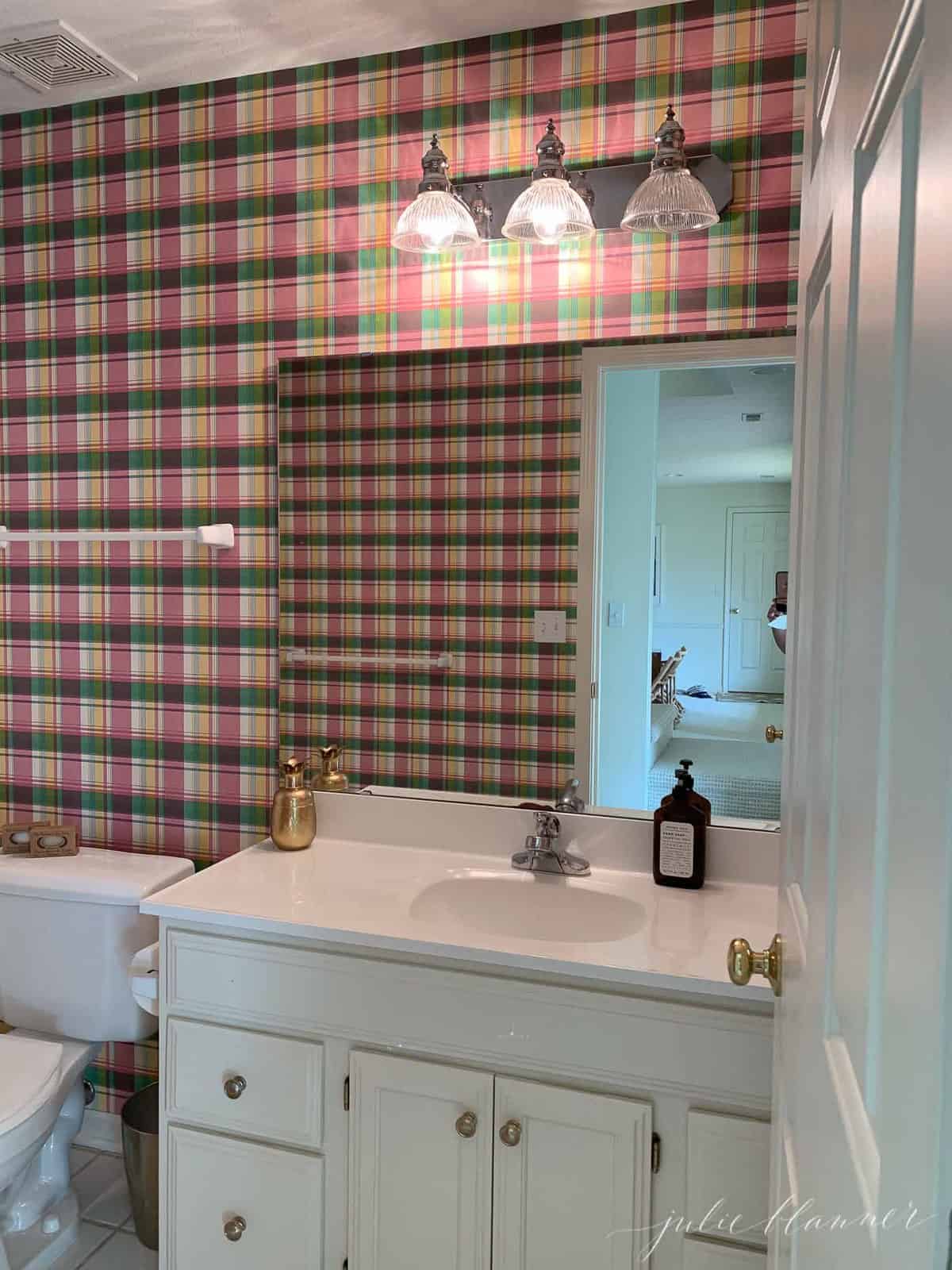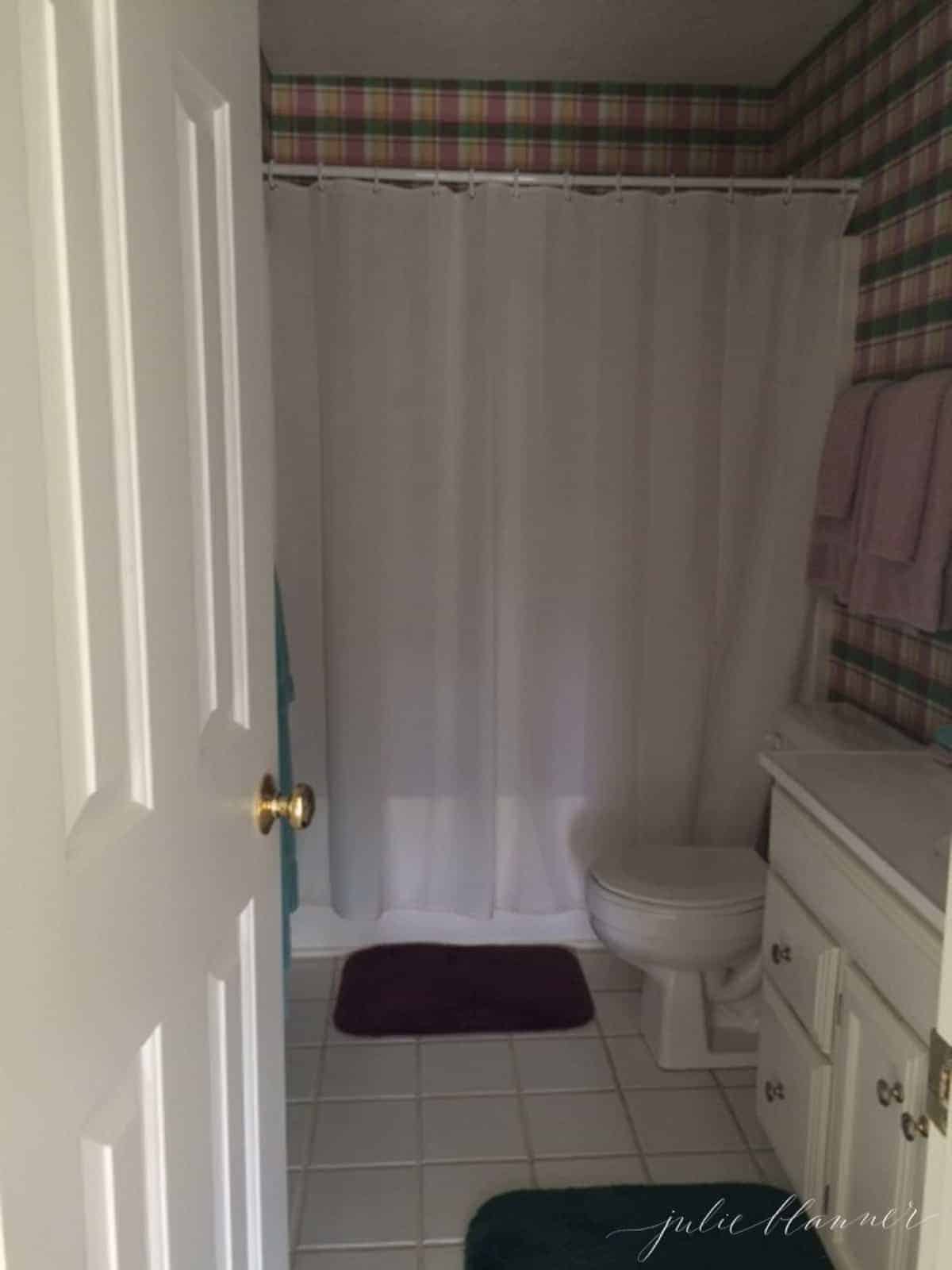 Nautical Bath Decorating
I take a "less is more" approach. A few nautical nods go a long way – especially in a small space such as a bathroom. Here are a few nautical bathroom accessories to consider.
Boat Cleats – they make great towel hooks! They are available in both solid brass and stainless.
Anything with an anchor on it!
Nautical Rope – incorporate this easy DIY Nautical Rope Vase, a toilet paper holder made with rope or add a rope knot door stop.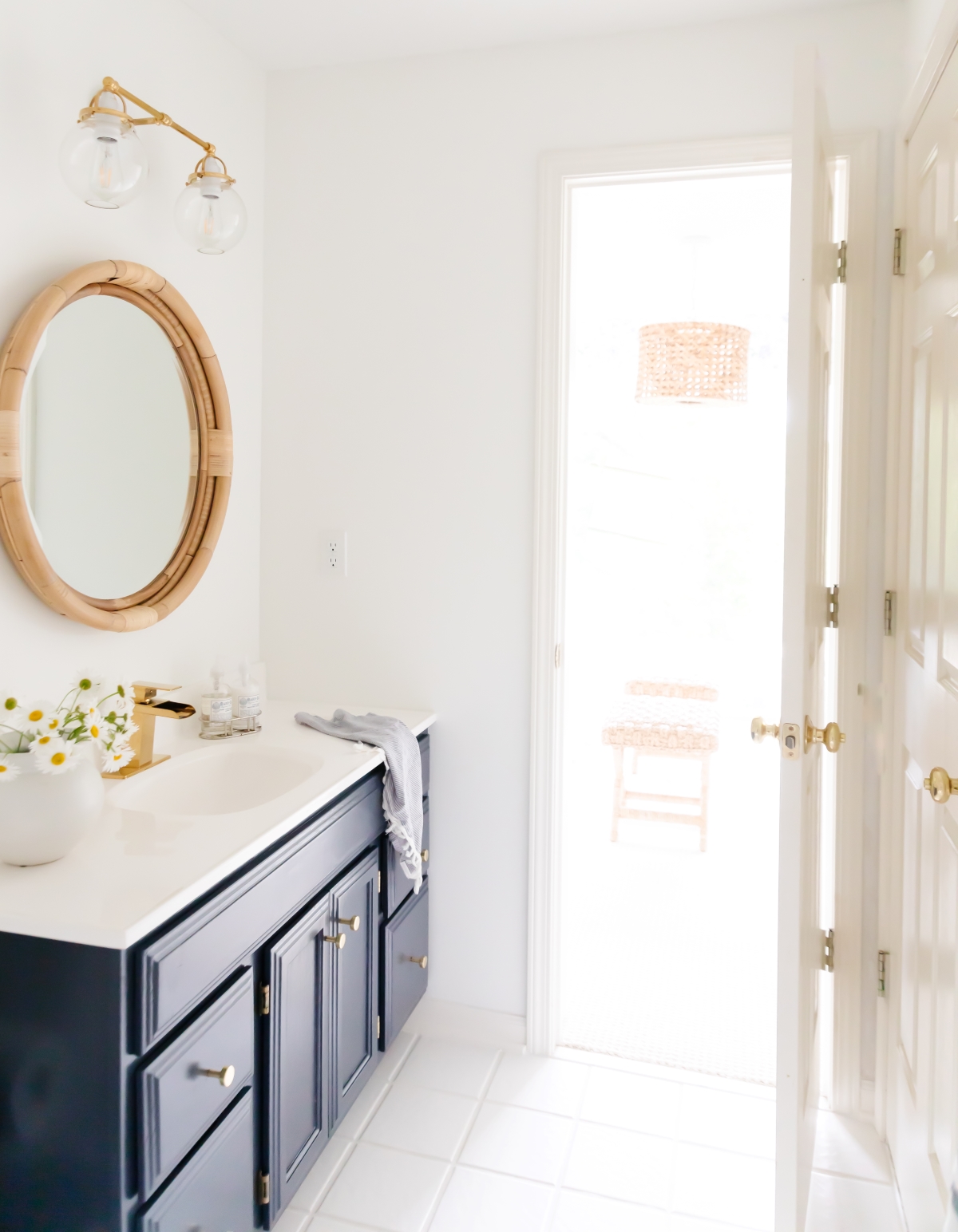 Nautical Bathroom Accessories
I've long dreamed of replacing the tile floor with a tile mat that said "no diving". However, to keep this refresh quick, easy and budget friendly, I had a bath mat monogrammed "no diving" instead!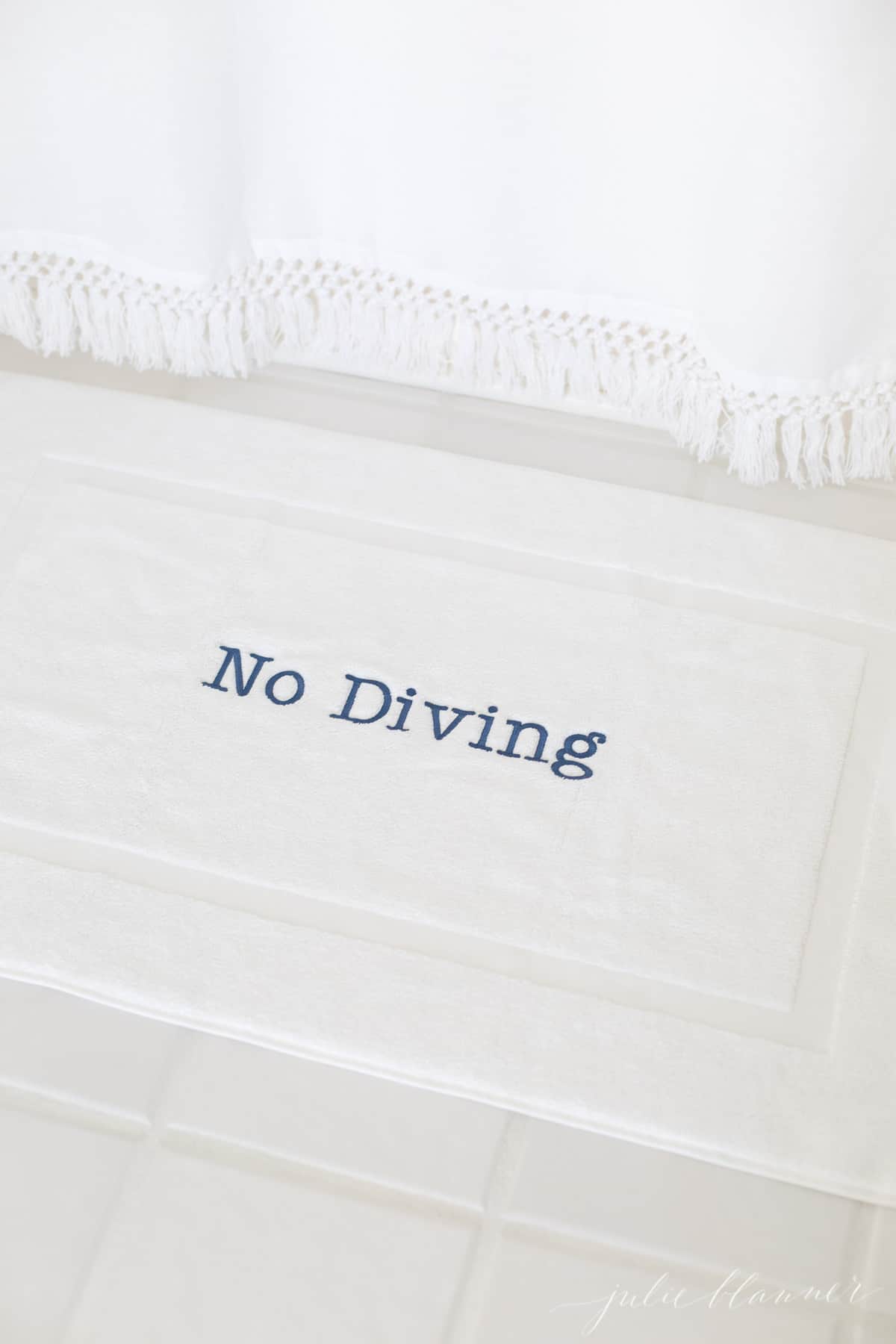 Classic white towels always work well in a nautical bath, but stripes are always right, too!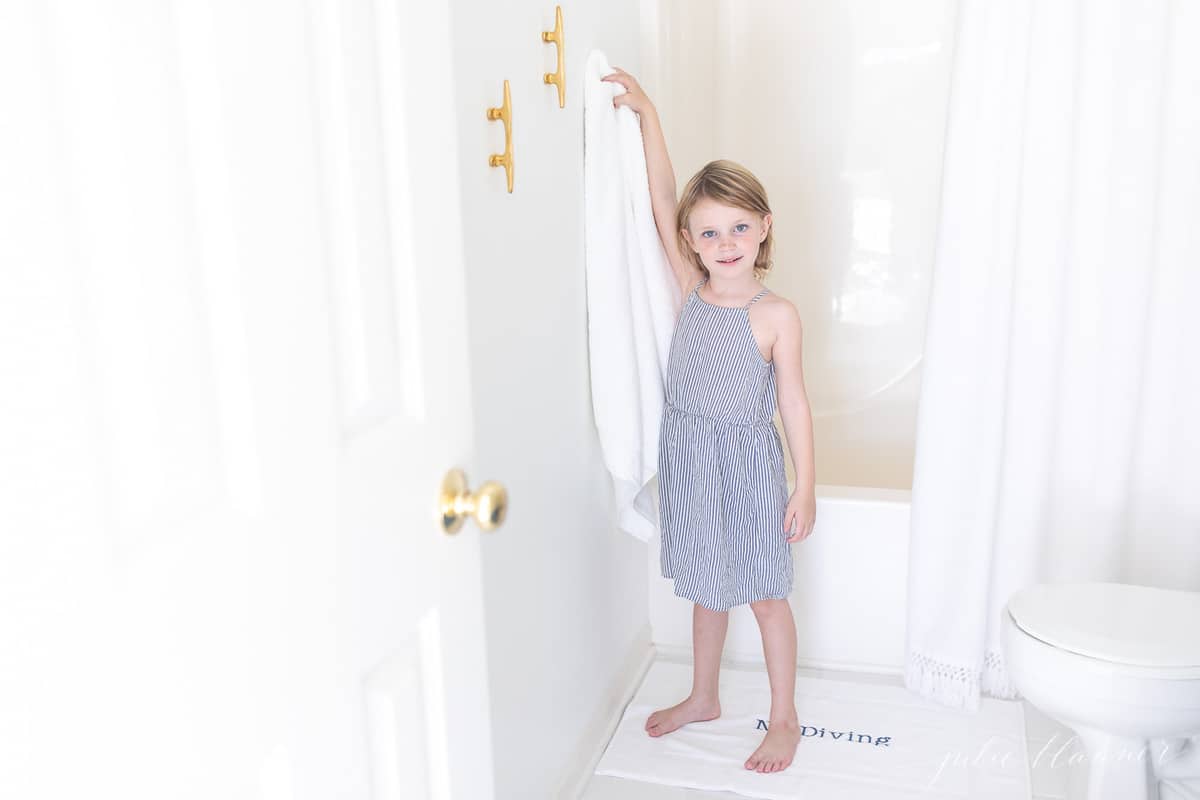 Anything in brass, chrome or basket weave tends to lend itself well to the style as well.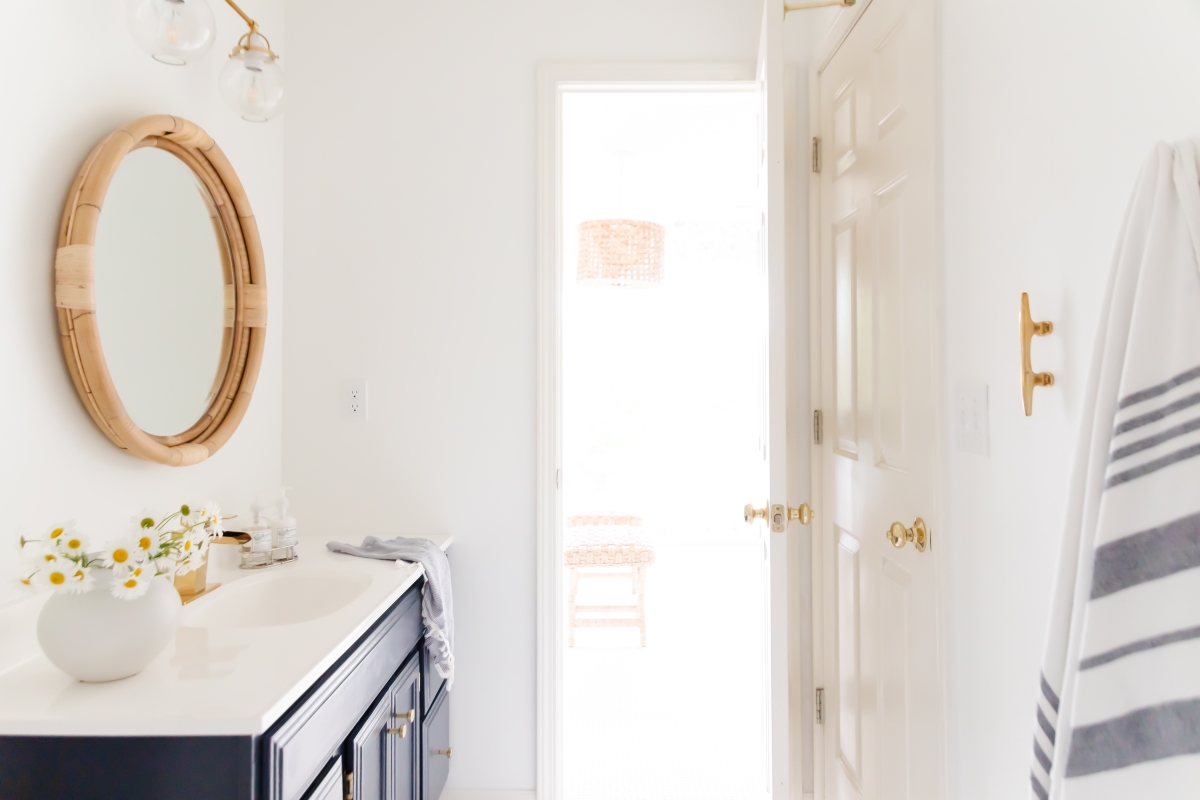 If you want to mix another color into your bathroom accessories, red makes a great accent. I wove it in with the hand soap and lotion labels.
Nautical Lighting
There are so many fun nautical lighting options – in fact, I struggled choosing just one!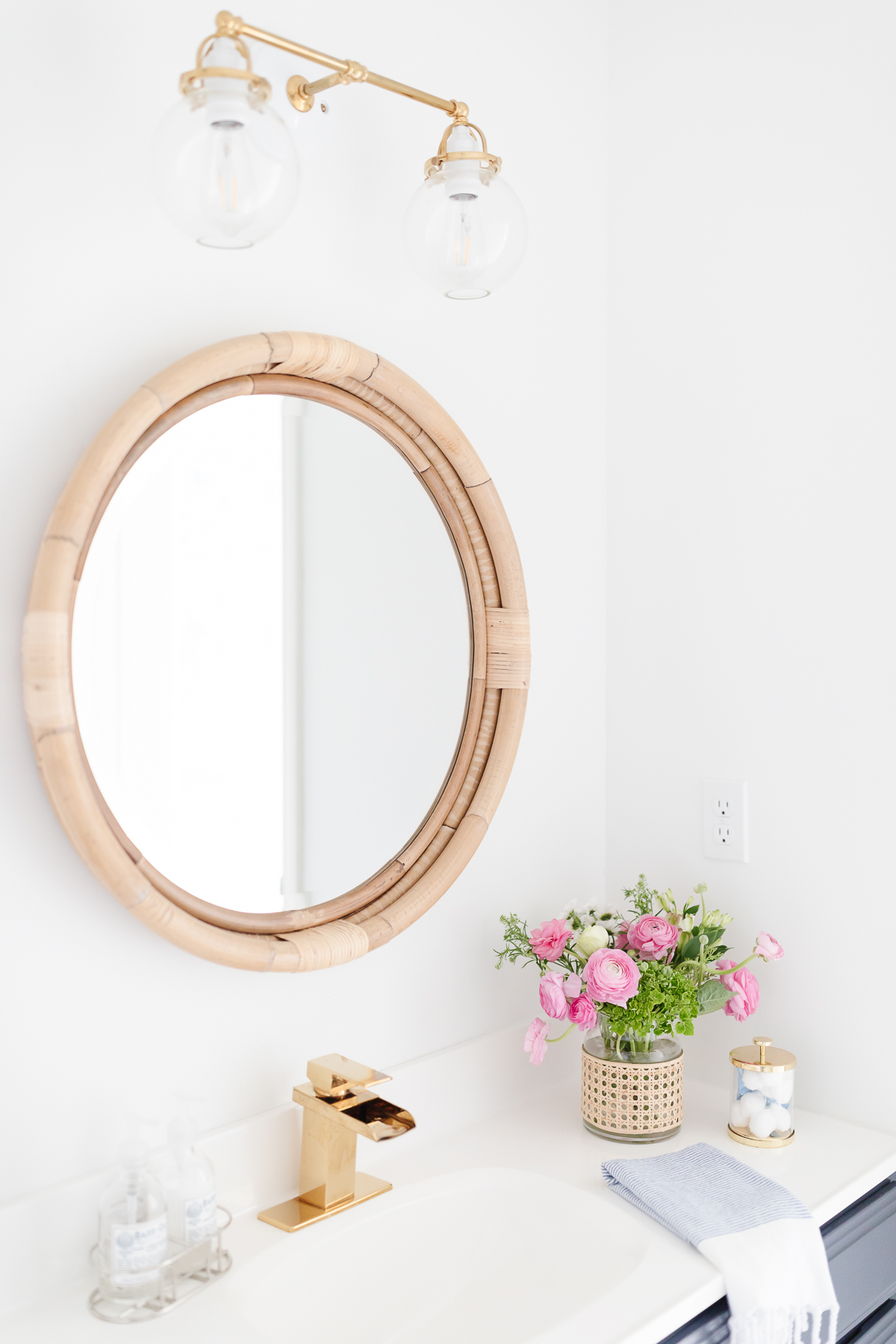 You can never go wrong with brass, chrome or copper for nautical lake or beach style.
Select anything that looks reminiscent of a ship or nearby ports. Some examples include a beacon sconce, passageway lighting, navigation lights, etc.
To give this space a complete makeover, we removed the light fixture, towel bar, shower curtain rod, faucet, and knobs. Then we stained the Tile Grout white. This made a huge impact with very little effort.
Don't want to paint/stain your grout? Try my natural grout cleaner instead. Learn more about Choosing Grout Colors here.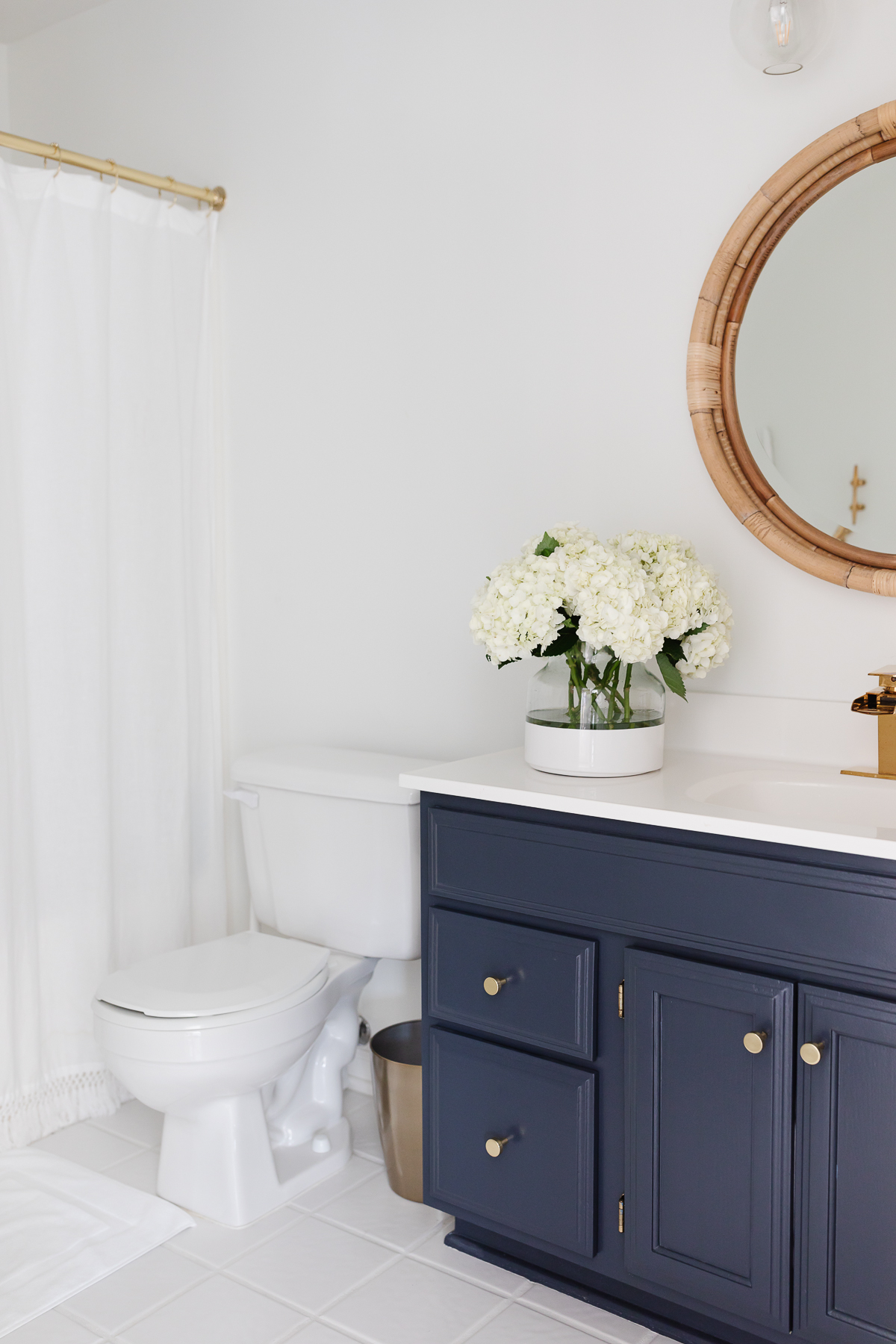 The round rattan mirror above added interest and texture and of course nautical lighting with warm bulbs makes the vanity pop. If you love Rattan Mirrors, don't skip my posts about Rattan Beds!
Easy peasy! In fact, this transformation took place in just two days! Learn how to organize your vanity drawers in my Bathroom Organization post.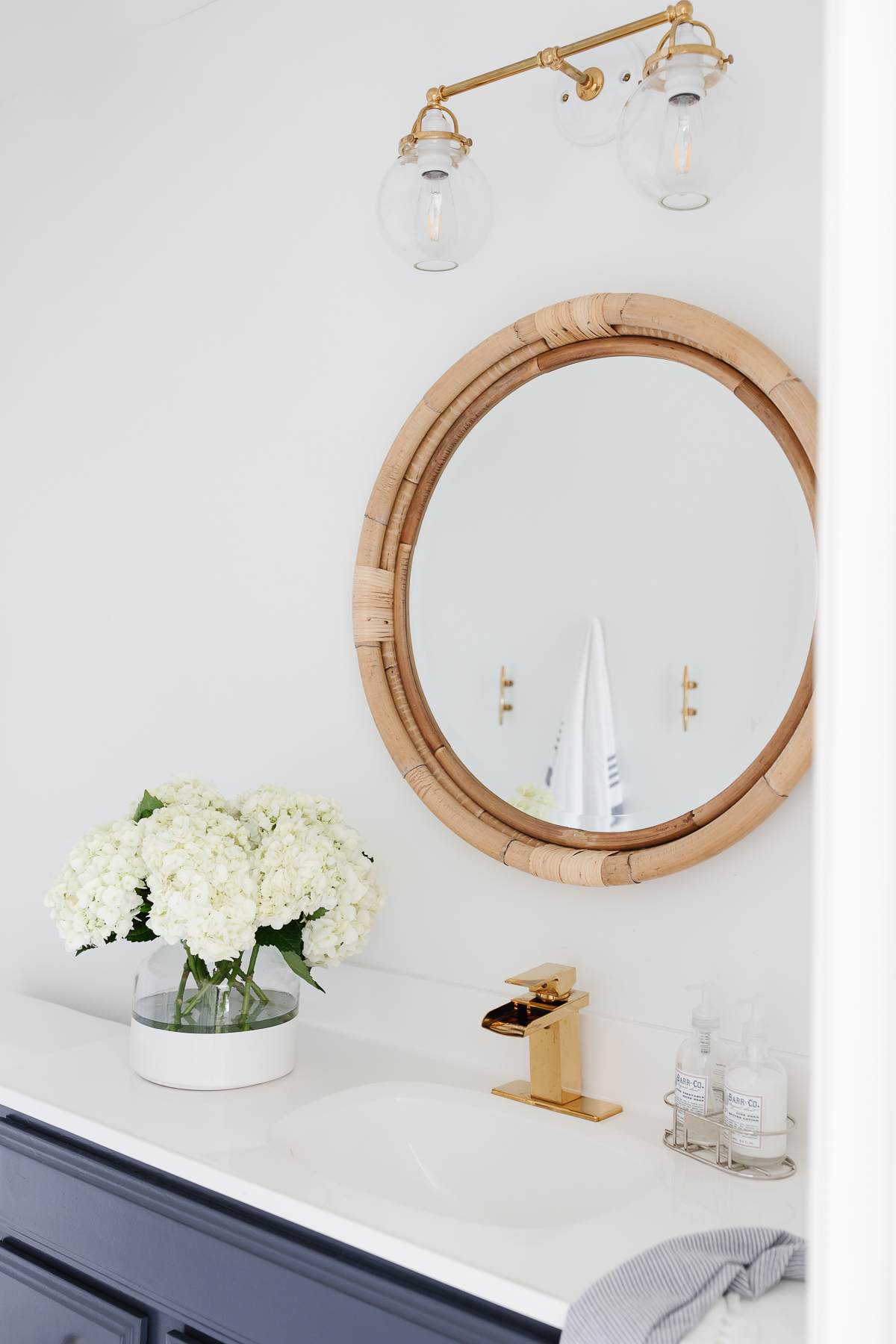 Sources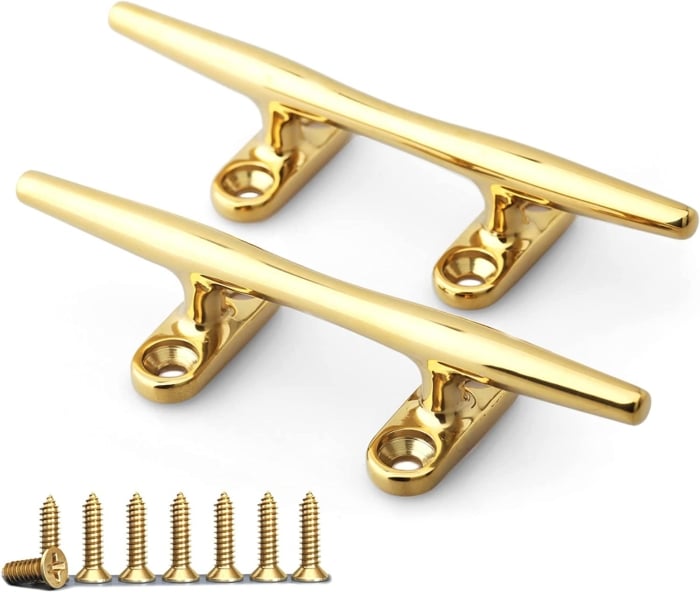 Brass Boat Cleats
Such a great way to add nautical charm to your bath!