Learn the keys to changing your grout colors with the simplest grout stain product that might just change your life!
We created the ultimate grout refresh- taking our dark, dirty beige grout to a fresh new white grout color with very little time or money.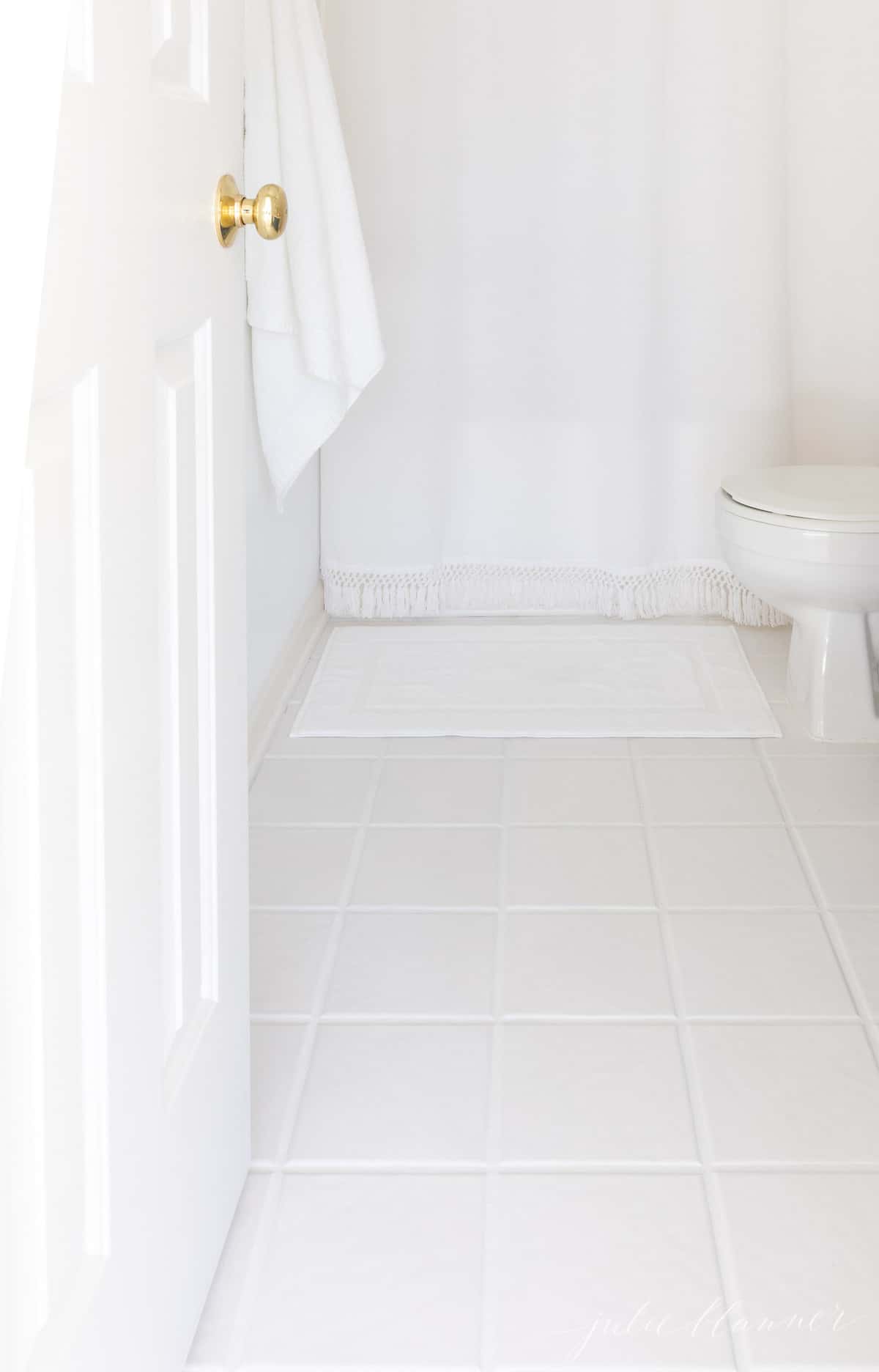 I love sharing our home projects with you! While it doesn't happen overnight, we like to take on one project at a time and move at a realistic pace.
In fact, this project was one of the least expensive things we've ever done, and with the biggest impact imaginable! You won't believe the difference something so simple can make.
While hardwoods are undoubtedly my favorite kind of flooring, we have lots of tile between our two homes! I like to use this inexpensive, natural grout cleaner for keeping up with cleaning, and we've even painted tile for a fresh new look!
You can also read all about classic Subway Tile and Hexagon Tile if you're interested in learning more about tile projects.
An Inexpensive Grout Refresh
If you're anything like me when it comes to redecorating or remodeling a space, things can seem to move at a painfully slow pace. I struggle with making decisions, I question myself, I scrap ideas and products entirely.
Remodeling is so expensive, and with that in mind, sometimes we need to come up with a temporary fix, or just a so much better than before fix instead of a full scale remodeling project.
While I can't turn all of our bathrooms into the spa bath of my dreams, I can always try to find ways to refresh and renew them to make them so much more appealing and livable. That's where this grout renewal product comes in to play. (And no, this is not a sponsored post!)
I love sharing my favorite products with you – if it's something that I think is valuable to my readers, I just know that I have to share!

Can You Change Grout Color?
The simple answer? YES. Yes, you can change your grout color! In fact, with this product it was easier than I would have thought possible. It made such an incredible change in our small bathroom – and now that I know how easy it is, I want to change ALL.THE.GROUT in our homes!
Our project didn't require a large amount of grout stain, but we knew that it would make an incredible change in this space, and wow did it ever! We used the Polyblend Grout Renew product in bright white. As you can see in the before and after photos, we were able to update our neutral beige tiles (that were in perfect condition) simply by taking that dark beige grout to a fresh new color! Isn't that an incredible change?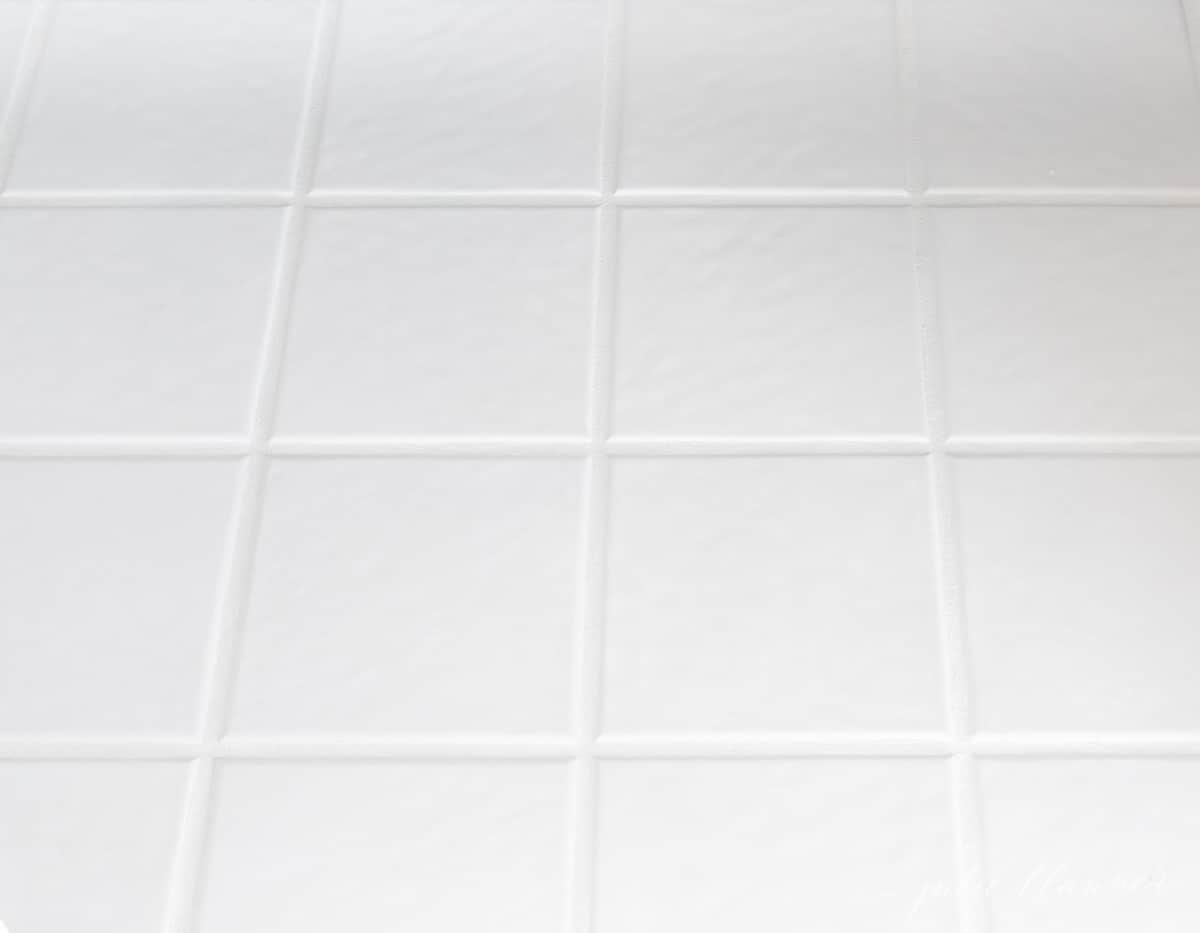 Polyblend Grout Renew Before and After
I still can't get over what an amazing change this product this made to our little master bathroom at Calm Water Cottage. While we had previously painted our dark green entry tiles to give that space a fresh, fast and inexpensive update, I knew that I didn't need to paint the tiles in this space. The tiles themselves were more than adequate!
You can see the before. It was a light tan color that had become dingy through the years. However, this works on any grout color!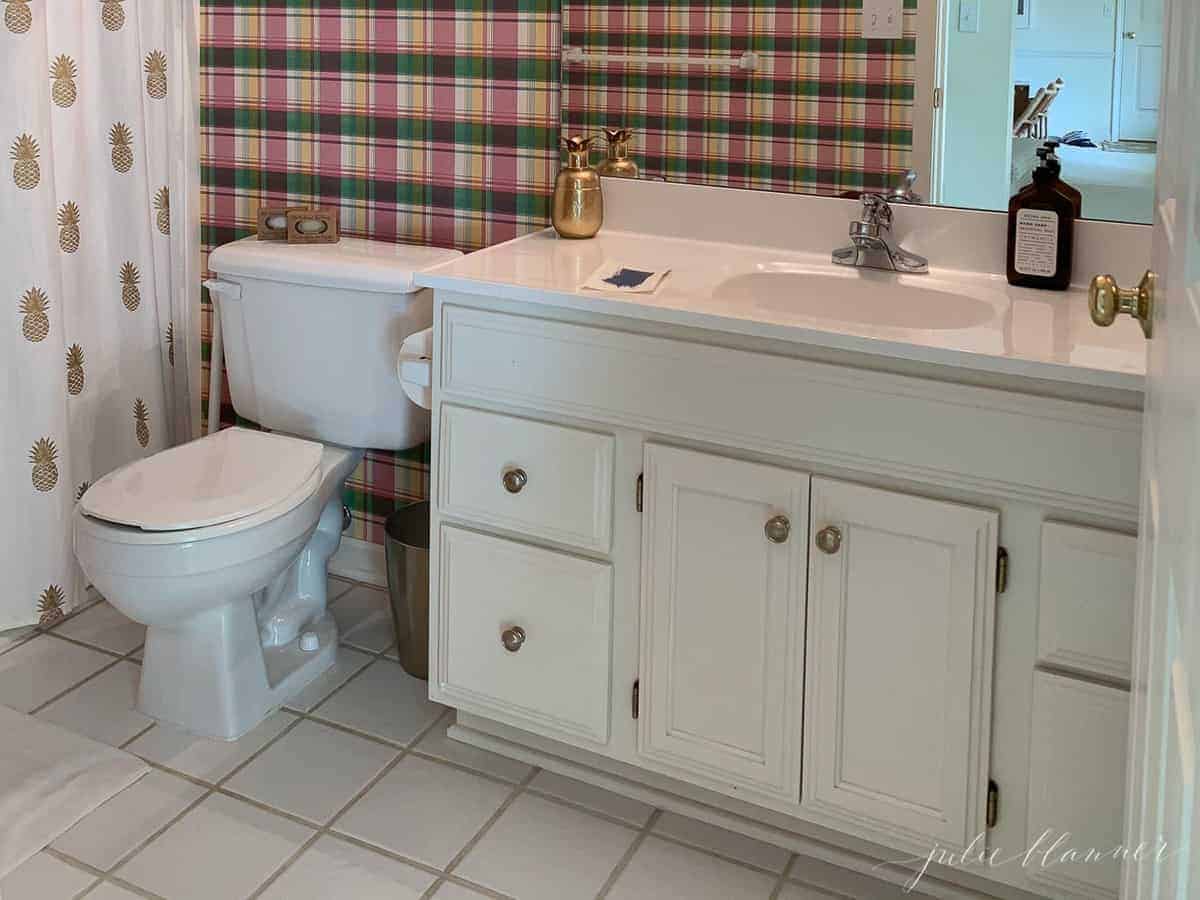 Would I choose these tiles if I was doing a full remodel? Definitely not- but they are neutral, clean, and in great condition. Waste not, want not!
I think the after images prove that a space that feels clean and bright makes all the difference. For less than twenty dollars, this is an incredible change, right?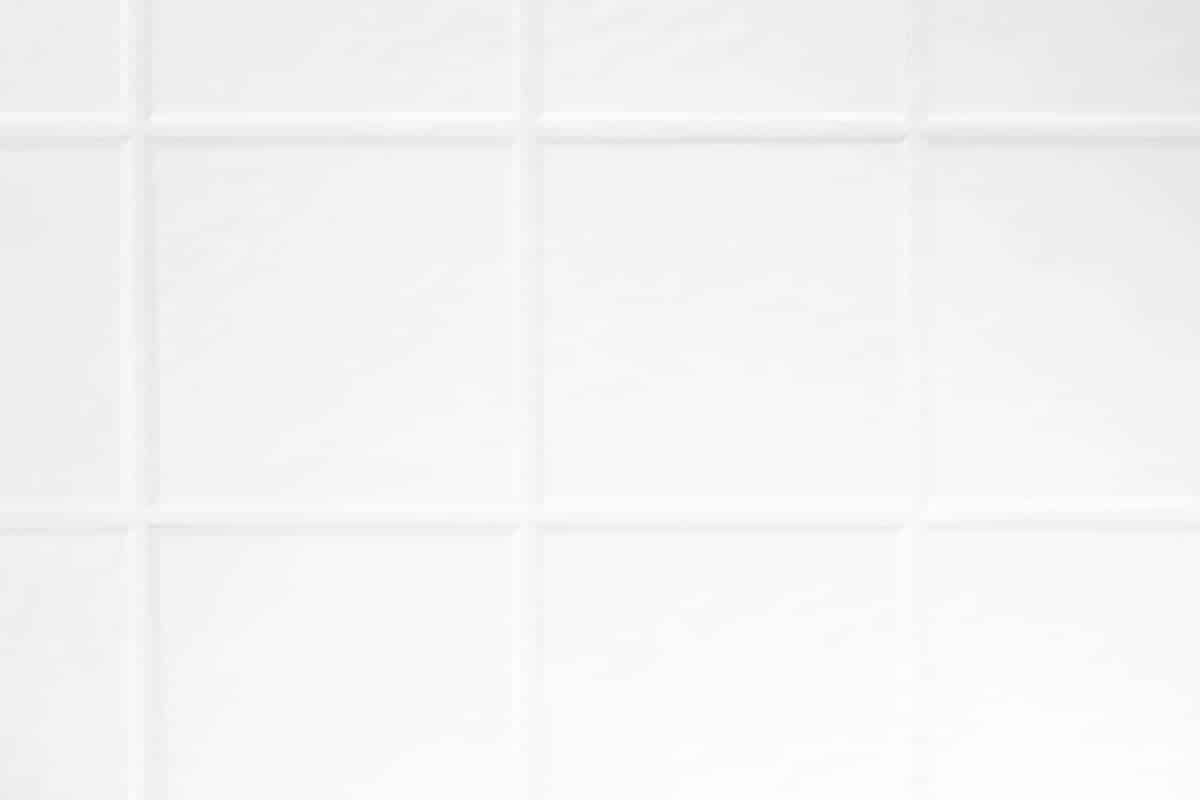 Can You Paint Grout?
Yes, you can paint grout. (I have a detailed post about how to paint tile right here – we painted both the tile and grout at once in that project.) However, this particular product is classified as a stain and sealant, so it's not technically considered a paint.
To clarify though – I was hesitant to use this product because I was afraid it wouldn't make much of an impact on the color. Personally, I feel that this grout refresh product is more like a paint than a stain – at least for our project where we took a grout color from dark beige to fresh, clean white.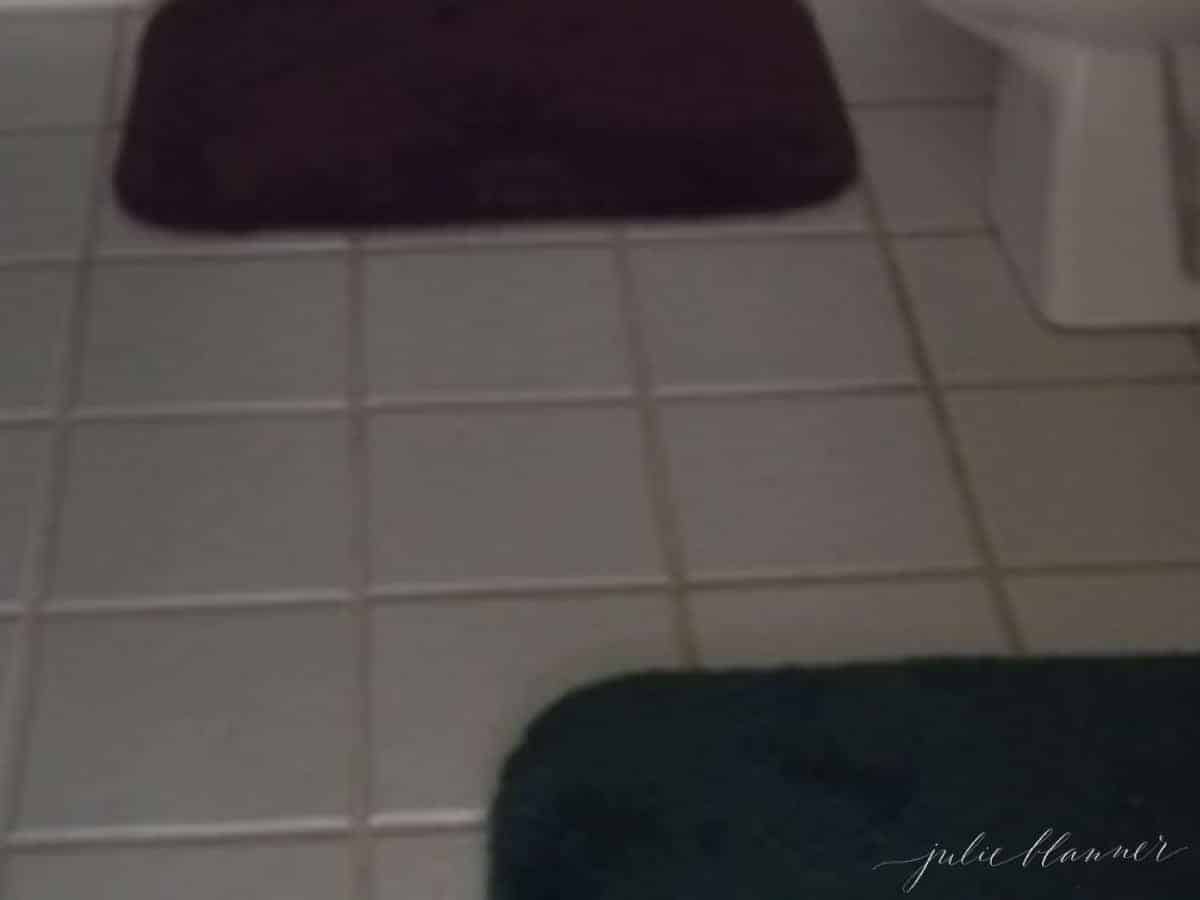 Taken directly from the product description:
"Polyblend® Grout Renew is a waterborne epoxy stain and sealer for renewing or changing the color of cement grout joints. Formulated with fade-resistant pigments, Grout Renew seals the grout against stains while it colors."
Tile Grout Colors
Because this is the product we used and loved, I thought it would be helpful to go over some of the available Polybend Grout Colors that I considered for this project!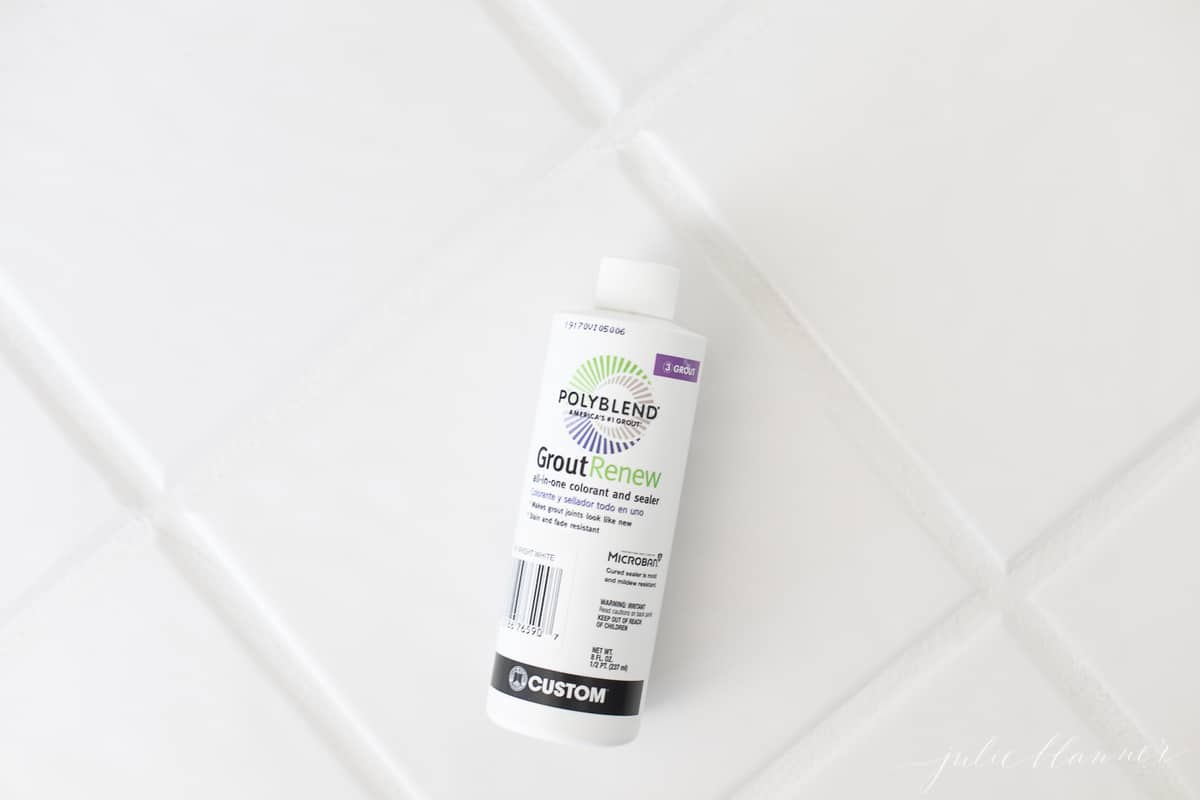 Alabaster
Antique White
Bright White
Snow White
Bright White (this is the one we chose!)
I love that there are so many colors to choose from and that you can have so much fun playing with the color of your grout lines. Imagine the possibilities!
In fact, while the bright white grout worked beautifully for us, I can only assume that it's even easier to take your grout to a darker color. It would be so pretty to do a more contrasting tile and grout, too!
How to Clean White Grout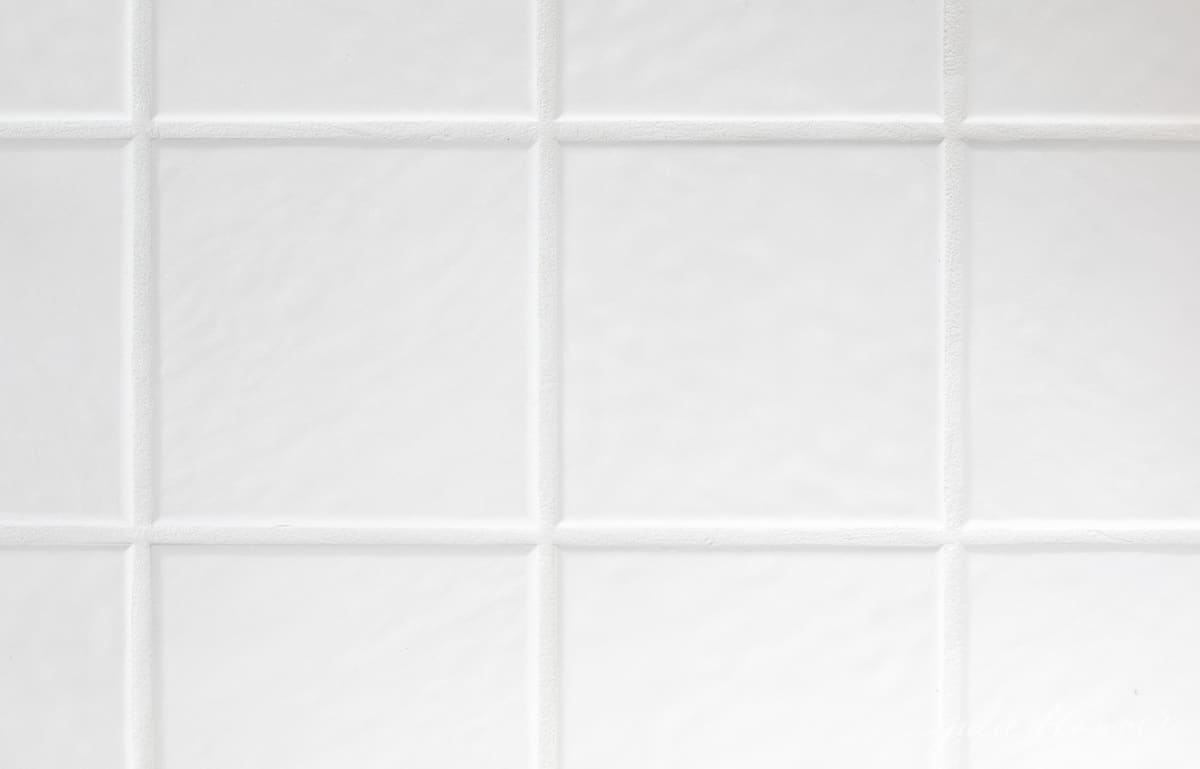 For this project, I simply wanted to create a fresh, clean, timeless look… so I chose the most true white grout color of these options! While I do know that white grout can be controversial, I can't help it- I love what I love!
Luckily, we've had great luck with using white grout in the past, but now that I know that this kind of grout refresh is possible, I'm even more on team white grout! In the past, I've had great luck with cleaning our white grout lines with distilled white vinegar (undiluted).
For stubborn stains, you can even use bleach in your white grout lines. But now I know that when all else fails, it's so easy to change or renew your grout color at any time.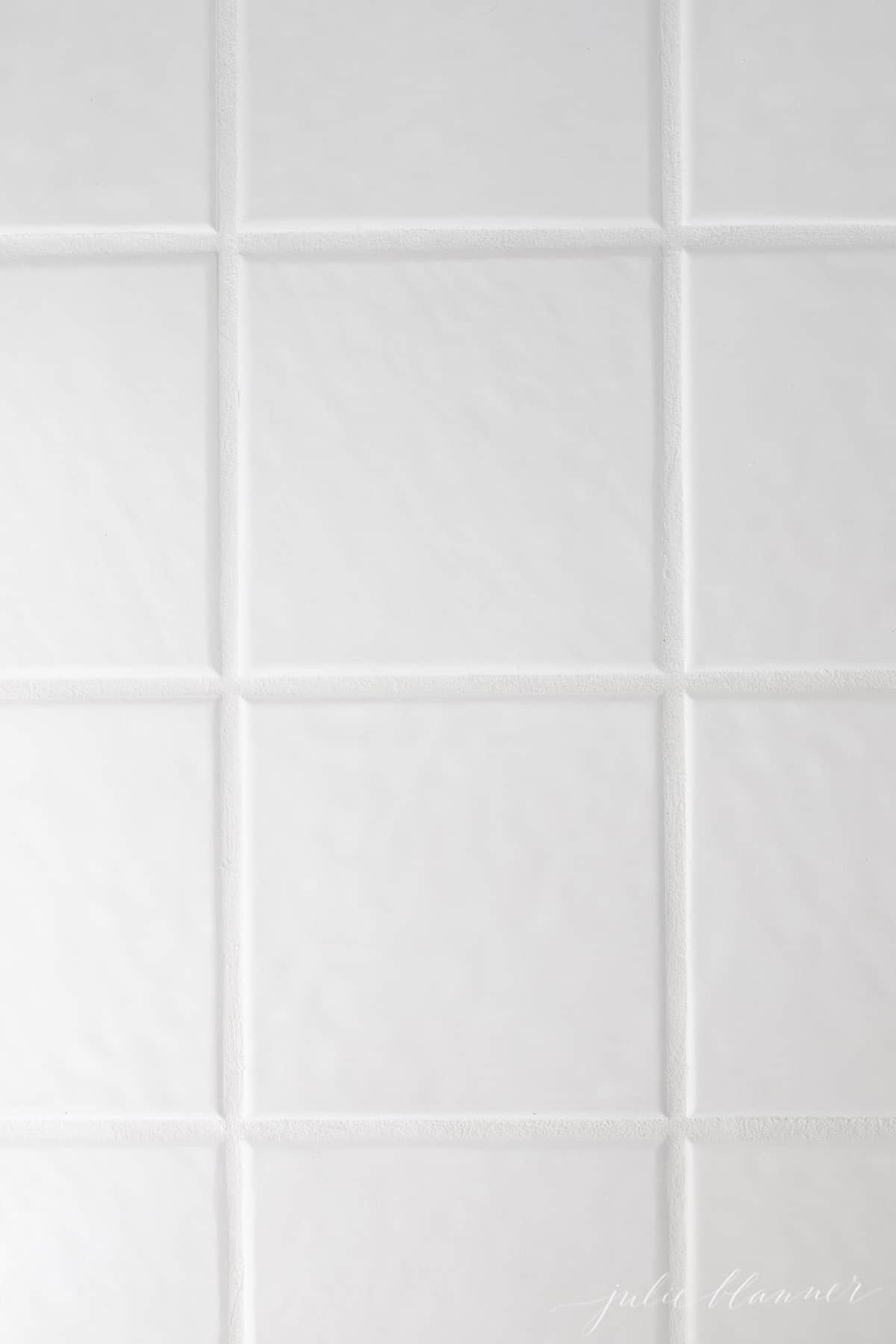 How to Apply Polyblend Grout Renew
You can see how to paint tile grout in my latest YouTube video.
Thoroughly clean grout using grout haze remover or water and vinegar. I love these brushes and this bucket!
Allow to dry.
Using a paint brush, paint back and forth avoiding the tile as much as possible.
Allow to dry.
Apply a second coat.
Allow to dry.
Remove excess paint with a magic eraser.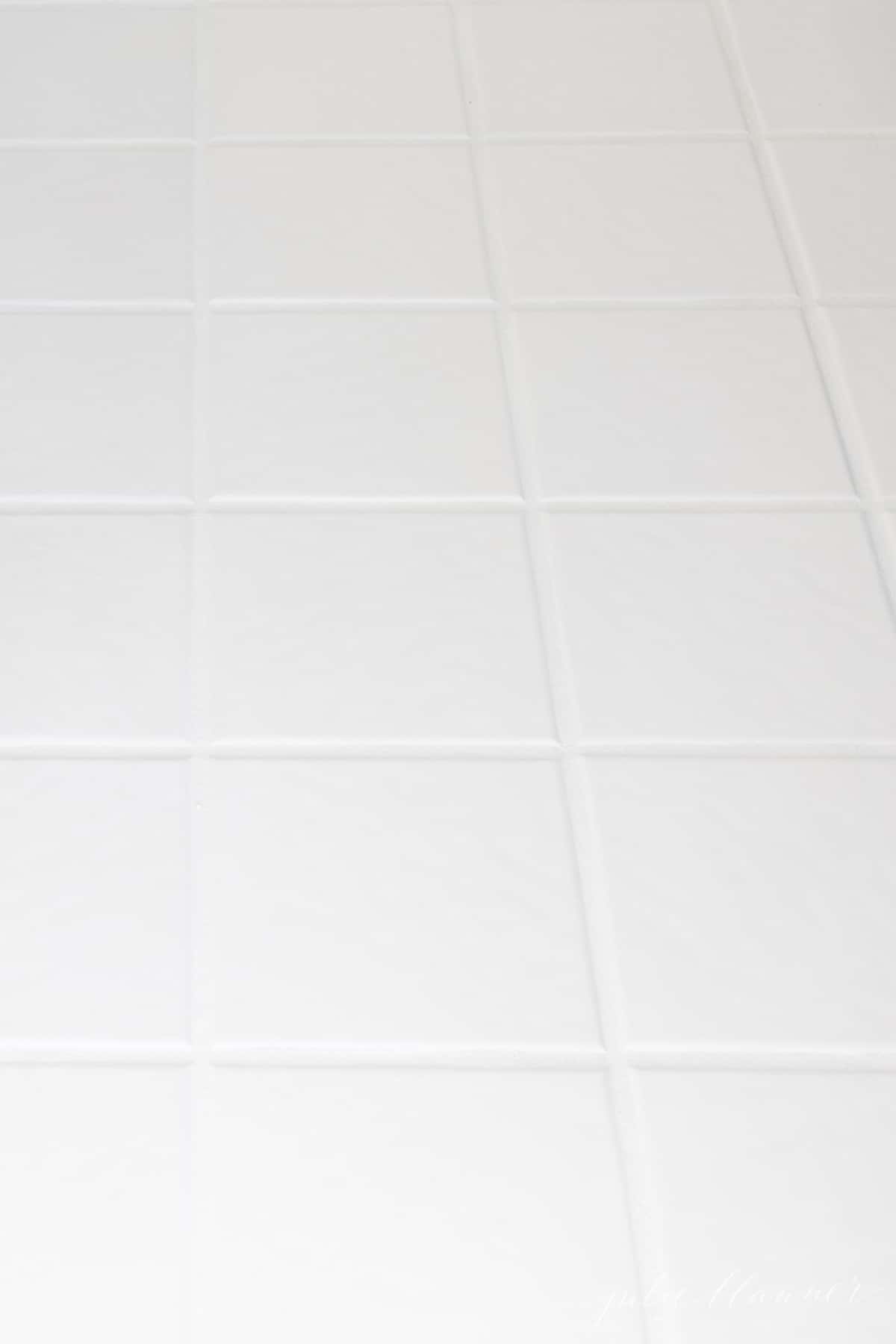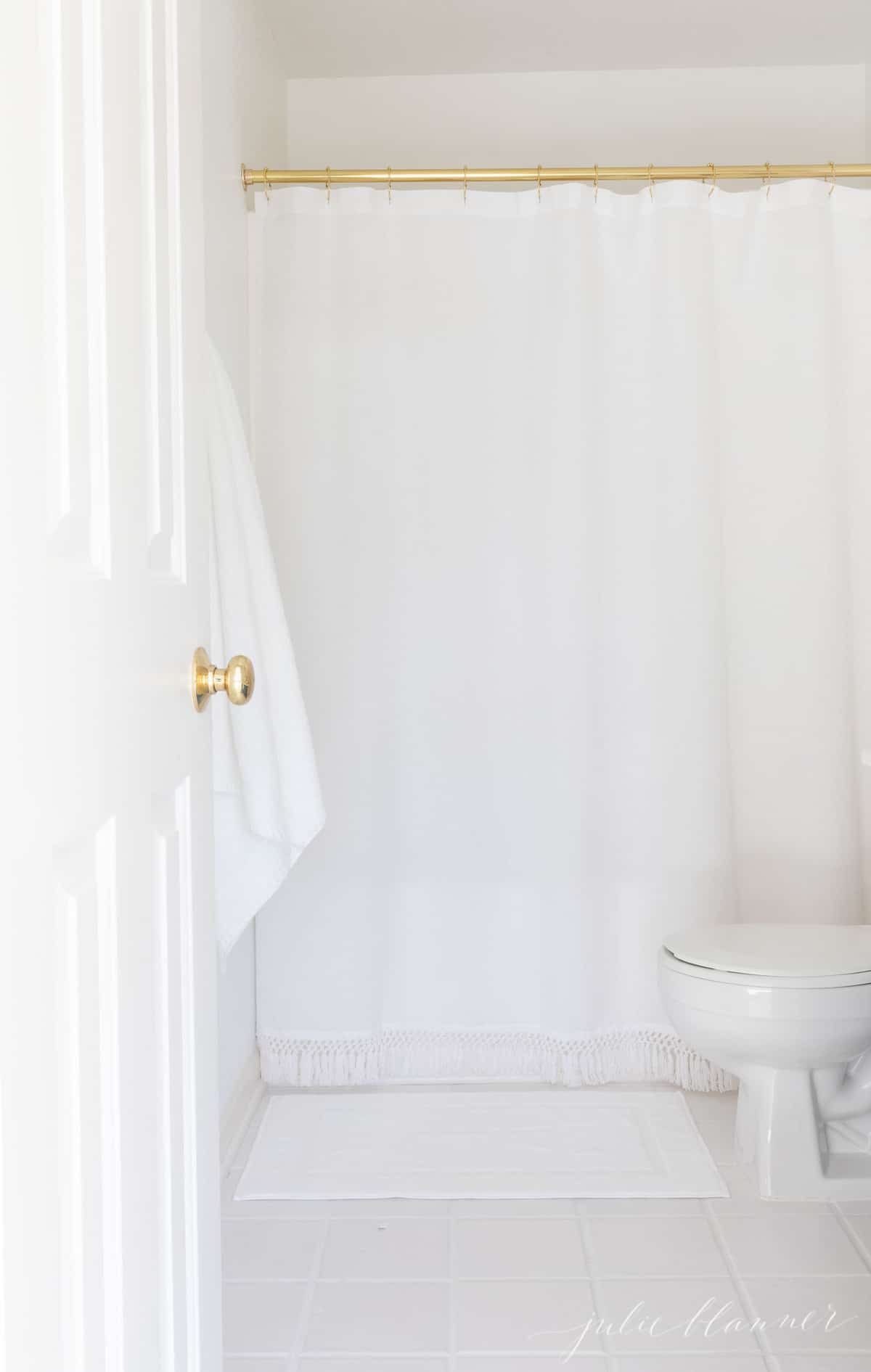 I hope you love this grout stain as much as I do… I'd love to hear from you. If you try this easy project, please come back to share a comment below! Not only do I appreciate it, but I know readers do, too! For more easy recipes and simple living ideas, subscribe to my newsletter!
More Paint Projects and Tips You'll Love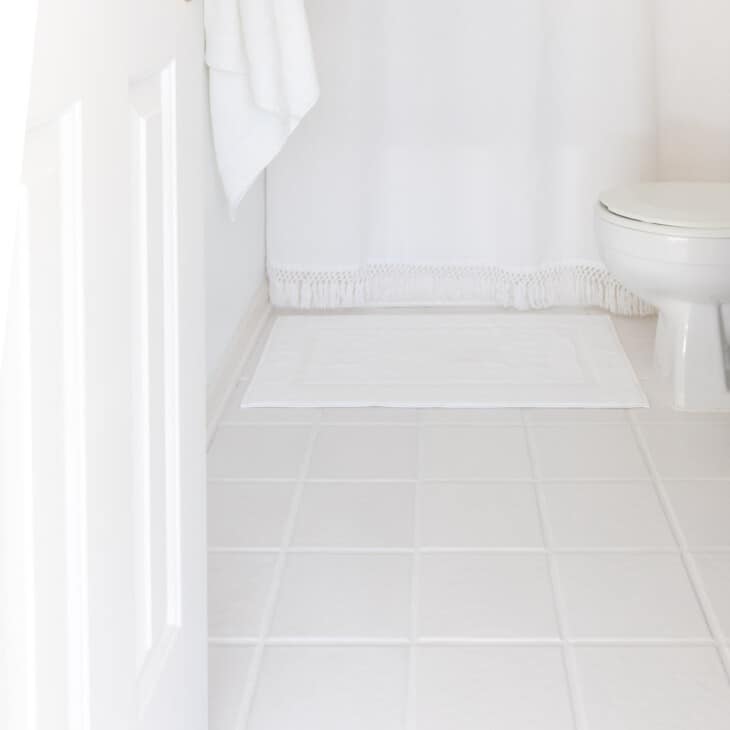 The Ultimate Grout Refresh with Grout Stain
Learn the keys to changing your grout colors with the simplest grout stain product that might just change your life! We created the ultimate grout refresh- taking our dark, dirty beige grout to a fresh new white grout color with very little time or money.
Equipment
Bathroom Scrub Brush

Paint Brush
Instructions
Clean (use a grout cleaner or grout haze product, or simply mix 2 parts water to 1 part vinegar and use a bathroom scrub brush, allow to dry thoroughly)

Paint using a paint brush. allow to dry overnight and apply a second coat.

Use magic eraser to clean any excess off tile.