Take a tour of the brass lighting throughout our home, with sources for each brass fixture! Find everything from brass pendant lights, to brass flush mount lights, brass sconces and so much more.
Brass is a warm, timeless metal that accents a variety of home styles, regardless of era. Learn how we've incorporated beautiful brass light fixtures into our homes over the years.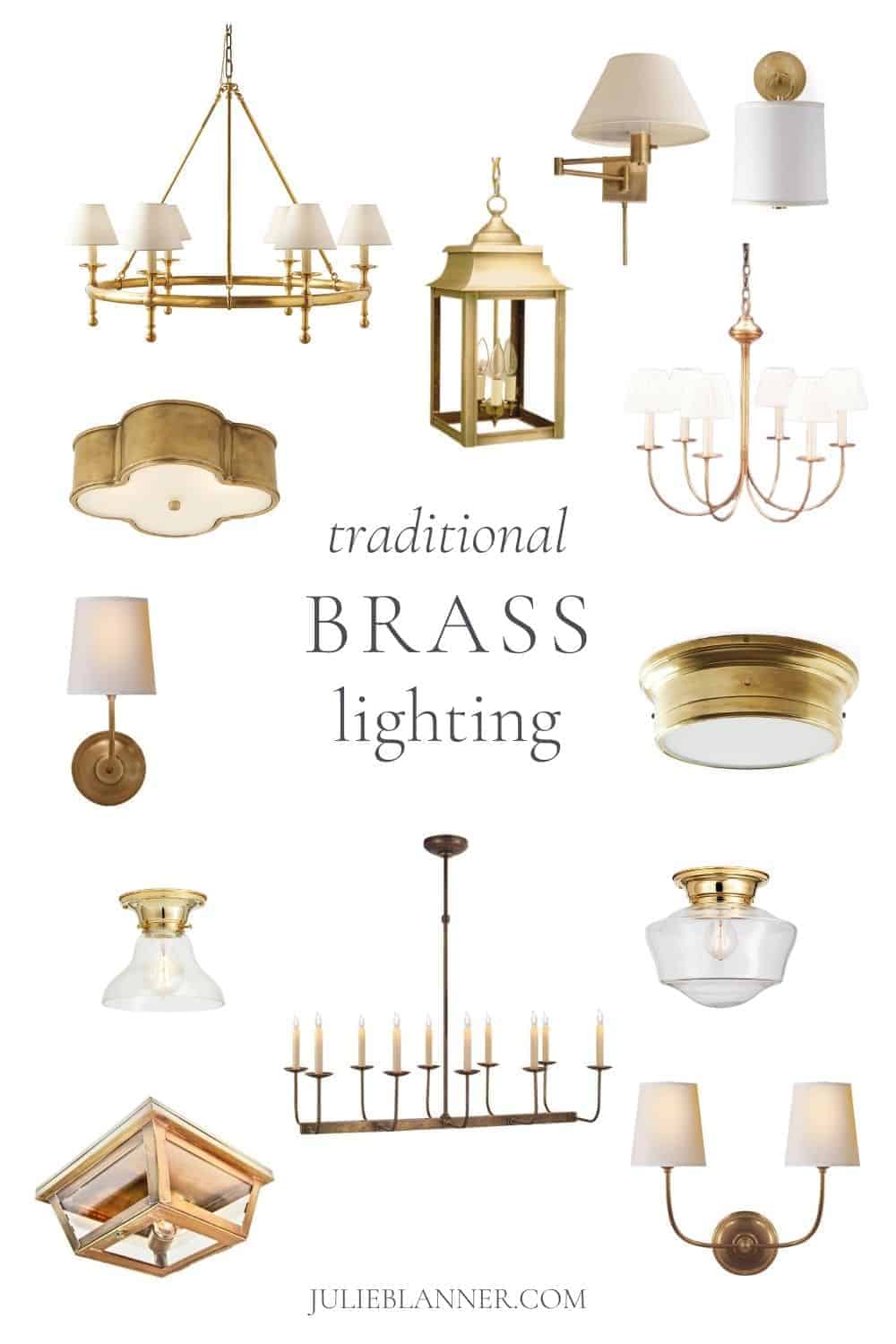 ---
---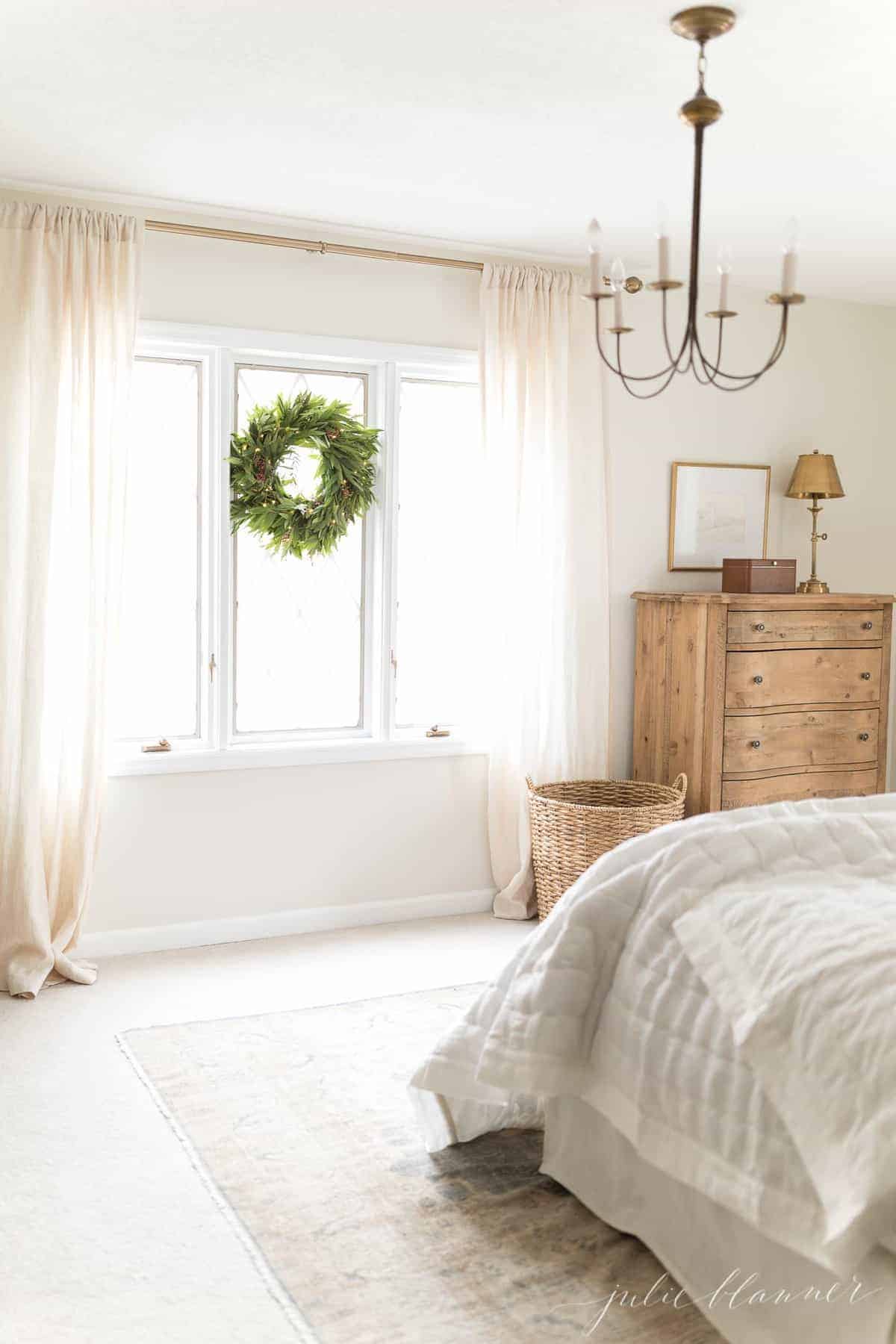 When we purchased our Kansas City Colonial home in 2011, brass was difficult to find and the pieces I did find and love far exceeded our budget. Now there is an array of options to choose from and I've invested in a few must-have fixtures for our home.
For me, lighting is one of those areas where the old saying "champagne tastes on a beer budget" comes to mind. I can't help it, I have a deep and abiding love for the beauty of classic, heavy brass. There's just something about it it that will always have my heart!
However, this source round-up has a little something for everyone. There are authentic, spectacular investment pieces and also some more affordable pieces in the mix.
The Best Brass Lights
When we moved to our current home in St. Louis (over seven years ago now) we slowly began to turn it into a home that we loved. One of the most important ways that we did that, continually giving it a timeless, traditional feeling, was with lighting.
In fact, brass can easily translate to a more modern look, too. In our lake cottage, we've gone with a Coastal Modern style, and brass lighting is looking gorgeous there as well!
I love brass light fixtures so much, but then again… I am such a fan of all things brass and copper! Don't skip this Brass Door Knob post, as well as details about our Unlacquered Brass Hardware and Brass Faucet. You'll also love our Copper Lanterns and Copper Gutters.
Read on to find a complete round-up of all of our favorite brass light fixtures (and soft antique brass lights that only look like real brass) throughout the years.
Why You'll Love Brass Lighting
Casts a Warm and Cozy glow, even when unlit
Feels traditional
Timeless – authentic brass never goes out of style
Works with any era of home, whether historic or a new build and everything in between
Variety of price points
Brass Ceiling Lights and Brass Flush Mount Lights
It can be difficult to source and choose brass ceiling lights. Brass flush mount lights are even harder to find! Below, you'll see a few of the classic, charming choices we've made over the years.
Like these brass hallway lanterns, below.
Source | Mini Ceiling Lanterns – similar Brass 3 Light Flush Mount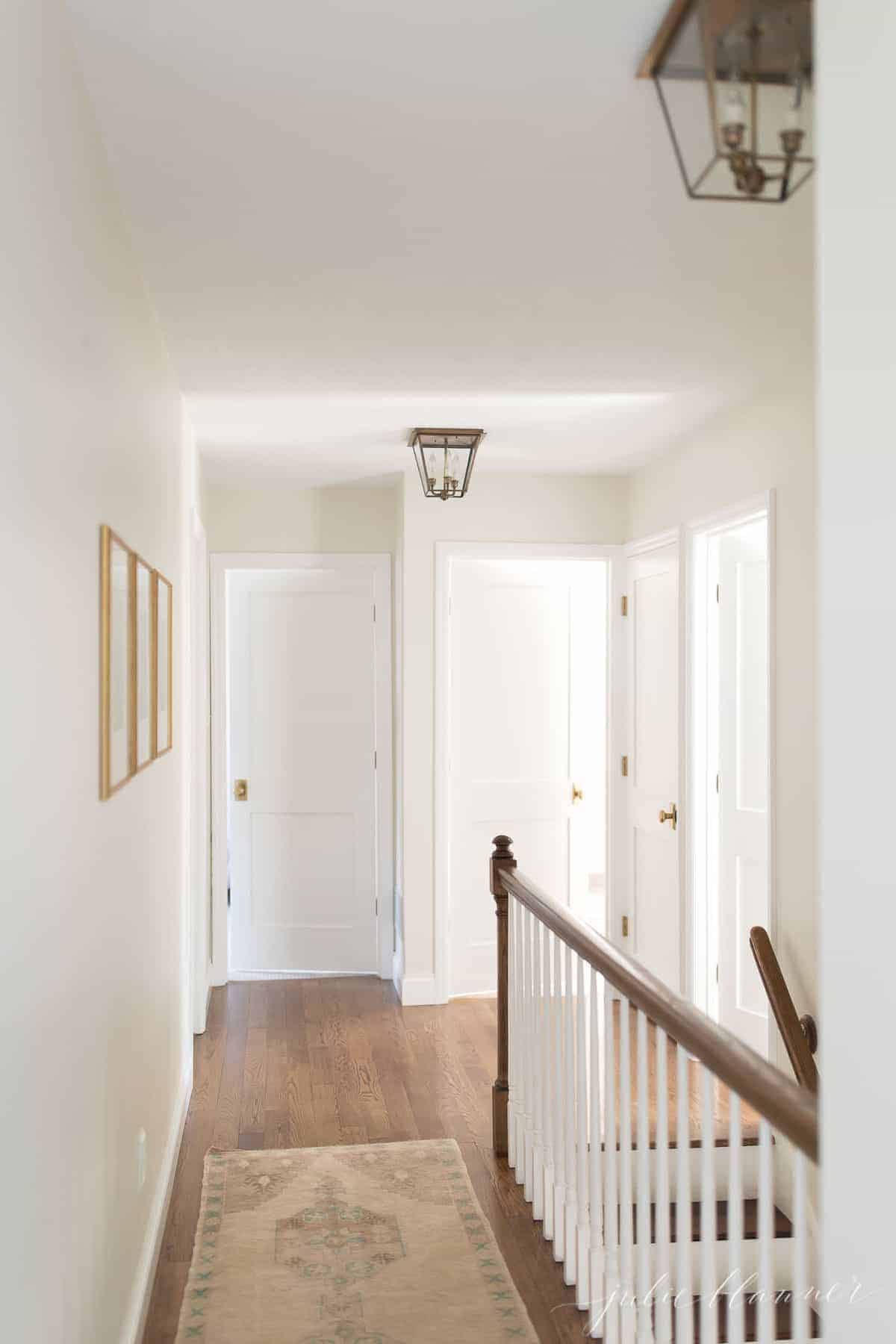 And this new brass flush mount we just installed in our Modern Laundry Room update.
Source | Flush Mount Light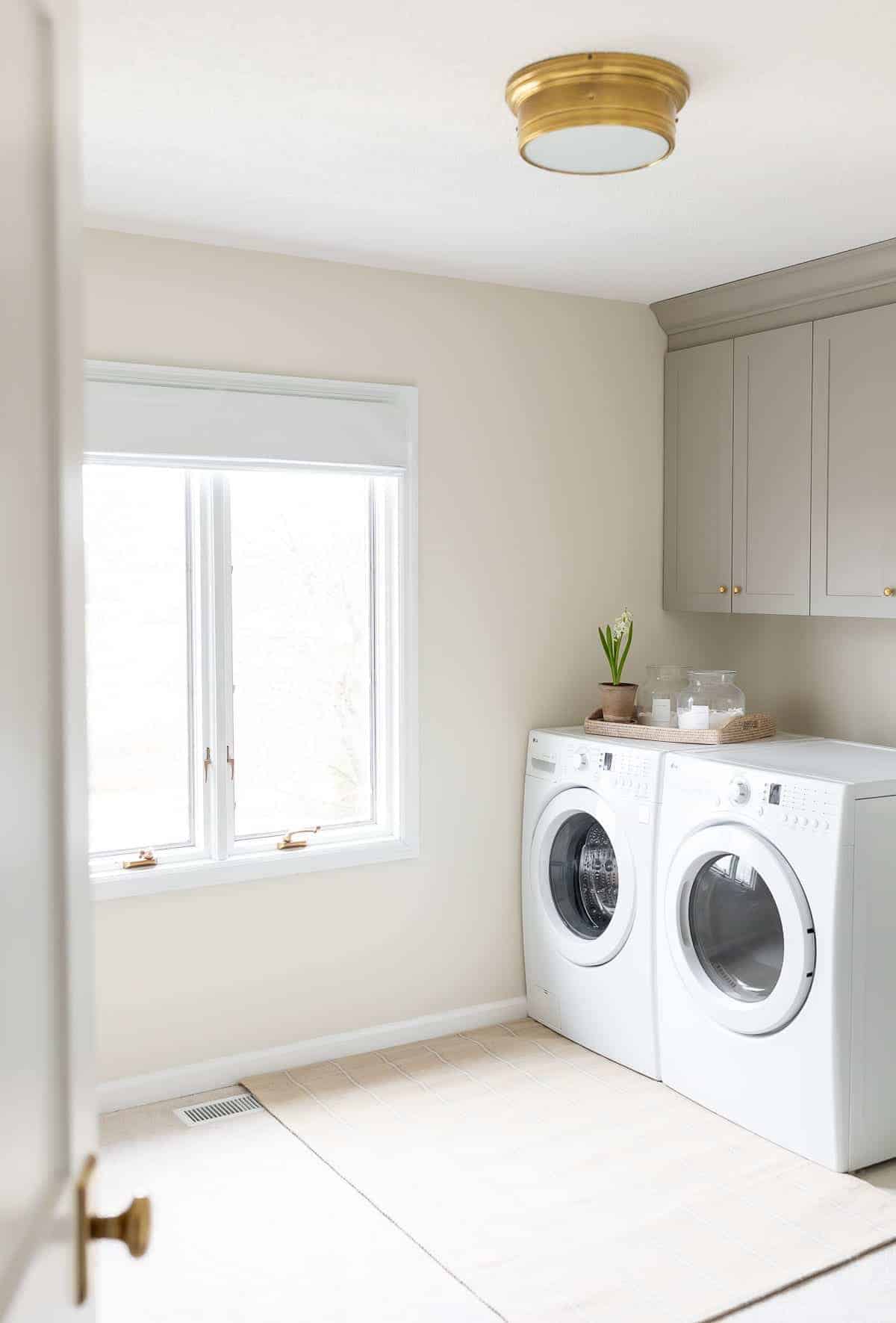 This classic vintage inspired glass and brass flush mount light will add charm to any nook of your home!
Source | Light Fixture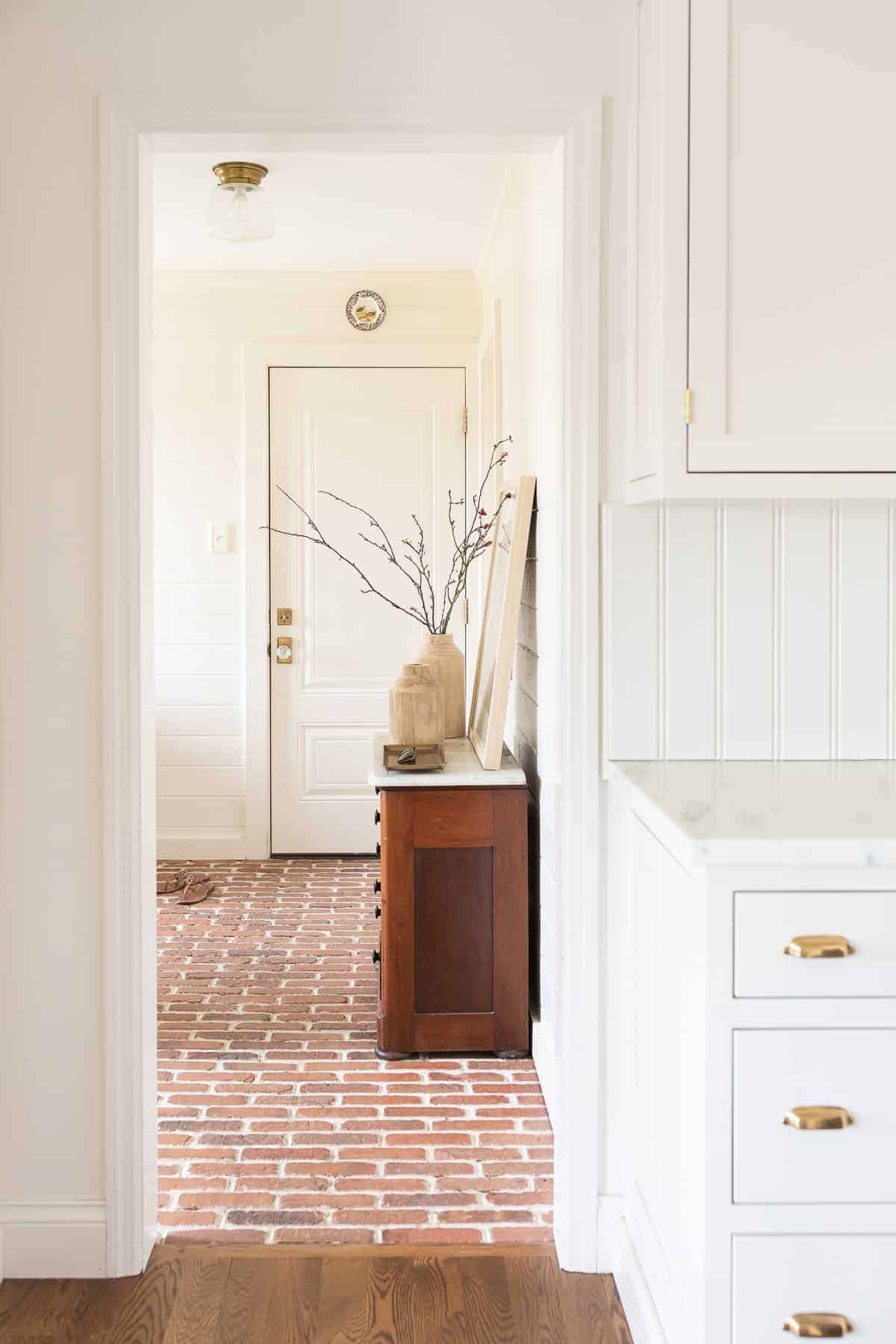 Alexa Hampton designed this basil flush mount in natural brass – it's a quatrefoil design that is timeless and beautiful.
Source | Basil Flush Mount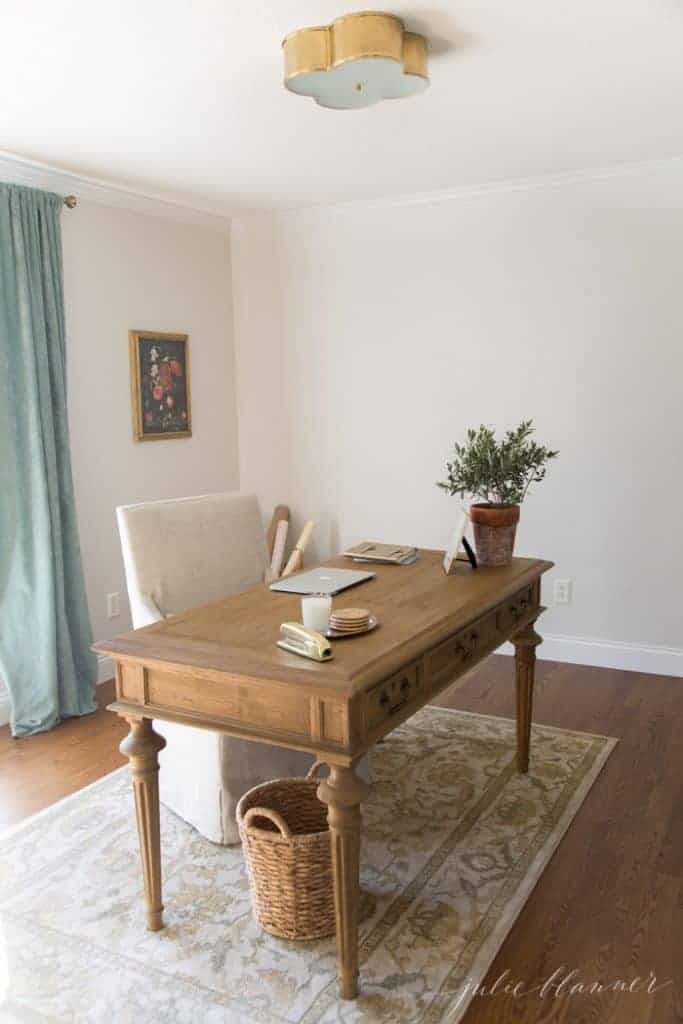 Brass Pendant Lights
For our new cream kitchen, we knew we wanted a truly custom look and feel with warm, authentic brass that would age gracefully over time. Find all the details about these Brass Island Lights here.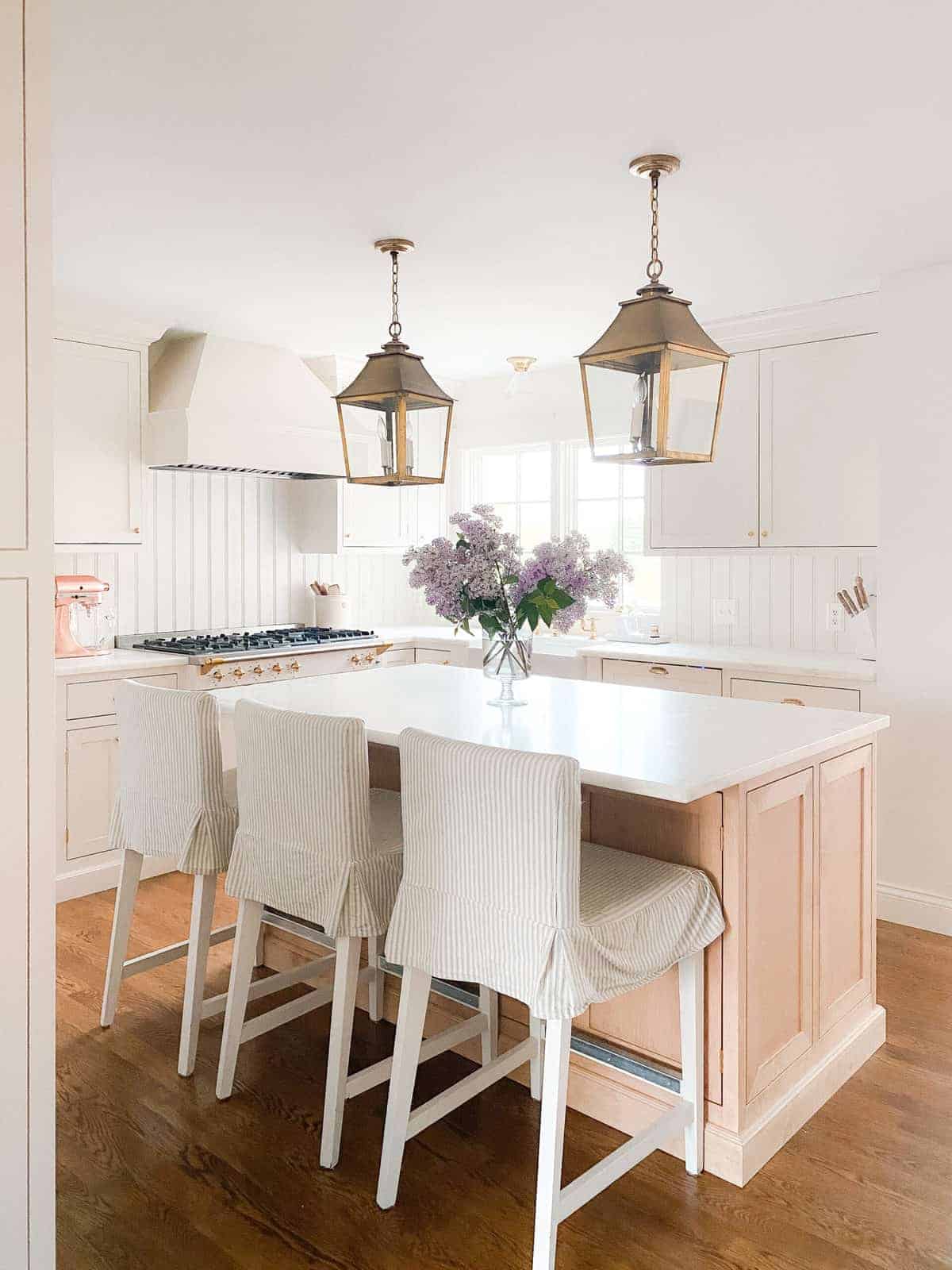 Speaking of statement – I love the casual elegance and intimacy that lanterns provide when hanging low over a dining table. I finally purchased the natural brass lantern I've had my eye on for years.
Brass lantern source | Brass Lantern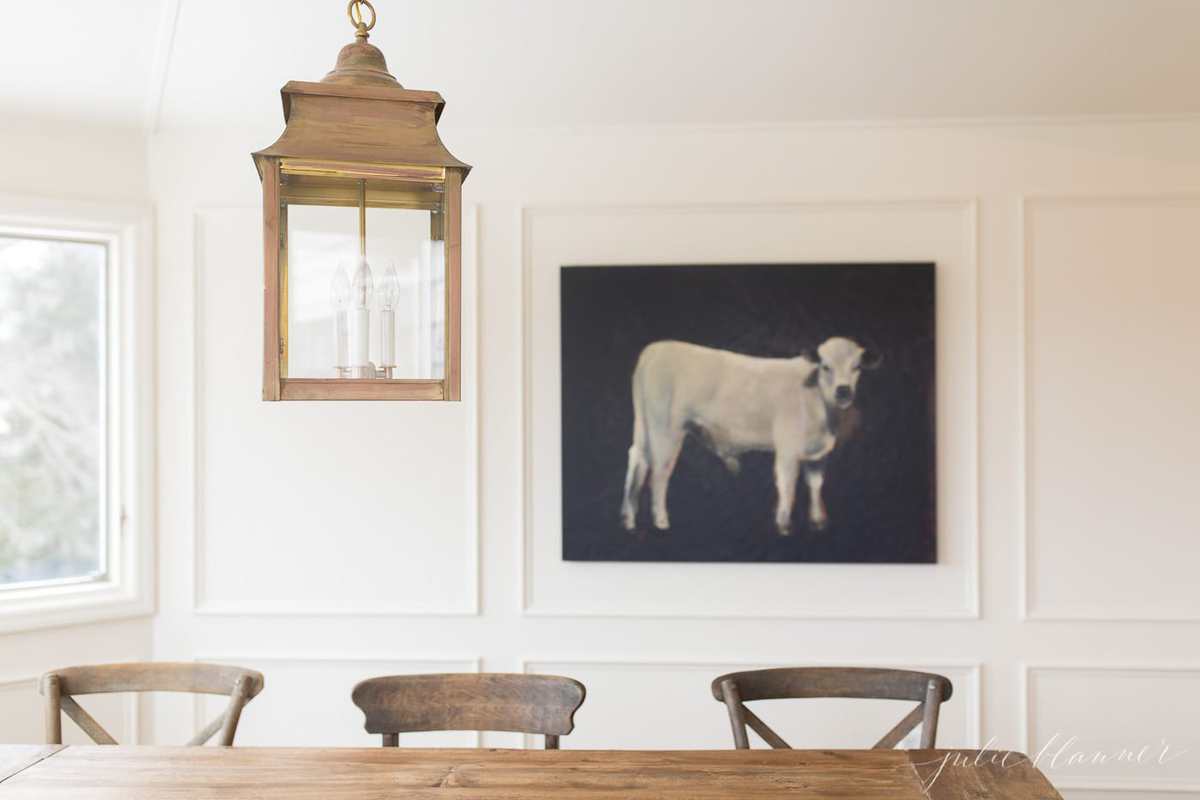 Brass Bathroom Light Fixtures
In our bathrooms, we have tended to choose less expensive fixtures, opting instead to spend our budget on the brass hardware that needs to stand up to daily use.
In this bathroom, as shown below, we used a nautical inspired brass bathroom light fixture.
Source | Nautical Brass Sconce
Source | White and Brass Double Sconce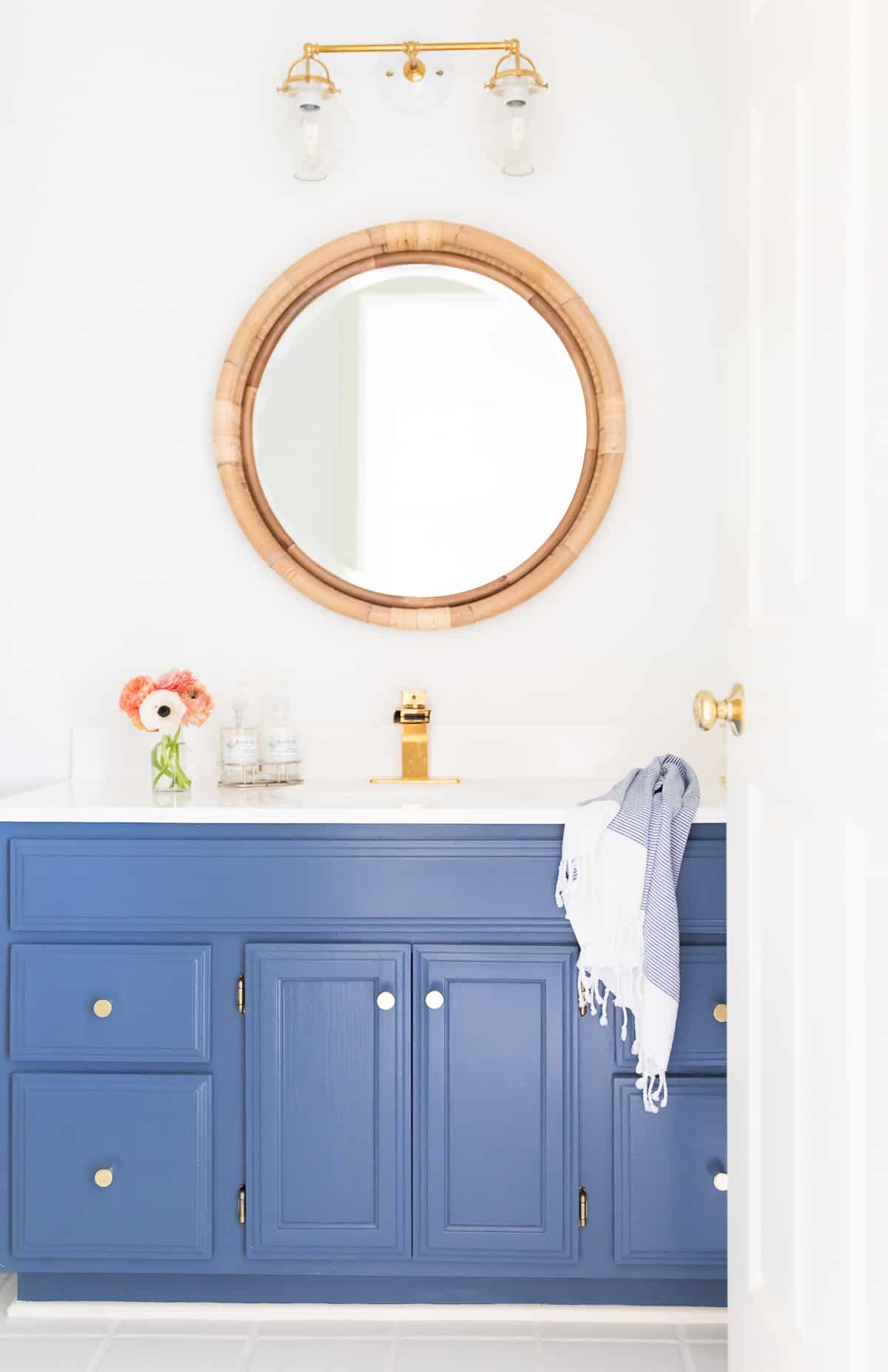 Source | Navy and Gold Double Sconce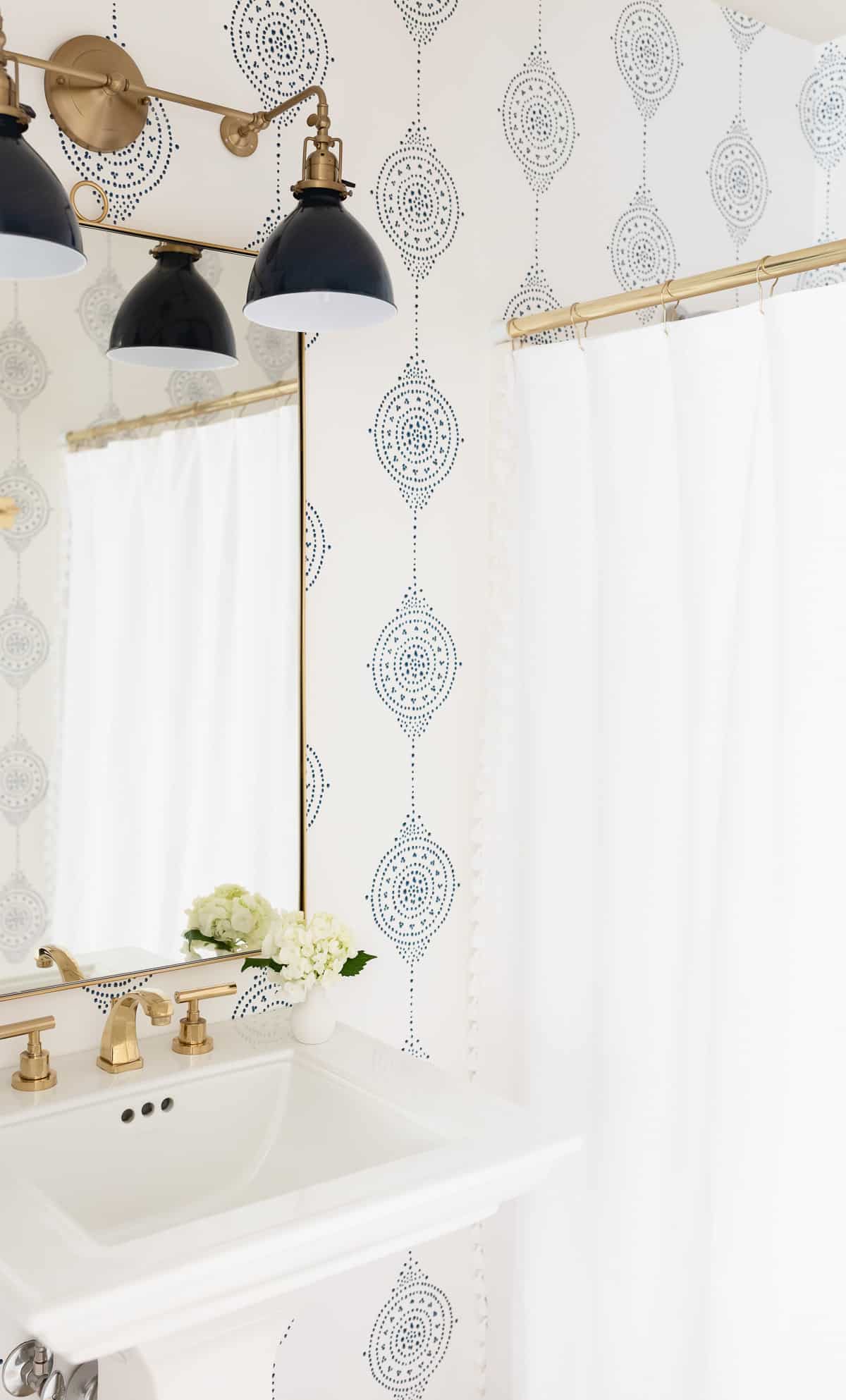 And here, incredibly inexpensive gold wall sconces to go between the mirrors in the girls' bathroom.
Source | 2 Gold Sconces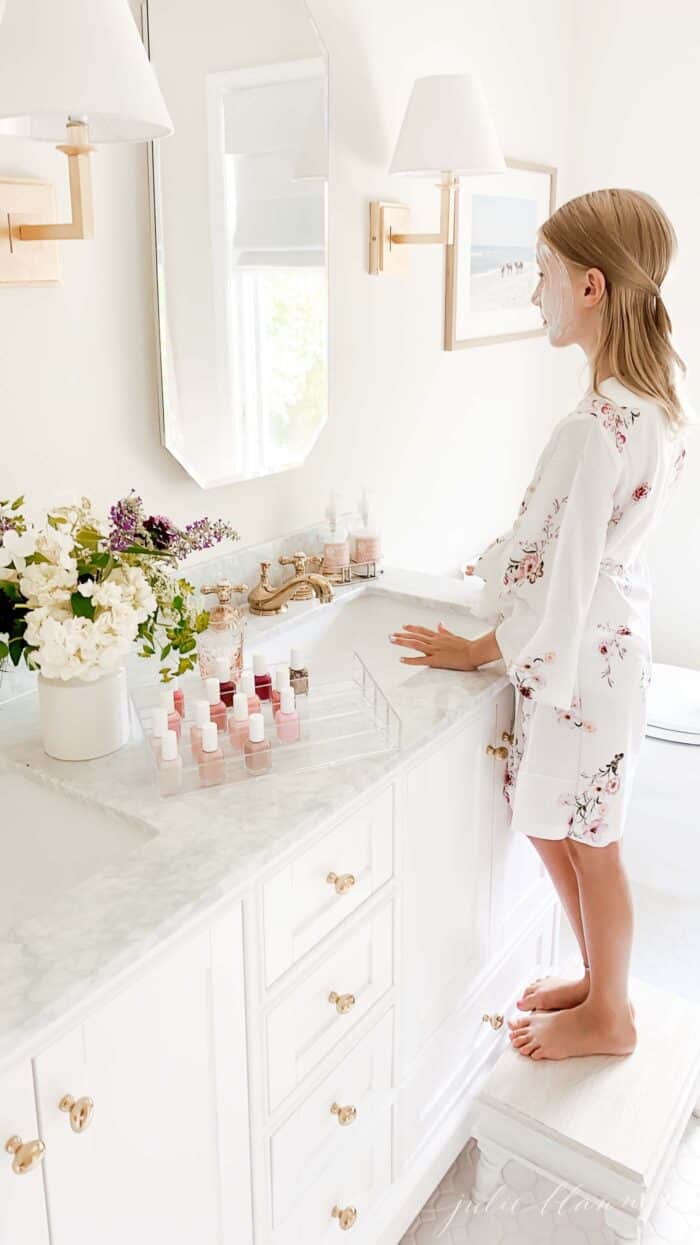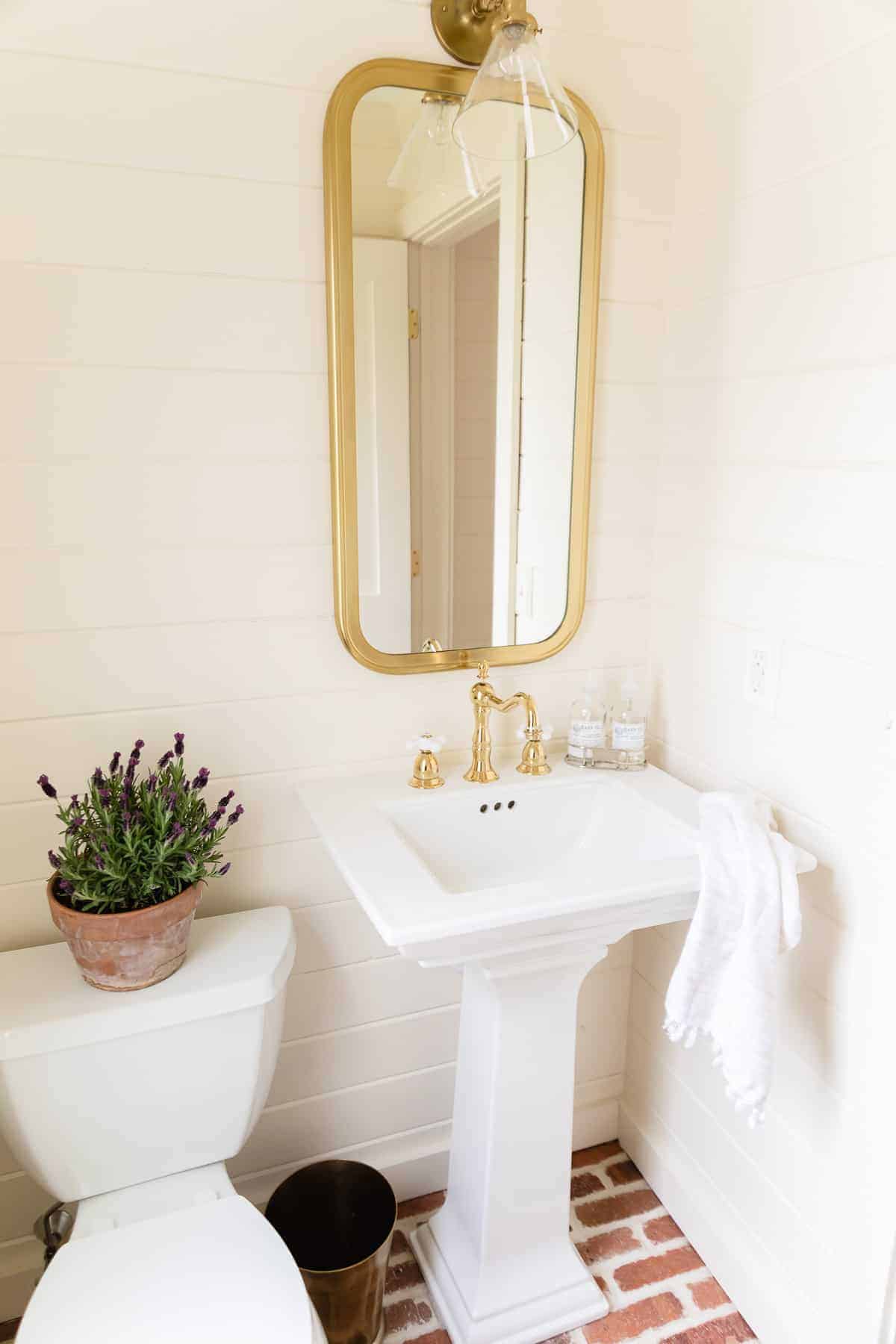 Brass Wall Sconces
Brass wall sconces can go far beyond the bathroom! Consider using a brass wall sconce in any little reading nook or area where you'd like additional light.
If you don't have room for a lamp, wall sconces can be an excellent choice! Here, this plug in brass wall sconce is a nod to the nautical feel of our lake home.
Source | Plug In Sconce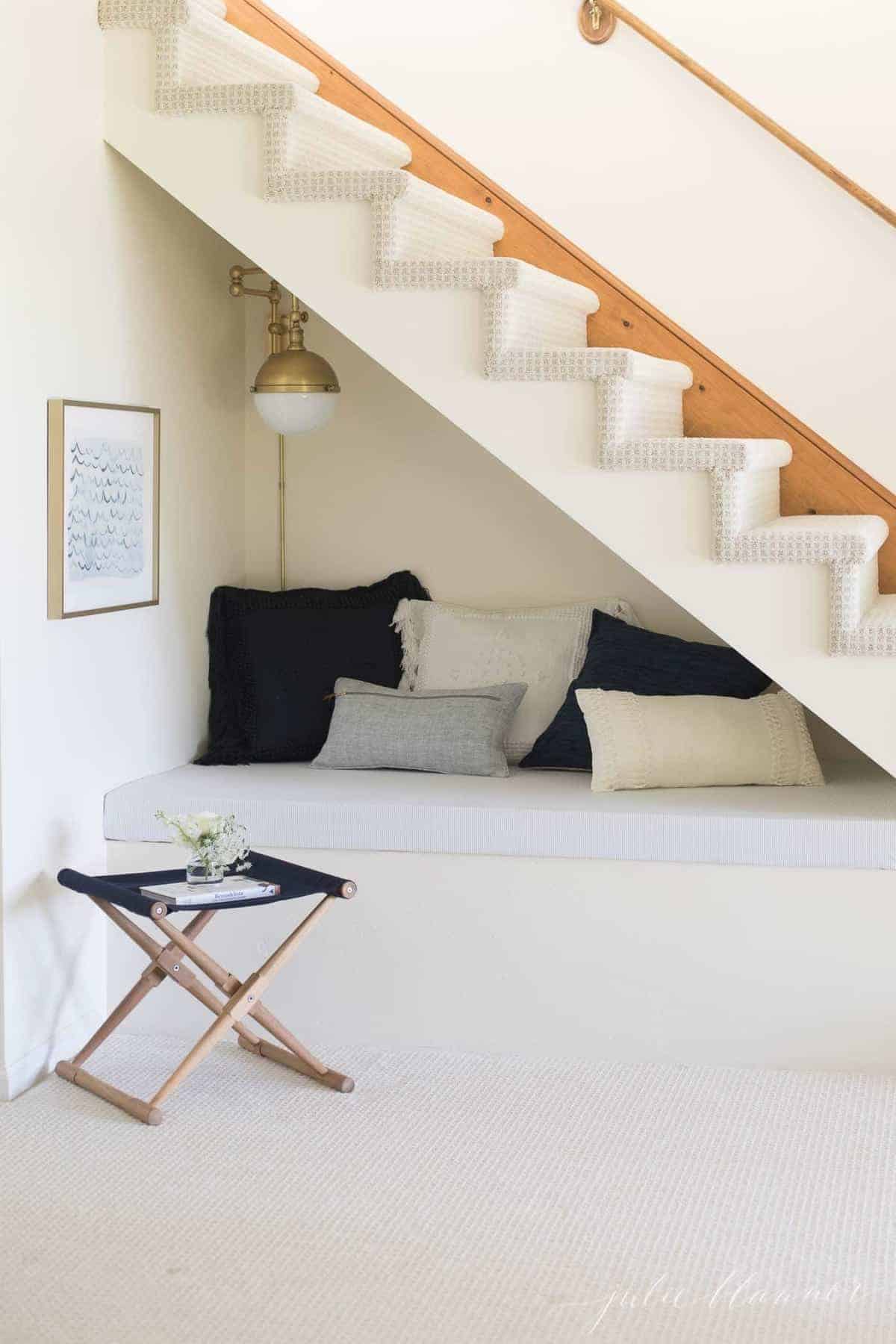 And below, this classic brass wall sconce is a perfect blend of traditional and modern.
Source | Double Brass Sconce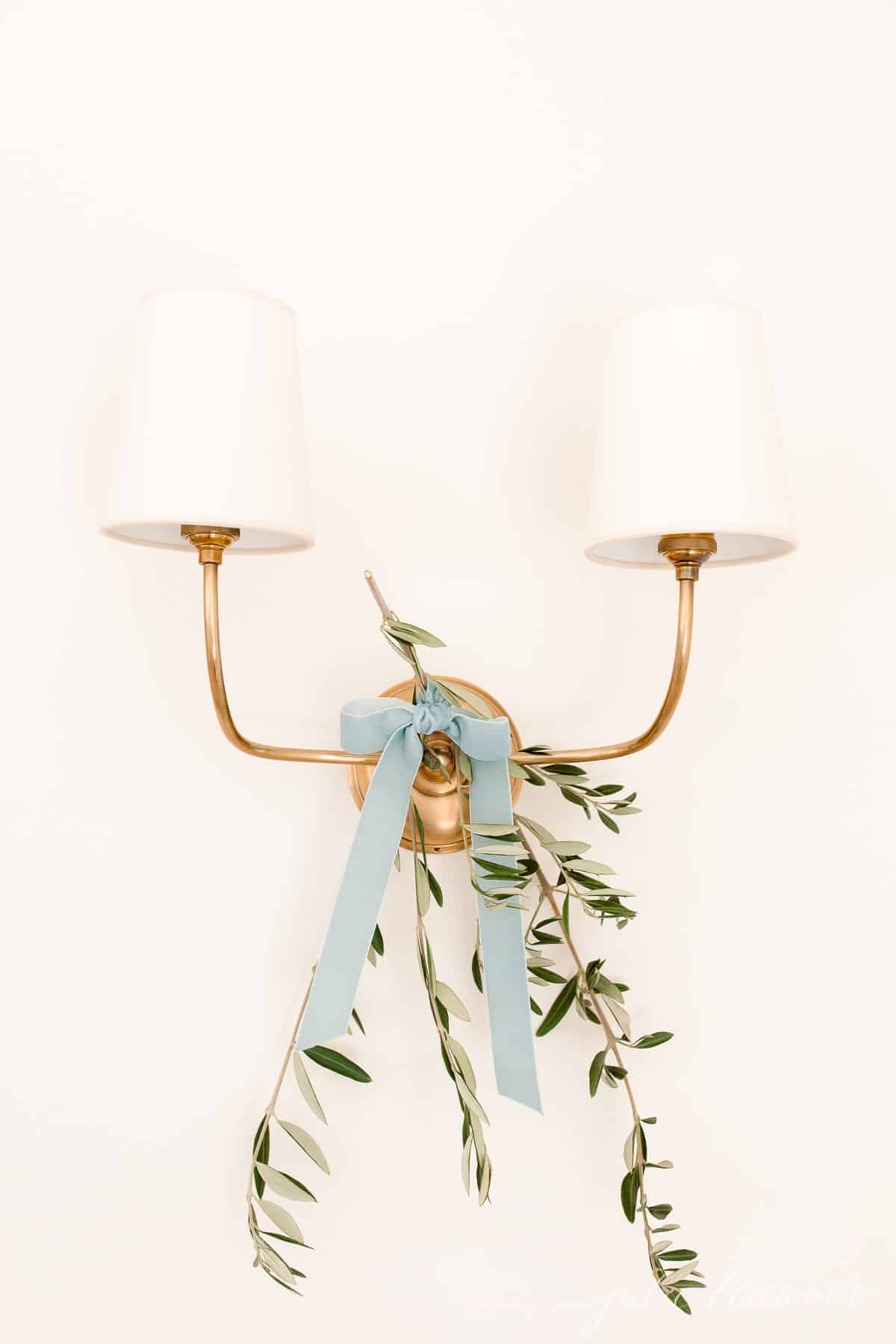 Brass Chandeliers
In our lake cottage, we wanted pieces with clean lines and a modern feel. These brass chandeliers did the trick!
Source | Modern Gilded Chandelier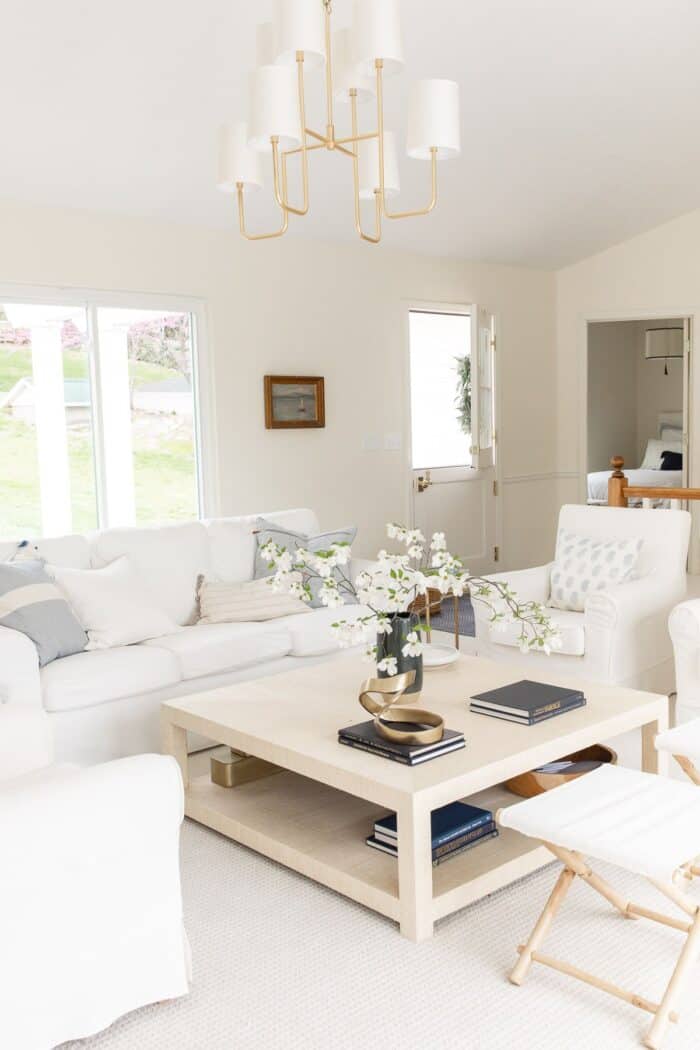 Over our new eat-in kitchen table, this smaller version plays beautifully with the view out the windows!
Source | Small Modern Chandelier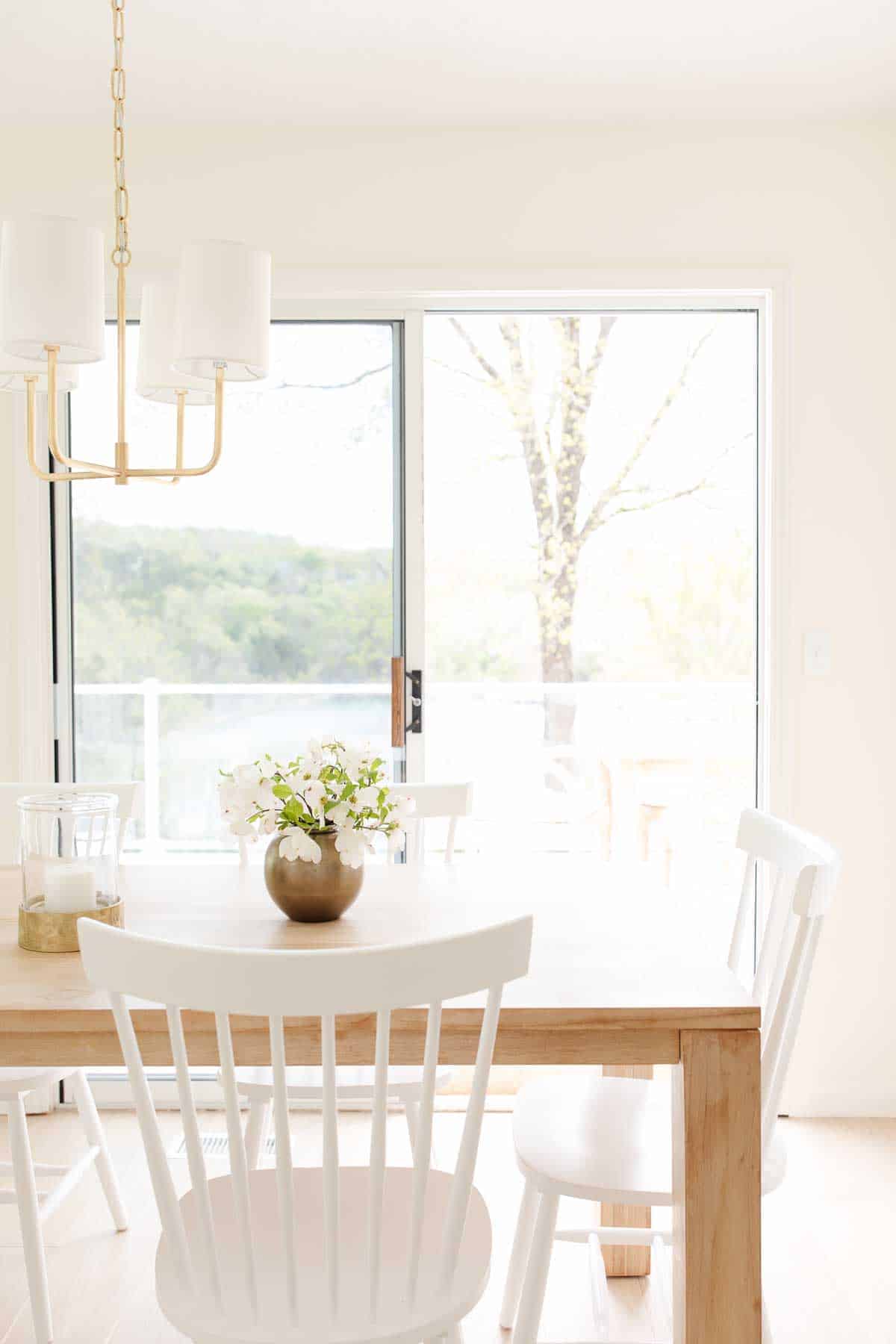 In our primary bedroom, we chose a romantic brass chandelier with soft, rounded curves.
Source | Candelabra Chandelier
Over our formal dining room table, we have a traditional brass chandelier that fits the space perfectly.
Source | Antique Brass 6 Light Chandelier with Shades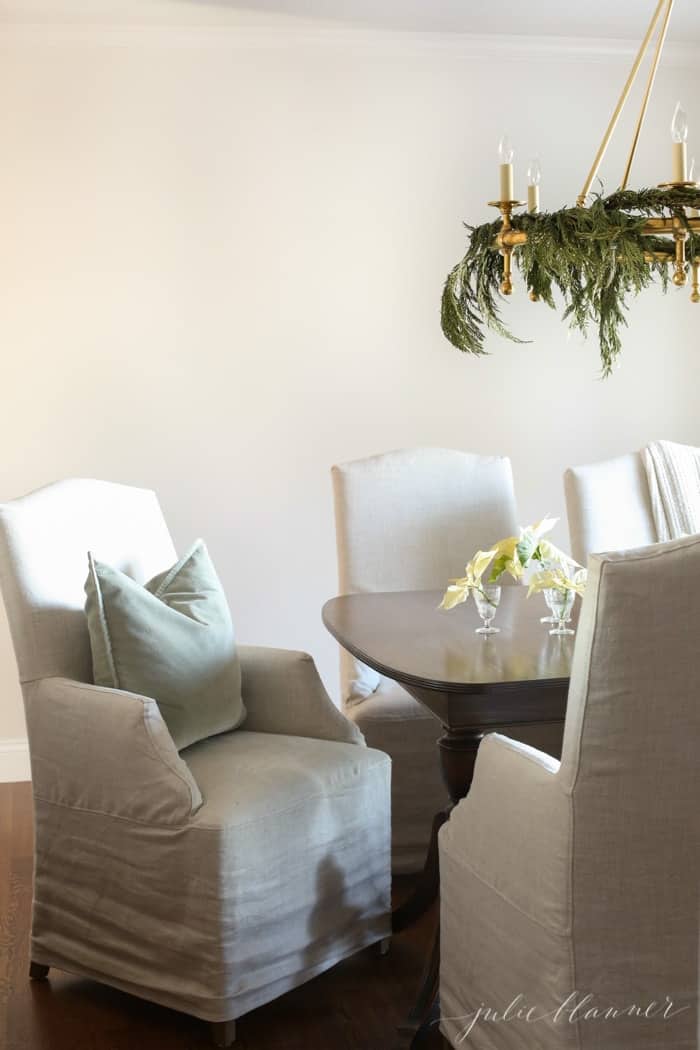 Love the look of brass as much as we do? Check out this Rub 'n Buff tutorial to turn any home accessories into the perfect antiqued brass, like these Gilded Frames! You can also learn all about my favorite Brass Hooks and Brass Polish, too.
Modern Brass Fixtures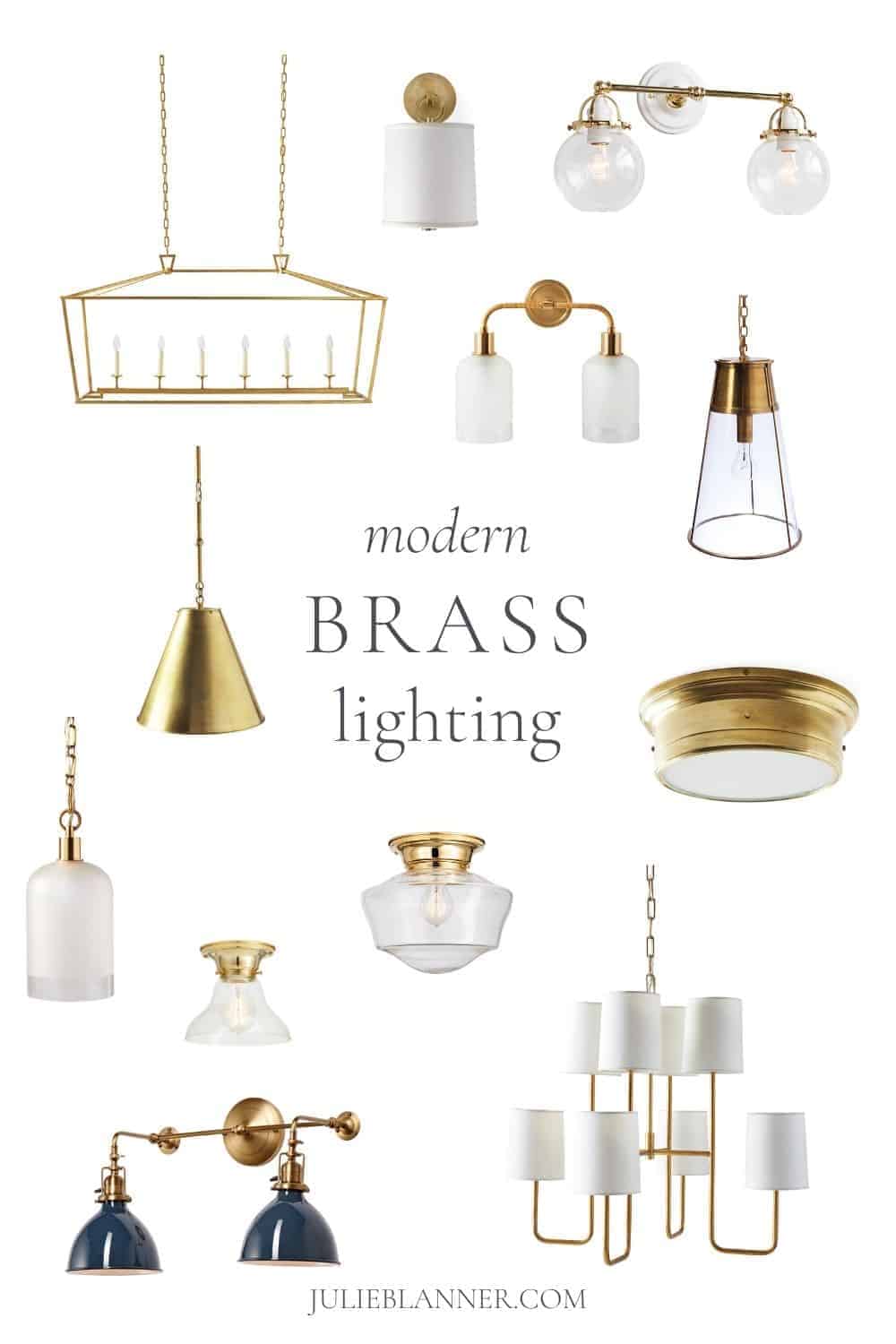 ---
Linear Lantern | Sconce | Double Sconce
Double Rattan and Brass Sconce | Brass and Glass Pendant
Brass Pendant |Brass Flush Mount
Frosted Pendant | Small Flush Mount |Schoolhouse Flush Mount
Double Sconce | Double Chandelier
---
Let's keep in touch! Receive exclusive content, including never-seen-before photos, our favorite home decor DIYs and more!
More Lighting Inspiration
Design Guides, Decor & Tips
Design Guides, Decor & Tips