Find my favorite easy fall living room decor inspiration that you can integrate into your home this season. There are so many simple fall decor ideas for living rooms to bring the outdoors in!
You'll find fall decor for coffee tables, built in bookshelves, mantels, sofas and more. The smallest touches can make such an incredible impact – learn how!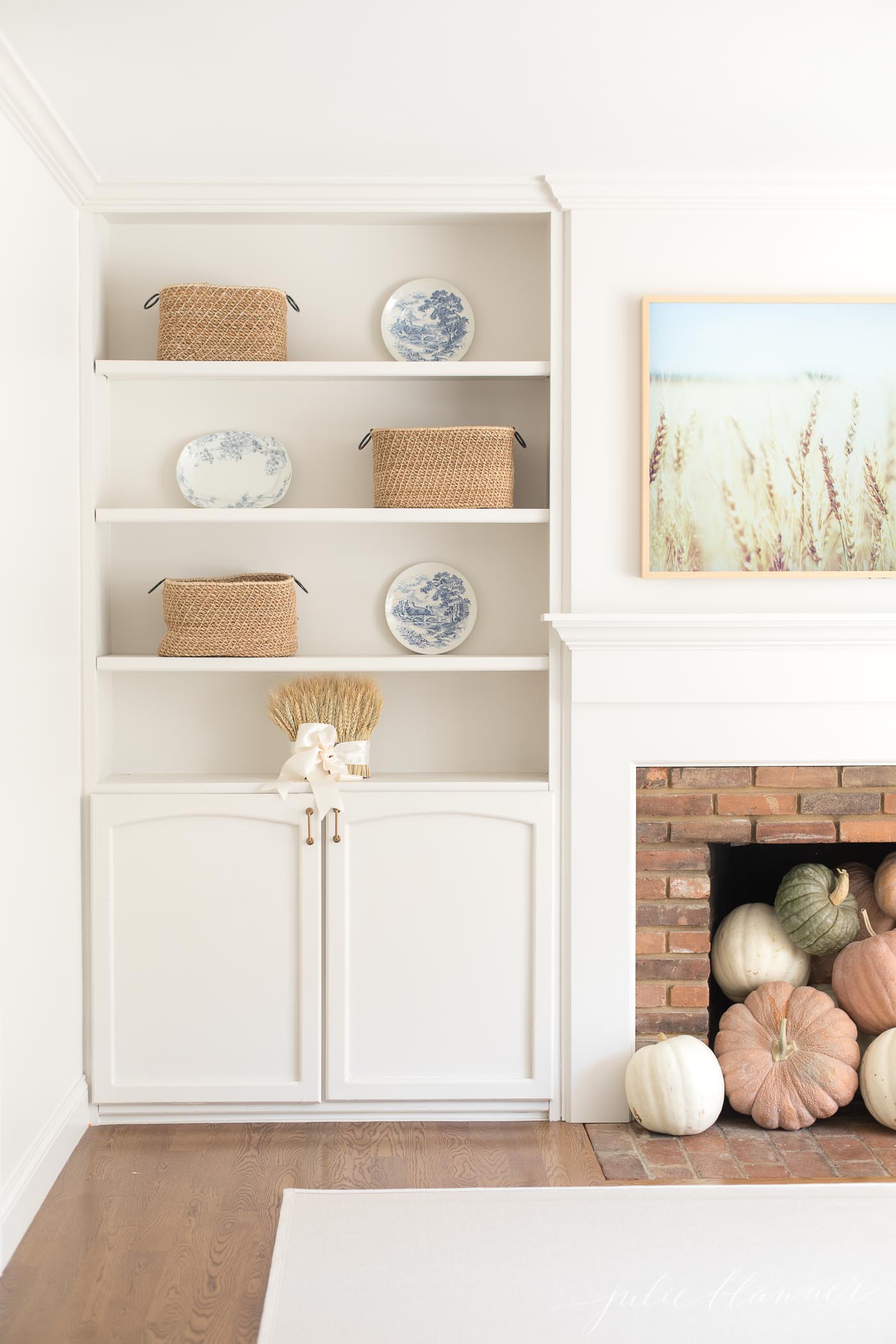 Originally published September 19, 2018 and updated with fresh content August 25, 2021.
After 10+ years of sharing our fall decorating ideas, I wonder if you'll ever tire of them. But each year as the season rolls in, we begin to infuse our home with fall so I may as well share, right?
After all, "Shared joy is a doubled joy."
That's exactly what these simple fall living room decor ideas bring me – joy. Little hints of the outdoors brought in along with added cozy comforts. I hope you enjoy these simple ideas and that they inspire you to bring your own cozy touches inside.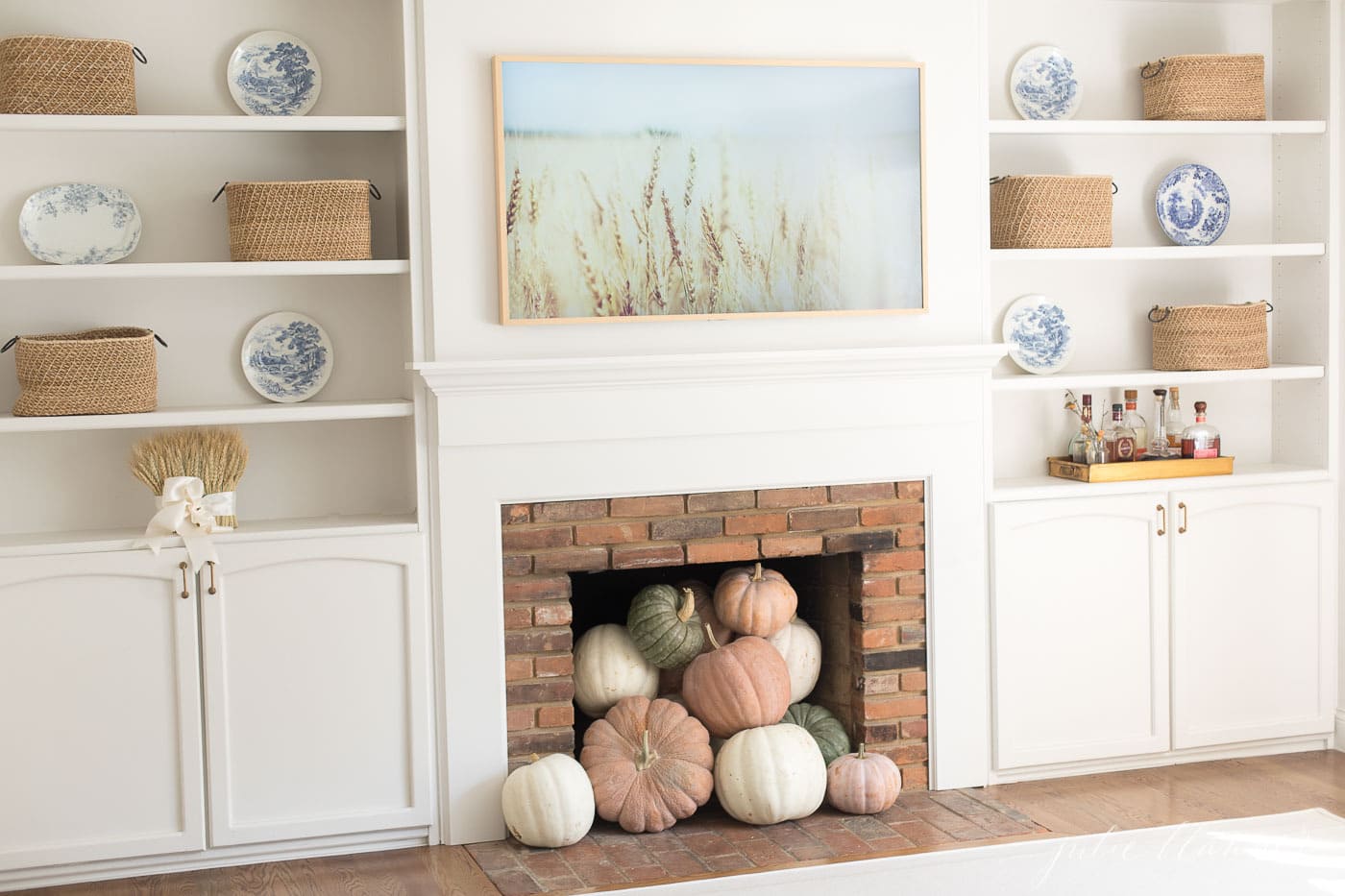 Fall Living Room Decor
As you can see in our Minimalist Fall Home tour, we tend to prefer a muted color palette and a restrained use of decorating elements. The simpler, the better, in my eyes.
I tend to add just a few touches to each room of our cozy home that instantly breathe a little of the autumn weather into each room. It doesn't take much!
You don't have to completely redecorate your home to decorate for fall. In fact, it's the mere addition or replacement of a few items that can transition your home from one season to another.
Because we love a neutral living room with one of our favorite cream paint colors (Sherwin Williams Zurich White), you can see that few simple autumn additions made an incredible impact.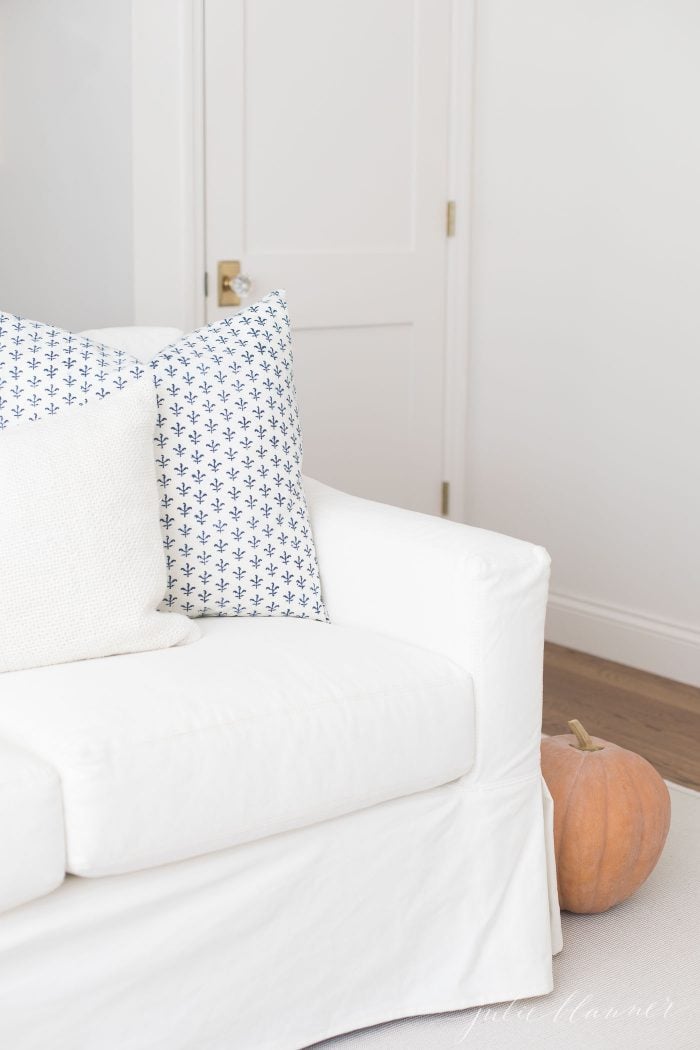 This year I decided to try something new and I'm not sure how I feel about it yet. I refrained from purchasing new all new pillow covers and throws in favor of our traditional blue covers.
Our linen cabinet is overflowing with covers from seasons past. I really wanted to incorporate beautiful golden hues, but decided to add fall colors in other ways. Waste not, want not… and I'm happy with the unexpected color palette.
I did however update one pillow cover to add in a little texture.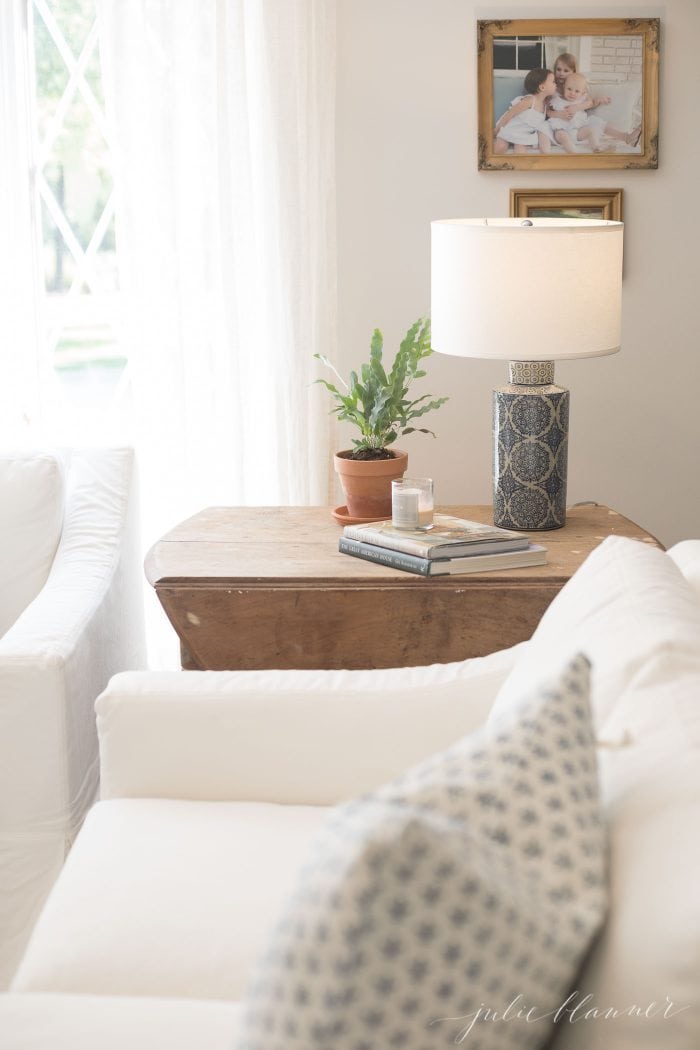 Fall Bookshelf Additions
The way the sun illuminates wheat in the fall while it sways in the wind is one of the most quintessential fall moments for me. It's the perfect season to take a drive past wheat fields or a walk through them.
I added a bunch of wheat to our bookcases for a subtle touch. You can learn how to make your own wheat sheaf here, and get more of my favorite Bookshelf Decor Ideas too!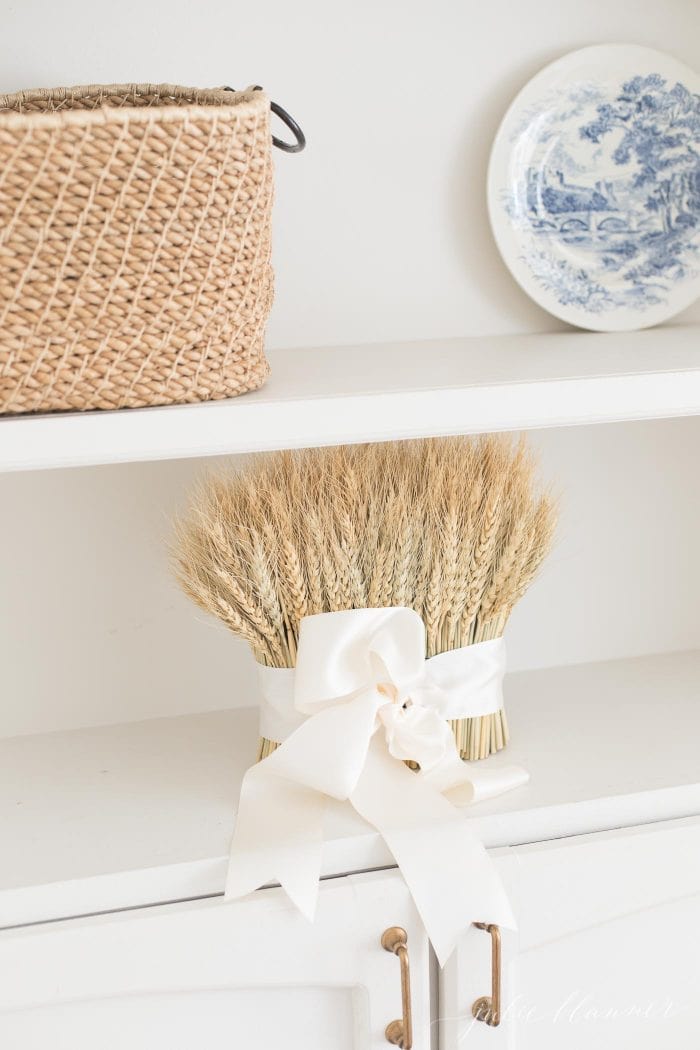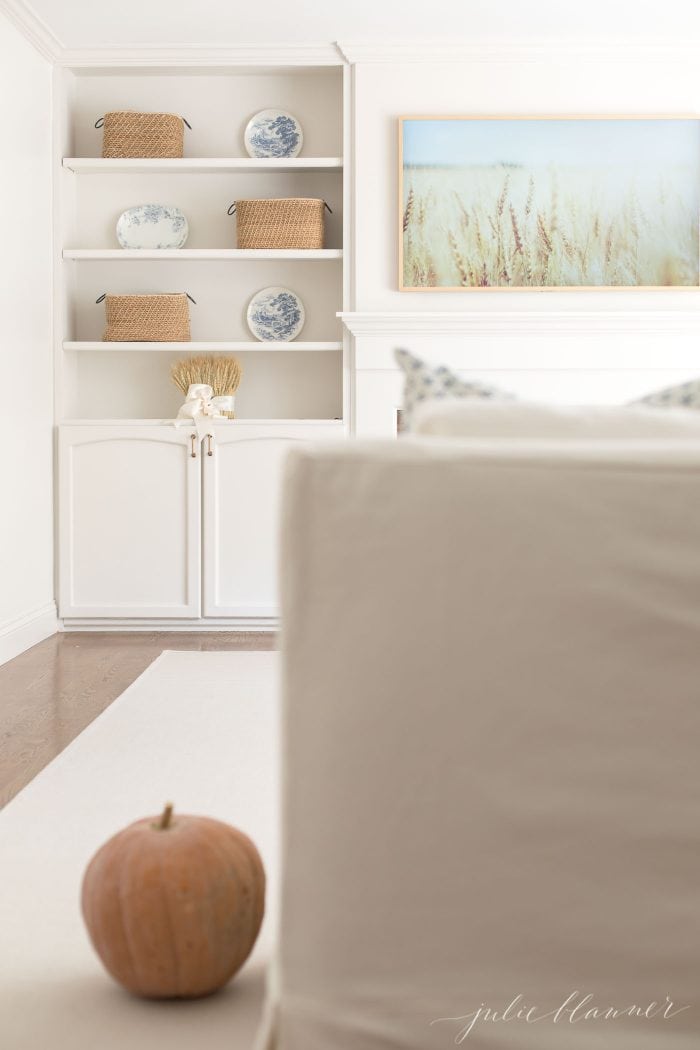 Art and Wall Decor
You know I love to change out the artwork in our frames for the seasons – especially if they are from my favorite free art sources! It's such an inexpensive way to switch up your room without putting new holes in the wall or adding clutter.
Each season I also update the artwork on our Samsung Frame TV. While I often defer to one of the pieces that are readily available, this time I used a stock photo.
It reads blue in photographs, but has a nice golden hue to it. Art is always an easy way to update your home, especially when it's just a click of a button.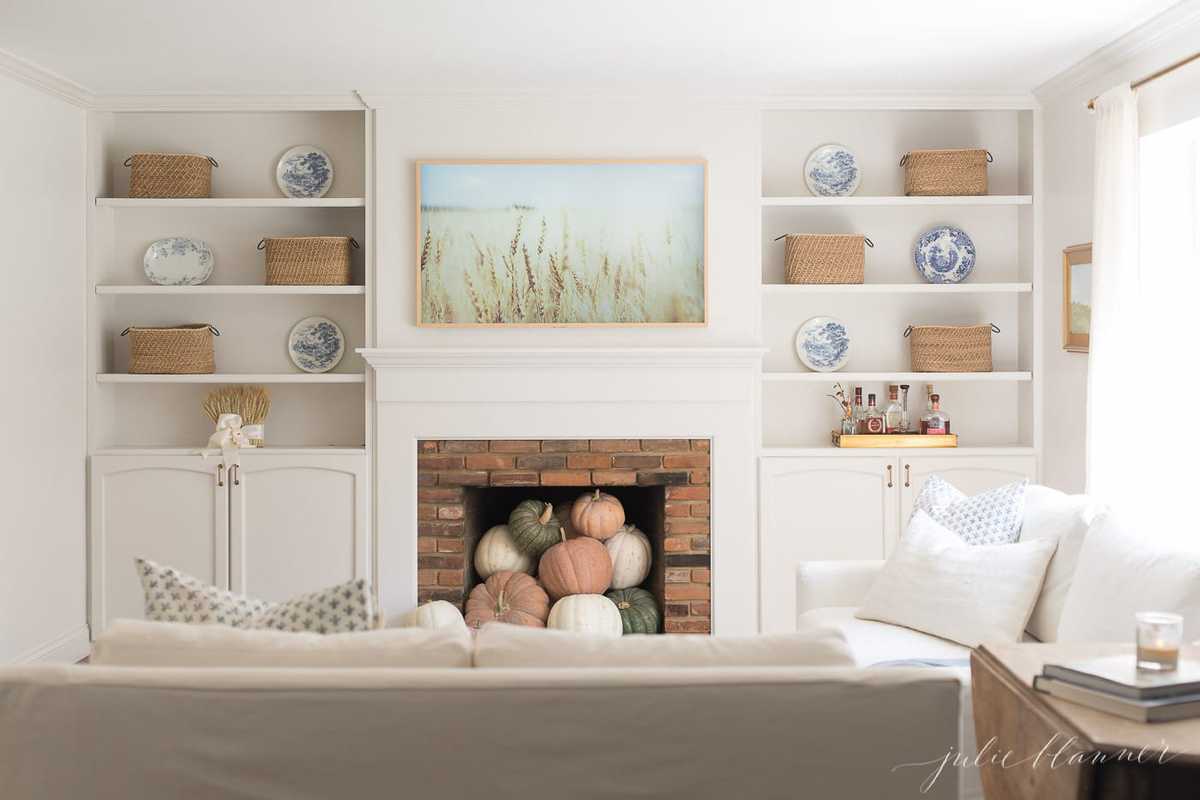 I also added a little branch from one of our crabapple trees in the backyard to our bar tray. It's another simple way to bring fall into your home without cost or effort.
You may recall seeing this tray in our kitchen – things tend to move a lot around here as our needs change. Before we added a little bar area in the kitchen, if we were expecting a lot of guests, I would set up a little bar so that guests could easily serve themselves.
Psst… those built in cabinets actually contained our hidden bar cabinet and could easily make the occasional cocktail or pour a sip of bourbon.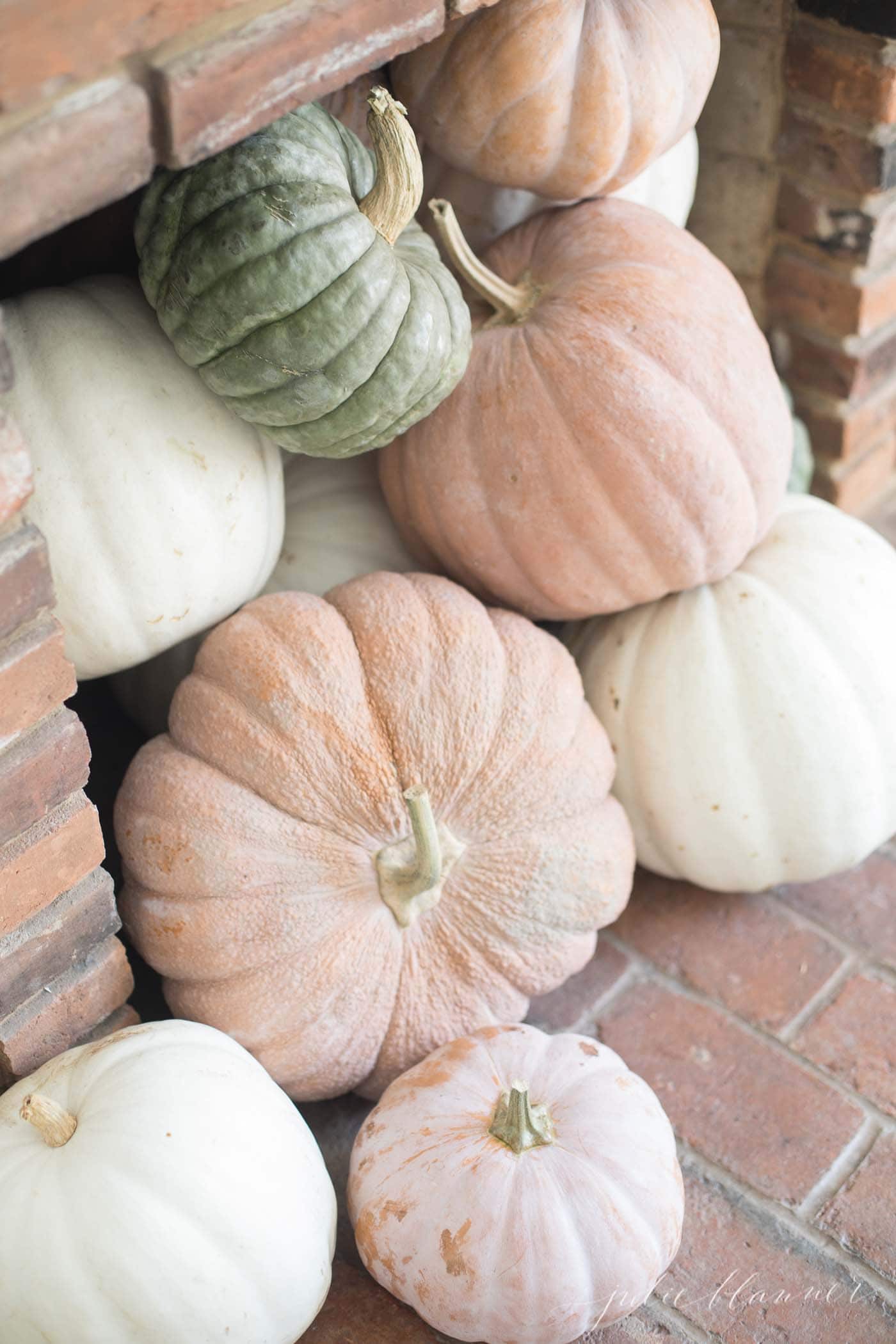 Fall Fireplace
Finally, you may have noticed that our fireplace is overflowing – with heirloom pumpkins. I did this the last couple years and enjoy the color it brings into the room without consuming space in our small living room.
You can learn how to create your own Heirloom Pumpkin Fireplace here!
While I rarely decorate our fireplace mantel because it houses our tv directly above, I do love to add something fun where I can!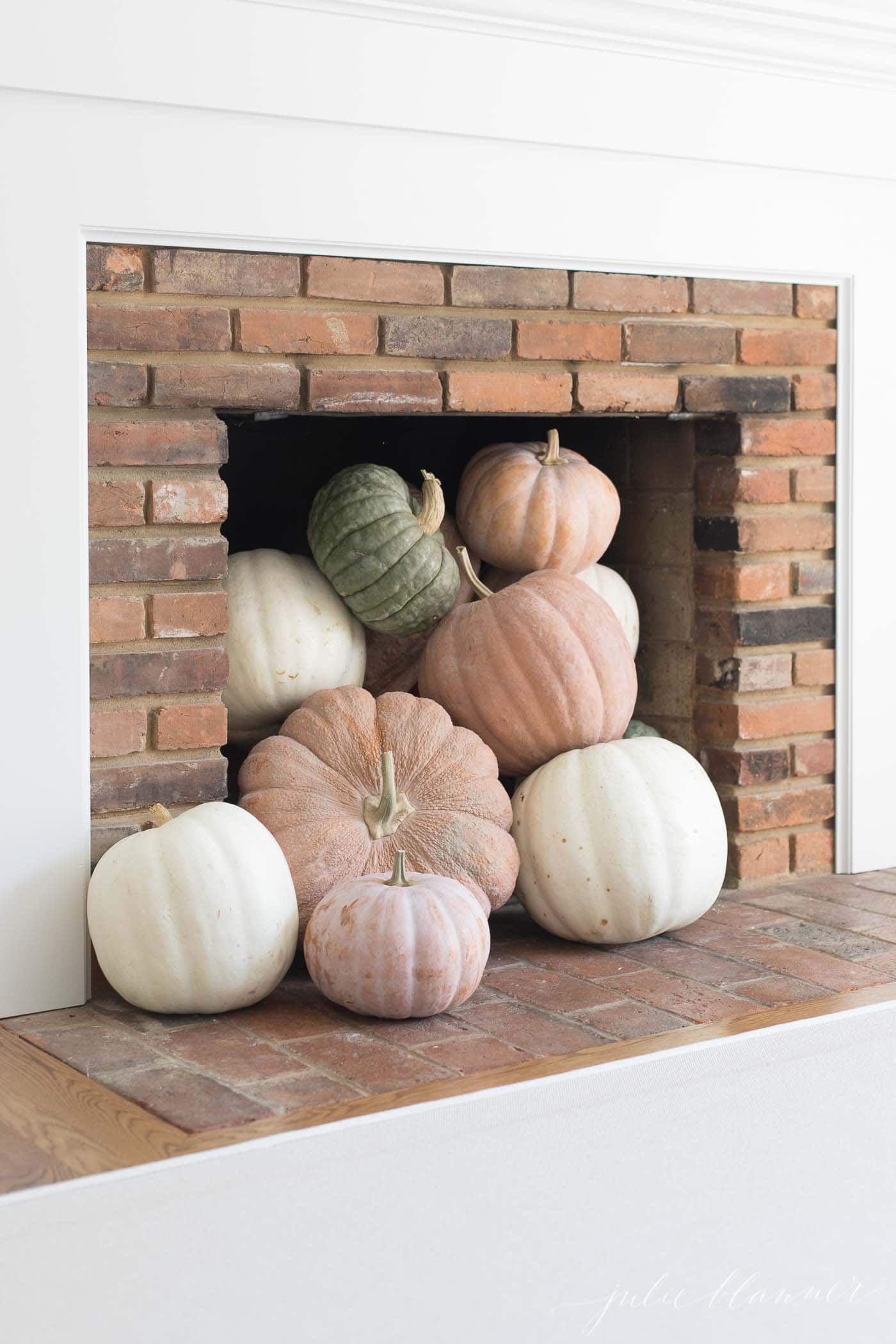 More Fall Living Room Decor
Add texture.
Bring the outdoors in. Integrating organic, natural elements brings a room to life.
Add layers / comforts to make it feel cozy.
Incorporate fall color through pumpkins, wheat, flowers, or pillow covers.
We're slowly updating our living room…you can learn more about the easy to clean rug here. I hope you stop by again soon! Until then, visit these beautiful fall living rooms for more inspiration:
You'll love snacking on these Fall Cookies while getting your home ready for the season!'
More Fall Inspiration
Get tips and tricks for adding cozy, warm harvest decor to your living room for fall. Create your own fall flower basket for a style that is both rustic and refined.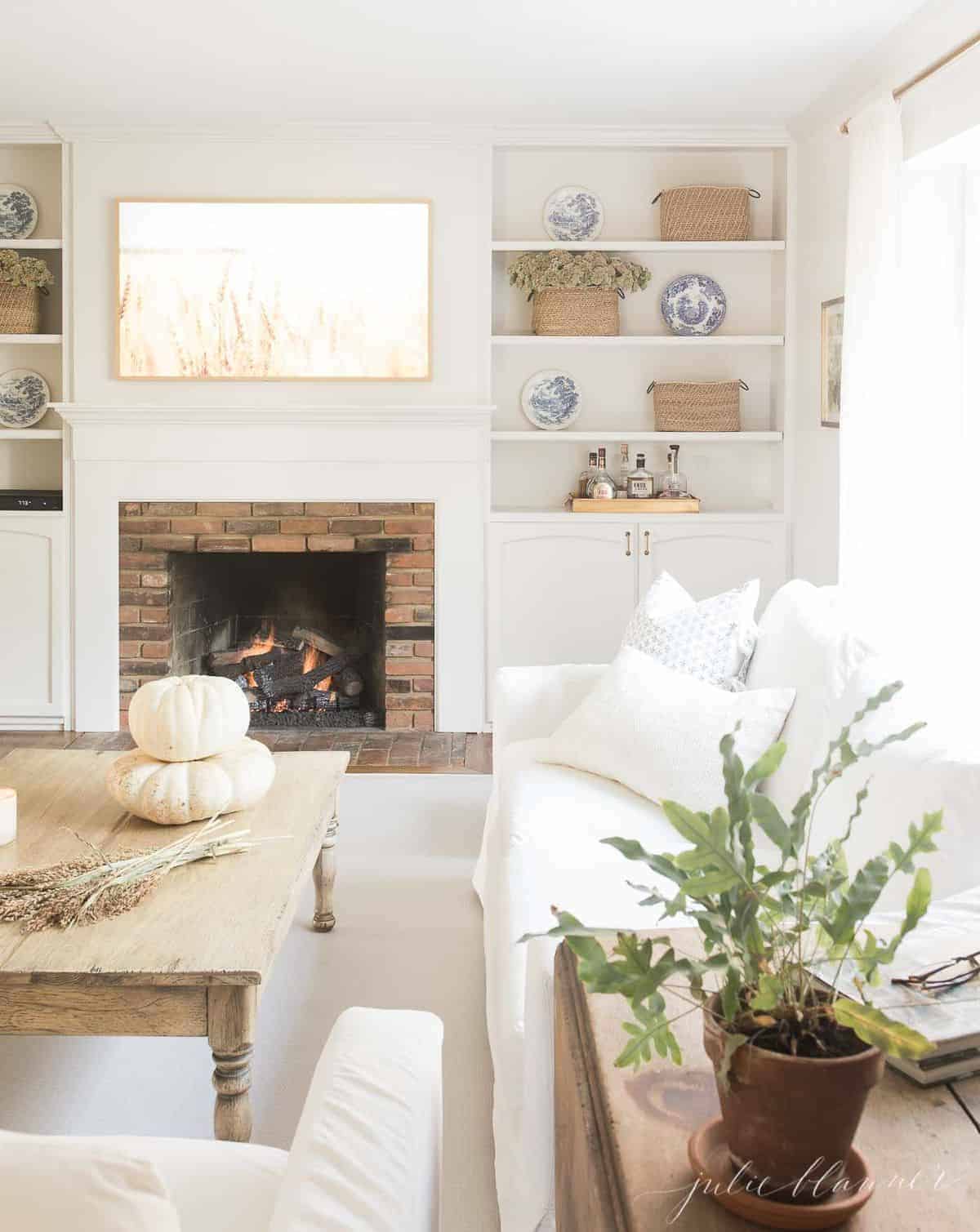 If you're anything like me, it can be difficult to think of fall decorating when the temps are still soaring well into the 90s here in the Midwest. That's why I always like to consider my transitional decor as a slow, comfortable way of easing into the season.
If you've been reading for long, you know that I am not one for over-the-top seasonal decor, but I love to incorporate the warmth and coziness of those transitions!
I do love simple methods of incorporating the sights, flavors and smells of the season. Check out 8 ways to make your home smell great, and the best fall cookie round up!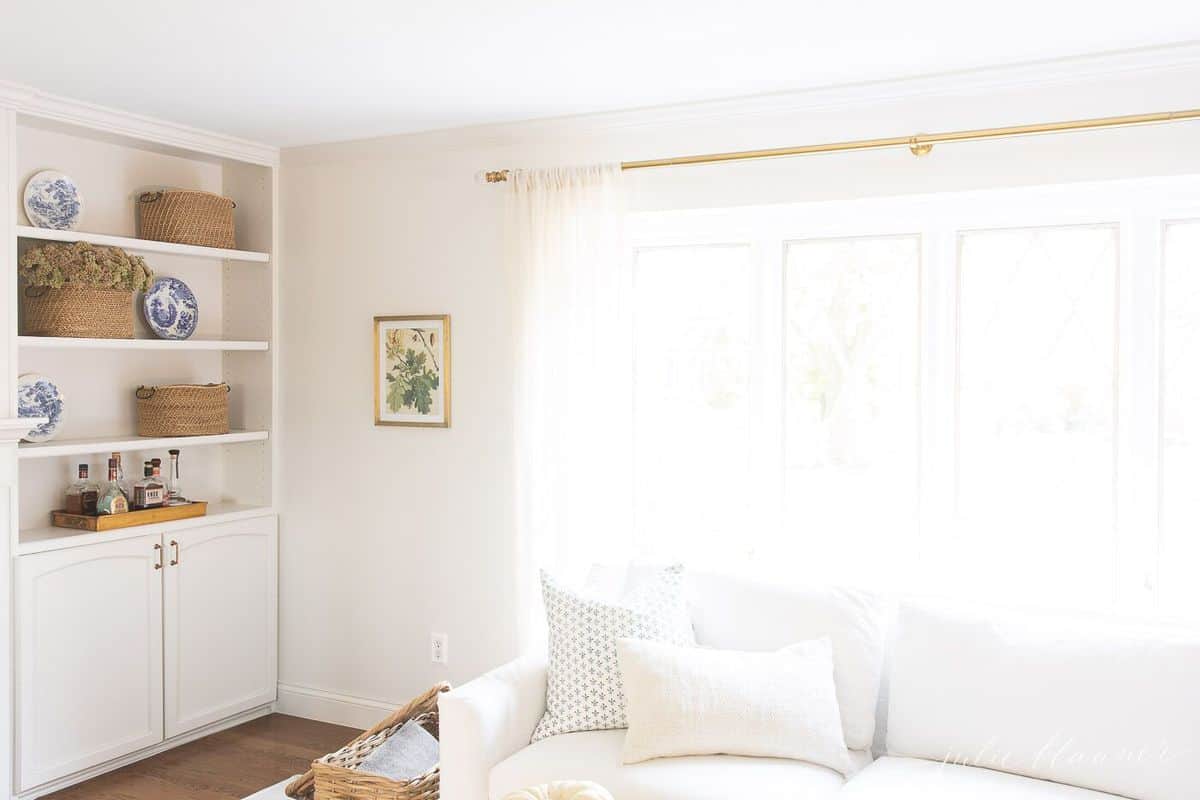 Fall Floral Touches
One of my favorite ways to easily transition into the early days of fall is with touches of fall-inspired fresh flowers. I love to look to our local landscaping and gardens to know what's local and seasonally appropriate!
Thankfully, our local grocery stores are great about sourcing fresh flowers from local farmers. (Get all my best tips for buying flowers at Trader Joe's right here!) I love supporting these growers and I love the joy that I get from creating my own arrangements!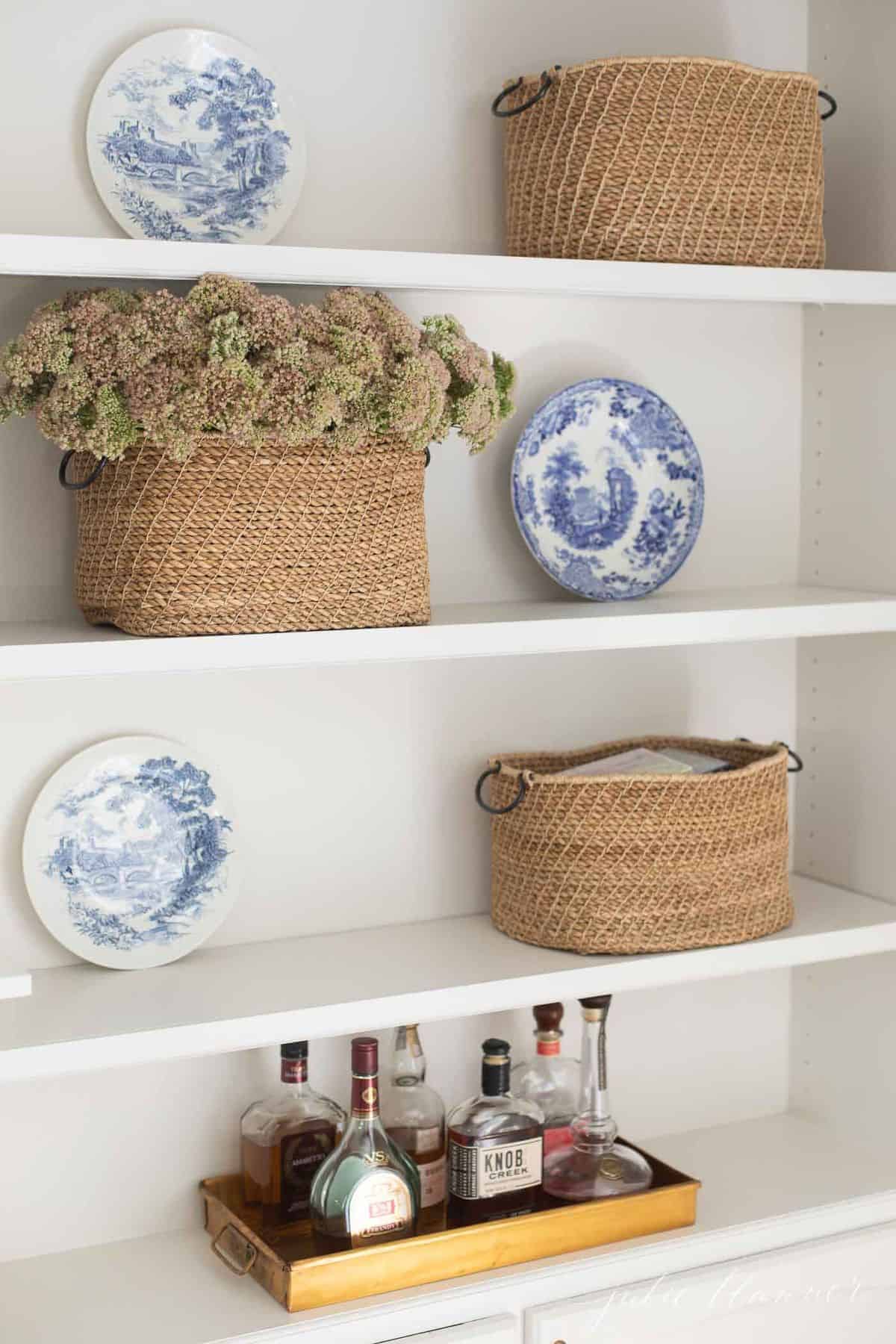 For this year's fall decor in our living room, I created beautiful flower baskets for a hint of gathered, harvest-inspired decor. I love that they reflect on fall's bounty and feel farm fresh- and they are so simple to create!
For the baskets that I filled on my living room shelves, I chose fresh sedum. It's long-lasting and locally grown, and I love that the colors are so faded, soft and warm. It's beautiful in our outdoor landscaping, so why not bring it indoors to enjoy as well?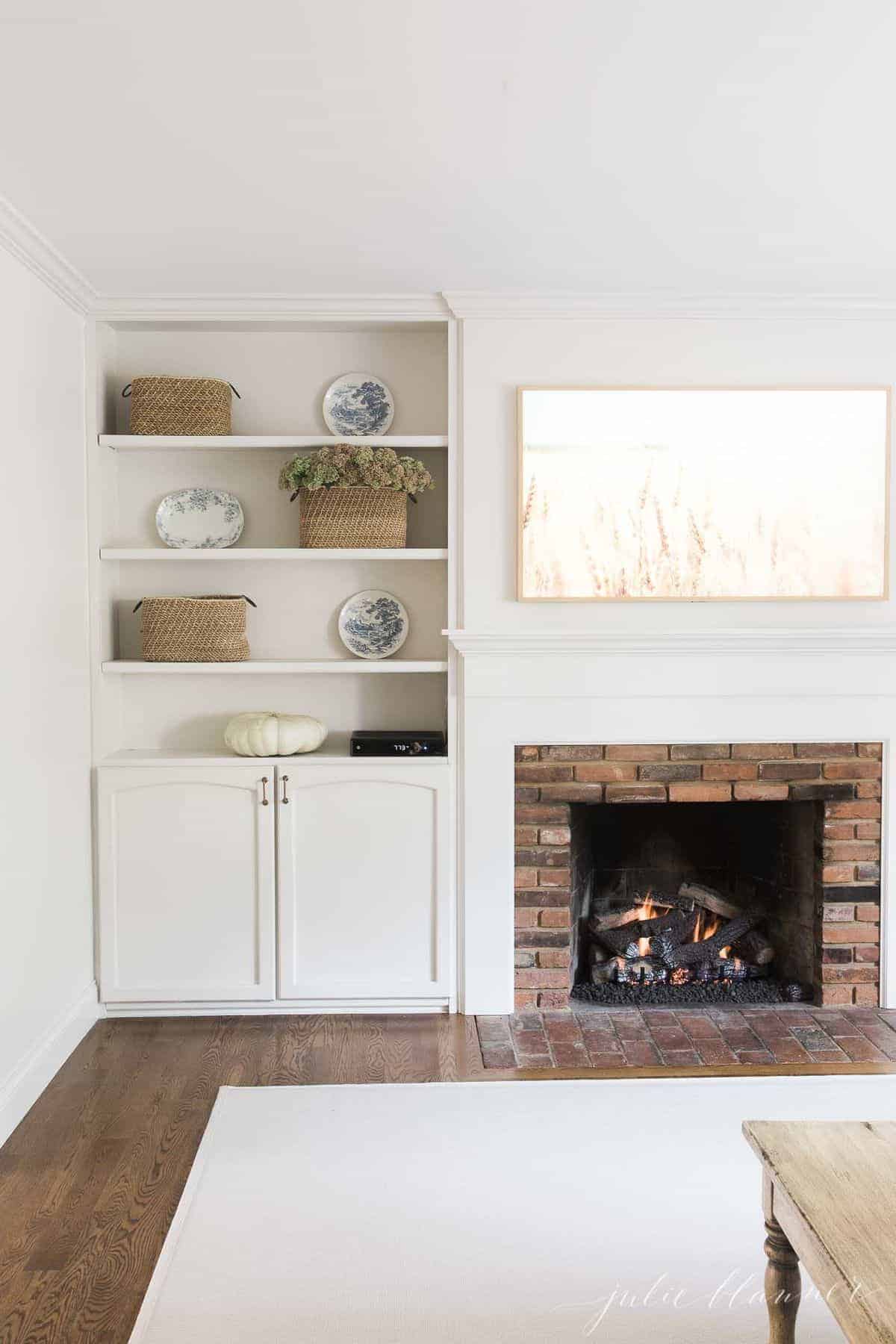 How to Create a Fall Flower Basket
It's so easy and I bet you have a basket lying around that will make this style of arrangement a total cinch! Don't overthink it- creating your own fall flower basket is beyond easy!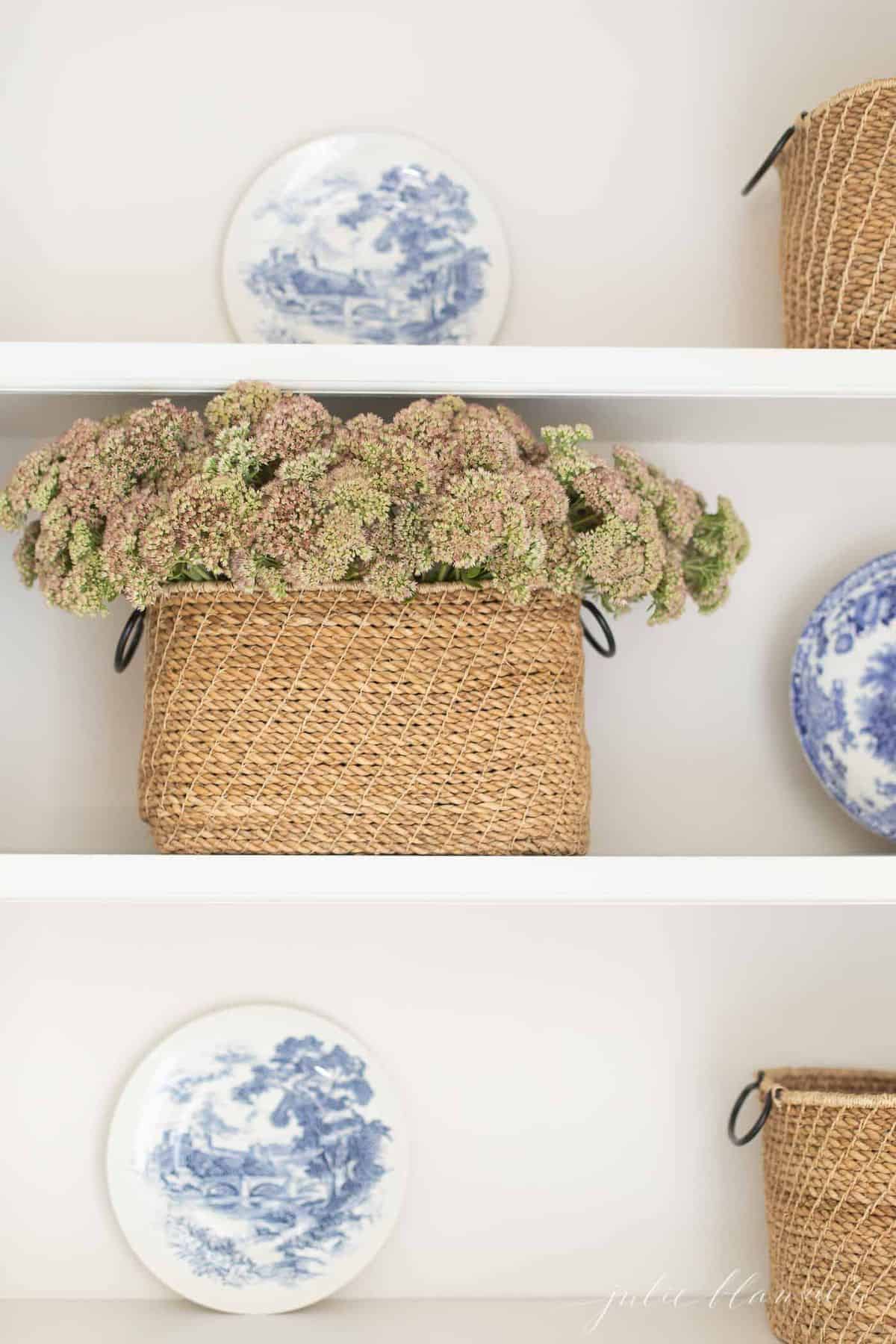 Using pruning shears, clip your sedum stems to the proper length. Use your vessel (in this case the basket) to measure. Allow several inches of stem above the height of the basket so that they have space to lean a little.
Fill 1-2 vases with water to insert inside the basket. For these baskets, I used two lower cylinder vases that would easily hold the stems.
Place the sedum stems in the vase or vases and allow your clippings to fall as they may. That's the beauty of them! You'll want them to have some varying height and creep over the edge of the basket for your proportions to look right.
These baskets required 5 bundles of sedum per container. You could certainly get away with using less if you incorporate some loose greenery to fill in the space!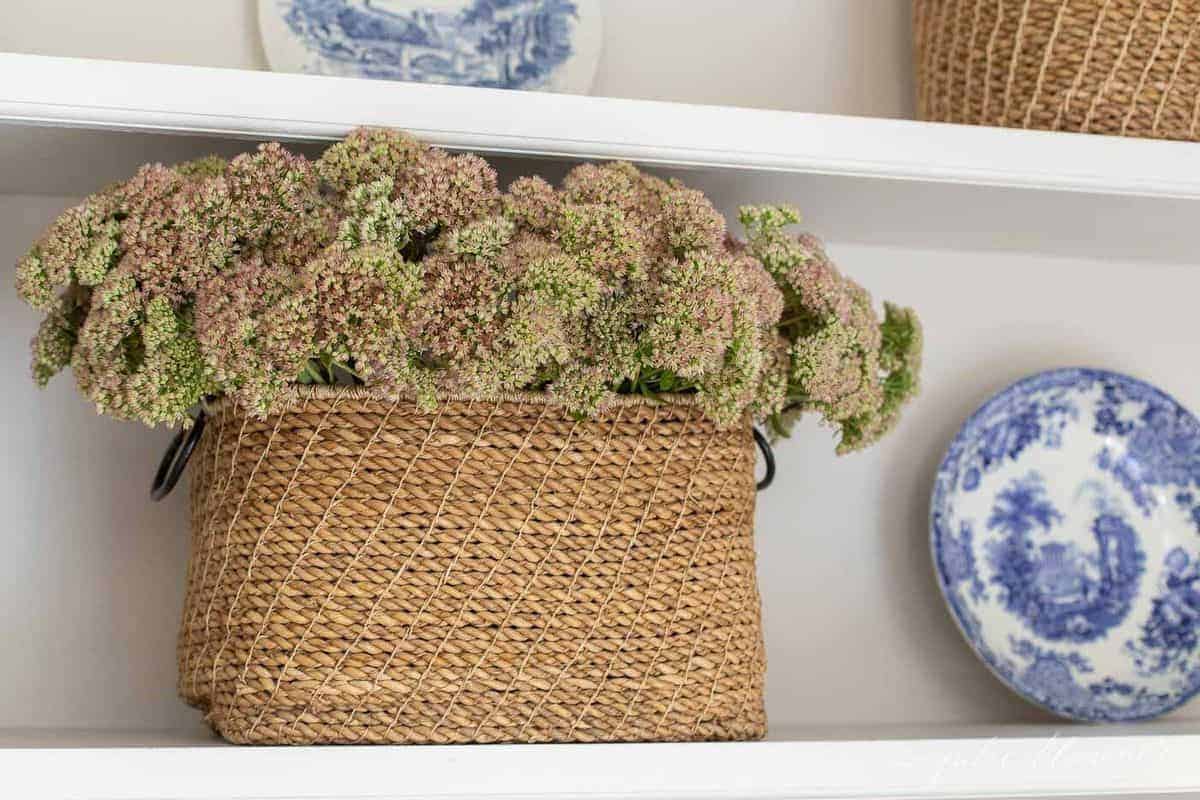 Quick tip: Another bloom that works beautifully when gathered in baskets is hydrangea. The fluffy, sturdy heads are gorgeous when grouped together in this low format- so try hydrangea if you can't find sedum near you!
Bonus- at this time of year hydrangea transition incredibly well into a dried arrangement, so you can leave them out indefinitely. Get all my best tips for creating hydrangea centerpieces right here!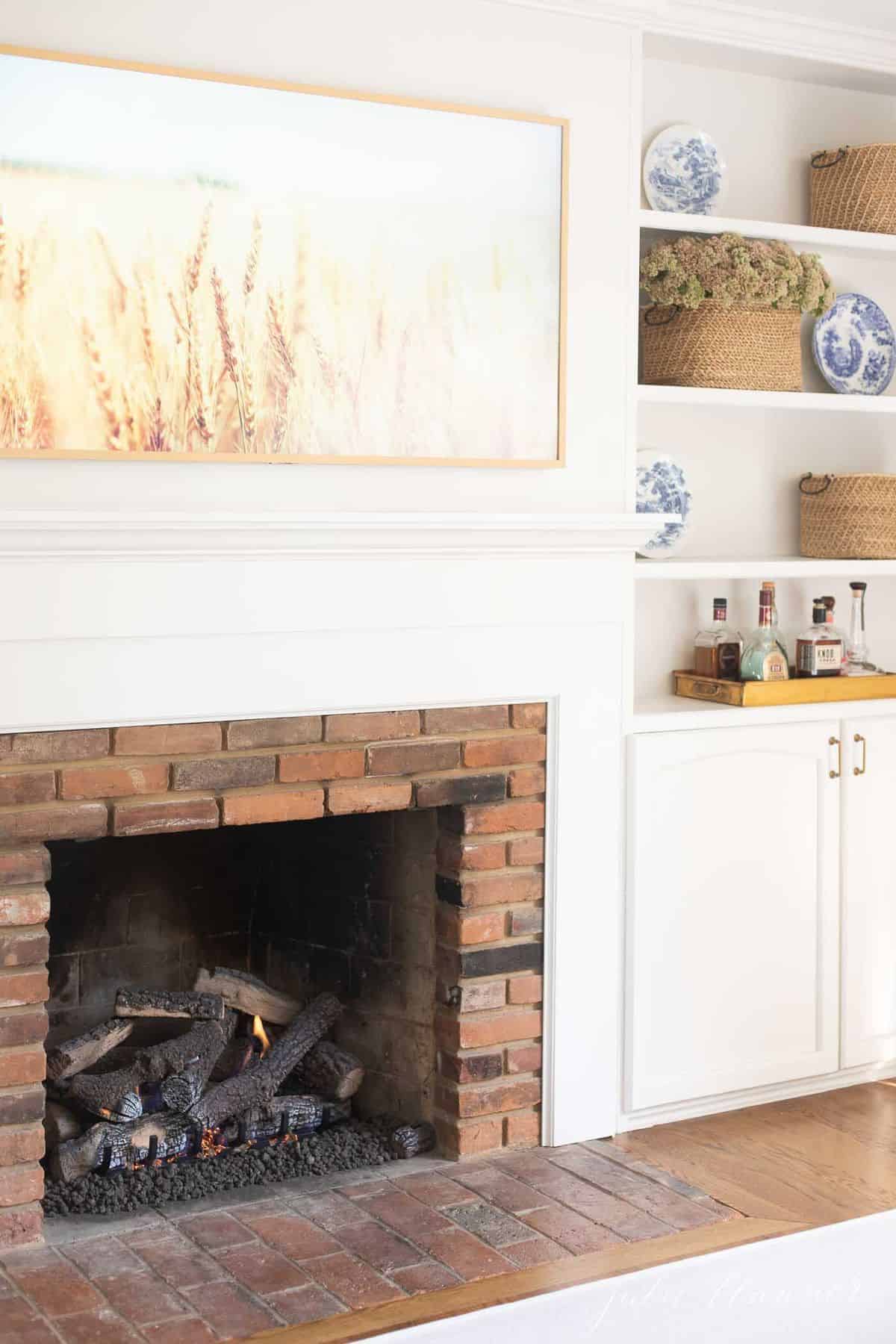 Harvest Inspired Fall Decor
Following along with the theme of harvest that is woven throughout our living room, I used this beautiful image of waving wheat on our tv that looks like art!
I just love the soft colors and the reminder of the season's bounty- and it ties in beautifully with the laurel wreath that I hung over the range in our kitchen nearby.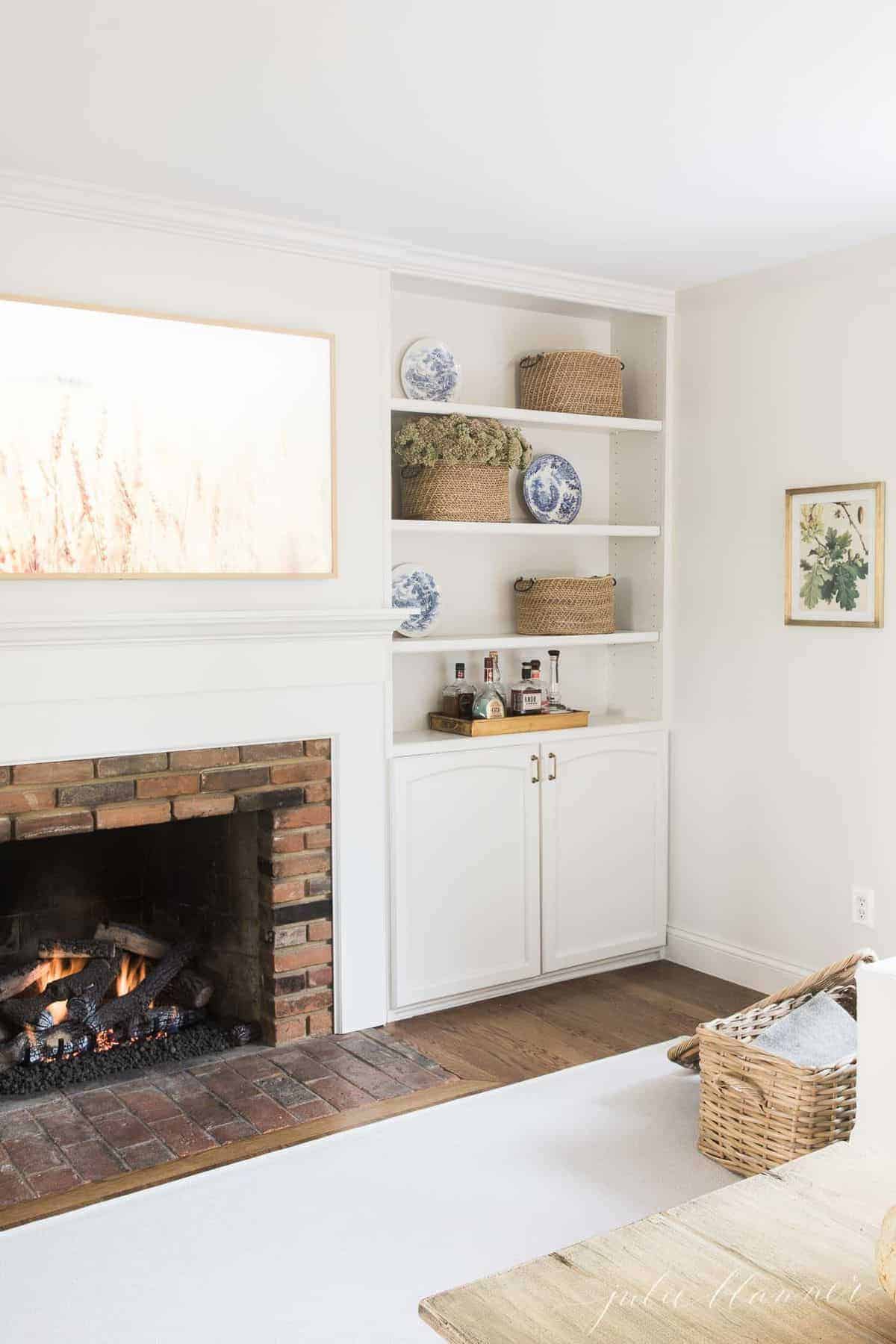 For anther botanical touch, I switched out the artwork in this corner for an autumn-inspired print. I love the muted colors of the foliage and it's a simple way to change the feel of your room without adding more nail holes to your walls!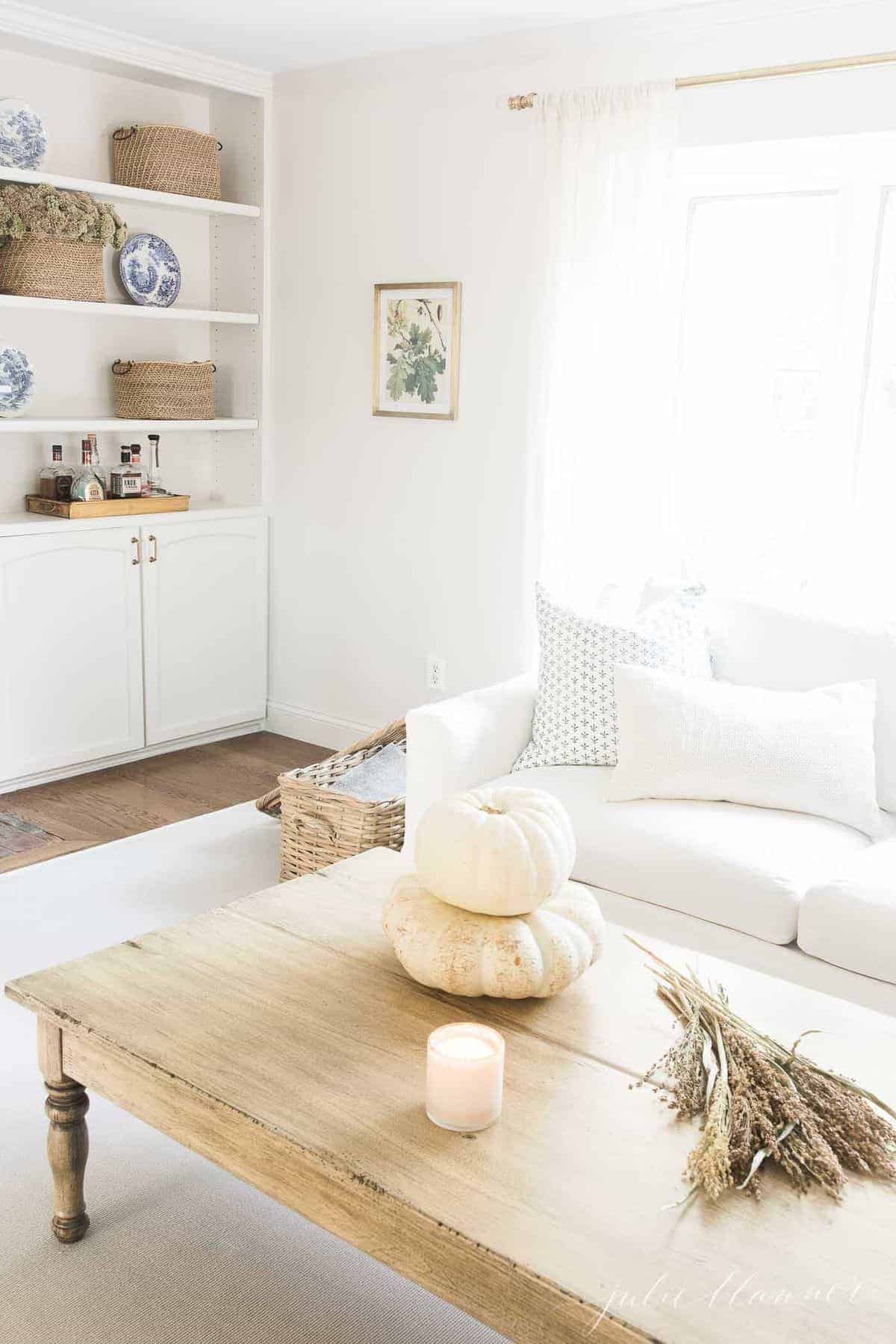 Our side table basket filled with cozy throws is preparing us for chilly fall mornings as well. The simple addition of a fragrant candle and an easy grouping of fall grasses creates the sweetest little coffee table vignette!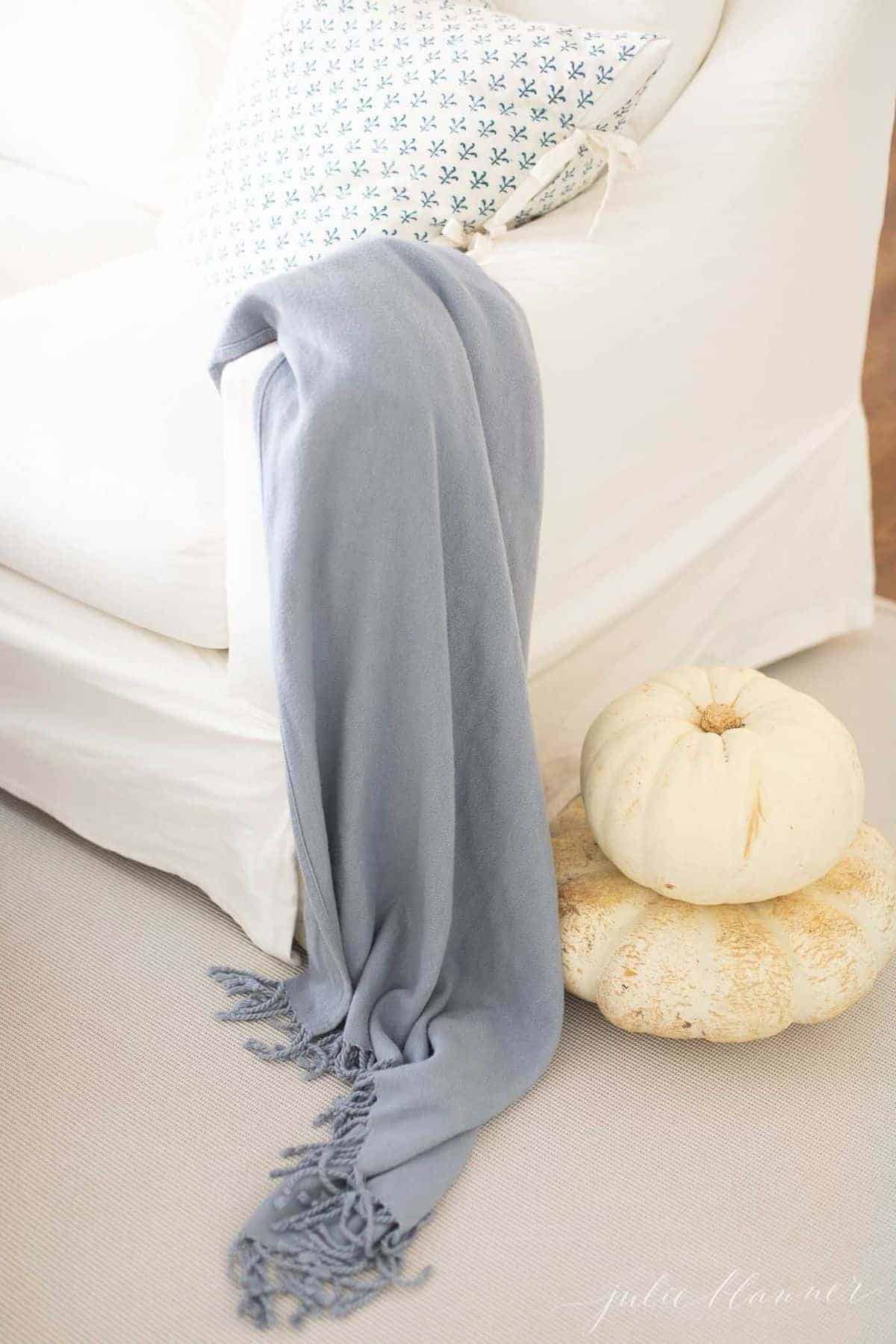 Heirloom Pumpkins
Another sign of the season's bounty? Heirloom pumpkins! How can you go wrong with incorporating these soft beautiful fall colors into your home? I've used them in every room in years past- remember our heirloom pumpkin fireplace?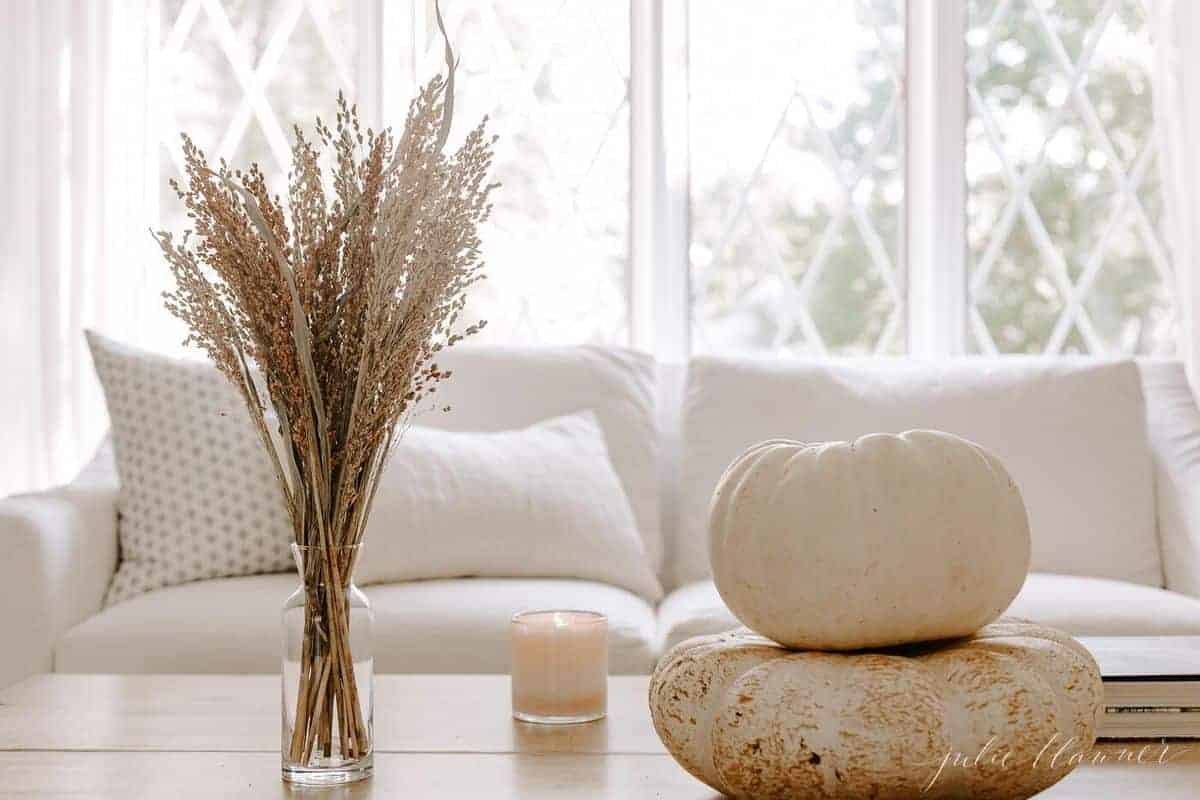 While I loved that look so much, I have to say that one of the best decisions we've made in our home is last year's conversion of our fireplace to gas logs.
I love switching the fireplace on in the mornings and enjoying this cozy space- it's just so warm and inviting! Something about a fire just draws our entire family together.
To see our fall living room prior to the fireplace update, check out Fall Decorating Ideas for the Living Room.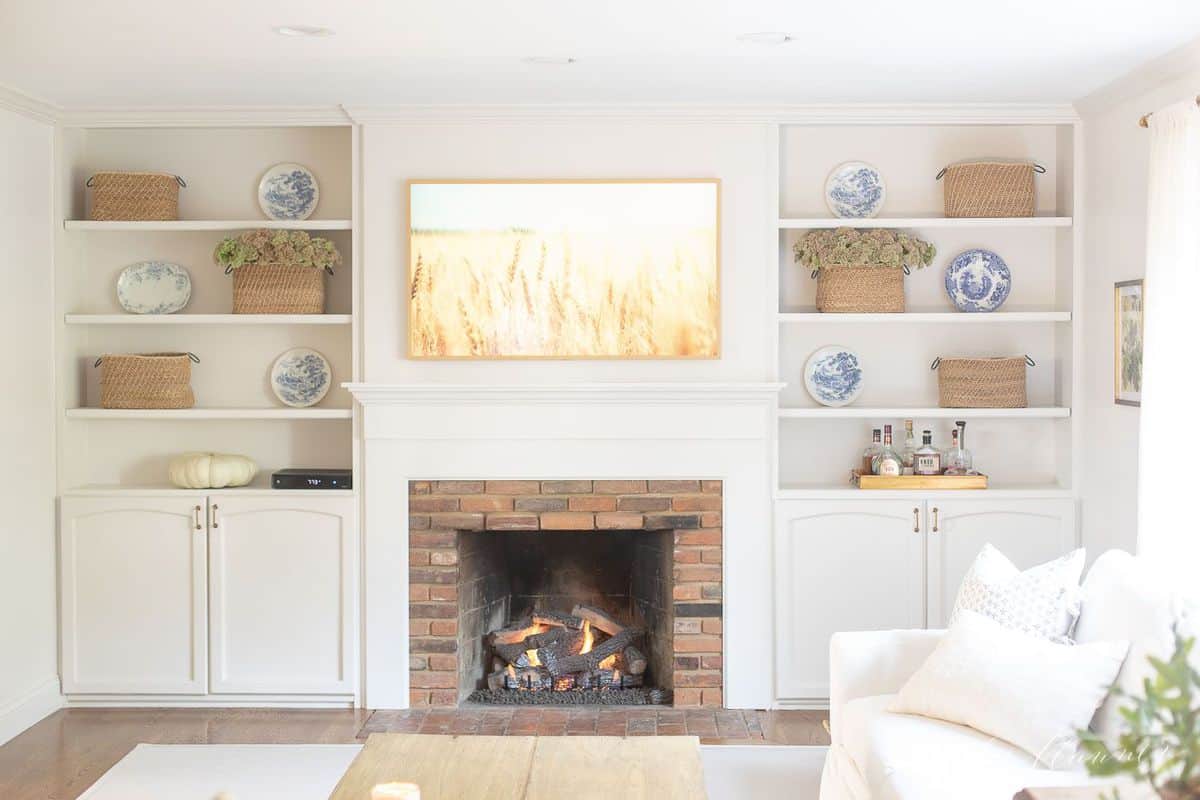 Fall Floral Tutorials to Inspire You
If you loved this simple fall floral basket idea, you'll love these easy floral arrangements as well!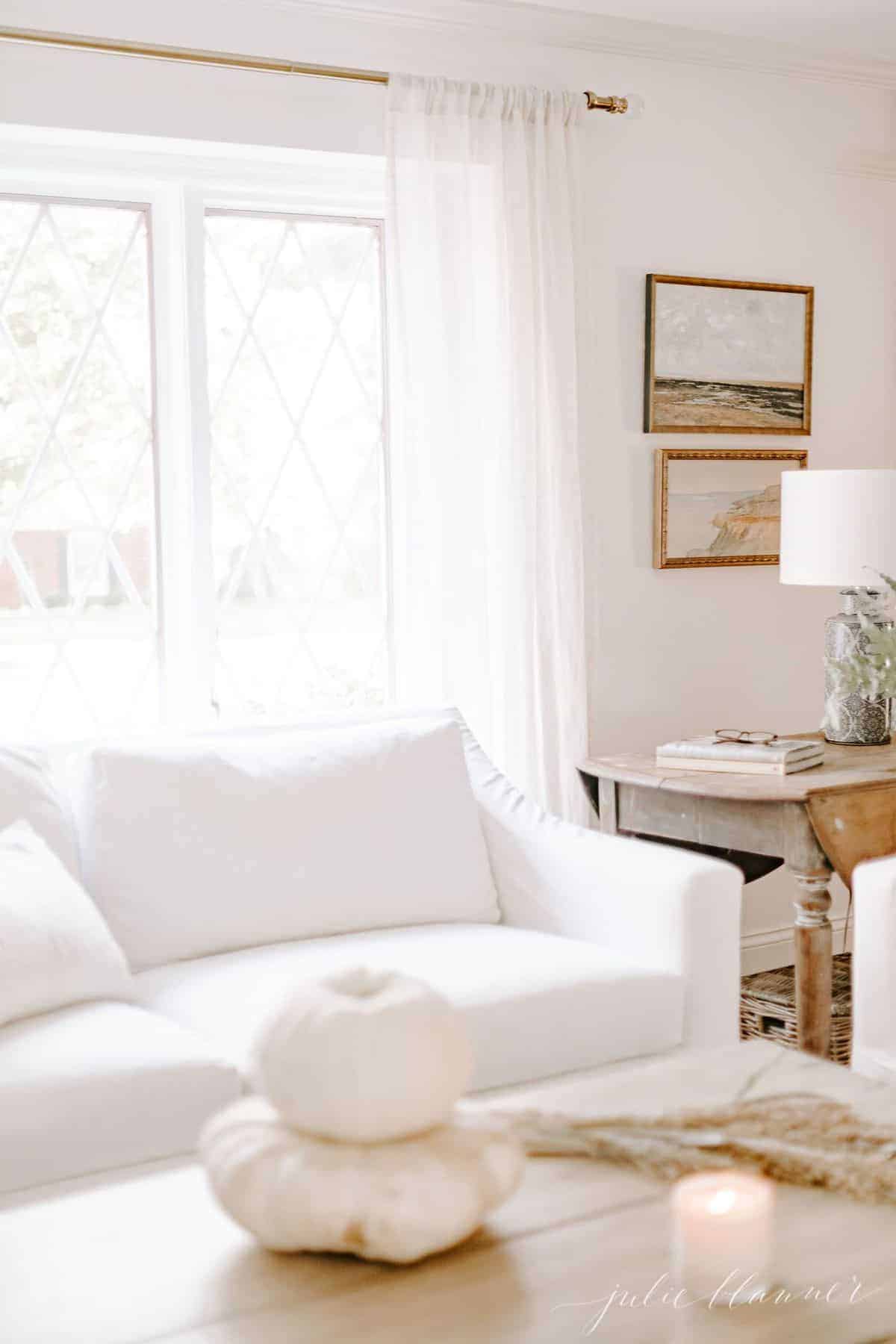 Feeling inspired? Looking for more ideas for amazing fall decorations? Make your home smell like fall with this Potpourri. I love to share! I'm so happy you've joined me for a little peek into our living room decorated for fall.
How are you incorporating the warmth of this season into your home? I'd love to hear! Be sure to leave a comment or join us over at Celebrating Simple over on Facebook.