Get simple, charming ideas to dress up your kitchen for fall. Learn how to use a classic Laurel Wreath and cheerful Sunflower kitchen decor to incorporate the textures of autumn – no pumpkins necessary!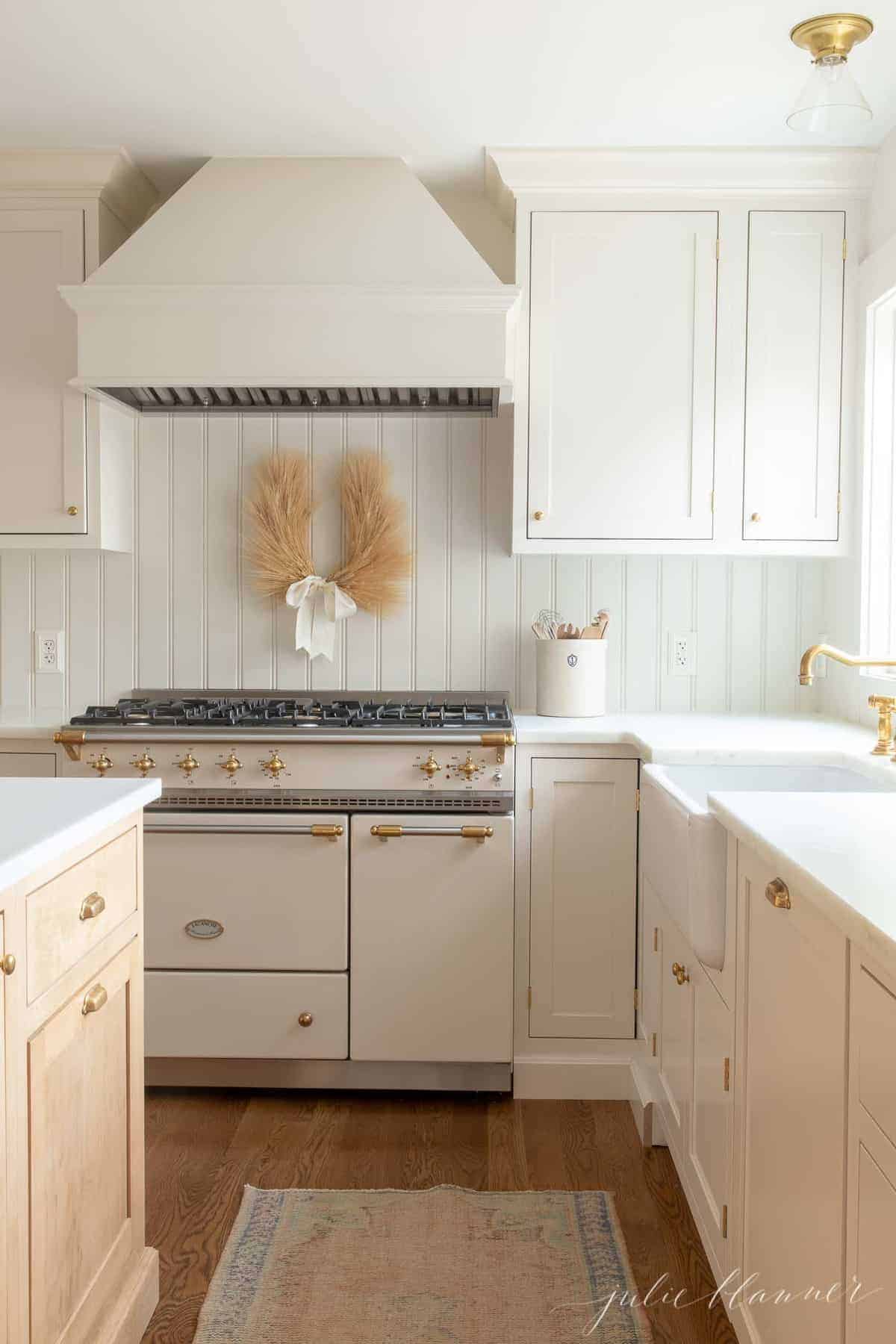 If there's one thing I've learned over the years when it comes to seasonal decorating, it's that less is often more for our family. When you create a simple, soothing and minimal home – it doesn't take much to add a touch of warmth and charm for the seasons.
Today I'm sharing our fall kitchen decor…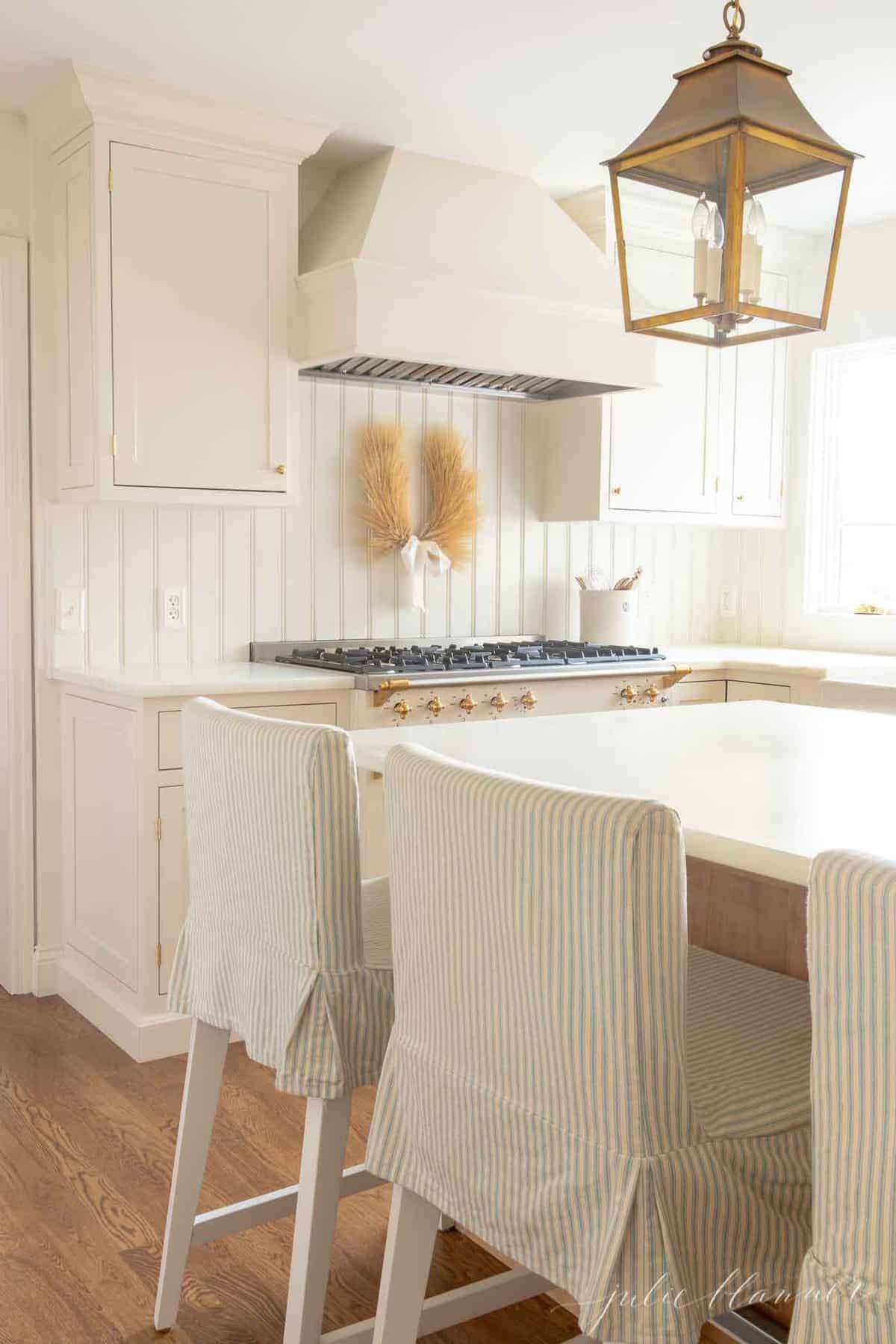 One of the reasons I love embracing cream color paint is that it transitions each space effortlessly from one season to the next. Soft creams make a beautiful neutral backdrop and allow fresh, organic elements from each season bring color and texture to the room.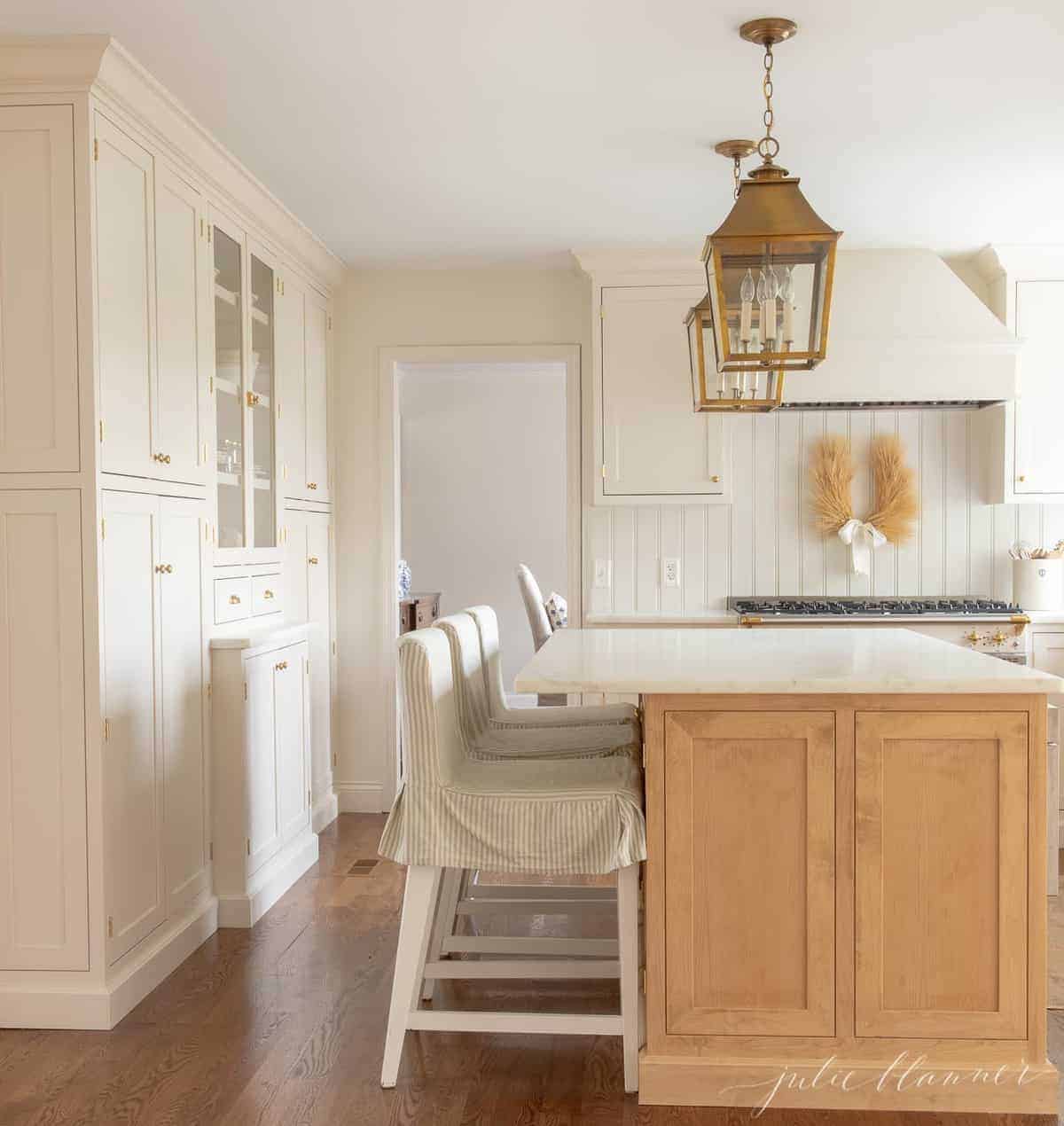 Laurel Wreath in Fall Decor
Now that the holiday weekend is behind us and the girls are settling back into a school routine, I can finally focus on a little fall baking and touches of autumn throughout our home. This year, I chose to take a minimalist approach by incorporating fresh sunflower blooms and a charming laurel wreath into our kitchen. I wanted something charming, sweet and easy – and I think I succeeded!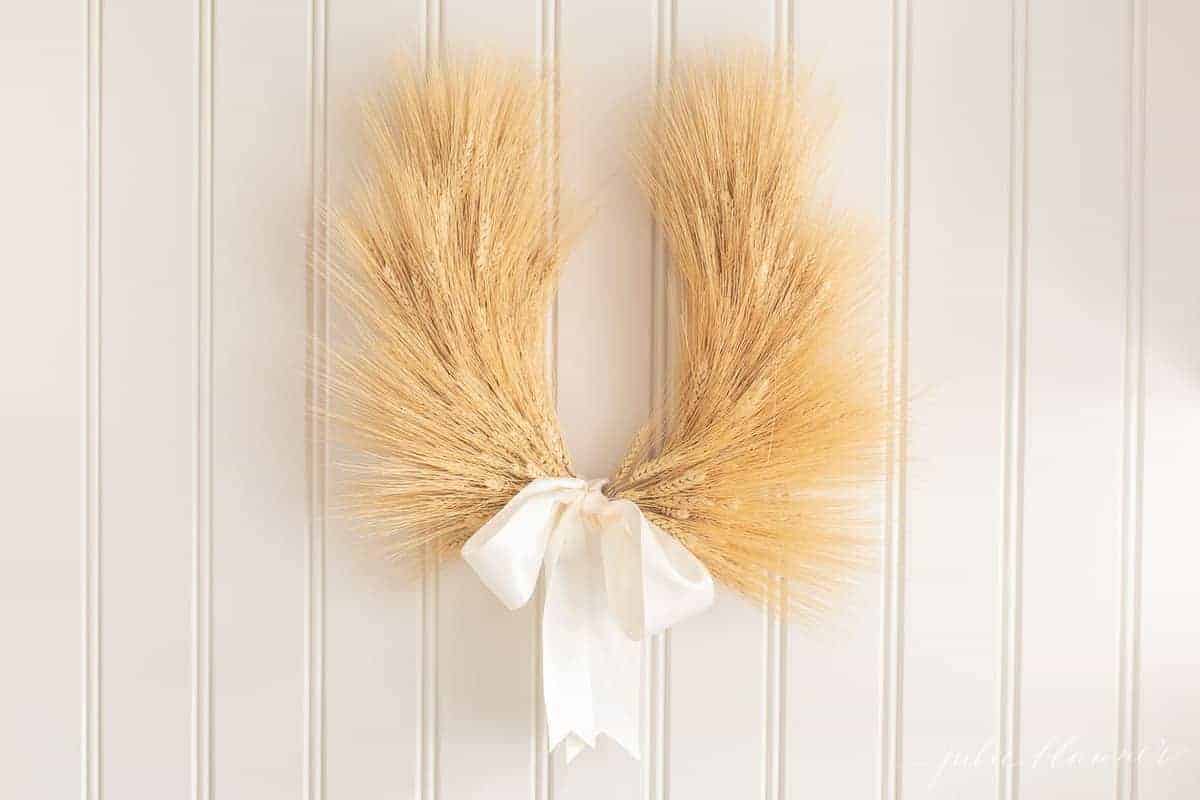 A laurel wreath is traditionally two swags of branches in a horseshoe shape made of bay laurel leaves. It is a symbol of victory and is was traditionally worn around the head or neck. Over the years they've evolved and often included wheat. Through the years I've shared a couple versions of my Thankful For Cards including various versions of the laurel wreath in wheat and printable Thankful For Cards in bay.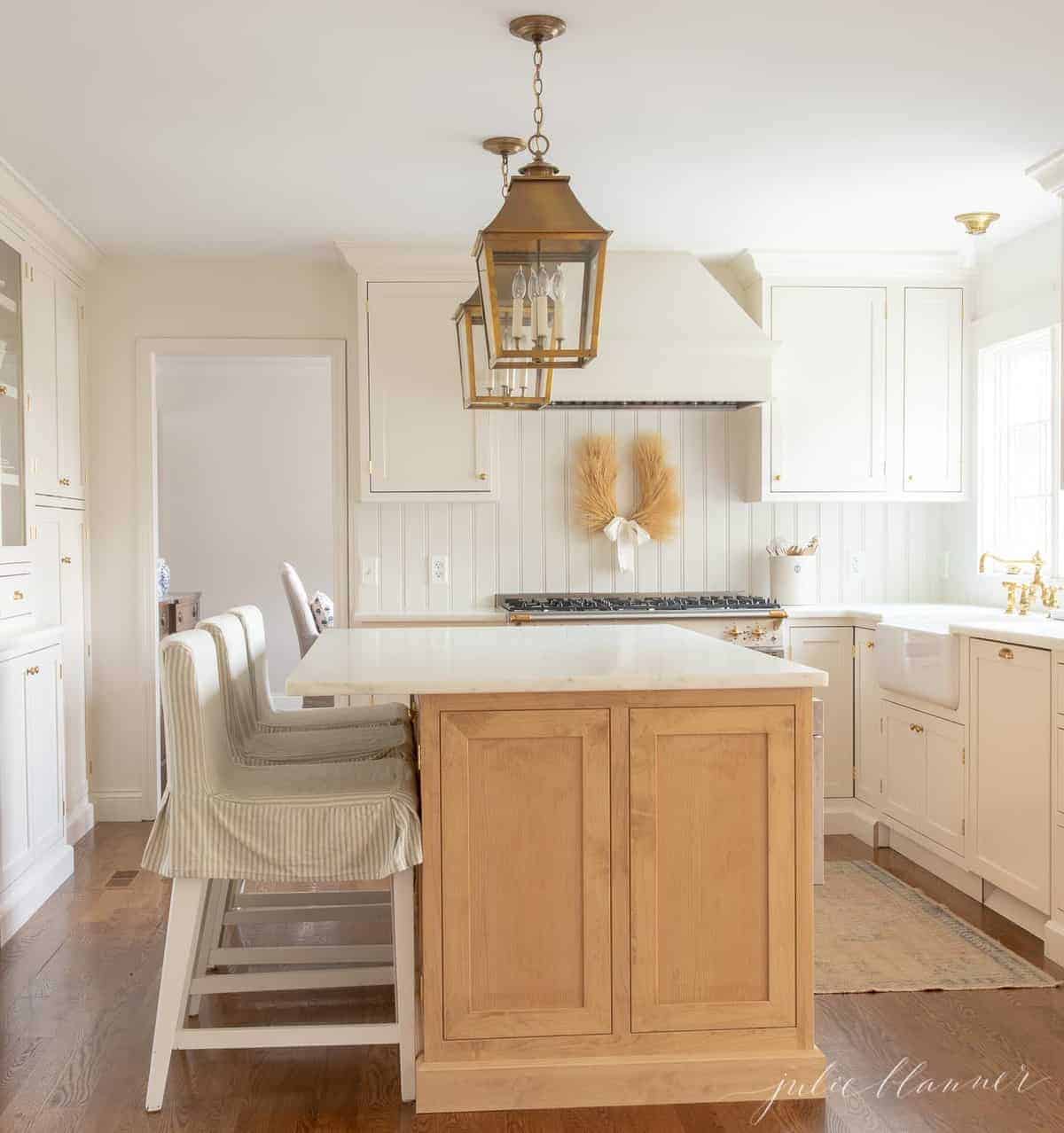 Laurel wreaths are a timeless addition to your home and variations of these type of wreaths can be used at any time of the year. I chose this wheat look laurel wreath for a hint of fall that will last from now through Thanksgiving. I love the simplistic, effortless nature of this laurel wreath – the wheat is the perfect golden color and such a compliment to our minimalistic kitchen. It's the perfect combination of rustic charm and classic elegance. I couldn't love it more!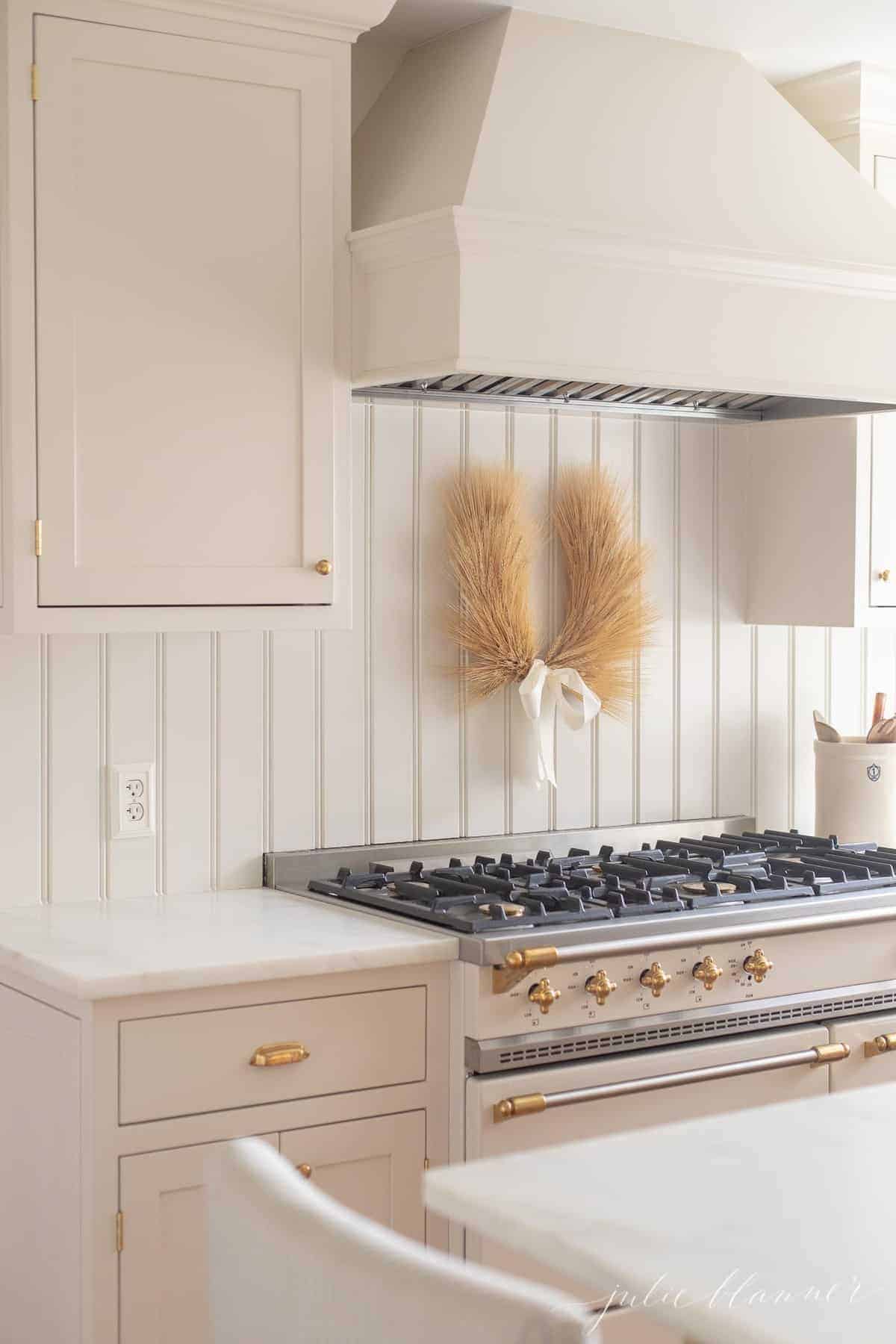 This Laurel wreath is perfect to hang on a backsplash, hood, over a hutch and of course, a door! You can purchase it here. Bring a little of the harvest indoors with a wheat wreath to add beautiful texture that will last all fall.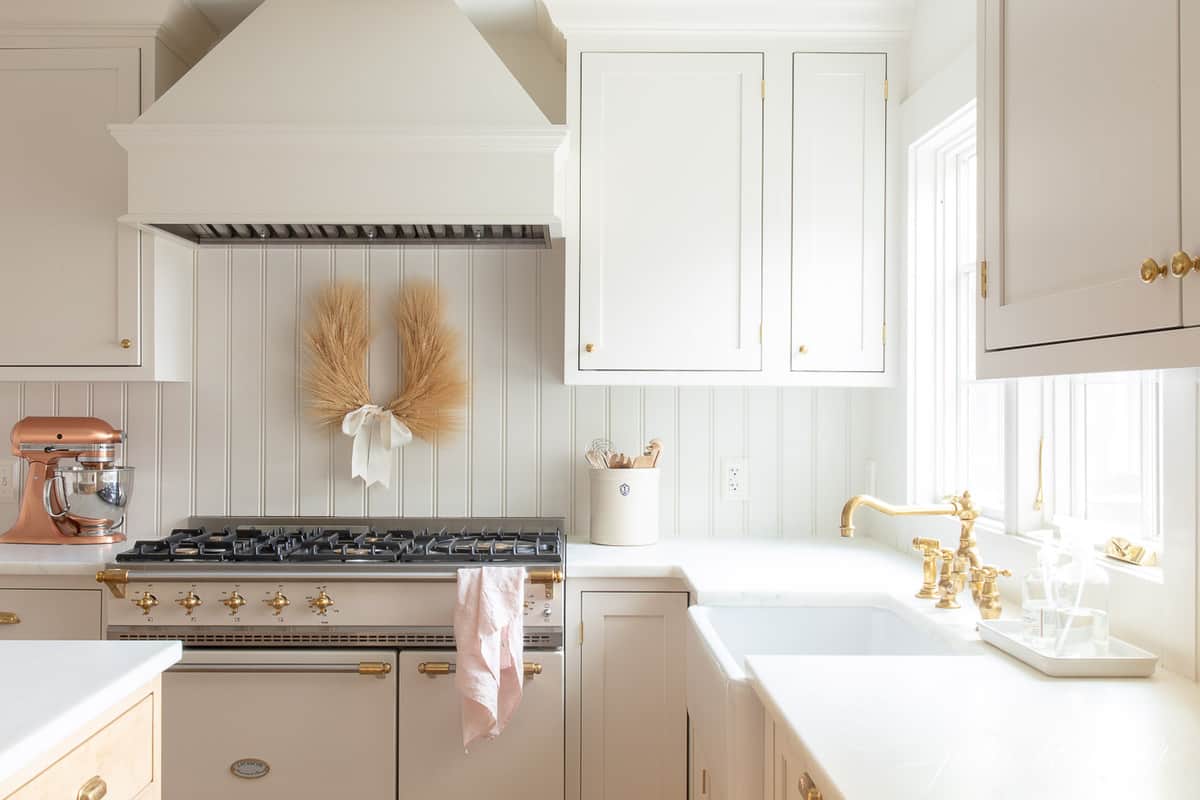 Sunflower Kitchen Decor
Because it's very early in September and there are no fresh pumpkins available, I like to consider ways to help my weekly fresh floral arrangements transition for the season. One of the easiest blooms to find in early September? Sunflowers! Aren't they such a happy, rustic flower?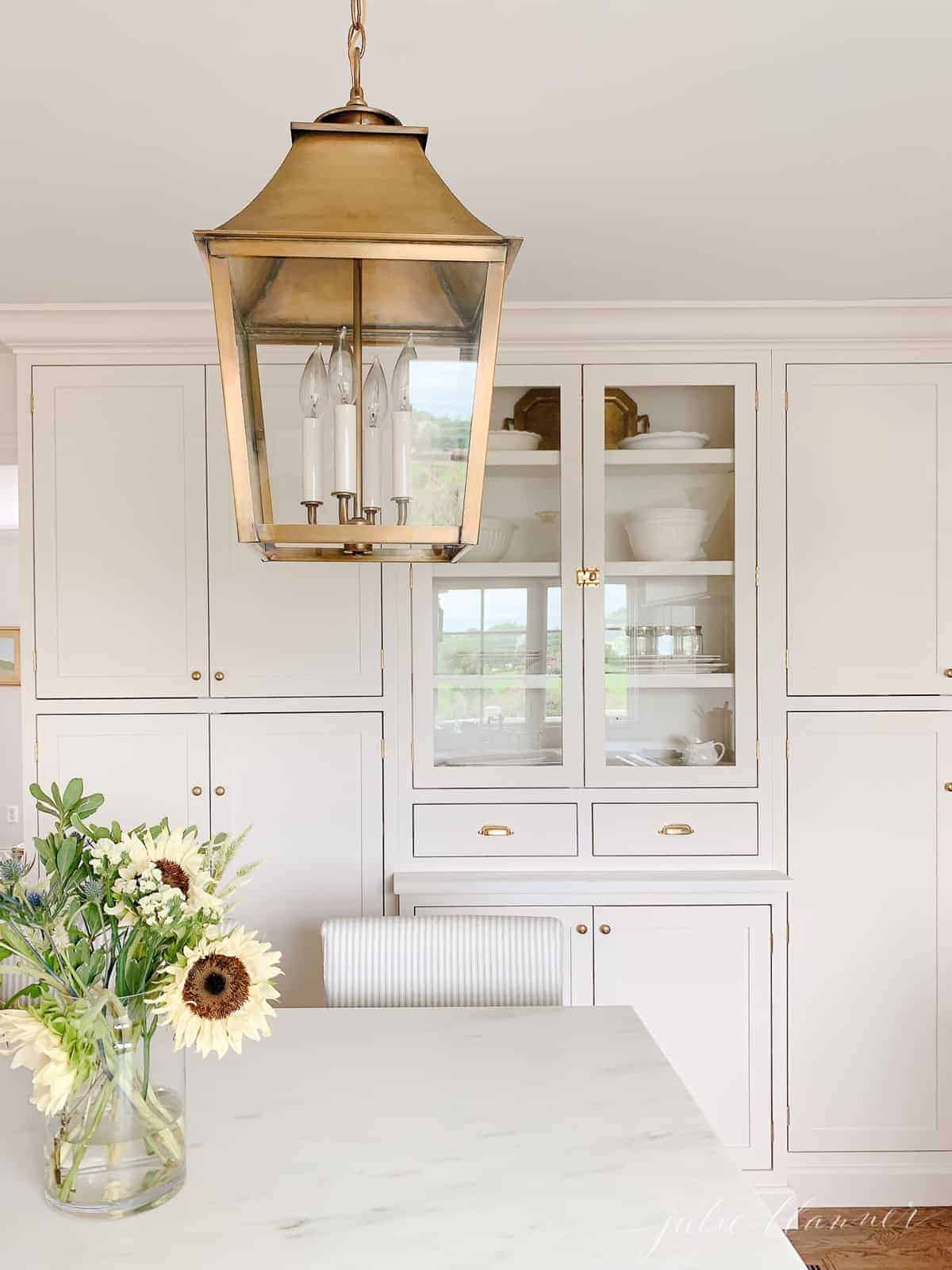 I tend to scour for flowers in our own backyard first, but also look to a few places to purchase. They're the greatest gift I give myself. They bring a room to life and somehow manage to do the same for my soul! Learn Where to Buy Flowers here.
Sunflower kitchen decor has long been a popular decorating motif, and I chose to embrace their cheerful personalities when I saw these pale buttery yellow blooms. Traveling to our local sunflower field at the very end of summer has always been a fun tradition and I am enjoying incorporating their sunny faces into our kitchen this year!
Keep your face to the sunshine and you cannot see the shadow. It's what sunflowers do. – Helen Keller
I love creating pretty flower arrangements in our home whenever I can. I can purchase the blooms inexpensively during my grocery store runs, and arranging has become my very own form of therapy. Find all my favorite tips and tricks for how to become your own florist here!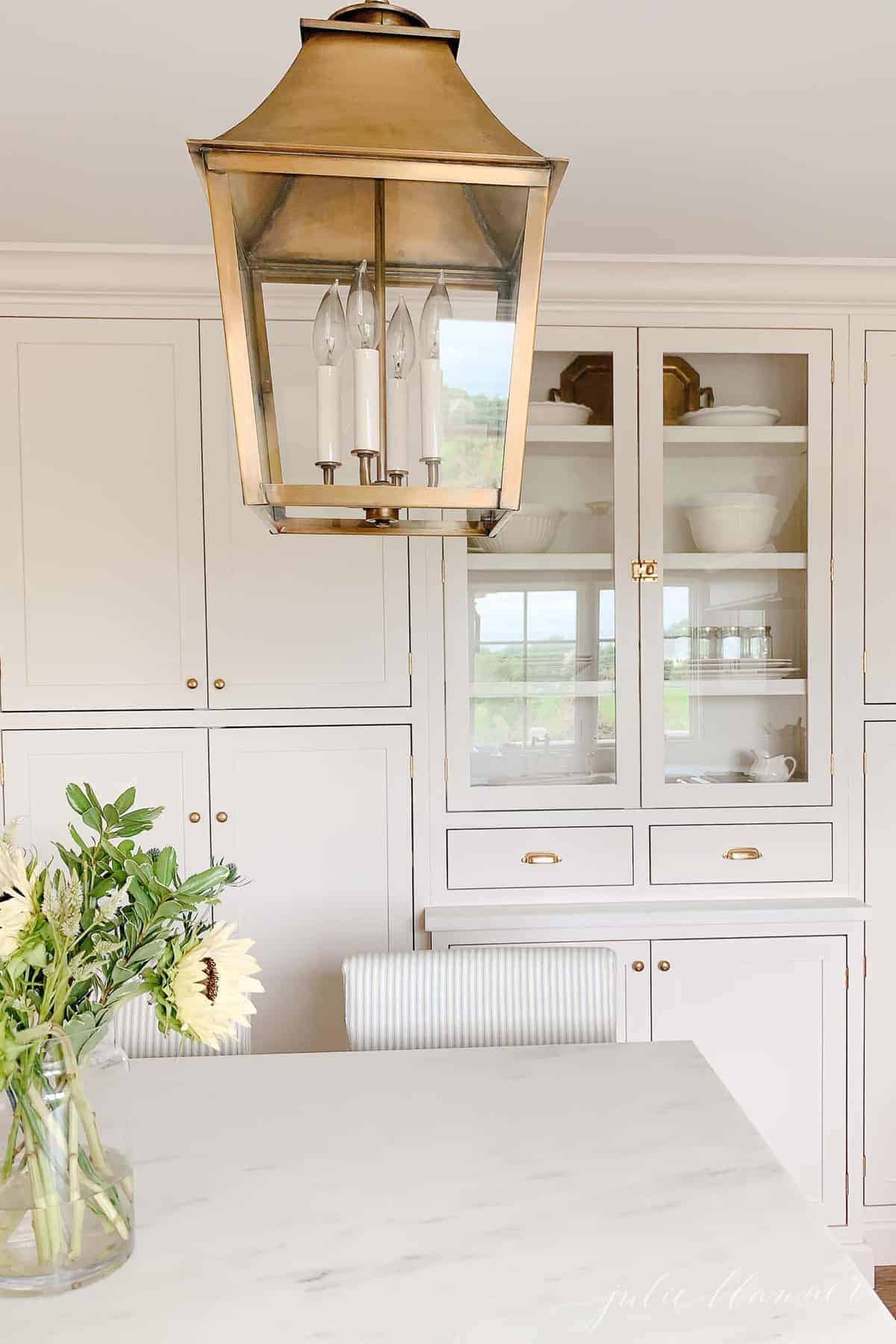 As a minimalist who strives to maintain a clutter free home, I tend to showcase seasonal fruits or vegetables like apples in one of my creamware bowls which adds a pop of color.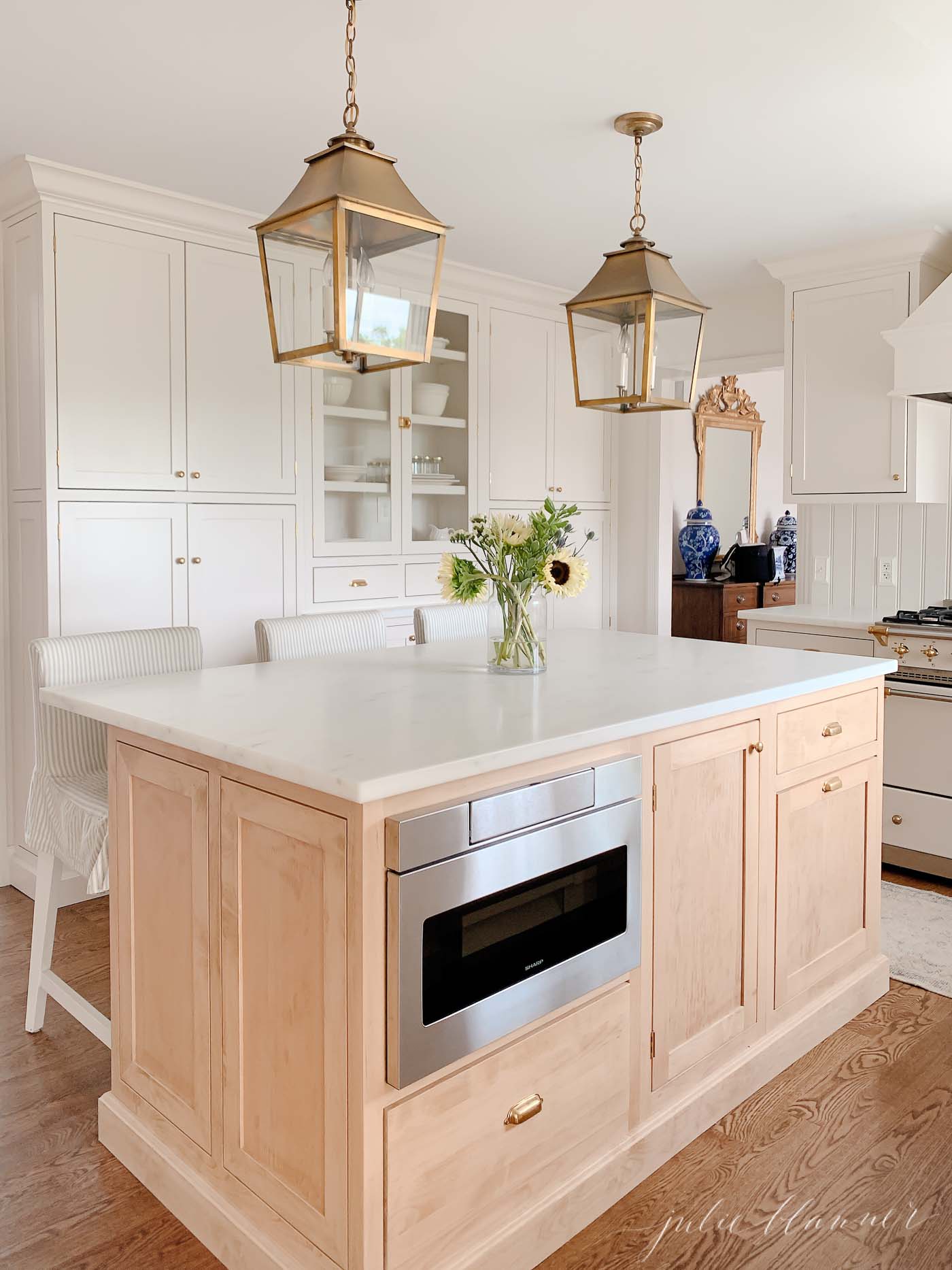 To recreate this simple sunflower kitchen decor:
Cut 6 sunflowers individually so they hit just 4-6″ above the vase and fall at will.
Fill in with thistle and variegated greens trimmed a 2-3″ above the sunflowers.
Use seasonal flowers to fill in. Trim to same height as sunflowers.
Looking for more decorating ideas for fall? Check out our harvest-inspired living room!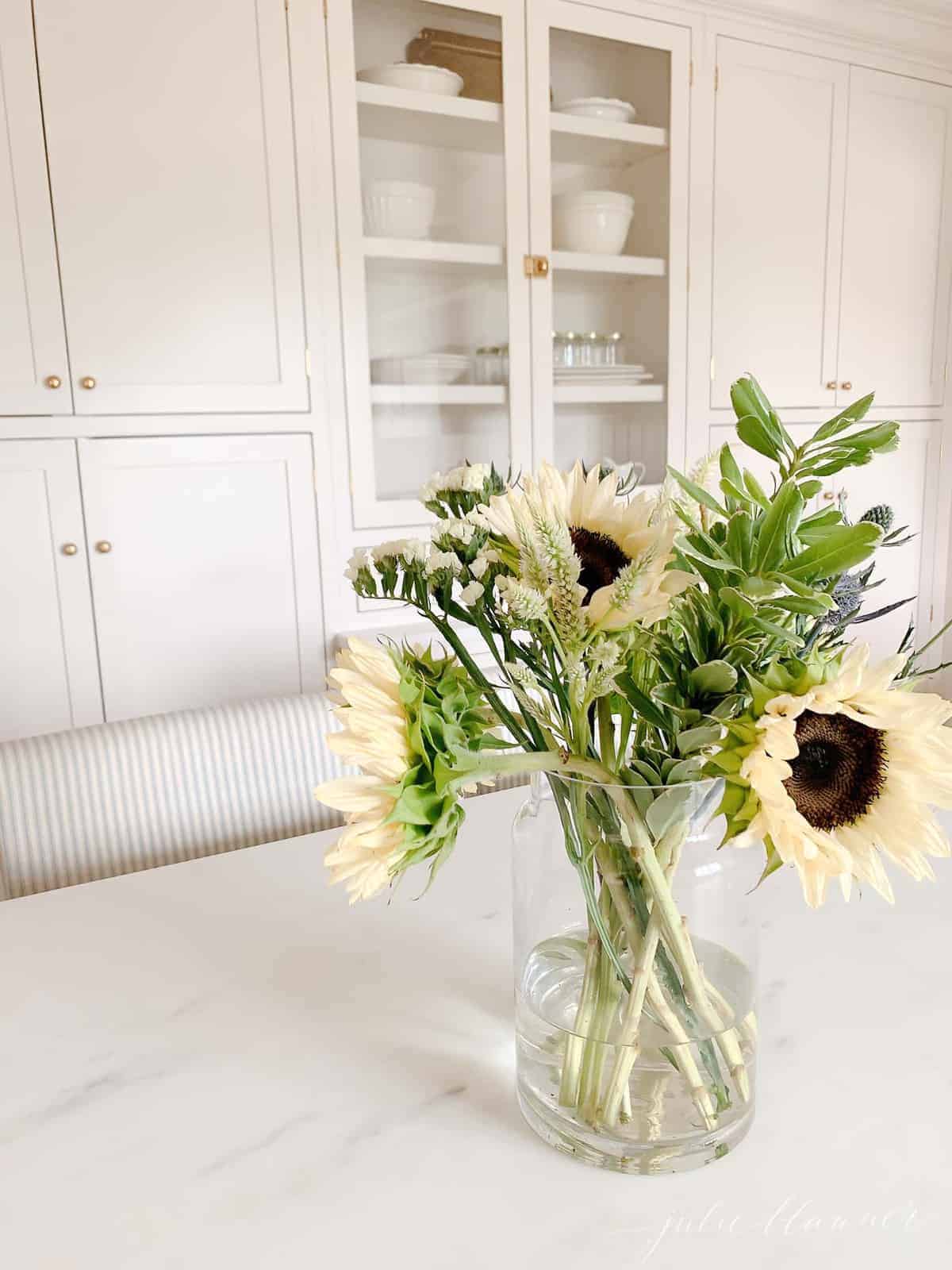 I'd love to hear from you – do you decorate your kitchen for fall? If you're like me, and just getting started with your seasonal decorating, I know you'll find inspiration here.