Kalamkari Block Print Table Setting
Learn the keys to creating a beautiful table setting with a Kalamkari table cloth. This timeless Block Print Fabric is fresh and traditional for any time of year!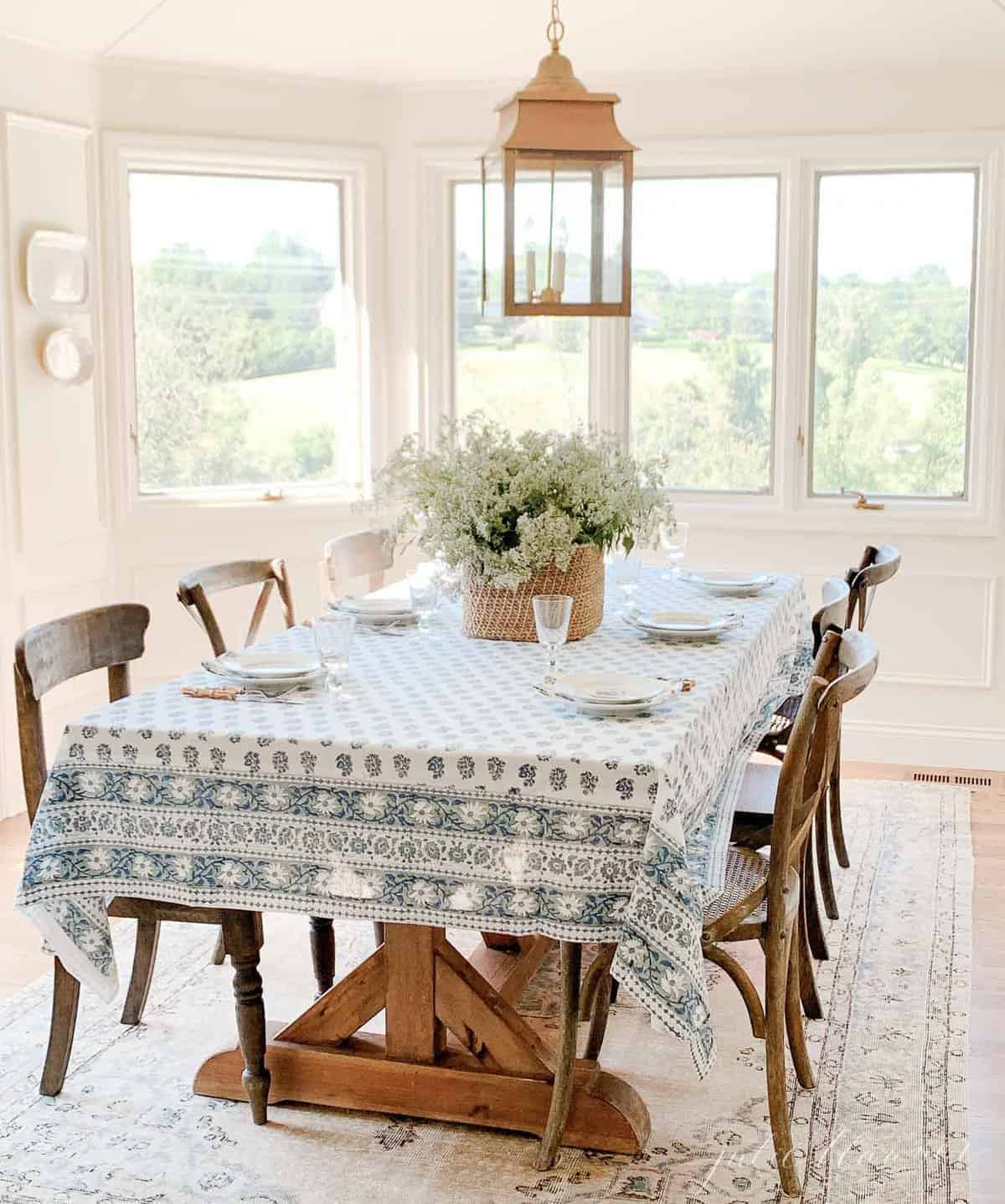 Today I'm sharing another fall table setting…
I know you were expecting pumpkins, branches and wheat. I love those looks, I absolutely do! However, I wanted to try something different for fall inspiration this year. I tend to let mother nature dictate my decor, and this beautiful autumn season is no exception!
Table Setting Inspiration From Your Own Backyard
It's easy to decide what's currently in season – simply look around outside! Whatever's blooming outdoors is what's currently in season, so why not bring it in? Before I purchase anything, I try to bring the outdoors in or use it to accent.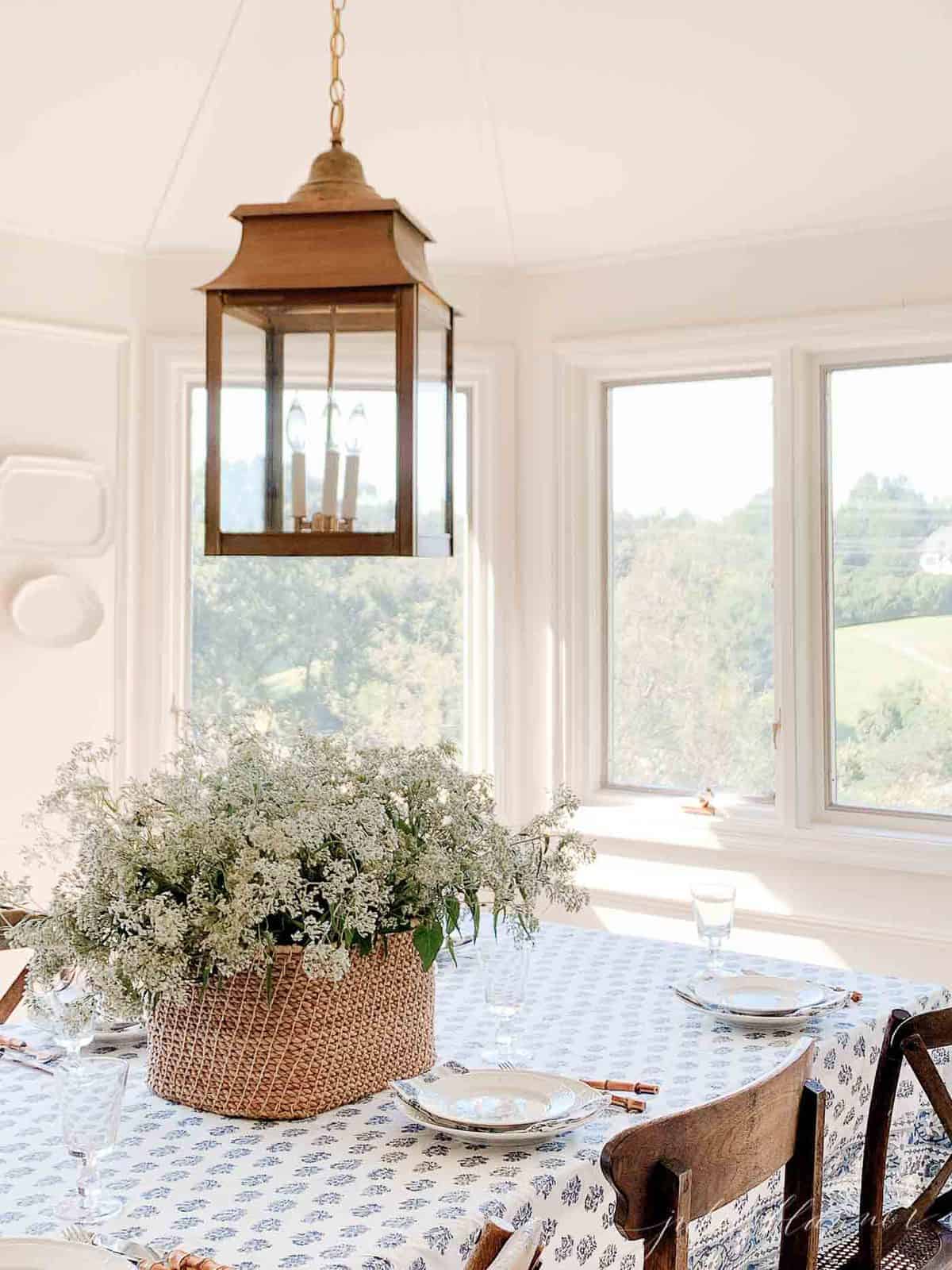 This early fall that happens to be beautiful wildflowers that grow along the edge of our yard. For this table setting, inspiration struck in two places: perusing the array of gorgeous block print fabrics, and our own backyard!
We currently have an array of white, yellow and a bit of purple. The white pairs beautifully with the Kalamkari pattern and adds beautiful texture. It balances the bold block print fabric.
I did what any minimalist would do and grabbed a basket from our living room, walked down our hillside to clip wildflowers.
How to Make a Wildflower Basket Centerpiece
Using pruning shears, click wildflowers to the proper length. Use your vessel (in this case the basket) to measure.
Fill 1-2 vases with water to insert inside the basket if you choose to hydrate them. (Note – I arrange wildflowers outdoors to allow any bugs to flee and keeping our home clean before bringing them in.)
Place the wildflowers in the vase or vases and allow your clippings to fall as they may. That's the beauty of them!
It's a foolproof five minute centerpiece!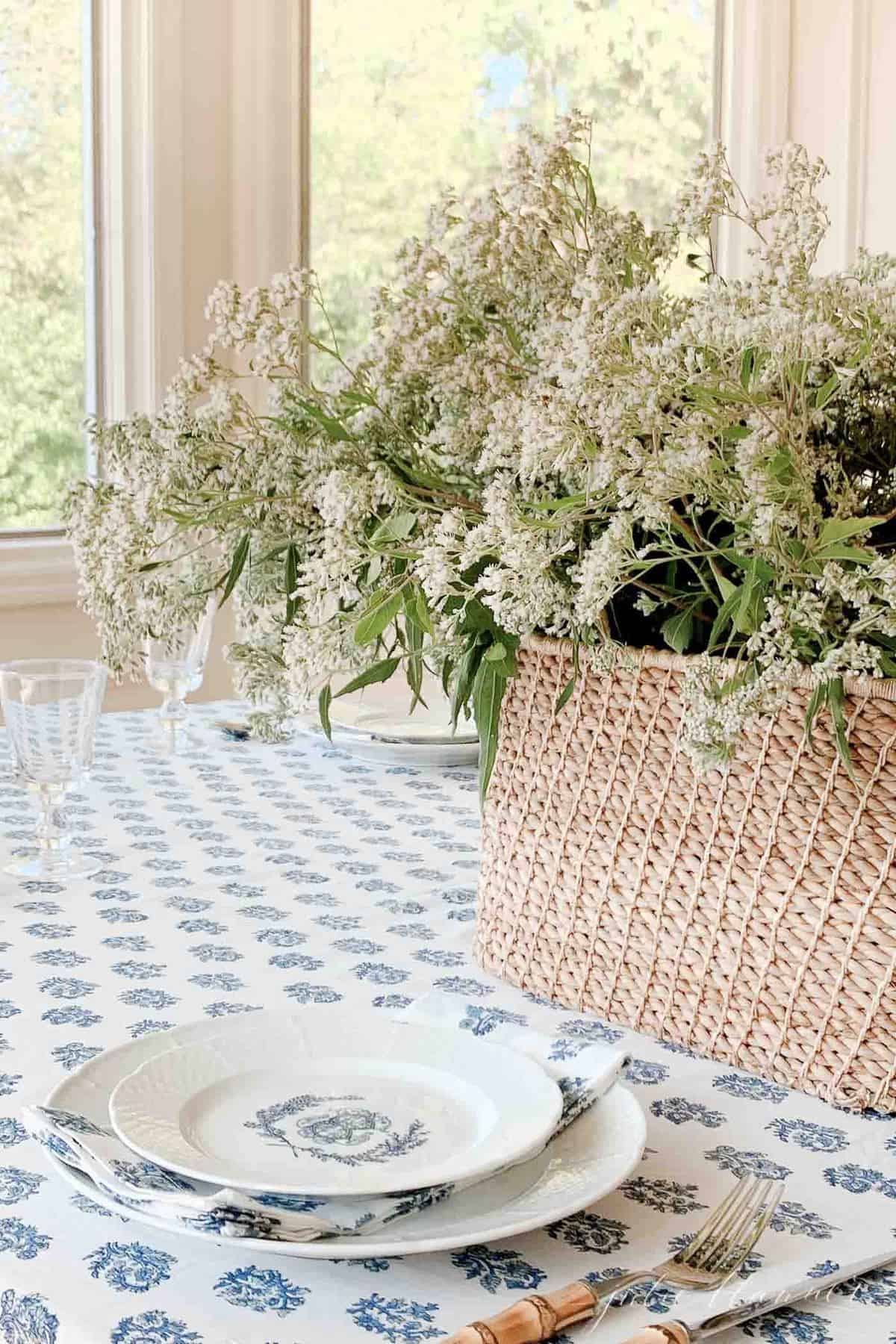 What is Kalamkari?
Kalamkari is a hand-painted or hand-blocked cotton. This traditional Indian fabric was most often created with natural dyes in a multi-step process that takes hours to complete. The combination of hand blocking and beautiful natural colors are what make these fabrics so highly sought after! It's the imperfections in hand blocking that make them feel organic, artistic and special.
While today's Kalamkari patterns are often digitally created for mass production, they still have the beloved hand-blocked artisan feel. Nature-inspired designs like florals, foliage, paisley patterns and more (created in earthy colors thanks to their natural dyes) are the hallmarks of this beautiful tradition.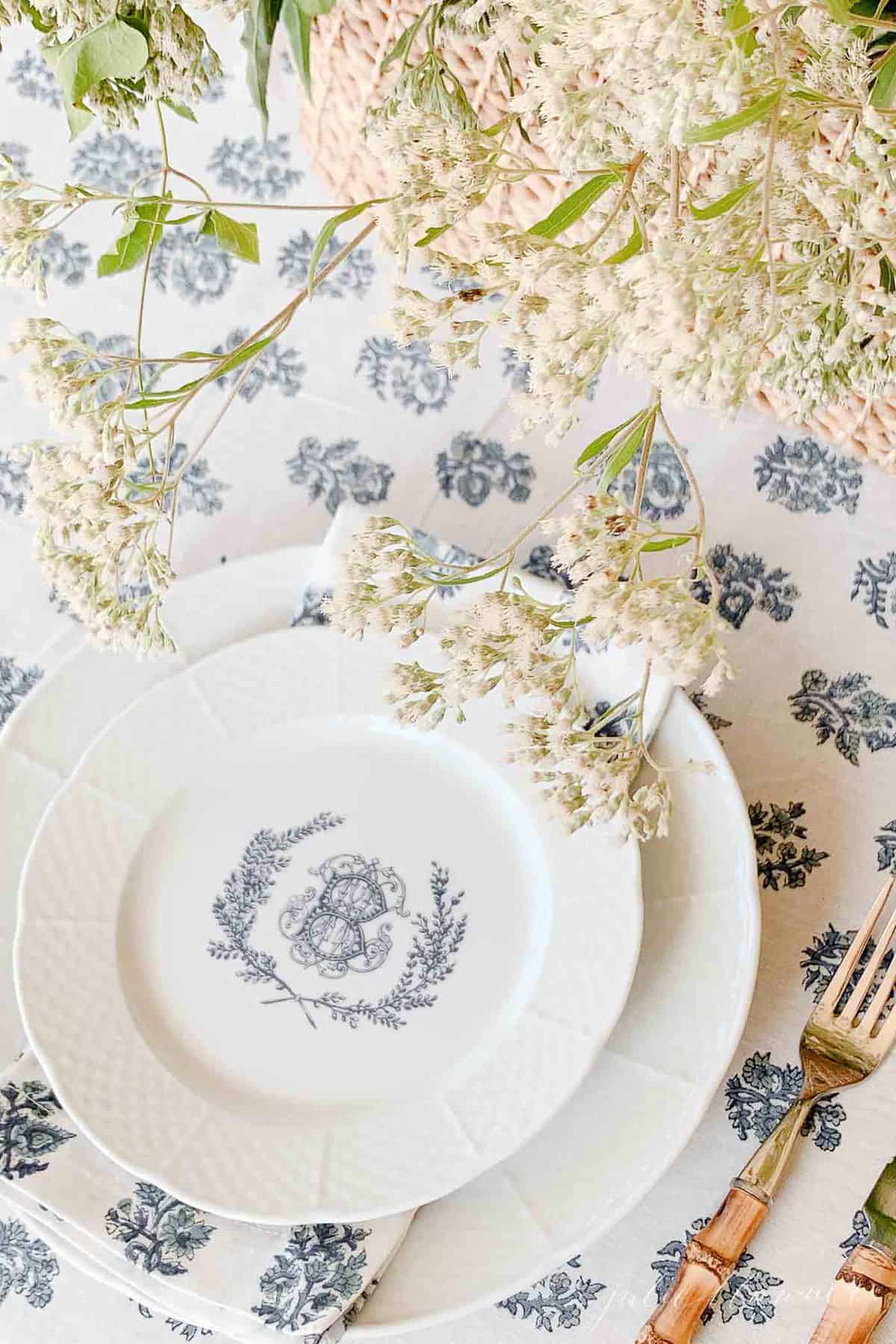 Kalamkari Block Print Table Setting Source List
I set the table with this Kalamkari block print table setting when hosting a group of friends for burger bar night. It's an easy way to entertain a large crowd, accommodate preferences and allergies without a lot of effort!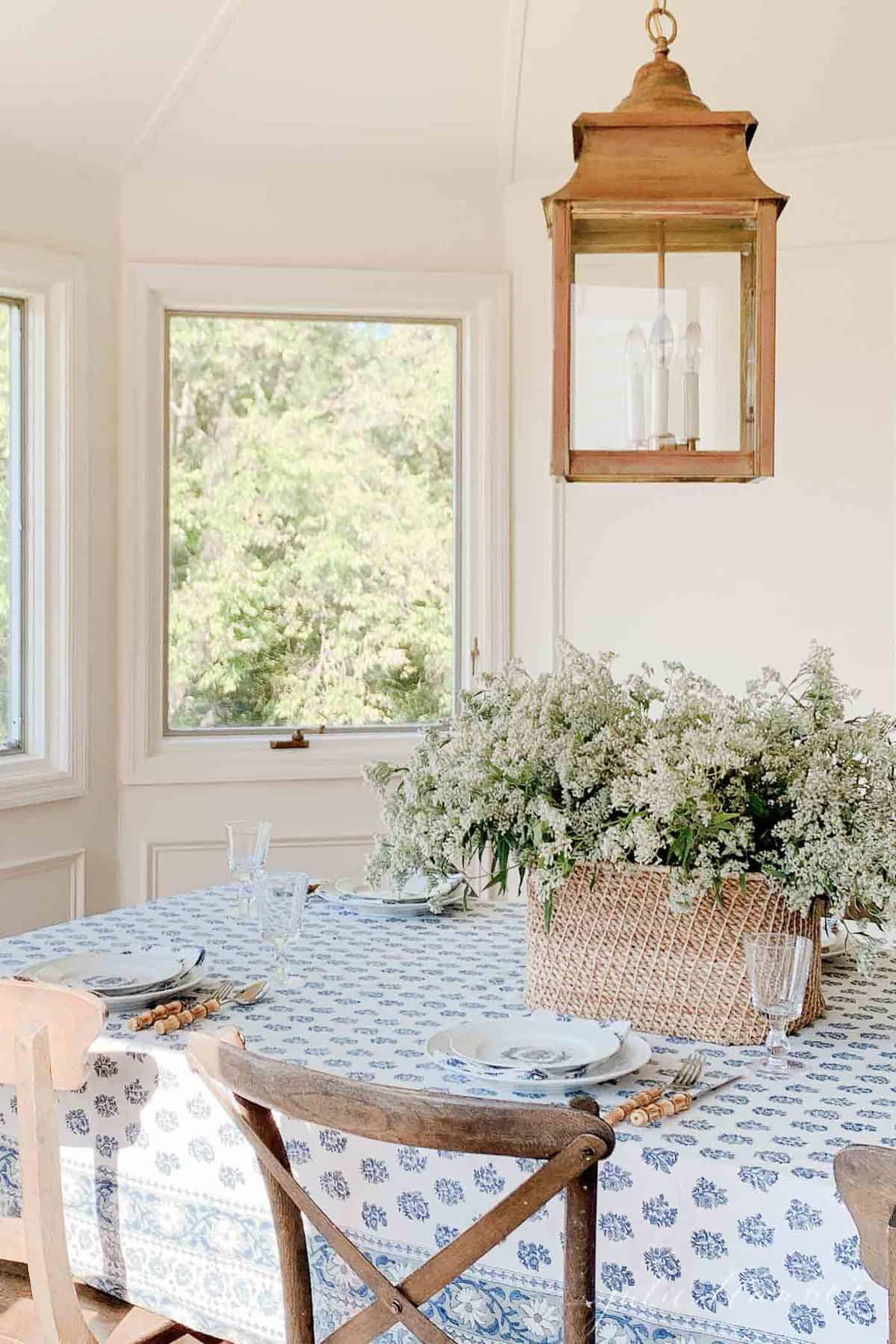 Where to Buy Block Print Fabric
There are many types of block print fabrics, but the artistic nature of the hand-printing and natural dyes are what makes these timeless fabrics so popular. I love using block print fabrics for bedding, pillows, and table linens. I've had good luck with the following sources.
Amazon
Pottery Barn
Etsy
Williams Sonoma
Spoonflower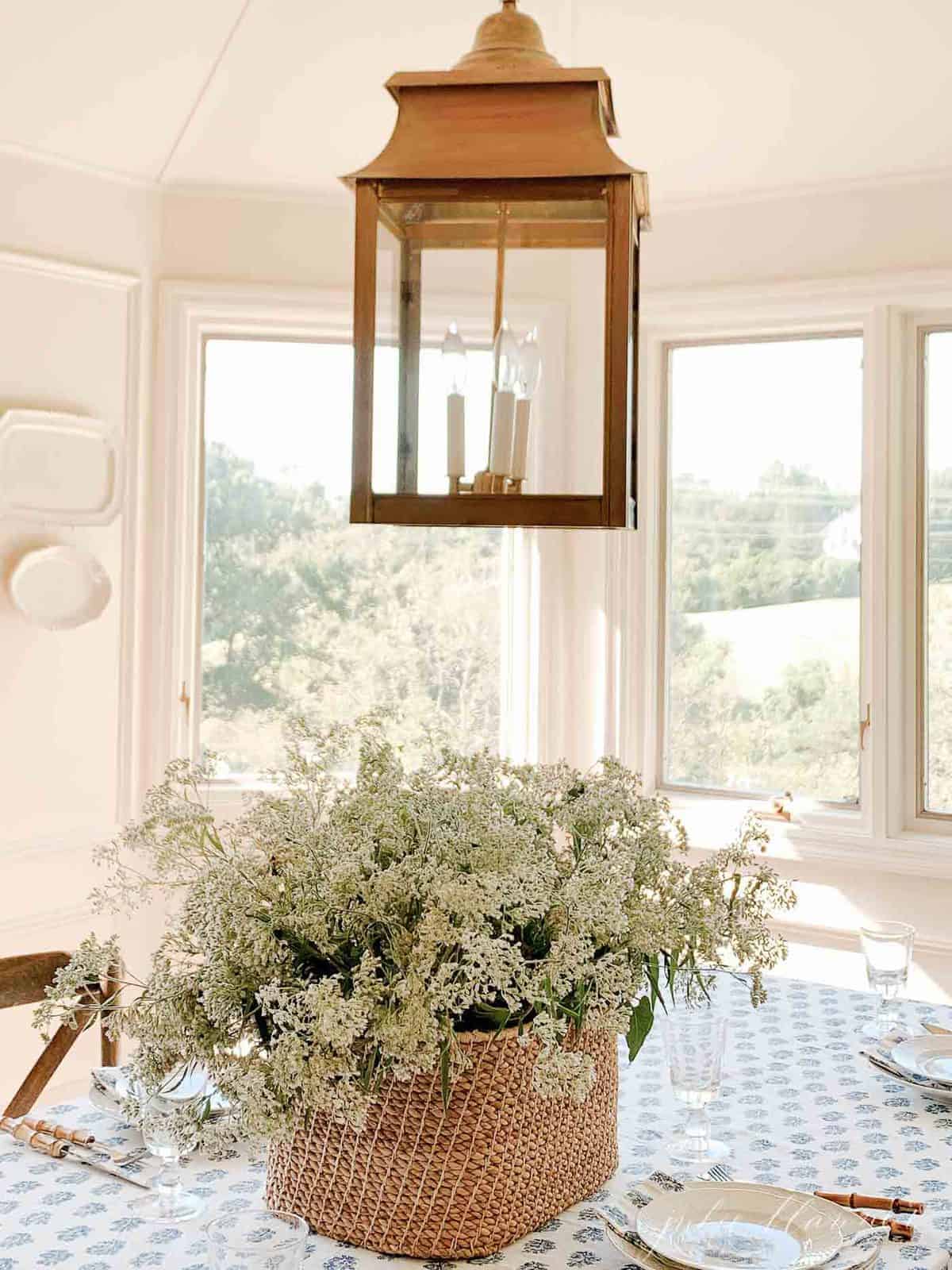 Kalamkari Fall Table Setting
I love simple layers of color, pattern and texture. As a former event planner, I'm not one to go overboard on tables. That leaves plenty of room for food, wine, pitchers of water and most importantly – conversation.
I layered our personalized china on the block print table cloth slipping block print napkins between to show their beautiful design. The wheat laurel wreaths are definitely a theme in our home this fall and this pattern exemplifies that.
The basket adds texture and a pop of natural color that pairs beautifully with the fluffy white wildflowers. And that my friends, is how I do fall! Simple, inexpensive and timeless.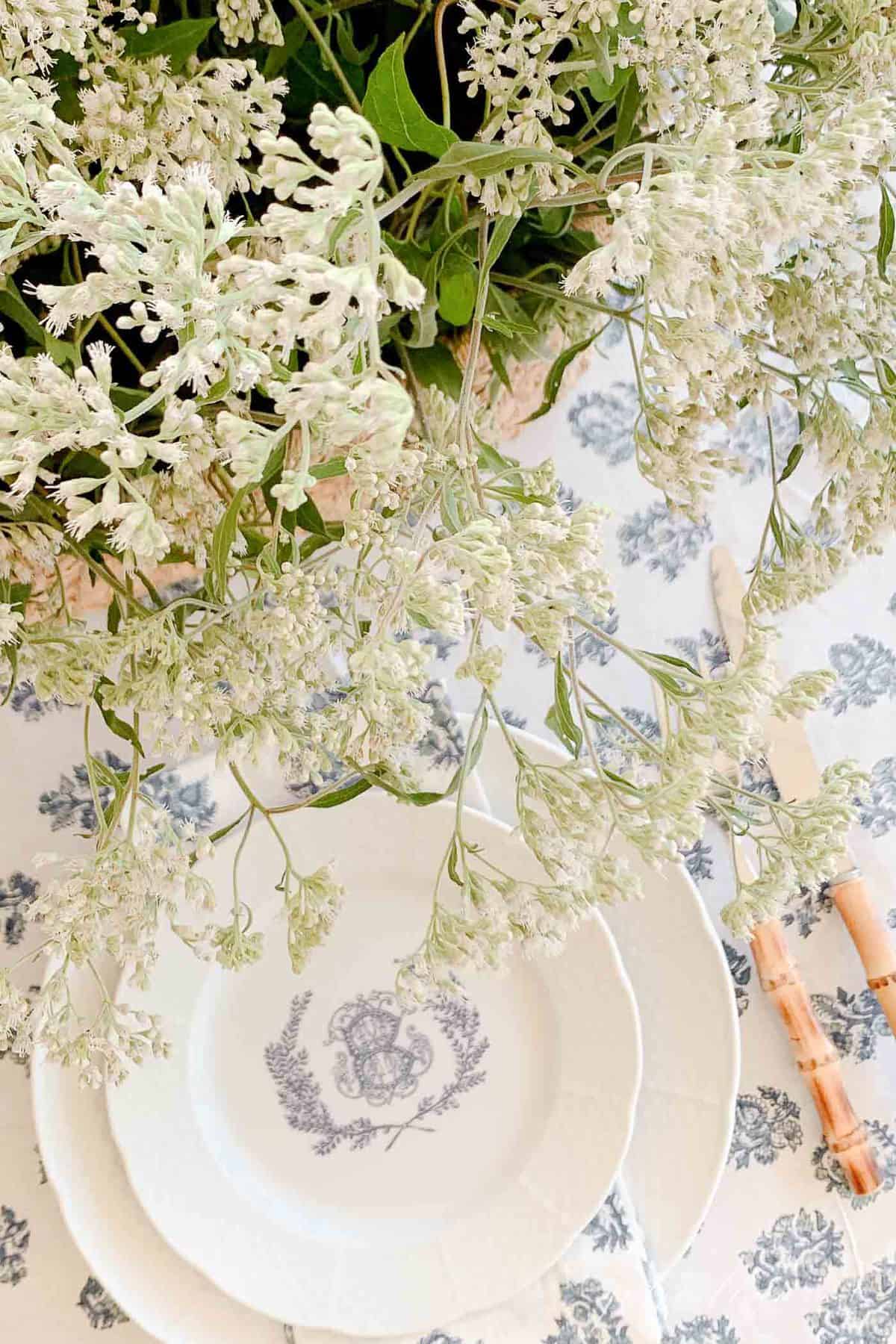 Variations of This Kalamkari Table Setting
While I designed this block print table setting for fall, it is truly seasonless.
This table would also work well with beautiful leafy branches or berry branches in a large clear vase.
Incorporate peonies for spring, hydrangea for summer, or add a few red berries and boxwood for winter.
Add a bold color by choosing 1-2 vibrant contrasting tones to play against the tablecloth colors. (Limiting your designs in a cohesive color story is one of my favorite decorating secrets!)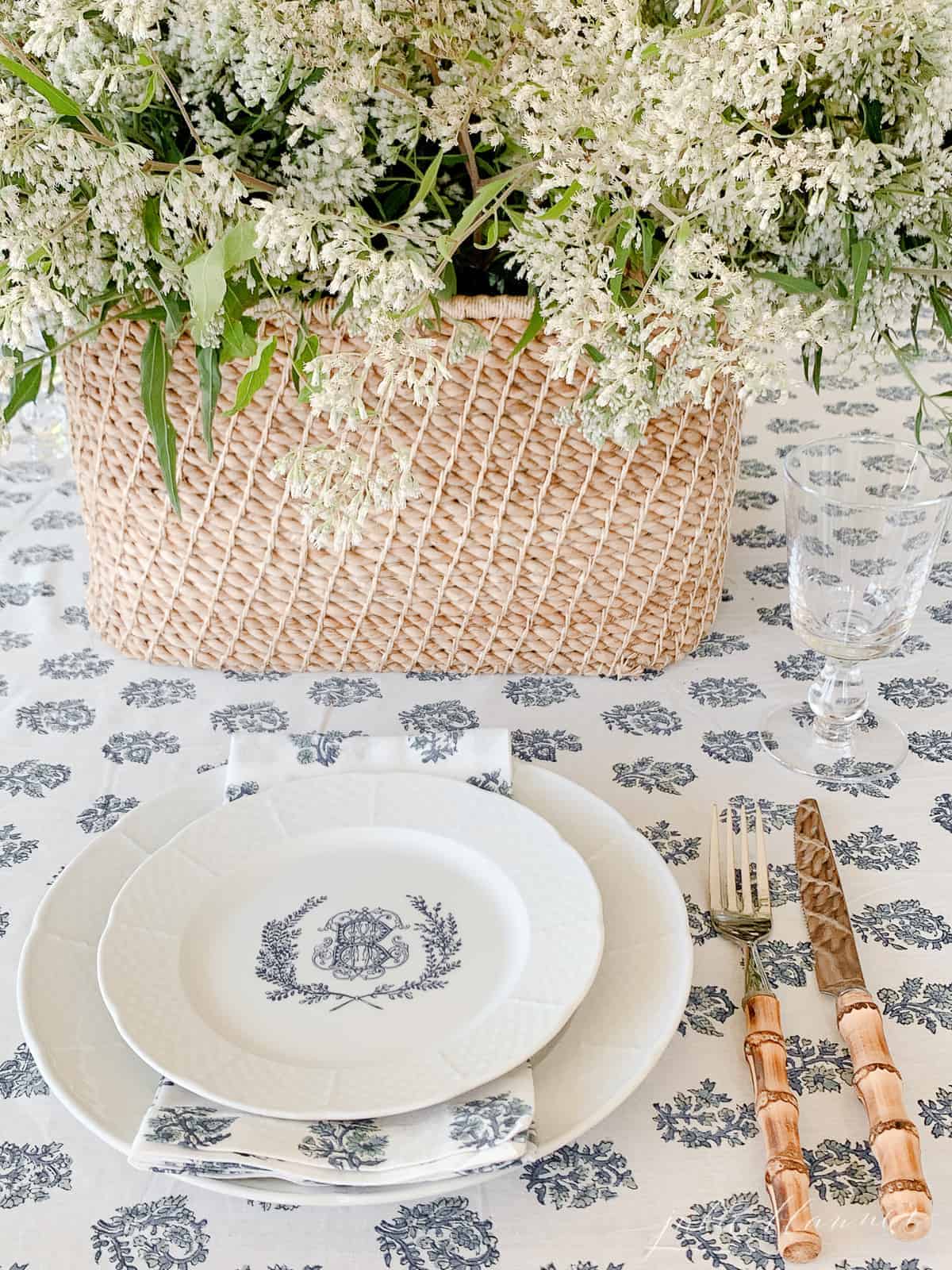 More Fall Table Settings You'll Love