Everything You Need to Know About Trader Joe's Flowers
Get the best tips for purchasing and designing Trader Joe's flowers. When to shop, which flowers to buy, and how to make beautiful flower arrangements from grocery store flowers.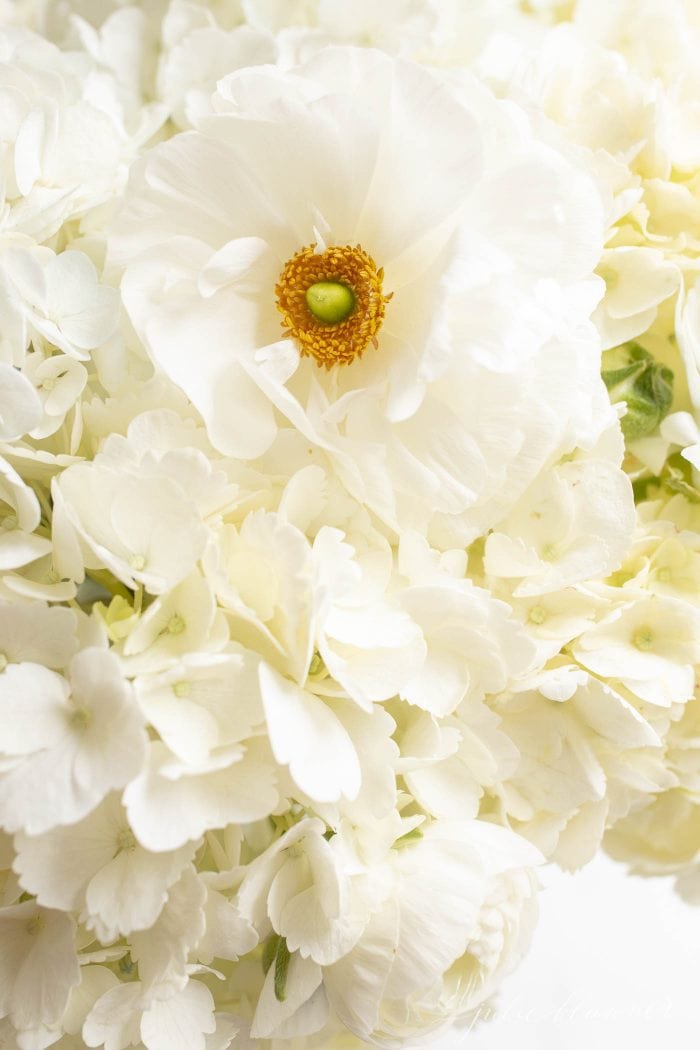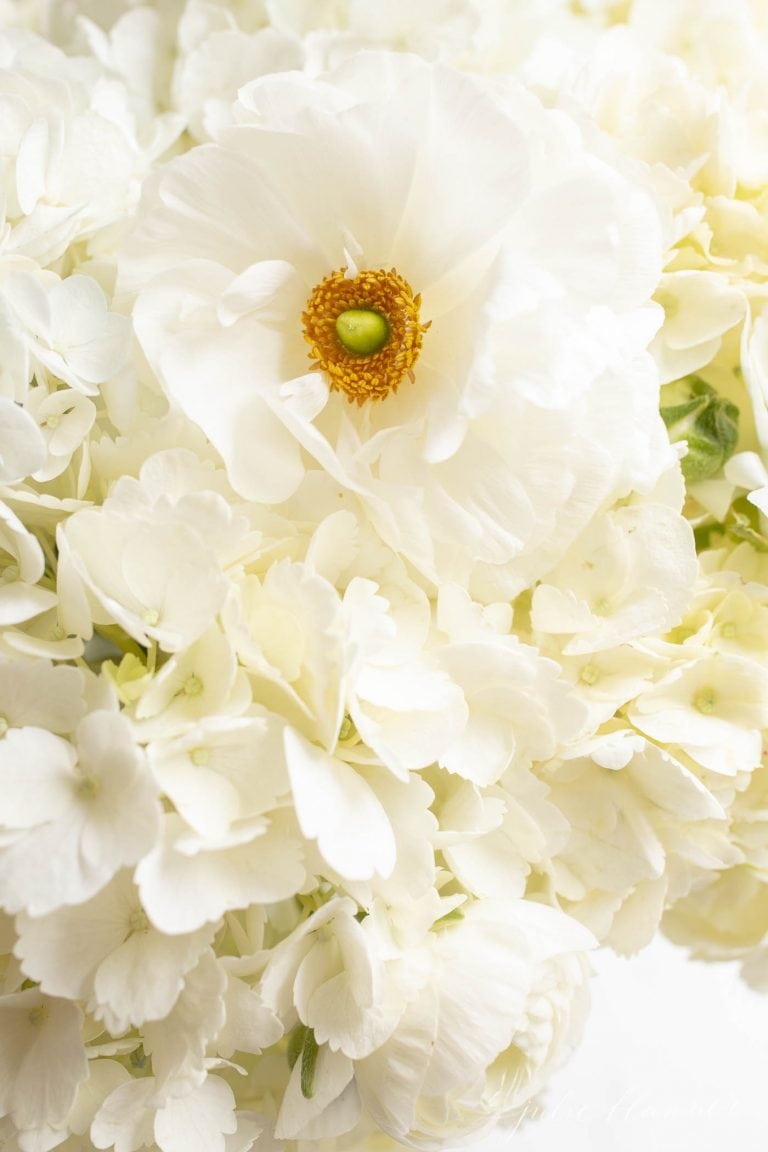 Unless you're new here, you already know my love for flowers. They bring me so much joy! I love the relaxation of designing my own blooms, and the pride I feel when I've created something beautiful. Sharing my favorite tips and tricks with all of you is also a joy of mine!
I've covered the basics on where to buy flowers in the past. In my ongoing quest to show you how to be your own florist, I love bringing new ideas and information to you whenever I can.
I've shown you how to make an arrangement of roses and eucalyptus, how to revive hydrangea, and all the details about everyone's perennial favorite, peonies.
I'm so excited to give you my best tips for buying and designing Trader Joe's Flowers today.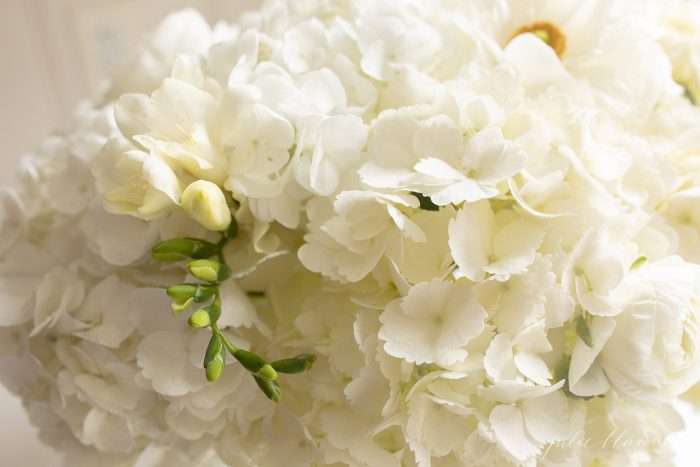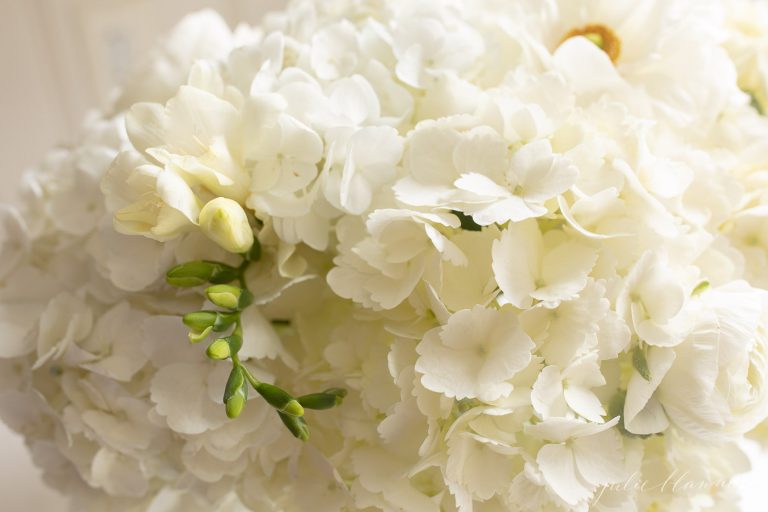 The Best Fresh Flowers To Buy At Trader Joe's
As you can see in the video below, they often have a wide selection of beautiful blooms. While you can buy the classic "grocery store bundle" as I call it, I often gravitate towards the more seasonal options.
The seasonal or higher-end selections are bundled in groups of singular blooms and have a tendency to be the softer, more romantic style that I favor.
To make a Trader Joe's flower arrangement on a budget, you can use a bunch or two of more expensive seasonal favorites (like peonies) or staples like roses with an abundance of fillers.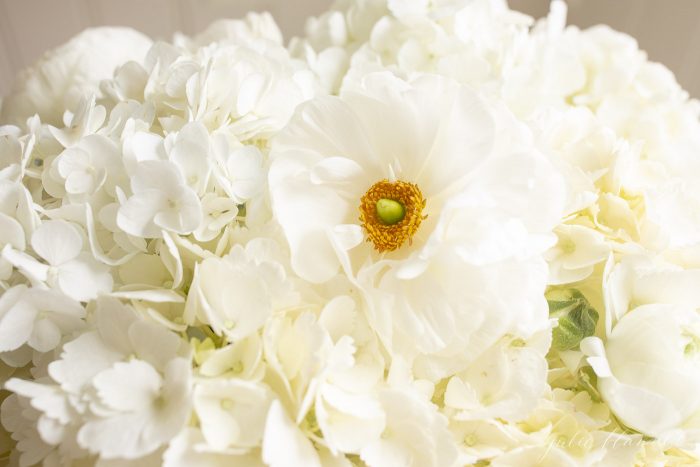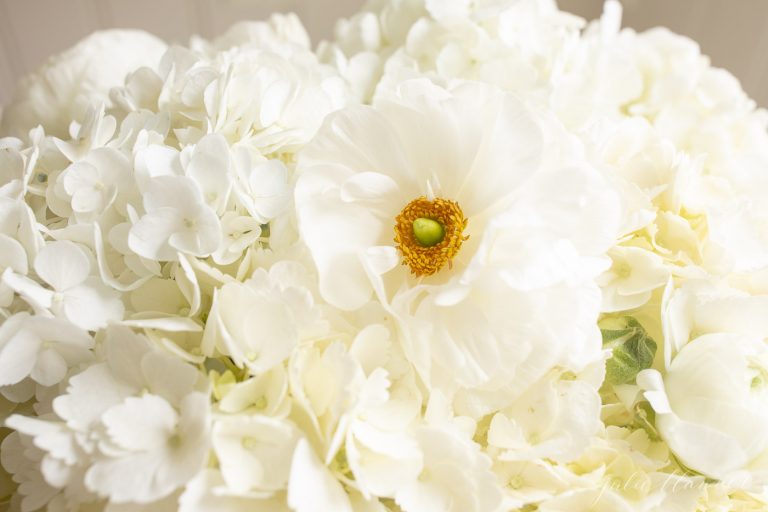 Favorite Trader Joe's Flowers
Ranunculus
Peonies
Tulips
Hydrangea
Freesia
Roses
Stock
Lisianthus
Dahlias
Blooming Branches
Berries
Other options that I see frequently are grocery store favorites: alstromeria lilies, gerbera daisies, and carnations. These can of course be beautiful in their own right, but I like to choose blooms that give me the soft, relaxed and romantic feel that I crave.
Many of the blooms listed above are available only during select months of the year, but that's what makes it fun!
Trader Joe's Fillers
Trader Joe's offers most fillers for just $2.99!
Greenery Filler
Heather
Italian Ruskus (great on its own as well)
Myrtle
Variegated Pittosporum
Silver Dollar Eucalyptus
Baby Blue Eucalyptus
Grevillea
Holly (seasonal)
Cedar (seasonal)
Flowering Filler
Poms
Snapdragon
Stock
Bells of Ireland
Feverfew
Wax Flower
Gyp or Baby's Breath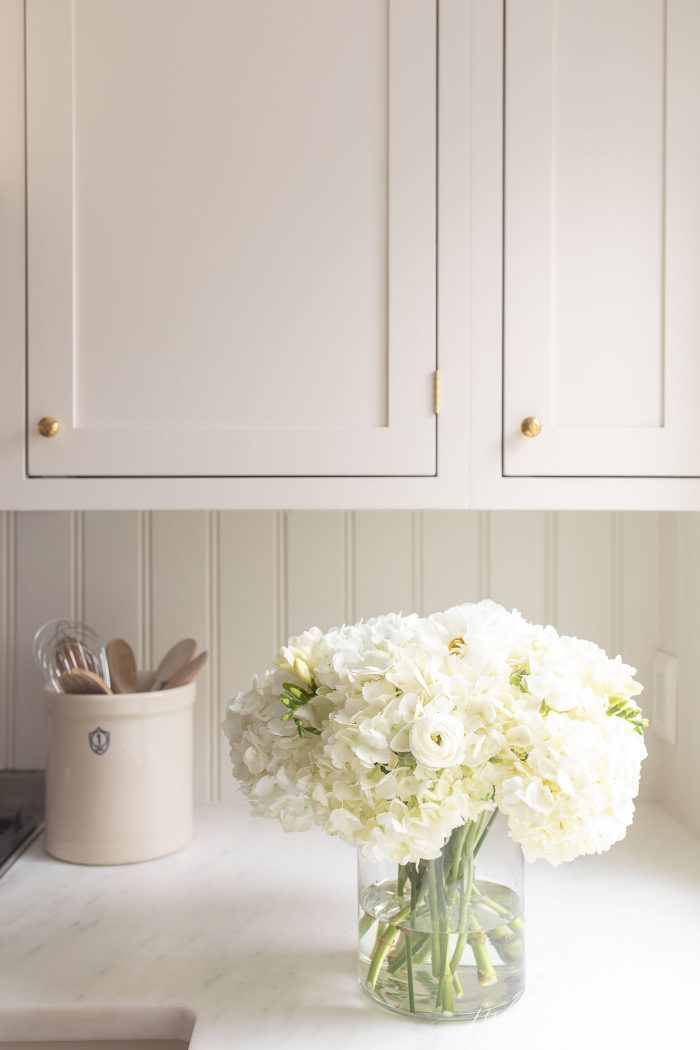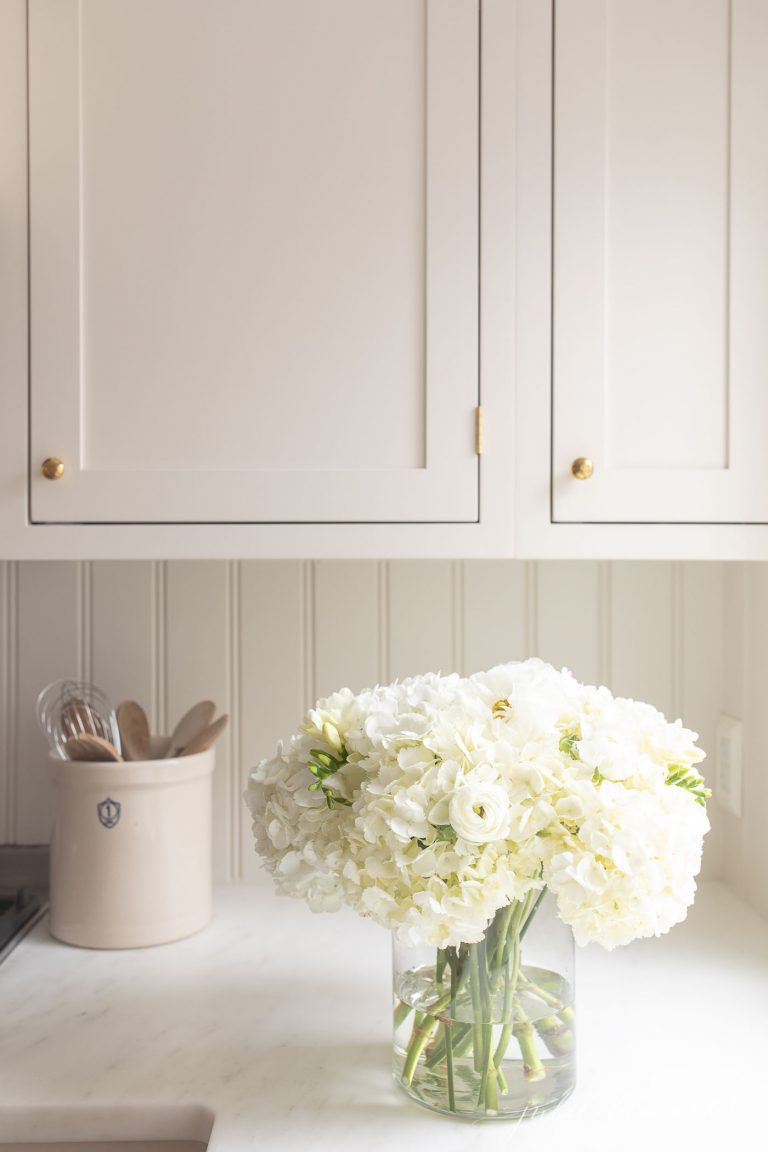 My most frequent purchase? I love that they almost always have bunches of hydrangea in a variety of colors. It's the perfect vase filler and I can often get several smaller vases filled with just one $6.00 bunch of hydrangea!
See how I make a hydrangea centerpiece right here. While they often last a long while in a vase, I do have a trick for bringing them back to life if they've wilted. You've got to see how this works- watch the video for the details!
What Type Of Plants Does Trader Joe's Carry?
Trader's Joe's has really increased their plant selection! I love that I can find interesting options here, and they are so affordable.
They always seem to have a spectacular display of orchids. Orchid plants are a great option for your home decor or a gift for friends, simply because the blooms can last on the plant for weeks. I love their selection of tiny little succulents, which are ever-popular (and hard to kill).
In the late winter and early spring months, I love their selection of forced bulbs. I can often find beautiful spring bulbs like hyacinth, tulips, daffodils, and more.
It's the cheeriest way to bring spring into your home, especially in those dark winter months when we all seem to need it the most! They also frequently carry cheerful blooming gerbera daisy plants and African violets.
They generally have some classic green house plants that are great for gifting or just a small pop of green throughout your home. I've seen all the classic tropicals…your basic ferns, pothos, and even dracaena.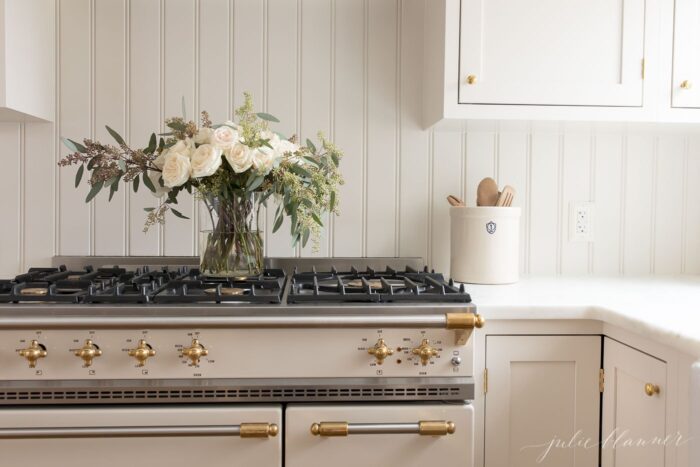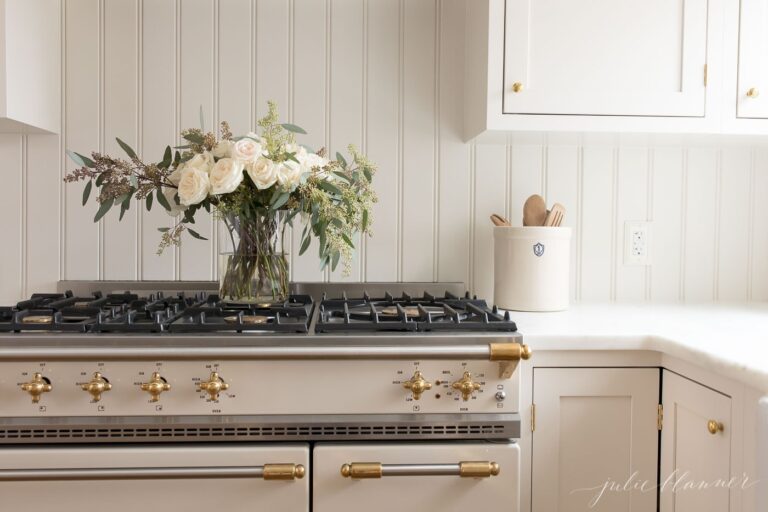 Can You Order Flowers From Trader Joe's?
Trader Joe's is my go-to because they get new flowers in each morning. This means that you never know what you're going to get!
However, you can always work with an employee to order/reserve flowers, but this depends on seasonal availability and pricing can vary. If you're ordering ahead, make sure to ask about pricing.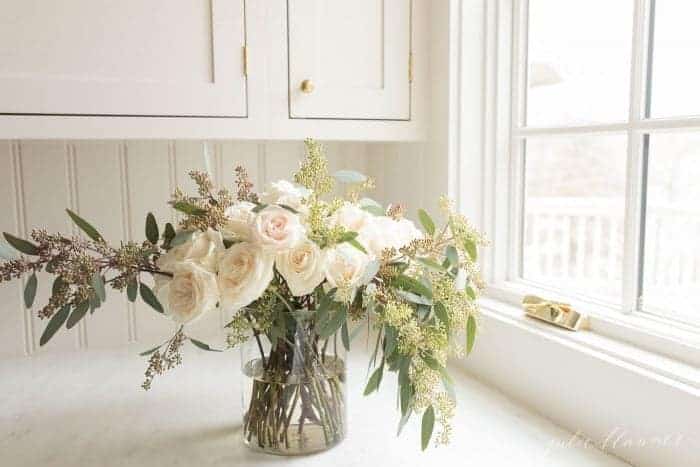 You can come along with me as I take you through what Trader Joe's flowers I look for by watching the YouTube video!
Hungry for more easy recipes? Sign up for my free recipe club and have amazing recipes delivered directly to your inbox each week!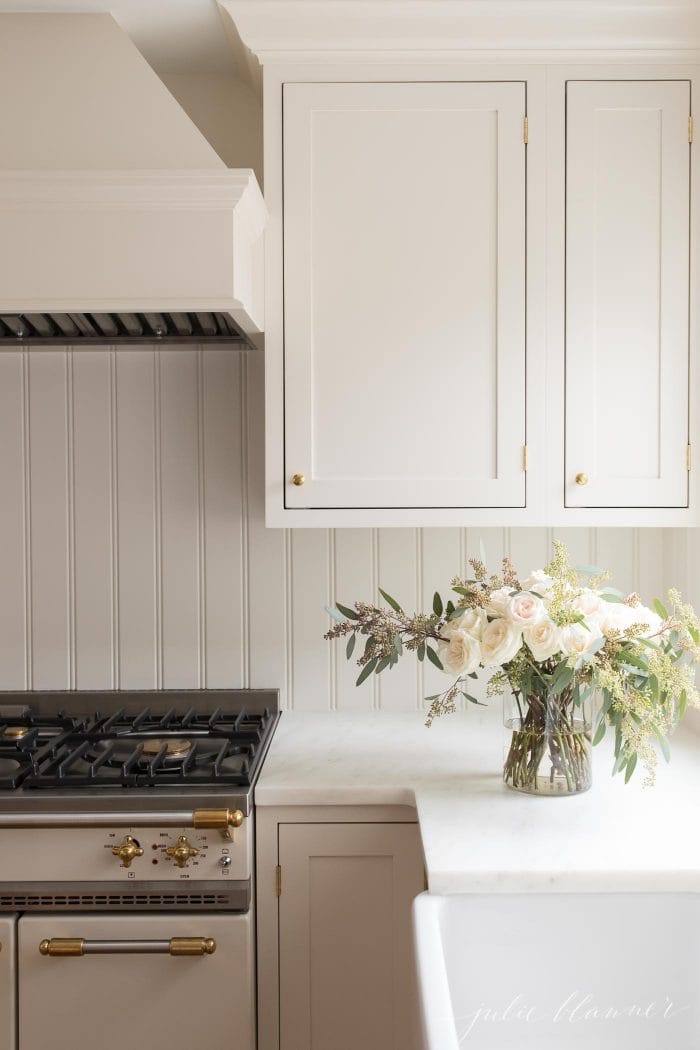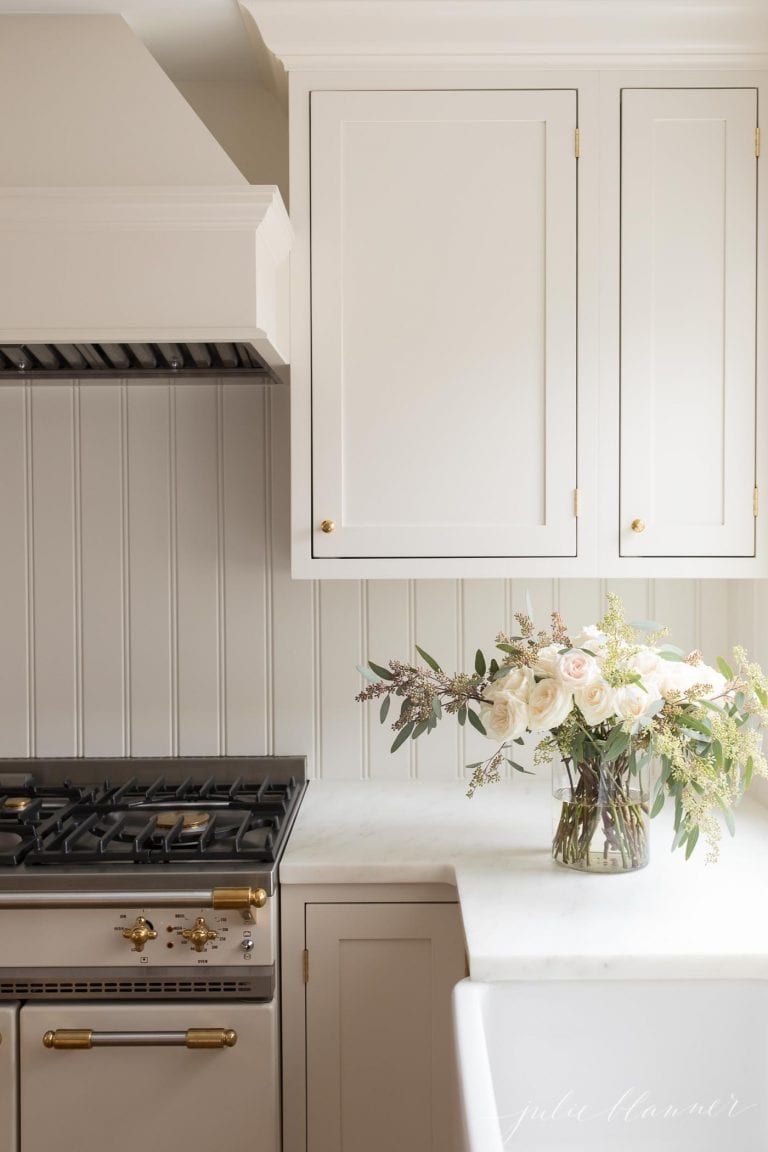 Arrangements You Can Make With Trader Joe's Flowers