How to make a beautiful Wheat Sheaf fall wreath – in minutes! This wreath is classic and timeless!
I'm finally getting there-decorating our home for my favorite season, Fall. It also happens to be the busiest time of the year for me-wedding season! I gravitate toward natural wreaths. They're beautiful, simple and can surprisingly be used year after year with care.
Over the weekend, we traveled outside of the city to the
pumpkin patch
. Of course Kansas, is covered in wheat. I wanted to integrate it's beauty and simplicity in our home. I wanted to create a wheat sheaf wreath, similar to a centerpiece I saw on Martha Stewart Weddings a few years ago.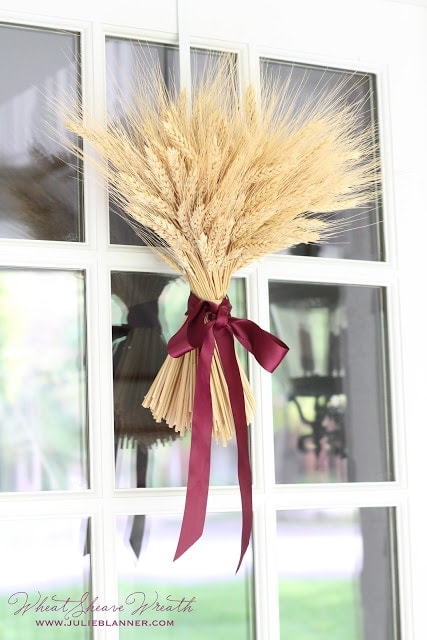 Wheat Sheaf
A sheaf is a large number of stalks and ears of a grass or plant material bound together, usually after reaping. Not to be confused with Toronto's oldest bar, the wheat sheaf is a quintessential sign of fall.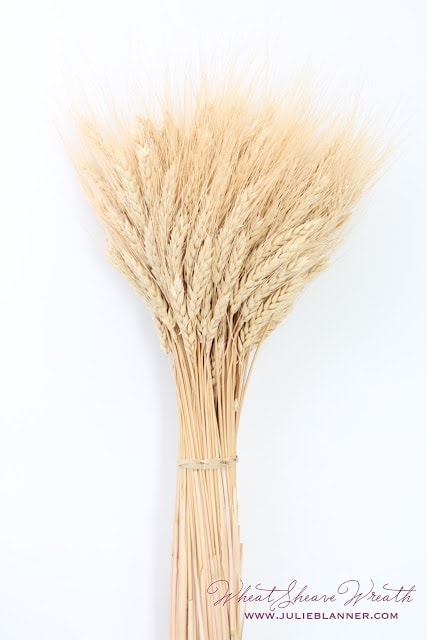 Natural wheat is a beautiful way to bring the outdoors in for fall – that you can use year after year! Dried wheat makes beautiful natural fall decor and holds up incredibly well. In fact, I've had a lot of our wheat decor for over 10 years!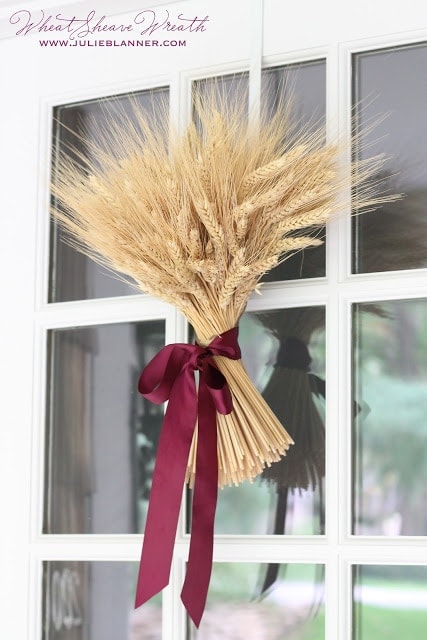 Wheat Sheaf Fall Wreath
It's rather simple to make and can be used indoors and out! A wheat sheaf makes the perfect fall centerpiece for your dining or coffee table or a beautiful fall wreath!
You can make your own in minutes! It's so easy! I love that you can update it using your favorite ribbon. You can find wheat on a field, craft or home store. You can also get a bunch
online
!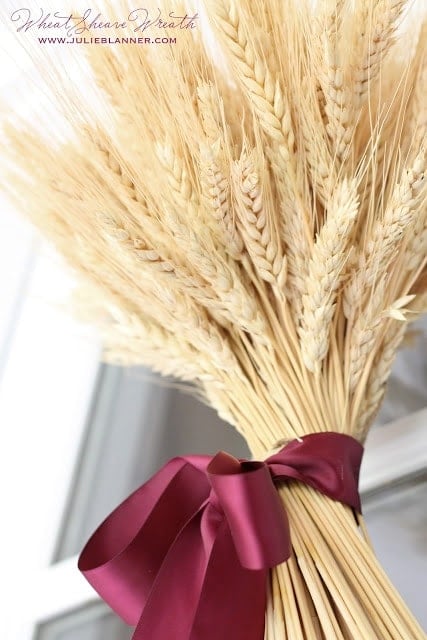 Wheat Sheaf Fall Centerpiece
It can be easily adapted into a wheat sheaf fall centerpiece, too!
To adapt this for a centerpiece, finish by trimming the bottom of the stems evenly. Keep playing around with it…you may have to adjust and twist a few times until it becomes stable.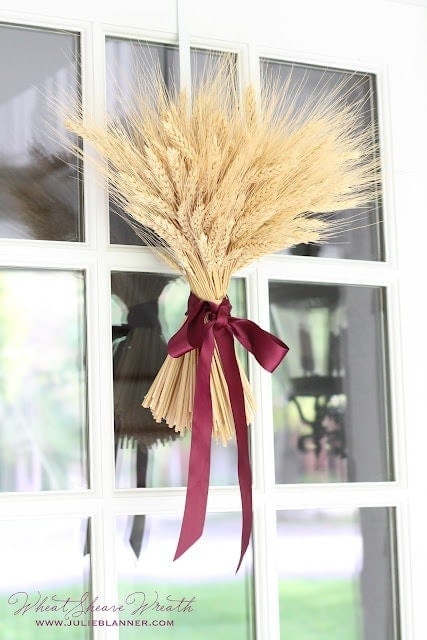 Wheat Sheaf Fall Wreath
How to make a beautiful Wheat Sheaf fall wreath - in minutes! This wreath is classic and timeless!
Instructions
Secure with rubber band.

Cut to desired length with scissors.

Twist stems to achieve a nice round, full, effect.

Trim any loose stems.

Using a wreat hanger, determine your height. Secure onto wreath hanger using the rubber band. If necessary, you can use twine or wire.

Add a ribbon.
Add your ribbon and you have a beautiful wheat sheaf wreath! I chose to coordinate mine with my mums…I think it will go beautiful with the green jarrahdale pumpkins I picked at the patch over the weekend.
Wouldn't this make a beautiful entrance to a Fall wedding?
PIN this project to save for later here:

More Beautiful Door Ideas