Natural Fall Decorating Ideas
Sometimes the outdoors is the best inspiration for decorating. These natural fall decorating ideas embrace the beauty right outside your front door and bring it in for all to enjoy.
As the kids go back in school and the air is cool, crisp and comfortable, get excited to decorate for fall.

It doesn't have to require a lot of time or money. In fact, it doesn't require shopping at all! These natural fall decorating ideas are simple and free!
When I think of fall, two things immediately come to mind – pumpkin spice and the beauty of the outdoors. As the leaves begin to change and colors in the environment turn from the vivid colors of summer to the more dramatic colors of autumn, it's time to embrace the changes through home decor, both inside and out.
Those of you familiar with my site know that I love integrating natural fall elements, especially foraged finds in combination with store-bought flowers and pumpkins, making these easy and inexpensive natural fall decorating ideas!
Check out my Fall Porch Decor Ideas and Outdoor Fall Decorating Ideas for more inspiration! This Minimalist Fall Decor tour even shows you how the simplest touches bring your home to life.
I love sharing my favorite fall and Halloween decorating ideas with you! Don't skip Fall Living Room Decor inspiration for a few more of my favorite autumn ideas.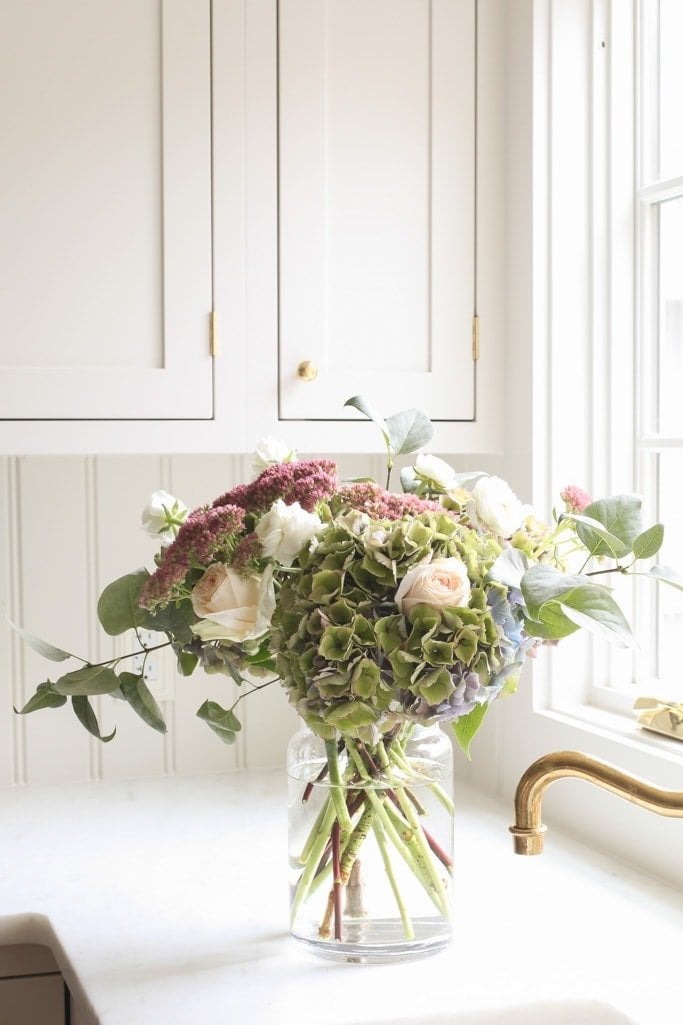 Decorating with Natural Elements
Look around your yard and see what branches you can clip and bring inside. Magnolia branches in the entryway that will last for weeks. Magnolia doesn't dry out too quickly so it's a great candidate for bringing inside. It's also a great choice for easily transitioning from fall to Thanksgiving and winter.
Other varieties that will work with fall decor include crabapple, spruce, pine, maple and even pretty Rose of Sharon branches. Don't miss this incredible round up of fall centerpieces if you're looking for more inspiration!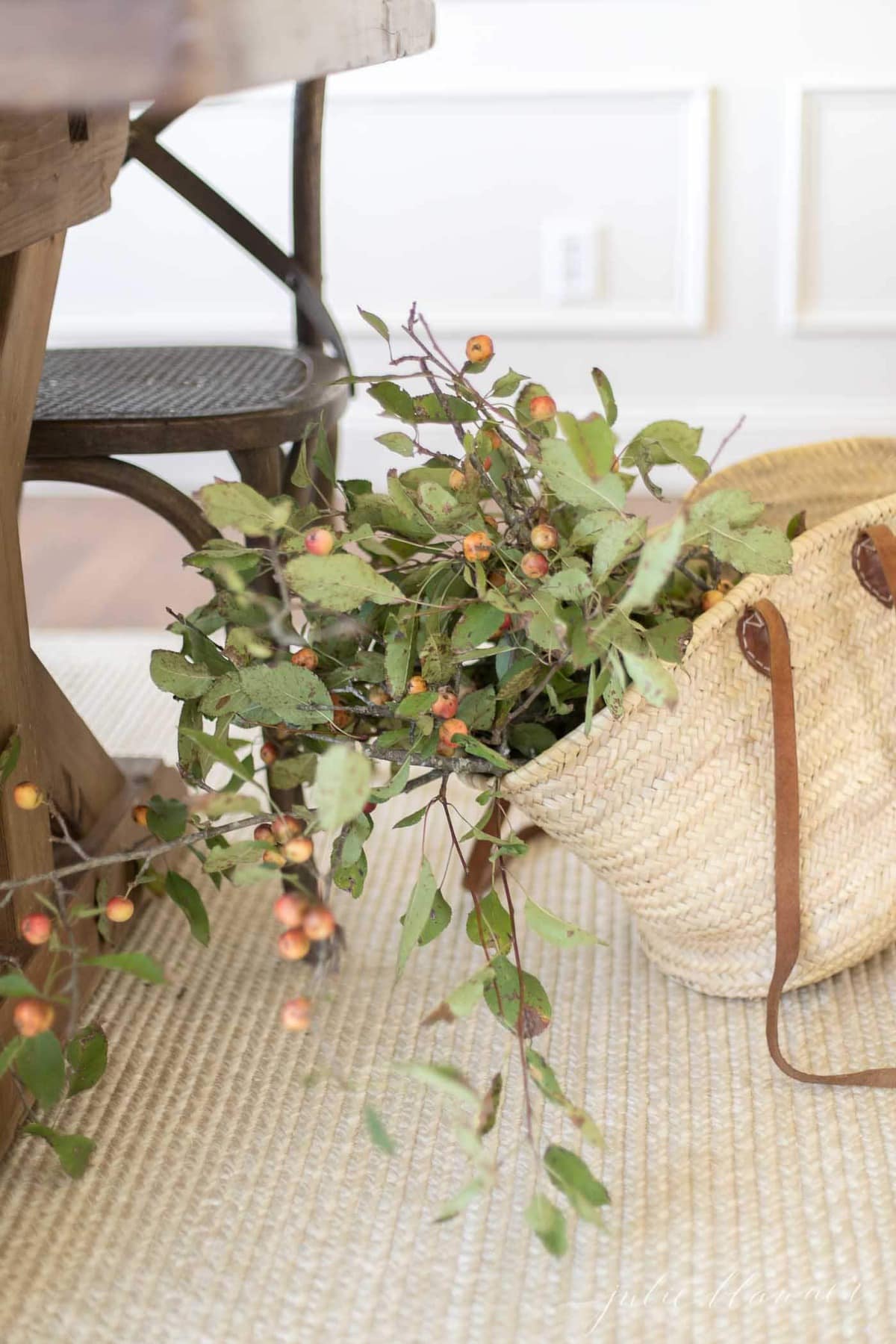 Even simple oak tree branches can add robust color to your fall decor. You can display in a vase – I typically use an odd number, 3, 5, or 7 branches. Simply remove the leaves that would fall below the rim of the vase and add water. Voila! An instant arrangement for an entry, coffee table or kitchen island.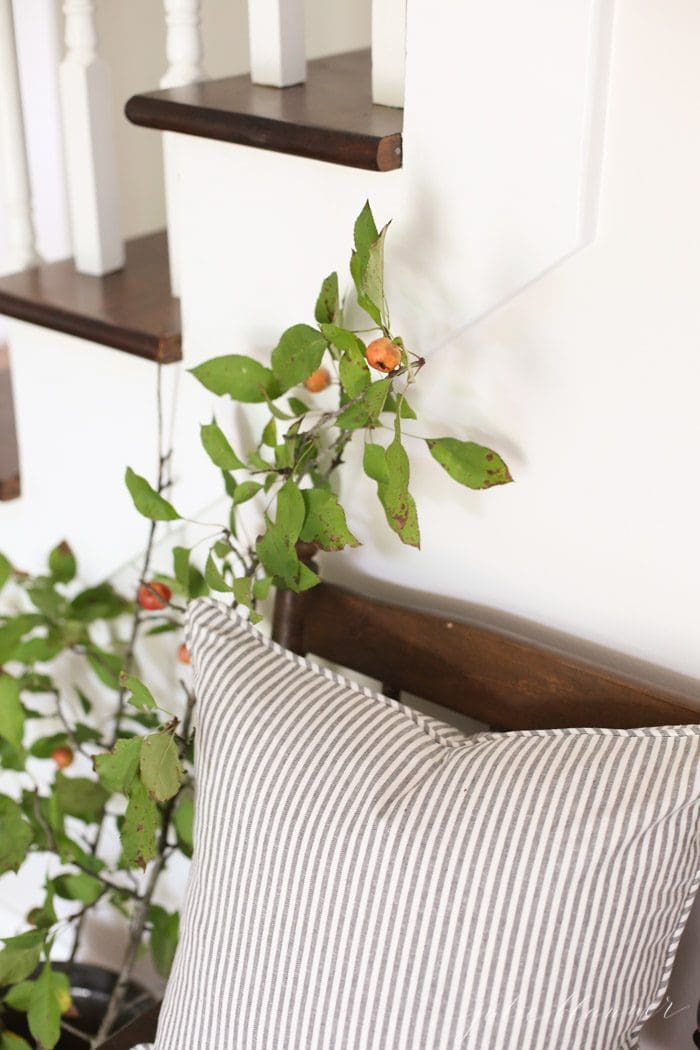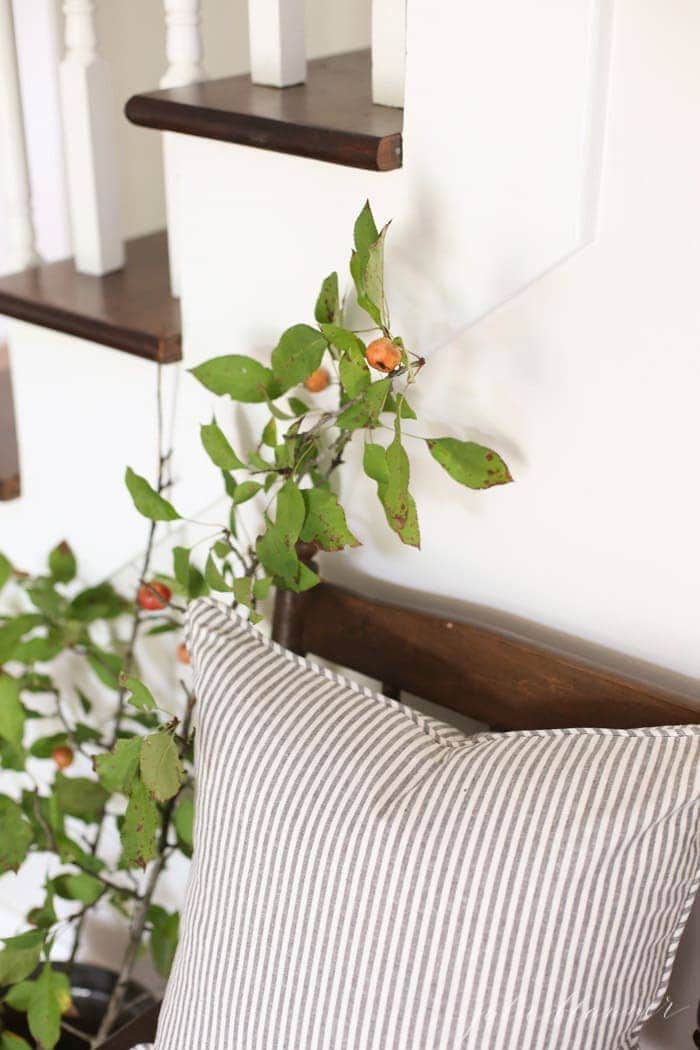 Larger branches work well for a floor arrangement in an extra large vase or bucket but they also work equally well for a show-stopping display on a side, coffee or end table. Even bedroom nightstands benefit from a simple presentation of fall foliage.

Affixing a branch to a range hood makes for an install fall focal point. This was hung with just one discreet nail in the top of the molding.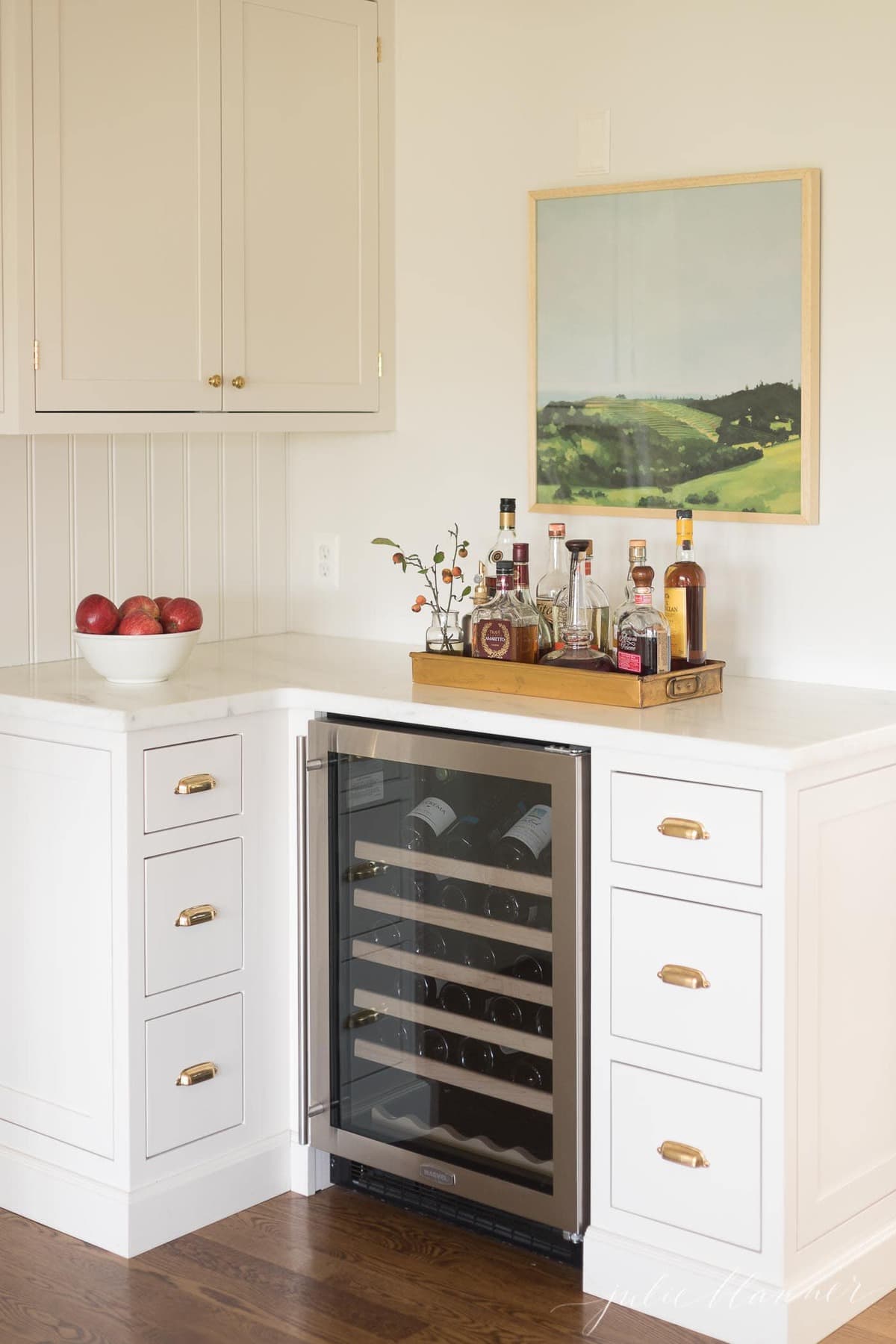 Smaller, excess clippings are perfect accents for the bar and bathrooms. Simply place in a bud vase!
Learn more about decorating with branches here!
Using Wheat

Dried wheat is a popular way to decorate for fall. A simple bundle wrapped with some ribbon or fabric can be used to adorn a shelf or mantel, or hang a wheat sheaf on your door to display as a wreath!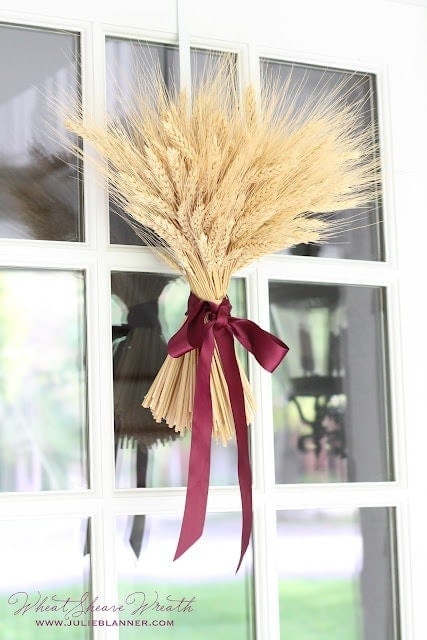 A dried laurel wreath also makes for a beautiful wall hanging and the ribbon can be changed to any color to match the colors of your home.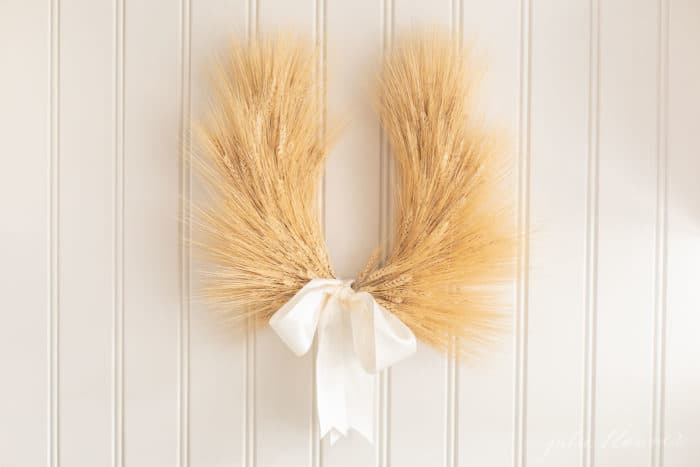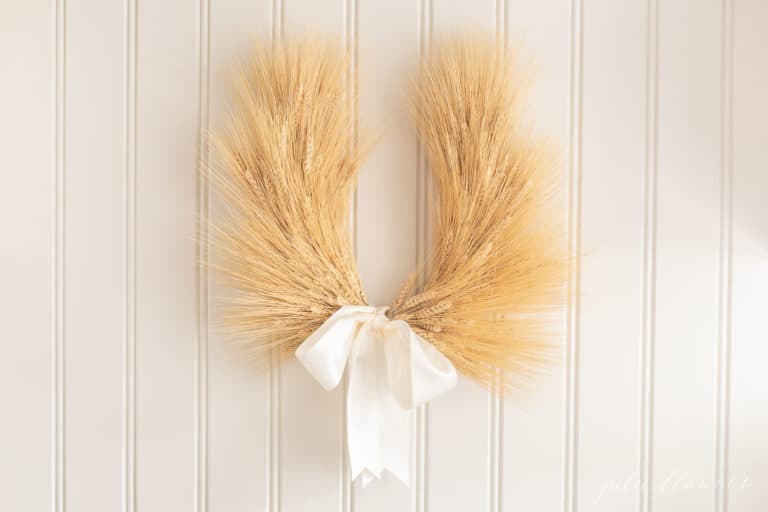 Did you know that it's easy to make your own preserved wheat? Using fresh wheat, simply hang it upside down by the stalks in a dark, warm room (70-75 degrees F) for 2 – 3 weeks. And voila – you'll have your own dried wheat bundles that you can use throughout your home.
Fall Flower Arrangements
If you have hydrangeas in bloom in your yard, consider making some clippings and allowing them to dry out. This will naturally allow the color of the flowerhead to change from its natural pink or blue to a beautiful autumnal shade of muted green, burgundy, brown or bronze.
In the arrangement below, I also integrated sedum which has the prettiest dusty rose hue.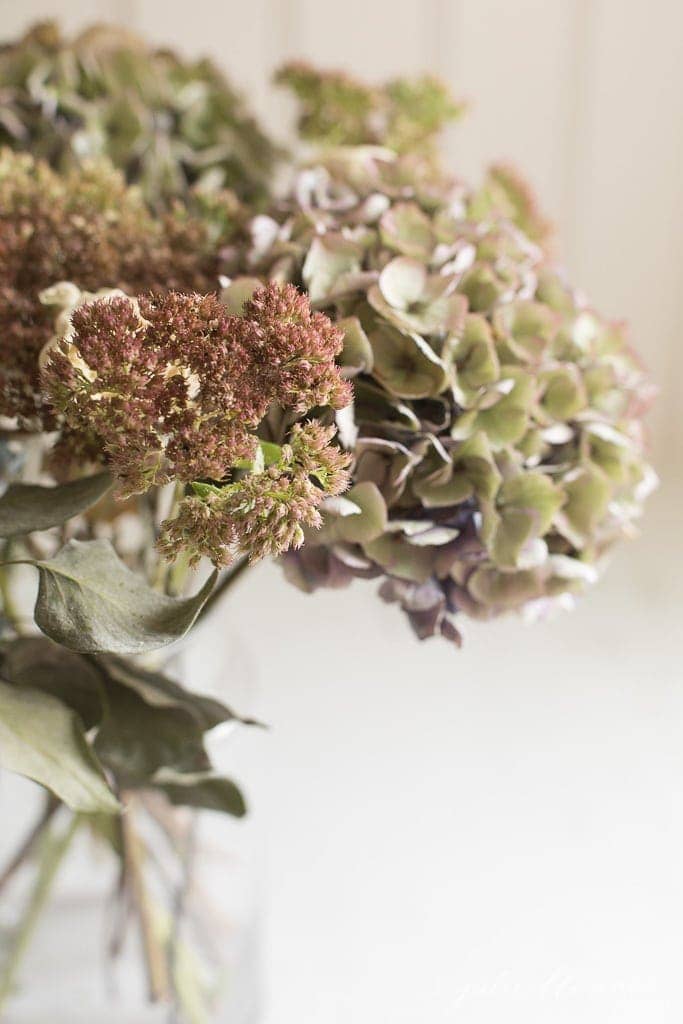 For the arrangement in my kitchen, I wanted it to look as natural as possible, so I chose a muted color palette of greens, deep pinks and a touch of peach and cream. Sedum, hydrangea and greenery from my garden are interspersed with pretty roses and delicate ranunculus from a grocery store bouquet.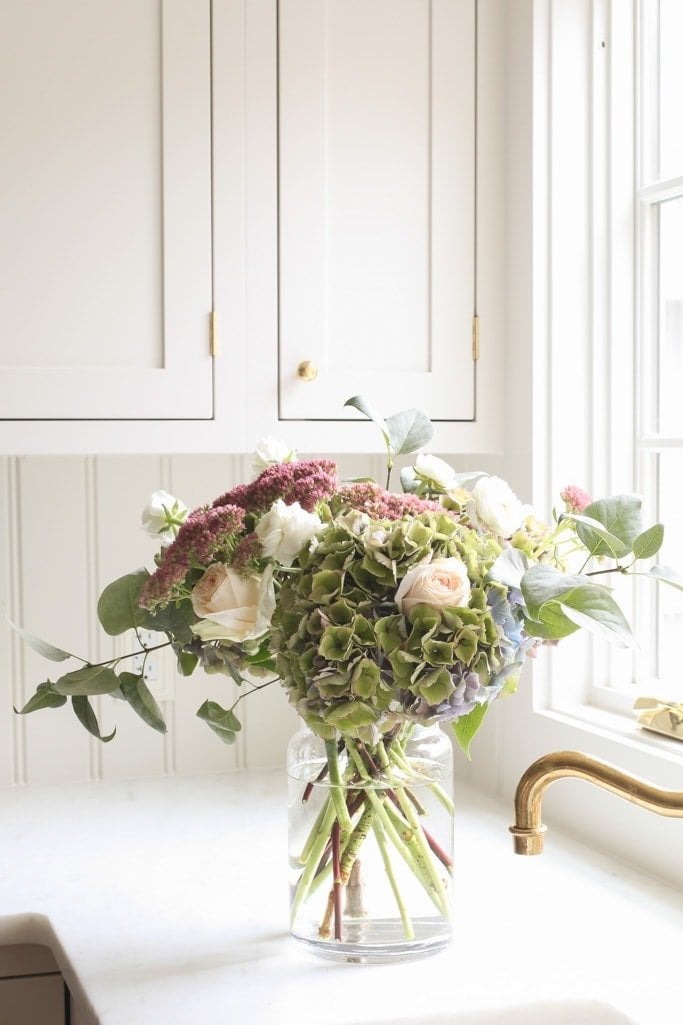 A flower arrangement like this can easily be made with cuttings from your your own garden, or store bought flowers. Learn where to buy flowers here!
You can find all of my flower arranging tutorials on YouTube and get my tips for creating arrangements here.
Fall Centerpieces Inspired by Nature
Those mums and pumpkins you have scattered around the house can make a wonderful impromptu centerpiece when guests arrive.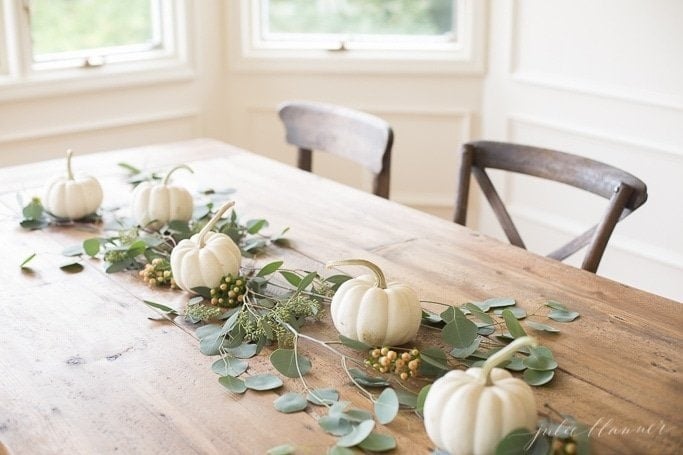 By simply placing some fresh seeded eucalyptus, berries and mini white pumpkins on the our dining room table, this space was transformed for the season.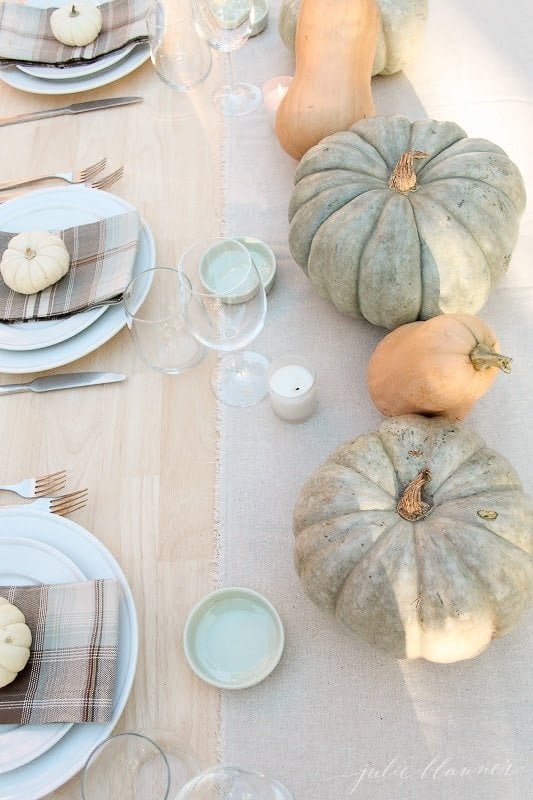 This simple table setting utilized the overflowing pumpkins from our fireplace for an impromptu outdoor gathering.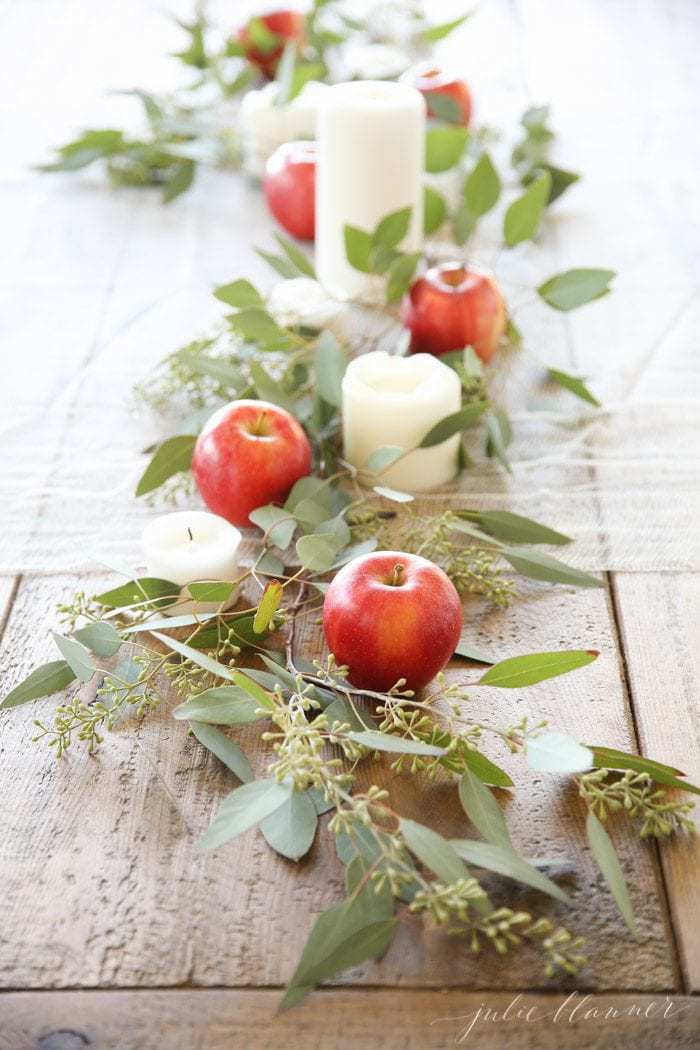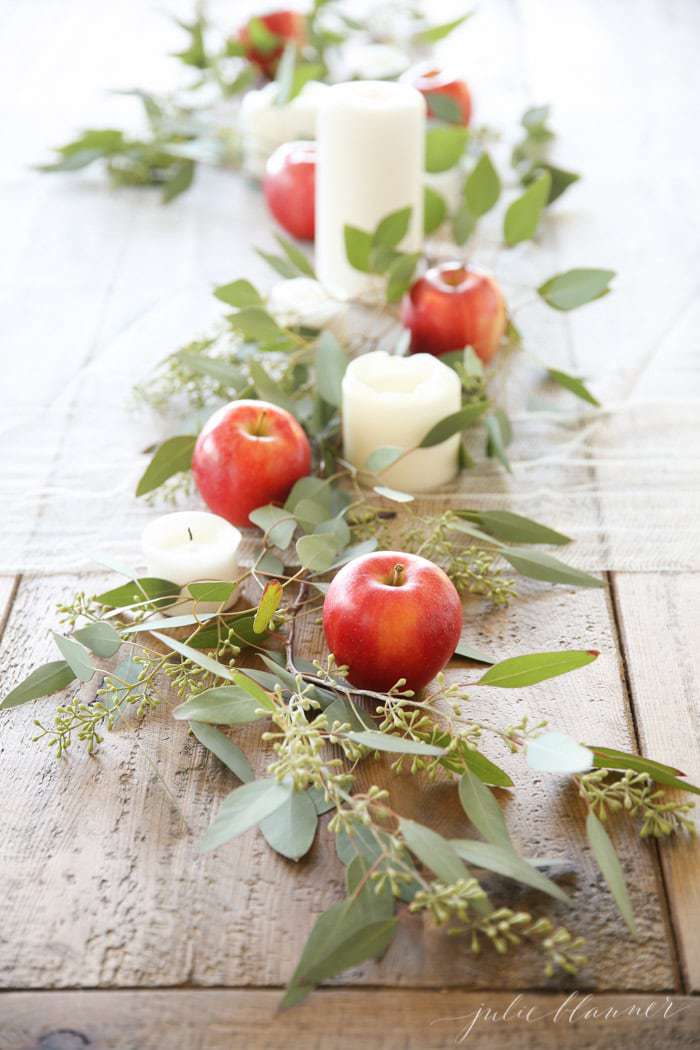 Likewise, you can do the same with apples! It's an easy centerpiece that lasts for weeks!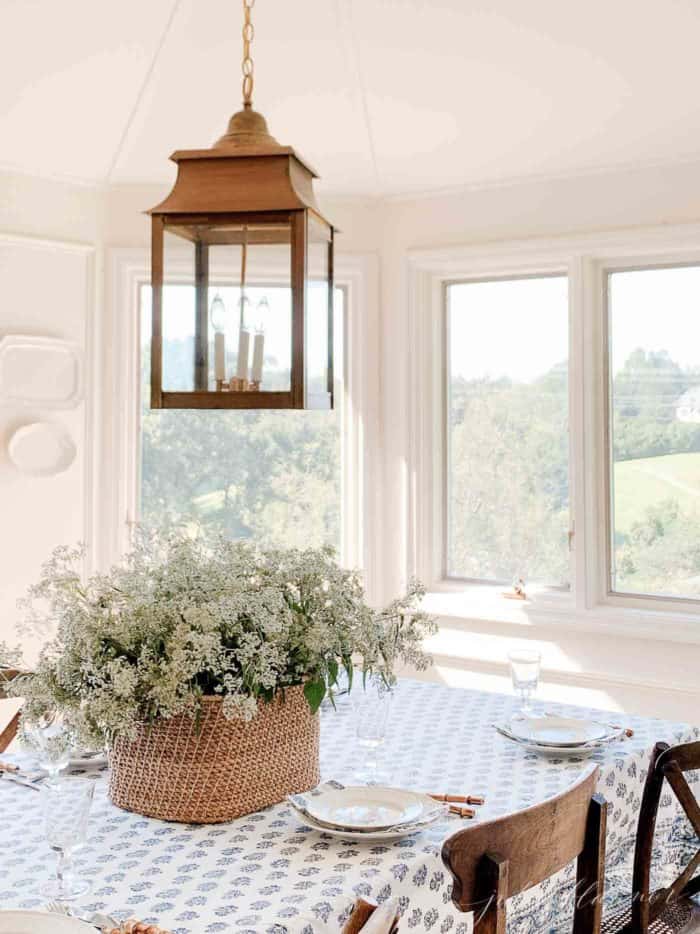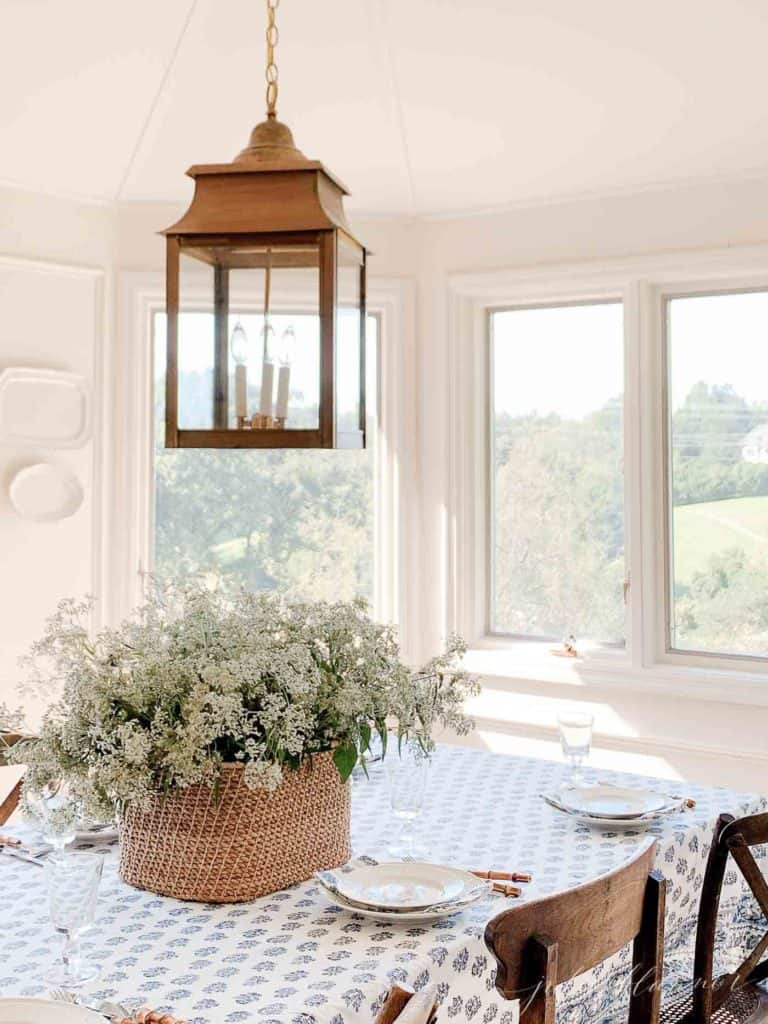 If you're looking for a more compact centerpiece for your fall dining table, consider making your own. This kalamkari block print table is set with a two minute wildflower arrangement. This simple arrangement is made from wildflowers that grow along the edge of our yard.
Both the flowers and the rattan basket are a nod to the colors and natural elements seen outside in the fall, and compliment the block print tablecloth perfectly.
Decorating with Fall Fruits and Vegetables
While it may seem obvious to decorate using pumpkins, apples and wheat, don't be afraid to get creative. Many of the colors we see in fall home decor are taken from the colors we see in nature – i.e. the produce that is currently in season.
Grapes, pears, plums, artichokes, red cabbage and all forms of green leafy vegetables form the perfect color scheme for a fall harvest tablescape.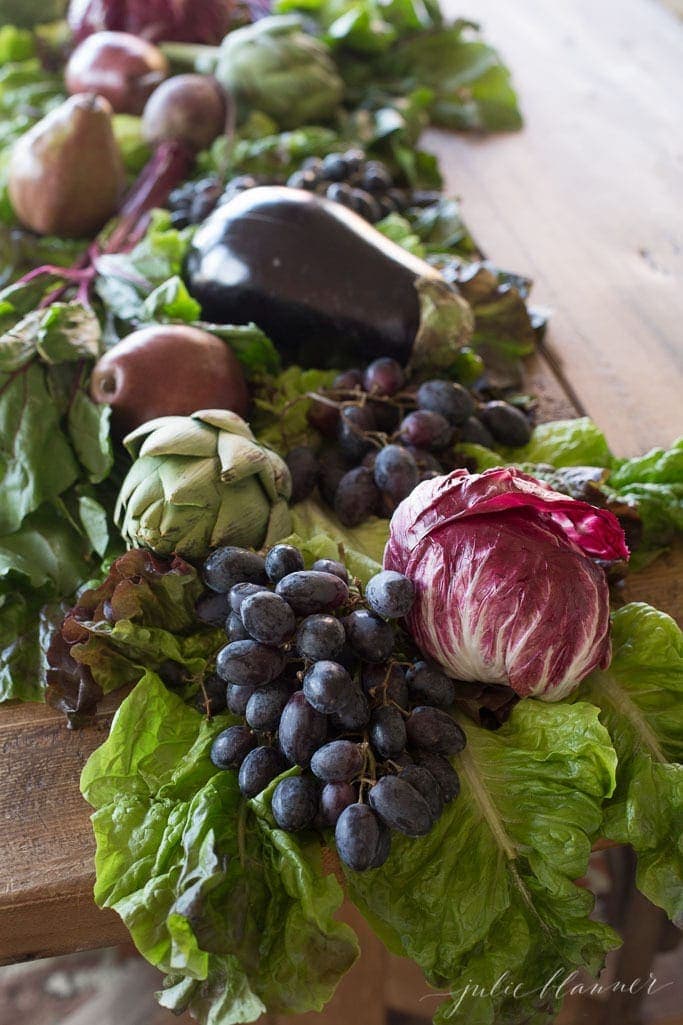 If simplicity is more in keeping with your style, pairing some fruit with candles and a few sprig of eucalyptus is an elegant yet uncomplicated centerpiece that will work for a fall or Thanksgiving table setting.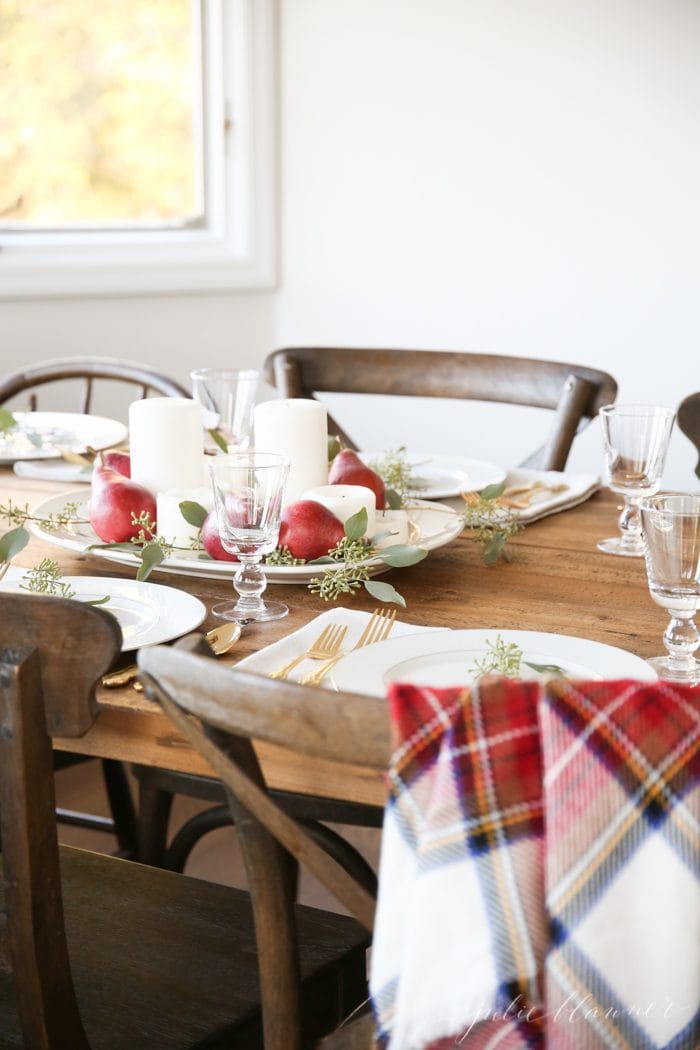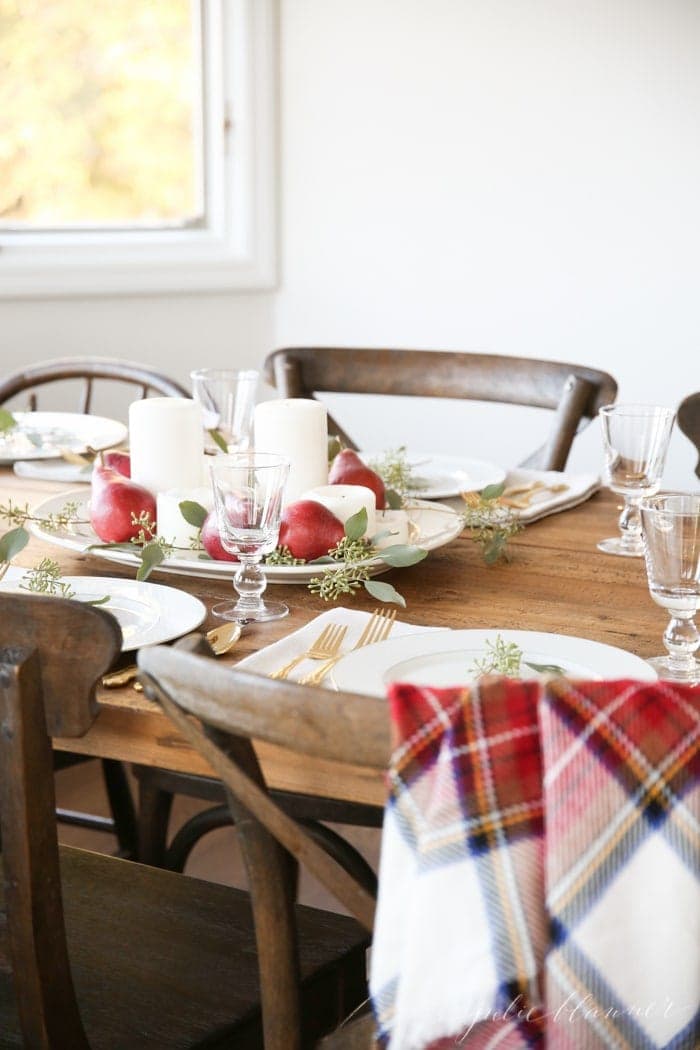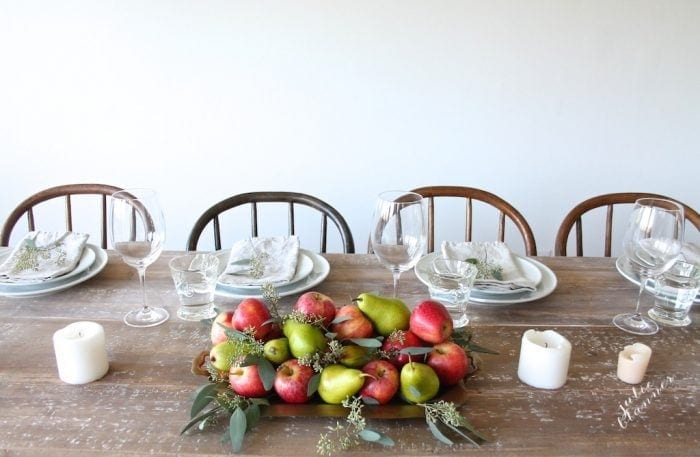 A bowl of in-season fruit on a kitchen island or breakfast table adds warmth and color and is easy to move from one room to another.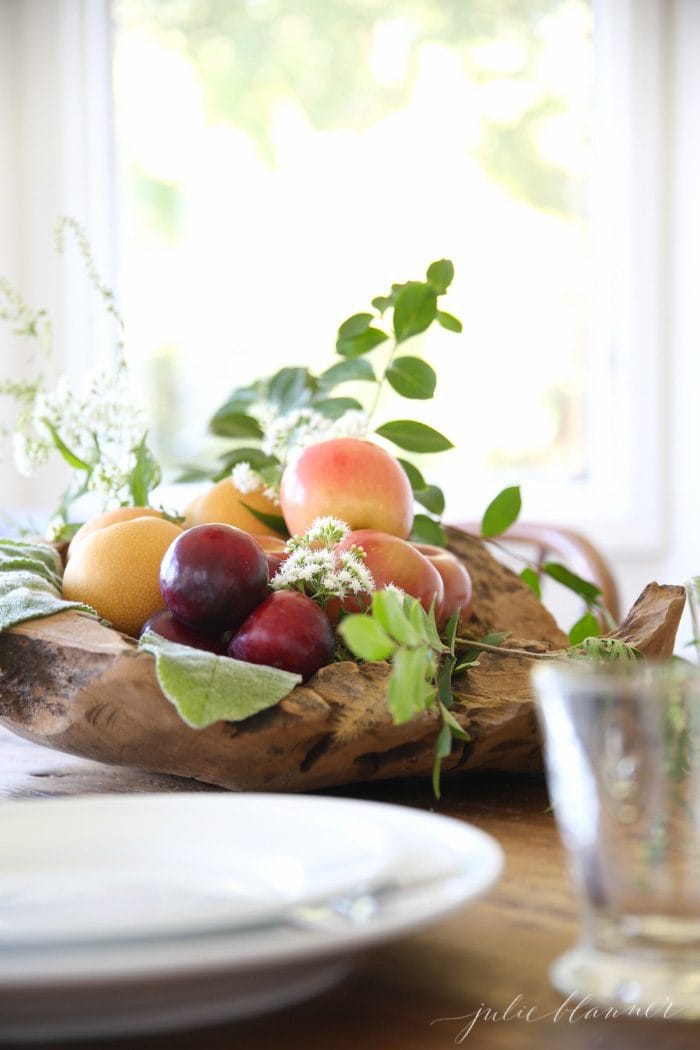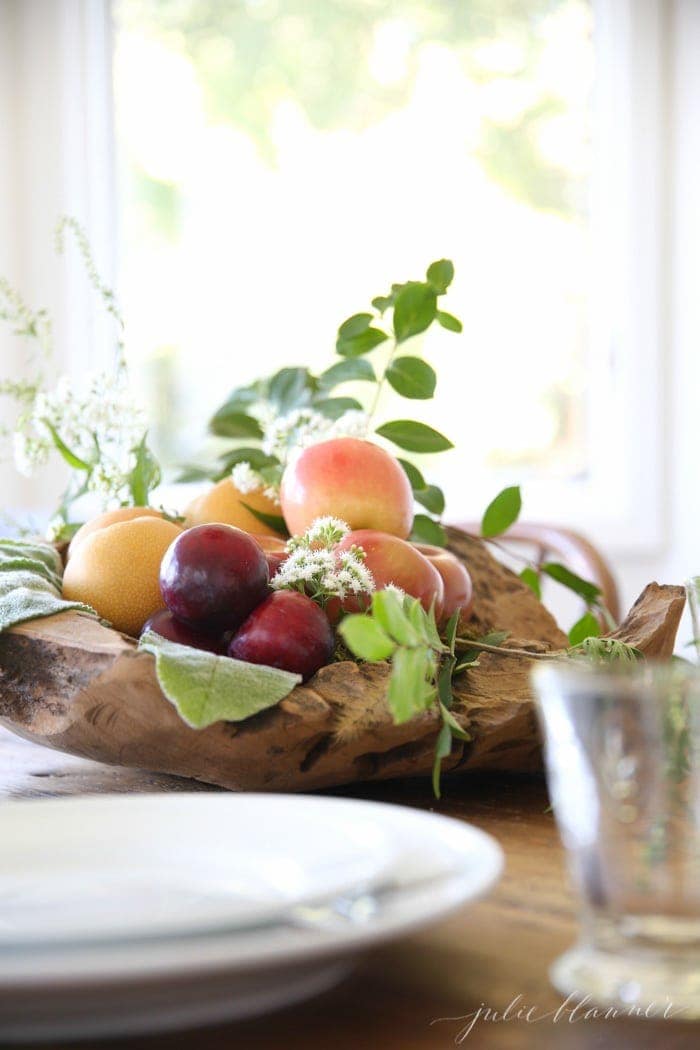 Adding fruit to a fresh or faux wreath using skewers adds color, texture and another natural element.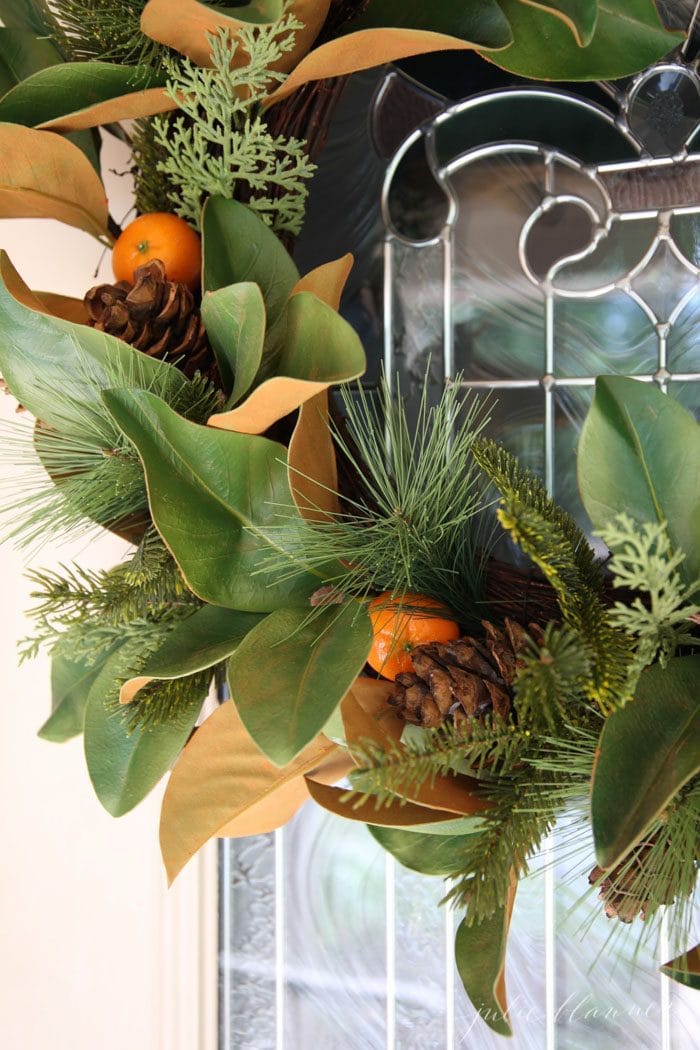 Consider including other foraged items commonly found outside in autumn: pinecones and nuts are wonderful vase fillers or additions to a centerpiece, and transition well into winter decor.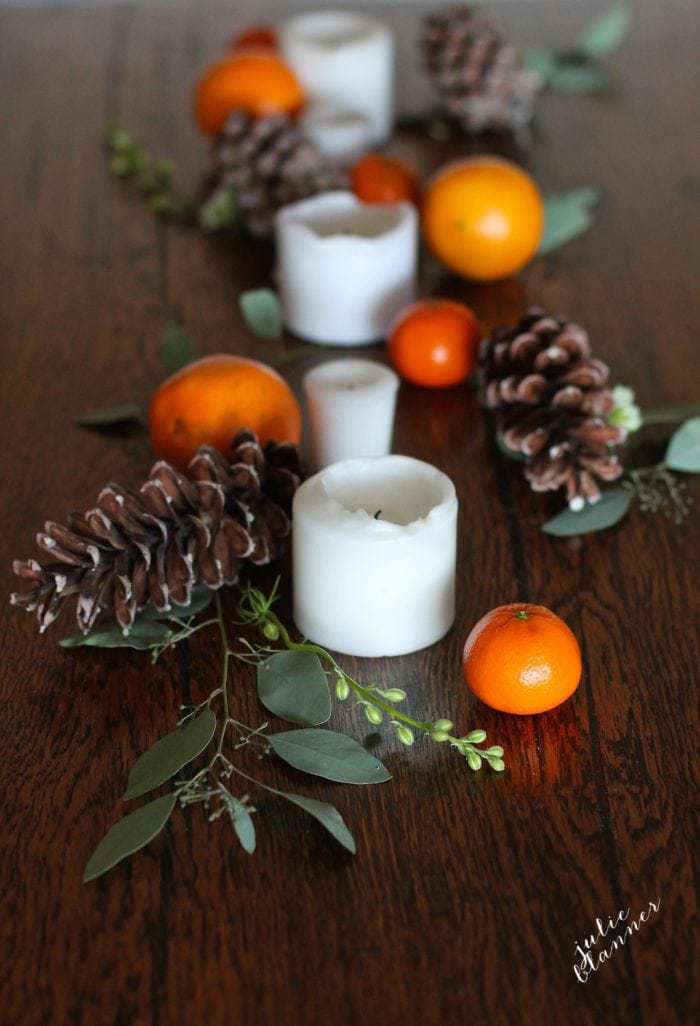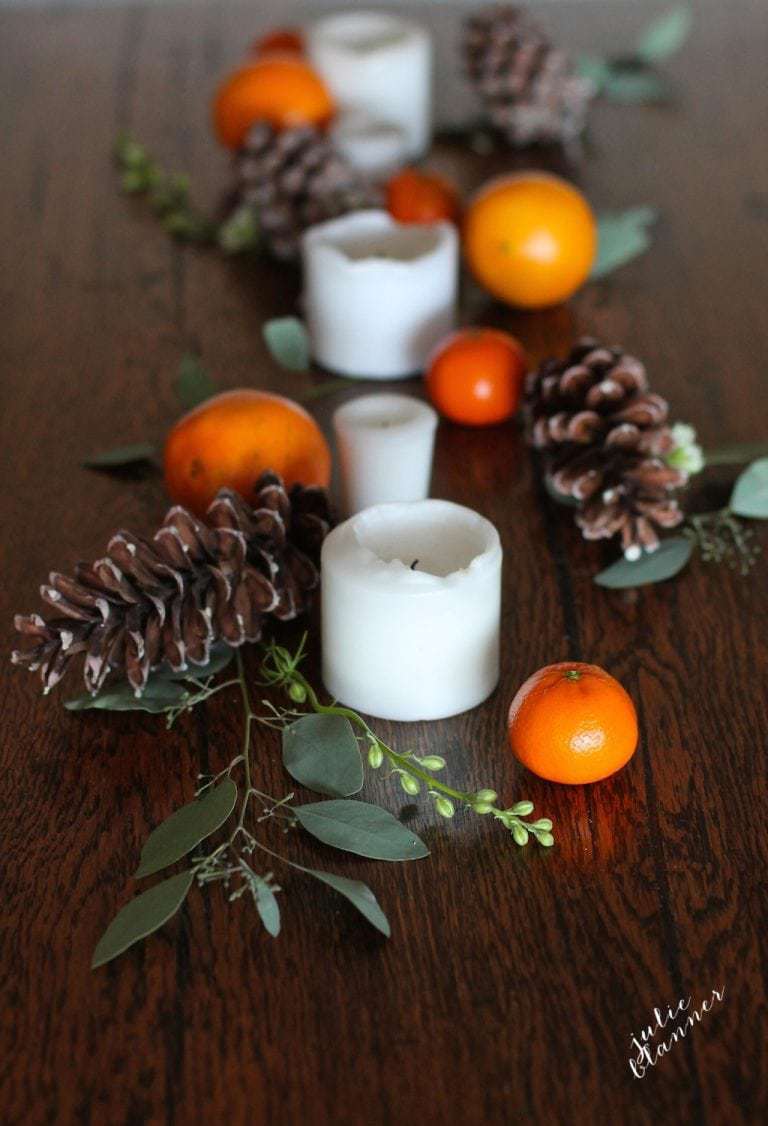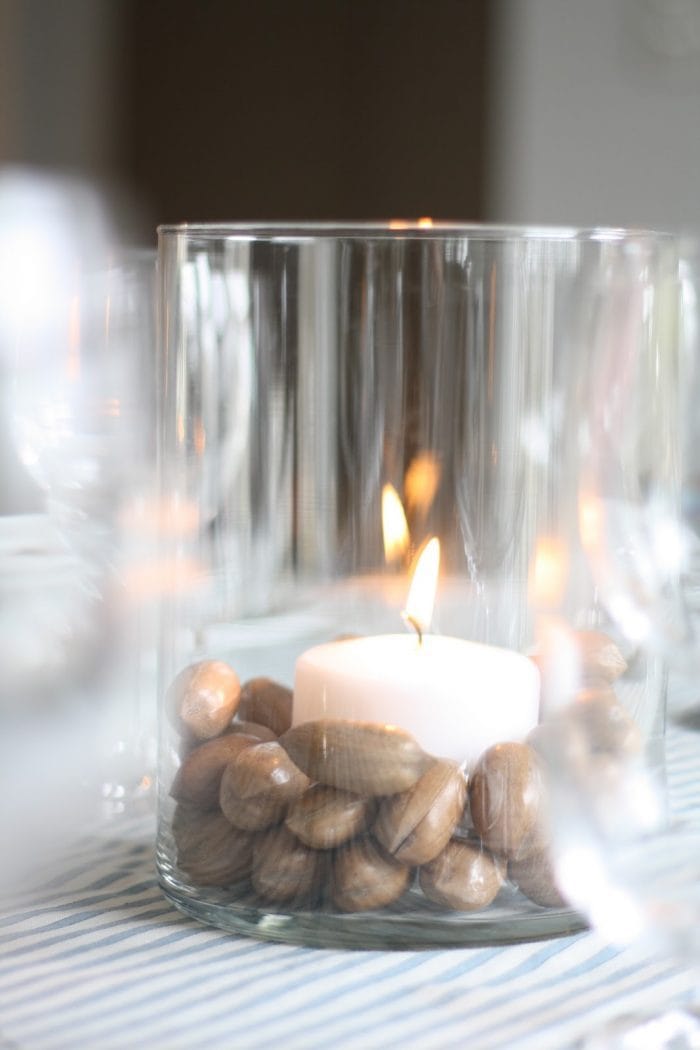 Children will love helping to make a pinecone garland that can be strung across a mantel or even hung vertically from drapes.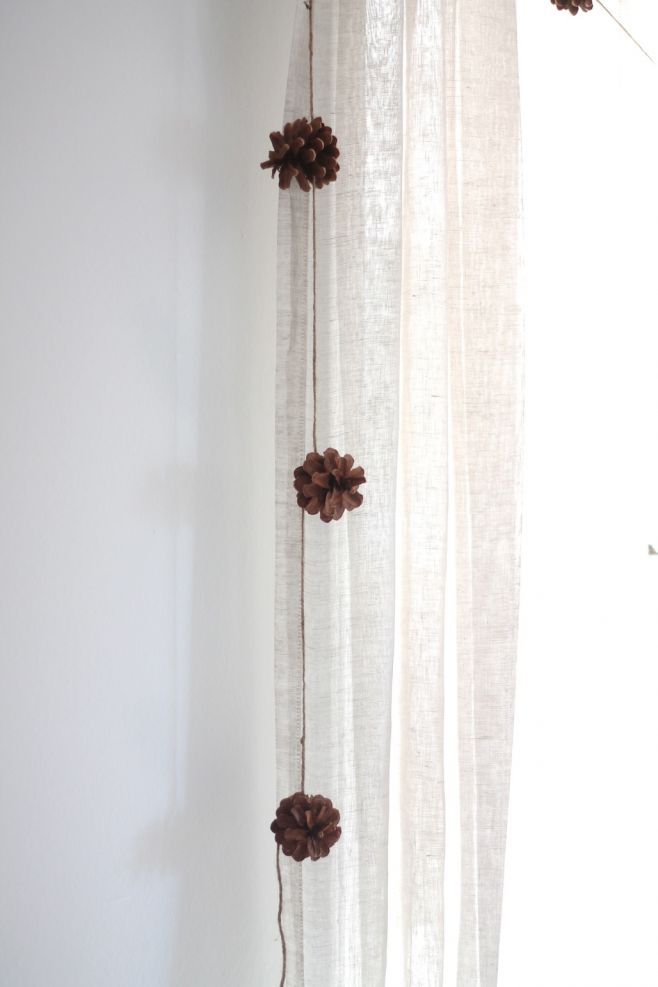 Natural Fall Decor in the Living Room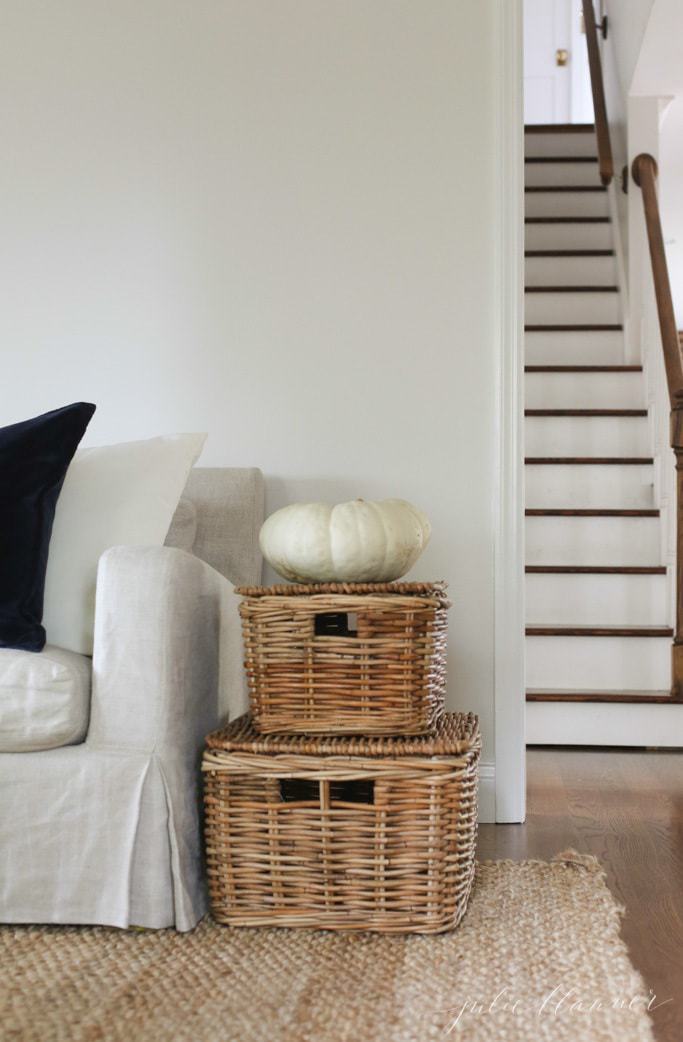 Pretty hues of pinks and blues are unexpected, but feel perfectly fall with rich texture brought in through the pillows and flowers.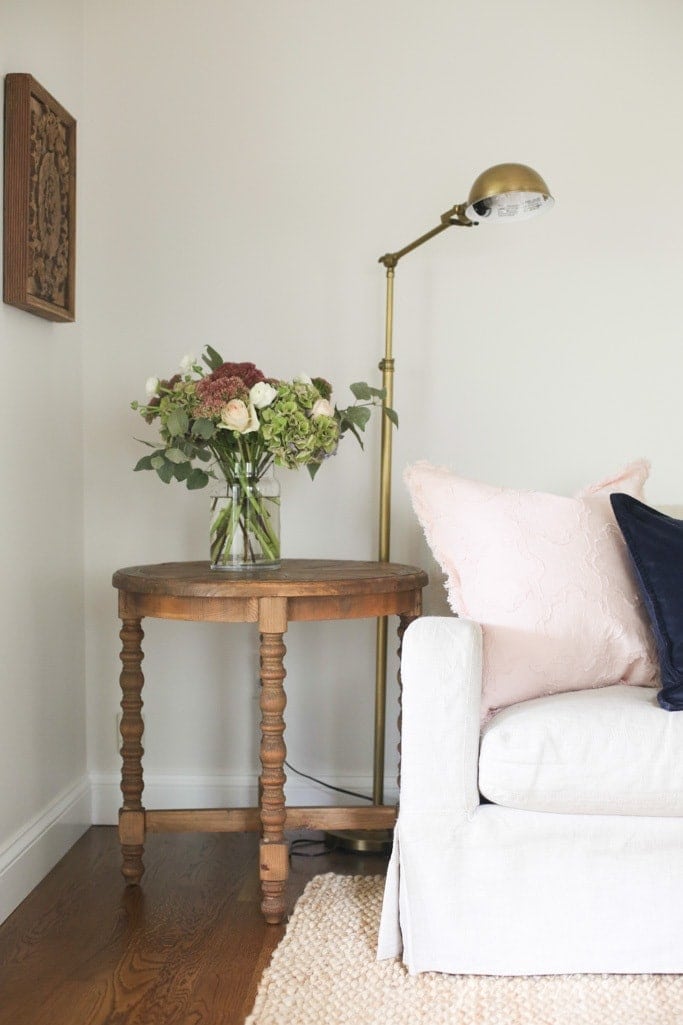 Unconventional colors like burgundy, plum and eggplant compliment the colors we see outside at this time of year, too.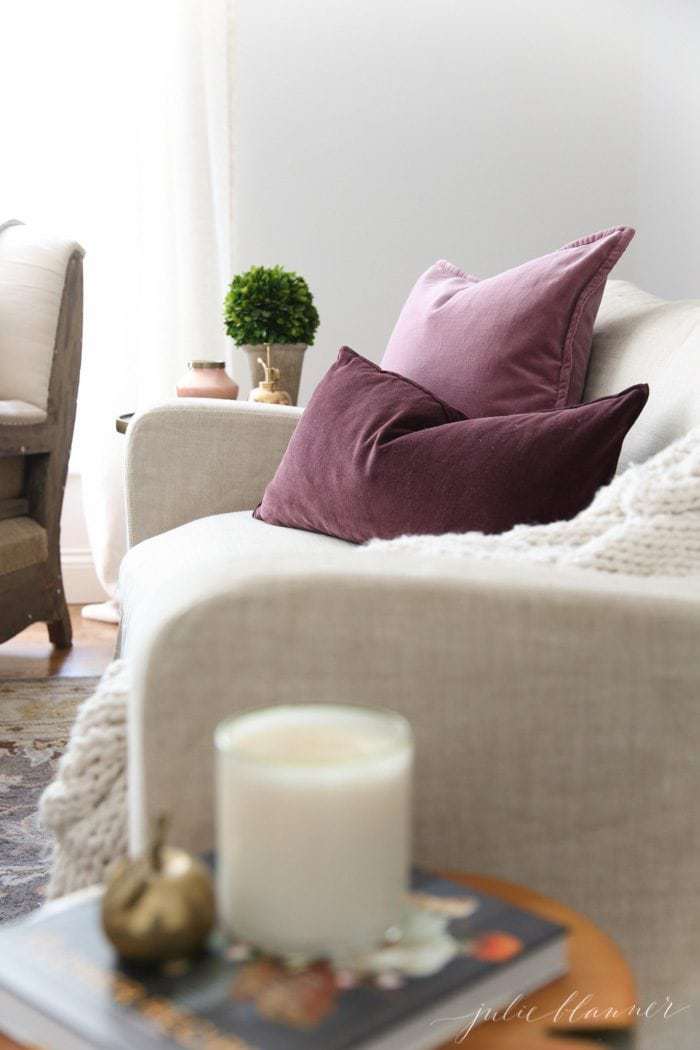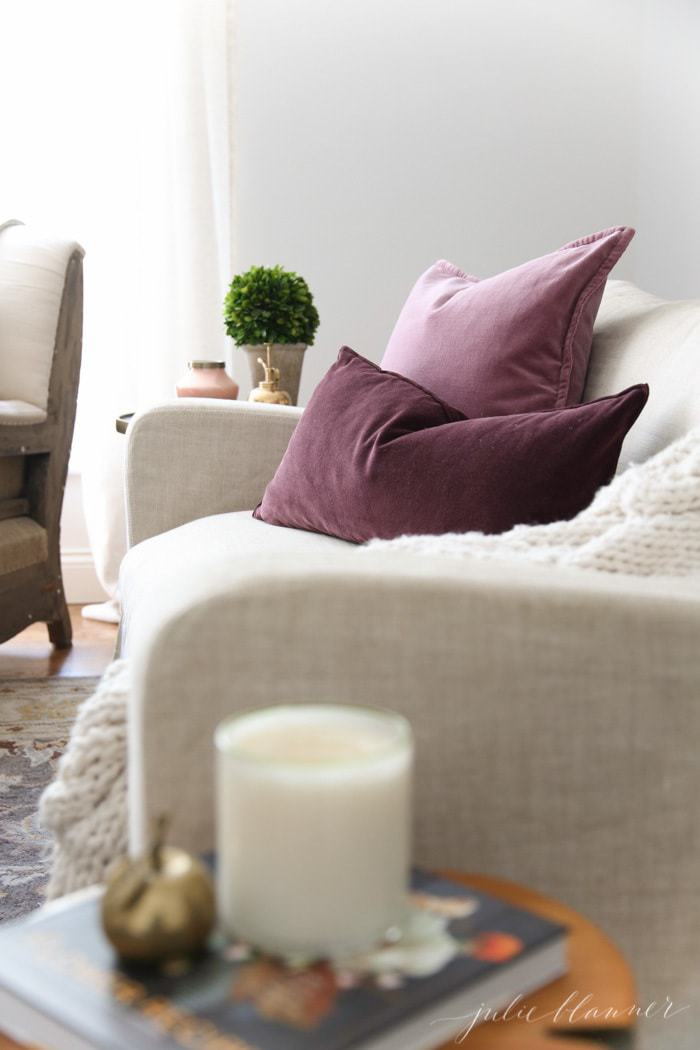 A simple pumpkin on stacked baskets makes a beautiful fall accent for the family room.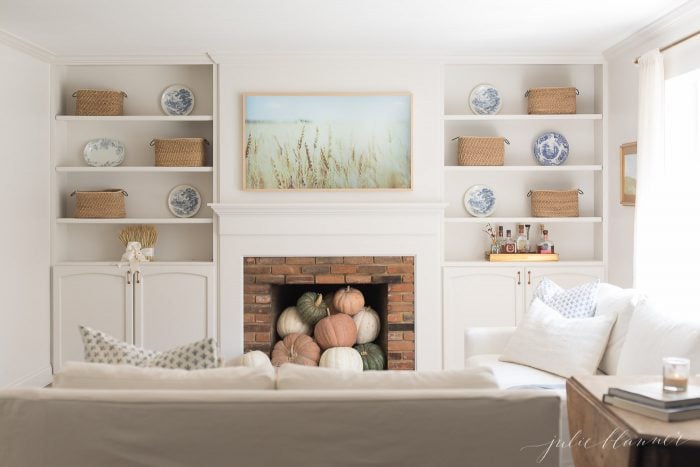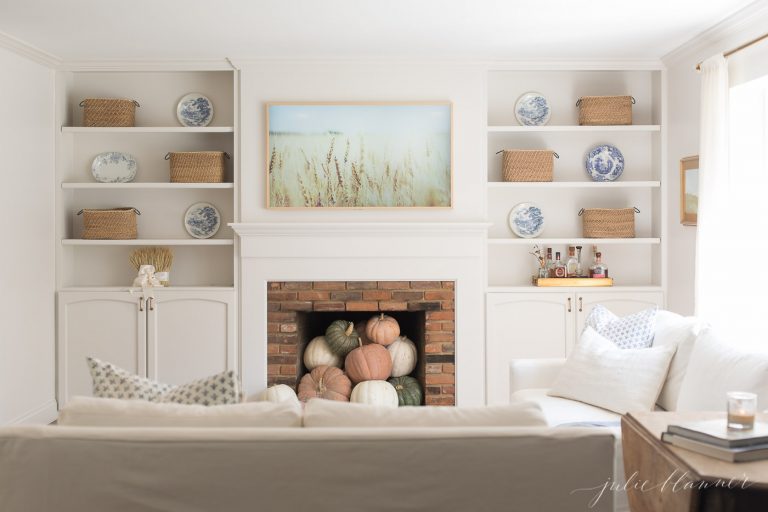 Of course, the more pumpkins the better at this time of the year. Stacking them in the fireplace not only looks amazing but is a great conversation starter, too!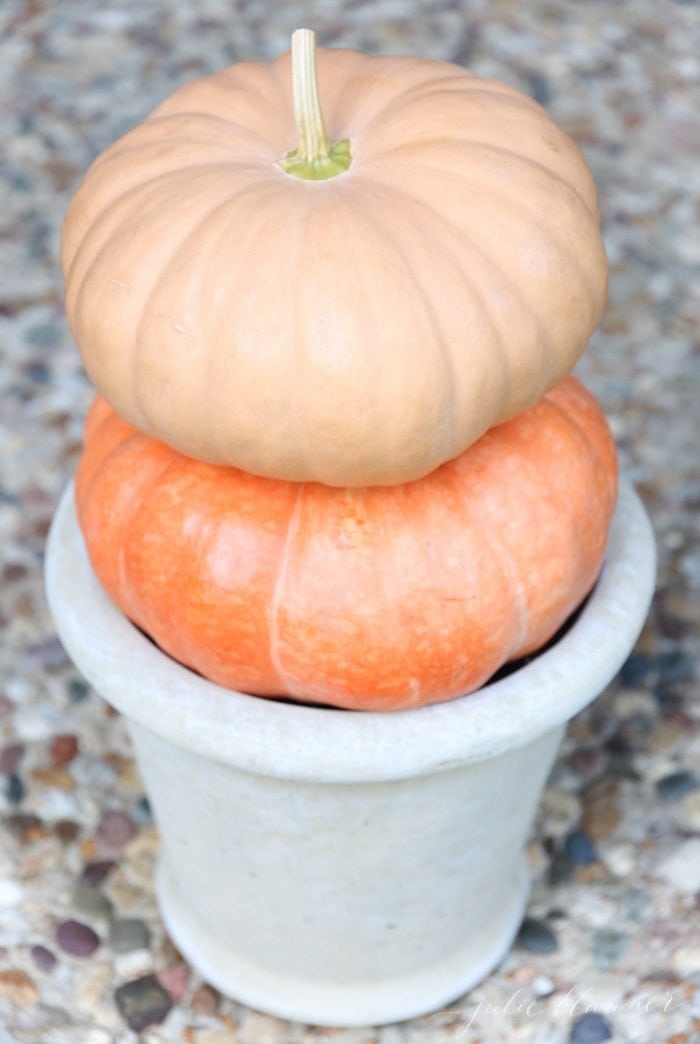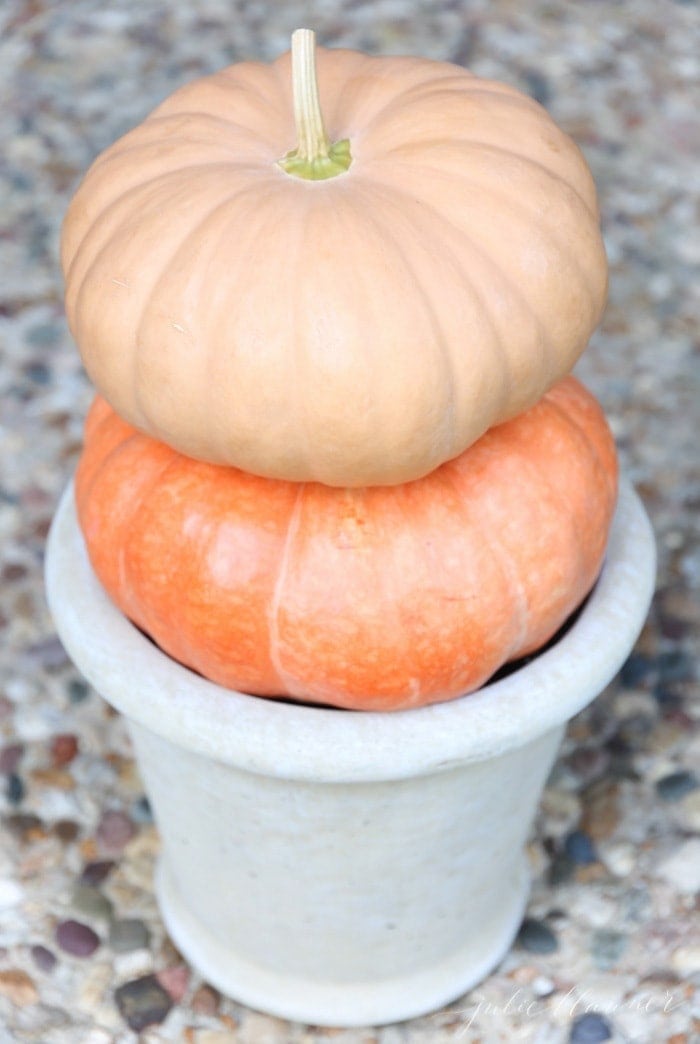 Other ideas for pumpkins include placing them on top of a planter, as the base of a platter, on a coffee table…anywhere, really!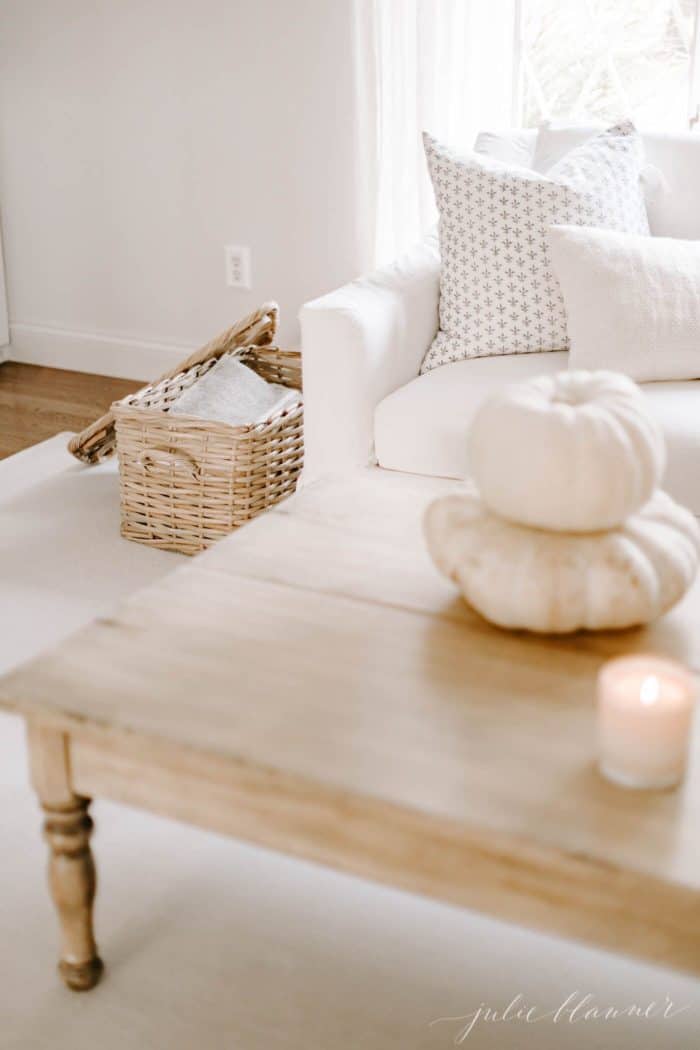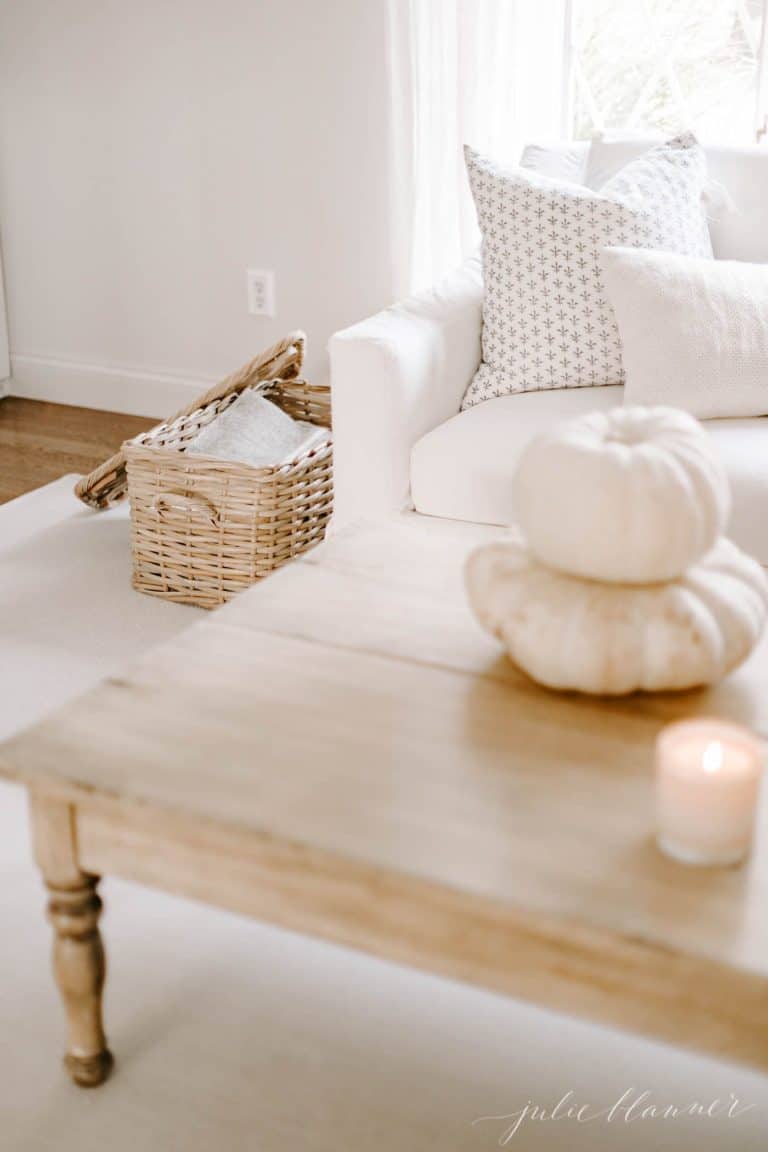 Similarly, fill your fireplace with stacked wood or even a basket of mums if that many pumpkins are out of budget.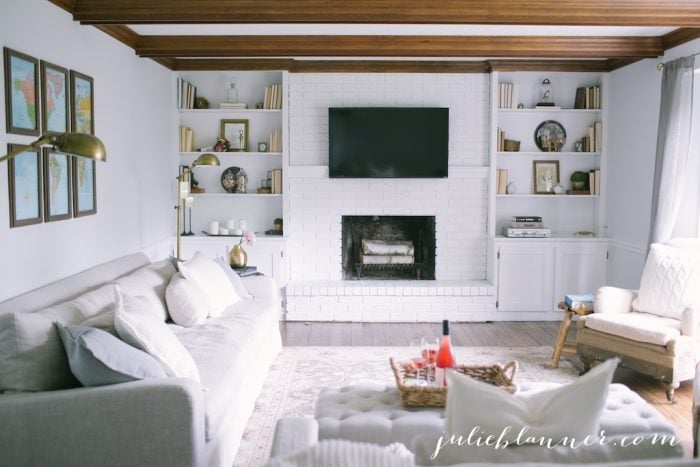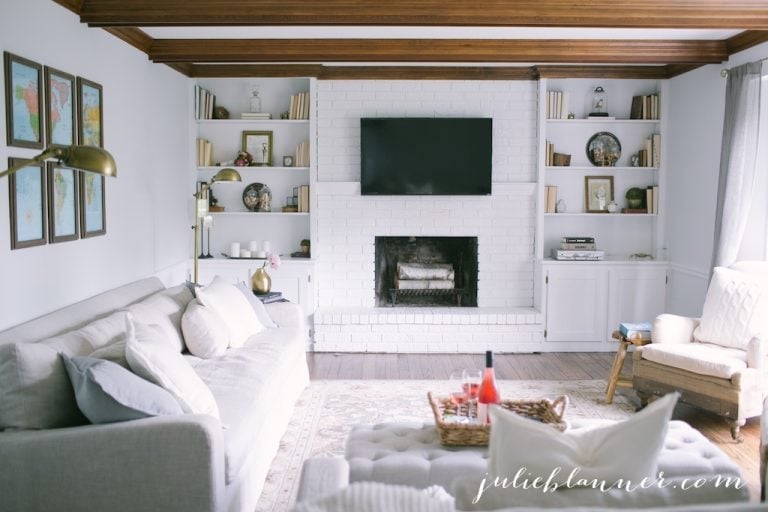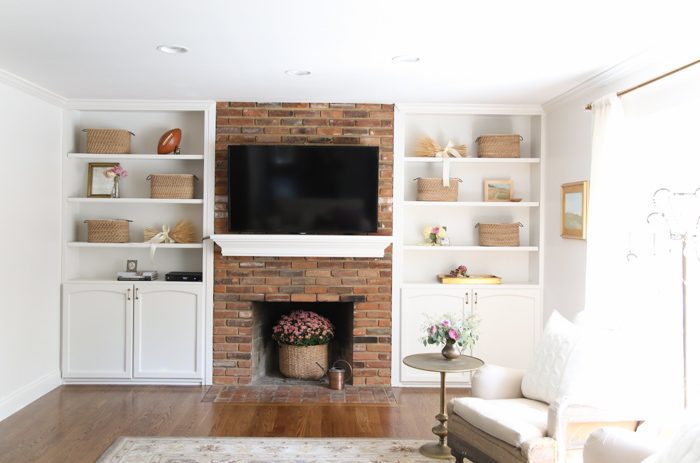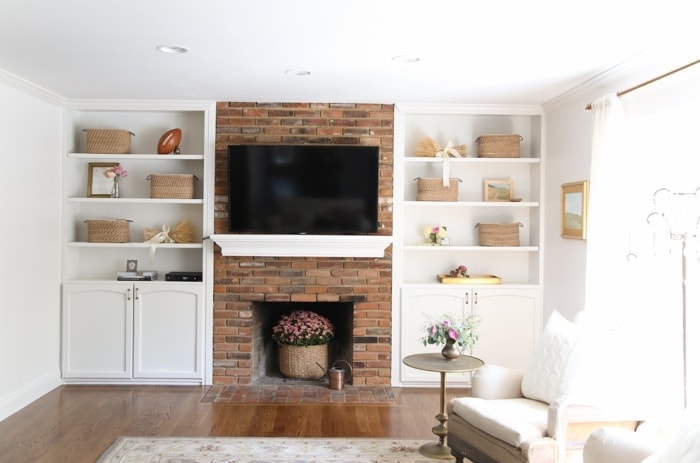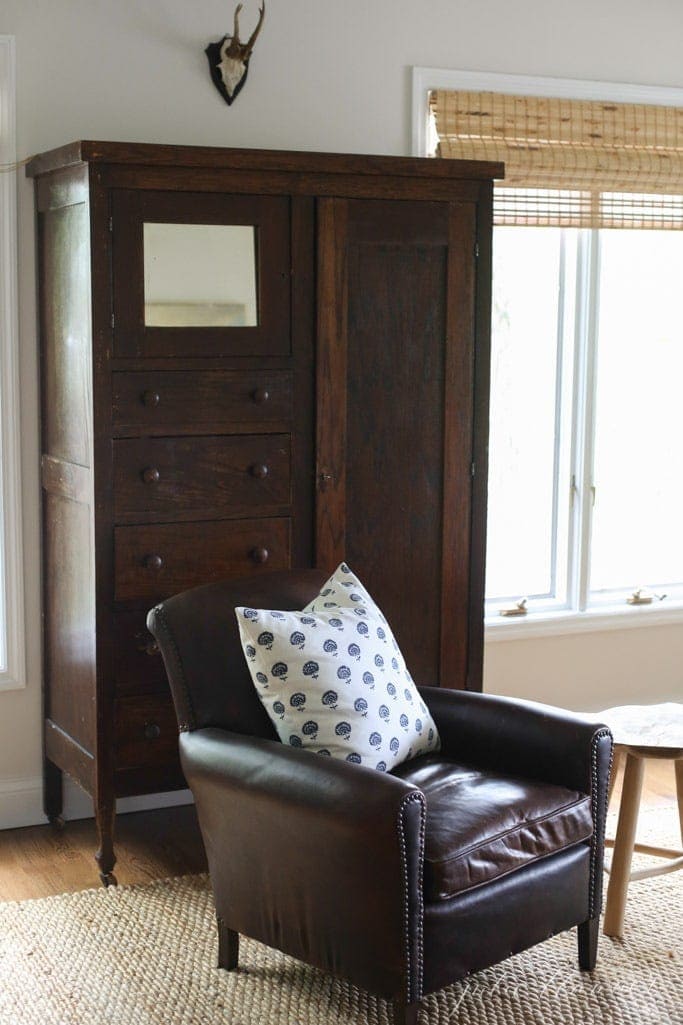 And I can never get enough of those vintage antlers above my grandmother's wardrobe.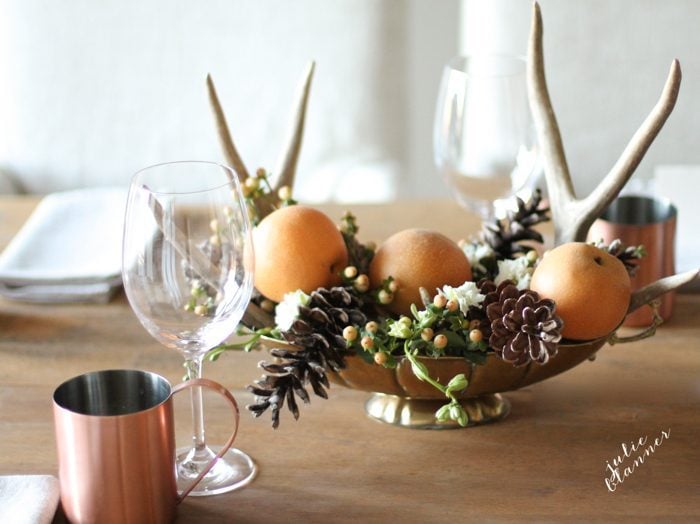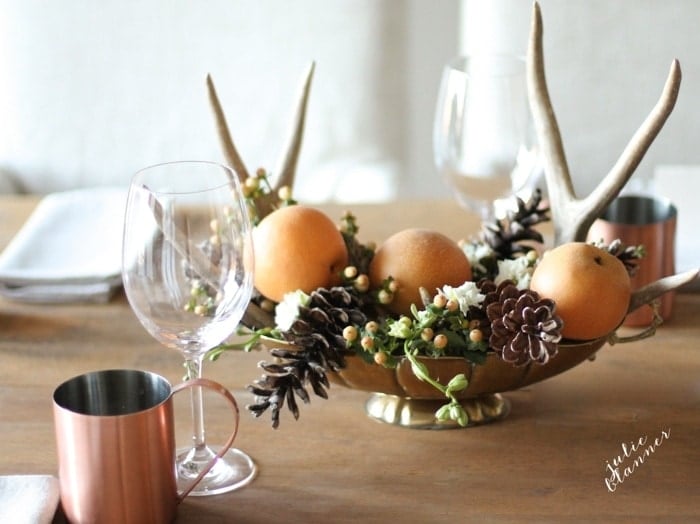 Found deer antlers are a beautiful addition to your fall decor. Place them on a console table, on top of a stack of books, in a bookcase or even as part of a centerpiece.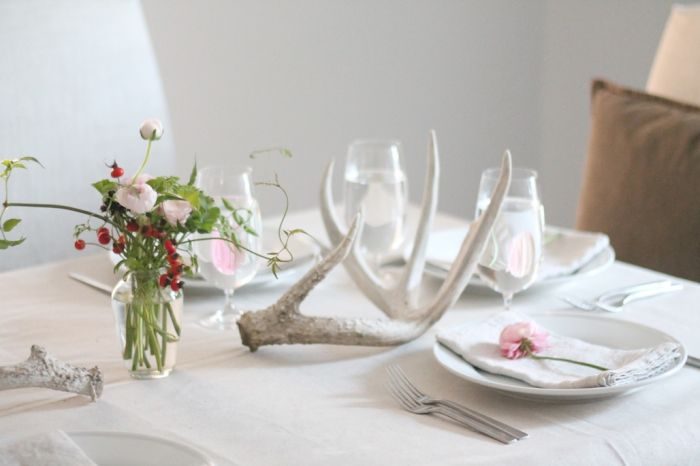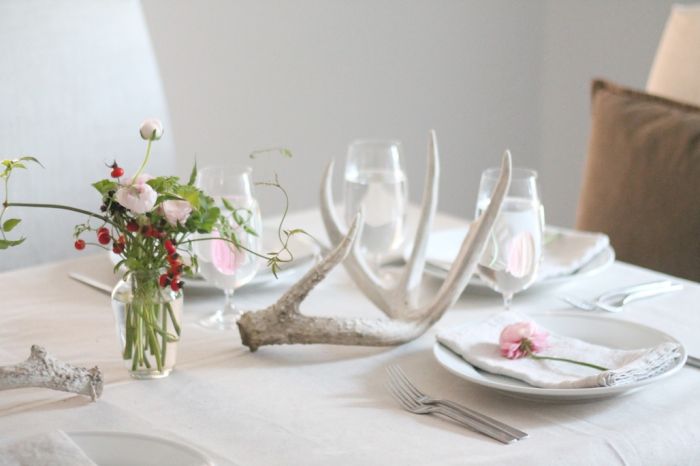 Simple Touches of Fall in the Kitchen
The living room and dining room may be the focus of most seasonal decorating, but adding touches to the kitchen where many of us spend a large portion of our days, adds a welcome touch.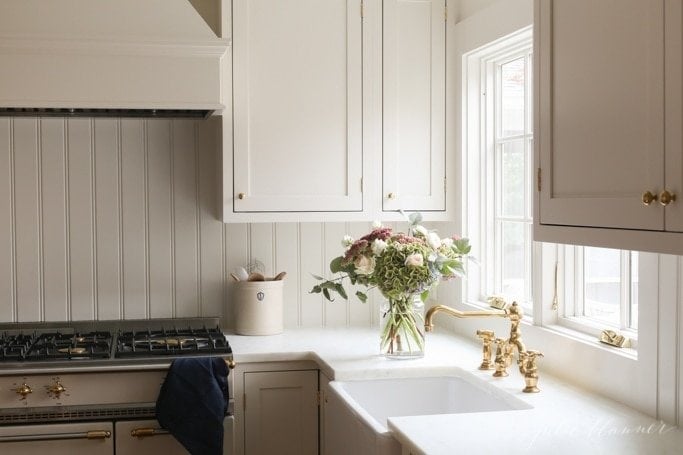 I really enjoy navy in fall, so I often incorporate it through linens like hand towels. It's a beautiful accent to pinks and greens.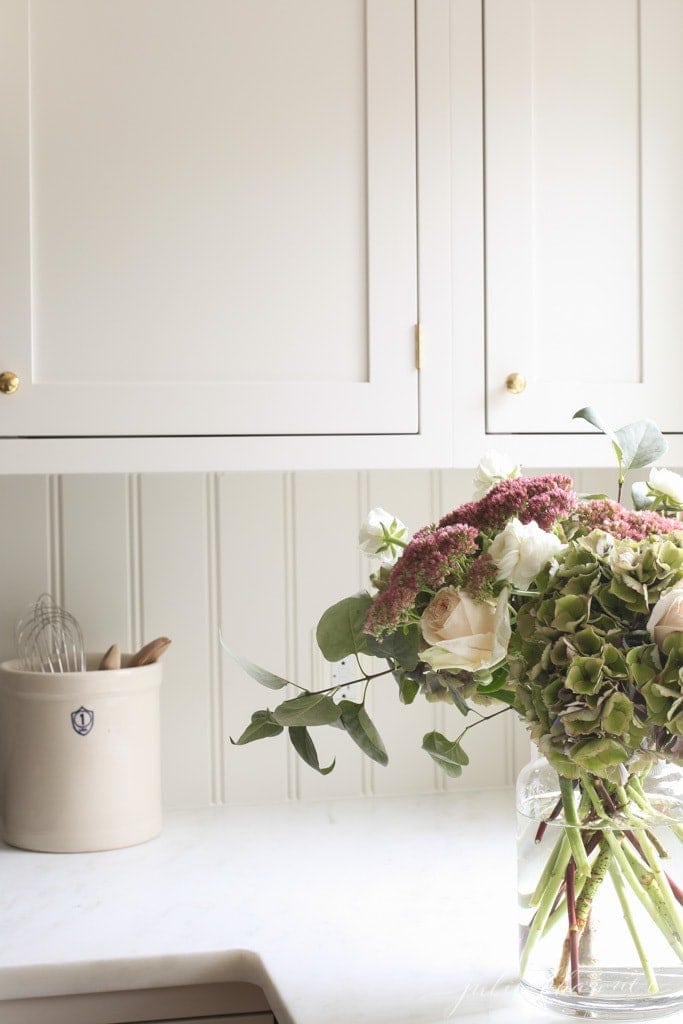 Branches of magnolia give the bar/serving cart height. By incorporating a few of the same things throughout a home, it creates a sense of continuity.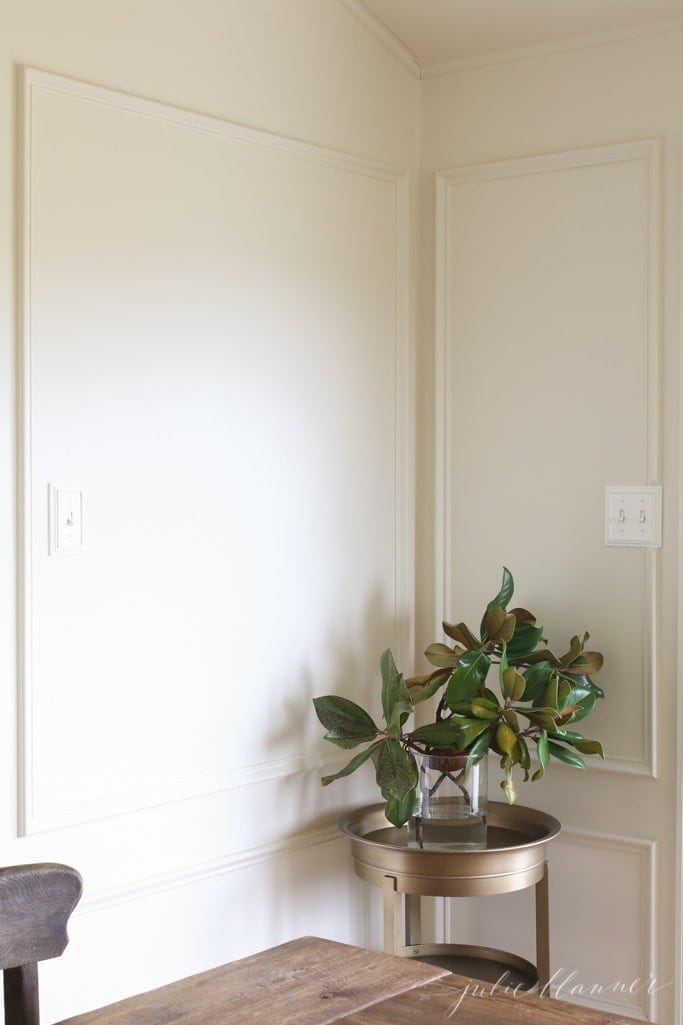 Decorating for fall should be easy – just a few little adjustments rather than an entire overhaul. As the summer winds down and everyone gets back in to a routine, it's nice to embrace the coziness and comfort of our homes again.
Add a cozy throw, a few pumpkins or even a few mums for a big impact without a lot of effort or expense.
Outdoor Fall Decorating Ideas
When we think of fall, many of us instantly gravitate to decorating our front porches and other outdoor areas.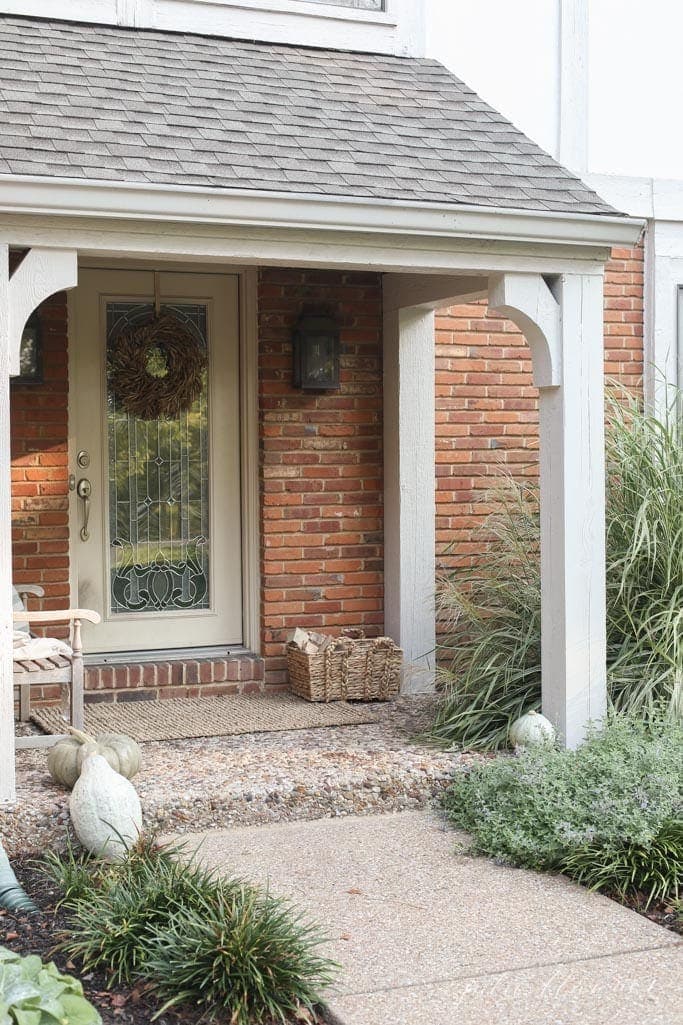 A simple fall porch includes fresh cut wood for the fireplace and heirloom pumpkins. While faux pumpkins can be great for crafts, if you're going for a natural look for your fall decor, there's nothing like what Mother Nature creates.
Heirloom pumpkins come in a variety of shapes, sizes and colors. I like to buy mine at Trader Joe's, but they are available from many garden centers and even farmstands around mid-September.
The soft green tones of these pumpkins mimic the tones of our landscaping, creating a soft look as you enter our home.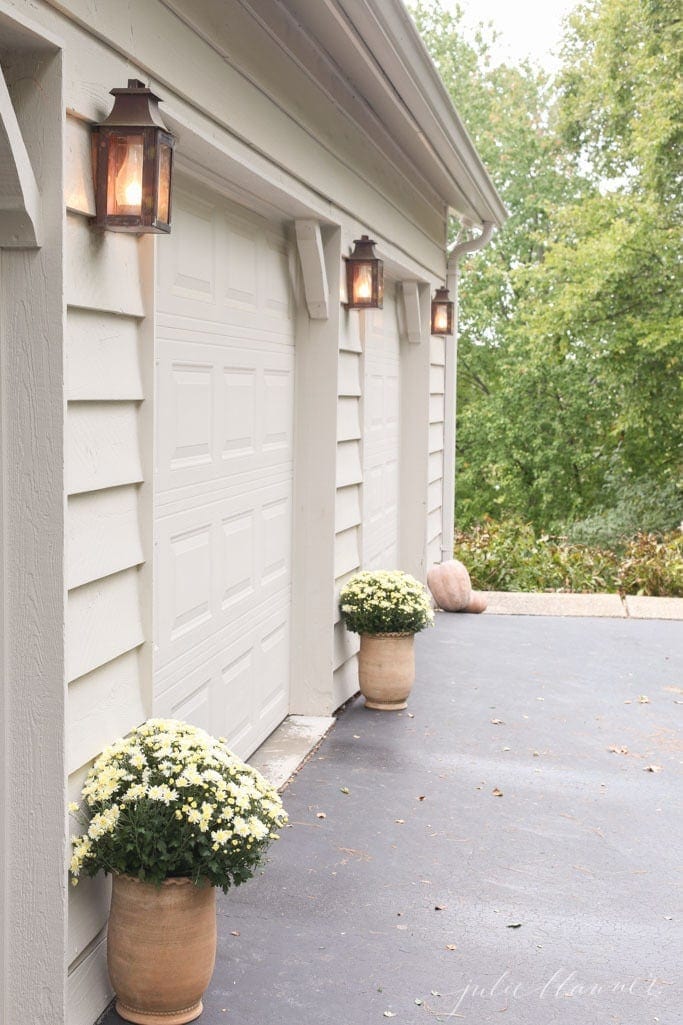 Mums can be found for as little as $5/each. I'll let you in on a little secret – I don't even pot my plants! I just simply drop them into planters in their plastic containers. If they sink too low, I look to the recycling bin for a box or bag or two to prop them up. This makes transitioning from one season to the next a breeze!
Mums are such an affordable way to that natural element into your curb appeal, or inside your home. While it's easy to place a potted mum anywhere around your home, the cut flowers also make for a spectacular fall centerpiece.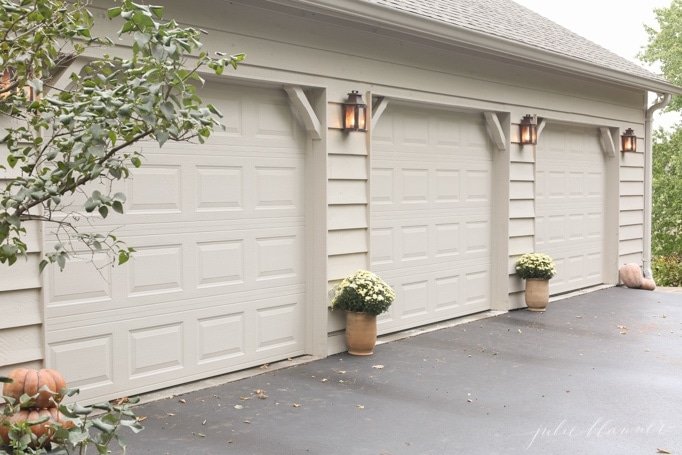 When selecting natural fall decorations like pumpkins and mums, consider the variety of ways you can use them. While they may grace our garage for now, when we have guests over they may line the table along with candles, or fill out our fireplace like you previously saw above. Natural elements are long-lasting and portable and can be used in a variety of ways throughout the season.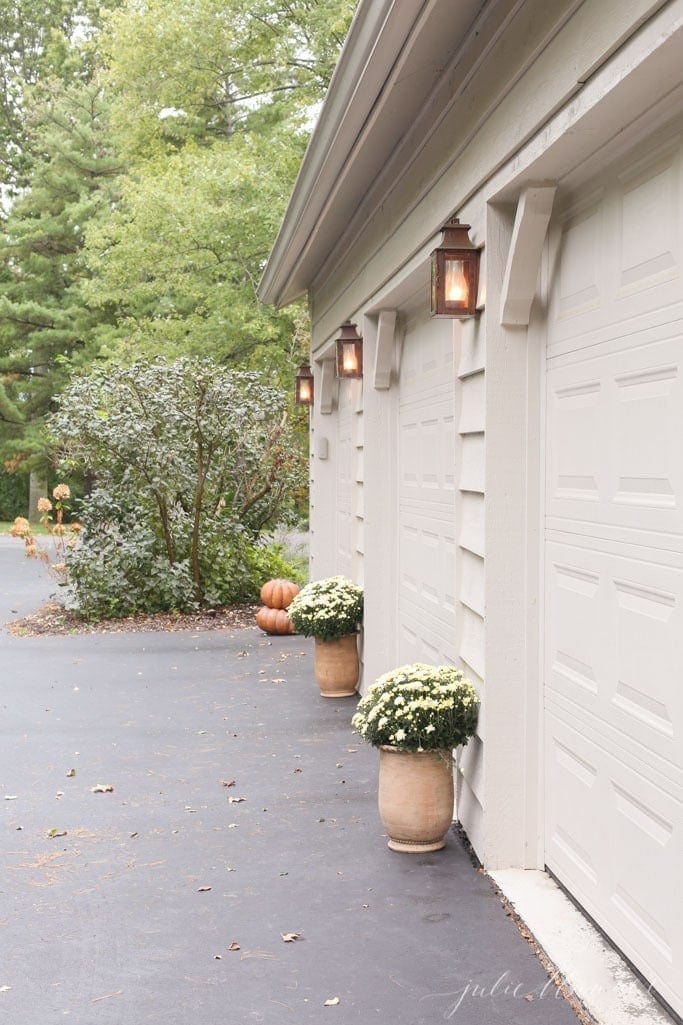 I hope you enjoyed this little glimpse of our natural fall decor and will use these ideas as inspiration as you decorate your home for the season.
More Fall Decorating Ideas
Simple and beautiful fall decorations that you can find in your grocery store or own backyard! Embrace the simpler side of fall bringing in natural elements that don't consume space all year long.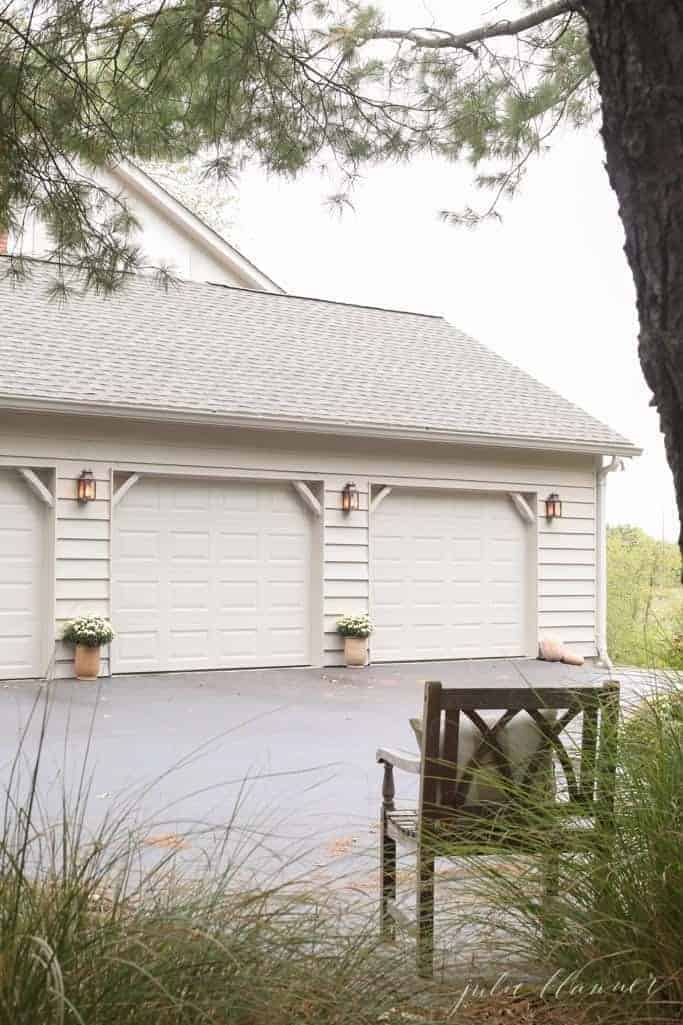 Through the years I've shared an abundance of natural fall decorations – so I'm rounding them up into one easy guide! Fall decorating has never been more fun!
Don't miss these fun fall posts – fall home tour and how to make a DIY treat bucket to match a costume! I've also got an incredible round up with 20 of the BEST Fall Centerpieces!
I've even got the best tips for creating Minimalist Fall Decor that will make your decorating so much easier.
Natural Fall Decorations
Find inspiration for beautiful, natural fall decorations that are anything but cheesy!
Nature-inspired decorating can bring a room to life and won't consume space in your home throughout the year. Just look outdoors for inspiration to bring indoors.
Outdoor Fall Decorations
There are so many outdoor fall decorating ideasthat you can do in 10 minutes or less! Here are a few of my favorites!
Photo Credit: www.instagram.com
This time of year it seems the magic hour lasts all season. Embrace it by creating magical moments outdoors with lighting!
The easiest way to embrace the fall glow!
Add firewood, antlers, pine cones and branches to create a topiary that seamlessly transitions to winter with the addition of twinkle lights.
This easy diy is timeless (and inexpensive)!
They're easy to care for and add beautiful fall color! You can also drop them in apple baskets as seen above!
Use a paint pen to write your name - bonus points for doing it in calligraphy!
Stack Heirloom Pumpkins Next to a Door
It's simple and charming!
Photo Credit: boxwoodavenue.com
How do you decorate for fall?