Shelf styling seems so effortless in the inspiring images we see across social media, right? But we all know that certainly isn't the whole truth! This guide full of bookshelf decor ideas aims to take the stress out of the process.
Learn how to style the perfect combination of books, pottery, art and more! This is a step by step guide that will allow you to enjoy the process and create a look you absolutely love.
Because I am something of a minimalist, bookshelf decor is actually quite difficult for me. I want it to feel organic, organized and soothing to the eye, but I also want it to feel refined and elegant!
Clutter is my nemesis! When I decided it was time to re-work the Built in Bookshelves in our neutral living room I knew they needed to be simple, but still feel intentional and pretty. Luckily, I think we nailed it after some trial and error!
The end result is full of texture, the soft neutral colors that I love, and the perfect collected feeling that is still very restful at a glance. It's personalized and tells our story, but feels soothing in the space overall.
I am so happy with the outcome and I hope you can take inspiration from all these tips and images! If you want to see more of our St. Louis home, come take the full Before and After tour here!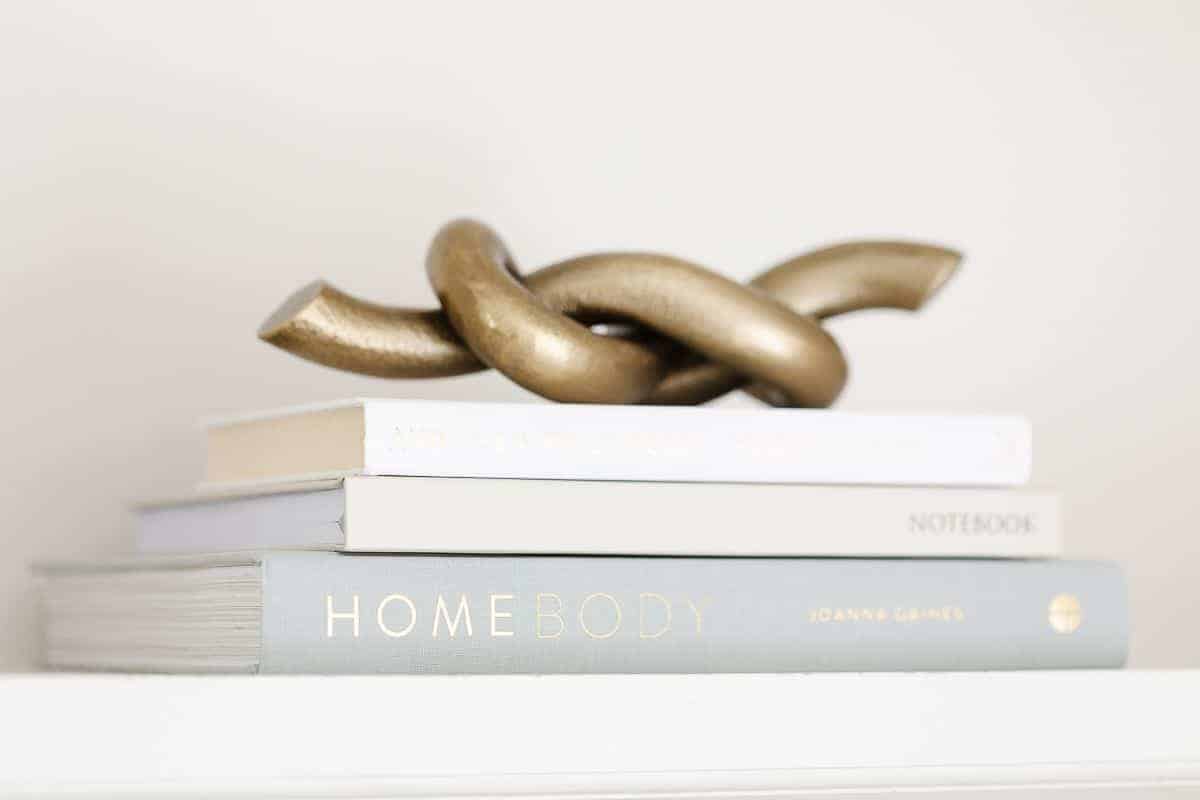 Bookshelf Decor
These are the most common elements used in bookshelf decor. However, remember: there are no rules! And if there are bookshelf rules, they are certainly made to be broken!
Whether you have built in shelves, floating shelves, or any kind of decor shelves, these design ideas are perfect for your shelf styling!
Pottery
Pottery pieces add such a soft, handmade look to your bookshelf styling. They come in a wide variety of finishes, colors and styles, of course, so this is a flexible accent that can work in all types of homes, from modern to traditional.
This category encompasses everything from stone-look pieces to terra cotta and porcelain. Think of vintage pieces or ultra-modern high glass accents.
I love the imperfect finish of a pottery style vase, like this one from Target or more of the stoneware pieces from Shop McGee.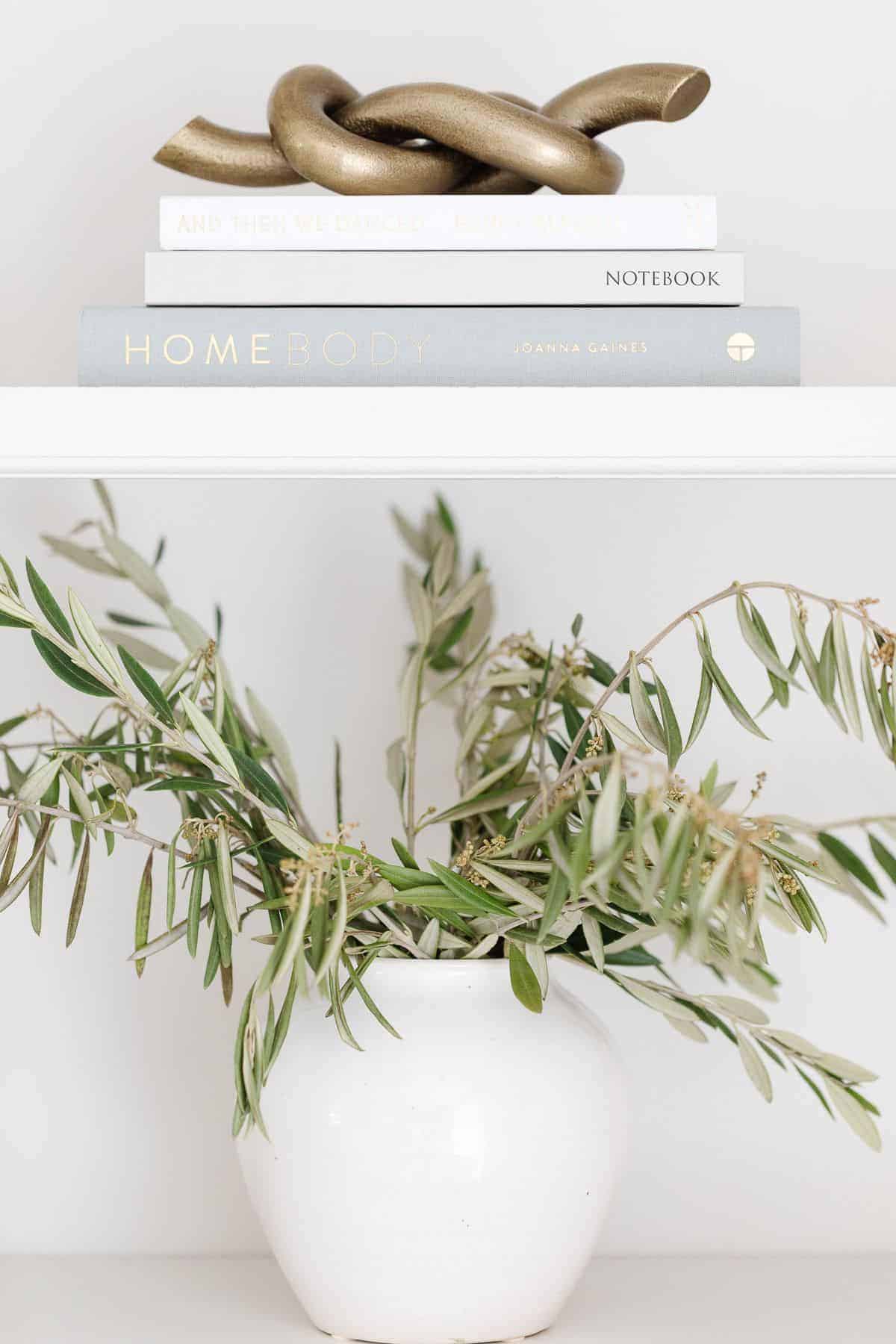 Art
Art is so personalized to every individual's tastes. Adding art work to your bookshelf decor is a great way to tell your family's story!
There are so many incredible Free Art Sources and it's easy to print your own pieces and frame them to look high end.
You can also use family photos in your favorite picture frames, of course, to bring a personalized element to your shelves.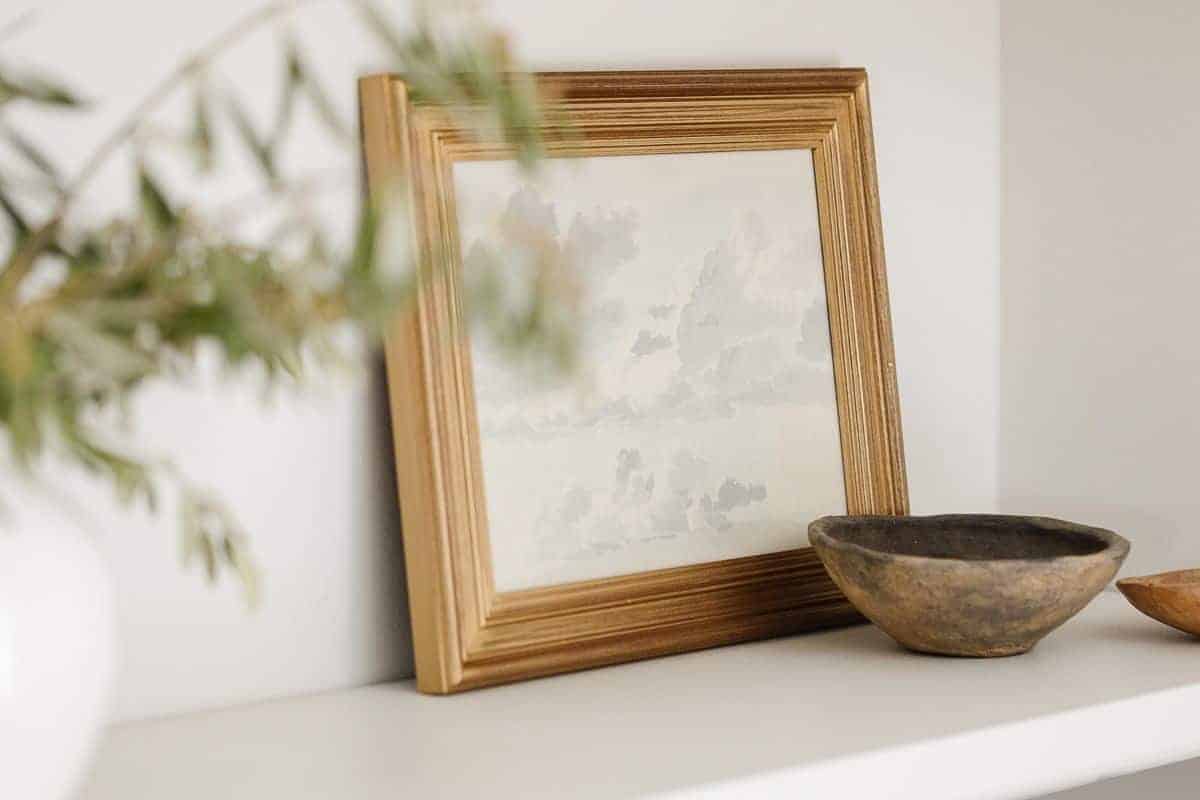 Books
Books are such an important part of bookshelves, of course! Because we keep the books we actually read in different areas of our home, I like to think of our bookshelf styling books as decorative.
I tend to gravitate towards two styles for books for decorating our living room. First, I use my favorite decorating books from interior designers, which you can find under Coffee Table Books in my Amazon Shop here.
Secondly, I've found the best-kept secret for books meant for decor! I use Etsy to find books in the shape, style and color I am looking for. They are often sold in lots, making them the perfect color and price point for your bookshelf decor!

Start your search here, and read more about my favorite Coffee Table Books.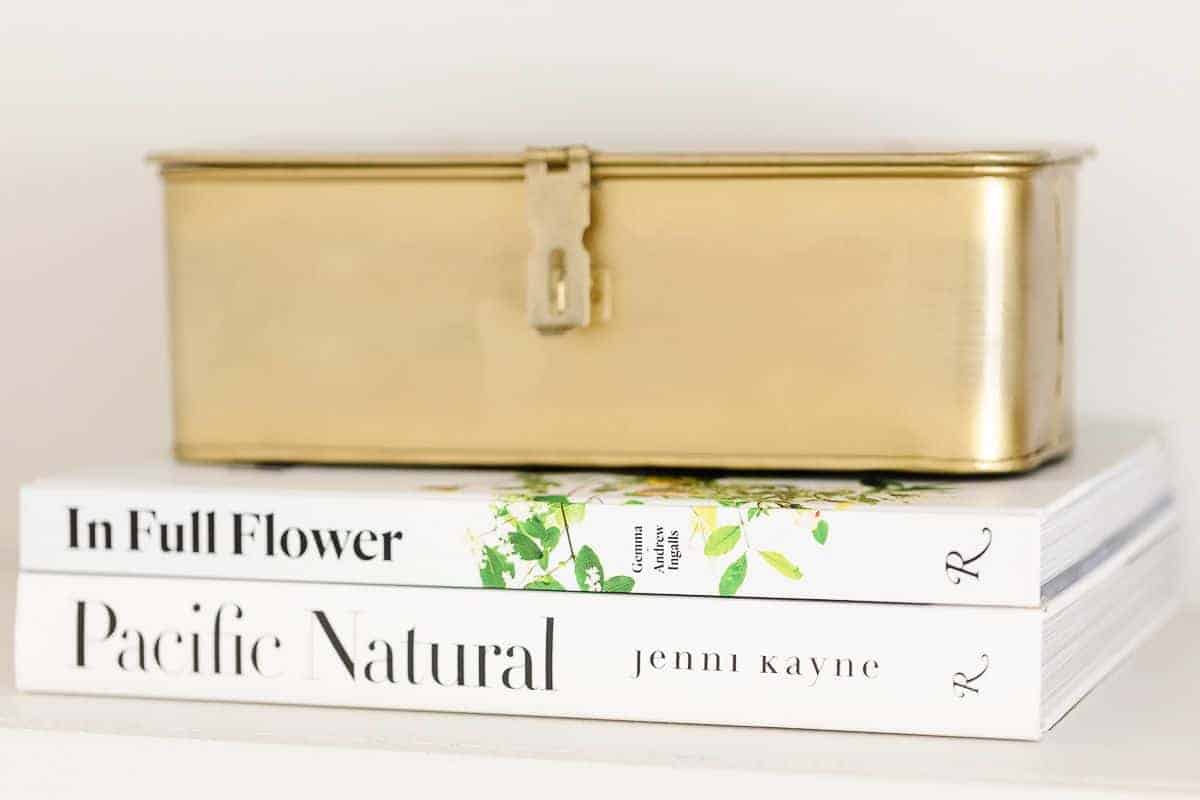 Baskets
For years, I've been preaching about design and style meeting function. It's so important in our home! It's rare that I choose an object just for beauty… I love when it has multiple functions and serves a true purpose.
That's where baskets come in! Those baskets on our bookshelves have been used to store everything. We've used them for TV accessories like remotes and signal boosters, games for the girls, random toy storage and more.
Not only do they look nice and tidy on our shelves, but they serve an important purpose. Find more of my favorite Storage Containers and Supplies here!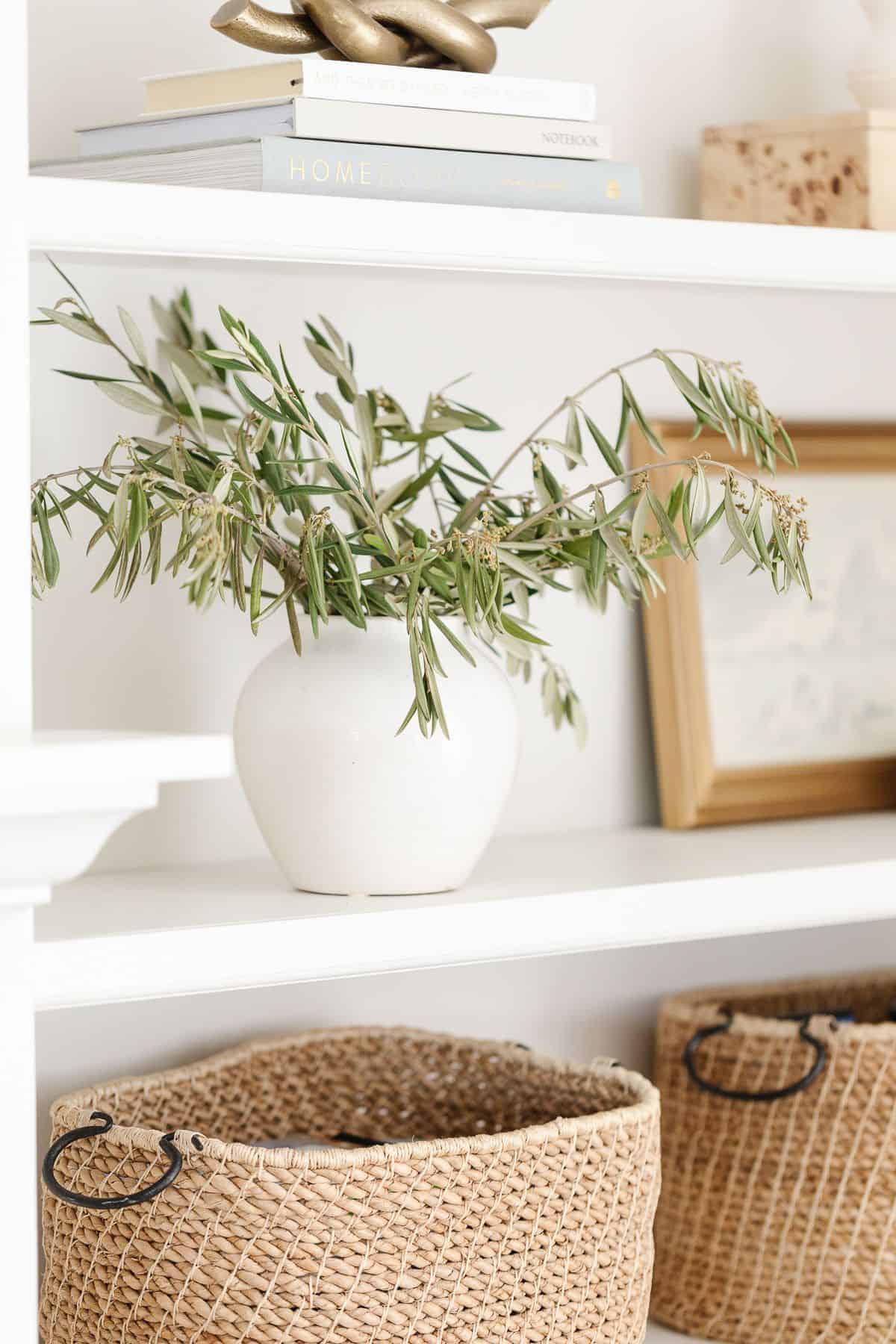 Boxes
Similarly, boxes are such a great element for bookshelf styling. They can hide unattractive items or simply be used as a prop to give you more height as you're styling.
They are sturdy, textural, and help tell the story. Here, I've used both a raw wood style box and brass boxes that elevate the look of our shelves while keeping in line with the warm, neutral look of the living room as a whole.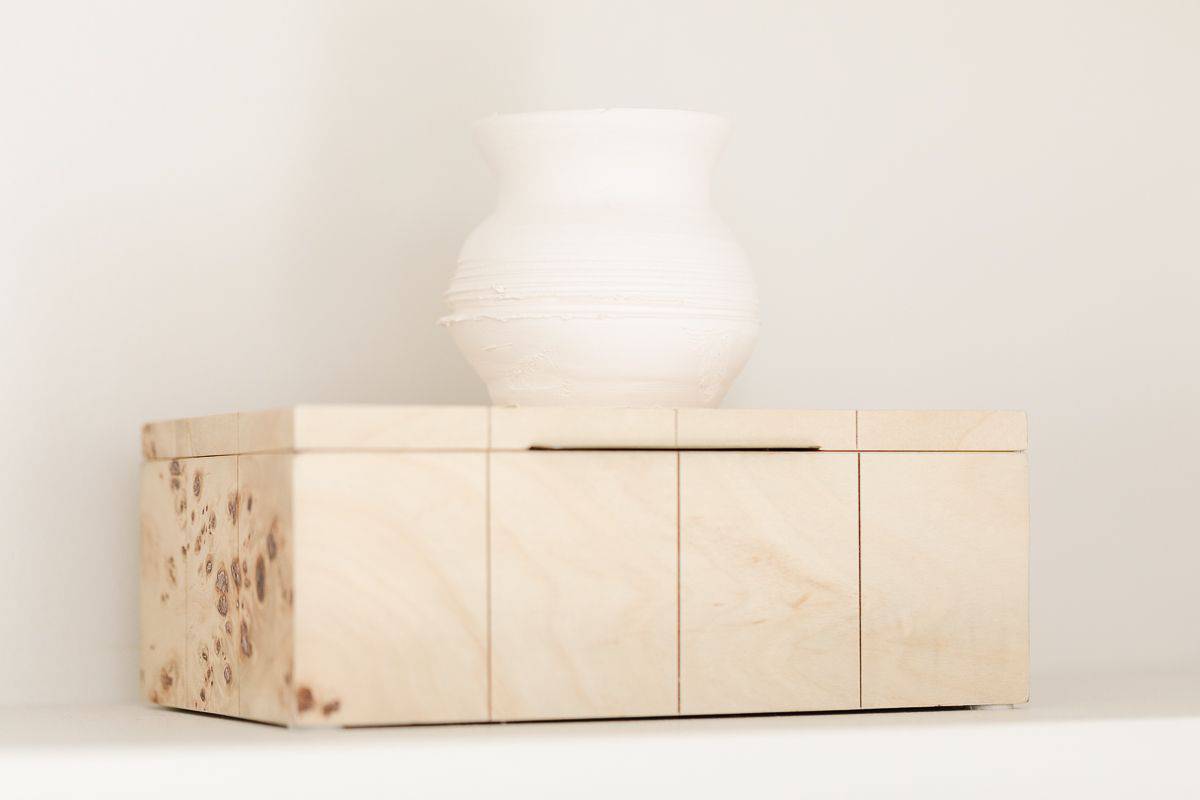 Accents
This is another area that is so easy to personalize! These decorative items can be anything from the brass knot we used on top of books, to a piece of coral or a collection of sea shells.
Small bowls, figurines and other decorative pieces fit into this category as well. Use them sparingly and with intention to create the look you're after – clutter serves no one in this situation!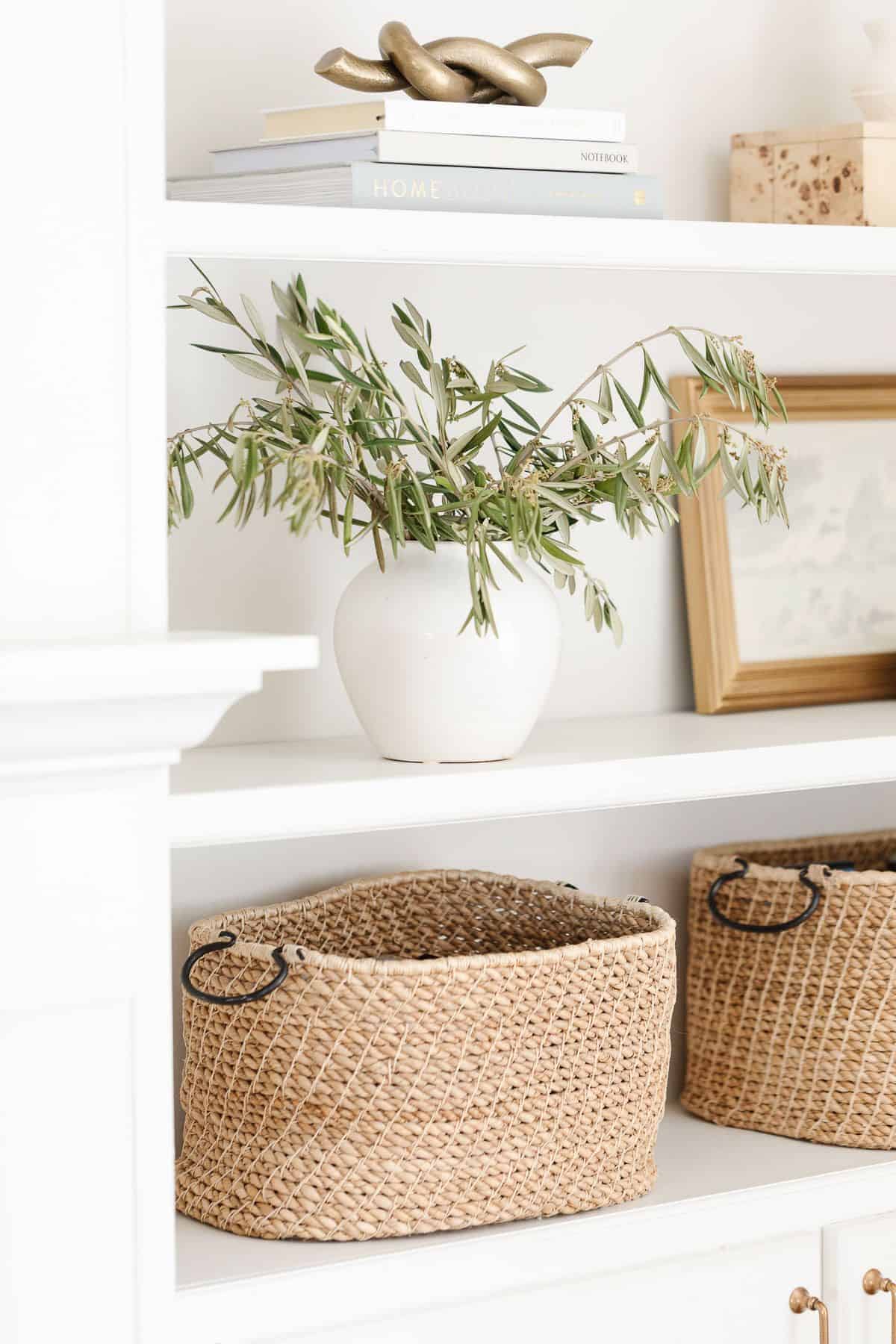 How to Decorate Bookcases
Again, please remember that there are no rules. This is simply a guide to help you get started and style your bookshelves in a way that you love!
Learn to decorate bookshelves step by step to make it easy.
Step 1: Start With a Blank Canvas
Remove everything from your bookcases to start with a blank canvas. This allows you to decorate without restraints and rethink the space.
Of course, I love white shelves, but you can make them amazing no matter what color you're painting! Get my best tips for Painting Trim White and my favorite Cream Paint Colors to mimic this look.
Step 2: Collect Potential Items
Consider adding some organic elements to bring it to life, as well as natural pieces to add a little depth, color and texture.
Keep it practical and make it functional. This makes it feel warm and realistic rather than a contrived display. Use baskets and boxes to hold dvd's, remote controls, etc. Use your shelves to store your favorite coffee table books or display treasures.
Create balance by adding tone and texture. Use a variety of materials including wood, metals, and pottery. Mix it up rather than grouping like items together.
Blending old and new pieces adds a little depth to your bookshelves.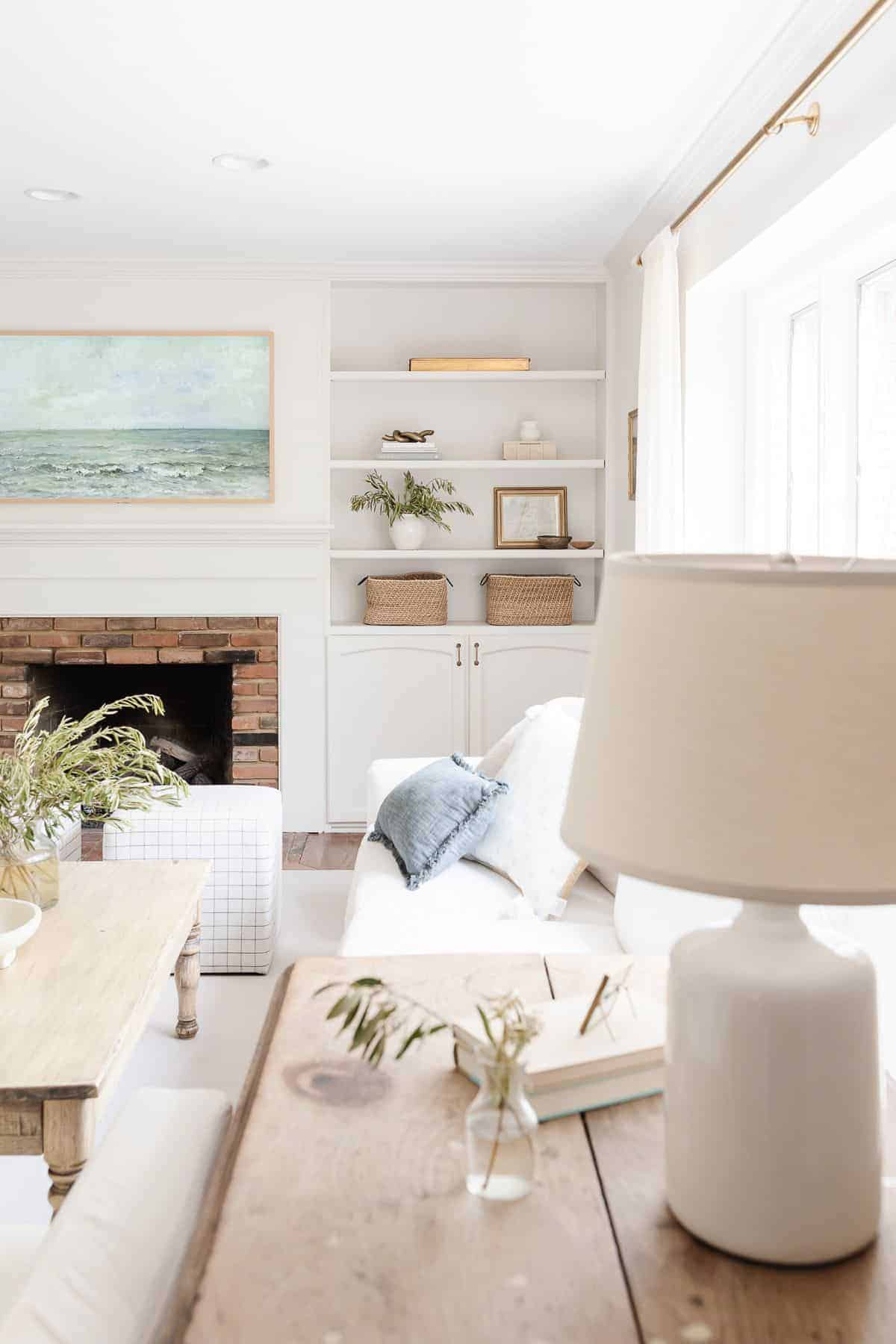 Step 3: Group by Size
Add height to ground the shelves. Integrate pottery, stacked books, art or a greenery to add height, create interest and movement.
Use diagonal lines or triangle composition, sticking with single pieces or a grouping in odd numbers to help you achieve balance.
Step 4: Adjust
Take a step back and make adjustments as needed. I like to take a quick snapshot on my phone to evaluate it. See what works and what doesn't to add and subtract until it feels right.
Bookshelf Styling Tips
Find your inspiration and start there! Look to your favorite interior designers and influencers for images that can inspire you.
Do not overcrowd. Leave white space to allow pieces to stand out.
Create a layered appearance by overlapping items or spacing them slightly apart.
Think in terms of odd numbers. Ideally, three items will to create the traditional "design triangle" can help you find the perfect layout. Tall, medium, low can be a good angle to try!
A monochromatic or minimal color scheme will help you immediately achieve a sophisticated look. Simplifying the color palette is the easiest way to do this – I like to keep it to three primary color tones!
In these photos, I used fresh olive branches in my vases because they dry beautifully and I can leave them for a long time to come. However, don't hesitate to use faux for a long-lasting pop of greenery!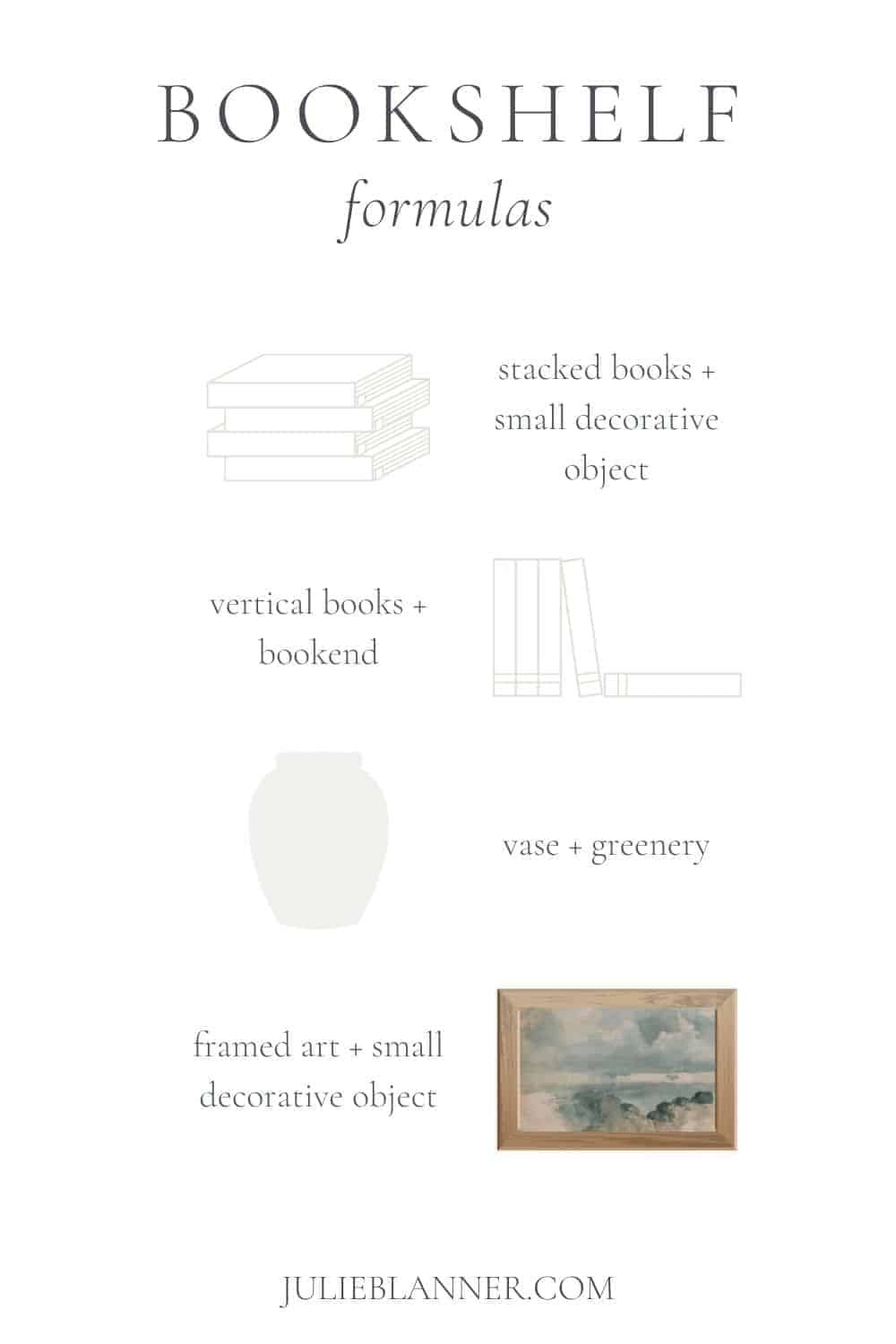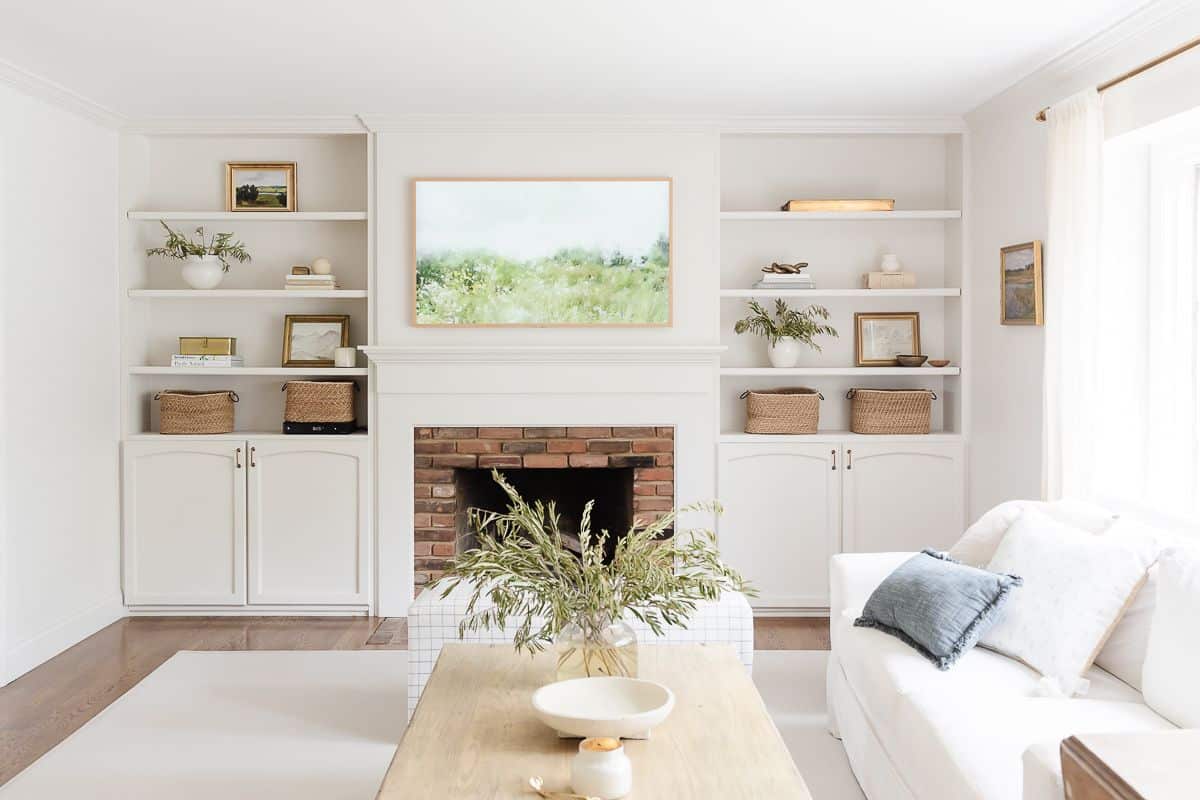 Shop This Post
Let's keep in touch! Receive exclusive content, including never-seen-before photos, our favorite home decor DIYs and more!
More Decorating Inspiration
Design Guides, Decor & Tips
Design Guides, Decor & Tips
Design Guides, Decor & Tips