Add major curb appeal to your home with these easy and beautiful fall porch decor ideas that are as functional as they are beautiful.
I've been adding little touches of fall throughout our home the past few weeks, even if the season itself seems to be holding off. With temperatures near 100 degrees, our flowers are still in full bloom, so I added some fall porch decor in a muted color palette that compliments rather than competes with them.
The porch is my favorite space to decorate. It requires just a few simple touches and makes a first impression. Few may come into your home, but many pass by. I find porches to be so charming.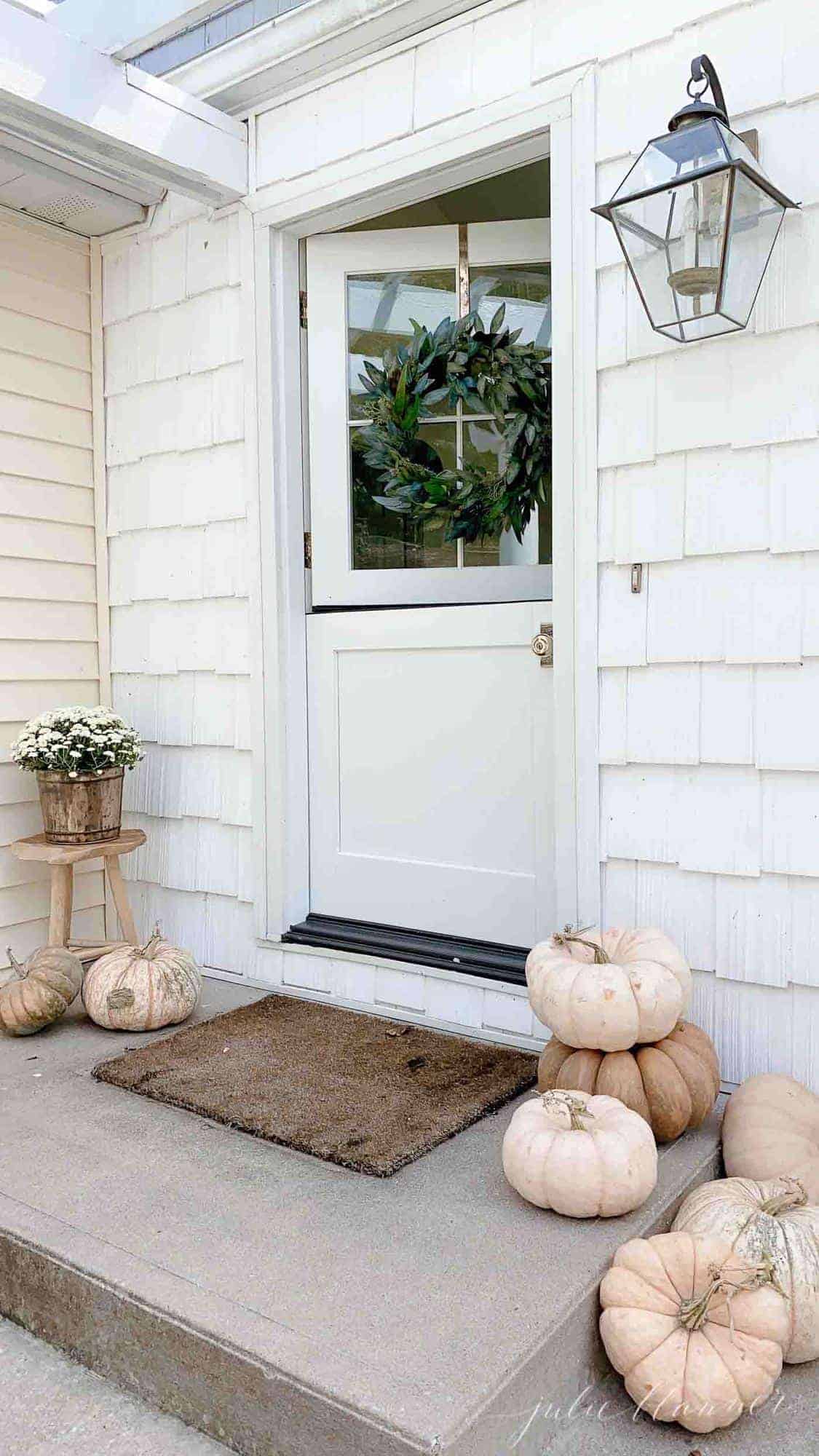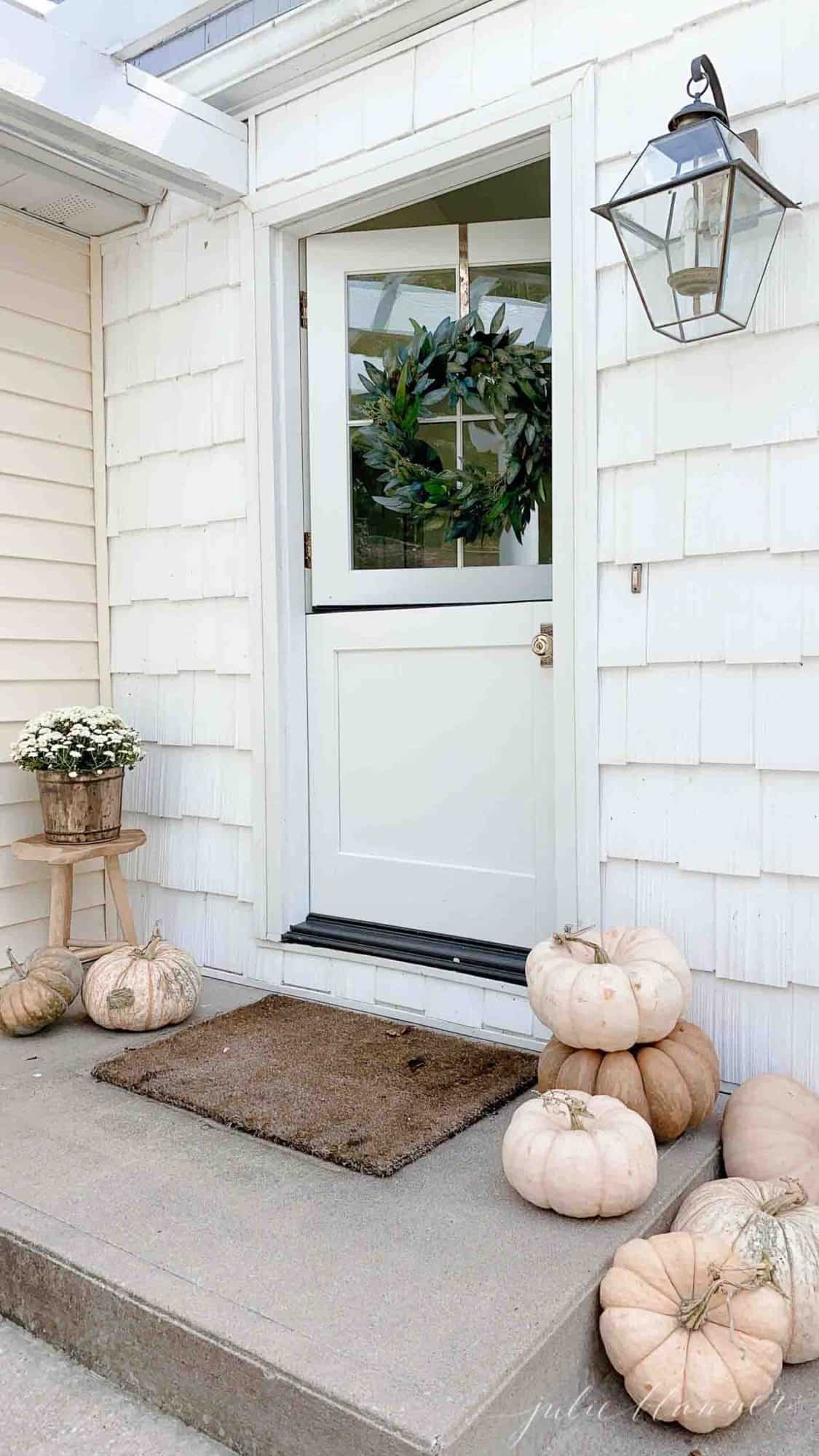 I love sharing my favorite fall and Halloween decorating ideas with you! Don't skip Fall Living Room Decor inspiration for a few more of my favorite autumn ideas.
I love bringing you decor inspiration for each season! Don't miss my Studio McGee at Target post for affordable buys to bring cozy charm to your home.
Love entertaining friends and family? Don't miss my FREE complete guide for How to Host Thanksgiving and even a Virtual Thanksgiving guide!
How to Decorate a Porch For Fall
Whether you prefer a more traditional, simplistic or modern approach to decorating a front porch for fall, there's many ways to achieve a seasonal look.
Traditional items like pumpkins, gourds, mums, wheat, and lanterns will always look classic. Keep it simple with an heirloom pumpkin and big beautiful mum or stack larger pumpkins for more dramatic effect. If you want to go more elaborate, a faux leaf garland, basket of Indian corn or tall corn stalks will wow passers-by.
Instead of keeping mums in their original pots, get creative with your planter containers. Buckets, urn style planters, wicker baskets and apple pecks and bushel baskets are a perfect nod to the season.
You'll be amazed at what a few additions can do to instantly up your curb appeal for fall. These are some popular ideas I've shared through the years.
Add Pumpkins and Gourds
Pumpkins and gourds come in array of colors – you can stick to a monochromatic palette utilizing various shades of the same color or mix it up using all pastels or all bright hues.
You can even personalize your pumpkins adding your address, name or monogram!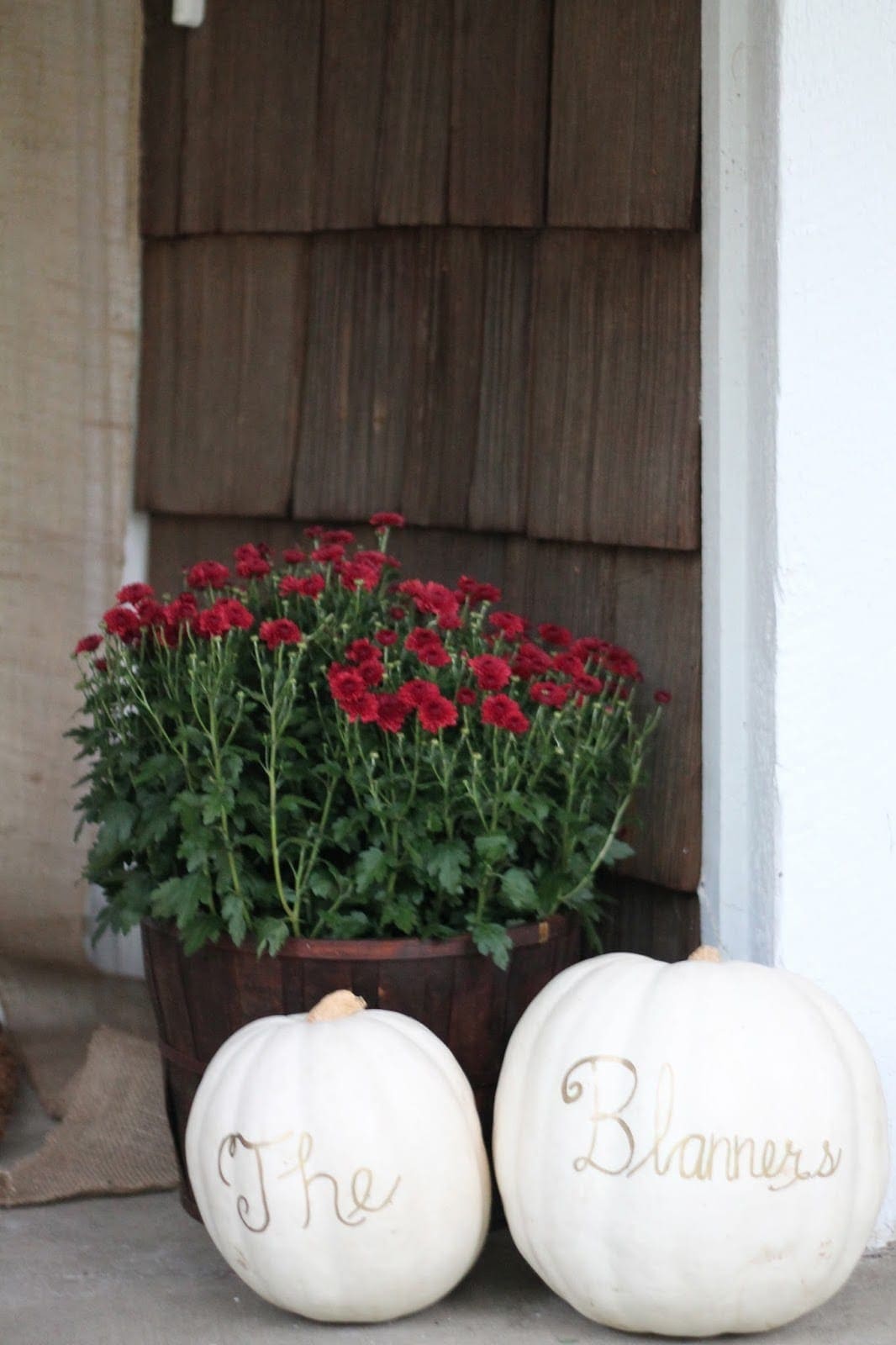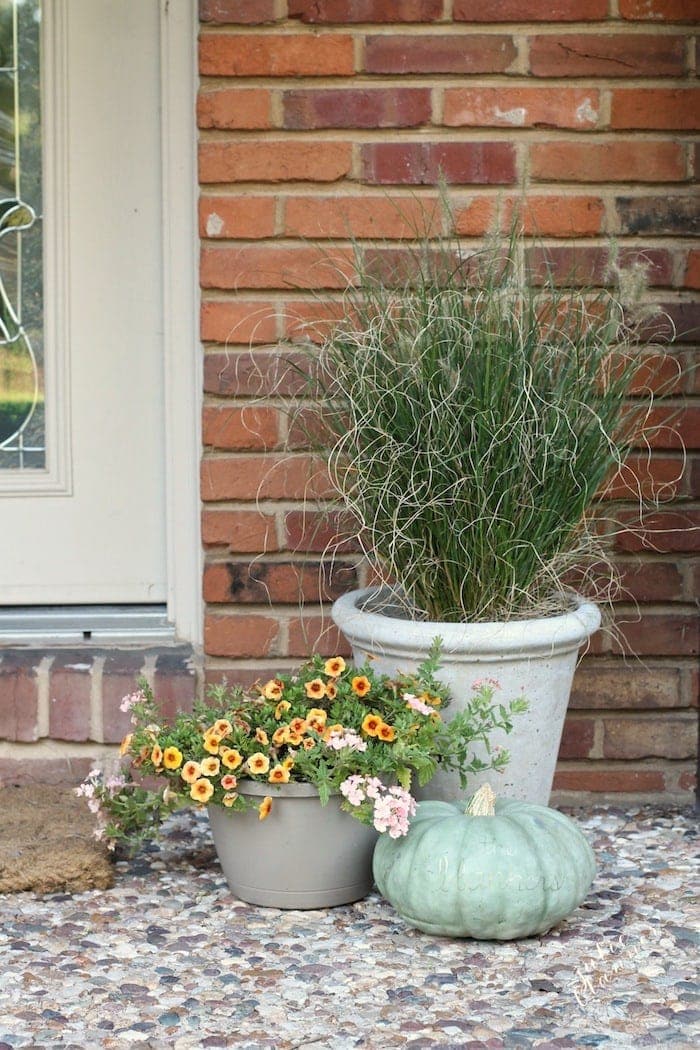 Add Mums
Mums are quintessential fall porch decor! You can add them to your existing planters, nestle between pumpkins to disguise their containers or pop them in peck baskets (my favorite!)
Embrace Seasonal Colors
A fall porch is a great way to embrace colors that you may not normally choose to decorate with. Yellow, orange, red, and purple do not fit with my interior aesthetic, but they add a wonderful cozy, warm seasonal touch to the front of our house for the season.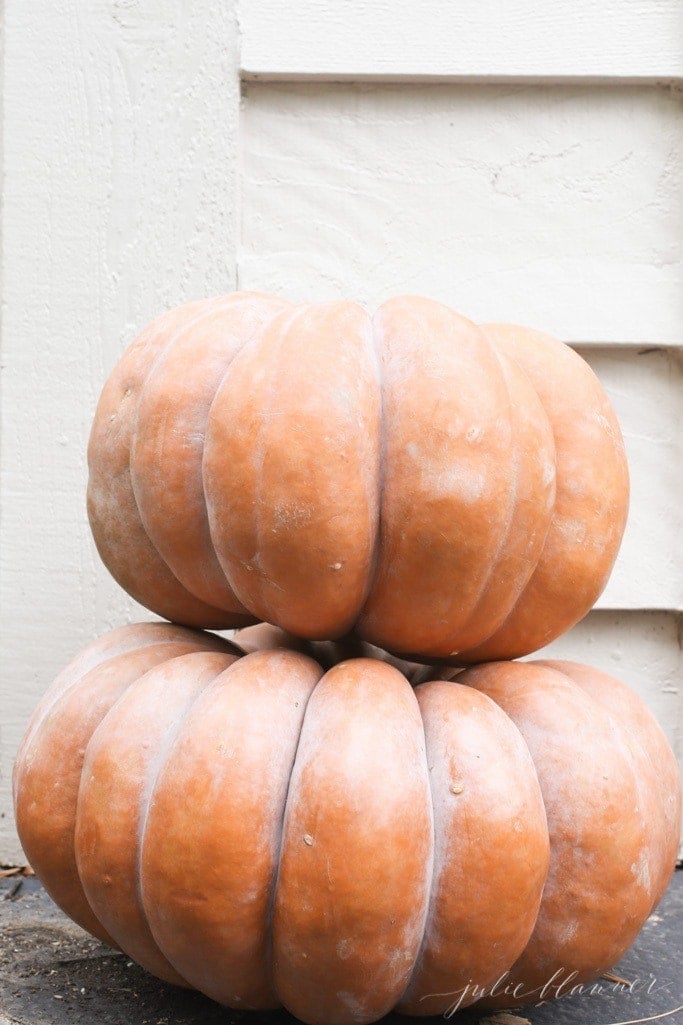 You can of course choose to keep your porch decor completely neutral if you prefer by using all white pumpkins and even white mums.
Fall Wreaths
Don't forget the front door! Wreaths always look pretty, whether they are real or faux.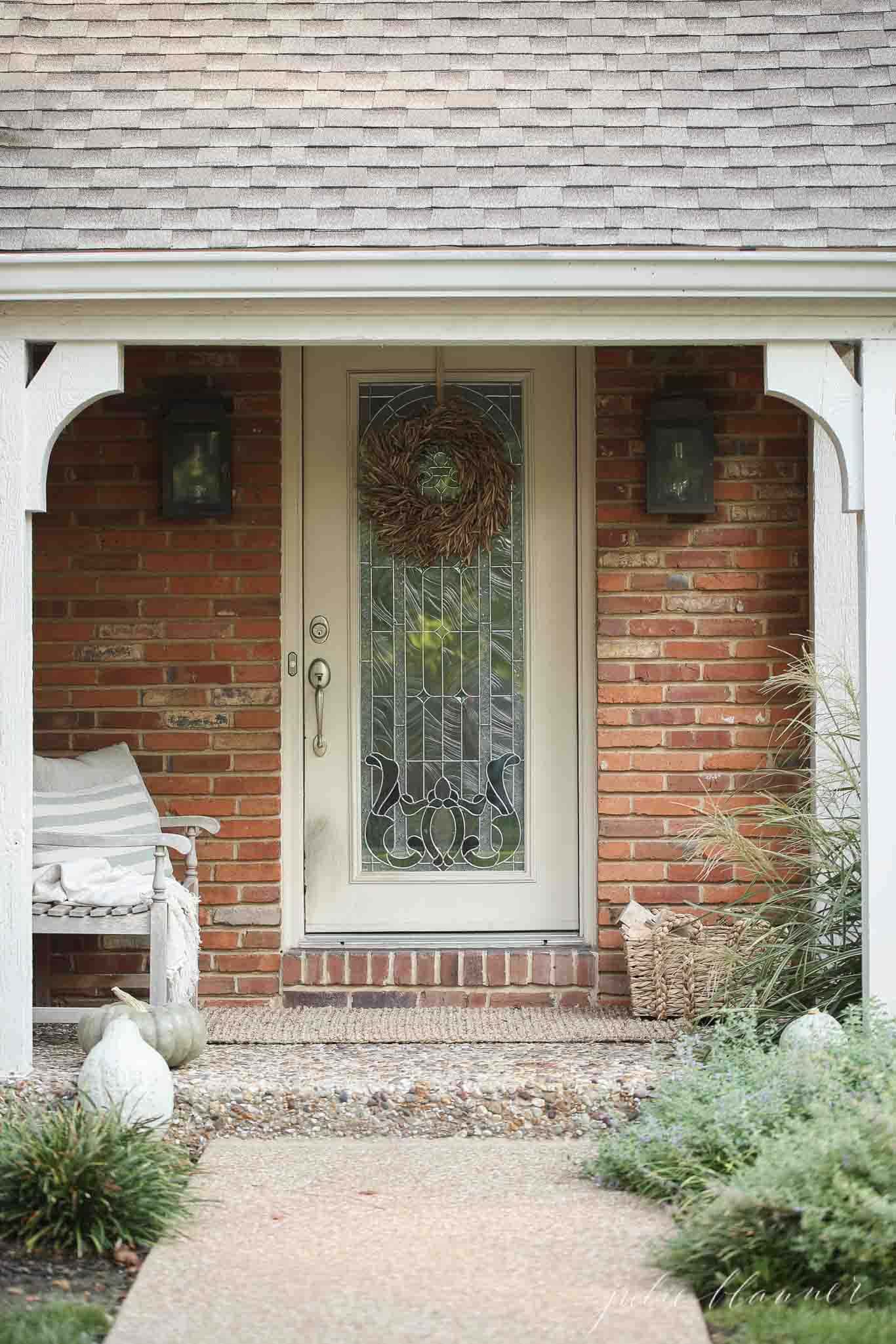 Making your own wreath doesn't have to be expensive or complicated, either. A simple grapevine wreath can be used as the form for any number of dried flowers or even branches.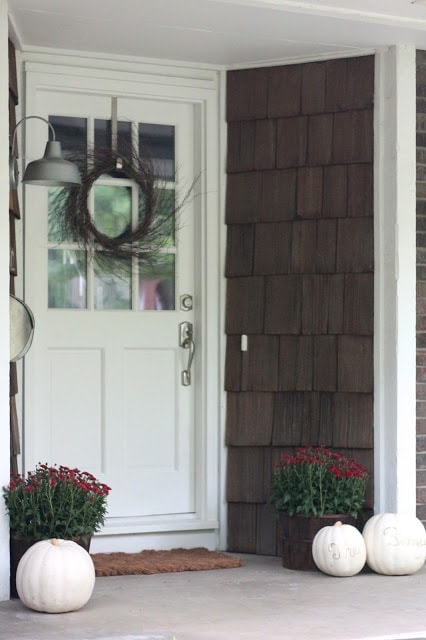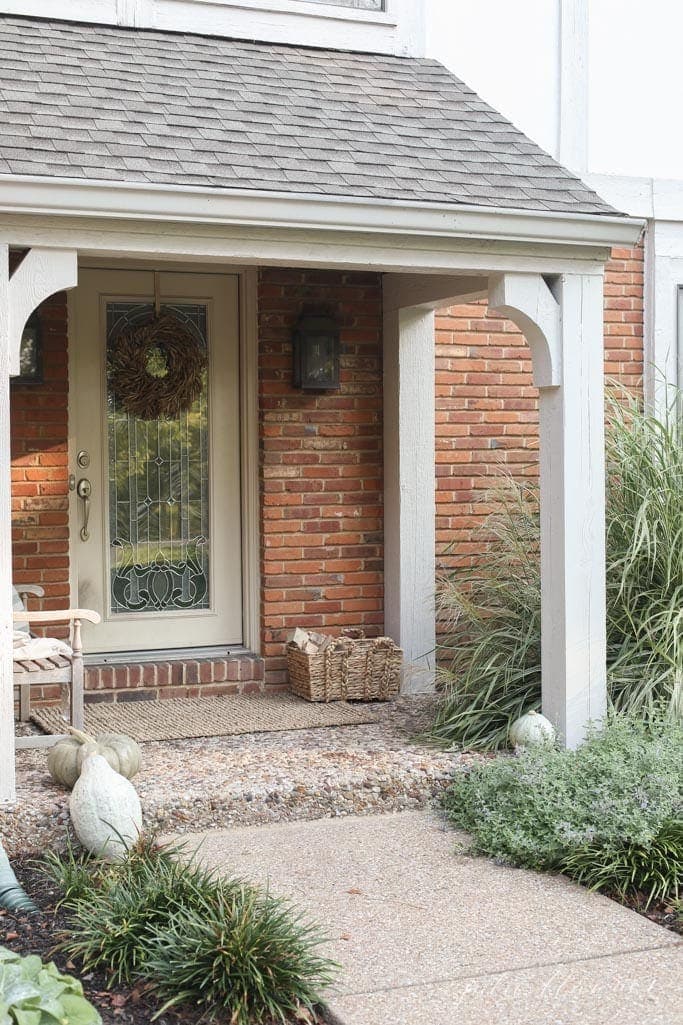 If you want something different than a standard wreath, trying hanging a sheaf of wheat! I made this version quickly and simply tied a ribbon around it to tie in with my other fall decorating colors. Decorating with natural elements like this is one of my favorite ways to embrace the fall season.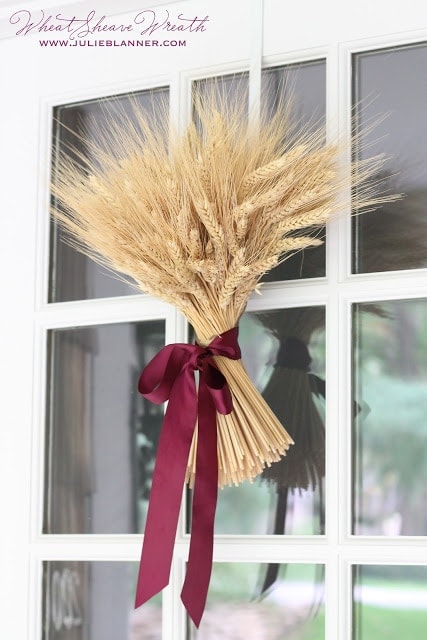 Another idea is a laurel wreath. This works better if you have a covered porch or overhang, and adds a beautiful natural touch to any front entry.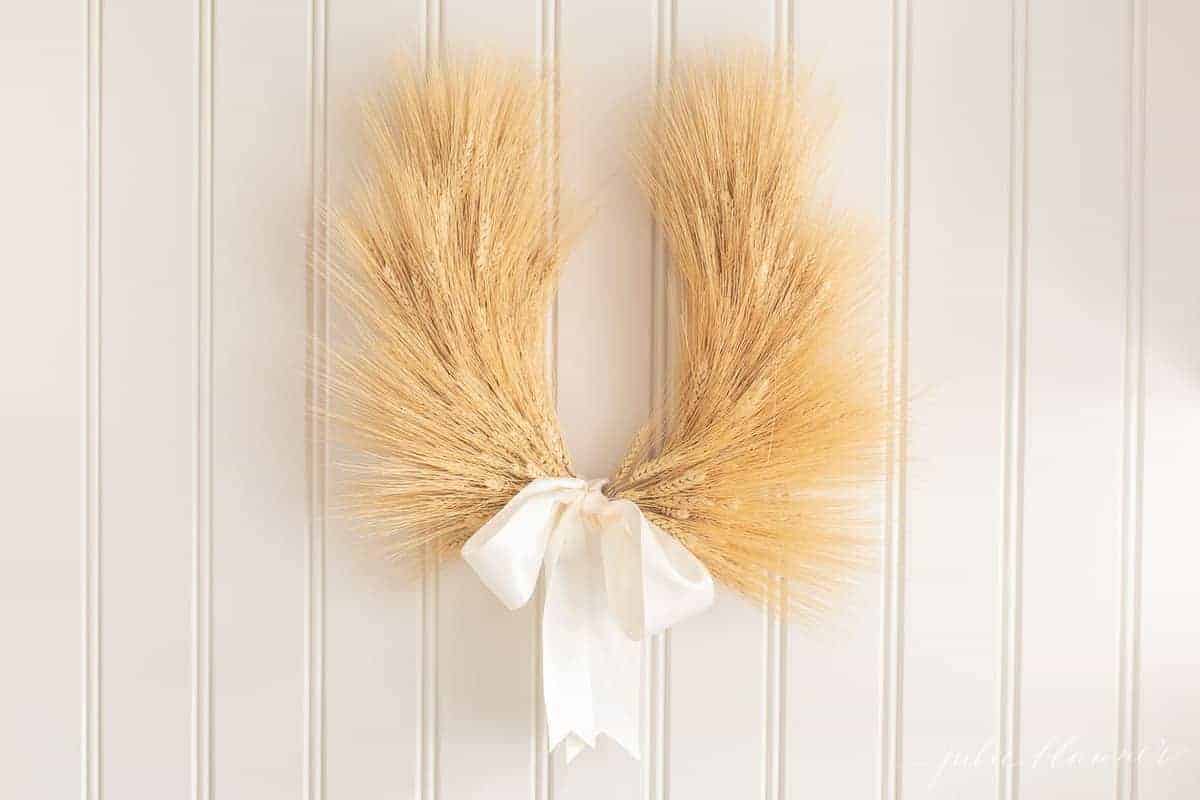 Wreaths can be hung from the door using a wreath hanger or 3m command hooks. Just remember to wait for the hook to adhere for an hour or so before hanging a wreath on it, or it will fall right off!
This year I incorporated a Studio McGee at Target wreath…it's delicate in appearance, appropriately sized and has a hint of fall foliage.
Add Cozy Layers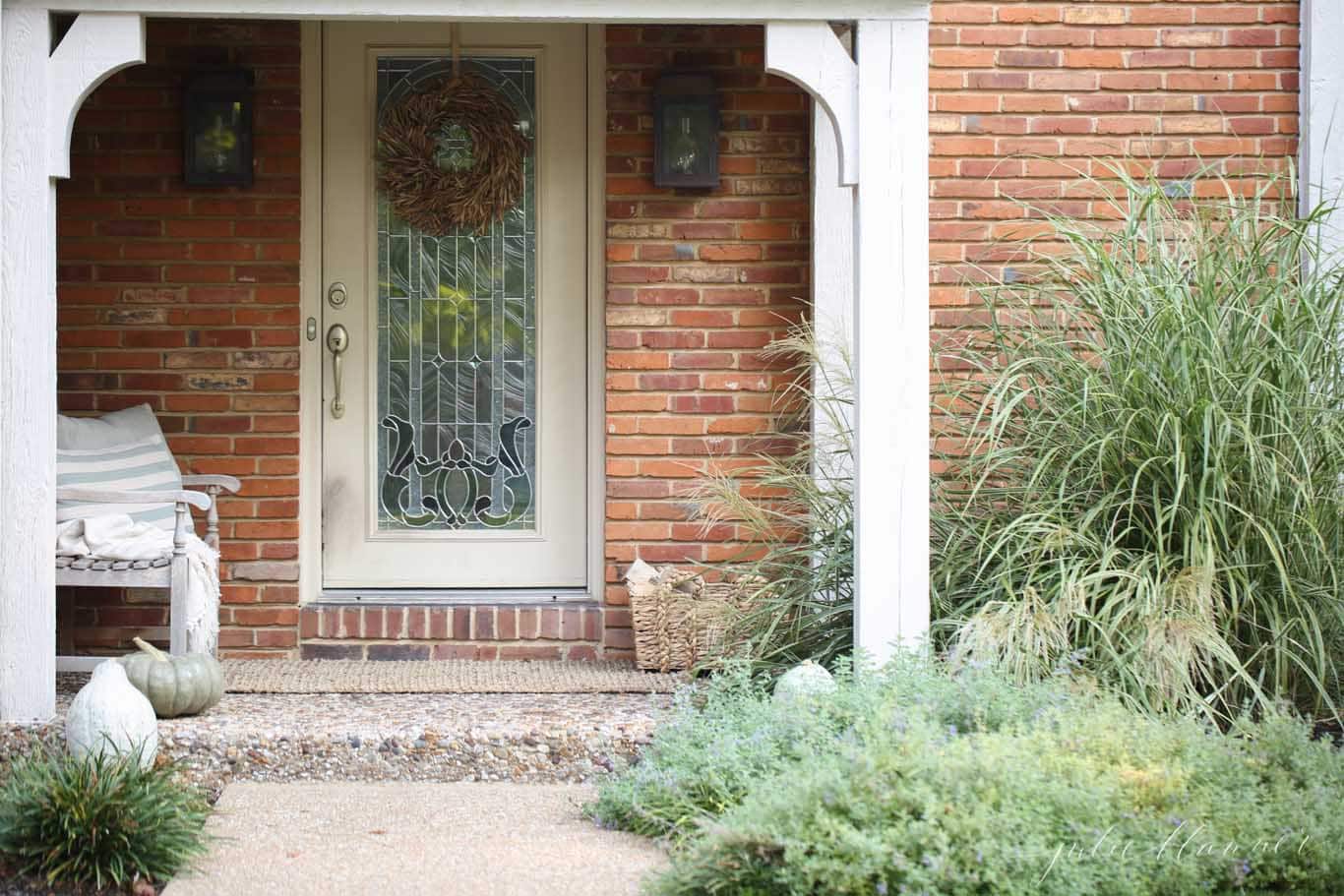 Pillows and Throws
As a minimalist, I tend to keep our fall porch decor somewhat utilitarian with purpose. Pillows and throws offer comfort while watching the kids play and make your porch feel cozy.
Baskets or Bundles of Wood
A pretty basket with handles holds a bundle of firewood for when those crisp cool days arrive.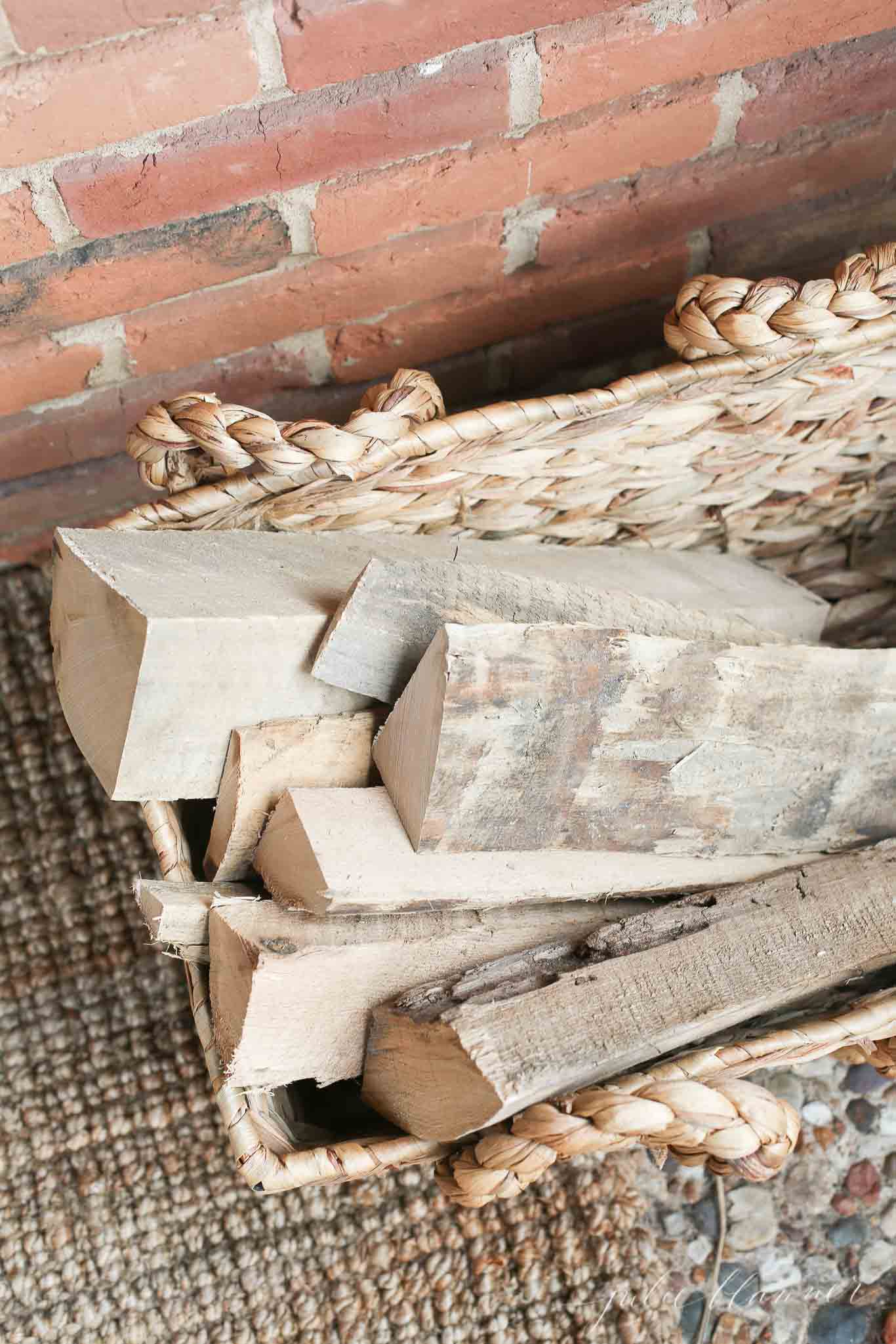 Layer with Rugs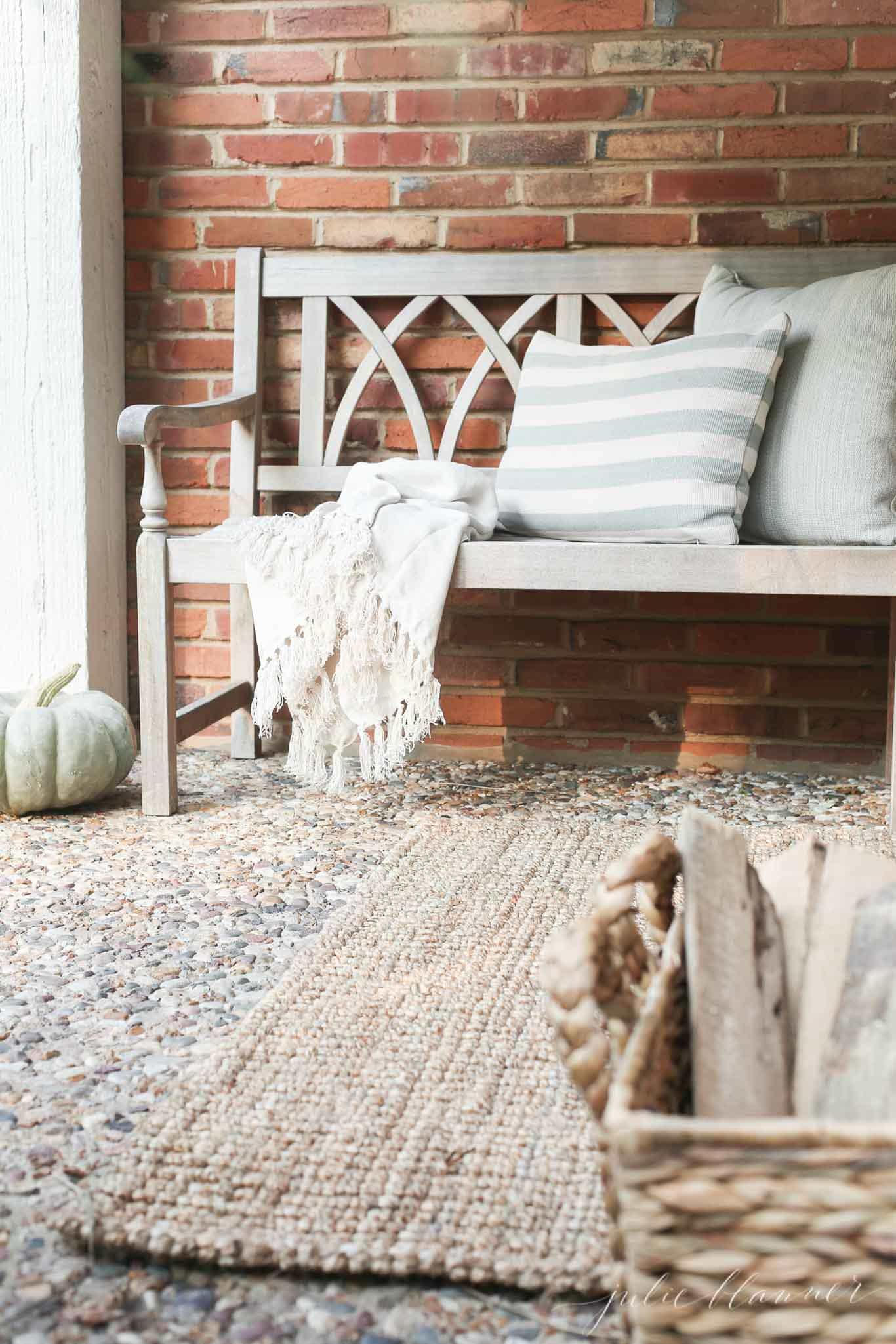 In lieu of a traditional doormat which feels dwarfed on our porch, I found this pretty woven jute rug in a 3×5 which is perfect for covered porches. It mimics the surrounding natural colors while also standing up to daily foot traffic.
Embracing natural colors and tones both indoors and outdoors is an easy way to always have a coordinating color scheme during the fall. You can learn more about Natural Fall Decorating Ideas here.
You can add a single rug or layer different rugs to add color, texture, pattern and even text! (It's fall y'all!)
If you want to coordinate with your mums, or give a glimpse of the color scheme inside your house, consider picking an outdoor rug with those colors in it. Door mats come in a variety of colors and textures so you will certainly find one that matches your home's decor personality.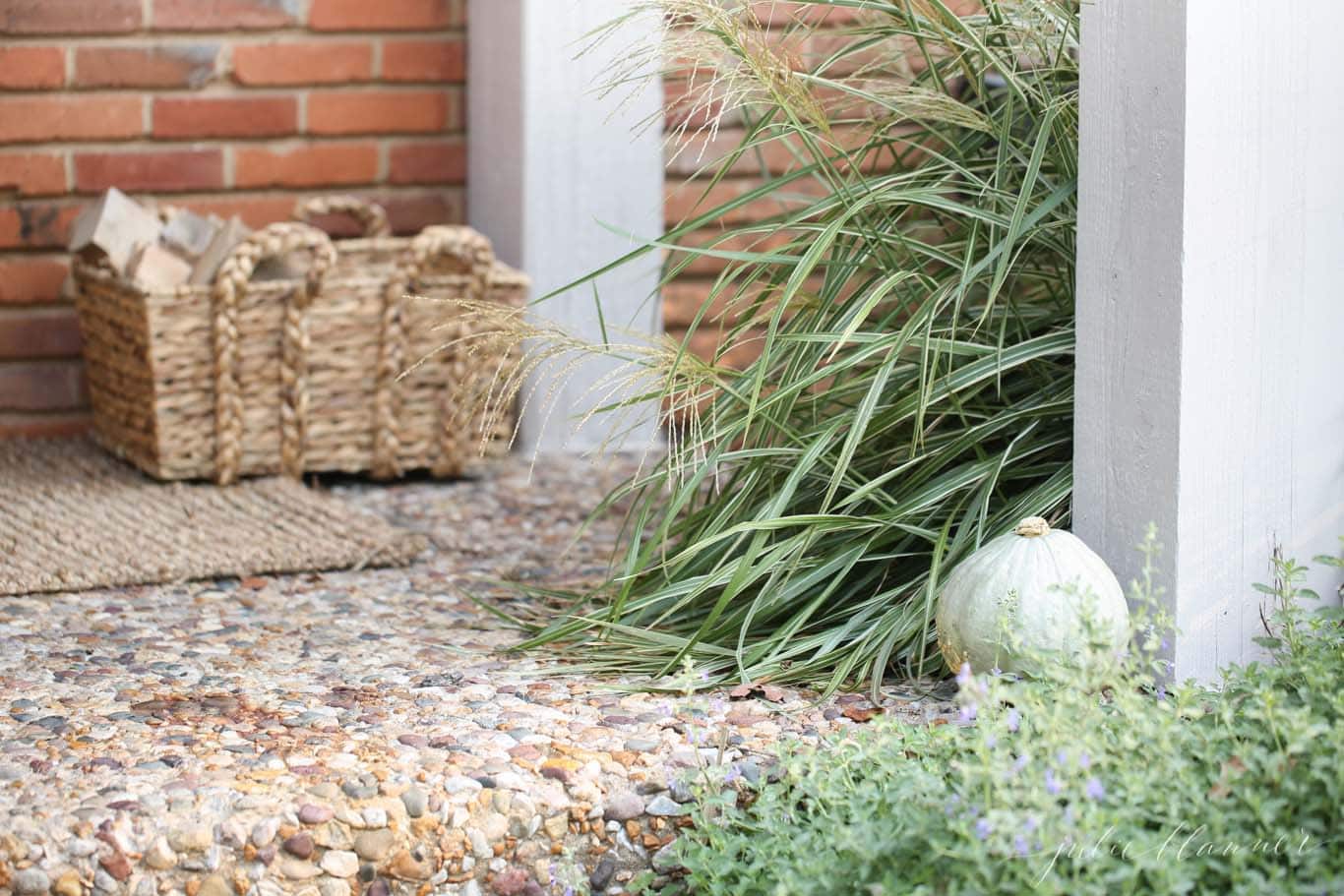 Don't Be Afraid to Move Off The Porch
Whether you have a front porch or just a few front steps, don't be afraid to move off the porch and use some of the surrounding area for pumpkins and mums.
You can even create a little walkway of fall decor that welcomes guests up into your home!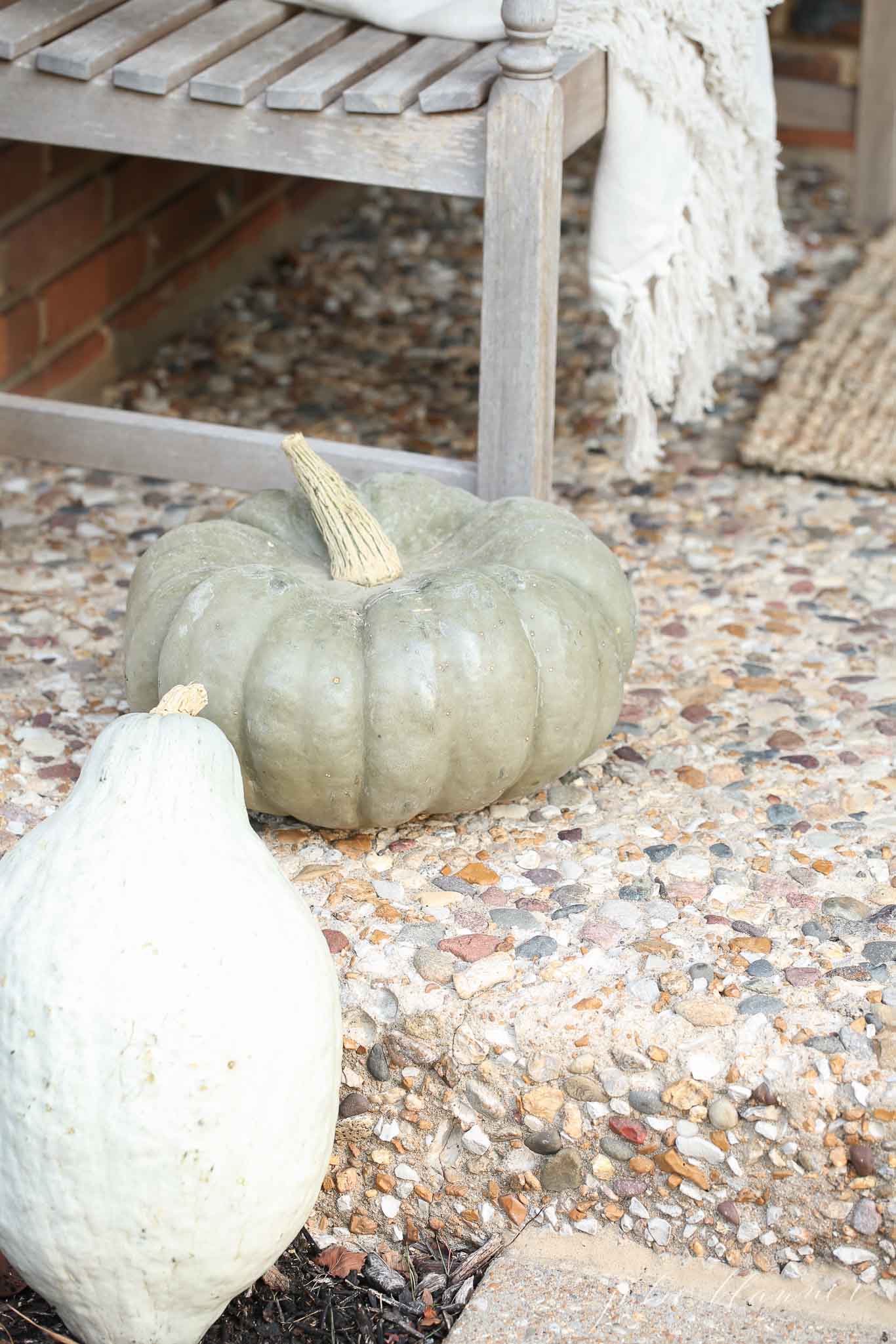 Small Porch Decorating Ideas for Fall
Small porches don't have a lot of floor space to place a lot of items, so it's important to choose your decor items carefully. A cluttered porch will be an eyesore from the street and a tripping hazed for guests coming to the door. Consider a simple planter of mums, a wreath on the door and maybe a pumpkin if you have the space for it.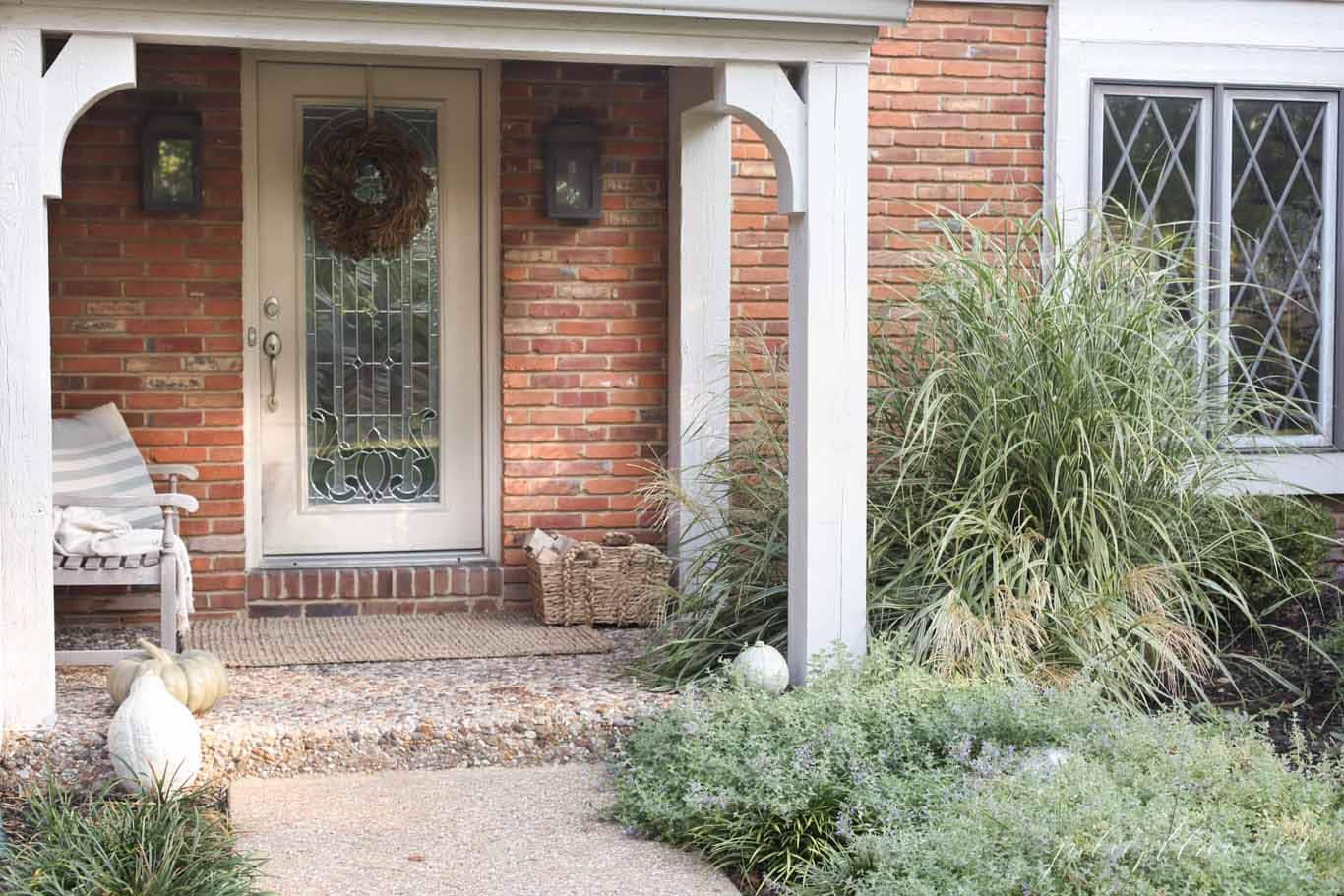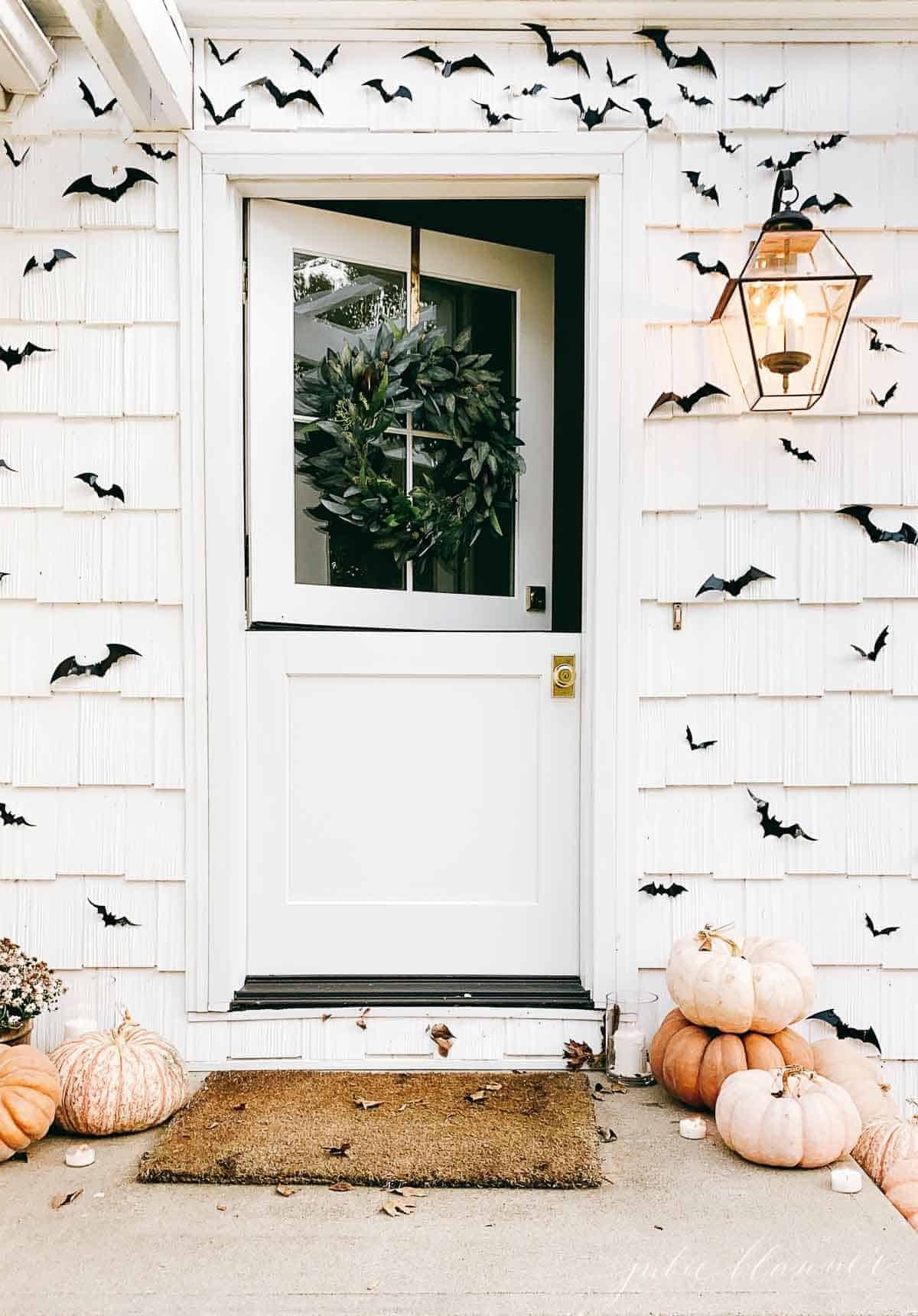 Transitioning To a Halloween Porch
Add Bats
One of the easiest things you can do is to add bats. This works especially well on siding, windows and doors. It takes just a few minutes to make a haunting Halloween porch! It's just $5 for 108 reusable bats! You can shop the bats here!
Add a Skeleton
You can easily transition your porch from fall to Halloween by adding a skeleton. There are so many ways to prop them up! Make him/her climb onto your portico, peep out from the bushes, sit on the bench and more! You can get a life size posable skeleton here.
Add Spiders
Purchase plastic spiders or spider rings (clip the ring off) and tie clear fishing line. Hang from your porch at varying heights to spook guests!
Add Webs
Dying mums? No problem! Cover them with spider webs! It's a hauntingly fun way to update your porch for Halloween! Give the illusion that everything is dead!
I hope you found these fall porch decorating ideas helpful! Remember, whether your porch is big or small, and no matter your budget, you can inject some fall touches into your curb appeal this season.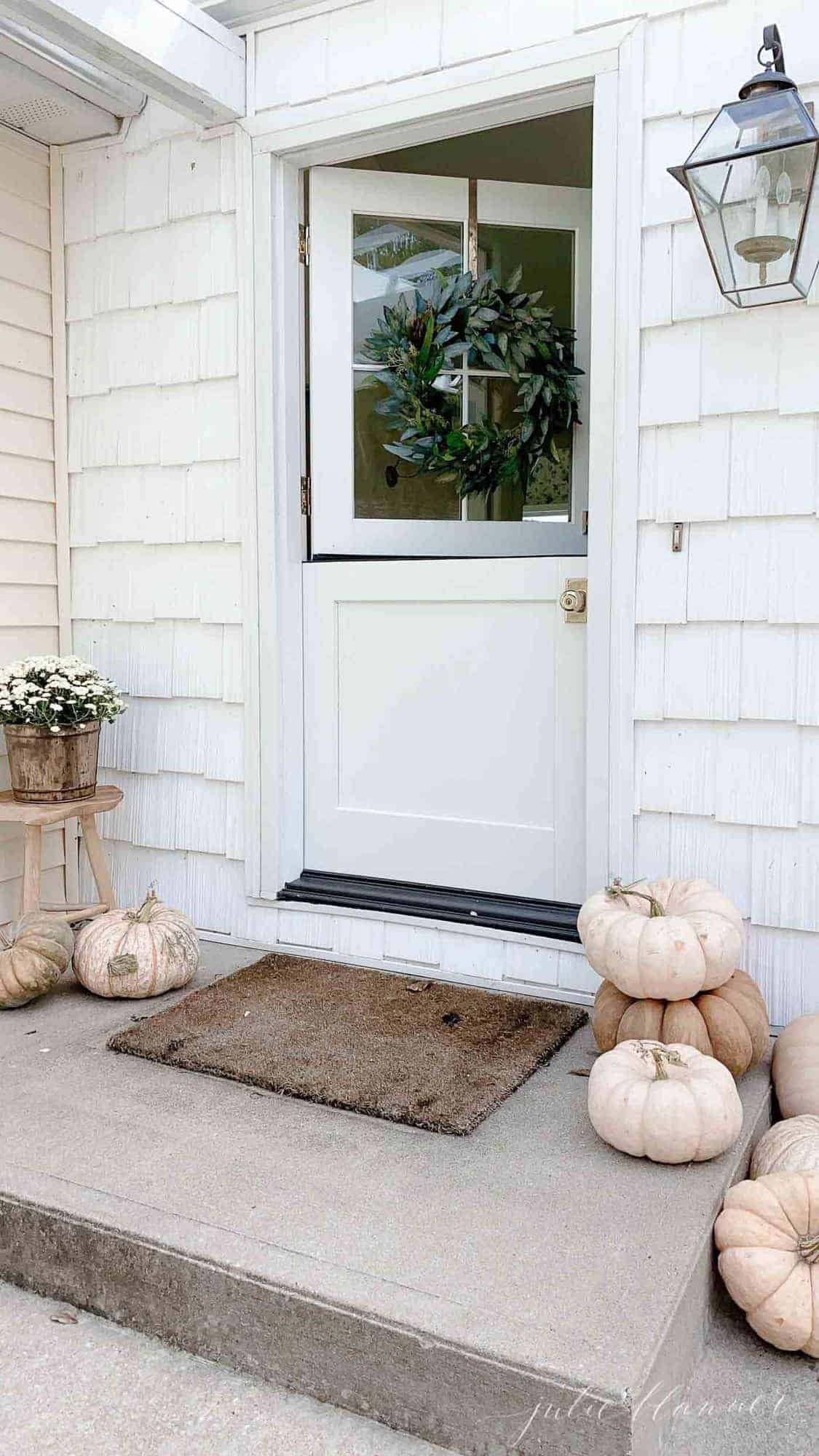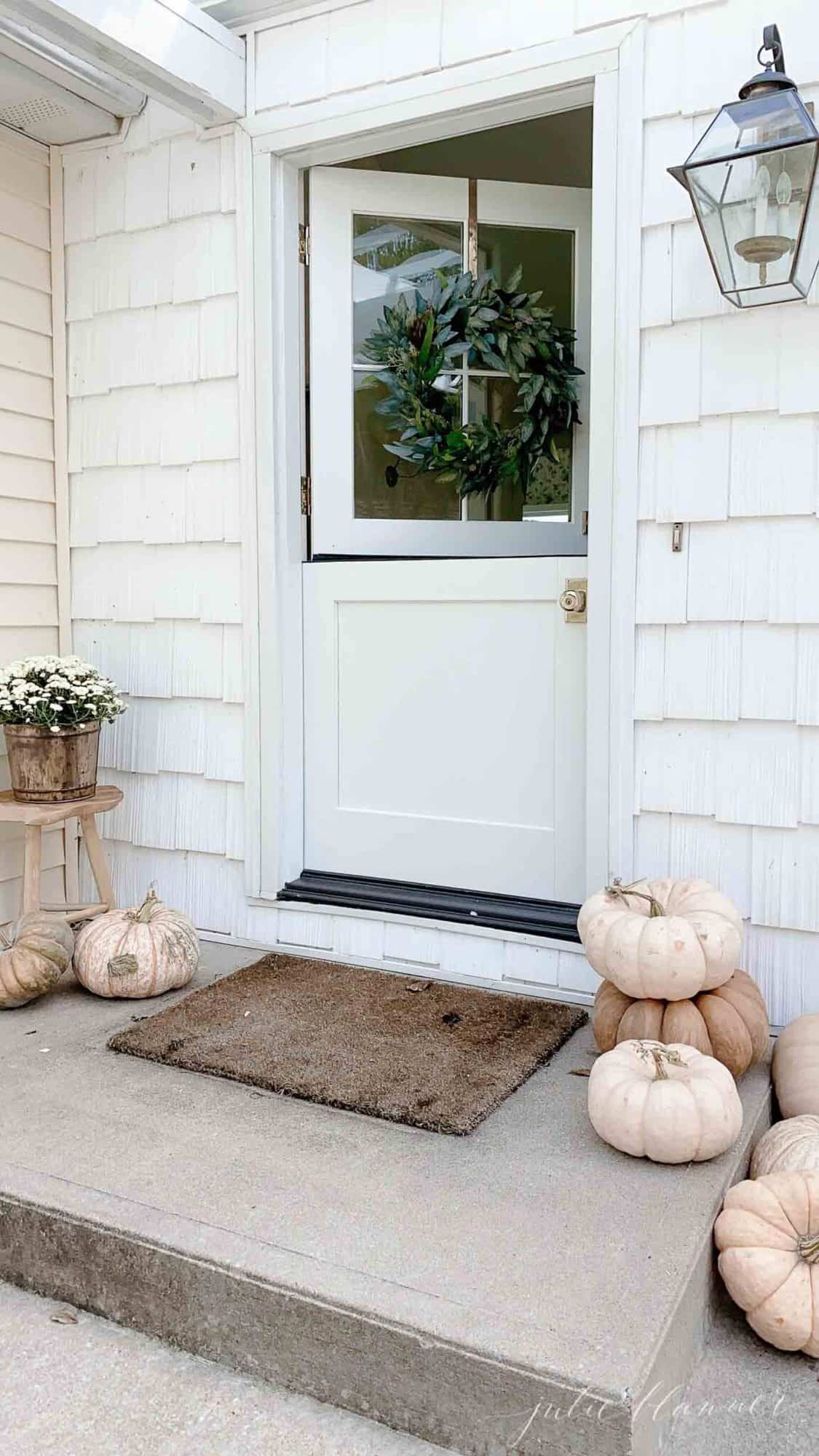 Let's keep in touch! Receive exclusive content, including never-seen-before photos, our favorite home decor DIYs and more!