Learn how to decorate for fall simply, affordably, and with impact. Just a few of the easiest minimalist fall decor elements can change the entire feel of your home!
Sometimes, simple is simply the best when it comes to seasonal decor. For autumn and beyond, let's celebrate the best of simple living with a few fall touches that will change your home for the season with warmth and charm!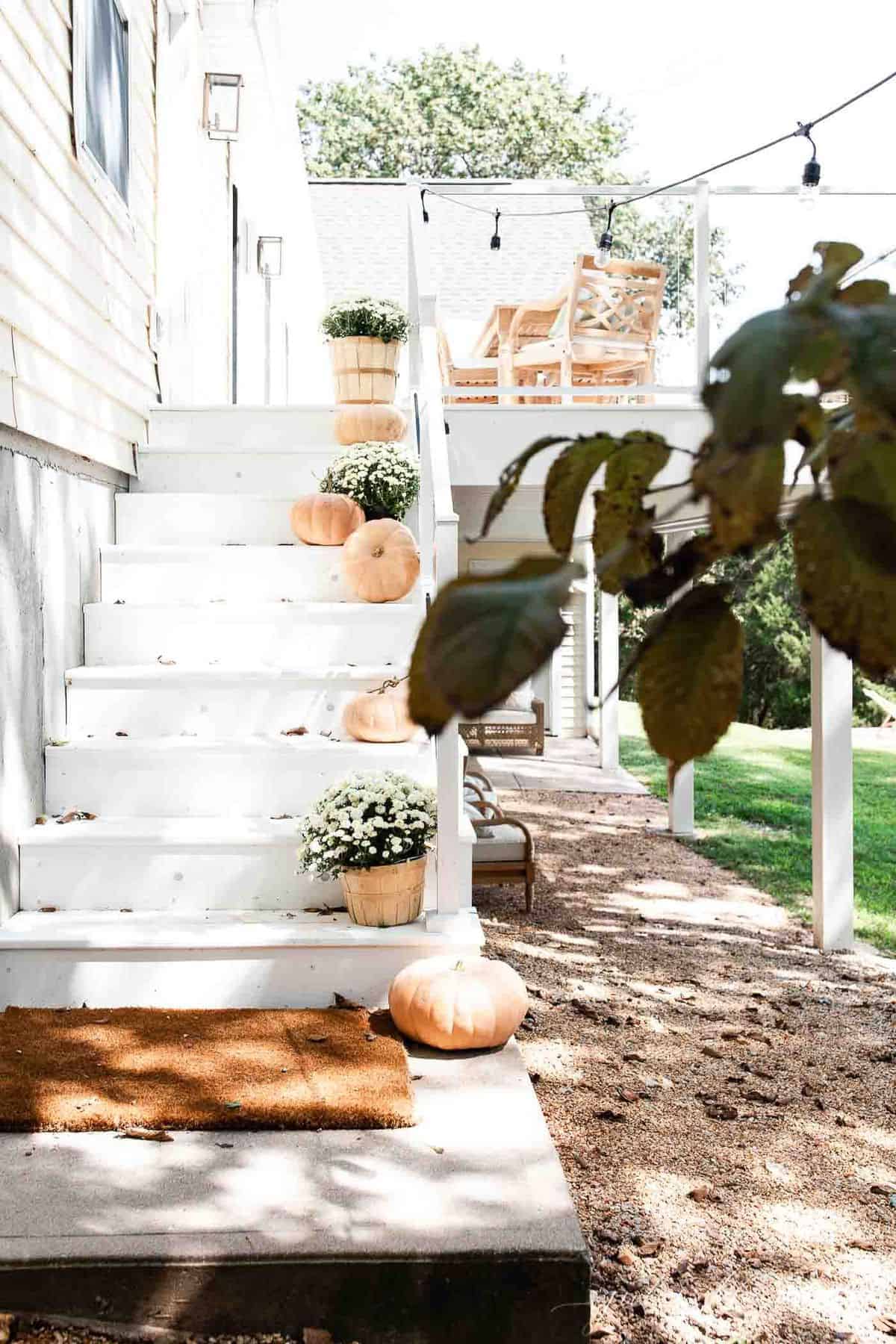 When I think of fall decorating, I often think of over-the-top porches, full decor turnover and bringing up boxes from the basement. This can be intimidating and often a little overwhelming.
It doesn't have to be that way!
Until recent years, I never considered myself a minimalist, just someone seeking a simple, fulfilled life. But I found myself wanting to add less and less, yet still wanting to make an impact to make our home feel cozy and festive for the season.
I love sharing my favorite fall and Halloween decorating ideas with you! Don't skip Fall Living Room Decor inspiration for a few more of my favorite autumn ideas.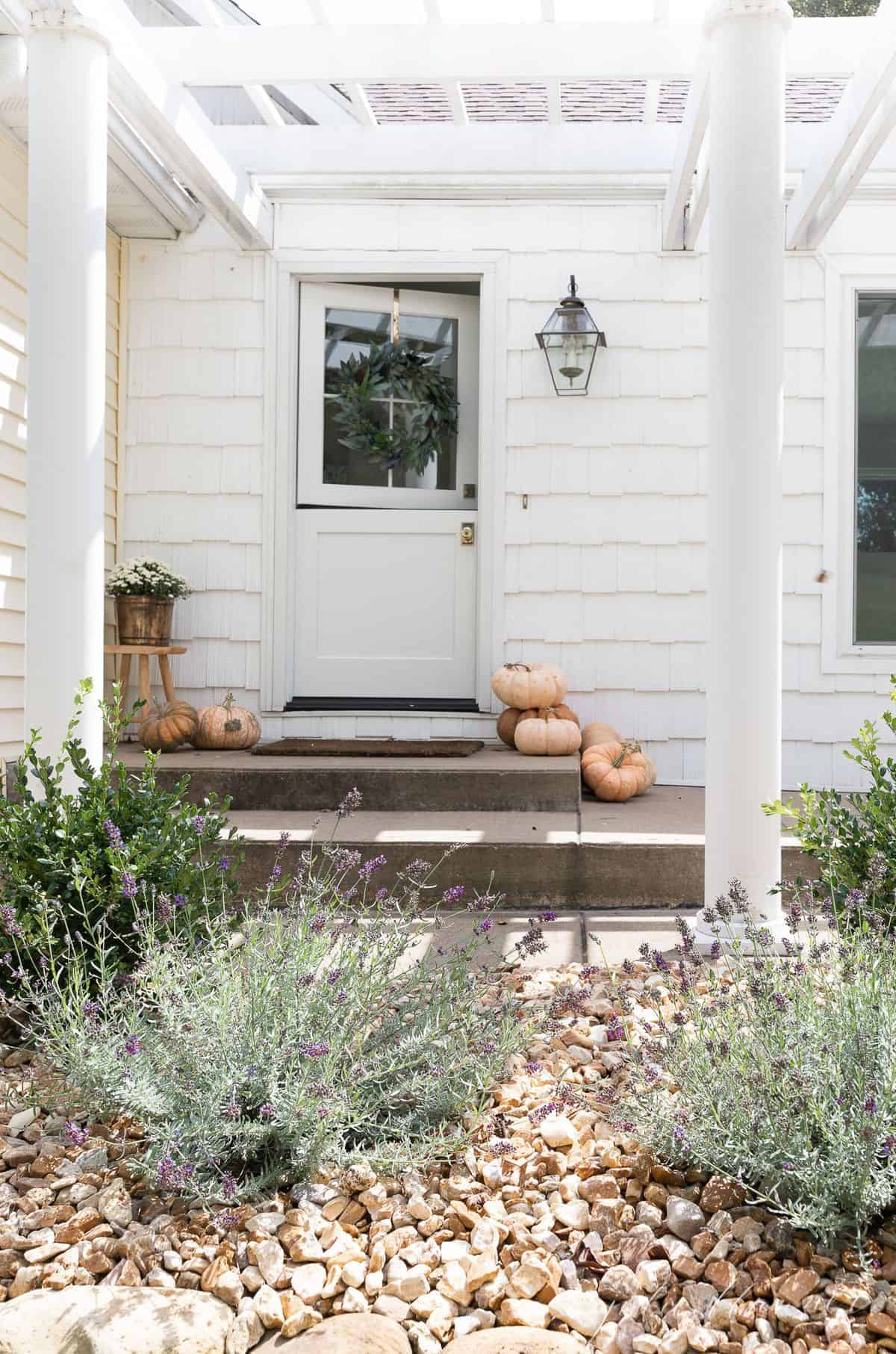 Rather than completely overhauling our fall decor, I like to infuse our home with just a few natural fall decorating elements, cozy extras like throw blankets and a little candlelight.
You can see through this little fall tour of our lake cottage how a little fall decor goes a long way, along with a few highlights at the end, from our home in St. Louis.
Love hosting your family? Don't skip my Ultimate Guide for Hosting Thanksgiving and this amazing Virtual Thanksgiving Guide!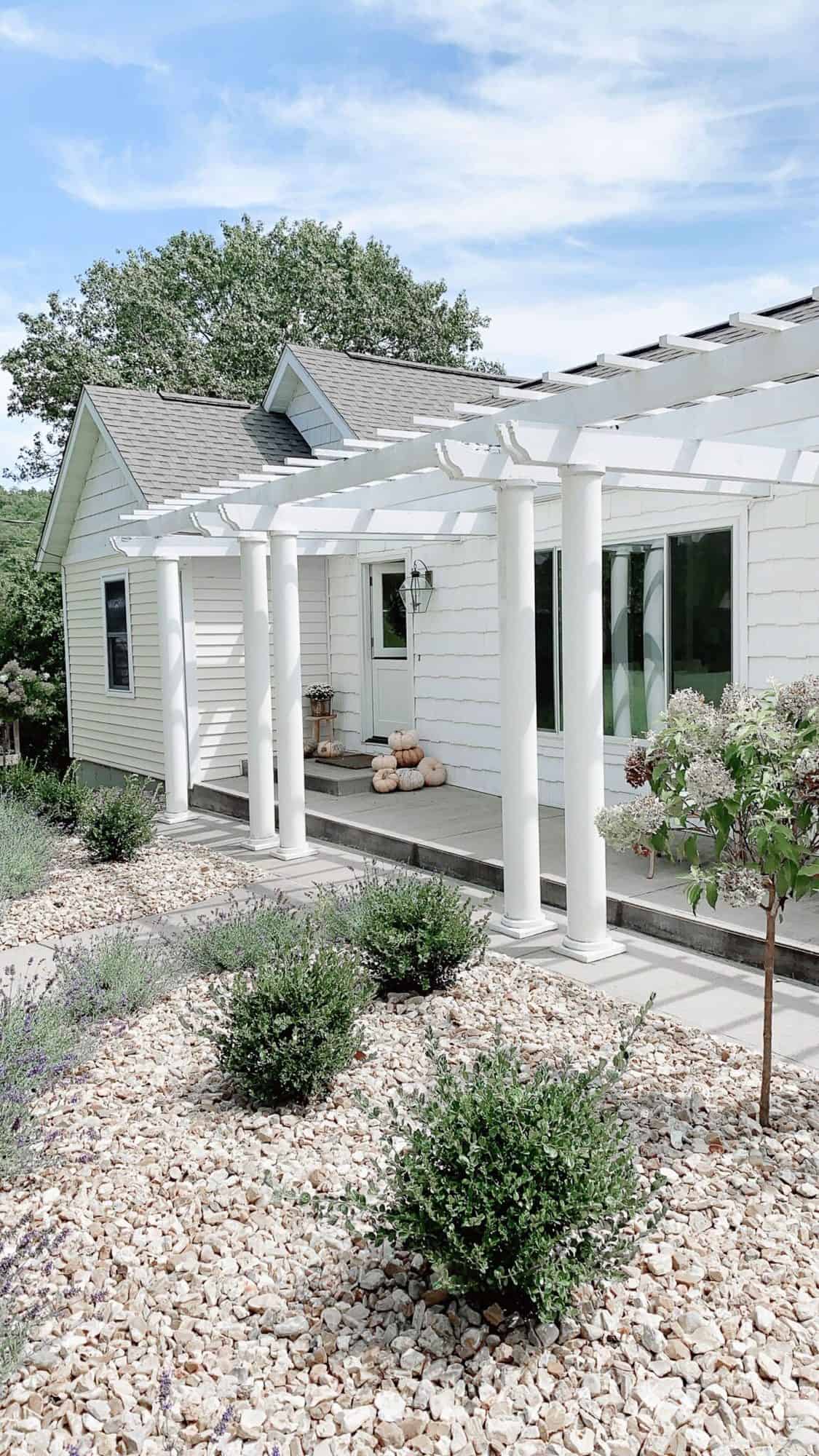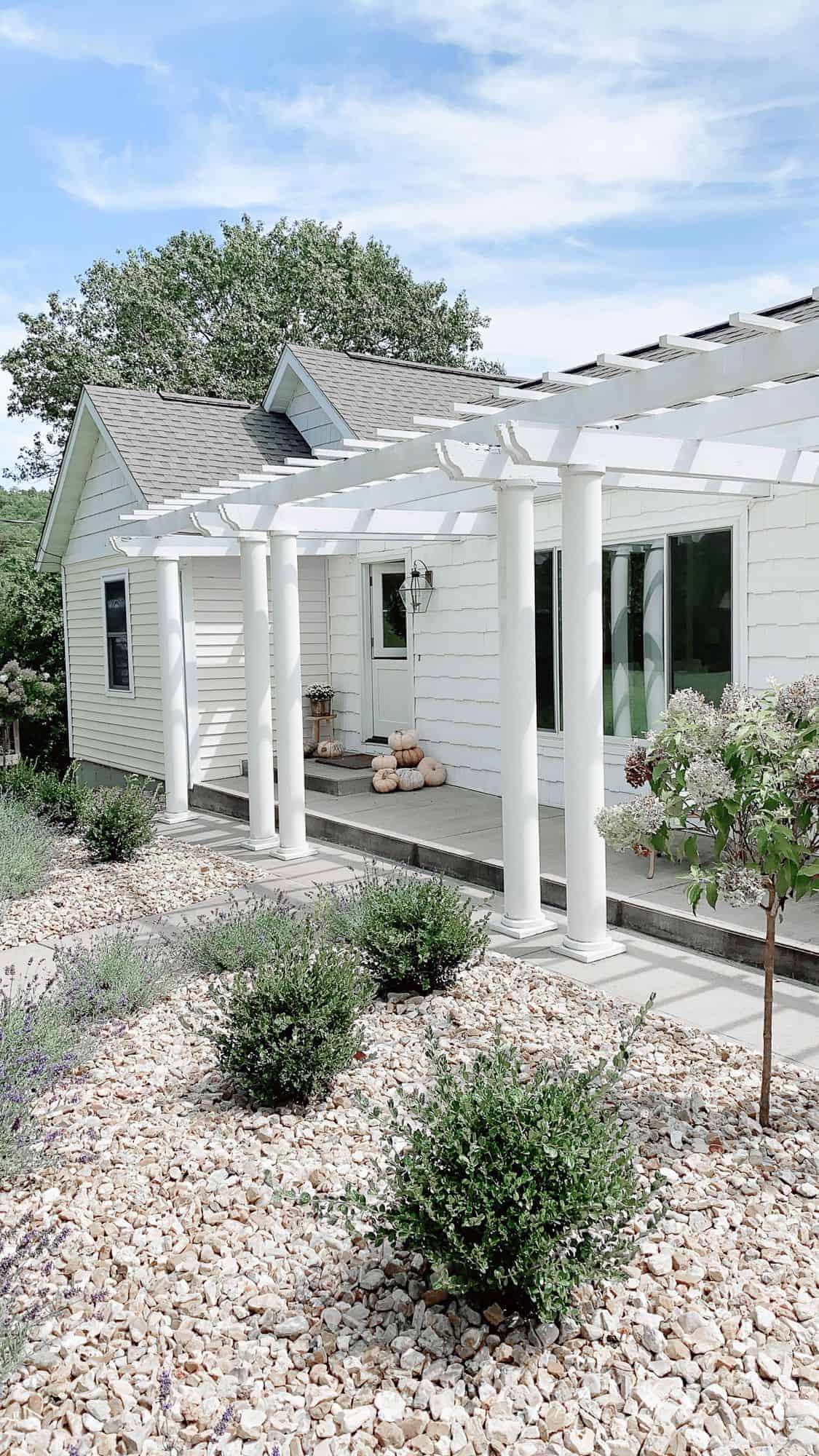 Minimalist Fall Decor Ideas
I've written a lot about minimalism now! Check out minimalist aesthetic, minimalist seasonal decorating, and Organizing a Minimalist Kitchen.
Repurpose
One of my favorite ways to decorate for the season is to shop our home first! You'll often find you have just what you need. It forces creativity and results in some of my very favorite ideas!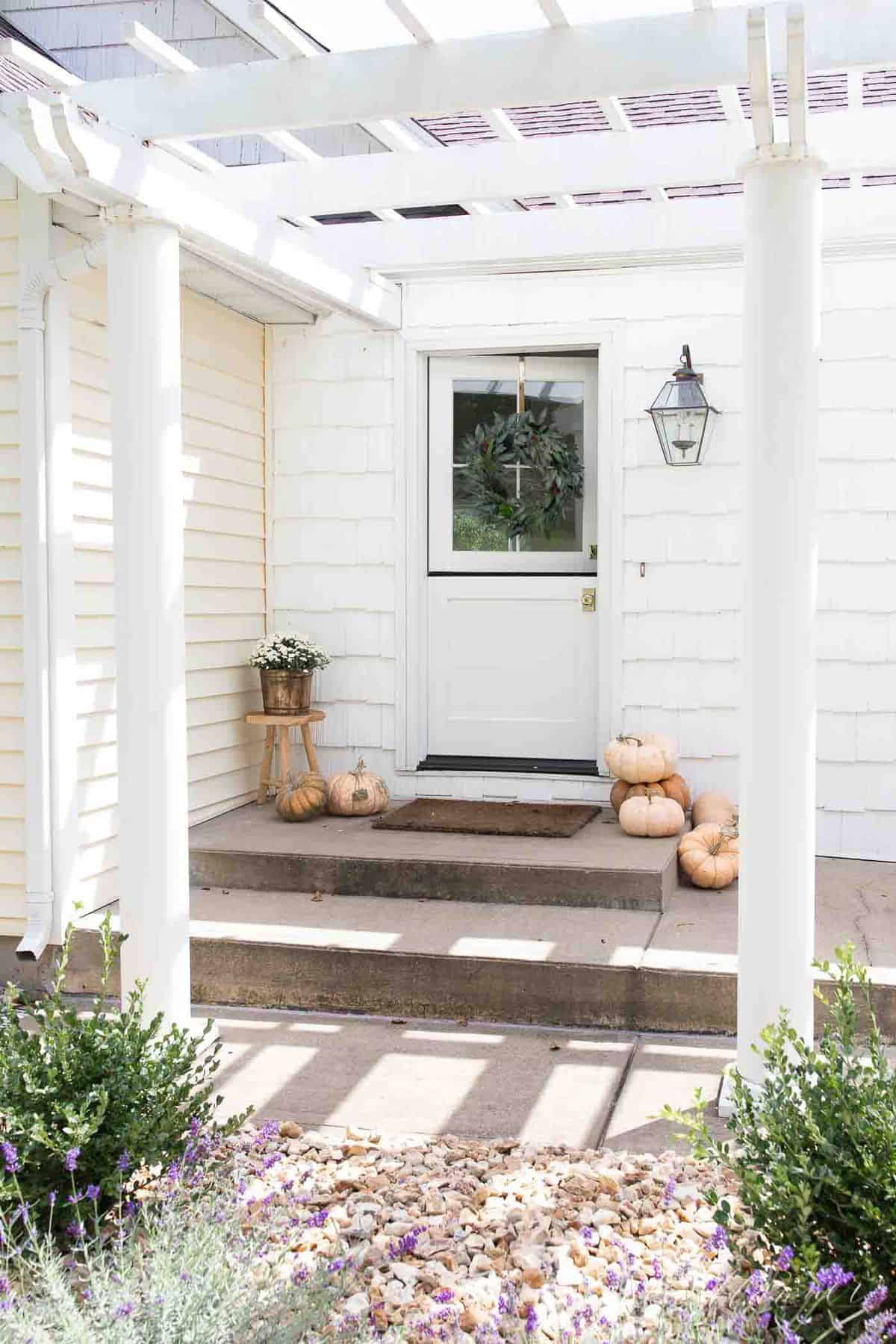 Take this front porch for example. I needed a little height to create some interest and balance the awkward step. I repurposed an infrequently used stool from our modern living room to make it stand out.
Of course I needed something to put the mum in as well. Fortunately, I found a rustic brass bucket in the garage (left by previous owners) that was being used to store miscellaneous junk.
Another way I often repurpose is through baskets! They make a great vase or planter!
You can find more Fall Porch Decor Ideas here!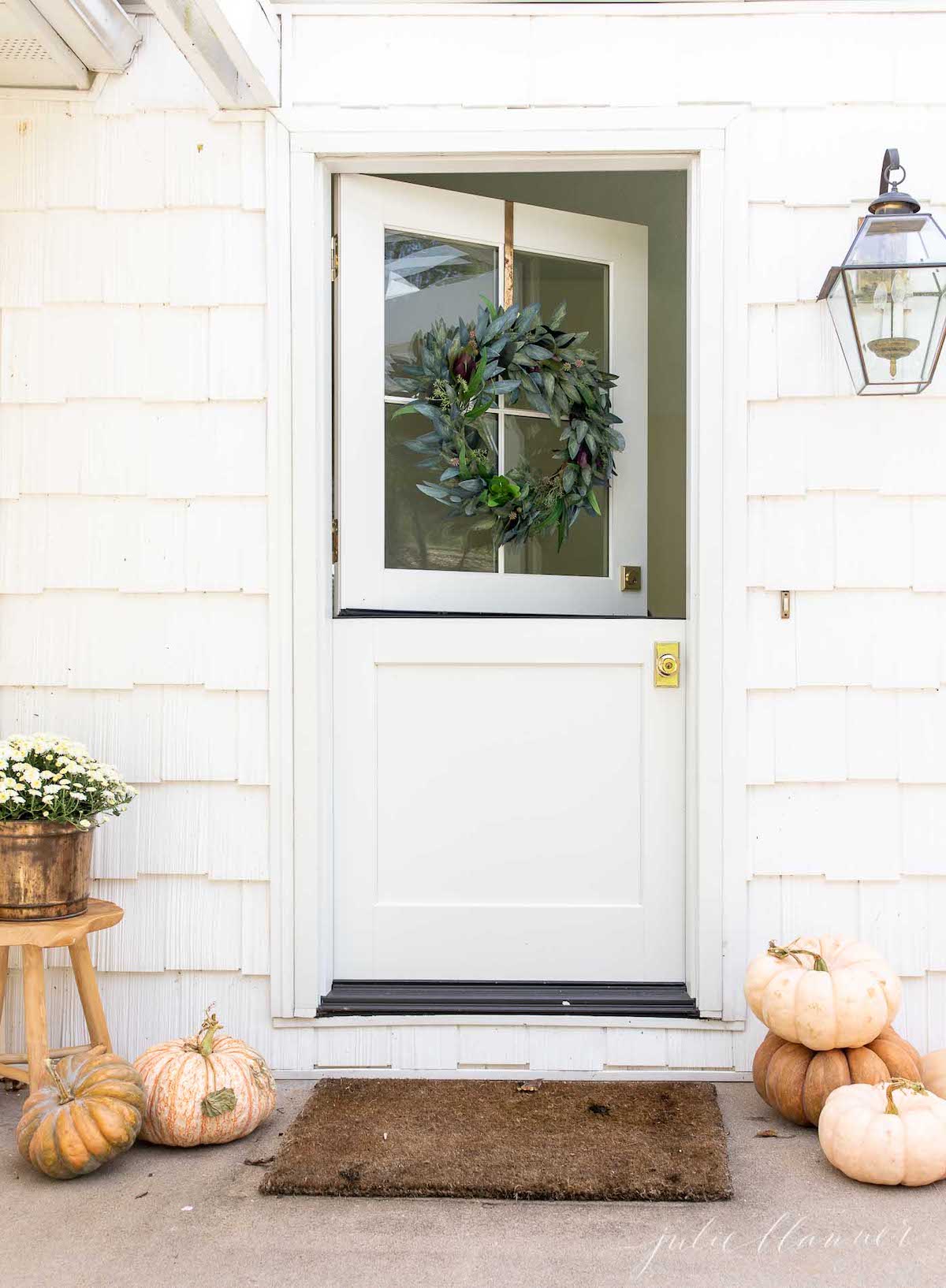 Re-use
While I store very little from one year to the next, I reuse what I do have all throughout the season. These pumpkins can be used indoors or out.
While they decorate the porch today, they will likely make a Thanksgiving Table Setting in a couple months. (Note: coat with bleach to extend their life).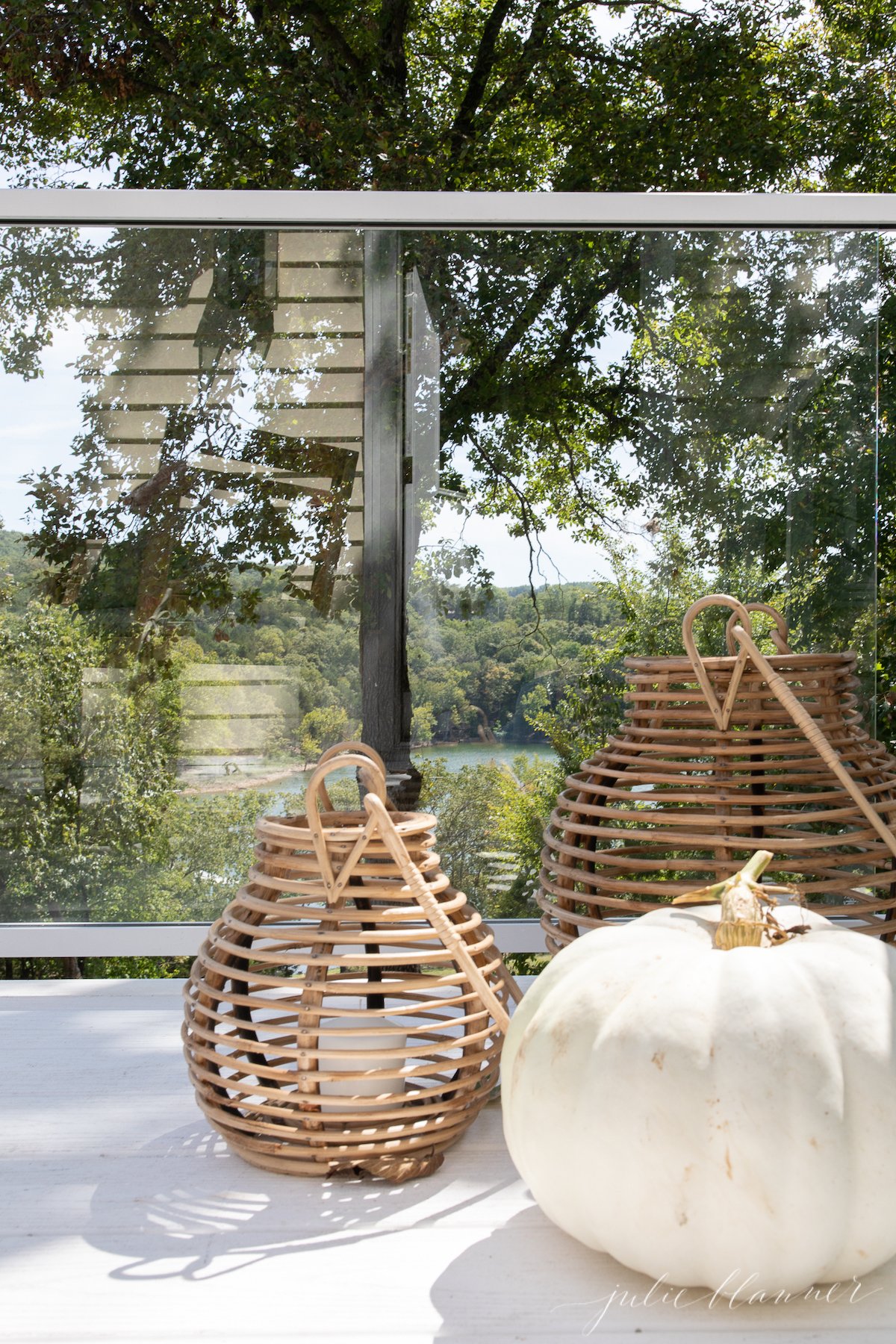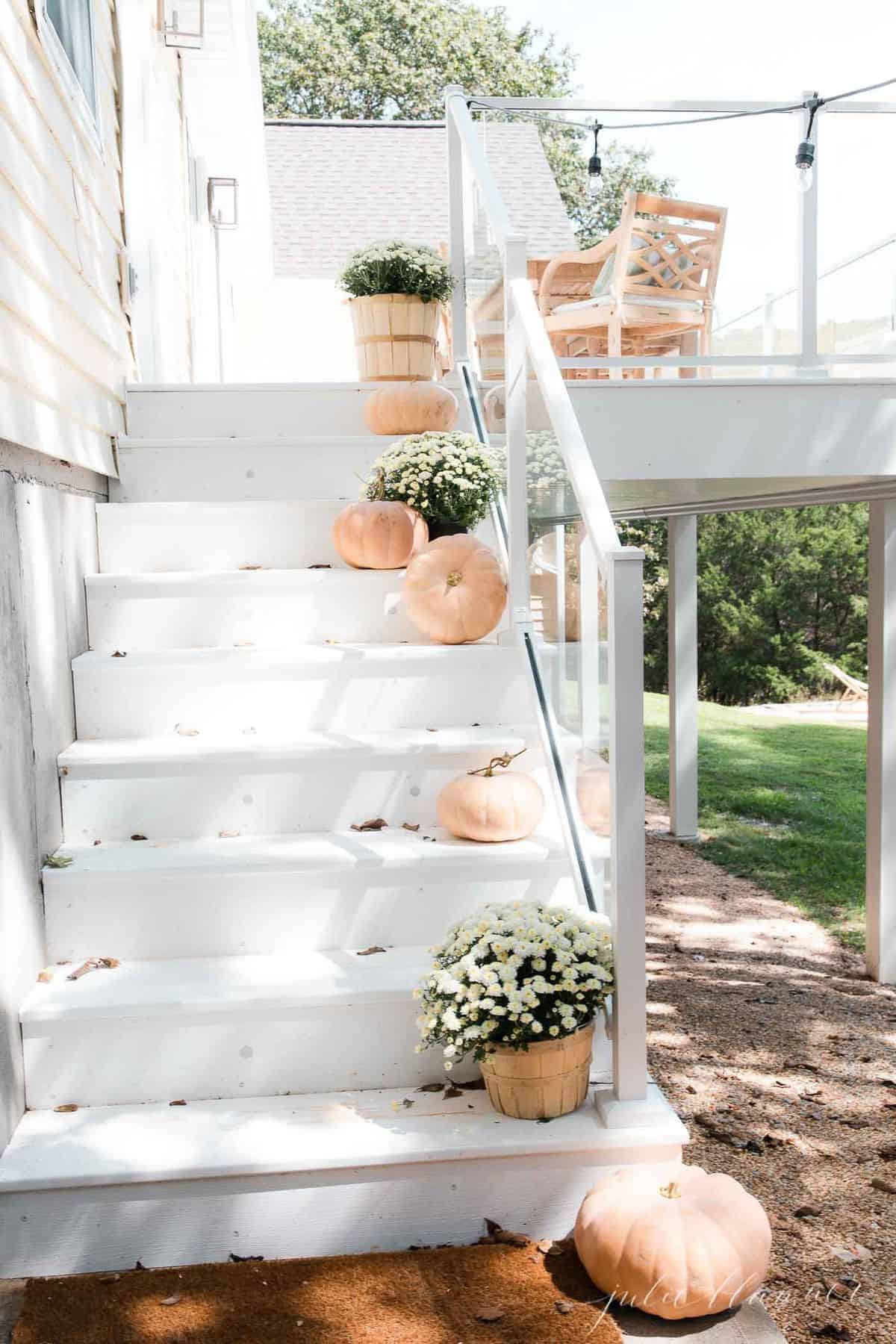 Add Throws
We tend to add throws to our living room, bedrooms, and even outdoors with the seasons. Throws are the coziest way to change up the color and texture accents in a room.
A chunky sweater texture is the best way to speak to the season… it's one of my favorite functional minimalist fall decor elements.
You can add them to your dining room, living room, bedrooms and more! It's a great way to sneak in color and texture while adding function!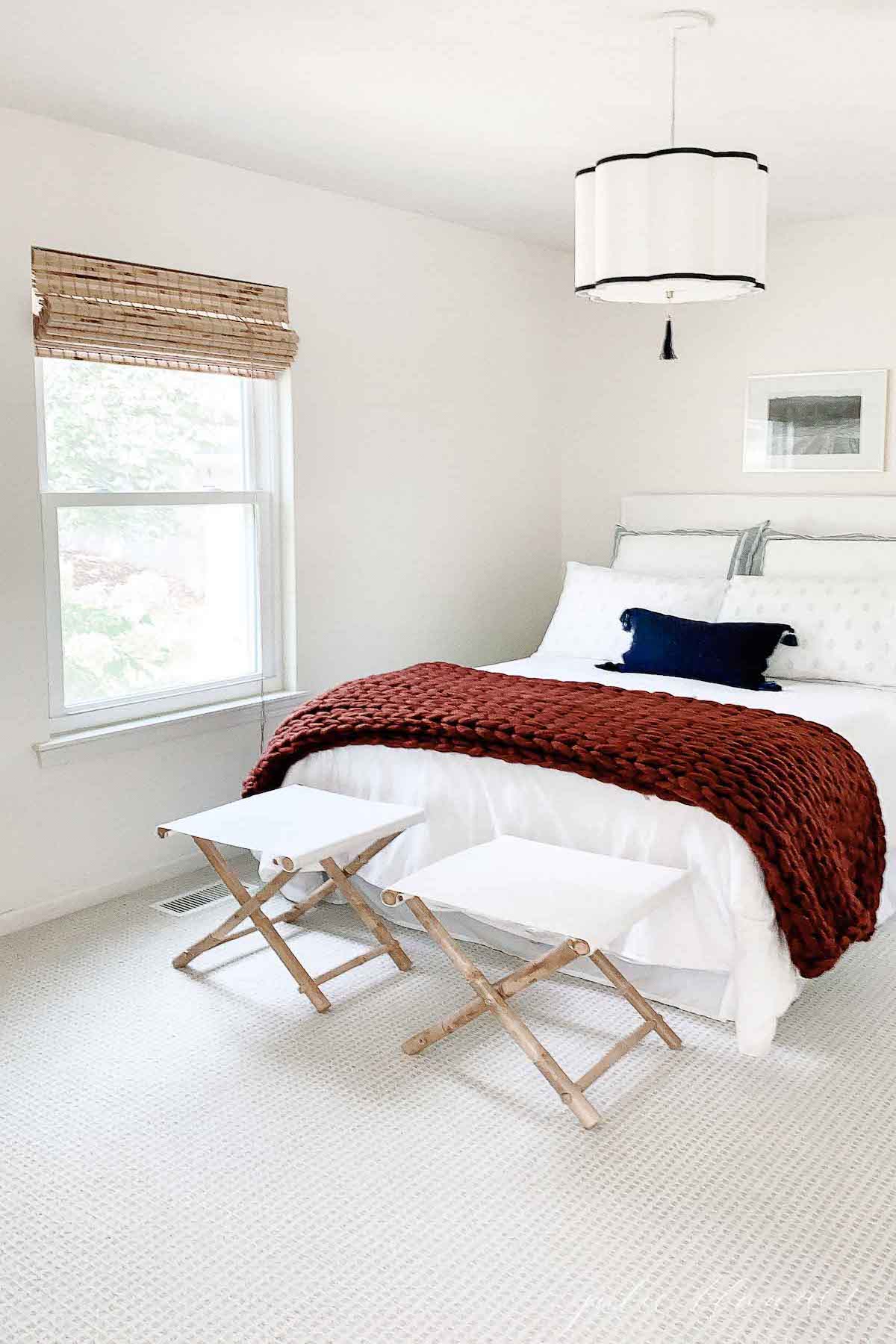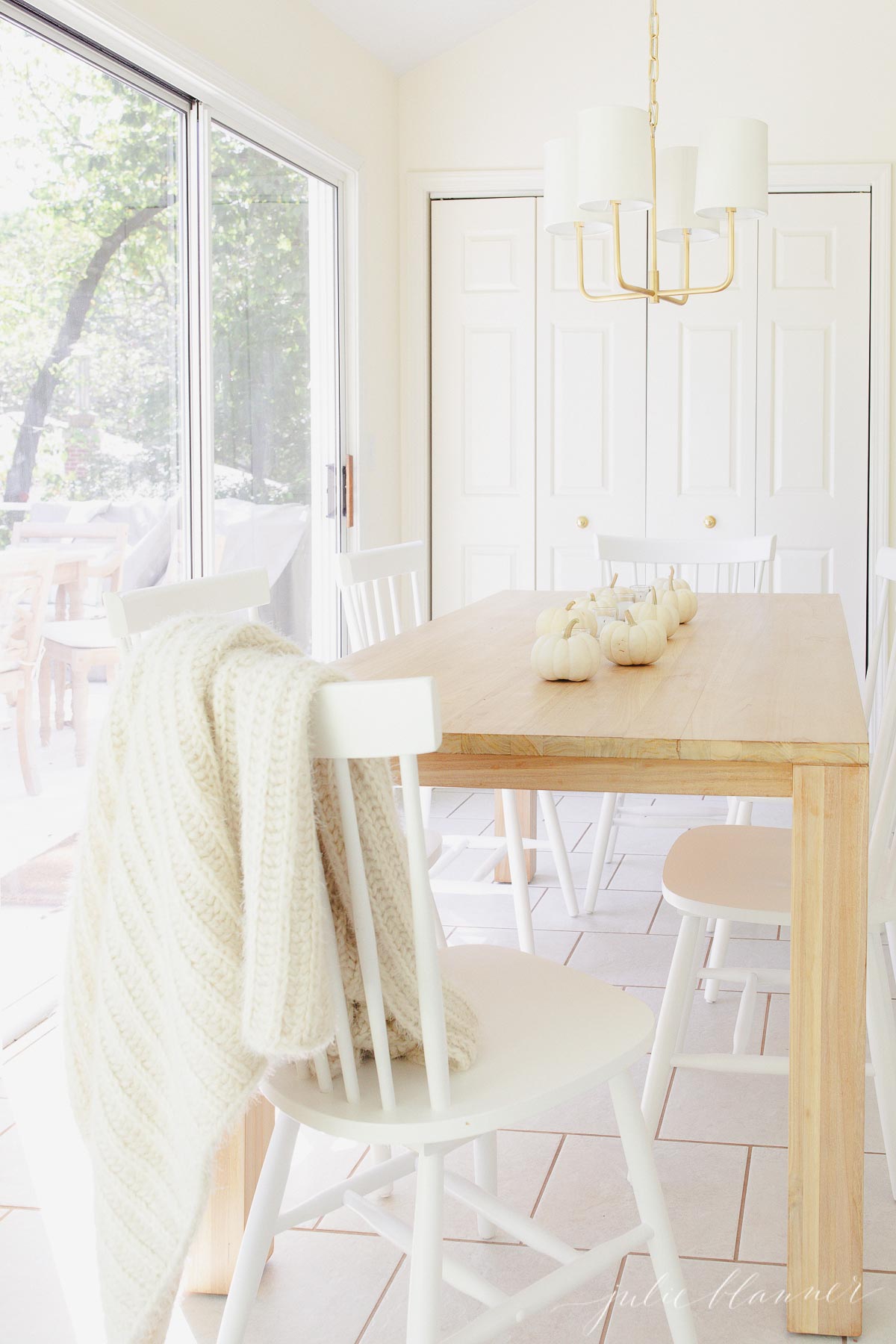 Change Pillow Covers
A little goes a long way. Rather than changing all of my pillow covers, I'll just update one or two. It's amazing how it can give your space an entirely different feel without the effort, expense or added need for added storage.
Quick Tip |You can even layer your pillow covers if you're limited on storage!
You can read more about all my best tips for how to mix and Where to Buy Pillow Covers and get all the inspiration you could ever need!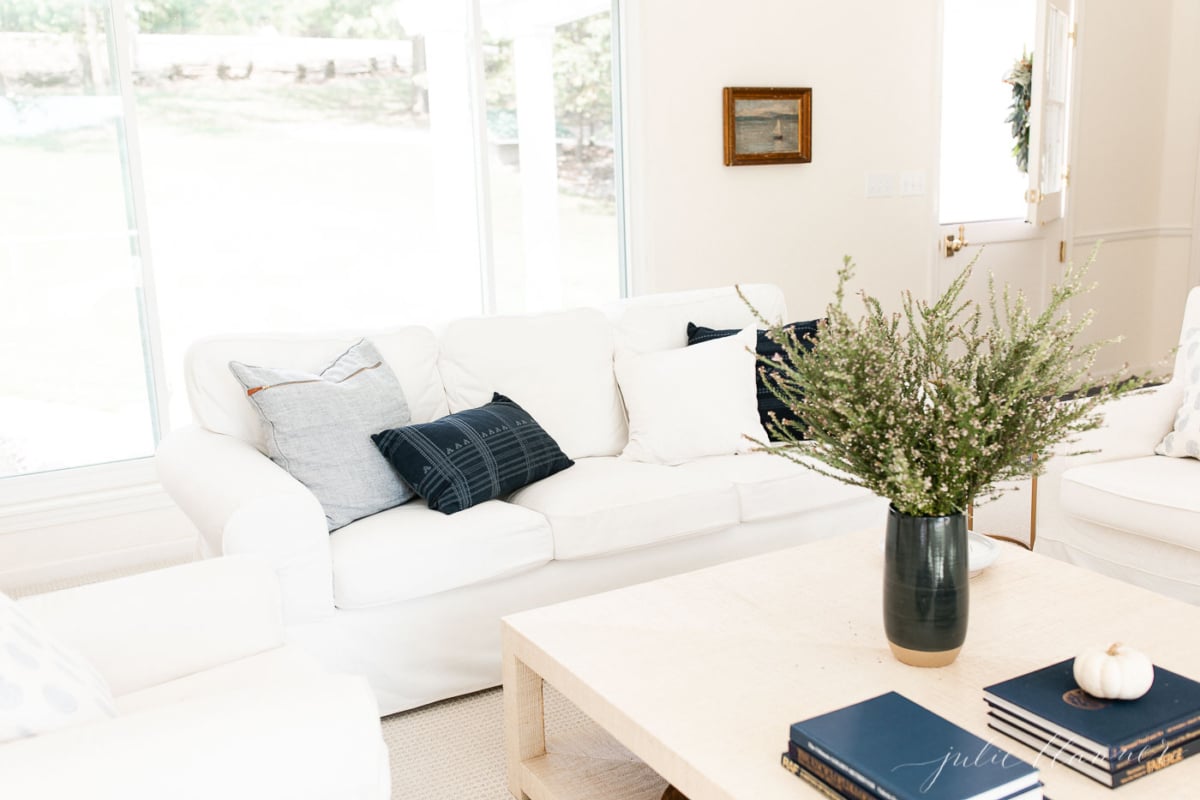 Bring the Outdoors In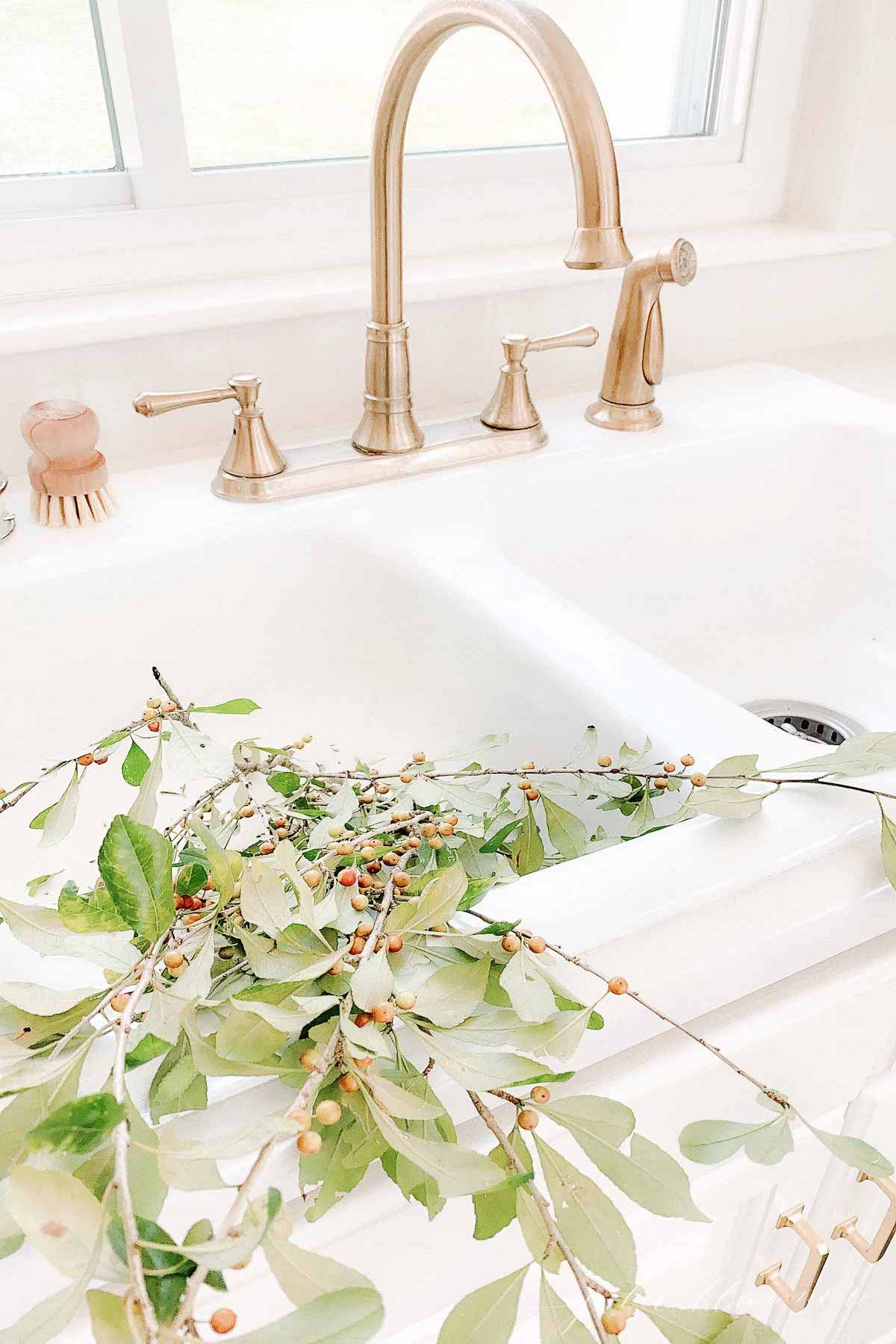 Again, a little goes a long way. A single bloom or snip of greenery makes the perfect bedroom or bathroom accent in an inexpensive bud vase. (You can find all of my favorite vases here).
Find more of my favorite Natural Fall Decorating ideas here!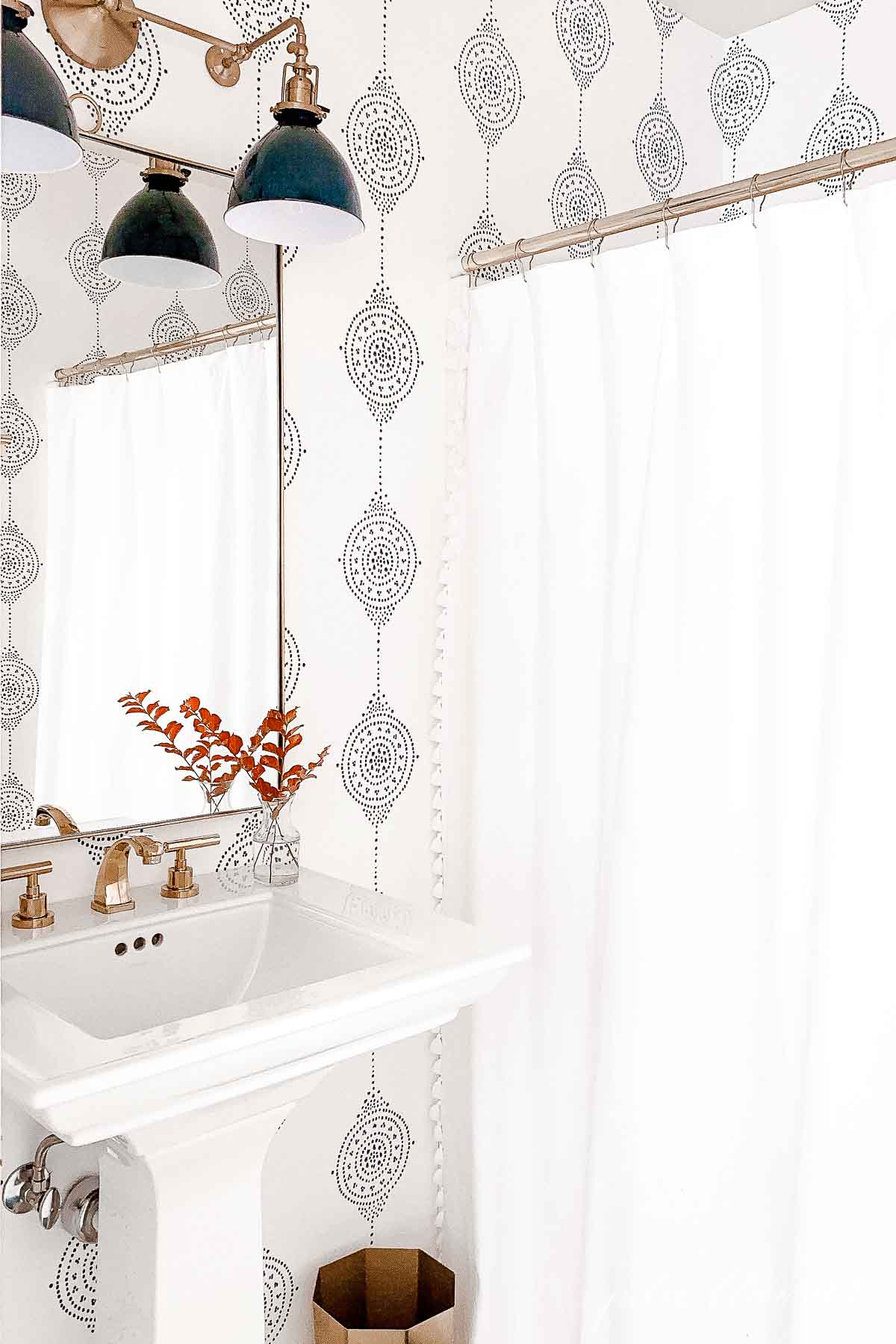 I admit that it's hard for me to look at roadside blooms, vibrant tree branches and even beautiful grasses without wanting to take my clippers out. The smallest touch of foliage brings your whole home to life.
In the guest bedroom and modern bath above, just a small snip of rusty red foliage brings autumn inside!
Another one of my favorite tricks for bringing the outdoors in, is to incorporate firewood into our fall and winter decor. It's warm, pretty, natural and instantly brings the idea of a cozy crackling fire to your spaces.
Minimalist decor is often functional decor.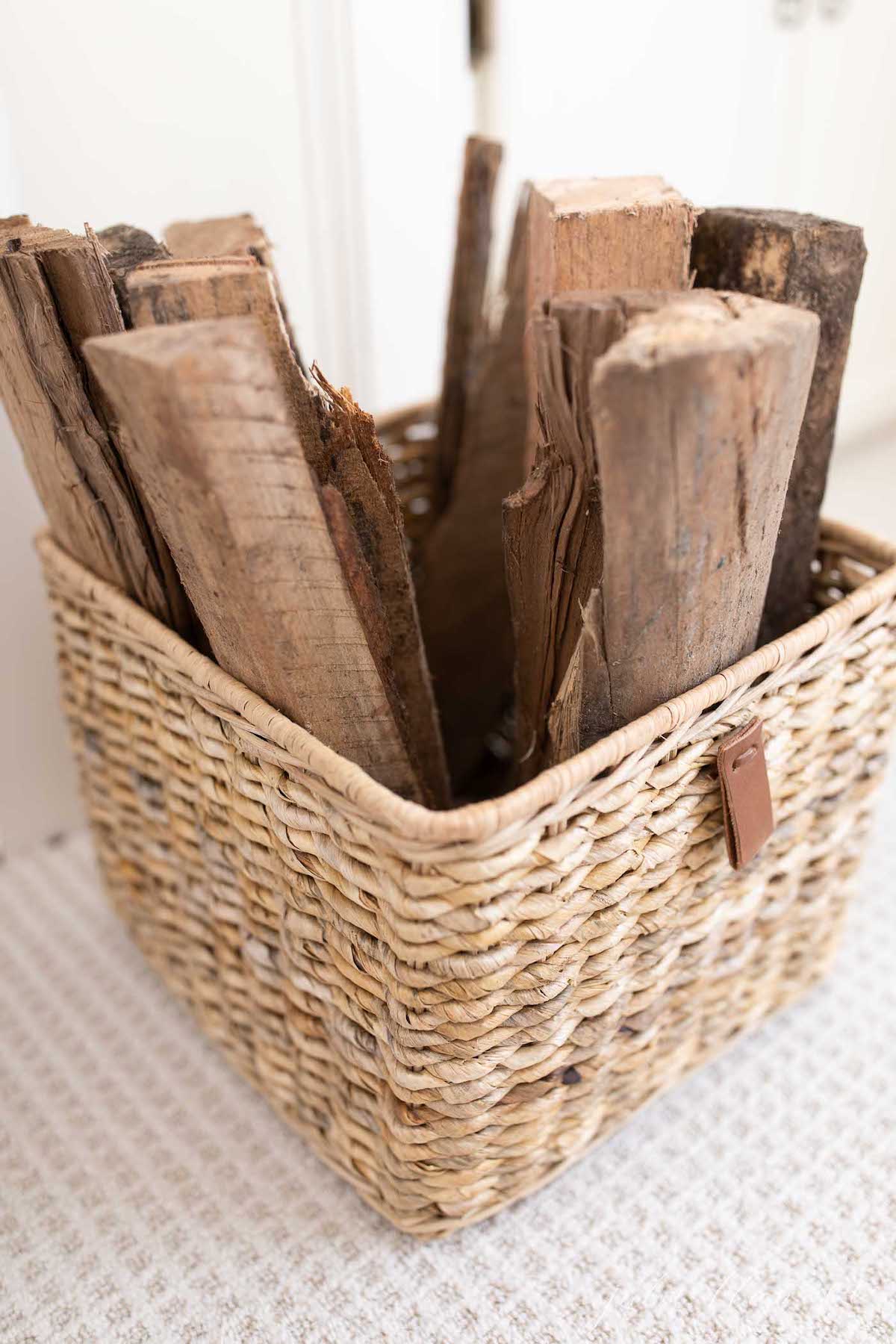 Outdoor Lighting
Outdoor lighting instantly enhances the ambience. It showcases the beautiful fall colors. Candlelight mixed with bulb lights create an enchanting setting.
Choose warm bulbs to add ambience to all of your outdoor entertaining. These string lights are so warm and cozy at night- you can see how they looked last year, too – before we redid our deck.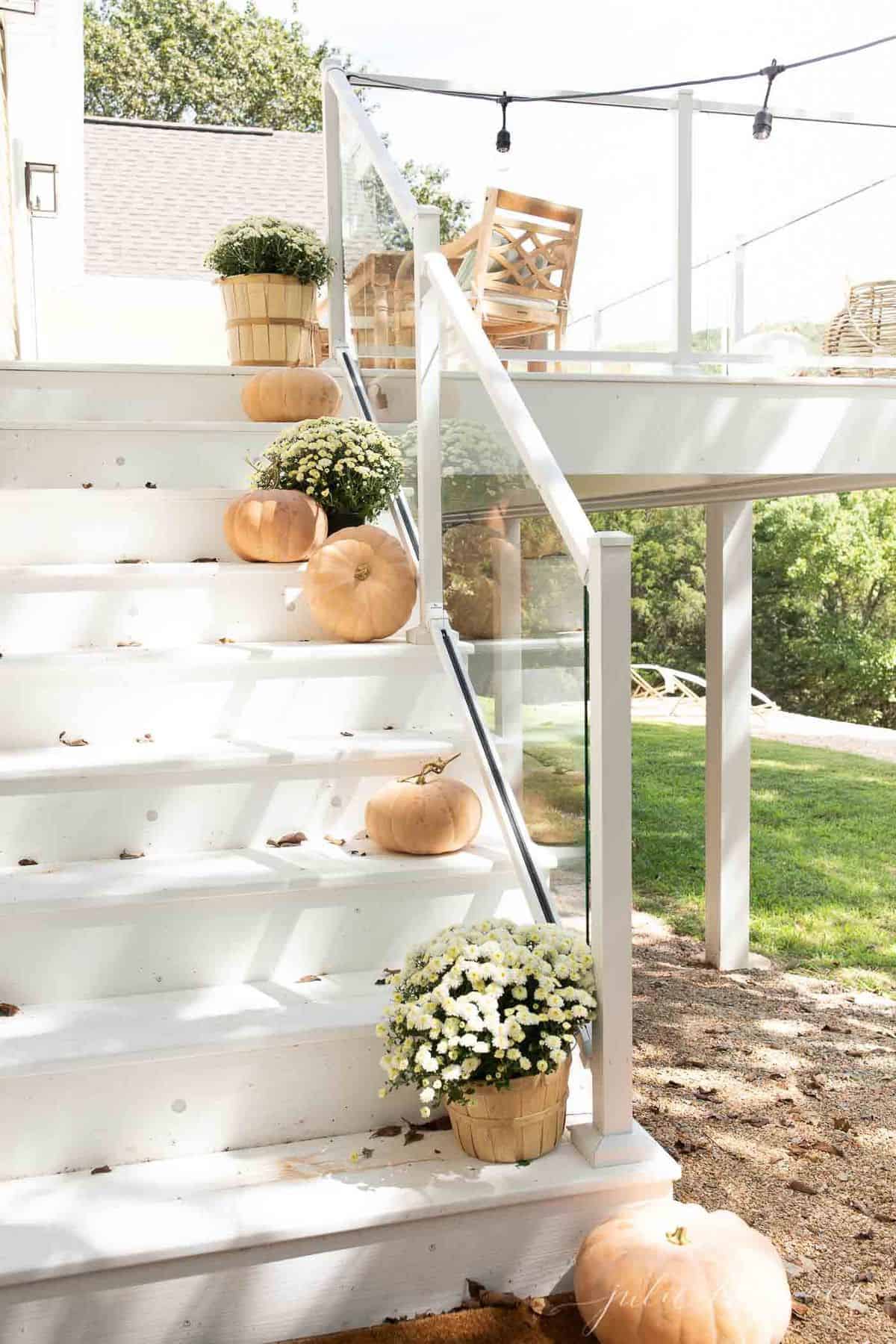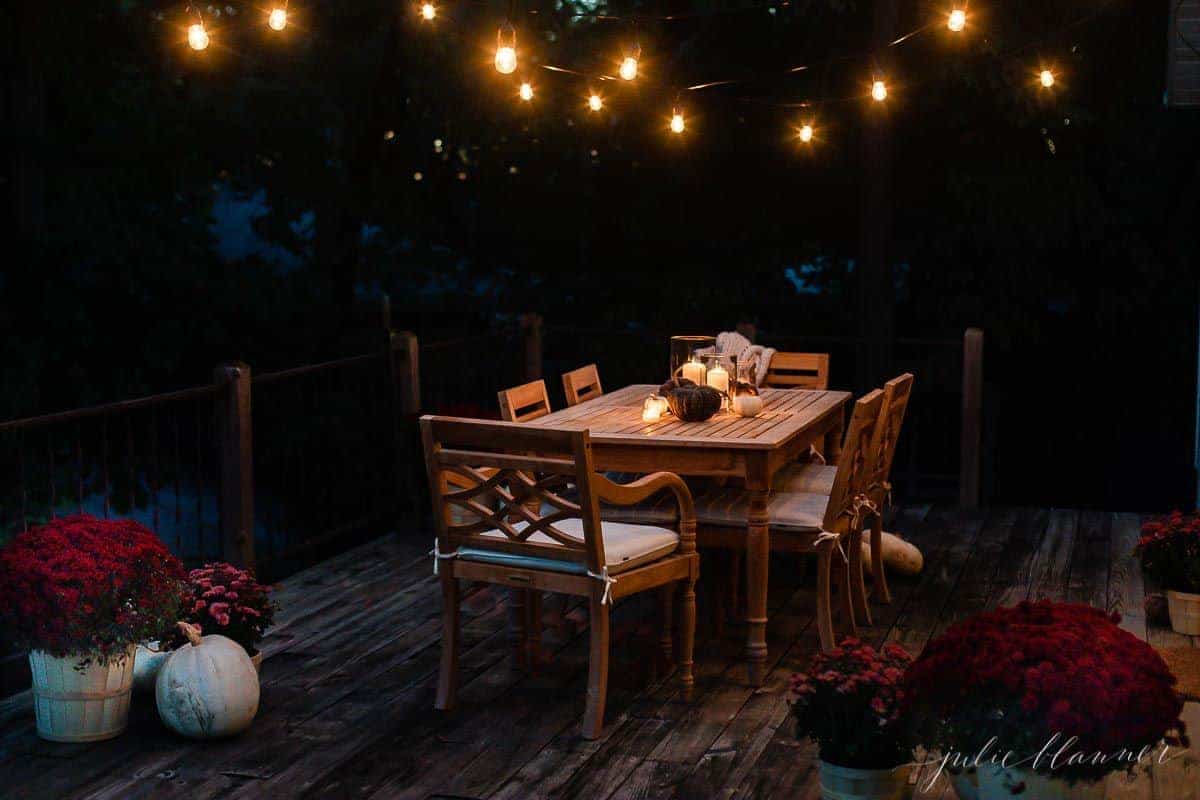 You can nestle a few candles in between pumpkins and mums.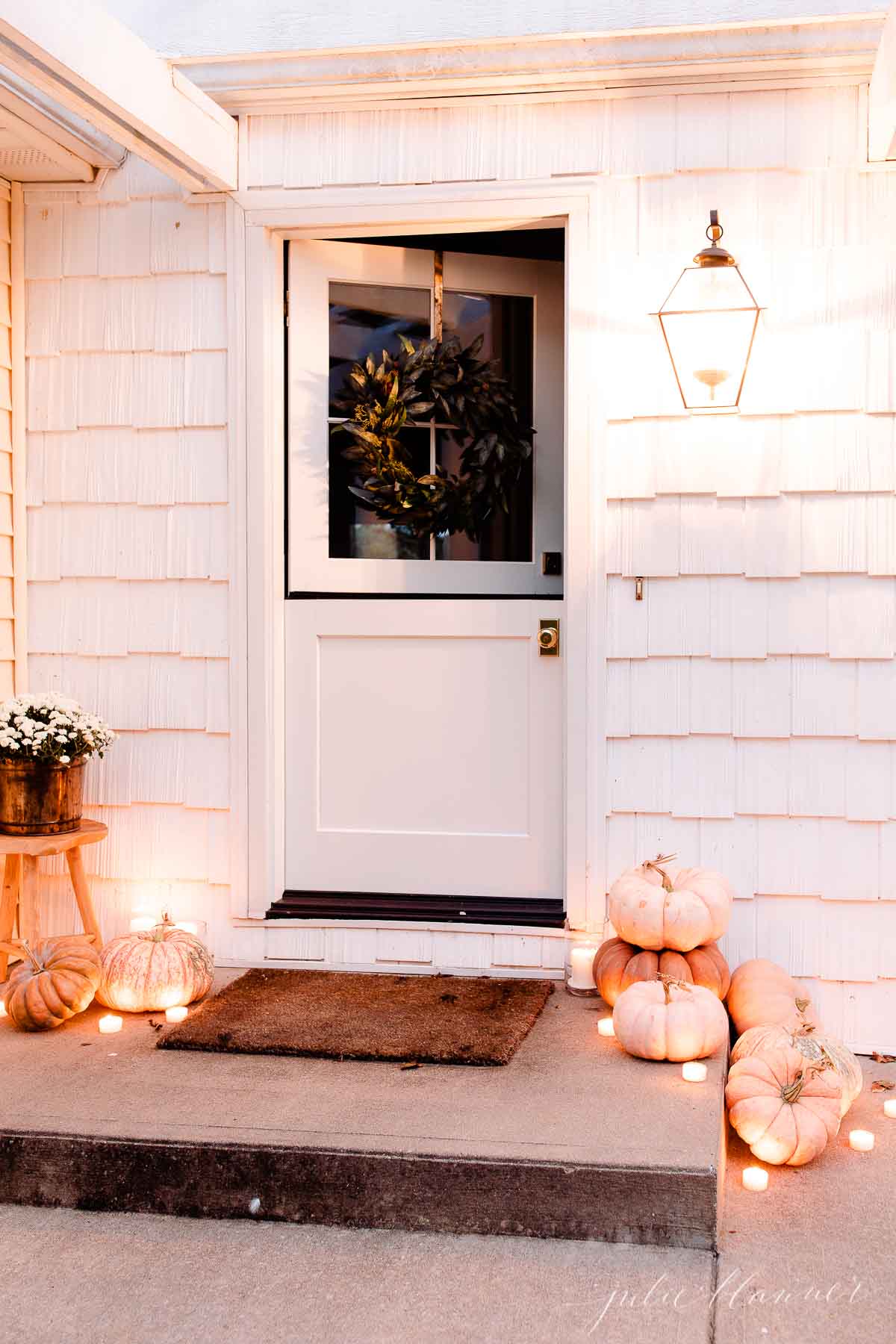 While I love holding onto summer, there's just something about the scent and feeling of fall you can't help but love.
Taking a minimalist fall decor approach to fall will leave you with even more time to enjoy the season filled with family, friends, outdoors and fond memories of bonfires, apple picking, hiking and more.
Looking for more fall decorating inspiration? Check out these fall decorations! You can find even more Minimalist Seasonal Decorating ideas here!
Recipe Collections
20 mins