Stove Top Potpourri is so easy and makes a beautiful gift! Learn how to make potpourri in just a few minutes that will make your home smell amazing, naturally!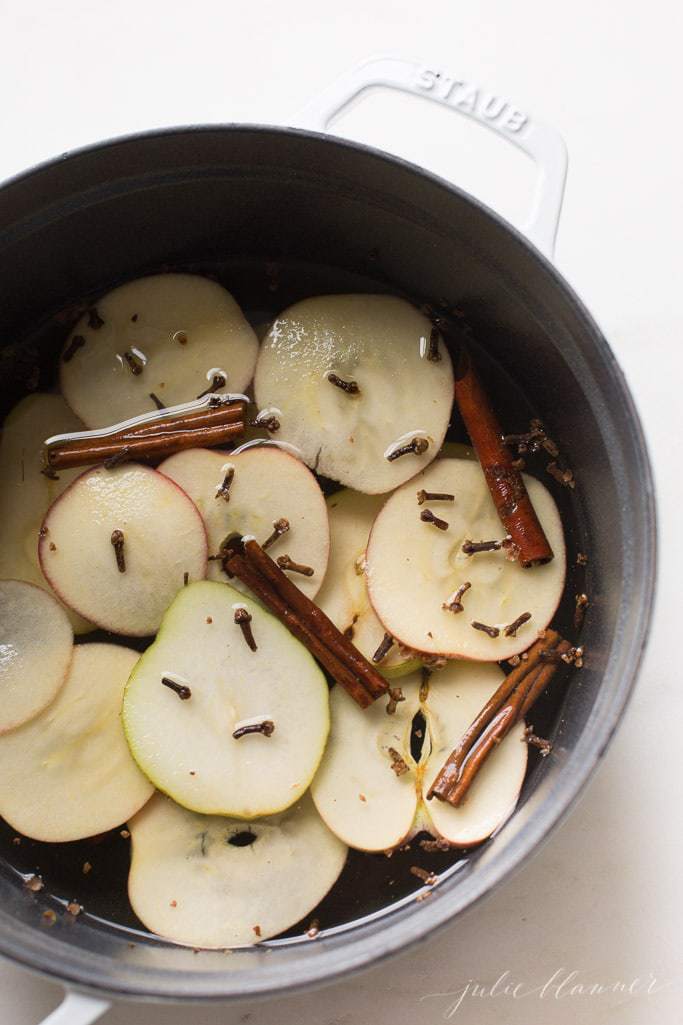 Originally posted October 2017, updated with additional details December 2019
Once the weather becomes chilly, I tend to enjoy spending more time at home, indoors. When the sun goes down and temperatures drop, I like to bring the outdoors in, by making Stove Top Potpourri.
Making potpourri is so simple and makes your home smell amazing for days. Enjoy all that fall has to offer as it's incredible scent permeates through your home.
A great playlist, a little potpourri, and a cozy throw are all you really need to get through a gloomy day. The first chill of winter sometimes even inspires me to organize, cook and clean! Adding Stove Top Potpourri somehow makes it all feel enjoyable.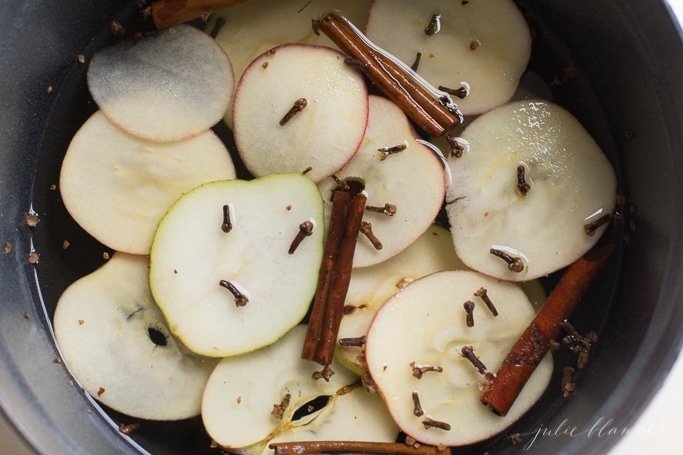 Any time someone walks through the door and I have potpourri simmering in the kitchen, they always comment on how amazing our home smells. It sets the mood for the season. It's a great alternative to a candle – we often have some simmering for the holidays.
Stove Top Potpourri Ingredients
You can make your home smell like Christmas with just a few ingredients you have in your kitchen! A blend of fruits and warm spices make the most amazing potpourri!
Options include:
Apples – Any of your favorite variety will do. I really enjoy the fragrance of Pink Lady and Gala apples.
Pears
Cranberries – Have leftover cranberries? They add a beautiful pop of color!
Oranges – The more popular navel oranges work wonders for a potpourri with oranges, but if you want more of a variety for the holiday season, try Cara Cara or Blood oranges.
Mandarins
Lemons
Rosemary – Another fragrant, beautiful option for potpourri.
Cinnamon – Whole cinnamon sticks add a lot of fragrance and also make it look so beautiful!
Cloves – This is the one spice that sings all things fall to me. Keep a jar on hand for all your holiday recipes.
Star of Anise – A sweet, licorice scent in a beautiful star shape, perfect for Christmas!
Cardamom
Nutmeg
Vanilla – A hint of vanilla extract is always a wonderful addition. You can also use a vanilla bean.
It's a great way to use excess fruits, even produce that's past it's prime! The options are endless!
Fall Blend
Pears
Apples
Cinnamon
Cloves
Christmas Blend
Oranges
Cranberries
Cinnamon
Rosemary

How to Make Stove Top Potpourri
Fill pot with water.
Add ingredients.
Simmer over low heat.
For the most fragrance, simmer uncovered adding water as needed.
To keep moisture in, you can keep it covered.
In a Slow Cooker
You can make it in a slow cooker on high with the lid on to prevent evaporation. Check on it hourly and add water as needed. It's perfect for parties or when you are cooking a lot and don't have space on the stove top.
Tips for Making Potpourri

Use whatever fruits you have on hand.
Add water as needed.
Reuse throughout the week. Allow to cool and refrigerate covered between use.
How Long Does Stove Top Potpourri Last?
I warm potpourri on the stove for an hour here or there throughout the week and then put a lid on it (store refrigerated, covered) until I'm ready to warm again.
You can reuse it as long as it smells fresh and replenish ingredients as needed.
Stove Top Potpourri Gift
Homemade Potpourri make a beautiful last minute gift – just place all of the ingredients into a peck basket or cellophane bag and add a satin bow. It's an easy, inexpensive and seasonal gift for any fall or winter occasion! (PS both of those items are staples in my gift station).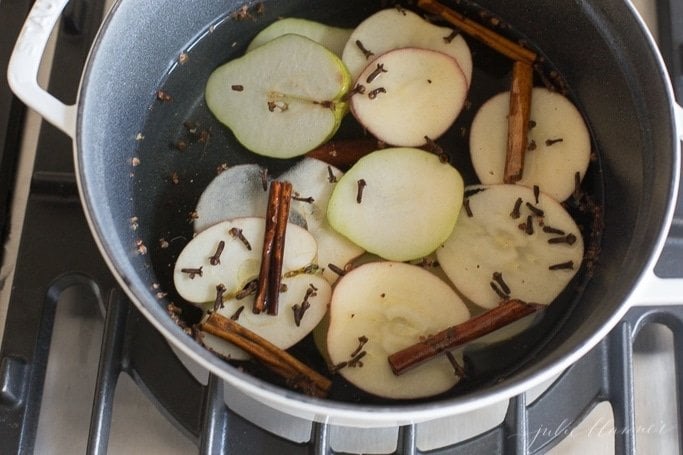 You can also dry your fruits for a beautiful gift. Get the easy dried homemade potpourri recipe here.
How to make your house smell good (actually, really amazing)…
You could, of course, bake your favorite chocolate chip cookies, I will never fault you for that, but baking every day isn't easy on the hips.
So, I throw together a quick stovetop potpourri and warm it off and on for days. Yes, it lasts for days! Sometimes I'll even add a little more water to it to keep it going.
I hope you love it as much as I do! What are some of your favorite ways to make the house smell great?
If you try this recipe, please come back to share using my 5 star rating in the comments below! Hungry for more? Get my BEST Baking Secrets delivered directly to your inbox and connect on Instagram Facebook and Pinterest!
Stove Top Potpourri
Learn how to make potpourri is just 3 minutes or less! This easy stovetop potpourri will leave your house smelling warm and cozy for days!
Ingredients
cinnamon sticks

cloves

1

apple

1

pear

4

cups

water
Instructions
Fill pot with water.

Add cinnamon sticks, cloves, apple and pear slices.

Simmer over low heat.
Notes
Experiment with different scents by using alternative fruits and spices.
Add water as needed.
Reuse throughout the week. Allow to cool and refrigerate covered between use.
Fall Blend
Pears
Apples
Cinnamon
Cloves
Christmas Blend
Oranges
Cranberries
Cinnamon
Rosemary