Can you believe it is already February? Valentine's Day is just around the corner and what a reason to celebrate! I'm kicking off the holiday a little early by sharing a handful of Valentine's cakes, breakfast, dinner and drink ideas my family loves!
We've all heard it said that the way to the heart is through the stomach, right? If you know me you know that I am a fan of simple, effortless living and food. These Valentine's Day recipes are sweet and savory and all the things you crave!
Can't make it out to a restaurant this year? Choose a few of these Valentine's Day recipes to create a simple, romantic meal at home.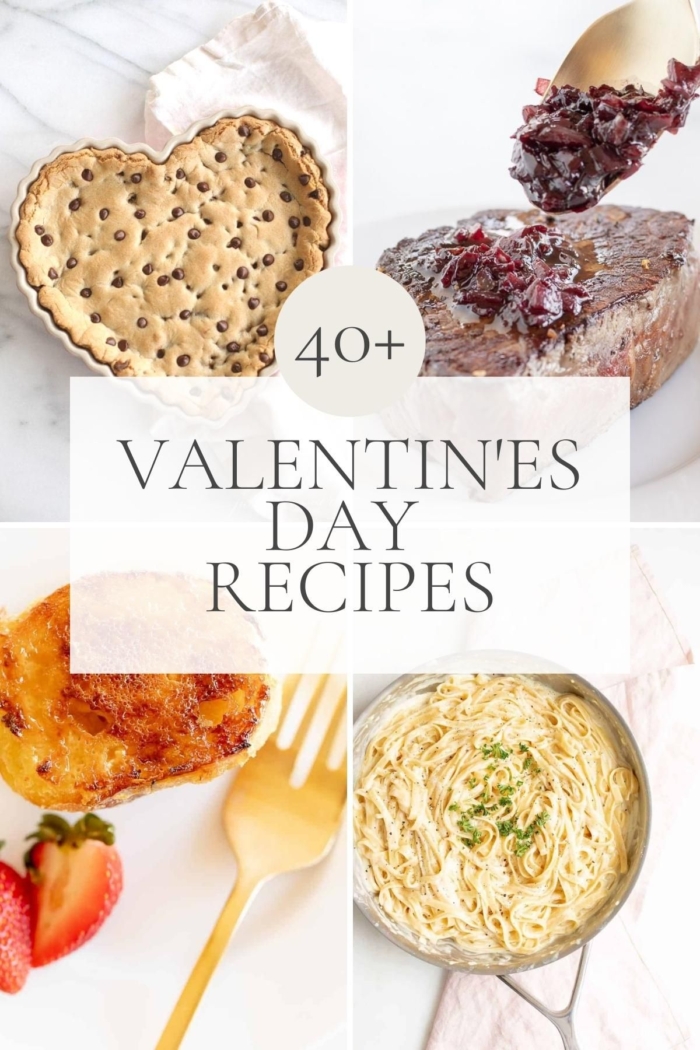 I'm excited to share my favorite Valentine's baking and meal ideas recipes that I hope will help you to show your loved ones how much you care without all the mess and fuss in the kitchen!
Whether you are celebrating at home or have a special date night planned, these Valentine's inspired recipes will add some extra magic to your day!
These are tried and true, top-rated recipes you'll crave again and again!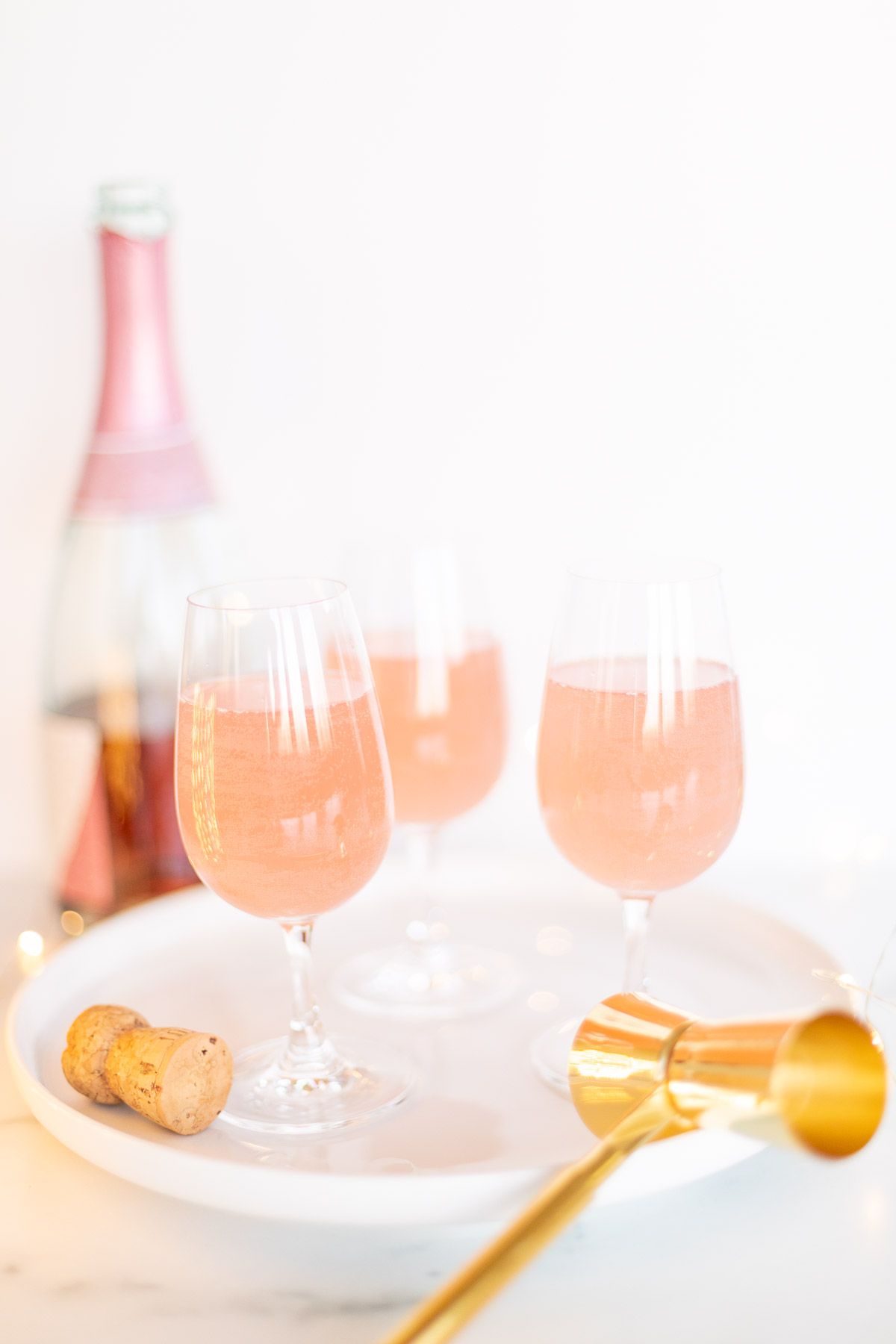 Valentine's Day Desserts
This thick, chewy, buttery and undeniably delicious M&M cake is made with a special ingredient that takes it to the next level! This cookie cake is one of my go-to desserts because it's easy and always such a crowd-pleaser. It is the perfect way to tell your Valentine how much you care!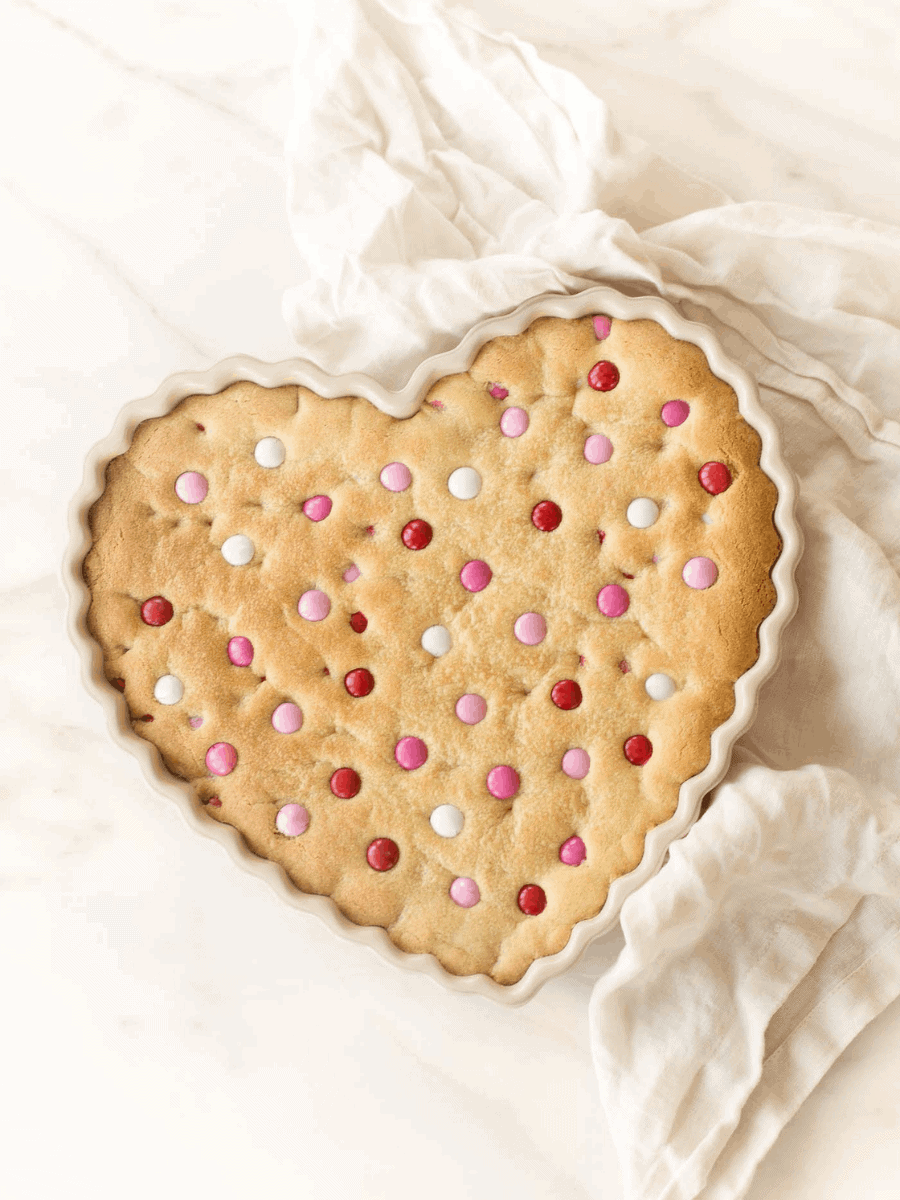 This melt-in-your-mouth cake recipe is a perfect way to celebrate Valentine's Day! It's thick, decadent texture combined with the best buttercream frosting is irresistible. Cookie cakes are quick, easy, foolproof and look beautiful without any effort!
Add some class to your Valentine's Day dinner with these sweet miniature molten lava cakes. These cute individual cakes that only take 10 minutes to prep with simple ingredients. This easy molten lava cake recipe can be made ahead, baked during dinner and served with ease.
The Best Cheesecake with Strawberry Sauce
Get the recipe for an irresistible and easy cheesecake that is perfect for any and all special occasions in your life – especially Valentine's Day! This New York style cheesecake is rich, creamy and incredibly smooth and dense. One bite and you'll be hooked!
It's simple, sweet and decadent, making it the perfect Valentine's Day dessert! Ready in just 15 minutes, this is a deceivingly easy dessert to share with your loved ones.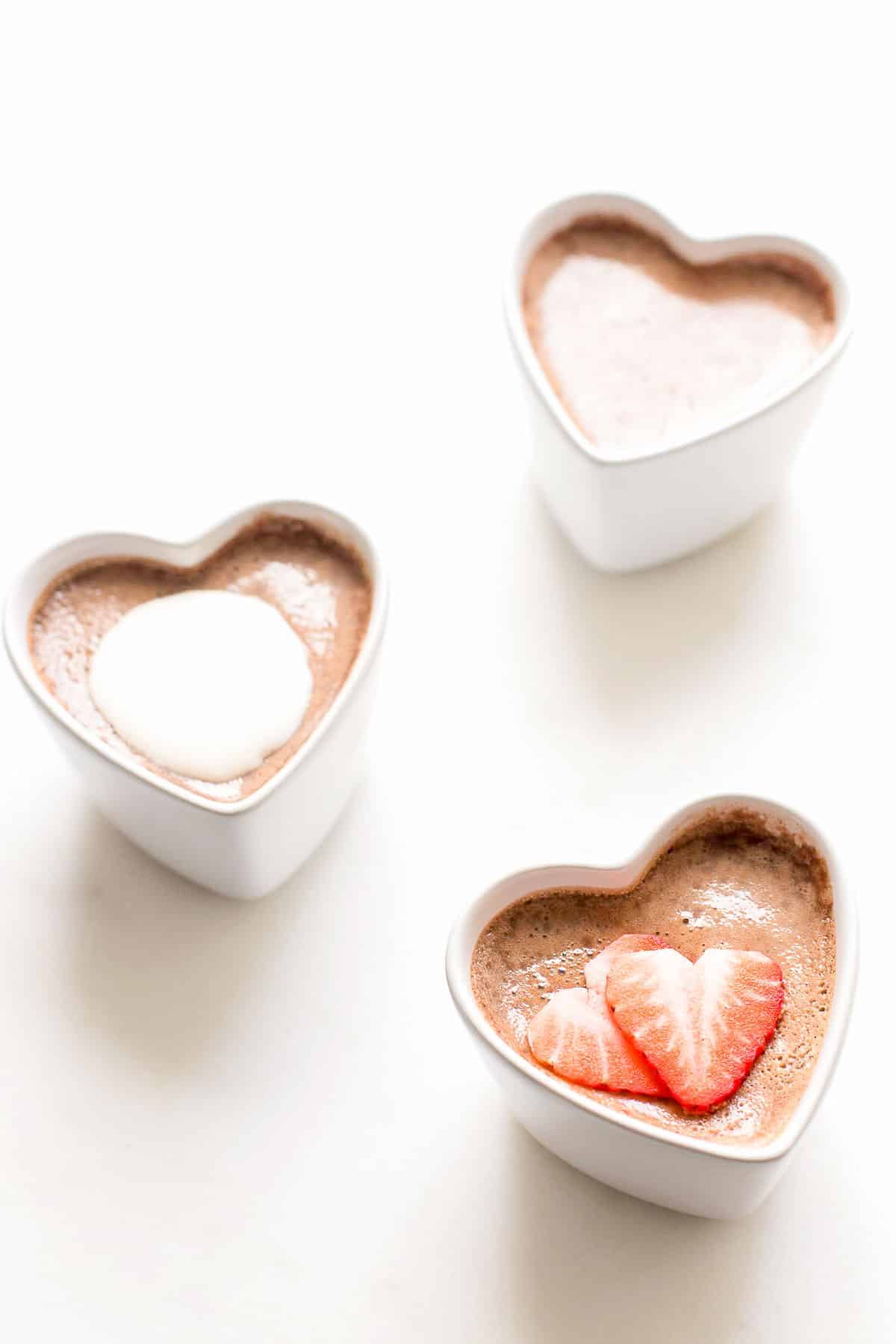 Thick, chewy and delicious Peanut Butter Cookie Cake is a sweet and salty dream come true! Cookie cakes are a fun and easy substitute for individual cookies, saving time and effort that you can spend with your Valentine!
Sugar Cookie Bars With Buttercream Frosting
These sugar cookie bars are so soft, sweet and decadent, and have an incredibly buttery crumb. The creamy buttercream, matched with that soft cookie, is perfection! They're a go-to dessert when we have any reason to celebrate!
This easy shortcake recipe is always crowd pleasing for a reason- and beautiful, too! What better way to make your Valentine feel special than skipping the box mix and whipping up this decadent strawberry shortcake recipe from scratch in minutes!
Heart Shaped Strawberries and Meringue
When spread in a heart shape and topped with strawberries it makes the most beautiful Valentine's Day dessert, without a lot of effort! This easy recipe takes just 10 minutes of hands on time and is the perfect addition to your Valentine's menu.
Brownie + cookie is the BEST pairing – and a fun and easy dessert to make for your Valentine! I combined my favorite cookie cake with a decadent brownie recipe and it is perfection!
Funfetti makes everything more fun, right? No cake mix needed, just staple pantry ingredients for a delicious thick, chewy cookie cake you – and your Valentine – will love!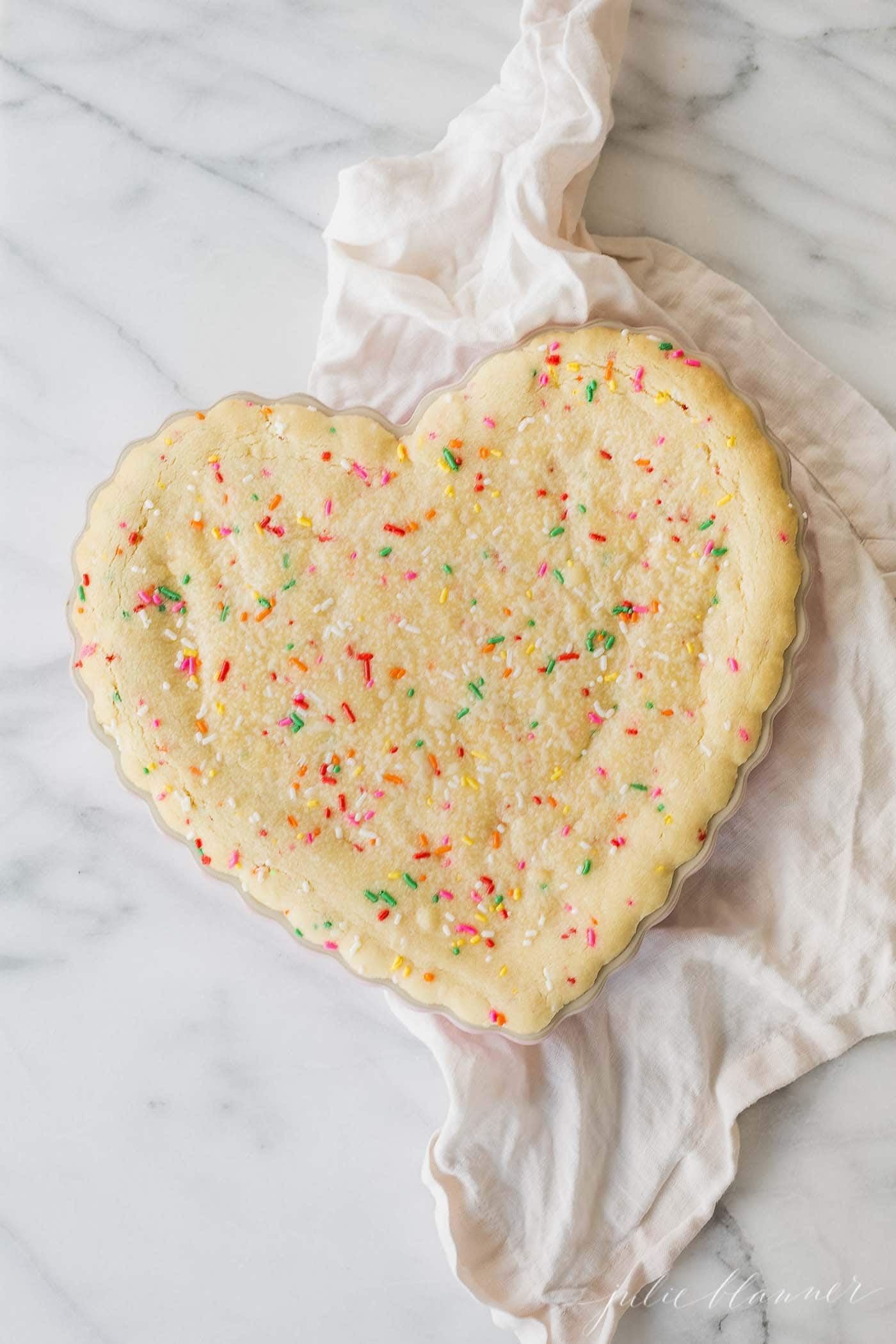 With just a few ingredients, this no bake cheesecake is too good to pass up. Its rich, creamy texture is enough to make any day feel like a special occasion! It tastes just like a traditional cheesecake but with less effort and no hot ovens needed.
This lower calorie fruit tart comes together with just 4 ingredients and it's great for a last minute dessert! You can make this fruit tart ahead of time in just 5 minutes!
This delicious no bake French silk pie is so easy to make and I just know you are going to love it! It takes just 10 minutes to make and is so incredibly indulgent!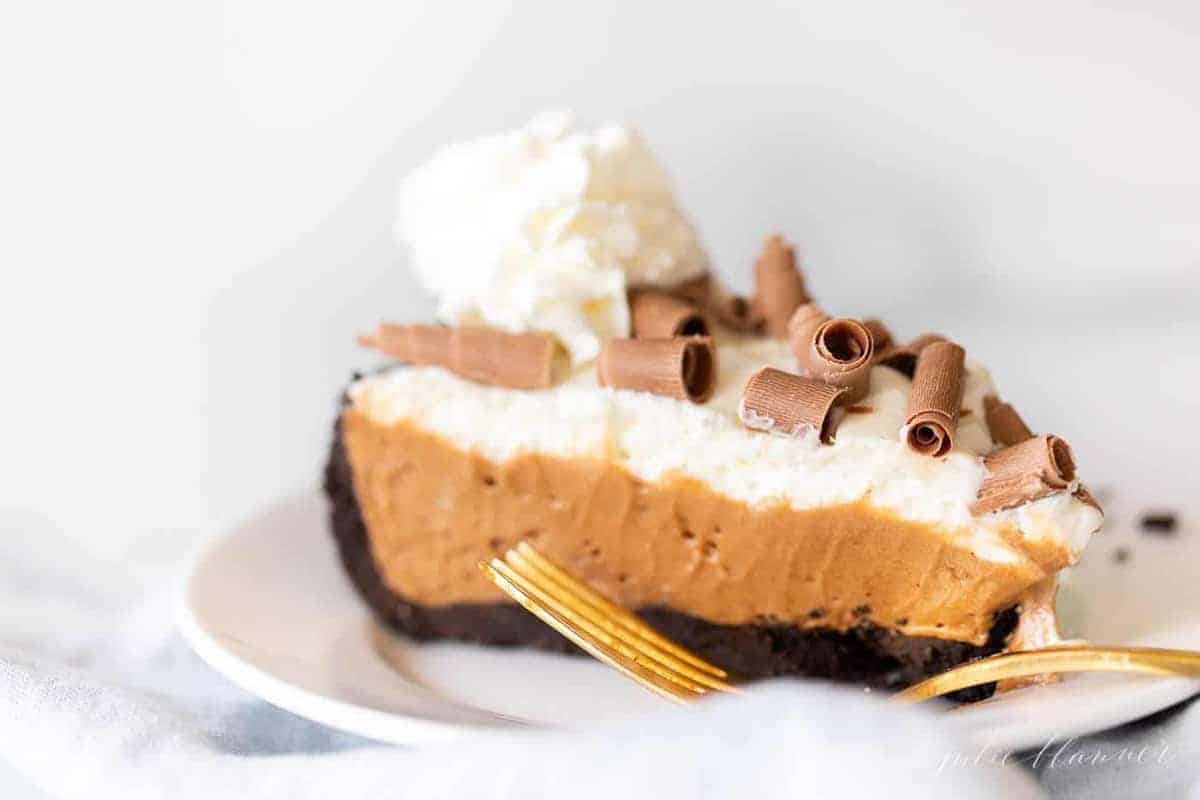 This easy chocolate chip cookie cake is one of my favorites! One simple twist makes it better than the rest. I'm sure your Valentine will agree!
Phyllo Brownies have the best texture in every bite with the most incredibly fudge flavor! The flaky dough encompasses a rich, chocolate brownie to add a gentle crunch. Trust me, it is nearly irresistible!
This chocolate cobbler is a perfect option of dinner parties and date nights! This rich, fudgy dessert is made with just a few staple ingredients and comes together quickly and easily!
Hot chocolate cake takes the rich and creamy flavors of hot chocolate and transforms them into a delightful baked treat! This hot chocolate cake recipe starts with a boxed brownie mix and finishes with special homemade touches – the perfect amount of effort!
This easy, elegant and delicious chocolate chip pound cake requires just 10 minutes of hands on time! It is the perfect Valentine's Day treat that your loved ones will enjoy!
This rich and creamy dessert is so much easier to make than you would imagine! It is one of our favorite treats to make and enjoy, especially on special occasions!
Celebrate the holiday that celebrates love with these baked Valentine doughnuts. They make the cutest breakfast, and they're so easy to make, too!
These cream puffs are a fun, easy and delicious dessert – perfect for entertaining and to share with those that you love! No one will be able to refuse these bite-size treats!
Valentine's Day Meals
This is grown up version of a childhood favorite! Rich, hearty and full of creamy, craveable flavor, bacon mac and cheese is the perfect dinner or side to share with your Valentine!
Learn to make this homemade pasta recipe in minutes, adding a special touch to show your Valentine just how much you care! Grated pear, fresh cheeses and butter, what's not to love?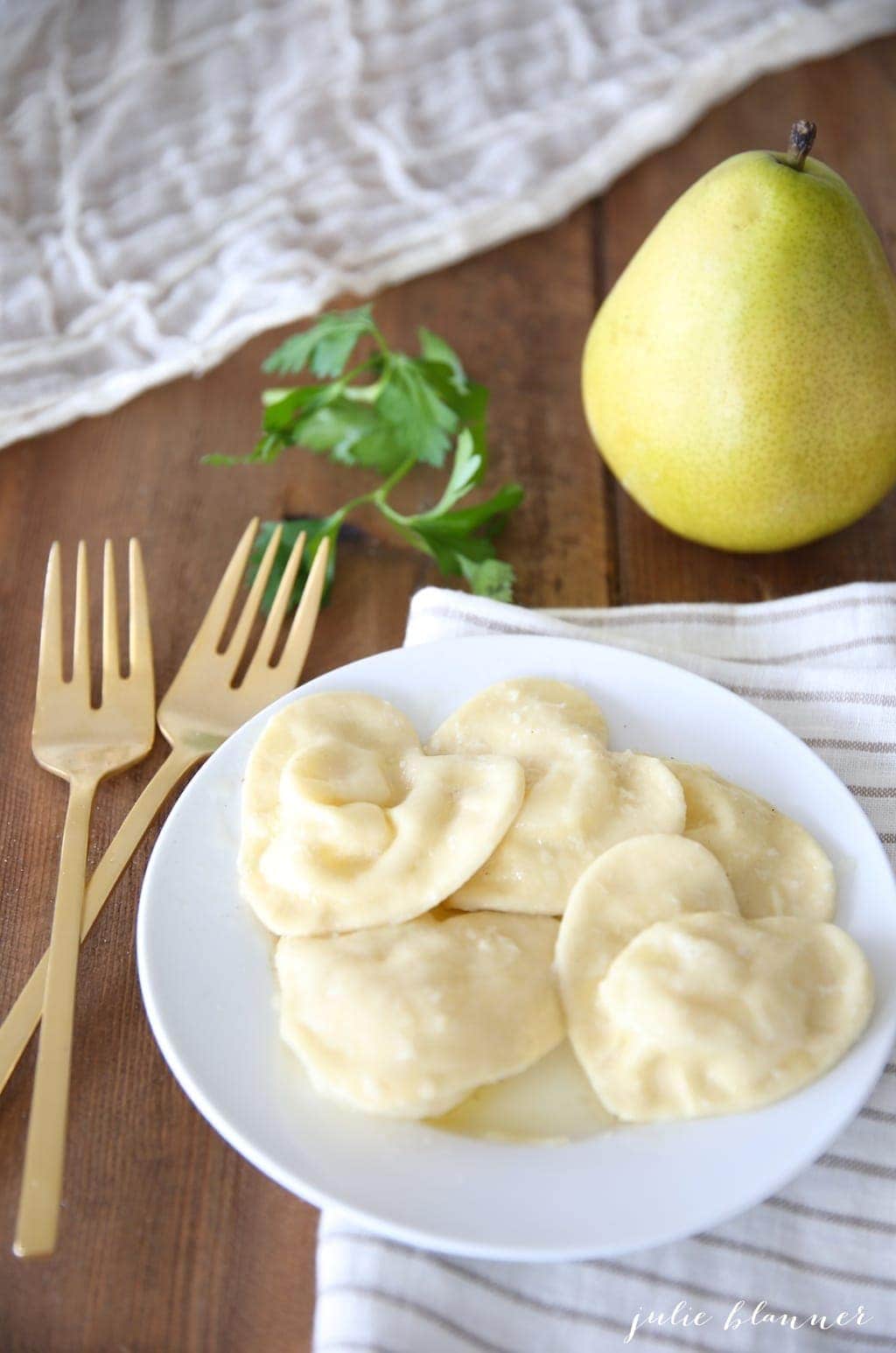 This incredibly rich and creamy Fettuccine Alfredo recipe is one of the easiest ways to enjoy a filling pasta dinner. This traditional, decadent Alfredo Sauce recipe is made with just five ingredients, but feels special enough for a fabulous Valentine's Day recipe!
Piccata Milanese with Piccata Sauce
This Piccata Milanese with Piccata Sauce is a family favorite – it comes together in less than 25 minutes! It's a comforting Italian classic – perfect for special occasions or a date night in!
Whether you call it red wine jus or red wine reduction, it's the perfect enhancement to your steak dinner. An elegant meal to share on Valentine's Day!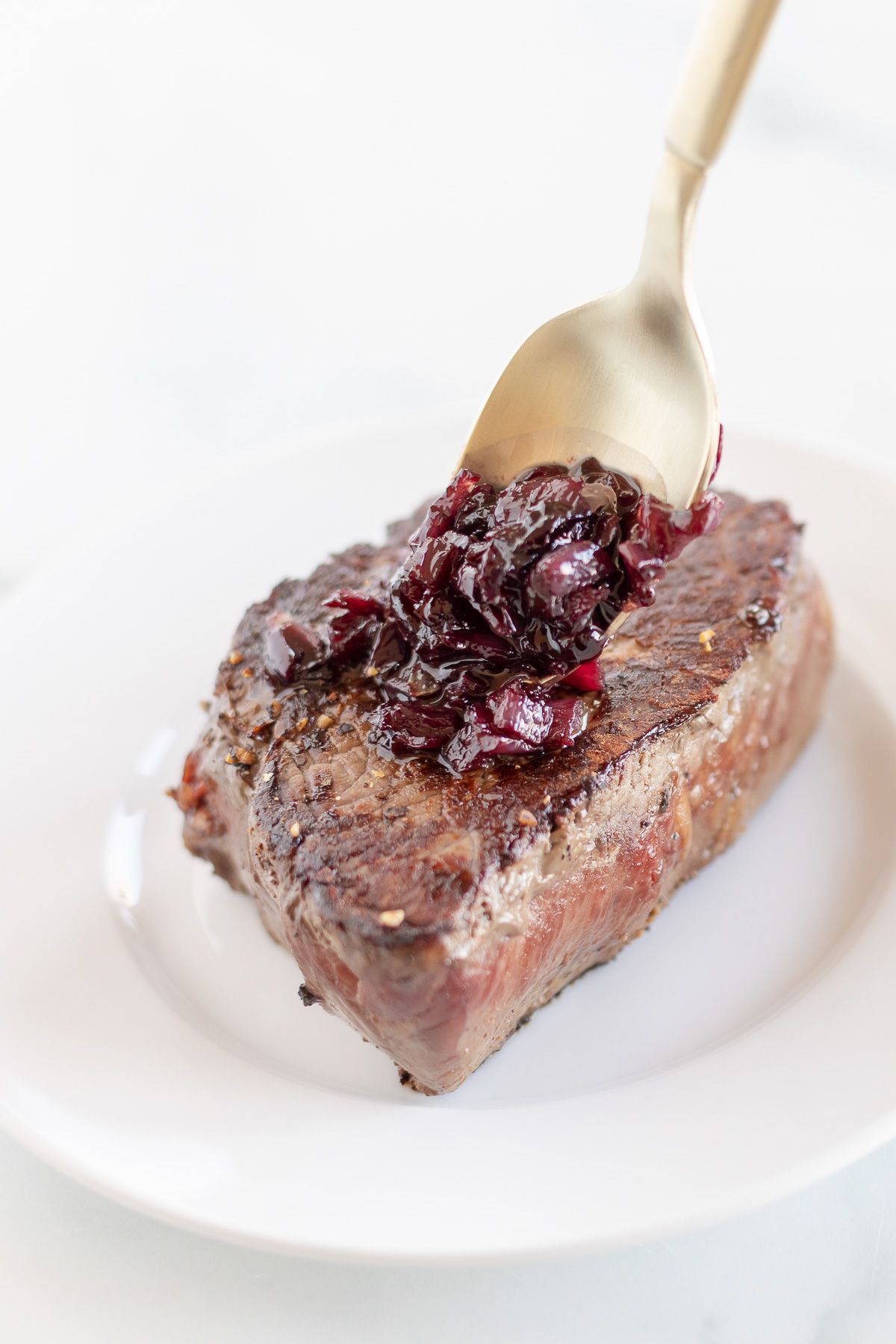 This tenderloin is rich, tender, juicy, and oh-so-flavorful. Better yet, this simple dinner is special enough to serve for any holiday without all the extra fuss or time spent in the kitchen!
Valentine's Day Breakfast
These heart shaped cinnamon rolls are a perfect Valentine's breakfast or brunch recipe to share with your loved ones! They are so deliciously fluffy and the cinnamon frosting is so thick and creamy. I guarantee they will stand the test against any bakery cinnamon roll you can find!
These homemade baked doughnuts are the perfect sweet treat to share with your Valentine! They are fun, easy and delicious! How can you go wrong?!
Perfect to eat by themselves or top a dessert, these wine marinated strawberries are the perfect boozy treat! These pretty sugar-coated strawberries soaked in wine are great addition to your Valentine's Day brunch or dessert menu!
Enjoy these authentic Belgian waffles for breakfast or dessert with your Valentine! Top with sweet cream, fruit or plain, this recipe makes the best Belgian waffles I've ever had. Trust me, you'll never want to eat a traditional waffle again!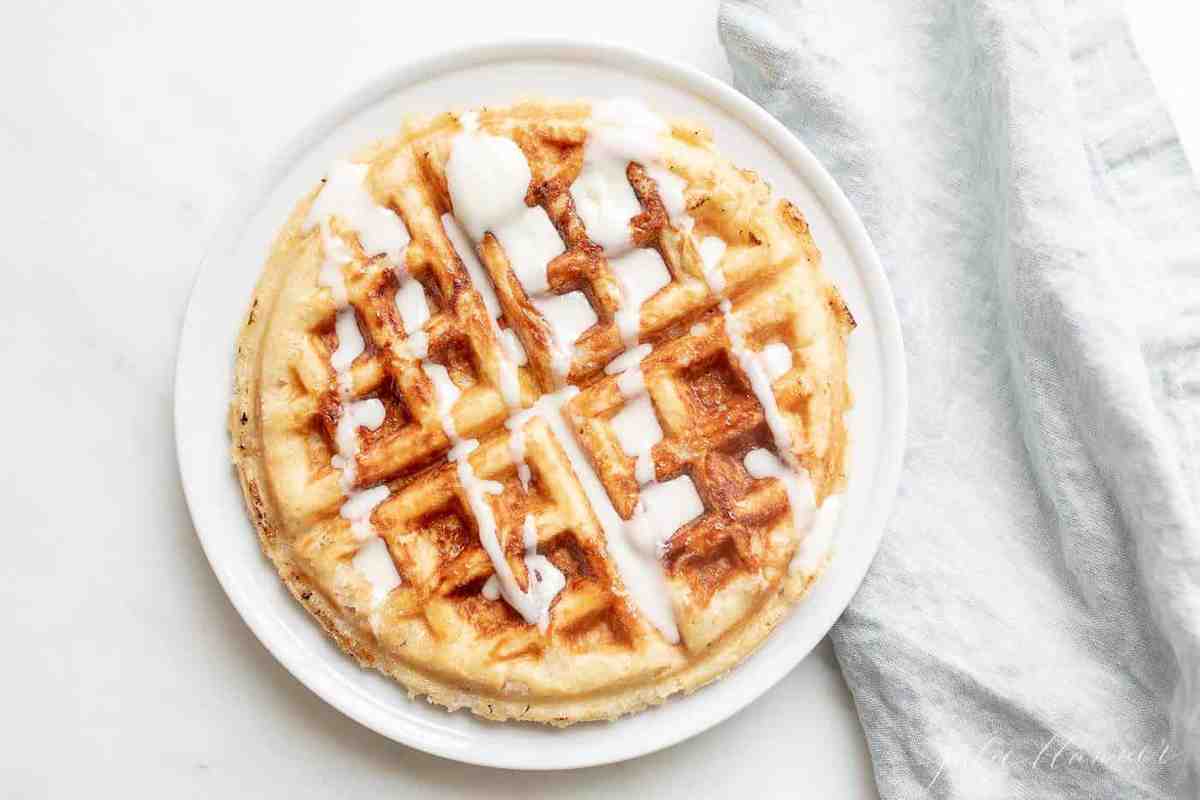 This easy fruit pizza recipe is made with my favorite sugar cookie crust and decorated with your favorite fruit! Ready in just 10 minutes of hands on time, this fruit pizza tastes as good as it looks!
This French toast recipe is deceivingly easy and makes the perfect Valentine's breakfast! It's toasted to perfection in the oven with a crunch brulee layer that eliminates the need for butter and syrup!
This 5 minute fruit dip is rich, creamy and the best complement to serve with cakes, crepes or fruit for a special Valentine's Day brunch. This effortless dip is always a hit whenever I serve it and it's so simple to make!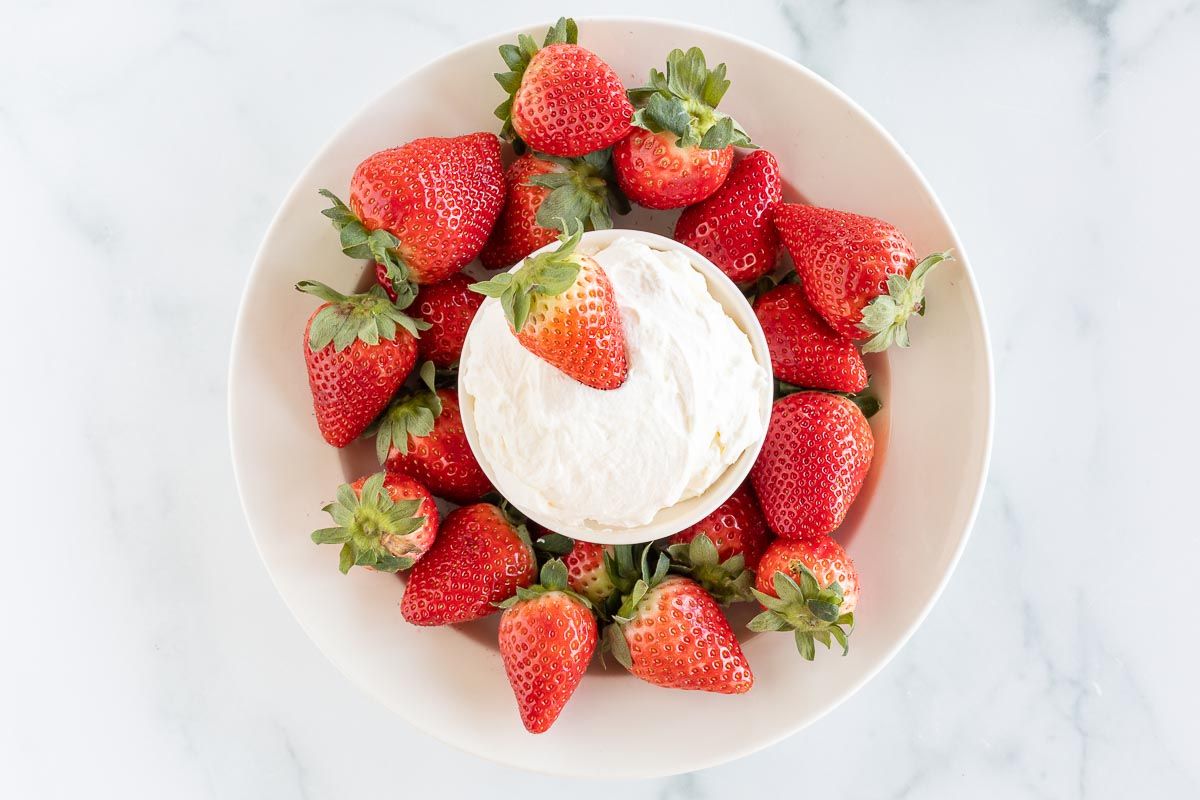 It's easy quick bread recipe for breakfast, snack or dessert that also makes a beautiful neighbor, hostess or holiday gift! Why not whip up a batch to share with your Valentine?!
The secret to making the best muffins is browned butter. They're quick and easy enough that you can whip them up at any time to serve for a special Valentine's Day breakfast!
Cinnamon bread is my favorite way twist on a traditional cinnamon roll, without the effort! This quick, easy and foolproof recipe is always a crowd pleaser and is a great way to shower some extra love on your Valentine!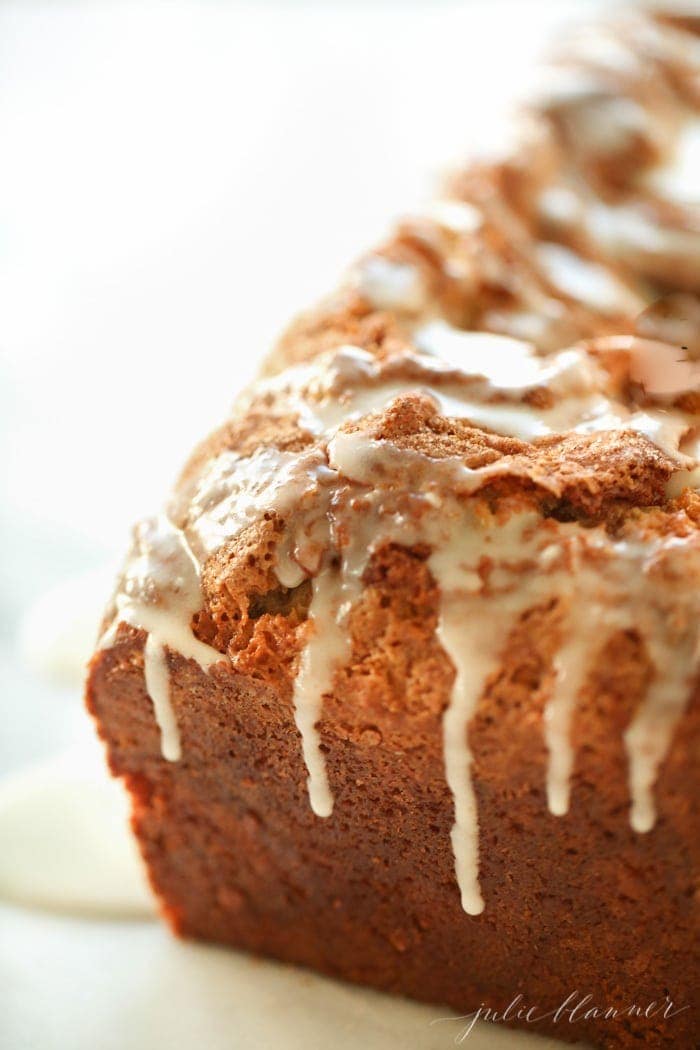 These chocolate protein pancakes are a fun, easy and nutritious option for a special Valentine's Day breakfast! Made with just 4 simple ingredients, this recipe will give your loved ones the energy they need to start the day off right! Plus, did I mention they're made with chocolate?!
Valentine's Day Cocktails
Does it get any more festive than this? If you love a glass of celebratory champagne and you love a homemade margarita, you're going to be head over heels for this incredible pink champagne margarita.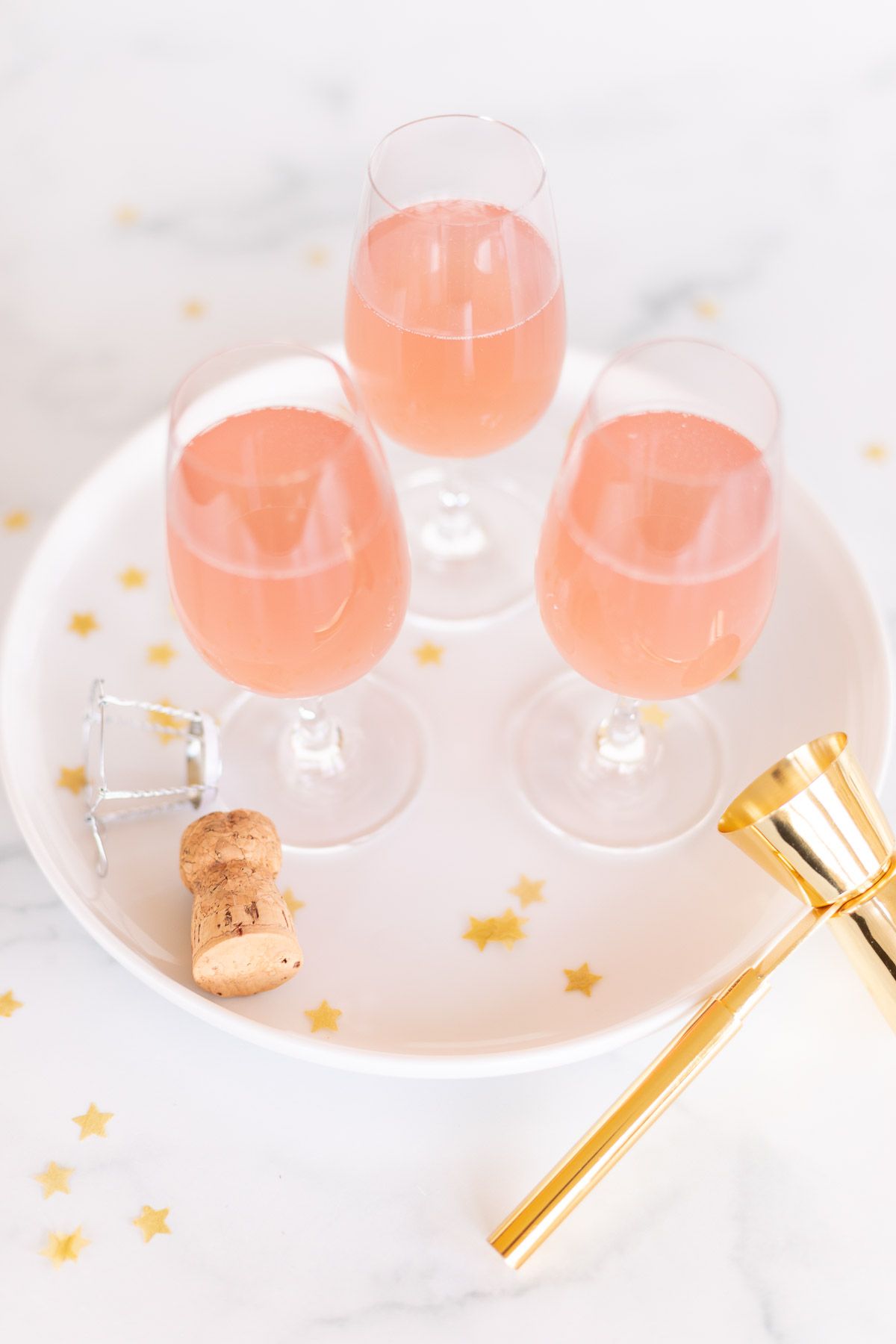 Or maybe a strawberry mojito, or really any kind of mojito! Mojitos are one of my all time favorite cocktails, and this Raspberry Mojito is no exception! It captures the quintessential pretty ripe red color of raspberries, making it perfect for Valentine's Day. If you ask me, this match was meant to be.
Frosé Recipe (Aka Frozen Rosé)
Enjoy your favorite blush wine turned into a refreshingly easy to sip two ingredient Frosé Recipe. It's a pink wine Frozen Rosé slushy, perfect for any time of the year where you want to drink something a little celebratory and special!
Easy champagne slushies are a quick and easy to sip summer strawberry cocktail recipe. Made with just two ingredients and ready in a matter of minutes, these refreshing frozen champagne cocktails are perfect for summer entertaining, Mother's Day and 4th of July celebrations.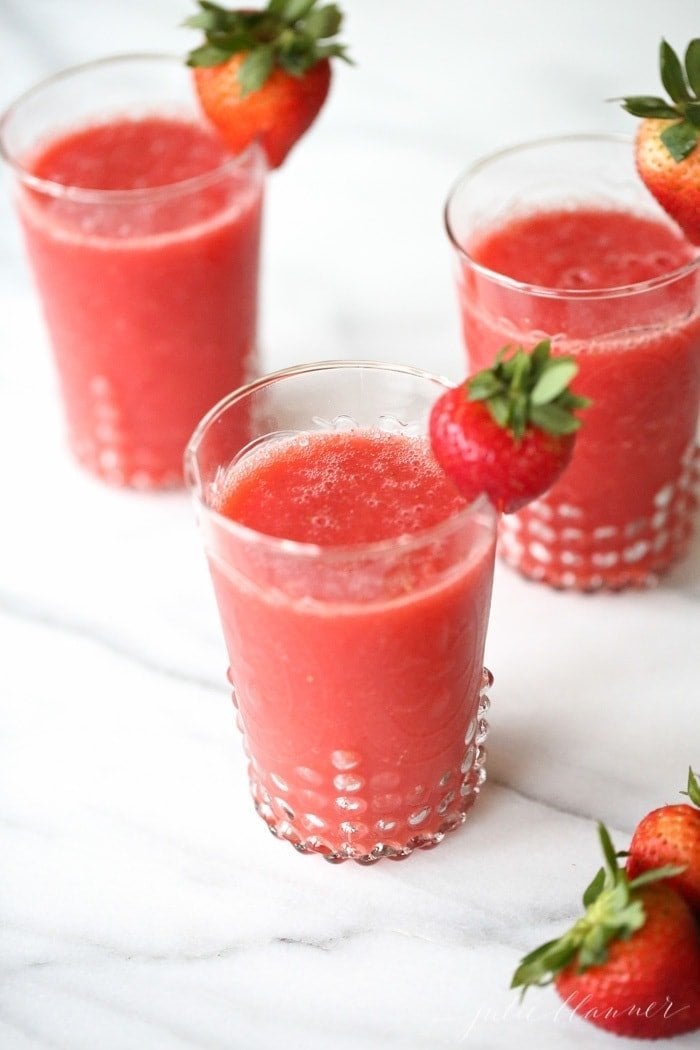 Frequently Asked Questions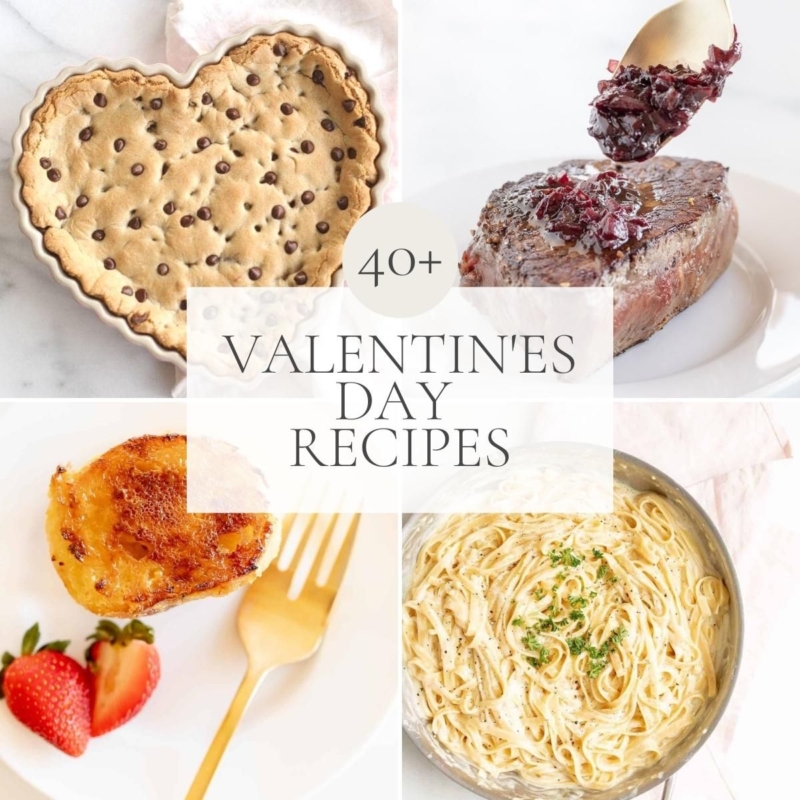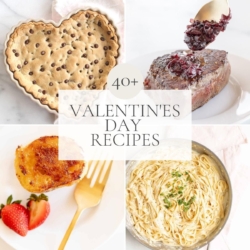 Valentine's Day Recipes
Valentine's Day is just around the corner and what a reason to celebrate! I'm kicking off the holiday a little early by sharing a handful of Valentine's cakes, breakfast and dinner ideas my family loves!
Ingredients
See each recipe post for printable recipe card with ingredients and instructions.

1

bottle

Wine

or champagne, of course!
Instructions
Prep all ingredients ahead of time for ease of preparation on the day of your event.

See tips below for tips to make your party dips ahead, how to store, and more!
Tips
Make Ahead
Be sure to read the directions for each individual Valentine's Day recipe to see if they can be made ahead, and for how long.
To Store
Many of these recipes can sit out at room temperature while serving for up to two hours safely.
Refrigerate anything you're making ahead for up to two days in an air tight container.
Calories:
156
kcal
|
Carbohydrates:
5
g
|
Protein:
1
g
|
Sodium:
9
mg
|
Potassium:
186
mg
|
Sugar:
1
g
|
Calcium:
15
mg
|
Iron:
1
mg
Estimated nutrition information is provided as a courtesy and is not guaranteed.
Explore More