This incredibly rich and creamy Fettuccine Alfredo recipe is one of the easiest ways to enjoy a filling pasta dinner. This traditional, decadent Alfredo Sauce recipe is made with just five ingredients, and your family will beg you to make this time and time again!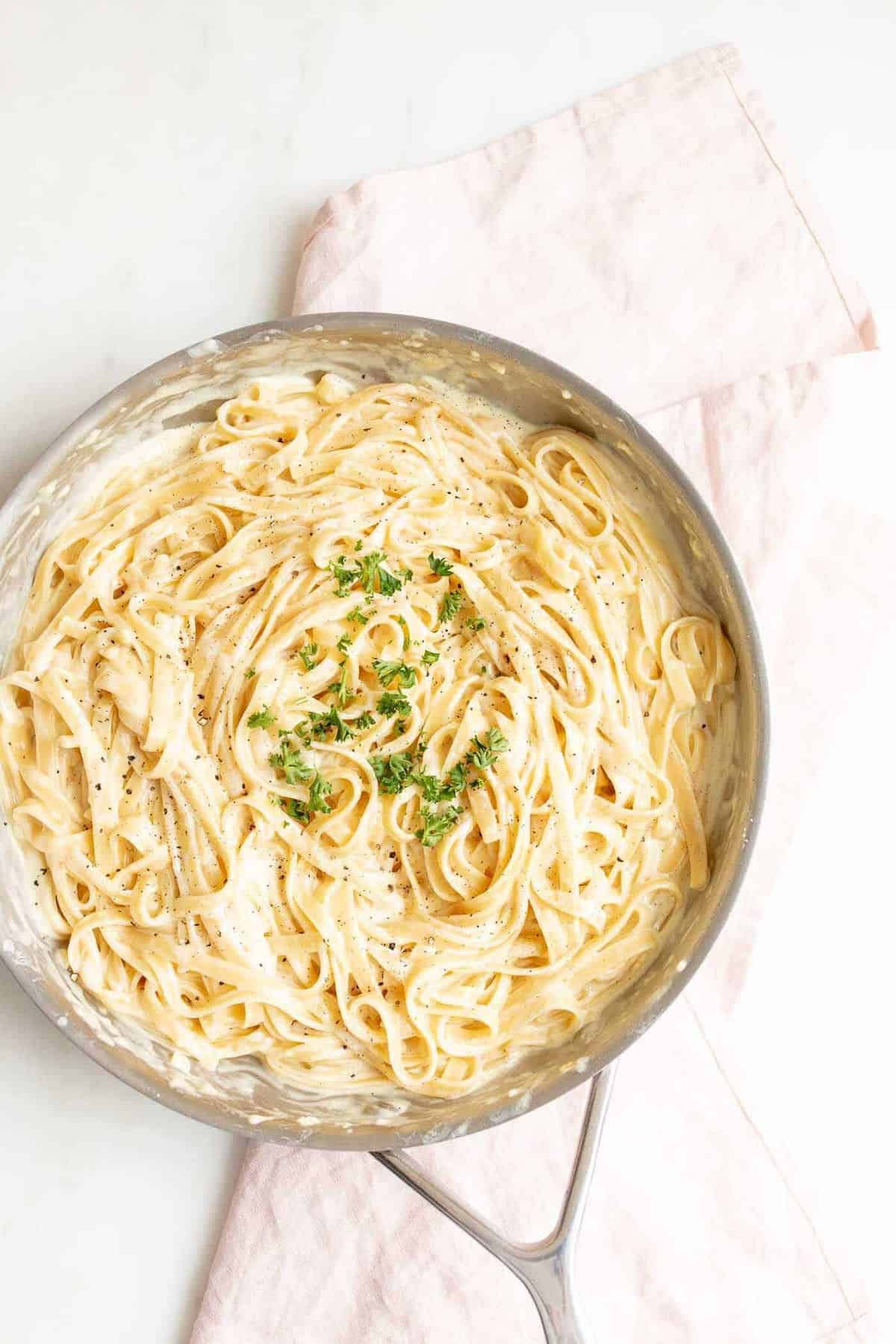 What's your family's favorite comfort food? Is it an old-fashioned family recipe of some kind? A dessert or dinner that you turn to whenever you need those cozy dinner vibes?
Well for my family, it's always pasta. We can't get enough! Give us any combination of delicate homemade noodles, rich sauces and cheese, and you'll have the happiest kind of Blanner family dinner.
If you love pasta as much as we do, don't miss my most popular pasta dinners! Learn how to make this delicious easy lasagna, my famous white wine sauce for pasta, pasta con broccoli, and this perfectly spiced creamy cajun chicken pasta.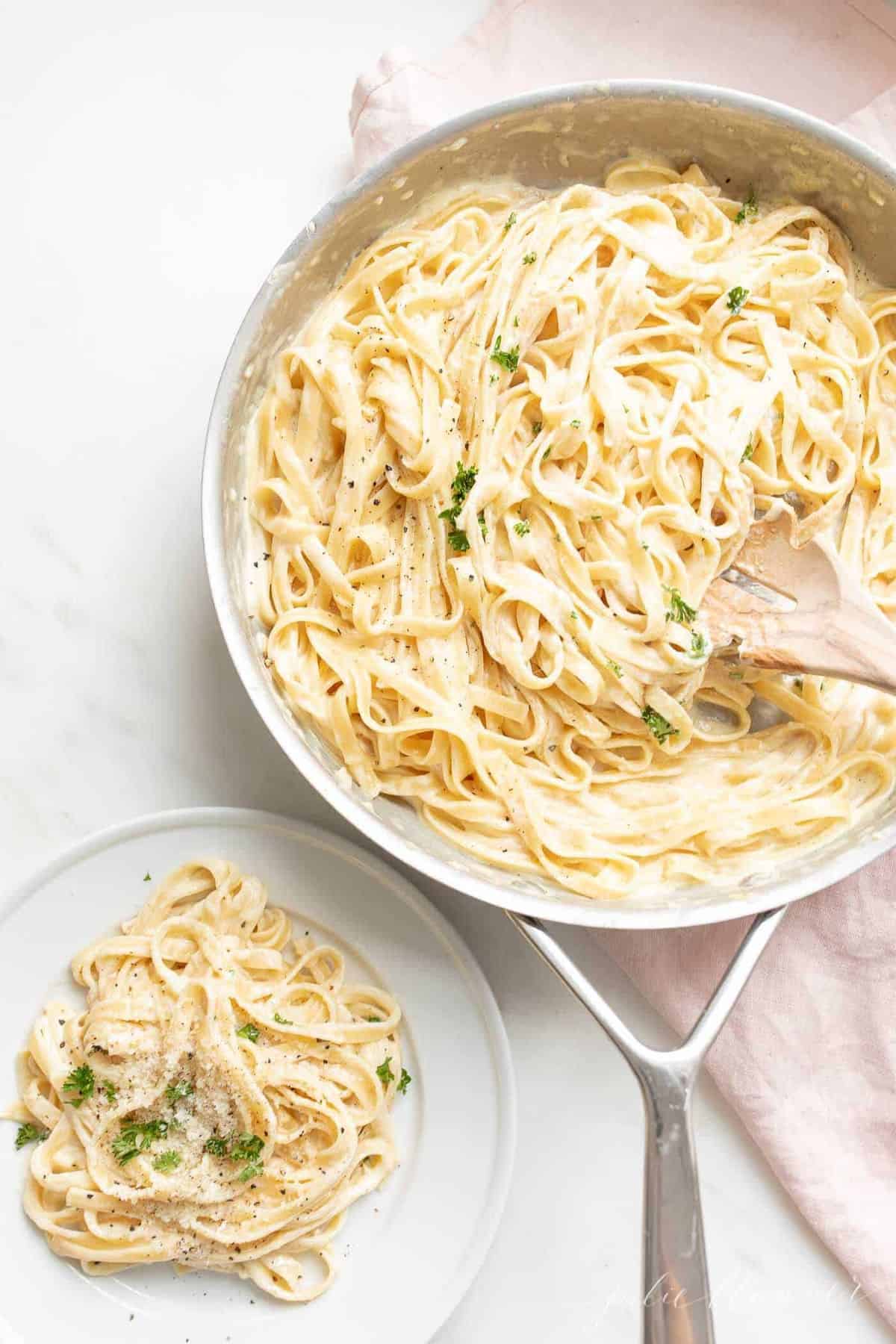 Rich and Creamy Fettuccine Alfredo
You probably already know a little about this ubiquitous dish from a variety of Italian restaurants across the country.
In fact, you might even think it's a little boring or too traditional for your tastes, if you frequent Italian restaurants! However, I believe it's a classic for a reason! It's the ultimate blend of cheese, butter and garlic for a sauce that cannot be compared to anything else.
It's truly timeless and I'm excited to show you how simple it is to make this delicious Alfredo sauce recipe today! Are you ready? I know I am!
Originally published 2020, updated with video March 2021.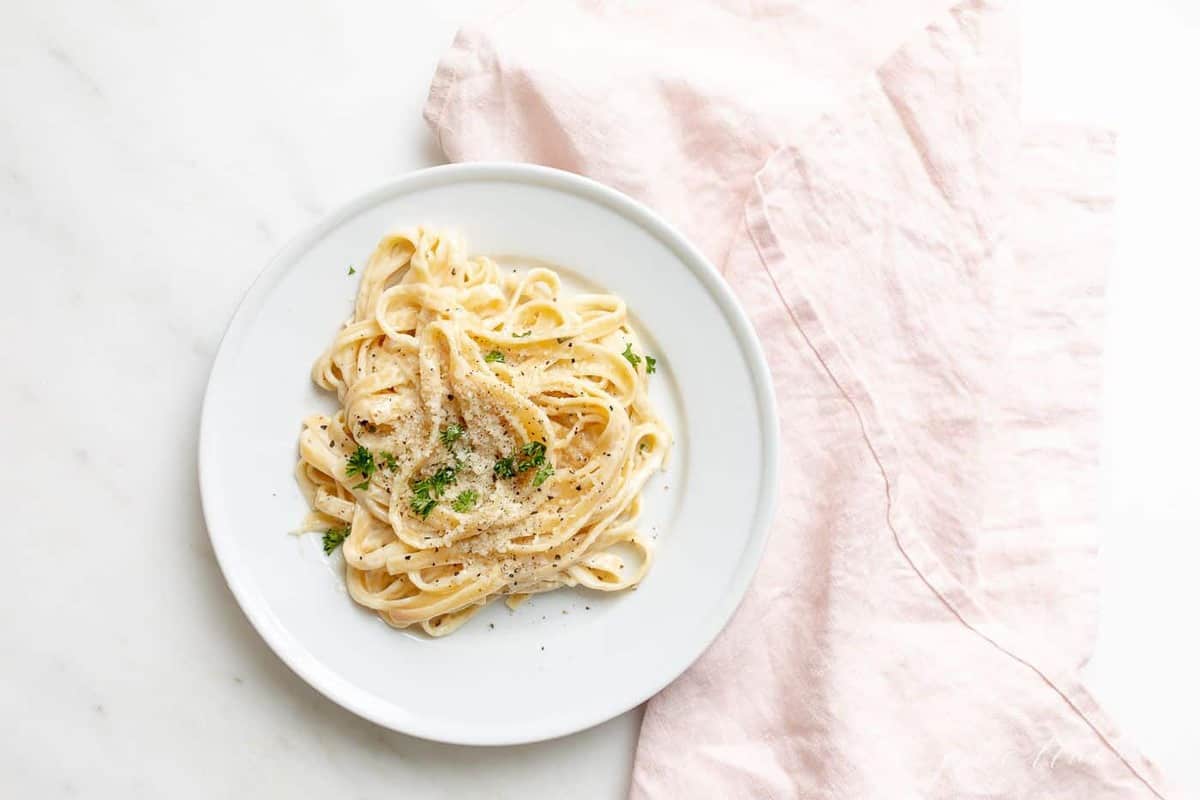 What you Need to Make Fettuccine Alfredo Sauce
The ingredients are incredibly simple, which is why you'll need to choose high quality items to help this sauce really shine!
Fettuccine Noodles – Fresh or store bought. Of course, you can always go the extra mile and make my homemade pasta – you'll never regret this extra step for pure decadence!
Egg Yolk

– While many modern alfredo sauce recipes will skip this ingredient, it's a traditional ingredient that helps bind your sauce to every piece of pasta. What could be bad about that?

Heavy Whipping Cream

– Heavy cream creates rich flavor and a luxurious consistency.

Salted Butter

– A little extra salt and fat from the butter is necessary for binding and flavor.

Minced Garlic

– Fresh or minced garlic from the produce section at the store.

Fresh Grated Parmesan

– Fresh grated parmesan yields the best texture. It melts incredibly well making a creamy sauce.

Black Pepper – Thick flakes of fresh ground black pepper.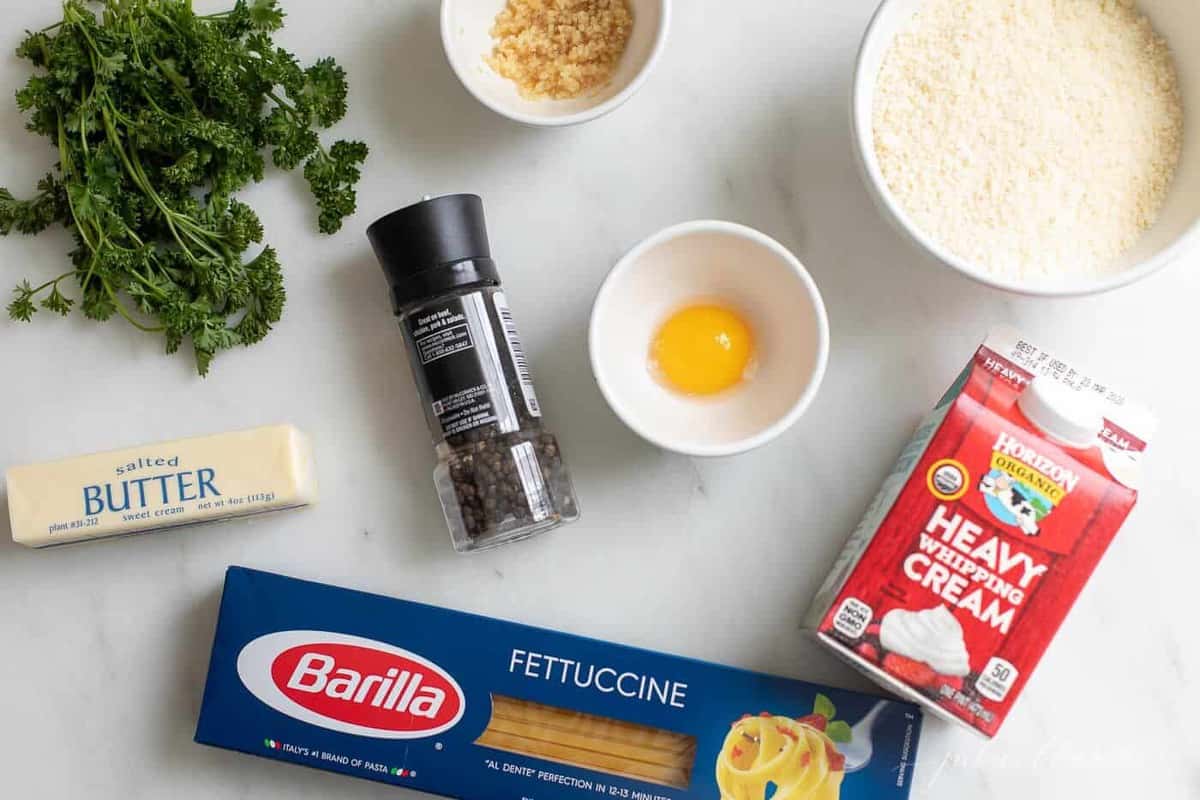 QUICK TIP: A little diced Italian parsley is a nice pop of color to top your homemade Alfredo sauce recipe, but not necessary for flavor- only garnish!
How to Make Homemade Alfredo
Prepare Pasta – Bring a large pot of water to a boil. Add salt. Prepare noodles al dente.

Whisk Egg and Heavy Cream – In a separate bowl, whisk until well combined.

Make Alfredo Sauce – In a saucepan over medium low heat, melt butter. Add garlic and sauté until about 2 minutes, careful not to burn. Remove from heat.

Whisk cream mixture into butter and return to low heat.

Strain Pasta – Strain noodles, reserving 1 cup of pasta water should you choose to thin the sauce.

Toss – Toss noodles with cream sauce and Parmesan.

Garnish – Garnish with fresh cracked black pepper and optional parsley.

Enjoy!

Tips for Making Alfredo Sauce

Prep – This recipe is incredibly quick so prep first.
Slowly Add Cream – Slowly add in your heavy whipping cream over low heat.This not only creates the creamy sauce you're after, it prevents separating and overcooking.
Use Fresh Parmesan – I know I said it above, but it bears repeating: please don't use a can of "parmesan" cheese… and don't even use the bagged/containers of pre-shredded cheese.
Don't Overheat – Lower heat is always better to avoid separation and scalding.
Save Pasta Water – This can be so helpful to add a touch of starchy water to your sauce in case you'd like to think it out a little!

What is Alfredo Sauce?

Alfredo sauce is generally made of butter, cream, and Parmesan cheese. It's a rich, creamy sauce that is traditionally used alongside fettuccine pasta – although we've found that it works with a variety of pastas!

As the cheese melts, it liquefies to create a silky smooth, incomparably rich sauce to coat the pasta.

Why is it Called Alfredo?

You all know I love a little food history! It turns out, fettuccine alfredo received the name from the inventor of this beloved dish.

Fettuccine Alfredo is named after Alfredo di Lelio, who served it at his restaurant in Rome in the early- to mid-20th century. Preparing this classic traditional pasta dish tableside was part of the fun, and it sounds like it was almost as important as the flavorful food itself!

Want more? Receive the best ideas directly to your inbox and connect on Youtube, Instagram, Facebook, and Pinterest!

If you try this recipe, please come back to share using my 5 star rating in the comments below! Not only do I appreciate it, but I know readers do, too!

More Easy Pasta Dinners

Rich and Creamy Homemade Fettuccine Alfredo Recipe

A rich and creamy fettuccine alfredo recipe is an easy way to enjoy a filling pasta dinner. This decadent alfredo sauce recipe has just five ingredients!

Ingredients

1

pound

fettuccine noodles

1

egg yolk

1½

cups

heavy cream

3

tablespoons

butter

2

teaspoons

garlic

minced, or 2 cloves

1

cup

parmesan

freshly grated, fine

black pepper

fresh ground

Instructions

Bring a large pot of water to a boil. Add salt. Prepare noodles al dente.

In a small mixing bowl, whisk yolk and cream. Set aside.

In a saucepan over medium low heat, melt butter. Add garlic and sauté until about 2 minutes, careful not to burn. Remove from heat.

Whisk cream mixture into butter and return to low heat.

Strain noodles, reserving 1 cup of pasta water should you choose to thin the sauce.

Toss noodles with cream sauce and parmesan.

Garnish with fresh cracked black pepper and optional parsley.

Notes

Tips

Gradually add heavy cream
Use fresh grated parmesan cheese
Don't overheat
Use pasta water to thin

How to Store

Refrigerate – Store in an airtight container or resealable bag up to 5 days refrigerated.

Nutrition

Calories:

327

kcal

Carbohydrates:

16

g

Protein:

8

g

Fat:

26

g

Saturated Fat:

15

g

Cholesterol:

122

mg

Sodium:

259

mg

Potassium:

67

mg

Fiber:

1

g

Sugar:

1

g

Vitamin A:

929

IU

Vitamin C:

1

mg

Calcium:

189

mg

Iron:

1

mg

Did you Make This Recipe?

Mention @JulieBlanner