Find the easiest Cinco de Mayo Menu ideas that everyone will love! Choose from 50+ of the best Cinco de Mayo appetizers, salads, sides, mains and of course, drinks to design your Cinco menu!
Cinco de Mayo is a celebration that everyone can enjoy, and what better way to celebrate than with some delicioso food and drink?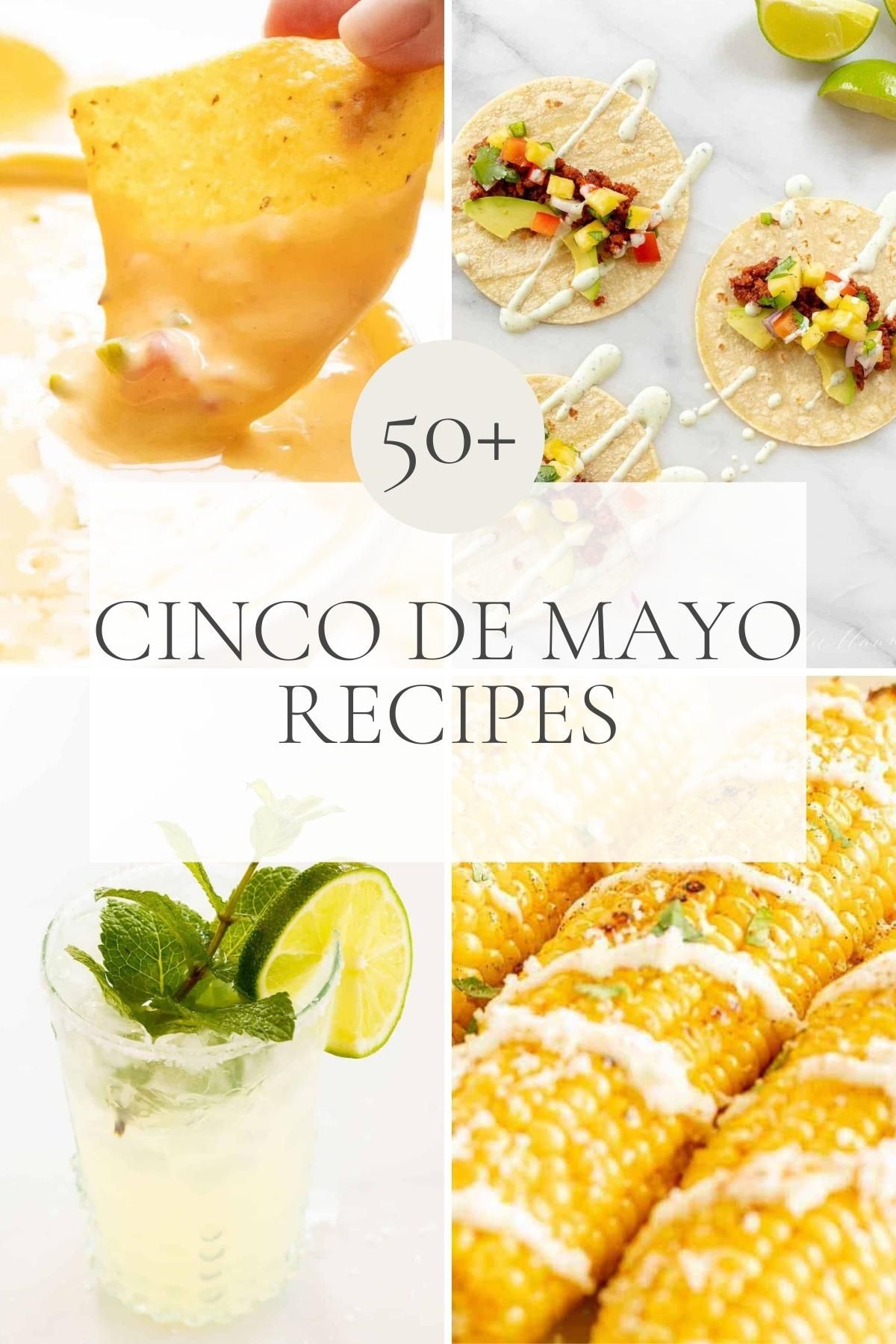 Cinco de Mayo is a celebration of Mexican heritage. But on the lighter side of this holiday, it is also the perfect excuse to indulge in your favorite Mexican eats.
Truly, as though we need any excuse to eat Mexican food, am I right? We don't need an excuse in this house, but we do love a reason for an additional celebration!
Use the drop down table of contents menu to navigate this post by category. Each link takes you directly to a printable recipe card, making your menu planning so easy!
What is Cinco de Mayo?
Cinco de Mayo is actually not a celebration of Mexican Independence. This holiday commemorates the victory of Mexico over France in 1862. Even more interesting, it's not a widely celebrated holiday in Mexico… it's just something that we like to celebrate here in the U.S.
Cinco de Mayo has endured here, becoming a cultural celebration of all the things we love about Mexico. Let's celebrate together!
Put together a fabulous Cinco de Mayo menu of the best Mexican-inspired dip recipes, tacos, Mexican side dishes and of course, cocktails. There's something for everyone in this comprehensive recipe guide, whether you're entertaining friends or just spending a fun night at home!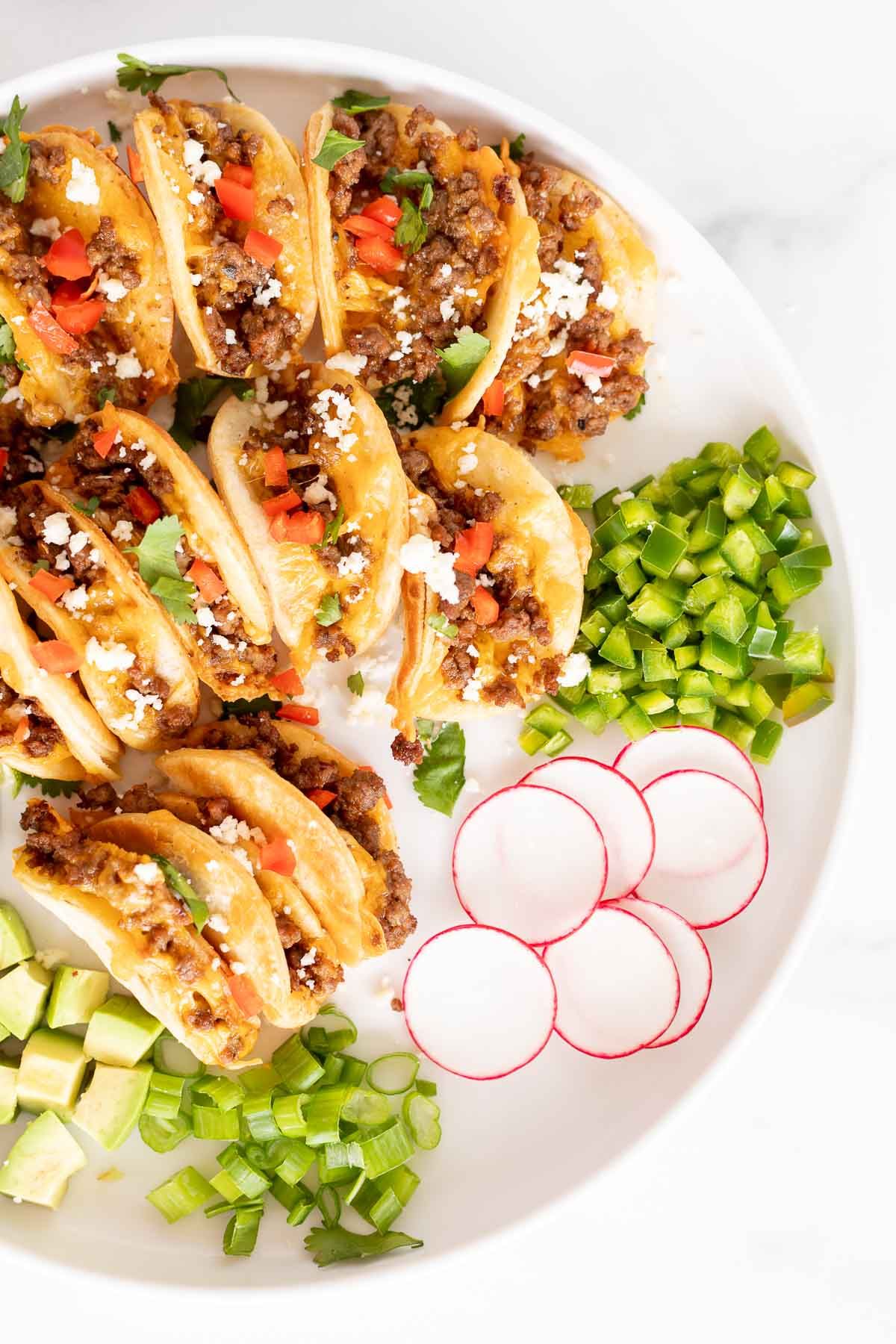 The Best Cinco de Mayo Recipes
I'd be lying if I said we don't enjoy Mexican all year long! After all, these are some of the easiest, most flavorful recipes around… but an extra reason to celebrate means friends and family can join in the fun!
After years of creating easy, delicious recipes to share, I've had so many requests to combine holiday menu ideas into one convenient place. It makes it so much easier to share a variety of recipes that fit into the category you're searching for!
We've now got an incredible Thanksgiving dinner guide, a round-up of 125 incredible Easter recipes, the best New Year's Eve recipes, even a Fourth of July recipe guide!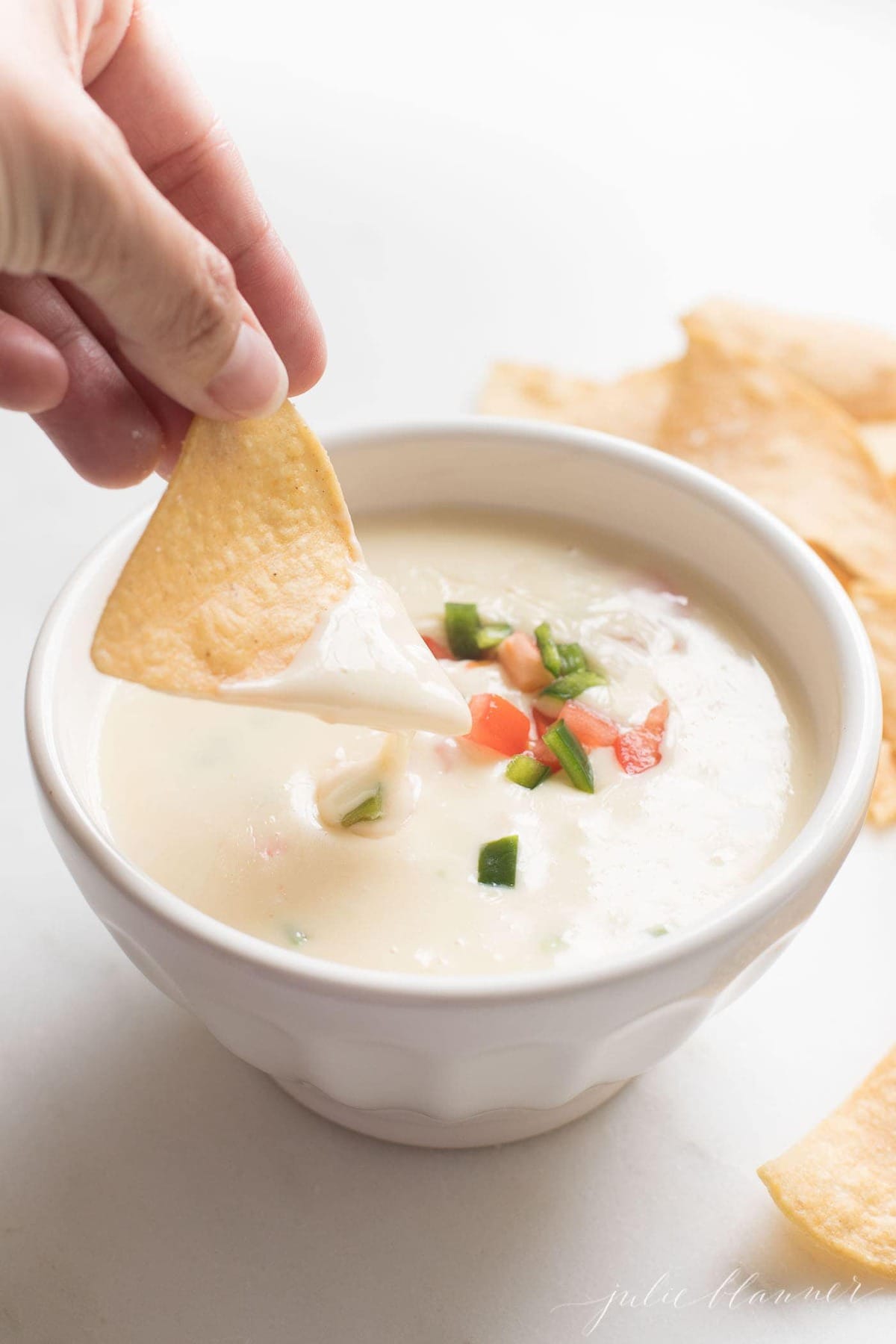 Cinco de Mayo Menu
This Cinco de Mayo menu is designed with a few calorie splurges, with lots of rich cheesy dips and festive entrees your family will love!
I've yet to try making tres leches cakes, but thinking about tackling it this year!
This list of Mexican-inspired recipes is organized by category: Cinco de Mayo appetizers, mains, Cinco de Mayo drinks and even a few desserts. You'll simply click the name of one you're interested in and head directly to that specific printable recipe post!
Cinco de Mayo Appetizers
These zesty guacamole bites are fun, flavorful, and oh-so-festive for entertaining! These are so easy to make, but the best part? You can customize them to taste and preferences and are a total crowd pleaser!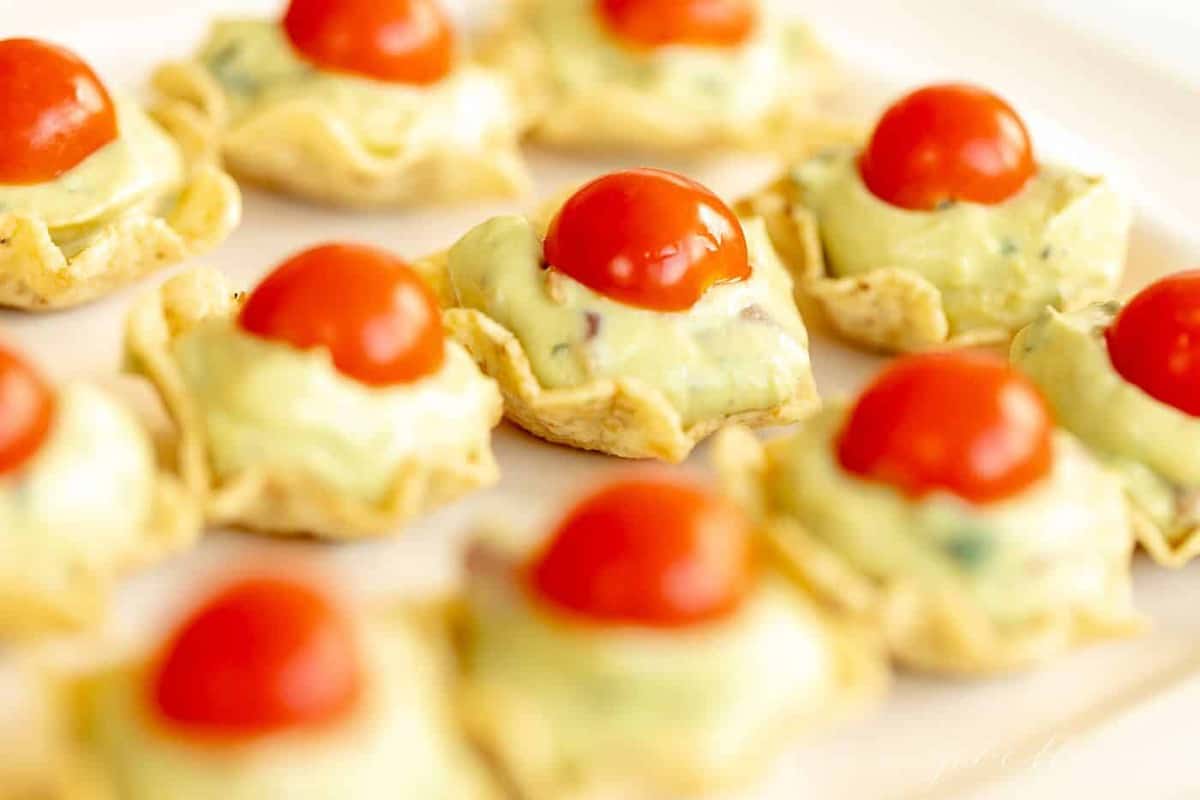 This Layered Taco Dip is the ultimate party food! It's easy to make, colorful, and festive to serve, and packed full of Mexican-inspired flavors. You truly cannot go wrong with this classic dip!
Velveeta queso is quick and easy to make and ready to serve in just 10 minutes! It's creamy, delicious, and always a crowd pleaser, making it the perfect addition to your Cinco de Mayo menu!
This pineapple salsa recipe is the best combination of sweet and spicy flavors. It's an explosion of flavor that is truly irresistible! It's also fresh, healthy, colorful, and so pretty.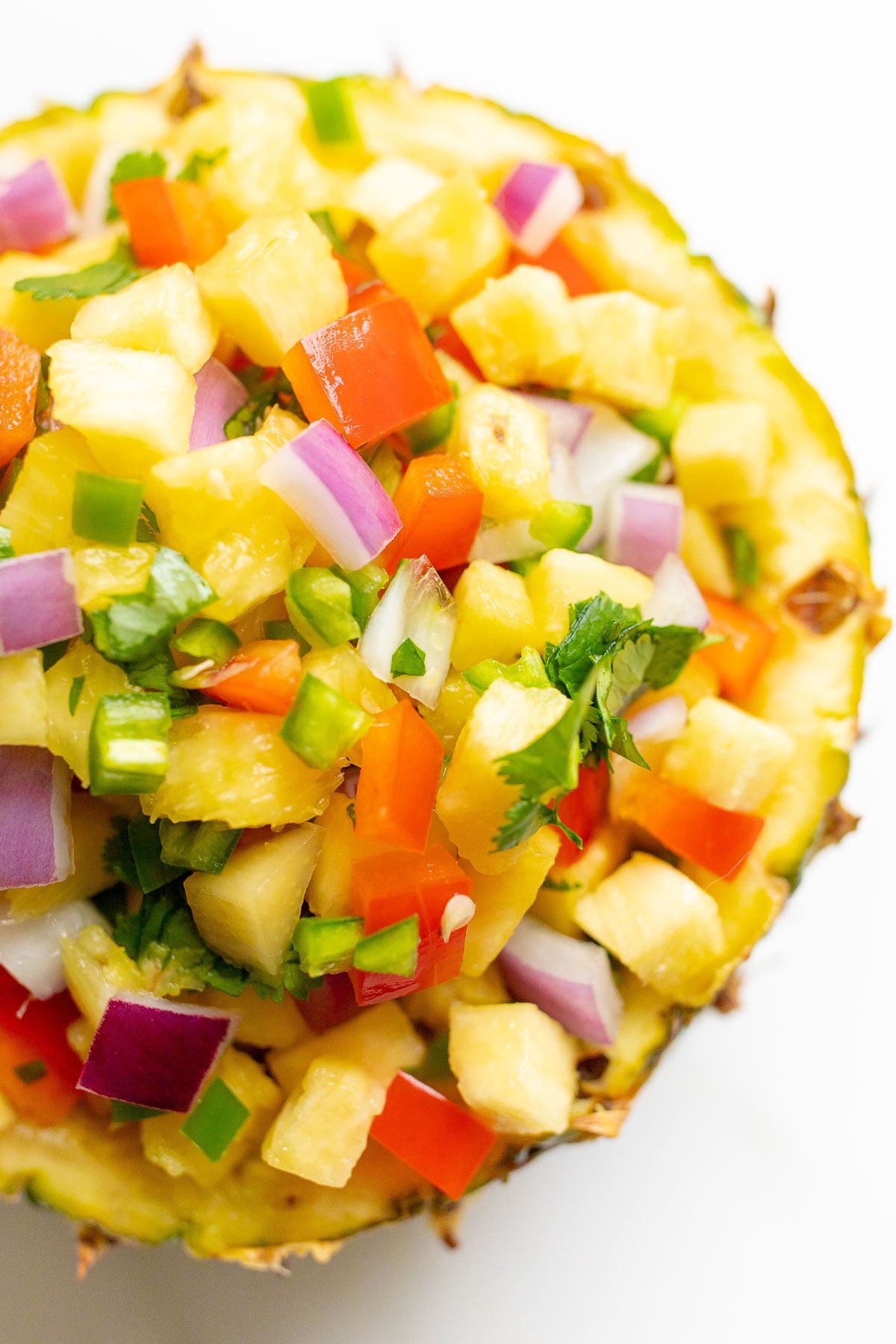 This creamy jalapeno dip is as easy and it is delicious! One bite and you'll see why this is one of the most requested recipes from our kitchen. You won't be able to resist its creamy, cheesy goodness which complements the heat from the jalapenos perfectly!
This copycat recipe is one of my favorites! It makes an easy dip or topping for tacos, quesadillas, burritos, and more that's full of fresh flavor. It's easy to make ahead of time and perfect to serve when entertaining!
This recipe is so quick and easy that you don't really need to make it ahead of time – but you totally can! Made with just 4 simple ingredients, this cream cheese bean dip is great for hosting and completely irresistible!
Guacamole is the quintessential Mexican appetizer and a MUST for your Cinco de Mayo menu! This fresh and flavorful guacamole is made in minutes with just a few simple ingredients. Restaurant quality made at home!
This white queso dip is an authentic Mexican recipe you can make time and time again! Queso is my guilty pleasure. I cannot resist this easy, creamy, and flavorful dip – and I'd bet neither can you!
Salsa guacamole is a fresh, vibrant mix of salsa verde and traditional guacamole. It's a zesty avocado salsa recipe that you've got to taste to believe… if you love salsa, and you love guac, you've got to try this incredible avocado sauce!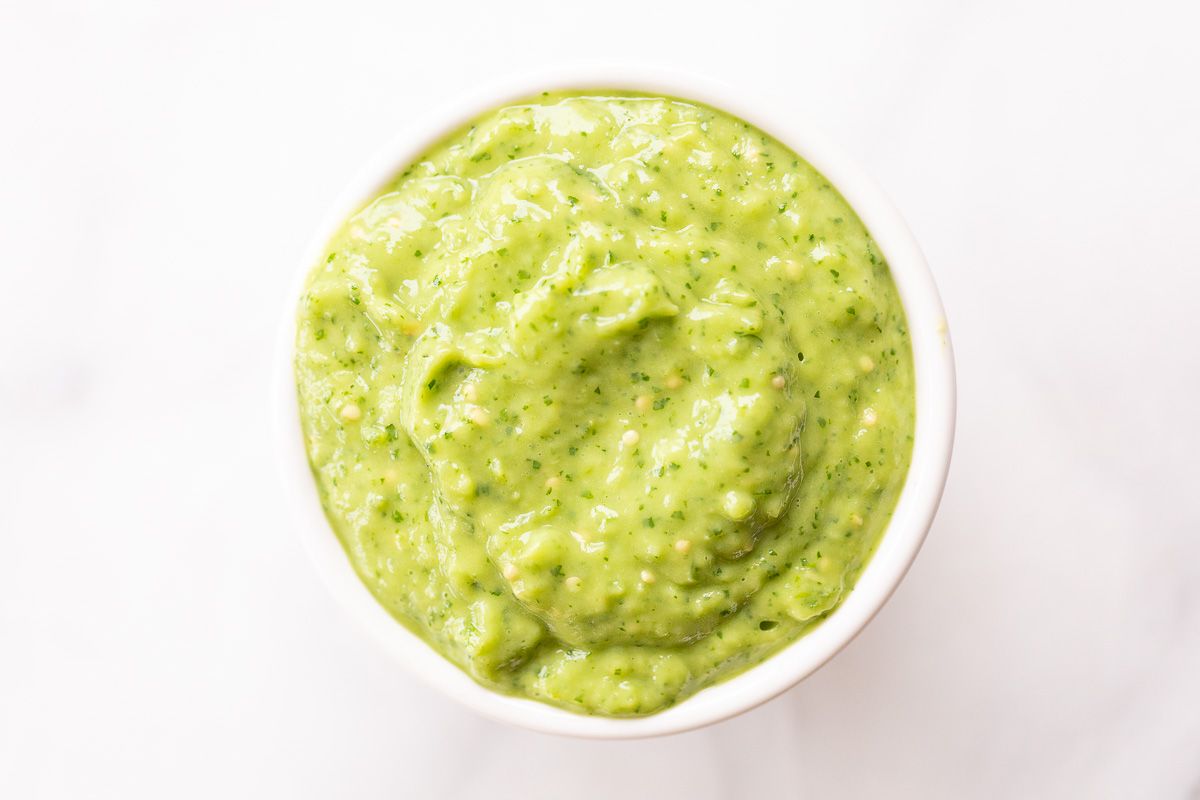 Watermelon salsa is a bright and colorful addition to your Cinco de Mayo menu! Pair with chips for a fresh and flavorful crunch or as a pretty and sweet topping for your main entrée. It's the perfect appetizer or side dish for a festive summer night!
Made with just four staple ingredients, this will become the best avocado salsa to pair with just about anything! It's light, easy, and full of flavor. What's not to love?!
This cold corn dip has been dubbed crack because once you start, you can't stop! It's creamy, cheesy, and oh-so-delicious. This is a crowd pleasing appetizer you'll make again and again!
Salsa guacamole is a fresh, vibrant mix of salsa verde and traditional guacamole. If you love salsa, and you love guac, you've got to try this incredible avocado sauce. A match made in heaven and perfect for Cinco de Mayo entertaining!
Pico de gallo is a classic, traditional Mexican dip or topping for basically anything! It's an incredibly simple chunky, vibrant chopped salsa, and is ready in just minutes. I know you are going to love this zesty recipe as much as I do!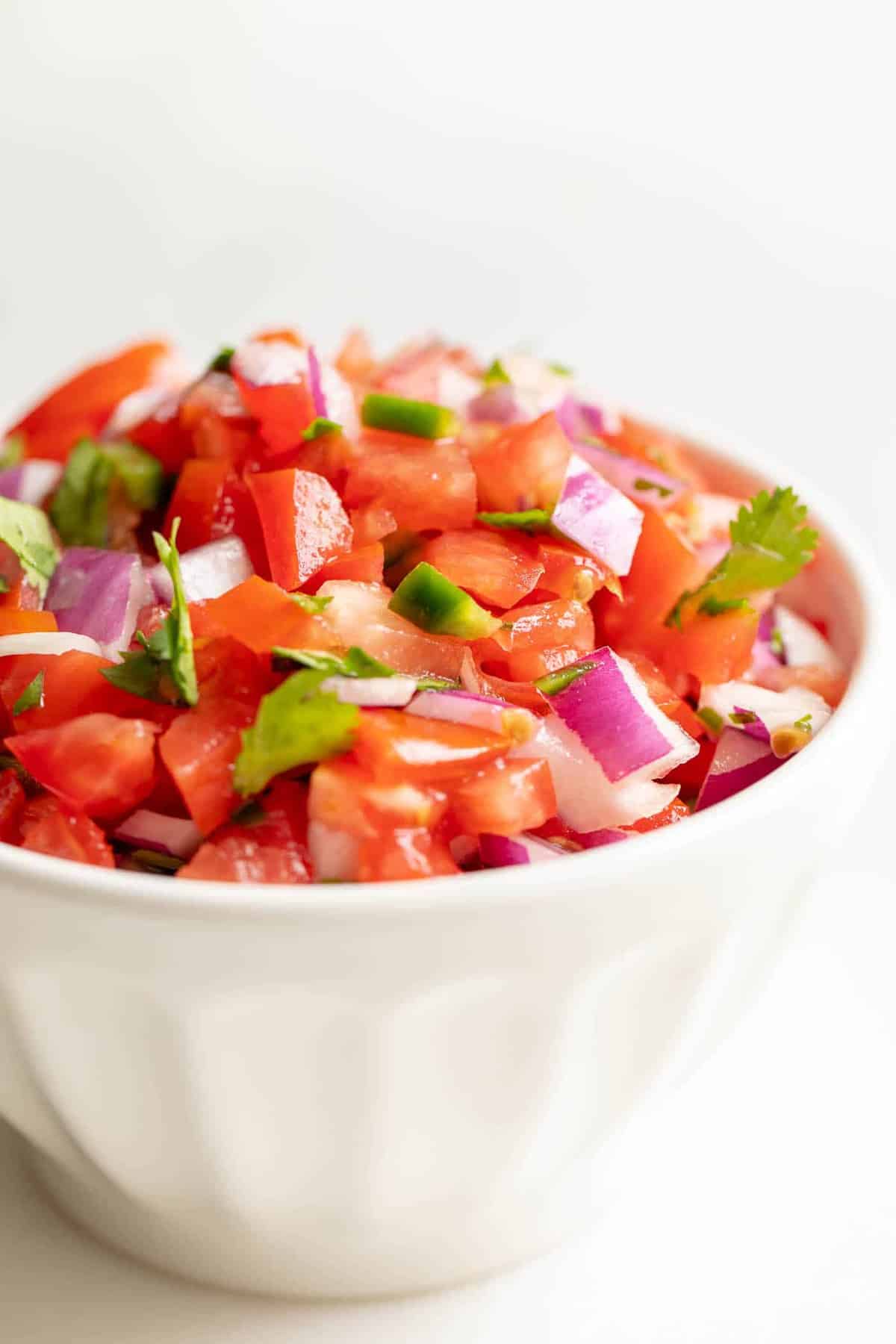 This easy mango guacamole is an incredible appetizer and a delicious topping for tacos, salads and more! It's fresh, vibrant, sweet and spicy and ready to serve in just 10 minutes. Adding fresh fruit to my classic guacamole recipe takes it over the top!
This easy black bean hummus is deliciously creamy and full of healthy flavor! Creamy, zesty, smooth and vibrant, met with a variety of dippers, makes for the perfect Cinco de Mayo app!
Mini tacos are such a fun and festive party food! They are easy to customize and easy to serve, making them perfect for effortless entertaining. Everything is cuter and more fun in a miniature size, tacos included!
Cinco de Mayo Salads and Sides
This Mexican Street Corn is bursting with sweet and salty summer flavor! It's an explosion in your mouth – don't miss this appetizer that's perfect to go alongside so many of your favorite Mexican recipes.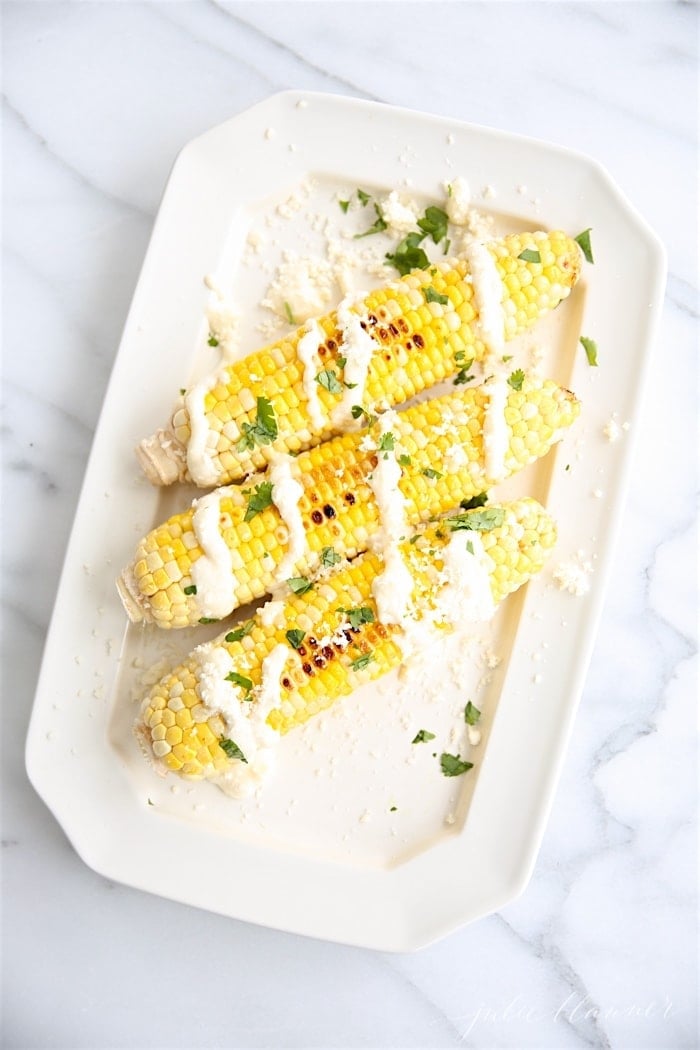 Cilantro Lime Vinaigrette Salad
Give your salad a kick with this easy and delicious Cilantro Lime Vinaigrette recipe! This Cilantro Lime Dressing is the perfect Southwest Taco Salad Dressing. It is made with fresh cilantro, olive oil, and jalapeno and easily blended in the food processor.
Cornbread Muffins with Jalapeno and Cheddar
I put a little twist on my favorite cornbread recipe adding a little cheese and heat. They are so quick and easy to make, you can make them from scratch in no time at all! Try serving these zesty muffins as part of your Cinco de Mayo menu.
Easy 20 minute Mexican Pasta Salad – a light, and delicious pasta salad recipe makes the perfect side dish or stand alone dinner.
Entrees (Tacos, Enchiladas and More)
Tacos are always a great option and no one ever turns them down! These steak tacos are marinated in a delicious and tangy sauce guaranteeing that every bite will be full of flavor! Ready to serve in less than 30 minutes.
Taco salad is the perfect combination of light, fresh, quick, and easy – all to make a delicious meal that everyone will love. It is hearty enough to hold its own as a main entrée but can also be served as a satisfying side for your Cinco de Mayo party!
These chicken tacos are made with a handful of ingredients and come together so easily! They are one of my go-to recipes for an easy weeknight dinner – or when hosting a crowd.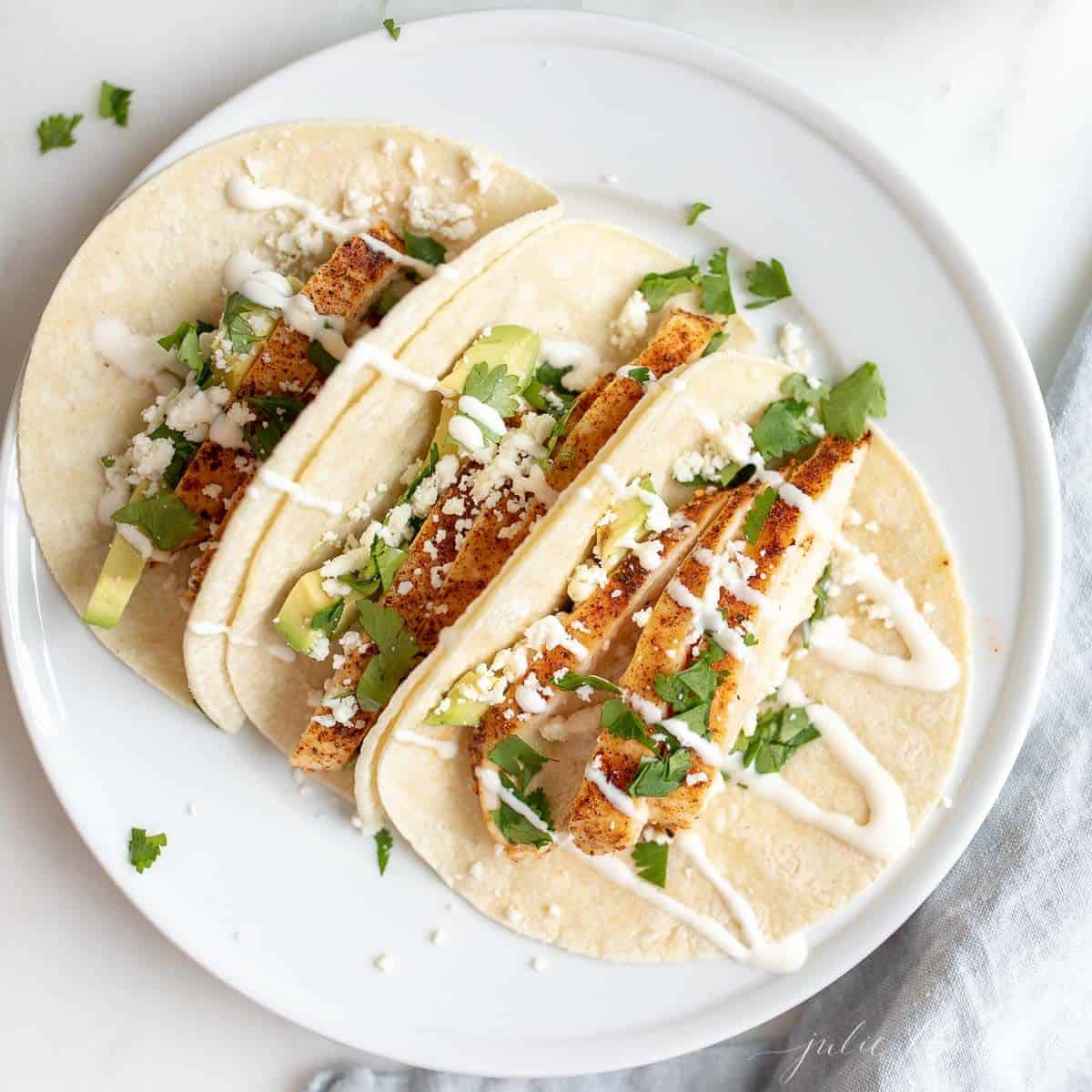 Who doesn't love tacos? Such a crowd pleasing dinner! The best beef tacos are ready start to finish in just 10 minutes with a few simple ingredients. Enjoy this "shortcut" recipe with a few tweaks that take it new level!
Walking tacos are the ultimate part food! They are perfect for feeding a crowd and are so easy to customize to fit your guests' preferences. Not only do they taste delicious, but are lots of fun!
This chorizo taco recipe is a must for your Cinco de Mayo! This sweet and spicy recipe will have you craving them again and again. Fortunately, they couldn't be quicker or easier to make! What better way to bring the heat when entertaining?!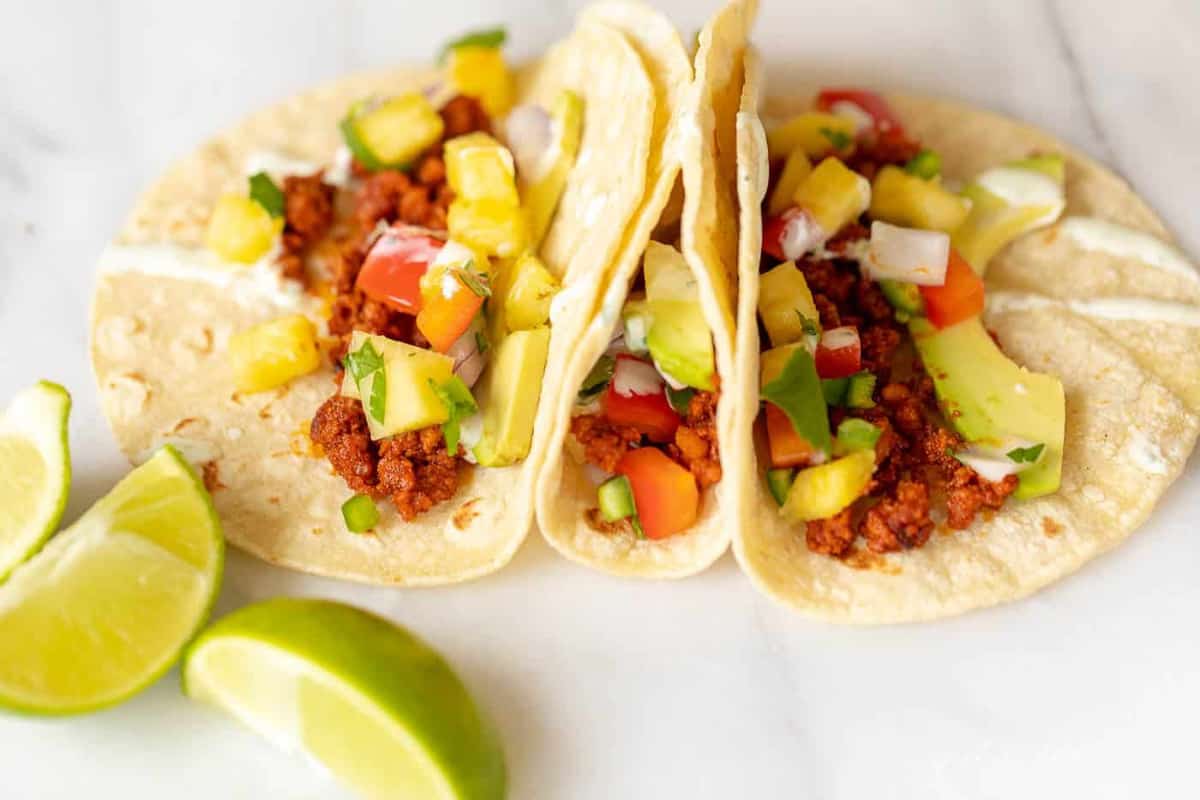 This Mexican spaghetti bake is an easy, hearty meal that feeds a crowd thanks to several shortcuts. You'll love the zesty flavor of this dish! It is pure comfort food that requires just a few staple ingredients and limited time in the kitchen.
Easy chicken nachos are quick to make with minimal prep and easy to adapt with your favorite toppings, making them irresistible and a MUST have at any Cinco de Mayo party!
Packed full of zesty flavors, these Doritos nachos with ground beef are sure to be a crowd pleaser! I think you're going to love them for a fun spin on a classic Mexican favorite.
Ground beef enchiladas are a favorite in our home. One bite and you'll see why! They are easy to make, requiring just 15 minutes of hands on time and are loved by all – big and small.
These easy chicken enchiladas are simple, fast and absolutely delicious! These chicken enchiladas are full of bright zesty flavors and come together in a snap. With a few of my favorite tips, everyone will be begging for more!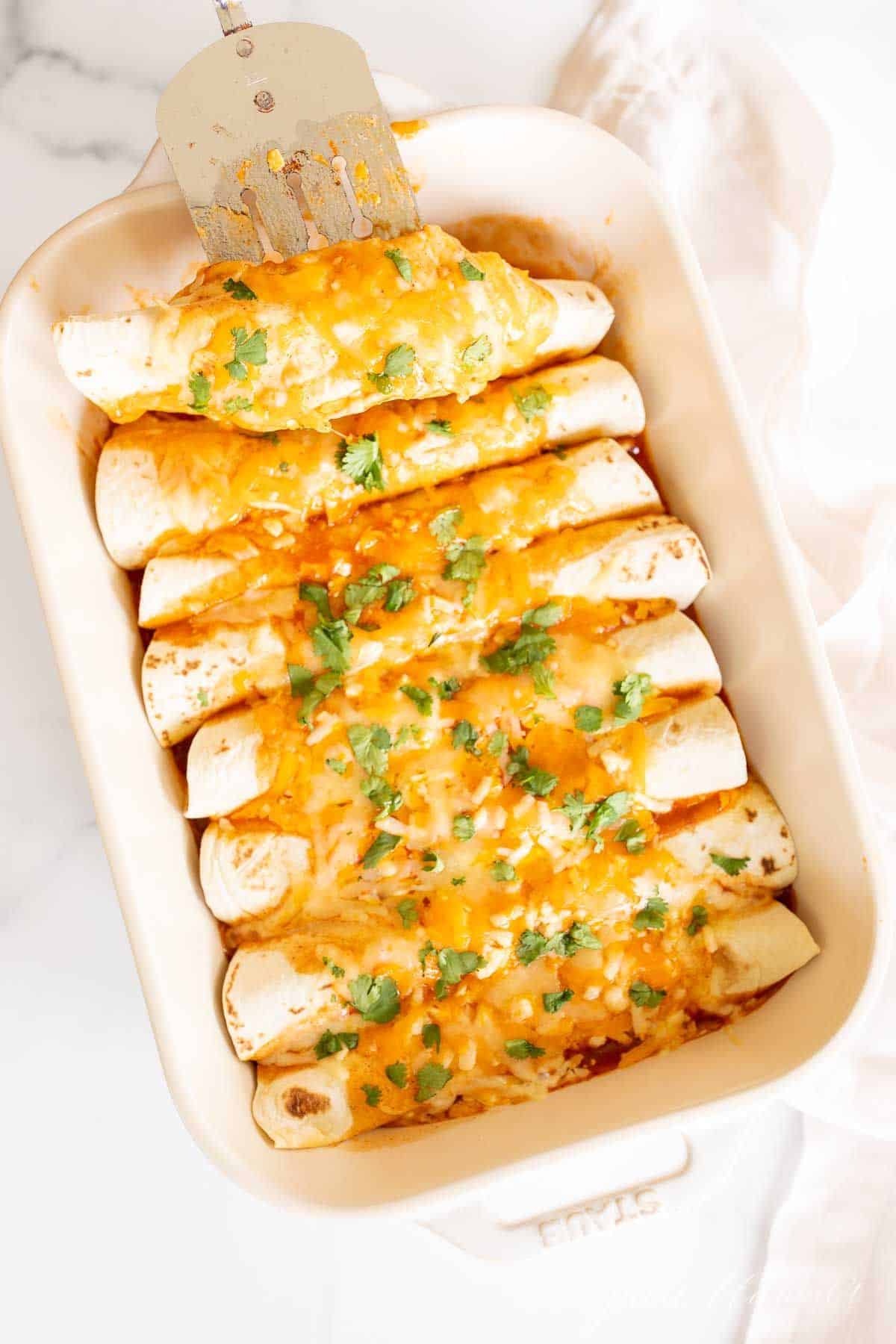 Chorizo Burrito Mexican Casserole
I love Mexican food in all formats, but it's so much fun to serve it for breakfast too! Start your Cinco de Mayo off on a flavor-packed foot. It's your favorite juevos rancheros in an easy-to-make casserole.
This marinated carne asada recipe is perfect for Cinco de Mayo and beyond! It can be cooked inside on your stove top or on an outdoor grill, so it's as flexible as it is delicious. I hope you love it as much as we do!
These easy Cheese Enchiladas require just three ingredients and are made in minutes. They are such a crowd pleaser that they're perfect for guests when entertaining! Easy to prep and make ahead, leaving more time for you to enjoy the festivities as well.
This chicken over rice fajita bowl is it! It's so amazing and packed full of flavor that you'd never know that it's light in calories and incredibly easy to make. Set up as a bar to allow guests to create their own combo with a variety of toppings!
If you love the zesty fresh citrus flavor of a good margarita, you'll love this incredible tequila lime shrimp recipe! They are great for entertaining and a delicious addition to your Cinco de May table. Add them to tortillas, salads, rice, and more!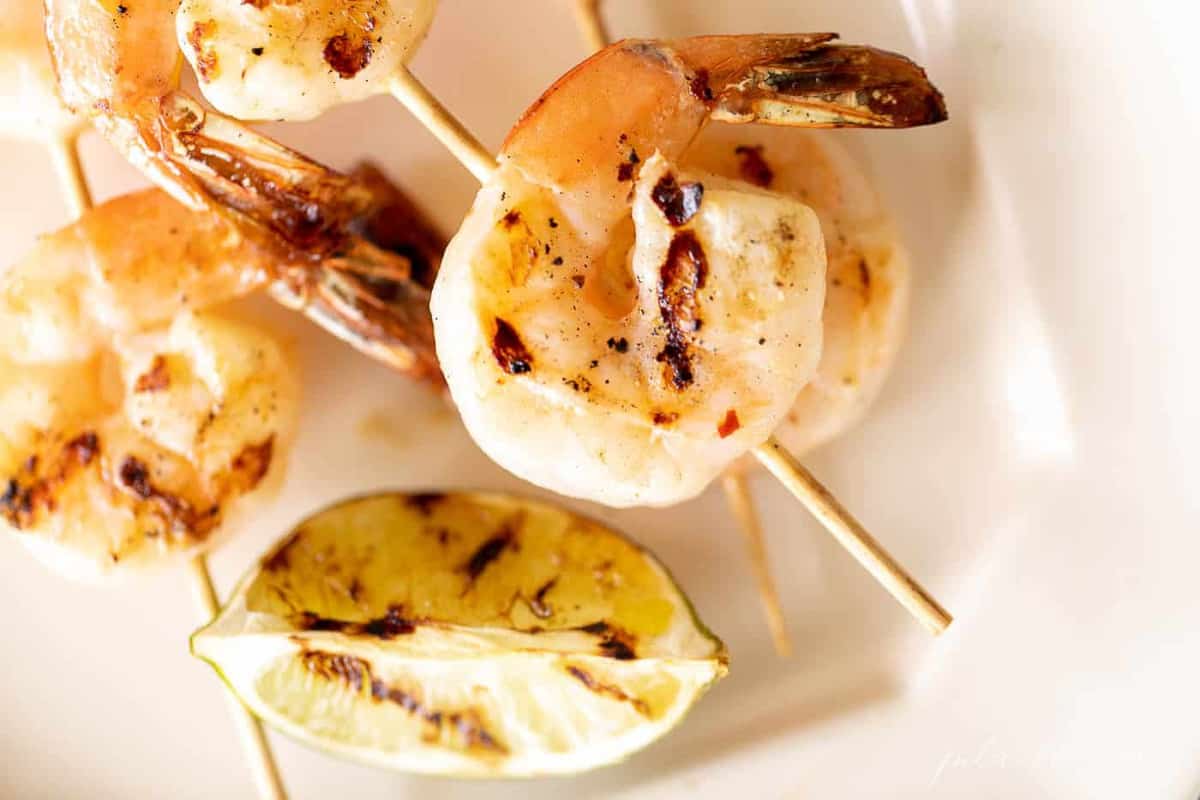 A healthy, light and flavorful Cilantro Lime Chicken recipe can't be missed this Cinco de Mayo! Baked to perfection in 20 minutes and topped with avocado salsa, it is sure to leave you – and your guests – wanting more!
Drinks
Don't miss my complete Tequila Guide to help you narrow down the options for your party cocktails!
This is the best Homemade Margarita recipe that will make you want to ditch the margarita mix forever! It's the perfect blend of sweet, sour and salty… all the things a margarita should be and sure to be the hit of any party!
Watermelon margaritas are sweet, refreshing and guilt-free! Learn how to make this skinny cocktail in just 5 minutes. One sip and you'll never go back!
This mint margarita recipe is full of the tangy, sour bite of limes and matched with the refreshing and icy blast of fresh mint. The delicious taste of a margarita… with a twist! Take your Cinco de Mayo cocktail to a whole new level!
This fun and festive pink champagne margarita is as much fun to make as it it to drink! It's easy to make and requires just 4 ingredients, you can make a single champagne margarita or a pitcher for a crowd.
This cocktail is full of fresh flavors and it's so quick and easy to make! It's the perfect drink for Cinco De Mayo and it comes together with just a handful of ingredients in less than 5 minutes.
Try this refreshingly sweet Skinny Margarita made with only the freshest ingredients! Enjoy this easy skinny cocktail that's fresh and flavorful without all the calories! It is the perfect cocktail to enjoy guilt-free.
A spicy margarita recipe that is the perfect sidekick to so many of your favorite Mexican-inspired dinners! This Jalapeno Margarita recipe has the perfect amount of spicy pepper flavor and easy enough to make in your own kitchen.
The Ultimate Premium Cadillac Margarita
This margarita recipe is made with the best ingredients! Skip the Triple Sec – this margarita deserves so much more! Premium ingredients are what sets a cadillac margarita apart from the rest. The perfect cocktail to enjoy on Cinco de Mayo – and beyond!
This homemade margarita mix really is the best. It's so simple and easy to make and with just two ingredients, all you need to do is add tequila! Minimal effort without compromising the delicious flavor!
Palomas are a light, refreshing, low calorie cocktail recipe that's full of flavor. If you love skinny margaritas, you'll love this little refreshing citrus twist. The perfect Cinco de Mayo recipe your guests will enjoy!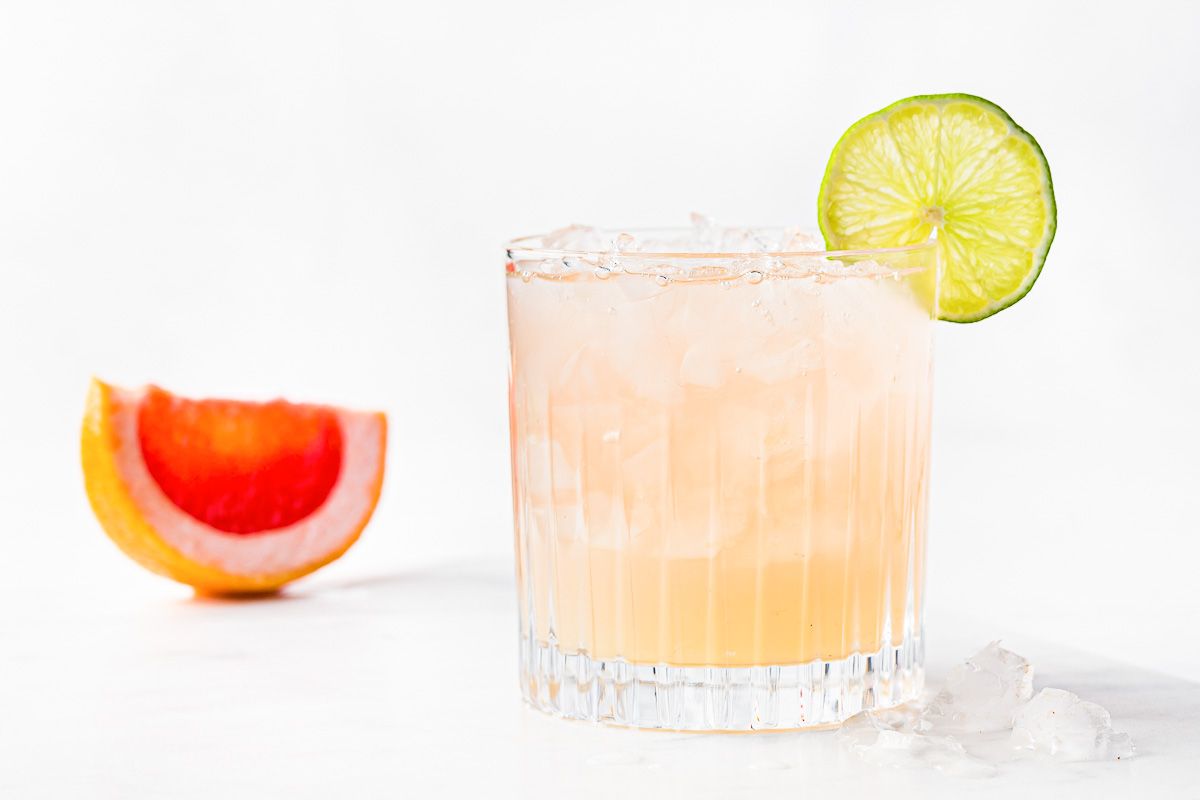 With all the sweetness of a mojito and the refreshing bite of limes and tequila, this is a cocktail to sip and savor all summer long! Make one or mix up a whole pitcher. No judgements here!
Desserts
Try one of the options listed below, or choose a classic like churros or tres leches cake!
Sweet bursts of cool citrus and rich buttery flavor in these key lime cookies make them such a fun surprise! They are the perfect treat for Cinco de Mayo and beyond!
This Mandarin Orange Cake recipe is truly quick and easy and worth the extra steps for fresh flavor. With just a couple additional ingredients, you can whip up this amazing cake on a whim!
These Margarita 'Poptails' are the perfect combination of zesty lime, vibrant tequila and flavorful sweet lime popsicles. They are the ultimate summertime frozen cocktail and are so simple and easy to make!
This mango margarita float made with mango sorbet is perfect for Cinco de Mayo and beyond. It's the best blend of sweet with fresh squeezed lime. They are light, crisp, and simply taste like summer!
This margarita float is a MUST for your Cinco de Mayo party! A salted rim, tequila, water, and lime sorbet and you're on your way to the most refreshing cocktail ever. It's cool, tasty, and incredibly easy to make!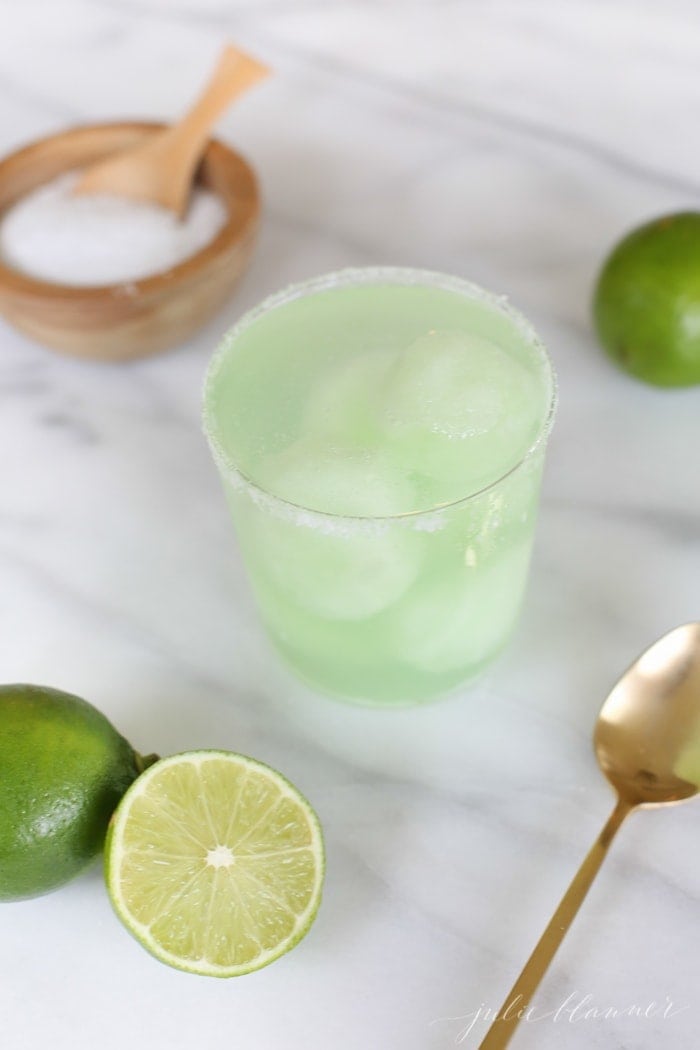 Host a Cinco de Mayo Fiesta
In a few simple steps you'll have a party that will leave everyone talking!
Let's Fiesta Like There's No Mañana!
Frequently Asked Questions
What is a good snack for Cinco de Mayo?
Make nachos, mini tacos, or your favorite dips for Cinco de Mayo snacks!
How do you celebrate Cinco de Mayo at home?
Decorate your home with papel picado garlands, add fresh flowers, and make delicious food and drinks! A fabulous playlist doesn't hurt, either.
What are the most popular foods in Mexico?
The foods that we enjoy here in the U.S. (and in our home) tend to be more Tex-Mex combinations. Some of the most popular foods in Mexico are mole, elote, chilaquiles, machaca, and huevos rancheros.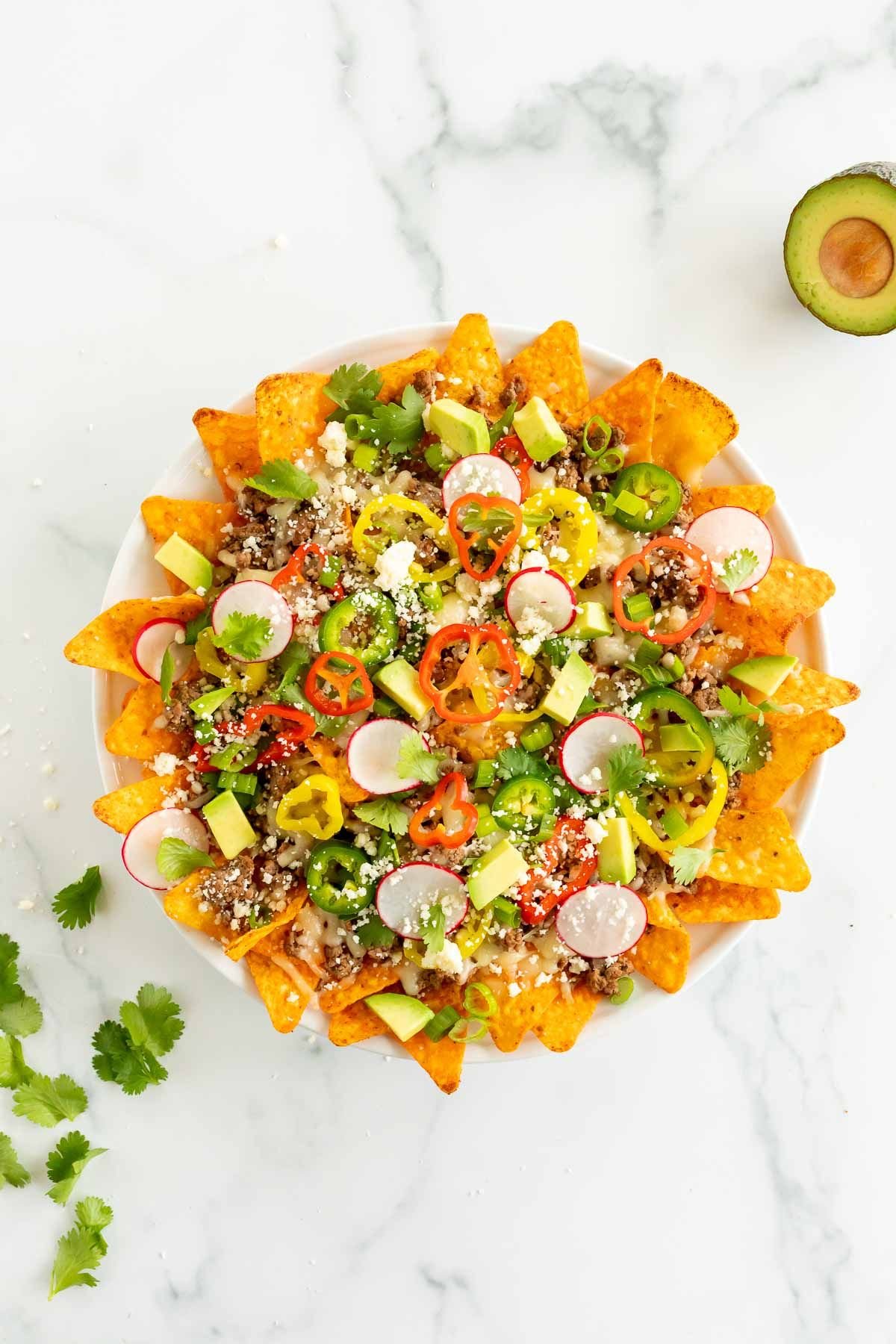 Popular Mexican Flavors
There are a few items that will help with your grocery lists because we use them in so many of these recipes. Add any of these herbs, toppings, etc, and your fiesta will be delicious regardless of what you choose to serve!
Cilantro
Romaine lettuce (for a taco topping or salad)
Green onions
Limes
Avocados
Onions – red or yellow
Bell peppers
Tomatoes (for Pico de Gallo of course)
Refried beans
Sour cream
Hot sauce
Fresh corn
Tortillas – corn or flour
Taco shells
Cotija cheese, crumbled – Learn more about the best cheeses for tacos!
Shredded cheddar cheese
Salt and Pepper
Cumin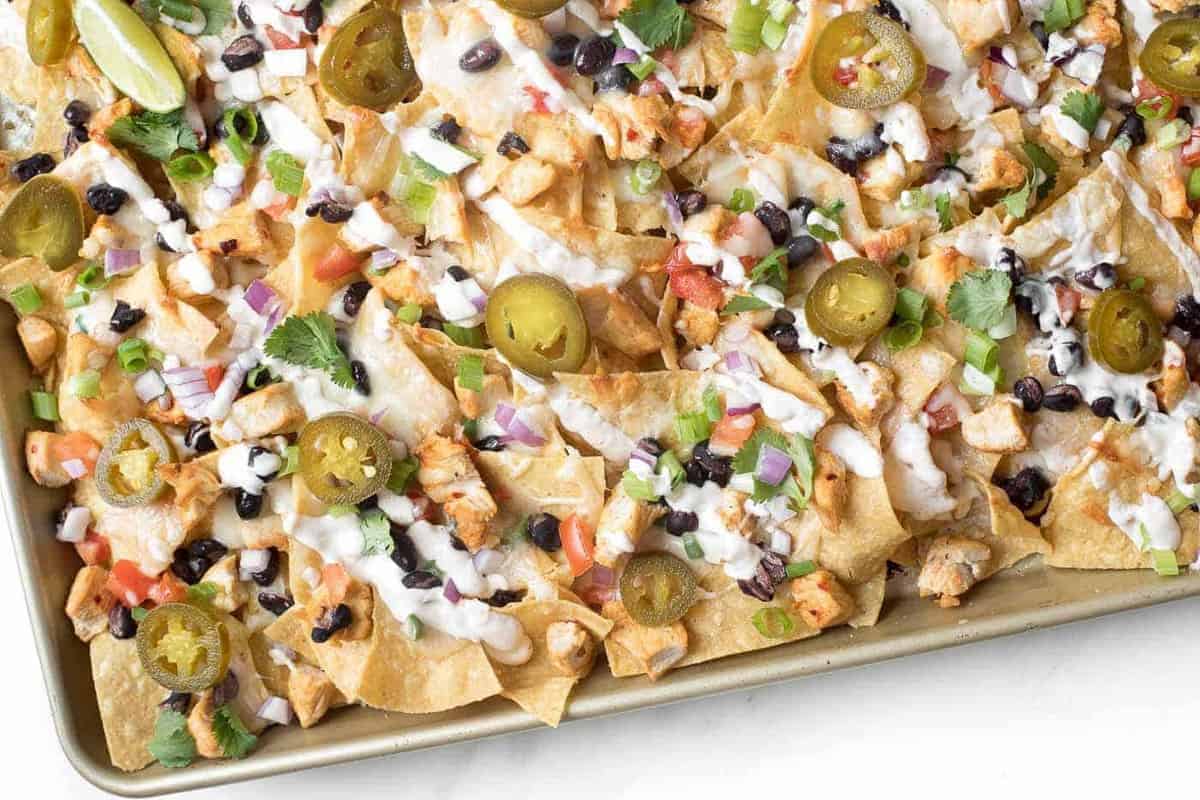 What's on your Cinco de Mayo menu this year? Do you gravitate towards tried and true classics, or do you like to try something new? I'd love to hear from you!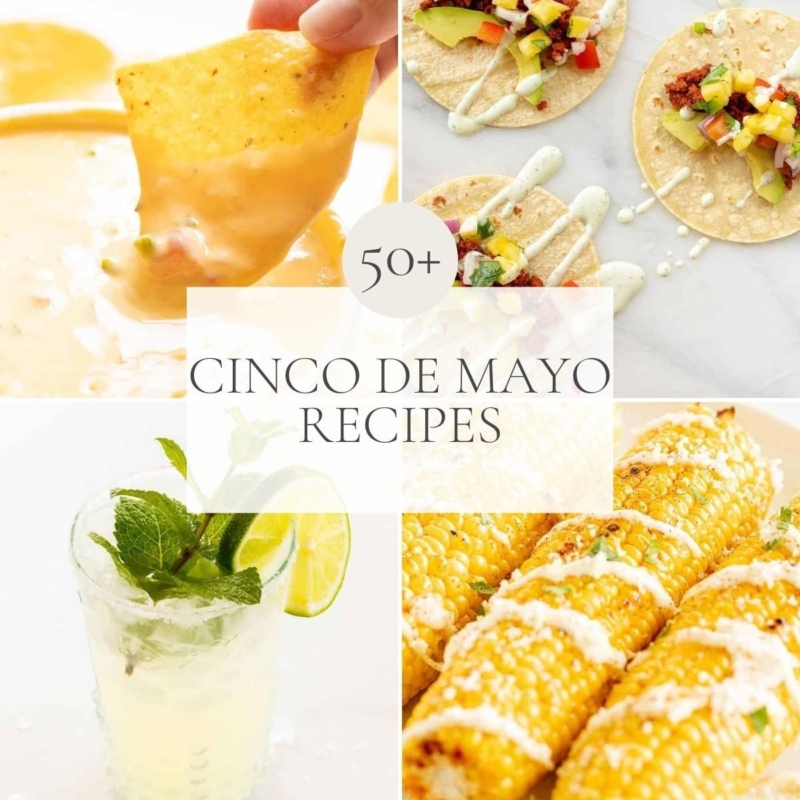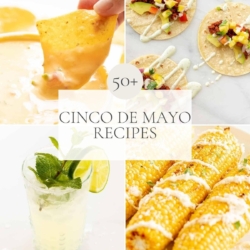 Cinco de Mayo Menu
Find the easiest Cinco de Mayo Menu ideas that everyone will love! Choose from the best Cinco de Mayo appetizers, salads, sides, mains and of course, drinks to design your Cinco menu!
Ingredients
Refer to individual recipes for the full list of ingredients and printable recipe card.

Chips

Don't forget the tortilla chips for all these delicious dips!
Instructions
Choose 1-2 items from each category for the perfect party spread!

Prep all ingredients ahead of time for ease of preparation on the day of your event.

See tips below for tips to make your party dips ahead, how to store, and more!
Tips
Make Ahead
Be sure to read the directions for each individual Valentine's Day recipe to see if they can be made ahead, and for how long.
To Store
Many of these recipes can sit out at room temperature while serving for up to two hours safely.
Refrigerate anything you're making ahead for up to two days in an air tight container.
Estimated nutrition information is provided as a courtesy and is not guaranteed.
Explore More