This M&M Cake recipe has the ultimate twist – and is thick, chewy, buttery and undeniably delicious! One bite of this M and M Cake and you'll never purchase from the store again – it's a cookie cake that will take you straight back to your childhood!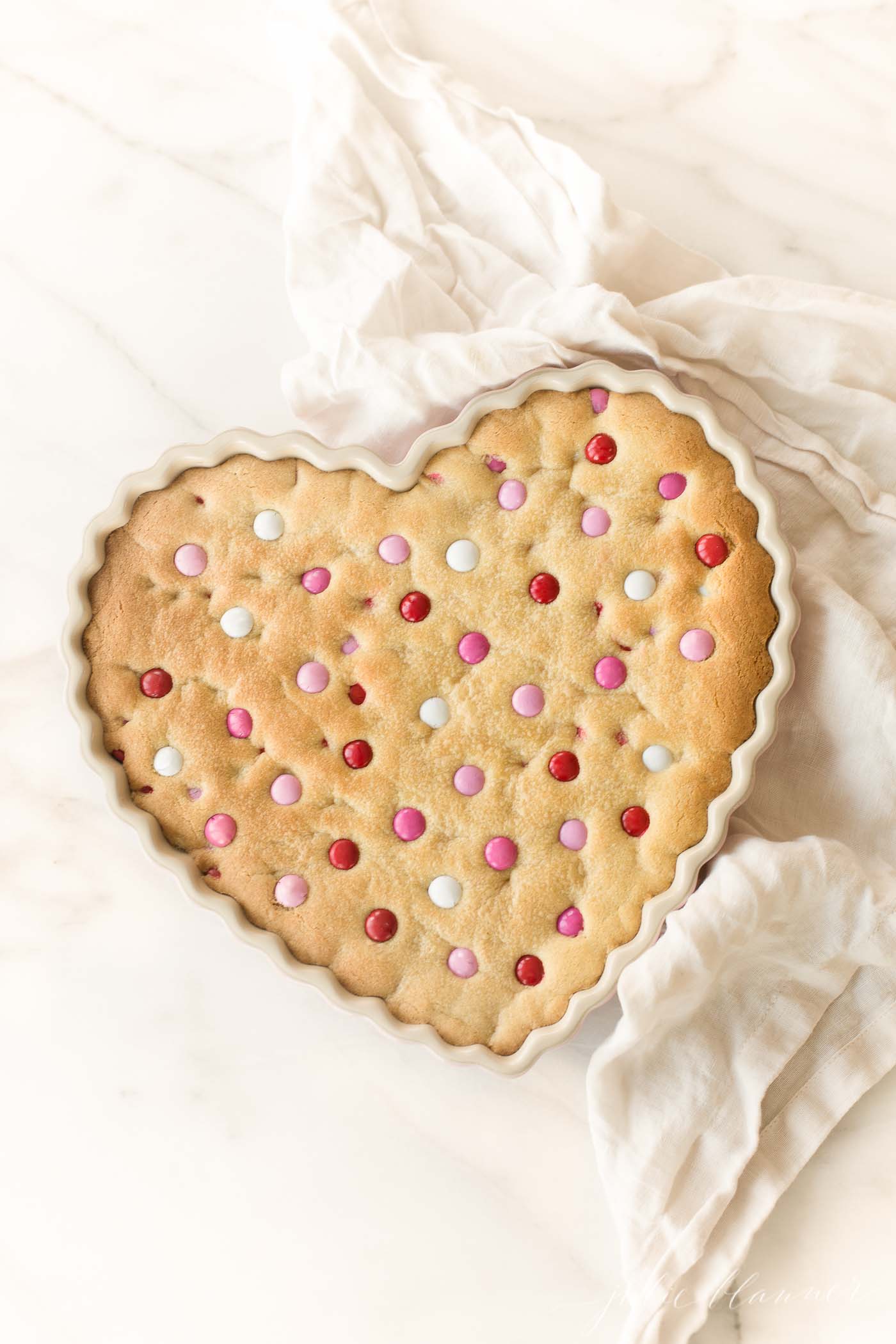 I take birthday cakes seriously, but after years of cake tasting during my event planning career, I rarely make a traditional cake.
Our middle kiddo, Ani, always requests and M&M Birthday Cake…when you take a bite, you'll be requesting it for your birthday, Mother's Day, Valentine's Day or the average Saturday just as an excuse!
This is one of my go-to desserts because it's easy and always such a crowd-pleaser. Who doesn't love M&M Cake?
We love all kinds of cookie cakes in our house! You can find all of my cookie cake recipes here including classic chocolate chip cookie cake and an incredible sugar cookie cake!
This pretty M&M cake is even sweeter in a heart shaped dish, but you can make on any baking sheet with a lip, pizza pan (without holes), pie dish or tart pan! It's your choice! However you do it, I can't wait to hear what you think! Don't forget to leave a five star review in the comments below.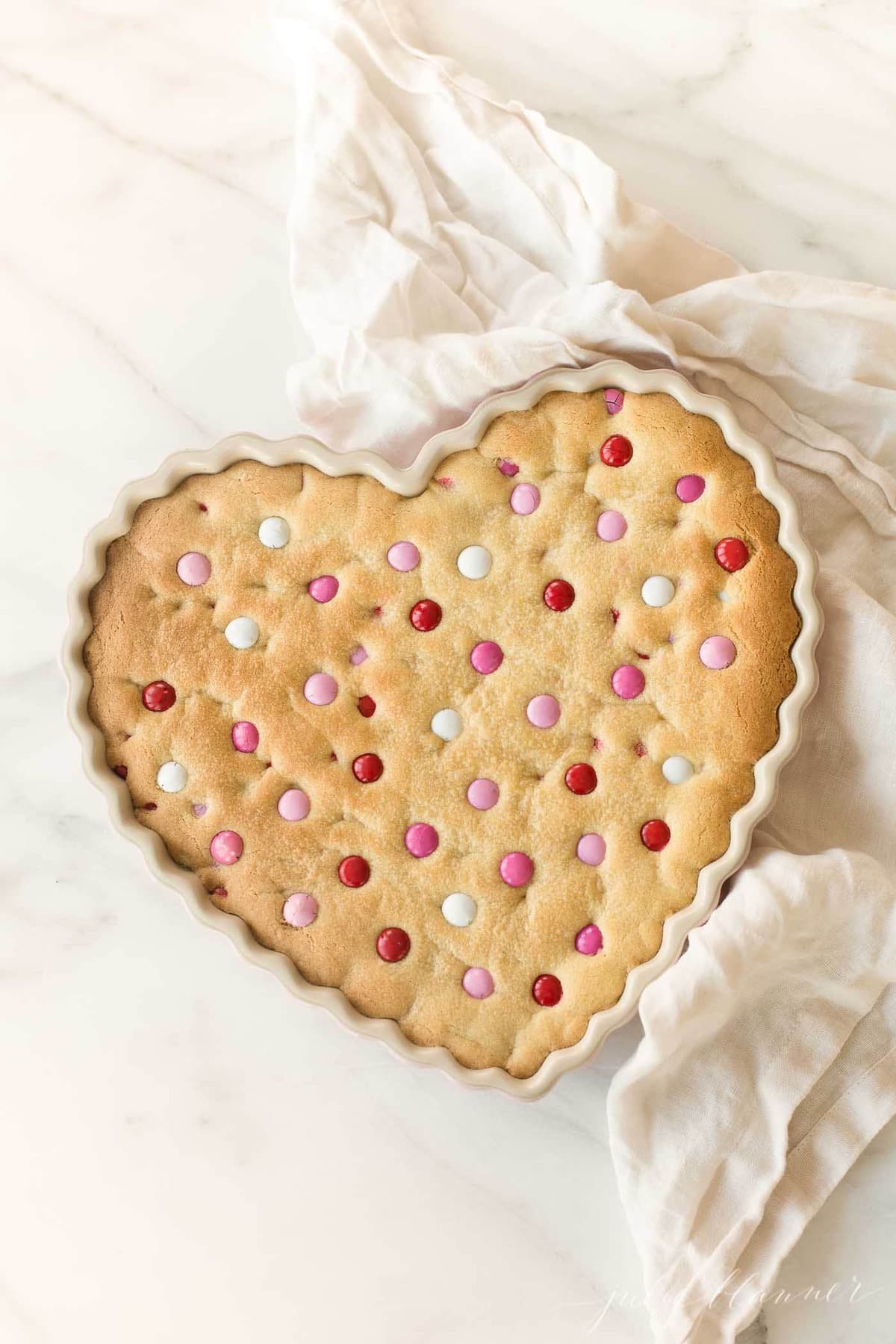 I like to give a lot of detail in my recipe posts to guide readers through any questions. If you're just here for the printable recipe, feel free to click "jump to recipe" right under the title of this post and you'll head straight there!
An Unforgettable M&M Cake
Cookie cake was my top request as a child. In fact, I often prefer it over cookies because of its soft and chewy texture. My mom always made it in a pizza pan for a larger, thinner cake, which is also delicious! The thinner it is, the shorter the baking time.
This M&M cake recipe takes just 10 minutes hands-on time and doesn't need any decoration. What could be cuter and more festive than this?
The best part is, you can make this M&M Cake in about 10 minutes hands-on time with staple ingredients! If you're always in a pinch like me, you'll appreciate this!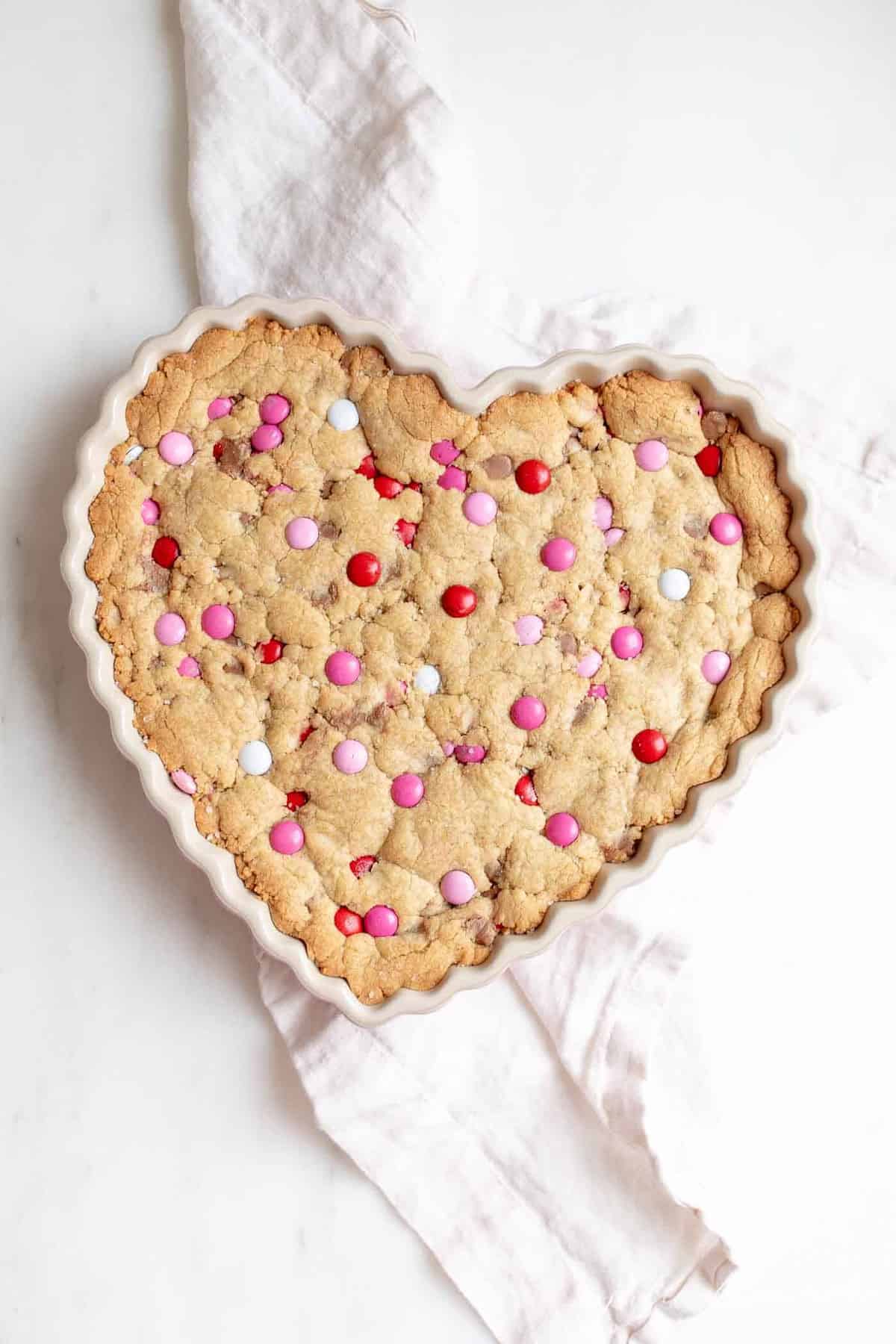 BUT. This is no ordinary M and M Cake. A secret twist makes it out of this world. I make it with my favorite little baking secret, brown butter. One extra step makes this cake stand above the rest. It takes just a few extra minutes and it puts the cake recipe over the edge.
This is not your average sugar cookie dough! Brown butter adds a caramelized flavor to the dough that makes it irresistible. The additional flavor and texture eliminates the need to add frosting on top, though I'll never judge if you decide to pipe it or smother it in real milk chocolate buttercream!
M&M Cookie Cake Ingredients
Butter
White Sugar
Brown Sugar
Vanilla Extract – Learn how to make your own, it's so easy!
Eggs
Baking Soda
Baking Powder
Salt
Flour
M&Ms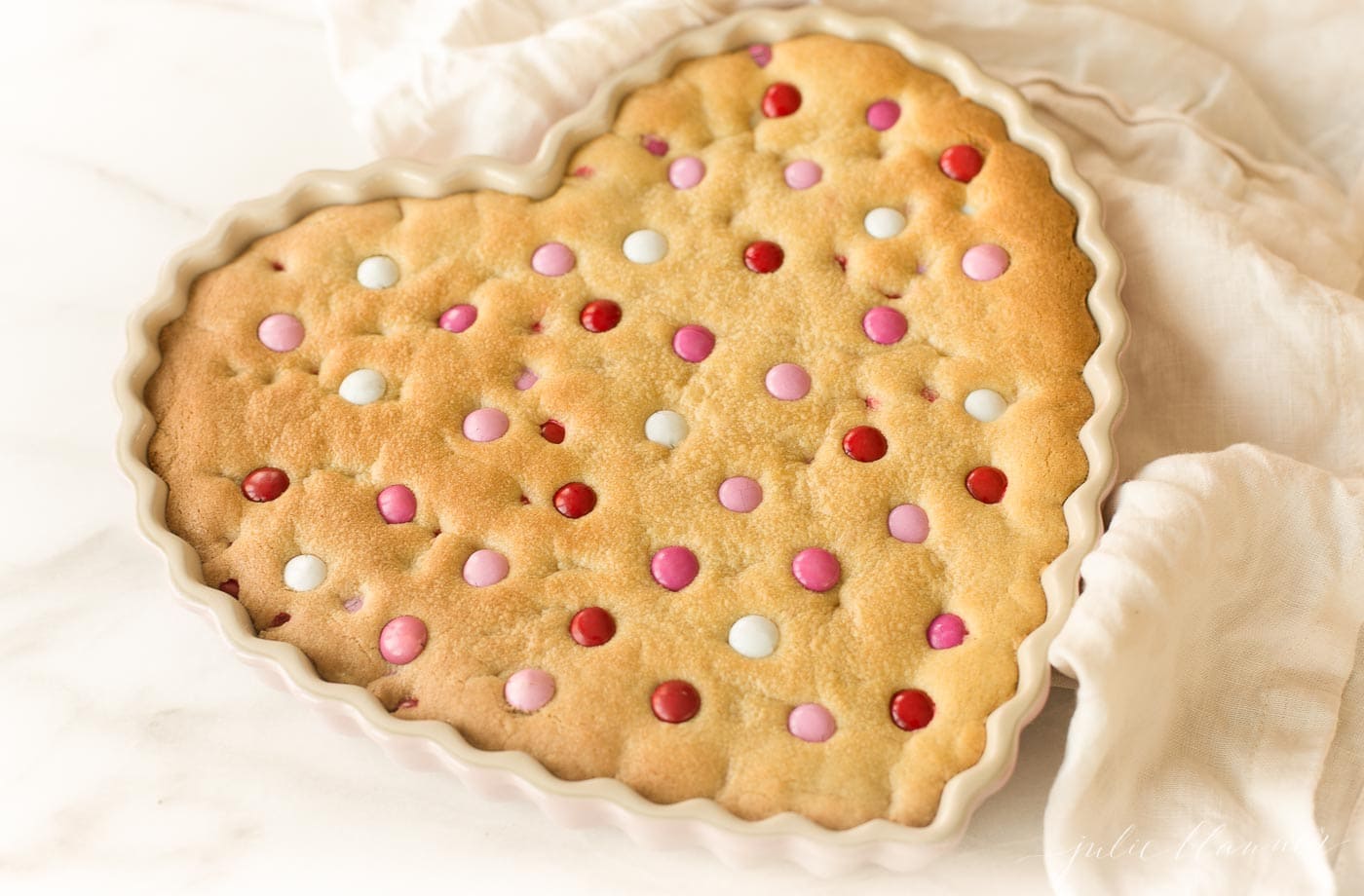 How to Make M&M Birthday Cake (or for ANY Occasion!)
Preheat oven to 350 degrees.
Brown Butter (visit the link for a full tutorial with video). Allow butter to cool for 5 minutes.
Meanwhile, combine sugar, brown sugar and vanilla in a mixing bowl with an electric mixer.
Blend butter in, followed by eggs.
Grease baking dish. Scoop dough into dish just over halfway careful to compensate for rise. For a smooth appearance, cover with wax paper and smooth your your hands or a spatula.
Press a few M&M's on top for added measure. It makes the prettiest M&M Birthday Cake!
Bake in preheated oven for 15+ minutes (depending on the depth of your pan).
Combine baking soda, salt and flour. Gradually add the flour mixture incorporate into the wet mixture.
The next time you think to go to the store for a cookie cake, you may want to reconsider. There's no comparison!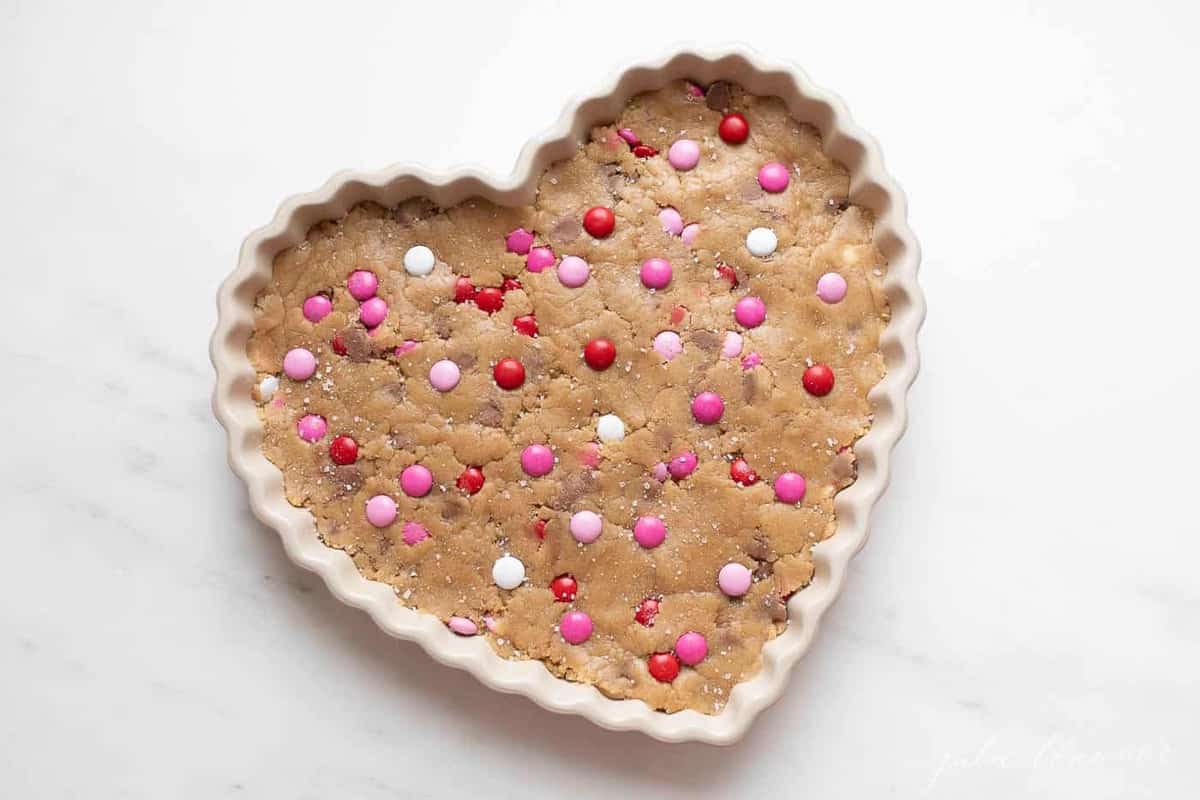 Tips For The Best M&M Cake

Don't over-mix! I stress this in every recipe, but it's true. That's how you achieve the out of this world texture and thickness!
Allow the brown butter to cool a few minutes. You don't want to fry the egg (insert horror face). I promise, it's simple.
Adjust baking time based on the size and thickness of your pan. The thinner the cookie cake, the less time you'll bake.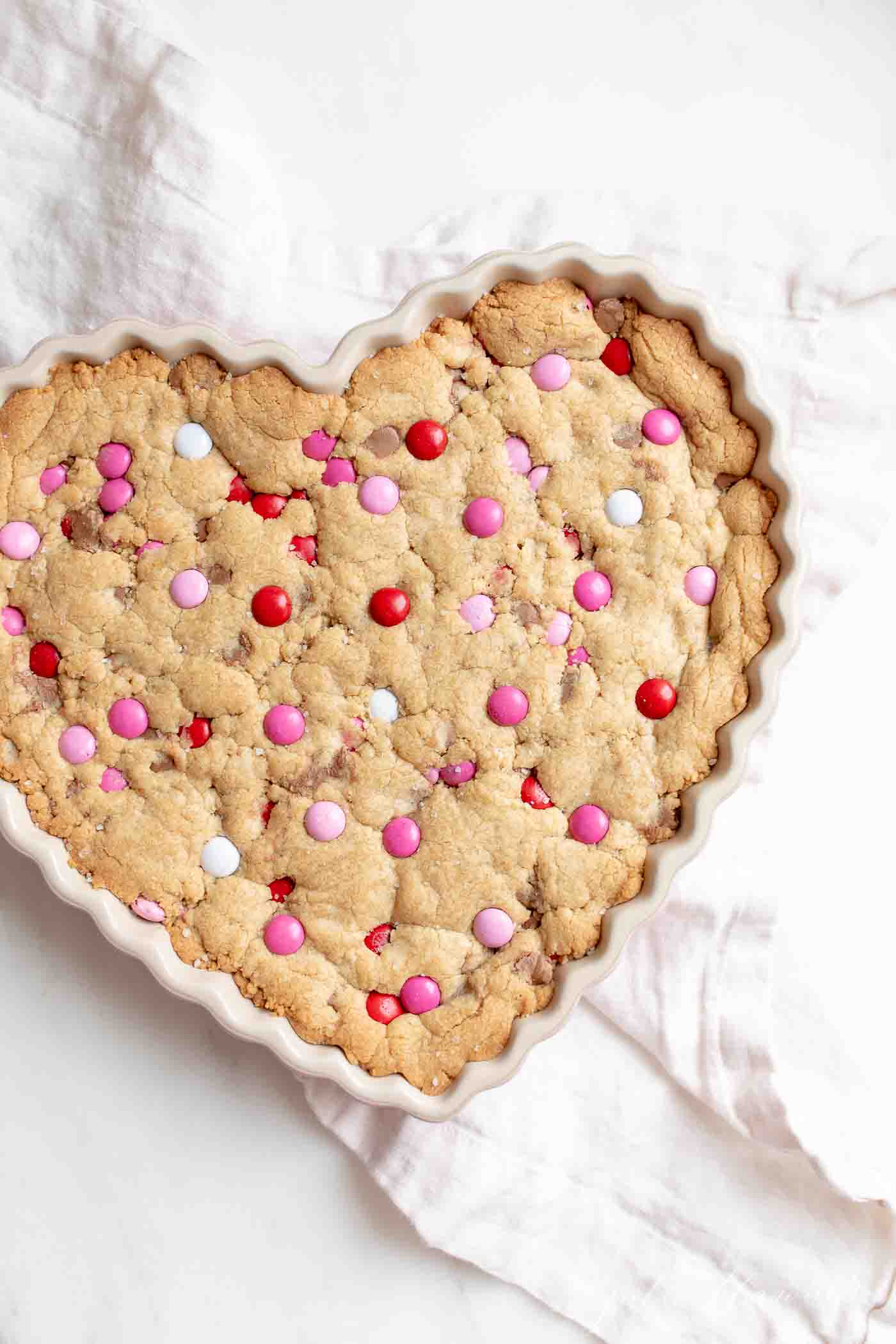 Questions and Answers About This M and M Cake
Carlos asks: Do you pour the browned butter into the mix while it's still hot? Or wait? Great question! I prefer to let it sit and cool completely, or at least until it's closer to room temperature. This way there's no risk of curdling your eggs when you mix them into the dough!
Becky asks: Can I add the M&M's after baking? Or is it best to add them before? I don't mind a few cracks in my m&ms, I think they add to the charm of this sweet cookie cake. Furthermore, you'll want them inside the dough, too, to add to the flavor and texture throughout. It should be full of chocolate!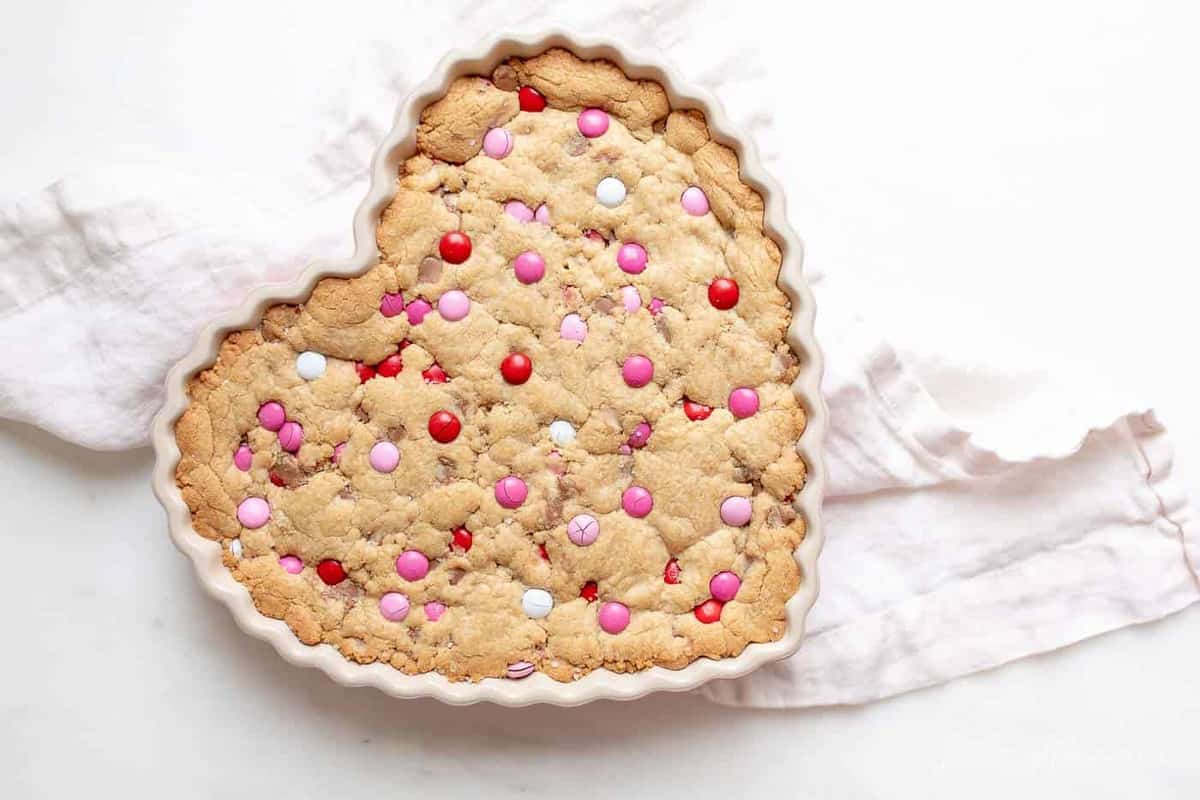 More M and M Cake Ideas
Of course you can add frosting on top of M and M Cake for extra credit, but it's not needed. It's simply amazing as is! You could also let it cool completely, but I dare you to try it 10 minutes out of the oven! It makes one crazy good, crazy thick cake layer. If you prefer, divide into two smaller dishes.
Finally, if you're a chocolate chip lover, go ahead and blend in a few milk chocolate chips! For us, the milk chocolate in the candy shell is just the perfect mix.
This recipe was adapted from my M&M Cookies! You'll also love this printable measurement conversion chart that makes your baking so easy.
Cookie Cakes (aka Cookie Pies)
Thick, chewy cookie cake recipes that are easier than baking a batch of cookies! A flavor for every person and every season!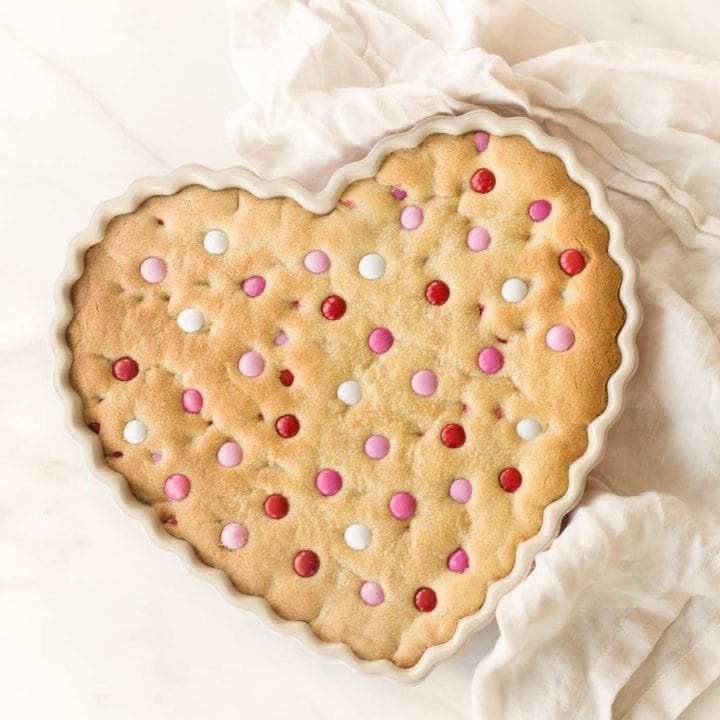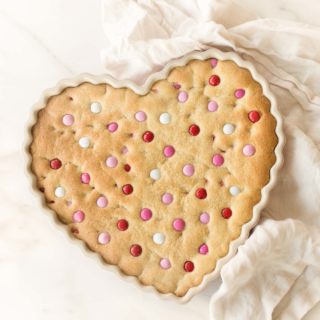 M&M Cake
This M&M Cake has the ultimate twist - and is thick, chewy, buttery and undeniably delicious! M and M Cake is fun for every occasion including birthdays, Valentine's Day, Mother's Day and so much more!

Ingredients
1

c

butter

3/4

c

sugar

1

c

brown sugar

lightly packed

1

Tbsp

vanilla

2

eggs

1

tsp

baking soda

1/2

tsp

baking powder

1/4

tsp

salt

3

c

flour

1

c

M&Ms
Topping
sea salt

cracked

1/2

c

M&Ms
Instructions
Preheat oven to 350 degrees.

In a saucepan over medium heat, melt butter. Swirl until brown in color and it has a nutty aroma. Remove from heat.

Meanwhile, combine sugar, brown sugar, and vanilla in a mixing bowl. Mix in brown butter.

Gently blend in eggs, careful not to overmix.

Sprinkle baking soda, baking powder, salt and flour over mixture and fold until combined.

Allow batter to cool slightly and fold in M&Ms.

Scoop dough into greased baking dish or pan until just over half full.

Press M&M's into the top of the cake and bake 15 - 20 minutes or until golden brown, depending how thick your cake is.
Notes
For perfect M&M's you can press them in IMMEDIATELY after baking, I put them in before, but don't mind a few cracks.
Nutrition
Calories:
255
kcal
Carbohydrates:
36
g
Protein:
2
g
Fat:
11
g
Saturated Fat:
6
g
Cholesterol:
35
mg
Sodium:
161
mg
Potassium:
46
mg
Sugar:
23
g
Vitamin A:
285
IU
Vitamin C:
0.1
mg
Calcium:
34
mg
Iron:
1
mg
Did you Make This Recipe?
Mention @JulieBlanner