Recipe for Drunken Strawberries, Rosé Strawberries or Wine Marinated Strawberries – whatever you want to call them, you'll be calling them the perfect summer treat!
Perfect to eat by themselves or top a dessert. Easy to make with just three ingredients, you are going to love these boozy frozen strawberries!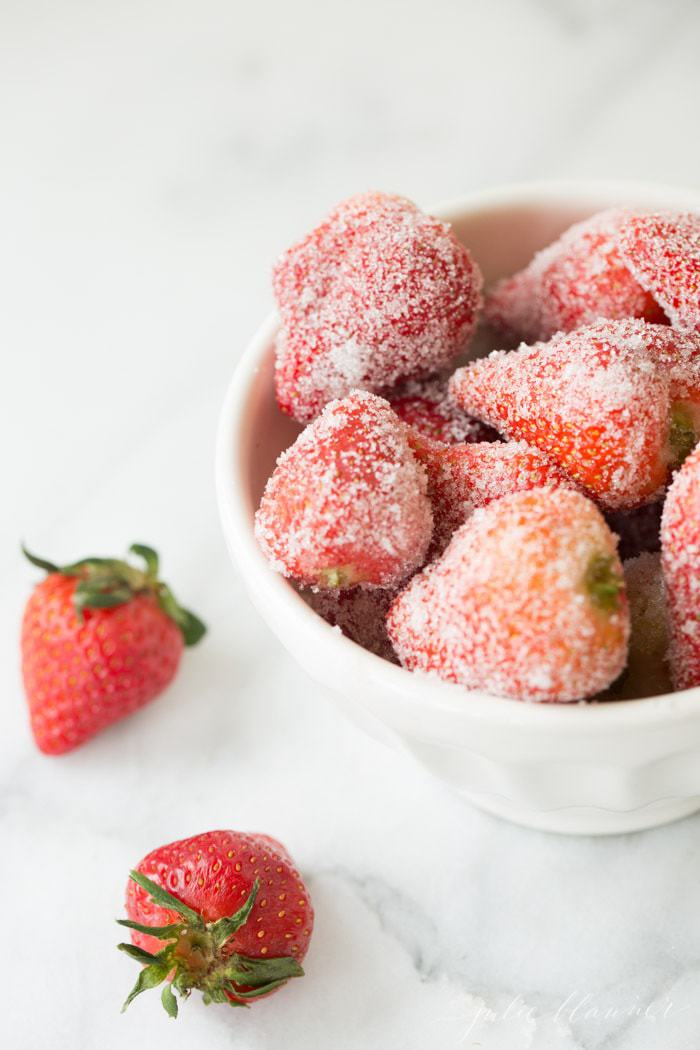 As I was pouring rosé into a pitcher to make a batch of rosé slushies the other day, I had an idea. What if I made my wine marinated grapes, with strawberries instead?
A couple years ago we did a rosé tasting in Sonoma with friends. I had occasionally had a glass of rosé that I enjoyed, but more that I didn't. It was fun to do a side by side comparison of rosés to see what it was I did and did not like. Of course the views and great company didn't hurt either.
Ever since I've enjoyed the occasional glass and have begun experimenting with it making these pretty sugared rosé strawberries, rosé slushies and even using it in lieu of pinot for my reduction to top desserts.
These marinated Rosé Strawberries, or Drunken Strawberries as I like to call them, are easy to eat. They're the perfect summer poolside treat or addition to an Oscar watch party and Valentine's Day, of course! You can also top desserts like No Bake Cheesecake or Creme Brulee with them.
You just need three ingredients to make these delicious frozen treats!
Drunken Strawberry Ingredients
Strawberries – Use ripe strawberries for this recipe that are firm. Wash and hull them before soaking them in the wine.
Rose wine – You don't need to use an expensive wine for this recipe, use your favorite drinking rose.
Sugar – Once the strawberries have soaked, coat them in white sugar for added sweetness and texture.
These strawberries are so easy to make!
How to Make Drunken Strawberries
Soak – Place strawberries in a bowl, cover with rose and refrigerate up to 1 hour.
Dry – Drain strawberries and lightly dry them.
Roll in sugar.

Freeze until you're ready to enjoy.

Strawberries Soaked In Alcohol

These strawberries are a great way to get a portion of fruit in your day ha ha! Rose wine works so well with the strawberries, but lots of other alcohol will work well too if you fancy experimenting! Try soaking them in:

vodka
rum
red or white wine
champagne
bourbon

Tips

Use fresh strawberries, and organic if possible, they should be ripe but firm, and use your favorite rose wine.
Allow the strawberries to sit in the wine for up to 1 hour in the fridge before rolling them in sugar.
I prefer to freeze the strawberries before eating them, but you don't have to if you are in a hurry to serve them!

To Store

Once the strawberries have been rolled in sugar, freeze them on a baking sheet. You can enjoy them once they are frozen, or transfer to an airtight container to have at a later date. They will keep in the freezer for up to 3 months so they are a great make ahead option.

If you try these drunken strawberries, please come back to share using my 5 star rating in the comments below! Not only do I appreciate it, but I know readers do, too!

Hungry for more? Get my BEST Baking Secrets delivered directly to your inbox and connect on instagram, facebook and pinterest!

Drunken Strawberries

This easy drunken strawberries recipe makes a great poolside treat, but are perfectly poppable for showers, New Year's Eve, brunches and more!

Ingredients

1

pound

strawberries

washed and hulled

2

cups

rosé

1/4

cup

sugar

Instructions

Place strawberries in a bowl, cover with rose and refrigerate up to 1 hour.

Drain strawberries and lightly dry them.

Roll in sugar and freeze until you're ready to enjoy.

Notes

Use fresh strawberries, and organic if possible, they should be ripe but firm, and use your favorite rose wine.
Allow the strawberries to sit in the wine for up to 1 hour in the fridge before rolling them in sugar.
I prefer to freeze the strawberries before eating them, but you don't have to if you are in a hurry to serve them!

Nutrition

Calories:

44

kcal

Carbohydrates:

3

g

Sodium:

2

mg

Potassium:

86

mg

Sugar:

2

g

Vitamin A:

5

IU

Vitamin C:

22.2

mg

Calcium:

10

mg

Iron:

0.3

mg

Did you Make This Recipe?

Mention @JulieBlanner