Best Cinnamon Roll Recipe
This is the Best Cinnamon Roll recipe, ready to enjoy in an hour! These yeast cinnamon rolls are quick and easy. Get the secret that makes them better than the rest!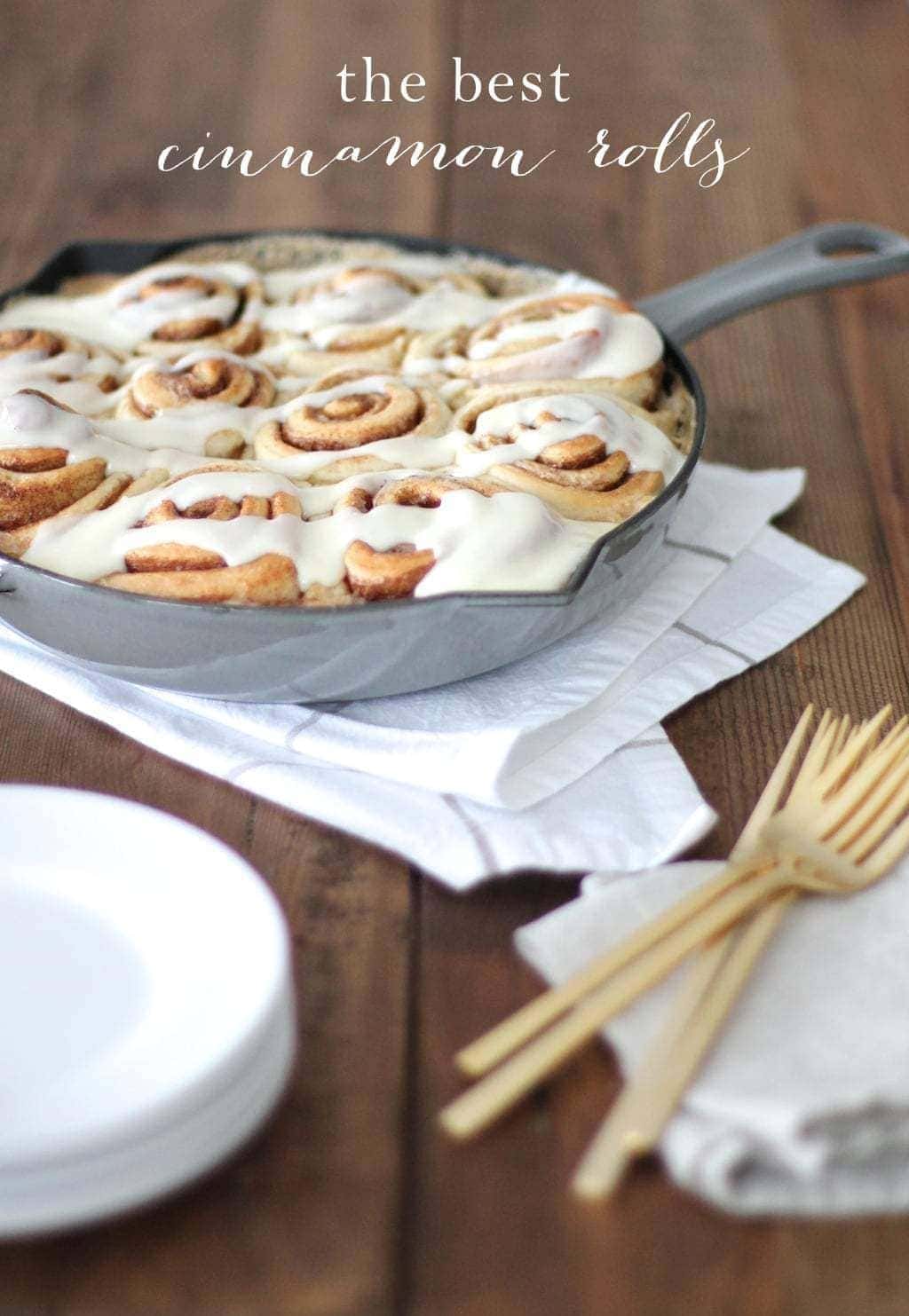 Best Cinnamon Roll Recipe
I'm always watching my weight, even if it's just watching those tastes, drips and drizzles going into my mouth. If I'm going to "spend" calories on a sweet treat, it needs to be worth every calorie! I love a good cinnamon roll, but it seems they're few and far between.
Dieting has made me a food critic! I won't name names, but I find that a lot of cinnamon rolls are dry and boring. I've been on a quest to bake the the best cinnamon roll for a while and I'm happy to announce that I've nailed it! I still like cinnamon rolls made from frozen bread dough, but they're not quite as soft and fluffy and you truly don't save that much time using the frozen bread dough.
More than once I've forgotten to start it the night before and had to come up with an alternate plan in the morning. That's how these babies were born! Adapted from All Recipes, these light and fluffy rolls are dare I say, the Best Cinnamon Roll recipe.
Yeast Cinnamon Rolls are easy with my simple step-by-step instructions.  I'm all about being fuss-free, especially in the morning. (PS if you want a no yeast shortcut, you'll love these Easy Cinnamon Rolls, too!)
How to Make Yeast Cinnamon Rolls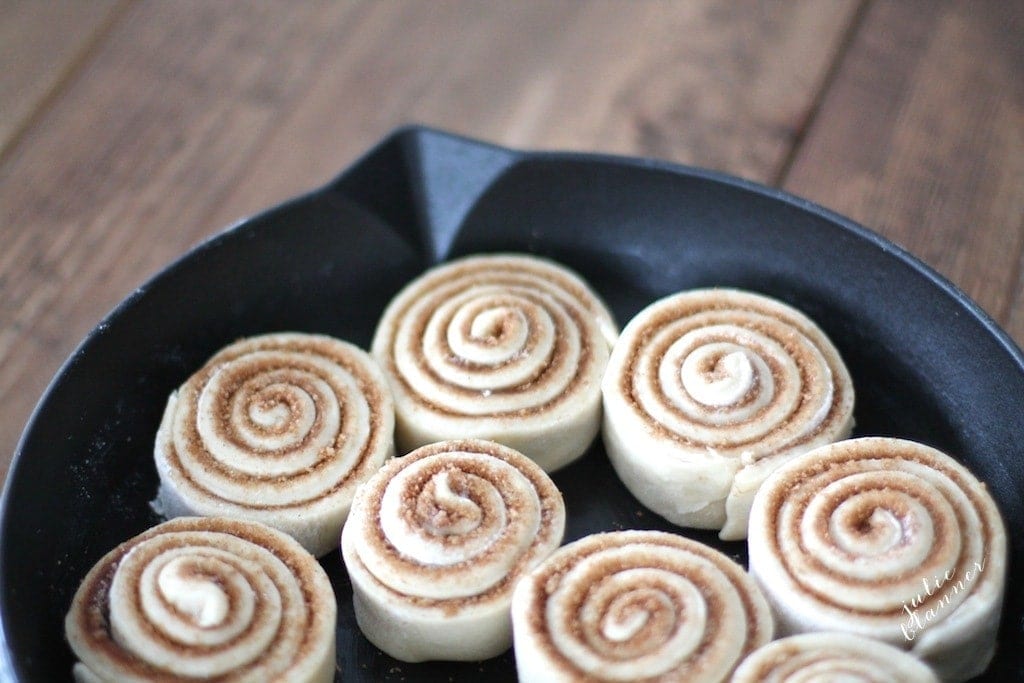 Making cinnamon rolls is easy! There are a couple of "secrets" to these delectable yeast cinnamon rolls – the most important is covering them in cream before baking them. You won't regret it, I promise! While you can bake them in a traditional baking dish, I love them in the cast iron skillet. It cooks them evenly and feels like they're fresh from my Grandma's farm.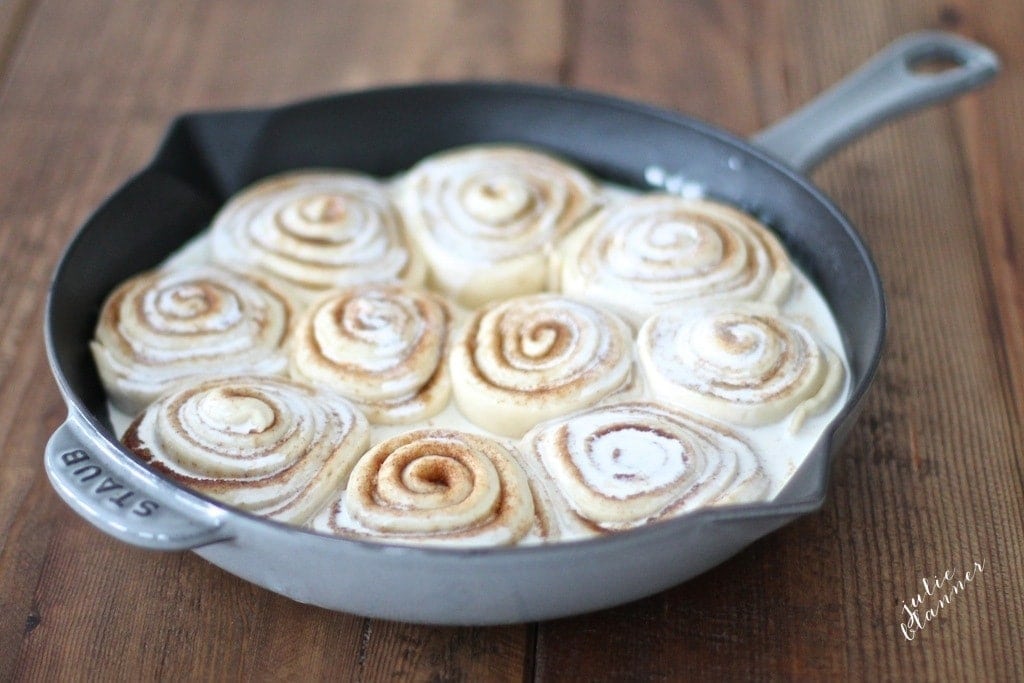 Pour icing over the cinnamon rolls directly out of the oven so it can seep into the rolls.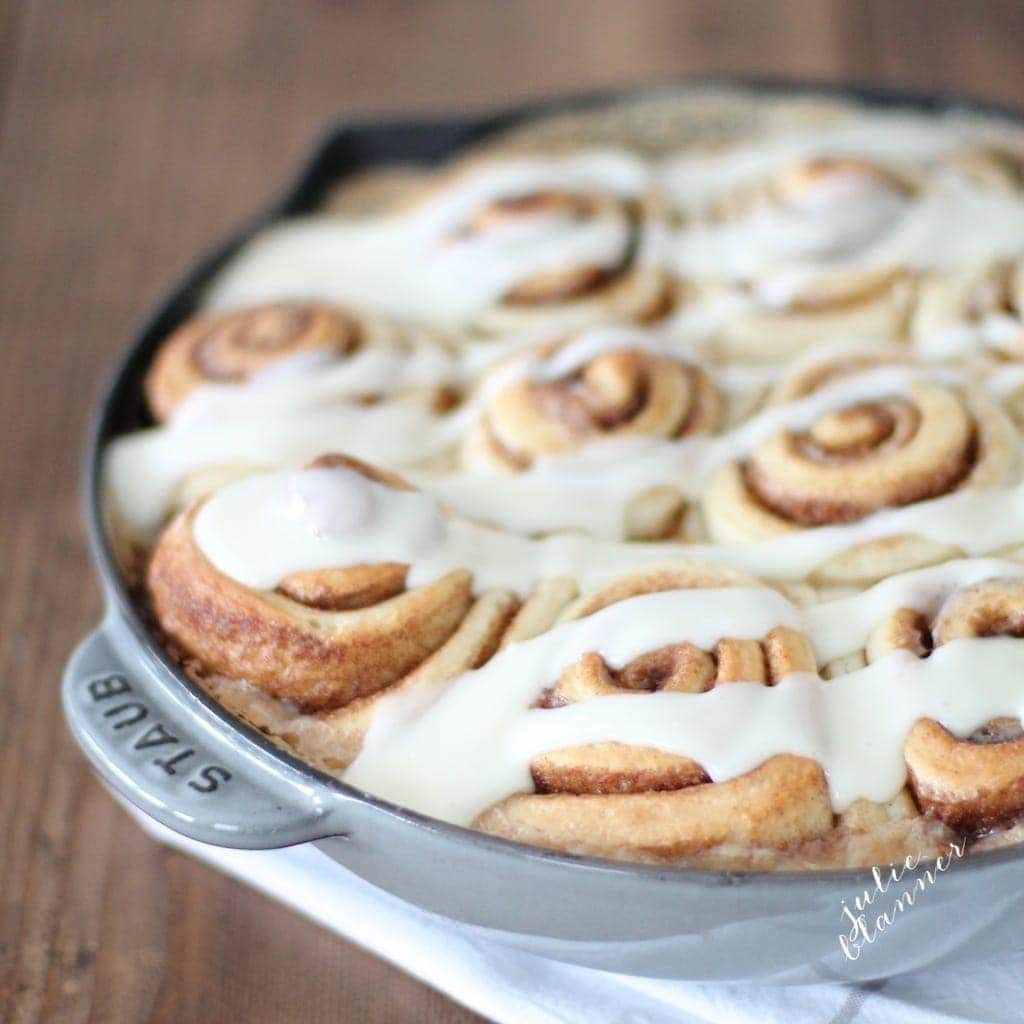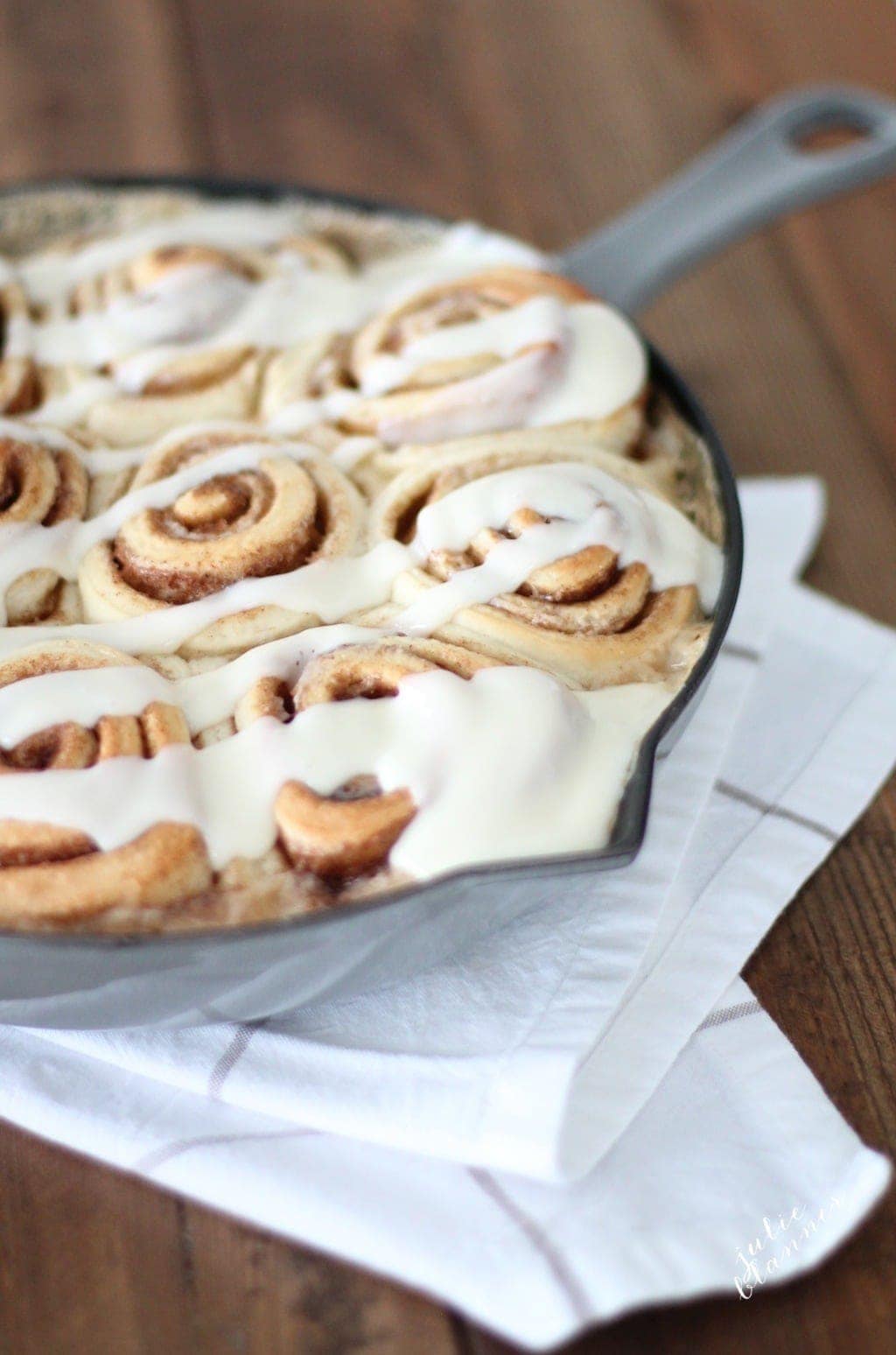 You'll also love these sweet bread recipes: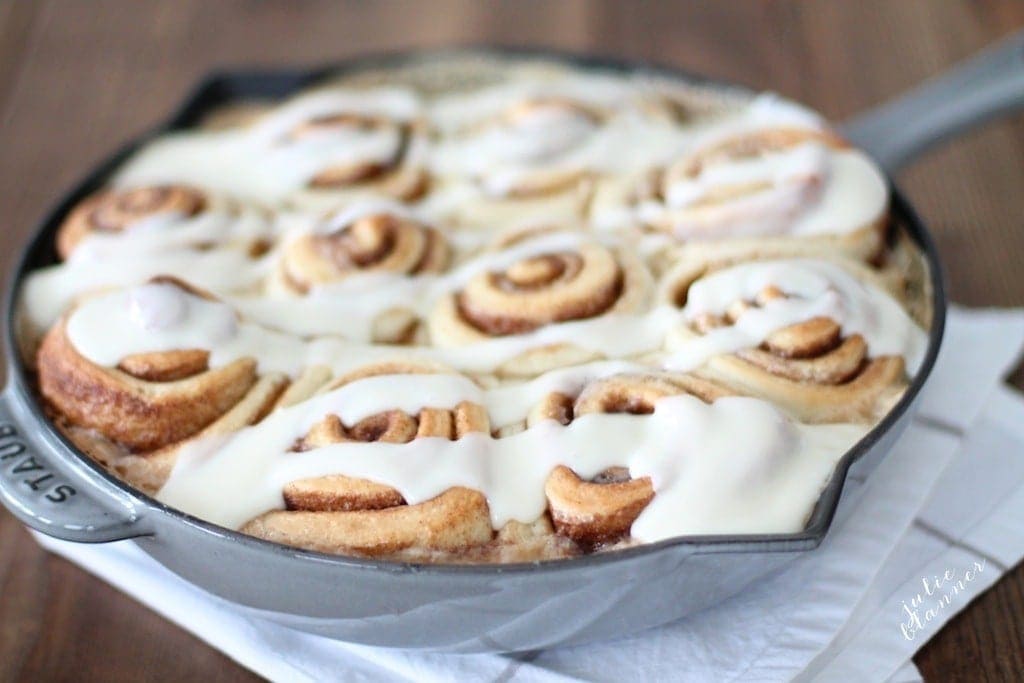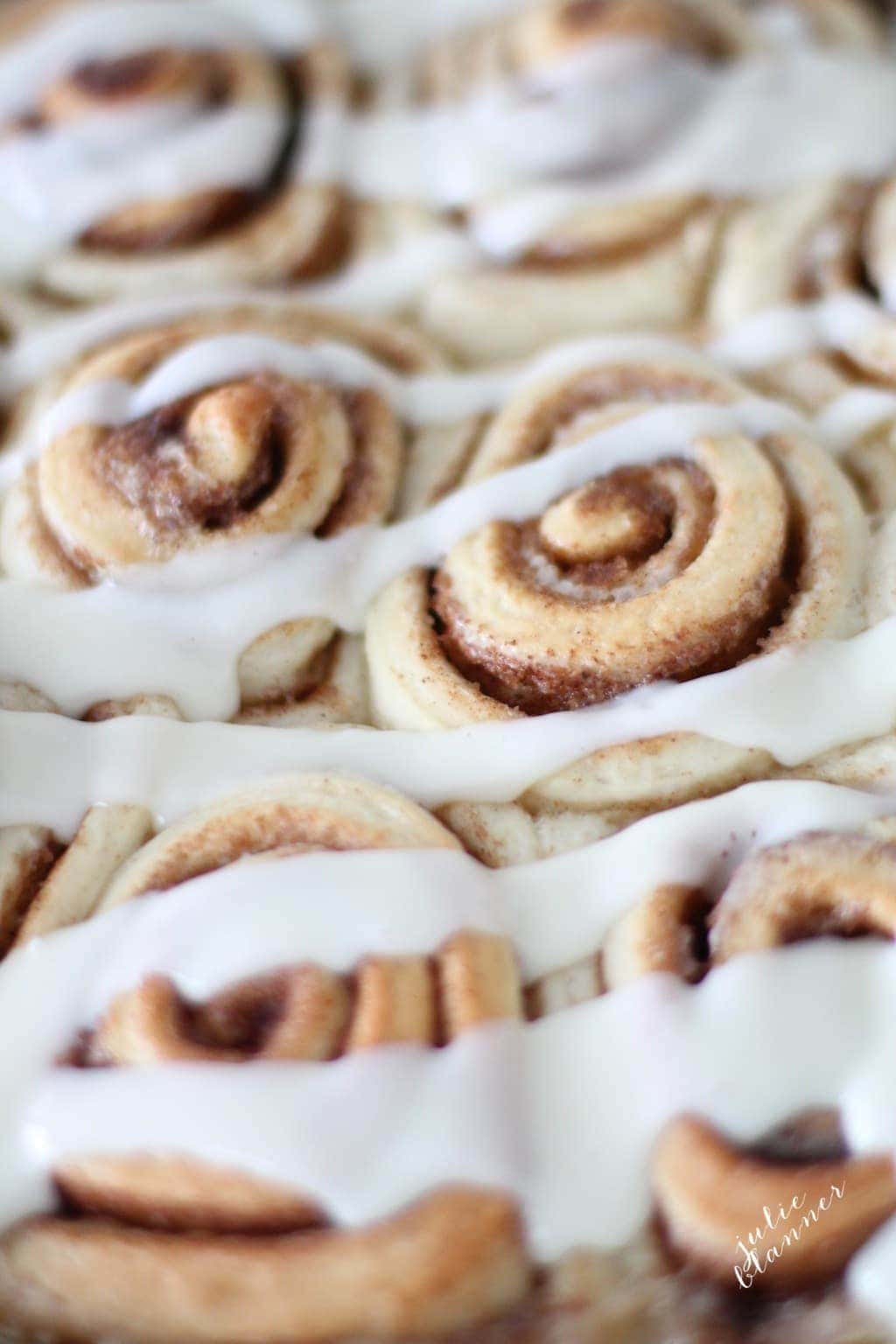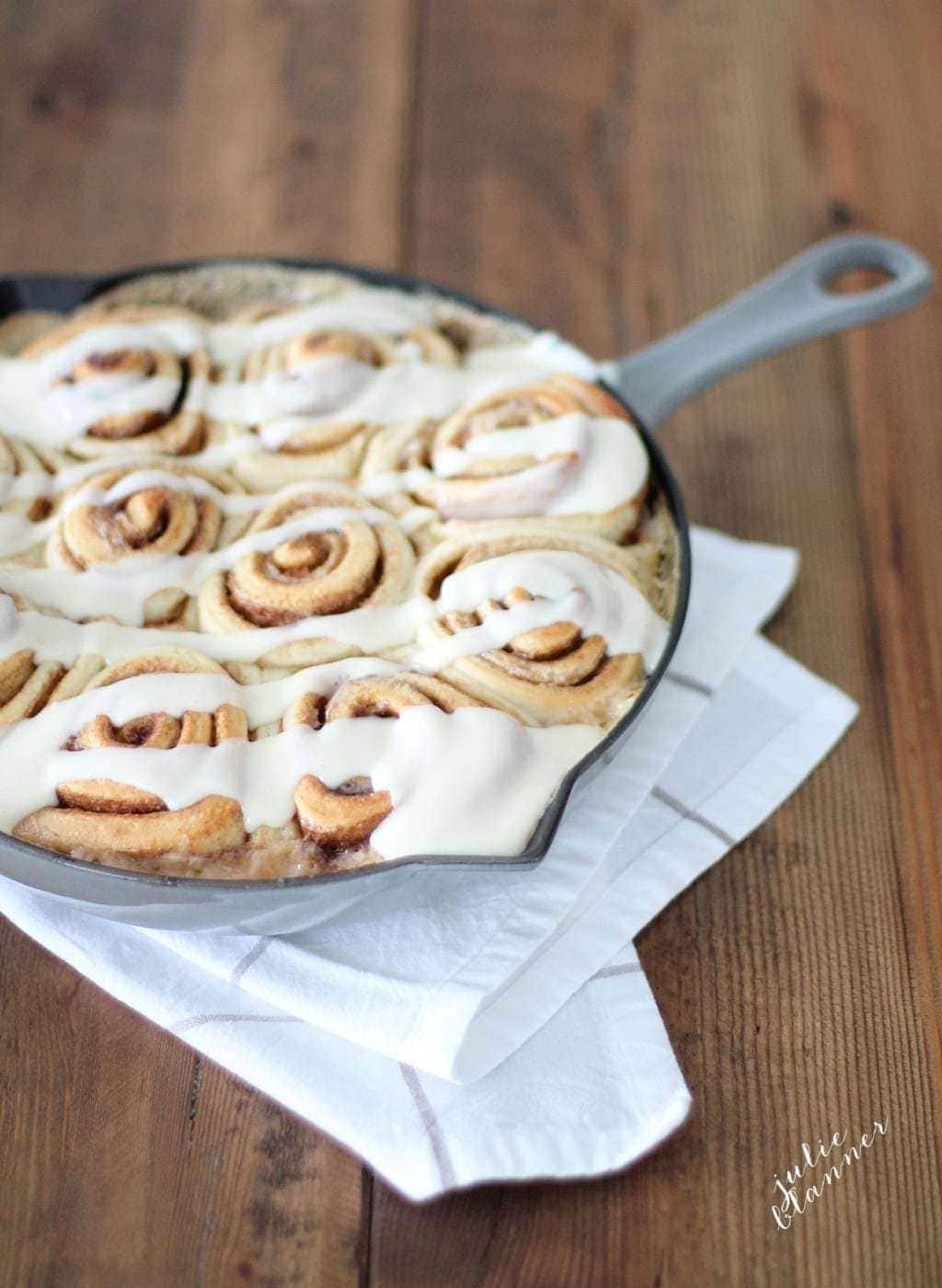 I use this beautiful cast iron skillet for just about everything – it's so versatile!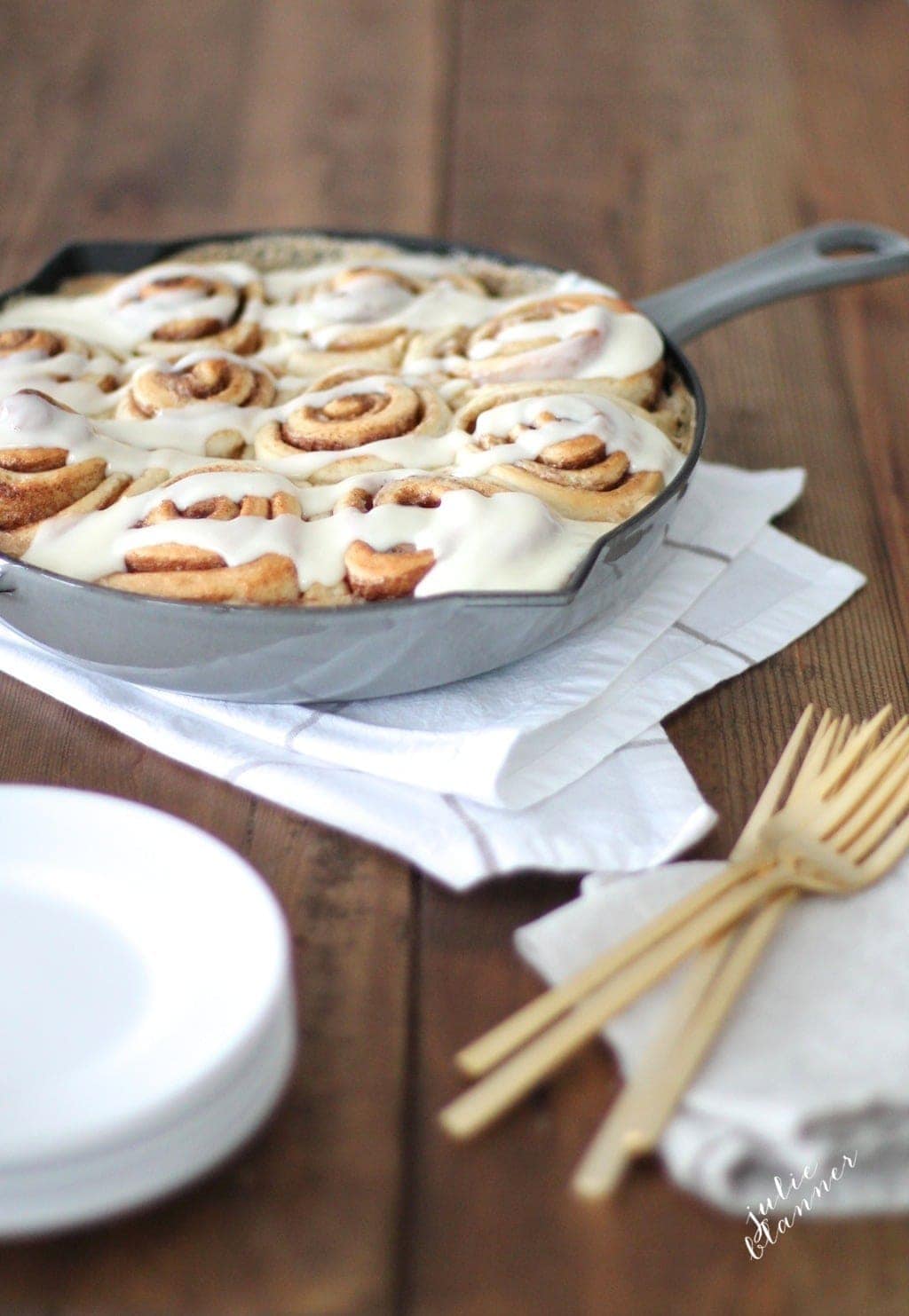 To see how easy making Cinnamon Rolls can be, watch the video in the post.
Best Cinnamon Roll Recipe
The Best Cinnamon Roll recipe, ready to enjoy in an hour! These yeast cinnamon rolls are quick, easy, light and fluffy and a touch of cream makes them incredibly moist!
Ingredients
Directions
In a saucepan over medium heat, add milk & butter. Stir until melted & remove from heat.
In a mixing bowl, combine 2¼ c flour, sugar, salt. Add yeast & lukewarm milk mixture. Combine. Add egg.
Using the dough hook attachment on your mixer, knead while gradually adding in 1 c flour until the dough forms a ball & pulls aways from the edges of the bowl. You can also knead by hand.
Let dough rest for 10 minutes. Preheat oven to 350 degrees.
On a floured surface, roll out dough into a rectangle. Spread melted butter on top. Combine cinnamon & sugar & sprinkle on top. Using a knife or pizza cutter, cut 10 strips. Roll & place in a baking dish or cast iron skillet.
Turn oven off. Cover rolls with a damp towel & allow to rise 25 minutes. Remove from oven, preheat again to 350 degrees. Cover rolls in ¼ c heavy cream. Bake 15-20 minutes, or until slightly golden.
Mix icing ingredients until smooth & drizzle over rolls.
Recipe Notes
You can make cinnamon roll icing without cream cheese if you prefer.
2 c powdered sugar
2 Tbsp butter, melted
2 tsp vanilla
4 Tbsp milk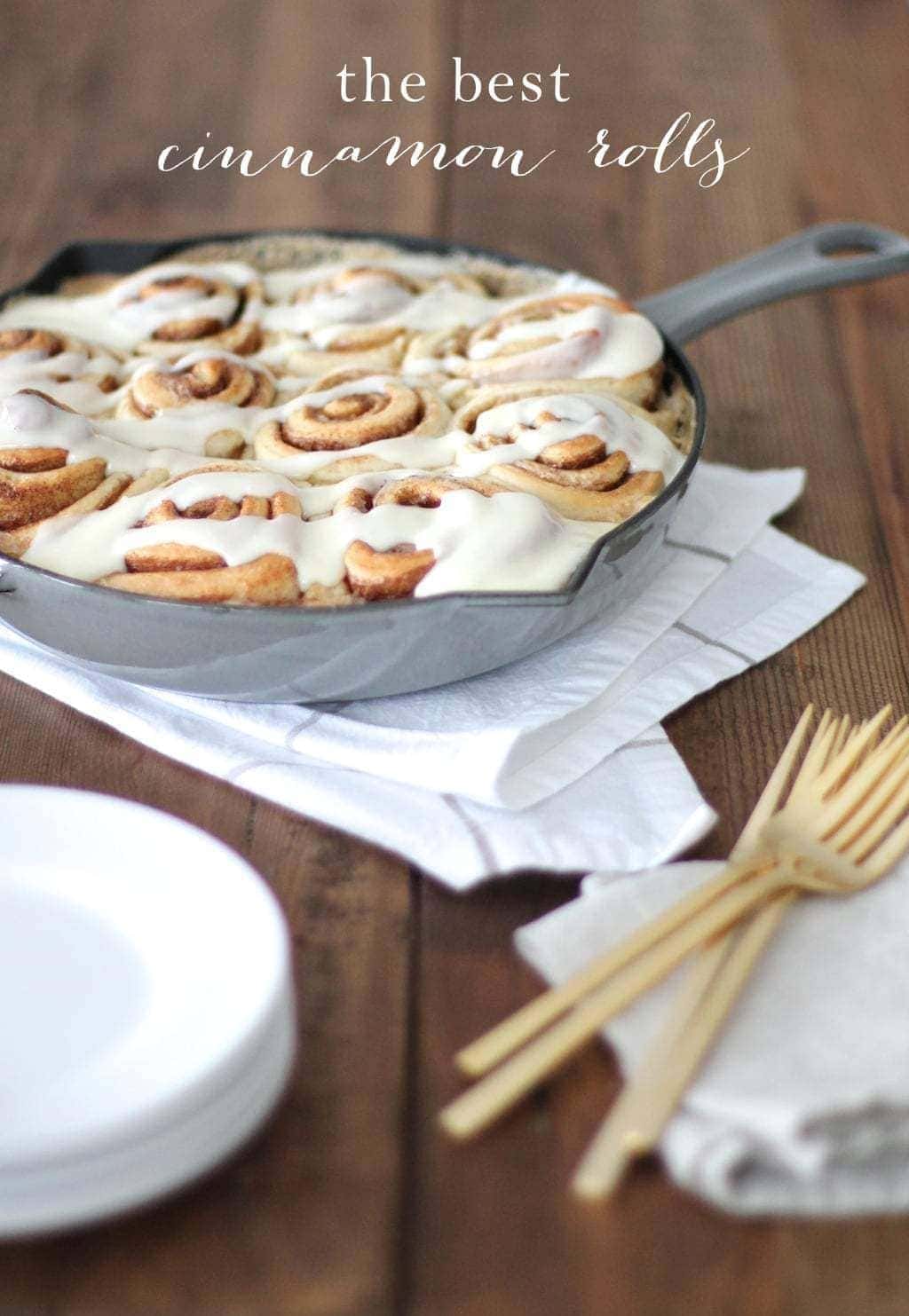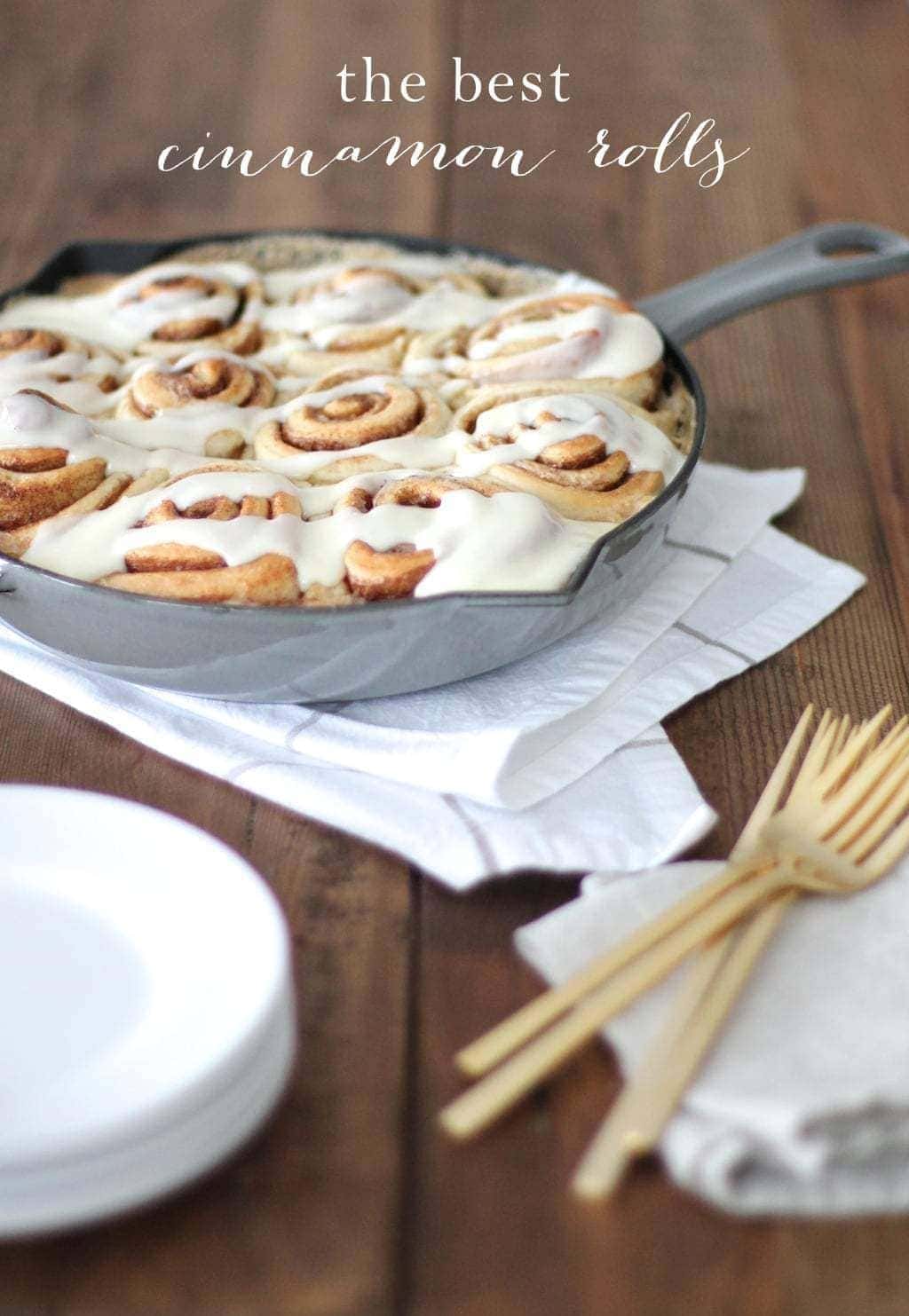 Loading nutrition data...
I hope you had a fabulous Thanksgiving & are as excited as I am for the holidays! We're kicking off the season with a train ride – I can't wait!
Originally published November 2014, updated October 2018.