Finally, an easy recipe for Chocolate Pot de Creme. It's simple, sweet and tastes decadent. The perfect Valentine's Day dessert, and not a moment too soon.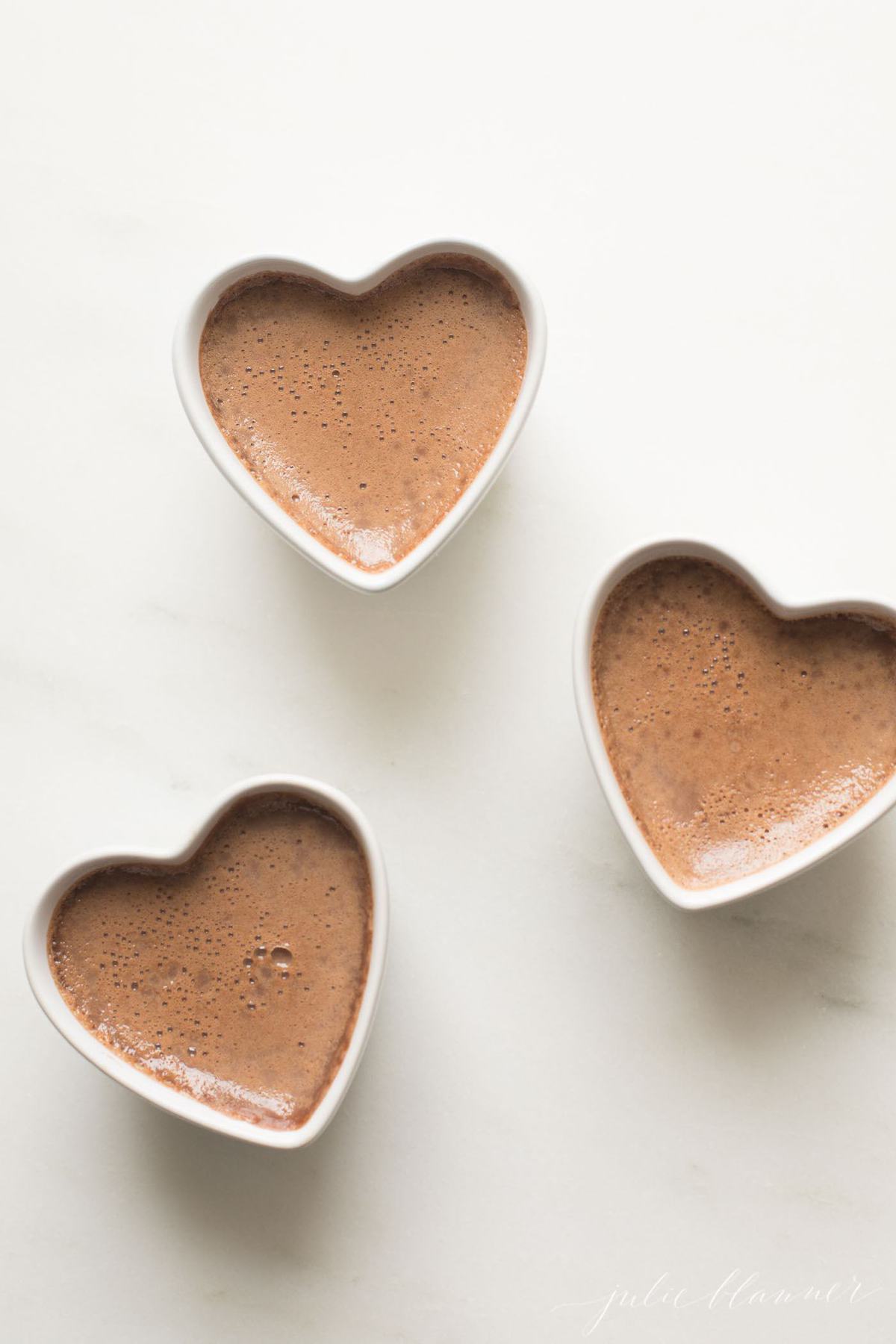 When Chris and I enjoy dinner out, we often share a dessert and have a few go to's like bread pudding, creme brûlée and pot de creme. If I'm having dessert in lieu of a glass of wine or have to extend a workout to fit in the extra calories, it has to be worth it. And believe me, these little ramekins of love are absolutely worth it.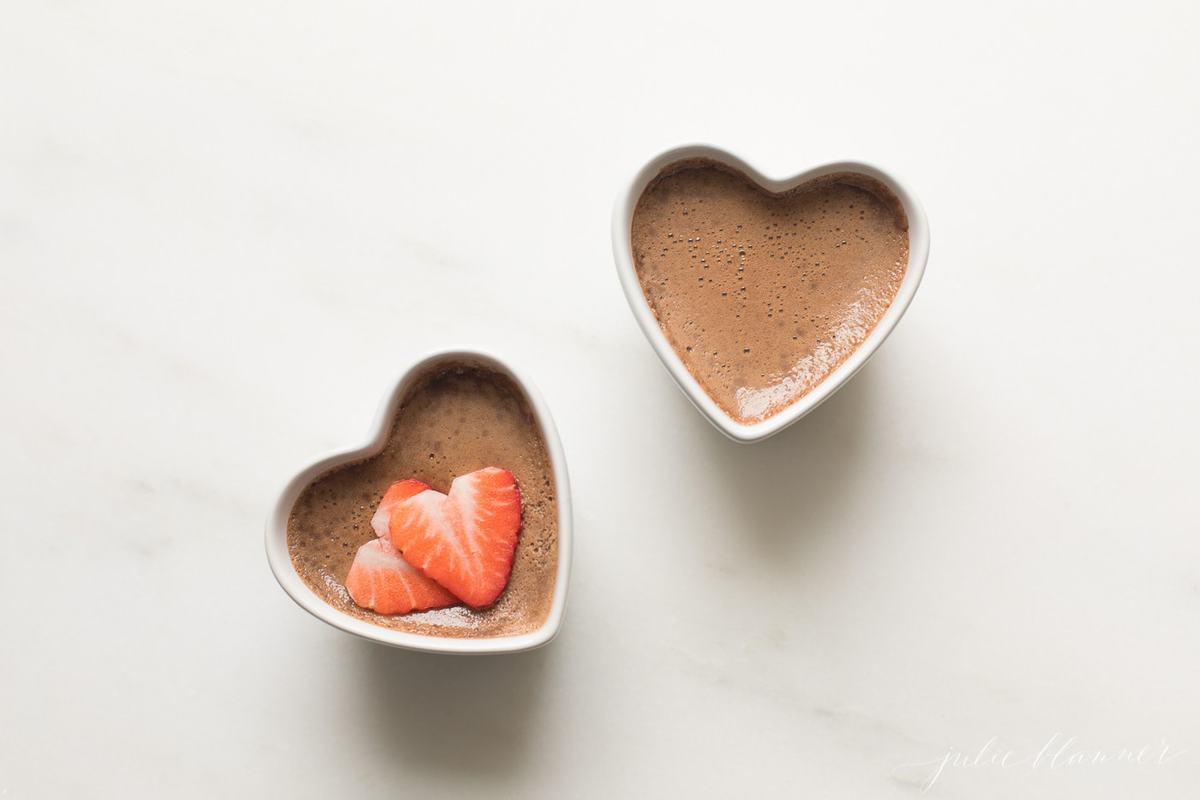 I felt a little intimidated to recreate pot de creme because it felt time consuming and fussy, so I dumbed down the New York Times Extra-Bittersweet Chocolate Pots de Creme recipe into an easy, more palatable version that I can't keep my spoon out of. It takes just 15 minutes hands on time!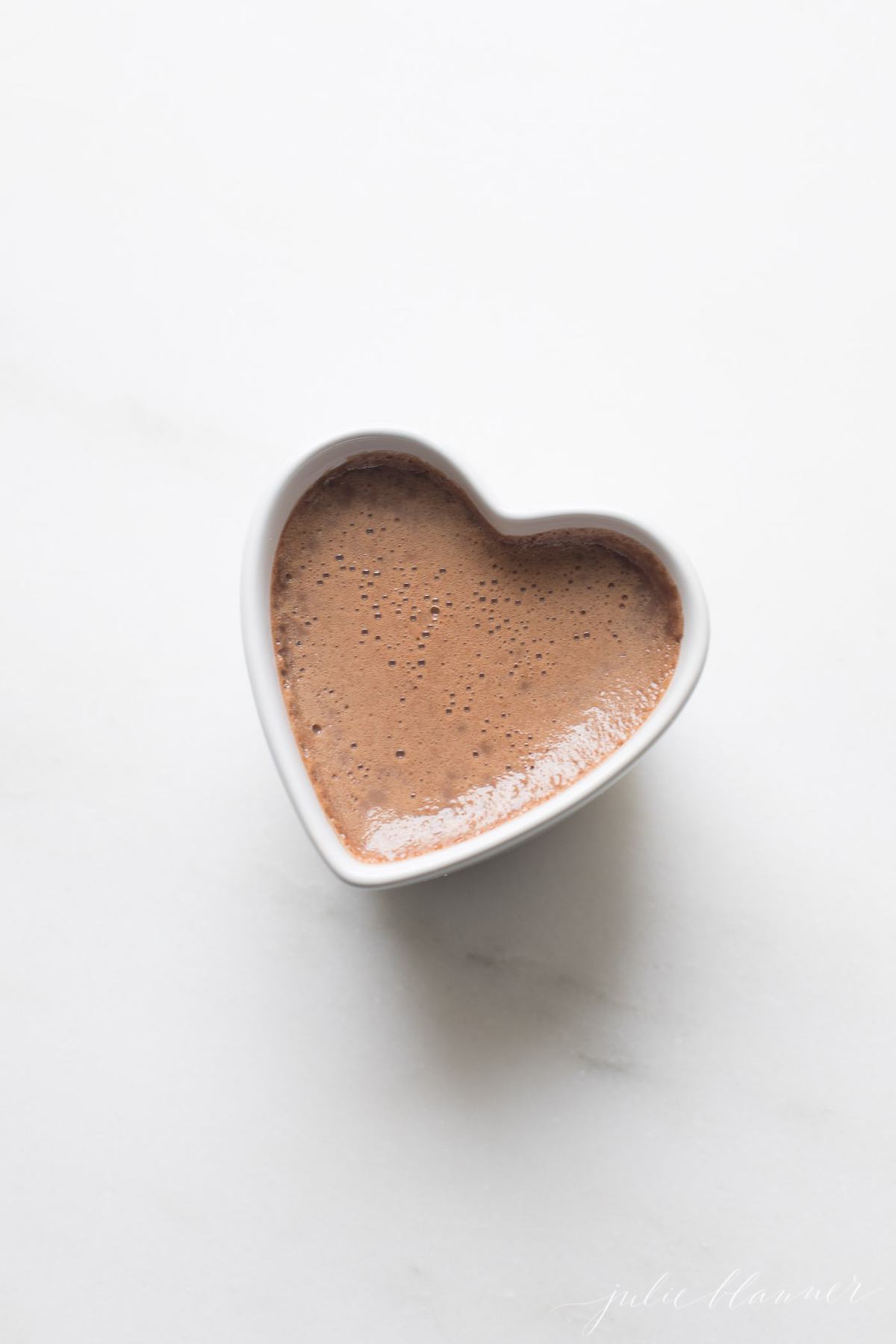 How to Make Chocolate Pots de Creme
Bring cream and milk to a boil.
Add chocolate or chocolate chips and whisk into cream.
Remove from heat and add to sugar and yolk mixture.
Fill casserole dish halfway with water. Place ramekins into the water bath. Fill ramekins with chocolate mixture.
Cover with foil, poke holes and bake.
Allow to cool, then refrigerate.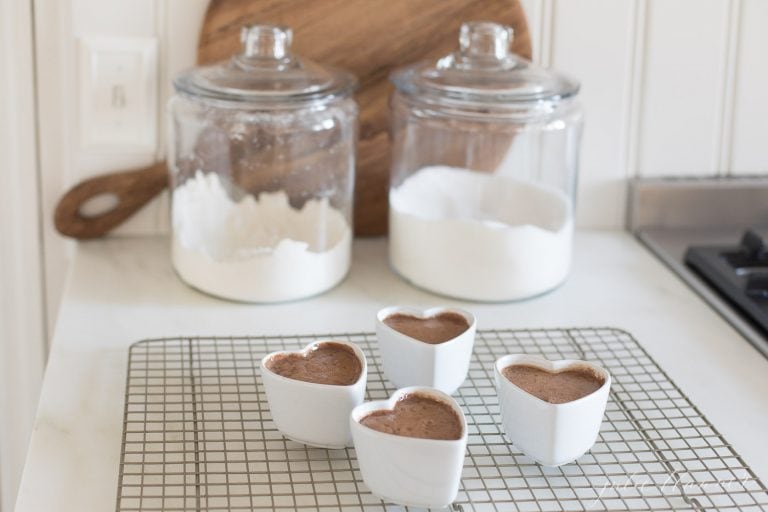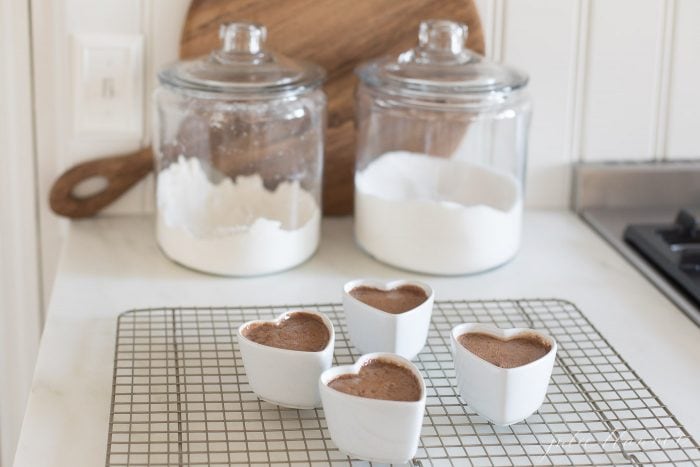 This pot de creme is so quick and effortless, but tastes like you labored all day. Hey, I like Chris to think I work, really hard.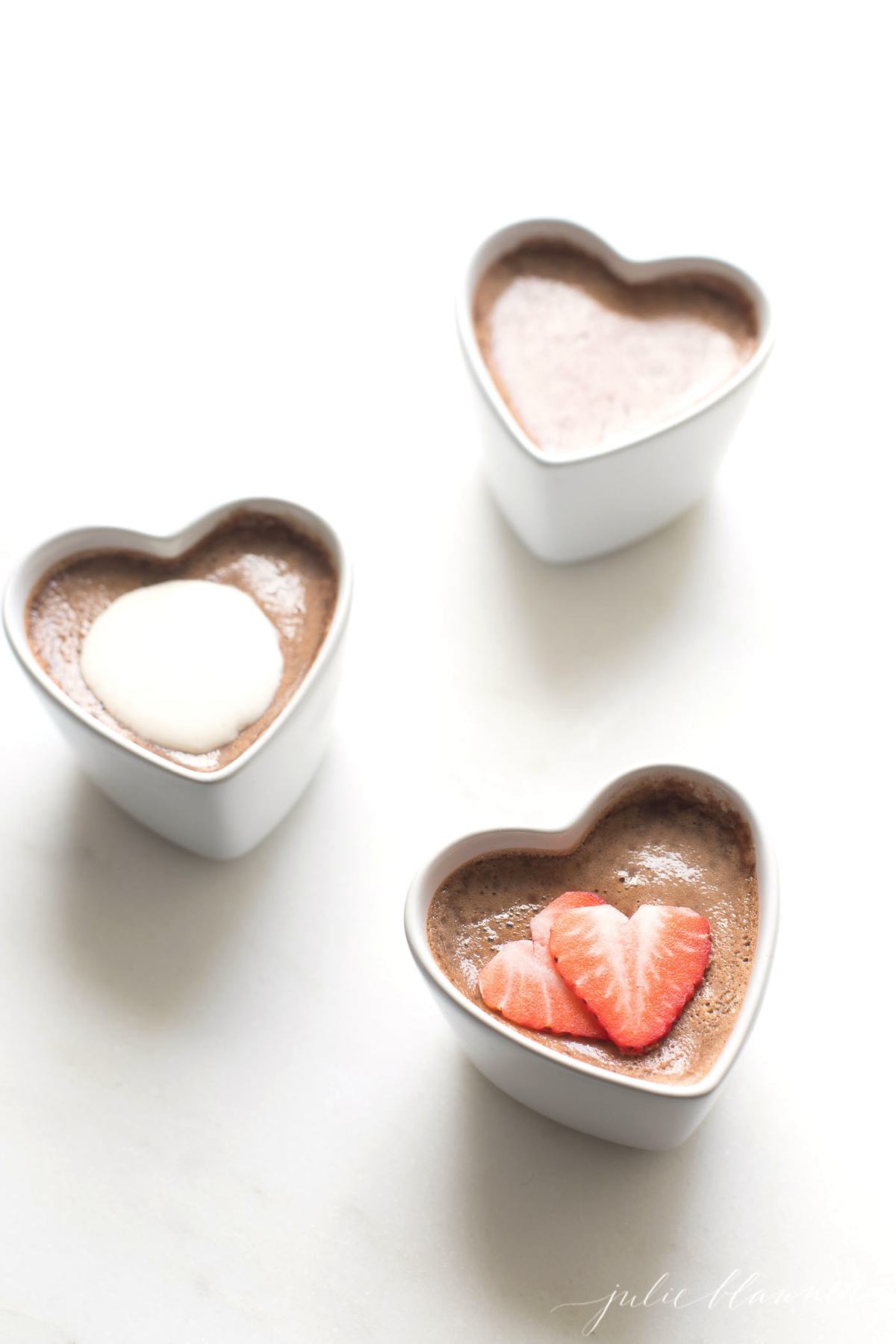 If you try this recipe, please come back to share using my 5 star rating in the comments below! Not only do I appreciate it, but I know readers do, too!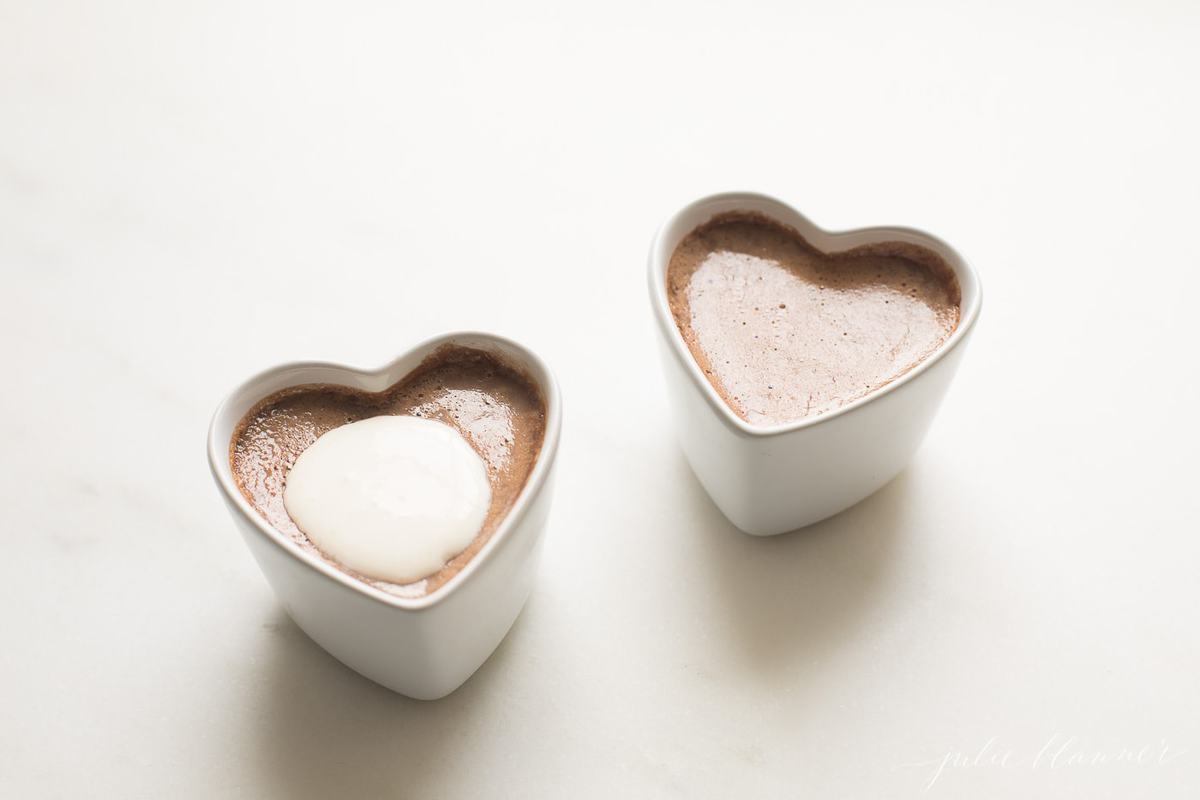 Want more? Receive the best ideas directly to your inbox and connect on Youtube, Instagram, Facebook, and Pinterest!
Pot de Creme
Easy chocolate pot de creme recipe with just 10-15 minutes hands on time.
Ingredients
1 1/2

cup

heavy cream

1/2

cup

whole milk

1/2

cup

semi-sweet chocolate chips

4

egg yolks

3

tablespoons

sugar
Instructions
Preheat oven to 300 degrees.

In a saucepan over medium heat, bring cream and milk to a boil. Reduce to low and whisk in chocolate until smooth.

In a large bowl or mixer, whisk yolks and sugar.

Gradually incorporate chocolate mixture into yolks.

Fill a roasting pan or baking dish half full with hot water. Add chocolate mixture to ramekins and place in baking dish.

Cover with aluminum foil and poke fork holes.

Bake 30 minutes, until set but still jiggly. Transfer to wire rack to cool or refrigerate.
Optional: top with whipped cream or sweet creme fraiche.
Notes
Shown served with creme fraiche and strawberries but can be enjoyed alone.
Nutrition
Calories:
366
kcal
Carbohydrates:
17
g
Protein:
5
g
Fat:
32
g
Saturated Fat:
19
g
Cholesterol:
215
mg
Sodium:
39
mg
Potassium:
170
mg
Fiber:
1
g
Sugar:
13
g
Vitamin A:
1081
IU
Vitamin C:
1
mg
Calcium:
86
mg
Iron:
1
mg
Did you Make This Recipe?
Mention @JulieBlanner