Pots de Crème are deceivingly easy and made with just a few ingredients in about 15 minutes. Chocolate pot de creme is the ultimate chocolate fix – and it feels absolutely decadent.
It's simple, sweet and delicious, making it the perfect Valentine's Day dessert!
If you're looking for the creamiest, richest chocolate dessert around, you've got to try this incredible recipe.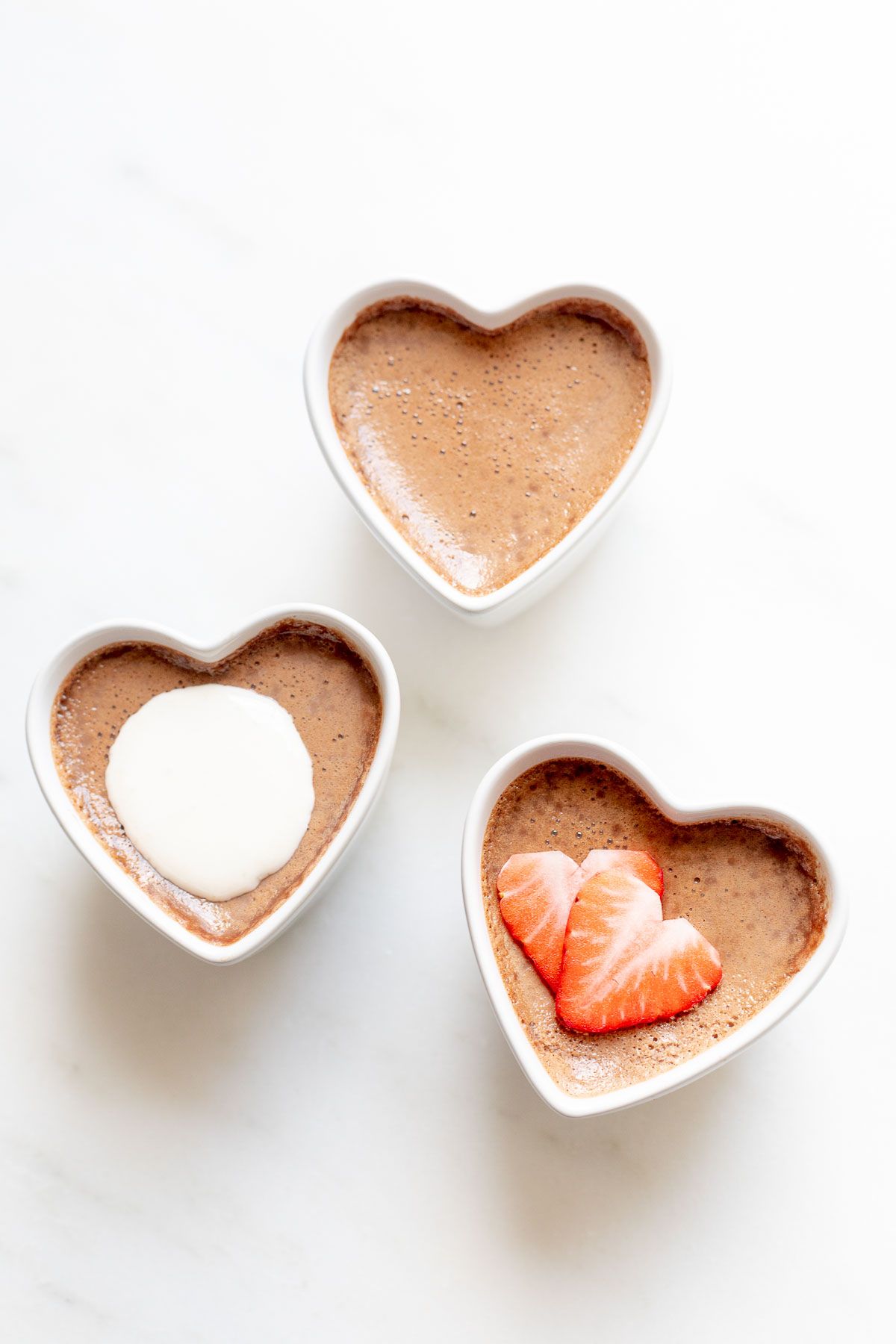 When Chris and I enjoy dinner out, we often share a dessert and we have a few go-to favorites, like Bread Pudding, Crème Brûlée and Pots de Crème.
If I'm having dessert in lieu of a glass of wine or have to extend a workout to fit in the extra calories, it has to be worth it. And believe me, these little ramekins of love are absolutely worth it.
I felt a little intimidated to recreate pots de crème because it felt time consuming and fussy, so I dumbed down the New York Times recipe into an easy, more palatable version that I can't keep my spoon out of. It takes just 15 minutes hands on time!
While traditional French Pots de Crème are not garnished (they're delightful on their own), you can top them with chocolate shavings, homemade whipped cream, Creme Fraiche Substitute, berries and more!
What are Pots de Crème?
Literally interpreted as a pot of cream or custard, this is a decadent, traditional French custard that is found throughout France and beyond.
While they come in a wide variety of flavors, classic chocolate pots de creme are a staple of French cuisine. While creme brulee is perhaps more famous, pots de creme are equally divine!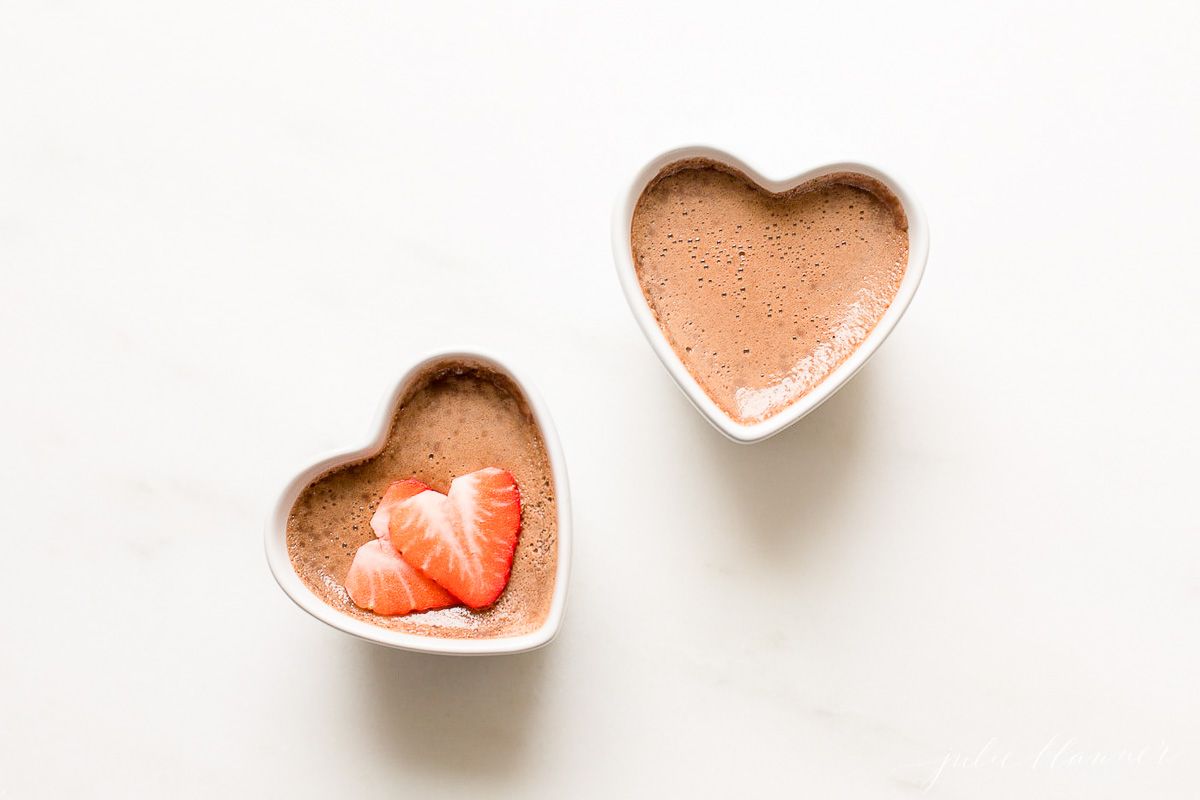 Why You'll Love Pots de Crème
Quick – It's made in less than 15 minutes!
Easy – While it sounds (and tastes) fancy, it couldn't be easier!
Luxuriously Cream and Decadent – It has the most amazing consistency!
Looking for more Valentine's inspiration? Check out this complete guide to my favorite Valentine's Day Recipes.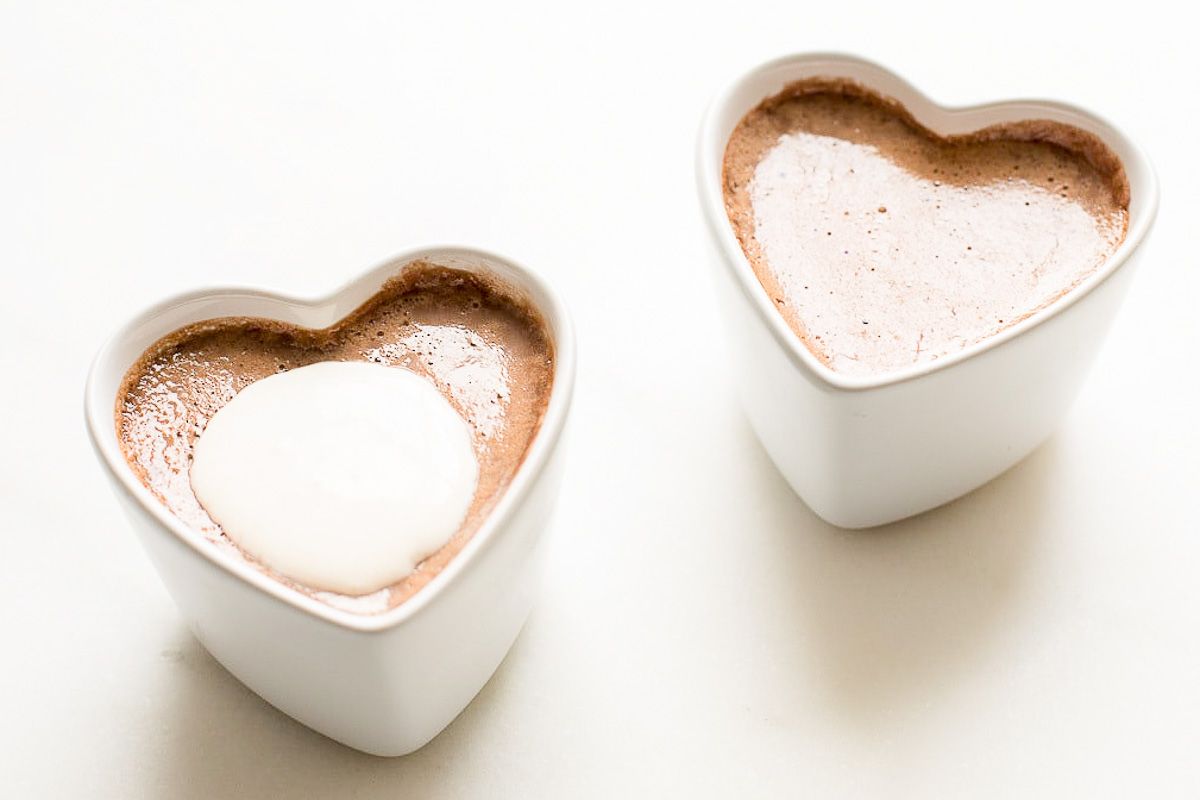 Pots de Crème Ingredients
Heavy Cream – Also known as whipping cream. It's the foundation for this decadent dessert.
Whole Milk – The heaviest milk you have on hand will yield the best results.
Chocolate – Use chocolate bars, chocolate wafers or chocolate chips. I like to use semi-sweet chocolate chips for this simple recipe, but high quality chocolate is always welcomed.
Egg Yolks – They give this recipe a custard consistency.
Sugar – White granulated sugar lightly sweetens this dessert.
How to Make Chocolate Pots de Crème
Bring cream just to a boil. When it begins to bubble, reduce heat to low.
Add chocolate or chocolate chips and whisk into cream.
Remove from heat and add to sugar and yolk mixture.
Fill casserole dish halfway with water. Place ramekins into the water bath. Fill ramekins with chocolate mixture.
Cover with foil, poke holes and bake.
Allow to cool, then refrigerate.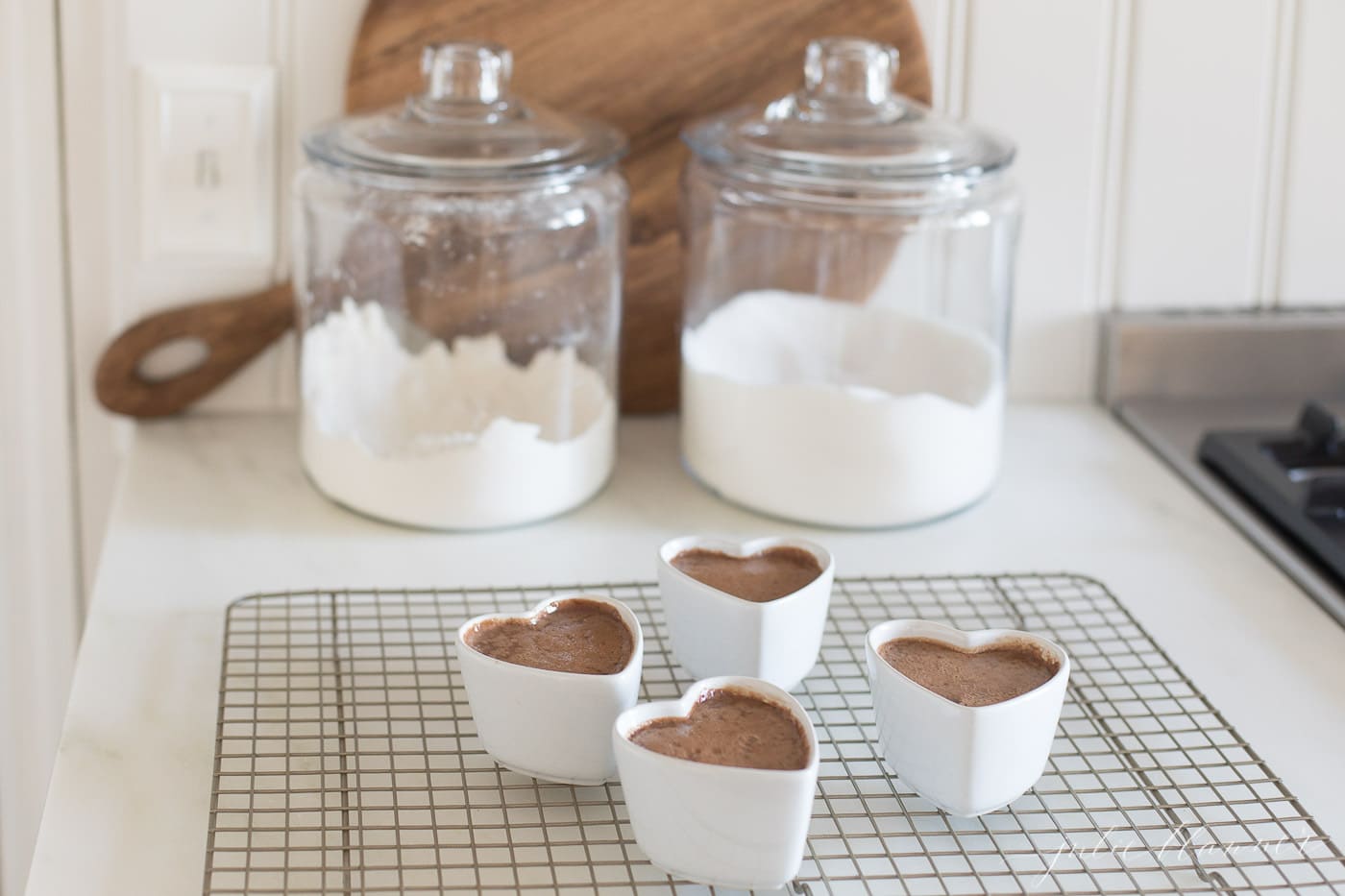 Tips
Add a little chocolate cream mixture to the yolk mixture to temper. This prevents eggs from curdling.
Bring to room temperature before chilling.
Have fun with it! Use any small ramekin.
How to Store
Refrigerate – Cover and refrigerate for up to two days.
Dietary Considerations
Gluten Free
Dairy Free – Make it dairy free using coconut milk and be sure to use semi-sweet chocolate, too.
Nut Free
Vegetarian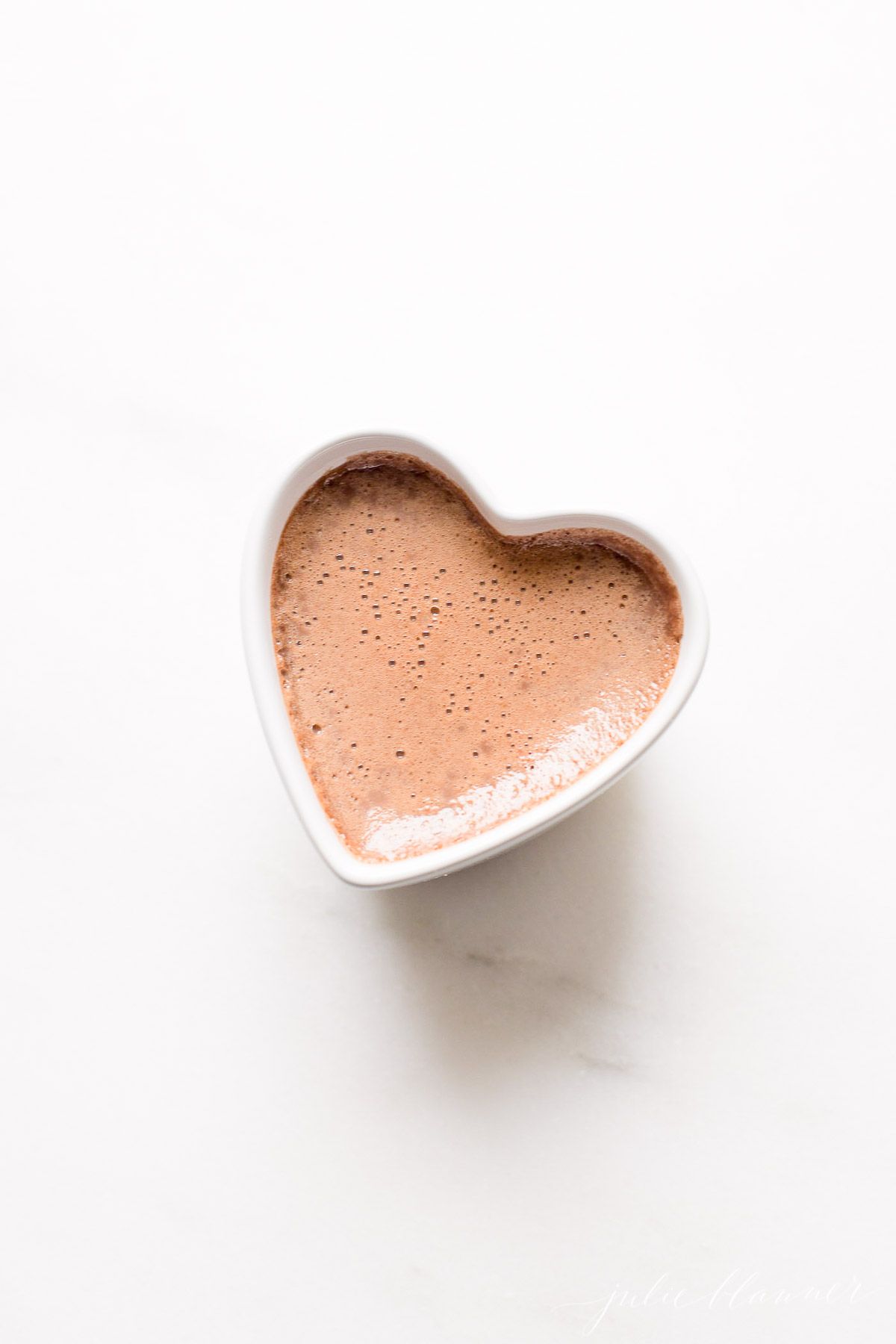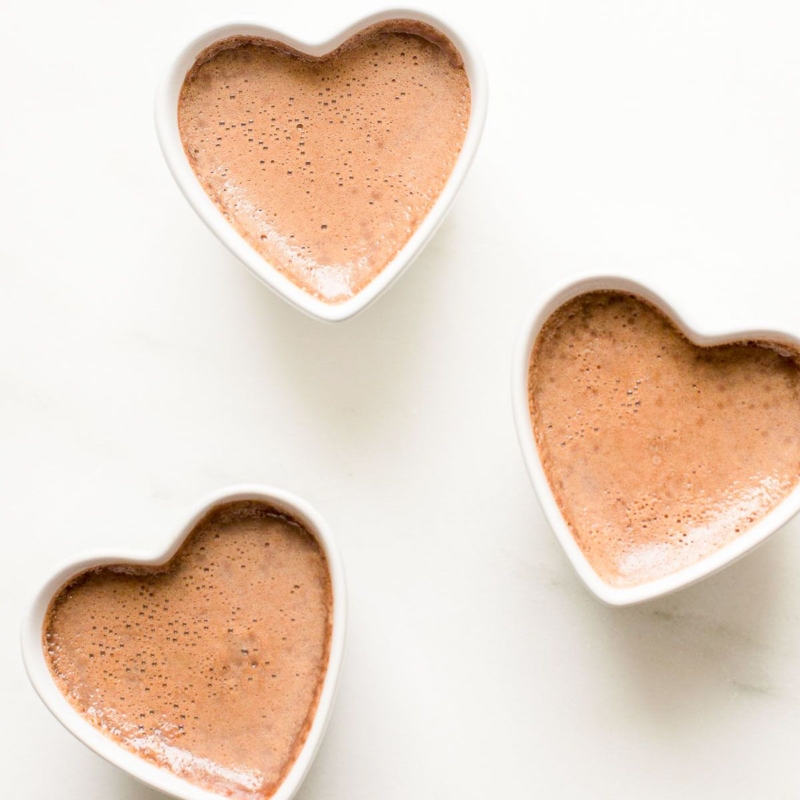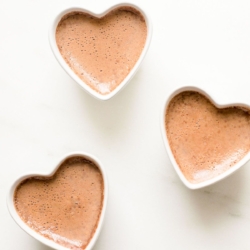 Pots de Crème
Easy and luxuriously creamy pots de creme recipe with less 15 minutes hands on time and just 5 ingredients
Ingredients
2

cups

heavy cream

½

cup

semi-sweet chocolate chips

4

egg yolks

3

tablespoons

white granulated sugar
Instructions
In a saucepan over medium heat, bring cream to a boil. Reduce to low and whisk in chocolate until smooth. Remove from heat.

In a large mixing bowl or stand mixer, whisk yolks and sugar for 2 minutes until light and fluffy.

Add 2-3 tablespoons of hot mixture to yolks to temper. Gradually incorporate chocolate mixture into yolks.

Fill a roasting pan or baking dish half full with hot water. Add 6 ½ cup ramekins to dish. Add chocolate mixture to ramekins.

Cover with aluminum foil and poke fork holes.

Bake 30 minutes, until set but still jiggly.

Transfer to wire rack to cool completely. Cover and refrigerate 3+ hours.

Garnish with whipped cream, sweetened crème fraîche or berries.
Tips
Tips
Add a little chocolate cream mixture to the yolk mixture to temper to prevent yolks from curdling.
Bring to room temperature before chilling.
How to Store
Bring to room temperature, cover with plastic wrap or place in an airtight container and store up to 2 days refrigerated.
Calories:
366
kcal
|
Carbohydrates:
17
g
|
Protein:
5
g
|
Fat:
32
g
|
Saturated Fat:
19
g
|
Cholesterol:
215
mg
|
Sodium:
39
mg
|
Potassium:
170
mg
|
Fiber:
1
g
|
Sugar:
13
g
|
Vitamin A:
1081
IU
|
Vitamin C:
1
mg
|
Calcium:
86
mg
|
Iron:
1
mg
Estimated nutrition information is provided as a courtesy and is not guaranteed.
Explore More