Enjoy this refreshingly easy to sip and easy to make 2 ingredient frosé. It's a frozen rosé slushy recipe perfect for any brunches, showers or parties.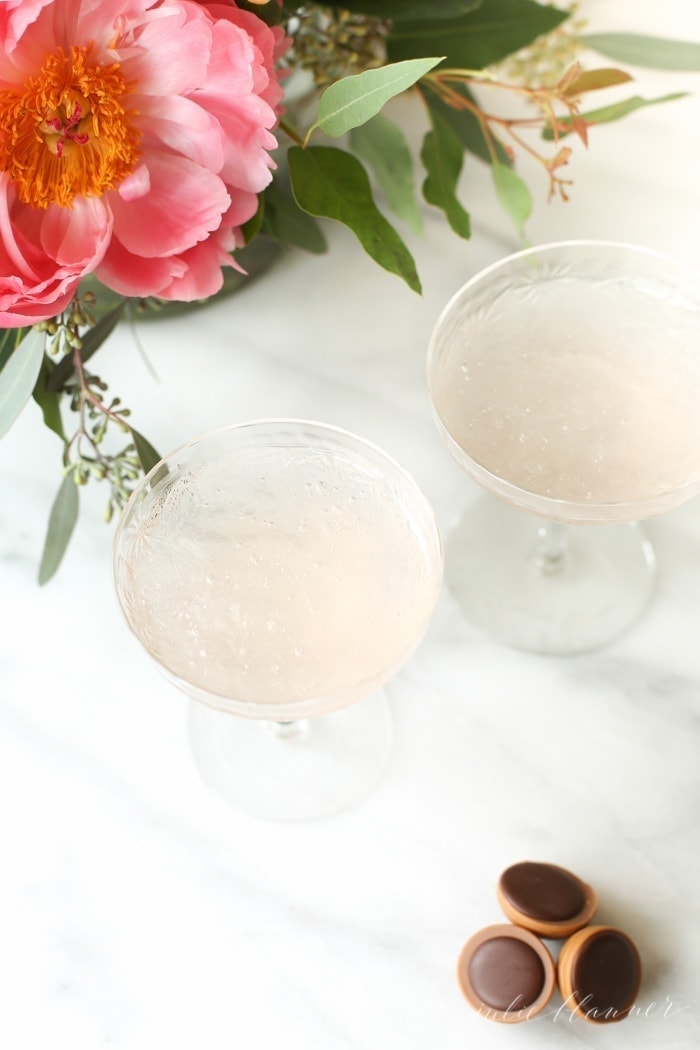 This post is sponsored by Toffifay
Irresistible Frozen Rosé Slushy
Rosé – a wine almost too pretty to drink, almost being the keyword here, because who could resist it's subtly sweet and refreshing flavor?
We all know the rosé trend is going crazy right now with almost every brand suddenly coming up with a new drink with the same pink color. Honestly, I can't say I'm mad about it because all the beautiful displays in every store always catch my attention.
Frozen Rosé Recipe – Perfect for Girls Night
Every time I see rosé in any form it makes me want to grab a bottle and call up so friends for a girls night. With three little girls running around the house those are harder to come by now. Gone are the college days of calling up friends on a whim and having an all-night movie night in coming together in a matter of minutes.
Whenever I do get the chance for a kids free night with some of the girls, the night is never complete without snacks and of course at least one bottle of wine. It's the perfect excuse to break out my favorite rosé slushy recipe!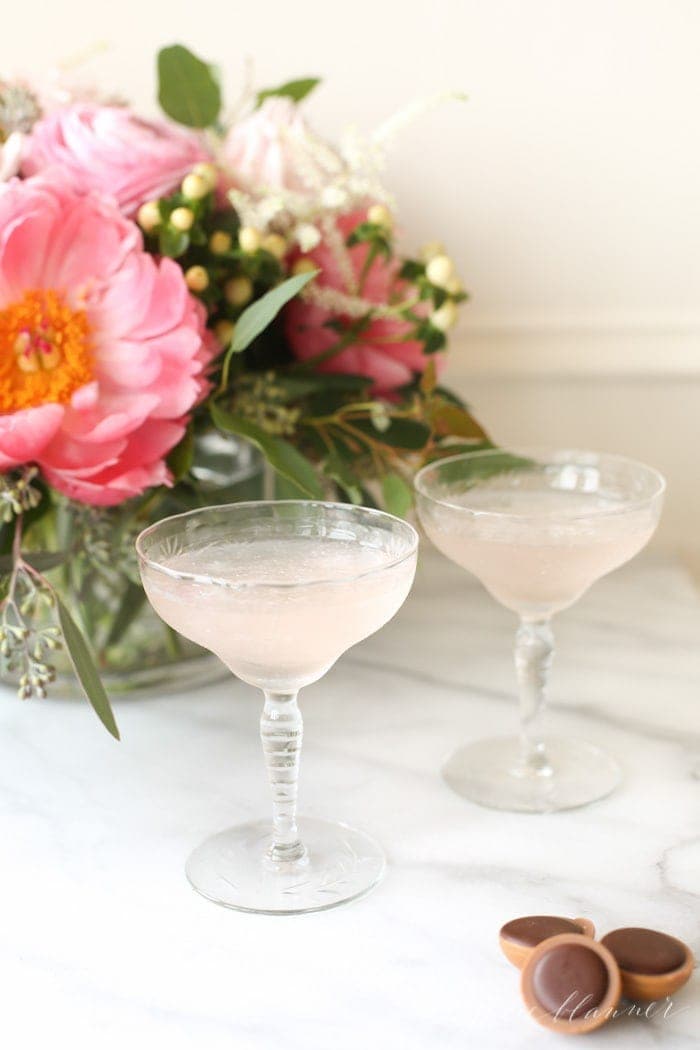 The Easiest Frozen Rosé Recipe
Lately, my new favorite combo is this amazing Frosé recipe served with a couple packages of Toffifay to snack on. The recipe is only 2 ingredients and can be thrown together in just 5 minutes!
Once I let the Rosé slushies freeze for a while I just throw the Toffifay on a platter and I'm ready for girls night in no time.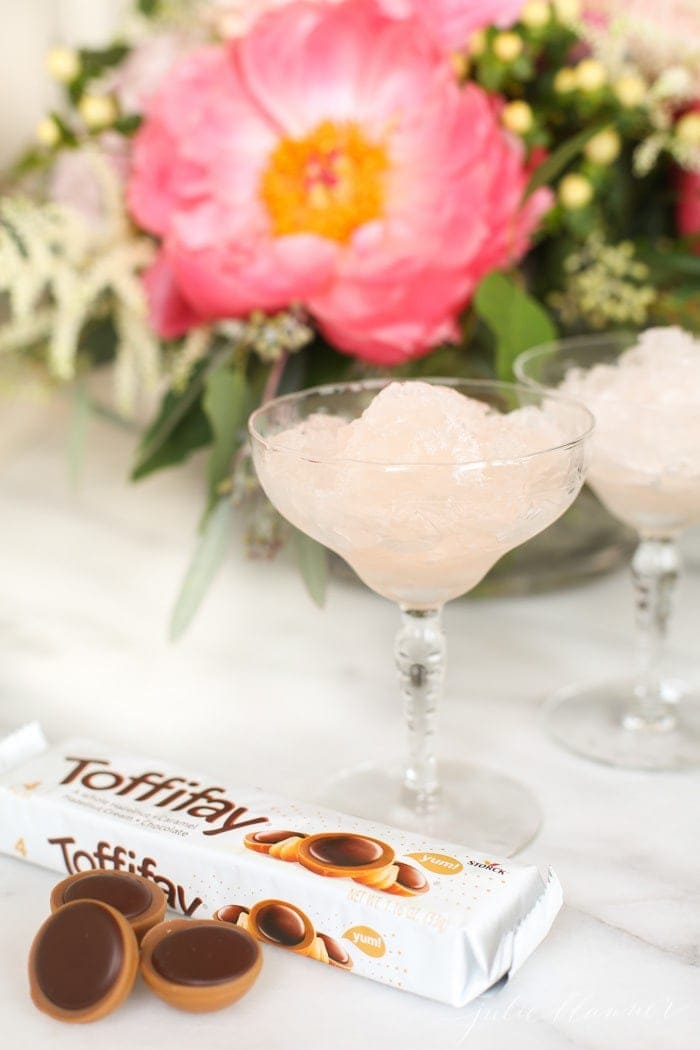 The Best Times for Frosé
My favorite time to host a girls night is always during the Oscars because nothing goes better with wine and candy than gossiping about all your favorite celebrities.
I love adding a game to the night with printable bingo cards. Add a fun twist to the game and use your Toffifay for markers. When you win, reward yourself with smooth chocolate and hazelnut filled chewy caramel cup goodness and a rosé slushy.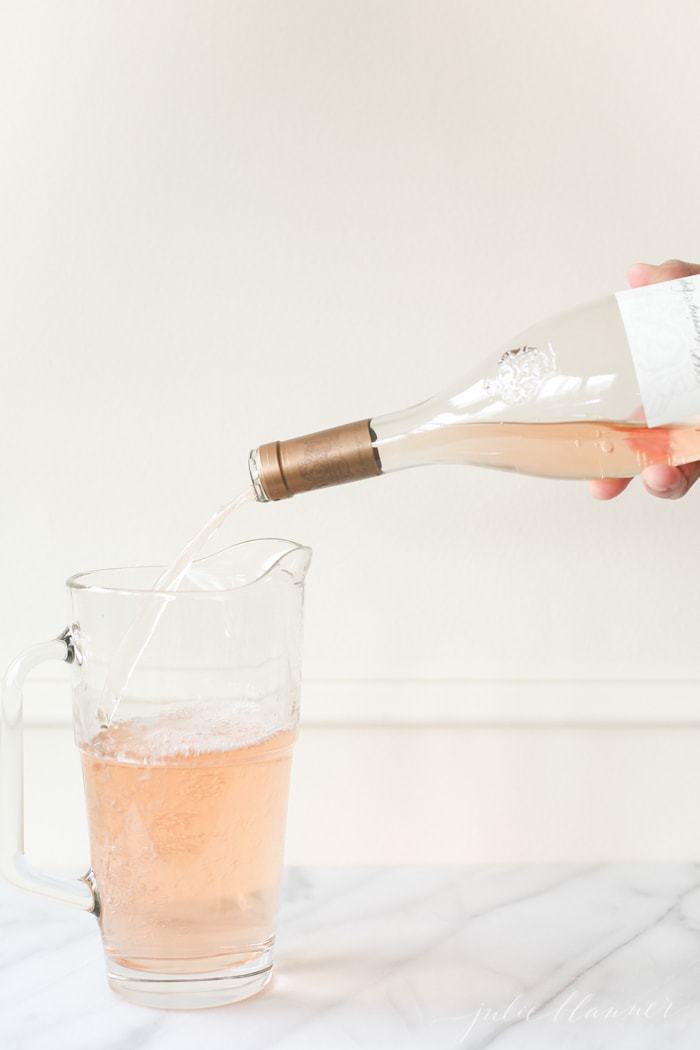 Frosé – A Cocktail for any Occasion
You don't have to be watching the award shows, or having a party to enjoy this refreshing frozen cocktail. It's the perfect drink for any night, whether you're just grilling in the backyard with the family, huddled around the tv with your friends, or hosting Sunday brunch.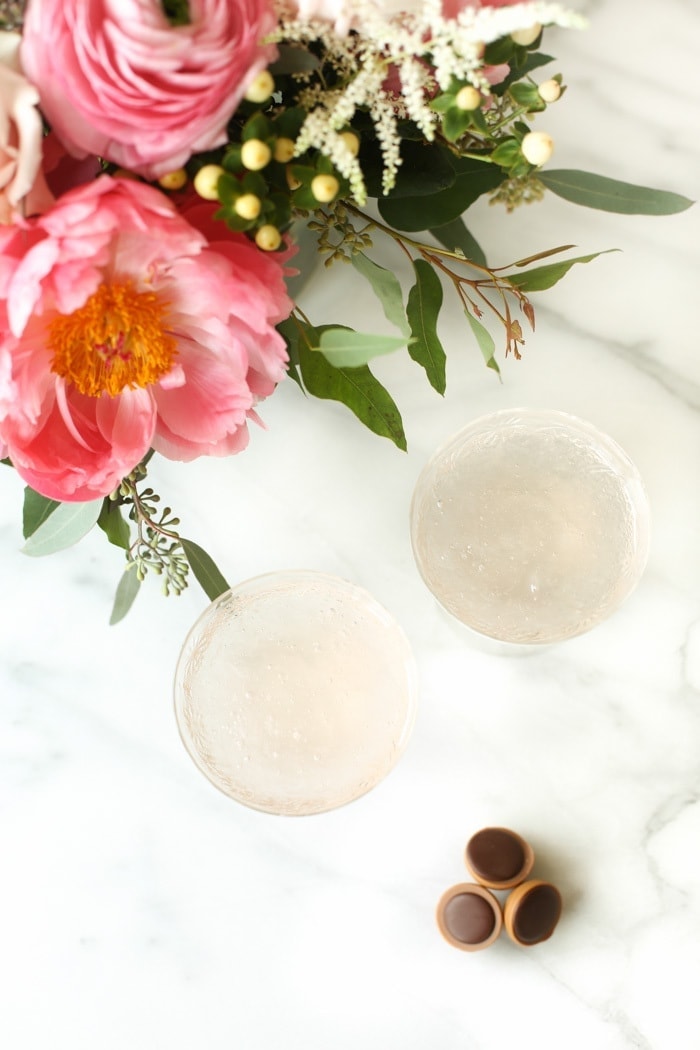 How To Choose The Best Rosé
Choosing any wine can be overwhelming, especially when it comes to rosé with all the difference in shades, origins, and prices. Here are a few things to keep in mind next time you hit the liquor store.
French Rosés are almost always dry.
Other European Rosés are also on the dry side of the spectrum.
When it comes to options from the US it's more about determining the base and sweetness. White Zinfandel, Riesling, and Moscato-based are usually sweeter and lower priced.
Most California Rosés are on the sweeter side.
Washington and Oregon Rosés are great options for U.S origins, but they are usually dry and a little pricey since both states do not grow grapes in bulk.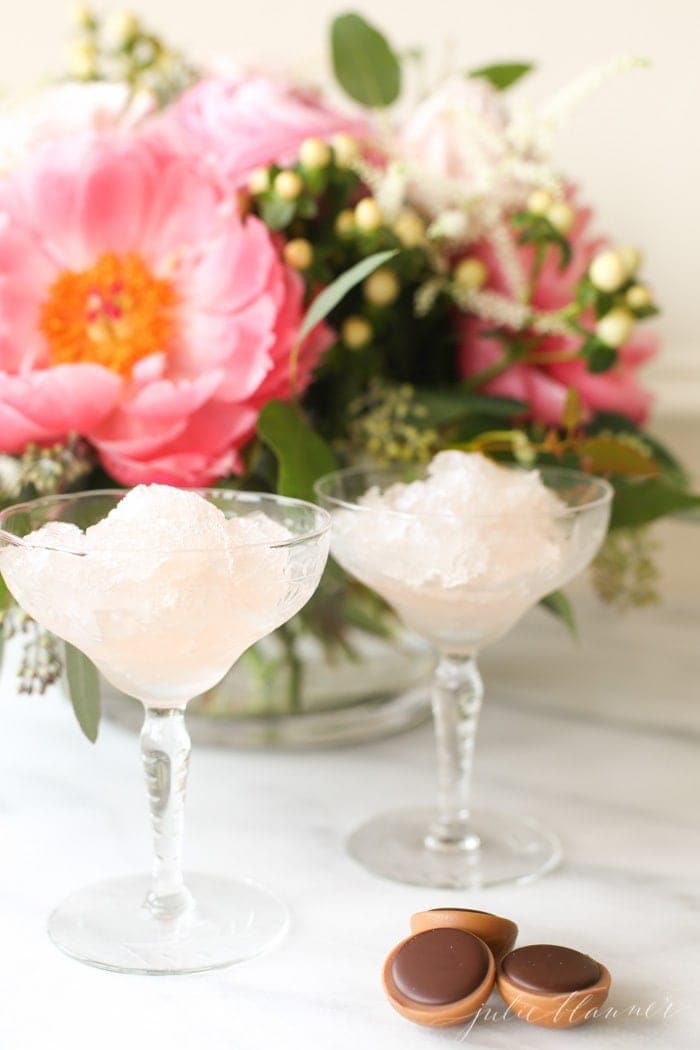 A Simple and Refreshing Frosé
I know some of you prefer to save frozen drinks for the summer, but to me, a frozen rosé is seasonless. It's an easy sip and always a crowd pleaser. With just 2 ingredients, it's just as easy to make as it is to enjoy.
It would be a crime to deprive yourself of something that simple 9 months out of the year. If it really is too cold for a frozen drink try some of these other cocktail recipes that are sure to fit what you're looking for.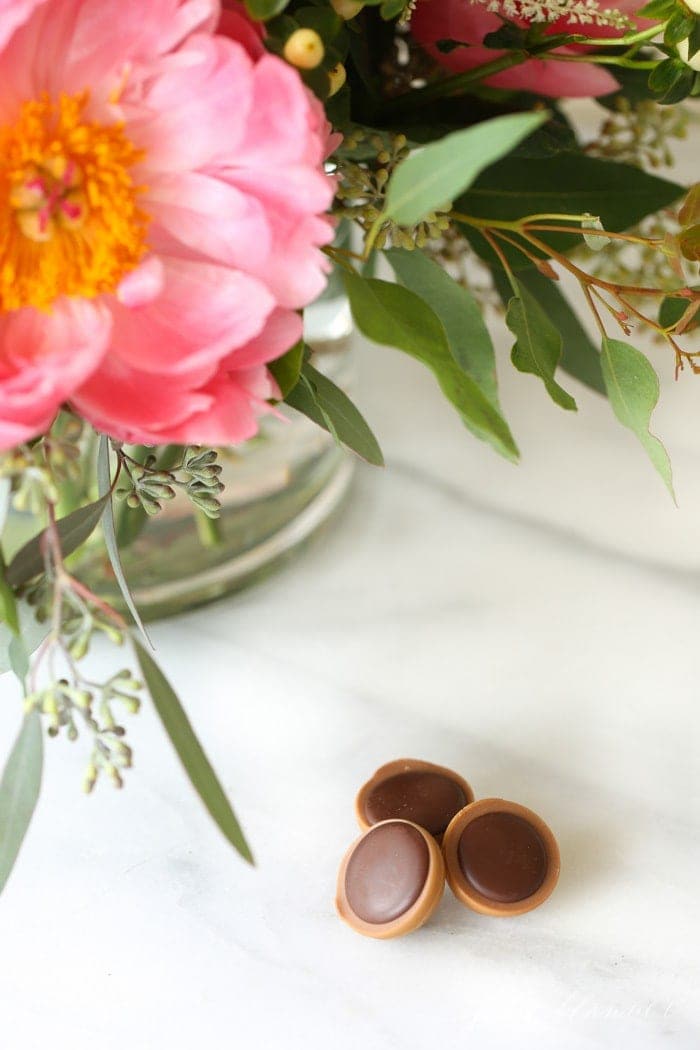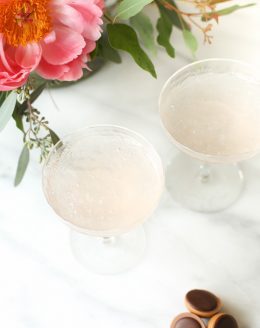 Rosé Slushy
Enjoy this refreshingly easy to sip and easy to make 2 ingredient frosé. It's a frozen rosé slushy recipe perfect for any brunches, showers or parties.
Ingredients
1

bottle

rosé

chilled

1

c

lemonade
Instructions
Combine rosé and lemonade.

Freeze for 6+ hours, stir and serve.

If it over solidifies, remove from freezer for 15 minutes, stir and serve.
Nutrition Facts
Rosé Slushy
Amount Per Serving
Calories 122
% Daily Value*
Sodium 8mg 0%
Potassium 88mg 3%
Total Carbohydrates 8g 3%
* Percent Daily Values are based on a 2000 calorie diet.
LET'S CONNECT!
instagram | newsletter | facebook | pinterest