Get all the tips for creating a warm and cozy home, even if you're a minimalist. You'll find creative, inexpensive ideas for creating the ultimate cozy living vibes without bringing in too much "stuff".
A cozy home is one that feels welcoming, comfortable and warm. You can achieve a cozy aesthetic no matter your personal design style or taste – learn the secrets!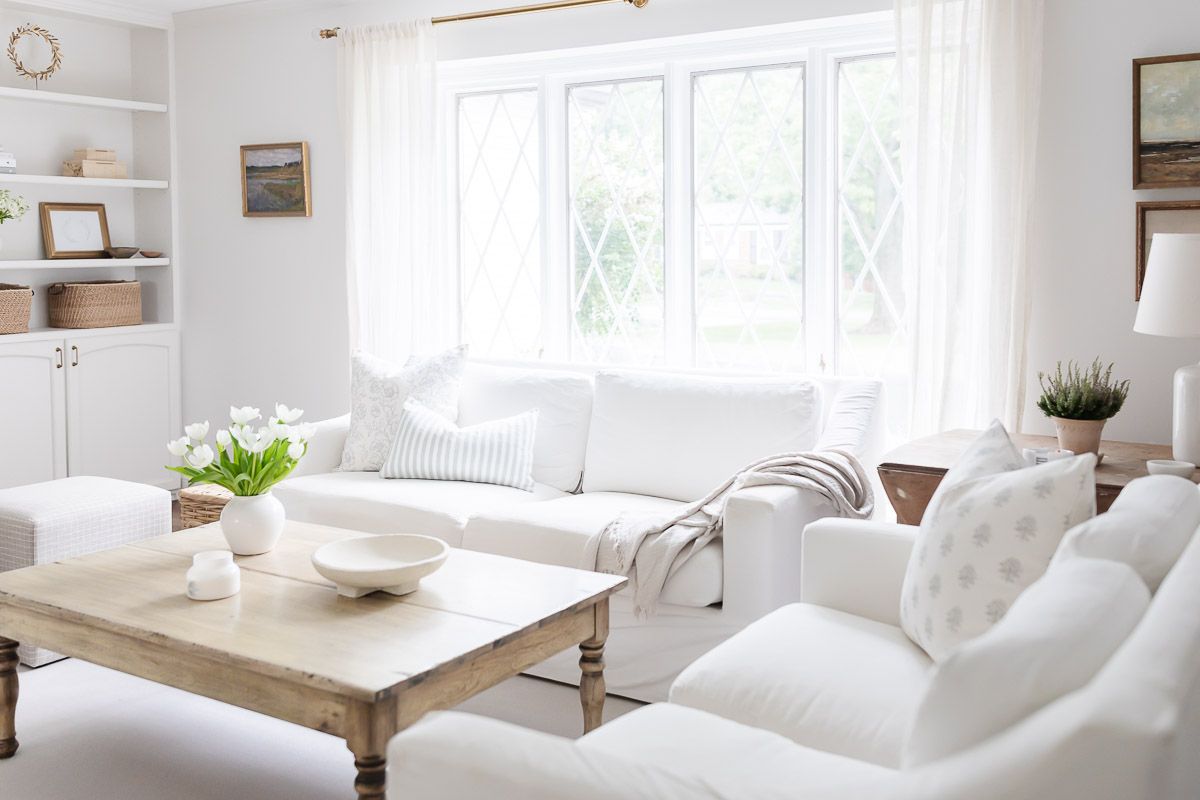 I've always gravitated toward warm and cozy spaces, much like those in Nancy Meyers films (Something's Gotta Give, Father of the Bride, The Holiday, and so many more).
That's because whether the spaces are light or dark, they are thoughtful and feel so lived-in and loved. A cozy home is often created over time, and with careful effort.
I have realized over my years of decorating both our St. Louis home and our Modern Lake House, that a few things always help create the look I'm after. Welcoming, soft, and uncluttered, but thoughtful!
An Instagram follower once commented and said "I just love how you are able to make your spaces so cozy and minimal simultaneously. It's a talent."

I was so thrilled to hear that, because that's exactly how I want our home to feel. Calm, cozy, minimal, but warm. Success!
Today, I'm going to show you how to create a cozy home with a few simple tips and tricks.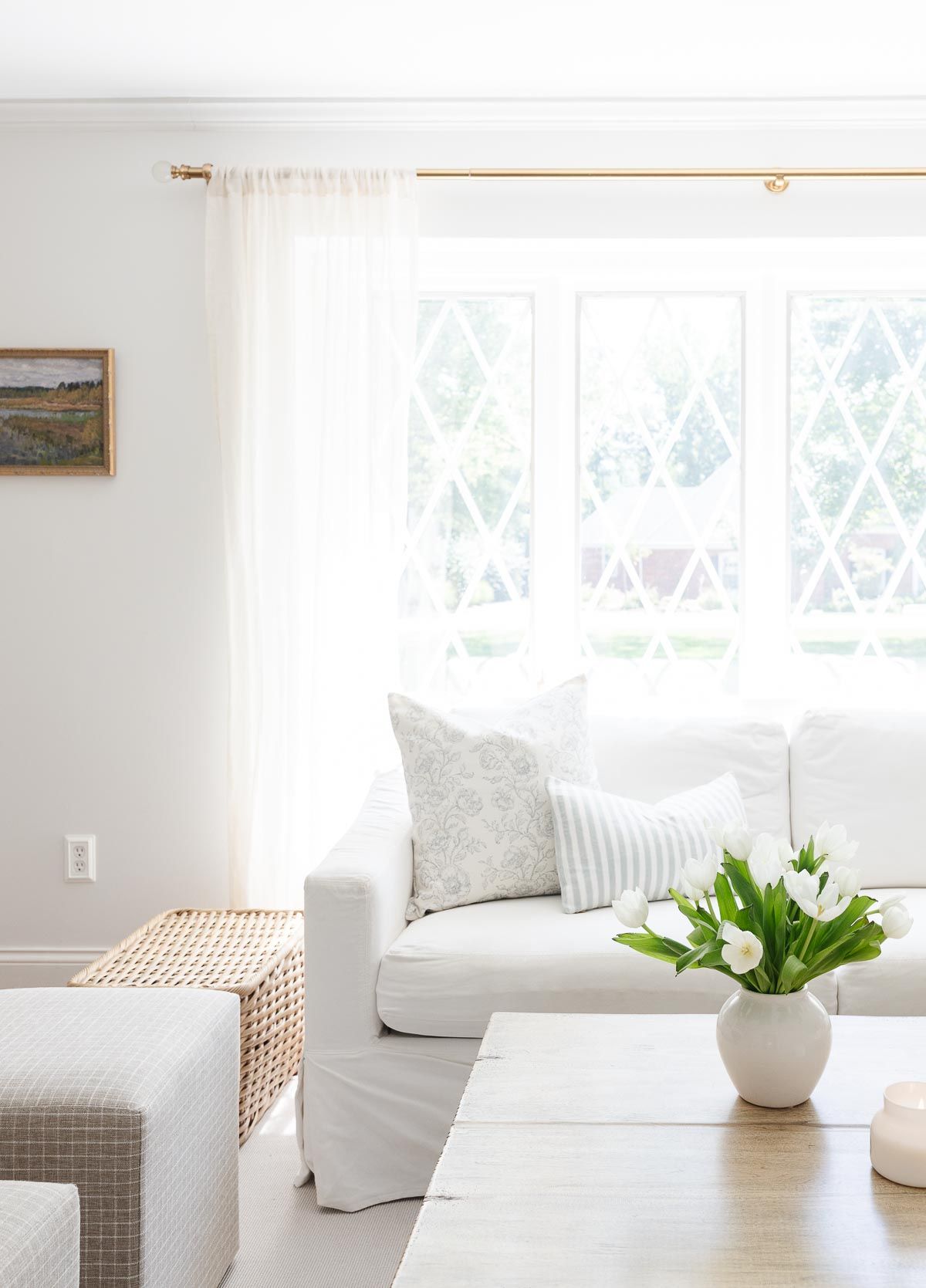 How to Create a Cozy Home
Is it possible to live minimally, but still have your home feel warm and cozy? My answer is absolutely. You don't have to bring in too much extra stuff just to create a welcoming house!
Before we jump to our favorite cozy home inspiration, here are a few tips, tricks and answers to commonly asked questions.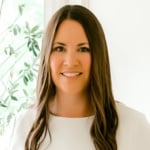 Tips
Instead of bringing in more stuff, simply change items out seasonally. This goes for pillow covers, candles, and even the wreath on your front door and artwork on your walls.
Cozy means welcoming for many people. If you're inviting guests, light the candles, start a fire, and turn on all your lamps. Instant cozy vibes!
Clutter is just that… clutter. While you want your home to be comfortable, clean surfaces are always the best start! Find my best Decluttering Tips here.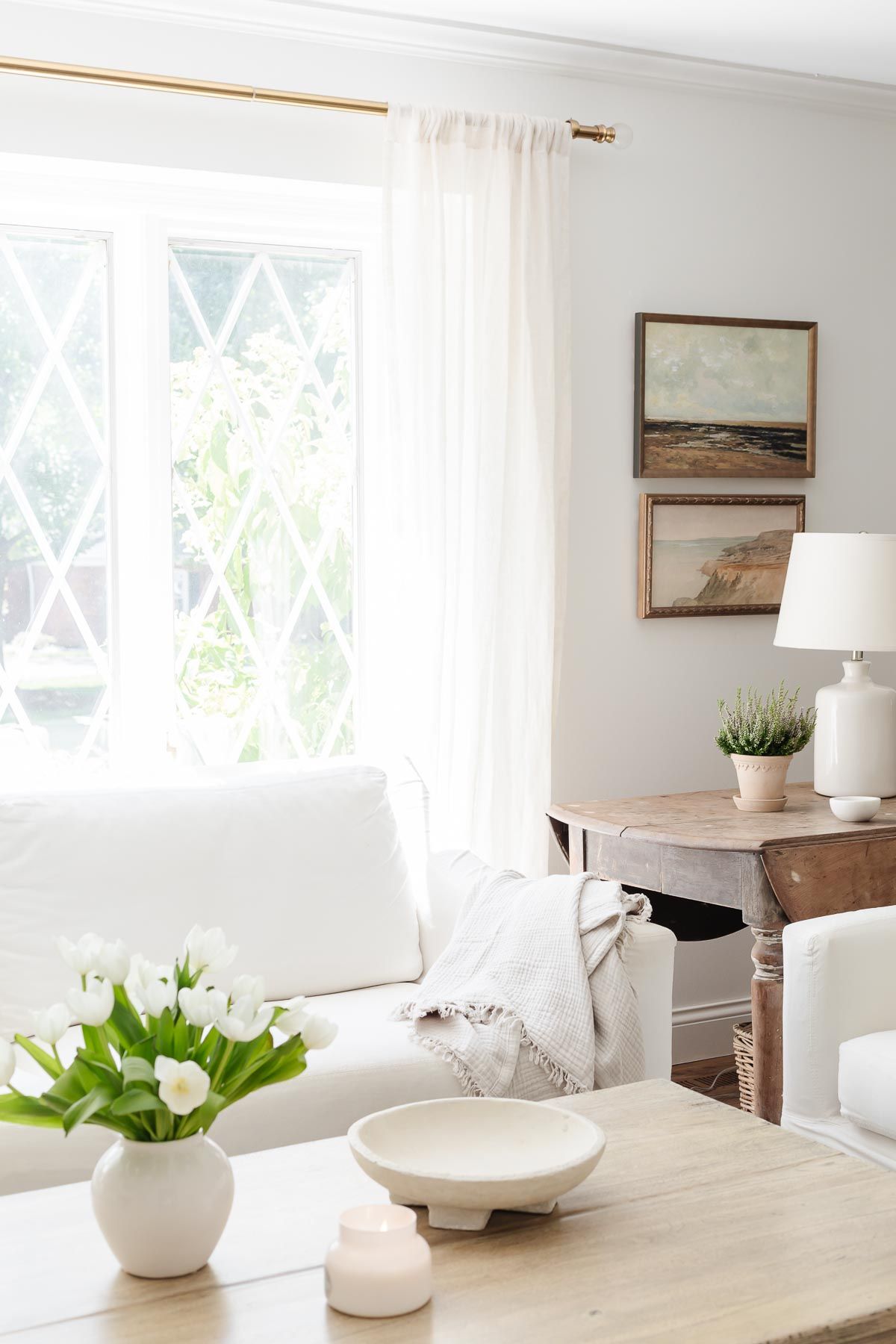 Frequently Asked Questions
What does cozy mean when it comes to home decorating?
Generally, the term cozy references a warm, comfortable and welcoming environment. It can also refer to the size of a space – cozy can be a kinder way of saying that a room is small, but still warm and welcoming.
What's a budget friendly way to create a cozy home?
Many of the ideas in this cozy home guide are budget friendly! From the tips about art work, to changing your pillow covers, you'll be surprised how many ideas are super affordable – and even free.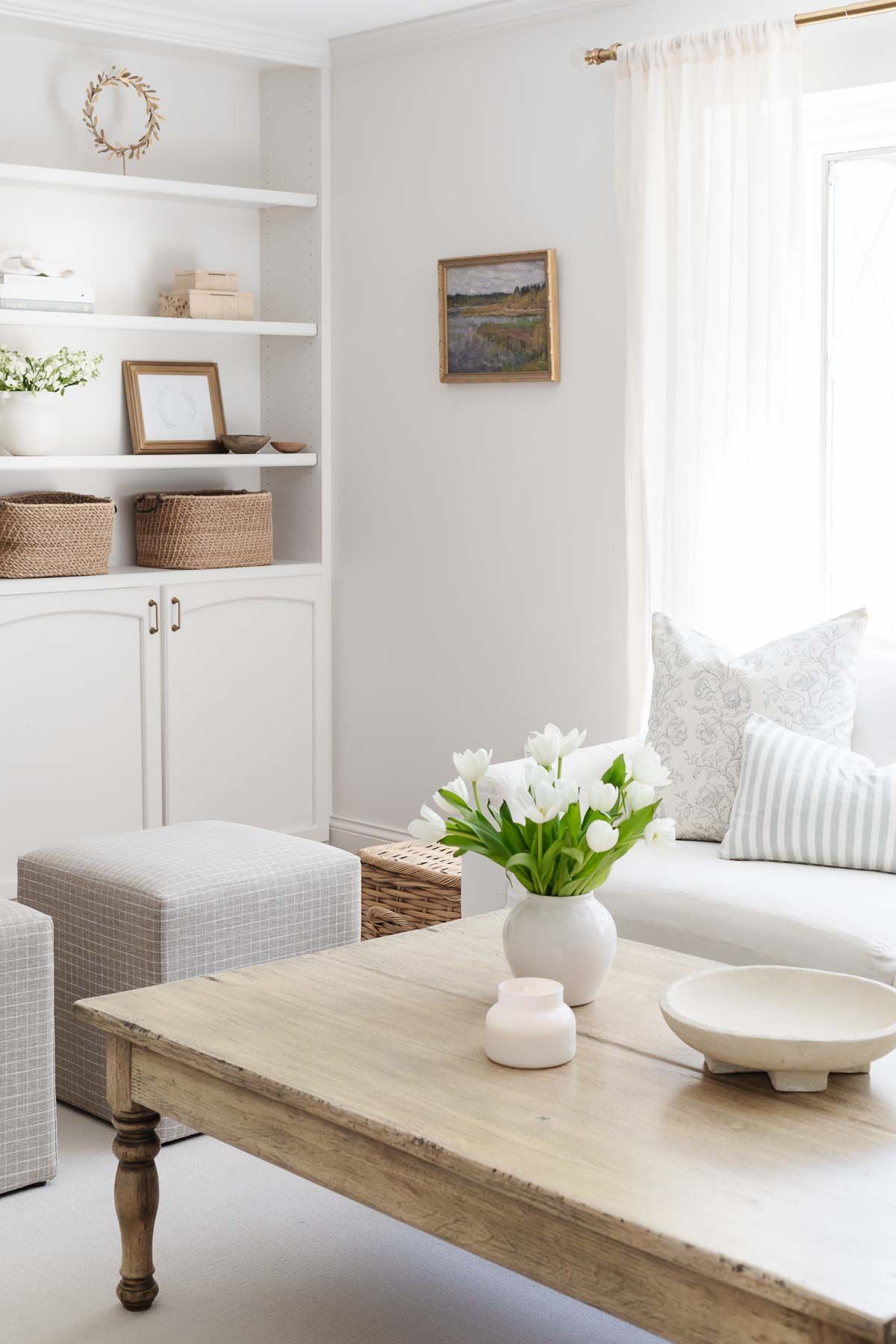 12 Steps to Create a Warm and Cozy Home
Here are a few simple ways to instantly help you create a cozy home.
Choose a Warm Wall Color
I've broken down my favorite Warm Whites, Mushroom Paint Colors and Greige Paint Colors for you! Pssst… gray by nature is cool, so if you want your home to feel warm, use a warm paint color.
I also prefer an eggshell or satin sheen because flat feels… well, flat to me. You often see it used in office buildings with stark white walls and basic gray carpet, which doesn't exactly evoke that cozy feeling. Read more about Paint Sheens here.
Having "white" paint doesn't mean your home has to feel stark – quite the opposite, in fact!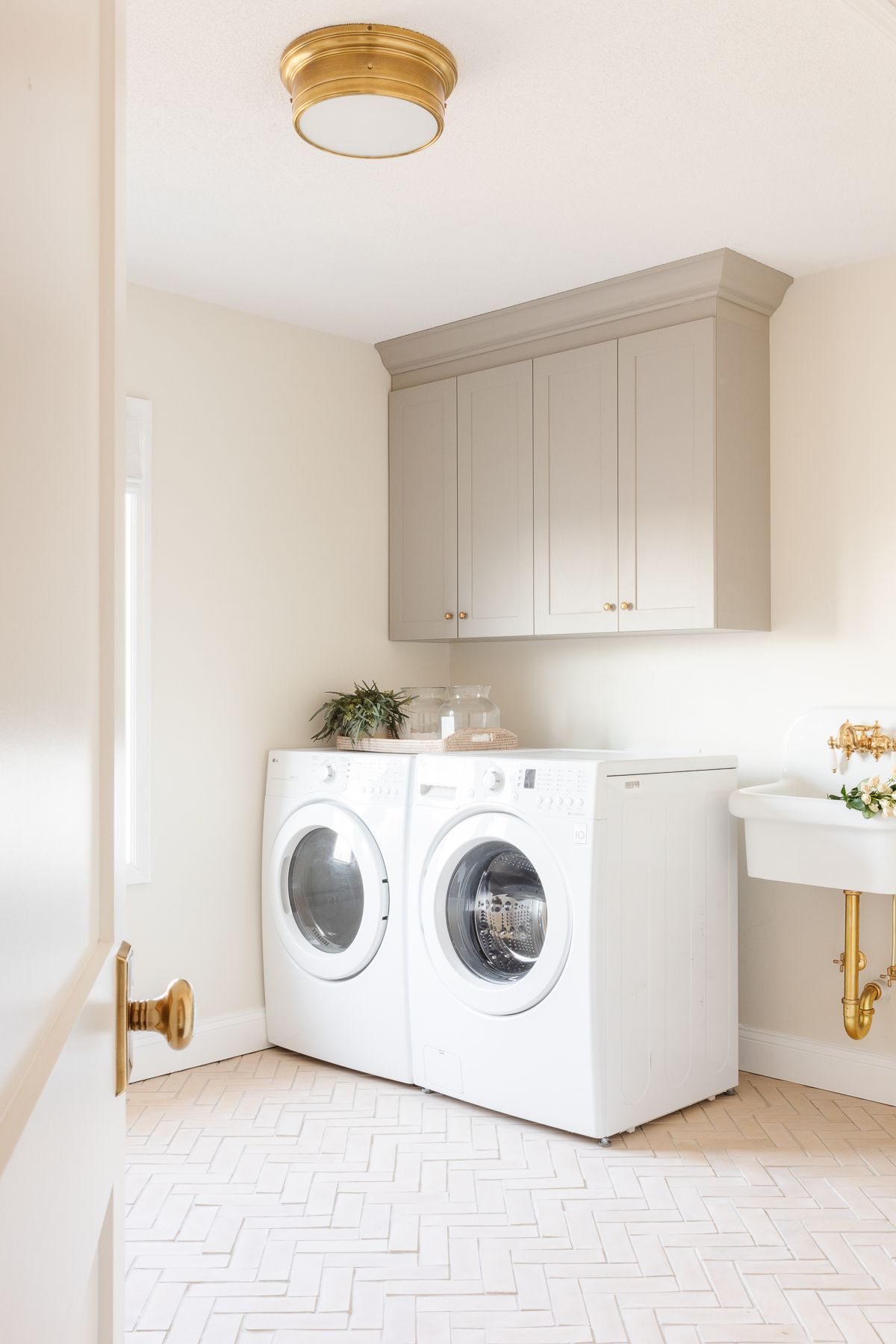 Incorporate Wood
Wood instantly warms a room, even if just a hint (like this kitchen island below). You can create a cozy home with wood elements like hardwood floors, wood furniture like a dresser or coffee table, wood shelving or accents like bowls, pedestals and trays.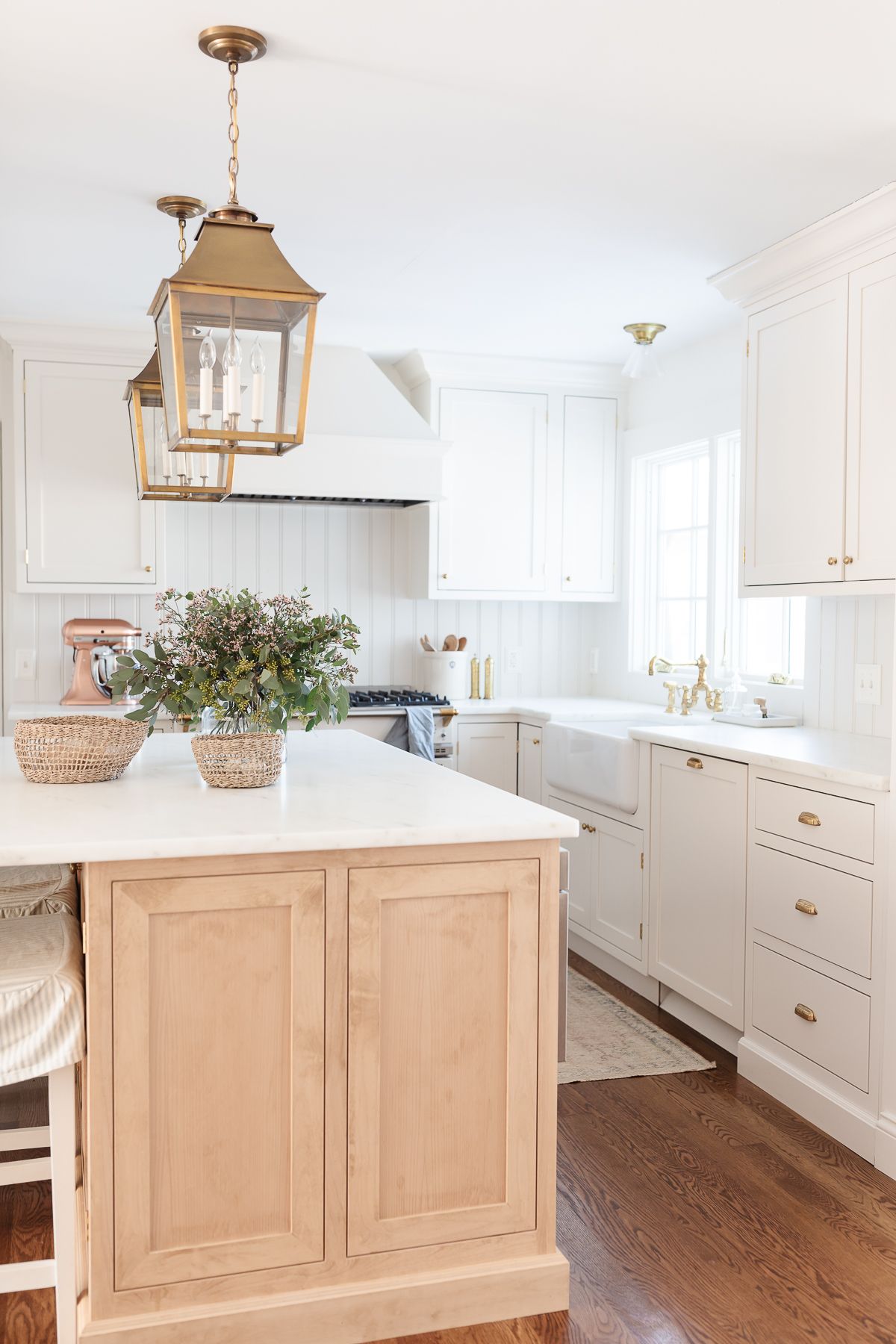 Layer with Rugs
There are so many options including pet friendly rugs, vintage rugs, indoor outdoor rugs and sisal rugs. This is an important factor in adding warmth and charm to your home, and it instantly makes a room feel cozier.
Check out Can You Layer Rugs on Carpet? for a guide to using rugs throughout your home, even when you are working with dated carpet!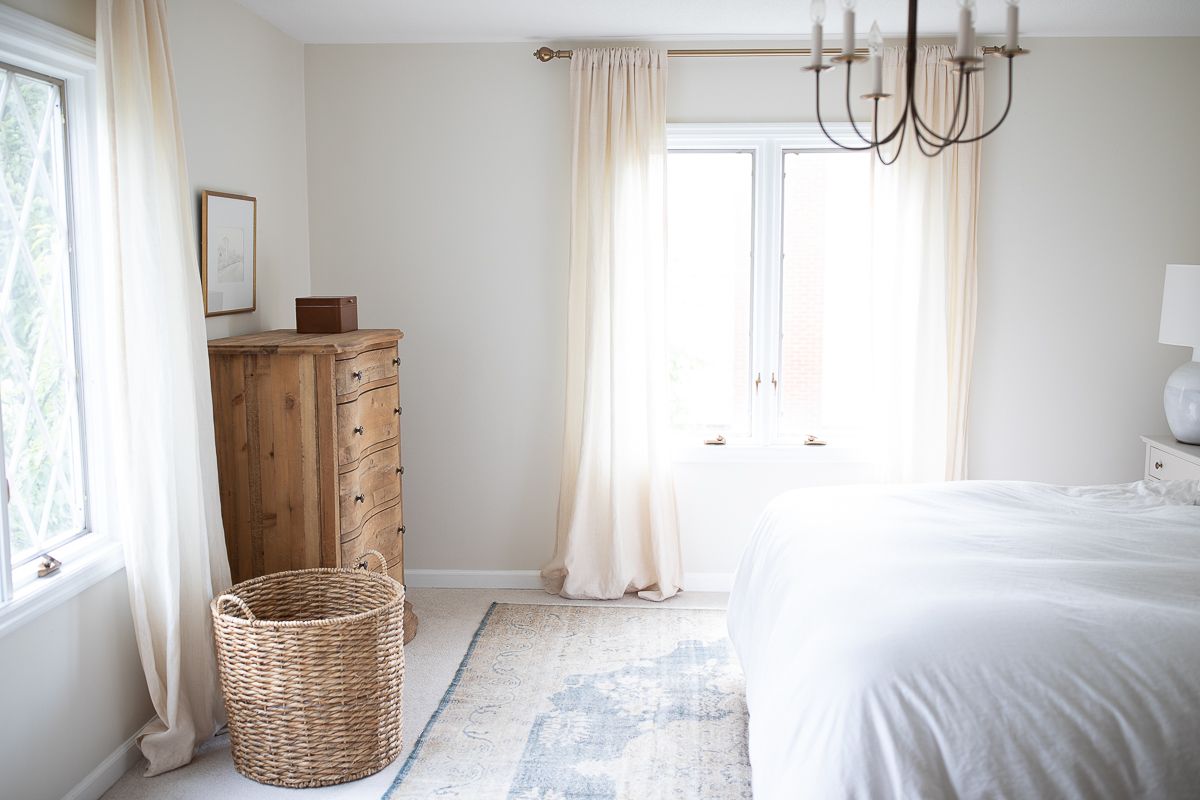 Add Texture
You can incorporate this element through all types of elements. Think bedding, window treatments, pillows, coffee table decor, textural wall art, lighting, and so much more.
Woven decor like baskets and mirrors are great textural elements. Furniture can also add so much texture. We especially love rattan for the lake cottage, but you can read about rattan bar stools, rattan bar carts and rattan beds here!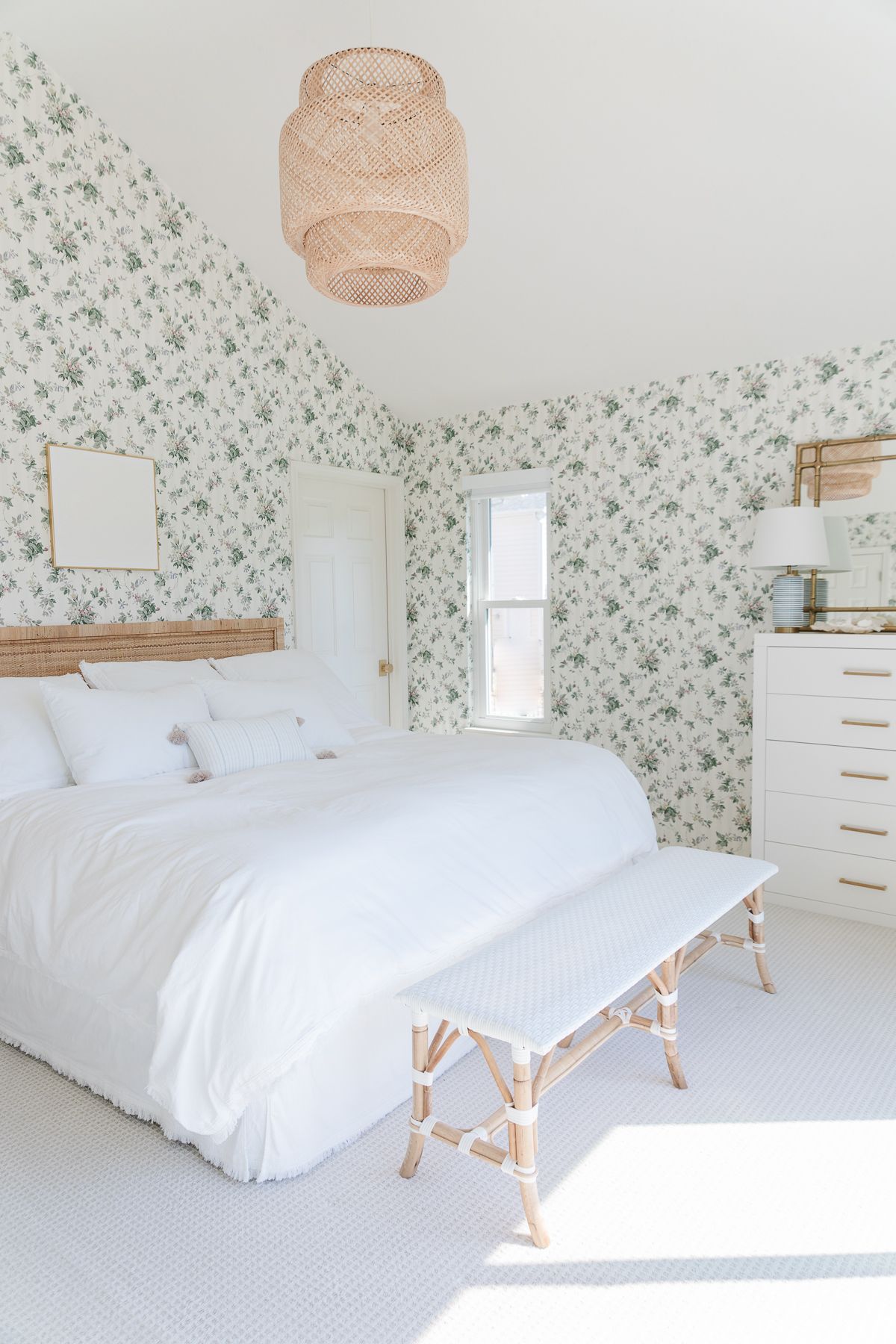 Blend Old and New
Hey, I love Ikea as much as the next girl, and I've certainly bought my fair share of new purchases for our home there. In fact, you can read my posts about shopping for an Ikea sofa vs a Pottery Barn sofa right here.
However, one of the most important ways to character to your home is to include vintage or antique pieces! They don't have to be family heirlooms.
In fact, purchasing second hand pieces on Craigslist or in thrift stores can be so rewarding and add so much charm to your home. (Read more about this antique linen cabinet and how we use it for storage right here!)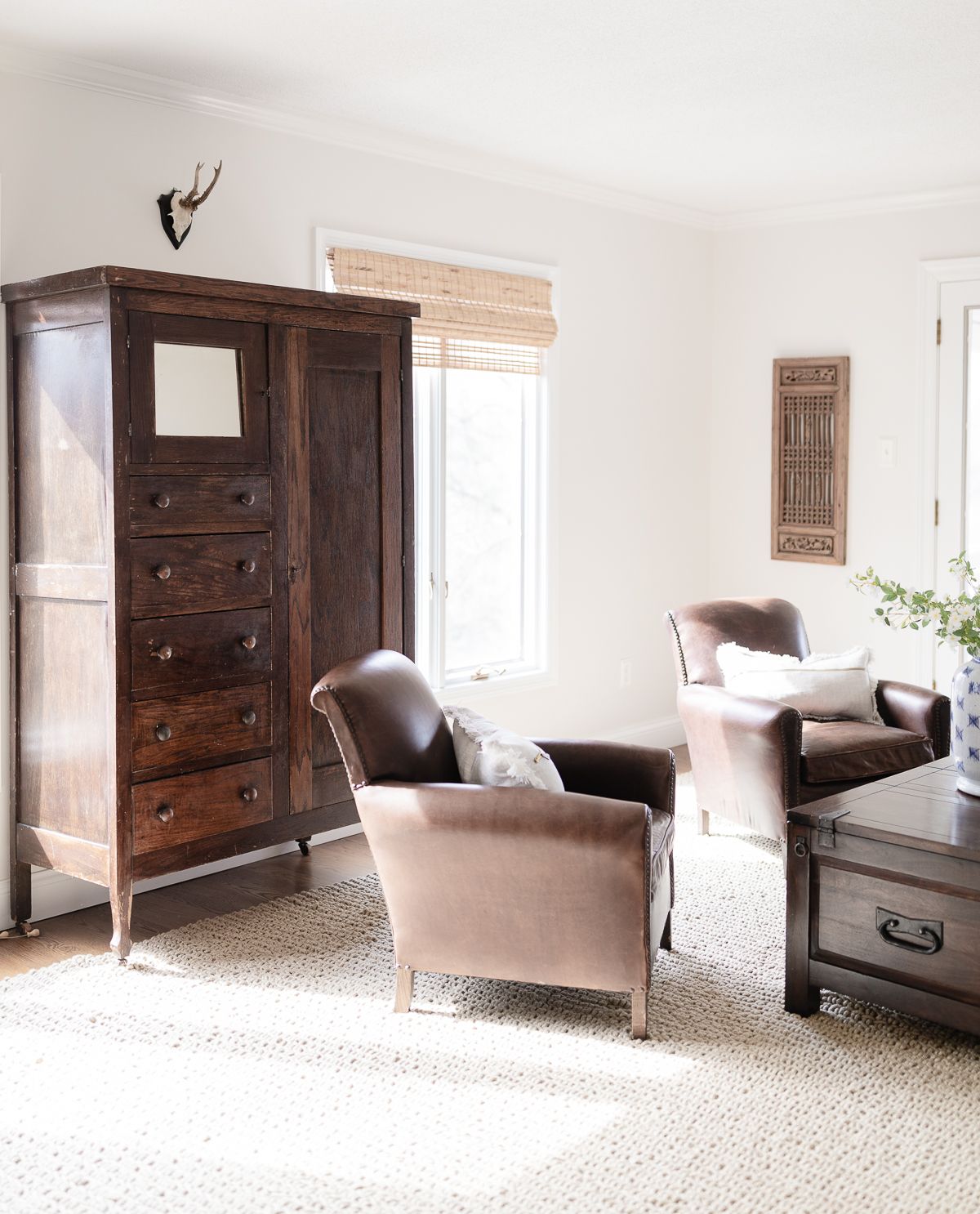 Add Something Organic in Every Room
Plants, flowers, fruits and vegetables bring so much life to a space. I've brought you some fun plant ideas in the past, including posts about the best easy care plants, my favorite ZZ plants, Meyer Lemon trees, Fiddle Leaf Fig Tree, and Olive Trees.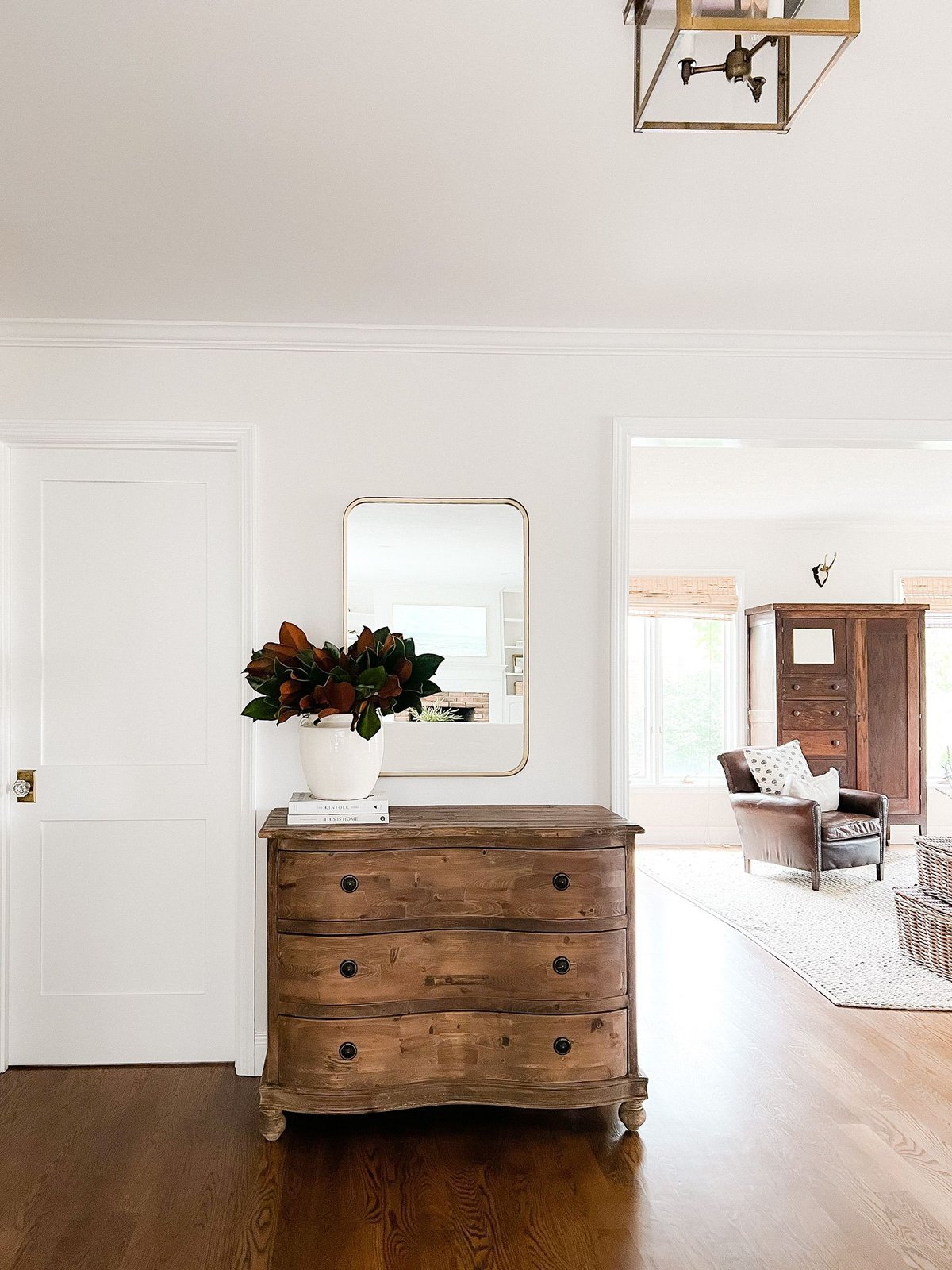 Find more of my favorites in my Amazon storefront!
Add Pillows and Throws
One of the easiest way to change the look, feel, and seasonal style of your room is to change your pillow covers! It's one of my favorite tricks for a cozy living room, and it's easy to learn how to mix and match patterns and styles.
Blankets and throws are a necessity in our cozy home at all times of the year! Simply store them away in a pretty basket when not in use if you don't love the look of draping across an ottoman, sofa or chair. They add instant cozy living vibes.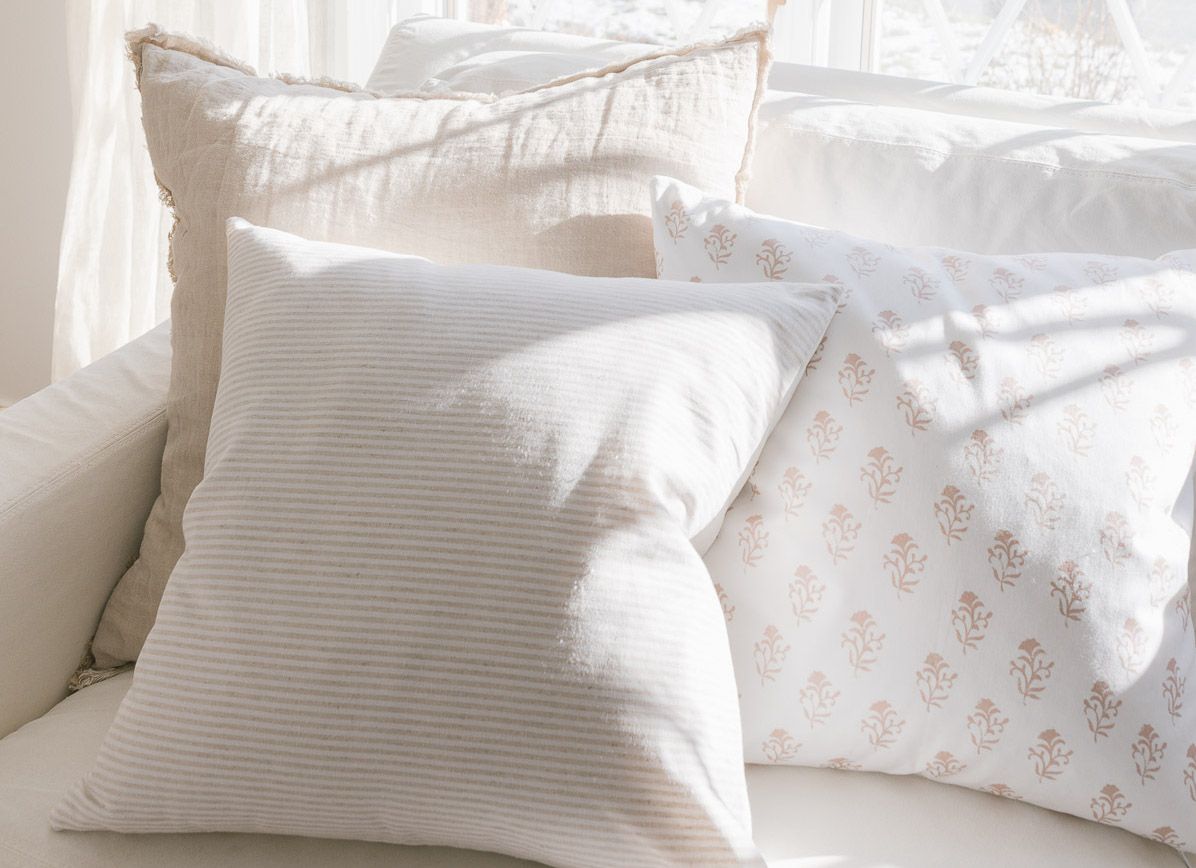 Hang Pictures at Eye Level
This is such an easy change to make in your home! Why does it seem like so much art is hung so high on walls? It should ideally be at eye level, where your family and guests can enjoy the items that are so special to you.
This creates an element of instant warmth and comfort in your cozy home, and it invites guests to get to know you and your family's story more intimately.
Get all my best ideas for my favorite Amazon art, free art sources, and find amazing ideas for easy DIY wall decor ideas throughout your home right here!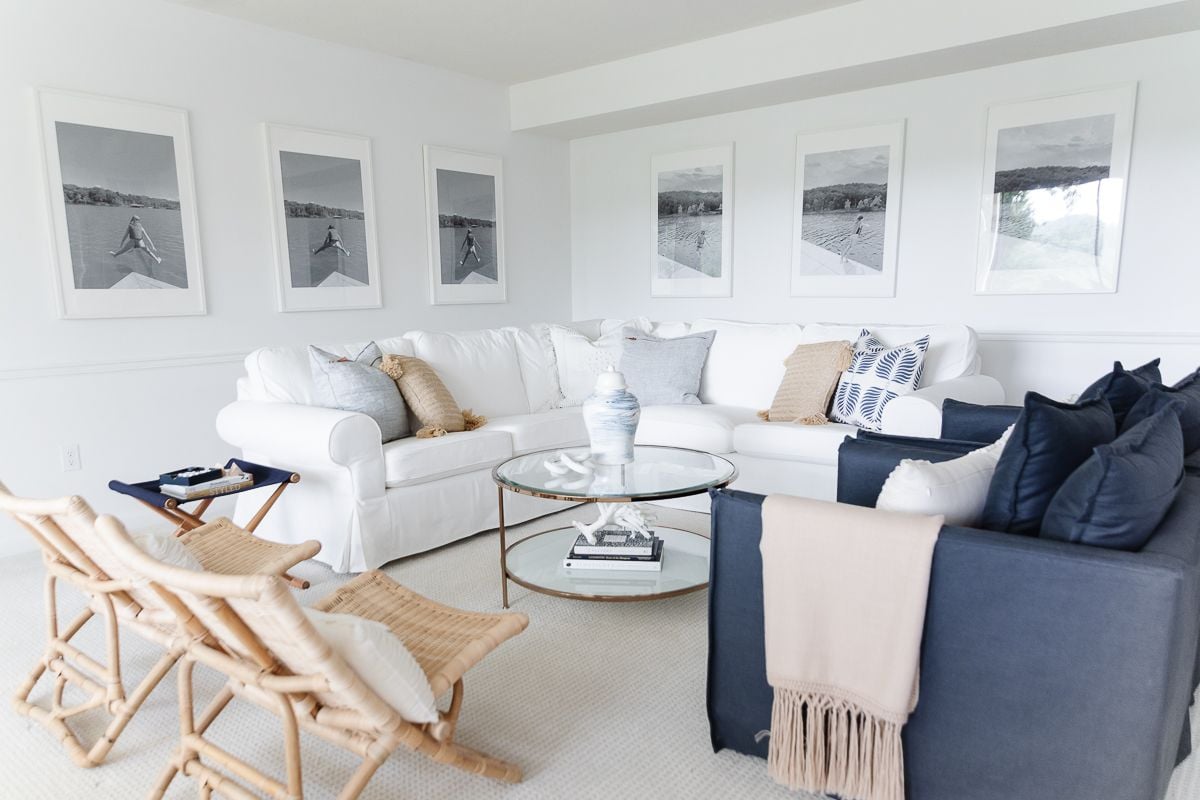 Mix and Match
Your furniture doesn't have to come in a set, and maybe it shouldn't! It feels so much more interesting to mix and match color, style or both.
One of my favorite tricks is to buy furniture that can do double duty because it's flexible and multipurpose – making it so easy to mix and match.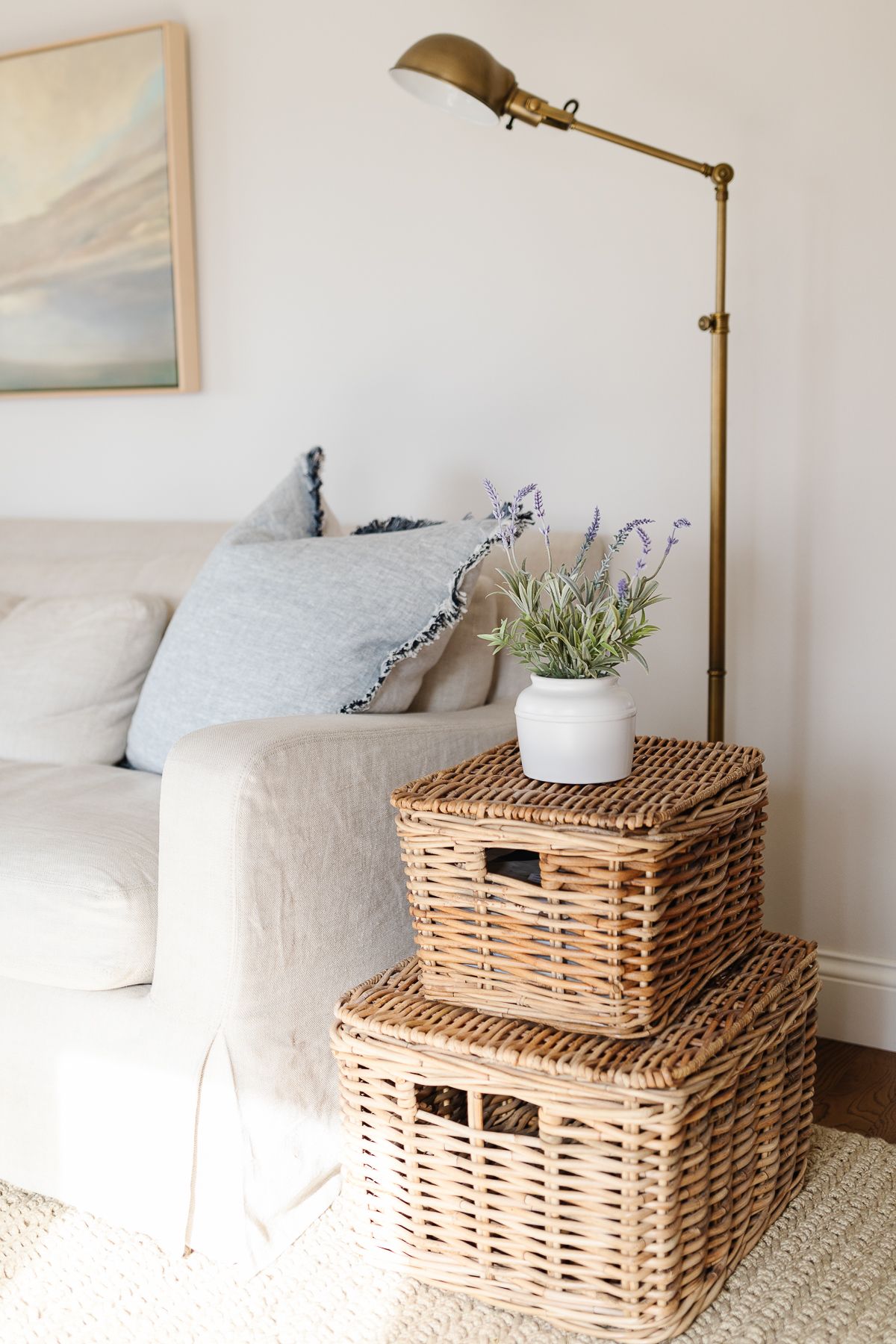 Use Warm Metals
According to my favorite interior designers, brass is here to stay. Of course, you can clearly see my love for the patina of raw brass throughout these images.
There are a variety of ways to bring in warm metals to your home! Search for antique silver plated pieces at thrift stores, add a fresh brass tray to your coffee table or a mirror to your walls.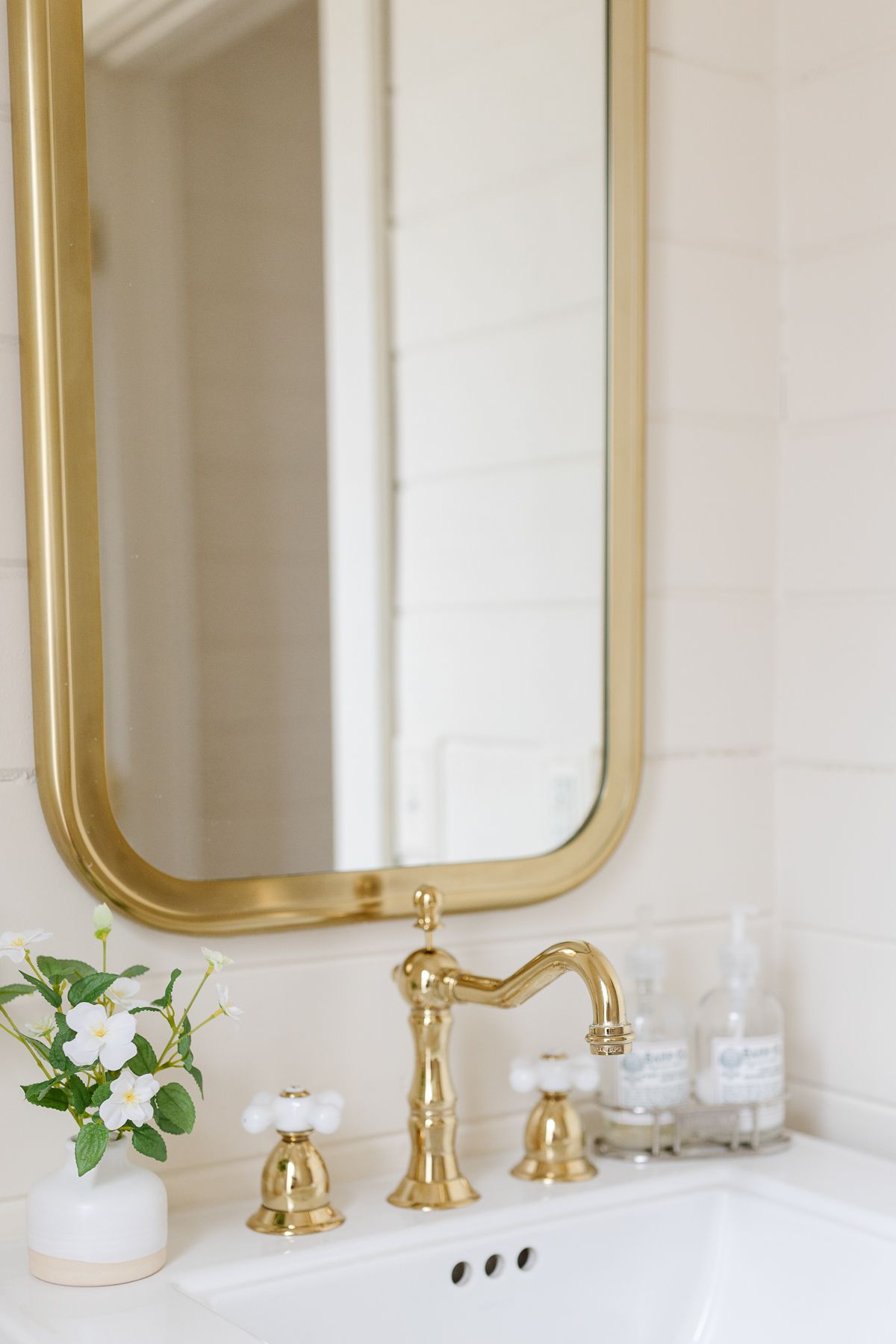 You can integrate Unlacquered Brass Hardware, Unlacquered Brass Kitchen Faucet, or Brass Lanterns for a living finish that will patina over time. Copper Curtain Rods and copper lights are another way you can add a little warmth.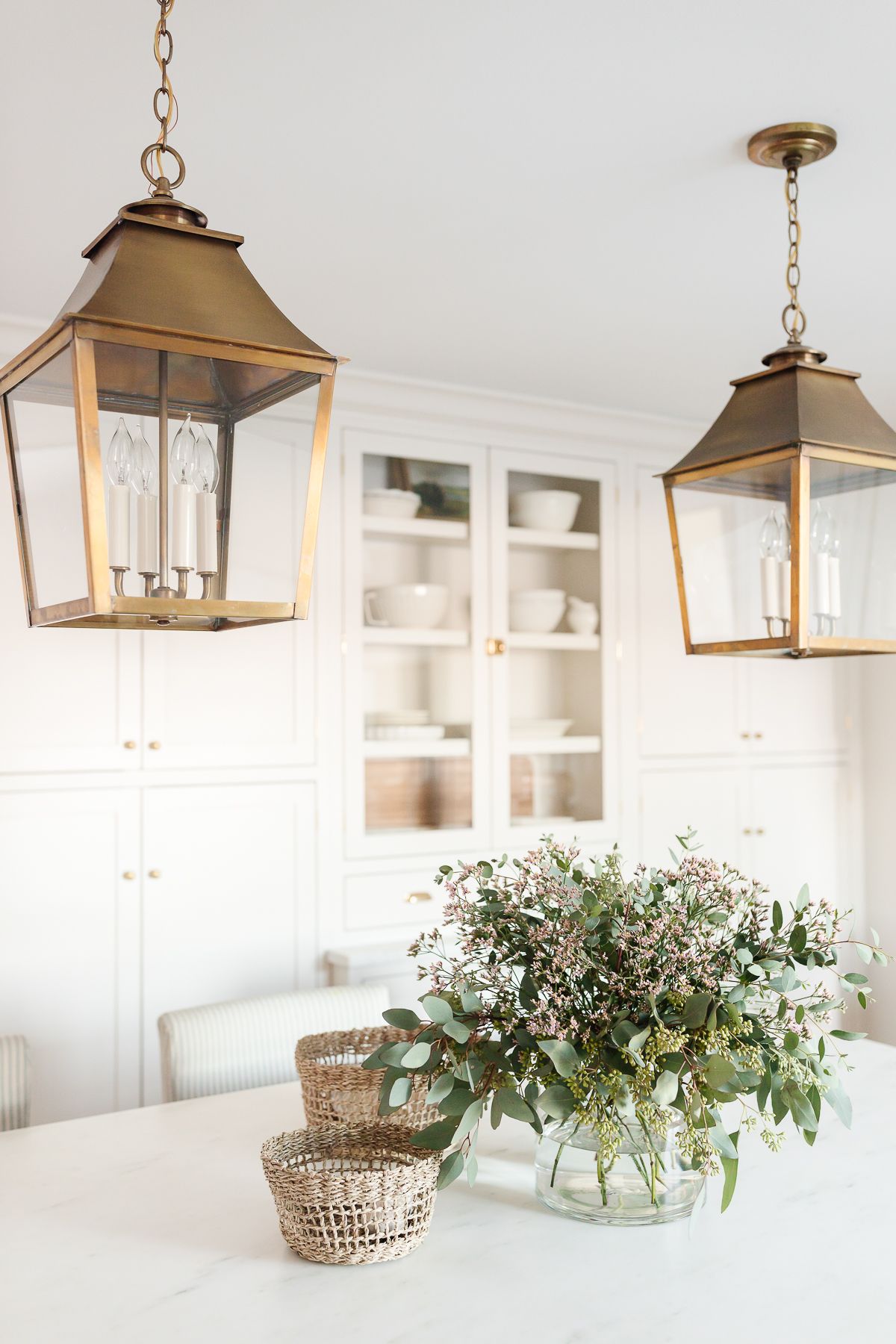 Lighting
Lighting goes far beyond your overhead fixtures! Consider adding pretty lamps and sconces to your home. Dramatic flames like a fireplace, or even something as simple as candle light to bring all the cozy vibes into your home.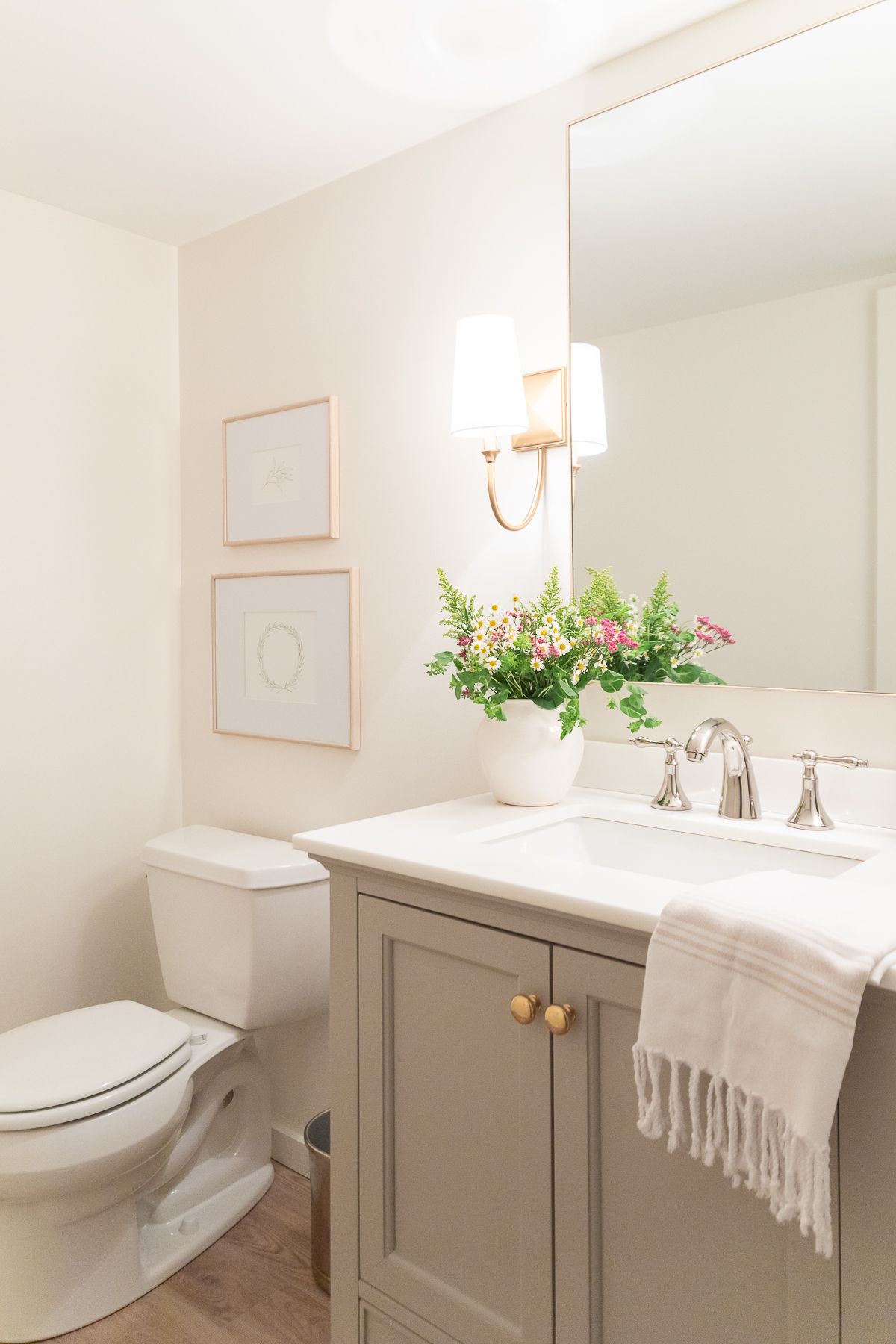 For instant warmth, update your lightbulbs. The right warm lightbulbs will add a beautiful warm glow! You can learn more about our favorite light bulbs that we use throughout our homes at the link above.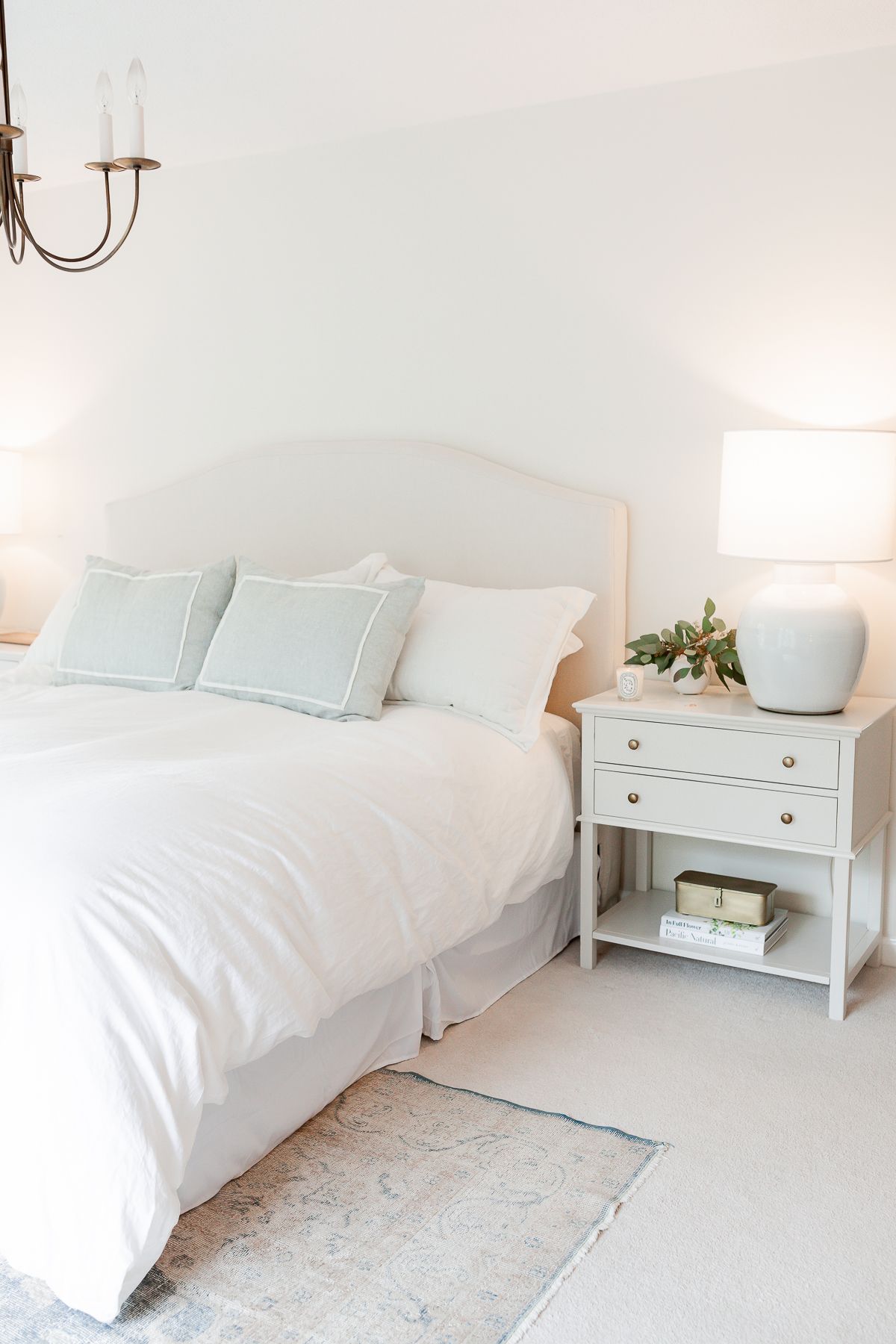 Let's keep in touch! Receive exclusive content, including never-seen-before photos, our favorite home decor DIYs and more!
More Decorating Inspiration
Design Guides, Decor & Tips