Get all the details about purchasing a Pottery Barn Sofa to help make your decision easier. We're talking comfort, style and design elements for a Pottery Barn Slipcovered Sofa versus our Ikea model!
Whether your style is ultra modern, traditional, farmhouse or shabby chic, a white slipcovered sofa can work in any living space!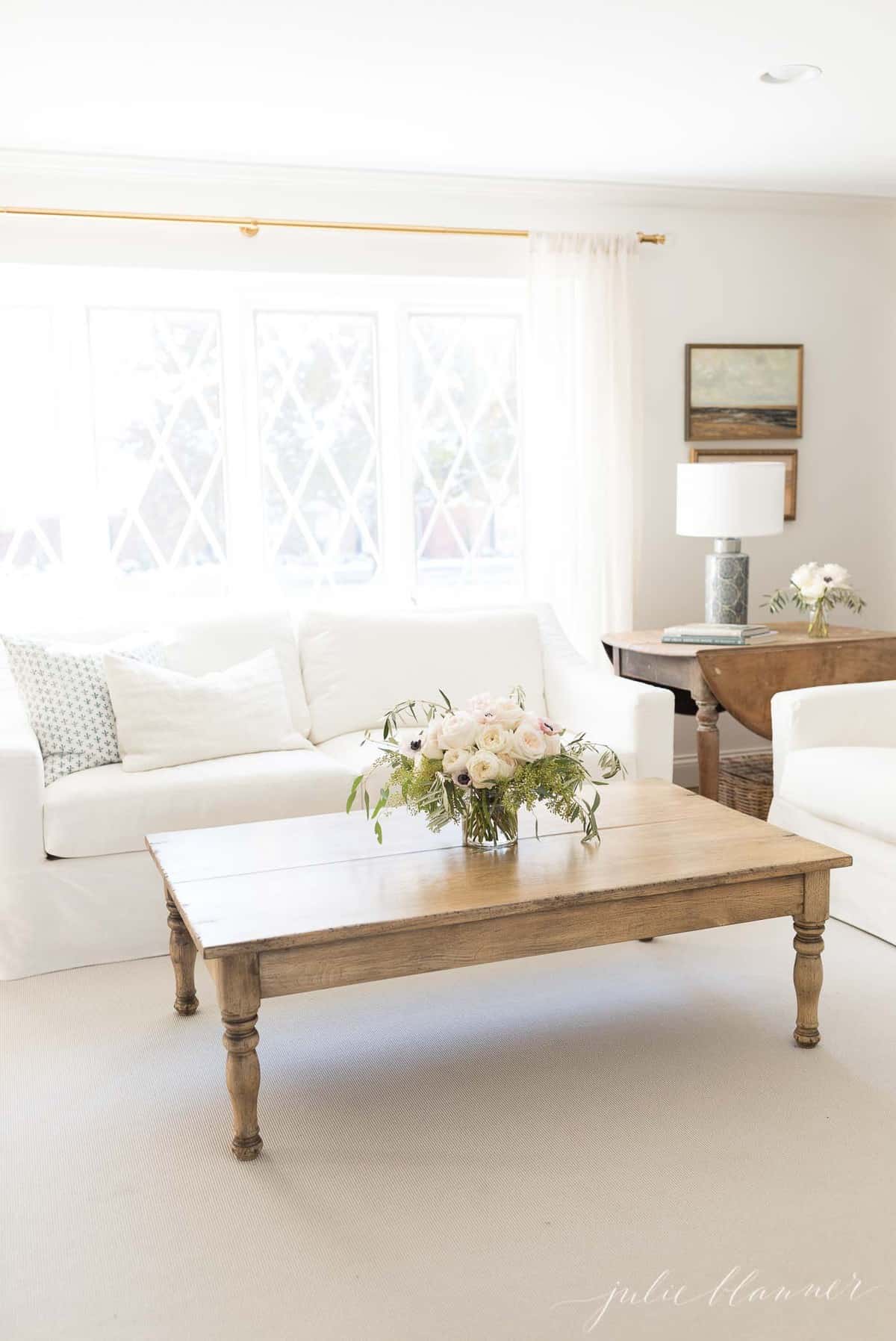 We've all been there. Choosing a new sofa can be so stressful. We measure, we look at fabric samples, we tape out the shape on the floor for scale and measure again.
We search every local showroom floor, hoping to find the one. It has to be the right style, the right materials, and the right price.
It's no easy task, friends… and after all that debating, that's how I ended up choosing our Pottery Barn sofa. I've also chatted about our Ikea Sofas and the Sectional Sofa in our basement, so read on!
When we were searching for new sofas for our living room, we knew that we wanted clean, simple lines in an updated traditional style. Above all, I wanted something that would work well for our family- it needed to be comfortable, look good, and hold up to the messes that can come along with three kids.
It's a question I receive all the time… "Julie, how do you live with such a white house, with white sofas?" The answer lies in one of my best housekeeping tips… I like to see the dirt, so I can clean the dirt. A slipcovered sofa allows me to do just that!
It's a tale of two different sofas in two different living rooms. Read on to find out what we love and appreciate about each!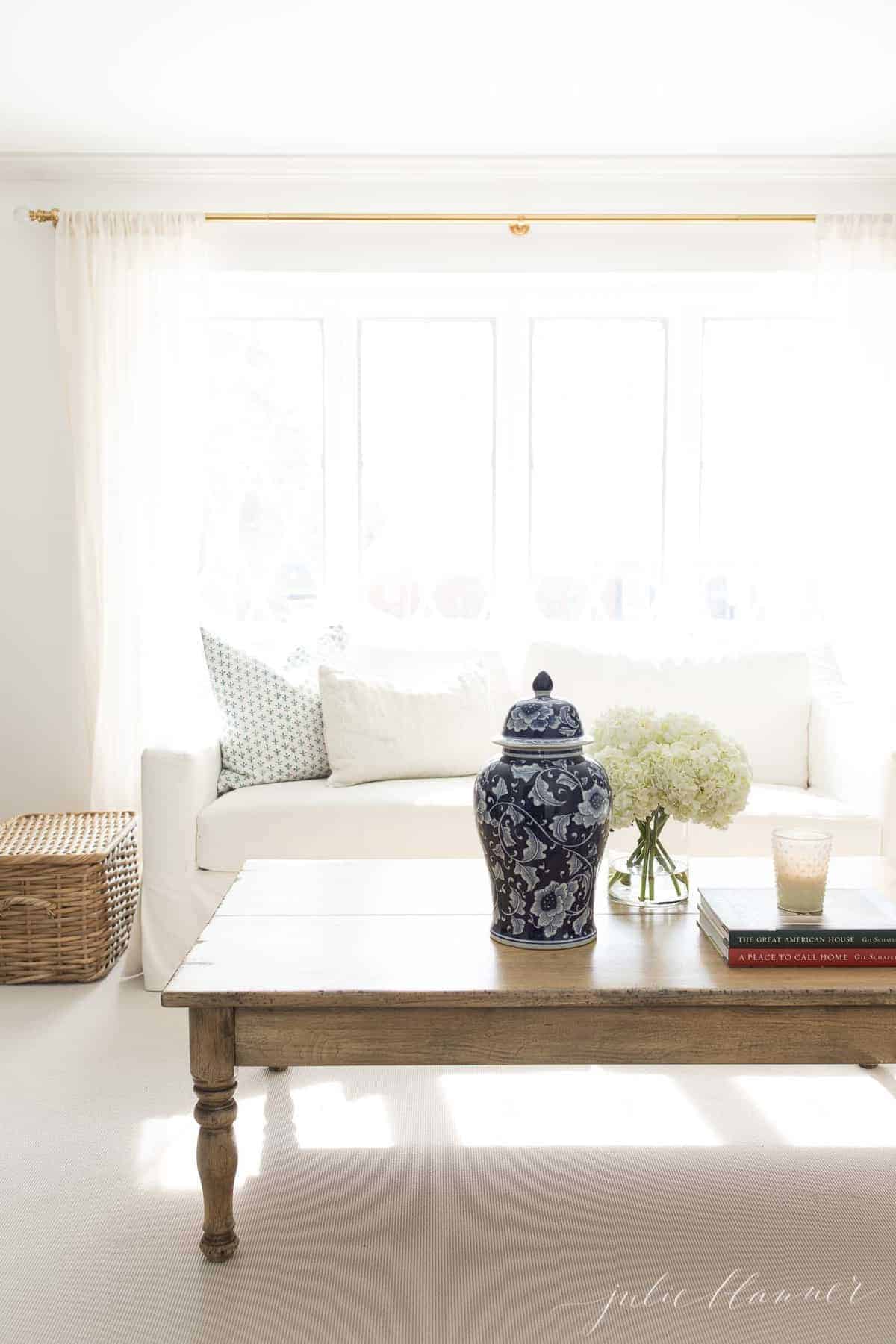 Why You'll Love this White Pottery Barn Couch
Stain resistance – they are surprisingly easy to spot clean
Slipcovers are machine washable
Comes with a wide variety of replacement slipcovers
Incredibly comfortable
Perfectly deep seats
The down wrapping is a little more luxurious than many of the sofas at similar price points
White Slipcovered Sofa
Slipcovered sofas because you can easily wash or dry clean them (note instructions for your specific couch). Each individual cushion cover can be removed so you can wash as needed or wash them all for a complete refresh.
There's one large slipcover that covers the sofa itself. Note that you may need to steam to release the wrinkles (primarily on the skirt).
When you can see the dirt, you can clean the dirt. Living with a white slipcovered sofa is actually the ultimate housekeeping hack!
That's right, I simply wash the slipcover in my own washing machine when necessary. Even better? If you want to take your stain protection up a notch, consider one of the Sunbrella High Performance Pottery Barn slipcovers.
Get more of my best tips for how to design and maintain a clean house right here. You can also see more of this sofa in action in our living room tour.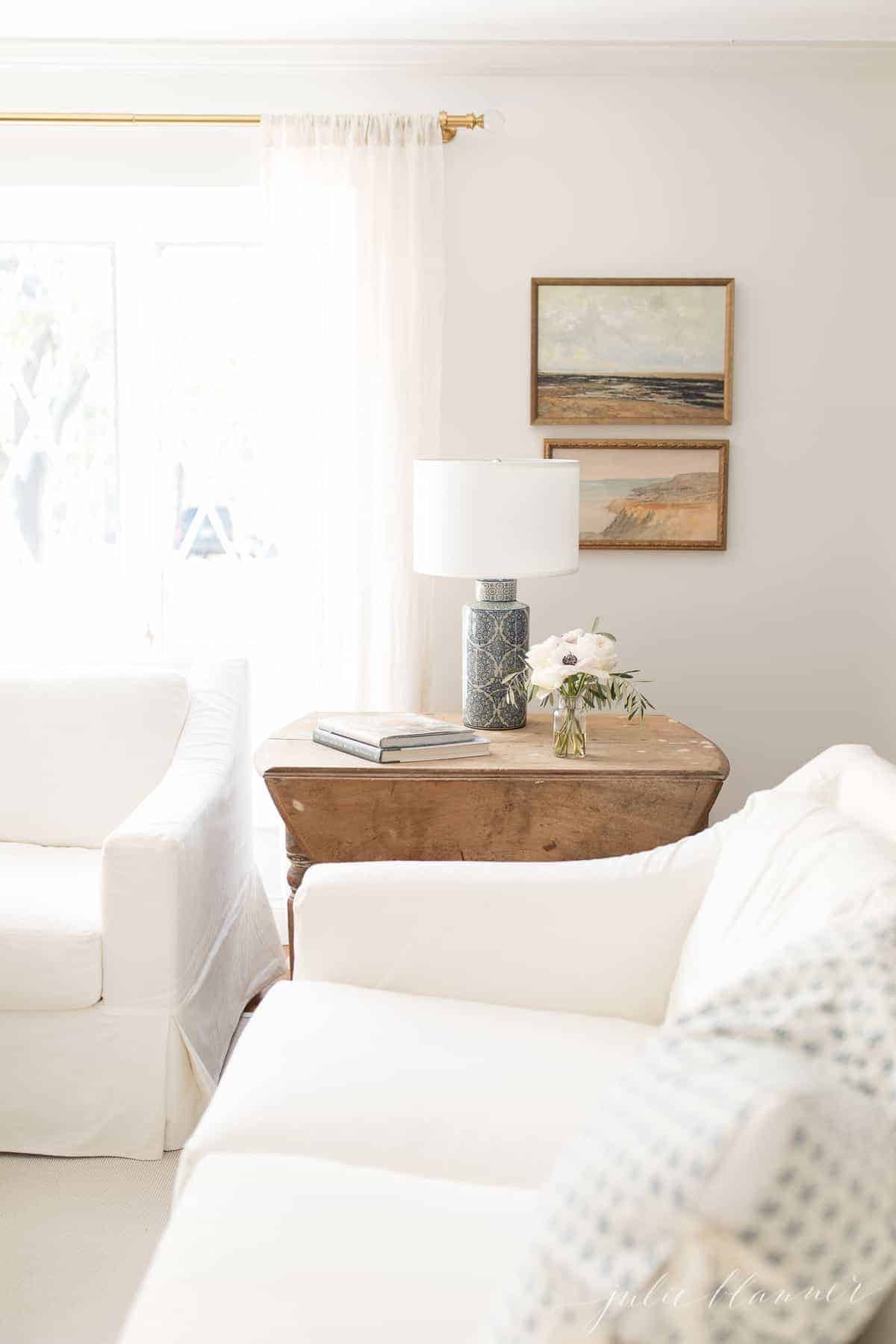 Learn all the secrets and techniques for how to measure furniture, and get it right the first time!
Pottery Barn Slipcovered Sofa Styles
Pottery Barn sells several classic slipcovered couch styles. We wanted the traditional look of a full slipcover, with no legs showing. Here's a few of my favorites, and the ones that we considered when we chose the York Slope Arm.
York Slope Arm – this is the option we chose and you can read more below.
Comfort Roll / Square Arm– these are so affordable and cute! Not quite as sleek/elegant as the York, so that's why it won out.
Roll Arm – this is the classic Pottery Barn slipcovered sofa. In my opinion, it will never go out of style… however, it's very close to the Ikea sofa we have at the lake.
Pottery Barn English Arm Slipcovered Sofa – I do love this style, but it wasn't quite as transitional as we wanted. While I am very traditional, my husband likes a touch more modern.
The SoMa Hawthorne – this one is similar to the English Arm, and while it is beautiful, it felt just a touch too traditional for us.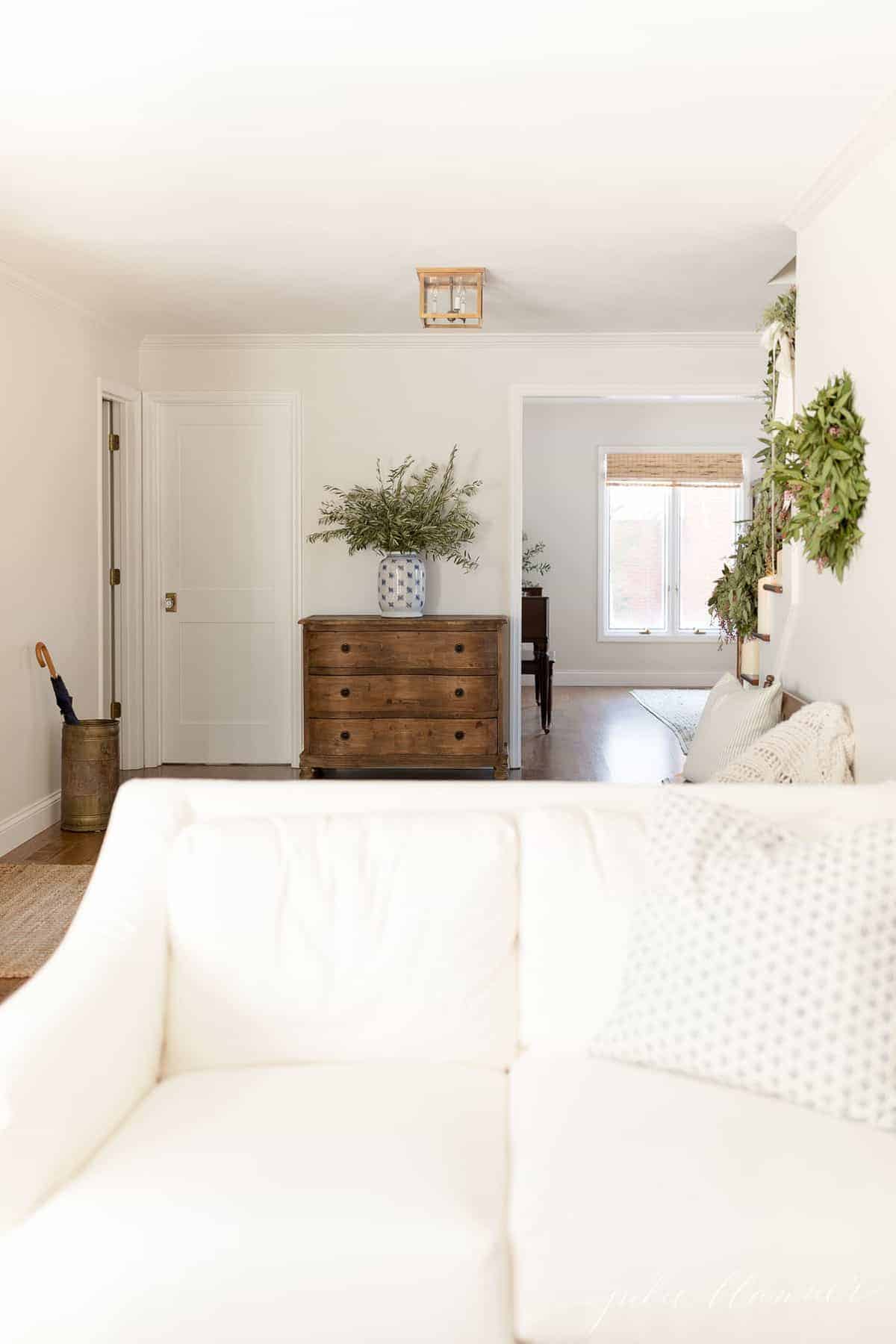 Why did the York win out? We loved the sleek, slightly modern line of the sloped arm, and the depth was perfect for us. Because we are minimalists, the design needed to be simple and compliment the rest of our home.
The down-wrapped cushions add a little luxury and it's so comfortable, even for Netflix binges. In fact, I work on my laptop from this sofa for many hours of the day!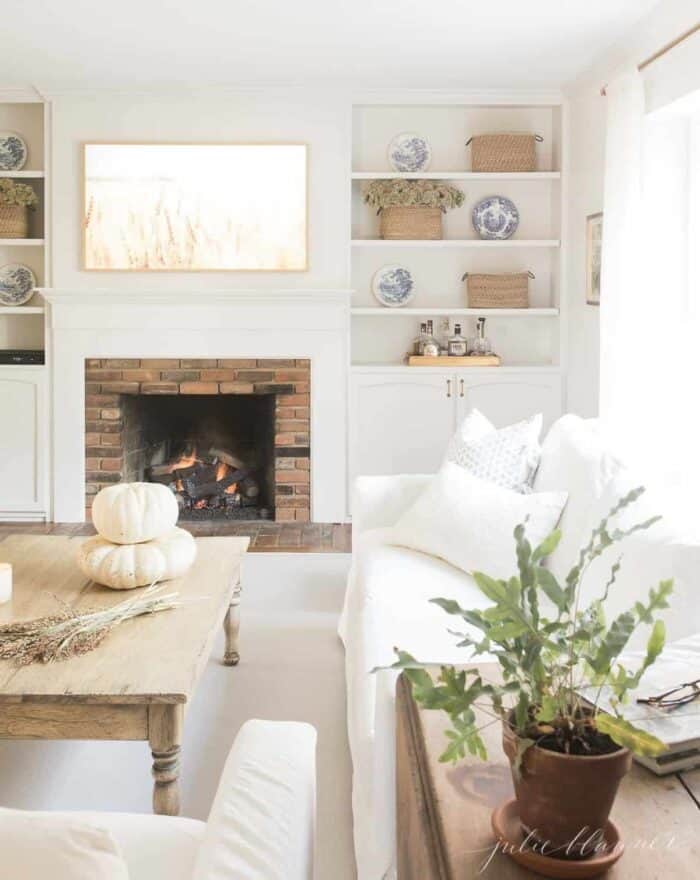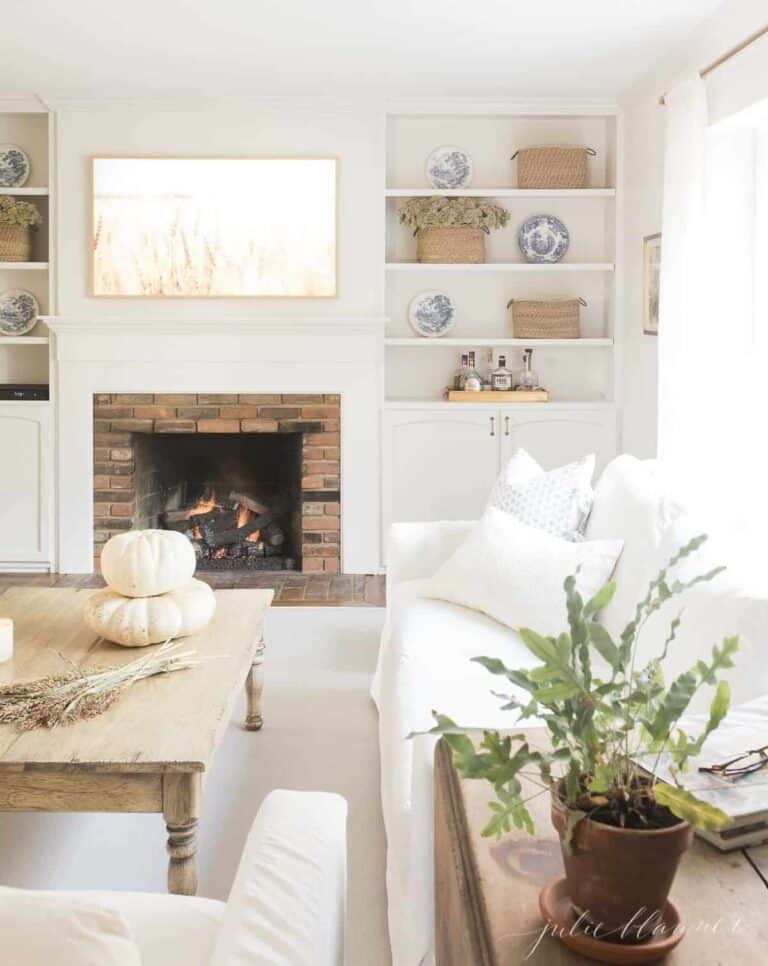 A Pottery Barn Couch vs. an Ikea Couch
As you can see in the video that goes along with this post, we own the Ikea Ektorp sofas at our lake cottage. We've had them for a few years and while they're holding up so well, there are a few distinct differences when comparing the Pottery Barn couch to the Ikea options.
While the Ektorp is just fine to sit in for a while, it's simply not quite as comfortable as our Pottery Barn sofa. This works fine for us at the lake because we spend much of our time there outdoors!
The look of the York is a little more luxurious- that down wrapping makes a world of difference in the look and feel of the sofa.
I love that the Pottery Barn slipcovered sofas are available in so many fabric options, and they offer free swatches. Ikea is certainly more limited when it comes to slipcovers and covers!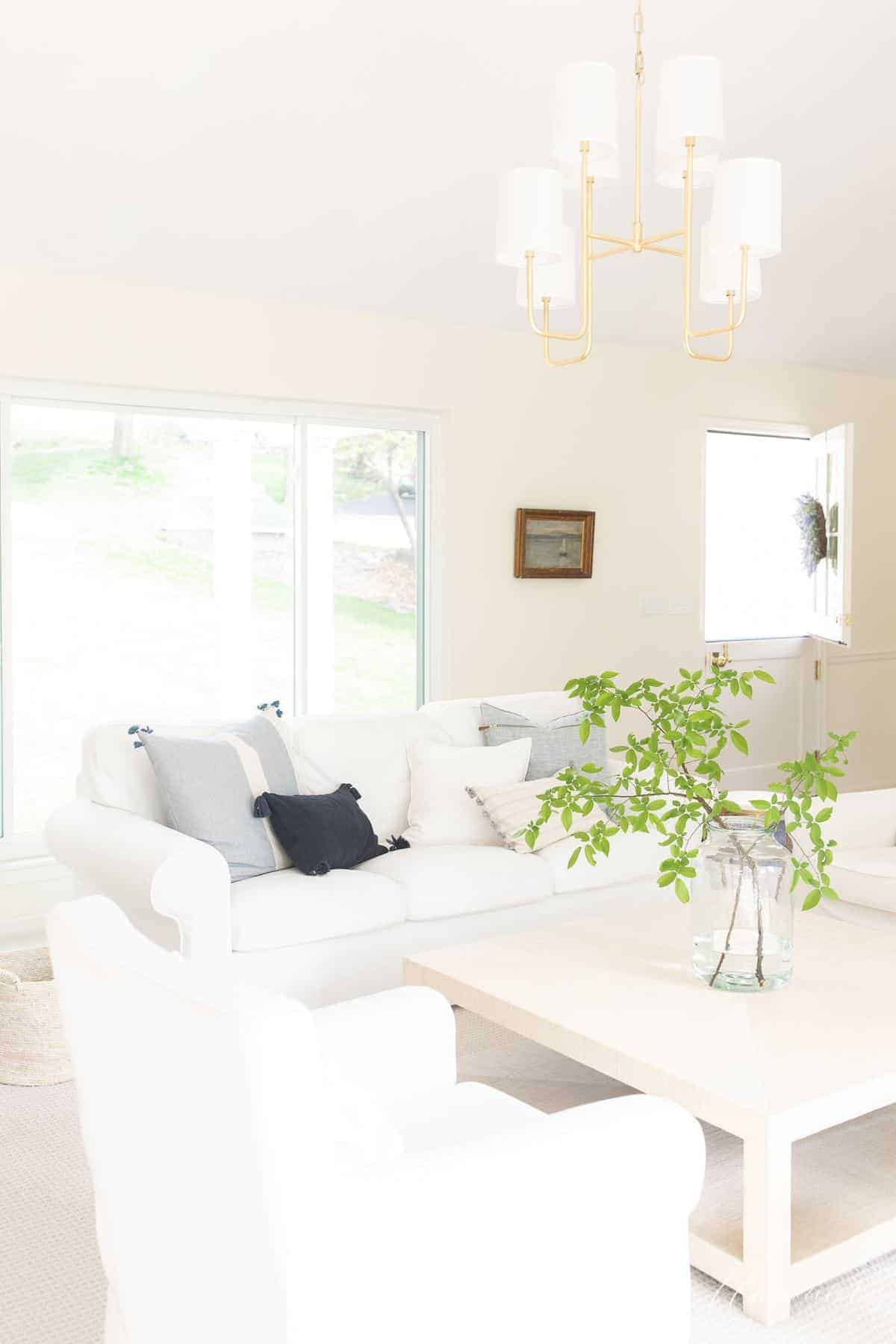 Obviously, we all know that you get what you pay for, and quality comes at a steeper price. The Ikea sofa completely suits our needs for the lake and I am super happy with it, especially considering the price point!
However, for long-term lounging and a little more luxurious, high-end feel, the Pottery Barn slipcovered sofa wins out!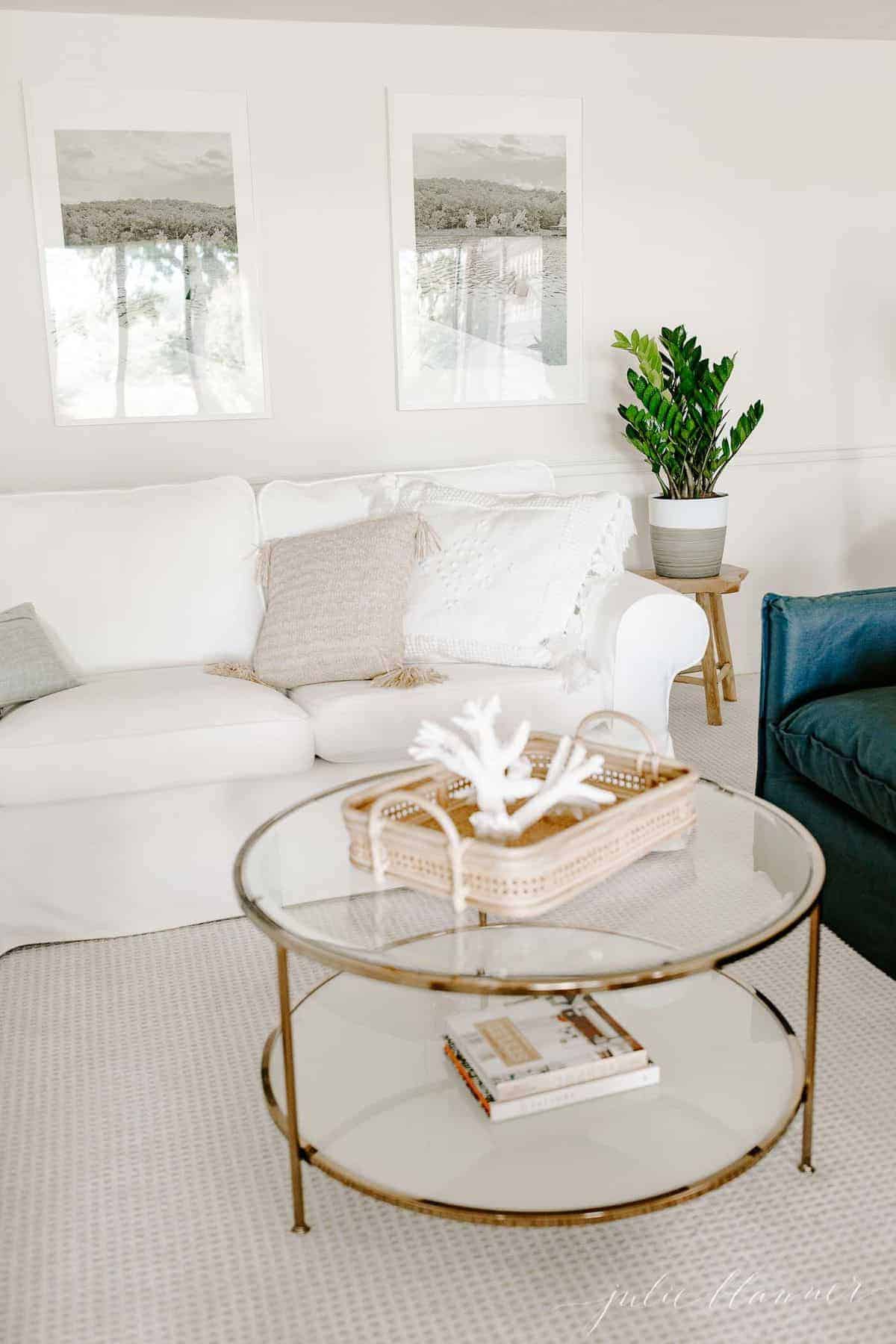 Cleaning Your Pottery Barn Slipcovers
Here's what I love about slipcovers. When we get a spill on our Pottery Barn couch (ahem, red wine… raises guilty hand!) we can simply remove the cover on that cushion and treat the stain accordingly.
I very rarely need to remove the larger pieces for cleaning – but even when we do, it's not a big deal. I love knowing that it's one area of our home that we can keep truly clean with very little effort.
Yes, buying a dark colored or patterned sofa is an easy way to hide the dirt- but that's exactly what you're doing. Trapping and hiding the dirt can create some pretty icky build-up over time.
Why not recognize the mess and treat it as you're able? We treat slipcover stains as we would any other laundry stains- research the type of stain and what treats it best, and we've had great luck.
We've had everything from markers to red wine on our Pottery Barn slipcovers, and the results are always great!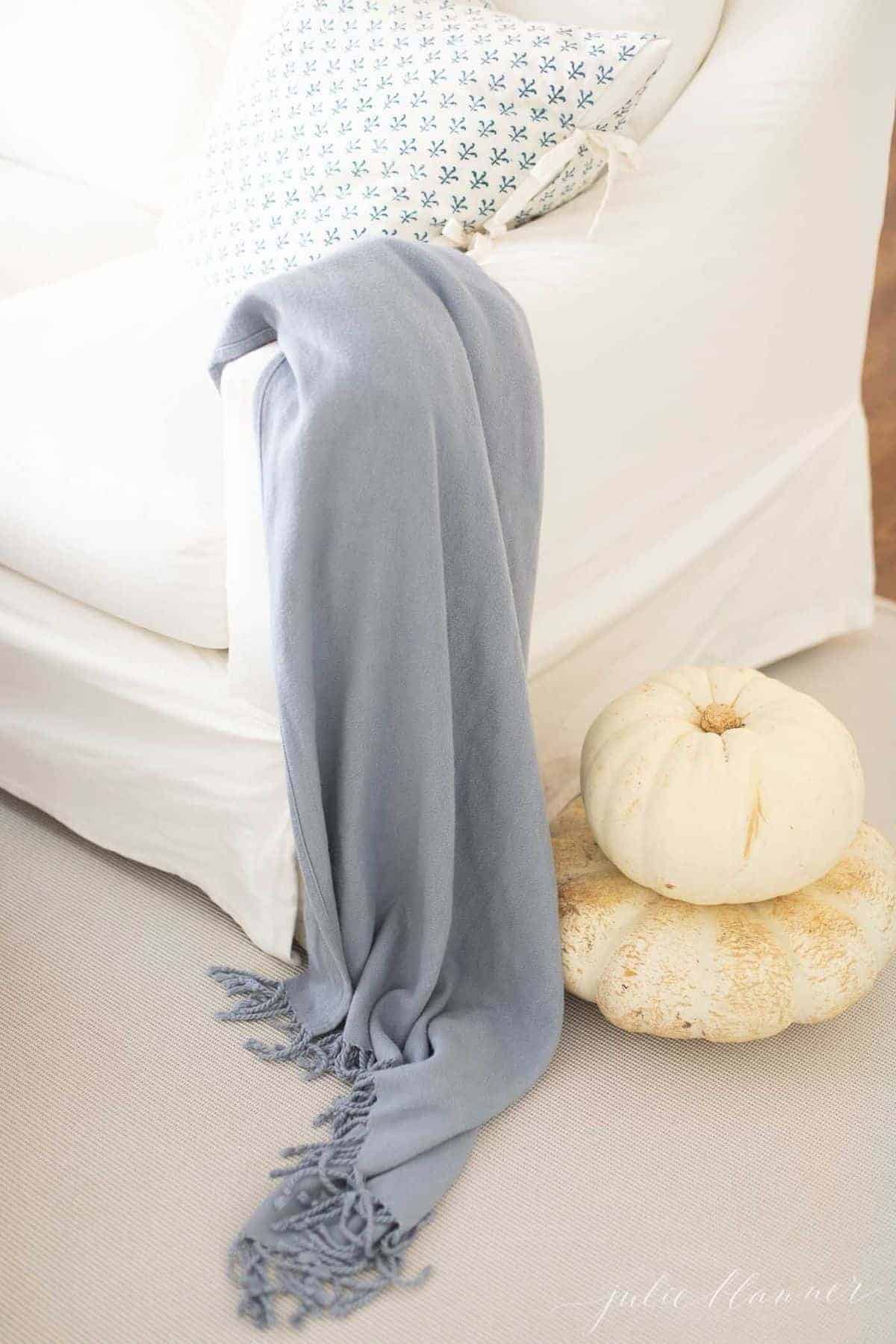 Where to Buy Pottery Barn Slipcovers
You can buy slipcovers directly from Pottery Barn, of course. Slipcovers (for the York and so many more) are available in an incredible range of fabrics and you can replace or simply switch out your look at any time.
However, there are several manufacturers of slipcovers that can fit a variety of their frames. I've heard great things about the Comfort Works slipcovers, but we have never tried them. If you've bought one of these Pottery Barn slipcovers, I'd love to hear your thoughts!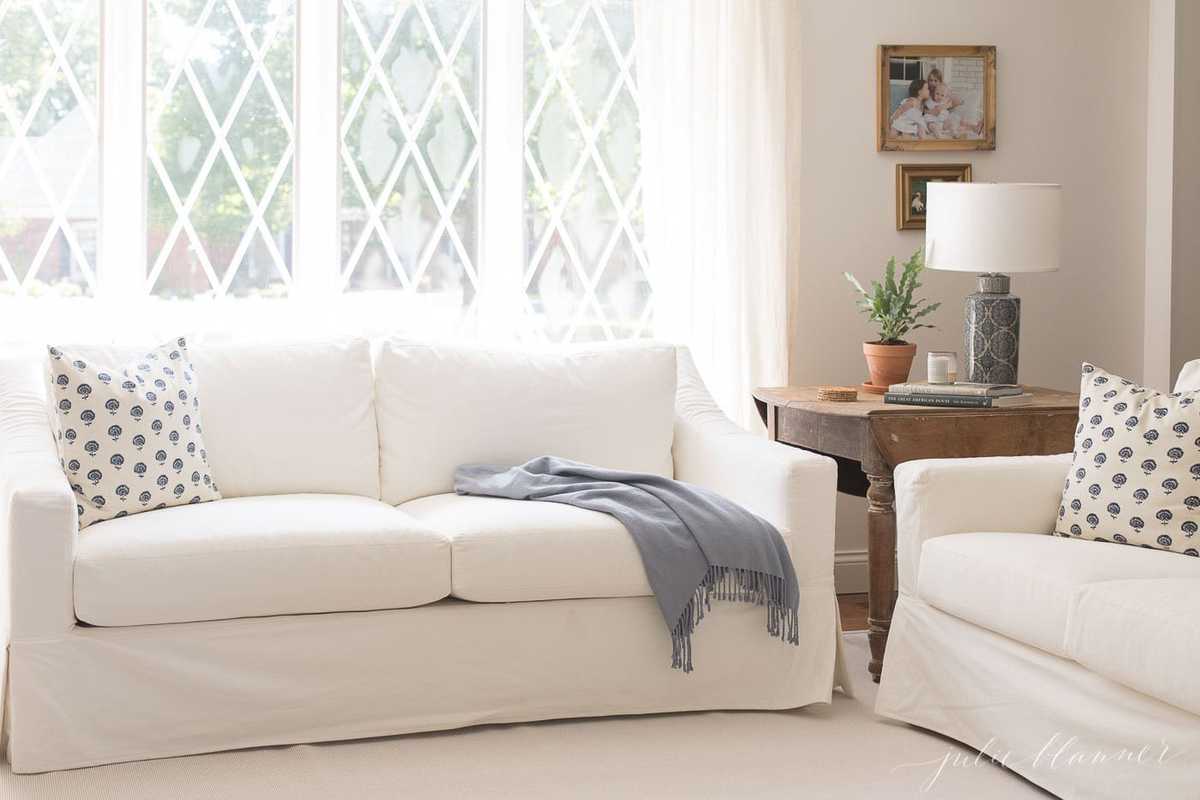 Shopping Details
We have the York slope arm sofa and a loveseat as well. Sofa details:
Depth | 38.5
Length | 80.5
Fabric | Twill, Cream
Double Cushions | although I love that single bench cushion too!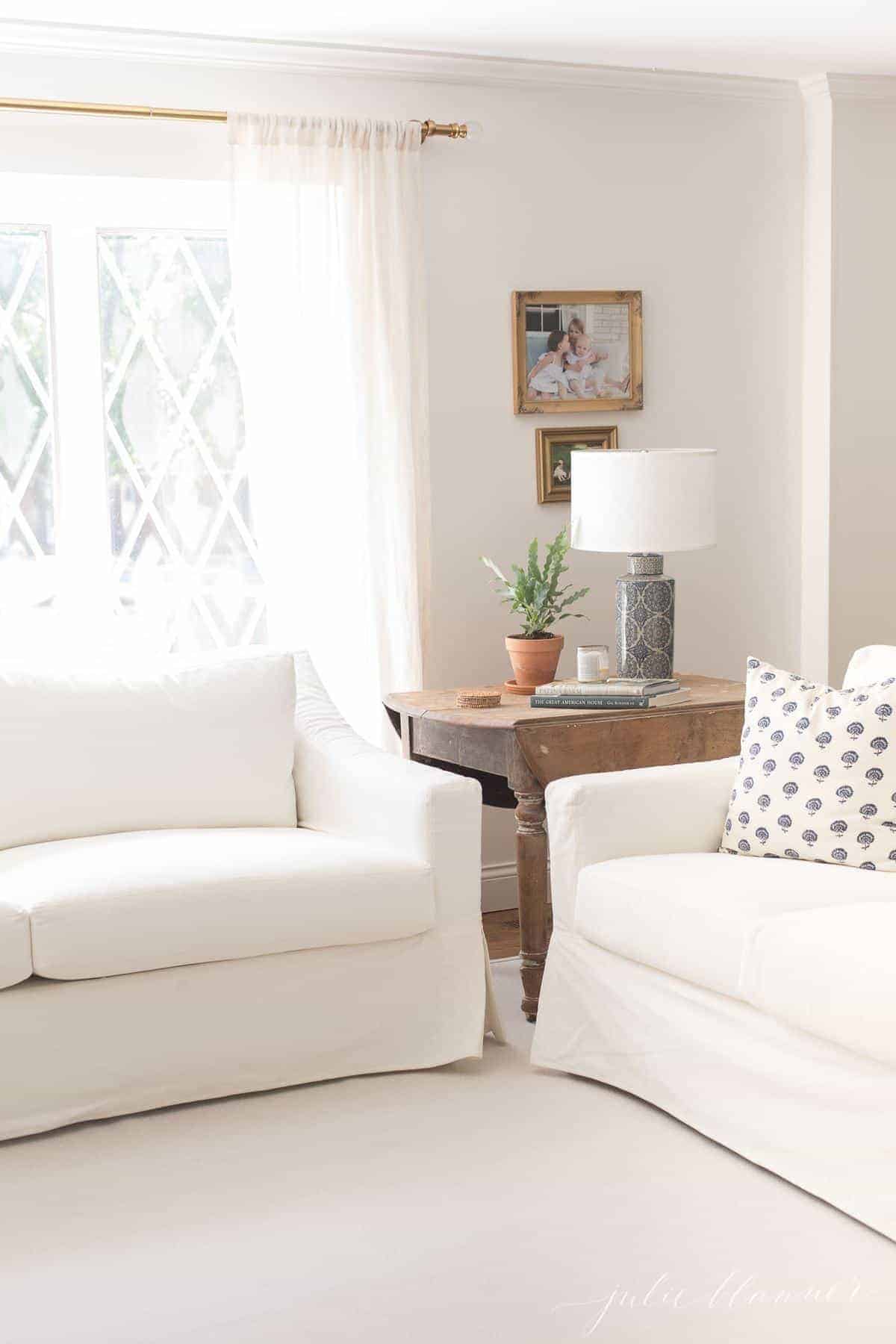 My best tip when you're considering this purchase? Wait for a sale! Pottery Barn almost always runs a sale for anywhere from 20-30% off your purchase. This can save you a significant amount of money!
We're also very lucky to have a Pottery Barn outlet here in St. Louis, and I've seen some incredibly beautiful sofas in there at bargain prices. It's worth the drive if you have one nearby!
What are your thoughts? Do you own a slipcovered sofa? Are you team slipcover, or are you more into traditional upholstery? I'd love to hear from you!