Get the secrets to learn how to choose a rug you'll love – this is more than a rug size guide, it's the easiest way to get started! Get tips for choosing based on size, color, material and durability in this informative guide.
In fact, these ideas make the process simple and yes… even fun!
With a few basic answers to your burning questions and easy rules of thumb, you can find the perfect rug for any room in your home. You'll just need a measuring tape and a little patience!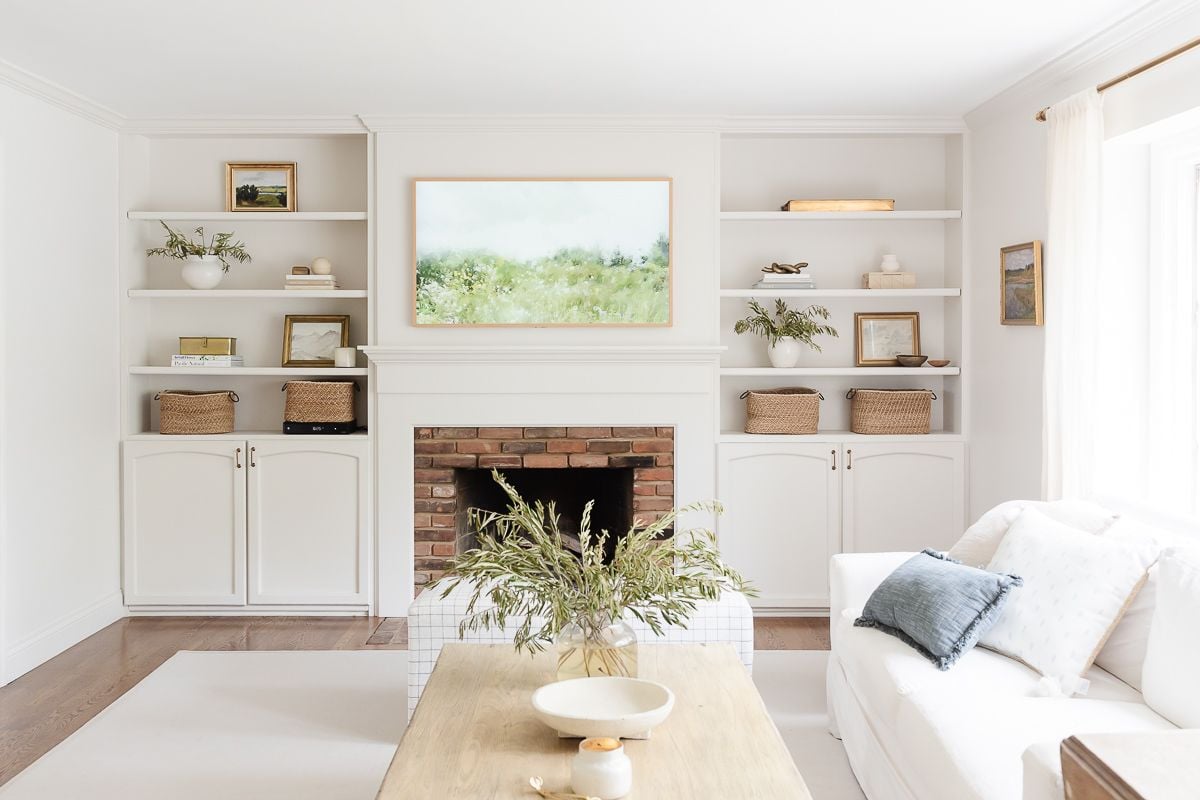 Investing in a new rug can be overwhelming and yes… maybe even a little stressful. Rugs are expensive and there are just so many choices! Luckily, I've been down this road a time (or twenty) and thought it might be helpful to guide you down an easier path.
Today, we're going to walk you through the best tips for shopping for a rug. It's a complete rug size guide – but it's so much more than that!
Use the drop down Table of Contents menu to navigate this post, and don't forget to pin and save for later!
Rug Guide
Because I love our warm, beautiful hardwood floors so much, I've spent a lot of years learning about rugs. When we installed hardwoods in our colonial and then here in the tudor, I learned that rugs could transform a space just as much as the hardwoods.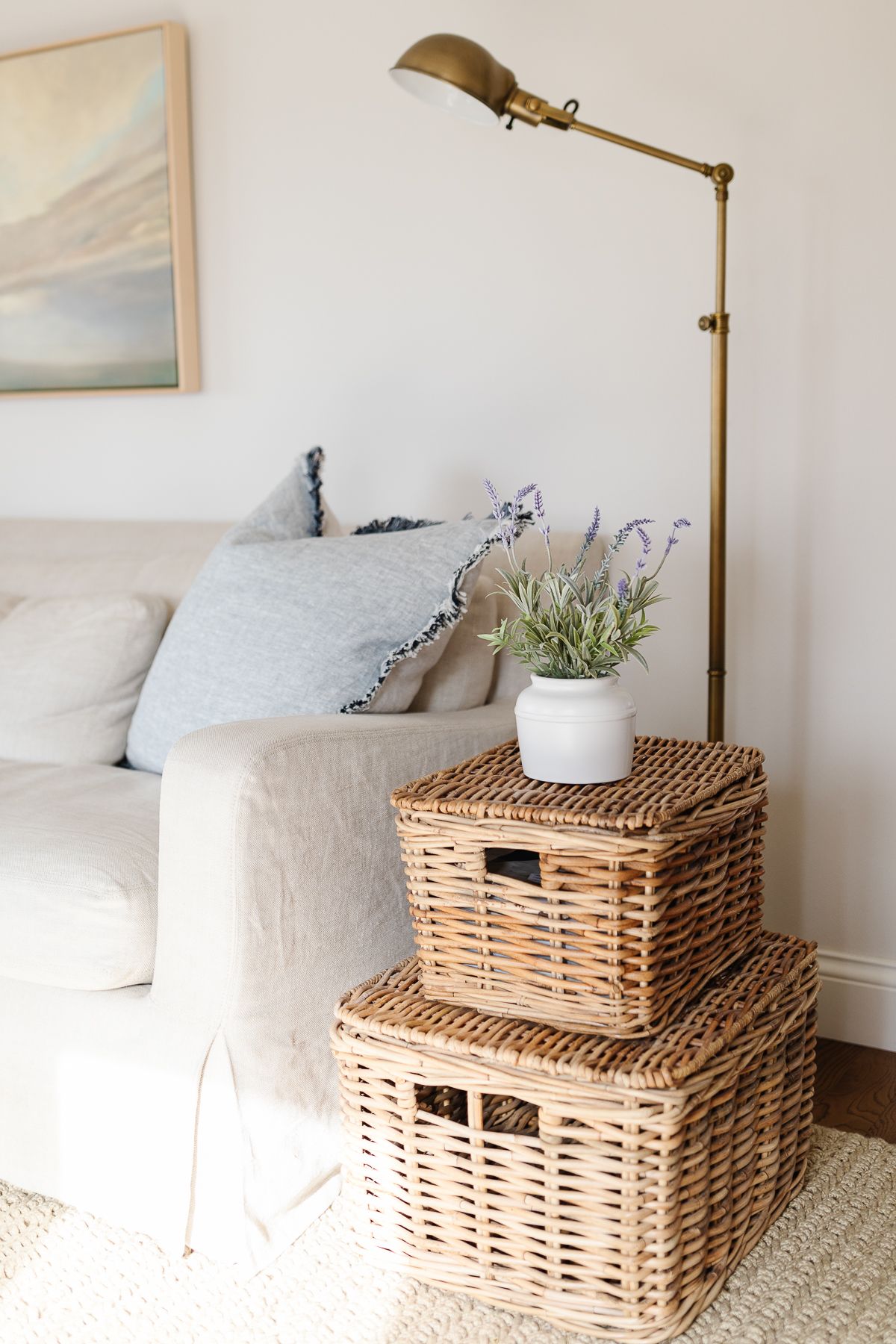 I'm not an interior designer, just a decorating enthusiast. Learn how to design an interior design mood board here – no special software or skills required!
See our colonial transformation and our current home renovation in St. Louis here! You can also follow along with our lake cottage updates for even more renovation fun.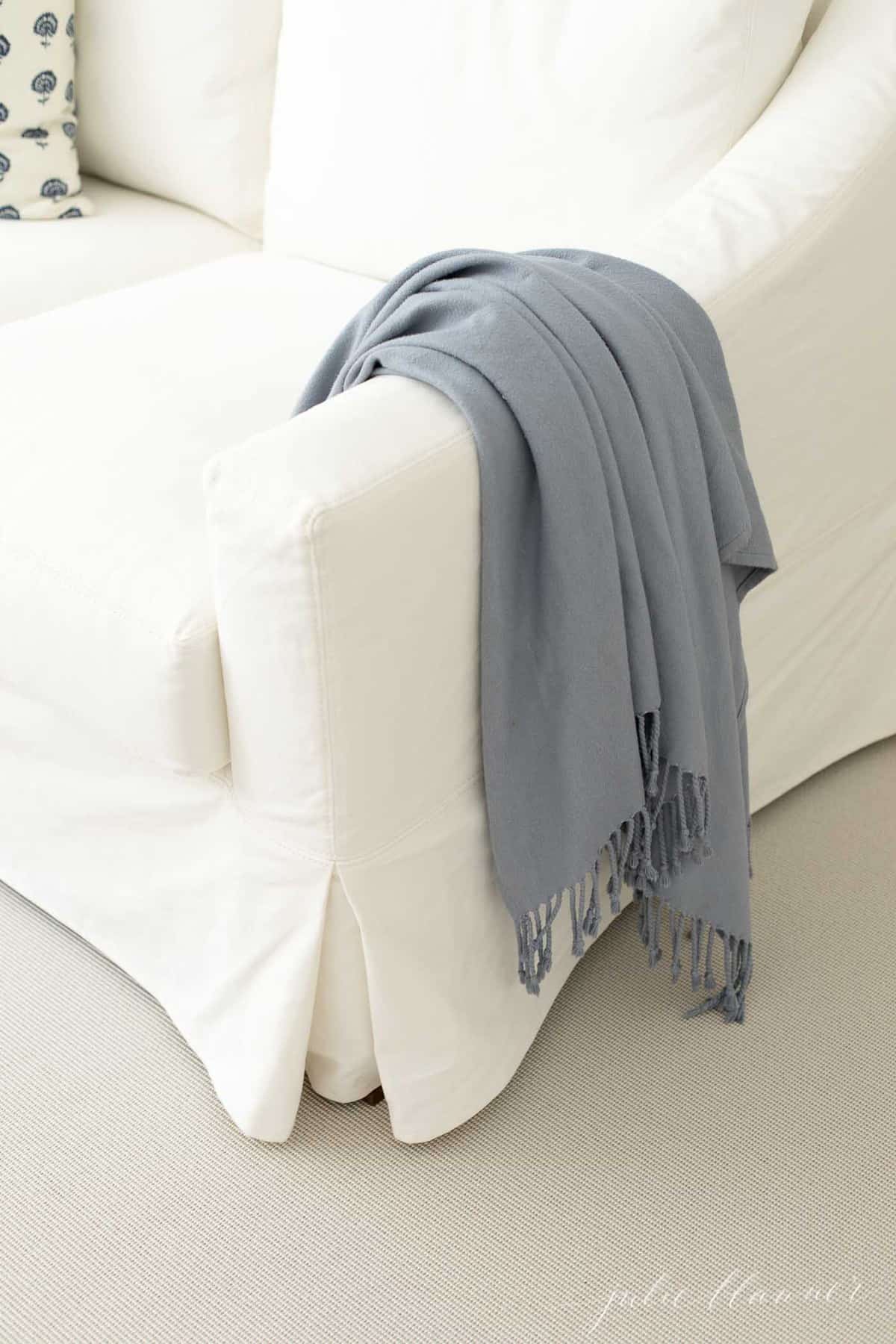 How to Choose a Rug
There's just something about that layered, cozy look that celebrates both the warmth of the wood grain and the soft texture of the rug material, too. A rug can complete a room, and a rug can also be the jumping off point for an entire room design!
With that in mind, I've shared a lot about rugs over the years. Get my tips for your more specific rug needs as follows:
When it comes to choosing a new rug for a room in our homes, there are a few questions I like to ask myself. I promise, it's not difficult with this simple process for inspiration in the back of your mind!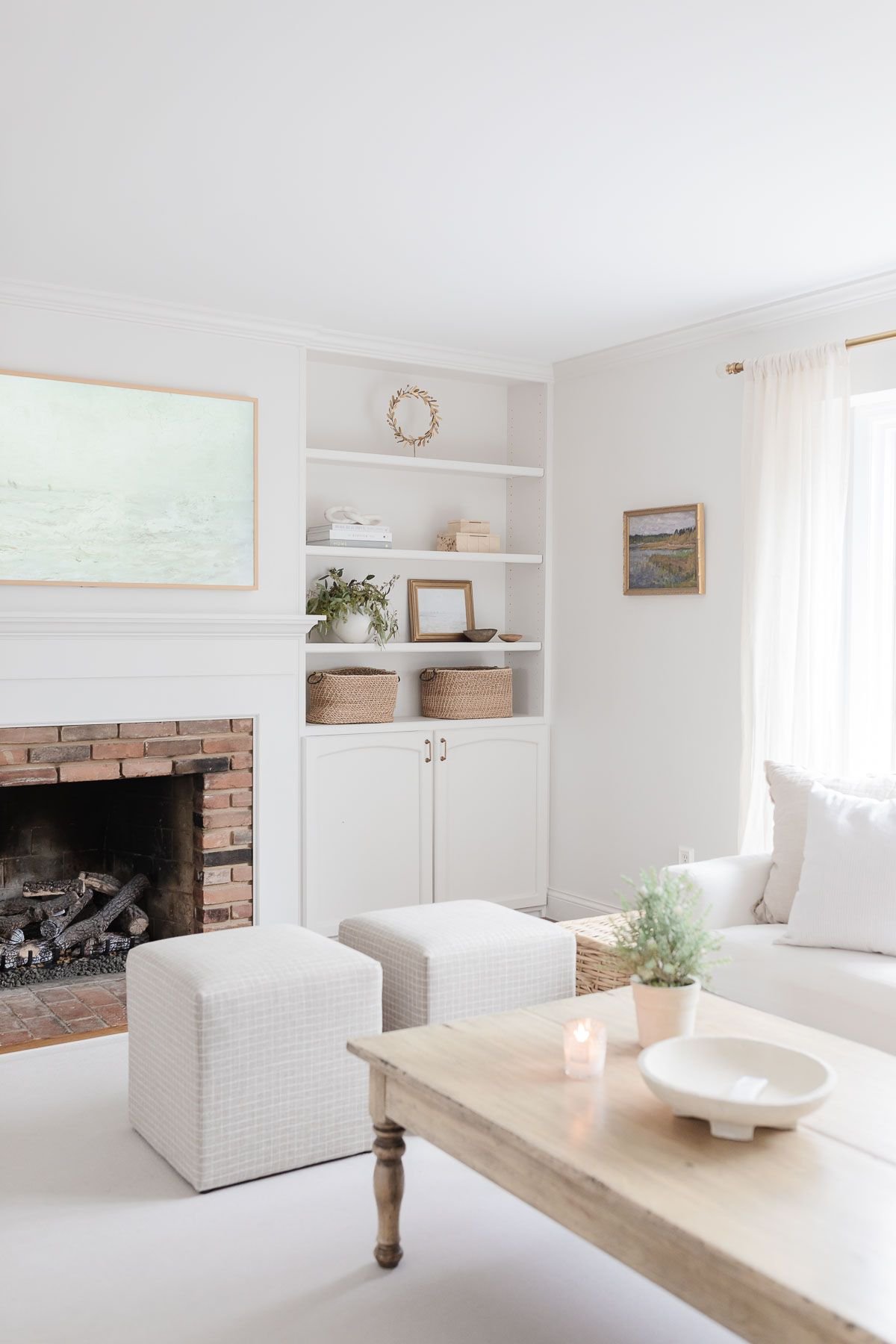 Questions to Ask Before Buying a Rug
What is the usage of the room you're putting it in? (ie, high traffic, low traffic, kids' space, etc)
What is your budget? Set a budget and see what fits.
What materials do I love? So many options… sisal, jute, wool, cotton, polypropylene and more.
What's your color palette – do you want a bold pop of color here, or a neutral backdrop for the rest of the room?
In that same vein, what about a pattern? Solid, floral, stripe, geometric… the options are endless.
What is the rug anchoring? For example, if the rug is going under a round dining room table or a square seating arrangement in the living room, those shapes might dictate your rug shape.
SIZE. This is very important and I'll provide some guidelines in this post as well. Start by measuring your room!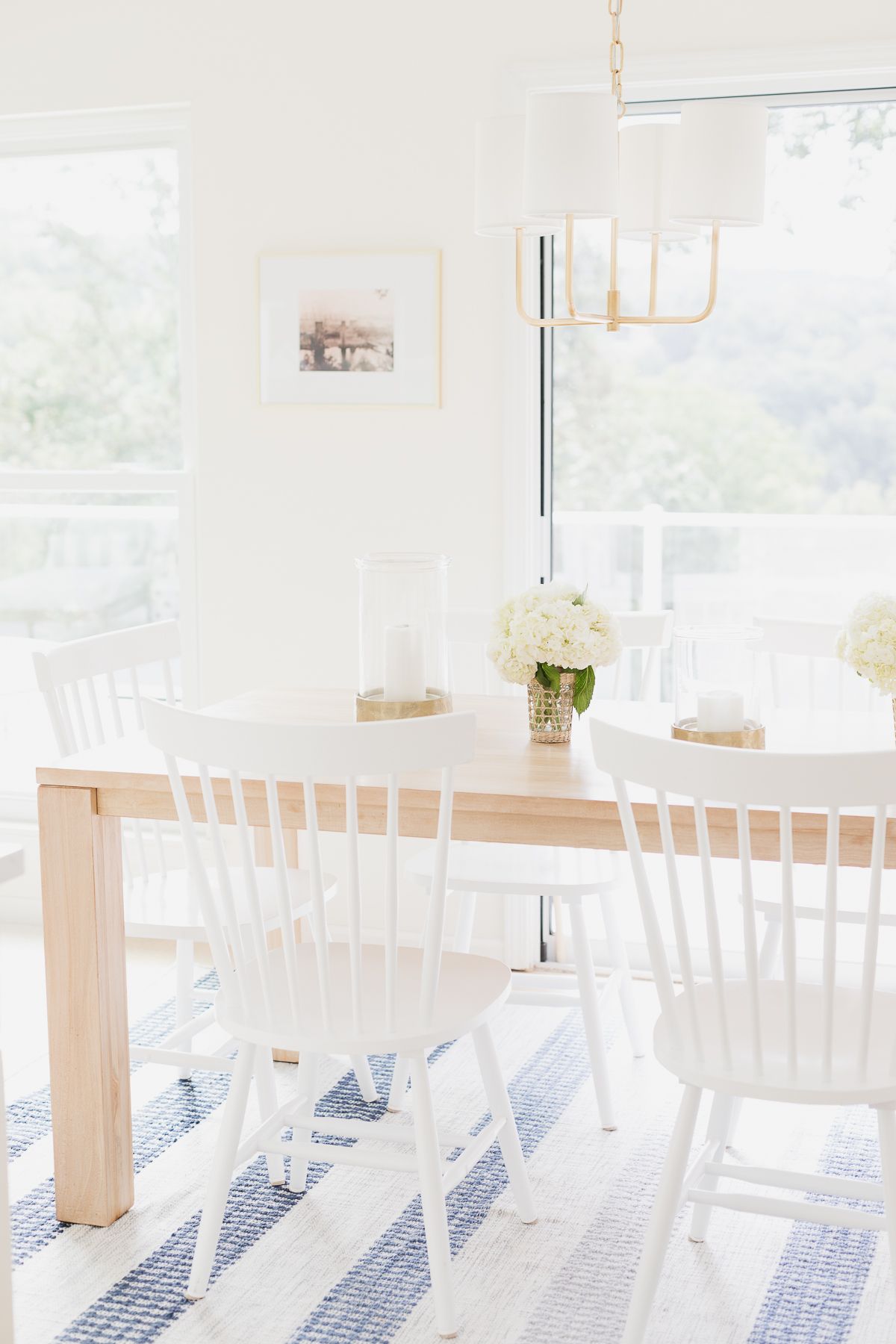 Rug Size Guide
Remember, design rules are meant to be broken. All of these tips are just guidelines to help you make choices… nothing hard or fast!
However, do keep in mind that a rug that is too small will shrink the room visually. I would always rather use a rug that's a little too big than one that's too small. It just creates a more continuous space for the eye to travel.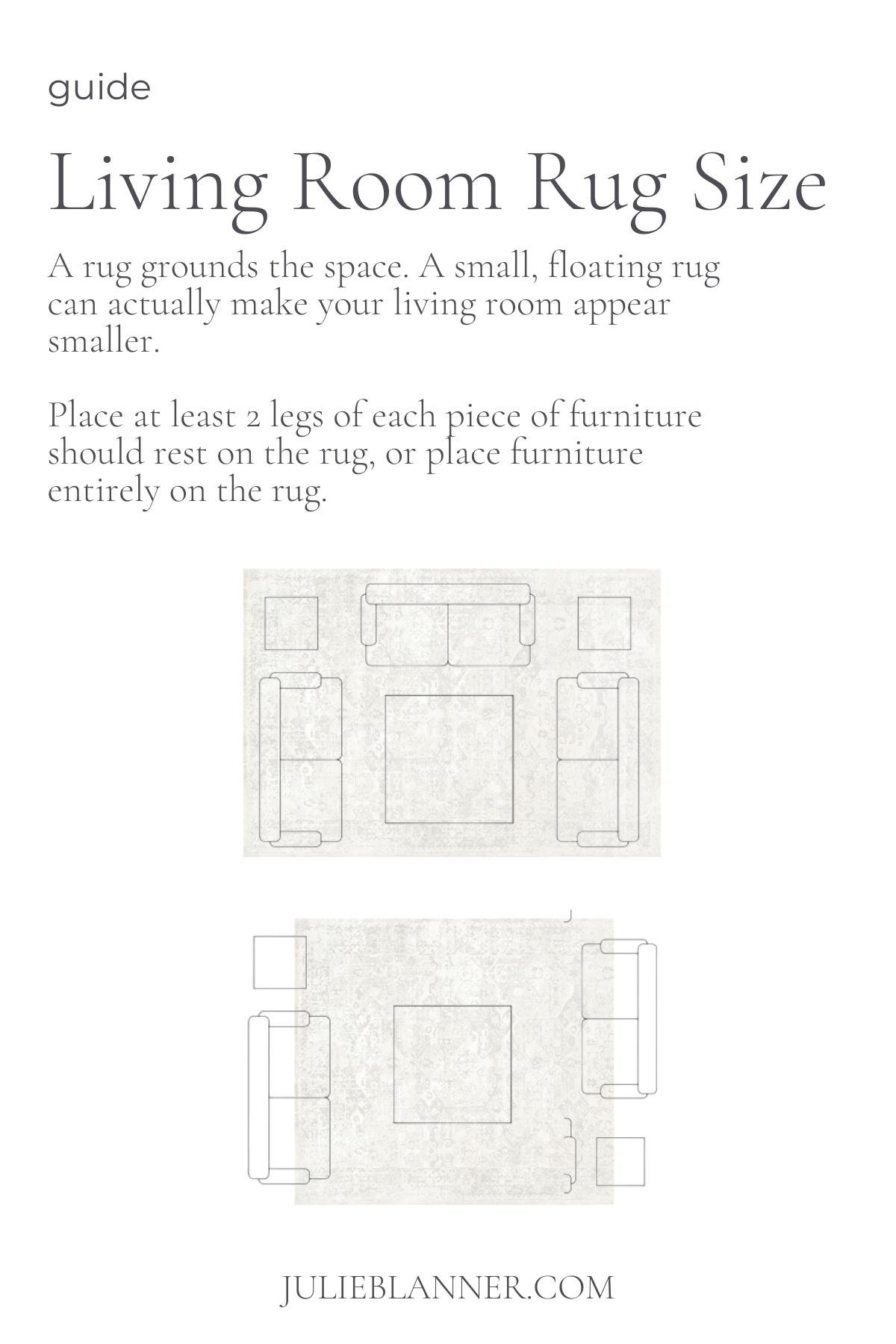 Living Room Rug Size Tips
Your rug does not need to fill the whole room, but it should appropriately anchor the seating arrangement.
Always keep in mind the rule of the front two legs: make sure your rug fits underneath the front two legs of your sofa and accent chairs.
As a general rule, try to leave at least a two foot border between your rug and the walls. You don't want the appearance of wall to wall carpet, so leave room to enjoy those gorgeous hardwoods.
In very large rooms, simply anchor your furniture arrangement entirely, ignoring the remainder of surrounding space. You'll want all tables, chairs and sofas to be completely inside the rug.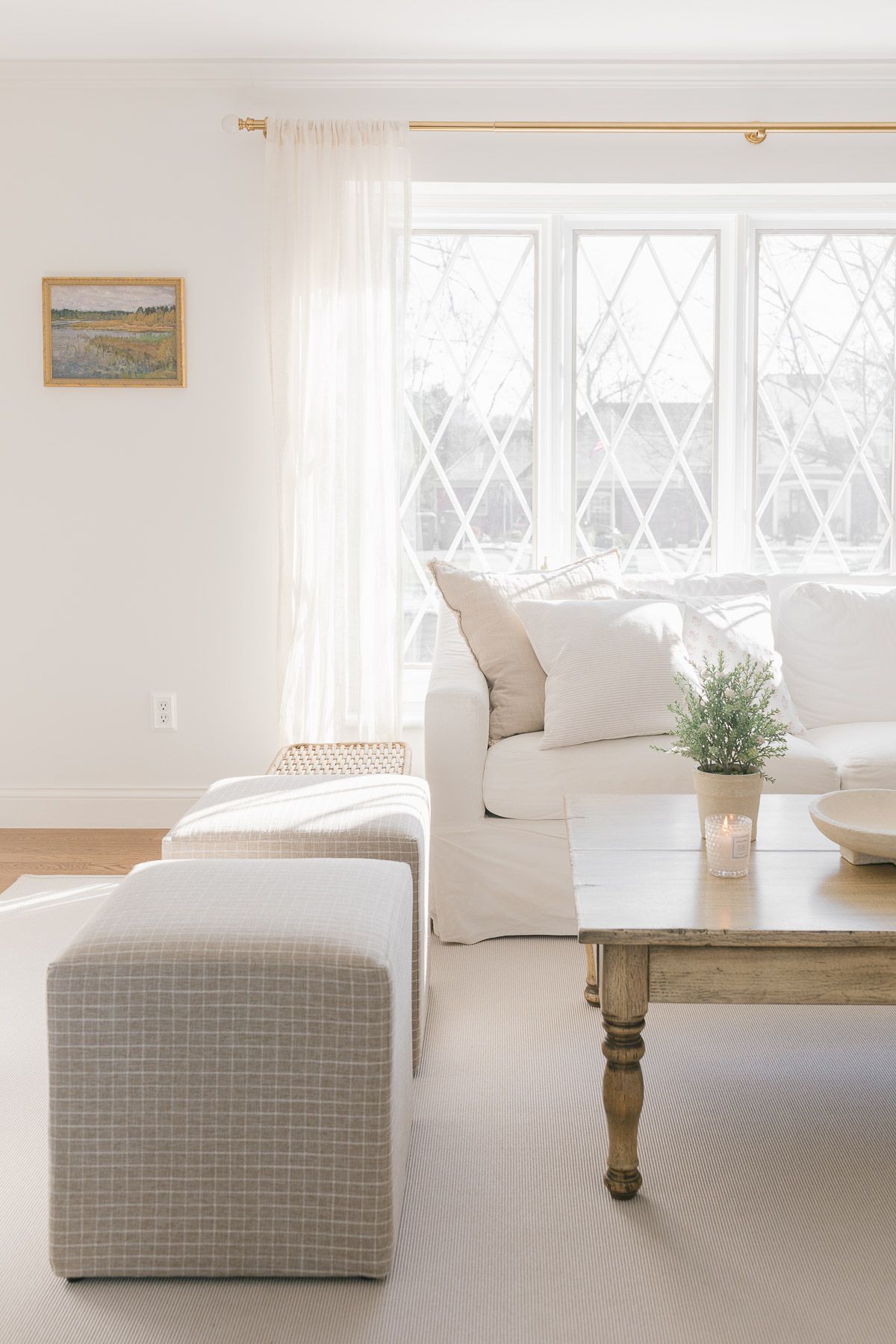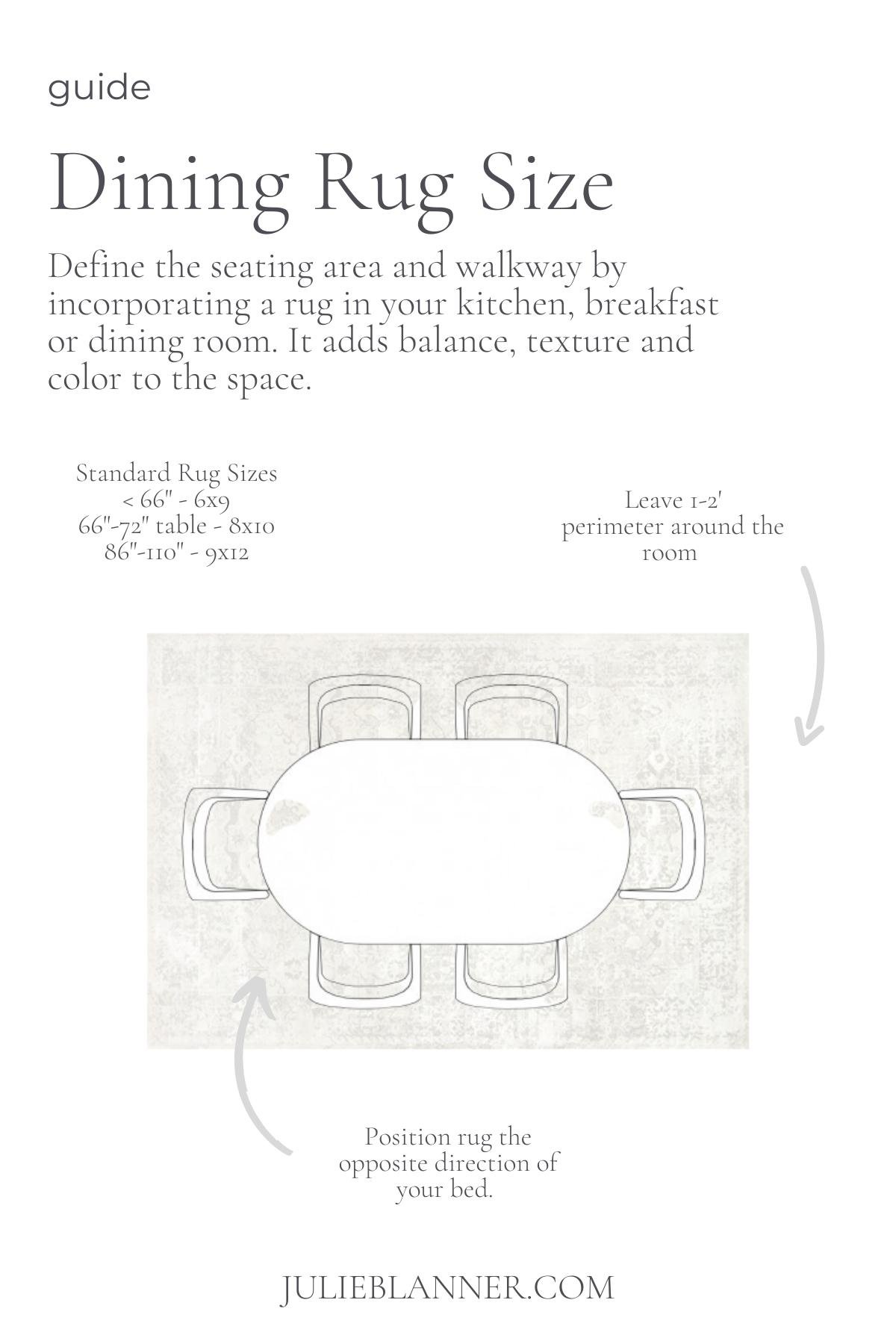 Dining Room Rug Size Tips
You'll want your rug to extend at least 2' on each side of your table, leaving room for your chairs when they are pulled out.
If you have a table that has extensions, make sure your rug is big enough to accommodate those as well.
A rug under a dining table can be so practical – read up on indoor outdoor rugs for more details on how I do this and maintain a clean house.
Round tables can be confusing… but in a good way! For a round table, you can certainly purchase a round rug (based on the same sizing guidelines with 2′ on each side for chairs). However, you can also do a square or rectangular rug if that works well within the room measurements.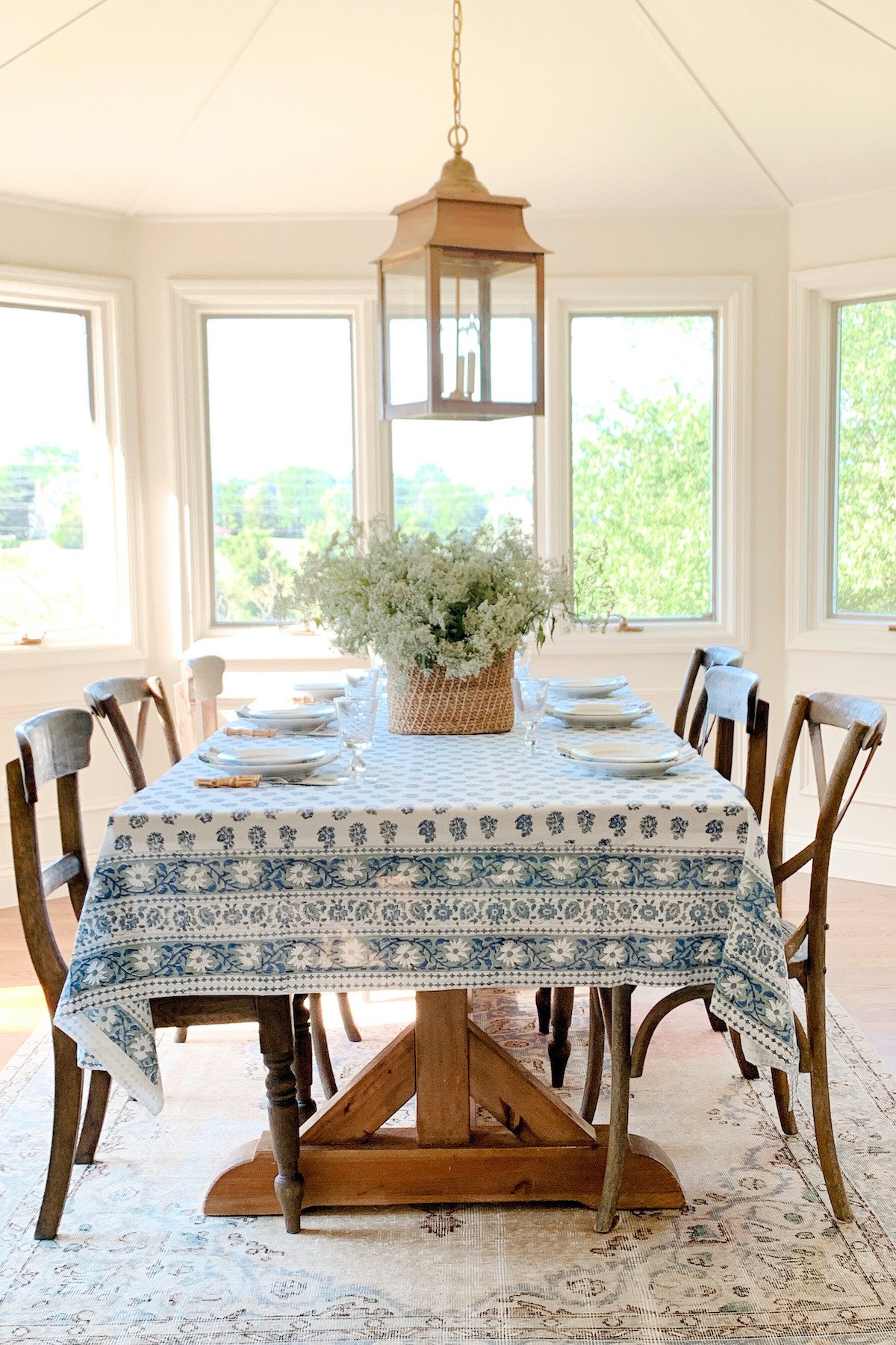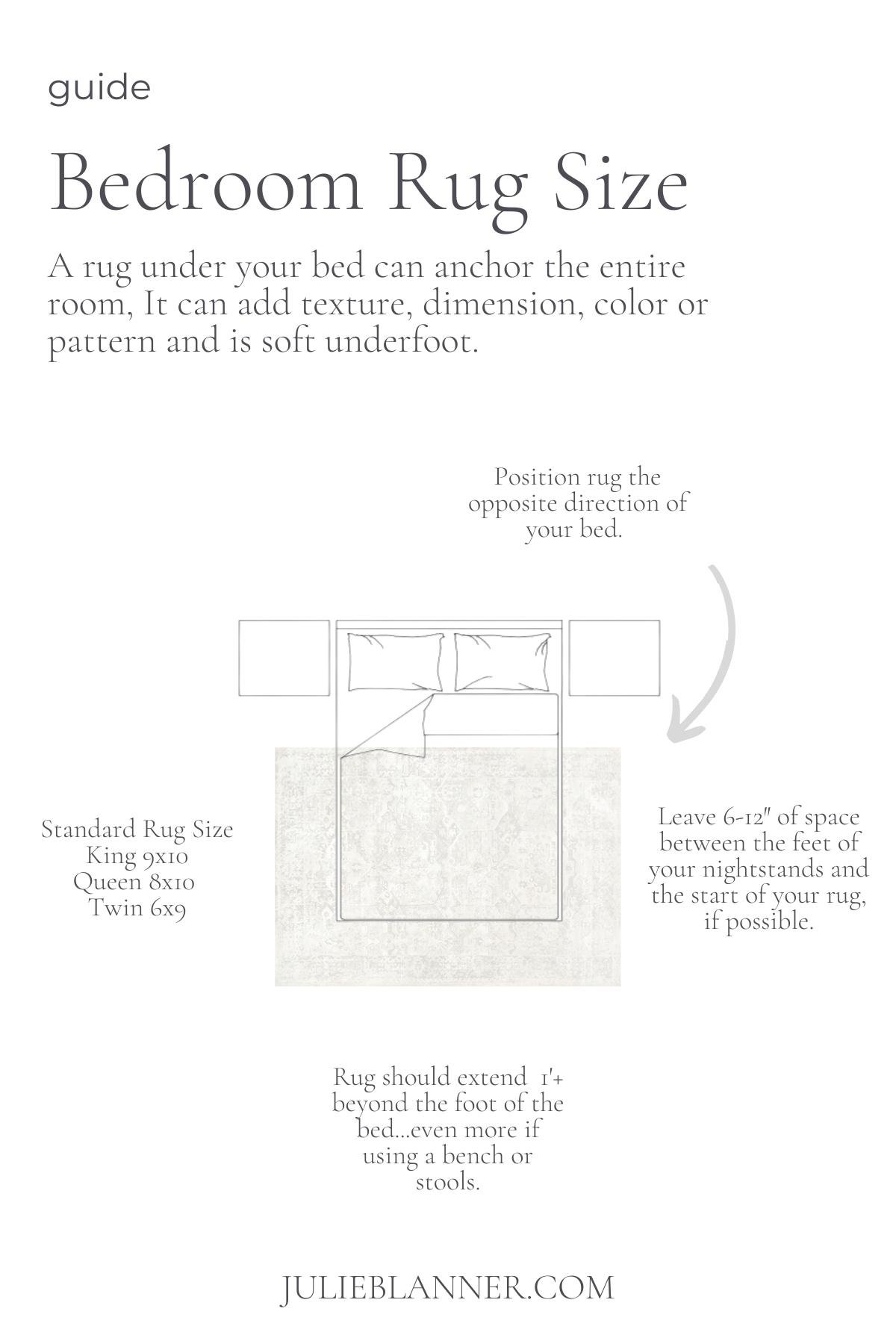 A 9'x12' rug fits best under a king- or queen-sized bed. You can do a 5'x8′ for a twin-sized bed.
While the place can depend on the size of the rug, bed and room overall, consider placing the rug under the front two-thirds of your bed.
Try to allow 2′ to 3' on each side of the bed. There's nothing better than waking up in the morning and placing your feet on a soft and cozy rug!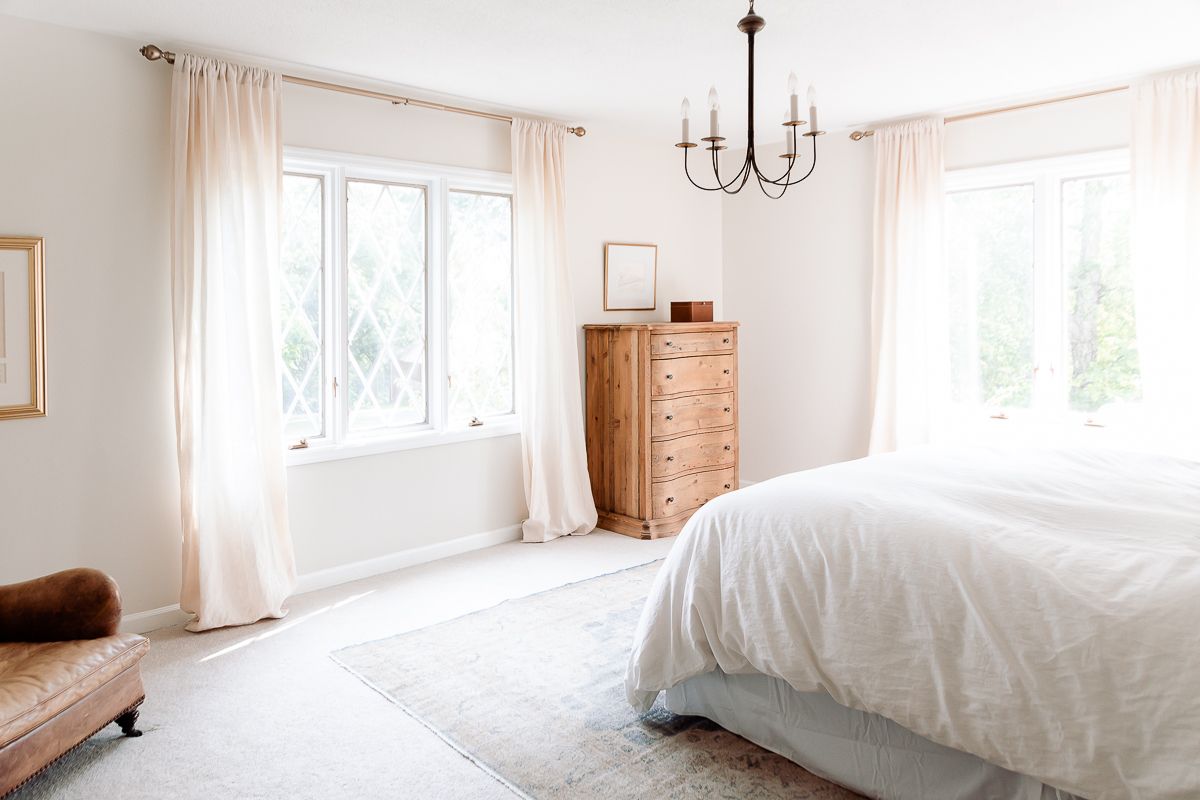 Frequently Asked Questions
Can you put a rug over carpet?
Absolutely! I love the look of layered rugs, and that goes for carpet, hardwoods, tile and more. Layering a rug over carpet can cover a dated material, hide stains, or simply provide a charming anchor in any room.
Should rugs match wall color?
They can, but they certainly don't have to! In fact, it's great to mix things up. Rugs are an excellent place to bring in a pop of color, texture, and softness underfoot. Just make sure your rug works with any accent colors and wall colors in your space.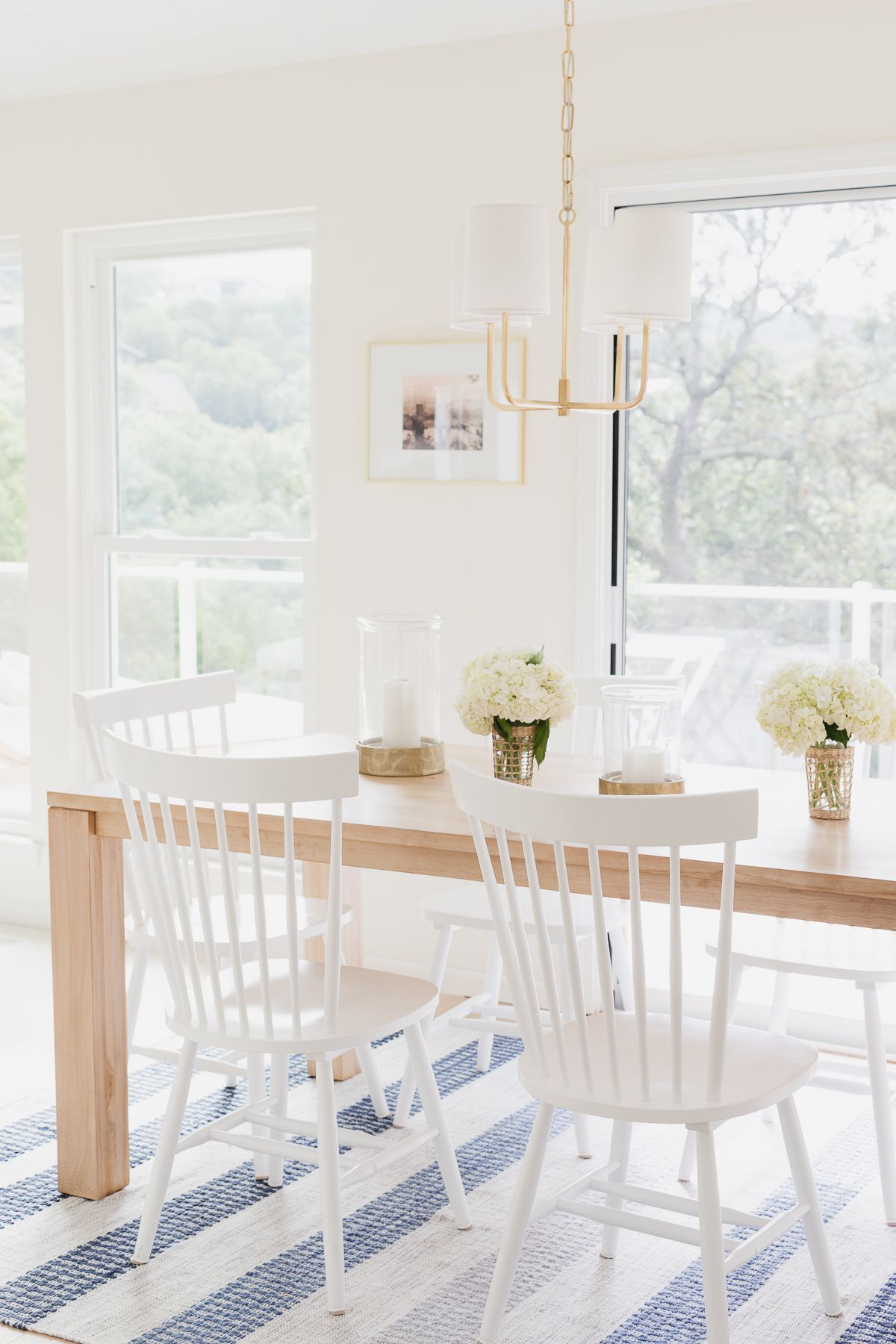 How to Layer Rugs
As I mentioned before, I love the look of layering rugs. This can be especially beneficial for a few reasons:
To accomplish this layered rug look, take the following into consideration: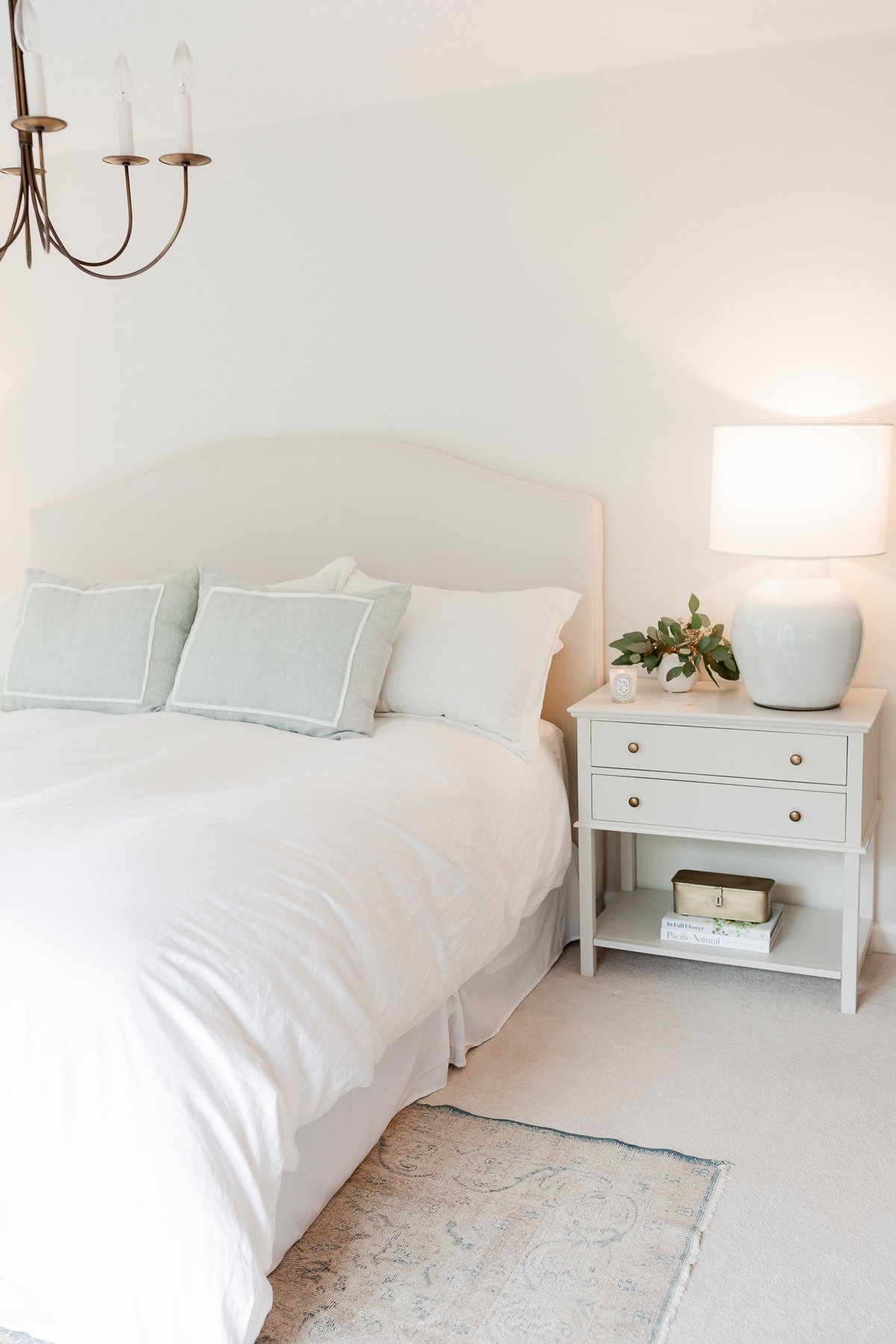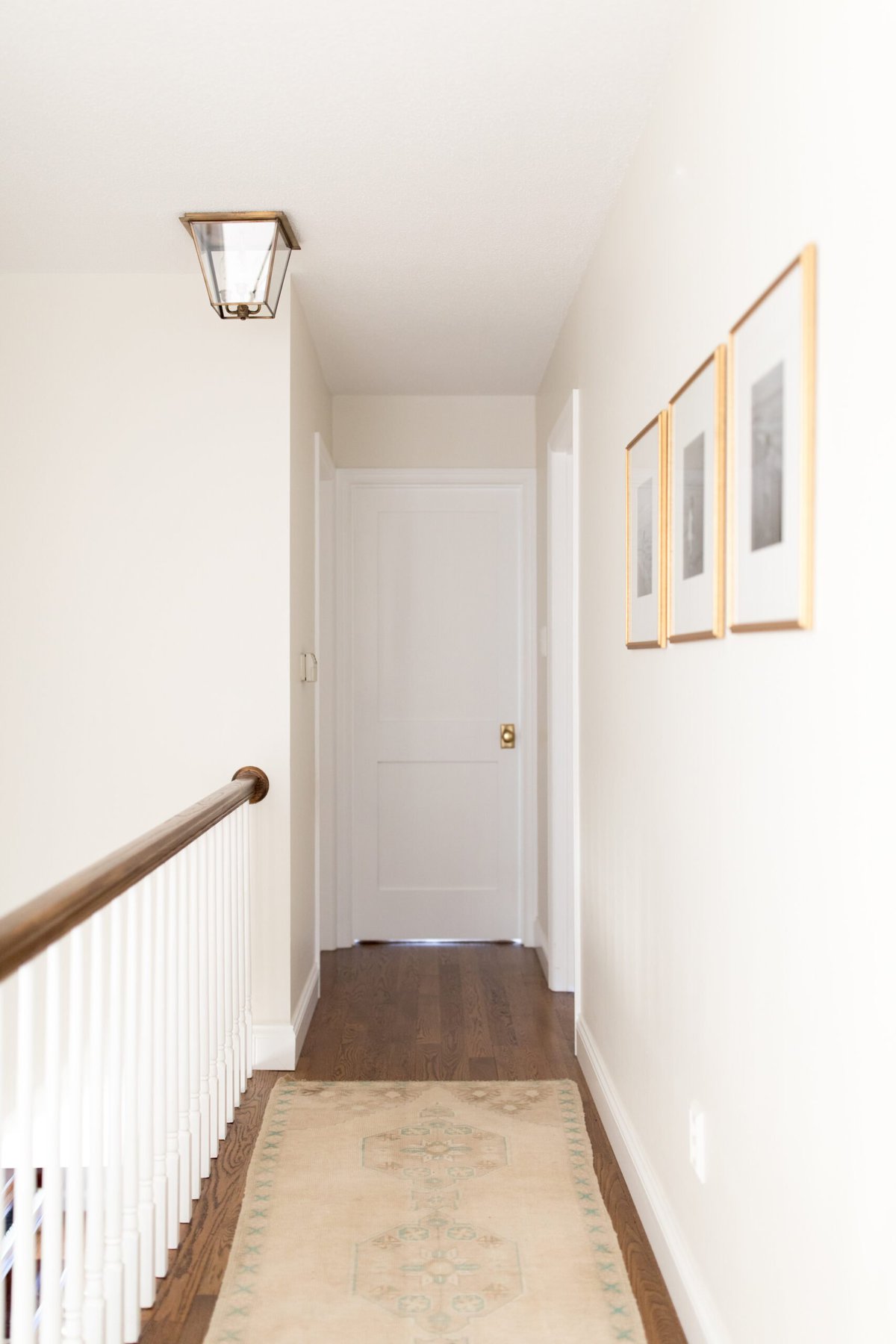 More about Flooring and Rugs
Design Guides, Decor & Tips