Get 10 of the most popular greige paint colors for the year ahead! Greige has taken the design world by storm, quickly replacing gray as the most popular neutral paint color of the next decade.
Greige is not beige, and it's not gray… it's a true neutral that lands in the middle. It's the perfect in-between color that creates a warm, cozy, balanced look in your home. Get my favorite greige paint colors and find all the details about them here!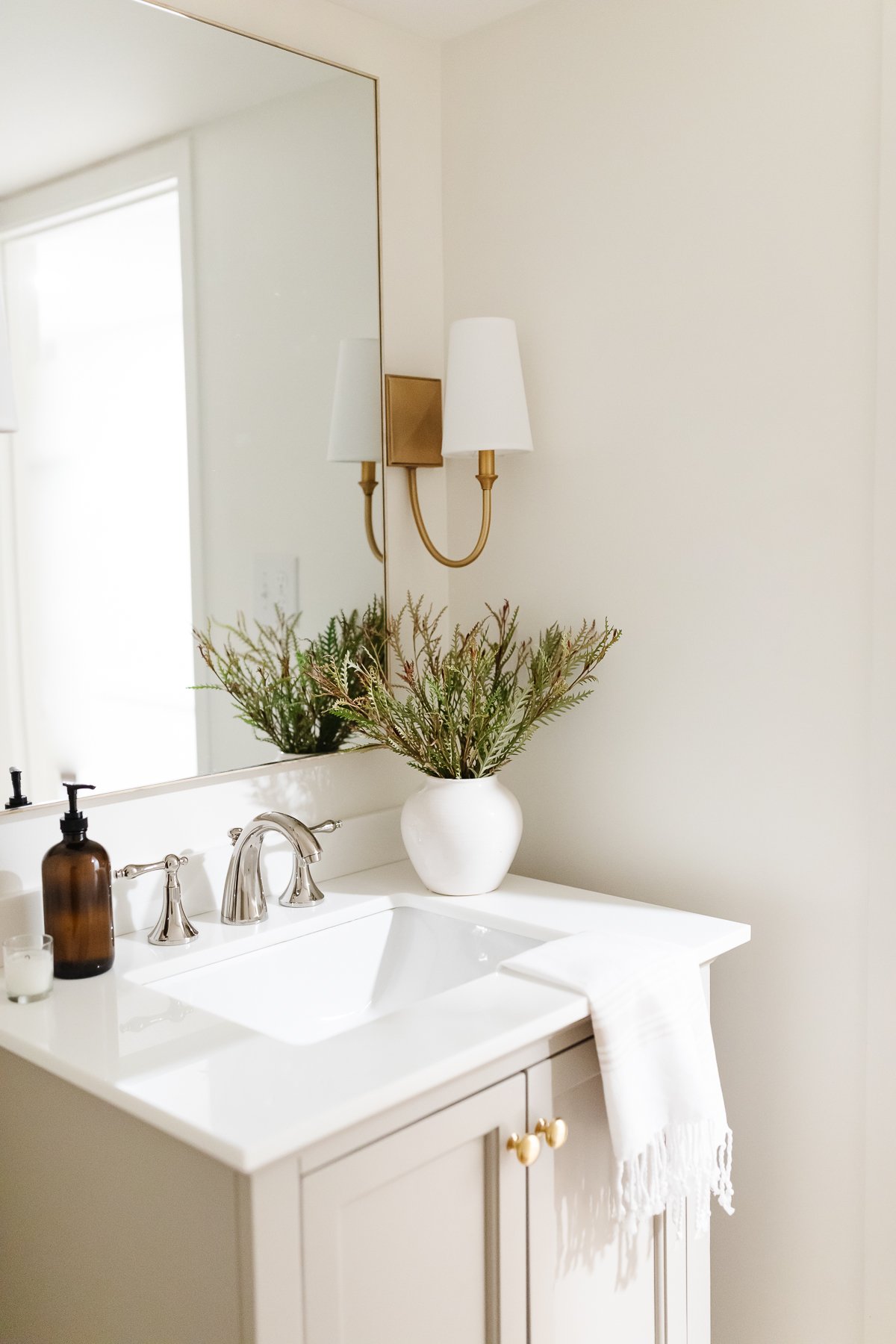 Greige paint colors are the perfect middle ground between a too-cold shade of gray and a too-brown shade of taupe. If you're looking for a soft, warm neutral that can work with brown or gray furniture, this can be especially helpful.
If there's one thing I know for sure, it's that choosing paint colors is harder than it looks. Practice makes perfect, right? Well, you'd think! But after years of sampling paint colors in every room of our homes, we still make plenty of mistakes.
That's why I've created a detailed series of paint tips, guides and colors that can make your decisions easier. Being informed is the best way to make a decision you're going to love!
Most recently, we've brought you an incredible round up of our favorite Warm Whites, Blue Gray Paint Colors, Neutral Paint Colors, and deeper Mushroom Paint Colors.

Looking for more inspiration? Check out Living Room Paint Colors and Romantic Bedroom Colors.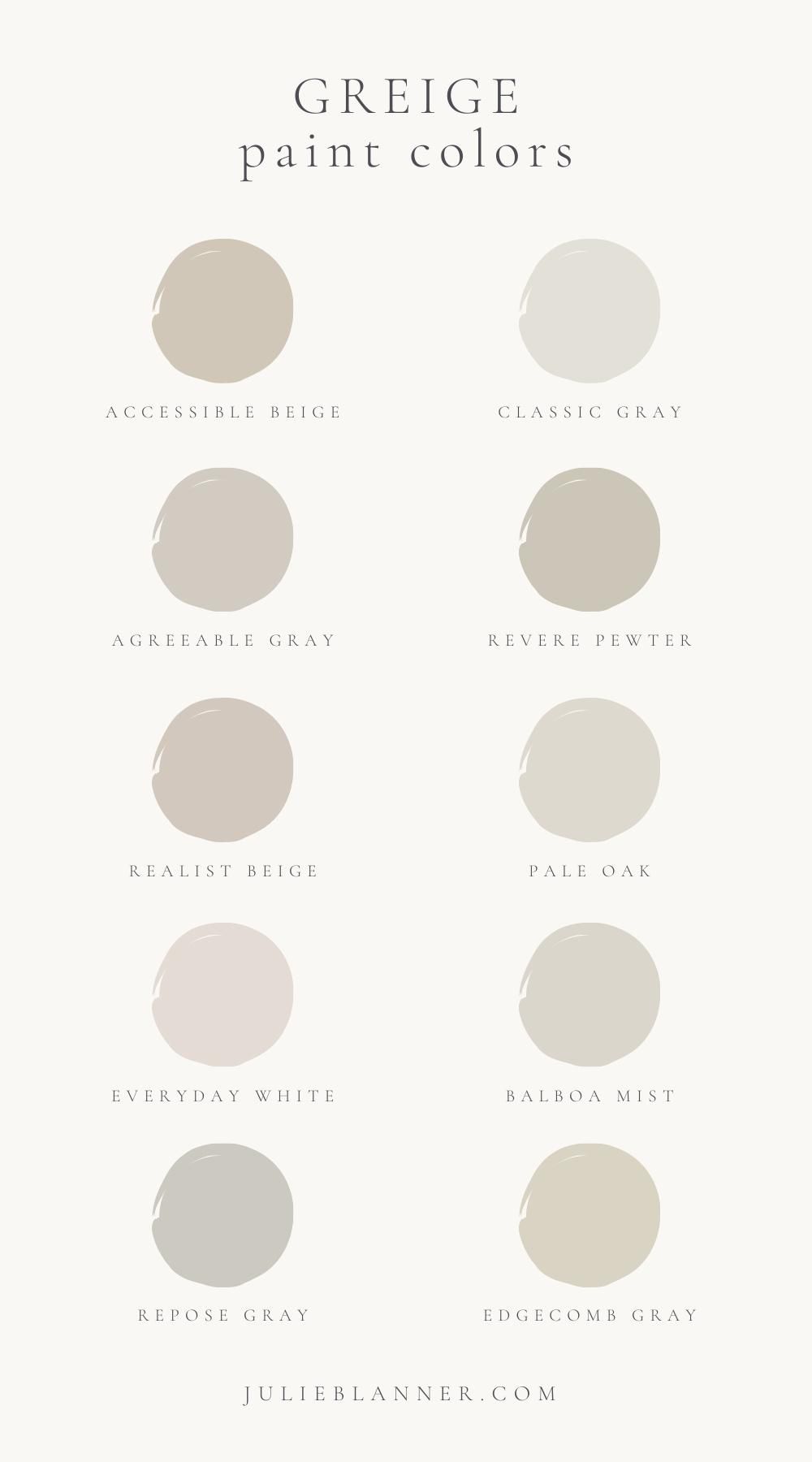 Greige Paint Colors
Today, we are focusing on the prettiest greige paint colors available to you. You can compare and contrast, and see each color used in our home (or others!) to give you the best grasp on the options. Let's get started!
For ease of navigation or to jump from color to color, don't miss the Table of Contents feature in this post! You can jump directly a section with all the details about each color, making your choices even easier.
Why choose a greige paint color? The reasons are many!
Why Greige?
If you're looking for a neutral that can work with the warm tones of wood furniture, oak cabinets oak floors, it can be difficult to find the right neutral without going too orange or yellow. Gray can feel too cold, and beige can feel too brown!
Luckily, a greige tone can help you blend old and new, warm and cool. Choosing the right greige paint color can help you find a middle ground between gray furniture and accessories and darker woods and browns, too.
We've used a variety of greige paints in the past few years on both the exterior and interior of our homes. I love these shades on cabinets and vanities for the perfect warm neutral!
You'll find a variety of our personal favorites photographed in our homes, as well as images of these popular shades used in other spaces. It's so helpful to see a gorgeous paint color in an array of spaces so you can feel confident in your choice!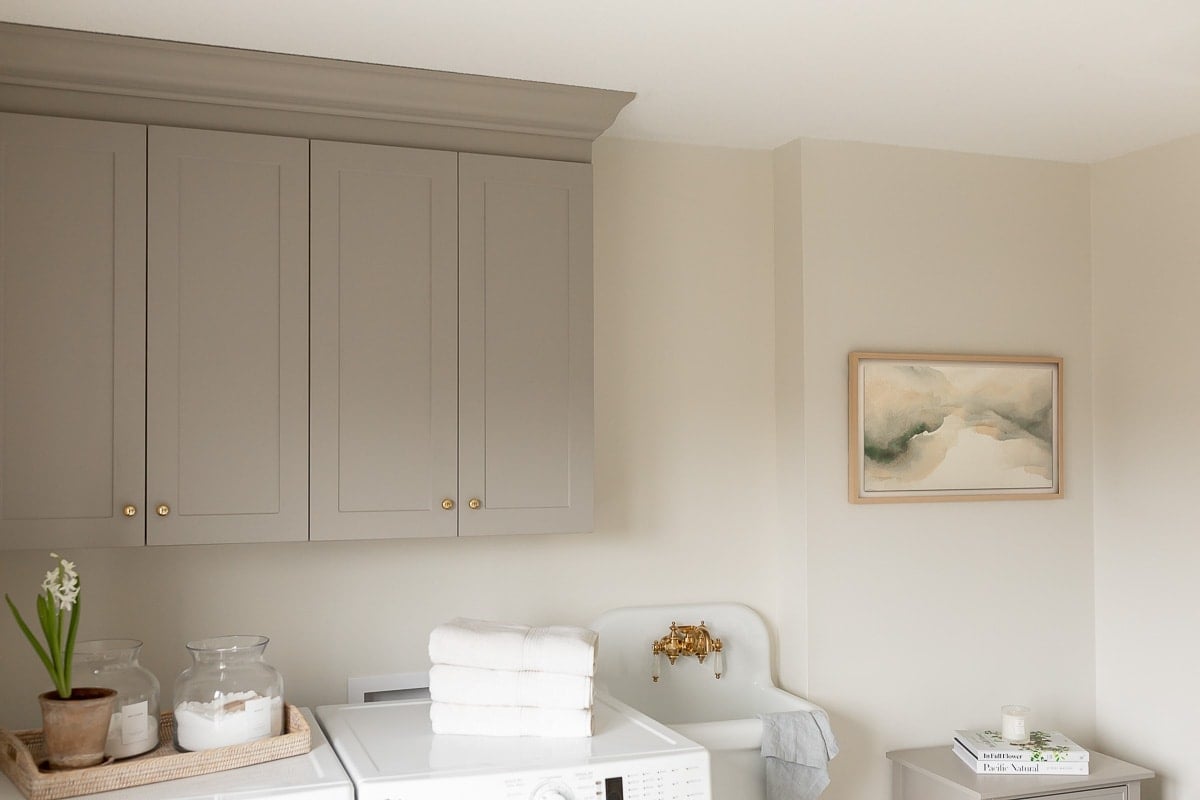 Accessible Beige is an incredibly popular greige color, and with good reason. It's a wonderful neutral and can shine in a variety of spaces – trim, cabinets, walls and exteriors.
SW 7036 has a lower LRV (light reflective value) of 58, which means that it can make a room feel softer and cozier. It's very comparable to SW Realist Beige!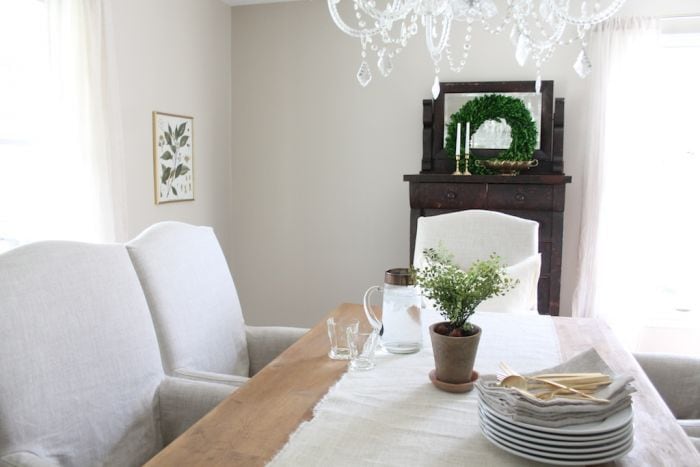 SW 7029, Agreeable Gray, is probably the most popular greige color on this list! With an LRV of 60, this one reflects a similar amount of light to Realist Beige and Accessible Beige.
It's got a little more brown undertones than Accessible Beige, in my opinion. I can't wait to try this one somewhere – have you used it anywhere in your home?
SW 6078 has an LRV of just 58.83, making it a great mid-tone color that can be surprisingly light and airy, especially on an exterior.
We used it for a little contrast on our Tudor Paint Colors makeover several years ago. It is the perfect trim paint to contrast to Everyday White, which you'll also see featured on this greige paint color round-up!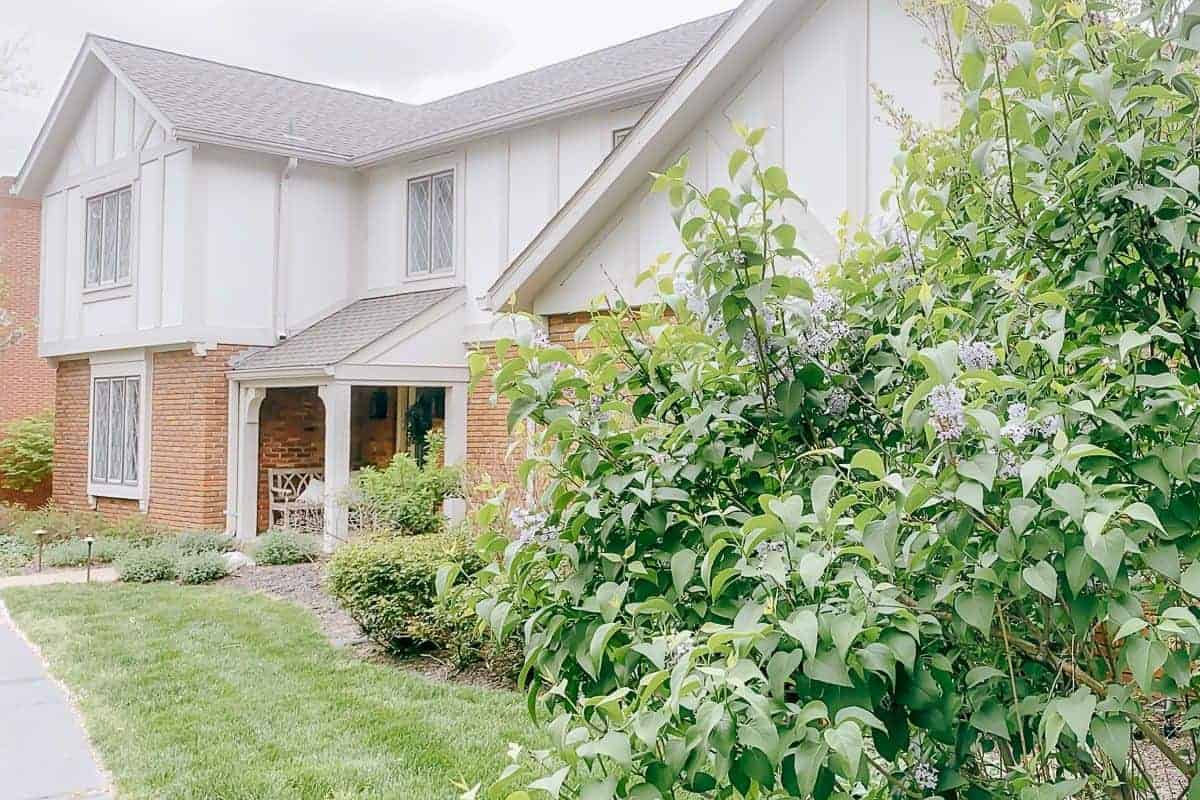 With an LRV of 72, this is one of the lightest greige tones in this round-up. However, don't skip this one because you're afraid it's too white! It's really the perfect "in-between" color!
It looks white in this photo when paired with the SW Realist Beige trim, but it's got perfect greige undertones and is very comparable to Benjamin Moore Pale Oak.
If you're using this on your interior walls, pair it with a truer white trim paint for more contrast, or consider using my favorite trick of painting walls and trim the same color.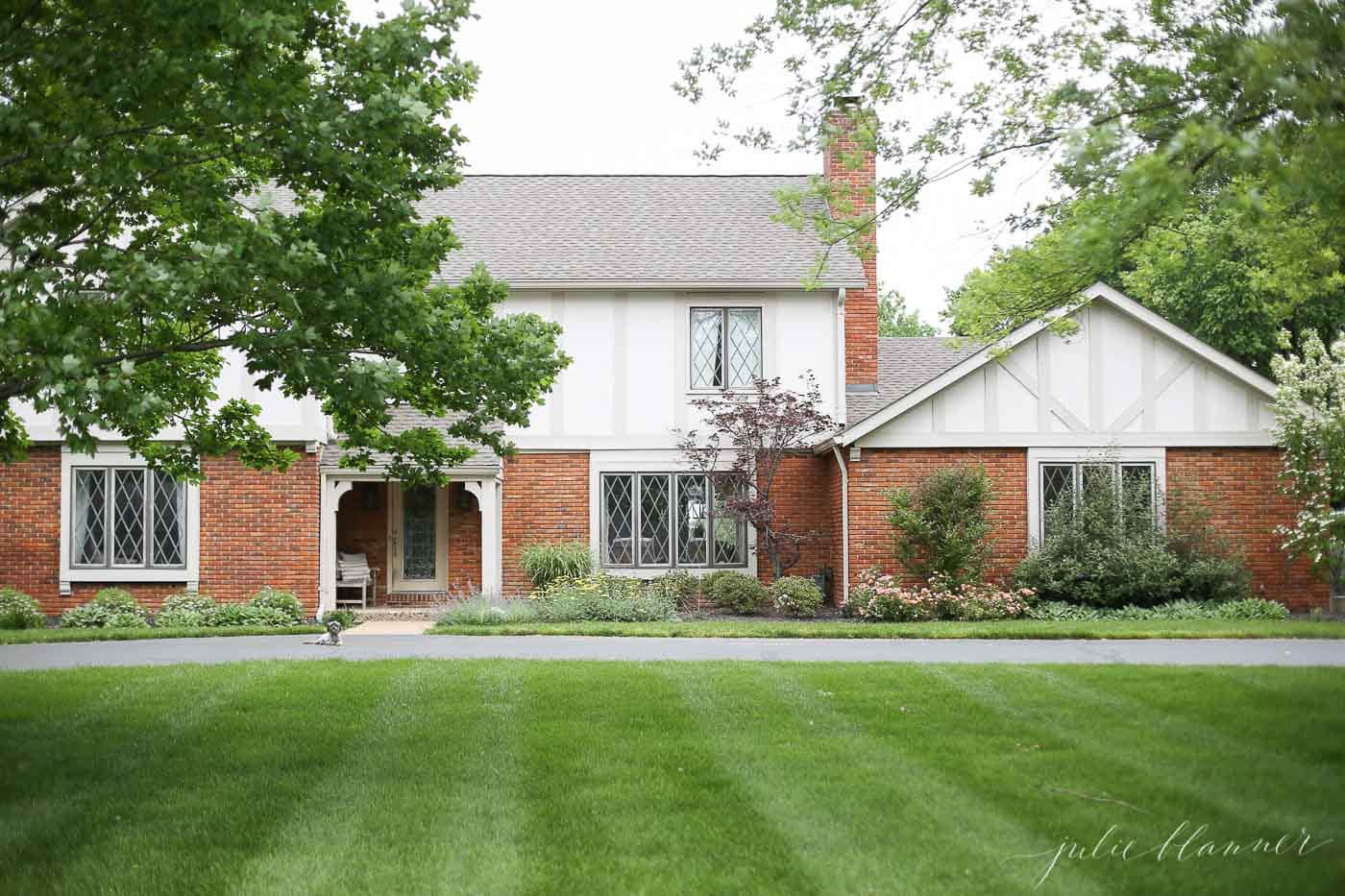 Classic Gray OC-23 is such a stunner! While it can also be considered more of an off-white, the undertones of this color lend it to the greige family as well.
With an LRV of 74.78, it's the lightest and brightest of the greige paint colors in this round-up. I'd love to use this one on our primary bathroom vanity makeover – stay tuned!
Sherwin Williams Repose Gray
SW 7015 is another popular option that you should consider if you're looking for a more mid-range greige tone. With an LRV of just 58, it's very similar to Realist Beige, which we used as our exterior trim color, above!
Consider this one for exterior projects or interior rooms that receive a lot of light – or even on your kitchen cabinets, as you can see below.
This is one of the most popular greige paint colors that has reigned supreme for the past decade. That's because it's tried and true and loved by so many homeowners!
The LRV of Revere Pewter is just 55.1, making it the darkest greige paint color in this round-up. Keep that in mind when you are choosing samples! While it will offer the most contrast from a white trim paint, it can be too dark for some rooms.
Pale Oak by Benjamin Moore (OC-20) is a soft, light, neutral greige tone. In natural lighting, it tends to read as an off-white color. Much like Sherwin Williams Accessible Beige, the accent colors and lighting in your room make a world of difference!
Pale Oak has an LRV of just under 70 (69.89), making it just a touch darker than SW Everyday White, which is also on this list. It's the perfect mushroom, greige tone that is still very light – we painted our nightstands in this color. Check out Benjamin Moore Natural Cream for another option in this range, too.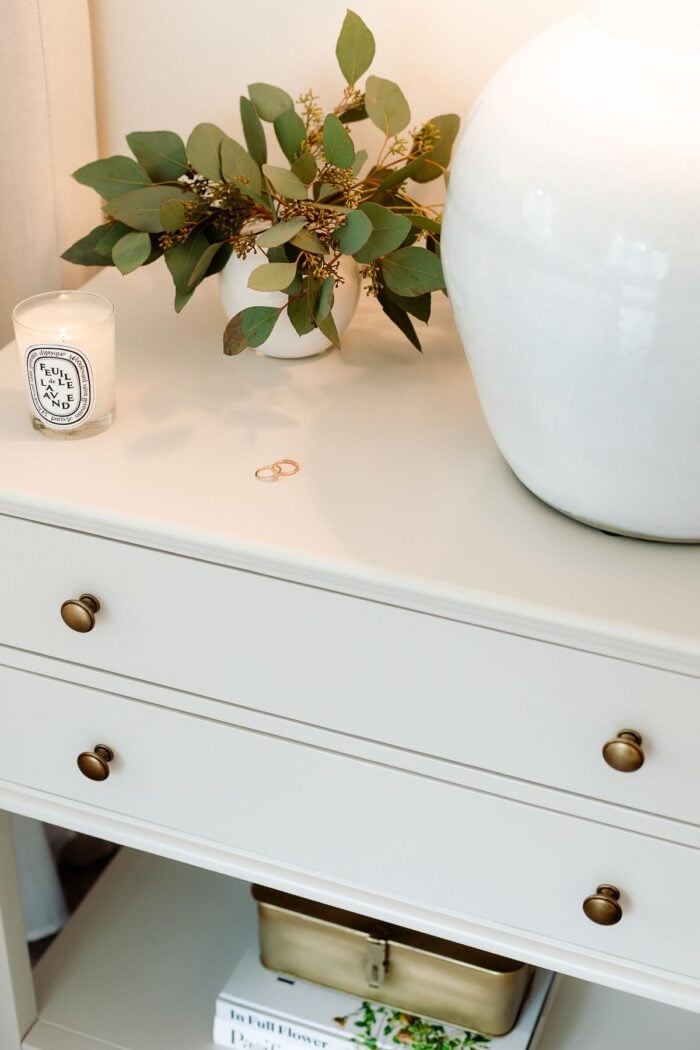 Benjamin Moore Balboa Mist
OC-27 is a creamy greige with an LRV of 67.37. It's a perfect greige tone for a variety of surfaces!
I love that this one can read as more of a true warm white, but offers the slightest touch of contrast. It reminds me of Pale Oak in that regard, so be sure to compare these two with samples!
Below, the brick is painted in Balboa Mist and the trim is Sherwin Williams Intellectual Gray. Love those copper gutters, too – what a combo!
Benjamin Moore Edgecomb Gray
This is another perennial favorite greige tone. Often, folks will compare the merits of Edgecomb Gray and Balboa Mist – I love both of them!
Edgecomb Gray reads as a little more of a beige background to me, when comparing the two. Balboa Mist is just a little cooler and more gray and a touch lighter overall, but not by much!
Edgecomb is earthy and warm, with an LRV of 63.88. That makes it very comparable to Agreeable Gray, which is the most popular greige of them all. Test them both to see what works best in your home!
I love this room below, with Edgecomb gray on the trim and Cloud White on the walls. Perfection!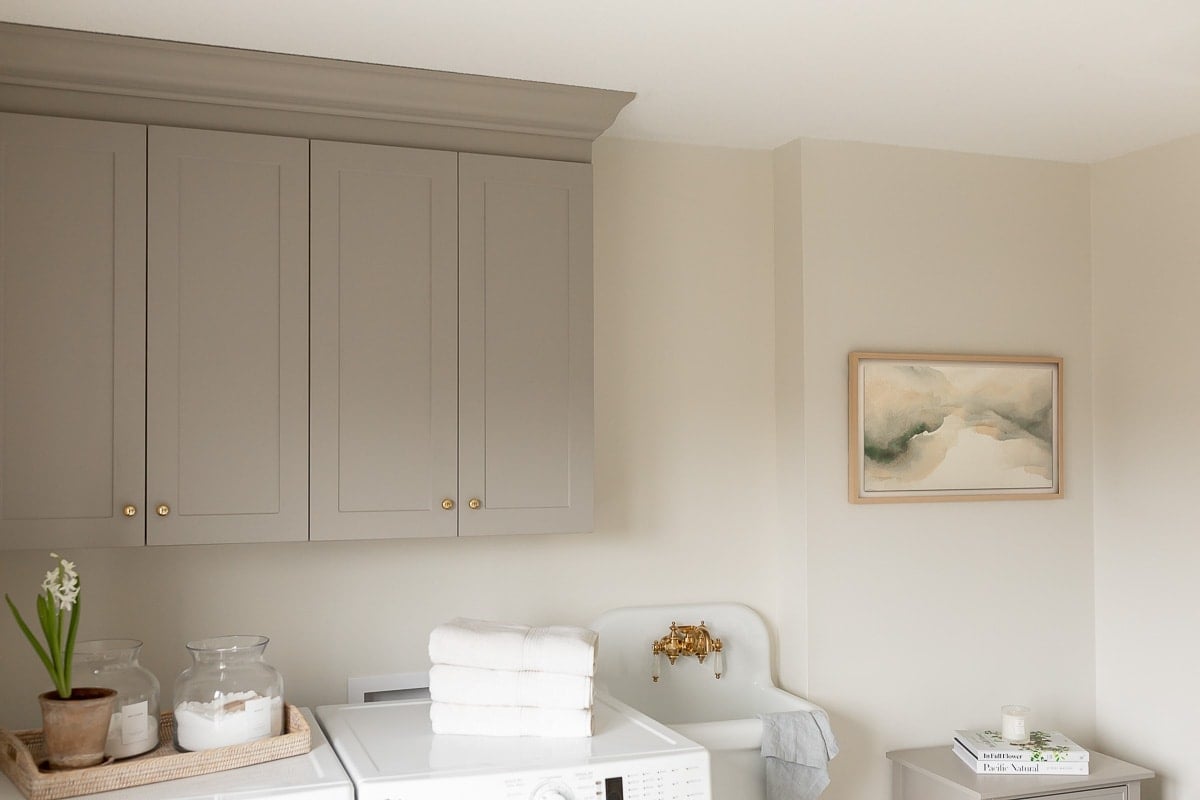 Can't find the perfect greige paint color? Learn how to color match to another item or accessory you love! We bought the cabinets featured above as a stock set, but then matched the little side table to the same color!
Come tour our Modern Laundry Room for the custom greige paint code.
Frequently Asked Questions
Is greige the same as taupe?
Generally, taupe has more of a brown and yellow undertone than a greige paint color. Greige straddles the line of gray and beige, capturing the best of both worlds. That's what makes it the perfect neutral!
What is the most popular greige color?
Agreeable Gray from Sherwin Williams is the most searched greige paint color in 2022! It's the perfect soft neutral.
I'd love to hear from you! Are you painting anything greige soon? Recently, we painted out Dutch door in a pretty soft blue – one of our favorite Coastal Blues.