Cozy up your home with the prettiest warm whites on your walls, trim, furniture and more! These warm white paint colors are some of my very favorites.
Warm white paint is more complicated than you might think. Walking into the paint store armed with an educated opinion and some great options to look for can change everything!
Learn the keys to choosing the perfect warm white paint colors for your home. I'm here to guide you every step of the way.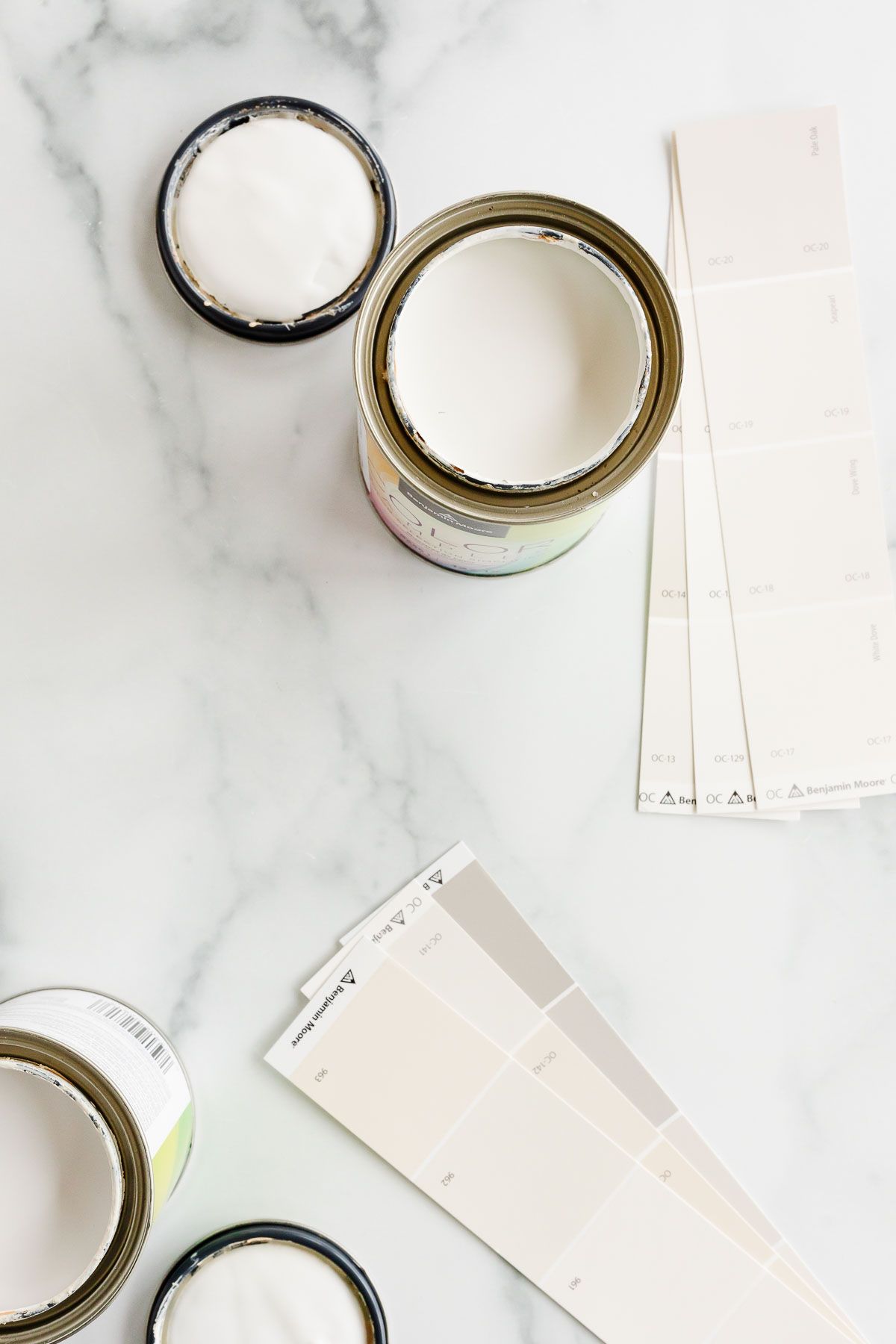 It's always been my hope that my paint guides would be of great value to readers as you navigate the choices for your homes. Paint isn't easy, that's for sure.
That's why I have created so many resources for our favorite paint colors. I know how stressful it can be, and when I share our mistakes and successes, I hope that it helps you breathe a little easier!
While I've written extensively about individual paint color options, we're also working hard to give you more comparisons and round-ups. I think this can be helpful when it comes to comparing and contrasting various colors that you're debating.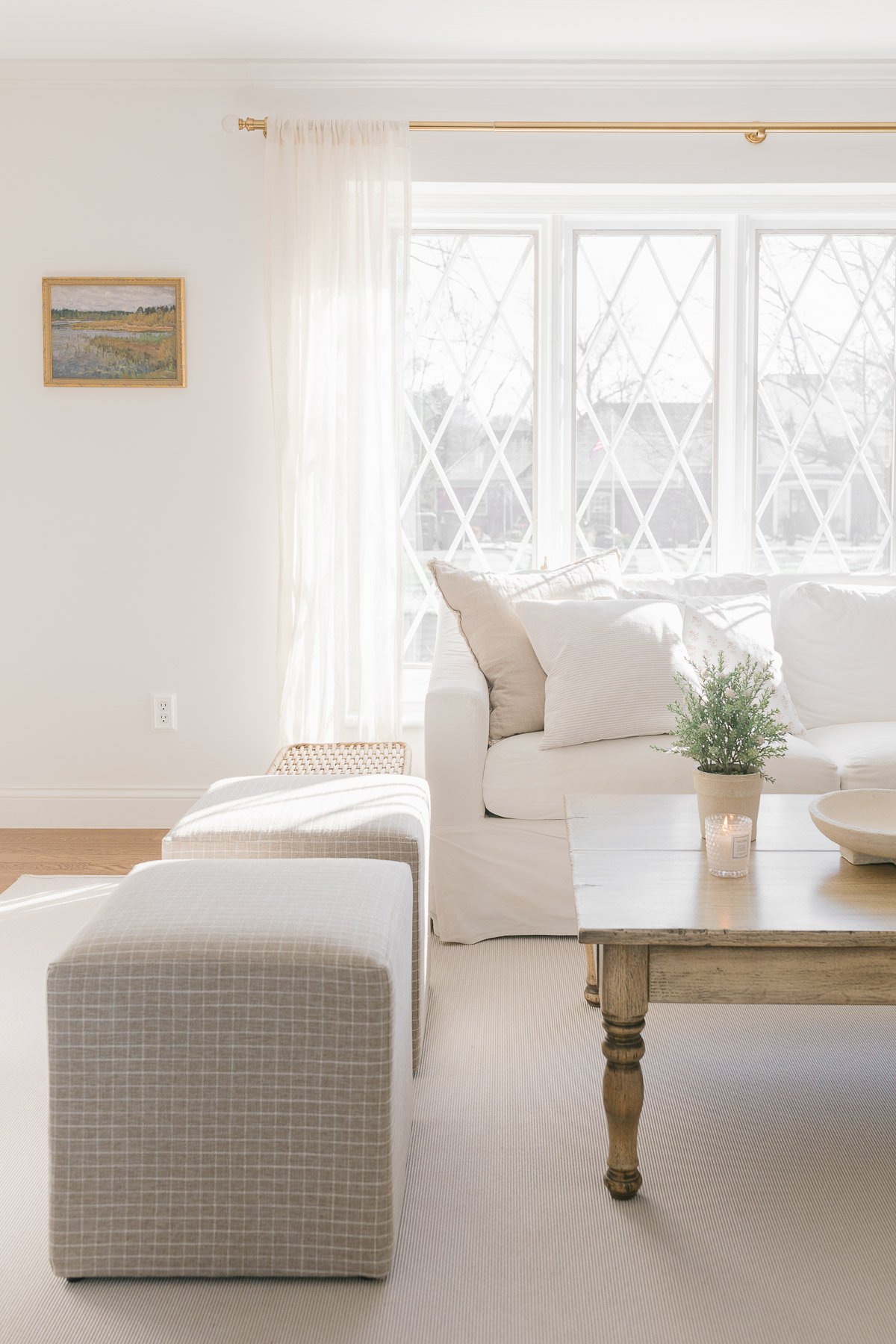 For example, check out The Best Cream Color Paint, an organized guide to our Paint Colors By Room, and my favorite Romantic Bedroom Colors. You can also find the best Greige Paint Colors, Blue Gray Paint Colors, and even some favorite Neutral Paint Colors from our previous home. There's something for everyone!
If you're researching and trying to find the perfect warm white paint color, this post is for you. Freshen your home with a light and bright color that still oozes cozy warmth! These are my favorite warm whites that will work for a variety of surfaces and spaces in your home.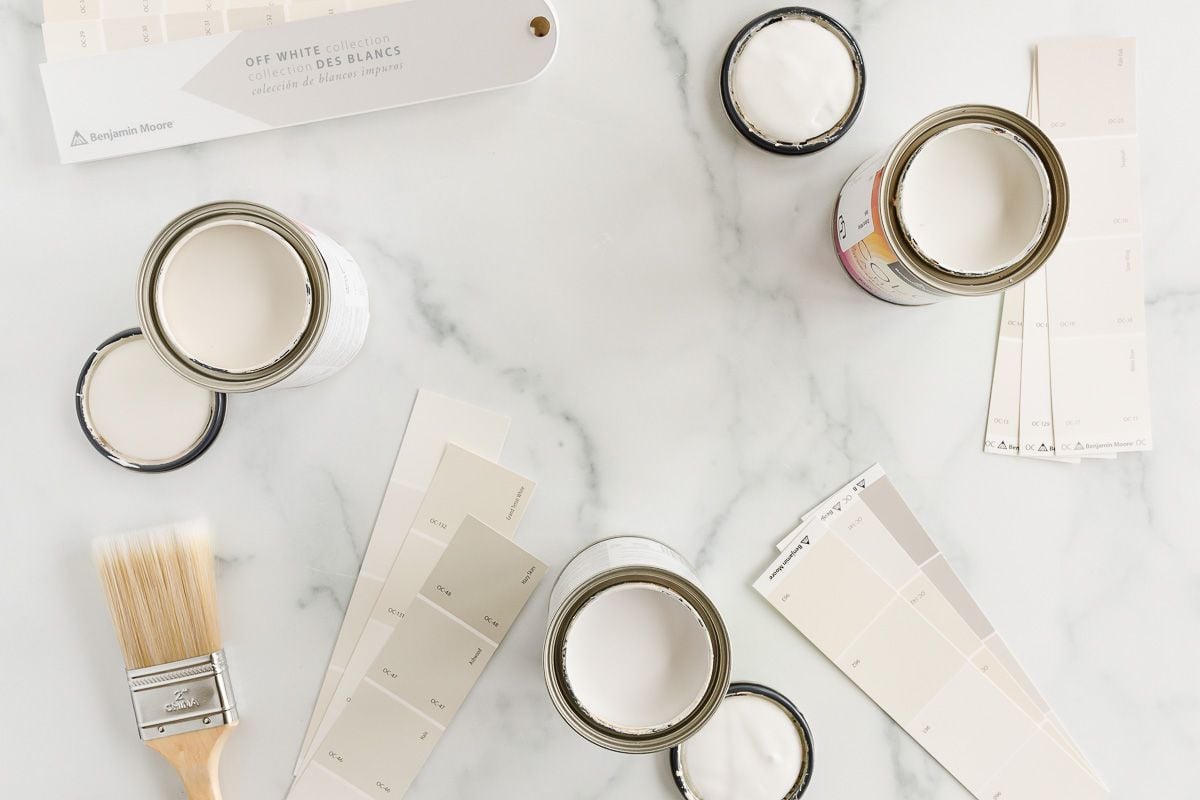 For ease of navigation or to jump from color to color, don't miss the Table of Contents feature in this post! You can jump directly a post with all the details about each color, making your choices even easier.
The Best Warm Whites
Warm white paint colors are the perfect amount of "light and bright" without feeling cold or clinical. They allow a space to reflect light with a high LRV (learn more about the importance of LRV here) while still bringing all the cozy vibes!
I've spent years making mistakes with our paint choices so you don't have to! These paint colors are tried and true, used in a variety of spaces and lighting situations.
An informed paint shopper is a confident one! Get all the tools you need to make the right warm white paint color choice for your home, right here in this post!
First, a few of my favorite paint tips.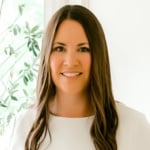 Tips
Get a sample, or even 5-6 samples if that's what it takes. Learn more about Paint Samples here!
Try the warm white color on two walls in the room, or exterior that face different directions.
Look at the paint at various times during the day to see how it reads in various lighting situations.
Test it with your trim color.
Shades of white will have a high light reflectance value, picking up the reflection of the colors around them.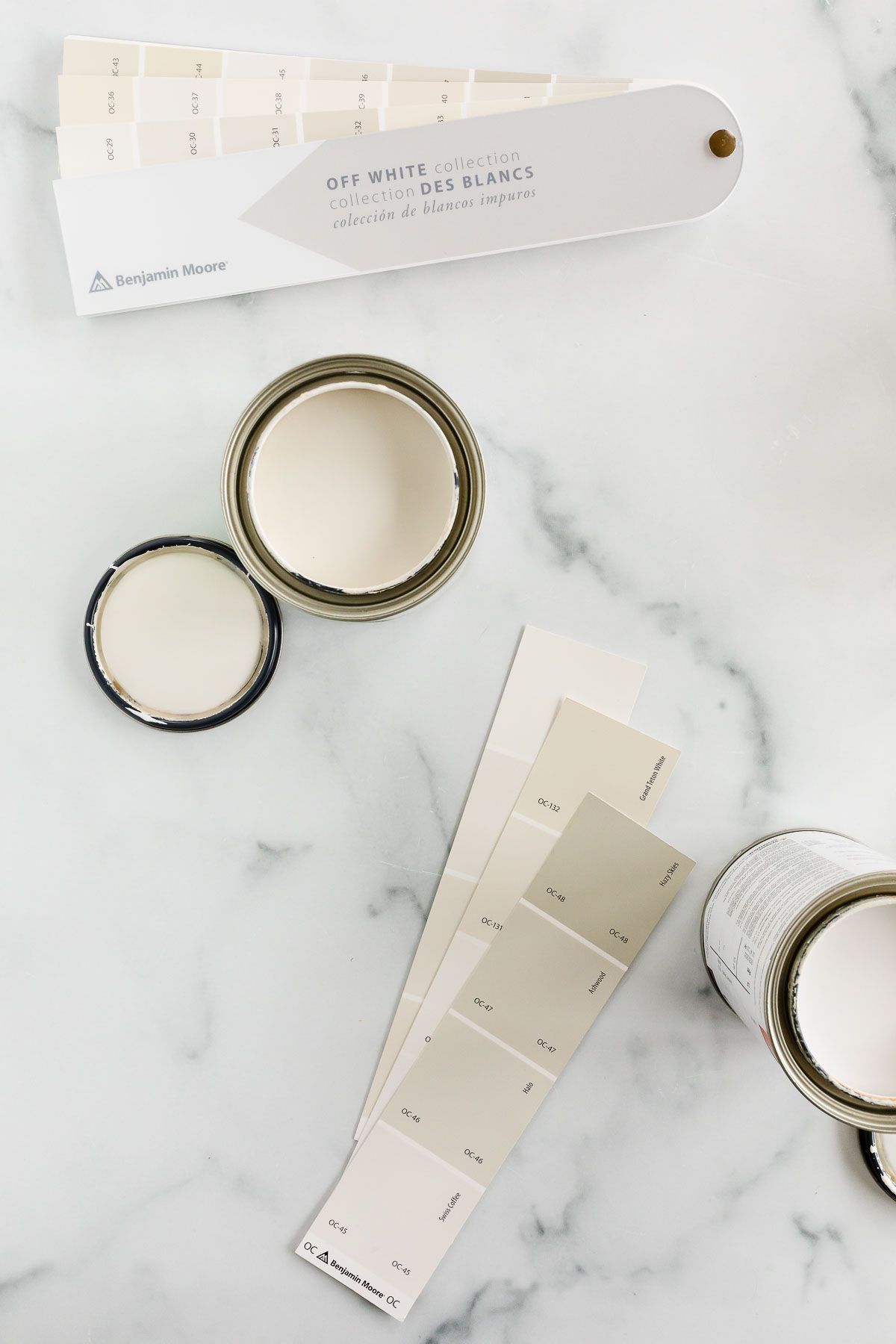 Benjamin Moore White Dove is a paint color that is tried and true. Beloved by homeowners and interior designers alike, this is a warm white paint that you can use with confidence – click through to find out why!
This color feels light and airy with a hint of a greige undertone. White Dove has an LRV of 85, coming in right in the middle of the colors in this round-up!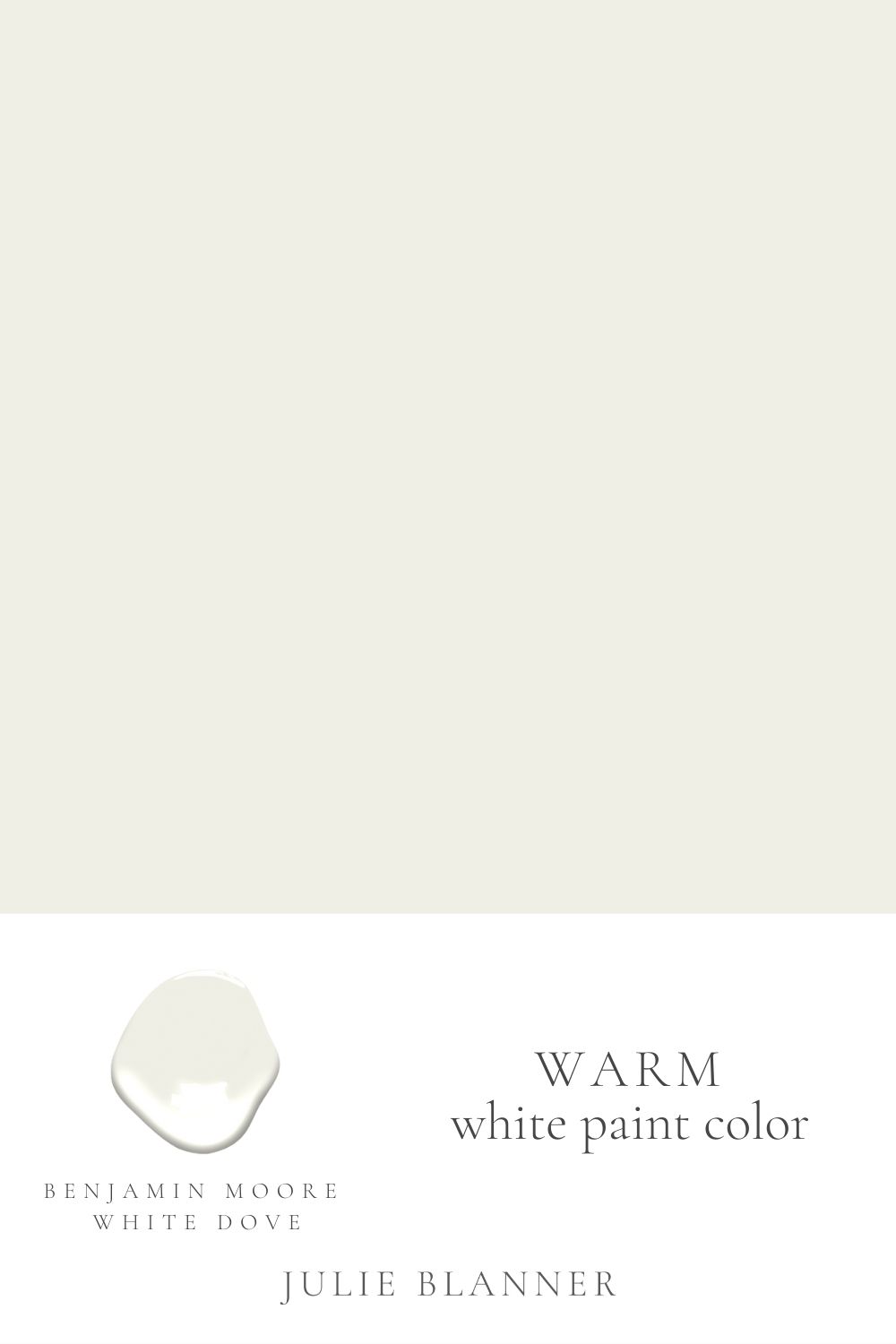 If you're looking for a sophisticated, warm off white color, Benjamin Moore Swiss Coffee might be the one for you! Swiss Coffee paint color has an LRV of 83.93, which is considered high, and centered in the middle of the options included in this guide.
Warm, welcoming, and yet still light and bright, this color is popular for a reason! Swiss Coffee is a paint color with a little touch of yellow and ever-so-slightly green undertones.
This one is a favorite of popular interior designer Shea McGee. Find all my favorite Studio McGee at Target shopping steals here!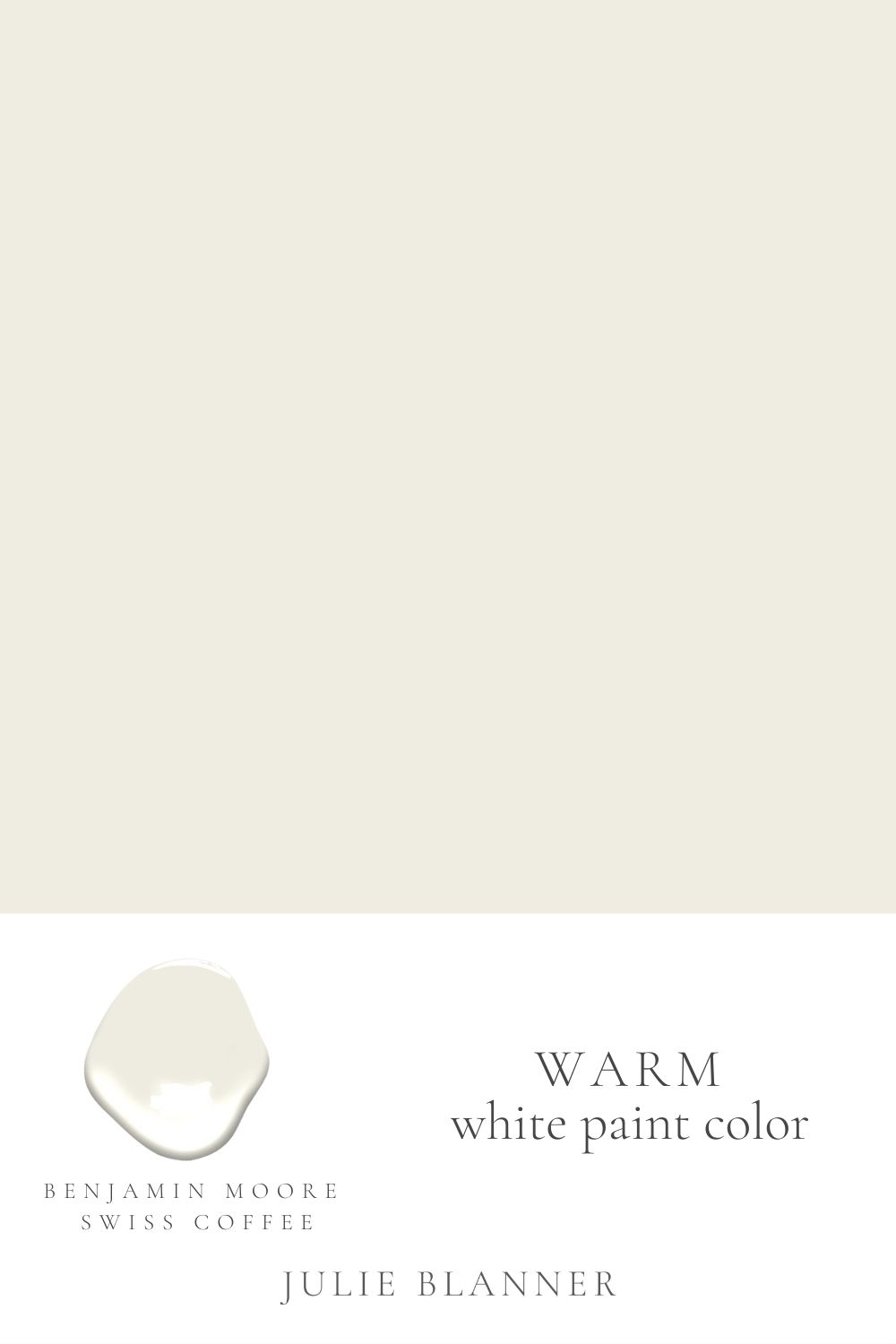 We loved this color in our old home so much that we decided to use it again in our current home. We painted the walls throughout some of the main level in Zurich White, including the entryway, living room, family room, and dining room.
This color is perfect for those who love gray, but would like something a touch warmer. It's also great if you're looking for a very slightly greige tone, or if you're transitioning from a gray room. The LRV of Zurich White is 76, which is one of the lowest of all the colors on this list.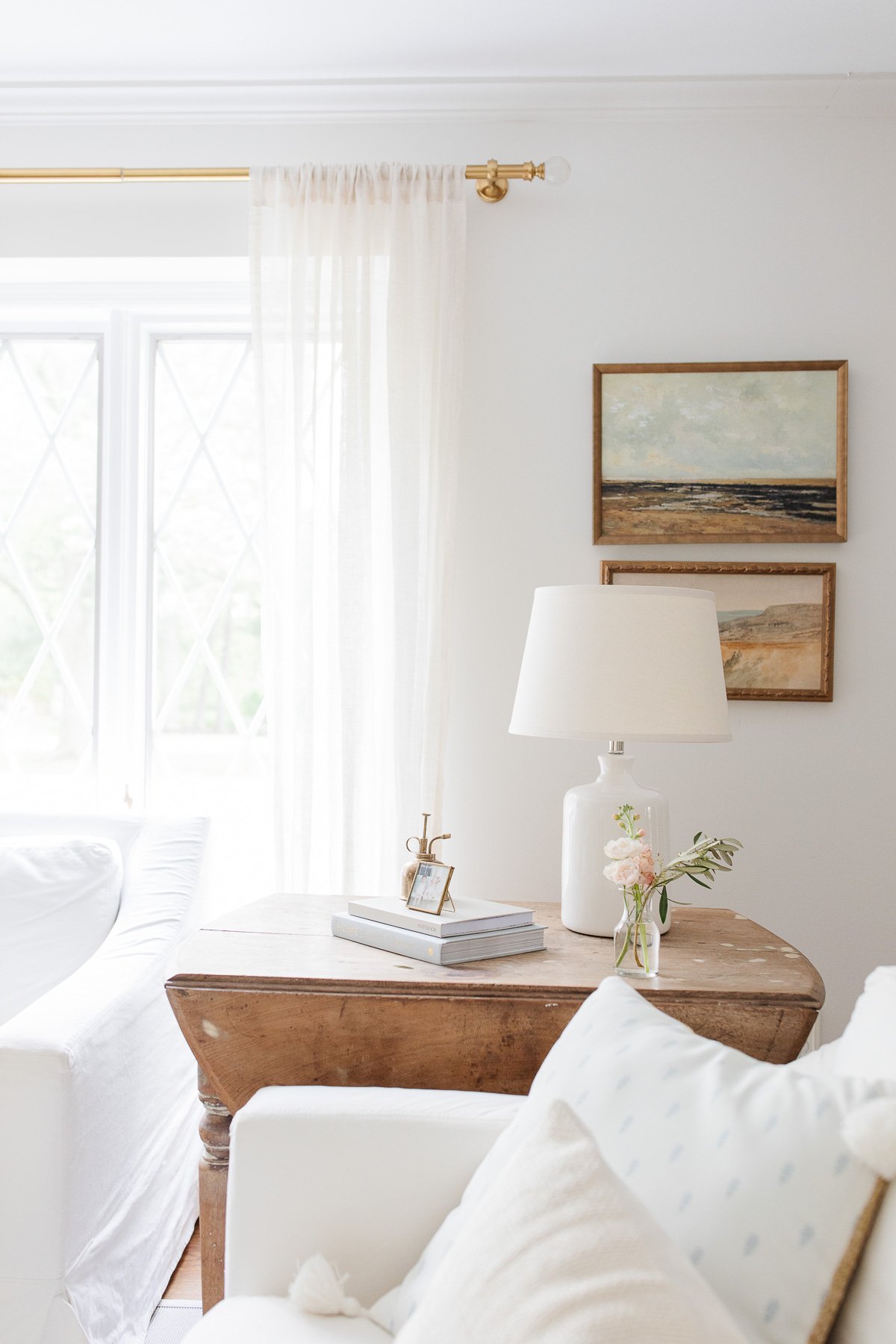 I discovered Benjamin Moore Soft Chamois from one of my favorite designers, Phoebe Howard. I love how warm it feels, yet still very light, giving the illusion of space in our foyer bath and creating a relaxing retreat in areas like our master bedroom.
Soft Chamois undertones have just a hint of yellow and green. The LRV (Light Reflectance Value) of Soft Chamois is 78.94, making it very similar to Creamy and Zurich White.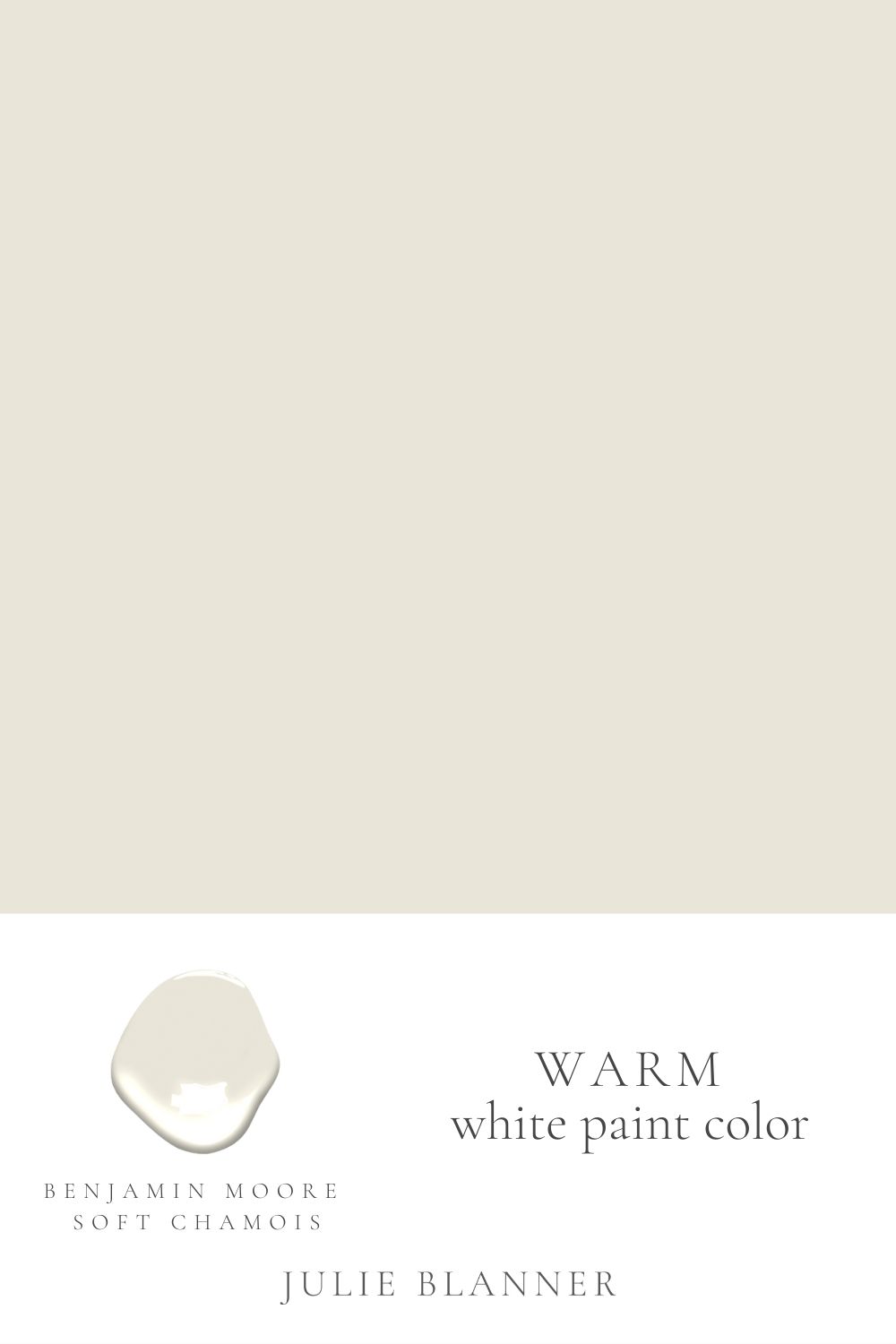 Navajo White is a beautiful, creamy white that is timeless and fresh. It's a rich, deep warm white that has a significant yellow undertone compared to many of the colors on this list.
It works beautifully in our breakfast room where it receives an ample amount of natural light. The LRV for SW1039 Zurich White is 76.61, comparable to Creamy and Zurich White.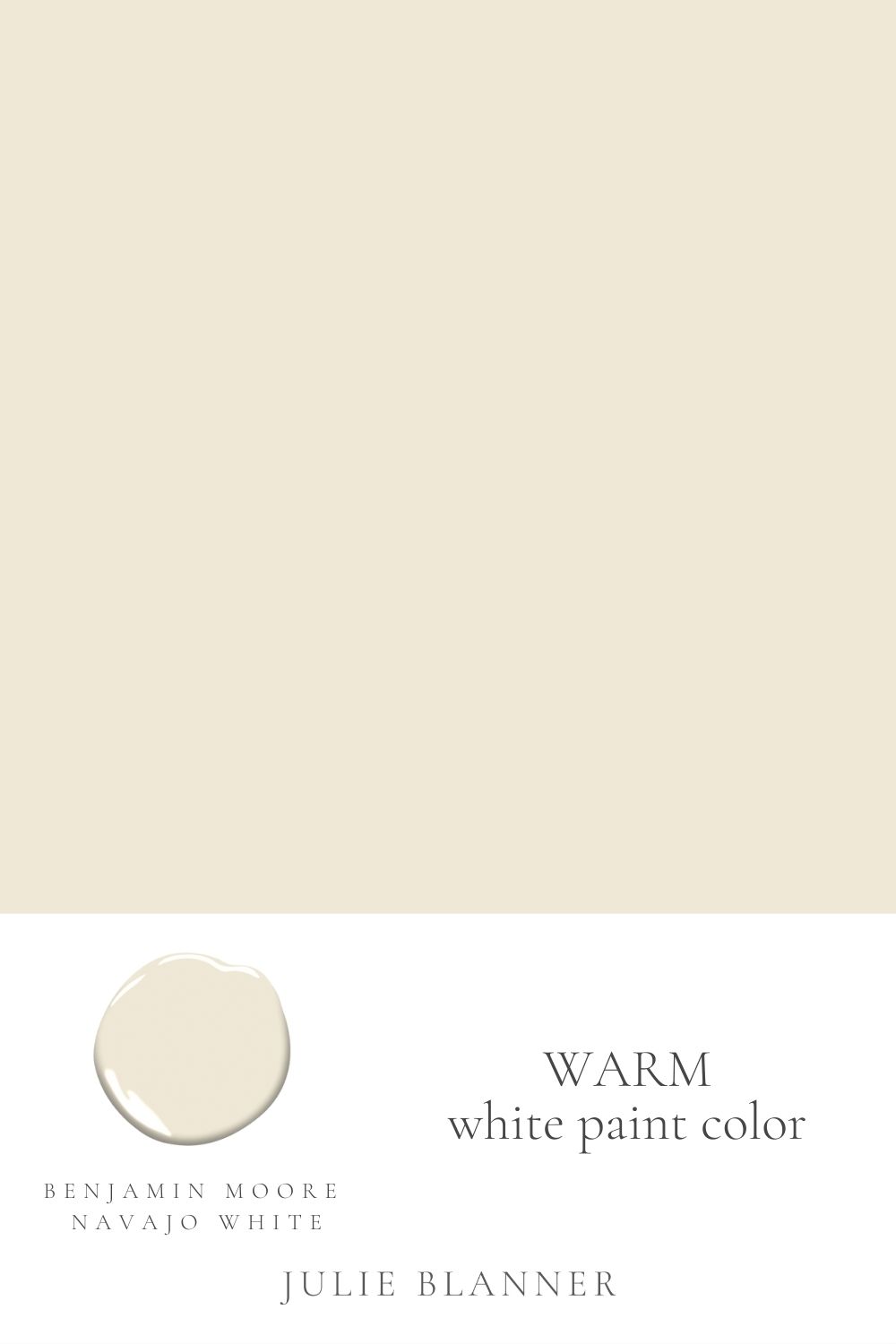 It's a soft, warm white that is classic, but not stark, with a very slight yellow undertone. Click through to learn everything you need to know about SW 7012 Creamy!
This color is my favorite White Furniture Paint because it perfectly matches the warm white that Pottery Barn Kids uses for their furniture lines! The LRV of Sherwin Williams Creamy is 81, making it a little brighter and more reflective than Zurich White.
Simply White is a crisp, clean, warm off-white. It's not a true cream and it's barely antiqued at all… reading as more of a white in most rooms.
This warm white color's undertones are very slightly yellow with a touch of green and blue. The LRV for Benjamin Moore Simply White is 91.7, which is considered very high – it's the highest of the warm whites in this round-up, in fact.
You can see more of this color on the exterior of my neighbor's White Brick House!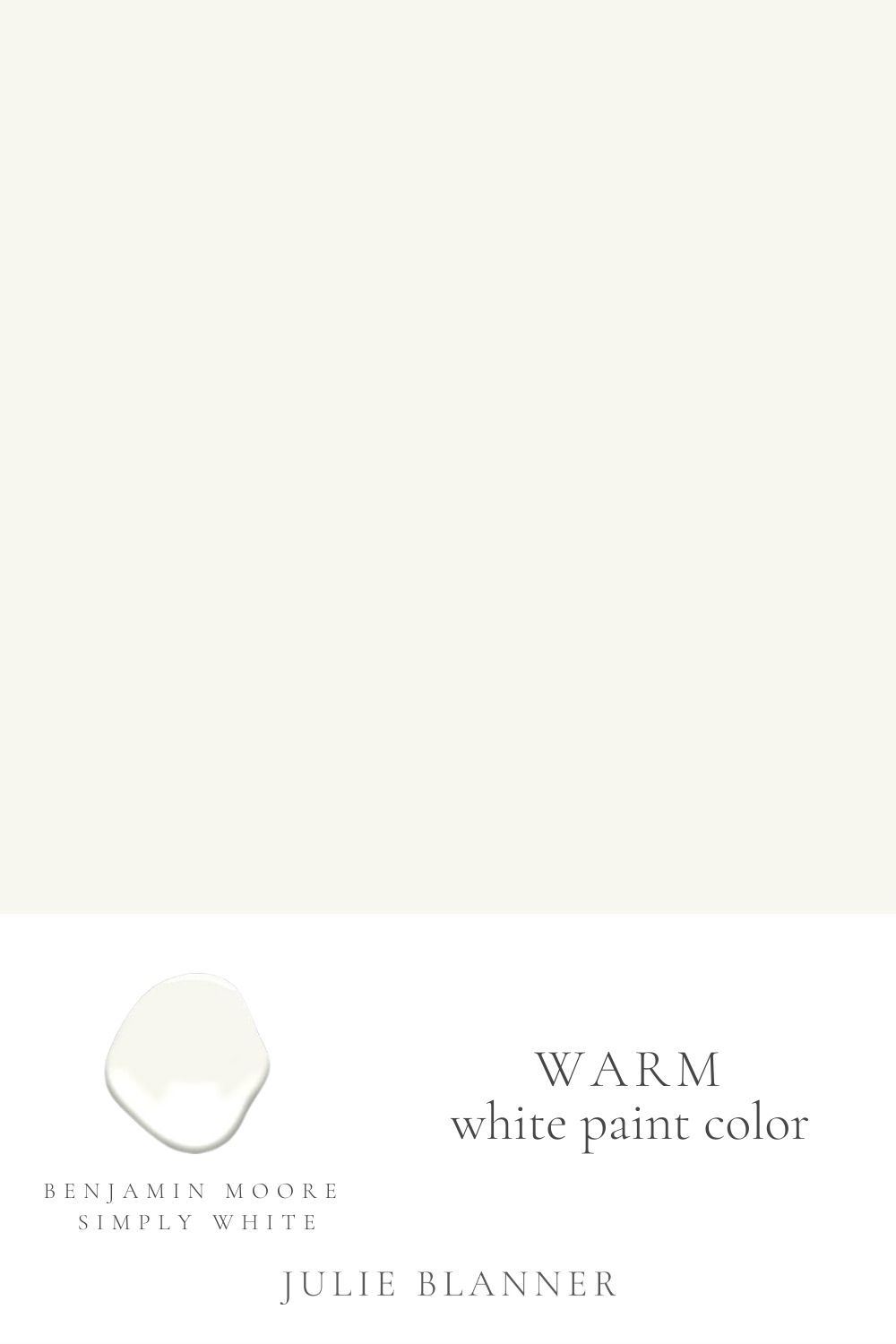 It's important to keep in mind that warm whites are not a true, bright white! They run the gamut of colors, everywhere from cream, to greige and beige and even taupe undertones. Pure, true white (or any shade of cool white) tends to be much less warm and cozy.
Come see what there is to love about Benjamin Moore Cloud White. Thanks to its creamy undertones, it is a warm and cozy white color with a classic feel.
Cloud White is a classic, timeless color that has been popular for many years. It definitely has creamy undertones, and depending on your light, it can appear a bit more yellow at times. An LRV of 85 means that Cloud White is definitely a light and bright color.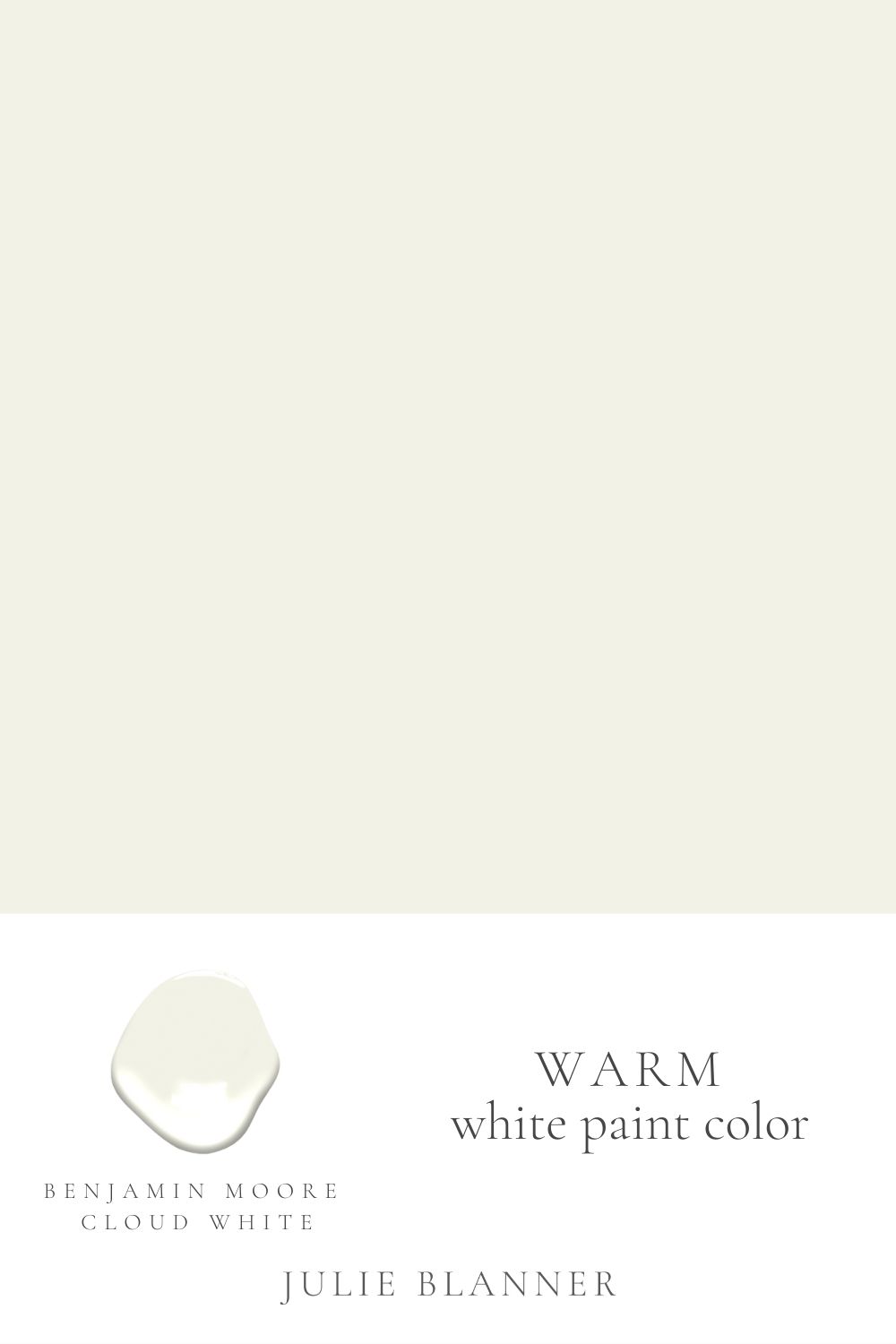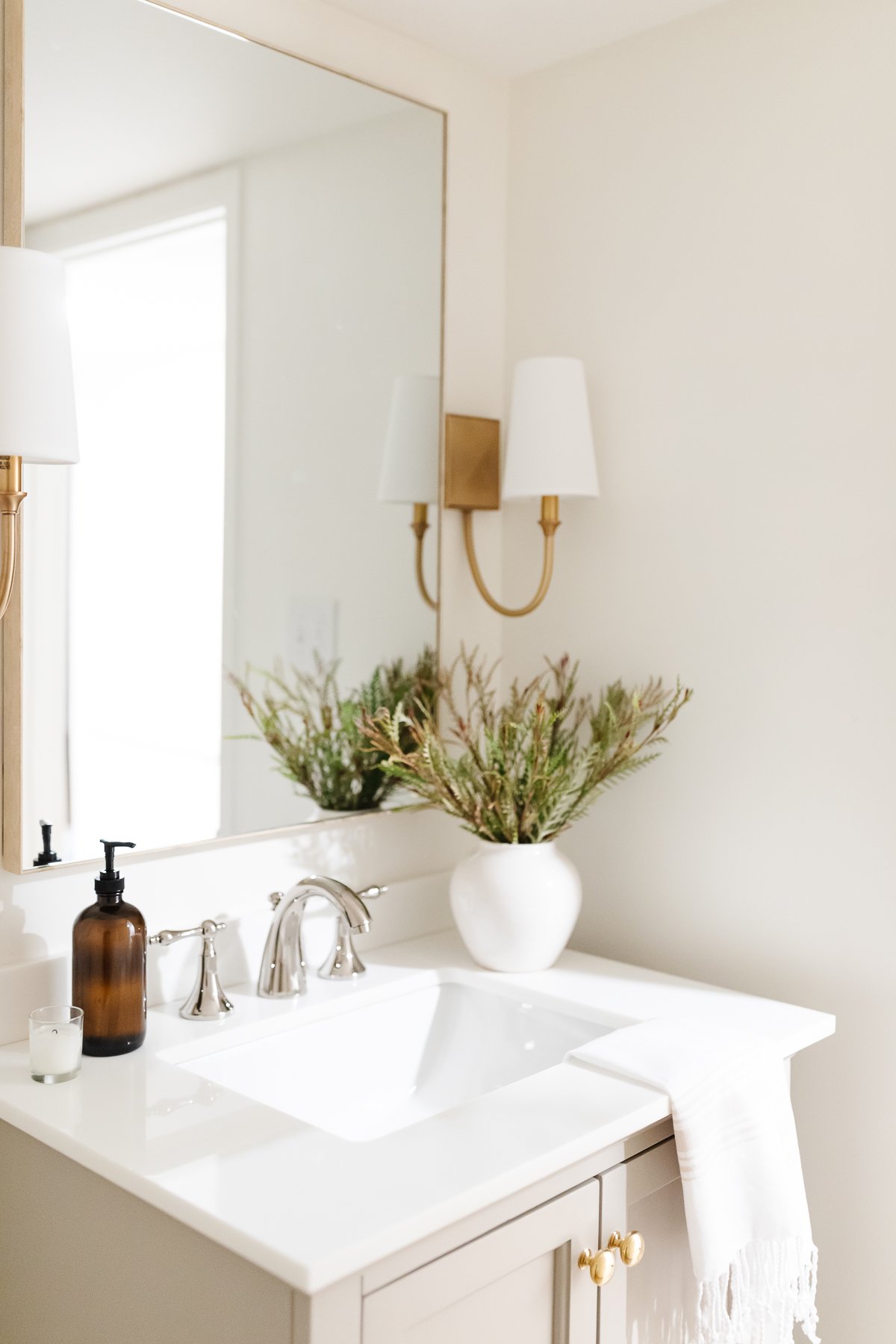 White Tie is a warm, cozy white with a yellow undertone (they also use a hint of black in this one). It's a pale, creamy white that is warm and casts a beautiful glow in well lit rooms.
The LRV of White Tie is 84.8, putting it square in the middle of most of the warm whites on this list!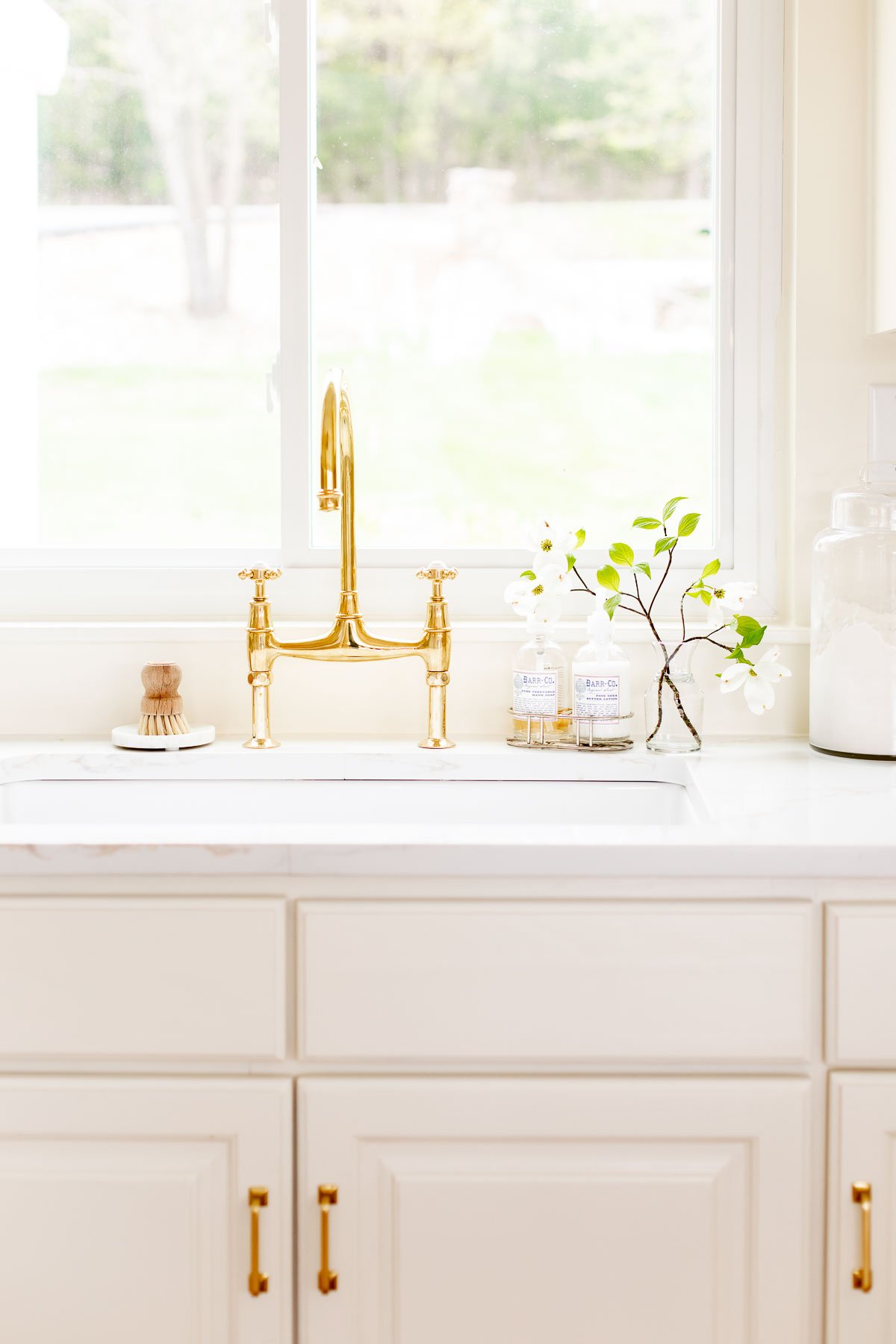 This is a warm, creamy white that has true beige and cream in the undertones. While I still consider this one a warm white, I think it's the deepest of all the options on this list!
It has a LRV of 72 (100 being the highest, black being 0). That's actually the lowest LRV of any color on this list!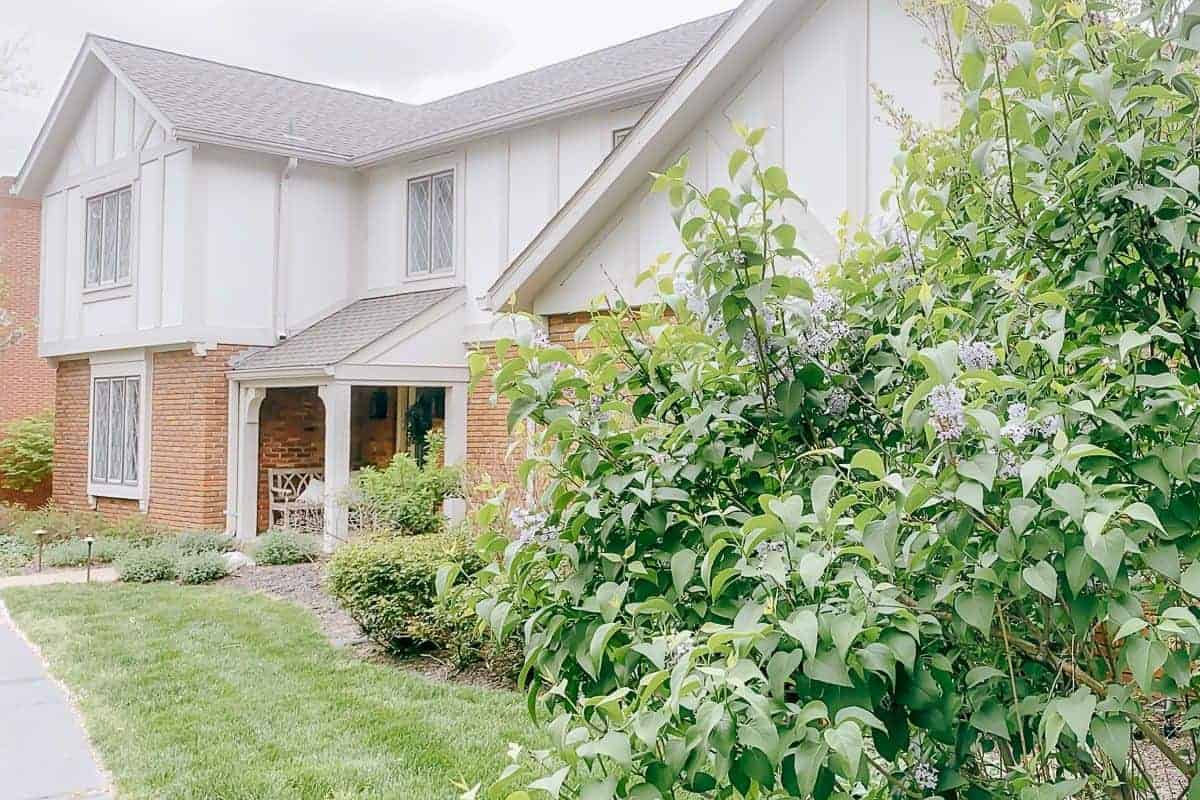 Recently, we painted out Dutch door in a pretty soft blue – one of our favorite Coastal Blues.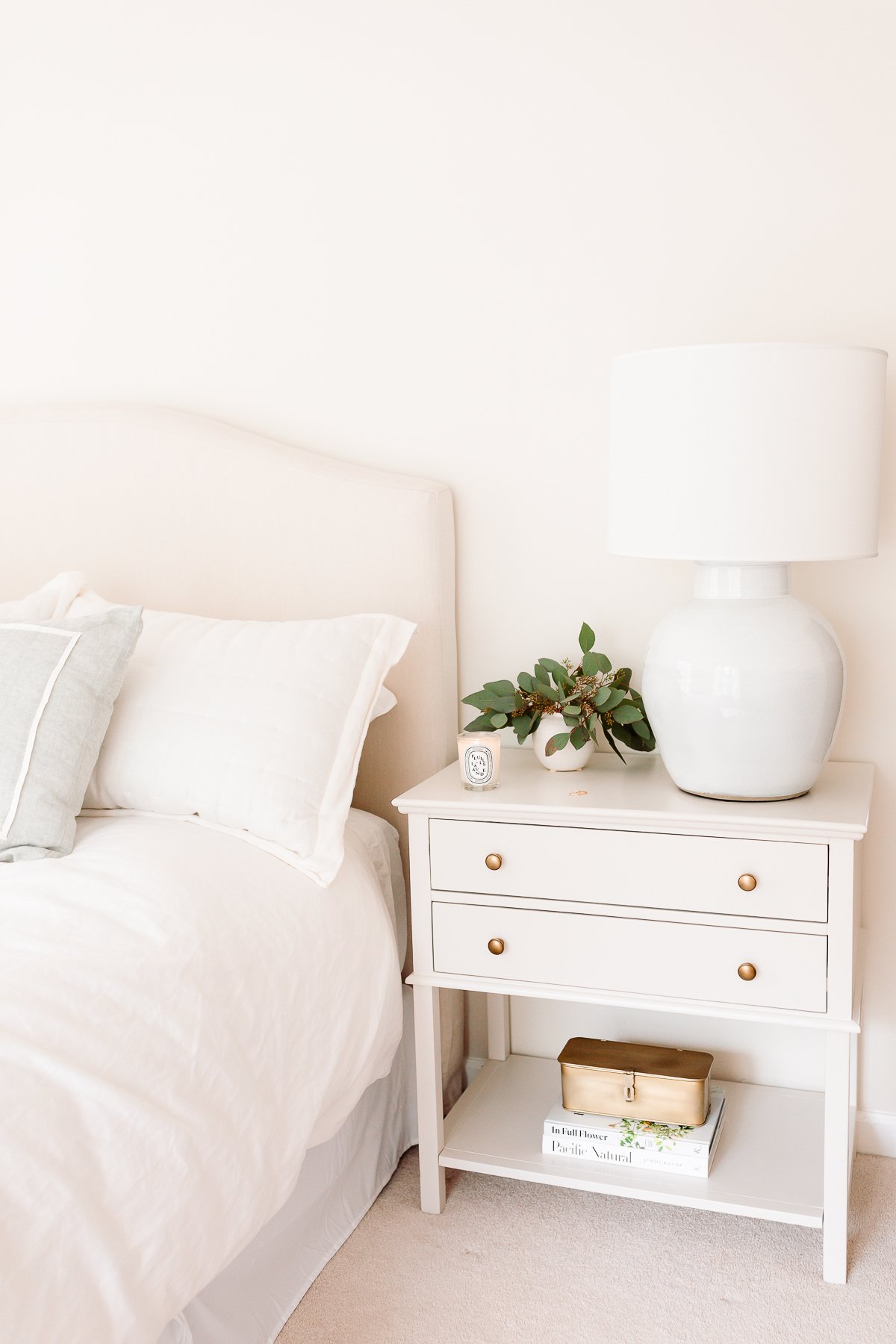 Frequently Asked Questions
What undertones do warm whites have?
Warm whites can have a hint of a wide variety of undertones. You'll find touches of yellows, grays, oranges, reds and more. Some warm whites lean towards a greige tone and can also have hints of purples, blues and greens!
How do you choose warm white paint?
Consider a variety of factors when choosing your warm whites! Look at your lighting situation, along with the undertones and LRV of each option. Compare and contrast with samples to ensure you're making the right choice- studying them at various points of the day.
What do you think? Are you a fan of warm whites like I am? Next up on my list: I want to try the color Greek Villa somewhere! I love talking paint with you and I'd love to hear from you.
Let's keep in touch! Receive exclusive content, including never-seen-before photos, our favorite home decor DIYs and more!