This all inclusive measurement conversion chart is an invaluable kitchen tool. It includes liquid measuring conversion, teaspoons to tablespoons, tablespoons to cups, pound conversion, and ounce conversion.
Whether you are cutting down a recipe or converting from weight measurements, this kitchen conversion table is for you!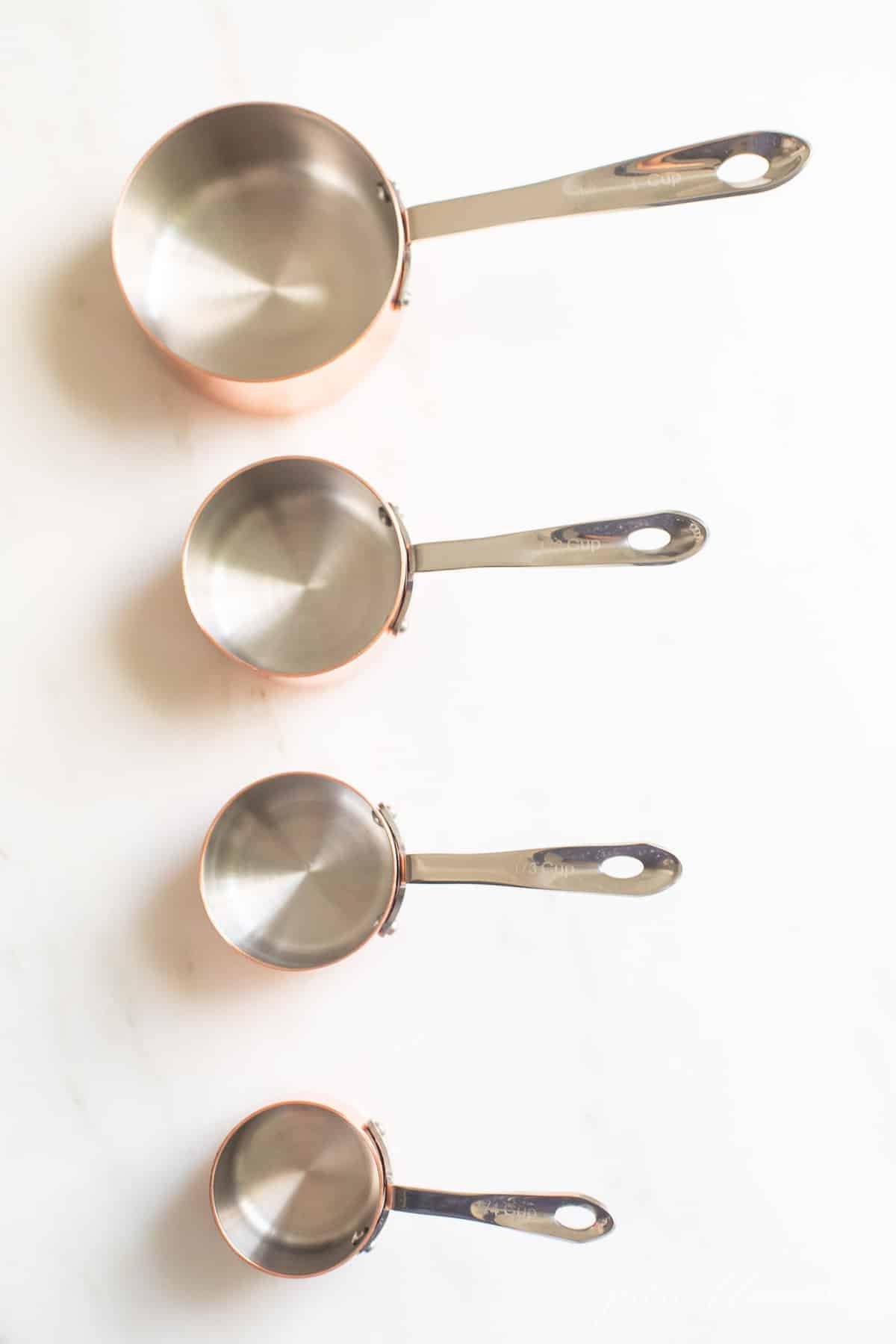 I have always enjoyed referring to a list of measurement conversions for my favorite recipes. It makes changing the serving size so easy!
With this Measurement Conversion Chart, you can easily cut down a recipe or easily double it for a crowd! If you want to go crazy you can even cut it into thirds or triple it! The options are endless.
I love giving you the printable resources you need to make your time in the kitchen more efficient. Get my list of baking supplies my baking substitutions chart, as well as my printable recipe cards.
Why Do I Need A Measurement Conversion Chart?
When cooking, it's easy to throw a little bit of this or that without measuring. However, baking is an exact science. While it is a fun hobby and passion for many (myself included!) accurate measurements ensure that your baked goods will rise, have the correct texture or perfect crumb and end over overly salty!
An accessible cooking measurement converter makes baking smooth and effortless – no matter how much or little you are making!
You can get the free printable kitchen conversion chart below under my tips and tricks!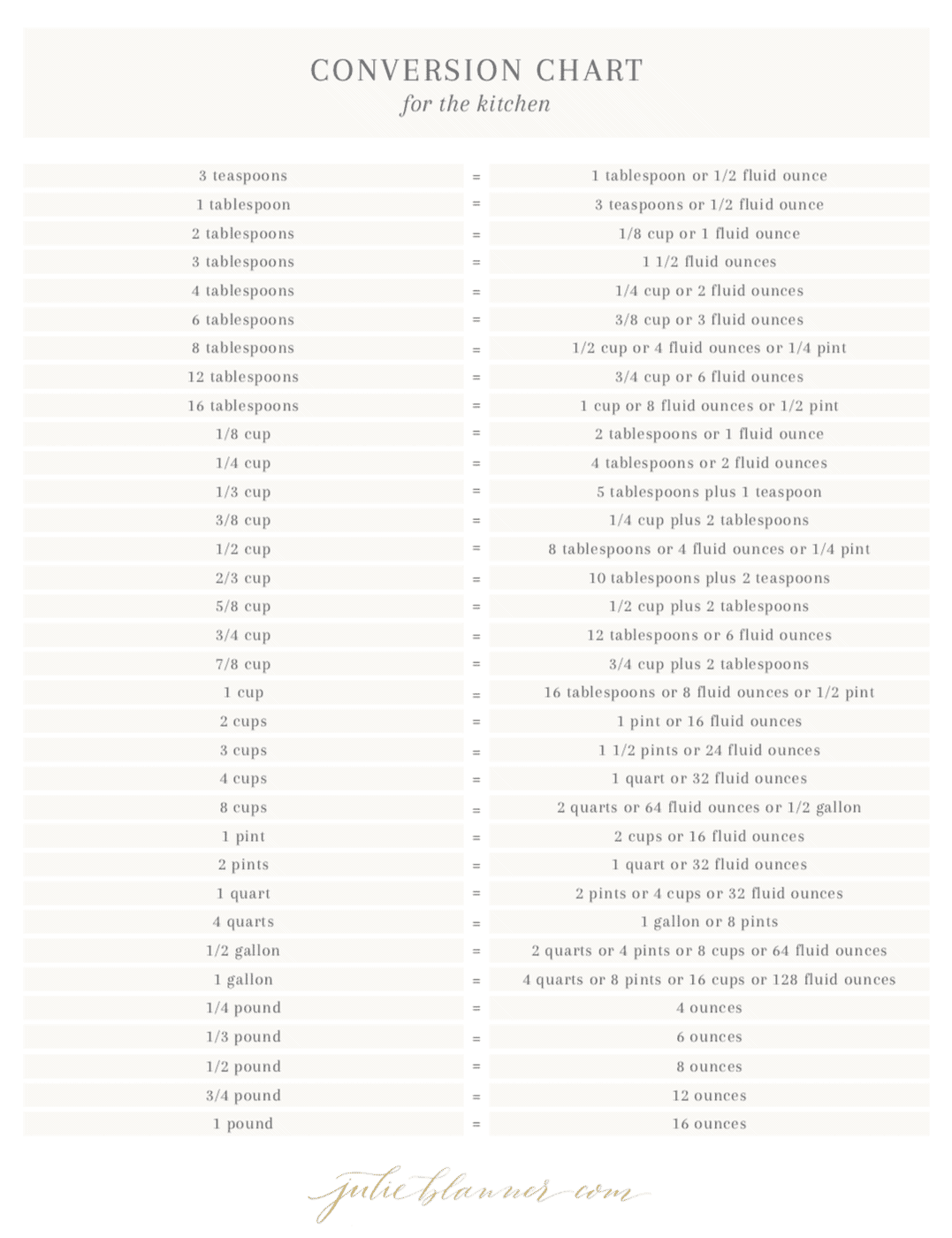 Measurement Conversion Chart
3 teaspoons = 1 tablespoon or ½ fluid ounce
1 tablespoon = 3 teaspoons or ½ fluid ounce
2 tablespoons = ⅛ cup or 1 fluid ounce
3 tablespoons = 1 1/2 fluid ounces
4 tablespoons = ¼ cup or 2 fluid ounces
6 tablespoons = ⅜ cup or 3 fluid ounces
8 tablespoons = ½ cup or 4 fluid ounces or ¼ pint
12 tablespoons = ¾ cup or 6 fluid ounces
16 tablespoons =1 cup or 8 fluid ounces or ½ pint
⅛ cup = 2 tablespoons or 1 fluid ounce
¼ cup = 4 tablespoons or 2 fluid ounces
⅓ cup = 5 tablespoons plus 1 teaspoon
⅜ cup = ¼ plus 2 tablespoons
½ cup = 8 tablespoons or 4 fluid ounces or ¼ pint
⅔ cup = 10 tablespoons plus 2 teaspoons
⅝ cup = ½ cup plus 2 tablespoons
¾ cup = 12 tablespoons or 6 fluid ounces
⅞ cup = ¾ cup plus 2 tablespoons
1 cup = 16 tablespoons or 8 fluid ounces or ½ pint
2 cups = 1 pint or 16 fluid ounces
3 cups = 1 ½ pints or 24 fluid ounces
4 cups = 1 quart or 32 fluid ounces
8 cups = 2 quarts or 64 fluid ounces or ½ gallon
1 pint = 2 cups or 16 fluid ounces
2 pints = 1 quart or 32 fluid ounces
1 quart = 2 pints or 4 cups or 32 fluid ounces
4 quarts = 1 gallon or 8 pints
½ gallon = 2 quarts or 4 pints or 8 cups or 64 fluid ounces
1 gallon = 4 quarts or 8 pints or 16 cups or 128 fluid ounces
¼ pound = 4 ounces
⅓ pound = 6 ounces
½ pound = 8 ounces
¾ pound = 12 ounces
1 pound = 16 ounces

What is Included in this Kitchen Conversion Chart
This cooking conversion chart includes a variety of solid and liquid conversions. How to convert teaspoons into tablespoons, tablespoons into cups, ounces, pints, quarts, gallons, and pounds!
So whether you are making a pitcher of lemonade for a garden party, or a single serving of your favorite brownie recipe, you'll find the right measurement conversions here!
Abbreviations For Measurements
Recipes often use abbreviations for measurements. Here are the standard abbreviations and what they mean:
t or tsp = Teaspoon
T or Tbsp = Tablespoon
c = Cups
oz. = Fluid Ounces
oz = Ounces
lb = Pound
pt = Pint
qt = Quart
gal = gallon

Liquid Conversion Versus Dry Conversion
To measure accurately, use the correct measuring cups designed to measure liquid ingredients or solid ingredients. Using the correct measuring cup for dry ingredients or liquid ingredients matters!
Liquid measuring cups measure volume where 1 cup of a liquid ingredient would be equal to 8 fluid ounces.
The same does not hold true for dry ingredients where 1 cup of a dry ingredient does not always equal to 8 ounces in weight. 1 cup of flour will weigh slightly more than 1 cup of oats. Solid measuring cups also have a flat top where ingredients should be leveled off and liquid measuring cups have a handle and spout for pouring.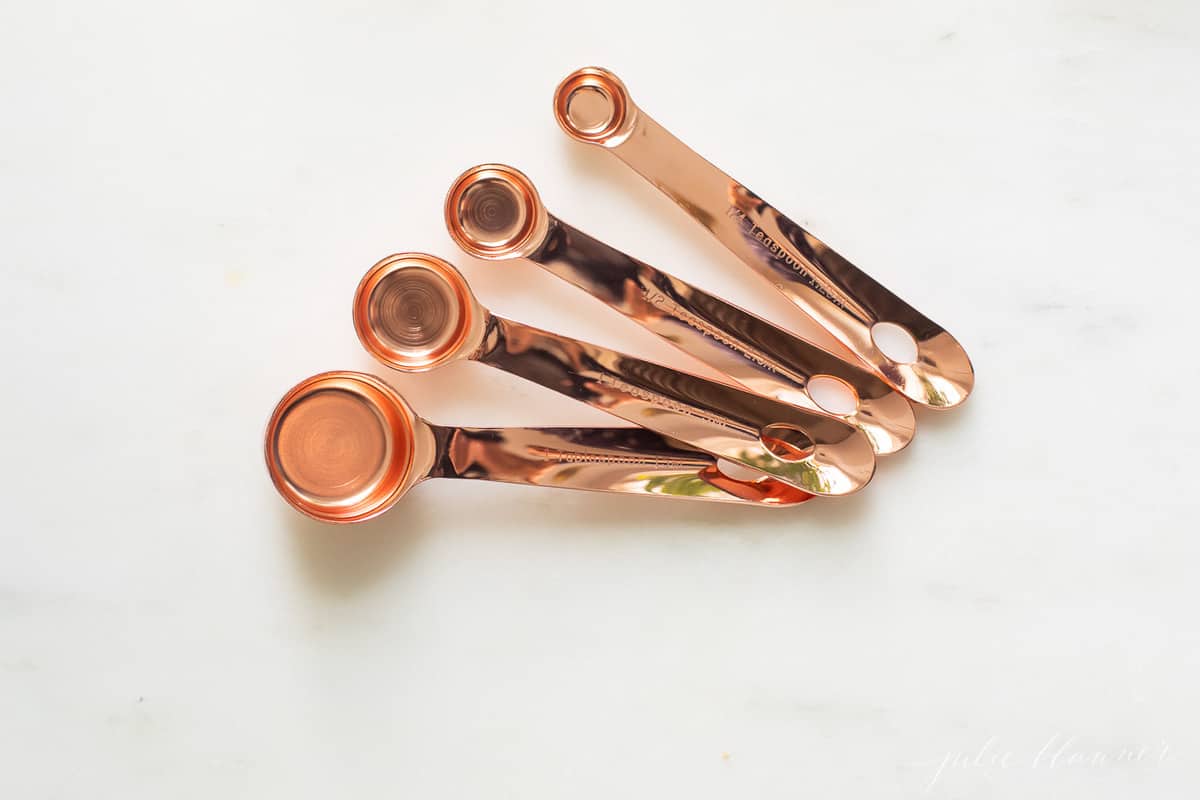 If you love this, you don't want to miss my Best Baking Secrets! Get them here!
Tips For Using This Dry and Liquid Conversion Chart
This conversion table can also be used when you don't have the exact measuring cups needed for a recipe. Simply consult your conversion chart for the correct measurements using the tools you have at home.

Laminate your conversion chart for longevity.

Tape it inside your cabinet door for quick and easy use.

To level off dry ingredients, use a dinner knife and slide across the top of the measuring cup. It insures the exact amount of the ingredient without packing it down.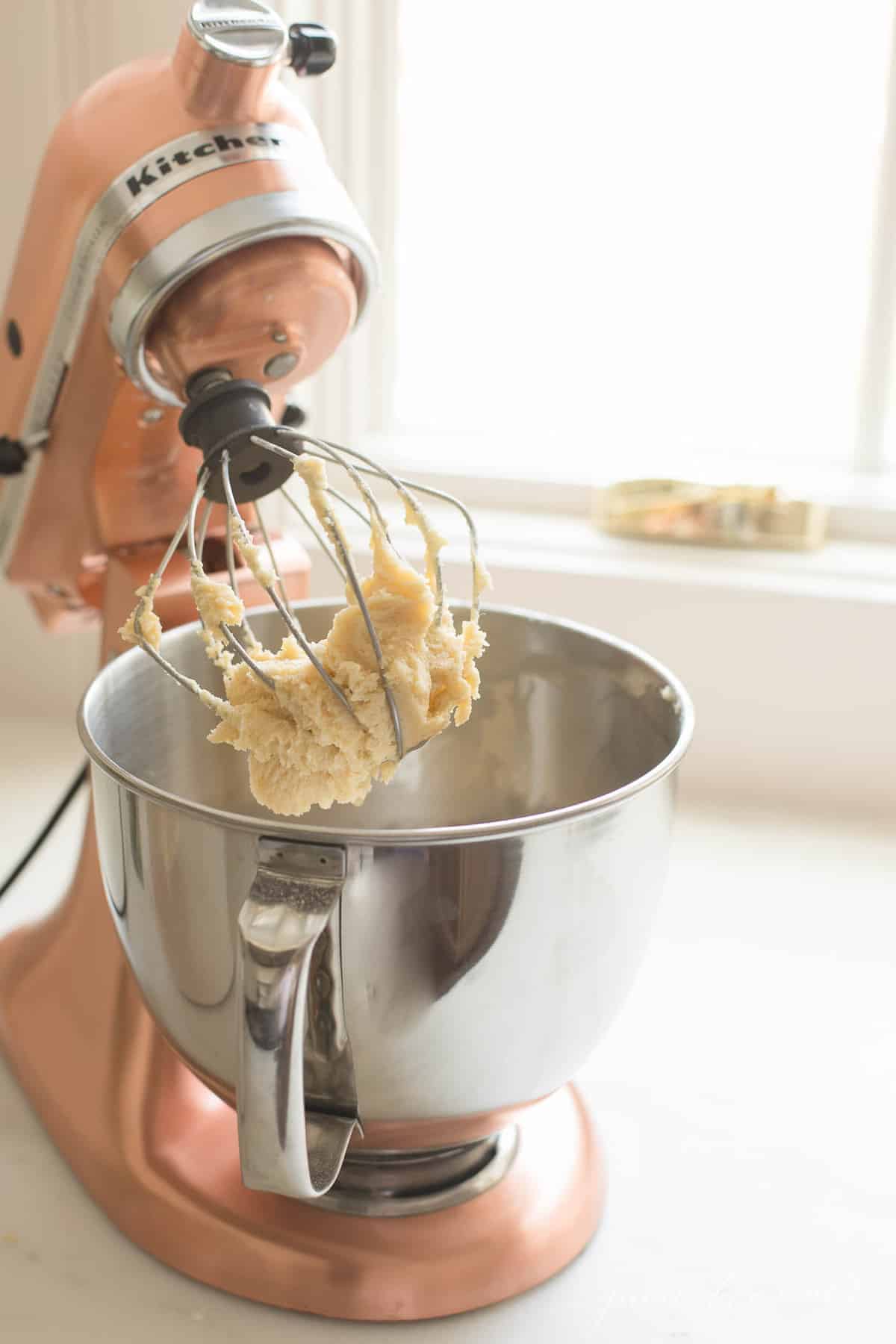 My Favorite Kitchen Measuring Cups and Spoons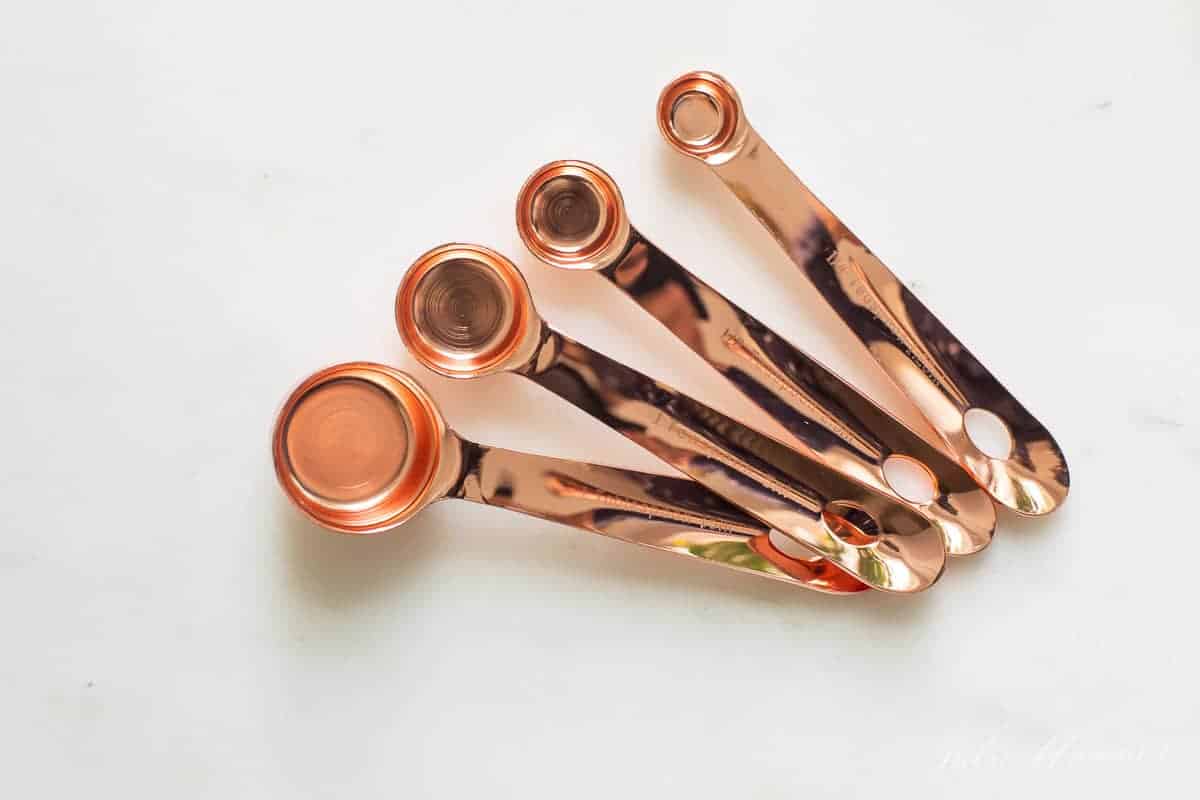 Having the right tools for measuring out ingredients is so helpful in the kitchen. Certainly it is not necessary to have dozens of different measuring cups and spoons, but I've found a few well purchased items have been invaluable and have lasted me for years!

These dry measuring

copper measuring cup

set comes in sizes of ¼ cup, ⅓ cup, ½ cup, and 1 cup. The most basic sizes, but I have found they have been sufficient for my needs.

This is my most cherished

liquid measuring

cup! Not only can you measure out liquids but I've also used it as a mixing bowl to whip up pancakes or crepes! Mix your ingredients in this large measuring cup and pour the batter onto the griddle! It's even one less dish to wash!

Having a

precision scale

is also helpful to have on hand to measure ingredients when baking a recipe using the metric system. This is typically used in very precise recipes such as bread making or cakes.

Complete you set with

measuring spoons

! These include 1 tablespoon, ¼ teaspoon, ½ teaspoon, and 1 teaspoon measurements.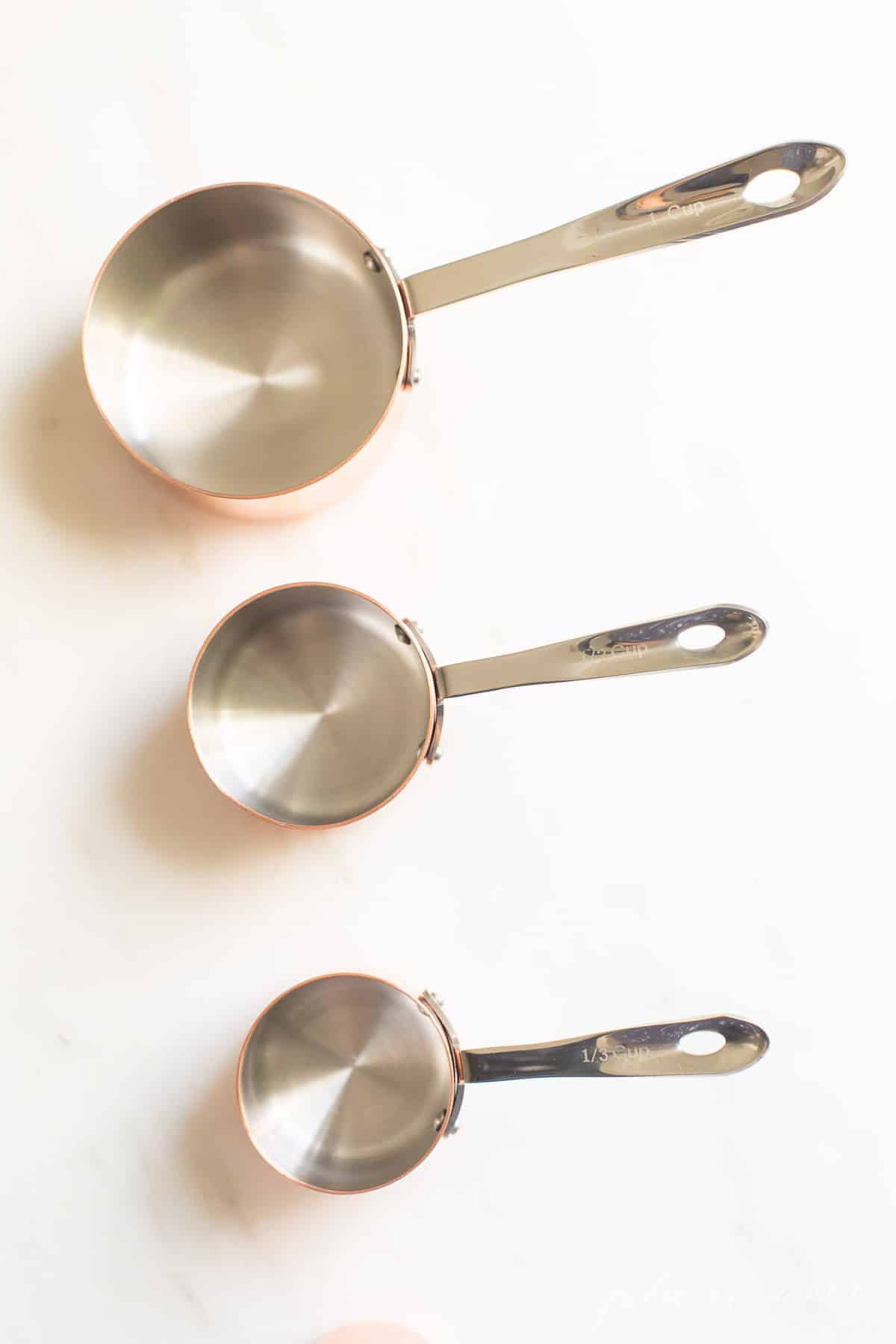 I hope you enjoy this free printable Measurement Conversion Chart! I'd love to hear from you! Please leave a comment below and tell me what you've been baking! If you try any recipes comment below and leave a review.
Favorite Recipes To Use This Dry and Liquid Conversion Chart With