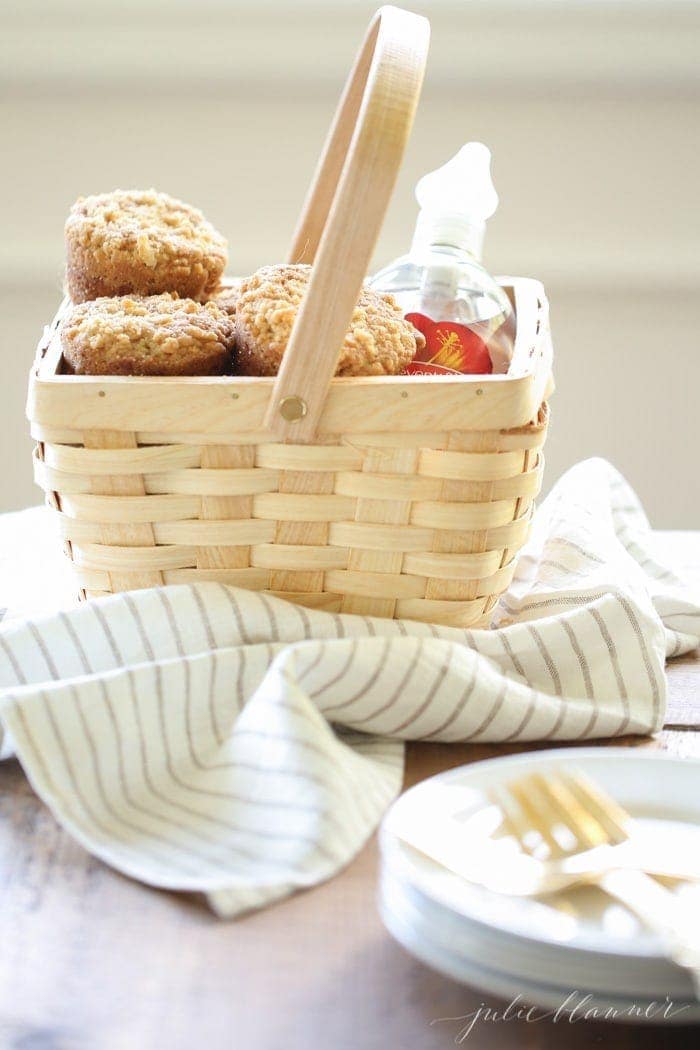 Fall is the season of everything apple, so I decided to turn Grandma's famous apple cobbler into Apple Cobbler Muffins so that we could disguise dessert as breakfast.
Those who know me know that I am a disaster in the kitchen. As much as I try to clean as I go, I'm the equivalent of a tornado and the sugar trail follows me. It's a really good thing that Chris has a sweet tooth, because he never minds cleaning in exchange for baked goods. My hands are inevitably a mess as well and I have to wash them frequently when baking and cooking. I love Seventh Generation's natural hand wash that is gentle on my skin and leaves my hands feeling soft because they use plant-based ingredients. It's the next best thing to a manicure that I never seem to find the time for!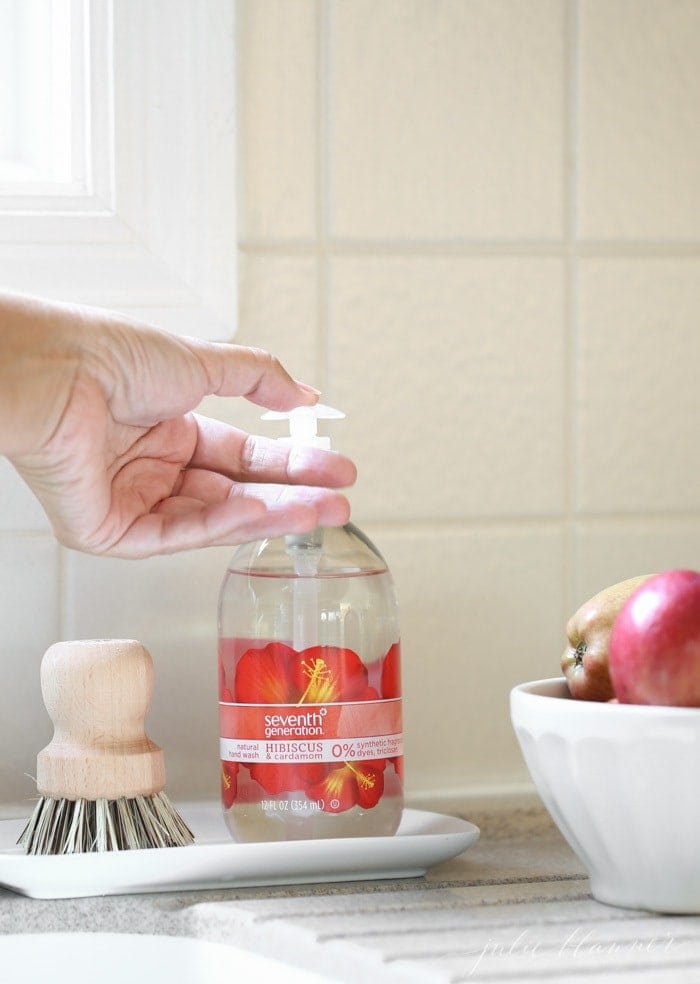 I did my best to attempt to limit the mess while baking these delectable apple cobbler muffins. Do you use muffin liners? The last few years I have been baking without for a few reasons – I find that liners make muffins a little crustier and I prefer really soft muffins. They never seem to be as pretty after they bake, either. The other reason I had decided to forgo liners is because they get thrown into the trash and lately, I've been a recycling queen. Instead, I thoroughly grease my muffin tin and scoop the batter directly into them using an ice cream scoop. The scoop keeps them consistent in size and is just right for a standard muffin tin.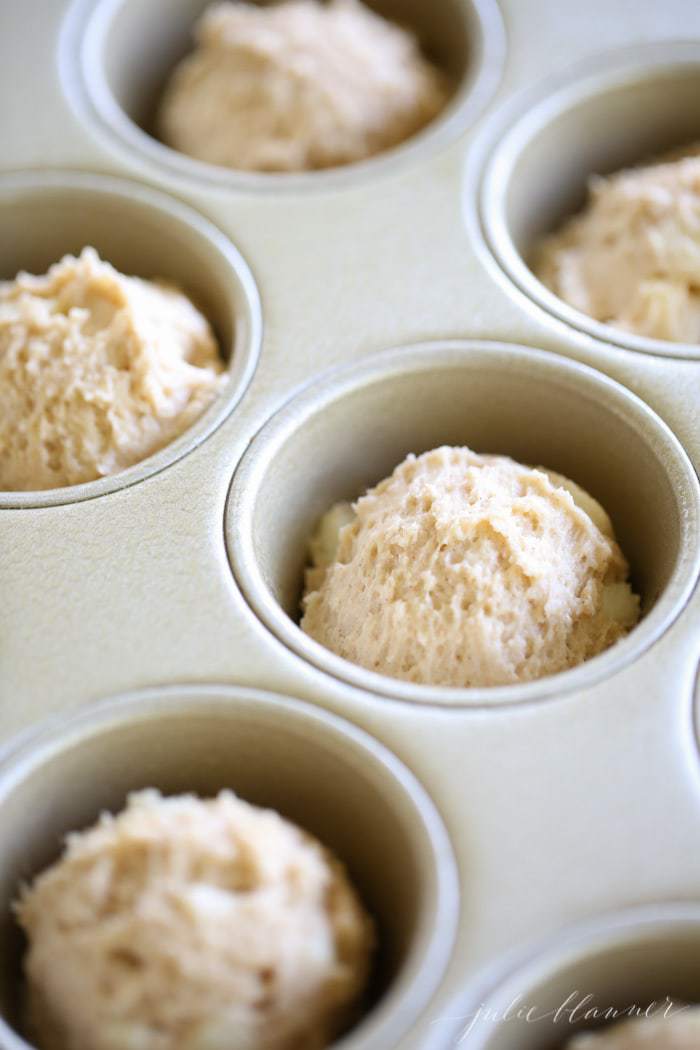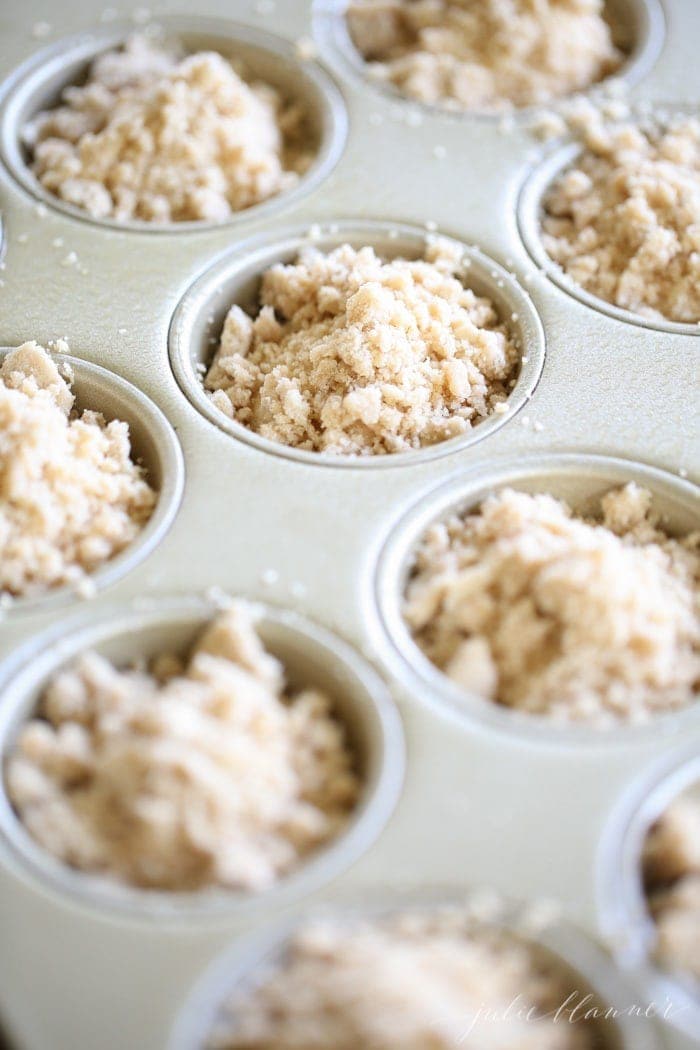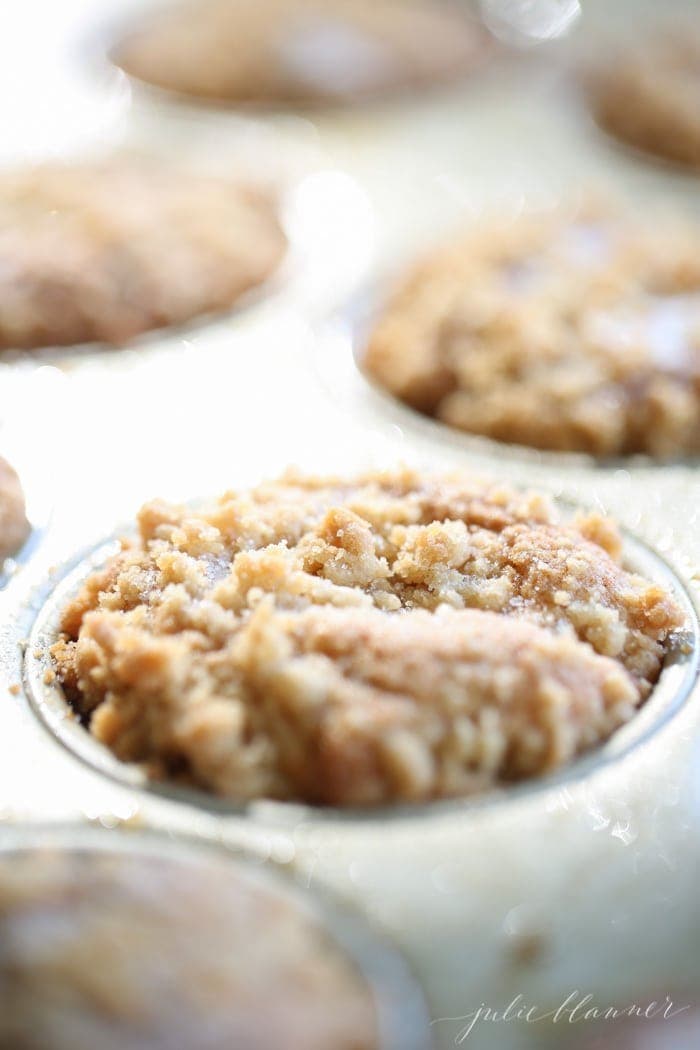 For me, the best part of apple cobbler is the crumbly topping. I just love the little crunch, so I topped my apple cobbler muffins using a cookie scoop for the perfect muffin to crumble ratio.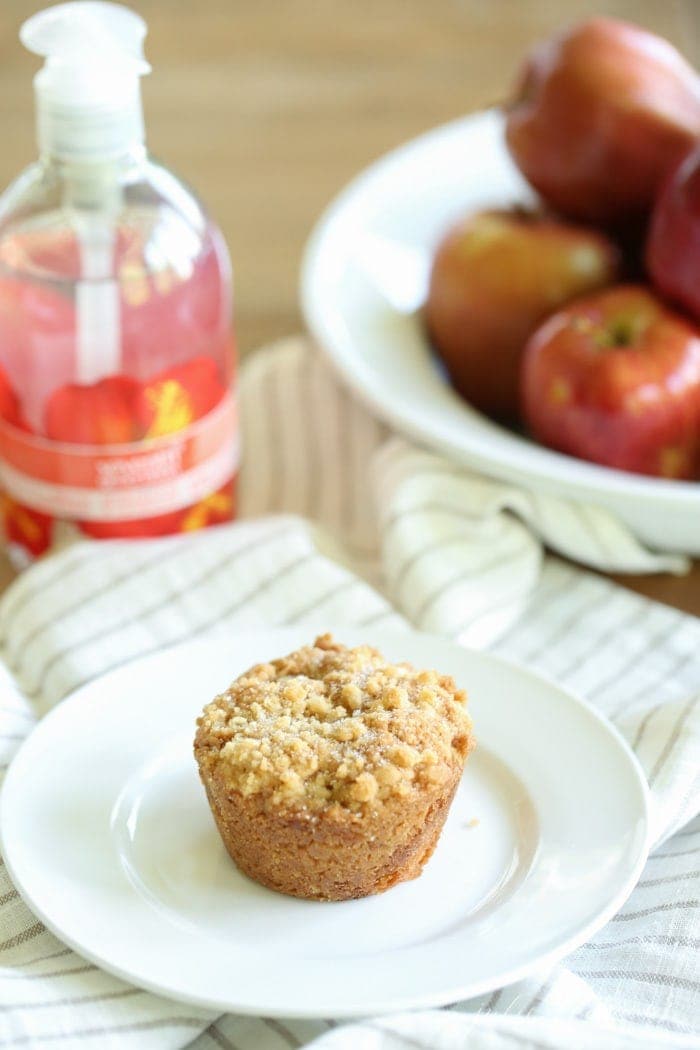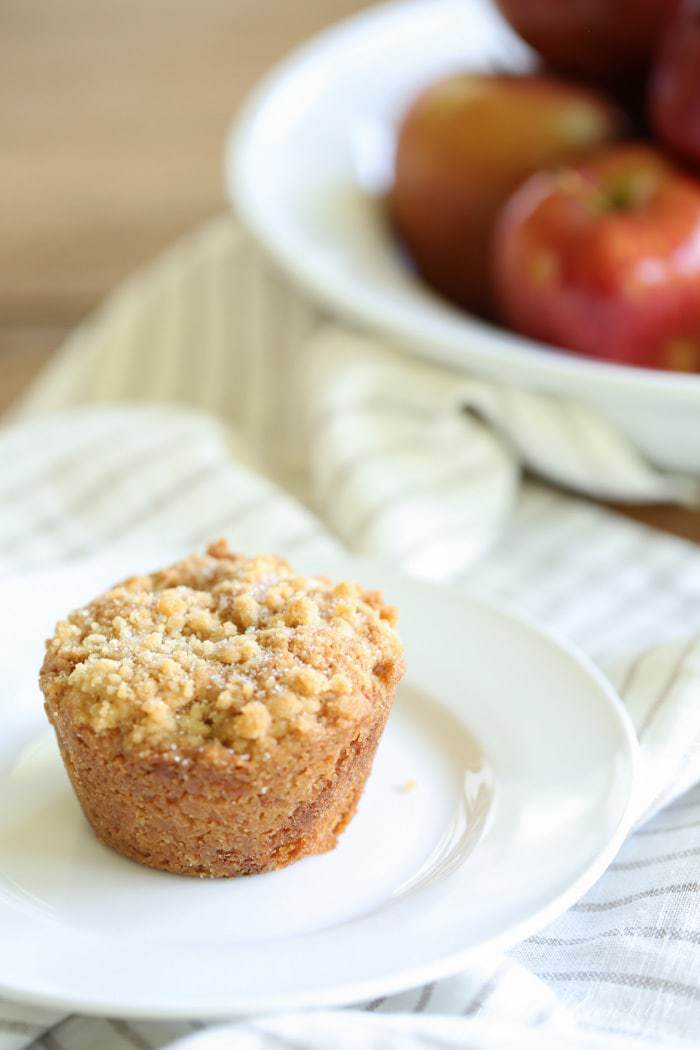 My friend Amanda recently moved to the neighborhood next to ours, so I'm sharing a few of these muffins and my favorite Seventh Generation hand washes with her. I'm so excited to have a lifelong friend as a neighbor now as well!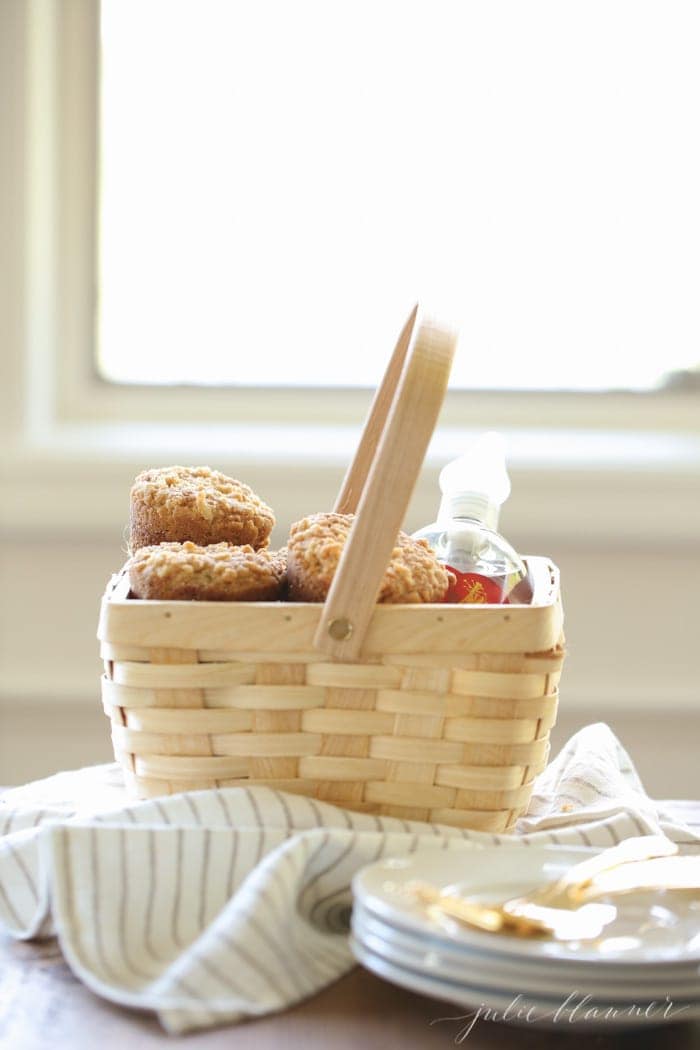 If you love these muffins, you'll love these as well: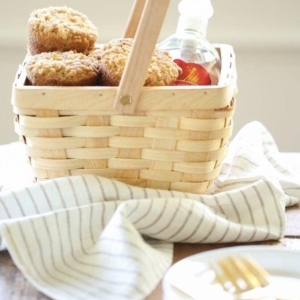 Ingredients
2

apples/2 c apples peeled and cut into small cubes & tossed in lemon juice

1

tsp

cinnamon

2

tsp

vanilla

½

c

butter

softened

½

c

brown sugar

packed

½

c

sugar

2

eggs

2

c

flour

1

tsp

baking powder

½

tsp

baking soda

½

tsp

salt

TOPPING:

4

Tbsp

butter

softened

¾

c

flour

½

c

brown sugar
Instructions
Preheat oven to 350 degrees.

Combine apples, cinnamon and vanilla. Set aside.

In a mixing bowl, combine butter and sugars until fluffy. Add egg until just combined.

Add apple mixture in.

In a separate bowl, combine flour, baking powder, baking soda and salt. Gradually incorporate into wet mixture.

Scoop muffin mixture into greased muffin tin.

Combine topping ingredients until crumbly. Scoop on top of muffin mixture.

Bake 18 minutes.
These scrumptious Apple Cobbler Muffins are sponsored by Seventh Generation. As always, all opinions are own. Thanks for supporting the brands that make this site possible! I appreciate your support.