These easy apple cinnamon rolls are a perfect breakfast or brunch to feed a crowd. Simple to make and made from scratch they are perfectly light and fluffy. These homemade rolls are better than the ones you buy at your bakery!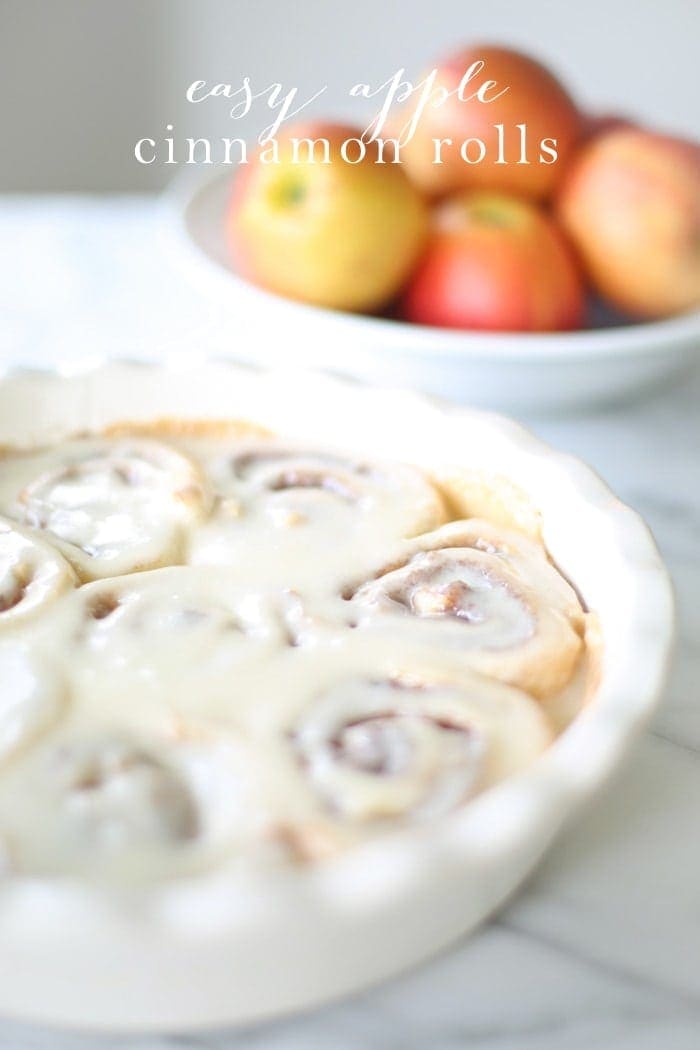 originally published August 2015, updated with more details and tips December 2019
This time of year, I like to incorporate apples into a lot of my cooking and baking – apple bread, apple soup, apple pizza, apple ravioli and guess what, apple cinnamon rolls.
This recipe is a reboot of those rolls. Rather than using frozen dinner rolls, I now make it from scratch – in almost the same amount of time and without having to think ahead the night before.
This apple cinnamon rolls recipe is a little twist on my better than the bakery cinnamon rolls. A touch more cinnamon, a basic glaze and of course, diced apples!
It's so easy and really feels special. Whether you have them for breakfast, dessert or deliver them to friends, they're sure to bring a lot of smiles!
If you want to take a no yeast shortcut, you can make my Easy Cinnamon Rolls and use this filling and glaze – along with a touch of heavy cream, of course!
I like to give a lot of detil in my recipe posts to guide readers through any questions. If you're just here for the printable recipe, feel free to click "jump to recipe" right under the title of this post and you'll head straight there!
To Make Apple Cinnamon Rolls, You Will Need
These rolls are made with simple pantry staples!
To Make the Dough – Milk, butter, flour, sugar, salt, quick rise yeast, egg.
To Make the Filling – Butter, brown sugar, cinnamon, apple.
Heavy Cream – This makes the rolls soft and moist, and is key to making the best cinnamon rolls!
For the Glaze – Butter, sugar, vanilla and heavy cream make the sweetest and creamiest glaze to drizzle on these rolls.
If you need tips for learning about yeast, be sure to read my complete guide to baking with yeast! It's full of can't-miss tips and tricks!
How to Make Apple Cinnamon Rolls
In a saucepan over medium heat, add milk and butter. Stir until melted and remove from heat.
In a mixing bowl, combine 2¼ c flour, sugar, and salt. Add yeast and lukewarm milk mixture. Combine. Add egg.
Using the dough hook attachment on your mixer, knead while gradually adding in up to 1 c flour until the dough forms a ball and pulls away from the edges of the bowl. You can also knead by hand.
Let dough rest for 10 minutes. Preheat oven to 350 degrees.
On a floured surface, roll out dough into a rectangle.
Spread melted butter on top. Sprinkle cinnamon, sugars and apples on top. Using a knife or pizza cutter, cut 10 strips. Roll and place in a baking dish or cast iron skillet.
OPTIONAL for extra large rolls (not shown) cover with a damp towel, turn oven off and allow to rise 25 minutes. Remove from oven, preheat again to 350 degrees. Otherwise you can bake immediately.
Cover rolls in heavy cream. Bake 15-20 minutes, or until slightly golden.
For the glaze
Combine all ingredients until smooth. Pour over the hot apple cinnamon rolls to serve.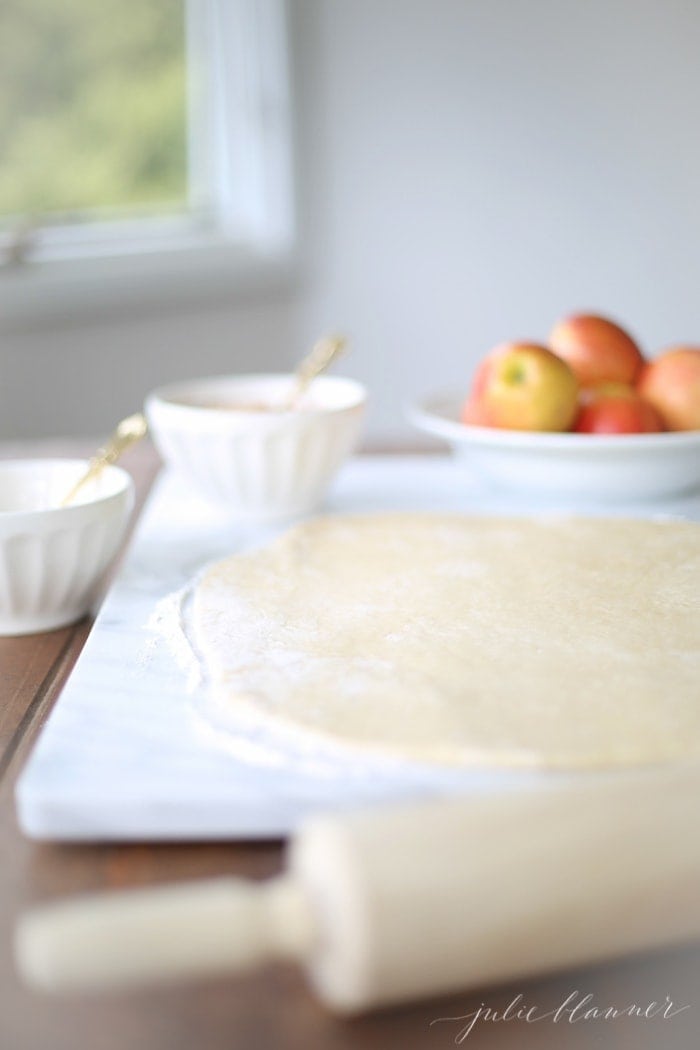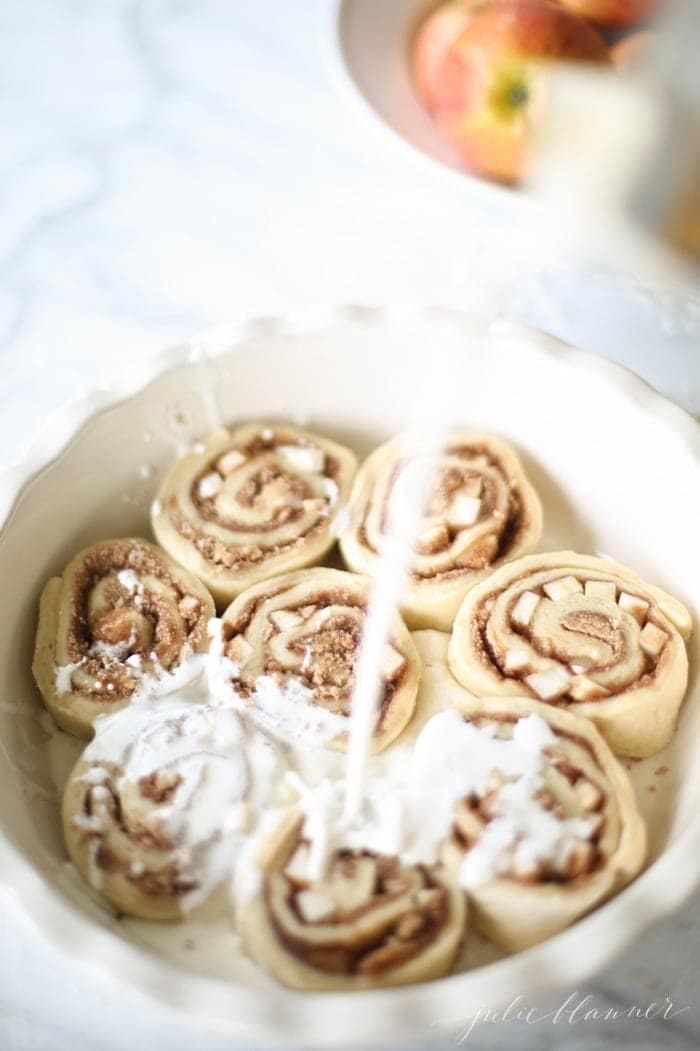 Tips To Make Apple Cinnamon Rolls
You can knead the dough by hand or in a stand mixer. Kneading by hand will take about 10 to 12 minutes and in a mixer it will take around 8 to 10 minutes.
Leftovers can be stored in an airtight container in the fridge and reheated in the oven.
Take a little seasoning shortcut and make my apple pie spice ahead of time to store in your pantry!
If you prefer to make your glaze thinner, just add a little more cream.
If you are making larger rolls, allow 25 minutes for the dough to rise.
Can You Make Apple Cinnamon Rolls Ahead Of Time?
These rolls are a great make ahead of time option. You make the rolls the day before, but don't add the cream You can then cover the rolls and keep them in the fridge overnight. The next morning, just pour the cream over, pop them in a pre heated oven and finish with the glaze.
I prefer to serve these rolls freshly baked, but if you prefer you can bake them and the store covered in the fridge and they will keep well for a couple of days. You can reheat them in the oven or enjoy cold.
How Do You Know If The Dough Is Kneaded Enough?
When kneading the dough, it will gradually start to become smooth. The finished dough should be smooth and slightly tacky to the touch and form a ball. Poke the ball with your finger, if it comes quickly back to shape the dough is ready, if the indentation stays deep, knead the dough for a little longer.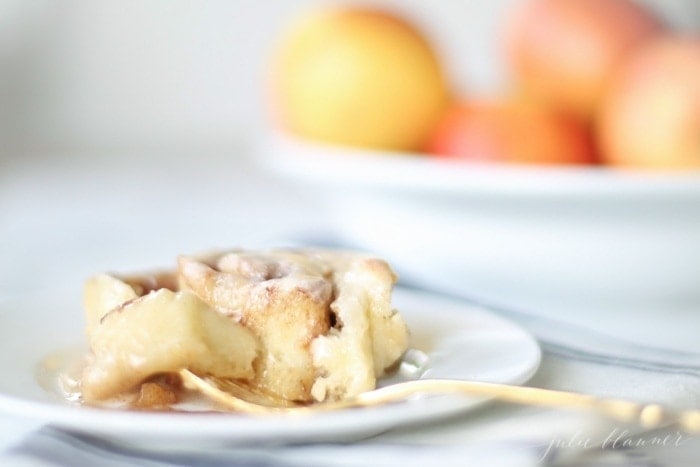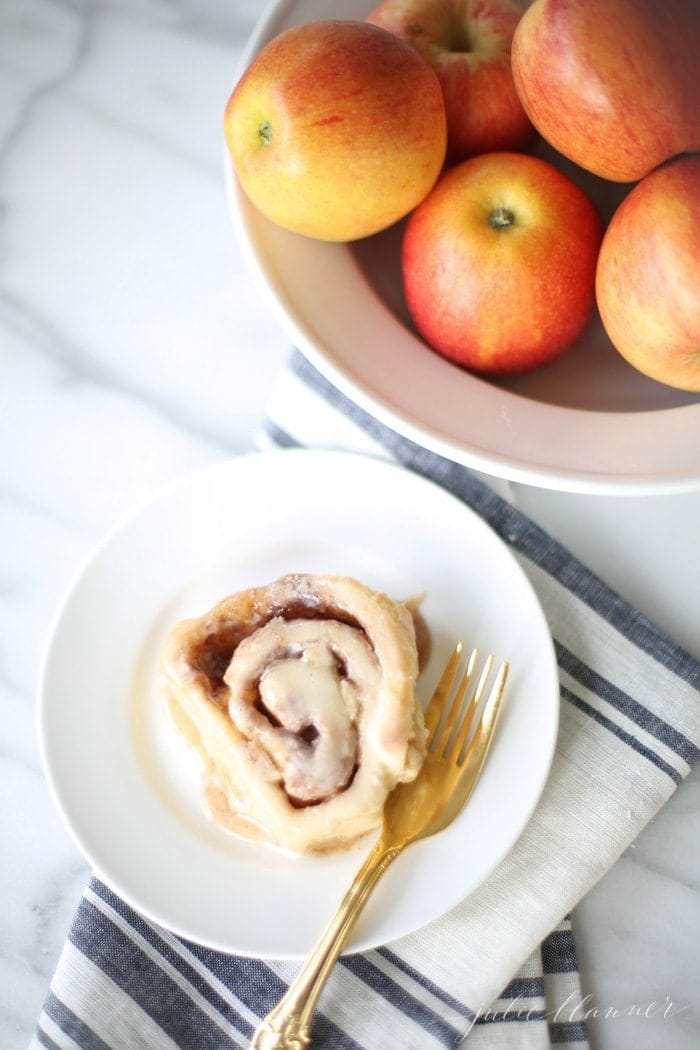 If you try these apple cinnamon rolls, please come back to share using my 5 star rating in the comments below! Not only do I appreciate it, but I know readers do, too!
Hungry for more? Get my BEST Baking Secrets delivered directly to your inbox and connect on instagram facebook and pinterest!
More Apple Recipes